I've been an avowed carry on traveler for as long as I can remember. I don't know what I hate more, paying extra for my baggage or the extra steps of checking it in and then waiting what feels like an hour at baggage claim after my flight is over. That said… I'm not exactly the lightest packer. I have too many little items on my packing list that all feel so essential to bring.
The way that I'm able to get around carry-on baggage restrictions is by picking the best possible personal item bag. The trick is to find something that is roomy enough to fit all your in-flight necessities while still being compact enough to fitting under the seat.
The best personal item bag will be suitable for use both on and off the plane – I use mine as my daily travel daypack as well. This means, for me, I look for security features, comfort, and a sleek aesthetic in addition to the practical concerns of size and shape.
In this post, I've included my top favorite personal item backpack that I've used every day for the last year and a half of travel spanning multiple continents and 30+ countries — plus 5 runner up options in case my top pick doesn't suit you.
Note: This post contains affiliate links, which means I may receive a small commission if you purchase something through one of these links. Thank you for supporting the free content on this site! For more information on affiliate links and cookies, see my disclosure page for more details.
What To Look For When Picking a Personal Item Bag
There are a few considerations you should have when picking the best personal travel bag. Obviously, because many airlines have size restrictions and can sometimes charge large fees for items that need to be checked at the last moment, size is the number one consideration.
But there are other things that should be considered, such as shape/style as well as aesthetics and design. Here, I break down a few of the things you should consider when picking your personal item
Size
Consider what airline you fly the most often and their regulations. You'll want to ensure your personal item bag is small enough to meet their restrictions. Generally, budget European airlines like Ryanair and Wizzair will have the tightest restrictions. If you fly budget airlines often, you will want to make sure your personal item meets these standards. If you tend to only fly on domestic flights in the U.S. or on larger international airlines, you can opt for a slightly roomier bag.
Here are a few airlines and their size restrictions for personal items, which must fit under the seat in front of them.
United:  9 inches x 10 inches x 17 inches (22 cm x 25 cm x 43 cm)
American: 8 inches x 14 inches x 18 inches (20 cm x 35 cm x 45 cm )
Ryanair: 8 inches x 8 inches x 14 inches (20 cm x 20cm x 35 cm)
Norwegian: 10 inches x 8 inches x 13 inches (25 cm x 20 cm x 33  cm)
Shape
Shape is another factor that should not be discounted when picking a personal item for carry on travel. My top tip is that the bag you pick should not be hard-sided, but rather soft-sided and malleable.
This helps in the event that you need to shove it under the seat in front of you and you're in one of those unfortunate seats that have a strange configuration that takes away from your legroom. So skip the hard-sided mini-suitcase and go for something more like a backpack or duffel bag that can be squished to fit if necessary.
Double-Duty
One more thing to note when picking a personal item bag is that it should be something that is actually useful for carrying around in your day-to-day travels, not just for flying. There is no point bringing both a daypack and a separate personal item bag –  pick something that does both and does it well.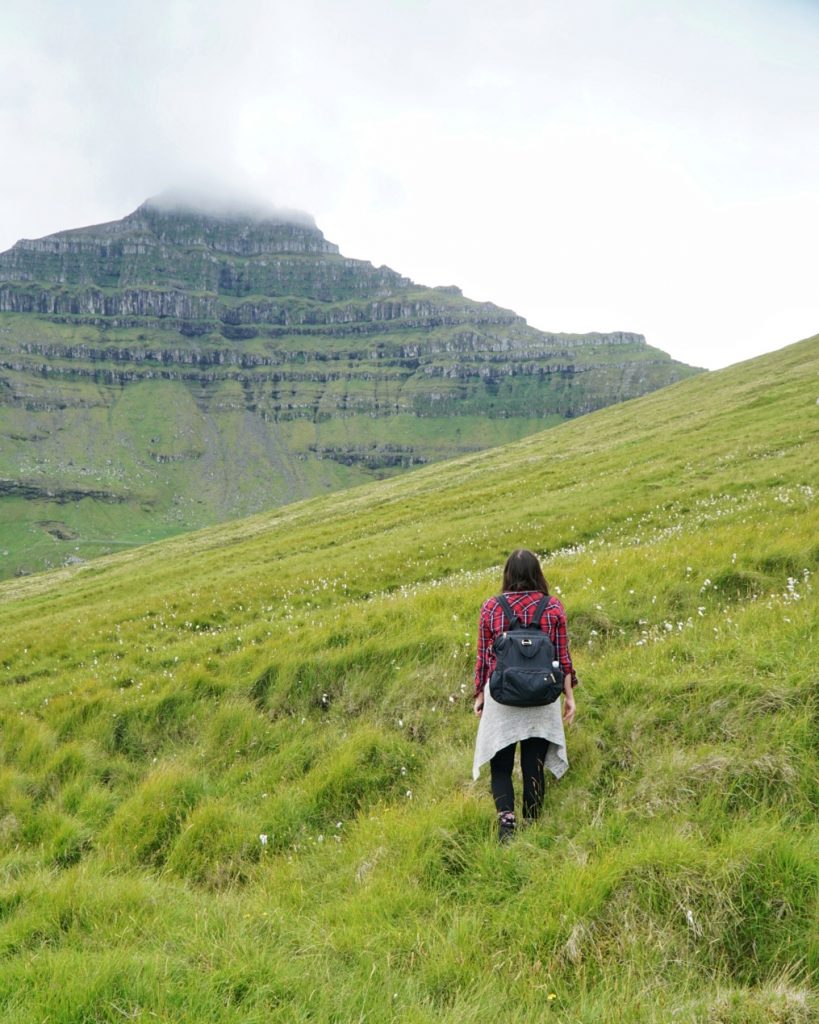 I prefer a personal item backpack as I can use it as my main travel bag when I'm out and about after the flight is over. For this reason, I prefer a bag that has some security features such as lockable zippers and slash-proof material, so that it is effective as both my plane personal item and my travel daypack. If you don't carry backpacks when you travel, then I would opt for a large carry on purse or something similar.
However, you can also pick an underseat wheeled bag or larger duffel if you are truly packing light and want to only have one bag with you, or if you are flying on a basic economy or low cost fare. I've reviewed the best underseat bags here.
Best Personal Item: Backpacks I Love for Travel
My #1 Pick: Pacsafe 17L Anti-Theft Backpack
With dimensions of 15 by 11 by 6 inches, this backpack will do the trick for nearly all airlines. While technically, it exceeds the size limitation of Ryanair and Norwegian Airlines, I've taken this personal item backpack on Ryanair, Wizz Air, Norwegian, easyJet, Level, and several other budget airlines without ever having to check it or worry about it not fitting under the seat. It has always slid under the seat easily with no problems as long as I didn't overstuff it.
This backpack is pretty much the Mary Poppins bag: it looks tiny, but I can fit an incomprehensible amount of stuff in it. At any given time when I am flying, this backpack usually contains my 13″ Macbook Air laptop, chargers, my Mavic drone, my camera and all its lenses, my carry-on toiletries, and a few other odds and ends that I ended up needing at the last minute. I've also used it as my only bag when traveling to London and Berlin for one week of conferences, where it fit my laptop, camera, mini toiletries, and 6 days of clothes for conferences.
But the most important thing: it's actually a nice backpack that you don't mind being seen with. For some reason, Amazon bills it as a "men's backpack" but I actually think it looks quite trendy and feminine. I actually use this as my everyday bag for bringing my laptop to coffee shops and walking around a city with all my photo gear or on short day hikes.
How much do I love this backpack? Well, I've owned it for nearly two years and have taken it to over 30 countries with barely more than a scratch to the bag — despite generally being a careless, terrible excuse for an adult. Any bag that can last even a year with me is something special.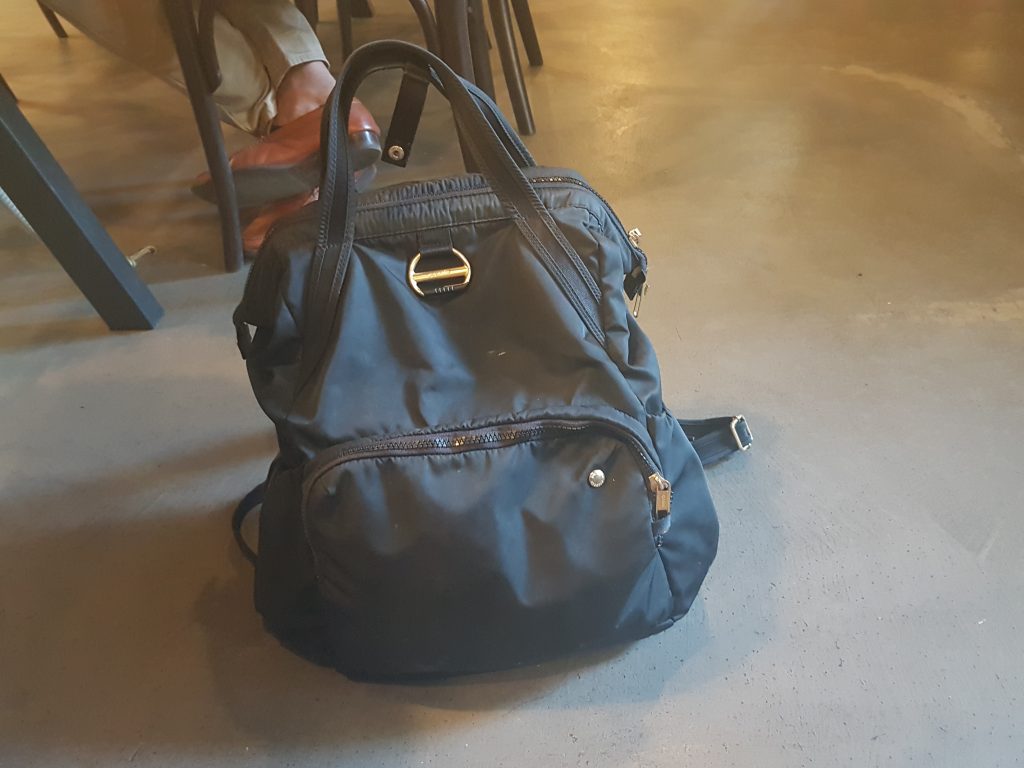 Even better, the bag has several security features that are awesome without looking like an actual security bag. The zippers lock together, and then you can loop the locked zippers through the clasp on the front of the bag for double security. It was hard for me to figure out how to open the clasp when I first got the bag — so imagine if a thief was trying! There is no way a thief could break into the main compartment of the bag without you noticing (the outer pocket even has a loop that the zipper can go through that makes it difficult to open, too).
Check out more features of my favorite personal item backpack here!
The bag also has nice water-resistant material. While you certainly can't submerge it under water, I have gotten caught in the rain in it several times and my stuff inside, including my laptop, haven't gotten wet. I still recommend taking precautions if you carry electronics in it, but I've never gotten the insides soaked when I've been walking in the rain.
I do recommend bringing an additional laptop sleeve for your laptop as there isn't a lot of padding in the backpack itself.  I have never come close to breaking my laptop using this bag but I have had some close calls where my backpack has fallen and given me a bit of a scare. A simple laptop sleeve like this one will give you some peace of mind.
I've owned this bag for nearly 2 years and have put it through nearly daily abuse and have had no problems – not even a single stitch unraveling – so I can definitely vouch for the quality of the bag.
Runner Up: Pacsafe Metrosafe LS350 Anti-Theft 15L Backpack
No, this post isn't sponsored by Pacsafe, I just have been a paying customer of theirs for over two years and really love their products! I have never used this backpack, but if I wanted a slightly cheaper backpack that still fit nearly as much, I'd pick their 15L Metrosafe LS350. With dimensions of 5 x 11.6 x 16.5 inches, it will fit most airlines' size rules (technically it is over Ryanair's limits but I have brought the similarly sized 17L Pacsafe without issue on budget airlines several times).
This bag has a more standard backpack construction with a more unisex/masculine look, so if the other Pacsafe was too "girly" or trendy this may be a better fit aesthetically. It still shares a lot of the same perks, such as slash-proof straps and construction, lockable zippers, RFID blockers, etc.
With all the security features, it still manages to look like a normal backpack so it doesn't arouse suspicion or make it look like you're carrying a lot of expensive gear the way certain branded camera bags look.
Runner Up: Hynes Eagle Lightweight 18L Travel Bag
This personal item backpack is super cute and comes in a fun variety of colors, plus it's one of the cheaper options on this page. However, it is cheaper because it is lacking some of the security features of the other bags, so you are offsetting a bit of security for the lowered price.
Personally, I use my personal item as my main travel bag when I am going around big cities that have issues with pickpocketing like London, Lisbon, and Rome – so I enjoy having the security features of Pacsafe or other anti-theft travel brands like Travelon. This bag doesn't have lockable zippers or anti-slash construction so it's a no for me, but other people not require those features.
But if you just plan to use this bag for the flight, it's a great option as it's inexpensive and fits a lot of stuff. However, it doesn't have a laptop compartment, so bring your own laptop sleeve if needed. There is only one internal pocket for things like keys and your phone, but other than that there is minimal interior organization — which is either a good thing or a bad thing depending on how you prefer your bag to be. Check out more details and specs on the backpack here.
Overall, it's a good option for aesthetics-conscious people who prefer a budget-friendly bag with minimal security or organizational features.
Best Personal Item: Purses I Love for Travel
#1 Pick for Purses: Pacsafe Slingsafe LX250 or LX200 City Tote

Another Pacsafe, this time in purse edition! While I don't have this tote personally, I can vouch for the quality of Pacsafe products as a paying customer who has used them for years. I have a Pacsafe backpack RFID-blocking wallet and slash-proof camera strap and all have served me well and held up to the abuse I put them through.
I much prefer to carry backpacks to purses due to the fact that I have crappy shoulders and prefer the weight to be distributed evenly, but if you prefer to carry a purse when you travel then I highly recommend the Pacsafe LX250. At 12 inches x 16 inches x 4 inches, this bag has a capacity of 18L and generally fits all but the most stringent airline restrictions.
If space is a concern and you want 100% peace of mind when flying ultra-low cost carriers like Ryanair, you will be better off with the smaller 14L Pacsafe LX200 which fits basically every airline with dimensions of 13 inches by 11 inches by 4 inches.
While Pacsafe products are generally a little pricey due to their quality construction and security features, this is one of the cheaper Pacsafe options as it's made of canvas rather than their typical nylon-like water-resistent material. Both totes have the standard Pacsafe security features of RFID blockers, mesh slashguard construction, security buckles, and lockable zippers.
Runner Up: Bluboon Canvas Weekender Bag
If you want a personal item bag that you can be sure will pass even the most eagle-eyed of budget airlines, opt for this Bluboon Canvas Weekender bag. At only 10 inches by 8 inches by 3 inches, this fits even Ryan Air and Norwegian's stricter limits so long as you don't completely overstuff it.
It has handles as well as a shoulder strap so you can carry it in different ways depending on the situation and what is most comfortable for you. I personally like to use a longer strap when in the airport but would prefer to carry it like a regular purse outside the airport; having flexibility of options is great in this instance. Another perk is that it has internal and external pockets so you can organize it to your liking; however, there is no laptop sleeve (but most weekender bags tend not to have this feature, anyway). It also has a trolley sleeve so that you can place it on your rolling suitcase flight-attendant style.
However, keep in mind that it is a budget bag. While it generally has quite positive reviews, a few people have complained that the zippers and fabric don't hold up over time, so be prepared to replace it eventually.
Runner Up: Lily & Drew Carry On Weekender Travel Bag
For a sleek but versatile travel bag, this Lily & Drew weekender is a solid pick. This personal item purse is also convertible into a shoulder bag, which is nice because you can toggle between the two configurations depending on what is more comfortable and convenient for the situation.  The bag also has a trolley sleeve so that if you are traveling as well with a rolling suitcase (either carry-on or to check) you can place it on the suitcase so that you can roll rather than carry it – the trick that many flight attendants use!
It is 18″ wide by 14″ tall by 8″ deep (20 cm x 35 cm x 45 cm) so it is the perfect size personal item purse for domestic U.S. carriers like American and Spirit; it is a little too large for United's specifications, but I've often found that as long as I don't over-stuff my personal item I can usually squeeze it under the seat anyway. However, it would be a little too big for European low-cost carriers so if you plan to do a lot of Ryanair, easyJet, Wizz Air etc. flights with this bag, it is a bit of a risk in terms of fit.
While it doesn't have all the security features of my favorite travel backpack or purse, it does have a laptop sleeve, water-resistant canvas-esque material, several internal and external pockets. If you prefer to carry a big purse when you travel, this could be an option, but one thing that subtracts from its usefulness to me is that the bag itself weighs 3 pounds so I wouldn't want to carry it around the city I was visiting – it's more of a 'flying only' bag. If that works for you it could be a good option but I prefer my bags to do double duty.
Allison Green is a former educator turned travel blogger. She holds a Masters in Teaching and a B.A. in English and Creative Writing. Her blog posts merge her educational background and her experience traveling to 60+ countries to encourage thoughtful travel experiences that both educate and entertain. She has been a speaker at the World Travel Writers Conference and her writing, photography, and podcasting work has appeared in National Geographic, CNN Arabic, CBC Canada, and Forbes, amongst others. Now based in the San Francisco Bay Area where she grew up, she has also lived in Prague, Sofia, and New York City.