If you're planning your Arctic Norway itinerary, congratulations: you're in for a bucket list worthy experience of a lifetime!
A trip to Tromso, nicknamed "The Paris of the North" for its important role in Northern Europe's culture, is a must on any visit to Northern Norway.
Note: This post contains affiliate links, which means I may receive a small commission if you purchase something through one of these links. Thank you for supporting the free content on this site! For more information on affiliate links and cookies, see my disclosure page for more details.
This beautiful city serves as the gateway to all sorts of arctic adventures, whether you base yourself in Tromso the entire time or you fly in there and explore more of Northern Norway in a rental car or by bus.
Before getting into this Tromso itinerary, though, we'll quickly go over the basics of planning a trip to Tromso in winter.
This includes how to get to Tromso, what to pack for Tromso, where to stay, & a few frequently asked questions!
Getting to Tromso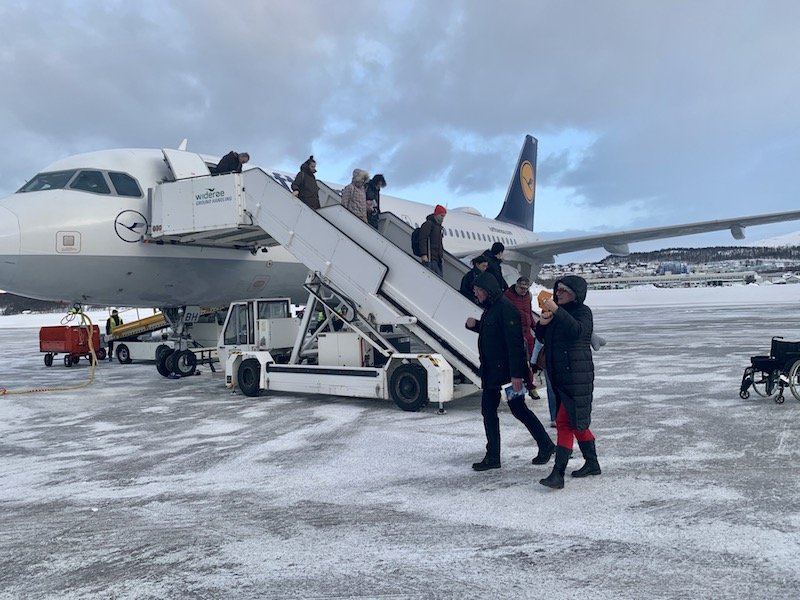 There are several ways to get to Tromso, and a number of airlines that serve this Northern city, including SAS (which I flew) and Norwegian Airlines, amongst others.
No matter where you are coming from, I recommend flying into Tromso, as it's incredibly far from the rest of Norway, particularly Southern cities like Oslo, as it's one of the northernmost cities in Norway.
From Tromso, you can easily catch a bus into the city center to where you have your accommodation booked. The Flybussen costs 110 NOK one way (160 NOK return), around $13 USD one way ($19 USD return).
It's also possible to schedule a transfer for a group if you want to have a guaranteed easy trip to your hotel. It's a little more expensive but it will give you peace of mind. It may be worth it if you have a long journey before you arrive in Tromso!
Weather in Tromso in Winter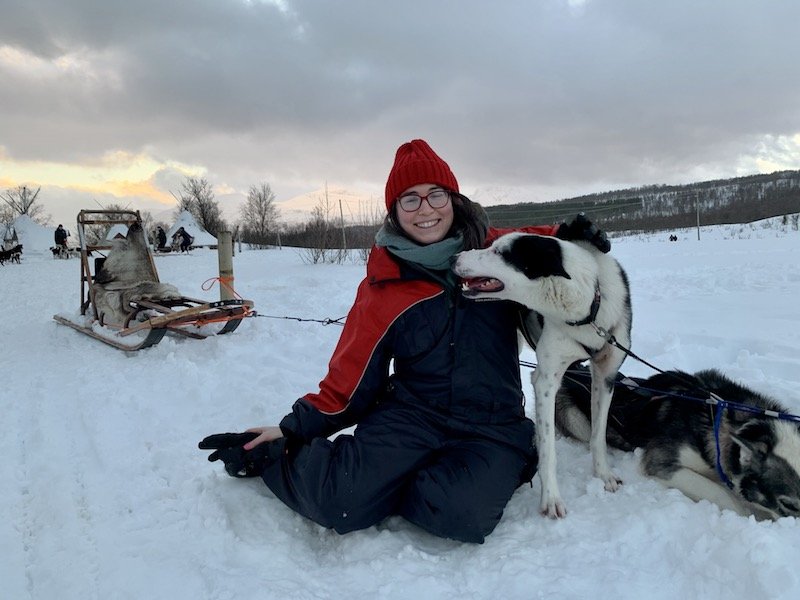 The weather in Tromso is characterized by extremes, with several weeks each of polar night and midnight sun in winter and summer respectively.
In the winter, the weather in Tromso is obviously on the cold side of the spectrum, but perhaps less cold than you might think!
December temperatures often have a high of 32° F (0° C) and a low of 25° F (-4° C). Temperatures in January and February are similar, just a few degrees cooler.
That's not too shabby for the Arctic, and it's definitely warmer than many North American and European destinations at a far lower latitude!
The reason for this is that the jetstream across the Atlantic Ocean pushes warmer air towards Tromso, so Norwegian Lapland isn't quite as cold as other Arctic destinations, like Swedish and Finnish Lapland.
As a result, you do need to pack warm clothes for Tromso, but not necessarily clothes for extreme cold.
The weather in Northern Norway does get colder the further out from Tromso you get, but all the activities you partake in will also rent thermal suits so you don't have to worry about dressing for that beyond your average warm layers.
Below, I'll explain (briefly) what to pack for Tromso in winter, but if you want a more detailed guide, I have my full winter in Norway packing list here.
Quick Tromso Packing List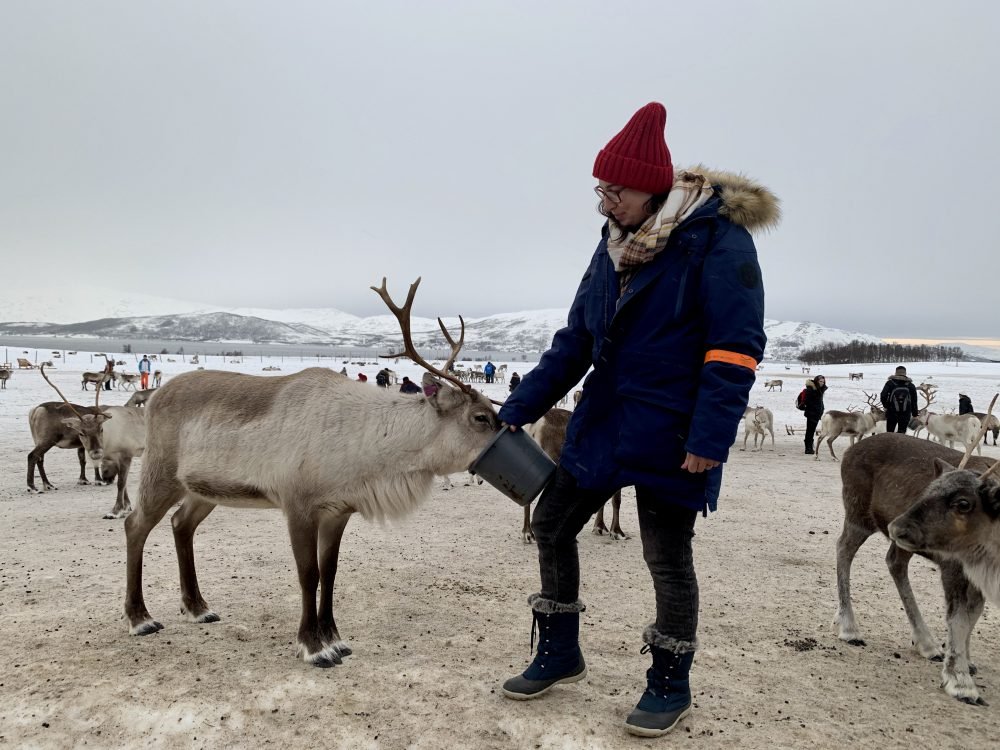 Crampons
One of the most important things to pack for Norway in winter is a sturdy pair of crampons.
Crampons are basically small spikes or grips that you attach to your winter boot with a stretchy silicone attachment
I used these simple Yaktrax which were really easy to take on and off — this is essential, as indoor places everywhere in Tromso ask you to take off your crampons before entering, so you don't want difficult ones to put on and take off.
They were also perfectly grippy for icy city streets and I didn't have any slips while wearing them, walking around in the snow and ice for miles (trust me– the day I went out without them on accident, I definitely noticed the difference!).
Protect your travel investment!

Travel insurance coverage helps you recoup your losses in case of emergency, accident, illness, or theft.

I rely on SafetyWing for coverage when it comes to trip interruptions and cancellations as well as accidents and medical emergencies.

It offers great rates starting around $12/week with clear, easy-to-read coverage.
Moisturizer and lip balm
Winter in Tromso will really dry out your skin, so you'll definitely want to pack a pretty heavy-duty moisturizer as well as lip protector.
I remembered the former but forgot the latter and by day 2 I had sore, chapped lips and running to the nearest pharmacy to drop way too much money on a simple stick of chapstick…
Be smarter than I am and bring it from home where you'll spend less on something better.
I love this moisturizer from La Roche-Posay and highly recommend Aquaphor Lip Repair for keeping your lips moisturized!
Camera & travel tripod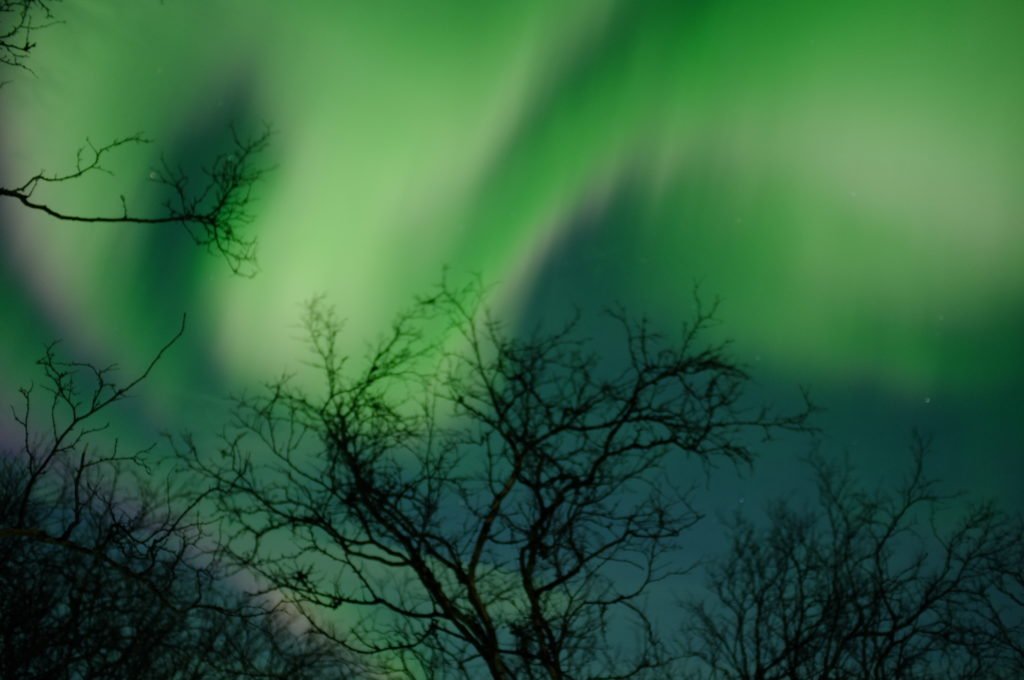 It's highly likely that one of the reasons why you are going to Norway in the winter is to see the magical Northern lights.
In that case, you'll want to ensure you have a camera that is capable of manual settings – a smartphone won't do if you want proper photos.
Most importantly, you need to be able to set the aperture, ISO, and shutter speed.
I used a Sony A6000 and it works great, but I've since upgraded to the Sony A7 II which is a higher-end, full frame camera.
You'll also want a wide-angle prime lens or a zoom lens that has the ability to capture wide angles.
I suggest something in the 16-24 mm range. The wider the better for aurora photos!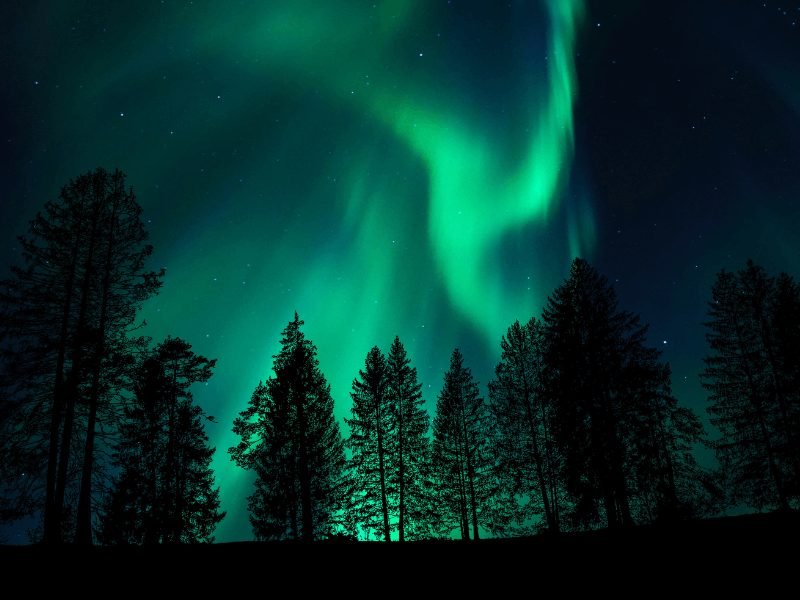 I used this pancake 16mm lens on my Sony A6000 for years and loved it; here is a similar prime wide-angle lens for full-frame Sony cameras.
But a camera isn't all you need. To properly photograph the Northern lights, a travel tripod is absolutely essential.
You need the camera to be still for at least 3-5 seconds to get a decent photograph.
There's no way you can eliminate camera shake for that long without a tripod.
In the past, I've used a simple, cheap 50″ Amazon tripod and it worked just fine.
Be sure to also bring spare batteries as the cold will knock out your batteries so much quicker than you expect!
Base layers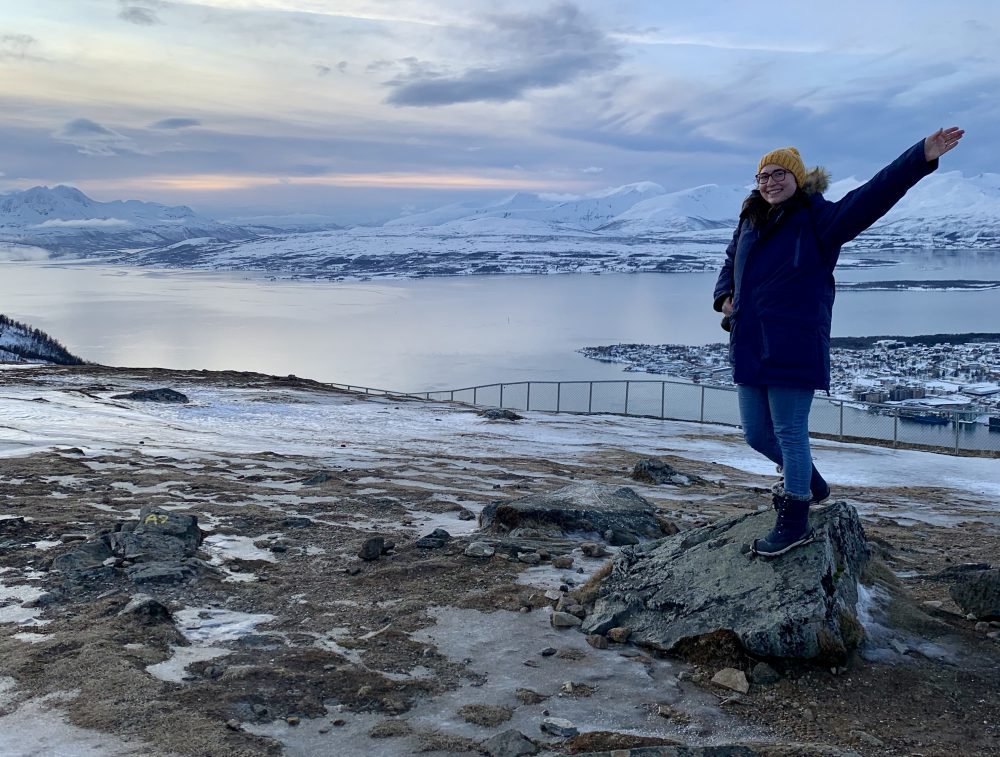 You can get away with wearing most of your normal winter clothing in Norway as long as you have proper base layers that help insulate you and keep you warm.
You need clothing that's moisture-wicking and antimicrobial, which will keep things from getting stinky or uncomfortable when you sweat (which you will if you're walking around or being active, yes, even in the cold!).
For thermal leggings, I recommend these for women and these for men, both by Columbia, a trusted outdoors brand.
For a top thermal layer, I recommend this top for women and this top for men.
Many people swear by wool, but in general I can't wear wool or I get insanely, tear-off-all-my-skin itchy (though wool socks are fine for me as the skin on my feet is thicker).
If you can tolerate wool then something like these merino wool leggings, paired with a cashmere sweater layer, will serve you very well.
A warm winter jacket or parka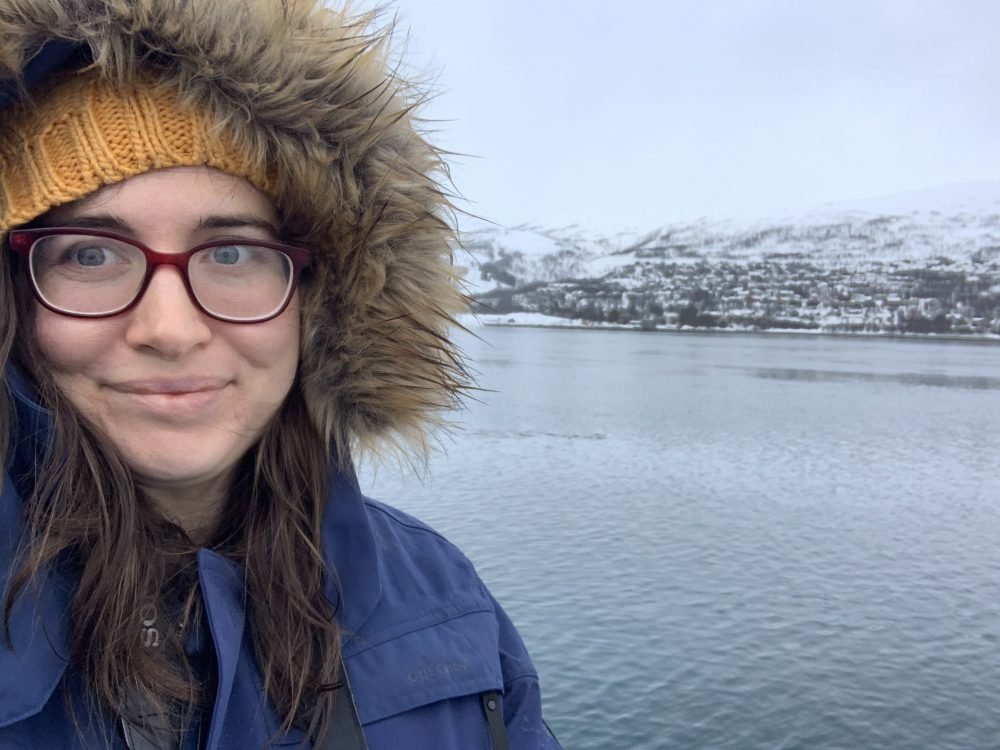 For walking around in Norway in winter, you'll want a nice and warm winter jacket (preferably a parka which goes to about mid-thigh) that is water-resistant and hooded, to keep you warm against the snow.
While winter in many parts of coastal Norway like Tromso actually isn't that cold.
While the average temperatures are around -4° C to 0° C (24° F to 32° F), there is a lot of wind and precipitation, making it feel colder.
You want a waterproofed jacket that will protect against snow and even worse, freezing rain!
For my most trip to Norway, I wore a jacket that I bought from Decathlon which I can't find online but is virtually identical to this one but in a navy blue.
I loved having a faux fur lined hood to keep snow and rain out of my face and the weatherproof material was much-needed. Down feathers add a nice layer of warmth that really helps insulate you (though if you want a vegan option, this jacket is similar).
On my past trip to the Arctic, in neighboring Sweden where it's actually much colder, I did really well with my North Face parka which I've owned for 10 years.
I absolutely love it and would recommend investing in it, I just didn't have it with me since I had recently moved countries and hadn't brought all my cold-weather clothes back with me!
Snow boots & wool socks
I wore a pair of snow boots by Quechua which I bought from Decathlon, which I can't find online.
Here is a similar boot by Sorel, a trusted winter brand that's beloved in Norway and beyond (here's a women's version and a men's version). I recommend sizing about half a size up to account for thick winter socks.
But no matter how insulated your shoe is, it won't do much good if you are wearing thin, crappy cotton socks.
I invested in these Smartwool socks after some hemming and hawing about the price and I'm so glad I did!
How This Tromso Itinerary Works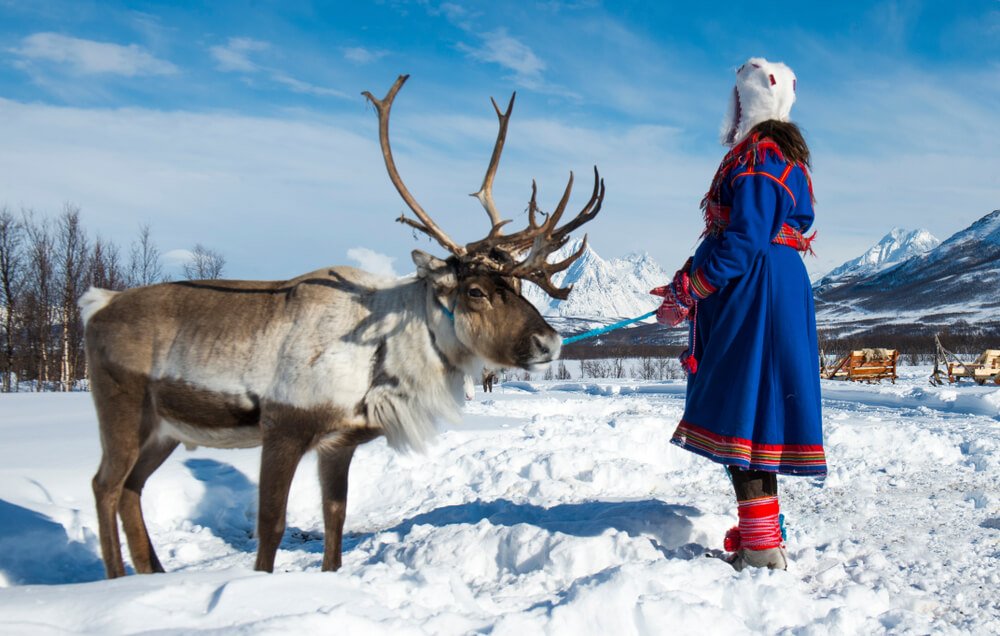 I structured this itinerary for Tromso to be additive.
What does that mean?
Basically, the first day contains the "core" activities in Tromso city center and the following days contain the best activities and day trips from Tromso in (in my personal opinion) descending order in terms of importance and uniqueness.
Feel free to swap around the days a bit to fit your preference or so that you don't have two similar activities back-to-back.
However, this Tromso itinerary is planned so that you can just pluck as many days as you want from this itinerary to fill out the time you have — whether it's one day or five days in Tromso.
If you have more than five days in Tromso, you can just spread out the activities a bit.
Spend more time enjoying the city center, checking out the many Tromso museums and restaurants, and just enjoying Northern Nordic culture in this unique place!
Rather than give you a set "X day Tromso itinerary", you can mix and match to suit your travel style, budget, and time allocated for your visit to Norway.
Tromso Itinerary FAQ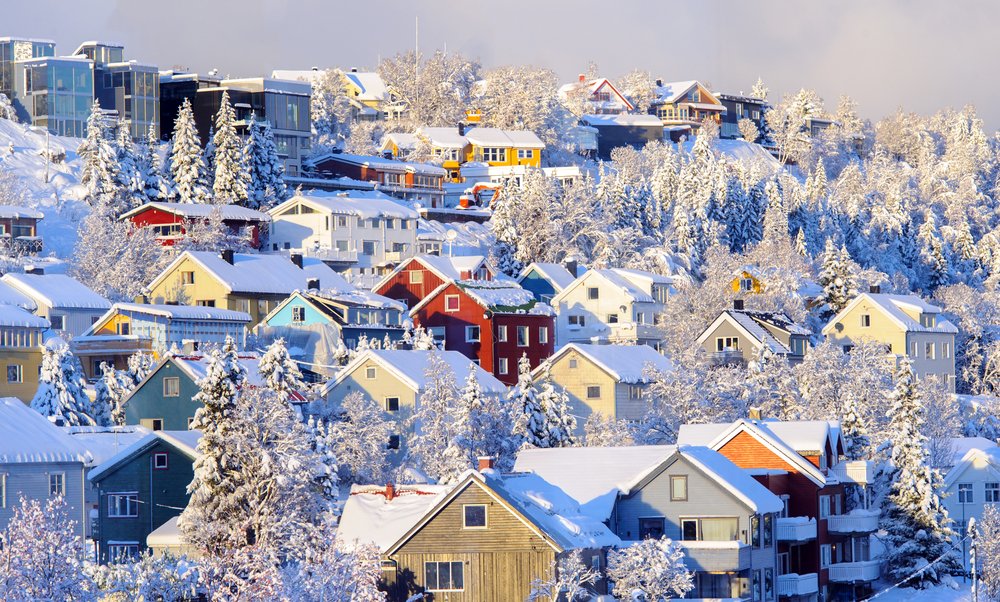 How many days do you need in Tromso?
This is an incredibly hard question to answer! The true and honest answer is that it depends.
Tromso is a small and compact but culturally rich city. Its highlights can be seen in a day, and you can get a good feel for the city in that time.
However, most people visit Tromso not for the city itself but for all the incredible activities you can do in Tromso.
Chasing the Northern lights, going dog-sledding, meeting Sami reindeer herders, snowshoeing, cross-country skiing: the list of activities in Tromso goes on and on.
The good news is that many activities run both during the day and at night, so you can typically do two half-day activities per day in Tromso.
Dedicate one full day to simply engaging in sightseeing in Tromso, and then for every two activities you want to do, account for at least one day if you like to travel at a quick pace.
Add one extra day for downtime if you prefer to travel slower.
For example, if you're visiting Tromso and you want to do whale watching, dog sledding, a Sami reindeer camp, and a Northern lights chase, you should spend at least 3 days in Tromso, but 4 would be even more relaxed.
If you want to spend some time in other parts of Northern Norway, such as staying in one of the ice hotels and Northern lights hotels, add on more time.
How much spending money do I need for Tromso?
Travel costs in Tromso are on the high side, mostly because of accommodations, food, and activities.
Expect to spend roughly $200-300 USD per night on a hotel, $20-30 USD per meal (one course, no alcohol), and $150-250 per activity.
There are ways you can reduce costs — staying in an Airbnb instead of a hotel, cooking meals instead of eating every meal at a restaurant, doing fewer activities.
That said, overall, a trip to Tromso will be on the more expensive side of things. And with good reason: it's a bucket list trip if there ever was one!
For a typical day that involves two activities, one meal (assuming the other is provided during an activity, as is often the case), and one night in a hotel, plan around $300-400 USD per person per day, assuming two people or a family are sharing a hotel room.
Note that this does not include travel costs, which will range wildly depending on where you are flying into Tromso from!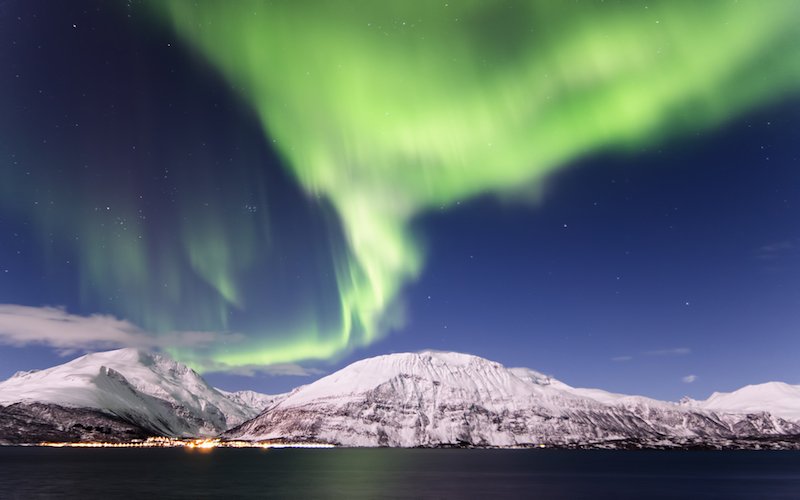 Is Tromso a good place to see the Northern lights?
Surprisingly, for its popularity, Tromso is not the best place in the Nordics to see the Northern lights.
If you truly want to see the Northern lights, Abisko in Sweden is widely considered to be the best place to see the Northern lights.
Finland also has better odds for Northern lights in destinations like Rovaniemi.
Why is that? Simply, Tromso is coastal, and with coastal weather comes lots of cloud cover and snow, blocking the Northern lights.
I spent one week in Tromso and I saw the Northern lights three times… and one time, we had to drive all the way across the Finnish border two hours away!
Will I need a car in Tromso?
Definitely not! I typically love renting a car when I travel, but Tromso has a great, easy-to-navigate bus system and is very walkable if you are staying in the center.
Parking is expensive in Tromso and most activities include pickup and drop off, so there's no real reason to rent a car while in Tromso, especially if you're not a confident winter driver.
However, if you are staying outside the city center — say, if you are doing the Arctic Glamping that I outline below — or you just prefer to comfort of having your own wheels while you travel, you may want to rent a car.
If you do decide to rent a car, check prices and reserve your car at Tromso Airport in advance here!
Where to Stay in Tromso in Winter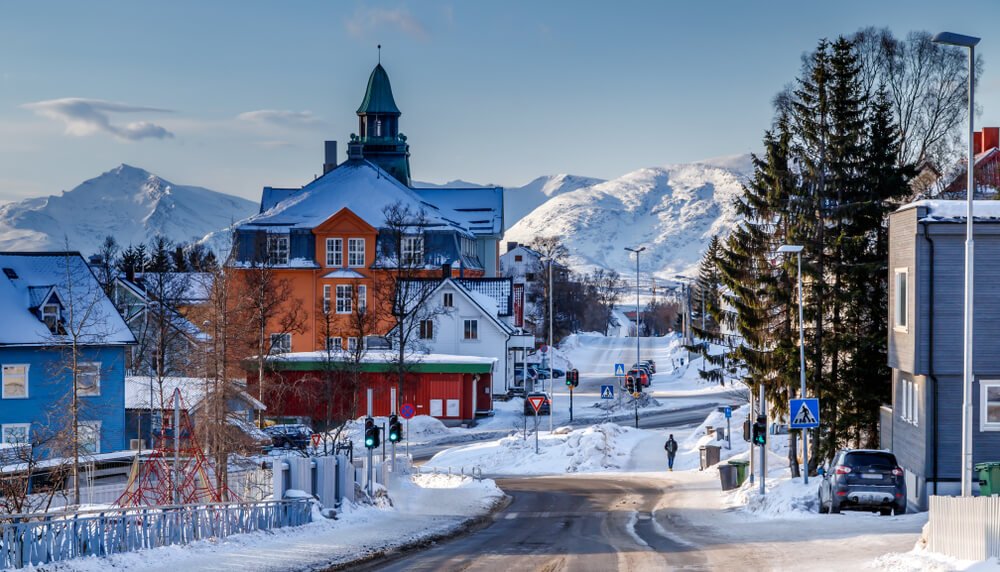 First things first: when it comes time to pick where to stay in Tromso in winter, book early.
The best deals go fast, as accommodation is limited and Tromso is soaring in popularity as arctic travel gets really big.
Accommodation will be one of the pricier parts of your trip to Tromso, so be sure to budget accordingly.
Expect to spend, even on the budget end of things, approximately $100 USD per night per person at a minimum, and around $300 per night for upper-tier accommodations.
Budget: The best budget option in Tromso is hands-down Smarthotel Tromso.
It's right in the heart of central Tromso, so it's easy to get to all your activities, it has all the things you need in a hotel — 24 hour reception, comfortable beds, a work desk, some food available in the lobby.
Note that breakfast is not included in the price but can be added for a fee.
Mid-Range: If you want to stay in a chic boutique hotel that's not overly fancy, Thon Hotel Polar is a fabulous choice.
The decor is irreverent yet modern with a polar theme. Breakfast is included and there is also a restaurant on-site should you want to dine in.
The location couldn't be better, so it's a fantastic choice for mid-range travelers to Tromso in winter.
Luxury: There are three Clarion Collection hotels in Tromso, but the nicest of the three seems to be Clarion Collection Hotel Aurora.
Why? It's harborfront and has an incredible rooftop jacuzzi where you can try to spot the Northern lights!
Rooms are luxurious and modern with updated bathrooms, and the facilities include a gym, free afternoon coffee with waffles, and a light evening meal as part of your stay.
Your Tromso Itinerary, Day by Day
Day 1: Getting to Know Tromso
Wander around the City Center.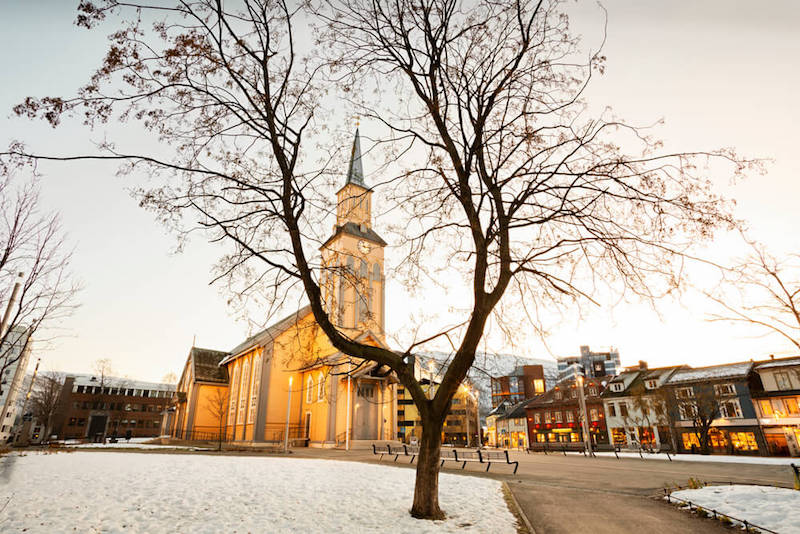 The Tromso city center is remarkably cute and compact, making it easy to hit up all the must-sees on a quick self-guided walking tour when you visit Tromso.
The main square in the city is located around the Tromsø Cathedral, the world's northernmost Lutheran church! Its construction dates back to 1861, and it is unusual in that it is a cathedral made nearly entirely of wood, when most cathedrals are typically made of stone.
After checking out the cathedral, take a stroll down Storgata, the main pedestrian street in Tromso. This is a great place for window-shopping and people-watching, and you may spot some souvenirs you want to buy later in your trip.
The Tromso Library (Tromsø bibliotek og byarkiv) is another interesting spot to see in the city center due to its unique architecture.
Check out the Cathedral of Our Lady in Tromso, another historic wooden church that dates back to 1861. Its architecture is really beautiful and it has a quieter and more peaceful atmosphere.
Finally, wander down to the Tromso Harbor, for all sorts of colorful building facades right on the fjord's edge. It's really scenic — it's gorgeous to see all the colors against the striking white snow and glassy water of the fjord!
Visit the Polar Museum.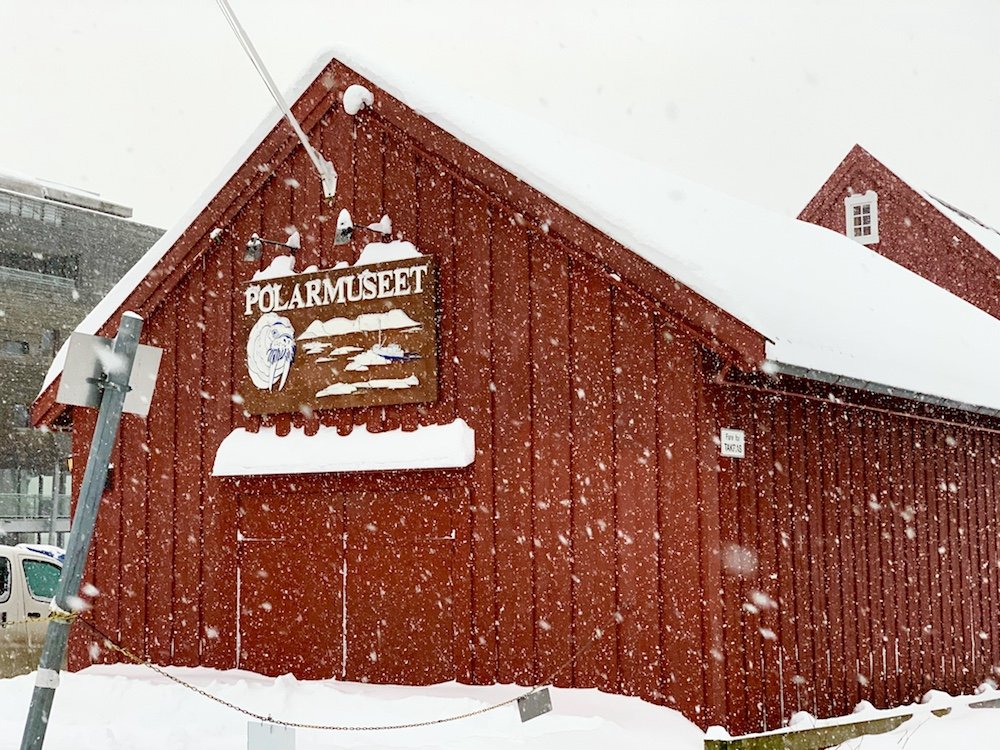 Not far from the Tromso Harbor is the Polar Museum (Polarmuseet) which is a really interesting place to visit in Tromso.
It's a fascinating place that excels at storytelling the tales of Arctic adventurers — both men and women — who explored the Polar region and went out to sea in order to hunt and trap in the Arctic.
Tromso served as the gateway for many of these polar expeditions and you can learn a ton about all the adventurers who departed from Tromso in search of places that were never yet explored by man before.
A good portion of the Polar Museum is dedicated to the explorations of Roald Amundsen, who was the first verified person to travel to the North Pole (though that is contested) as well as the South Pole (which is uncontested).
It also tells the story of Fridtjof Nansen who skied across Greenland and later lobbied for refugee rights after WWI (and received the Nobel Peace Prize for it!).
The museum also takes a look at other Arctic adventurers who are often overlooked.
I appreciated that the museum took a good deal of time to also look at female explorers who made amazing accomplishments to lesser fanfare.
I learned stories of explorers such as Monica Kristensen Solås (a famed Arctic and Antarctic explorer) and Liv Arnesen (the first woman to reach the South Pole independently).
The stories are told compellingly with lots of English-language signage so it's a great way to learn a bit more of the history of Arctic and Antarctic expeditions, and Norway's outsized role in exploring these previously little-known polar regions.
Check out the Arctic Cathedral.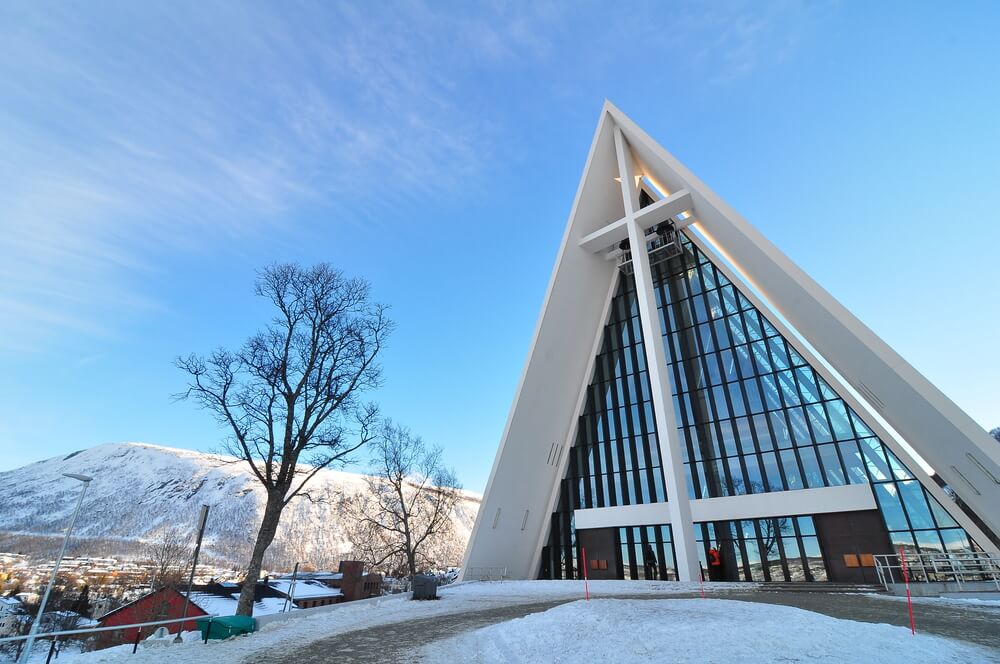 After checking out the Polar Museum, take a stroll across the beautiful Tromsø Bridge to the other side of the fjord, Tromsdalen.
The bridge is actually quite wide — over a kilometer long! — so allow around 15-20 minutes to reach the other side of the bridge. It's a beautiful stroll though, and the views can't be beat!
Once you reach the other side of the bridge, you will find the stunning Arctic Cathedral.
This is an absolute wonder of architecture and it's one of the most iconic landmarks of Tromso.
Entrance to the Arctic Cathedral costs 55 NOK ($7 USD) and it's well worth it to see this beauty, dedicated to and inspired by the arctic landscapes that surround it, from inside.
Take the Fjellheisen Cable Car.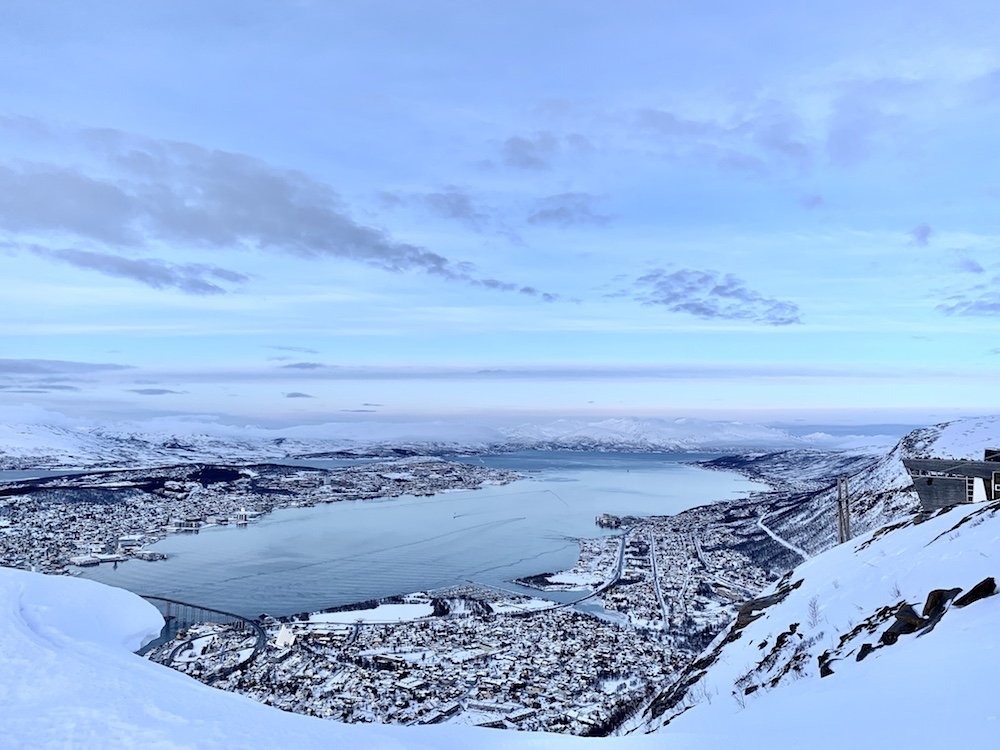 Want the best view in Tromso? It's from the top of Storsteinen (420 meters / 1,377 feet) above sea level.
After checking out the Arctic Cathedral, make your way over the Fjellheisen cable car station, about a 15-minute walk from the Arctic Cathedral. Bring your crampons because this way can be really icy!
Easily accessible via a 4-minute cable car, taking the Fjellheisen cable car is a must when in Tromso.
Where else can you can look over the entire city of Tromso as well as the fjord?
Taking the Fjellheisen cable car is reasonably priced. A roundtrip ticket cost 225 NOK ($21 USD) which is not bad for Norway.
And trust me – these views are worth the price!
From the viewing platform, you'll have a beautiful view of Tromso and the fjords and islands that make up this beautiful city and its environs.
You can also walk around (again, you'll want your crampons for this — it can get really icy) to explore other areas of Storsteinen and the views they offer.
But really, the viewing platform offers the best panorama — great during the day as well as at night for spotting the Northern lights!
Have a nice meal & hope to spot the Northern lights.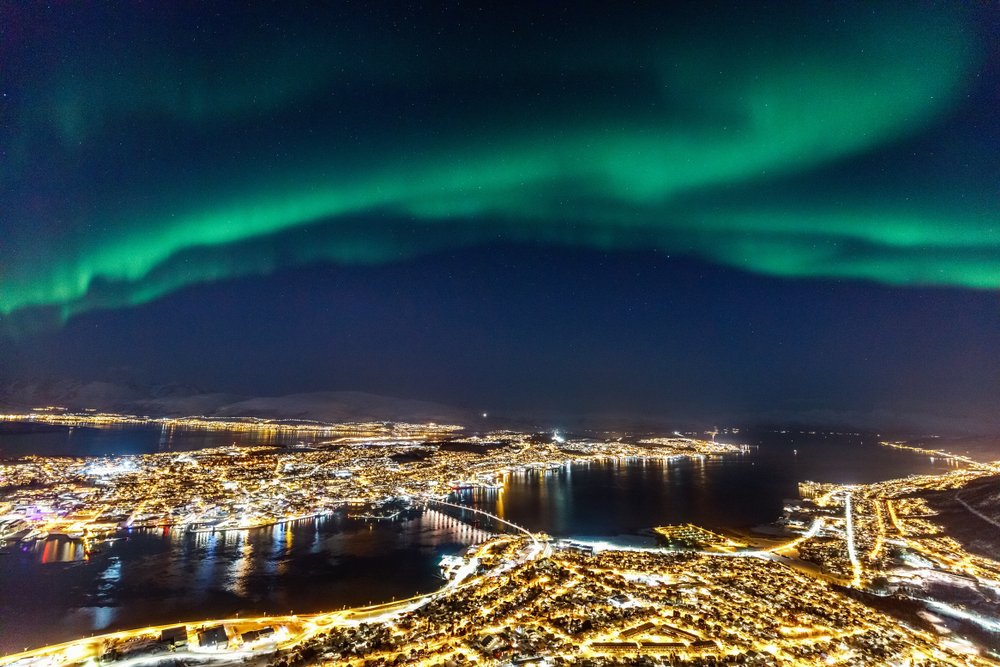 While at the mountain station, be sure to visit Fjellstua Café, which has a nice selection of Scandinavian food at a reasonable price (for Norway, that is).
Depending on the time of year you visit, it's well worth it to time your trip up the Fjellheisen cable car for golden hour, watch the sun set over the beautiful landscape and spend some time with a cup of coffee or late lunch / early dinner.
Note that because sunrise and sunset times vary so much depending on the month, this is hard for me to explain when you should go.
When I went in early February, the sun set at 3 PM, so I timed my trip up the cable car around 2 PM, walked around for an hour and watched the sunset, then spent some time with a coffee and waited for it to get dark.
I didn't have the patience to stay all night hoping for a glimpse of the aurora, and I knew I had lots of opportunities to chase the Northern lights throughout the rest of my trip, so I headed back down without a glimpse of the lights.
However, you could also time your visit to the cable car for later in the evening for a better chance of the lights… or you may visit Tromso during the polar night when it's basically almost always evening anyway!
Having seen the views from both day and night, I can tell you both are beautiful. However, I think it's best to see the view from daylight if possible and think of nighttime as a bonus if you have the patience!
If this is your only day in Tromso, I'd suggest heading back down the cable car, returning to your hotel to freshen up, and then going on an aurora chasing tour for the night.
If you're spending another day in Tromso or more, I've scheduled the aurora chasing tour for the following night, so you can spend the evening at your leisure.
Day 2: Dog Sledding & Aurora Chasing in Northern Norway
Start the day with a dog sledding experience.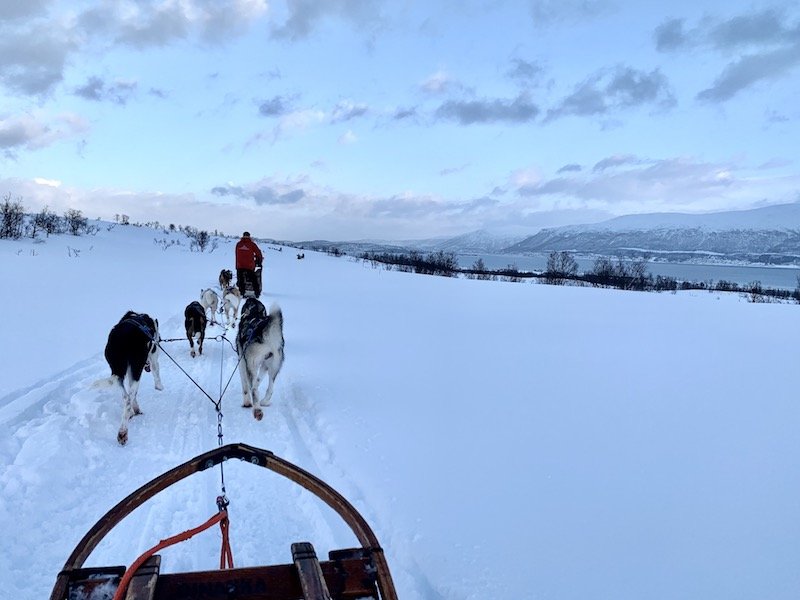 Wake up bright and early and be sure to eat a hearty hotel breakfast — you're in for a workout today!
Find the pick up point for your dog sled adventure and get carted away to the beautiful island of Kvaloya, where your dog sledding tour will take place.
I highly suggest doing a self-drive dog sled tour.
Not sure what self-drive means? I overview the differences between the two kinds of tours in my post on dog-sledding in Tromso.
This is the exact tour that I did and I loved the experience.
And what's not to love, controlling your own dog sled as you zip through the snow with views of fjords and the Lyngen Alps surrounding you everywhere you look?
While you self-drive the dog sled, taking turns with a partner, you are traveling as part of a small group with several mushers and local guides.
Don't worry, they're fully available to help you keep your dogs safe and not get lost while you embark on a winter adventure!
However, if you are traveling with young kids or you want a less active experience for whatever reason, a guided dog tour sled is also a great option.
A guided dog sled tour means that a musher conducts the sled and you sit and enjoy it. It is definitely less hands-on, but it's also a great experience.
Personally, I have done two self-drive husky safaris and one musher-led tour. I much preferred the self-drive experience.
That said, I can absolutely see the benefits of a musher-led dog sled tour, especially for families with kids or for those with mobility limitations.
Book your self-drive husky adventure or your musher-led tour!
Visit one of Tromso's museums or aquariums.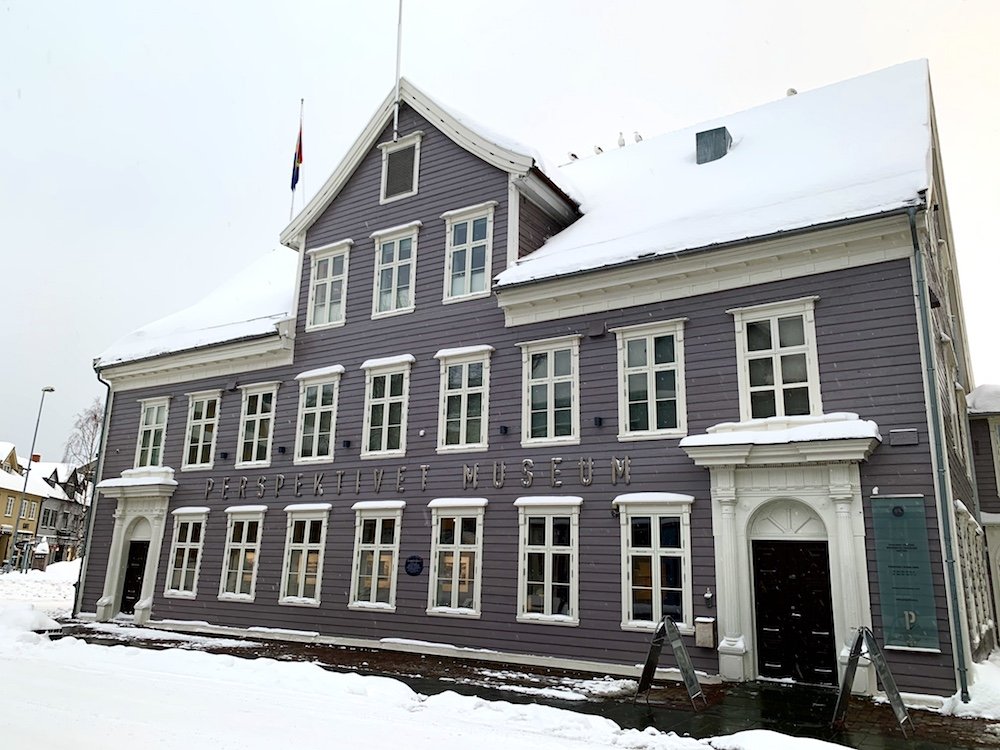 After your dog sled adventure, you'll have some free time between your morning and evening activities.
Use this time to see a few of the other sights in Tromso that you didn't get to see earlier.
If you're not sure what to do next on this Tromso itinerary, this is a great time to check out some of Tromso's excellent museums!
I visited a number of museums during my week in Tromso and I can definitely identify a few highlights.
One favorite museum was Perspective Museum (Perspektivet Museum) which focuses on, well, different perspectives in Norway through the lens of photography.
The diversity of Tromso is the primary focus of the museum, and when I was there, there was a special exhibit on the different religions of Tromso and how those were practiced by its residents.
Best of all? The museum is free! Allow yourself about 30-60 minutes for the museum.
Another great museum is the Nordnorsk Kunstmuseum (Northern Norwegian Art Museum) which focuses on the fine art of Northern Norway.
I appreciated that they were dedicated to showing a diverse array of art including art from female artists and Sami artists.
Admission is 80 NOK (about $9 USD) and you could easily spend about an hour or two here.
One other museum option is Polaria, which is the world's northernmost aquarium!
It is rather small, but it focuses on Arctic sea life, especially seals, who have training and feeding sessions there daily.
It also focuses on the issues addressing the Arctic, such as global warming and rising sea levels, while still being entertaining for children and families.
Have an early dinner.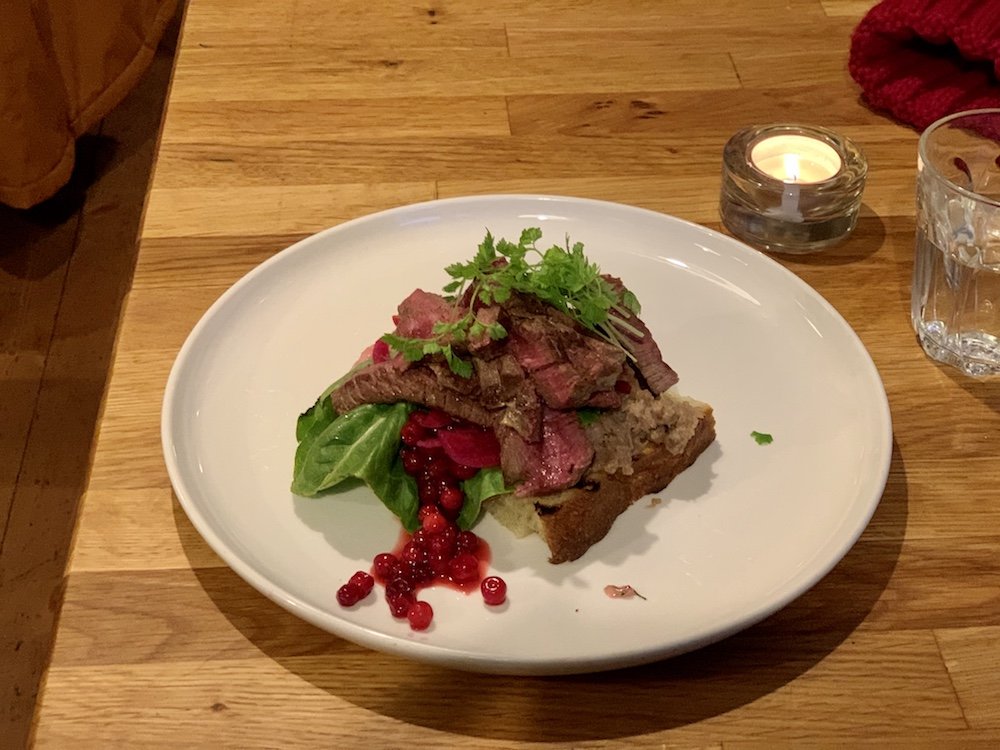 You're in for a late night tonight when you chase the Northern lights, so be sure to eat a light early dinner to hold you over.
Most Northern lights tours — at least the one I did! — include a dinner around the fire.
That said, this often won't be until 10 PM or later, once you set up your aurora camp, so it's better to be well-fed walking into your aurora tour!
I suggest eating at Bardus Bistro — the reindeer and lingonberry open-face sandwich was one of my favorite meals in Norway!
Go on a minibus tour to see the Northern lights.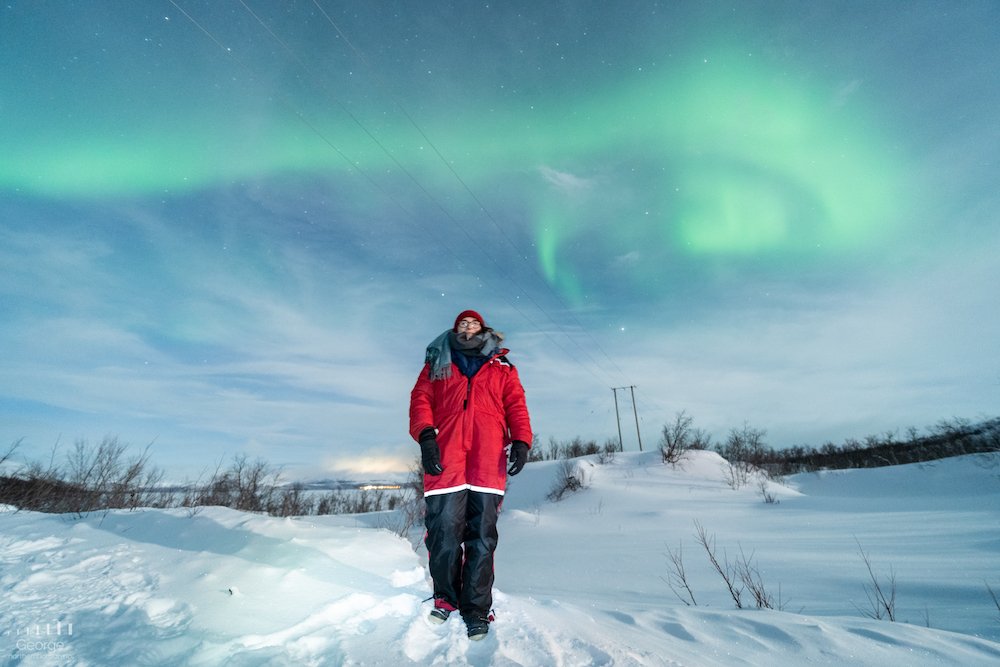 If there's one essential tour during your first time in Tromso, it's a Northern lights minibus tour!
This is the best way to see the Northern lights because it is an activity specifically dedicated to chasing the lights wherever that may take you — even into neighboring Finland!
Meanwhile, other "Northern lights tours" or tours "with a chance of Northern lights" are stationary and so your chances are far lower of seeing the lights.
When you take a minibus tour specifically dedicated to seeing the lights, it's almost guaranteed that you'll see the beautiful aurora borealis!
I wrote a guide to all the different ways you can experience the Northern lights, but this is the #1 way I would choose if I could only pick one.
If I could pick more than one, I would make sure it was a minibus tour and also one other tour focused on another activity with the aurora as a bonus rather than the main agenda.
Seeing the aurora is incredible but personally, unless you're a photographer specifically hoping to photograph the aurora borealis as much as possible, I think one night chasing it in earnest is enough!
Day 3: Hit the Fjords & Meet Reindeer
Pick a whale-watching cruise or a fjord wildlife cruise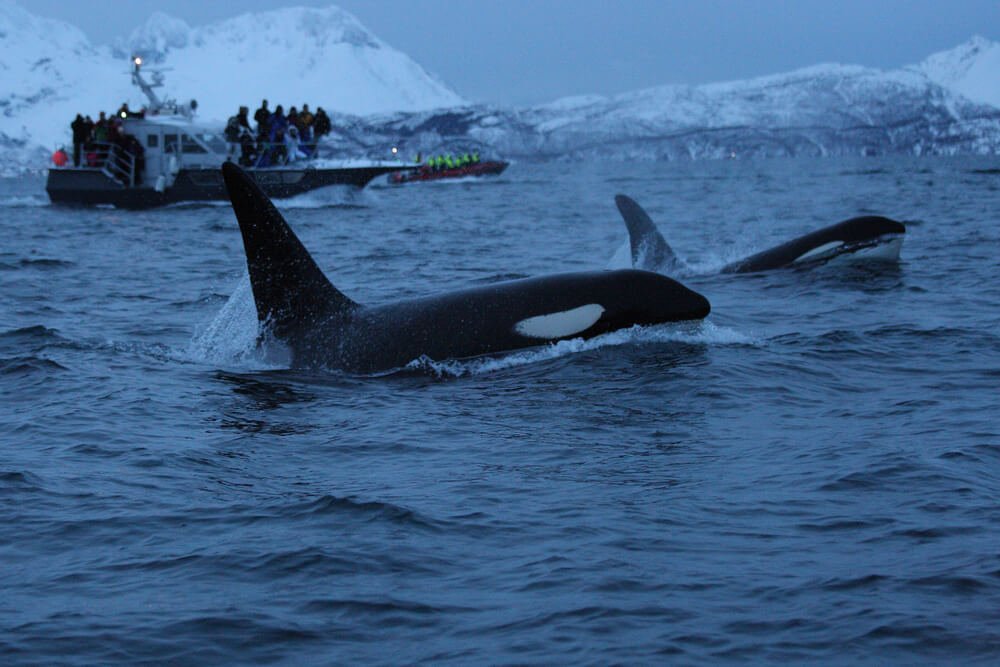 The fjords of Northern Norway are an incredible delight and cruising through the fjords on a boat is one of the top things to do in Tromso in winter!
If you visit in time for whale watching season, from November through late January, then you really out to make time for a whale watching cruise.
It is pretty much a full day endeavor and you will be quite tired afterward, but it's well worth it.
Where else can you predictably see orcas and humpback whales in such large numbers?
There's nowhere else I can think of, and I grew up in California, home to some pretty amazing whale watching!
Note that the whales used to visit the fjord of Tromso itself, but due to changing migration habits and food locations due to climate, the whales now are mostly found off the island of Skjervøy.
This is a good deal removed from Tromso by boat, so it will take quite a while to get out there. Make sure to bring some seasickness tablets or bands to combat the rough waters if you are prone to seasickness!
Unfortunately, on my winter trip to Tromso, I was unable to see the whales as my tour was canceled, since the whales left Tromso earlier than expected.
Such is the nature of seeing wildlife in the wild!
In place of that, I booked a fjord cruise with a focus on wildlife in the fjord of Tromso itself (rather than out in Skjervøy), and it was amazing.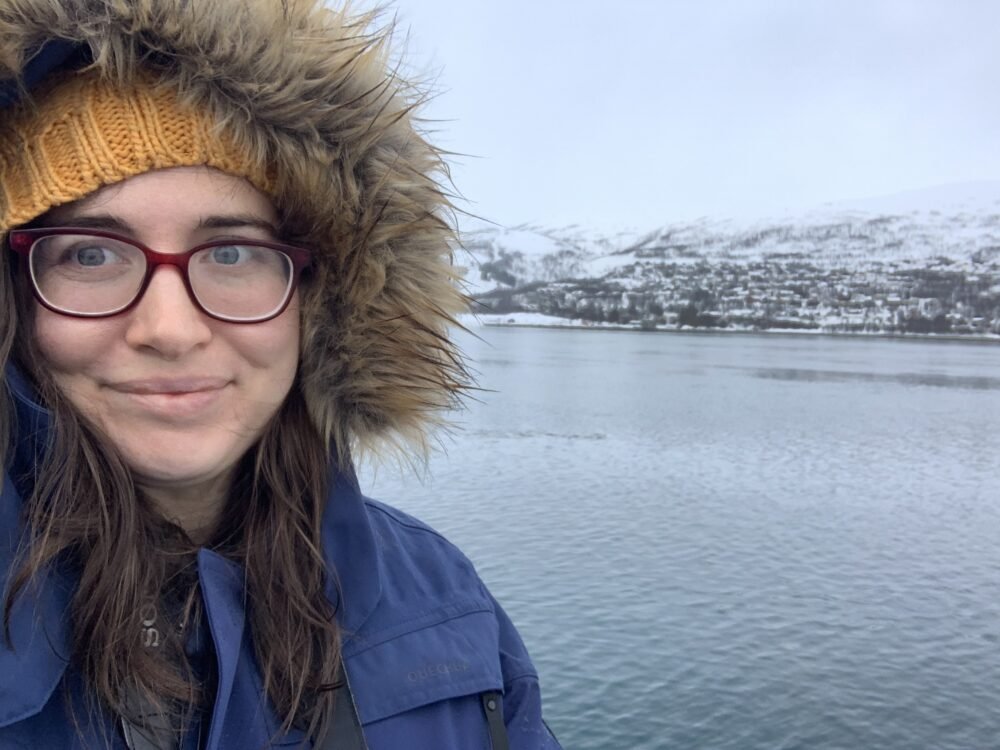 It's a great substitution for a whale watching cruise, though of course, you won't be able to see whales in the fjord of Tromso anymore.
However, we got to see sea eagles, pods of dolphins, and all sorts of other incredible arctic wildlife.
It was really beautiful and memorable and I was so happy to do it that it (almost!) took away the pain of not being able to go whale watching).
While I'm prone to seasickness in general, every time I went out on the water near Tromso (twice), I found the water to be pretty calm and easy on my stomach.
However, I've heard the water is rougher by Skjervøy, so that's something else to keep in mind when choosing between the two activities.
If you are very prone to seasickness, the calmer waters of a Tromso fjord cruise are a safer bet.
Have lunch or spend time relaxing at the hotel.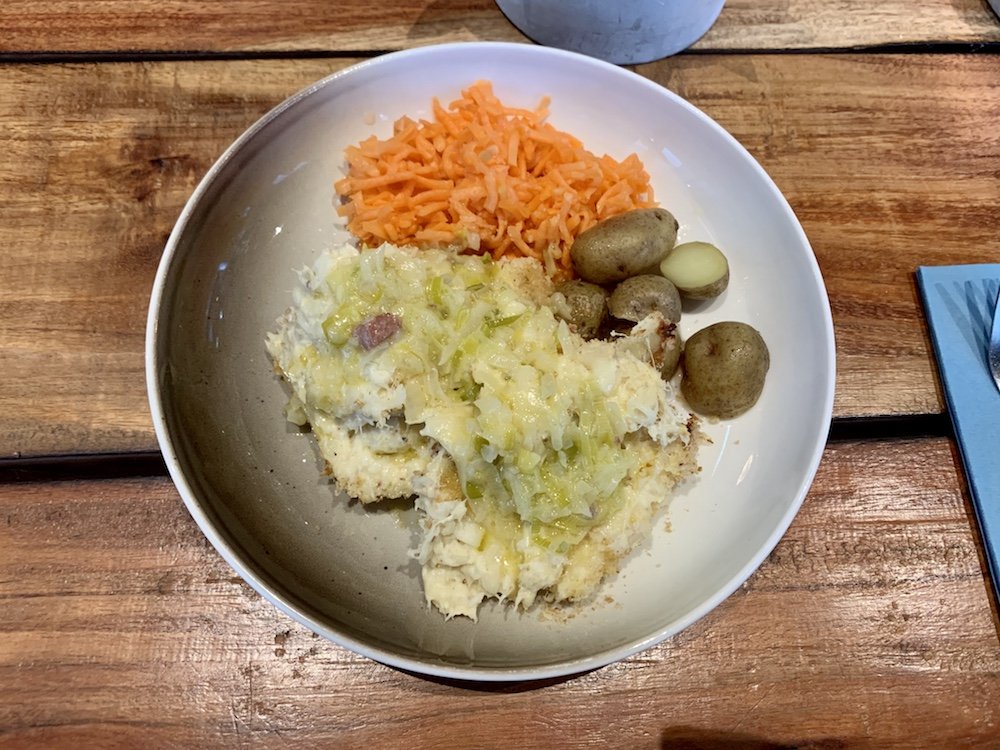 Depending on what kind of tour you did, and whether food was included or not, it might be just about lunchtime!
In which case I suggest grabbing the lunch special at Mathallen, which is a delicious place to eat that has relatively affordable prices.
Not feeling Norwegian food? Grab the lunch special at Burgr for a delicious burger and fries.
Do a Sami reindeer camp and Northern lights tour.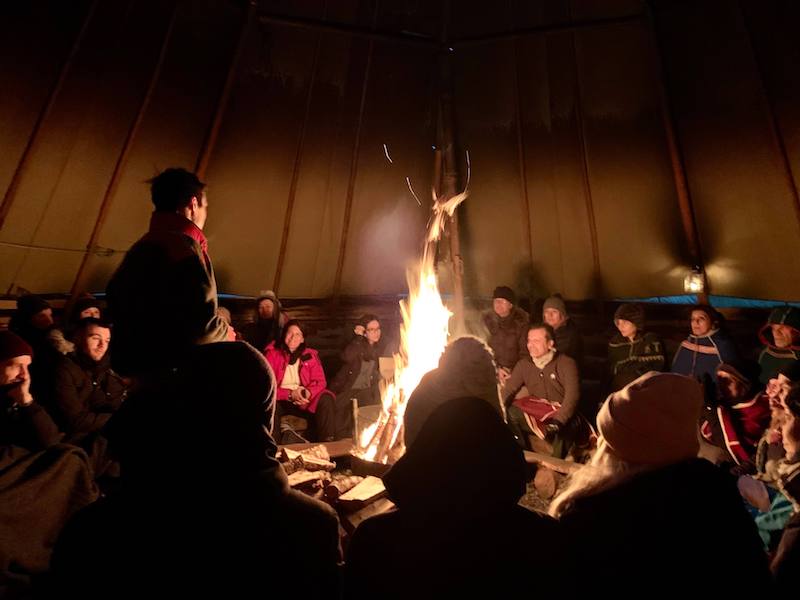 When in the Arctic, it's a must to visit a Sami reindeer farm for a variety of reasons.
For one, reindeer are adorable. But more importantly, the Sami people contribute greatly to the culture and history of Northern Norway: these are their ancestral lands, after all.
I go into more detail on who the Sami people are and why reindeer are important to them in my article on reindeer sledding in Tromso.
For the sake of brevity in this already mega-detailed Tromso itinerary, I'll just say that learning about Sami culture and history is an integral part of being a responsible tourist in Norway.
Supporting the preservation of the rich Sami culture through tourism is an easy and enlightening way to ensure that Norway's tourism riches extend to their Indigenous population.
You could do this activity during the day, as I did, but I had one full week in Tromso so it was pretty easy for me to spread out my activities.
If you have a limited amount of time to dedicate to a Tromso itinerary, this is a great activity to do at night because the scenery is pretty limited and you can interact with reindeer just as well by night as you can by day!
If you go reindeer sledding, the sledding portion of the itinerary lasts no more than 20 minutes, so the lack of light isn't a big deal.
Additionally, the majority of the tour experience takes place in the lavvu, the traditional Sami tent.
This is where you'll eat a meal (bidos or traditional Sami reindeer stew — vegetarian options also available) and then listen to Sami storytelling and joiking (the traditional Sami song).
Since so much of the activity is inside, it's a great option for nighttime on day 3 of this Tromso travel guide.
And you'll be far out from the light pollution of Tromso which gives you a good shot of seeing the Northern lights if they are out and about that night!
Day 4: Do a Day Trip to the Ice Domes
Wake up bright and early for breakfast.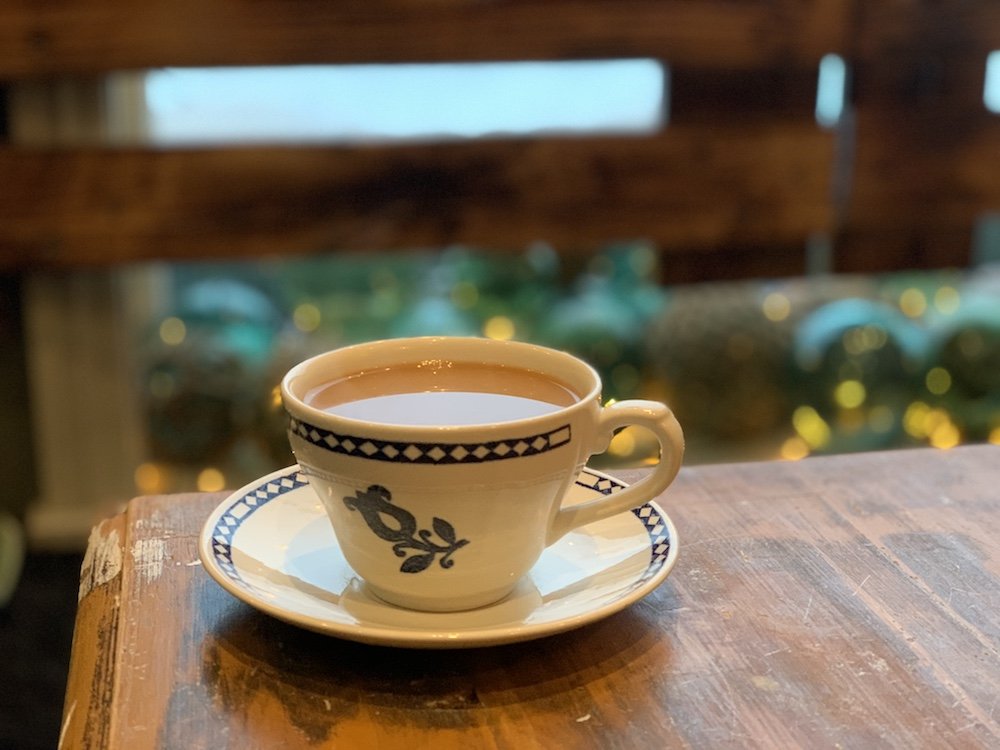 Time for another early day in Tromso!
Eat some breakfast at your hotelbecause your tour starts soon, and you'll be off to the races most of the day.
Head to the Tromso Ice Domes.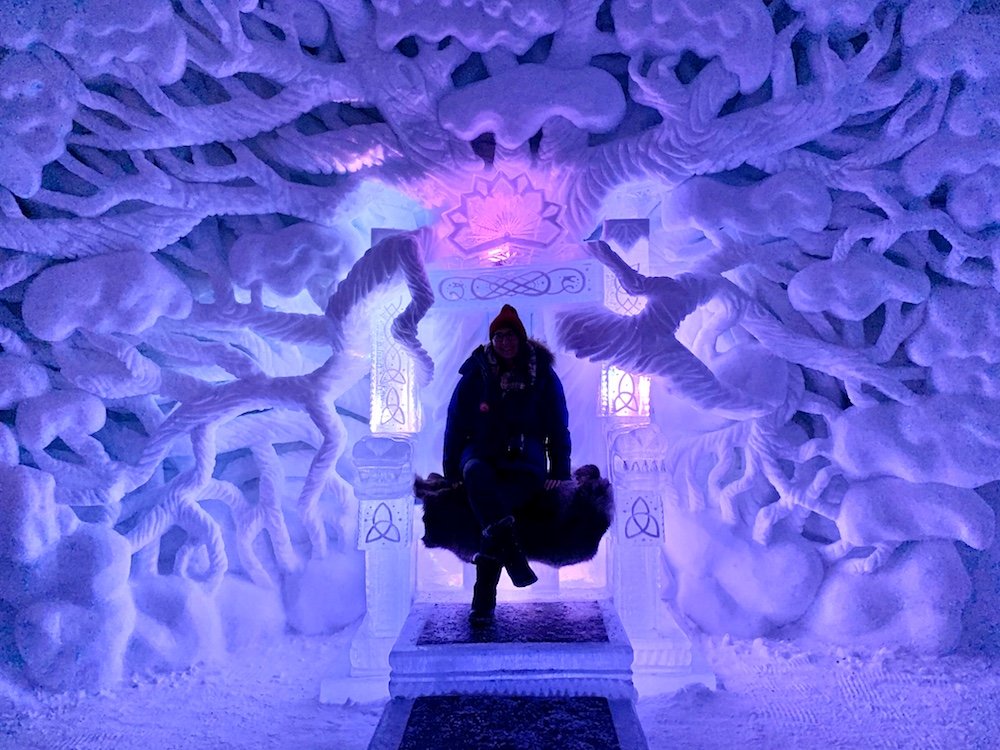 This was one of my favorite day tours in Tromso because the ice hotel is simply magical. There's nothing quite like it anywhere I've been before!
Every year the Tromso Ice Domes are rebuilt from scratch during the dark months that lead up to the polar night, the period of six weeks where the sun does not rise above the horizon in the winter in the Arctic Circle.
The people constructing the Ice Domes work around the clock to get the ice hotel up and running before the tourist season begins.
They take huge chunks of frozen ice from rivers nearby so they can start crafting an ice hotel that will melt away with the coming of summer!
A day tour is extremely easy to manage: it includes a shuttle transfer (1.5 hours each way from Tromso to the Ice Domes) and guided tour of the property.
Not sure how to make this work? I have a full guide to visiting the Ice Domes on a day trip here.
The tour will explain how the Ice Domes are built from scratch, and they will show you the ice bar and restaurant, as well as the rooms where guests can stay the night.
The tour also includes some free time to take photos, feed the reindeer on-site, or grab a cup of soup at the restaurant (which is delicious, by the way!)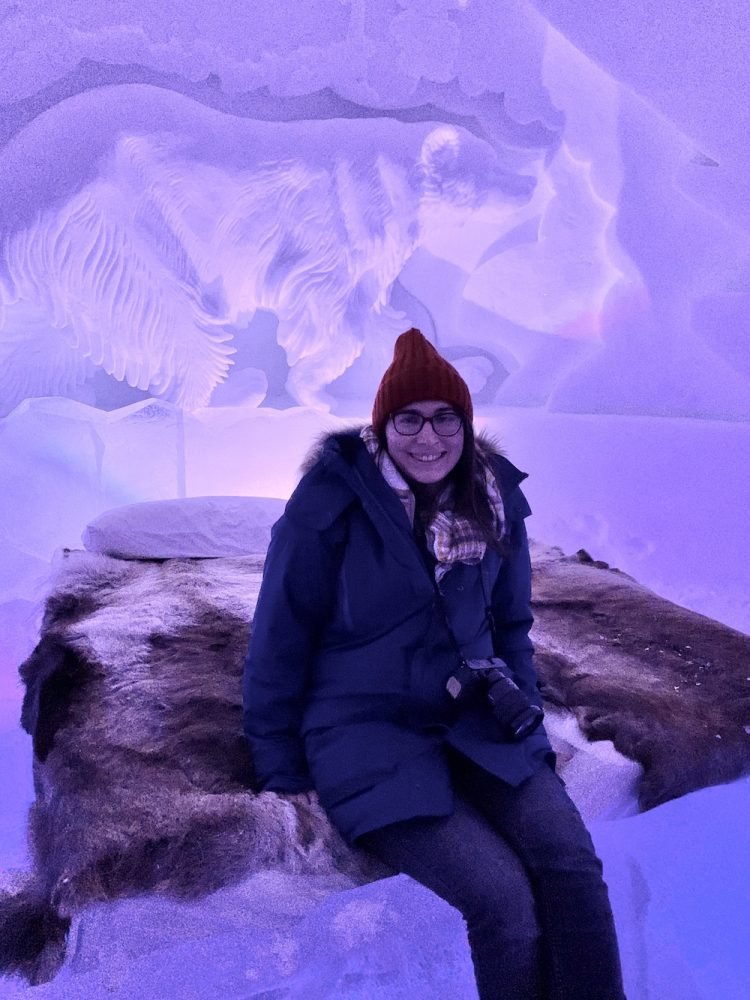 For the sake of clarity, this Tromso itinerary will assume that you are heading back to Tromso after your tour, but do know that if you have the budget for it, you can spend the night at the Tromso Ice Domes!
It's expensive, but it's an incredible bucket list item that you'll never forget, and if you are looking for a once-in-a-lifetime type of trip, this is exactly the kind of thing you should splurge on.
If you do an overnight tour with an ice hotel stay, you'll also get to do a snowshoeing tour, an aurora camp to spot the Northern lights, dinner and breakfast the following morning, and a husky-sledding tour the next day, before being transferred back to Tromso.
If doing the overnight tour, skip to tomorow's section of the Tromso itinerary. If just doing a day trip, continue reading!
Enjoy a nice lunch in Tromso.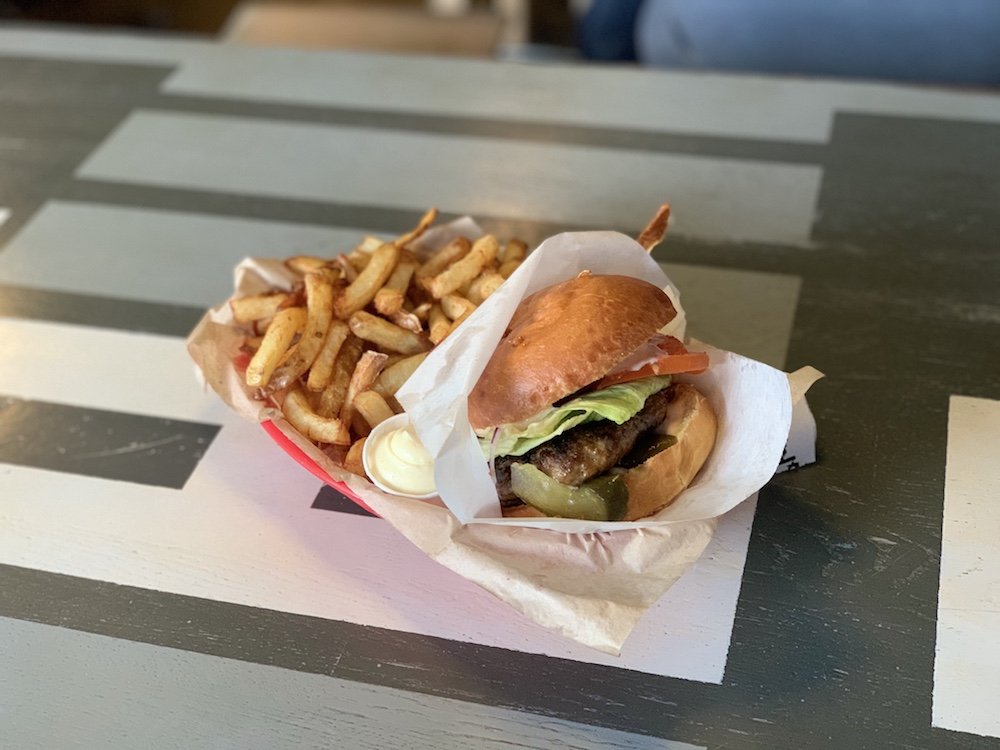 While you could eat a meal at the Ice Domes, I don't really recommend doing it unless you're super hungry because it really takes up some of your limited time touring the Ice Hotel.
I did because I was starving (and the food was good!), but I ended up feeling a bit rushed on my tour, so I wish I waited until back in Tromso to have lunch!
On this day, you could eat at one of the other remaining great restaurants in Tromso.
If you haven't been to Burgr, Mathallen, or Bardus Bistro yet, I would pick one of those three.
If you've exhausted those three, my next choice would be Nyt, which has a tasty reindeer burger, or Emma's Dream Kitchen.
The latter is where I had a surprisingly tasty dish of fried cod tongues (there are much more 'normal' items on the menu, but this was super tasty!)
Spend the late afternoon your way.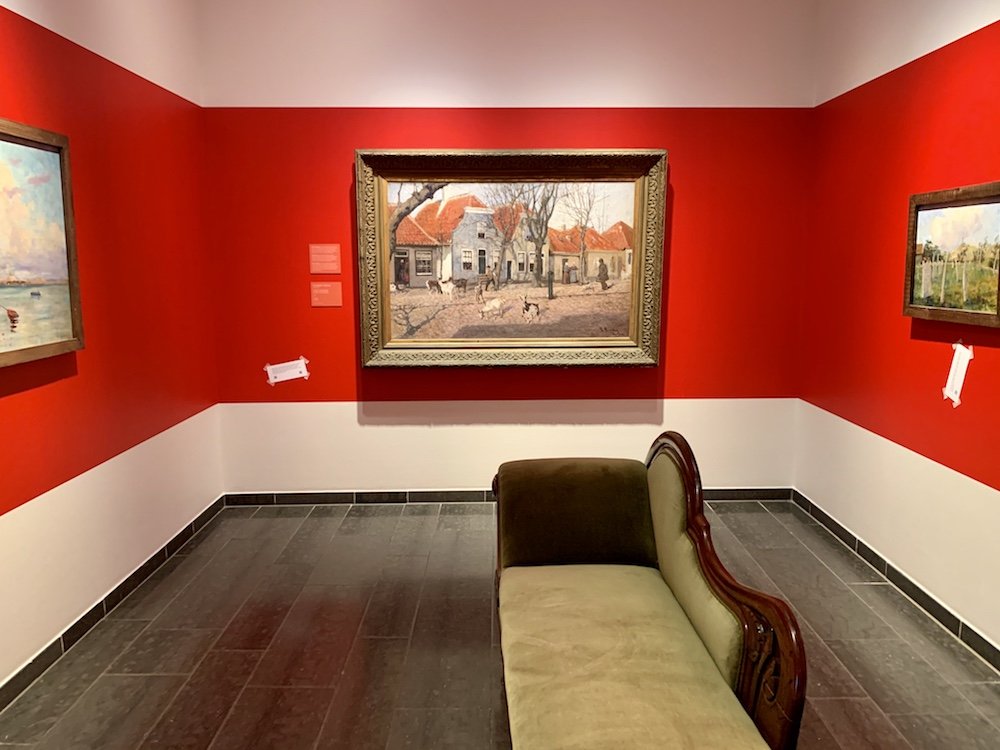 Here you have some free time to explore whatever you've missed in Tromso.
This could be doing some shopping along Storgata or spending some time checking out a coffee shop.
Another option is paying a visit one of the other museums you haven't gotten a chance to see yet.
Whatever you choose, there's plenty to do in Tromso to fill up a few hours.
Have a drink at Ølhallen.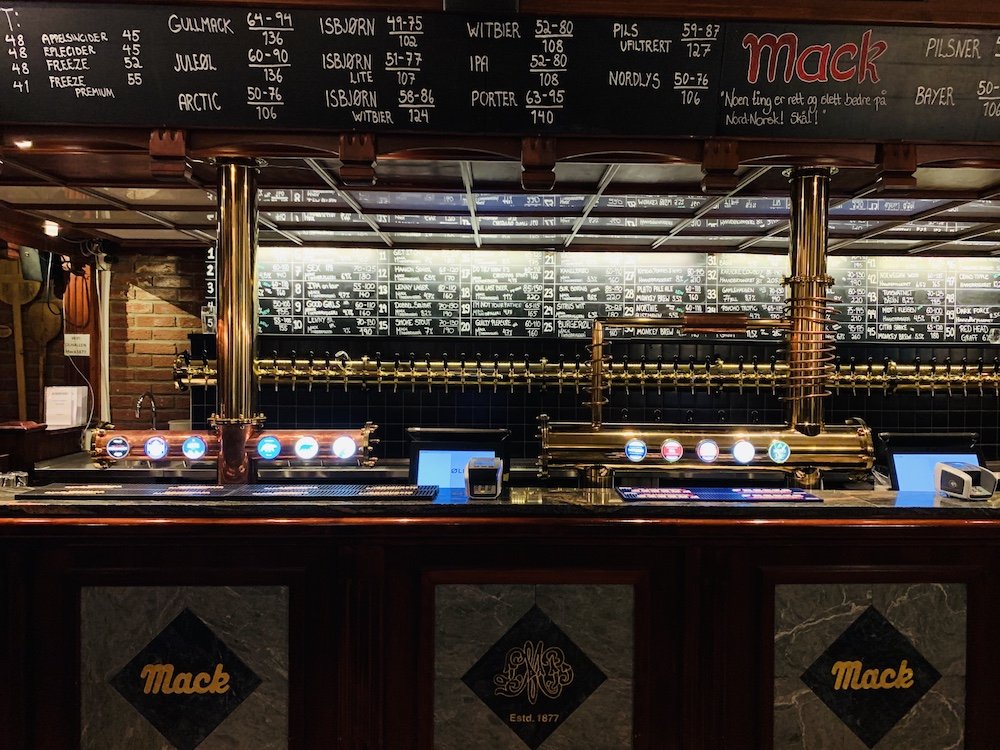 Ølhallen is the oldest pub in the city of Tromso, run by the Mack brewery.
Fun fact: Mack used to be the northernmost brewery in the world (the honor now belongs to Svalbard Bryggeri, even further north in Svalbard).
It's a cute and typical Norwegian pub, and it's a fun experience to end your night here.
Beer is expensive in Norway, but it's definitely worth getting a pint or two here as it's a true Tromso institution.
You could also grab food here for dinner if you're hungry, but it's nothing to write home about.
I'd suggest having a meal at one of the other Tromso restaurants I've mentioned above.
See a show at the Arctic Cathedral.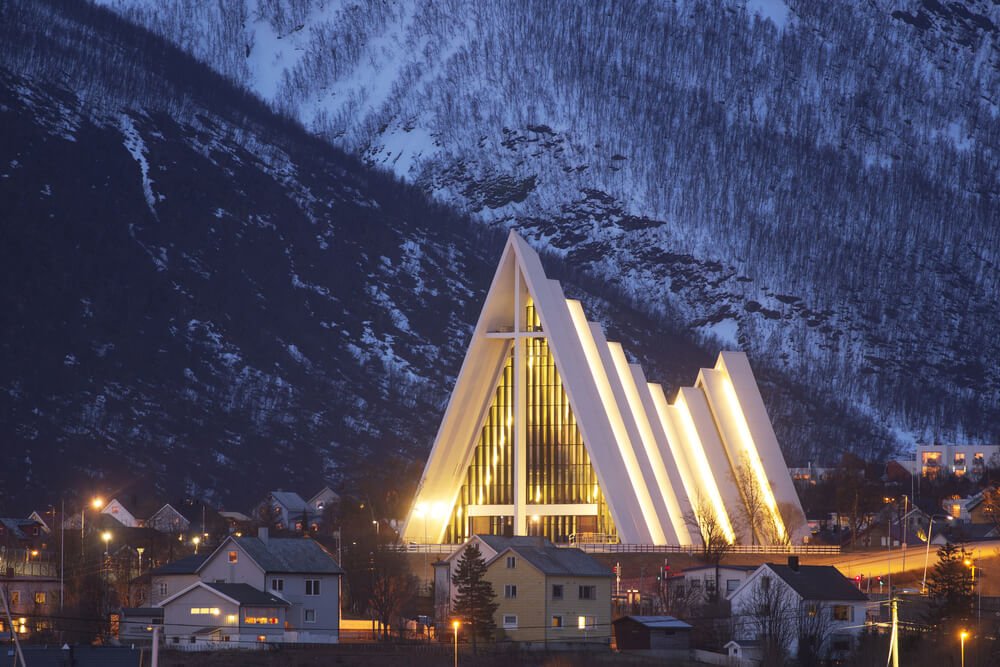 The Northern Lights concert in the Arctic Cathedral is a can't-miss addition to your Northern Norway trip.
The concert lasts about an hour and 15 minutes and includes a variety of Norwegian folk songs as well as classical music, set in the Arctic Cathedral which has amazing acoustics and a cozy ambiance enlivened by candlelight.
The times vary throughout the year, but there are the most available in December.
Day 5: An Active Adventure to End Your Trip
Do a snowmobile and aurora camping tour.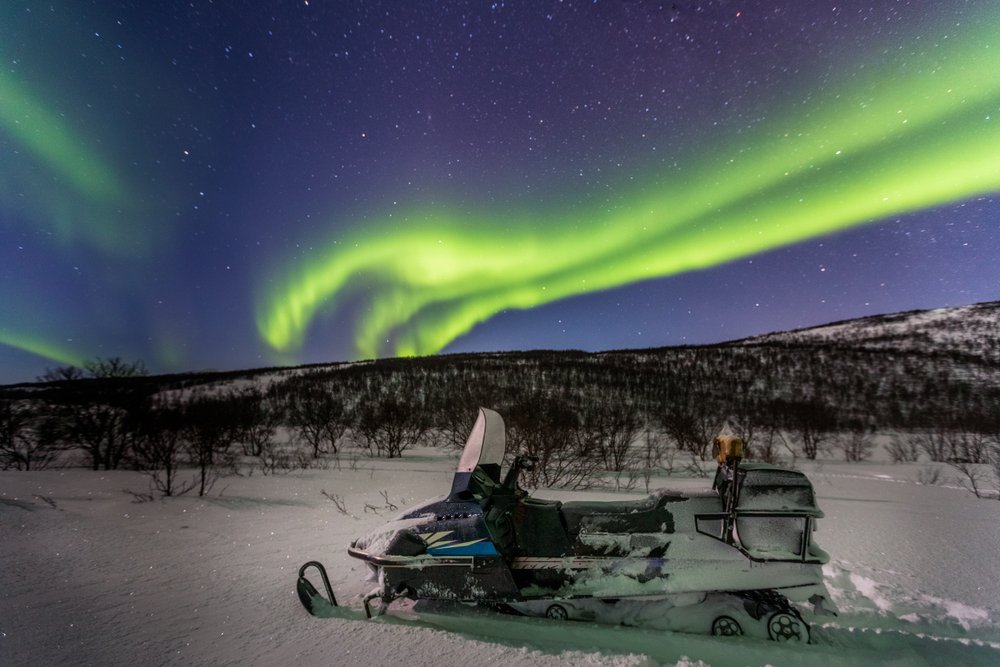 For the last day of this epic Tromso itinerary, spend it actively: on a snowmobile, exploring the Lyngen Alps by day, and then under a glass roof lavvu at night with (hopefully) glimpses of the aurora overhead!
This overnight aurora, camping, & snowmobile tour includes a transfer to the Lyngen Alps by minivan, followed by a 2-hour snowmobile safari in the Lyngen fjord and Alps.
Afterwards, you'll get to enjoy a delicious lunch with your small group. Then, the choice is yours!
After your lunch, you can grab a pair of snowshoes or some cross-country skis and go exploring on your own terms, or you can spend time in your crystal lavvu (a glass-roof 'camping tent' that is warm and cozy!).
In the evening, you'll get a quick photography workshop and dinner, then you can go outside of the aurora camp to try to spot the Northern lights and snap some photos of them.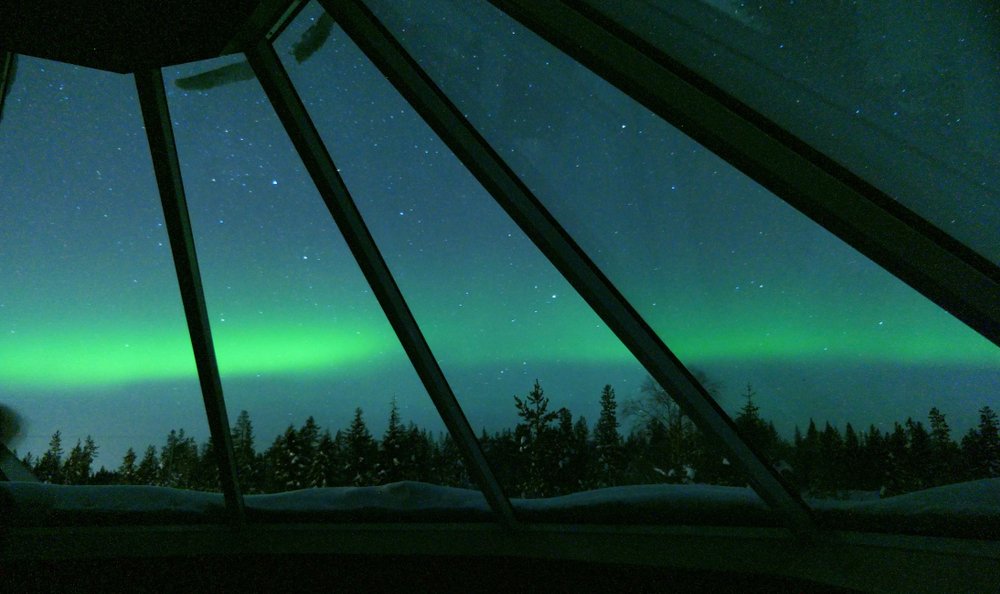 Continue as you like, or head back to your lavvu to warm up and try to spot them through the glass ceiling!
The day ends with a group breakfast before your transfer, which gets you back to Tromso by 11 AM — just in time to make an afternoon flight!
Book your overnight aurora camp and snowmobile experience here!
Continuing on from Tromso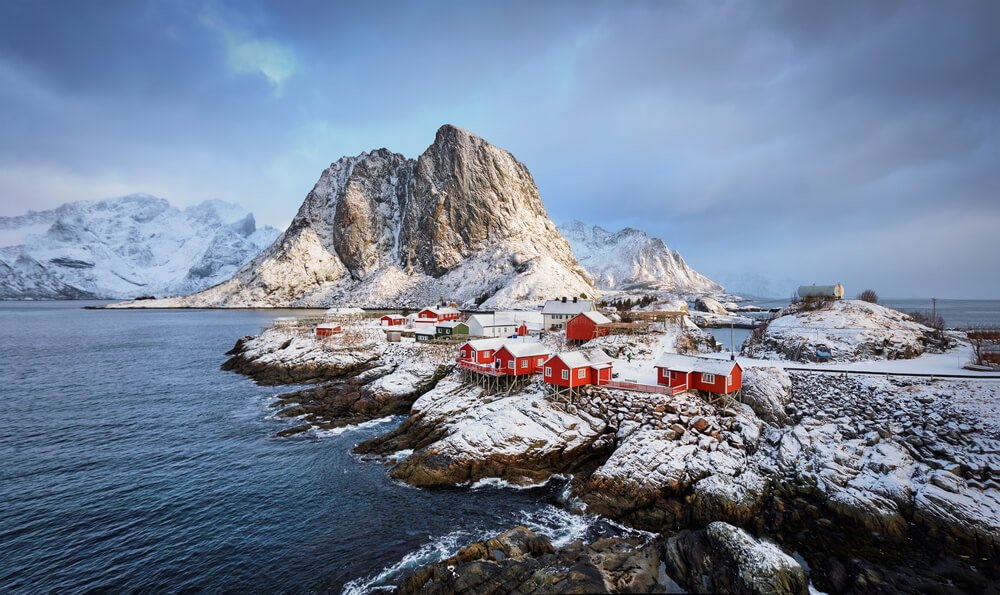 If you want to extend your Arctic adventure past Tromso, there's so much more Northern Norway to explore!
Some common places that people add to their Northern Norway itinerary include the Lofoten Islands and its cute fishing villages like Svolvaer, the Vesterålen islands, Senja, and Alta.
You can visit by road trip or via the Norwegian cruise line, the Hurtigruten.
You could also explore some of southern Norway and fjord Norway, like Bergen, Oslo, and Trondheim.
Other people continue onwards to other points in Scandinavia and Lapland (Sápmi) and the Arctic Circle, such as Finland (Rovaniemi, Levi, Helsinki, etc.) and Sweden (Abisko, Kiruna, etc.). Iceland, Svalbard, and other Nordic destinations are also possible.
DON'T FORGET ABOUT TRAVEL INSURANCE!
When planning any trip, especially a winter trip, be sure not to forget about travel insurance!
I use SafetyWing and its Nomad Insurance to insure all of my trips for its affordable rates and comprehensive coverage for all my travel needs.
For a trip as expensive as traveling to Norway — and of course, weather as unpredictable as it is in the Arctic — it's especially important to me that I have travel insurance coverage!
SafetyWing's Nomad Insurance provides both travel insurance (coverage for trip delays, cancellations, interruptions — the likelihood of which increases in winter) and travel medical insurance (coverage for things like accidents, illnesses including Covid, etc. — also more likely in winter!).
Coverage is really affordable — for me, it costs roughly $11 USD for a week of coverage outside of the U.S., with a policy max of $250,000 after a deductible of $250. Not bad!
Allison Green is a former educator turned travel blogger. She holds a Masters in Teaching and a B.A. in English and Creative Writing. Her blog posts merge her educational background and her experience traveling to 60+ countries to encourage thoughtful travel experiences that both educate and entertain. She has been a speaker at the World Travel Writers Conference and her writing, photography, and podcasting work has appeared in National Geographic, CNN Arabic, CBC Canada, and Forbes, amongst others. Now based in the San Francisco Bay Area where she grew up, she has also lived in Prague, Sofia, and New York City.