Coastal breezes, fragrant lemon trees, and candy-colored houses perched on cliffsides overlooking cerulean seas…
This is exactly what you'll find when you visit Italy's stunning Amalfi Coast, and it's no wonder this cluster of seaside towns is so high on many traveler's bucket lists!
Just a short jaunt from Naples, the Amalfi Coast is a gorgeous destination on the southwestern coast of Italy.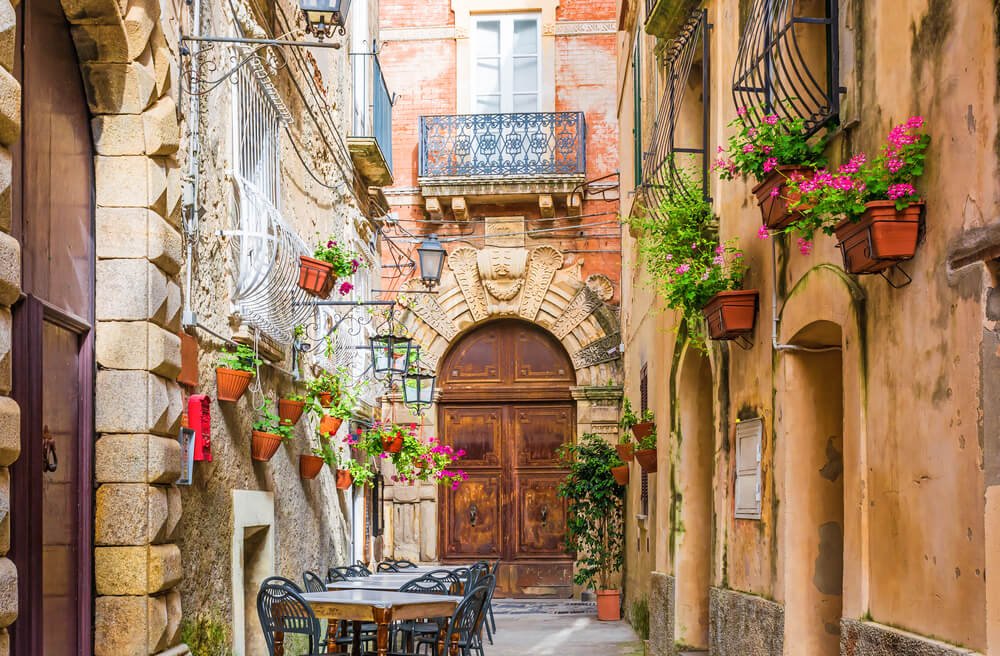 It's a place to explore at your own pace, taking the time to soak in the landscapes, indulge in the unbeatable cuisine, and truly enjoy life to the fullest.
If you're planning to spend a few days around the beloved Costiera Amalfitana, then go for a slow-paced itinerary: there's a lot to see and even more to do in the Amalfi Coast.
This post was written by Gabi Ancarola, a full-time travel blogger and writer who currently lives in Crete (and blogs about it here), but spent over a decade living in Italy and traveling all around the country.

She's here to share with you her expert advice for a flexible plan for how to spend 5 days in the Amalfi Coast itinerary — with unique, in-the-know hidden gems and alternative ideas to make the most of your trip.
But First, Where is the Amalfi Coast?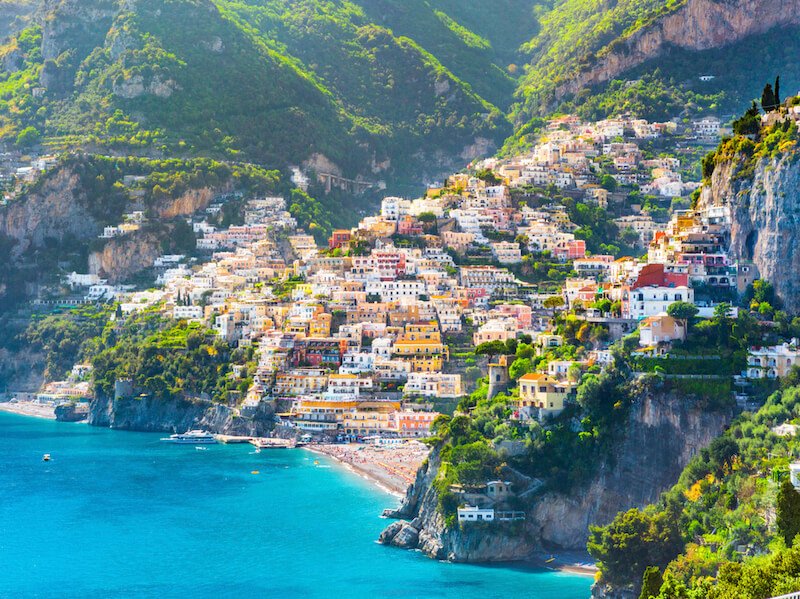 Located in the Campania region of Italy, the stretch of coastline known as the Amalfi Coast overlooks the Tyrrhenian Sea on the Gulf of Salerno. It is located on the steep southern end of the Sorrento Peninsula.
The Amalfi Coast runs for about 25 miles (40 kilometers) starting in the famous town of Positano and ending in the small village of Vietri sul Mare.
Along the coast, there are 13 different picturesque villages that you can discover!
From west to east, these charming Amalfi Coast towns are: Positano, Praiano, Furore, Conca de' Marini, Amalfi, Atrani, Ravello, Scala, Tramonti, Minori, Maiori, Cetara, and Vietri sul Mare.
How to Plan Your Amalfi Coast Itinerary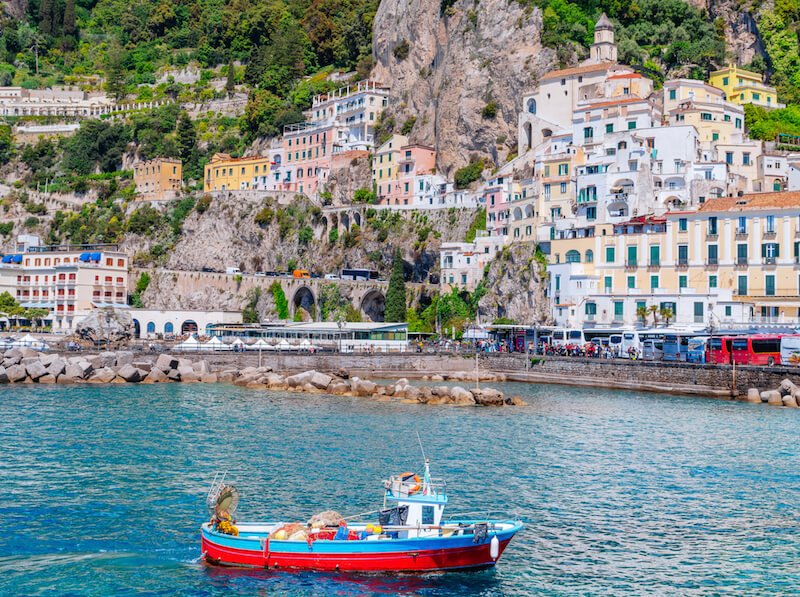 No matter where in Italy you start your itinerary, you will first need to reach Naples (Napoli in Italian) in order to start your Amalfi Coast tour.
You can then decide whether to begin in the westernmost area (Sorrento/Positano) and make your way east.
Alternatively, if you are starting your Amalfi Coast itinerary from a Southern Italian destination, such as Salerno, it may make more sense for you to begin the trip in Vietri sul Mare and then move from east to west.
Personally, I think the best way to travel along the coast is to start in Sorrento which, although is not officially part of Costiera Amalfitana, is a picturesque coastal town worth seeing.
Following this route, you will end the tour in Salerno. From there, you either drive back or board a train back to Naples.
From Naples, you can even add an optional last stop in Pompeii (or the lesser-known hidden gem of Herculaneum).
Of course, this itinerary also works the other way round: that is, from Salerno to Sorrento, and then back to Naples.
For the purposes of making this Amalfi Coast itinerary easy-to-follow, we'll start in Sorrento. However, as it is a day by day plan, you can easily start at the end, in Salerno.
How to Get to the Amalfi Coast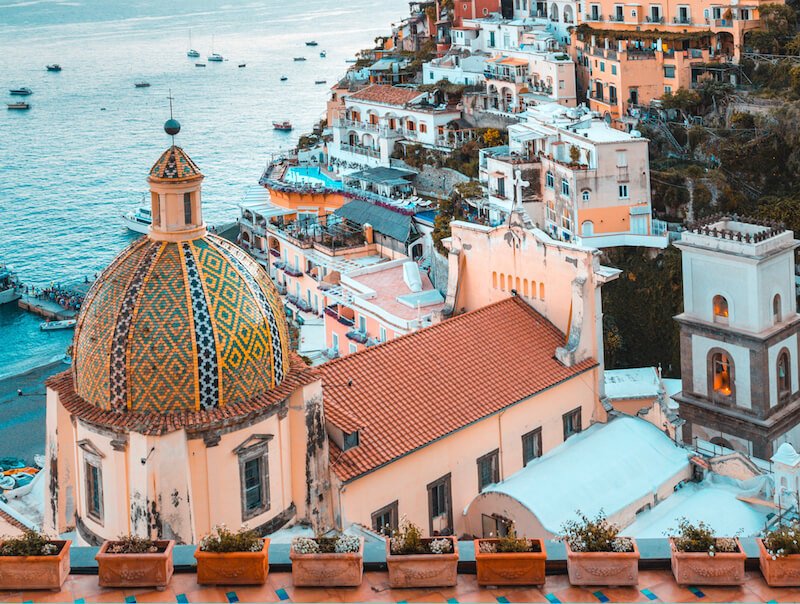 The smartest way to get to the Amalfi Coast is to first reach Naples.
You can get to Naples by train from any other Italian city. There are also frequent buses from Rome to Naples, which takes about 2.5 hours.
If you're traveling from another European city, keep in mind that many low-cost airlines fly directly to Naples!
Once in Naples, you can either rent a car (recommended if you want the most flexibility with this Amalfi Coast itinerary) or take public transportation to get you around the Amalfi Coast (recommended if you're uncomfortable with driving narrow coastal roads or are on a strict budget).
If you choose to rent a car, I recommend renting a car only once you arrive in Naples.
Even if you're visiting other Italian cities beforehand, you likely won't want a car in most Italian cities, but it's a great option once you arrive in Naples and plan to hit the Amalfi Coast.
If you're not planning to drive, you'll be relying on a combination of trains, buses, and potentially private cars in order to get around during your Amalfi Coast trip.
If you're going west to east, I suggest taking the train from Naples to Sorrento, and then taking the bus or a private car to Positano to start your Amalfi Coast itinerary.
Alternately, if you're going east to west, take the train from Naples to Salerno and then take a bus or a private car to Vietri Sul Mare.
How to Get Around the Amalfi Coast: Travel Tips & Key Things to Know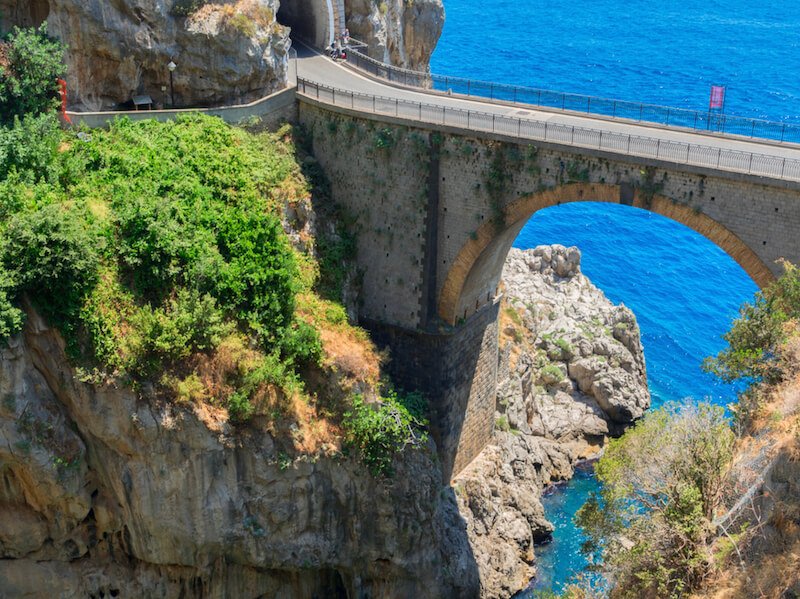 The only land route along the Amalfi Coast is the State Road 163 (Strada Statale), from Positano to Vietri sul Mare.
You can rent a car and drive along the coast, taking the opportunity to make stops whenever you want.
This is what I strongly recommend, as long as you're a confident driver! Taking an Amalfi Coast road trip offers you the most flexibility and ease.
Note for Americans (and other places where automatic cars are standard): Many rental car companies in Italy have fewer automatic cars in their inventory and many more manual cars. If you don't know how to drive manual, or you just prefer automatic, you'll want to book an automatic car as early as possible, so you can be sure to get one!
Another note about driving in Italy: If you're not from the EU, there is a chance you will have to show your International Driving Permit. I didn't have to the last time I rented a car in Italy, but there's always a chance you will, so err on the side of caution and have yours ready.
It only costs $20 and will save you a hassle — especially if you're pulled over and are asked to show your IDP. Fines can be costly — several hundred euros costly — if you don't have one and are caught driving without it. Lesson one of Italy travel: tickets are expensive, so avoid them at all costs!
You can also travel along the Amalfi coast by bus. There are tickets valid for a 45-minute ride or a 90-minute ride (€2.40 or €3.60).
There are also one-day tickets and three-day tickets (€7.20 or €18). These last two are the best options for an extended Amalfi Coast itinerary like this one!
Tickets are normally purchased at the tabbachino (tobacco shop), bars, and at the giornalaio (newsstand).
Always ask for directions the bus stop when you purchase the ticket as there are no official bus stops (public transit can be confusing in Italy, hence my exhortations to rent a car!)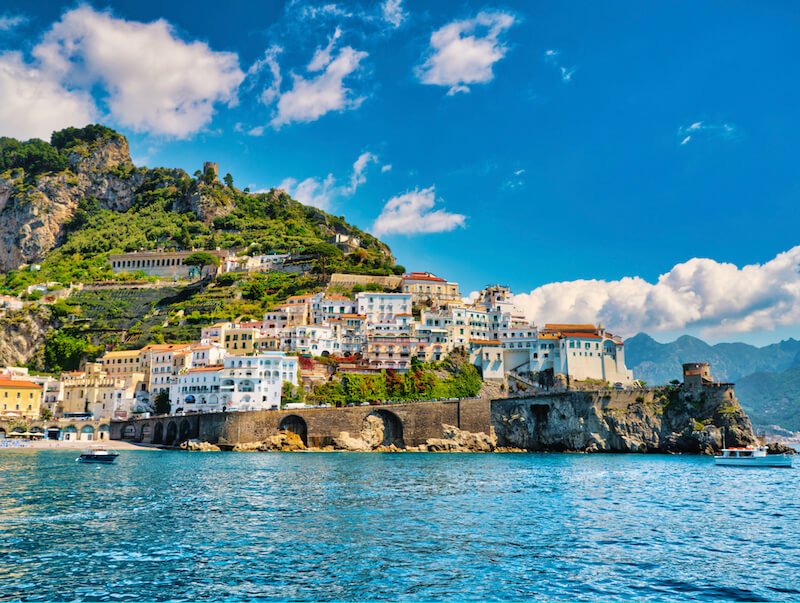 Finally, you can travel by ferry. There are a few perks to traveling by ferry: it is a convenient way to move around from one town to the other, there are fewer crowds, and of course, the views are spectacular!
Ferries, however, stop in just a few of the coastal towns, including Sorrento, Positano, Amalfi, Minori, Maiori, Cetara, and Salerno.
Prices range from €9 to about €20 per ride, so this can get more costly than taking the bus, but it is less crowded and more scenic.
Tickets can be purchased at the ticket booths in town or near the ports.
One final note about getting around: If you're prone to motion sickness at all, you'll want to bring Dramamine for your travels around the Amalfi Coast!
Whether you travel by car or bus (winding roads with steep curves) or ferry (choppy waters), there's a high chance of motion sickness if you are at all prone to it.
A little Dramamine will do you huge favors if you have strong motion sickness. If you prefer a more natural option, the non-drowsy ginger Dramamine is a great alternative.
When to Visit the Amalfi Coast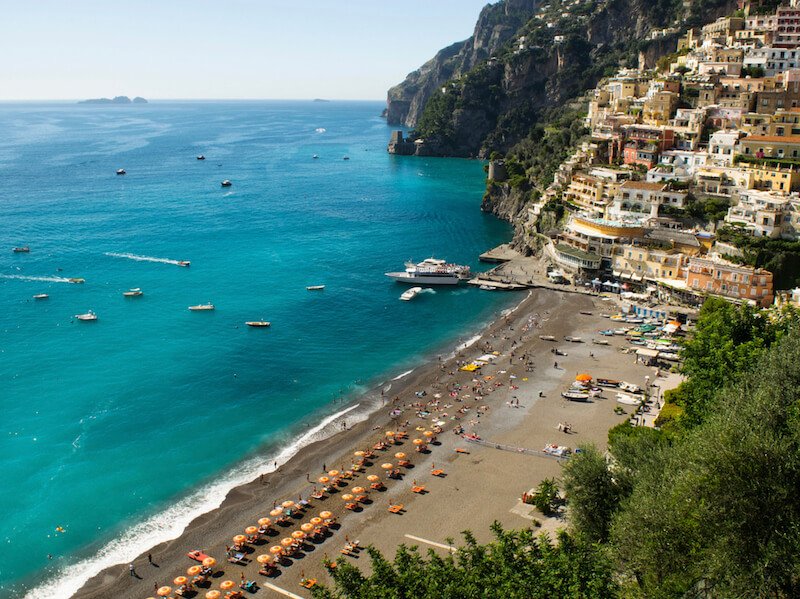 The southern area of Italy is an ideal destination for summer!
During the hottest months of the year, you are more likely to enjoy this itinerary for the Amalfi Coast if you're doing it by ferry.
The weather is often hot, but the seas are calm and it is also easier to visit extra places such as Capri. Take into account that in summer (high season) prices are higher and places overcrowded.
Autumn, spring, and winter will be better for those who prefer to drive or travel by bus along the coast.
If you had to pick one time, I'd say spring is the ideal time to visit: the temperatures are not extreme, making it easier and more pleasant to move around, and it is less crowded in spring than in fall.
However, the water will be colder than in fall, since it won't have had the chance to heat up all summer long, so it's not the best for swimming.
In general, the Amalfi Coast has a Mediterranean climate, with long and hot summers, while winters tend to be short and not so long — although there is always a slight chance of snow in the winter, so it's definitely not beach weather!
Which City to Base Yourself in for an Amalfi Coast Itinerary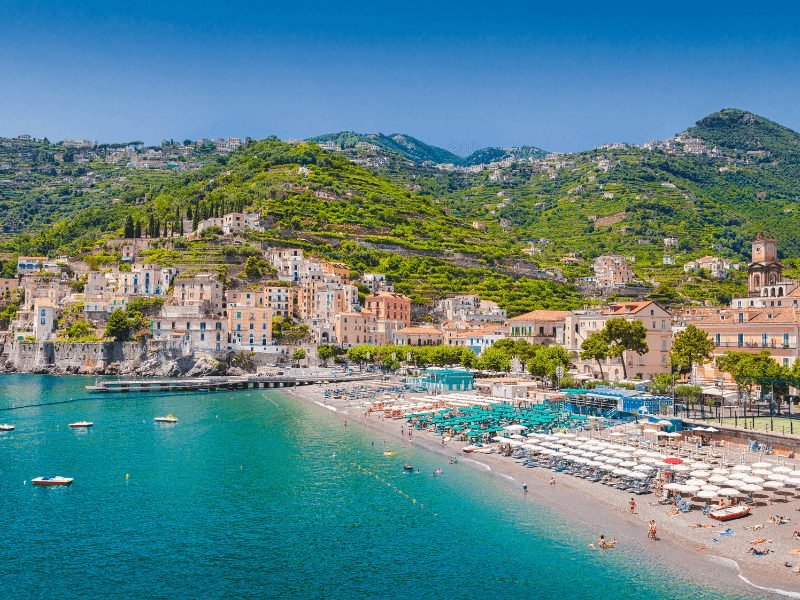 The first answer would be that you should pick either Positano or Amalfi as your home base, since it is relatively easy to move west or east from there.
However, let's explore these and other options in detail — and if you want even more detail, I have a full guide to where to stay on the Amalfi Coast, including accommodation suggestions for the 13 best Amalfi Coast towns!
Positano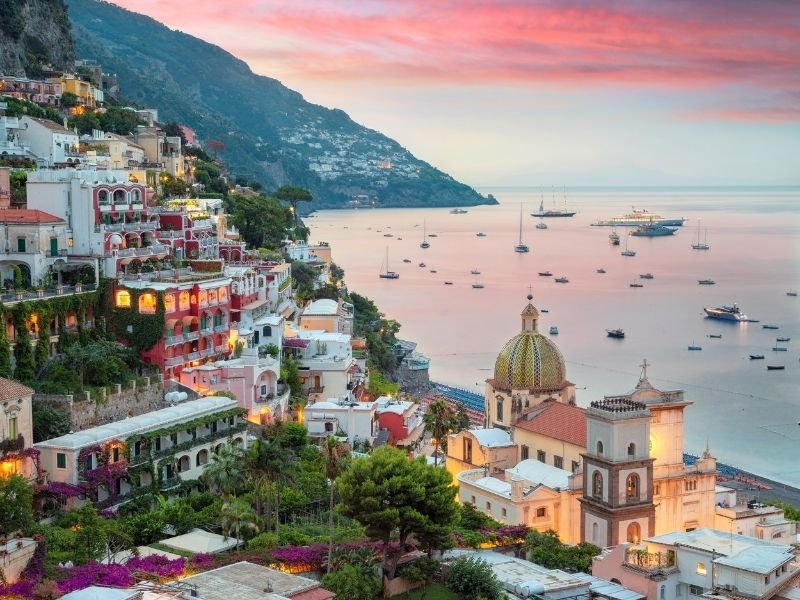 Many consider Positano the prettiest of all the towns in the Amalfi Coast, plus it has the most guided tour options and accommodations.
However, prices tend to be high all year round in Positano… and not only when it comes to accommodations, but also food, restaurants, and entertainment.
If you can afford to splurge, then definitely book a hotel here as it's the best option if price isn't a concern!
Sorrento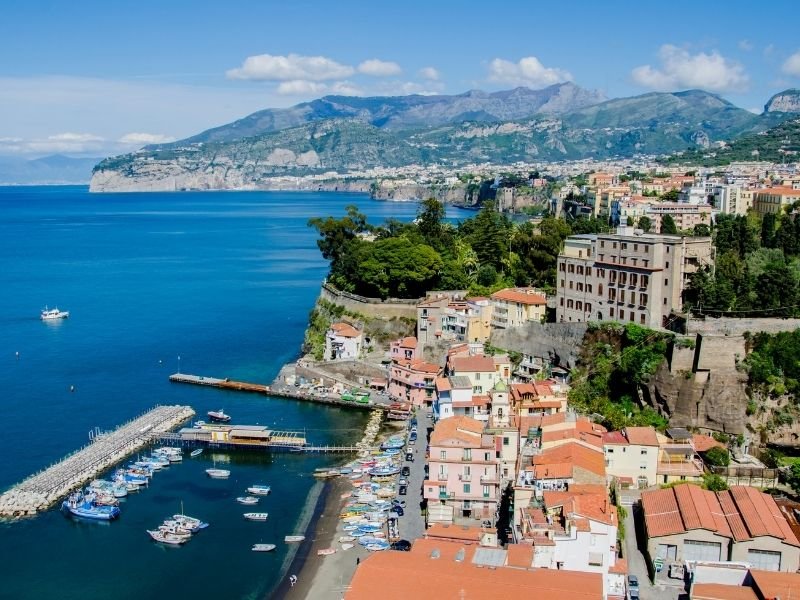 Personally, Sorento is my favorite town in the area, and it really doesn't matter if it is not technically part of the Amalfi Coast.
Regardless of whether it's part of the Amalfi Coast or not, you should absolutely see Sorrento during your trip!
Besides, staying in Sorrento will allow you to visit extra places at the end of your Amalfi Coast tour, including a day trip to Pompeii, Naples, and even the small islands of Capri, Procida, or Ischia.
As another pro in favor of staying in Sorrento, consider that Sorrento is bigger than the other villages, offering more accommodation options and better services, and yet the town remains small and charming.
However, keep in mind that if you choose Sorrento as your base, it will be necessary to wake up very early every day in order to move around and take advantage of the day.
In fact, Sorrento is quite far from most of the eastern towns on the coast, so that is something to keep in mind.
If you choose Sorrento, it may make more sense to spend a portion of the itinerary in Sorrento, and a portion elsewhere like Amalfi.
Amalfi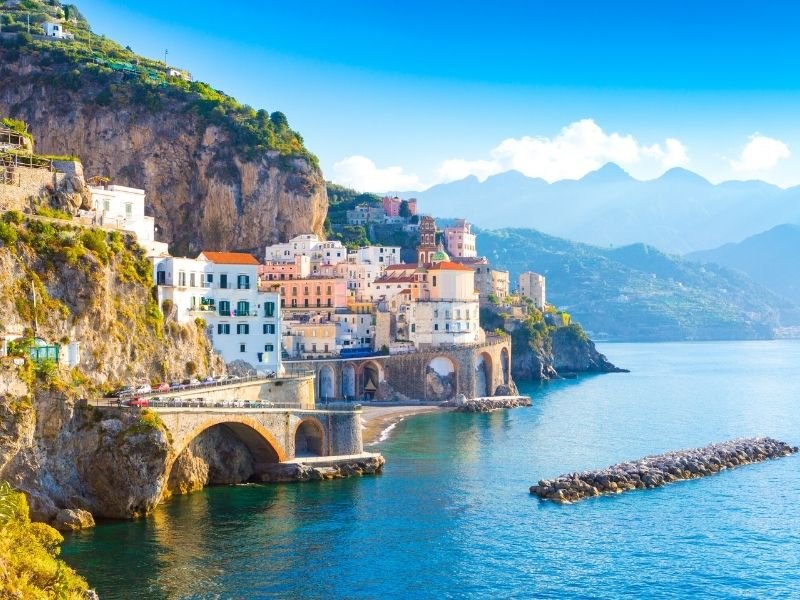 This might sound like the best idea, since it is located more or less in a central position, letting you reach every village with a relatively short ride.
This is the best option also when you are not driving and plan to move around with buses or ferries.
However, when it comes to accommodation, prices are also high since it is a very touristic area — but it also does have some of the best luxury options, too!
If you are trying to save some money during your trip, it can be a good idea to stay in smaller towns or to change accommodation, at least once during your five days in the Amalfi Coast as you move along the coast.
Alternative small towns for you to stay include: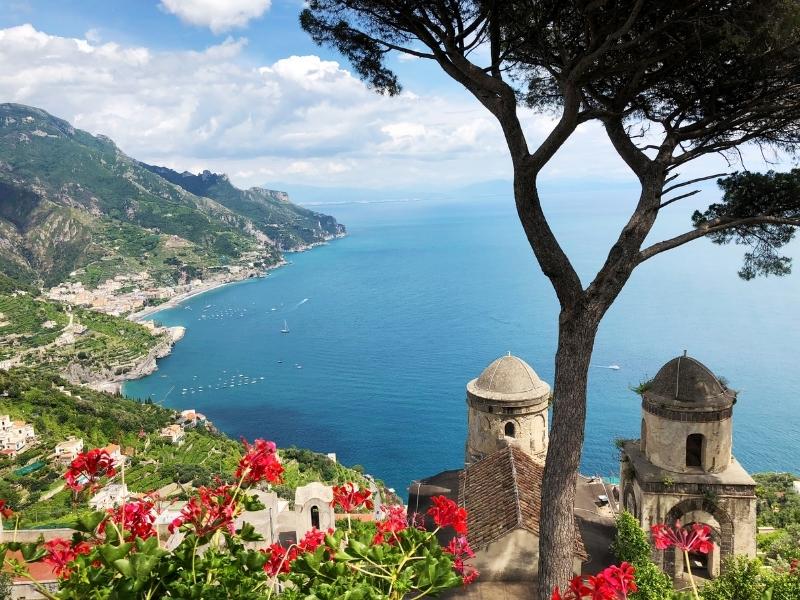 Ravello: This popular town along the Amalfi Coast has a ton to offer, and it is also home to one of the nicest luxury hotels in all of the Amalfi Coast! For a stunning luxury stay, consider Villa Cimbrone, which quite literally looks like a castle!
Praiano: This is a small village with a nice beach and quite good places to stay, perfect if you are driving. Tramanto d'Oro has rooms and amenities that would be double or even triple the price in Positano or Amalfi, so if you want luxury digs without the price tag, this is a great choice.
Minori: Another gorgeous seaside village with a large and very pretty beach, also great for driving. It has affordable and charming guesthouse options like Antica Rheginna which has gorgeous rooms for a reasonable price.
Now that most of the logistic issues have been worked out, let's see what to see and what to do in the Amalfi Coast in 5 days!
5 Day Amalfi Coast Itinerary: Day by Day Guide
Day 1: Sorrento and Positano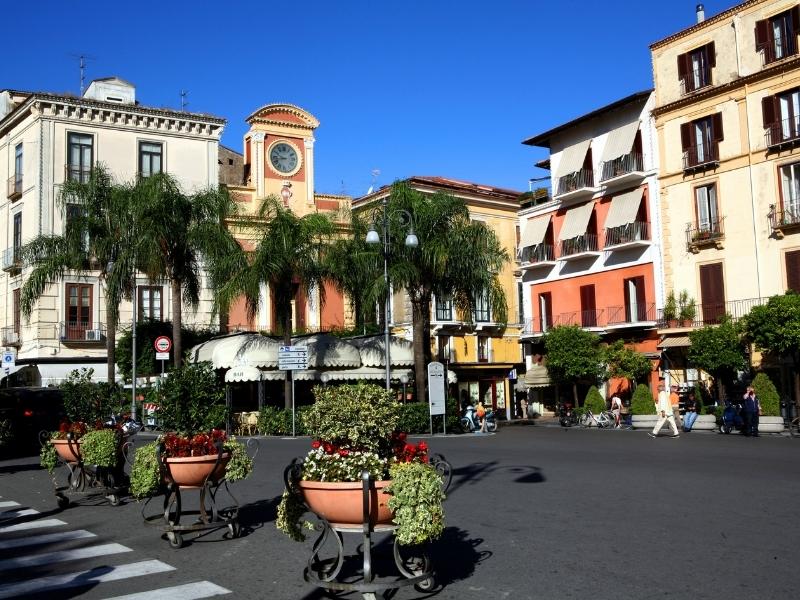 Start your first day early in order to spend the morning discovering Sorrento!
This is the largest town in the area and there is plenty to do, however, we will limit our visit to a few of the most iconic landmarks.
After that, we will then move to the real Amalfi Coast after lunch, when we head to Positano.
Morning: Sorrento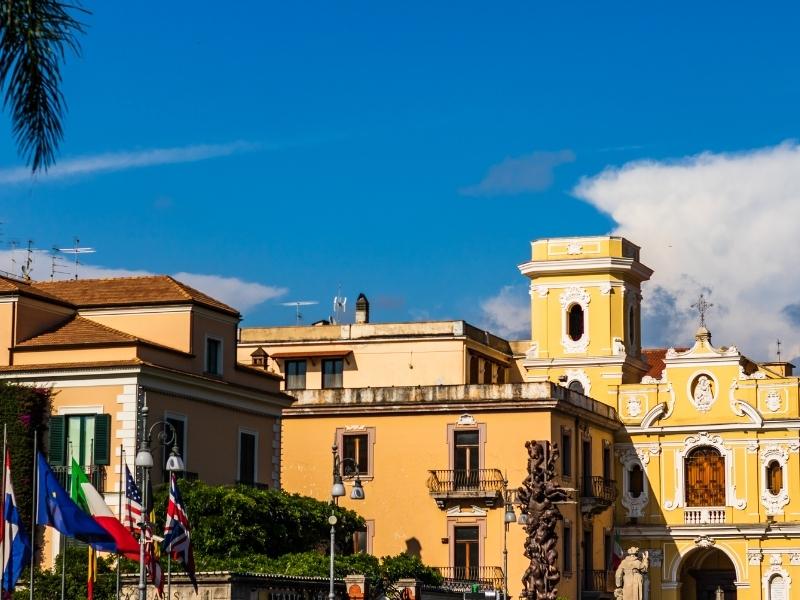 Start by heading to the historic district of Sorrento's Old Town. This is better seen early in the morning, as it is often overcrowded later in the day when tour groups arrive.
Take yourself on a little self-guided walking tour of Sorrento. Check out the beautiful, colorful houses dotting the winding alleys and then reach Piazza Tasso for a taste of the local culture.
Here, local residents like to gather to talk and spend time, so it's a great place for people-watching from a charming café.
Right after, pay a visit to the adorable Villa Communale to admire the views over the Sorrento coast and Mount Vesuvius.
You can then walk to the Marina Grande, a historic fishing village with picture-perfect scenery everywhere you look.
Local tip: As an alternative to Villa Communale, you can check Bellevue Syrene, one of the most exclusive hotels in Sorrento — with a panoramic terrace open to everyone, although few people know this! The views from here are out of this world.
Lunch in Sorrento can be an unforgettable experience if you know what and where to eat!
The best place for lunch is around the Marina Grande. Choose one of the many family-run trattorias in the area and try the famous gnocchi alla Sorrentina or a selection of seafood-focused antipasti (starters).
Not hungry yet? Worry not, you'll be able to taste great food also in Positano!
Afternoon: Positano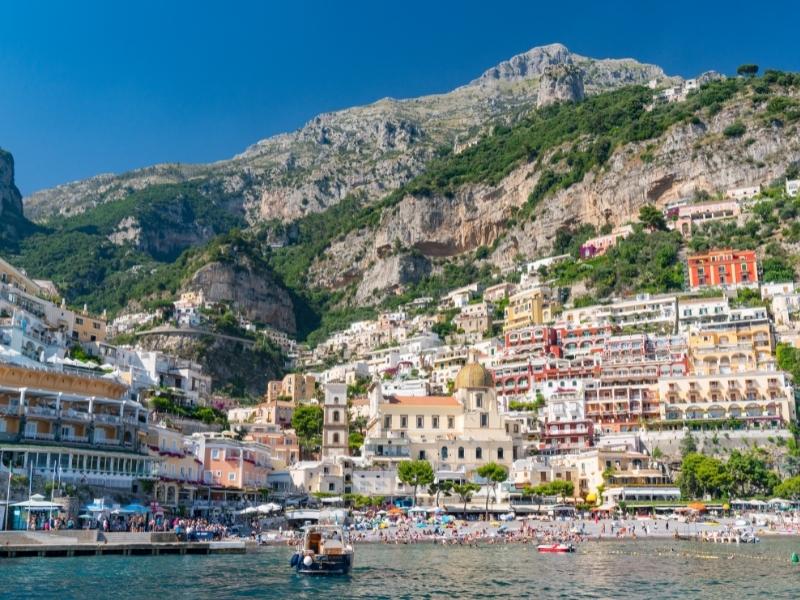 You will probably arrive in Positano at the time of siesta!
Although this is a touristic town and most shops will still be open (especially in summer), the afternoon nap is still a thing in southern Italy.
Don't fret — that means it's the perfect time for casual sightseeing along the old, colorful alleys surrounded by a more quiet atmosphere.
If you feel like shopping, you can explore the town's charming art galleries, artisan shops, and upscale boutiques.
If you prefer a more cultural experience, pay a visit to the Church of the Holy Virgin.
The town of Positano is quite small when compared to Sorrento, which means that you can move around easily and see the key sights in about an hour.
If you are a beach fan, instead, head directly to Spiaggia Grande located right at the foot of the village. You can spend some time relaxing and even sunbathe or go for a swim.
In the evening, you can enjoy a pizza in one of the many restaurants on the waterfront. Don't forget to have a limoncello after dinner, you won't regret it! It's a great digestive and is local to the region.
Day 2: Amalfi, Atrani, and Ravello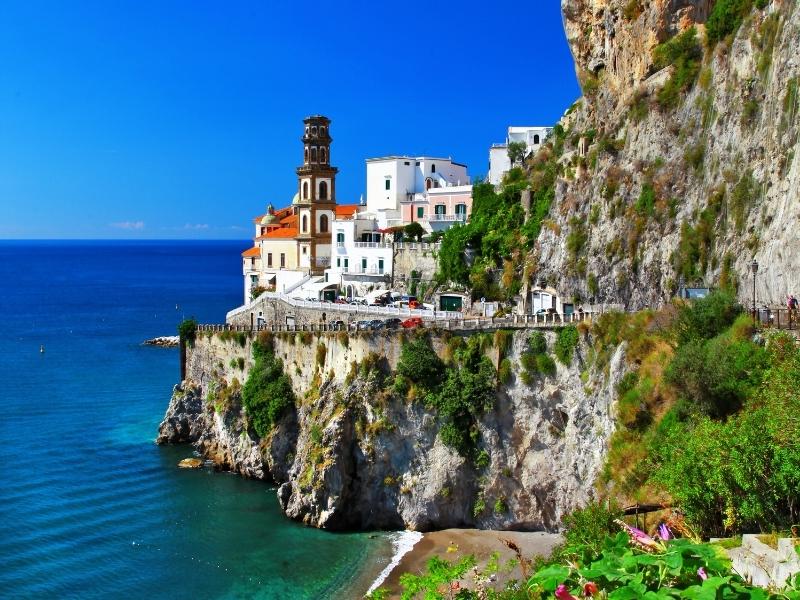 Amalfi is a small and delightful town to visit, and it makes a good base for further exploration of the Amalfi Coast due to its central location!
Today we will devote the day to exploring Amalfi, as well as two other small villages on the Costiera.
Morning: Amalfi & Atrani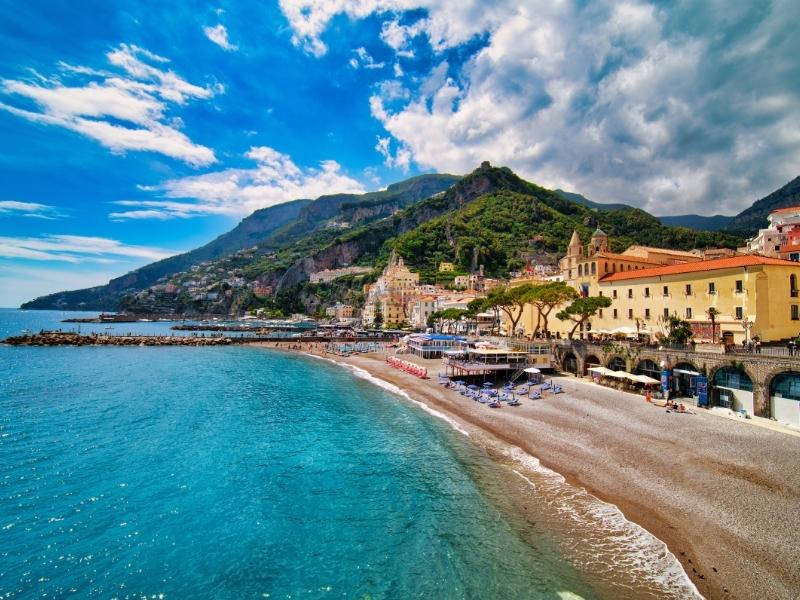 Wherever you're based, you'll want to make your way to the town of Amalfi as the first stop on your second day's itinerary.
Walking around the old alleys of the settlement is the best way to start your day after a cappuccino and a cornetto (brioche) at any local bar.
Reach Amalfi's Main Square to see Saint Andrew's Cathedral, a fantastic church dating back to built in 987, with its imposing steps and mosaic facade.
Right after, check Amalfi's Paper Museum — a unique can't-miss attraction in Amalfi.
The local bambagina paper is an iconic local product given the long history of Amalfi as a national center of paper mills and top-quality handcrafted paper.
If you want, you can reach the nearby Atrani on foot! It will only take you about 10 minutes from the center of Amalfi.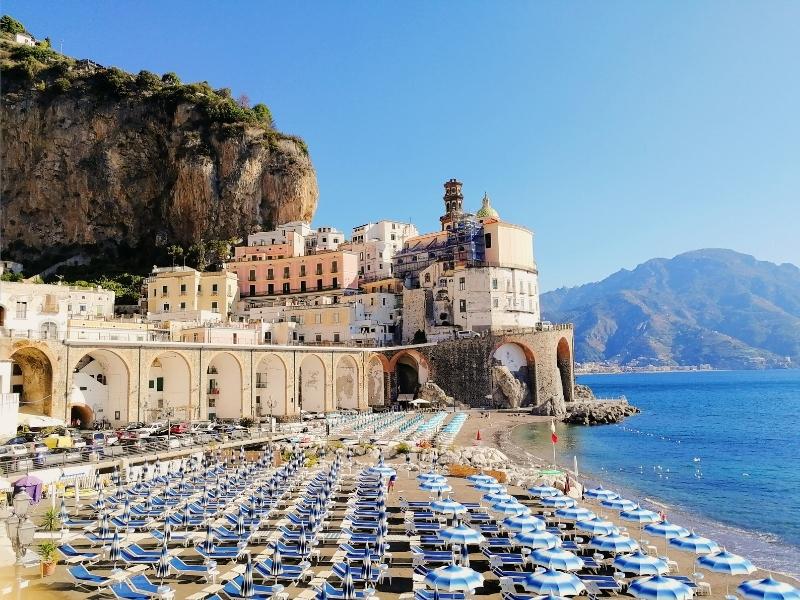 Atrani is a tiny coastal town, which holds the record of being Italy's smallest town!
It stands tucked away between two steep cliffs facing the sea. Since the town is so small, it's not hard to visit, although the hundreds of steep flights of stairs can be a challenge.
If you feel that you'll be better avoiding the hundreds of steps, then head to the coast!
Atrani's shore is a magnificent place for photos, with the picturesque tiny homes clinging to the cliffs and the arches under the coastal road that plummet into the sand behind the beach.
You can check Atrani's picturesque bay, or, alternatively, take a bus (or drive) up the mountains to discover Ravello.
Alternative: Morning or Afternoon Boat Tour from Amalfi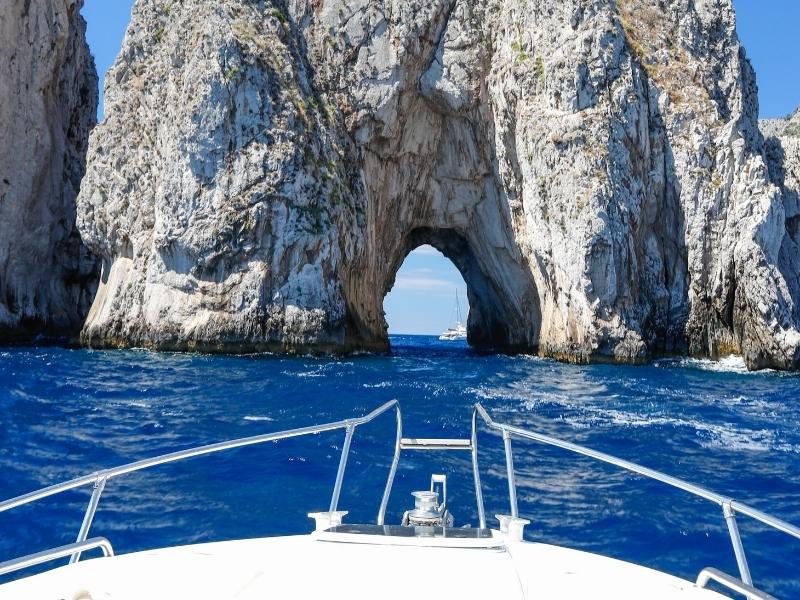 You can also take a boat tour and snorkeling tour from Amalfi, which is a great way to see the Amalfi Coast from a different perspective!
Afternoon: Ravello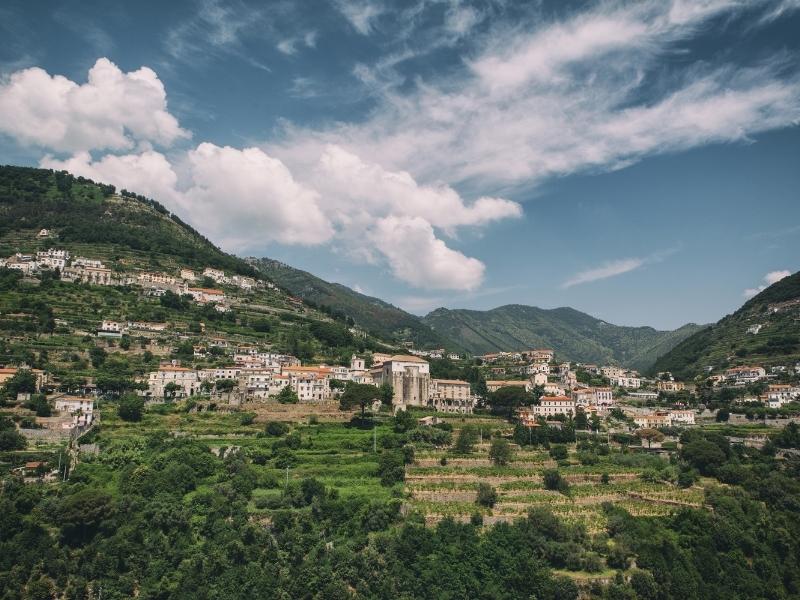 Dubbed the City of Music, Ravello is home to an important Auditorium and serves as the annual host of different prestigious music festivals.
The town is also known for its two imposing villas with medieval gardens, stunning views over the sea, and stunning architecture: Villa Rufolo and Villa Cimbrione.
This exquisite mountaintop settlement is filled with manicured gardens, medieval streets, and ancient paths.
It boasts a lush green landscape as it is also home to a vineyard that stretches up and down the slopes of the hills.
When in Ravello, do not hesitate to visit a winery to taste some of the local varietals of grape that grow beautifully along the Amalfi Coast!
Day 3: Furore and Vietri sul Mare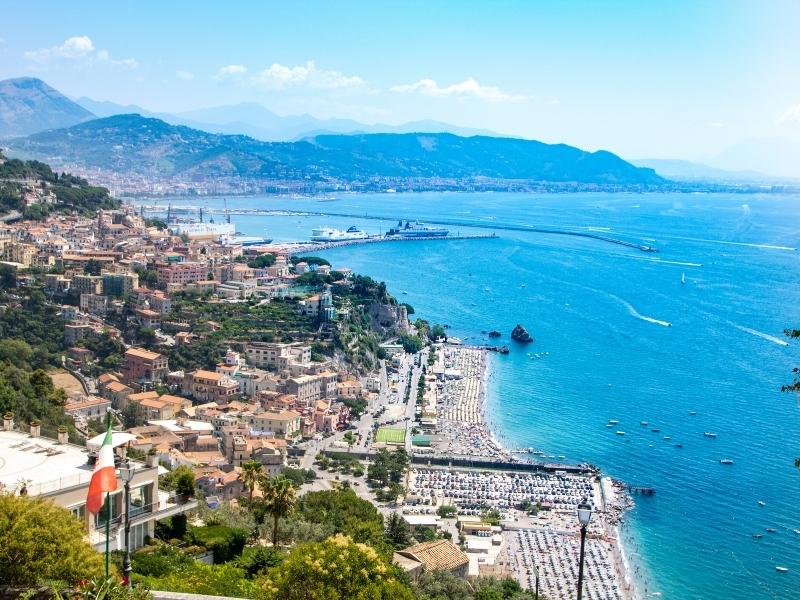 Today we will discover these two lesser known towns in the area, equally beautiful and representative of the Amalfi Coast as their more famous siblings like Positano.
Here's your chance to get a bit off the beaten path and explore a more local side of Italian coastal life!
Morning: Furore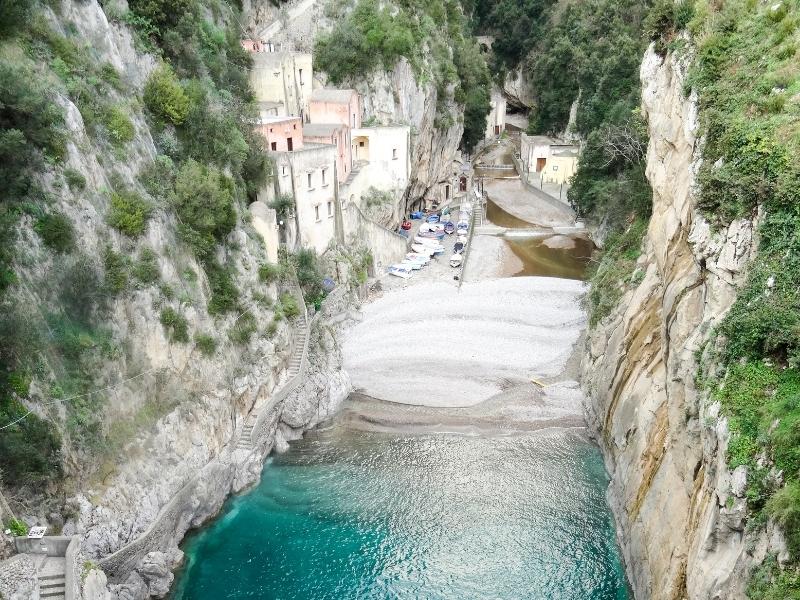 Start the day early and head to Furore, home to a unique sight: the Fjord of Furore!
Not a true fjord, this sight is nevertheless fantastic: a hidden beach with magnificent scenery and a fantastic bridge offering breathtaking views of the Mediterranean.
You can access the beach cove by a designated trail or simply by heading to the arched bridge on the Amalfi Coast.
The imposing bridge stands at about 100 feet (30 meters) over the sea and creates one of the most spectacular landscapes that you can imagine!
Afternoon: Vietri sul Mare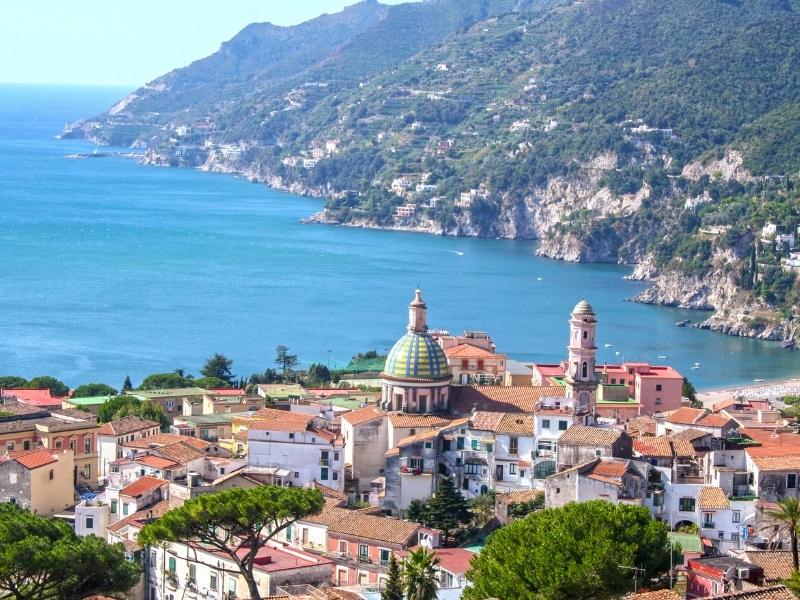 You can now head to the end of the coastal highway and visit Vietri sul Mare, which is thought to be the oldest town along the Amalfi Coast and is absolutely worth visiting on any Amalfi itinerary.
Vietri is an important crafts center dedicated to the production of artistic ceramics, with its characteristically lively bright colors and original designs.
In Vietri, be sure to visit the Museum of Ceramics located in Villa Guariglia, featuring ceramics and pottery for everyday use, as well as typical Salerno ceramic arts and religious ceramic objects.
Another place to explore in Vietri is the imposing late Renaissance Church of Saint John the Baptist, with its unique dome and bell tower which are made of typical painted ceramics as well as ceramic and majolica interiors!
If you have extra time, you can also head to the gorgeous village of Conca de' Marini where you can board a boat trip to visit the spectacular Emerald Grotto!
Day 4: Capri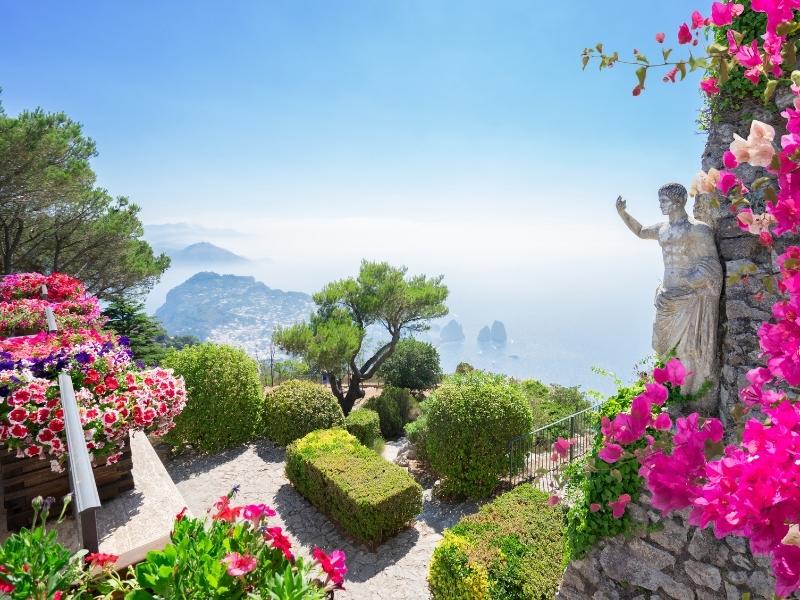 One of the most magnificent destinations facing the Amalfi Coast is the small island of Capri!
While Capri is an island and thus not technically the Amalfi Coast, it is often combined with small towns on the coast on Amalfi itineraries.
While Capri is a place known for being a preferred summer destination for the international jet set, Capri has a lot more to offer than just luxury.
Morning: Arrive in Capri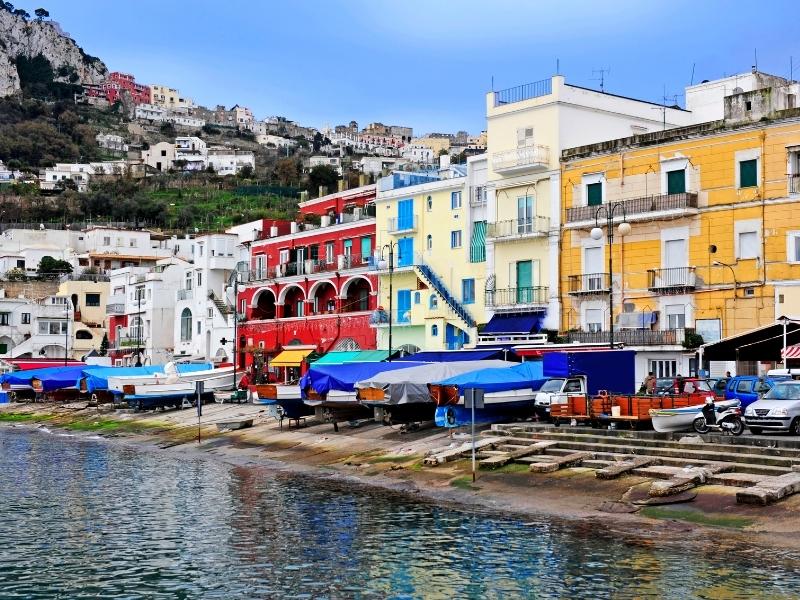 There are ferry boats several times a day connecting the mainland of Italy to Capri.
You can reach Capri from Amalfi, Sorrento, Positano, and even Naples and the ride is about €40 for a return ticket. Admire the stunning sea views as you make your way to the island.
Once on the island, get on a cable car to head up to Capri Town, the main city area.
Head to the Main Square for a walk and then visit the Gardens of Augustus, this is the perfect place to get amazing views of the Faraglioni.
Faraglione is the Italian word for sea stacks, a typical steep triangular rock near the coast, usually formed by erosion.
Capri's Faraglioni, Scopolo, Mezza and Stella, are among the most famous sights of the Costiera!
You could also head up to Anacapri, another town on the island of Capri, for even better views over the Bay of Naples!
Alternative: Guided Tour of Capri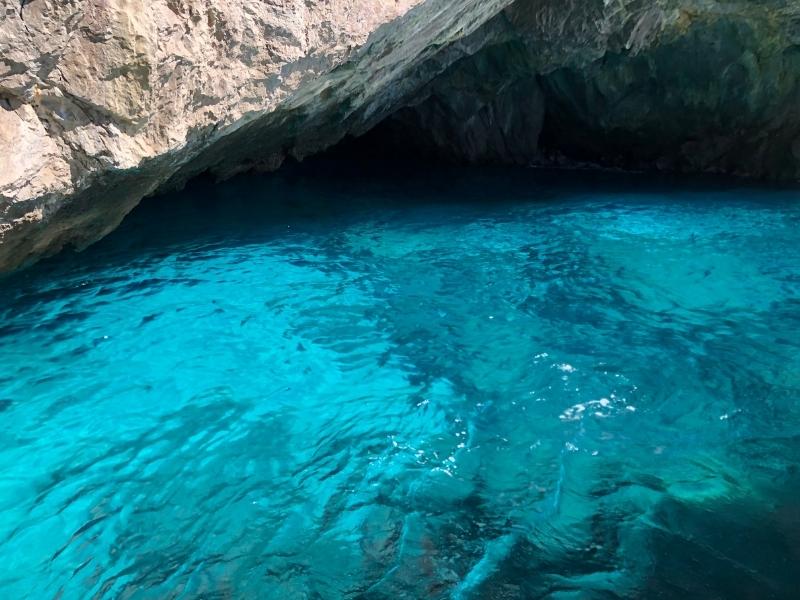 Afternoon: The Blue Grotto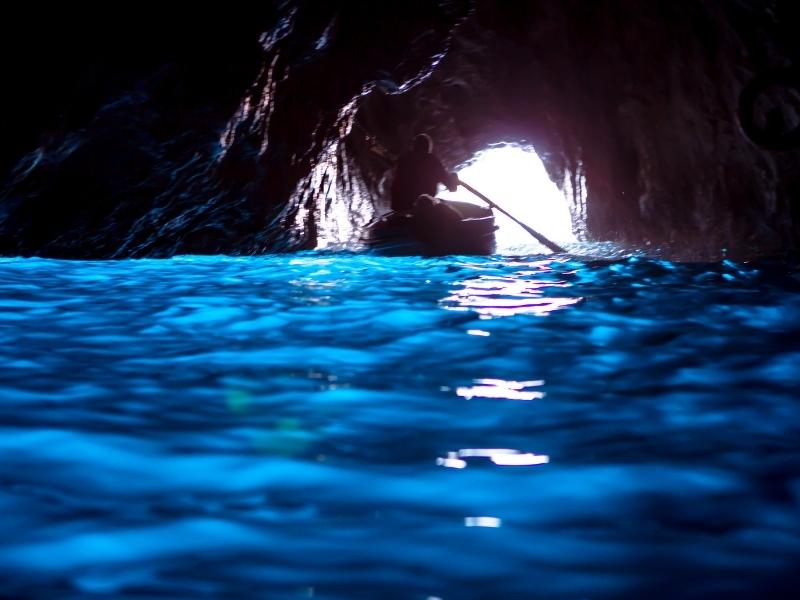 Once you've checked out the gardens and faraglioni, and the nearby Via Krupp, go back to the Marina.
Here is where you can experience what might probably be the highlight of your trip, a boat tour to the incredible Blue Grotto!
These impressive sea caves feature dazzling light effects created by the blue waters and the interplay of light coming into the cave.
Depending on your budget, you can book a group tour (€15-25) per person, or pay a higher fee for a private tour on a gozzo boat (about €100 for a private boat, convenient if you are traveling with more people and not solo). These typical Capri boats will provide an authentic experience!
You can book your tour of the Blue Grotto online here, but note that you'll also need to pay an additional €14 fee for entrance to the Blue Grotto — this cost only covers transportation to the grotto, not to enter it.
Day 5: Choose Your Own Adventure!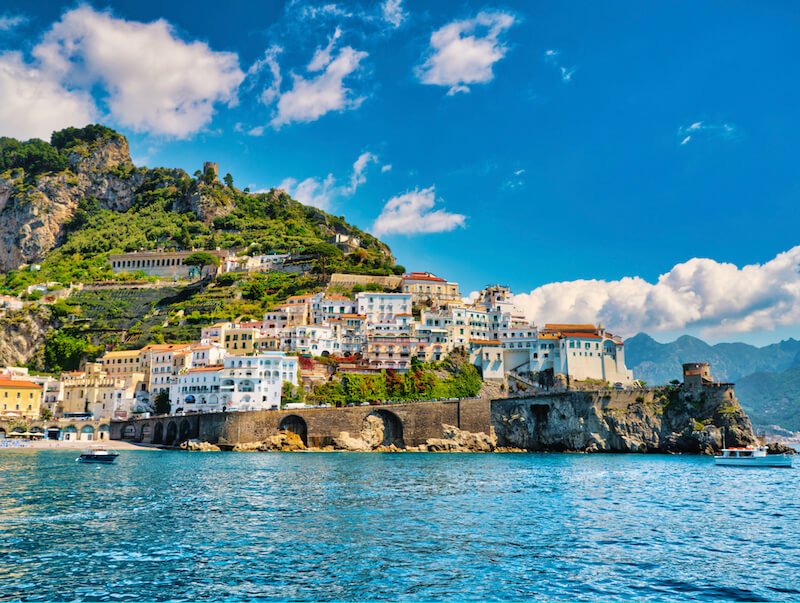 On your last full day on the Amalfi Coast, you have many different options.
You can go back to the towns that have impressed you the most — perhaps you want to spend more time in Positano and use this day to walk the Path of the Gods before indulging in some more limoncello and tasty seafood.
Alternately, you can explore other coastal towns of the Amalfi Coast such as the gorgeous Maiori and Minori.
Finally, you can start making your way back to Naples with a day trip to Pompeii. Let's see these possibilities!
Option One: Hike the Path of the Gods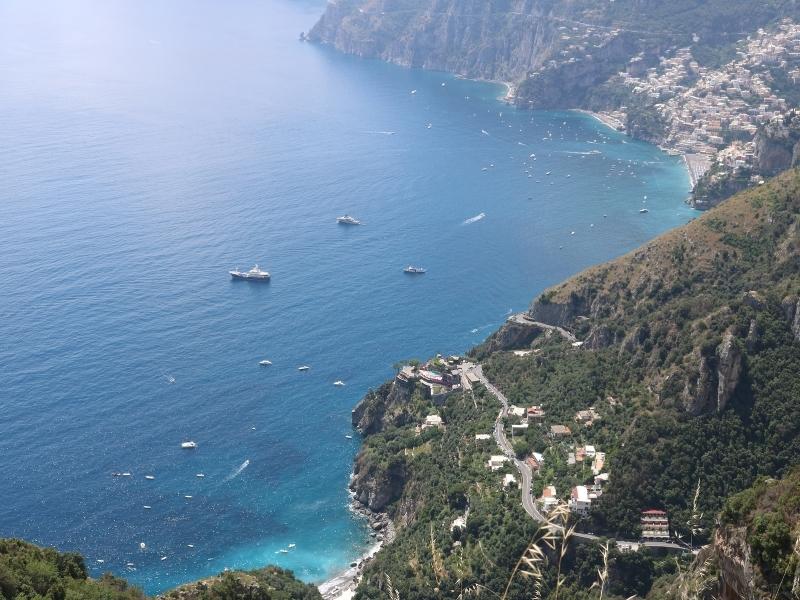 Especially if you're traveling in summer, it is a good idea to do this hike early in the morning, so it is a good idea to get an early start to avoid the worst of the summer sun.
Known in Italian as il Sentiero degli Dei, the path is an 8-mile (13-kilometer) roundtrip hiking trail that connects the villages of Bomerano and Nocelle.
It's a rather intense hike. Although it's rated moderate on AllTrails, expect nearly 2,500 feet of elevation change along the 8-mile out-and-back route.
I suggest reading this excellent guide to the Path of the Gods to help you plan your day if you choose this option!
You can also go with a guided tour like this one if you prefer company while you hike and to make sure you're staying safe.
The whole hike usually takes about 5 hours if you go back the same way you came, but you can also just go one-way.
Remember that in order to get the best views, it is better to start from Bomerano and make your way to Nocelle — that way, you'll get that stunning view of Positano at the end of the hike when you descend!
Don't forget to carry enough water (I suggest a backpack with a hydration bladder inside it, so you can be sipping from it as you hike), wear appropriate hiking clothes, apply adequate sunscreen and sun protection, and of course — wear proper hiking boots.
For footwear: I love these cute red & brown hiking boots from Danner or these surprisingly cute hiking sandals from KEEN.
For hiking clothing: I like REI's moisture-wicking, easy-breathing hiking pants like these Savannah Trail Pants(plus they're not hideous!) and a simple quick-dry T-shirt like this one.
For hydration: I strongly recommend a daypack that has a water bladder insidewhere you can sip from a straw that rests on your shoulder, without having to constantly reach for your water bottle.
Option Two: Maiori and Minori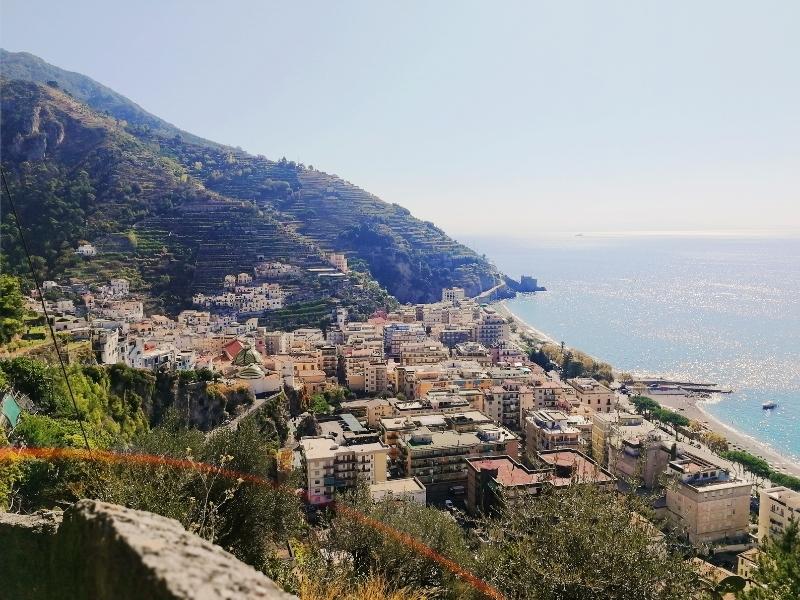 Maiori is a quiet historic town known for hosting the biggest beaches in the Amalfi Coast, including the gorgeous Erchie Beach with its magnificent tower overlooking the sea!.
Located between Amalfi and Ravello, Maiori is better known for its history as a seaside Roman baths and summer resort.
When in Maiori, don't overlook the Norman Tower located over the main beach that dates back to 1563 and which was once known as the Torre dell'Angolo.
Another place to visit in Maiori is the Saint Nicholas Castle, a mysterious fortress from the eleventh century, on top of a hill with gorgeous views over the bay
Next, make your way to Maiori's sister village, Minori.
The best way to get there is via The Lemon Path (Sentiero dei Limoni)! This ancient footpath runs between Maiori and Minori, offering breathtaking views of the Amalfi Coast.
The path is a fairly easy hike, it is about 1.2 miles (2.5 kilometers) long each way and takes about an hour to hike, though there is a decent amount of elevation change.
Minori is an unpretentious little town with a beautiful beach and a history stretching back millennia, likely back to Etruscan times.
The colorful village has a relaxing and calm atmosphere and it is a perfect place to spend a half-day enjoying a lesser-known side of the Amalfi Coast.
This unassuming fishing town hosts a splendid ancient Roman villa from the first century AD, Villa Marittima Romana, one of the most important ancient sites on the whole Amalfi Coast.
The villa, which was probably the seaside residence of an influential Roman senator, features a beautiful open-air atrium with a central pool and dozens of mosaics and frescoes.
Option Three: Day Trip to Pompeii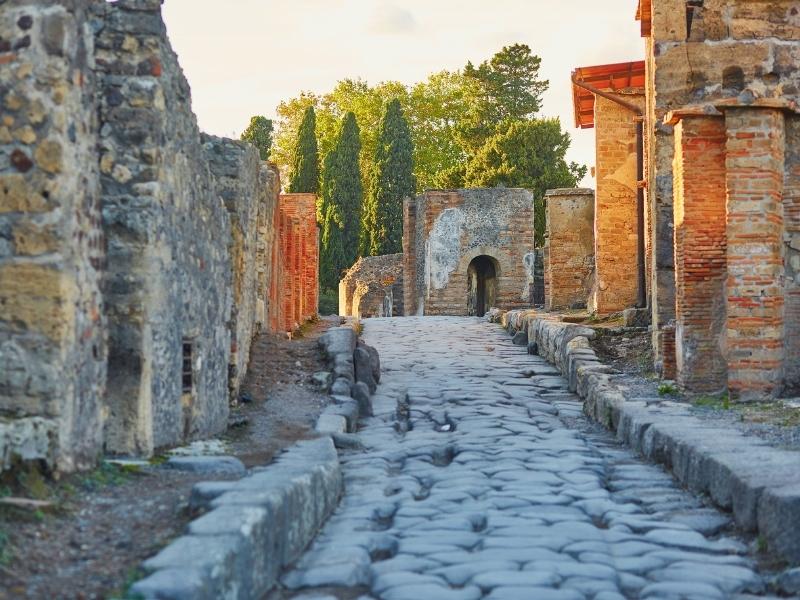 If you feel you've seen enough of this stunning coastal area and want to start making your way back to Naples, you can devote the last day of your itinerary to visiting the important ruins of Pompeii, locally known as Pompeii Scavi.
Note that Pompeii is closed on Mondays, so don't take this option if it's Monday!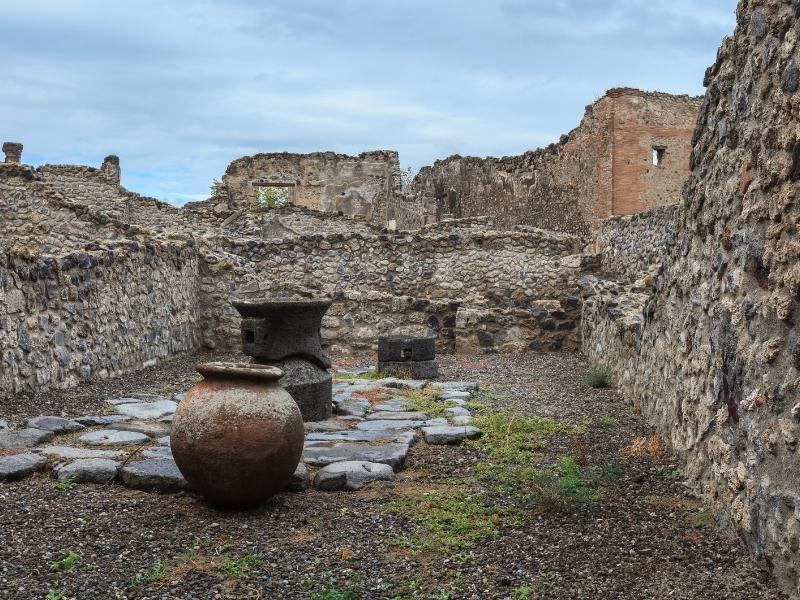 Covering a surface of about 440,000 square meters, Pompeii was an actual entire city before its devastation, complete with streets, temples, squares, villas, theaters, baths, and shops.
Honestly, it would take a few days to explore the entire site of Pompeii completely, but you can get a pretty good idea of it on a day trip.
To get a general glimpse of the former buried city, you can follow a short itinerary that features the most important sites and that will easily give you a general picture of how life was in this ancient Roman settlement.
The best way to visit Pompeii is by relying on an organized tour that has already figured out the best sights, as they can provide you the most context which will bring the ruins of Pompeii to life.
If you just want to self-guide your own Pompeii tour, be sure not to miss the following sites (all tours will cover these in-depth, as well):
The Large Theater and the Odeon: two theaters in the same area, the first probably devoted to the performance of plays and the second one boasting incredible acoustics.
The Garden of the Fugitives (Orto dei Fuggiaschi): an old quarter named after bodies of 13 victims that died as they were trying to escape from the volcano eruption.
The Lupanar: the city's brothel was with small cells and erotic frescoes, the building is easy to find by following the phallic symbols on facades of nearby buildings.
The Villa of Mysteries: a captivating and mysterious villa that probably belonged to a powerful family, located outside the city walls overlooking the sea.
The House of the Faun: one of the largest residences in Pompeii (around 3,000 square meters) with special areas for the servants.
The Forum: a large square with triumphal arches, public buildings, the basilica, the market, temples and other buildings. This area hosted the main civic, religious, and commercial activities.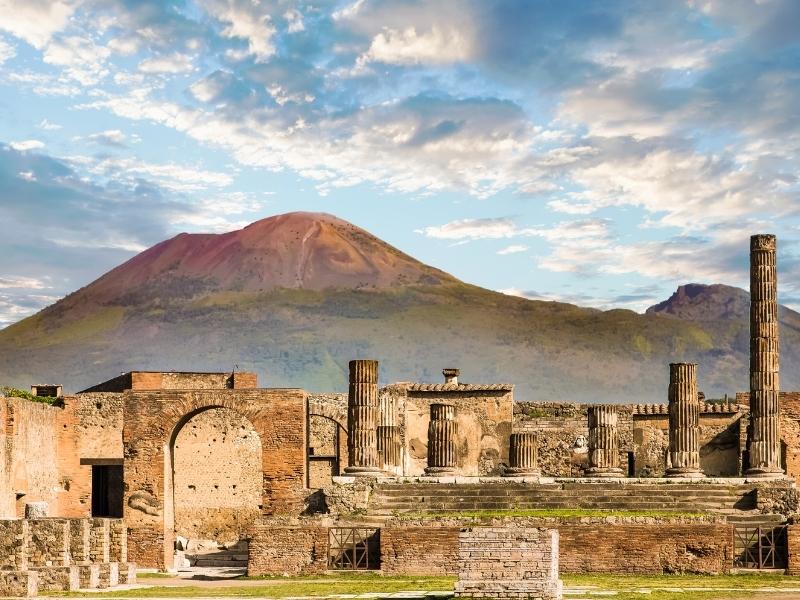 Cool Naples & Amalfi Coast Tours
More Than 5 Days on the Amalfi Coast?
If you have more time — or if one of the days on this Amalfi itinerary didn't quite sound like your cup of tea — you can add on or swap out one of these destinations.
Ischia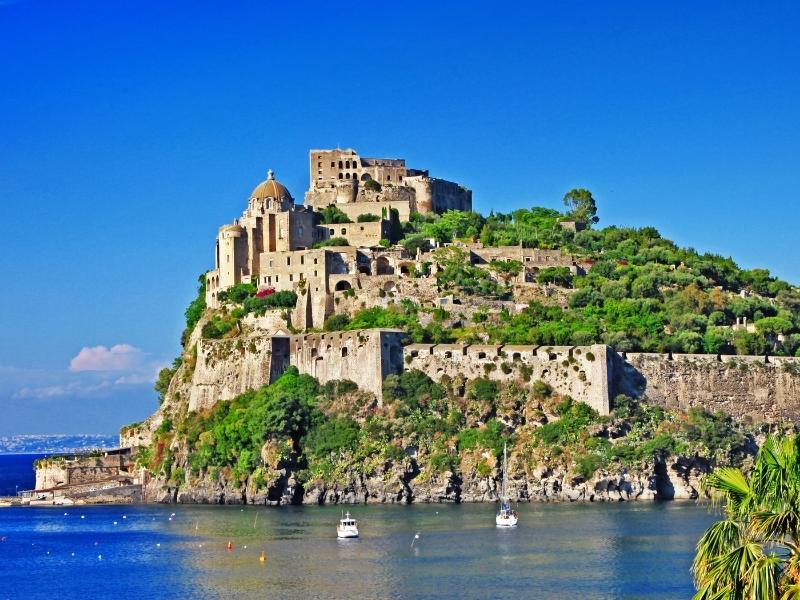 This volcanic island located off the coast of Amalfi can be a cheaper and less-crowded alternative to Capri!
The island is certainly bigger and offers plenty to see, such as the Castello Aragonese, dramatically located on a rocky island linked to Ischia Ponte by a narrow bridge.
Next up are the Hot Springs of Ischia, the volcanic island has over a hundred thermal springs with therapeutic waters.
You can choose to check these thermal baths in local water parks or luxurious spas. There are also thermal springs in Sorgeto Beach that you can enjoy for free!
And if you're in the mood for a quaint little town, then check Ischia Porto, a popular place to explore, starting with the charming Corso Vittoria Colonna, ideal for some shopping and grabbing either an espresso or some authentic and delicious gelato!
Salerno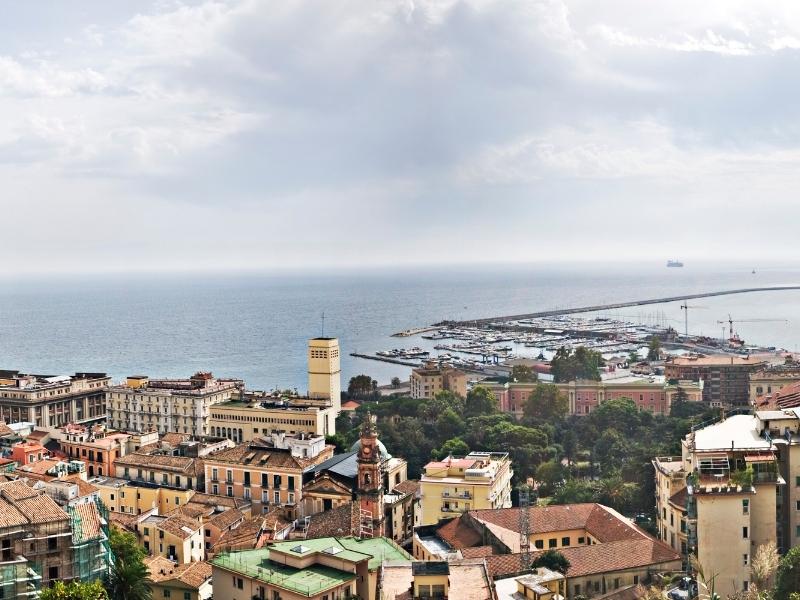 If you prefer the lifestyle of a bigger town rather than the quaint villages with a tranquil atmosphere, then Salerno is a good place to visit.
You can discover the Duomo of Salerno, a Romanesque church built back in the eleventh century.
Another place to visit in town is Villa Comunale di Salerno with its terrific landscaped garden, sculptures, exotic trees, and a small pond.
Finally, towering above the city, the Medieval Castle of Arechi stands 300 meters above the sea dominating the Gulf of Salerno.
Naples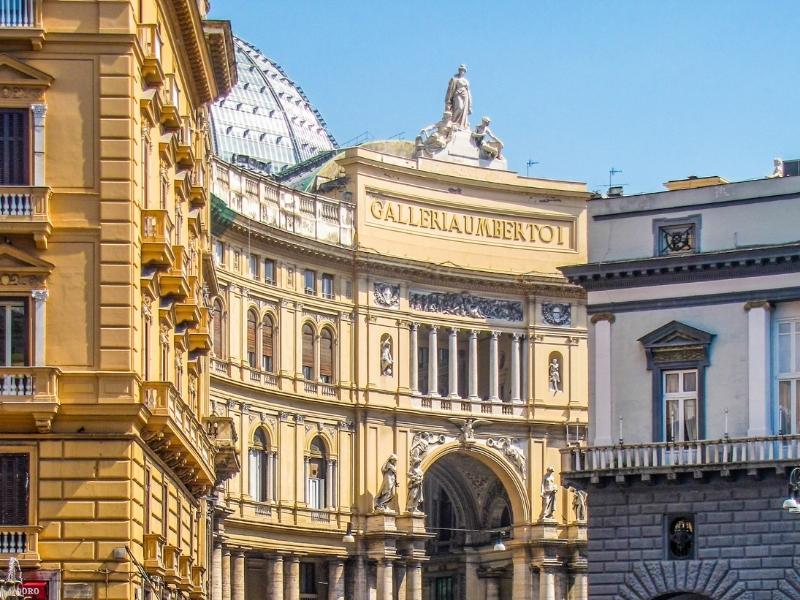 The biggest and most important town in the Campania region is Naples, and it can be an excellent additional destination to add to your Amalfi itinerary if you can spend more time in the area!
Here, you can explore Piazza del Plebiscito, with the Royal Palace and the Basilica.
You can also visit the National Archaeological Museum or the fantastic, sixth century Castel dell'Ovo, the oldest remaining fortification in town.
And when it's dinner time, nothing better than a slice of Neapolitan pizza (Naples is famous for its many delicious pizzerias) or a delicious portion of sweet and creamy pastiera napoletana.