It took me forever to start writing about New York City, but once I started, I had so much to say.
After all, New York was my home for 9 years, and as a result I know the city better than any other in the world.
I guess New York City is such an overwhelming topic, so to try to consolidate my 9 years of wisdom into a quick New York City itinerary felt nearly impossible (and when I wrote my recent one-day in New York itinerary, I nearly had a breakdown trying to condense it into 24 hours).
I wanted to create a New York itinerary that represents a wide span of the city – not just the iconic museums and buildings that make up New York City's landmarks.
I also wanted to showcase the independent bookstores, the cozy cafés, the beautiful brownstones, and the authentic restaurants that really make New York the way it is, the way I loved it.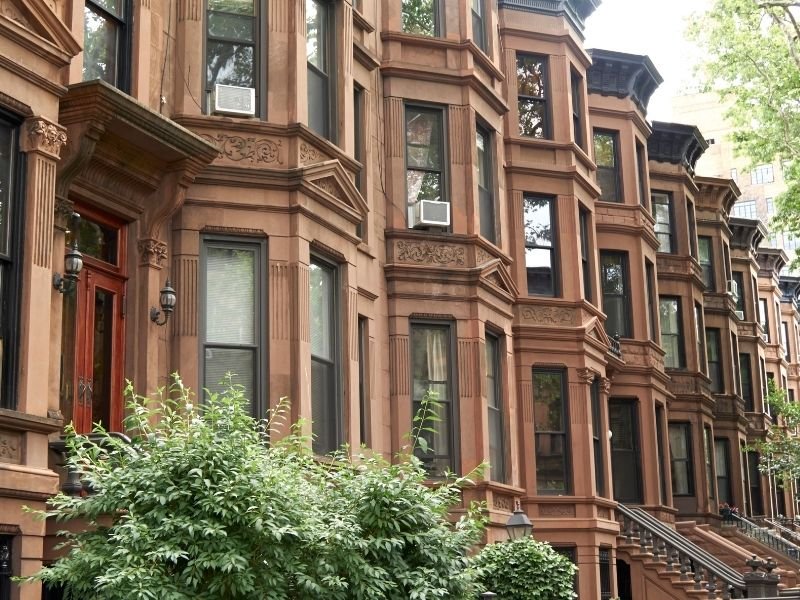 Note: This post contains affiliate links, which means I may receive a small commission if you purchase something through one of these links. Thank you for supporting the free content on this site! For more information on affiliate links and cookies, see my disclosure page for more details.
This 5 day New York itinerary is made with first-time visitors in mind, but honestly, I think even New York veterans can find something new and exciting on this — especially on days 4 and 5, where I zero in on Queens and Brooklyn.
I worked in Queens for five years and lived in Brooklyn for six, so I know these boroughs like the back of my hand — perhaps even better than I know Manhattan.
5 days in New York City is kind of the bare minimum to get a good idea of Manhattan but still get to see a few of the other boroughs.
Of course, there's so much more you could do – I spent 9 years living in the city and I'm still discovering new sides to New York every time I return as a tourist.
Note: NYC is one of the safest big cities in the U.S., but I still highly recommend having travel insurance – especially if you are from outside the U.S. I use and personally recommend World Nomads as my travel insurance to cover me all around the world.
5 Days in New York: Day One
Downtown Manhattan, the Staten Island Ferry & Downtown Brooklyn
Walk from Union Square down Broadway.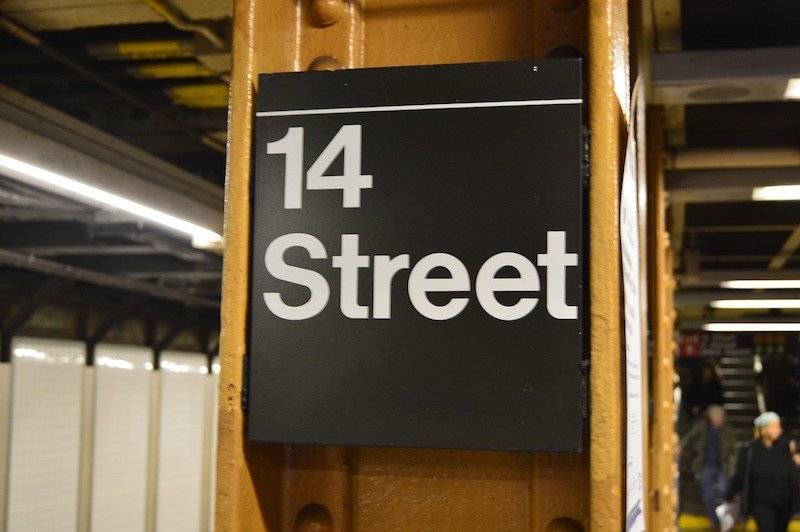 Your first day in New York should be about getting a feel for what makes this massive city so quintessentially New York.
Union Square is as good a place as any to start – stepping off the subway here, for me, will always feel like peak New York.
Whirl your head around and up and marvel at the buildings around you: you're in freaking New York City!
Walk down Broadway, where you'll pass a few sites worth noticing. The Strand on the corner of 12th and Broadway is my favorite bookstore in the world, boasting 18 miles of books.
Stop in and browse the impressively curated selection of new and classic books on the ground floor, or go on a treasure hunt through the used dollar book carts out in front.
There are also tons of rare first editions and leather-bound books for my fellow mega-book nerds.
Just a few more blocks down on 10th, Grace Church is worth a quick stop into. It's absolutely stunning!
I'll always have a soft spot for this church since my first home in New York was right across the street (making hungover Sundays a painful situation – but I digress).
Explore arty SoHo by foot.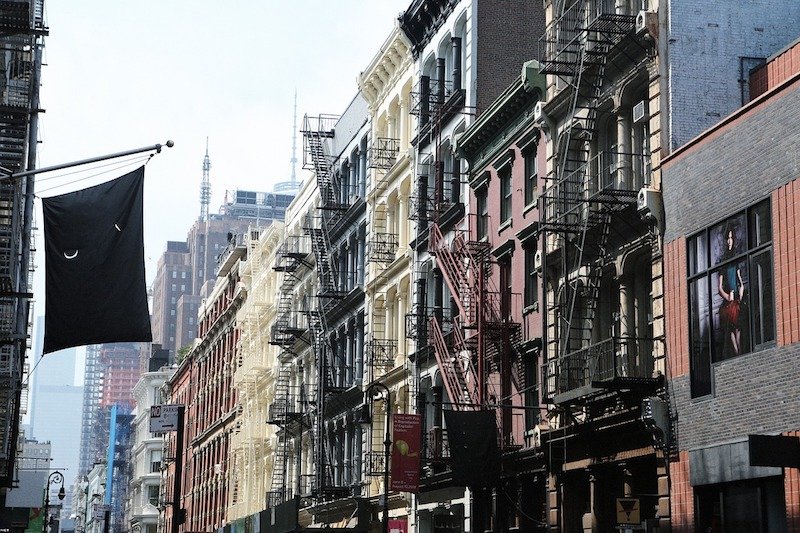 Keep walking and you'll reach Houston Street, which is where SoHo begins — one of the trendiest neighborhoods in New York.
New Yorker tip: SoHo stands for South of Houston, and Houston is pronounced How-ston, not like the Texan city!
Walk around some of the cute side streets – I especially like Crosby, Mulberry, and Mott, which are parallel to Broadway but to the East.
There are countless cute boutiques to stop in if you want, but I just love the experience of walking down these streets… especially since these boutiques are all on the über expensive side.
If you're about due for a coffee, La Colombe on Lafayette between Prince & Houston makes some of the best espresso drinks on this planet.
Book nerds like me will adore the Housing Works Bookstore & Café on Crosby between Prince & Houston as well.
Street art lovers, take note: the SoHo/Nolita area is probably the best place for street art in Manhattan.
There's too much to list here, so here's a super-comprehensive guide to the area's best street art!
If you're into quirky contemporary art, now is a good time to pop over to the New Museum on Bowery between Stanton & Rivington.
Otherwise, I recommend the Tenement Museum for a thoughtful look into what life was like for low-income New Yorkers and immigrants in the early 20th century.
It's also crazy to think about how this area used to be reserved for the down-and-out of the city, but now is a celebrity's shopping playground.
Such is the nature of the ever-changing New York City!
Feast in one of the U.S.'s best Chinatowns.
Once you've had sufficient time to wander Soho, you've probably worked up an appetite.
To be honest, you can safely skip Little Italy — it's rather gimmicky and has been pretty much overrun by Chinatown.
If you really want pizza, may I direct you instead to the oldest pizzeria in the United States, Lombardi's on Spring Street!
If you keep walking south, you'll hit Canal Street which is pretty much the heart of Manhattan's Chinatown.
When you walk down Canal, try not to get lured into purchasing fake bags or sunglasses, and just gawk at the bustling atmosphere instead.
Chinatown is fantastic and I could write an entire blog post all about it… but I'll just give you a few quick recommendations here.
For delicious hand-pulled noodles, try Spicy Village.
Their big tray chicken is unmissable and will feed 2-3 hungry people for under $15 (and it's BYOB as well, so just pick up some beers from the bodega next door if you want to feel peak New York).
Note: Are you gluten-free? Check out this gluten-free guide to New York.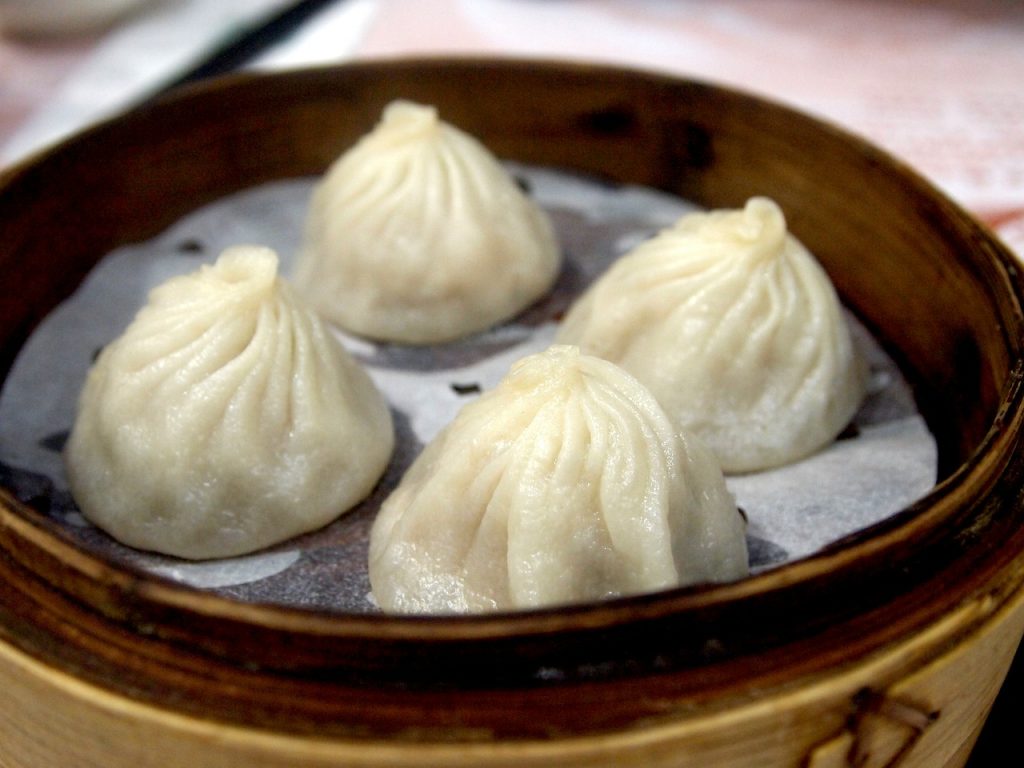 For dumplings, Joe's Shanghai has the best soup dumplings I've been able to find in New York.
If you're into dim sum, Golden Unicorn is my absolute favorite but Nom Wah Tea Parlor is also a close contender.
Finally, I'm obsessed with Xi'an Famous Foods' cumin lamb noodles, but there are locations all over the city so it may be best to save it for a different day of exploring.
For dessert, I love the egg custard tarts at Tai Pan Bakery on Canal Street.
Marvel at the architecture of the Financial District.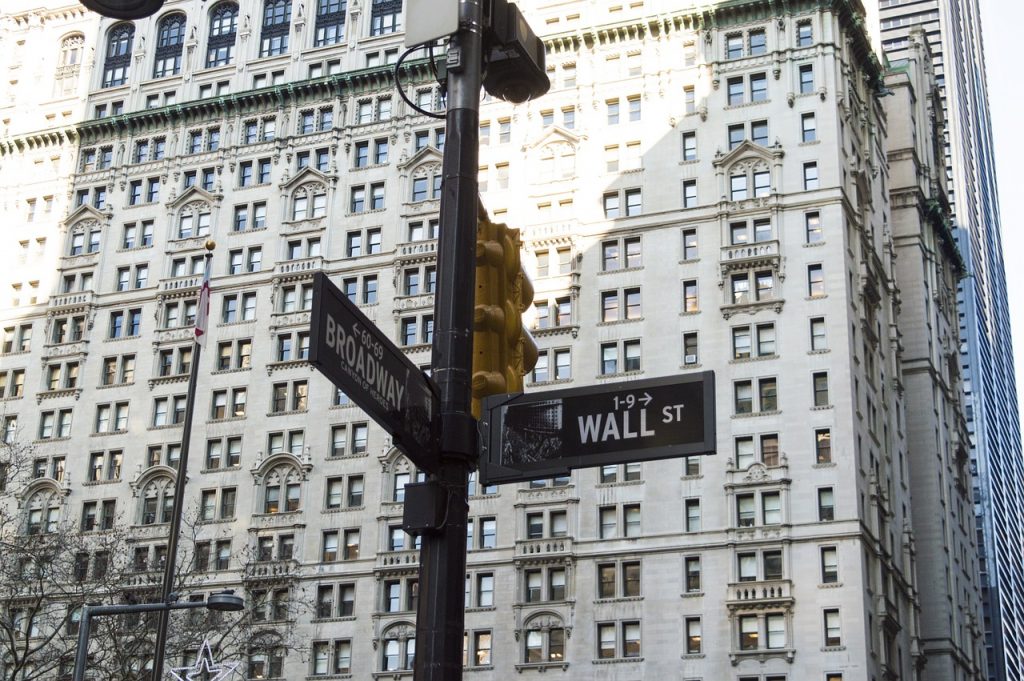 After you've filled up and rested your feet a bit, continue downtown.
One of my favorite buildings is a residential building by Frank Gehry, the architect behind Prague's famous Dancing House.
It's located on 8 Spruce Street right by City Hall.
Continue on Wall Street and the Financial District, where you'll find the Wall Street Charging Bull statue.
Wondering where the Fearless Girl statue moved?
No longer facing off with the Charging Bull, she's now directly across the street from the New York Stock Exchange.
Say hello to Lady Liberty.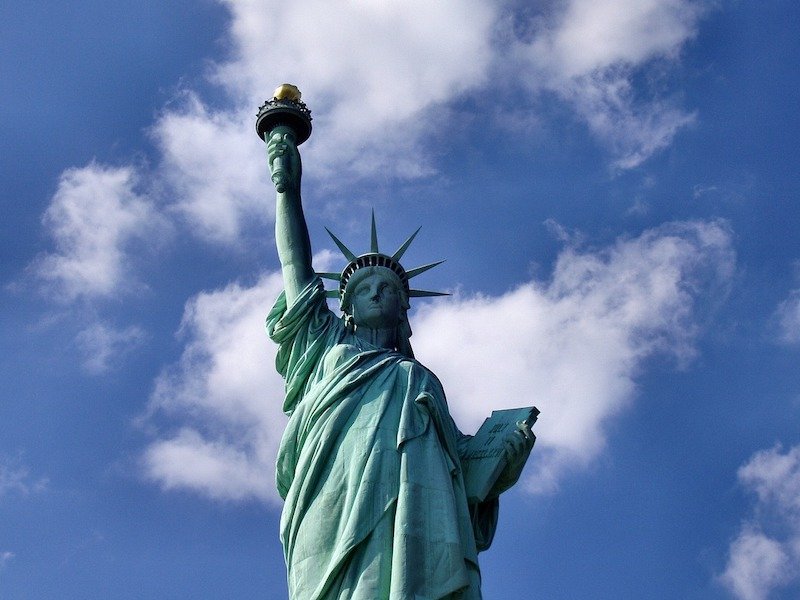 Keep walking a bit further south towards Battery Park.
Here is where I recommend you do your first tour of your New York City itinerary, taking the ferry to the Statue of Liberty and Ellis Island!
In my near-decade I never actually visited either the Statue of Liberty or Ellis Island… but on my 2021 visit to the city, I finally rectified that.
I was skeptical, but seeing the Statue of Liberty up-close and in-person is absolutely worth it!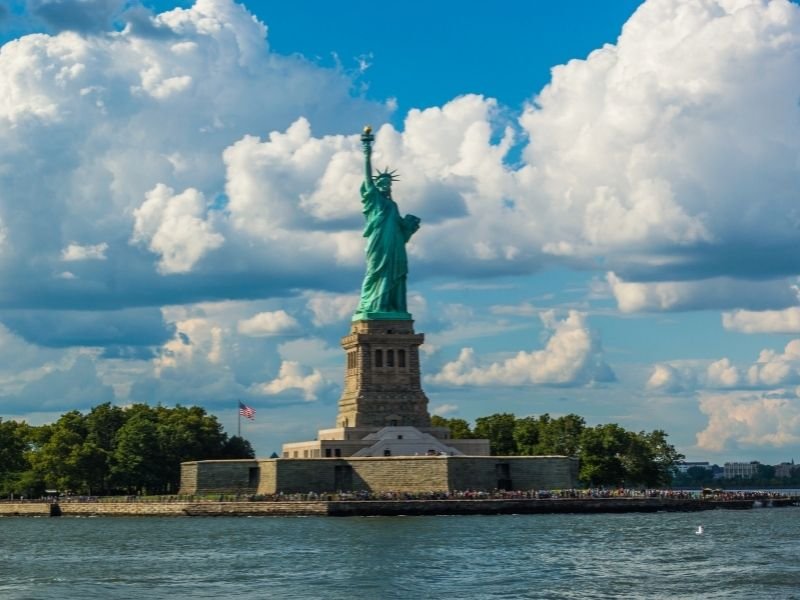 I strongly recommend booking your ticket in advance but using a self-guided option rather than going on a guided tour.
I like to move around at my own pace as I travel around a city, and booking these tickets allowed us to skip-the-line but also explore around at our own leisure.
Tickets to the Statue of Liberty run on a loop that also includes Ellis Island before returning back to New York, so these two items are included together for the same price.
It's a great deal, especially because the Ellis Island Museum and the Statue of Liberty Museum are both free, except for the ferry cost to get there!
Book your Statue of Liberty and Ellis Island tickets online here!
Really don't want to spend much money, but you want to spot the Statue of Liberty up close… ish?
There's also a free option!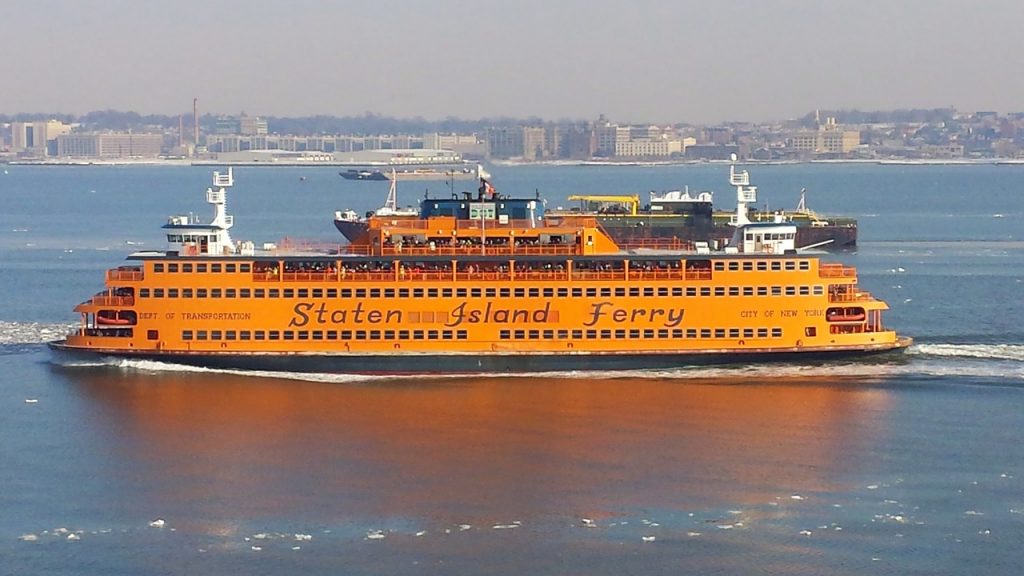 Enter… the Staten Island Ferry, aka the best cheap-o hack for budget travelers and in-the-know New Yorkers who don't want to spend like $40 every time someone comes to town.
If you want to hack a free trip to pass by the Statue of Liberty, just hop on the Staten Island Ferry, ride it over, hop off and hop right back on (as there's not much to see in Staten Island).
Roundtrip, it will take you about one hour and will be a nice break from being on your feet so much!
Still, I do recommend the actual ferry option where you get to visit both the Statue of Liberty and Ellis Island — it's worth it, and it's not that expensive.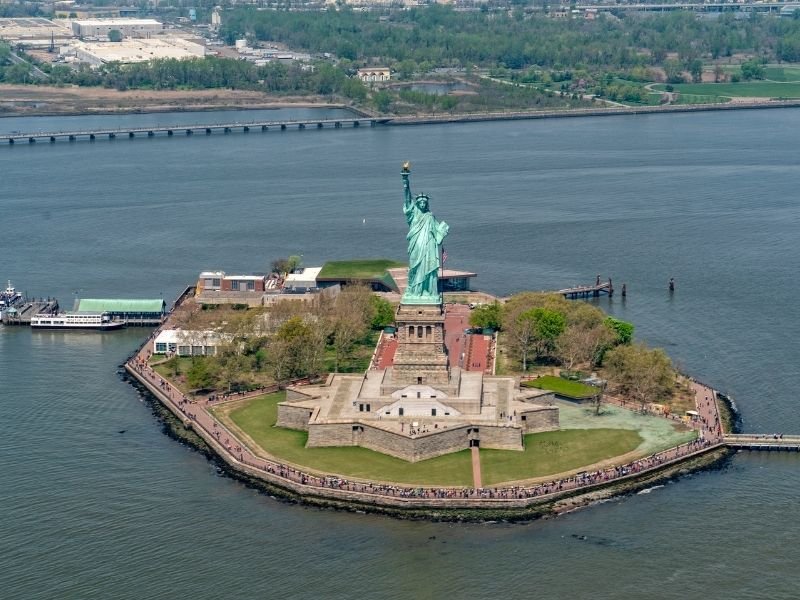 Celebrating a special occasion on your New York itinerary?
An alternate idea (and truly on the other side of the price spectrum) is to take a helicopter tour over Manhattan, which includes flying right by the Statue of Liberty!
It is a true bucket list item, and it is a great way to see the city (and Lady Liberty!) in a new light.
Click to check prices and availability for helicopter tours!
Pay your respects at Ground Zero.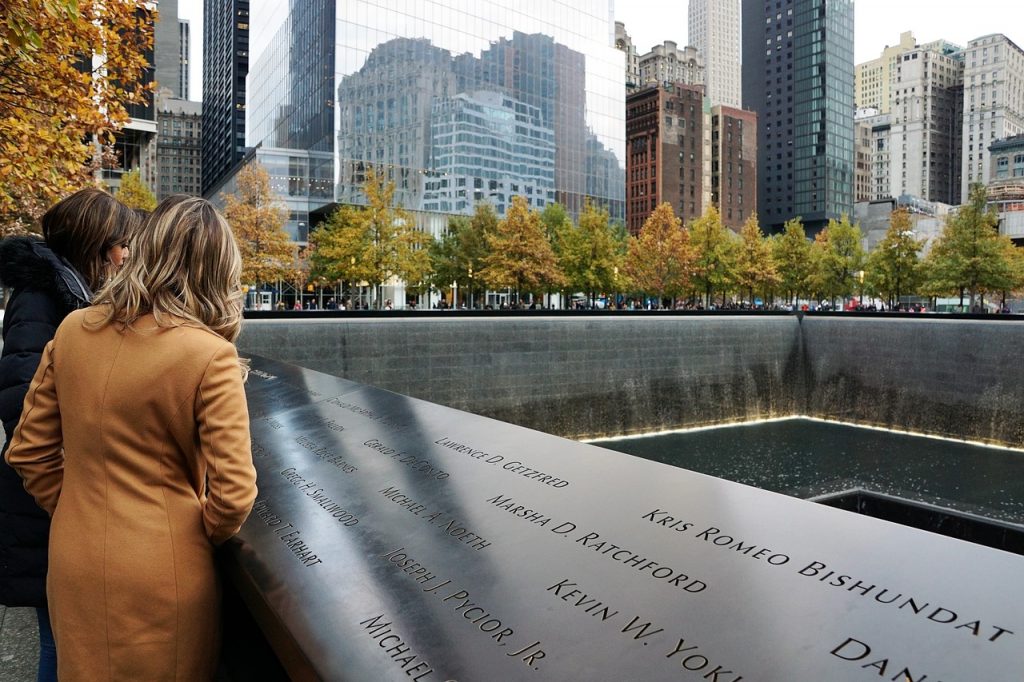 After you've seen the Statue of Liberty, head a bit north to see the 9/11 Memorial, a must for anyone's New York itinerary.
It will make you feel quite somber to be in the presence of such tragedy, but it's absolutely worth the visit and helps you understand what New Yorkers have been through and why they are so resilient.
Visiting the 9/11 Museum is another essential activity, but the lines can be quite long here, especially if you visit in the peak season (which is really any time that's not January, February, or March).
I highly recommend booking a skip-the-line ticket online in advance if you plan on visiting and you have a busy New York City itinerary scheduled.
This will let you skip waiting in line, doesn't need to be printed out, and includes a timed-entry admission to the museum and memorial and an audioguide.
Soar to heights of the Western Hemisphere's highest building.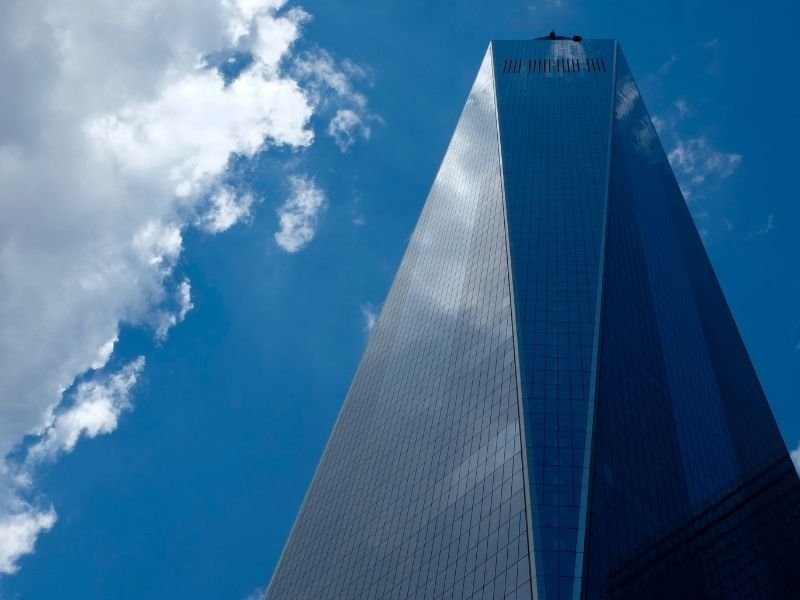 One thing that I think is so beautiful about New York's spirit is that it's unbreakable.
When terrorists knocked down New York's most important building and ended the lives of nearly 3,000 (and leaving many thousands of first responders with chronic health conditions), the city could have decided the pain was too great to rebuild.
Instead, New York decided to build an even taller building in its place, to create a new symbol of strength and beauty: One World Tower.
It took nearly the entire time I spent living in New York for the building to be built, but when it was finally done, it was beautiful.
Now the tallest building in the Western Hemisphere and the sixth largest in the world, visiting this beautiful observatory is a testament to New York's ongoing strength, bravery, and grit.
Predictably, the lines to get in are insane, so I highly recommend booking a skip-the-line ticket which lets you skip the ticket queue (though note, you'll still have to wait for security and the elevator).
I went in June 2021 in my blitz of all the observation decks in New York City, and it more than met my expectations.
The views are stunning and it offers a totally different view of the city than the midtown observation decks like Top of the Rock and the Empire State, so I do highly recommend adding it to your New York City itinerary — even if other observation decks are also on your list!
Skip the line! Book your one World Observatory tickets online here
Stroll the beautiful Brooklyn Bridge.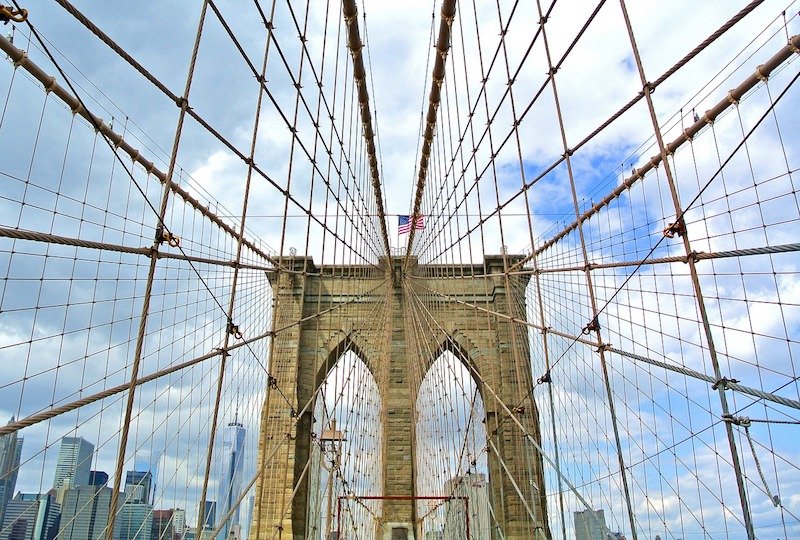 After you've seen the memorial, take a walk across the iconic Brooklyn Bridge.
Please, watch out for cyclists as many people do use this bridge to commute daily (or actively go out of their way to avoid it because the tourist traffic is so insufferable, as I did).
Once you've crossed, take a seat somewhere in Brooklyn Bridge Park and watch the sun go down for an epic sunset and stunning views of Downtown Manhattan.
Alternately, enjoy the views from the top of the Time Out Market rooftop in DUMBO — it's free and has a stunning skyline view!
Find an epic dinner in Brooklyn.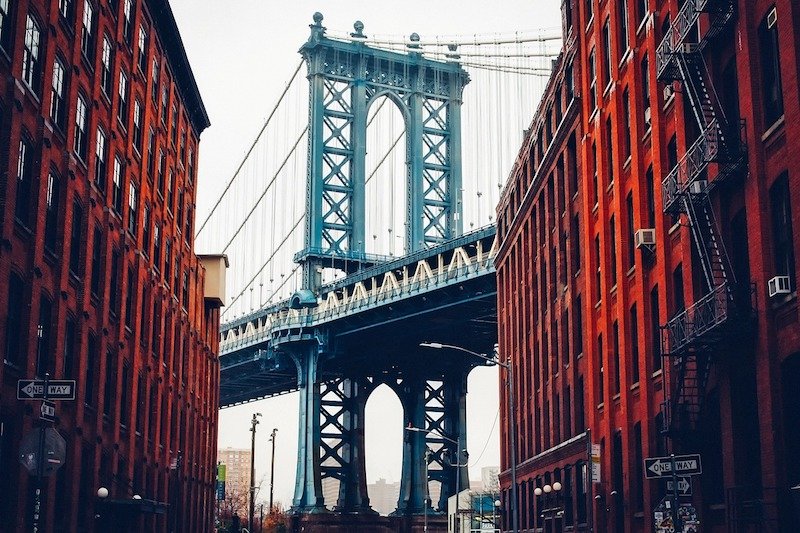 For dinner, the world is your oyster – this is New York, after all, one of the best places to eat in the world.
If you didn't have pizza earlier, I recommend Juliana's – the pizza is even better than next-door Grimaldi's (in fact, it was voted the best pizzeria in the entire U.S. in 2015 on TripAdvisor) but it's not often in the guidebooks so there's usually no line.
If you do this, be sure to save room for dessert at the delicious Ample Hills Creamery just down the street!
If you'd rather have something different, here are a few of my favorite Brooklyn restaurants.
None of these are within walking distance of the end of the Brooklyn Bridge so at this point you'll want to call a cab/Uber or hit the subway.
For something different, try Ethiopian at Ghenet in Park Slope. For a modern take on ramen, try Chuko in Prospect Heights.
The new Thai restaurant Ugly Baby gets rave reviews, despite the silly name. For tapas, I'm obsessed with La Vara.
For those on a budget, you can't go wrong with Shake Shack — New York's closest attempt at imitating the perfection that is In-N-Out Burger (what, I'm a California girl at heart!).
Pretty much all of these places are within a stone's throw of tons of fun yet relaxed bars, if you have any energy left after that ridiculous amount of walking I had you do. If not, head home and rest up for the next day.
5 Days in New York Itinerary: Day 2
West Village, Chelsea, and Midtown
Stroll around Greenwich Village.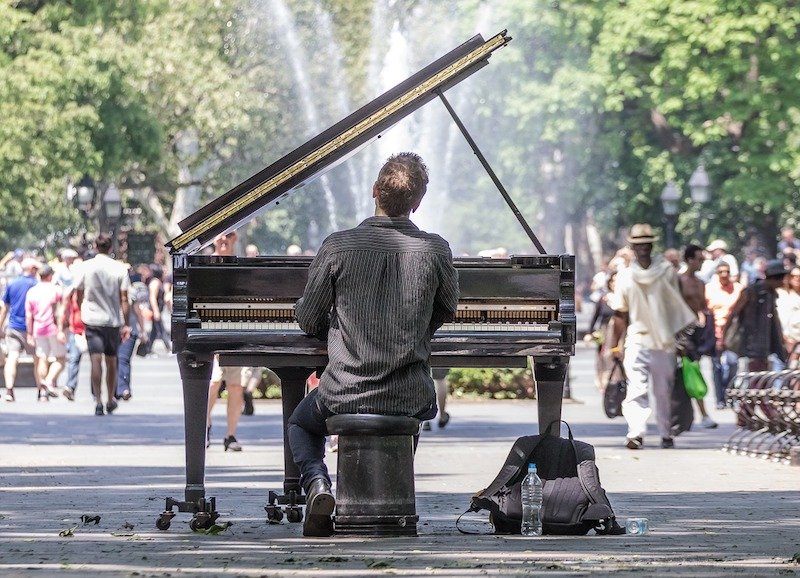 Start your day at Washington Square, which is the heartbeat of New York University and home to the famous Washington Square Arch.
It's fun to people-watch here by the giant fountain in the middle if it's a sunny day; there are always lots of street performers if that's your thing!
Remember to tip your performers if you enjoy their work!
If you're a dog creeper like me, head to the dog parks in the southwest corner to gawk at all the adorable New York canines.
Wander west to the West Village.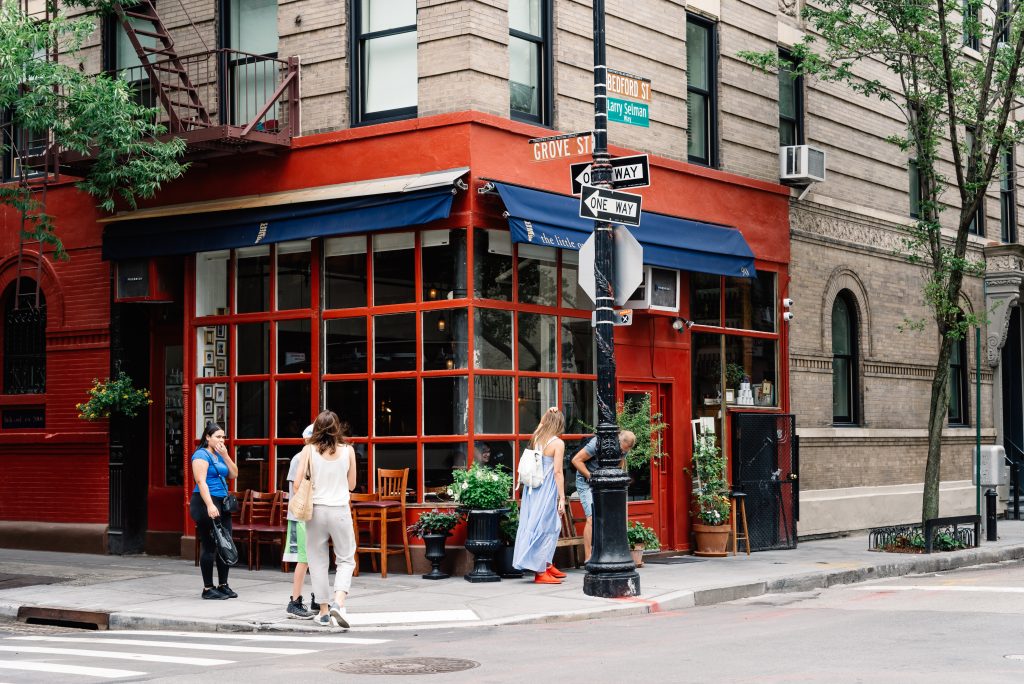 Keep walking west on 4th Street/Washington Square South and explore the West Village.
It's easy to get lost here, as the streets snarl and confuse in the most delightful, Alice-in-Wonderlandian of ways…
For example, West 4th intersects with West 10th, and Waverly Place intersects with itself. Logical.
Walk until you've worked up an appetite, then find a place for brunch – that most New York of meals…
A few favorites are Tartine for decadent French food or Jack's Wife Freda for delicious Middle Eastern food. Those on a budget can grab a delicious falafel at Taïm – I love their sweet potato falafel.
But perhaps the coolest place to have lunch is at The Little Owl – which is the delicious restaurant beneath the apartment from Friends!
If you're a fan of the classic sitcom, you've got to make a quick lunch stop here, if not to pay homage to the show then at least to eat some delicious food (I love the gravy meatball sliders, yum!)
For an alternate idea, explore the Village through your stomach!
This Greenwich Village food tour covers the history of the Village from the perspective of a local, taking 3 hours and including 6 tastings.
Tastings include New York classics like the hot dog, a true New York deli sandwich, pizza, and other secret treats that will be revealed on the day of the tour!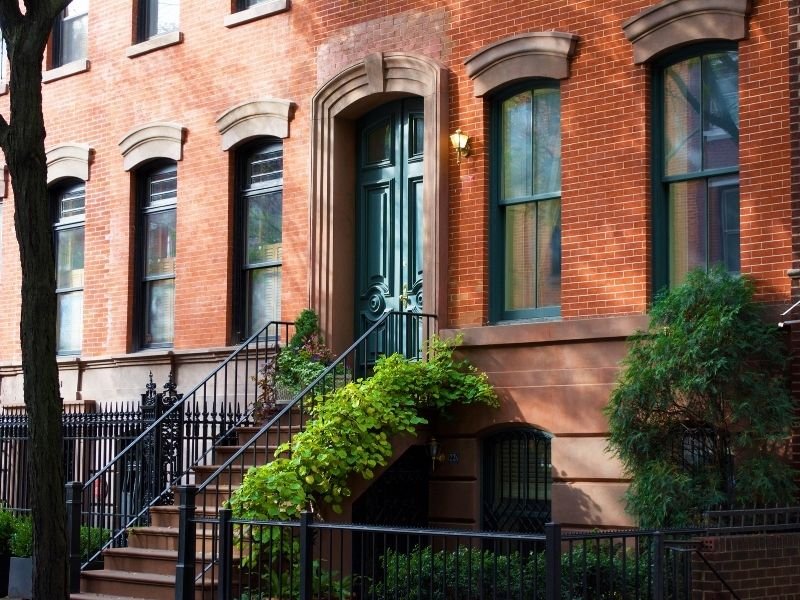 There aren't too many landmarks in the West Village.
Mostly you'll be gawking at the beautiful brownstones and philosophizing about the moral lows you'd sink to in order to be able to afford an apartment here (let's just say that Friends wasn't exactly realistic…).
There are a few notable historic pubs in the West Village, and that's about it for sights.
Stonewall Inn on Christopher Street has been the heart of the LGBTQ+ rights movement, since the riots that took place there in 1969.
It's important to keep in mind how the Stonewall Uprising came to be. The Stonewall Riots were a result of police brutality that occured at the Stonewall Inn, violence that primarily targeted trans folks of color.
Several important LGBTQ+ rights activists, including Marsha P. Johnson and Sylvia Rivera, were involved in the Stonewall Riots and the organization for LGBTQ+ rights that occurred after the Stonewall Uprising.
As you walk north towards Chelsea, stop at or pass by the White Horse Tavern, the former watering hole for musical and literary legends like Bob Dylan, Hunter S. Thompson, and Jack Kerouac.
I recommend ordering a whiskey neat, no matter the time of day, and feeling like a BAMF.
Hit up the incredible (and incredibly busy) Chelsea Market.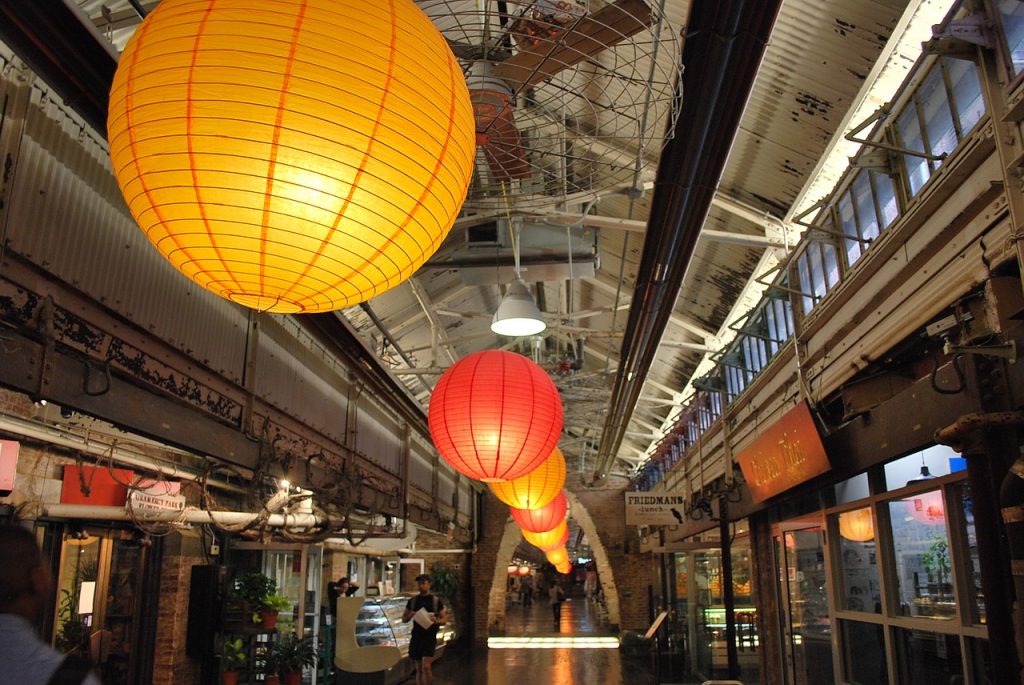 Keep walking north and you'll hit the Chelsea Market on 9th Avenue and 15th street.
Continue inside to some of the gourmet shops within the Chelsea Market.
A few favorites are Fat Witch for insanely good brownies and the Chelsea Wine Vault for super-knowledgeable wine sellers (and sometimes free tastings!).
I also love the Doughnuttery for adorable mini-donuts, Heatonist for artisan hot sauces, Los Tacos No. 1 for surprisingly authentic and delicious tacos (certified by a Californian), and Num Pang sandwich shop for delicious banh mi.
If you just need coffee, 9th Street Espresso has some amazing iced coffee and great espresso drinks. You can also go on a Chelsea Market food tour!
Stroll the High Line, New York's elevated park.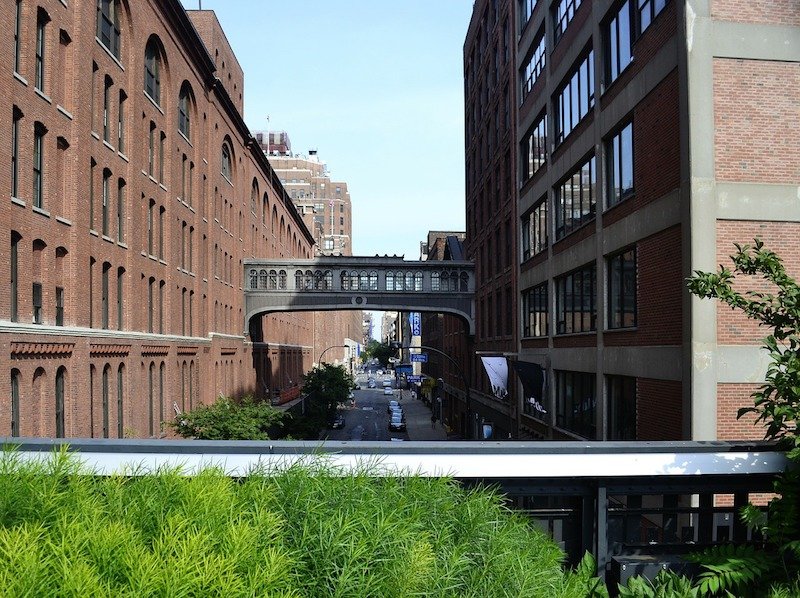 I recommend getting at least some sort of thing to snack on to-go, as you'll be walking The High Line next.
Depending on the time of year and time of day, this can alternate between lovely and so ridiculously crowded that it's not anywhere close to enjoyable.
If you need to retreat from the crowds, there are some places along the High Line you can go for a drink!
If the crowds aren't so bad, enjoy the view of fancy buildings and some street art, and walk up to about 20th or 23rd Street.
Snag a great view of NYC with a quick midday cocktail.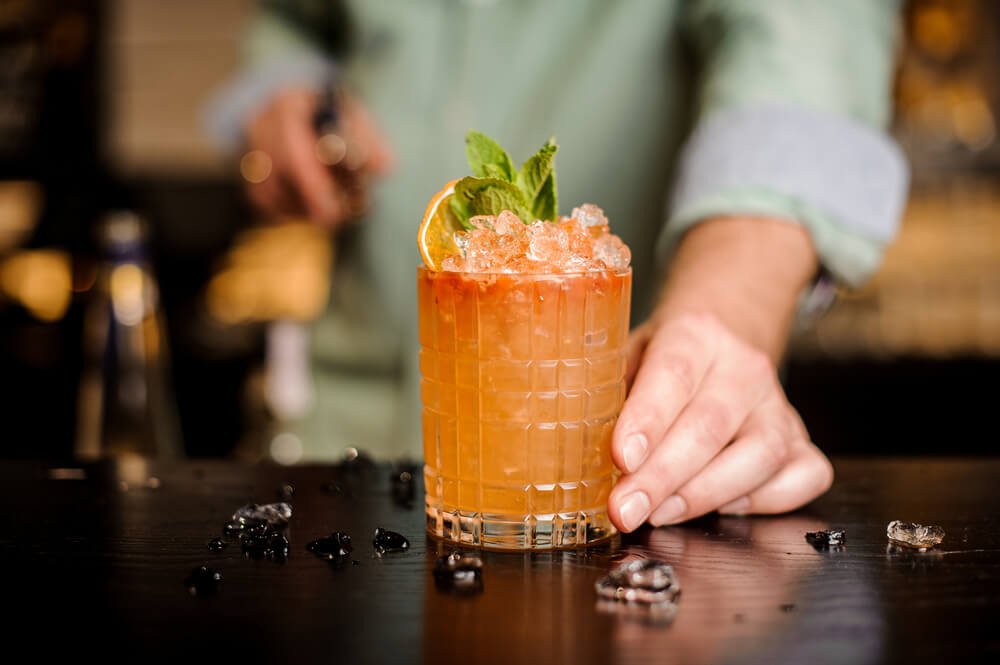 Exiting the Highline on 23rd street, walk east until you reach the Flatiron Building on 5th Avenue.
This is a great spot for photos and it's one of my favorite buildings in New York!
If you want a view from above, check out 230 FIFTH which has a cool rooftop bar.
Drinks are expensive, yes, but it's worth it for an epic view over the city, with an especially great view of the Empire State Building — New York's most iconic!
Be surrounded by books.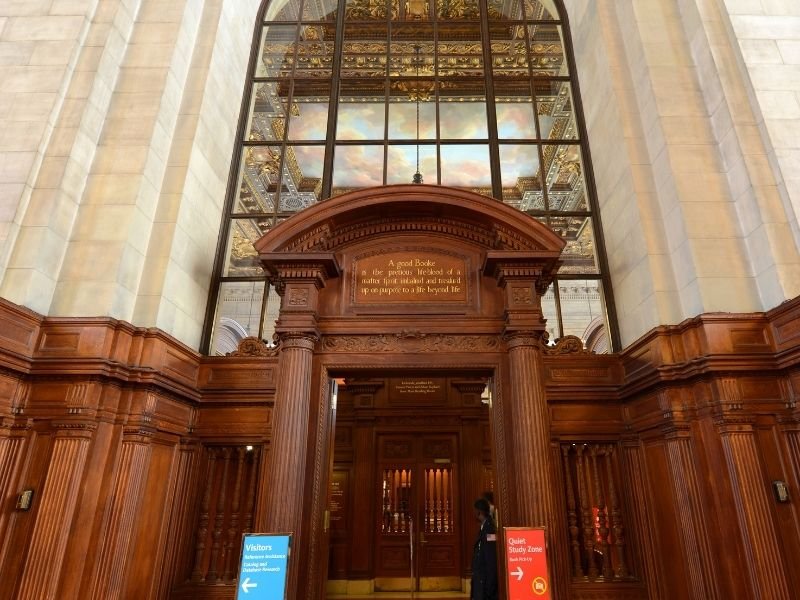 Keep heading north towards 42 Street. You can stop at the Morgan Library & Museum on Madison Avenue along the way, though note that tickets cost $20.
But for true book nerds, admission to Pierpont Morgan's 1906 Library alone should be worth the cost of admission!
From there, walk towards the New York Public Library with its famous twin lion statues.
The architecture of the building is stunning: marble floors, ceiling murals, chandeliers — this ain't your average public library, that's for sure.
The Rose Room is the most famous part of the library, so be sure not to miss it!
Marvel at the ceiling of Grand Central.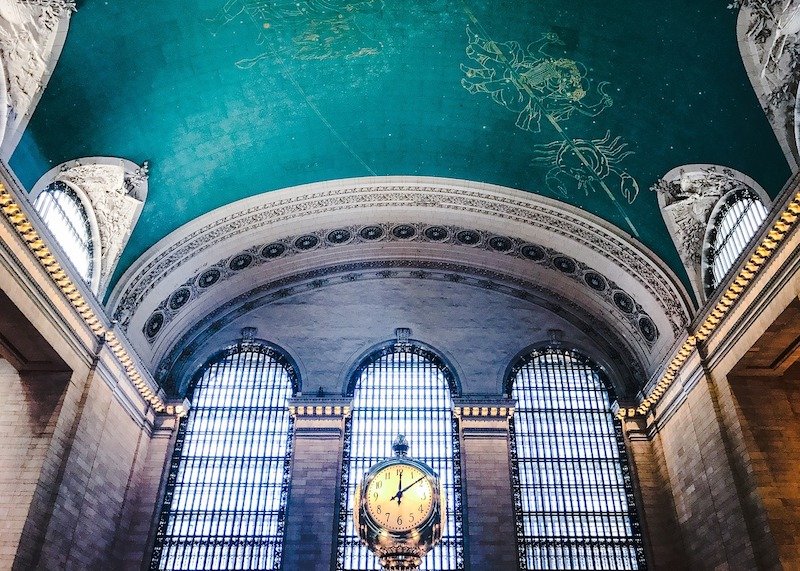 Finally, stop off at Grand Central Station, a New York landmark for its beautiful vaulted ceilings.
This place is amazing for photography and just for watching the chaotic symphony of New Yorkers going about their nightly commutes!
If you feel really classy, stop for dinner at the Grand Central Oyster Bar.
If you're poor like the rest of us, check out this guide to some of New York's best cheap eats (psst- this is a great time to visit a branch of Xi'An Famous Foods — there's one on 45th Street!)
End the night with a cruise to see the city lights!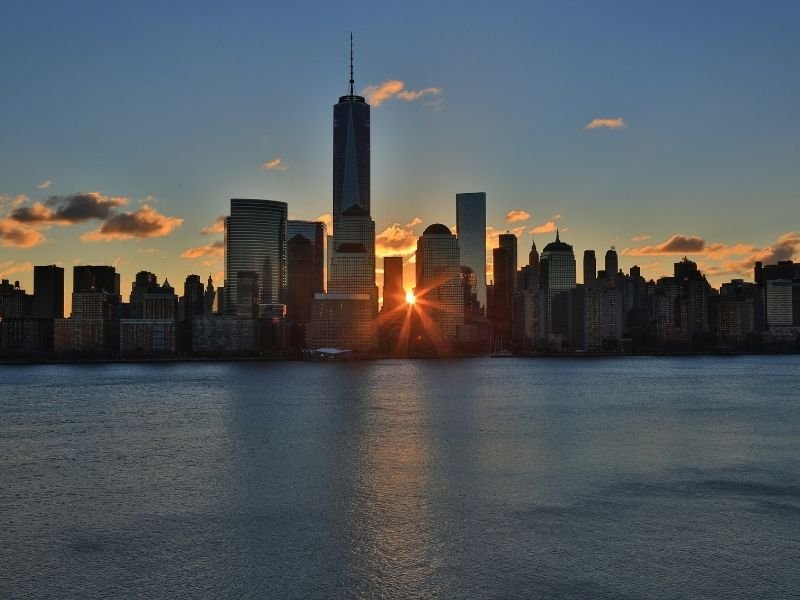 Cap off your night with a 2 hour night lights harbor cruise (great for kids!) to see the lights change over the city as night falls.
Alternately, opt for a romantic champagne sailing cruise (better for couples) to see some gorgeous skyline views of New York with your sweetie!
5 Days in New York Itinerary: Day 3
Uptown, Museums, Central Park, & More
Start the day with a great view of the city.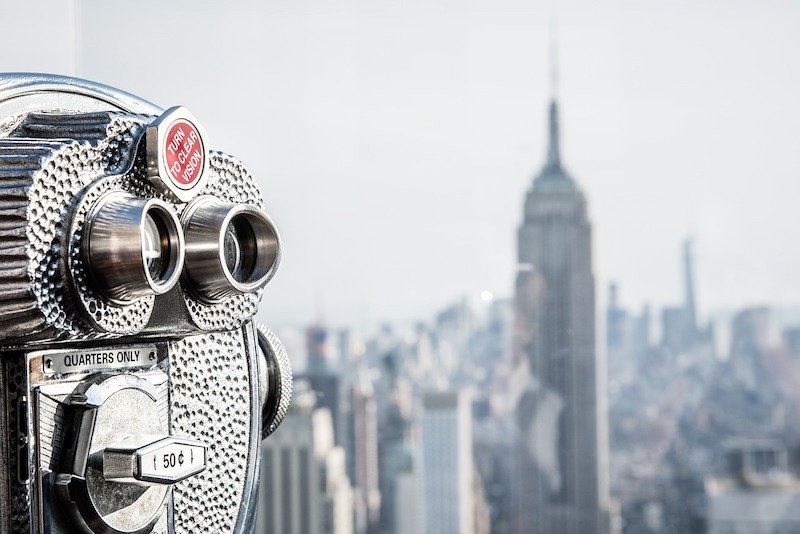 This post is assuming you'll pick one of the main observation decks in midtown NYC, either Top of the Rock of the Empire State.
Personally, I prefer the Top of the Rock because you can see the Empire State Building, my favorite building in the entire city!
However, many people prefer to go up the Empire State Building itself (or go to both).
Besides the view, the lobby is incredible: murals of 24K gold and aluminum leaf form a beautiful art deco tapestry, and the Dare to Dream exhibition detailing the construction of the building is quite fascinating.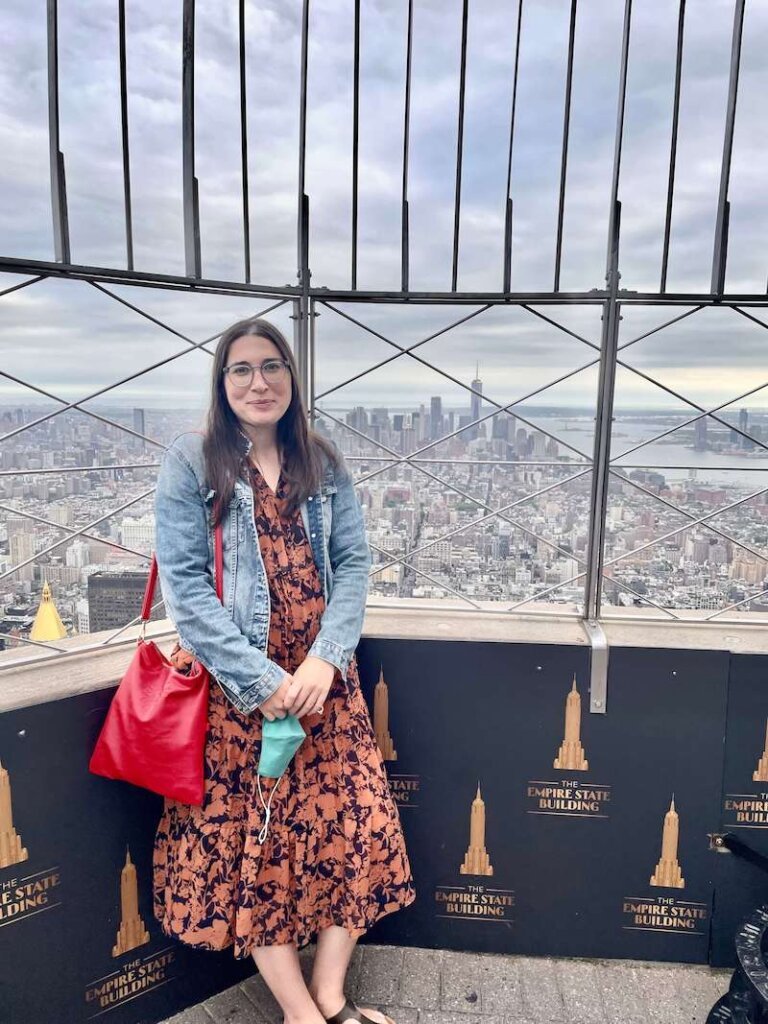 If you visit the Empire State, I strongly recommend getting a skip-the-line ticket like this one. This is the one I booked on my 2021 visit and I can honestly say I didn't wait for more than a single minute!
The general ticket will result in a lot of queueing and isn't really worth it, especially given how little time you have on your New York itinerary.
For extra speediness, opt for the Express ticket which lets you skip all the lines and has a flex date feature so you can visit any day within one month of your chosen date, so in case the weather doesn't cooperate, you can easily visit a different day.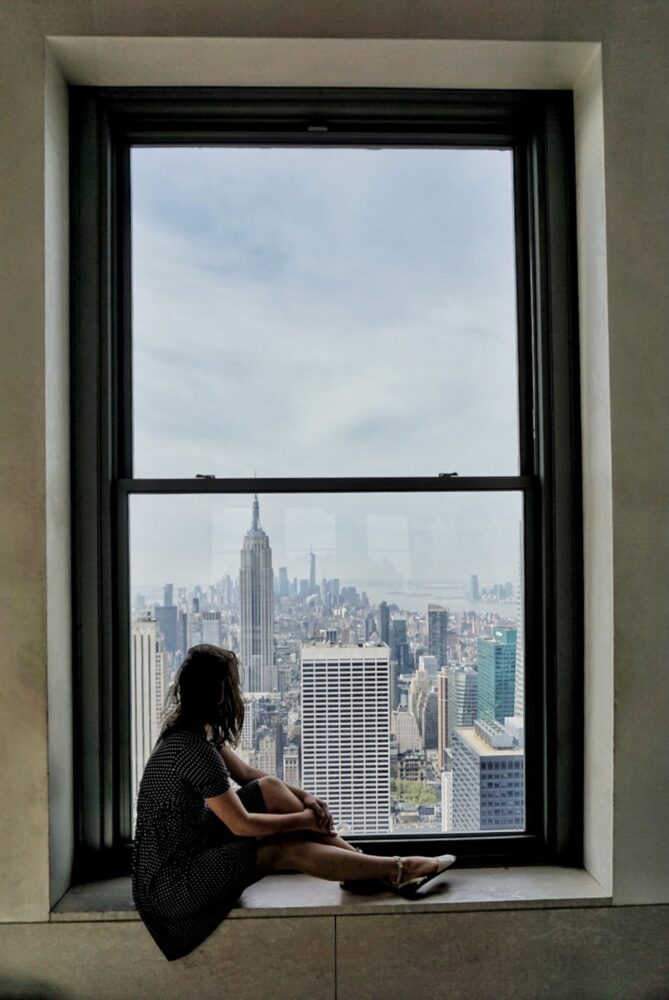 However, many people pick the Top of the Rock because you can get great views of the Empire State Building.
And in my opinion, the Empire State is the best part, so if you're going to spring for one or the other on your New York itinerary, make it the Top of the Rock.
I never did it when I lived in New York, but I went on my first post-living-in-NYC visit in 2017 and was so happy I did it. It's amazing and well worth the price!
Take in a view of the Empire State Building and the Chrysler Building and be sure to snap plenty of photos for Instagram so you really get your money's worth.
I strongly recommend that you buy your tickets in advance online.
If you just show up to buy your ticket in person, you likely won't be able to get in right away and will have to come back at a later time – or even a later day – therefore waiting in line not once, but twice!
If this is something you want to do, do not save it until the last day as there is a decent chance you won't be able to get in.
Visit some of Midtown's landmarks.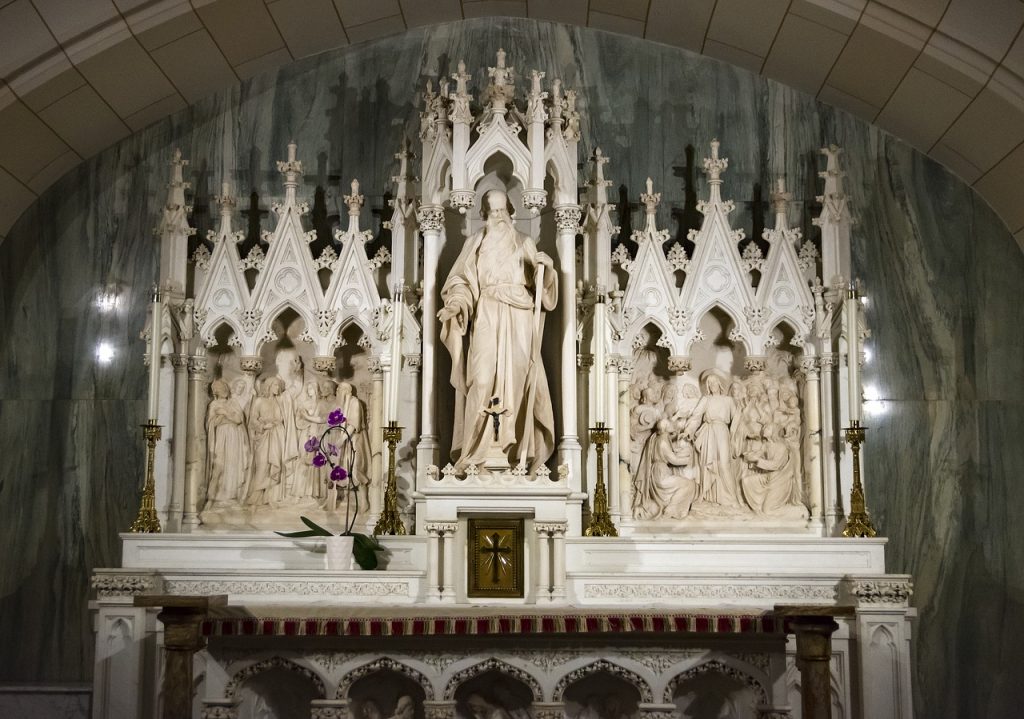 Afterwards, stop by the iconic St. Patrick's Cathedral.
This is probably the most impressive religious structure in all of New York, and a definite must-visit regardless of your religion (or irreligion, as the case may be).
Entry is, blissfully, free!
Next, visit the MOMA (Museum of Modern Art).
This museum is absolutely massive but you'd be a fool to miss it, as it has probably the best collection of modern art in the entire world.
If Vincent van Gogh's Starry Night isn't being loaned out elsewhere, this is the place to see it!
They also have fantastic temporary exhibits in addition to great impressionist art. Note that if you're on a budget, you can visit for free on Friday nights, so keep that in mind and maybe prioritize a visit then.
Skip-the-line tickets are also available if you're not planning to visit on a free Friday, which I definitely recommend investing in as the lines here can get cray.
Pop over to Columbus Circle, the gateway to Central Park.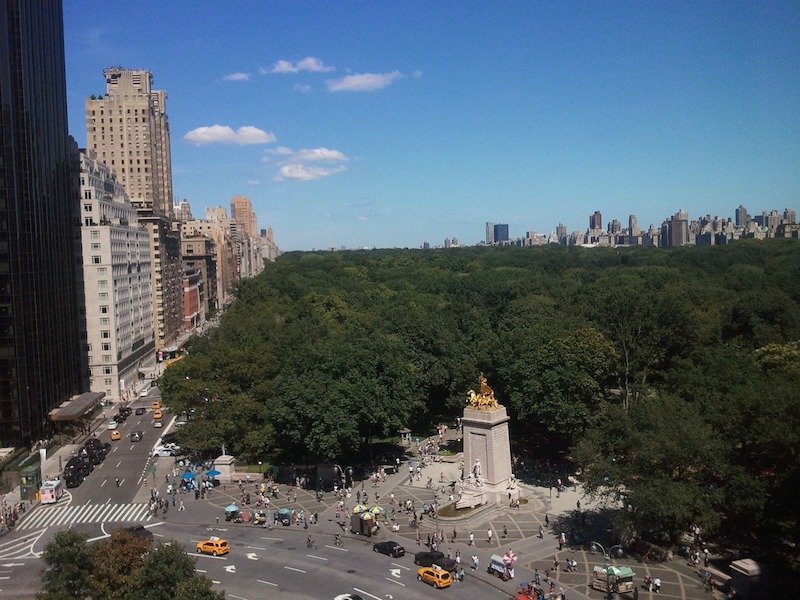 Next up, walk towards Columbus Circle.
You can pop into the iconic Tiffany's on Fifth Ave if you're an Audrey Hepburn fan (don't forget your Danish and to-go coffee – you can skip the evening gloves though).
The famous Plaza Hotel is another well-known film spot, home to works of art such as Home Alone 2.
Still, the lobby is absolutely stunning, and definitely worth popping into.
Foodie note: this part of New York is where culinary dreams go to die, unless you're insanely rich and can afford to eat at places like Jean Georges where you'll easily spend upwards of $100 per person.
There's very little in the way of good restaurants to eat around here. Most will be just above decent, but priced atrociously expensively.
The Infatuation is my favorite guide to New York restaurants, and here are their recommendations for the culinary hellhole that is the area around Columbus Circle. I've never eaten at any of these so I can't vouch for anything personally!
Instead, I recommend just grabbing something simple — now might be a good time for some street meat, aka halal.
You can't go wrong with chicken over rice (if you're extra hungry and screaming for carbs I recommend asking for a pita on top too.)
Careful with the hot sauce – it's super hot, and the guys will go crazy with it if you say you like it spicy. I don't have any particular place to recommend, just look for somewhere relatively busy and well-trafficked.
Get lost in Central Park.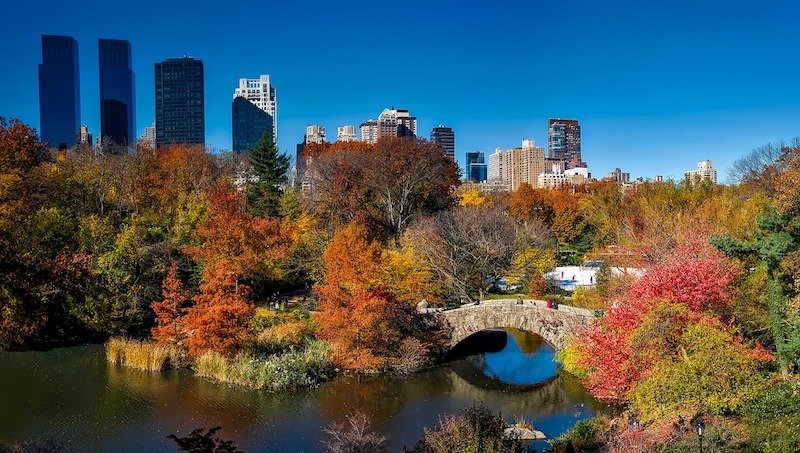 Now that you're fed, you're at the gateway to Central Park. Central Park is almost like a city unto itself.
What you do in Central Park depends on what you're interested in! If it's just people-watching and strolling, walk away — you've got literal miles of walkways to choose from.
For a more scenic side, check out the Lake near the Central Park Boathouse Restaurant.
If you're a Beatles fan, check out Strawberry Fields, dedicated to John Lennon (this is where you'll find the famous "Imagine" memorial where people often leave flowers).
The best people-watching and chilling spot is Sheep Meadow – it's full of students and the occasional topless hippie, enjoying NYC's lax public nudity laws.
There's also Belvedere Castle, the Friedsam Memorial Carousel, the Conservatory Garden, and the famous Alice in Wonderland statue.
Go on a treasure hunt for these if you feel like it! If you really want to cover Central Park in depth, some companies offer affordable guided walking tours!
Visit New York's (or even the world's) best art museum.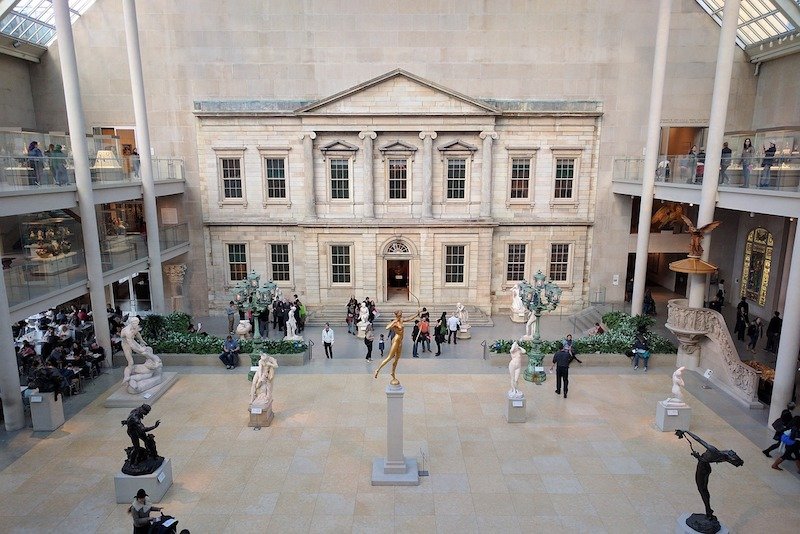 After relaxing in the park for a bit, it's time to get your culture on.
The Met (short for the Metropolitan Museum of Art) is an absolute must-see, if not for the art, at least for the amazing architecture and iconic steps.
Admission used to be pay what you wish — as of 2018, it's now a steep $25 for out of towners.
It's unfortunate, but I think it's well worth the cost of admission, as there's really something for everyone here.
Since you have to pay the mandatory fee now, you might as well book online and skip the line for no added charge.
There are countless things to see here, so just pick a few rooms and focus on those. There's simply no way to see it all!
My favorites are the Impressionists, the Egyptian section, the Native American art, and the insanely luxurious European applied arts on the first floor.
If you're not an art fan or if you have young kids in tow, the American Museum of Natural History is also fantastic (book tickets in advance here to avoid lines).
I've come here at least 10 times (hello, teacher days!) and it's incredible each and every time.
The dinosaur skeleton replicas cannot be missed!
Also, don't forget to take in a show at the Hayden Planetarium, where Neil de Grasse Tyson's smooth-like-butter voice will soothe you as he takes you through a ridiculously psychedelic cosmic journey.
Dine somewhere nearby.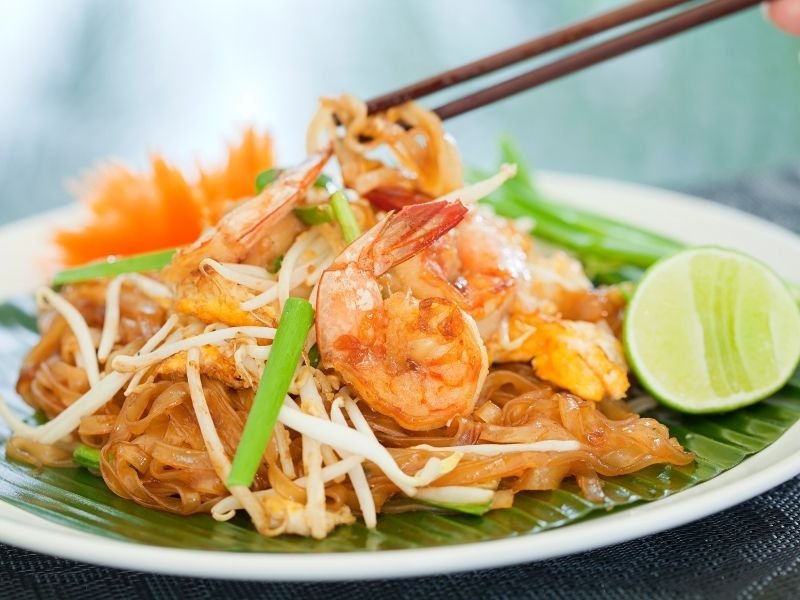 By around now, it'll probably be close to dinner time.
Despite my many years living in the city, I still don't know this part of town well for restaurants, so I'll direct you to the Infatuation yet again for recommendations on where to eat near The Met.
If you ended up at the Natural History Museum, check this Eater guide for where to eat near the Natural History Museum.
Both the Upper East & West Side are rather on the expensive side, so if you're trying to save some cash, head down to Hell's Kitchen east of Times Square for some delicious Thai food!
I love Wondee Siam for traditional Thai and Larb Ubol for the spicier Thai food from the Isan region.
Visit Times Square all lit up at night.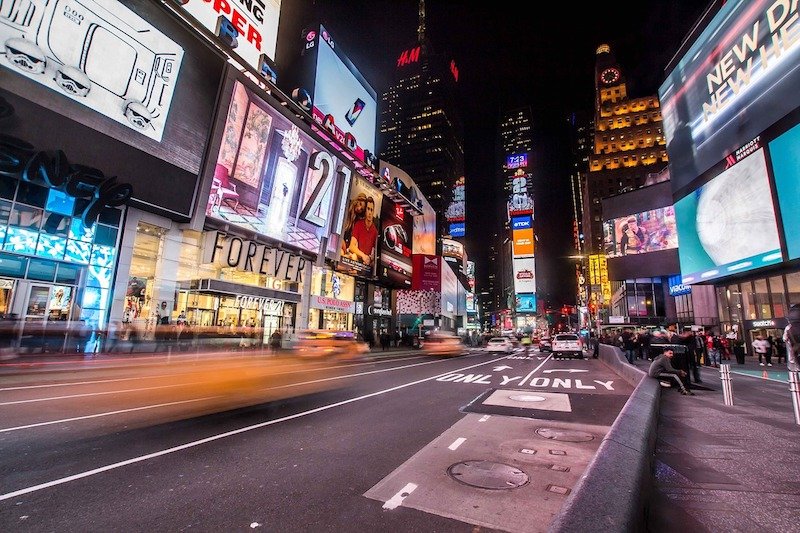 And of course, end the night taking in the bright lights of Times Square!
Yeah, Times Square is a bit of a sh*tshow, but it's a quintessential New York City itinerary stop for a reason.
By day, it's easy to get angsty at the aggressive Elmos and ladies in body paint hounding you for photos.
But honestly, even at night even I find Times Square dumbfounding, and – at risk of having my New Yorker license revoked – a bit magical.
5 Days in New York Itinerary: Day 4
Off the Beaten Path: Food & Culture in Queens
Quick note: Queens is probably my favorite borough in New York. It lacks the freneticness of Manhattan and the relentless hipper-than-thou feel of North Brooklyn.
It's underrated as hell, and you should definitely save one of your 5 days in New York City for it. I'm going to lead you through all my favorite parts of it on a one-day epic Queens tour.
Start your day at the Roosevelt Island tram.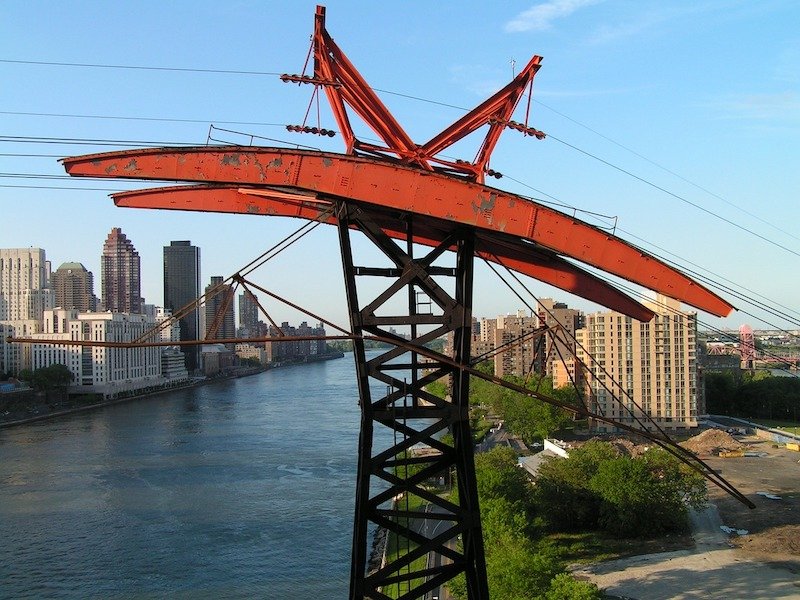 Start your day with a scenic gondola ride in New York — all for the price of a MetroCard swipe (that'll be $2.75, unless the MTA has further price-gouged since I was in NYC last June, which is… unfortunately probable).
You'll be taking the Roosevelt Island Tram, which has an entrance in the Upper East Side of Manhattan on 60th street and 2nd Avenue.
The closest subway stop is Lexington Ave-59th St., which has both NQR and 456 trains.
The tram is why you're here: this offers excellent views of both Uptown and Long Island City. Roosevelt City isn't that exciting, as it's residential primarily.
If you want, you can take something called the Red Bus, which will take you around the island for 25 cents.
However, I suggest you just hop on the F train and make your way over to Queens for a full-on day of sightseeing in one of New York's most underrated boroughs!
Stroll around Long Island City.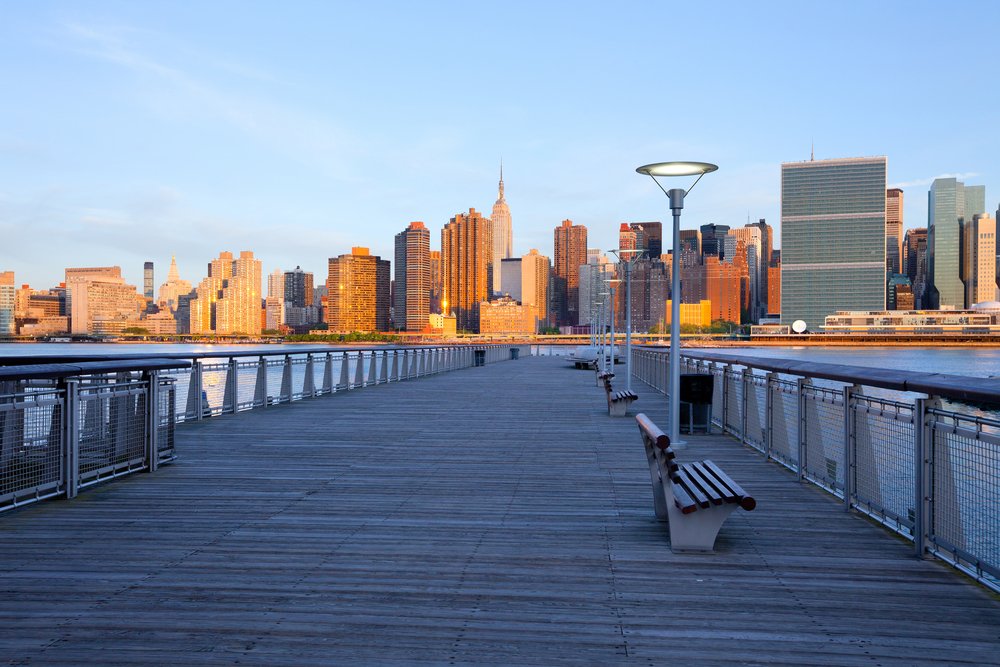 Start in Long Island City, the neighborhood right across from Manhattan.
You can check out some interesting contemporary art at P.S.1 (a branch of MoMA – your ticket to the MoMA should get you free admission here).
There used to be some amazing graffiti right nearby here at 5 Pointz, but they got destroyed in order to make room for condos – sadly, not that unusual in NYC these days.
Afterwards, take the quick walk over to Gantry Plaza State Park for some of the best views of Upper Manhattan and the 59th Street Bridge.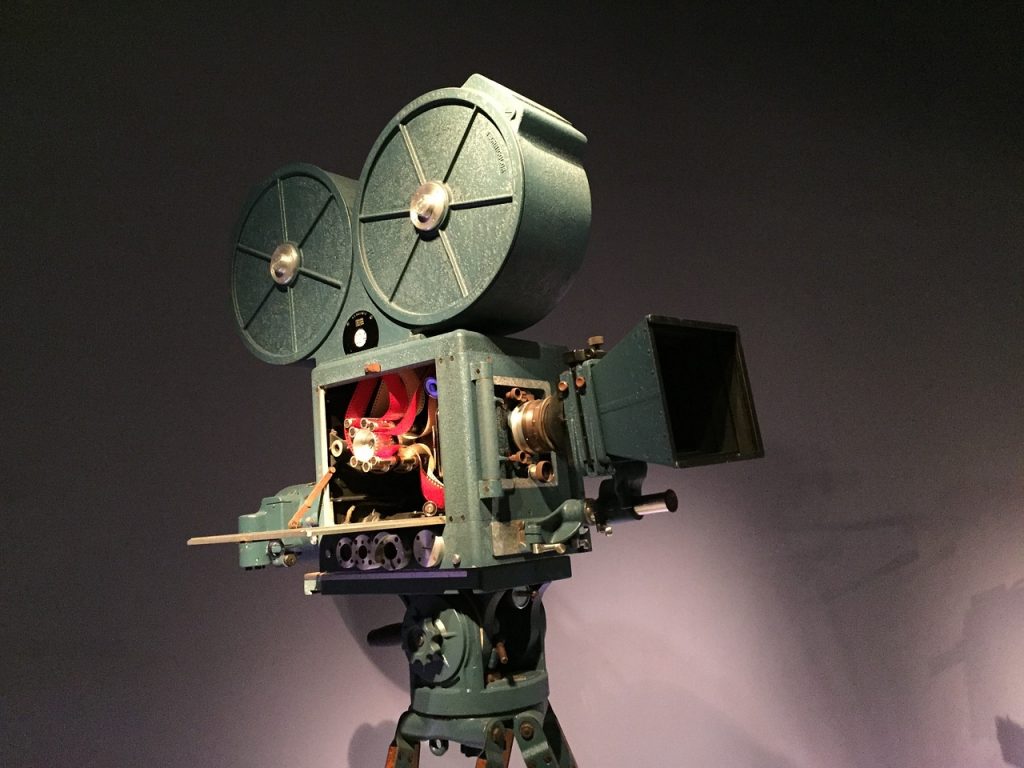 Hop back on the subway (or walk if you're feeling ambitious) to the next museum worth seeing in Queens – the Museum of the Moving Image.
This museum explores the history of cinema through interactive exhibits as well as frequent showings. Fun fact: This is where Dan Turner from the Netflix hit Archive 81 worked!
You're probably getting hungry – but don't get tempted to eat just yet!
Next stop is Jackson Heights, one of the most diverse and delicious ZIP codes in the entire United States.
Eat your way through NYC's most delicious neighborhood.
Get off the subway there and walk in a variety of different directions depending on what your heart desires for food. Himalayan food reigns supreme here!
My favorite is Lhasa Fast Food which is quite literally hidden in the back of a phone shop.
Patola Cart's street stall is a close second for delicious momos (Tibetan dumplings) if you don't feel like sitting down.
There's also plenty of other options: Rajbhog or Dosa Delight for Indian dosas and chaat is another favorite.
Feeling like Mexican? The various Mexican street carts lining Roosevelt Avenue between 75th and 85th street which make insanely good sandwiches (tortas and cemitas) are stellar.
The list goes on and on…
Thai food is also well-represented with a walk 10 minutes away to to nearby Elmhurst, where Khao Kang is a standout amongst other great Thai choices.
Head to Flushing Meadows.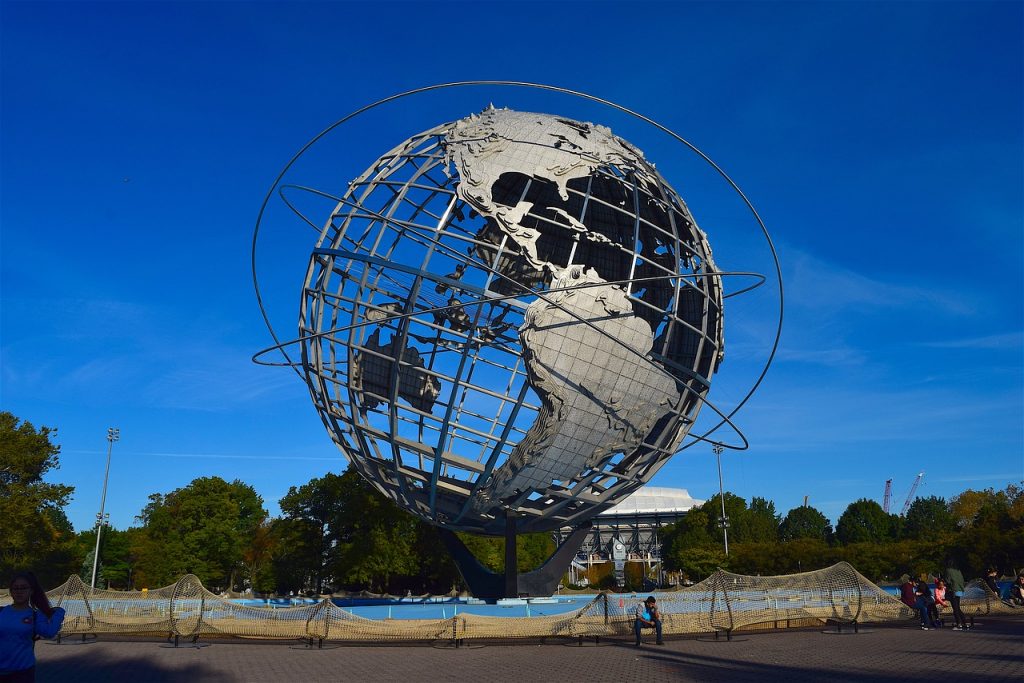 Next up is the Queens Museum at Flushing Meadows-Corona Park.
I know, I know, another museum — but stay with me here because this one is special!
This hosts an entirely miniature version of New York City that contains almost 900,000 structures, literally every building in the city that existed before 1992.
You can continue checking out Flushing Meadows-Corona Park, which is Queens' answer to Central Park.
The coolest thing to see are the leftover structures from two former World's Fairs that were hosted here: in addition to the mini-NYC you saw at the Queens Museum, you can also find a 12-story globe (the Unisphere) and a UFO-shaped pavilion.
The New York Hall of Science is also here, and great for little kids if you happen to be schlepping them around with you – or if you're a kid at heart.
You could also check out the Queens Botanical Garden here if you are so inclined!
Explore NYC's biggest and best Chinatown.
Finally, you'll stop in my favorite part of Queens: Flushing Main Street.
Exiting the train at Main Street-Flushing is pretty much the closest thing to going to China short of, well, actually going to China.
It's pandemonium for the senses in all the best possible ways!
I have way too many recommendations on where to eat here, but here goes: Dumpling Galaxy for dumplings (or the original Tianjin Dumpling House located in the Golden Shopping Mall), White Bear for spicy wontons, or Nan Xiang Xiao Long Bao for Shanghai soup dumplings.
Want a sitdown meal? I suggest Spicy & Tasty for Sichuan food, or opt for Korean with some Korean BBQ at Mapo (recommended if you're traveling with a group as KBBQ for one is a bit depressing, not that I speak from experience….).
If your feet are tired, you can get pampered with a foot massage at nearby Coco Spa, just around the corner from the Golden Shopping Mall, or one of the many Korean spas in Flushing.
Just beware that they will hound you for tips and that $20 massage can easily become $30 if you're a pushover like me!
5 Days in New York Itinerary: Day 5
A Perfect Saturday in Hipster Brooklyn
*NOTE: If one of your days in New York happens to be a Saturday, shuffle around this itinerary to make this day your Brooklyn day so you can check out Smorgasburg and the Brooklyn Flea.*
Have breakfast like a true New Yorker
There are so many cool things to do in Brooklyn, so get an early start today.
If you haven't had the classic bacon egg & cheese from an NYC bodega (deli) yet, this is when I advise you to do so!
Literally any bodega will do, even though there are better ones than others… but if you've only got 5 days in New York you've got to prioritize time sometimes
Head to Brooklyn Botanic Garden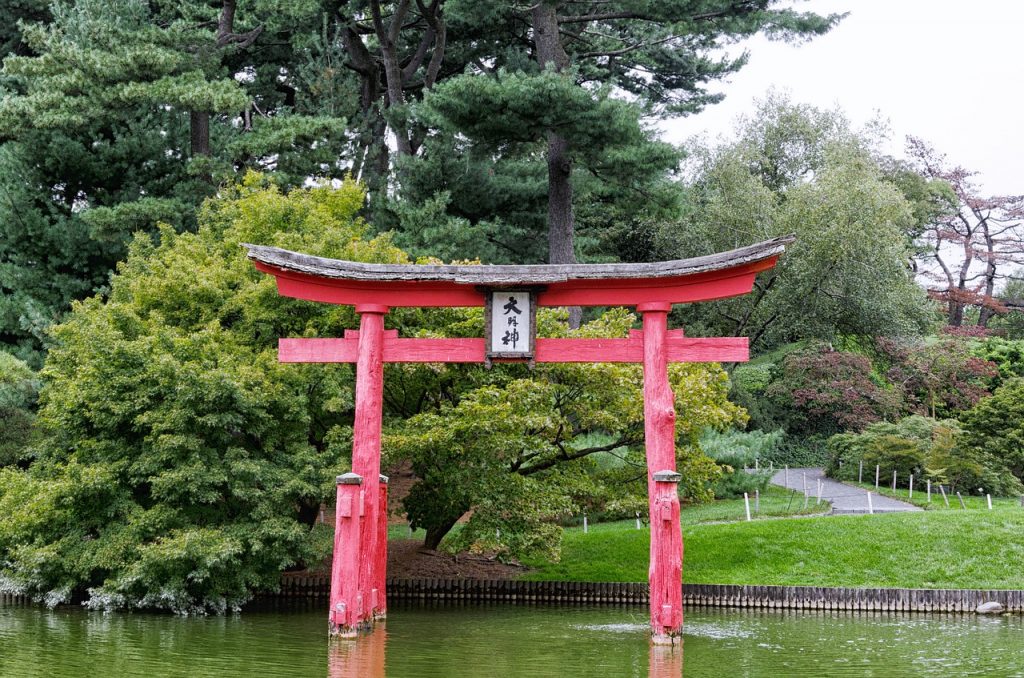 Then, start the morning at the Brooklyn Botanic Garden.
Depending on the time of year, you may see tulips, cherry blossoms, or beautiful fall foliage. Either way, don't miss the Japanese-inspired section: super beautiful.
After a morning stroll through the Botanic Garden, pop into the Brooklyn Museum (admission is suggested, so pay as you wish) for a quick perusal.
They usually have some cool exhibits, so pick one or two floors to scan.
Visit Brooklyn's main library and Prospect Park.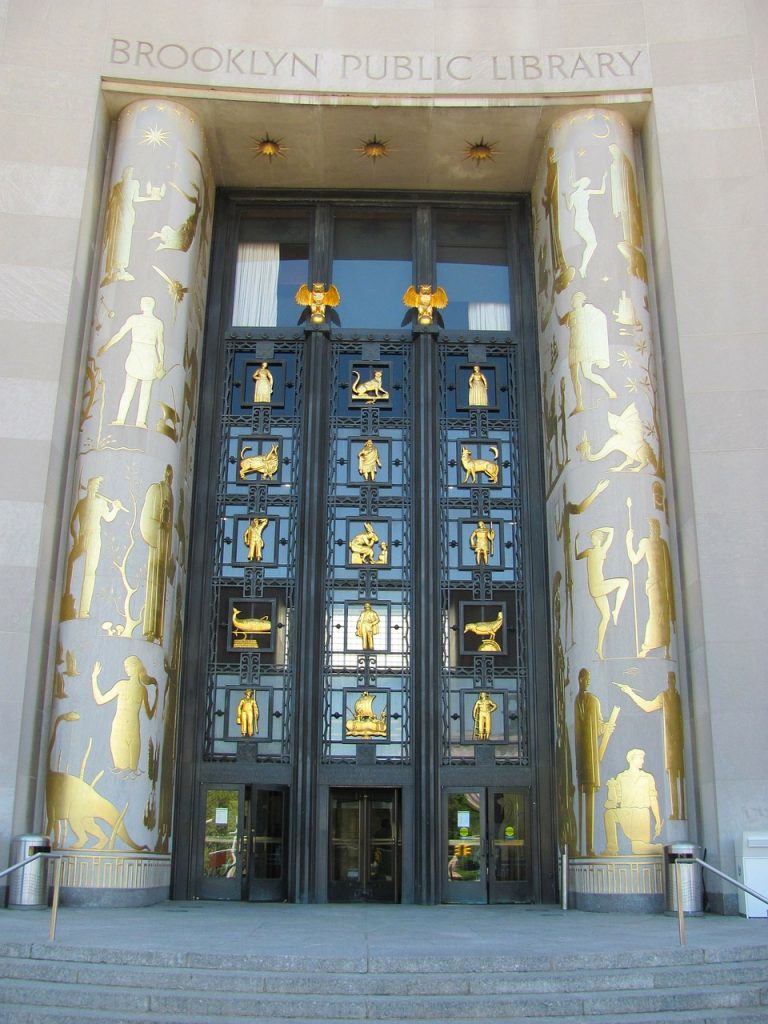 Walk to the Brooklyn Public Library and marvel at the beautiful architecture and pop your head inside if you wish.
You can stroll through the farmer's market at Grand Army Plaza just across the street before dipping into Prospect Park for a quick walk.
Hit up Brooklyn's hippest neighborhood.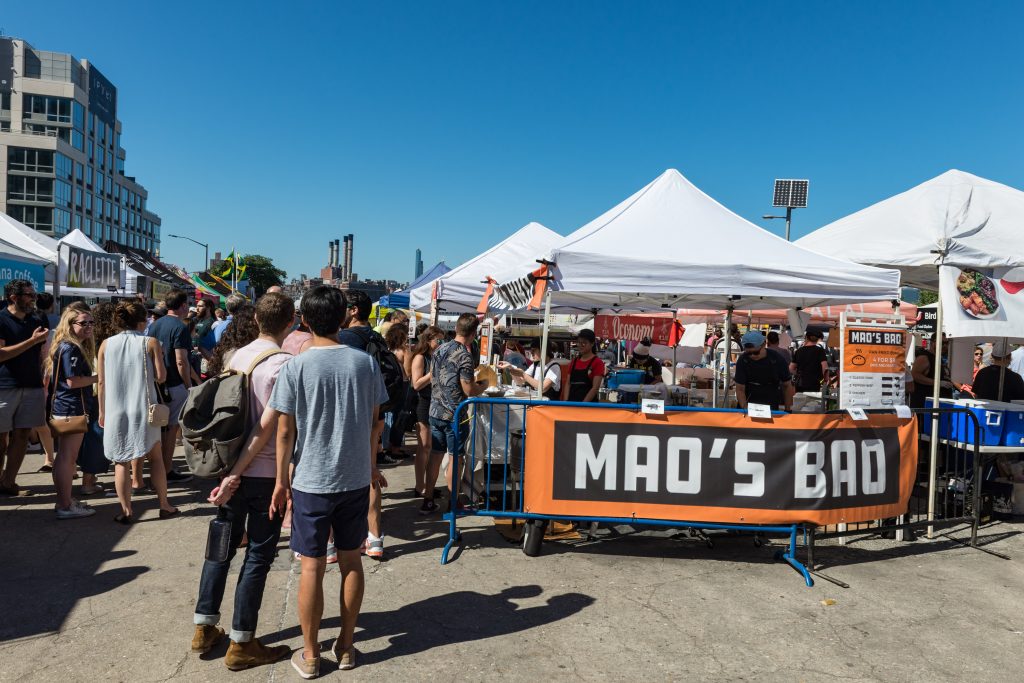 Next, and head to Williamsburg for the Saturday Brooklyn Flea.
I recommend taking an Uber or cab, as subway connections between north and south Brooklyn suck since you have to transfer in Manhattan or take the G train.
Plus, the G train almost never shows up except for when you're entering the subway station and then you're too late because it's inexplicably half the length a regular subway car….
Next, it's time to check out Smorgasburg for lunch. Be sure to get there well before it closes at 4 PM.
Smorgasburg is pretty much the birthplace of many Insta-famous food trends, like the notorious Ramen Burger, so be prepared to wait in line and pay a bit more than you'd like.
It's still a worthwhile experience for New York first-timers!
Check out Brooklyn's thriving street art scene.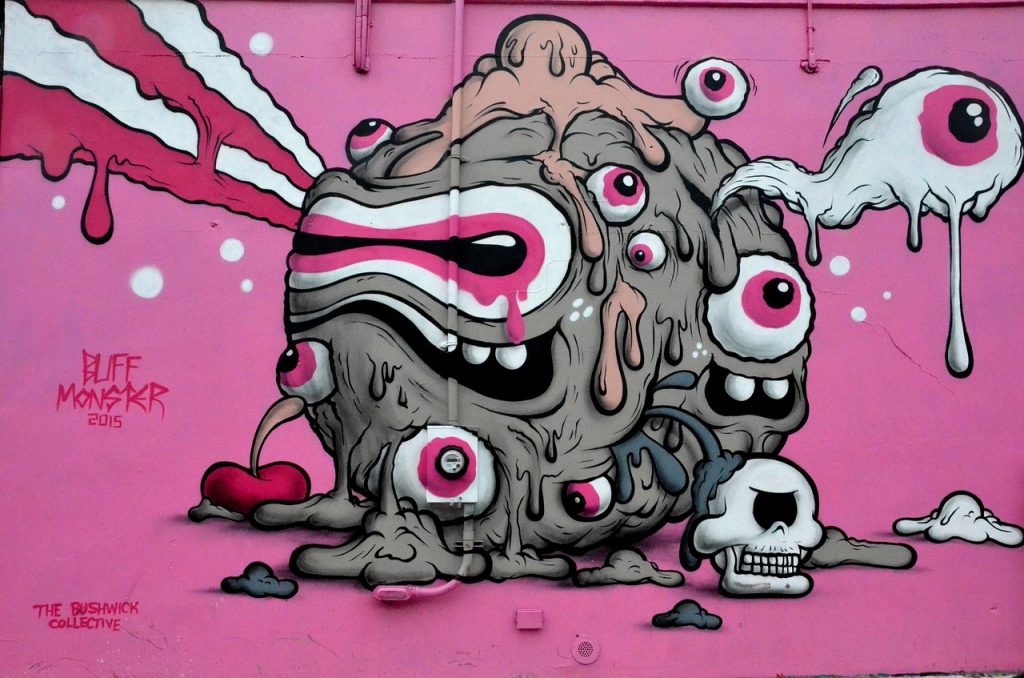 Now it's time to walk off all the insane concoctions you've put in your stomach. Luckily, some amazing street art isn't far away!
Kent Avenue in Williamsburg has some great murals, and same with nearby Wythe Avenue.
For more specific information on where to find Williamsburg street art, check here.
If you're crazy for street art, you might want to head to Bushwick and see some more of it at the famous Bushwick Collective and more – it's just a few stops over on the L train.
There's plenty of art you can see just wandering around, but if you prefer more structure, there are also affordable guided walking tours of Bushwick's street art.
If you're staying in Williamsburg, you can indulge in a spot of vintage shopping, hipster spotting, and café hopping.
Beacon's Closet is one of NYC's best thrift stores and it's fun to peruse some of the tacky wares there.
Bedford Avenue, trendy as it is, is also home to countless quality coffee shops (and the delicious Van Leeuwen ice cream truck!) if you need to take a break and rest your feet.
Have a fun night out in Brooklyn.
To end the night, you have countless bars are your disposal in Williamsburg and Bushwick — this is pretty much the going out capital of young New York.
Night of Joy in Williamsburg has one of my favorite happy hours in all of New York — daily from 5 to 8 PM with $6 delicious cocktails.
A few other favorites include Bar Matchless for a dive bar (also great on Two-for-Tuesday), Berry Park for Manhattan skyline views, and Spritzenhaus for a German beer hall feel.
In Bushwick, I love Heavy Woods and Cobra Club.
Where to Stay in New York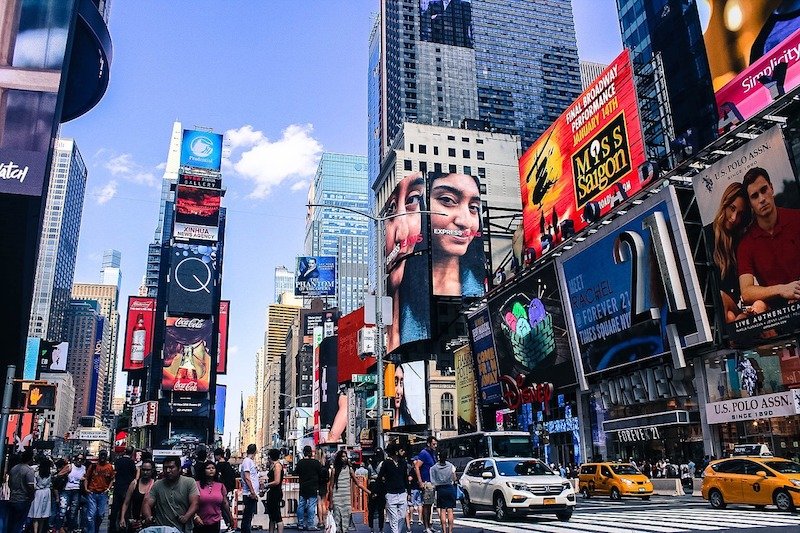 New York is expensive to visit and the fact that it has virtually no off-season doesn't help.
Generally, the season between January-March is a bit slower because the weather is crap but all the Christmas tourists have left.
You may be able to find a good deal on a nice hotel during those months, but the rest of the time, New York is expensive.
Virtually everywhere in Manhattan is pretty well connected, and even neighborhoods like Times Square can sometimes be a surprisingly affordable option at times.
If you look outside of Manhattan, there are some deals to be found, but you may spend more of your time in transit than you like unless you're in waterfront neighborhoods like Astoria, Long Island City, Williamsburg, and DUMBO.
However these areas are all quite trendy now, so you might not even save money by staying outside of Manhattan!
Airbnb is an option, but keep in mind that NYC has been hit super hard with an apartment shortage leading to astronomical rent inflation.
If you choose to use Airbnb, it's more sustainable for locals if you rent out a room in their apartment rather than a full apartment, as whole apartments tend to be used full-time as unregulated hotels.
Plus you get an insight into the fascinating creatures that are New Yorkers 😉
Budget (around $50 a night): America is notoriously bad when it comes to hostels, and New York is really no exception.
I've never stayed at a hostel in NYC, but HI New York seems to have the best blend of low budget and high ratings.
Chelsea Pods has the best options for single rooms if you prefer a bit of privacy at a low price, but the reviews appear mixed, so do your research first.
Mid-range: For the best savings, check out modern hotels that do away with things like receptionists and concierges in favor of self-check in and other automated systems.
YOTEL and citizenM come to mind and both are conveniently located in Times Square which, for all its hecticness, is one of the most central locations for public transportation in all of New York.
I haven't tried a YOTEL property before but I am a big fan of citizenM having stayed at their location in Shoreditch, London, so that would be my personal recommendation if you can afford it.
Luxury: There is basically no end to the amount of luxury options in New York. From classics like The Plaza to newer, more niche offerings like The Library Hotel, you're spoiled for choice on this end of the spectrum.
What to Budget for New York
Yes, New York is expensive, but it's not the most expensive place I've ever been (here's looking at you, Switzerland).
Here are a few average costs so you can get an idea of what you'll spend your money on.
A weekly subway pass: $32
A cappuccino at a café: $4-5
Street food and super-cheat eats: $5-7 per meal
Average sit-down restaurant: $20-25 per meal, including tax & tip but no alcohol
A night out: $7-8 for a beer, $8-12 for a mixed drink or wine, and $10-15 for a cocktail
Average museum entry: $15-25
For an average day, I'd budget $30-50 for food (though you certainly can do with less if you research, as New York has a great cheap eats scene, where you can get a full meal for less than $10), $20 if you want to add drinks, $6 for transit, and $30 for activities. That's $66 to 106 per day — and not even counting the roof over your head!
Depending on where you sleep (and if you're traveling solo vs. with a partner or friends), you'll want to add another $50-150 to that total – and that's on the budget end of the spectrum.
I'd say at a minimum, you want to budget $150 per day, but $250 would give you more wiggle room, especially if you want to eat at some unique NYC restaurants!
To extrapolate out to budget for 5 days in NYC, you can expect to spend around $750 but you will be more comfortable with $1250. If you have friends to stay with, though, that will slash a lot of money off your budget.
Reminder: As expensive as New York is, please make sure you also budget for travel insurance on your trip to NYC. I use World Nomads Explorer Plan to cover me on all my trips. It's inexpensive and can save your butt in an emergency.
In Summary…
So there you have it — my ultimate, 7000+ word plus 5 days in New York itinerary! I'll stop now before my fingers fall off (or your eyeballs fall out — whatever happens first, I guess).
If you have a 6th day, I recommend checking out the Bronx — see a game at Yankee Stadium, visit the New York Botanic Garden, or stroll along the real Little Italy along Arthur Avenue.
I have a whole lot more ideas covered in my 37 ways to get off the beaten path in NYC post!
I hope you enjoyed this exhaustive, exhausting NYC itinerary and feel equipped to see as much of New York in 5 days as is humanly possible.
Allison Green is a former educator turned travel blogger. She holds a Masters in Teaching and a B.A. in English and Creative Writing. Her blog posts merge her educational background and her experience traveling to 70+ countries to encourage responsible, enriching travel. She has been a speaker at the World Travel Writers Conference and her writing, photography, and podcasting work has appeared in National Geographic, CNN Arabic, CBC Canada, and Forbes, amongst others. Now a full-time traveler, she has lived in Prague, Sofia, New York City, and the San Francisco Bay Area.