If you're planning a trip to Morocco, you're likely a bit overwhelmed with the options.
Marrakech, the Sahara, Fes, Chefchaouen, Essaouira, Casablanca, Rabat — what to choose and what to skip?
This Morocco itinerary assumes that you'll have 10 days in Morocco to spend how you wish.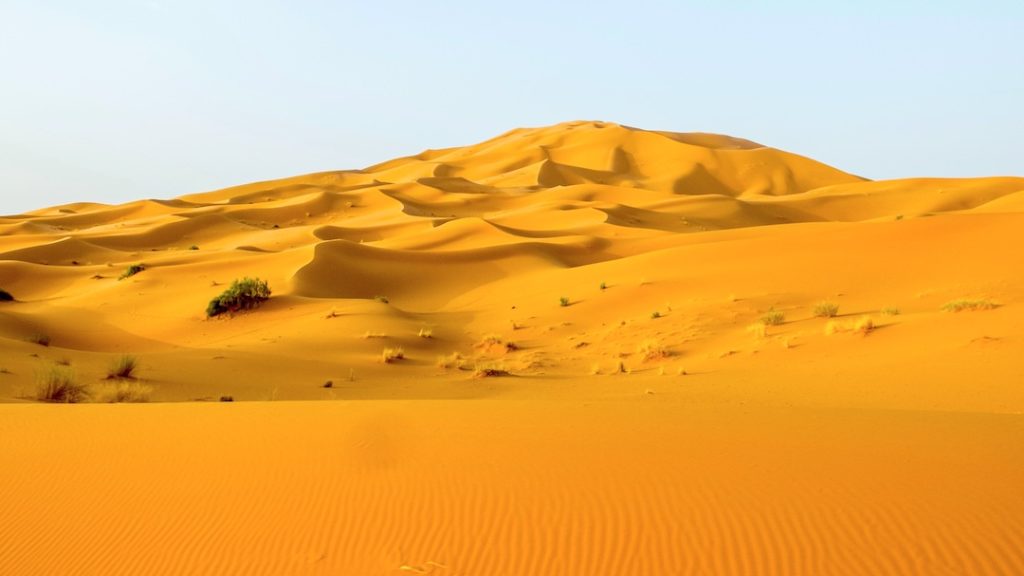 Note: This post contains affiliate links, which means I may receive a small commission if you purchase something through one of these links. Thank you for supporting the free content on this site! For more information on affiliate links and cookies, see my disclosure page for more details.
However, there are way more destinations worth visiting in Morocco than a 10 day Morocco itinerary can possibly cover, so you're going to have to make some tough choices.
To create a flexible Morocco itinerary that doesn't rush you, yet allows you to make changes to add or subtract destinations as you see fit for your travel style and Morocco bucket list, I've chosen three main legs of this Morocco itinerary: Marrakech, the Sahara Desert, and Fes.
Both Marrakech and Fes have optional add-on day trips you can to add on to customize your Morocco itinerary to best match what you want to see.
Other Ways to Spend 10 Days in Morocco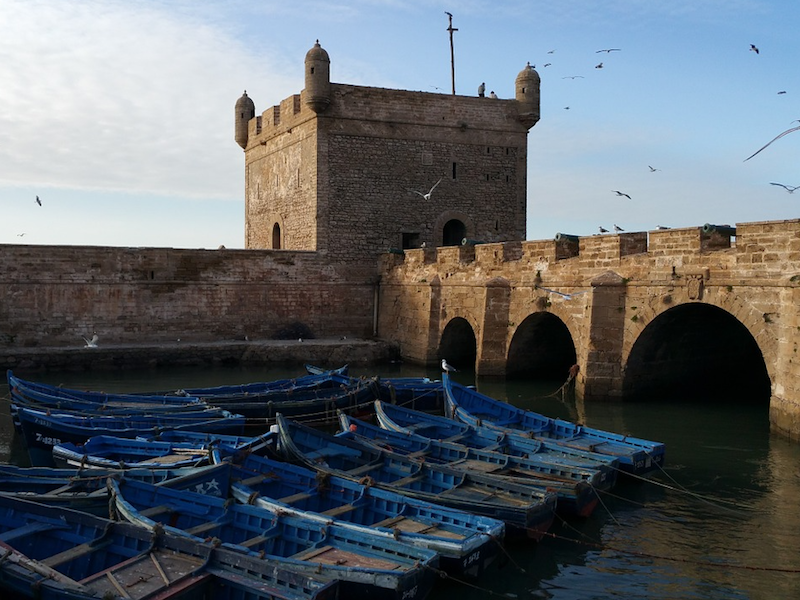 Of course, this isn't the only way you could spend 10 days in Morocco!
You could do a coastal route, starting in Agadir, visiting Taghazout, Essaouira, and Casablanca before flying out of Rabat.
Alternately, you could combine coast and inland and do Casablanca, Essaouira, Marrakech, and the Atlas Mountains.
It depends on what you're most interested in, but in my opinion, this itinerary for Morocco covers the most-coveted places to visit in Morocco in the quickest yet most laid-back way possible.
But feel free to deviate from it however it makes sense!
This post was first written in 2019. It was updated on twice in 2022 and last on March 29, 2023 to reflect changing entry requirements, attractions that have reopened, and more.
Your Ultimate Morocco Itinerary
Day 1: Arrive in Marrakech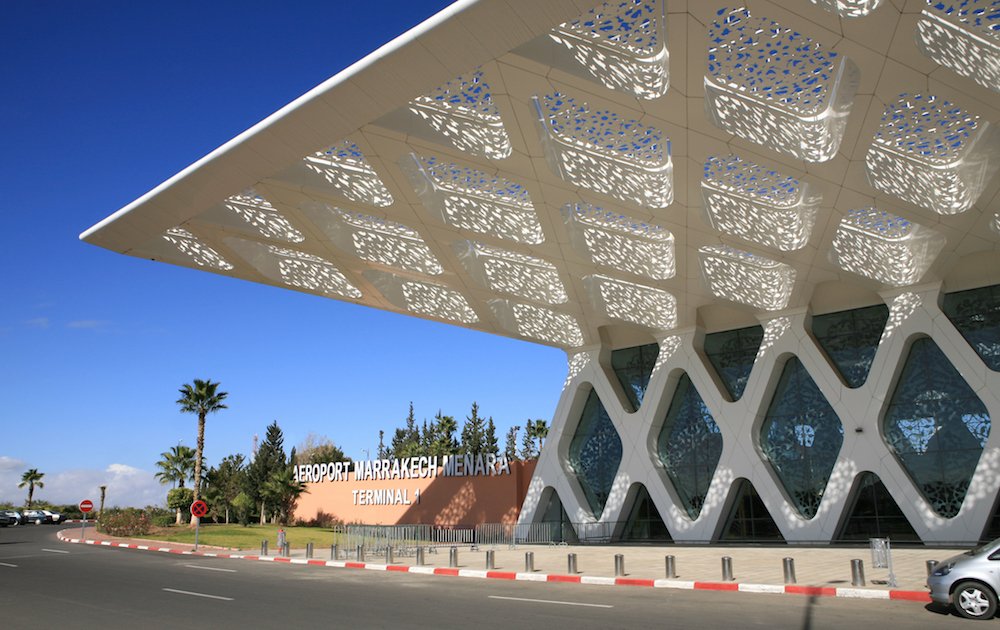 This Morocco itinerary has you arriving in Marrakech as it's typically one of the cheapest airports to fly into.
Marrakech is also at the top of most people's Morocco bucket lists, enticed by beautiful images of Instagram of luxe riads, ornate doors, and sumptuous spice markets.
Marrakech is perhaps Morocco's most touristic cities, which means that unfortunately, touts latch onto tourists here with perhaps a little more relish than in other parts of Morocco.
Be firm with your refusals, make less eye contact than you're used to, and always walk with purpose: these three things will make your time in Marrakech a little less hectic.
NOTE: I've written a more in-depth three days in Marrakech itinerary which you can read here (it'll open in a new tab), but I'll summarize it below. If you want more detail, read the original Marrakech itinerary.
Quick Tip: It helps if you have a transfer to your hotel pre-booked so you don't have to deal with Marrakech taxi drivers – who drive a notoriously hard bargain – upon arrival to the airport. This inexpensive transfer service will take all the stress out of arrival. Prebook your Marrakech arrival transfer here.
Check into your riad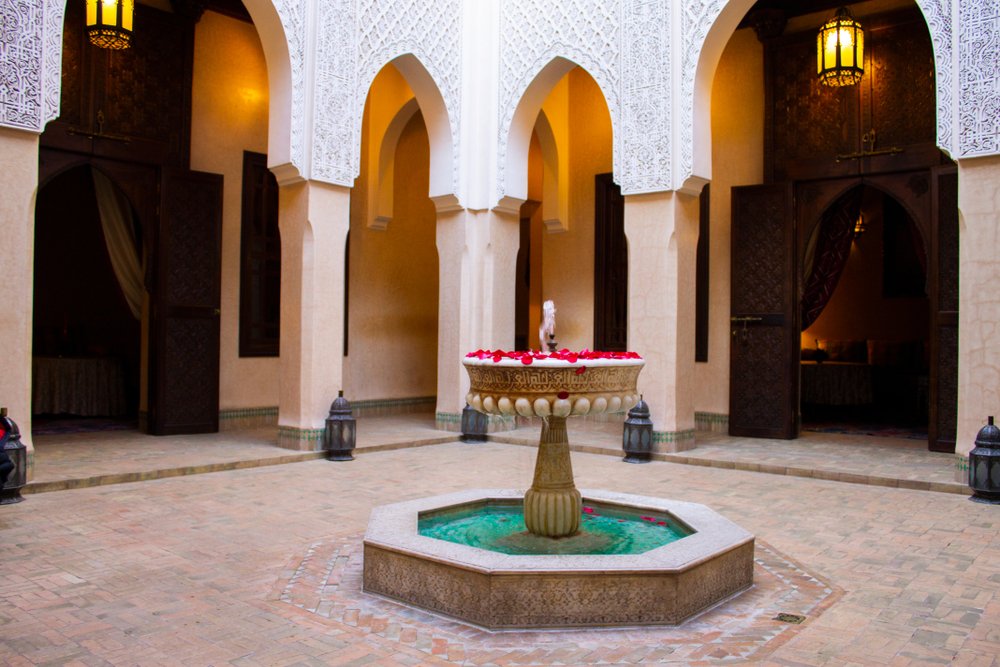 Marrakech is known for its exquisite riads, and staying in one is undoubtedly one of the highlights of any Morocco itinerary. I've created an entire post on the best and most photogenic riads in Marrakech, but you can also skim below for my top 3 recommendations, one for each budget category.
Budget: For a gorgeous budget riad in Marrakech, I recommend Riad Matham. The building is historic, dating back to the 16th century when it belonged to a rich Berber family.
With a plunge pool right in the heart of its quiet courtyard, blooming bougainvilleas and lush olive and palm trees, an in-house hammam, traditional Moroccan home decor and soaring high ceilings (nearly 5 meters high!), and gorgeous architecture, you'll be surprised by how affordable a touch of luxury can be in Morocco.
There's a shady rooftop terrace for you to enjoy a view of the medina from your own quiet oasis.
Just 8 minutes' walk away from Djemaa El Fna, and 3 minutes away from museums such as the Photography Museum and Ben Youssef Madrassa, the riad is perfectly positioned in the medina so that everything is easily accessible on foot.
The riad is quite intimate, with two rooms and four suites, all attended by kind hosts who make you feel like family. There is a hammam with a steam room that you can use, and massages can be booked at the riad for an affordable price.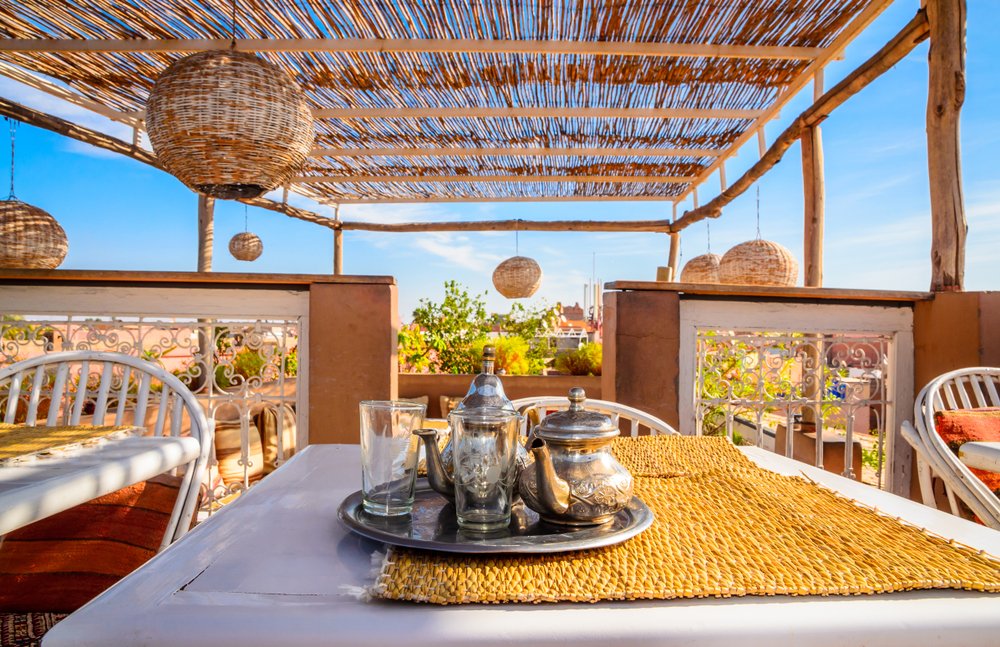 Boutique: For a gorgeous luxury riad in Marrakech without a crazy price tag, I strongly recommend the beautiful Les Sources Berbères Riad & Spa.
Welcoming you with the scent of jasmine when you arrive, this quiet Marrakech riad feels like a hidden gem away from the hectic medina.
With a pool to dip in on hot days, and a rooftop terrace with a hot tub for cooler nights, plenty of seating areas in the courtyard, and a communal lounge, it's a wonderful and spacious feeling riad where you can feel like you're having your own private moments, or chatting with fellow guests should you feel more social.
Every room at Les Sources Berbères has A/C and traditional yet understated Moroccan decor, with a seating area to spread out and relax in and a private bathroom designed with traditional tiling in each room.
There's a hammam on site with a traditional Turkish steam bath and massages available for an additional charge. A delicious and free breakfast is included in your stay, with homemade jams and bread that guests rave about!
Luxury: With a private pool at the heart of its courtyard, gorgeous white walls with rich wood detailing, plenty of archways, greenery, and nooks to relax in, Riad Melhoun & Spa is a gorgeous and luxurious place to get away from the bustle of Marrakech and enjoy a traditional riad.
It has all the luxury riad spoilings: a lovely sun terrace to relax on, a pool to take a dip in, and a hammam/spa to unwind in.
Each room has a different name and a different vibe or personality – from a traditional four-poster bed with canopy to a more playful flower-print bed with bright pink pillows.
Every room has unique photography on the walls that showcases the beauty of Marrakech. It's located a 3-minute walk away from both Bahia Palace and El Badi Palace, so it's in one of the best areas to stay in Marrakech.
Start out at Koutoubia Mosque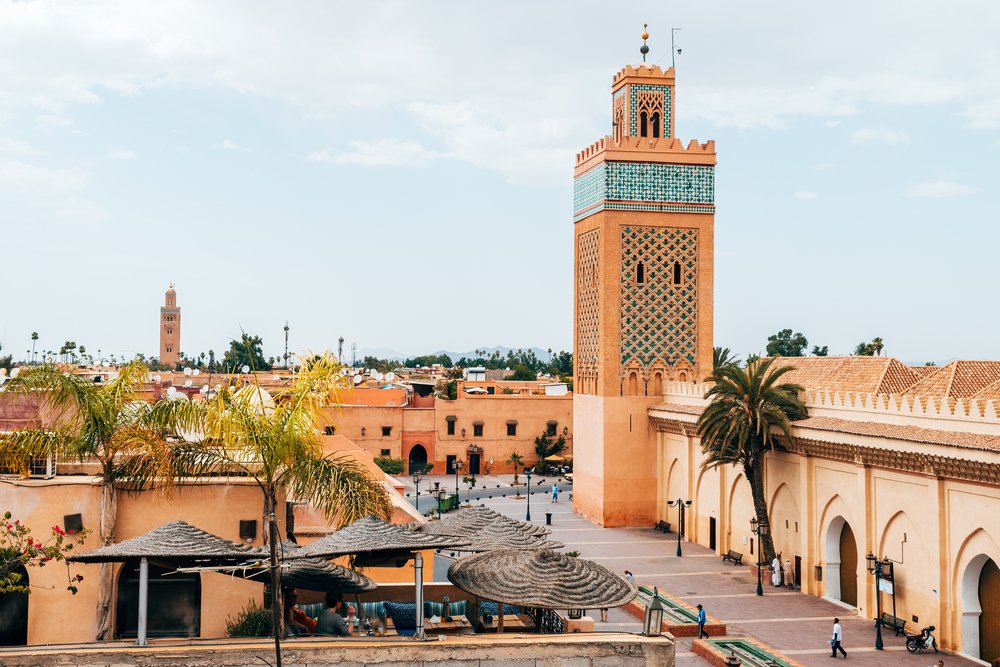 Unfortunately, unlike in other Muslim-majority countries, non-Muslims are not permitted to enter mosques in Morocco.
And honestly, given the way that Instagrammers treat Morocco as a backdrop for their fashion shows, I don't necessarily blame them.
However, you should still visit the outside of Koutoubia Mosque, nearly a thousand years old at the highest point in Marrakech due to a law that no building can exceed the height of Koutoubia's minaret.
Koutoubia also is a wonderful point of reference in the medina, with its labyrinthine network alleyways and unmarked streets, so
Shop the souks and hone your haggling skills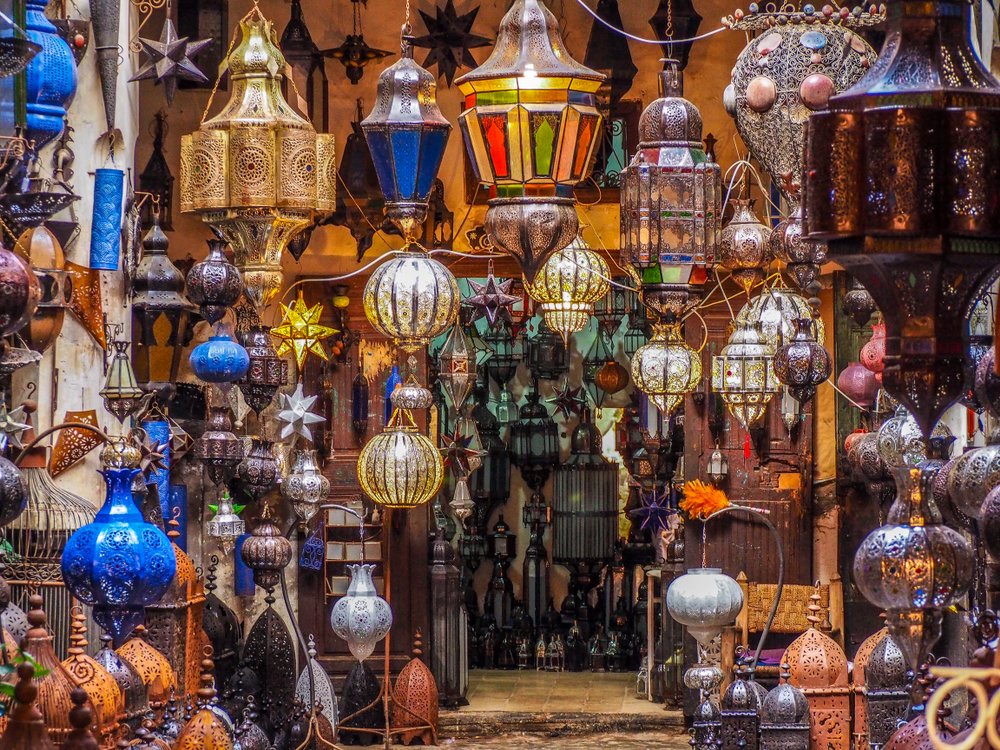 Does anyone come to Morocco without the intention of doing some serious shopping?
The souks of Morocco are legendary, full of hand-crafted artisan gems, sumptuous leatherwork, aromatic and colorful spices, and gorgeously hand-painted ceramics… to name just a few.
It's difficult to find your way in the medina (and even more difficult due to the fact that basically any sign pointing you to Jemaa el-Fna / 'The Big Square" should be disregarded as a blatant lie).
So I suggest not even trying and allowing yourself to be swallowed up by it, dedicating several hours to perusing its wares.
Haggling is the name of the game in the souks, and it's a game the shopkeepers are bound to play better than you. My personal strategy is twofold.
First, I like to walk around the souks and lightly haggle on some items I may be interested in buying with some of the shopkeepers, intent on the idea that I won't be buying, just to get an idea of what the prices actually should be.
Second, I have a firm price in mind of what I think the item is worth spending to me. If I have to go above that, that depends on how much I want the item, but I don't worry about possibly being able to get it for less, since I already found it worth it at that price to me.
This reduces the buyers' remorse I feel while shopping and streamlines the haggling process for me, which I find a bit overwhelming.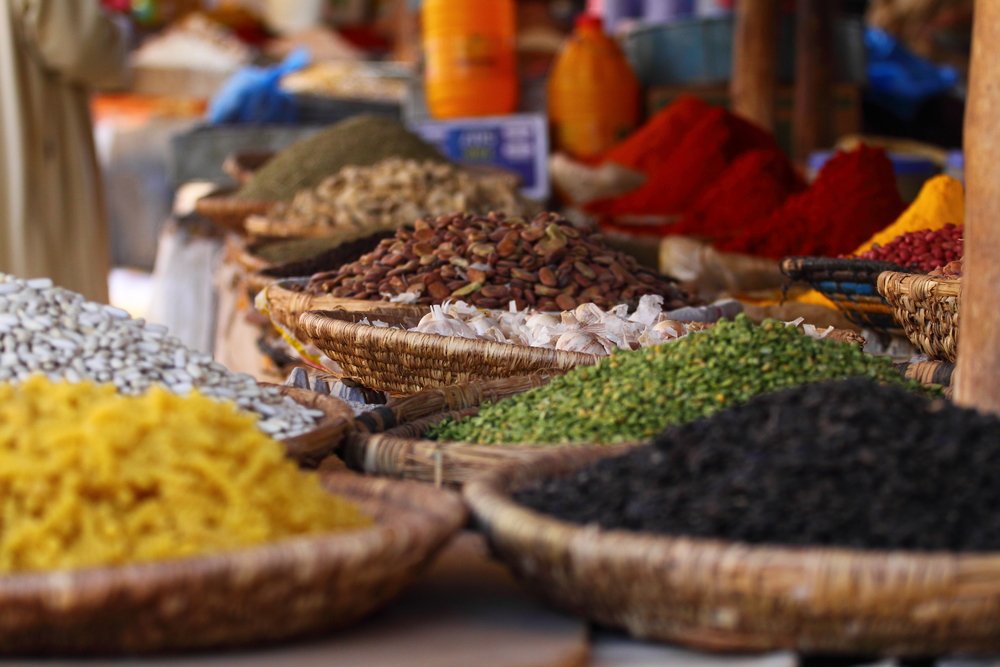 There are any number of amazing Moroccan souvenirs you could bring home with you!
Afew of my favorite items are: olives, spices, ceramic plates, decorative mirrors with a Moroccan door motif, leather poufs, leather bags and shoes, and lamps.
But of course, you'll know what speaks to you better than I do!
If you want a little guidance in the souks, which can be a bit overwhelming, you can take this guided souk walking tour.
Travel comfortably and book your souk tour here!
Pro Tip: One word of warning, though, is that if people see you're on a guided tour they tend to adjust the prices upwards.
This is great for getting a handle of the souks, the lay of the land, and how haggling works, but you may want to come back later to actually buy.
Have a delicious late lunch at Café des Épices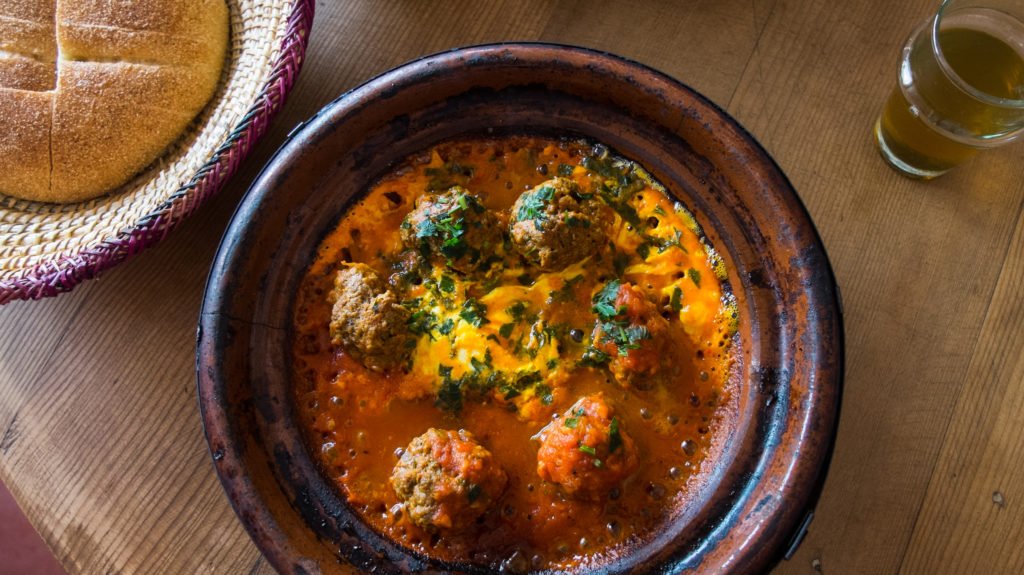 After all that shopping, you'll likely have worked up an appetite: so now it's time to find your first lunch in Marrakech.
If you don't have any idea of where to eat, my suggestion would be Café des Épices. It's where I ended up on my first day in Marrakech.
I loved the intimate atmosphere that feels a world away from the souks — even though you're nestled in the heart of the busy medina shopping district.
I ordered a tasty meatball tagine — (this is at the stage of the trip where you will love every tagine set in front of you; I warn you that after 10 days in Morocco, you may never want to see a tagine or couscous again!) with fluffy bread and can definitely recommend this as a great introduction to Morocco's food scene!
Address: 75 Derb Rahba Lakdima, Marrakesh Medina 40000, Morocco
Do some more shopping
Refueled by lunch, you're at your prime to re-enter the lion's den – I mean the souks – and drive a harder bargain.
Now you have a better idea of the souvenirs you want to bring home and the rough prices you're comfortable paying, so shop confidently!
Marvel at Jemma el-Fnaa from a distance – preferably a rooftop restaurant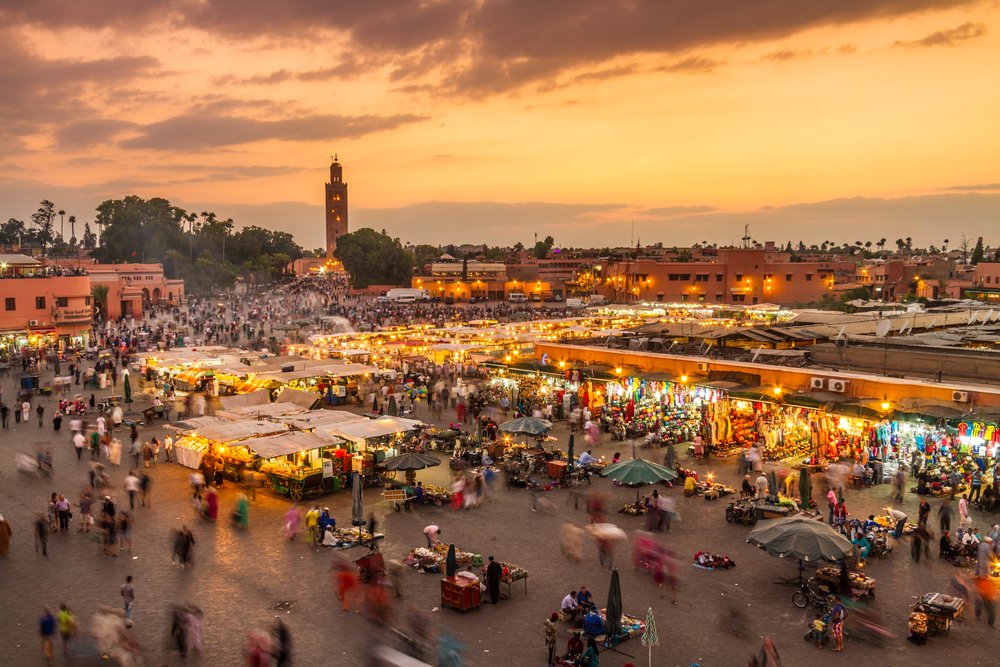 I have mixed feelings about Jemaa el-Fnaa. For one, it's the heart of Marrakech, and it's a UNESCO World Heritage site for its centuries of importance.
Here, you'll find the freshest, most delicious orange juice at a mere 50 cents (5 dirhams) a cup, the lively sizzle of grilling meat…
… And you'll also find snake charmers who have abusively de-fanged their cobras, monkeys who have been snatched from the wild in order to pay tricks, and ladies grabbing your hand to try to give you a henna tattoo at an exorbitant price.
To save yourself a headache, do not take any photos of the snake charmers, henna ladies, etc. and do not allow anyone to hand you their monkey or put any henna on you as you undoubtedly will be hounded to pay. Just ignore or say no to people and move on.
I don't mean to dissuade you from visiting Jemaa el-Fnaa; I just want you to know what to expect.
A less hectic way to enjoy the chaos of Jemaa el-Fnaa is to people-watch from the birds-eye view of a rooftop café. The location means that it's a bit of a tourist trap, but for me, I'm more than willing to pay a bit extra to enjoy the shenanigans of Jemaa el-Fnaa from a distance.
If you're looking to keep to a budget, I'd look elsewhere, but I'd suggest Le Grand Balcon du Café Glacier or Café de France as a good place to sit, have a sugary mint tea, and enjoy the madness.
I suggest arriving about 30-45 minutes before sunset to get a seat before the tourists come streaming in.
Then, you can relax and enjoy for about an hour, watching as the lights come on and Jemaa el-Fnaa gets its nocturnal energy.
However, unless you're starving at this point, there are much better places to eat, so I'll suggest moving on after you have a tea and a gander to our next stop on this Morocco itinerary.
Enjoy your first dinner in Marrakech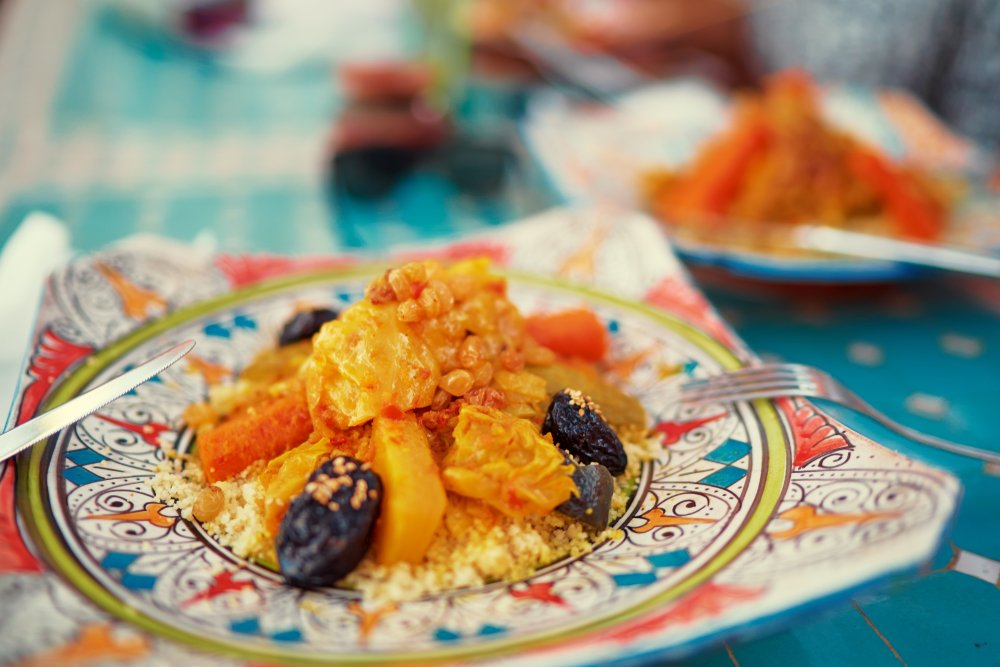 By now, you've probably worked up quite an appetite. If you managed to restrain yourself at our previous stop, I'll now suggest you make your way to one of the following worthwhile restaurants in Marrakech.
For a budget-friendly, chilled out atmosphere, I strongly suggest Café Clock. (Address: Derb Chtouka, Marrakesh 40000, Morocco).
It feels a world away from the busy vibe of Marrakech's medina, and the prices will delight you at around $5-7 for a starter and $7-10 USD for a main dish (including their famous camel burger!)
It's not the cheapest you can eat in Marrakech, but it's great value for money and the food safety is very high (as opposed to street food, which can definitely trigger sensitive stomachs if you don't pick wisely).
A more touristy — but admittedly rather fun — option is to have a decadent dinner and a show. There are several options, but Lotus Club is easily the best, though it is rather pricy.
This option includes hotel transfers, several hours of live music and dancing, and a 3-course meal complete with a half-bottle of wine [wine is a resource you'll be hard-pressed to find elsewhere in Marrakech, as many restaurants in the medina — and all of Morocco, honestly — are dry].
Intrigued? Reserve your spot for dinner here.
Day 2: More of Marrakech
For the next day of your Morocco itinerary, I suggest diving deep into all the culture that Marrakech has to offer.
Visit the El Badi Palace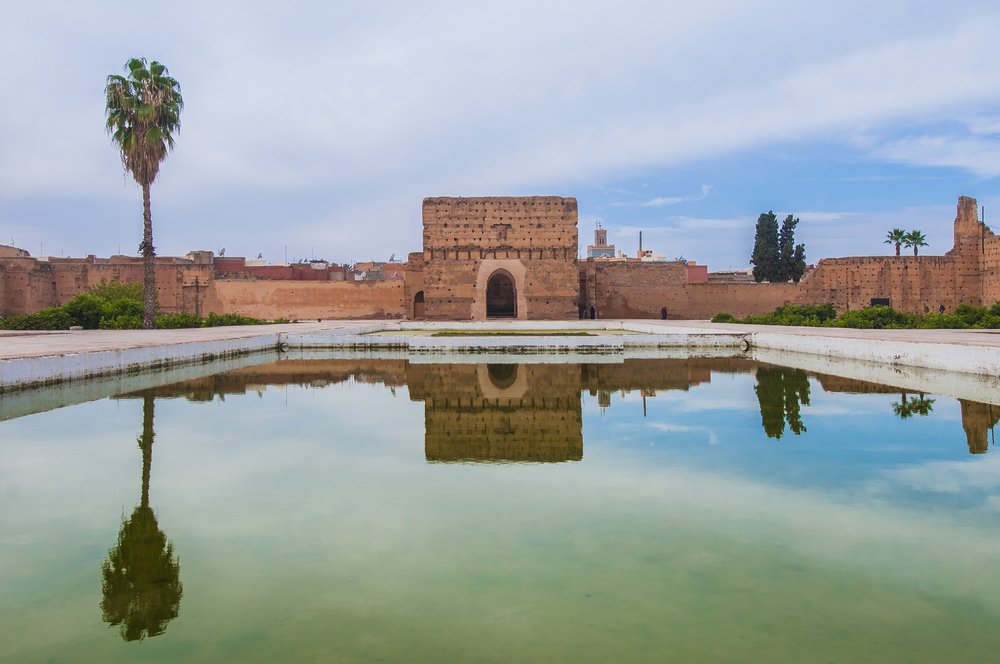 El Badi Palace literally translates to "the incomparable palace." Perhaps that was true at the time, but time has made it a bit worse for wear. However, you can still see many vestiges of its former beauty, so it's still well-worth a visit.
This palace complex took a decade and a half to build and it shows the peak of the craftsmanship of the Saadian age.
At the height of its time, the palace had 360 rooms, decorated ornately with handcrafted furniture, as well as a courtyard complex with a pool. Rich with gold, onyx, Italian marble, and exquisite tilework, the Palace was an ostentatious display of Saadian wealth.
While much of the original palace is in a state of disrepair, there are still several gorgeously preserved parts of the palace with excellent tile mosaics, ornate stained glass windows, and beautiful courtyards – so there is still plenty to photograph and visit, all while you imagine the former beauty of it in its heyday.
Marvel at Bahia Palace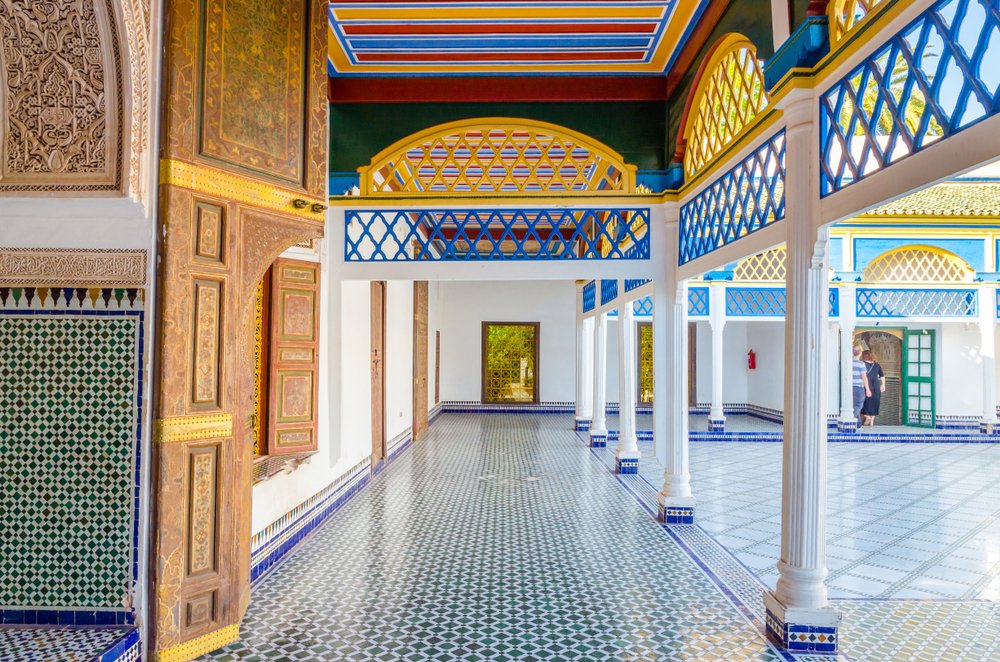 Whereas the El Badi Palace is a bit worse for wear after centuries of disuse, Bahia Palace is in remarkable condition.
Built during the second half of the 19th century, Bahia Palace is one of the most well-preserved historic monuments in Marrakech. Its simple color scheme of white, wood and understated tilework accents, primarily of turquoise, yellow, and deep blue, is gorgeous.
Built over 14 years, the palace has about 150 rooms and takes up nearly two acres. To say that it's beautiful would be doing it an injustice: it's mindblowing.
Its many ornaments, lavishly-decorated doors, breathtaking fireplaces, floors and ceilings of the finest wood: every single detail adds up together to achieve something that is truly spectacular.
Visiting Bahia Palace is an unforgettable experience for any visitor and a must-do if you're in Marrakech.
Visit the Jewish Cemetery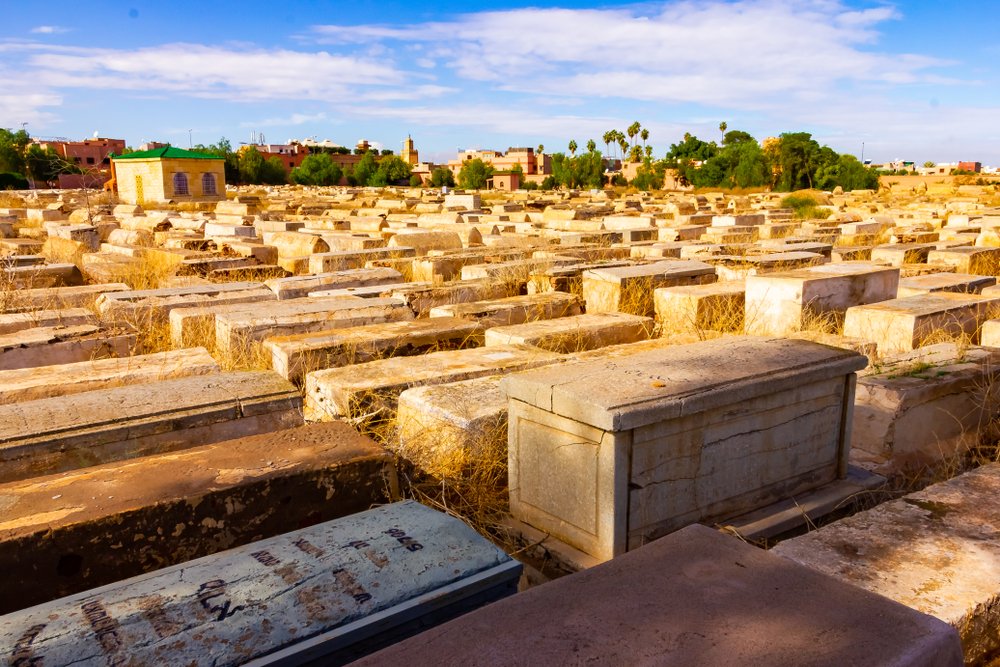 While today, Morocco is known as having a majority Muslim population, the country has been an important part of Jewish history for centuries.
You can see that history at the Jewish Cemetery near the Bahia Palace, but its simplicity and bareness will be quite a contrast to the ornateness of Bahia Palace.
The Jewish Cemetery in Marrakech is the largest of its kind in Morocco and has been in continual use since the 16th century. Today, the Jewish population of Marrakech is quite small – a mere 200 or so Jews – as much of Morocco's Jewish population moved after the founding of Israel.
Despite the mass exodus of Moroccan Jews, the area around Marrakech is still important to Jewish history, with several important Jewish pilgrimage sites located on the outskirts of the city.
While Morocco's population is 99% Muslim, the country has done an excellent job of protecting its Jewish citizens and Jewish history.
Stop for lunch and tea by the Saadian Tombs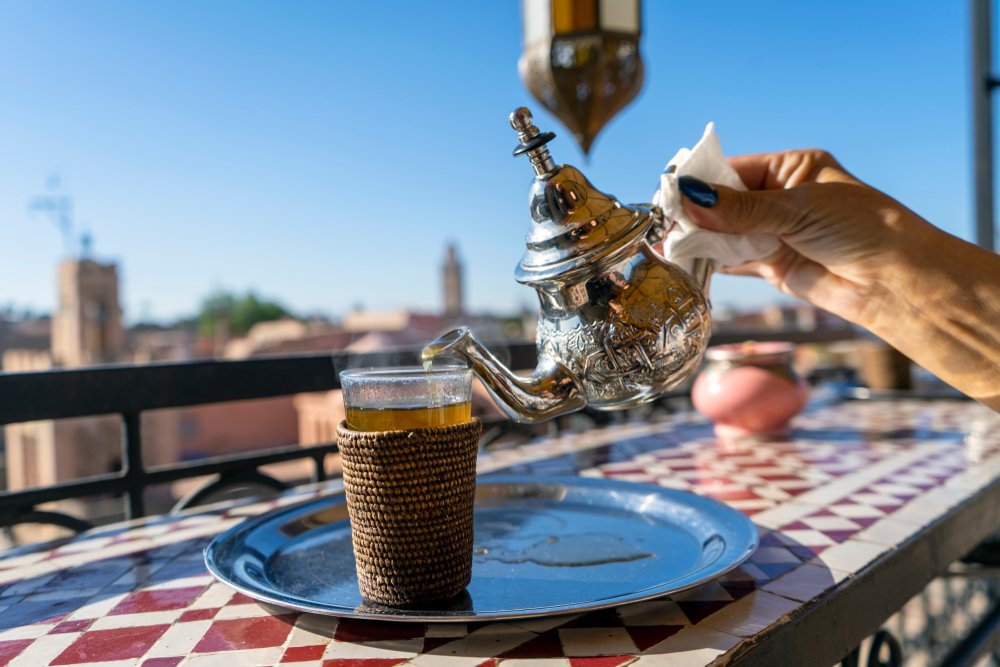 At this point, you've done quite a bit of sightseeing and have definitely earned a nice, sit-down meal.
I suggest Kasbah Café, which has a gorgeous view of the Moulay el Yazid Mosque from its terrace restaurant. It has fair prices, good food, and it's not out of the way for the rest of the day's sightseeing.
Explore the Saadian Tombs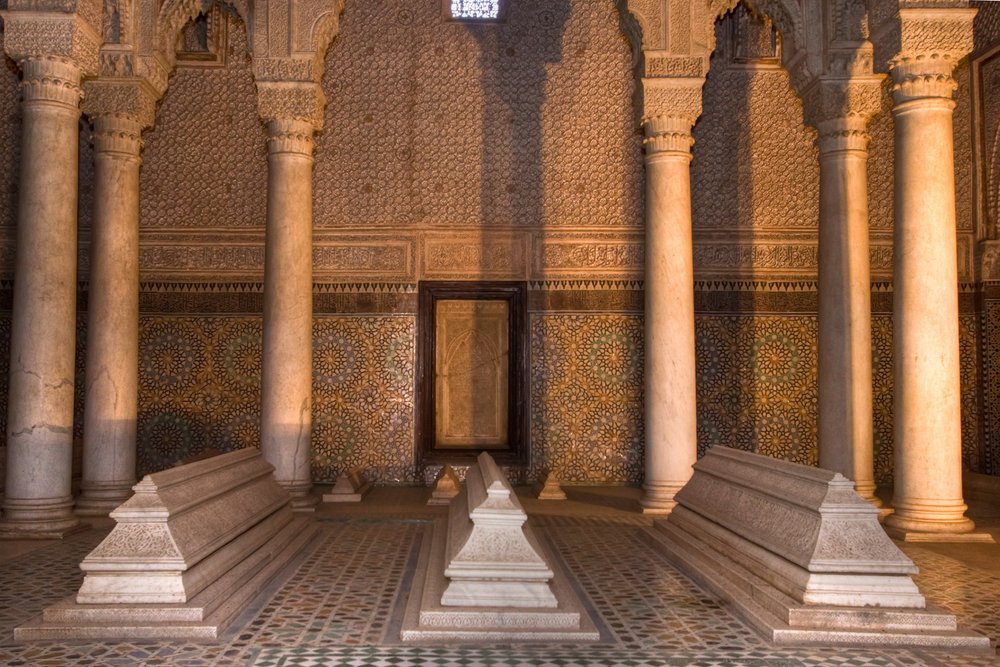 The Saadian dynasty played an important role in Moroccan history. Under their rule, Morocco grew greatly as an important power.
As a result, you can still see their presence in much of the architecture and monuments of modern-day Marrakech.
The tombs of the Saadian dynasty, built by Sultan Al Mansour in the 16th century, contain marvelous tombs and mausoleums built to commemorate the Saadian family, including the Sultan's own tomb, just as ornate as you'd imagine.
Please keep in mind when photographing that this site that this is a burial site and all photography should be respectful, just as you'd be at a graveyard.
Day 3: Day Trip to Essaouira or More of Marrakech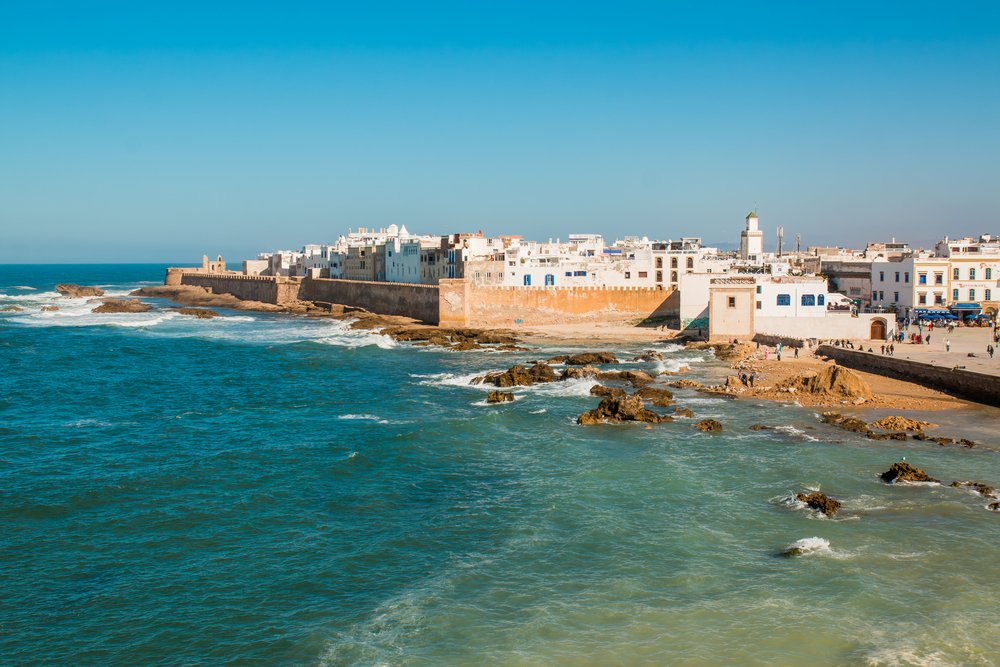 At this point, here's one of the first points of divergence on this Morocco itinerary!
You can either opt to spend another day in Marrakech, soaking up all the fantastic sights it has to offer.
Alternately, you can go on a day trip to the lovely coastal city of Essaouira, a UNESCO World Heritage site and Game of Thrones filming location (double the bang for your buck!).
It's a bit of a long day trip from Marrakech – about three hours each way – so it may not be the best use of your time unless you really want to see Essaouira.
Also, this Morocco itinerary has you starting your journey into the Sahara Desert tomorrow, which means a long day of driving.
For that reason, you may want to either switch days 2 and 3, so you don't have so many long car days in a row, or you may want to skip over the day trip entirely.
Whatever you choose, it's up to you!
A day trip to Essaouira is inexpensive and a wonderful way to spend one of your days in Morocco – especially since this itinerary is otherwise entirely inland and has very little time in Morocco's coastal cities, which have a unique vibe all on their own.
For that reason, I'm inclined to recommend spending a day in Essaouira.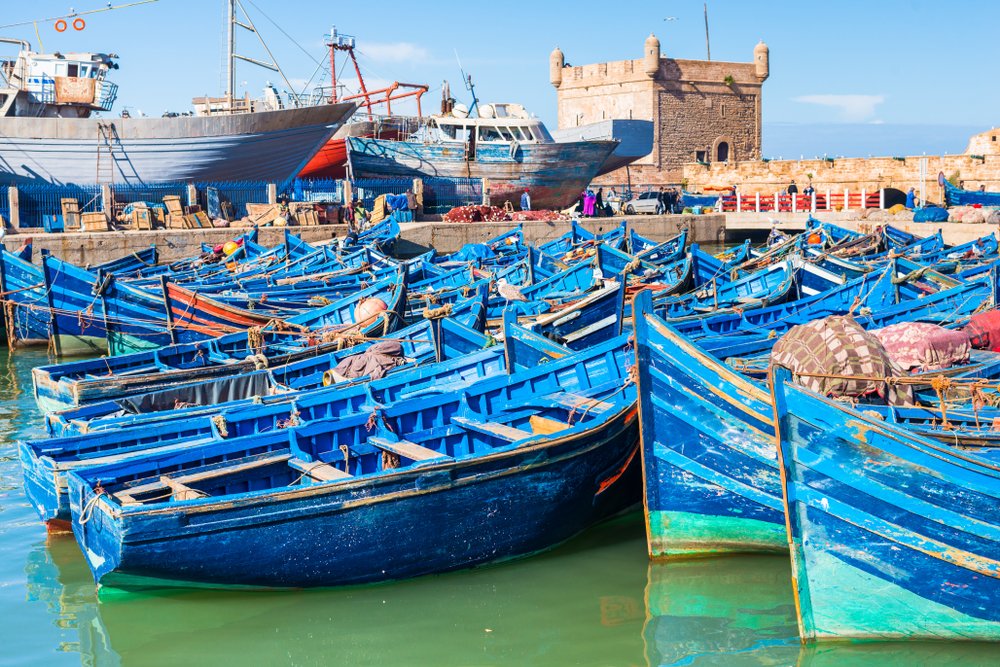 This is the Essaouira day trip I recommend – at about 20 bucks for a day trip, it's a fantastic deal and has overwhelmingly positive reviews.
The tour includes transport, visiting Essaouira's Moulay El Hassan Square and its souks (markets) and medina, a fish lunch (extra charge), an argan oil cooperative stop, the jeweler's quarter, and some reviewers even talked about making a stop to see the famous 'goats in a tree'!
However, there's also a case to be made for spending more time in Marrakech!
While I won't go into huge detail here, as you can simply peruse my full Marrakech itinerary here, here are a few ideas on how you could spend your third day in Marrakech.
Visiting some of Marrakech's excellent museums. The Marrakech House of Photography is phenomenal and my personal recommendation. If you're interested in Moroccan textiles and rugs, I suggest Musee Boucharouite. If you're keen to learn more about Marrakech's history, the Musée de Marrakech is interesting if you can read French (there is no English signage, so it's skippable if not). For interesting art, check out The Orientalist Museum of Marrakech or The Heritage Museum.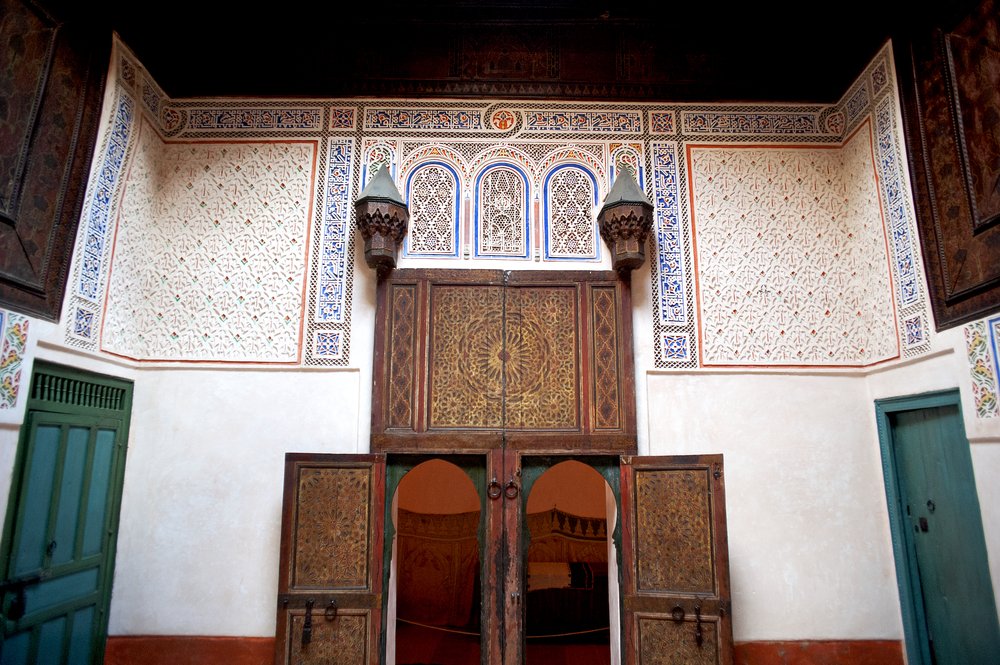 Indulging more in Marrakech's food scene. I've listed a few of my recommendations for where to eat in Marrakech, but a food tour will take you even deeper. I suggest this 3.5-hour food tour + dinner, which will show you around the medina to some of the best food spots in Marrakech and introduce you (safely!) to local street food. It's run by Urban Adventures – one of my favorite tour companies, as I've gone on several of their tours in Europe and always been impressed. You can pre-book the tour here.
Learning how to cook Moroccan food for yourself. Especially if you plan on buying a tagine as a Morocco souvenir, it helps to know what to do with it. One of my favorite 'souvenirs' for myself is some recipes I can make when I get back home and the food cravings hit! If you really want to dig deeper into Morocco's tasty food culture, discover the art of making tagine from a local, where you can learn the recipe and technique for making Morocco's famous tagine in this hands-on cooking class. Book your cooking class here.
Have some hammam time. If you're feeling a bit overwhelmed at this point in your trip and just want to relax for a bit, I recommend a spa day! I love experiencing spa culture in different countries, and having a traditional hammam in Marrakech is a really unique experience – from the black soap to the scrubbing with the kess, it's unlike anywhere else. You can arrange for a hammam with your riad or pre-book this hammam and massage package here.
Day 4: Embark on your Sahara desert journey
Now, it's time for one of the biggest items on most people's Morocco bucket lists: a trip to the Sahara desert!
One tip I have for maximizing your Morocco itinerary is that the Sahara Desert is far from everything – so make the most of it as a transit opportunity to get you from point A to B.
The Sahara Desert is roughly equidistant between Marrakech and Fes, so use your Sahara Desert tour to take you to the next place on your Marrakech itinerary, Fes.
This makes more sense than reverting back to Marrakech for no reason only to move onwards from there!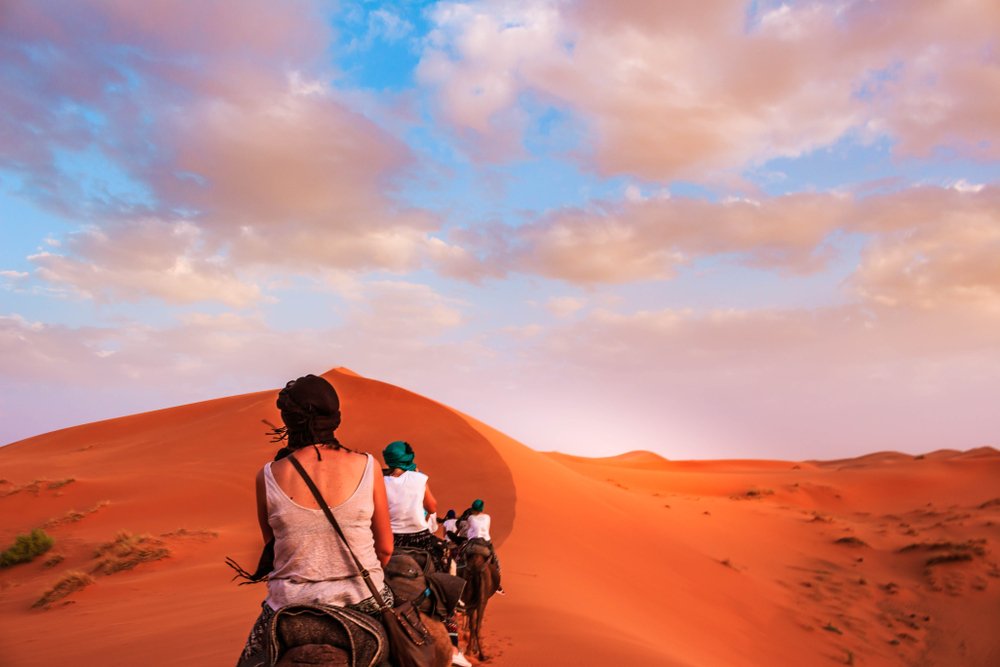 But first, a word of warning. I highly suggest you do not just go with a random tout who promotes their tour to you in a medina.
While you will likely get a better price because you can haggle, you also may get an extremely unpleasant tour (as I did)… which over the course of 3 days can really take a toll on your trip and your mental health.
I had a really bad experience, which I wrote about here, involving sexual harassment and nearly getting groped in my sleep by a guide.
This was a time I valued my budget over all else, and it really bit me in the ass. It's not a mistake I'd make again, in Morocco or anywhere, frankly.
Instead, I recommend booking with a vetted travel company who offers online reviews, so you can match up others' experiences with your expectations.
You can also rent a car or hire a driver to bring you to the Sahara Desert and stay in a luxury desert camp (highly recommended if your budget allows!)
If you prefer a guided tour, I recommend this private Sahara desert tour if you have the money for it (about 200-250 euro per person for a 3-day trip, depending on group size).
It has the best reviews of all and avoids many of the trappings of a group tour such as too many shopping stops, being rushed, or being stuck with annoying group members.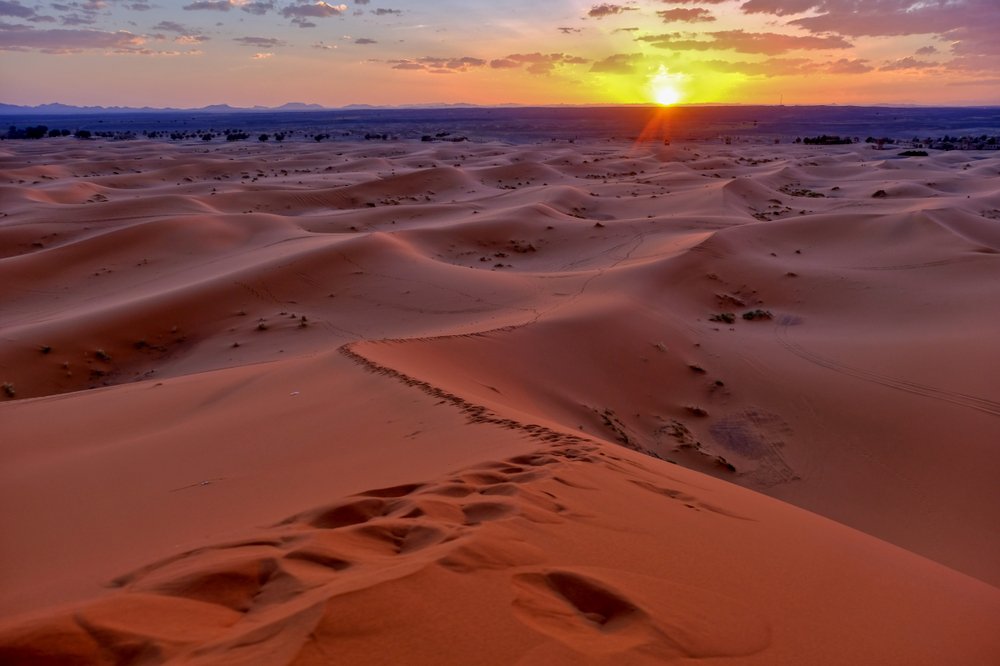 However, I totally get that may be a bit expensive for some people who are trying to do Morocco on a budget.
In that case, I'd suggest a shared tour such as this one. It doesn't have a ton of reviews, but I don't see any red flags, and I like GetYourGuide's customer service and know that if I had a bad experience, they would rectify the situation immediately.
Book your small group Sahara Desert Tour from Marrakech and onwards to Fes here!
Anyway, regardless of which tour you pick, I'll briefly go over the stops (as all Sahara Desert tours generally follow a similar itinerary) so you know what to expect.
Keep in mind that it's nearly 600 kilometers of driving distance between Marrakech and the Sahara, including winding mountain roads, so the trip is broken up into two days heading to the Sahara and one day going onward to Fes.
Atlas Mountains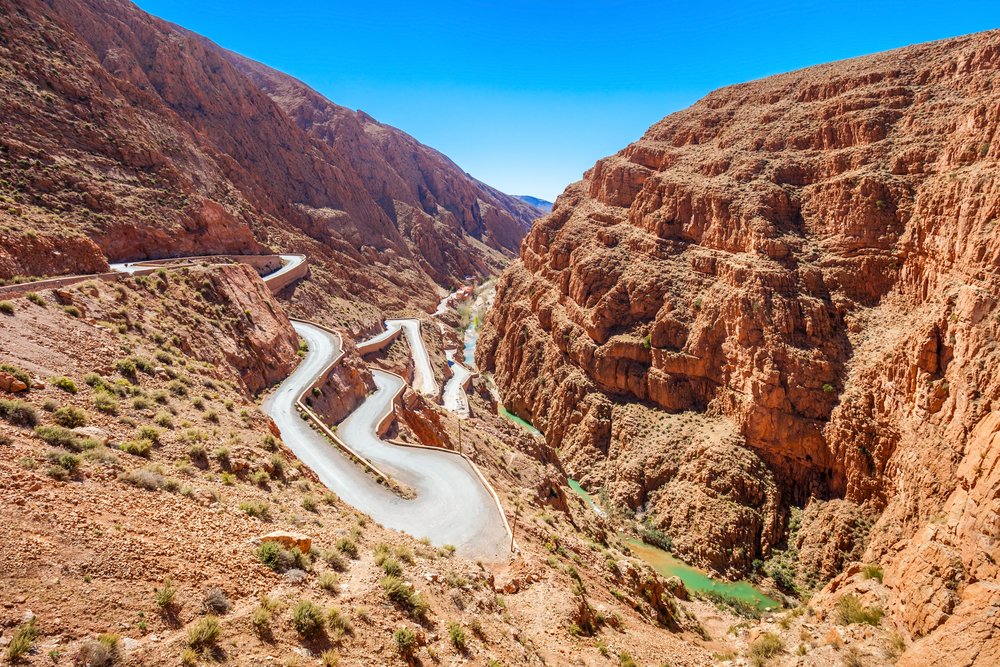 One of the first places you'll stop on your Sahara Desert tour is a few different photo spots in the Atlas Mountains.
You won't have time for a hike or any major sightseeing of the lovely Berber mountain villages you'll find here, but you will love the views as you drive (just be sure to bring some motion sickness tablets as this part of the trip can be quite winding!)
Ait Ben Haddou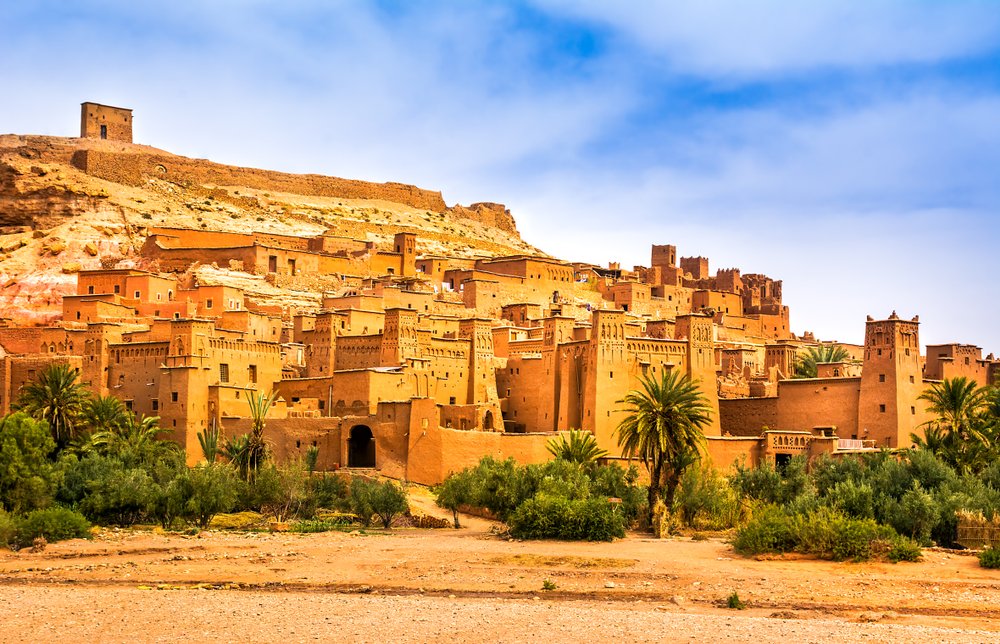 This UNESCO site is also another Game of Thrones filming location, where it stood in as Yunkai, one of the cities of Slaver's Bay.
Usually, you can hire a guide for an optional fee (though depending on the tour and the persistence of your guide, it may not feel optional), who will give you a little more information about Ait Ben Haddou.
Alternately, you can visit the kasbah by yourself, which means you'll have more individual photography time but less context. It's up to you what you prioritize – I chose to skip the guided tour and walk around independently.
Ouarzazate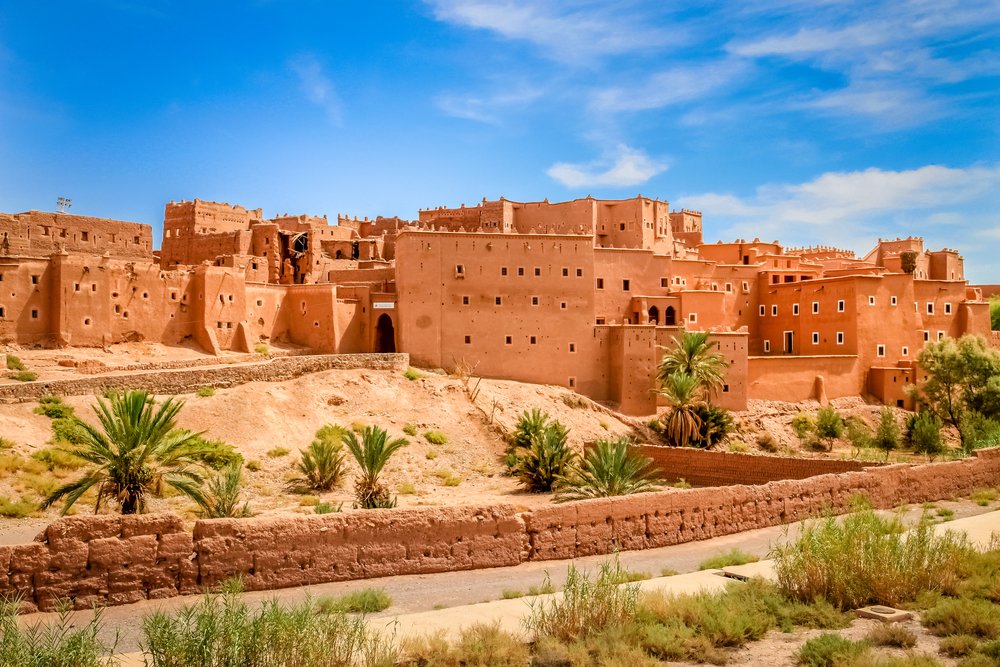 Also known as Moroccan Hollywood, Ouarzazate is perhaps best known for its incredible film studio, Atlas Film Studio, but it's also a lovely place to stop and sightsee for a bit (you'll want to stretch your legs after so much time on the road!).
It's the largest city you'll see between Marrakech and Merzouga, so it's interesting to see how life is in this small Moroccan city.
Its Taourirt Kasbah is extremely impressive to see (and you'll probably recognize it from a movie or two).
You won't have much time here if you're making just a short stop on your way to Merzouga, but it's still a worthwhile pause from the driving!
Dades Gorge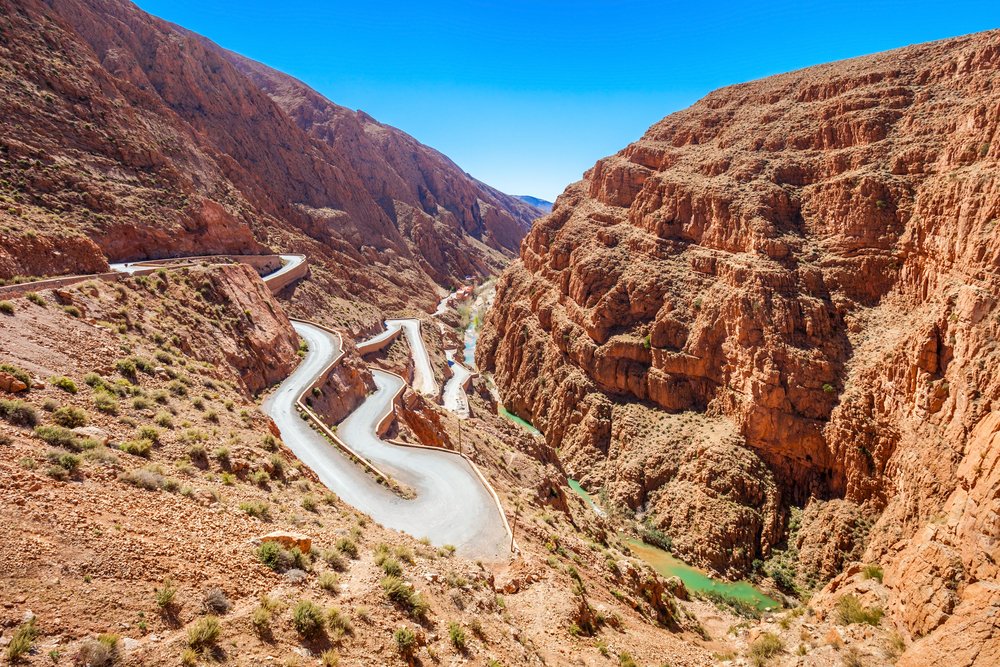 This spectacular canyon is one of the last stops you'll make for the day and it's absolutely stunning.
The red rock looks like something out of the American Southwest and the series of switchbacks you'll take snaking your way through the gorge are breathtaking in more ways than one (again, motion sickness pills).
Tinghir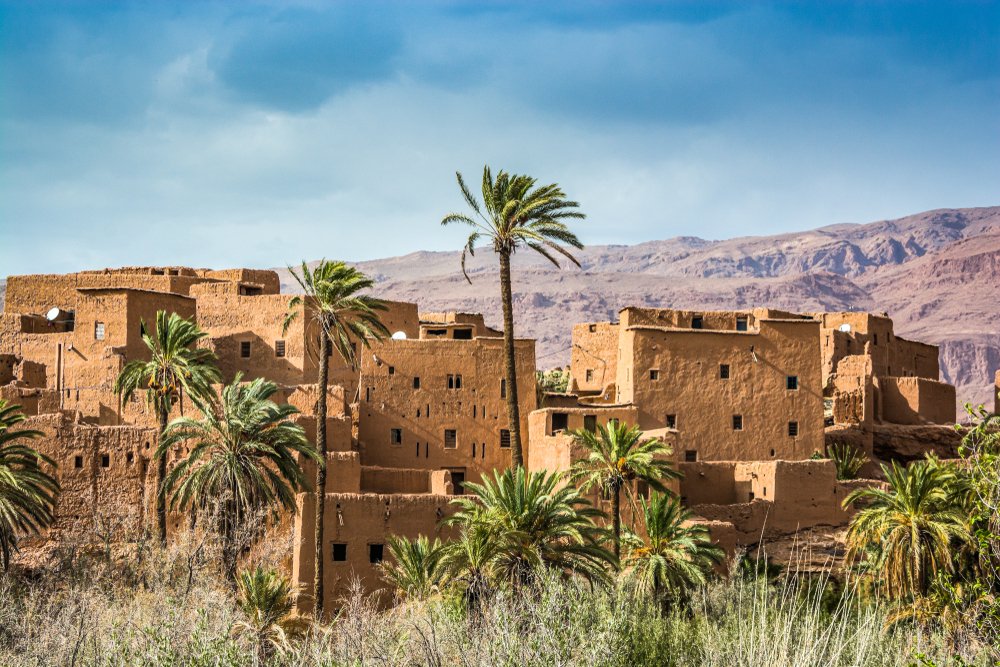 Most desert tours end the first day in Tinghir, where there are plentiful accommodations, although depending on the exact tour you choose, where you stay overnight may vary (my tour stayed near the Dades Gorge, personally).
You won't get to see much of it, since you'll likely arrive after dark depending on the time of year and your exact tour, but it has nicer accommodations than other smaller cities so it's a good place to lay your head down for the night.
Day 5: Continue into the Desert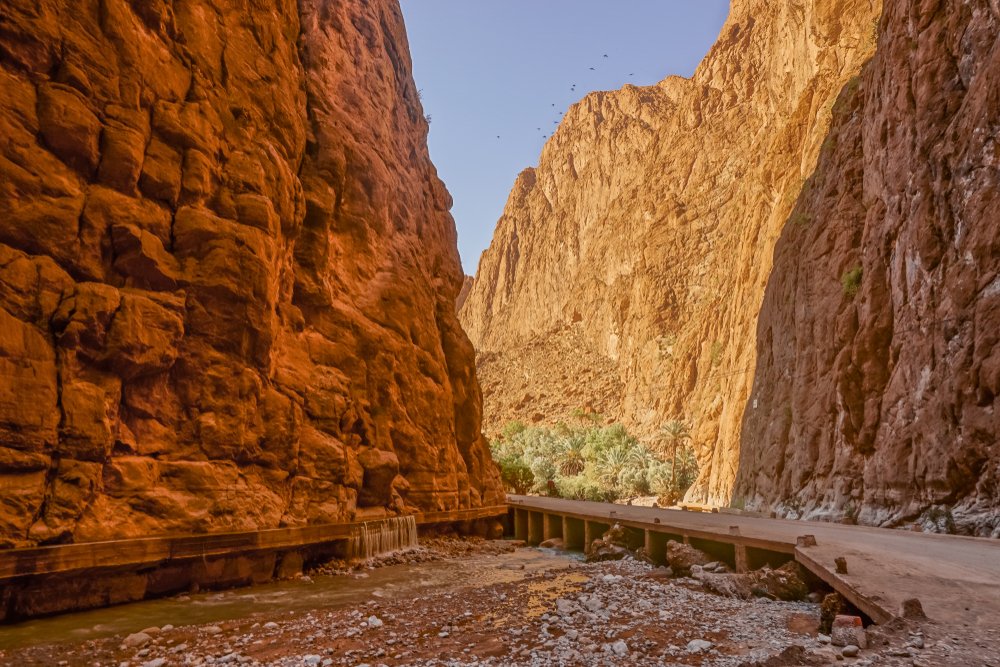 The beginning of this day will mostly be driving (though many include a stop at the beautiful Todgha Gorge, pictured above).
You'll continue from your hotel onwards towards Merzouga, where you'll arrive a few hours before sunset to prepare for your camel ride into your desert camp!
I won't go into too much detail about this day because it really depends on the tour. My day had me going to a small Berber village and visiting a rug maker (who scammed me and replaced the rug I wanted with one that was falling apart at the seams, but that's a story for another day) and making a few other stops at natural wonders along the way.
But to be honest, this day mostly is a blur of being in a car until finally arriving in Merzouga!
Once you arrive in Merzouga, you'll get up on your camel (which is terrifyingly high up, I might add, especially if you for some reason thought a camel ride would be similar to a horse ride like myself…) and embark into the desert just as the sun is setting.
It's an absolutely magical experience… except for the camel's saddle jamming into your private parts with every step. That part I could leave.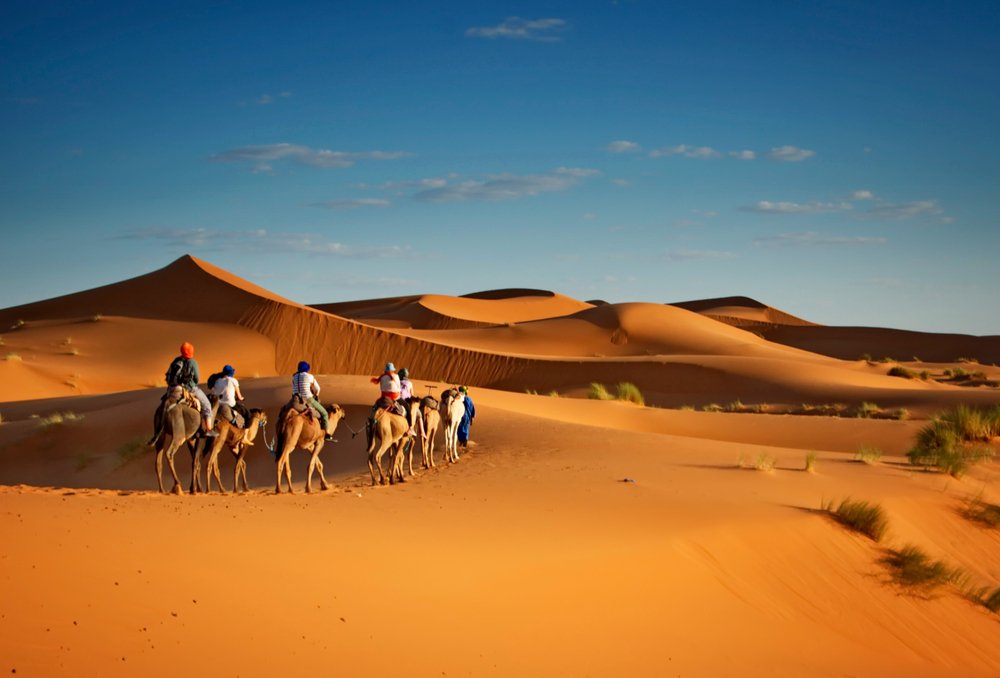 Once you arrive at your desert camp, you'll settle in around the fire while your guides make dinner.
Depending on your tour, again, this could be delicious — or it could make you come down with food poisoning, as happened to my less-fortunate friends (yet another reason why I suggest going with a guide with an online presence – a reputation to maintain = more care with food safety).
And trust me, you probably don't want food poisoning on the long road to Fes tomorrow….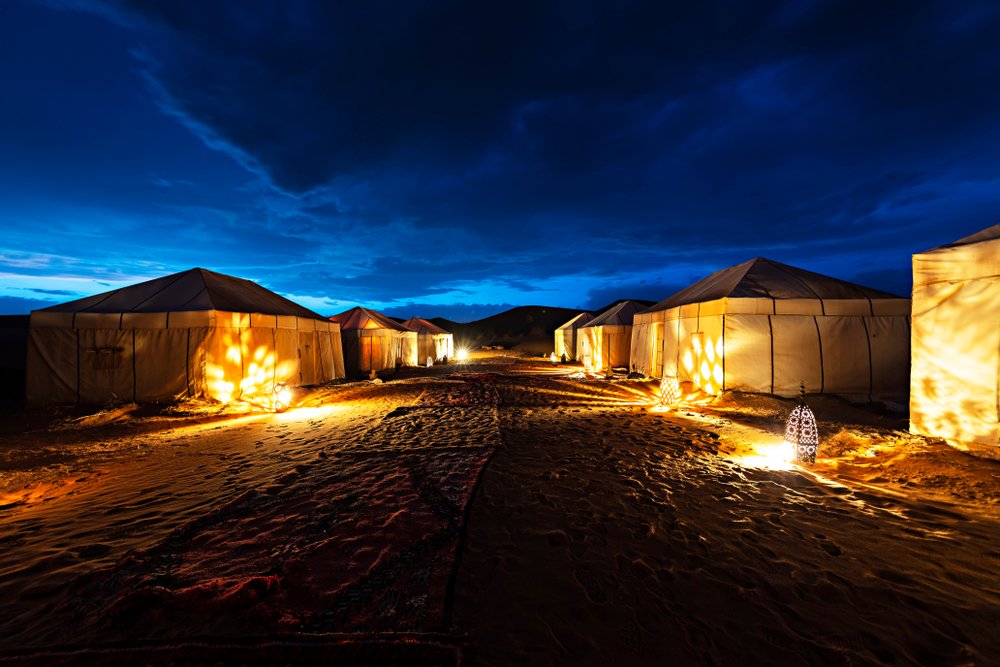 Finally, most nights end with some drumming and stories around the fire in the middle of the desert.
Even during the summer, the desert can get surprisingly cold at night, so bring some layers to stay comfortable.
For perspective, it was 115 F (46 C) during the day in the desert in July… and around 75 F at night (24 C). Don't assume that because it's the desert it'll be hot all the time!
If you go in fall, winter, or spring, you'll actually likely want a small down jacket to keep you warm, because it can get quite cold in the late fall, winter, and early spring… and sometimes even snow!
Day 6: Desert Sunrise & The Long Road to Fes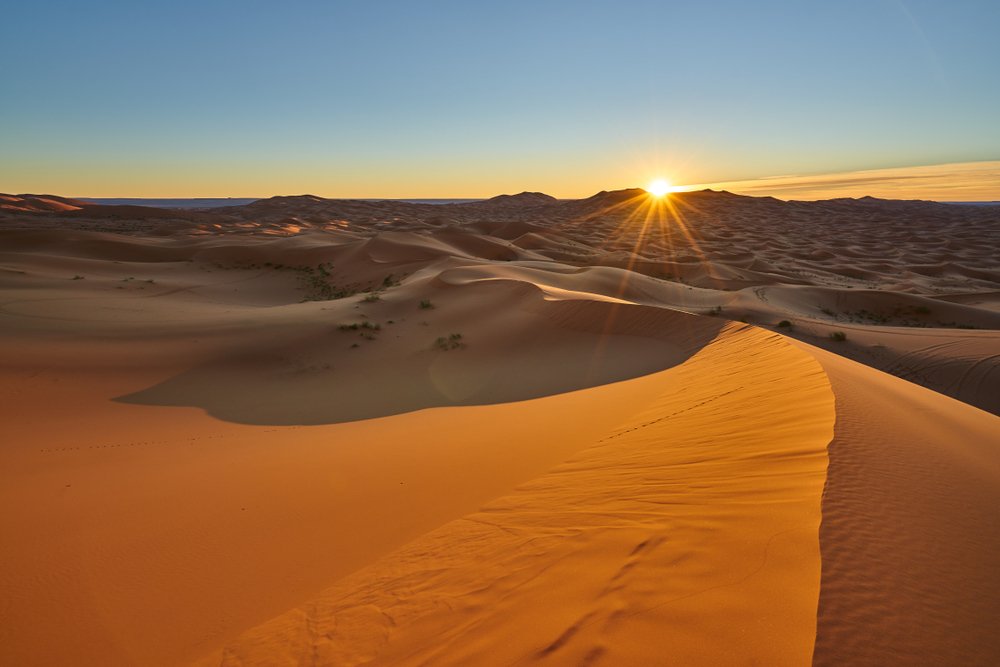 After waking up for a desert sunrise, you're in for a long day ahead! Most of the day you'll be heading into Fes, which is an epic journey that takes most of the day.
Again, this will depend on your tour. I went with a crappy company who just organized a taxi driver (and told me the transfer was included when I booked but then charged me again upon leaving) so we just drove all day with the exception of a break for lunch.
A proper tour will include several stops between Merzouga and Fes.
For exact stops, check the itinerary of a Marrakech-Merzouga-Fes tour like this one.
Once you arrive in Fes, you'll want to check into your riad and get settled. I recommend opting for something extra comfortable after your tour through the desert.
You'll be quite exhausted at this point, so you'll really crave some comfort. Plus, you get better value in Fes than Marrakech, so your money will stretch further here.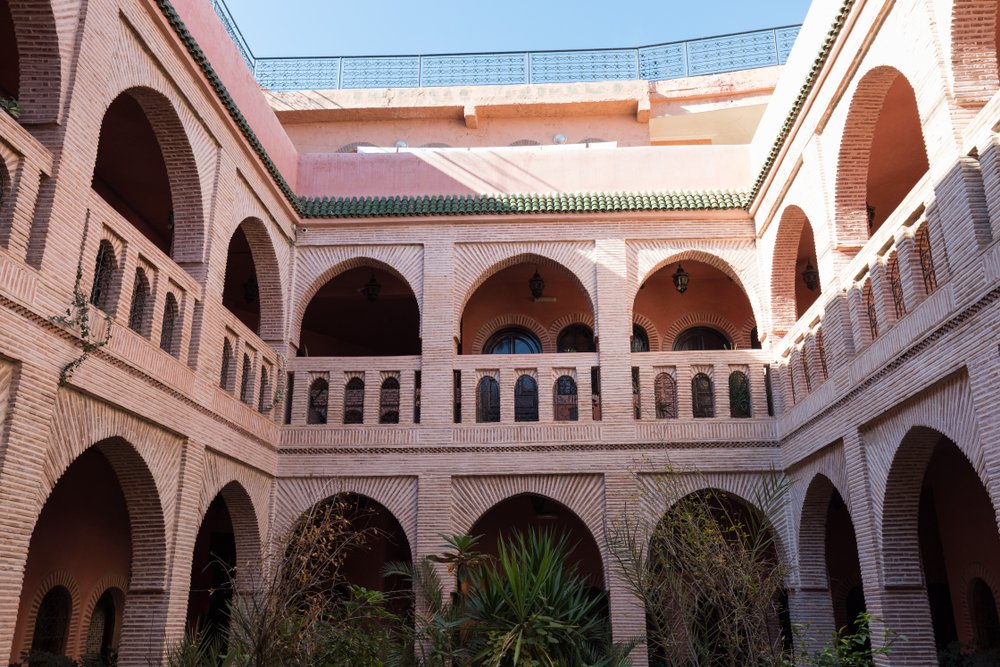 I've written about all the best Fes riads here, but like I did for Marrakech, I'll summarize them briefly, broken down by budget category, below.
Budget: The lovely Riad Ibn Khaldoun is a fantastic choice in Fes. This is one of the most colorful riads you will see! The riad has stained glass windows, patterned floor tiles, painted walls, intricately carved wooden furniture and so on. It doesn't just end in the common areas – even the rooms are like that!
There are beds with sheer canopies and very luxurious bed covers with designs. It just feels like every corner of this riad is fully decorated, so that every corner is perfect for the 'gram – all you need to do is work on finding your perfect angle when you take your photos!
Breakfast is served daily, and it is included with your stay. Guests loved the food and many even said that the food was the best they tried in the city. You should try the tasty tagine they cook for dinner, aside from the other à la carte Moroccan dishes they offer.
Boutique: The stylish Riad Fes Authentic Palace & Spa offers 13 guest rooms with the usual riad layout. Aside from being close to the Blue Gate, it is nearby to a car-accessible road which makes it really convenient.
This riad is practically made for Instagrammers, with countless beautiful spots in the riad to snap photos. Personally, it's hard to pick the best spot to take photos here, but the roof terrace, the pool area, and the courtyard are all contenders!
Most of the rooms have a balcony with a view of the pool or nearby mountains. They are also fully equipped with all the things you need like a fridge, coffee machine, and A/C that also has heating capabilities in case you're visiting in winter.
The furniture — such as beds, tables, and chairs — are done in the typical Moroccan style with beautiful carvings. The mattress and pillows are covered with embroidered bed covers (sheets are available for an extra cost). If you are planning to book two rooms, you can ask for interconnecting rooms — great for families and groups of friends.
The spa services are next level, as to be expected from a riad with spa in the name! There are full beauty services, such as manicures and pedicures, hair styling and treatments, waxing, as well as other wellness services like massage, body scrubs and wraps, facials, etc. There's also a hammam for Moroccan style bathing — a must-do for any spa enthusiast.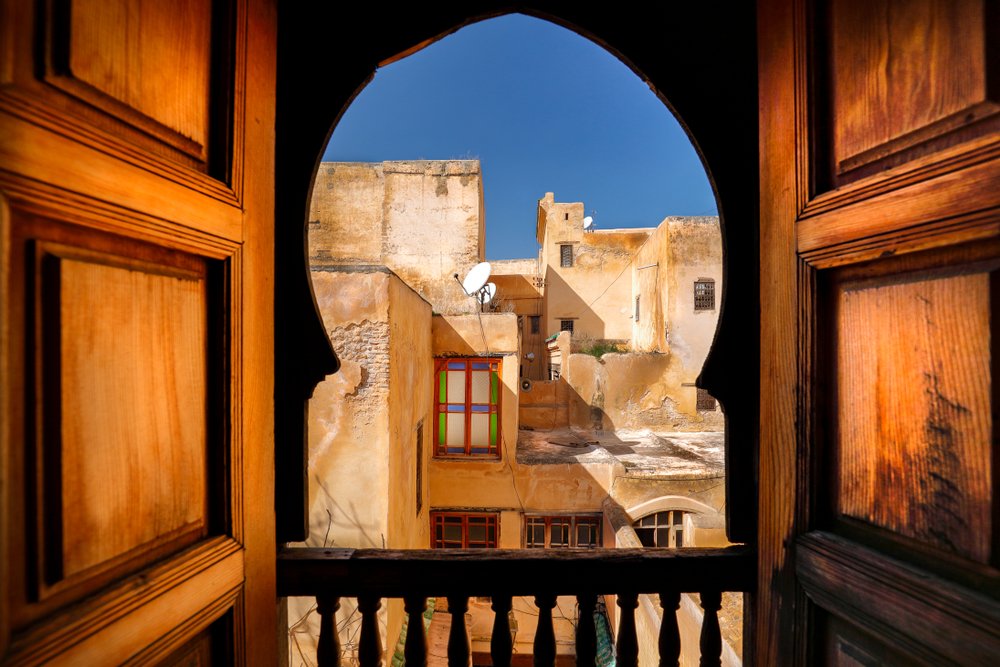 Luxury: The charming Riad Palais Bahia has a beautiful courtyard without the usual bright colors, offering a more refined and elegant aesthetic in shades of black and white.
A panoramic view of the houses, lighting up at the medina (amidst the mountain background) awaits you on their rooftop terrace during sunset – just like a postcard!
The menu at their restaurant has delicious Moroccan, Spanish, and Italian dishes. You can also order wine to pair with your meals — not always an easy task in the often-dry Morocco!
The restaurant is open from 6:30 AM until 11 PM and serves breakfast, lunch, and dinner. The poolside bar, aside from being very photogenic, is a nice place for some drinks and to cool off at the pool at the same time.
There's never a dull moment in this riad because there is a library with a collection of nice books (you might just learn something new or, better yet, find a lovely trashy pool read to relax by the water with).
The service desk can also help you book tickets, guides, and day tours. When you need to relax, you can also take a dip in the pool or optionally unwind in the steam room and get a deep tissue massage for the ultimate in relaxation!
Day 7: Get Oriented in Fes with a Medina Tour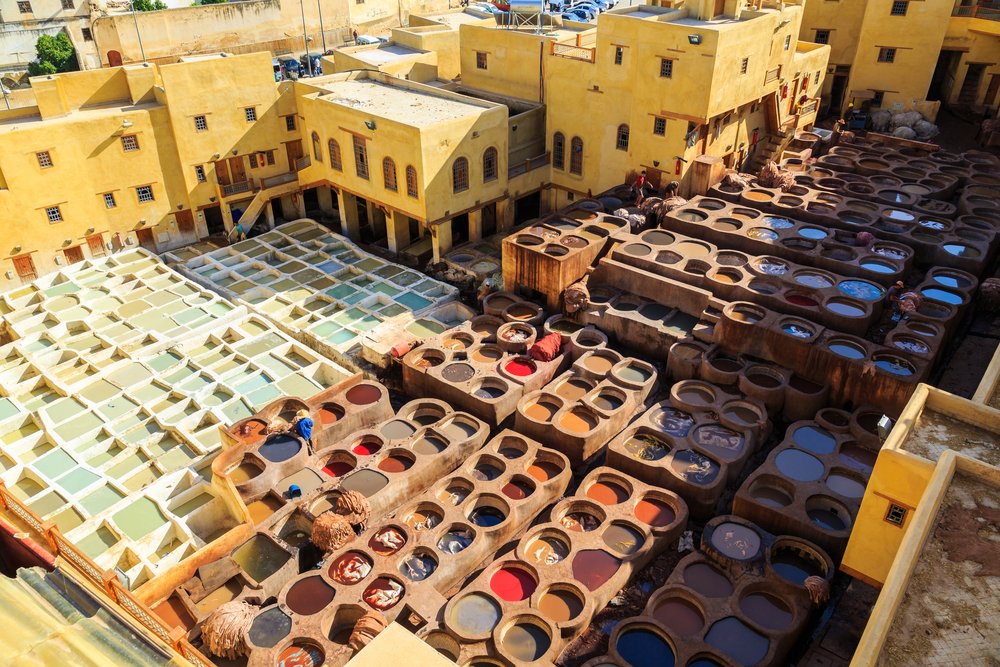 After resting up and enjoying a leisurely breakfast in your Fes riad, it's time to get acquainted with the city.
Fes is a bit of an overwhelming city. Its medina is the largest pedestrian-only space in the world… meaning there are countless alleyways to get lost in.
Fes also has a bit of a grittier feel than Marrakech, and I felt much more comfortable there with a local guide than I did walking around by myself.
Start with a tour of the medina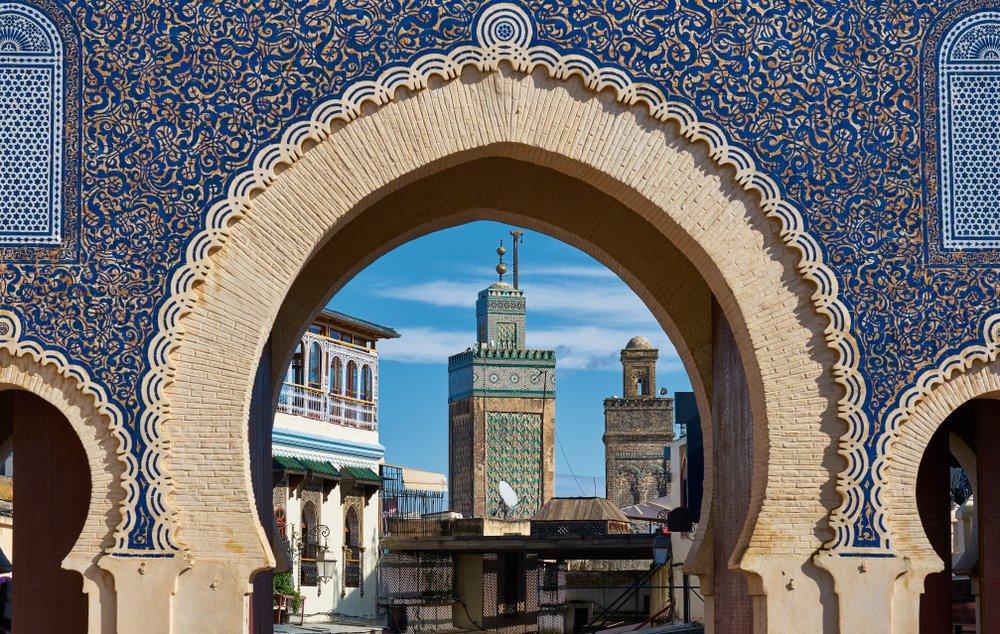 I suggest doing a medina tour to get oriented with the city. This one is highly regarded and well-rated, and it's inexpensive to boot!
On this tour, you'll visit the souks, the exterior of two mosques (as non-Muslims are not allowed inside), the Nejjarine Fountain, the 13th-century Islamic madrassa, and the Batha Palace.
It also includes the Chouara Tannery (which can be overwhelming to visit on your own, especially since the leather factory salespeople can be quite pushy).
Personally, I hired a guide for Fes, finally sick of prioritizing budget over comfort, and it was the best money I spent in Morocco.
Fes especially is a place that can quickly become overwhelming without a guide, so it's worth booking a tour.
Have lunch at one of Fes's restaurants
I have two recommendations for where to eat in Fes: Made in M and Le Tarbouche.
I recommend picking one for lunch, based on where you end your medina tour, and saving the other for dinner (or eating in your riad, because riads often have some of the tastiest food you'll find)
Relax at your riad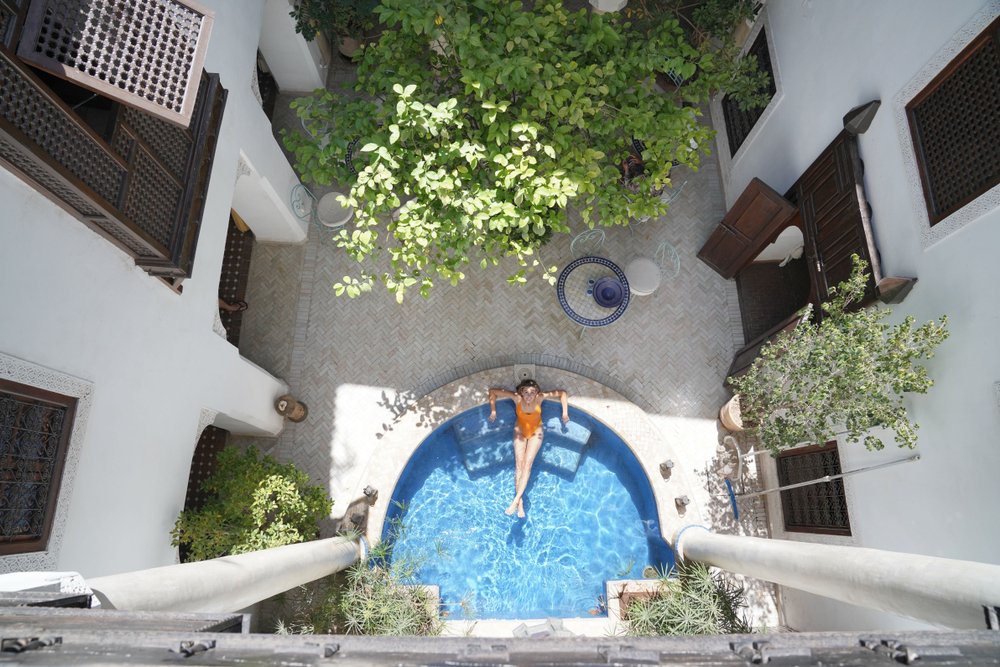 At this point in your Morocco itinerary, you likely need a bit of a down day.
Don't feel guilty taking some time off of sightseeing to enjoy your riad – after all, experiencing riad culture is an essential part of a Morocco trip!
Lounge on the rooftop terrace with a book, take a dip in the pool, or if you're staying at a riad with a hammam, spend some time in the steam room or even treat yourself to a massage.
Day 8: Visit Meknes and the Ancient City of Volubilis OR Sightsee in Fes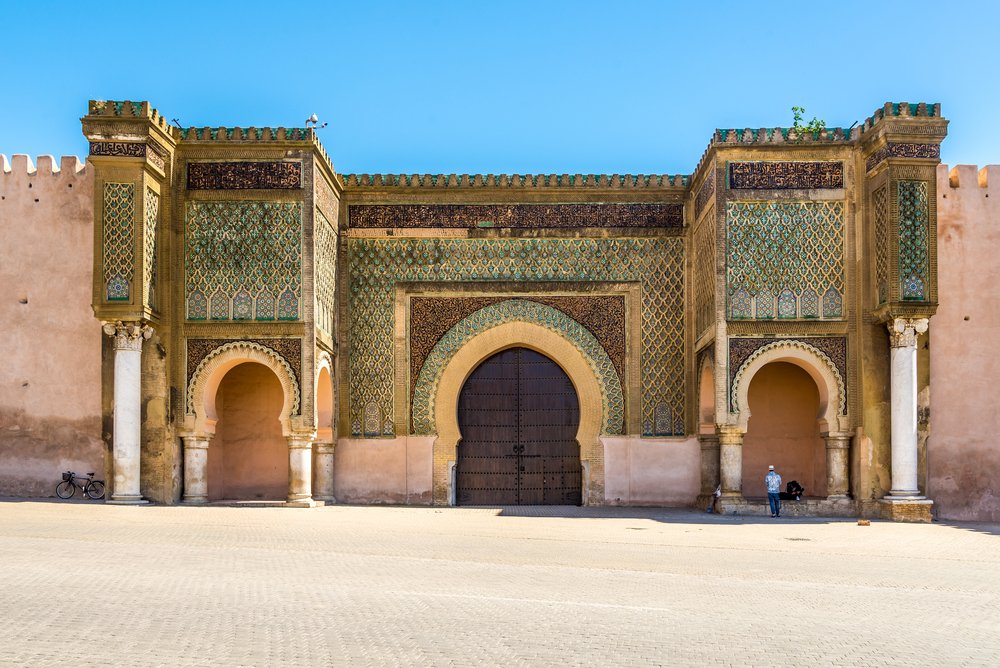 One of the reasons I suggest Fes as a base for your final block of time in Morocco is because it's so close to several amazing day trips!
The first one I'll recommend is a combined trip to Meknes and Volubilis: two very different, but equally interesting, sights.
You can do this two ways: either as a guided tour (I suggest this one) or by hiring a private driver for the day, which you can arrange via your riad.
A private driver will usually be cheaper, but there's no guarantee the driver speaks English and is knowledgeable about the sights you'll see.
A guide is better if the history is important to you; a private driver is better if freedom is more important. I usually prefer a guide, but your mileage may vary.
Whatever you end up deciding, make sure you visit both Meknes and Volubilis!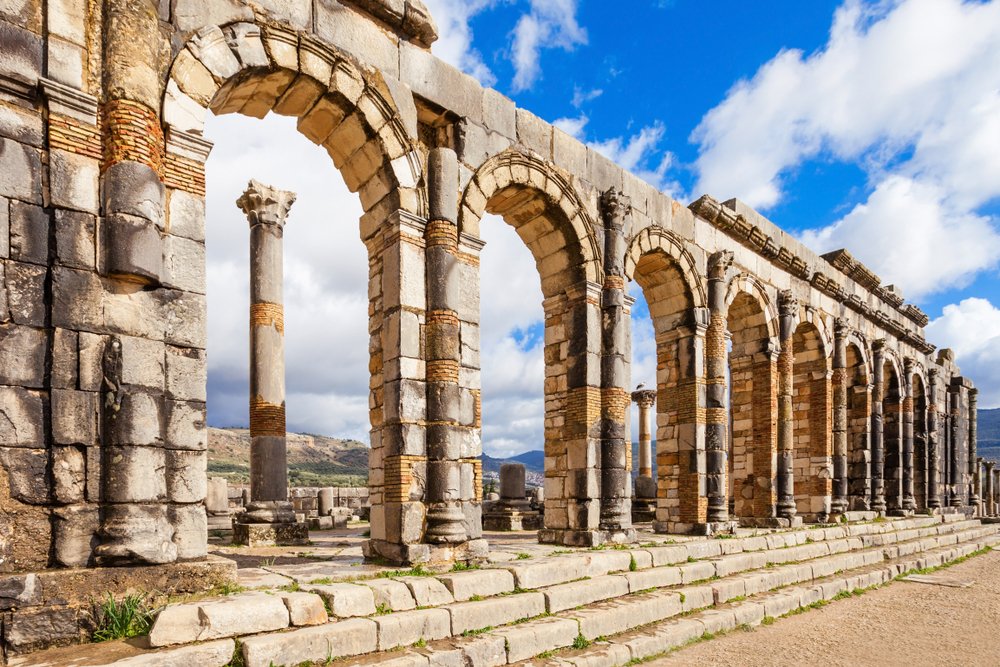 Volubilis is exquisite: ancient ruins of a Roman city (yes, the Roman Empire stretched all the way to Morocco — pretty incredible right?).
The Berbers shook off the Roman Empire in the third century AD and it was never recaptured by Rome due to how far on the edge of the empire it was.
It was inhabited for centuries after, first by Christians, later by Muslims, before being abandoned in the 11th century when Fes became an important nexus of power and Volubilis became less relevant.
Meknes is one of the four imperial cities of Morocco (the others are Rabat, Marrakech, and Fes – so following this itinerary for Morocco, you'll see 3/4 of them!) and it has a huge amount of history in a small area.
From the exquisitely photogenic Bou Inania Madrasa to the Mausoleum of Moulay Ismail, there are several beautiful sights in Meknes worth seeing if you dedicate about half a day to it.
Alternately, you could just spend the day relaxing in Fes and checking out more of its sights. Here are a few more points of interest you may want to check out.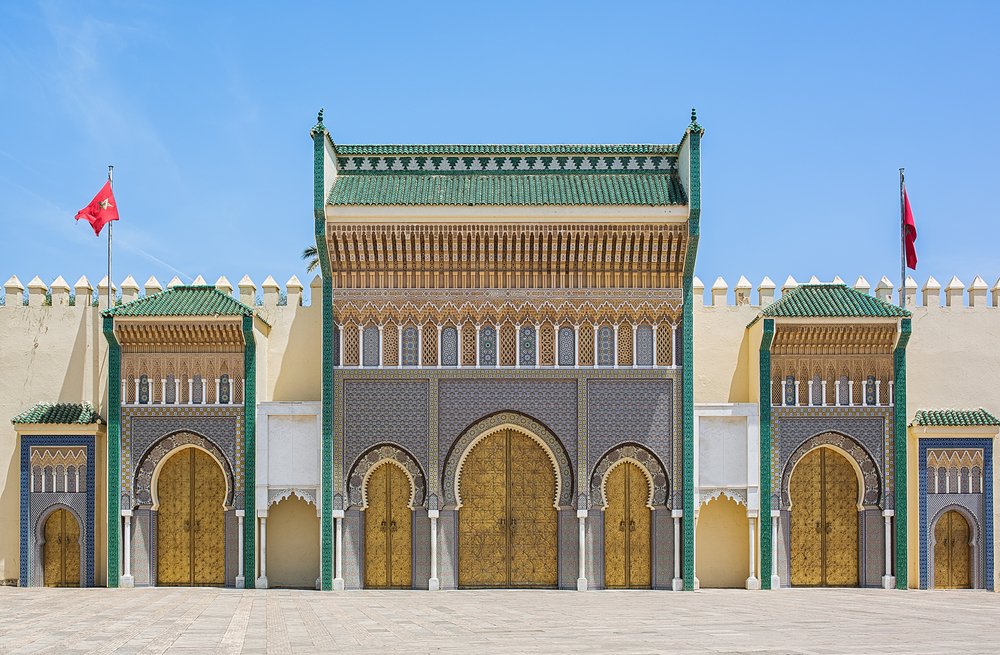 The Royal Palace with its gorgeous golden doors. Note that it's not open to the public, but the facade is beautiful enough to make it a must-see in Fes, with its Wes Andersonian symmetry.
Bab Bou Jeloud, aka the Blue Gate, with its picturesque arches, which functions as a gateway to the Medina.
The Mellah (Jewish district) and Synagogue, which isn't always covered on medina tours but is a sight well-worth seeing inside the medina
More shopping! I always suggest shopping without the presence of a guide if you want the best deals. Go with a guide to get a handle of the streets and the wares on offer, return independently, savvier and ready to bargain your heart out.
Day 9: Spend a Day in the Blue City of Chefchaouen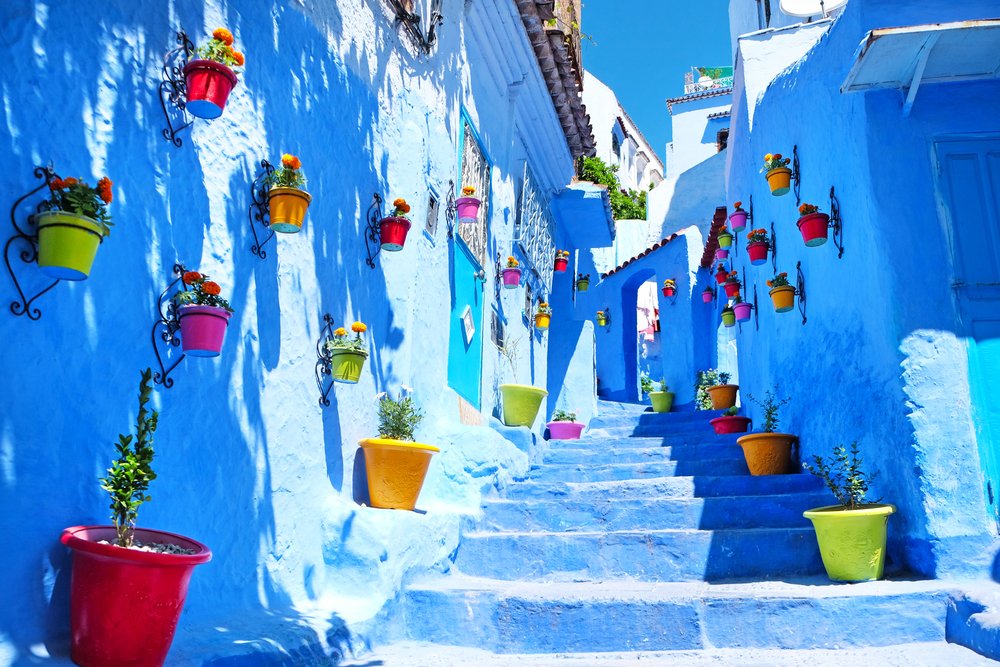 I wasn't expecting to like Chefchaouen as much as I did, but it was the true highlight of my Morocco itinerary!
I strongly recommend giving yourself at least a day in Chefchaouen. If you have an extra day that you're not sure how to spend, or if Meknes and Volubilis don't speak to you, then I'd opt to spend the extra day in Chefchaouen.
You can visit Chefchaouen from Fes via CTM bus independently or opt for a tour to avoid having to figure out public transit in Morocco.
I recommend this affordable tour – both small group and private tours are offered.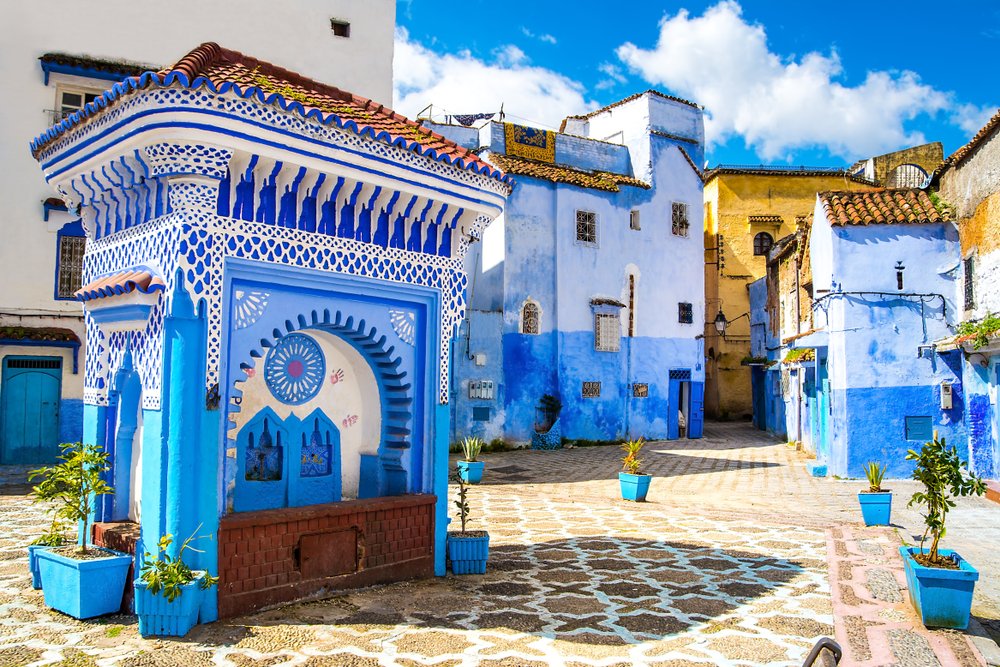 Frankly, it's really easy to wander around Chefchaouen independently, as it's quite small and it's more about the scenery of the Rif mountains juxtaposed against the gorgeous blue backdrop of the city.
A guide isn't strictly necessary, so this is one place where you could skip the guide to save money, but if the idea of navigating the transit system stresses you out and you'd rather opt for a transfer, you can join a small group for under 40 euros for the entire day trip, excluding meals.
Book this easy Chefchaouen day trip here!
If you go independently, here are a few sights you shouldn't miss in Chefchaouen.
The Smurf-blue medina…. but that's hard to miss!
Place Uta el-Hammam
The Kasbah Museum
The Grand Mosque
The Ethnographic Museum
Day 10: Final Shopping & Prepare For Your Flight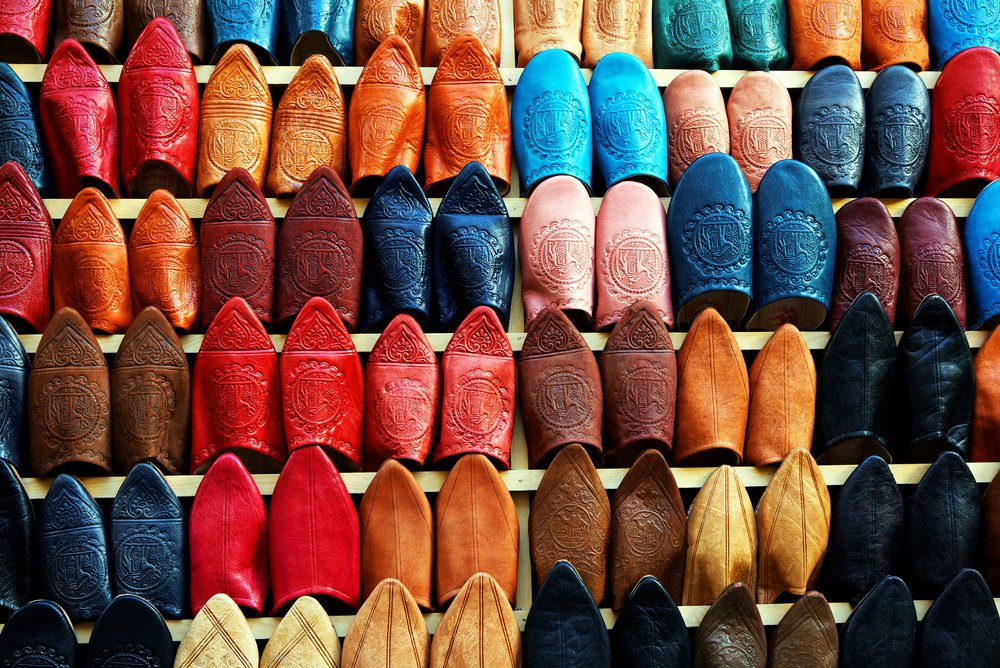 On your final day in Morocco, I recommend having one last leisurely Moroccan breakfast, spending any last dirhams you have in the souks (as it's actually illegal to take dirhams out of Morocco!), and maaaaybe springing for one last massage or hammam if time permits.
Your one last thing is to get yourself to the airport!
Your hotel can help you arrange it for a fee, or you can book your transfer from Fes to the airport here so you don't have to worry about it later!
3 Top-Rated Morocco Experiences
***
And there you are… a complete 10 day Morocco itinerary that's customizable to your preferences!
A few other alterations you could make: skip the day in Meknes and give yourself one more day in Marrakech, swap the Sahara for Essaouira and Casablanca on the coast before making your way inland into Fes, or adding a day trip to the Atlas Mountains and its picturesque Berber villages to your time in Marrakech.
Really, there's no wrong way to spend 10 days in Morocco – so feel free to adjust this itinerary to your liking!
Allison Green is a former educator turned travel blogger. She holds a Masters in Teaching and a B.A. in English and Creative Writing. Her blog posts merge her educational background and her experience traveling to 60+ countries to encourage thoughtful travel experiences that both educate and entertain. She has been a speaker at the World Travel Writers Conference and her writing, photography, and podcasting work has appeared in National Geographic, CNN Arabic, CBC Canada, and Forbes, amongst others. Now based in the San Francisco Bay Area where she grew up, she has also lived in Prague, Sofia, and New York City.