Matera is a city with a story. It's incredible sassi districts are made almost entirely of refurbished cave dwellings, given new life.
Matera suffered extreme poverty in the 1800s, making the sassi basically uninhabitable without serious health consequences. The subsequent attempted forced relocation of its citizens threatened to make Matera and its sassi lose their way of life.
But when a city has almost 10 millennia of history behind it, it's hard to just give up on it, and slowly, investors – including the Italian government – began to polish up Matera, bit by bit, until it became the sparkling jewel of Southern Italian tourism that it is today, bringing in tourists in droves to learn the history of the sassi.
While you'll certainly get a feel for what Matera is all about by following my one day in Matera itinerary, I do suggest staying overnight if it's possible. You can choose to stay in one of the renovated cave hotels in Matera in the sassi districts, which have now been converted into cozy guesthouses, chic boutique hotels, and even luxury digs.
These cave hotels in Matera offer an experiential insight into life in the caves of Matera, though admittedly with a lot more comfort than back in the 1800s… and thank goodness for that, because those were not good times for the people of Matera.
By staying in one of the cave hotels in Matera, you're contributing to the continued renewal of this gorgeous Basilicata city, continuing the trajectory away from its spot as the "shame of Italy" and into the European Capital of Culture that it proudly is today.
Now, I'll go into three tiers of cave hotels in Matera. Budget hotels, which we define as roughly under $100 USD per night in the high season; mid-range hotels, which we define as roughly $100-200 USD per night in the high season; and luxury hotels, $200+ USD per night in peak season.
Keep in mind that these are only estimates which I've found by looking a good deal in advance — if you wait too long to book, you may find very different prices. At the same time, if you book off-season, you can find extremely good deals, so you may be able to scoop up a luxury cave hotel in Matera for a shockingly good price!
Your Ultimate Guide to Cave Hotels in Matera
Budget Cave Hotels in Matera (Under $100 / Night in Peak Season)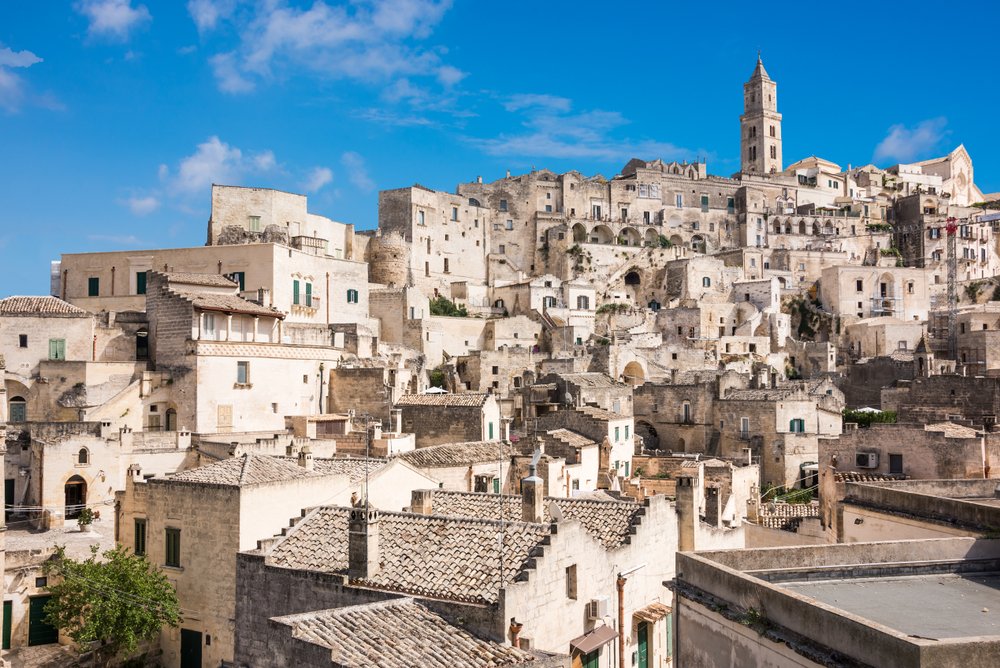 Note: This post contains affiliate links, which means I may receive a small commission if you purchase something through one of these links. Thank you for supporting the free content on this site! For more information on affiliate links and cookies, see my disclosure page for more details.
Stone Rooms
With traditionally dug cave rooms perfect for families, couples and solo travelers, Stone Rooms offer great value for their accommodation. The nightly rate already includes a sumptuous breakfast in a special room which will soon become a museum! Sometimes, the host will chat with you during breakfast. Past guests have noted that he and his staff are very generous, and they will surely give you the best hospitality like you can also find in luxury stays.
The rooms are actual caves, so expect it to be a little on the dark side. Some areas in the rooms have holes, which help in keeping it well-ventilated. It also allows natural lighting to go inside the rooms. The rooms are mostly furnished with modern Italian furnishings.
Bigger families can book interconnected rooms or a larger family room. A/C and heating also provide perfect climate control if needed, but often, the caves ventilate themselves well without any need for that!
Closets are also available for you to store and organize your clothes. The private bathrooms are a little small, but the shower area and toilet are separate, so you don't have to worry about getting the floor wet after a shower. It also has tiled floors and it is squeaky clean. Lastly, you can bring your pets here at no extra cost!
»» Check out guest reviews, prices, and availability at Stone Rooms ««
Il Nespolo Matera
Il Nespolo Matera is located in the quiet and more authentic Sassi area with fewer commercial spots around. You can truly enjoy the true vibe of living in Matera without spending too much on your accommodation. Despite the quiet location, it is still within walking distance to most of the famous attractions Matera has to offer.
The rooms have arched ceilings and there is proper ventilation in each cave suite. The look is a little modern due to the whitewashed walls, but you still get the arched ceilings typical of a Matera cave hotel. The floors are tiled and you have a comfortable sofa plus a flat-screen TV — who said a cave hotel was roughing it?
The ensuite bathroom has a wooden ceiling, which is a clever way to keep the moisture from the bathroom at bay. It also has tiled floors and whitewashed walls with some modern décor. Racks and organizers are available so you can carefully put your dirty laundry, wet towels or toiletries away.
Depending on the season, the rooms can get a little humid left to their own devices, but don't worry, since there's A/C to keep the rooms cool during the summer season. The owner has an undeniable love for the town, and he can give you pro tips for exploring Matera to the best of your ability!
»» Check out guest reviews, prices, and availability at Il Nespolo Matera ««
B&B La Corte
Perfect for couples or families who want a budget-friendly accommodation that still has that cave feel but with a modern take, B&B La Corte is a phenomenal yet budget-friendly choice. This chic Matera cave hotel gives you all the look of a standard cave hotel: arched ceilings, whitewashed walls, hardwood floors, and fine wooden furniture.
It is also just beneath the Basilica and views from the rooms are stunning! Most of their facilities are newly renovated to add comfort to every guest's stay. It is also run by a family – and past guests would give them an A+ for the quality of service. Pets are also allowed here for an extra charge.
Each room has its own work desk, fridge, A/C and heating, while some have a lovely terrace or balcony where you can snap panoramic views of the Sassi. All rooms have an ensuite bathroom, but the double room with private bathroom has special features – it has a hydromassage shower inside its shower cabin, pretty amazing!
Toiletries, slippers, and towels are free and at your disposal here. Enjoy your delicious breakfast on their terrace with extensive choices to fill up your stomach before a day's sightseeing.
One thing most of the past guests noticed about this budget hotel is the level of cleanliness, it is a heaven for anyone who has allergies (or is just a bit of a germophobe!) You may also park your car nearby if you have a rental car.
»» Check out guest reviews, prices, and availability at B&B La Corte ««
Mid-Range Matera Cave Hotels (From $100-200 USD / Night in High Season)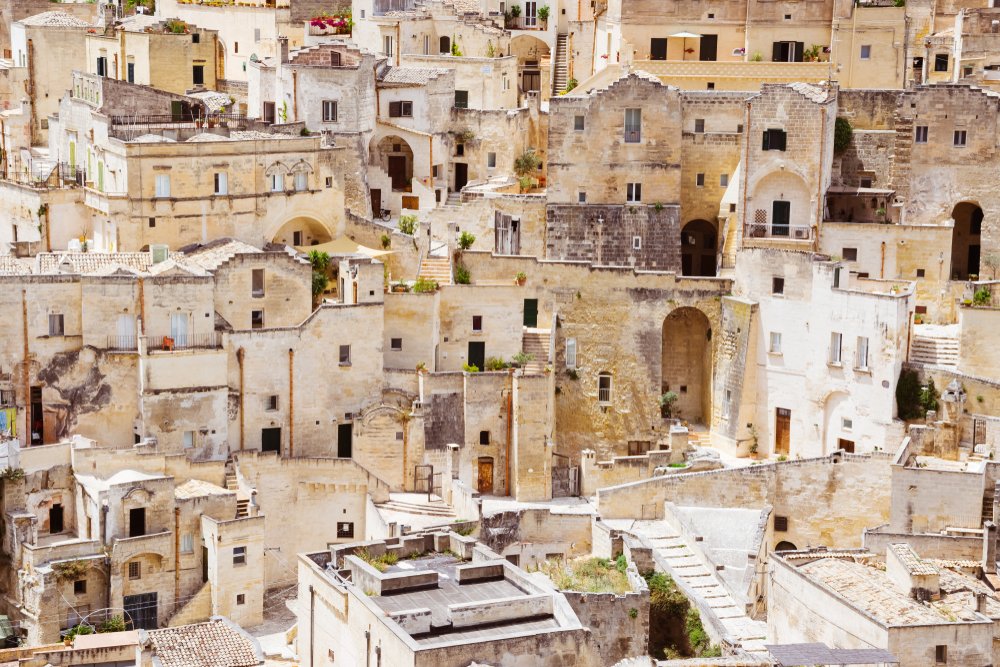 Alle Conche
If you're someone who loves the rugged archaic look – Alle Conche just might be the Matera cave hotel for you. It was originally built around 1700 ,and the moment you see it for yourself, you might just run out of words to describe this beauty that has stood the test of time.
The owner has well preserved the original look of the rooms and carefully placed modern yet rustic furniture to complete its look. Some rooms have been renovated, with whitewashed walls, but there are also more natural-looking options if you truly want to feel the magic of staying in a cave dwelling.
There are only a total of four rooms in this property, and regardless if you are a family or a couple, it is perfectly fitted for your stay. You will notice that most of the décor and furnishings are beautifully arranged because the owner himself is an interior designer.
The private bathrooms are modern, and you have a shower cabin to keep the toilet area from getting wet. You are also provided with a vanity mirror and plush bathrobes for your comfort.
A great breakfast awaits you every morning, with choices of fresh fruits, still warm freshly-baked bread, and delicious jams you can eat with your coffee. Grab something to drink or eat as you enjoy the fresh air on their rooftop terrace – the views are priceless and the terrace will also show you signs of how old it has been!
However, I would not recommend this hotel to those who have disabilities because the property doesn't have accessible features, and the alleyways to get here are quite steep.
»» Check out guest reviews, prices, and availability at Alle Conche ««
Le Dodici Lune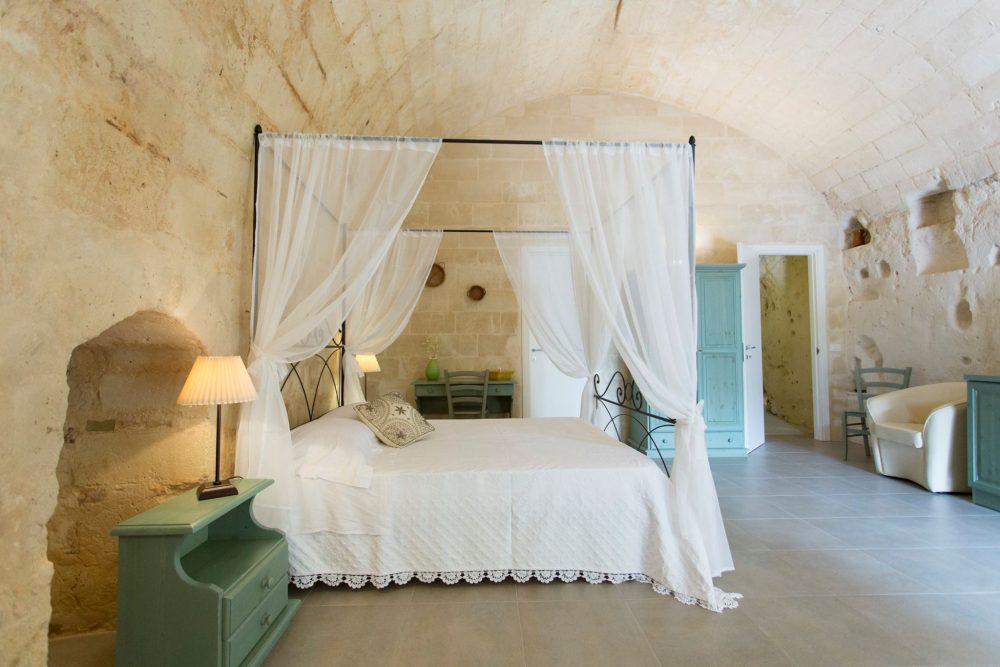 Le Dodici Lune perfectly embodies what you see in the sassi from afar – the stone dug cave dwellings! This hotel was originally a building in ruins until they decided to transform it. When renovating it seven years ago, they maintained a lot of the original elements, such as the stone walls. It's truly worth staying in this hotel, and that could well be expressed by the fact that it is quite difficult to book! If you're lucky enough to book one of their rooms, you are surely up for a spacious and relaxing stay, one that's right inside the UNESCO Heritage Site of Matera.
They have multiple room configurations and rooms for even larger guests (up to a maximum of 7 in one room!) — great if you're traveling with a big family. Depending on what you want, they have it; there's even a cave room with a spa bath! Charming glazed iron and wooden bed frames are used in the rooms, complete with elegant décor which adds a rustic appeal. The rooms are the perfect definition of something perfectly imperfect!
All rooms have a private bathroom, and you can spoil yourself with the all-inclusive bath amenities they provide. This is also one of the few pet-friendly cave hotels in Matera, and they will even offer your pets some bowls for their food upon arrival!
»» Check out guest reviews, prices, and availability at Le Dodici Lune ««
B&B Al Vico
B&B Al Vico treats its guests to an authentic experience staying at a Matera cave hotel with complete features to keep your stay as comfortable as possible.
The views from its rooms are just so majestic that you would wish you could just retire here… even if you're only in your 20s! The moment the town springs to life at night is a sight you should not miss.
Although it is not on the main street, you don't have to walk past many steep alleyways and drag your luggage like it's part of your fitness routine! It's rather easy to get to, for a hotel in the Sassi area, anyway!
The rooms are perfectly fitted for solo or couple travelers, and it has a modern private bathroom that's spacious and fresh. The furniture is kept minimalist, and they use contemporary styles to complement the rugged cave structure.
You will be glad that there is a socket right beside the large comfortable bed, making it easy to charge devices. There're also some treats in your personal fridge, but every morning, they provide free continental breakfast. You have to try the yummy pistachio croissants they make — past guests rave about them!
»» Check out guest reviews, prices, and availability at B&B Al Vico ««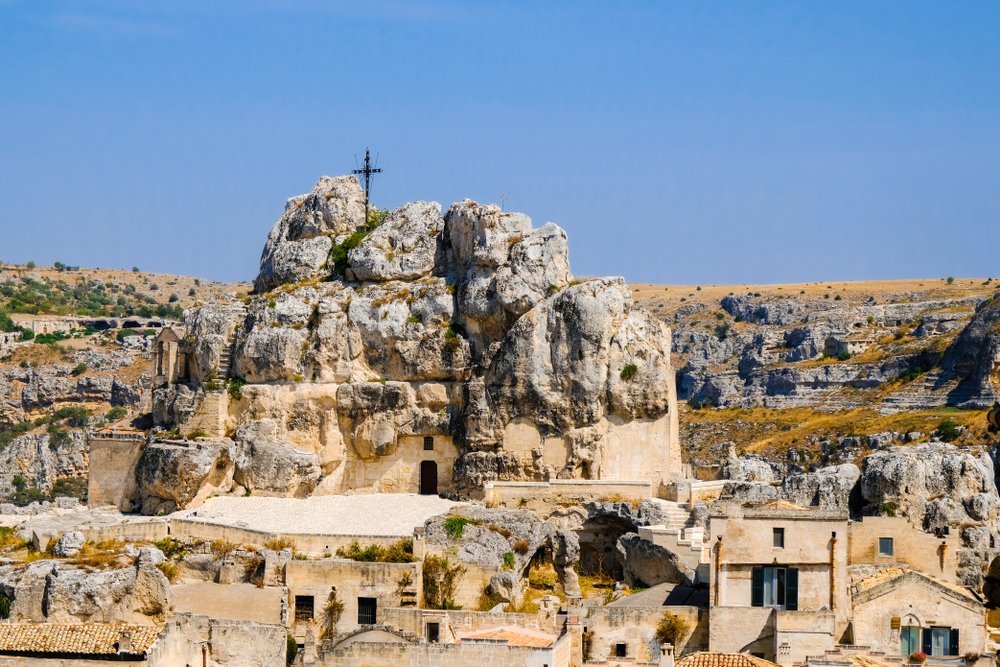 Basiliani Hotel
The lovely Basiliani Hotel is a complex of multiple old houses that were transformed into some spacious Matera accommodations (a total of 17 rooms). It can be a bit of a struggle to find the hotel, but you can phone them and they'll immediately answer – in fact, they will oftentimes pick you up. Room rates are in the upper mid-range, but you won't regret booking this gem.
They have doubles, triples, and quads for guests; all are also fully furnished and equipped with modern features. You will also love how artistic they made all the rooms – the furniture used are unique and one-of-a-kind.
Exclusivity and privacy are truly one of the best things you can expect in their rooms. The bigger rooms (quads) have a mezzanine and a total of 4 single beds. The sofa is extremely adorable, because it is lit and it looks like one of those modern geometric Japanese lamps – it is such an innovative way to light up a room.
You will love the breakfast buffet they serve every morning; it is something one should not miss while staying at this hotel. On-street parking is also available nearby, which is really convenient if you are on a road trip.
»» Check out guest reviews, prices, and availability at Basilani Hotel ««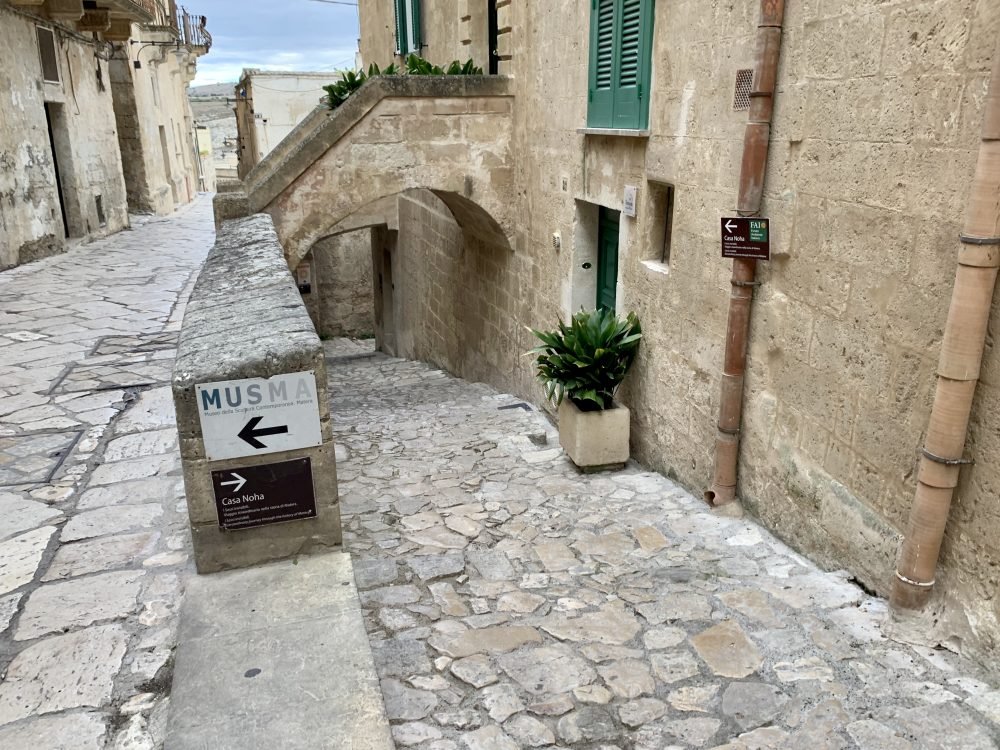 Luxury Cave Hotels in Matera ($200+ USD a Night in High Season)
Ai Terrazzini
Ai Terrazzini's location is superb and in the heart of the Sassi – it is also very near to a street lined with restaurants and cafes to try and explore (with all the authentic delicious food from Matera and Basilicata).
It is also very convenient because you don't have to stress yourself out taking long walks with many strenuous steps just to get to the hotel. You can also see lovely views, and the cathedral is also visible from where it is nestled.
They have a total of 7 rooms, all carved out from limestone, and furnished with classic-modern furnishings. The rugged walls are still visible, though they painted it white.
You will also see tiled floors and there are still some windows that allow natural lighting to get in. Antique décor was added to give you a bit of the old-world vibe. You can get a double, triple or a family room here and they are actually on the lower luxury price range, but still has features you'd be looking for when it comes to luxury rooms.
Private parking is possible with their partner nearby, and you can also get their valet parking service, which is a plus!
They also have some shared areas like the terrace and a small function room which can be used for celebratory dinners, team buildings, and other events.
»» Check out guest reviews, prices, and availability at Ai Terrazzini ««
Palazzotto Residence & Winery
The Pallazotto Residence is quite easy to locate due to its gorgeous balcony, once you are set in the stone city. It took time to restructure the building without ruining the original beauty that has stood the test of time.
The owner is the architect herself, and she made sure that guests will feel at home just like how she created it. While the winery is not on-site, they can take you there to taste the wine and check out the vineyard where it's all grown and made – the place is also fabulous and has a view of the volcano!
They have a total of 10 rooms and suites for guests to enjoy – the uniqueness and history it has cannot easily be replicated, making each room have its own individuality.
All of their rooms have a dehumidifier, A/C, minibar and a welcome package kit. You can also enjoy the inclusive breakfast where they serve you grandma-made cakes, almond pastries, cold cuts, fruits, and juices. The private bathrooms are spacious and have modern bath amenities. They also add some candles, which create a lovely, romantic atmosphere inside the rooms.
Pets are also welcome here, but you would need to coordinate with them and pay associated fees. The good news is that since they have a winery, you can still get to taste perfectly aged wines at the on-site lounge – they also have a happy hour!
»» Check out guest reviews, prices, and availability at Palazzotto Residence & Winery ««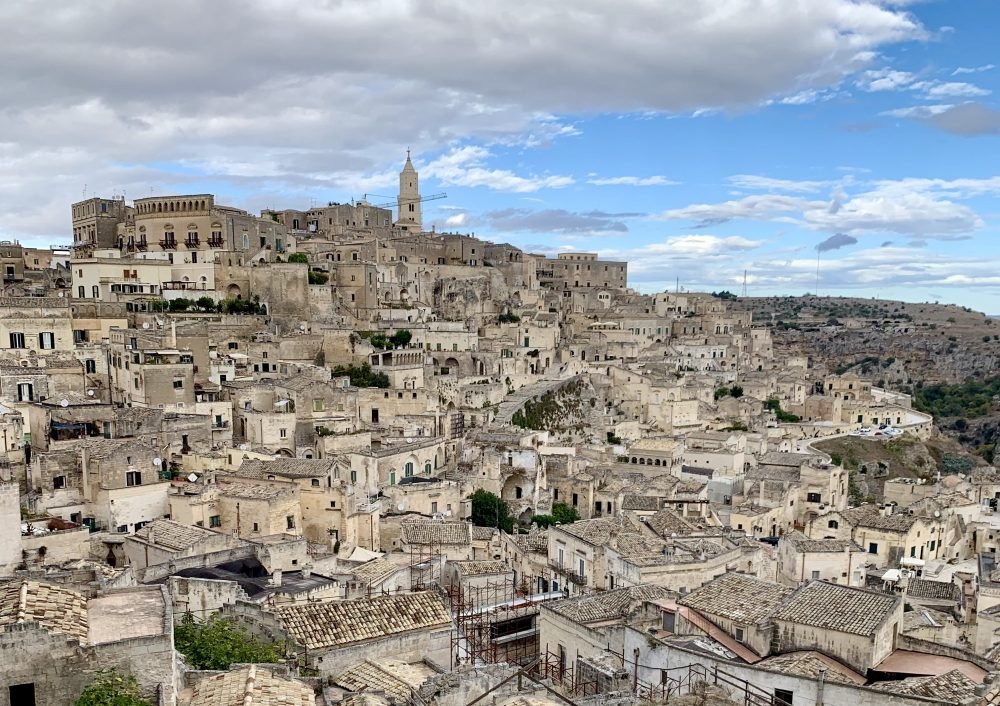 Locanda Di San Martino Hotel & Thermae Romanae
This luxury hotel, Locanda di San Martino, is popular due to its Thermae Romanae, a spa facility that was carved out of the limestone thousands of years ago! It has this otherworldly elegance that reminds me a bit of the epic luxury hotel Cavo Tagoo in Mykonos.
The hotel offers plenty of room types for all guests – some in a separate building like the suites and apartment types. All rooms are furnished with antique-looking rustic furniture with a couple of contemporary pieces to add a modern touch. It has the typical arched ceilings you'd find in a cave suite, and the ensuite bathrooms are spacious and livened up with colorful tiles.
There are several terraces in the property, and you will love the different angles of the Old Town it gives you. You can also grab your breakfast at their breakfast hall, which has rustic blue chairs and plenty of selection – someone who has a big appetite will enjoy the food. They also have valet service with a parking affiliate, great if you're doing a Southern Italy road trip, as cars are not allowed in the historic Sassi part of town!
»» Check out guest reviews, prices, and availability at Locanda Di San Martino Hotel & Thermae Romanae ««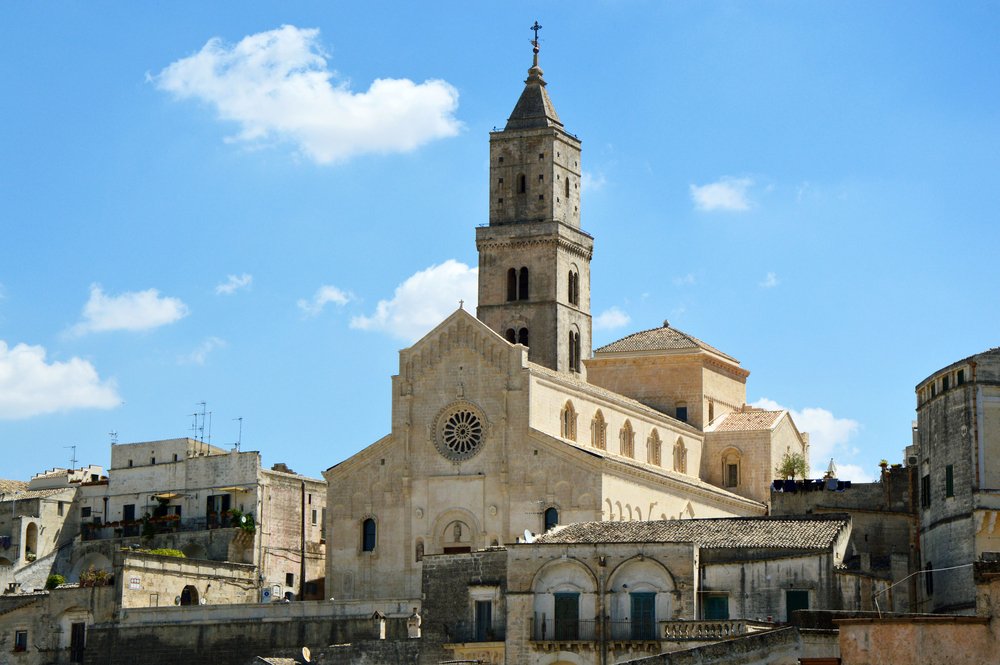 Quarry Resort
The chic cave hotel Quarry Resort gives you the best of modern world-class features and the beauty of ancient architecture all in one place.
It has a section that has been built around 1500 AD, which was historically popular due to noblemen and people of higher status who lived here. It also has a classy terrace where you can have a drink and ask them for their recommendations of wine and cocktails.
Events (such as wedding receptions) can also be held here and it has wicker chairs and umbrellas to give you the best al fresco dining experience.
Sleek high-end wooden furniture complement the rugged walls of the carved cave rooms. Comfortable beds with soft yet sturdy mattresses have a romantic vibe due to its shape (which is sometimes round) with bold red quilted headboards.
Some artsy accents were also added to add interest in some areas of the room – which is really unique! All of their private bathrooms have complete amenities to give you the best shower experience with added free toiletries, towels and so on. If you want a private pool or tub, you have to choose their higher tier suites (e.g. Suite Queen and Suite King Pool).
They also have extra features to help guests with special requirements to comfortably stay at their hotel. It almost has everything you would need for and more plus the 24/7 front desk can help you with any tourism, business, or laundry needs.
»» Check out guest reviews, prices, and availability at Quarry Resort ««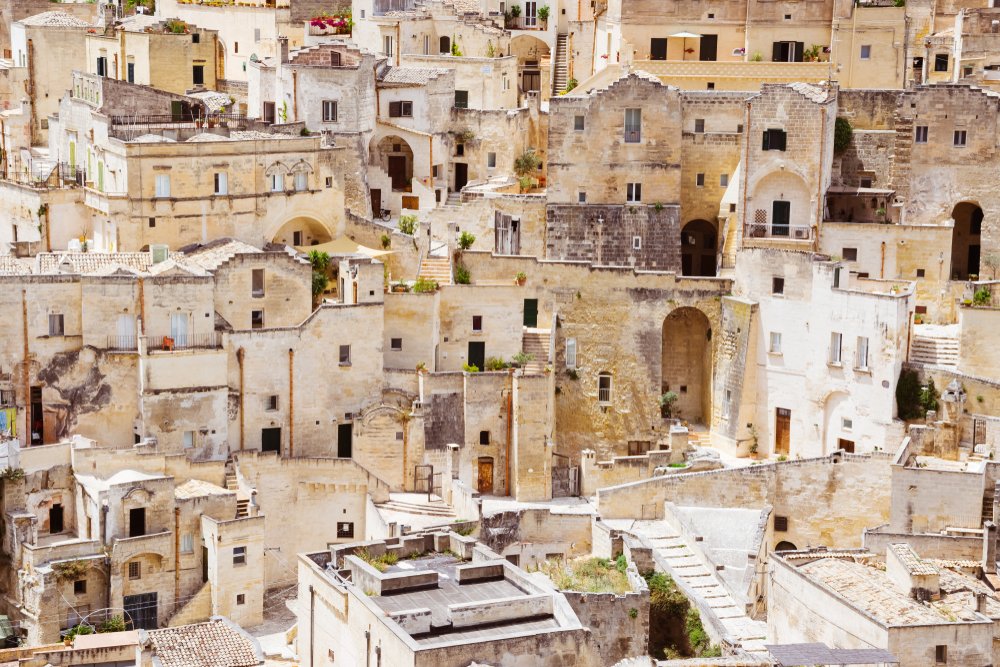 Antico Convicino Rooms, Suites & Spa
Antico Convicino has exquisite rooms with designer furniture and well curated materials to create luxury suites and rooms. It also has a wonderful grotto where you will have a fine selection of local breads and cakes as well as other savory food for the optional breakfast. Pets are also allowed on request, so do not forget to send it in while booking.
The rooms have traditional cave architecture and all of the rooms have separate areas dedicated for dining, sleeping and bathing (not an open plan layout). The tiles have earth tone colors to match the rock walls and modern furniture is added. There's one suite with a terrace if you feel the need to spoil yourself with the views. You can even have your very own private tub if you choose their King Suite – this is the highest rate you can get for a room in the hotel, but it's totally worth it.
Just like most hotels in the area, it might take you some time to locate the hotel, but who cares when getting lost in such a beautiful place can allow you to explore more of the neighboring cafes, restaurants and shops. After a tiring day, you deserve a special treatment at their spa or sauna.
»» Check out guest reviews, prices, and availability at Antico Convicino Rooms, Suites & Spa ««
Sant'Angelo Luxury Resort
Don't be fooled by plenty of hotels with promising photos on their website or booking pages, Sant'Angelo Luxury Resort gives you what you see and might even be better than the pictures.
This remarkable luxury cave resort in Matera features spacious rooms and possibly one of the best positions inside the old town – it's okay to expect panoramic and charming views in different areas of the property as well as in your rooms because that's exactly what you'll get here!
They only have double rooms, apartments, and suites; which can be great options for couples looking for a luxury cave accommodation in Matera. The rooms have been decorated with fine furnishings, all with good taste. There are even fancy tiles on the floor and cornice trims on the ceiling.
Breakfast is optional, so it is up to you if you wish to include it when you book – it's suggested so you save time, but exploring outside won't be a problem, as there are available places to dine nearby as well, aside from the on-site restaurant.
Blaise Mautin perfumed toiletries are given in the bathroom. The suite type rooms mostly have a private tub and you may use the shower gels provided to make a bubbly relaxing bath. Parking is also available nearby and there is an ATM machine that's near and accessible.
»» Check out guest reviews, prices, and availability at Sant'Angelo Luxury Resort ««
Allison Green is a former educator turned travel blogger. She holds a Masters in Teaching and a B.A. in English and Creative Writing. Her blog posts merge her educational background and her experience traveling to 70+ countries to encourage responsible, enriching travel. She has been a speaker at the World Travel Writers Conference and her writing, photography, and podcasting work has appeared in National Geographic, CNN Arabic, CBC Canada, and Forbes, amongst others. Now a full-time traveler, she has lived in Prague, Sofia, New York City, and the San Francisco Bay Area.