Edinburgh is stunning. It is no surprise that millions of visitors choose this beautiful, magical city when looking for a European city break. Yet, as hard as it sounds to be to pull yourself away from endless things to do within this marvelous city, the surrounding area has so much to offer.
An hour's drive from Edinburgh can make you feel as if you have entered a new world. From exciting coastlines to majestic hills, endless historical attractions, whiskey distilleries, there is an infinite list of places to discover outside of Edinburgh.
This offbeat Scotland guide will look at 11 of our favorite off the beaten track places to visit near Edinburgh.
The top 11 off the beaten track places to visit near Edinburgh
While there are plenty of cracking places that you can visit by car from Edinburgh, we have highlighted our favorite non-touristic regions that people don't usually add to their Scotland itinerary. This is a great opportunity for you to discover the true, rugged beauty of Scotland – without the tourist crowds.
Take a walk on one of North Berwick's beaches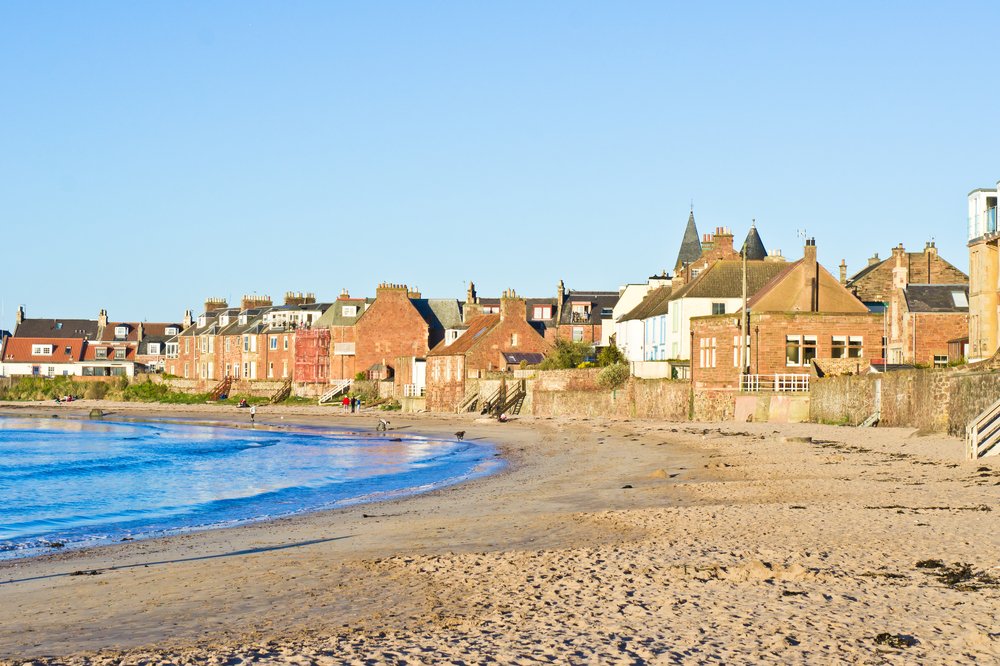 Note: This post contains affiliate links, which means I may receive a small commission if you purchase something through one of these links. Thank you for supporting the free content on this site! For more information on affiliate links and cookies, see my disclosure page for more details.
This region offers the best of both worlds for its visitors. You can enjoy a relaxing afternoon in Yellowcraig Beach which is one of the largest beaches in the North Berwich.
If you are looking for something more exciting, why don't you check out Misely Bay Beach? Here, you can explore the beautiful rocky coast that stretches over the northern part of North Berwick. You can simply enjoy the breeze while appreciating the scenic coastal views.
What about teatime on a sea cliff?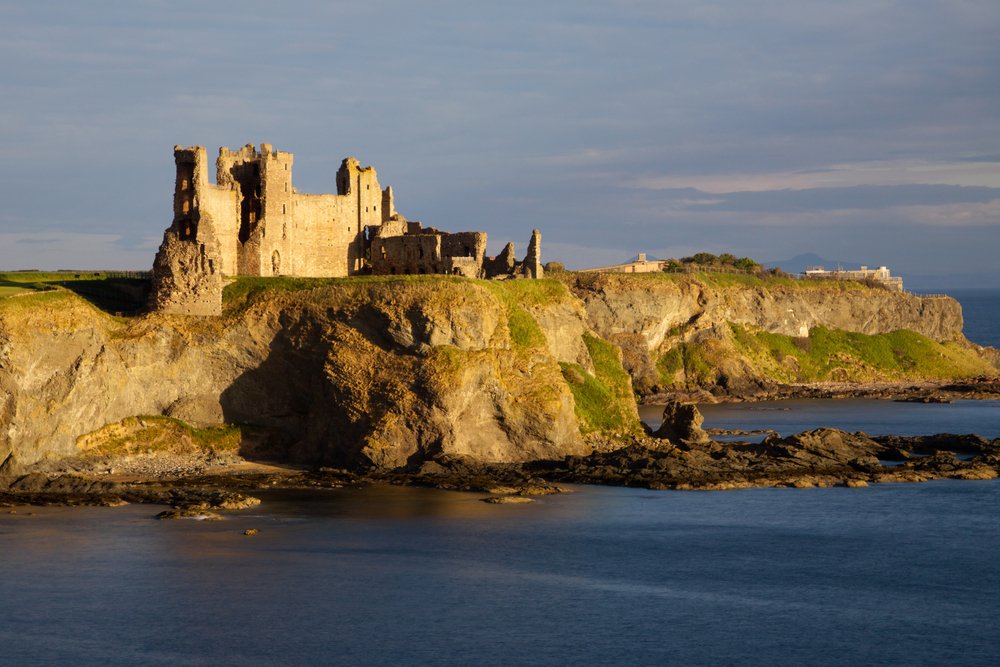 You definitely don't want to miss this one! Enjoy a hot cup of tea on a sea cliff while in North Berwich at Drift Cafe. This cliff-side café is situated near Tantallon Castle – another great attraction in North Berwick.
The coffee shop is owned by a local family that transformed their land into an amazing, must-visit cliff-side cafe. Enjoy the scenic view while sipping a hot 'bevy,' as the Scots would say.
Explore Preston Mill And Phantassie Doocot in East Linton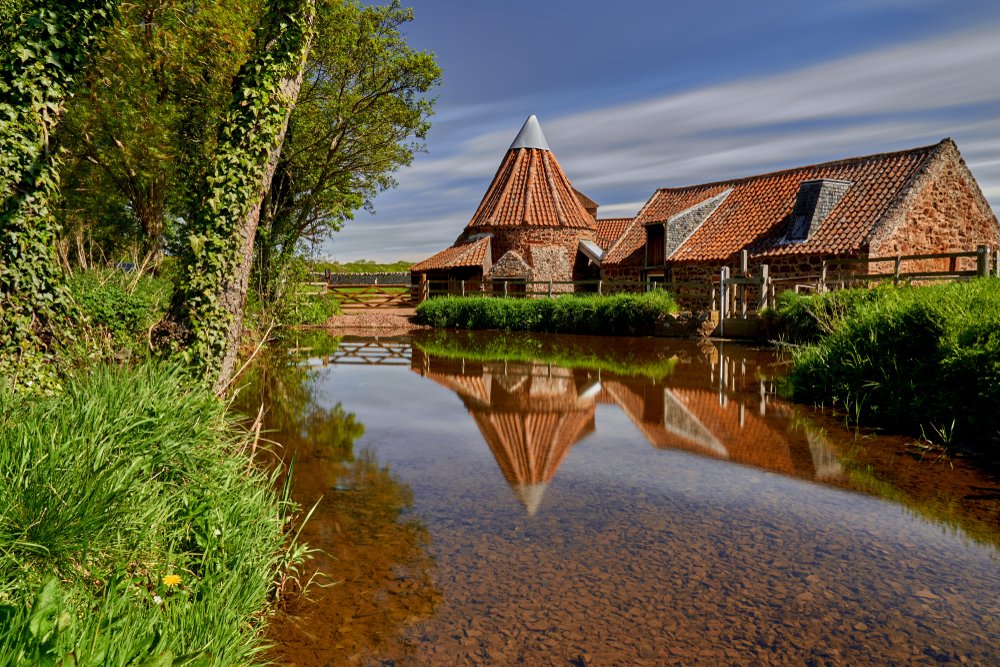 Okay, so we might have gone all-in on North Berwick above. Let's head south towards East Linton and check out Preston Mill and Phantassie Doocot.
At less than one hour drive from Edinburgh by car, you don't want to miss this picturesque 18th-century watermill.
Situated near the edges of the River Tyne, this architectural peculiarity was featured in an episode of the Outlander TV series – you will definitely recognize it if you are a fan of the show!
Big Outlander fan? You may want to consider doing an Outlander day trip to all the filming locations. Check itinerary and tour details here!
Here, besides admiring the quirky architecture, you can learn about the everyday life of a miller. I am still amazed at the amount of work these guys and gals put in during their daily routine. And I thought I thought it was tough being a blogger…
Check out the Bridge To Nowhere near Dunbar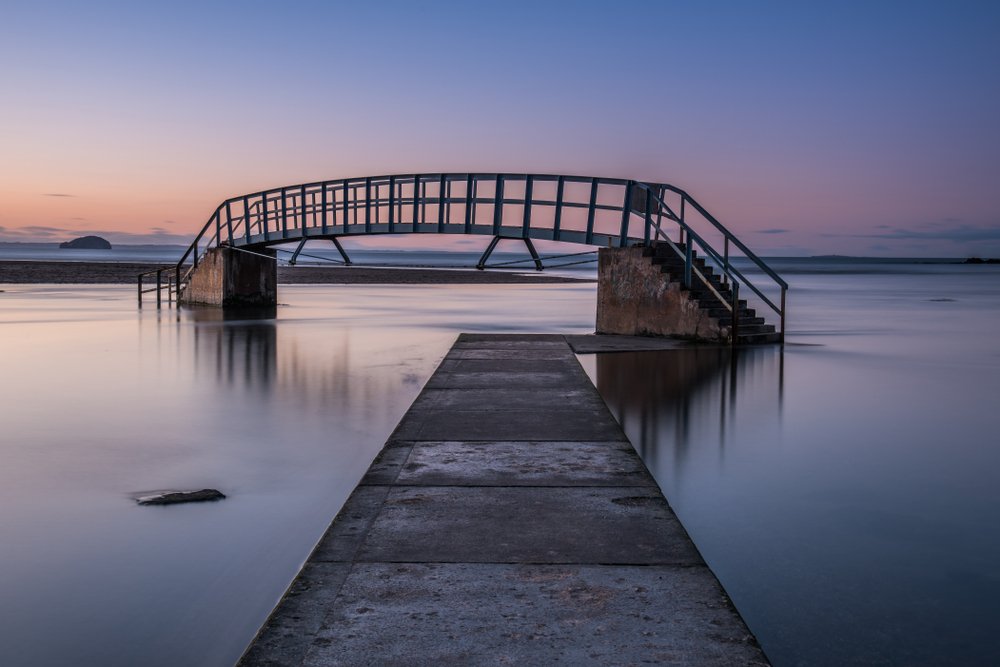 This is by far one of my most favorite places to visit near Edinburgh.
Located in the Belhaven Bay, the bridge cannot be crossed or reached. The bridge was mainly used by those who wanted to cross over the Biel Water, a river which flows through the village of Biel, to reach Dunbar.
The best way to experience this magnificent view is when the tide comes high swallowing the land around the bridge. This is when the "Bridge to Nowhere" comes to light. The bridge will look as if it is a standalone structure in the middle of the sea. Trust me, it's extremely Insta-friendly!
Admire the ruins and the complex stonework of the 15th-century Rosslyn Chapel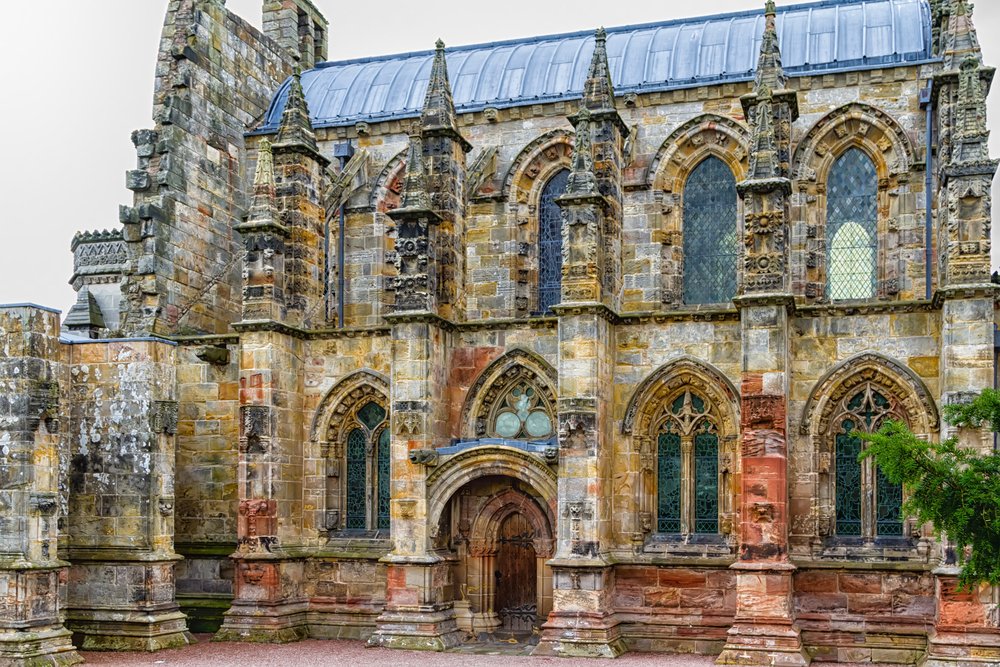 Conspiracy nuts, get your tin foil hats on!
Also known as the Collegiate Chapel of St Matthew, Rosslyn Chapel was founded in 1119 and been linked strongly to the Holy Grail, the 'true' history of Christianity, the remains of Jesus Christ and (less strongly) to portals to other dimensions and, of course, aliens.
Whether or not you believe in conspiracy theories or, like me, simply enjoy entertaining fantasy, even the most skeptical people can't help but feel a certain sense of mystery in the complex, symbolic stonemasonry of the interior.
This is definitely a great spot for great history lovers, too. This chapel was built as a Roman Catholic church. Soon after, it became a Scottish church during the Scottish Reformation.
The church is still active and accessible to visitors who want to experience old, antique Roman architecture. It is now considered as one of Scotland's architectural treasures. Trust me – you will be amazed by the complex and magnificent carving and stonework.
I actually walked into a few people while I was staring at the ceiling details – true story.
This site has become more popular recently since the release of the Da Vinci Code book and film, but it is still a far enough away from the nearest major tourist destination (Edinburgh) to be fairly quiet and retain its 'off the beaten path' status.
Tip: No car? It's easy enough to get here on a tour from Edinburgh that includes a stop at the Glenkinchie whisky distillery as well. Check tour itinerary and details here.
Don't forget about the urban art scene of Glasgow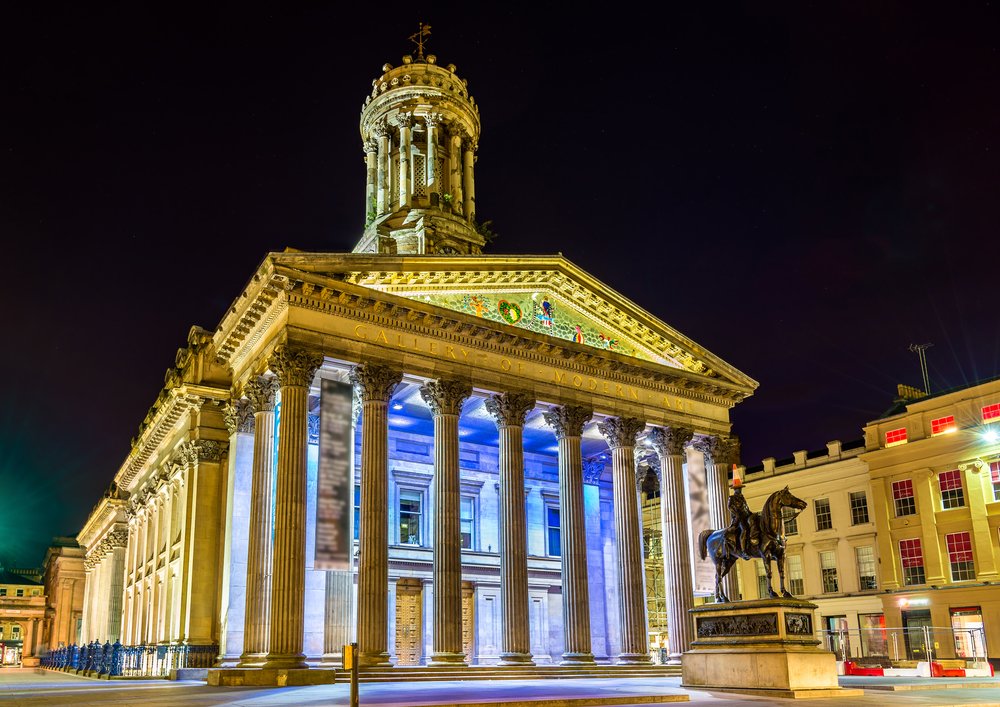 Where are the street art lovers?! Located alongside the River Clyde, Glasgow (my home city) offers its visitors a modern, vibrant atmosphere, completely different to Edinburgh.
The city hosts an incredible number of free-entry museums and other attractions. However, my favorite thing to do in Glasgow is hunting down street art.
If you are out and about this center, you will come across a good amount of amazing street art.
Check out the artist Smug's work, who is one of the best-known street artists in Glasglow. His mural portrays Glasgow's Patron Saint – Saint Mungo, who was buried in the Glasgow Cathedral.
Some of the well-known areas where you can find excellent street art include the Yardworks, Maryhill Road, and the city center Mural Trail.
You can easily access Glasgow from Edinburgh by car or train. By car, it takes around a 1-hour drive to get here. However, the time varies depending on the traffic. Avoid traveling here at rush hour: it is pandemonium!
It wouldn't be a Scotland guide without a decent whisky distillery mention, now would it?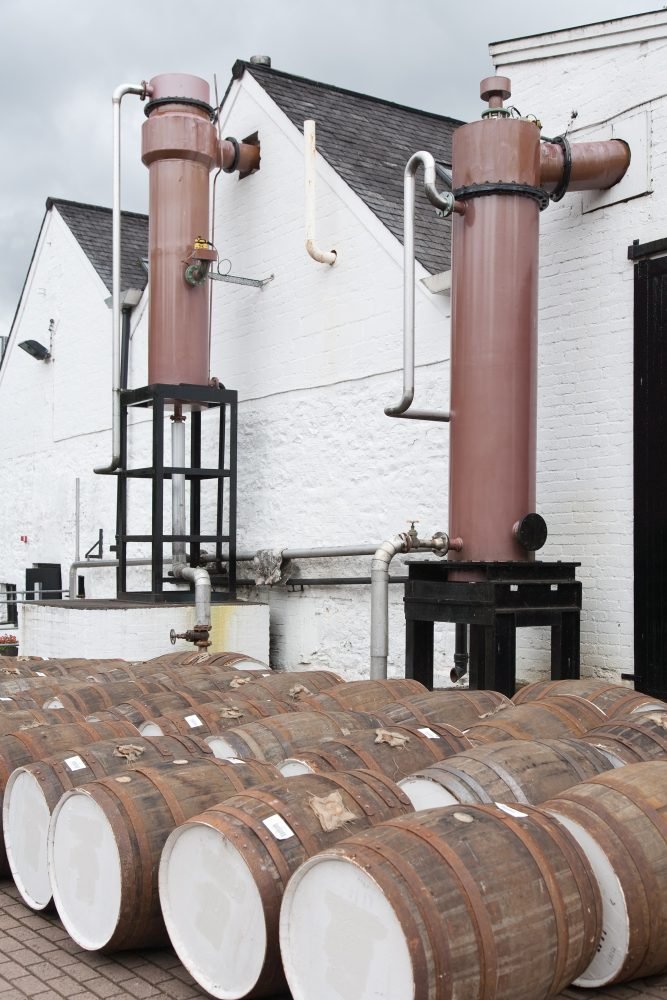 When in France, drink wine. When in Germany, drink beer. When in Scotland, it has to be whiskey (spelled whisky in Scotland).
And no, I'm not talking about blended bourbon. I'm talking single malt, Highland whisky. Even if you hate whisky, give Highland single malt a try. It might just change your mind on the spirit.
I know we promised to cover places within a 1-hour drive of Edinburgh, but you have to travel a bit further north to experience a good whisky. It'll be worth it!
My pick would be the Glenturret Distillery, 1 hour and 20 minutes outside of Edinburgh. Creiff itself is stunning, and it's worth a visit in its own right. The Glenturret Single Malt is a fruity whiskey with a nutty finish and a personal favorite. Be sure to pick up some extra for friends as they make excellent gifts from Scotland!
The distillery itself claims to be the oldest in Scotland, but as with all PR claims, take this with a pinch of salt!
A tiny bit closer to Edinburgh is the Glengoyne Distillery situated in Dumgoyne, to the north of Glasgow.
Glengoyne Distillery is close to 1 hour from Edinburgh. Since its establishment, it has been offering tours and tastings of unpeated unique ale whisky, applying gradual and conventional techniques.
I personally love it here, as the distillery's car park is also the car park for a brilliant hike into the Campsie Fells!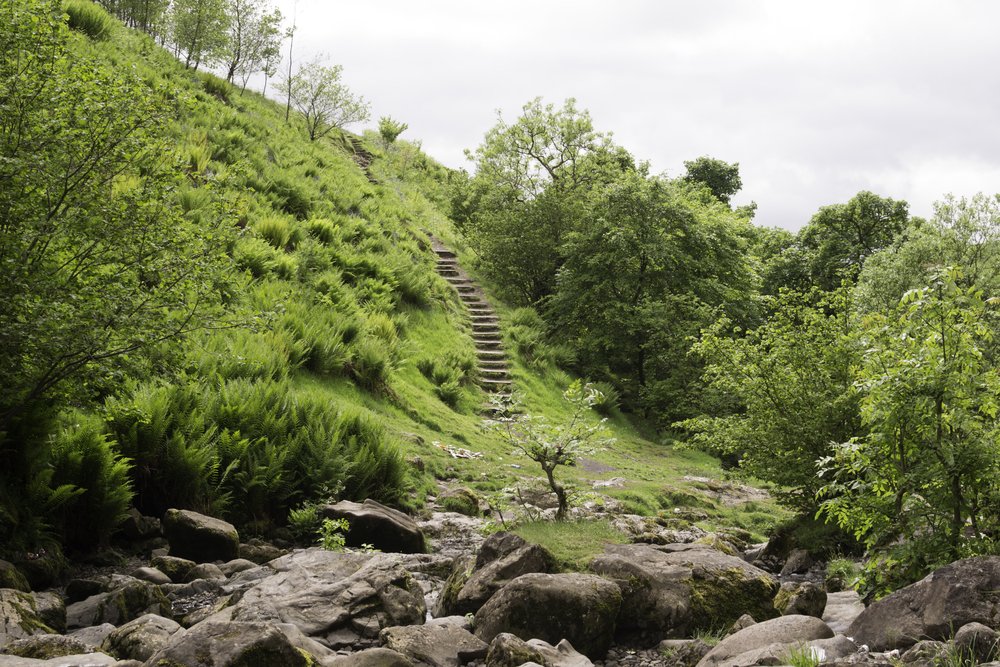 One wintery day, after a rather wet hike, a few friends and I stopped into the distillery. This was more to get out of the rain than anything else.
The distillery was dead at 4:30 PM on a Monday afternoon (it gets dark really early here in the winter) and the tour guide (out of boredom I guess) proceeded to allow our group of soaking hikers to test several of their finest malts – for free! Such is Scottish hospitality.
Another favorite spot is the Deanston Distillery which is a famous whisky distillery in Doune located beside the River Teith. It offers malt whisky as well as tasting tours. You should definitely check them out.
Keep in mind with distilleries that it is advised to book in advance.
I really recommend paying a visit during the cold season, as most of the tours take place indoors and with whiskey brewing, you will definitely heat up. This will take the whole experience to a new level.
Another note: If you are planning to drive, you have to keep in mind that the Scottish driving laws are strict, so don't get yourself in trouble! Even having one whisky sample can put you over the limit. Most Scottish people avoid even a sip of wine if they are driving.
For this reason, if you don't have a designated driver, I recommend a guided tour leaving from Edinburgh, who will take care of transportation for you so you can imbibe to your heart's content. Here are a few you can choose from:
Birdwatch at the Scottish Seabird Centre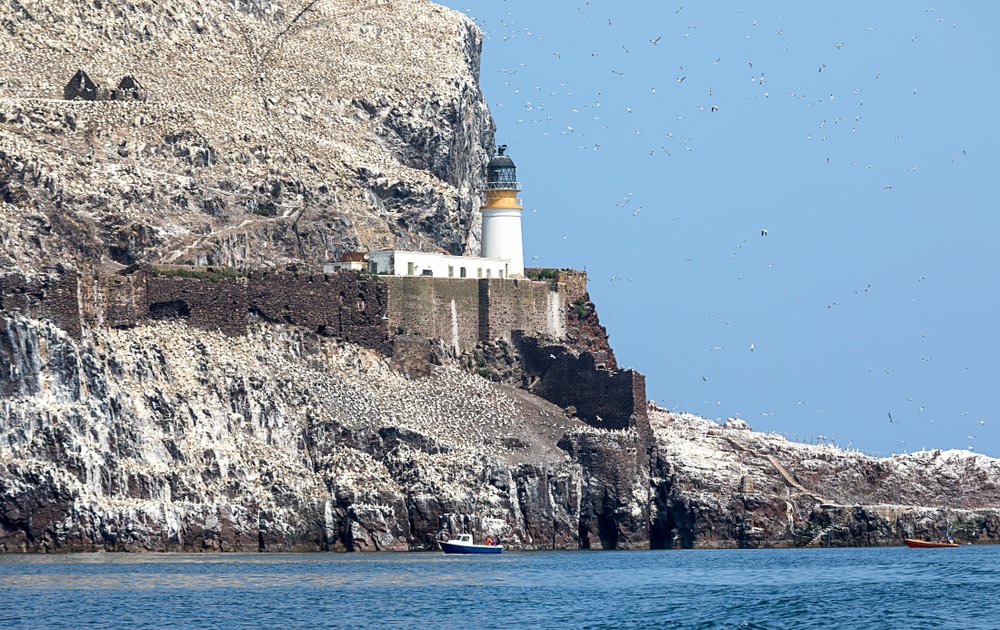 Also located in the North Berwick, this is another great off the beaten path destination near Edinburgh.
The Scottish Seabird Centre is a charity that organizes bird watching boat trips. Sounds pretty tame right? Well…
Obviously, the best thing about this place is you get to see tons of different types of airborne wildlife. Granted, this might be a nightmare for some, but unless you are terrified of birds, I would recommend including this in your itinerary.
I myself was surprised at the sheer variety of seabirds we have here in Scotland. As we are close to both mainland Europe and the Nordics, a whole host of seabirds live in and migrate through Scotland.
Scotland is known to have the world's biggest colony of Gannets' nests, reaching up to 150,000 nests every single year. At the Scottish Seabird Centre, you will have the chance to learn more about some of the local species and witness a huge number of birds.
You have to visit between April and December. That's the only period where the center offers boat trips. The boats go around the island's tiny rocks where you can see the birds' nests. This is especially cool during the early spring period into the late summertime.
Some boat tours even go to Bass Rock. This is a worthy experience for sea bird lovers, don't miss it out.
This place is also easily accessible by car, and it is only a 50 min to 1 hour drive away from Edinburgh.
What about Falkirk?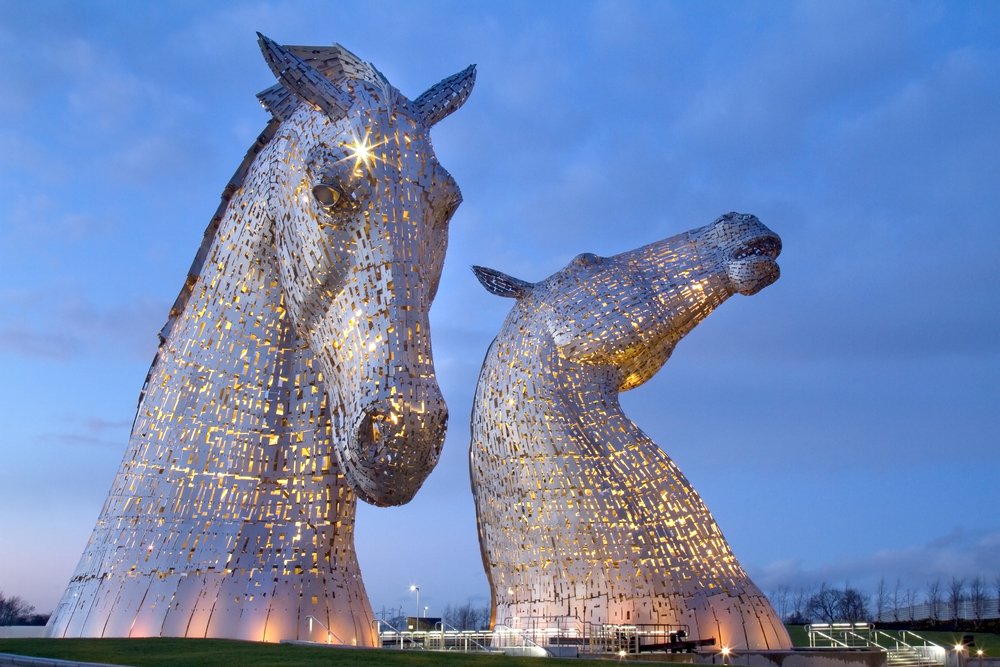 If you are interested in modern architecture and engineering, then Falkirk is worth a visit. One hour away from the center capital, Falkirk is located in the Forth Valley to the northeast of Edinburgh. Featuring amazing structures, this place usually goes forgotten despite its historical importance.
The Kelpies are two towering sculptures of the mythic beasts, depicted in horse form.
I know what you're thinking – "30-meter high horse heads! Woo." But trust me: visit the Kelpies at night. They light up, and it's pretty cool.
Another structural and architectural marvel is the Falkirk Wheel. The best way to describe the Falkirk Wheel is as a lift, but for boats.
This architectural masterpiece reconnected the Forth and Clyde Canal for the first time since the 1930s and lifts traditional canal boats from one canal to another.
Tip: Traveling without a car? This tour goes to Loch Lomond, the Kelpies, and Stirling Castle in a day trip, and won an award for being one of the best tours of 2019. Check itinerary and tour details here.
Explore Linlithgow, the birthplace of queens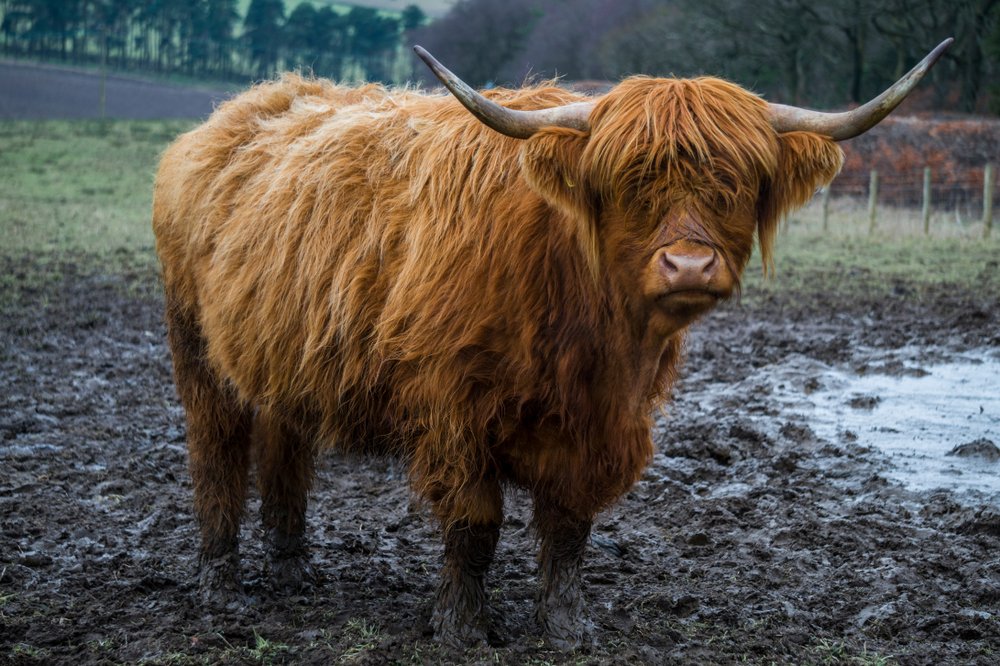 The small town of Linlithgow sits 40 minutes to the northwest of Edinburgh. The main, albeit very much 'on' the beaten track, place to visit here is Linlithgow Palace. It was here that the famous Mary Queen of Scots was born.
However, exploring the town itself is a delight. You can get lost exploring the quaint canals, watching the colorful canal boats drift by.
To get off the beaten path, Beecraigs Country Park sits just outside of Linlithgow and is well worth a visit. This four-star attraction is home to a large herd of native red deer and highland cows, said "heeland coos" – they're the big fuzzy ginger cows native to Scotland.
Tip: No car? No problem. This Outlander tour takes you to Linlithgow and other places from the popular series.
Connect with nature in the Glen Coe highlands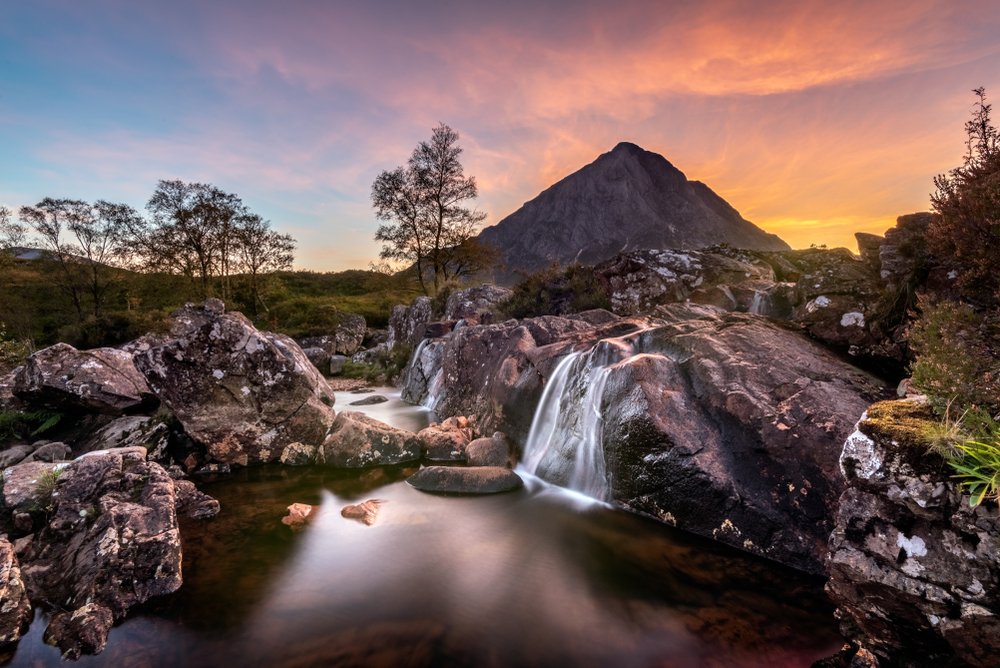 We have saved the best for last.
Glen Coe is a must-see place. Off the beaten path and in the heart of the Western Highland, this glen formed from a prehistoric volcano is one of nature's wonders.
While the history of this region is not a pleasant one, the Glen Coe (also known as Glencoe) is famous for being spectacular. Once you reach this area, you will be in awe of the beauty of the place.
Many photography enthusiasts come around this area to snap remarkable and unforgettable pictures of the mountains here. Indeed the peak of Buachaille Etive Mòr, Gaelic for The Great Herdsman of Etive (Glen Etive lies behind this mountain), is the most-photographed mountain in Scotland.
Glen Coe has featured in many different movies, including Harry Potter and Braveheart.
If you could visit one place on this list, I would recommend visiting Glen Coe. It doesn't get more off the beaten path in Scotland than this!
About Graham Grieve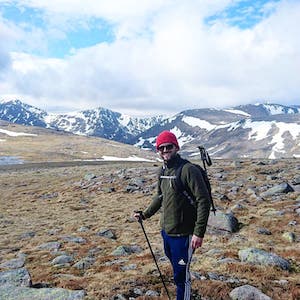 Over the past 25+ years, Graham has traveled the length and breadth of the country on camping overnighters, hillwalking adventures, road trips, and random getaways. During this time he has accumulated an intimate knowledge of Scotland, which he shares on his site, My Voyage Scotland.
Allison Green is a former educator turned travel blogger. She holds a Masters in Teaching and a B.A. in English and Creative Writing. Her blog posts merge her educational background and her experience traveling to 60+ countries to encourage thoughtful travel experiences that both educate and entertain. She has been a speaker at the World Travel Writers Conference and her writing, photography, and podcasting work has appeared in National Geographic, CNN Arabic, CBC Canada, and Forbes, amongst others. Now based in the San Francisco Bay Area where she grew up, she has also lived in Prague, Sofia, and New York City.