From the stunning vineyards of Bordeaux to the sun-drenched hills of Provence, French wine is are varied and complex as its landscape.
Each region, with its unique terroir and traditions, adds something unique to the complex blend of flavors and aromas we associate with French wine.
But why French wine? What's so special about that?
It could be the centuries-long winemaking heritage and adherence to tradition, or perhaps its the diverse climate and terroir across France's many wine regions.
This allows for a wide array of grape varieties to flourish, each with its distinct character.
Take, for example, the elegant and sophisticated Champagne, the sparkling gem of French wine.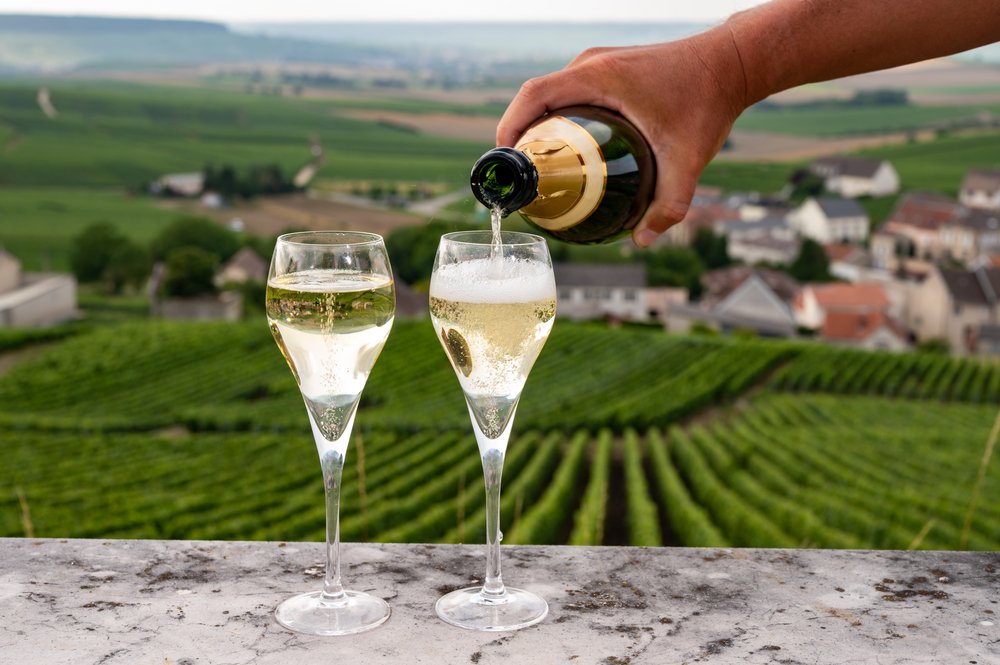 Note: This post contains affiliate links, which means I may receive a small commission if you purchase something through one of these links. Thank you for supporting the free content on this site! For more information on affiliate links and cookies, see my disclosure page for more details.
This effervescent delight, hailing from the region of the same name, quite literally sets the standard for celebrations worldwide with its delicate bubbles and refined flavors.
Venture to Burgundy, and you'll discover the ethereal Pinot Noir and some of the most complex, enchanting Chardonnays on earth, each capturing the very essence of their terroir in every sip: a testament to the perfect harmony between grape and land.
And let us not forget the lush, sun-kissed vineyards of the Rhône Valley, where powerful reds like Syrah and Grenache reign supreme.
The enticing wines from this region are a celebration of the warmth and richness that only the Mediterranean climate can provide.
As we journey through the diverse and alluring landscape of French wine, let us raise a glass to the winemakers over the centuries who have shaped this country's vinous legacy.
Santé, dear friends!
15 Best French Wines (In No Particular Order)
Sancerre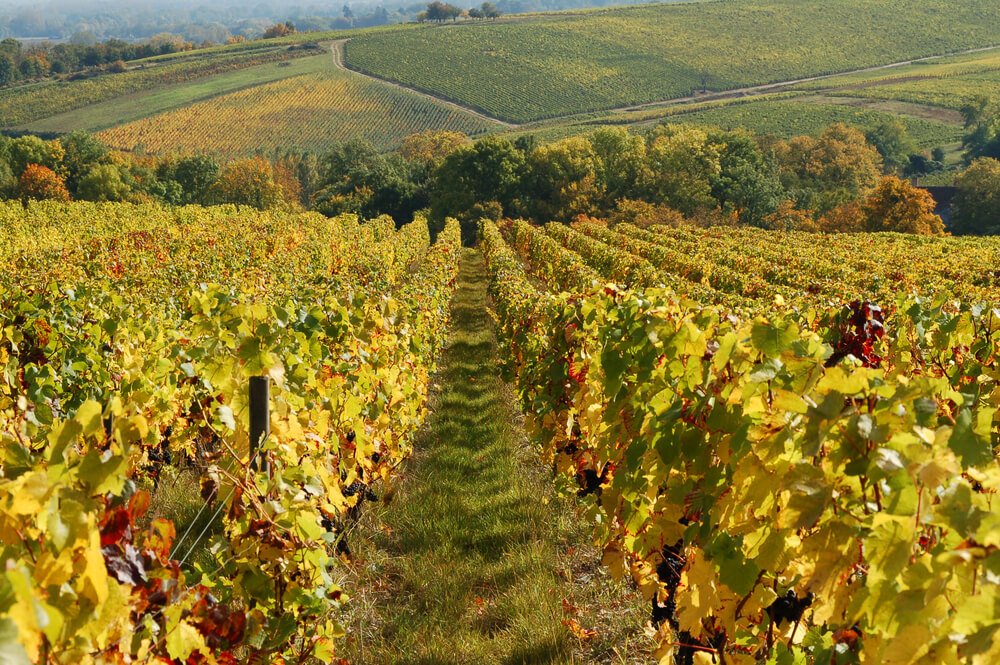 Situated in the picturesque Loire Valley, Sancerre is one of the best white wines you'll find in France — and it's generally rather inexpensive to boot.
The region's limestone-rich soil gives its wines minerality, making its Sauvignon Blanc a true standout.
With lively citrus and herbal notes, a glass of Sancerre is a perfect accompaniment to lunch, picnics, or to drink on its own on a hot day!
While white wine is its stand out, there are also delightful Pinot Noirs from the same area, offering a delicate balance of fruity and earthy flavors.
Muscadet
Looking for the perfect white wine to pair with seafood — especially oysters? Look no further than Muscadet, a delicious white wine from the western Loire.
Made primarily from a little-used varietal, the Melon de Bourgogne white grape, the resulting wine is crisp and light, with zippy acidity and toned-down flavors that aren't too bold or tropical-fruity, unlike other white wines from the Loire such as Chenin Blanc.
That could result in a somewhat dull wine, but the cool thing about Muscadet is the "sur lie" process, which is unique to Muscadet's vinification process.
The wine goes through an initial fermentation process much like any other, but afterwards, it remains on the lees (which are the dead yeast cells) for several months — perhaps even a year.
The extended contact with the lees adds richness to the wine, giving it a creamy texture that is perfectly balanced by the crispness and minerality of the original wine's vinification.
As a result, you'll have a wine that has some apple, pear, and citrus notes, with a little bit of minerality and just a hint of full-bodied creaminess from the lees contact — while still being dry and delightfully acidic. Yum!
Champagne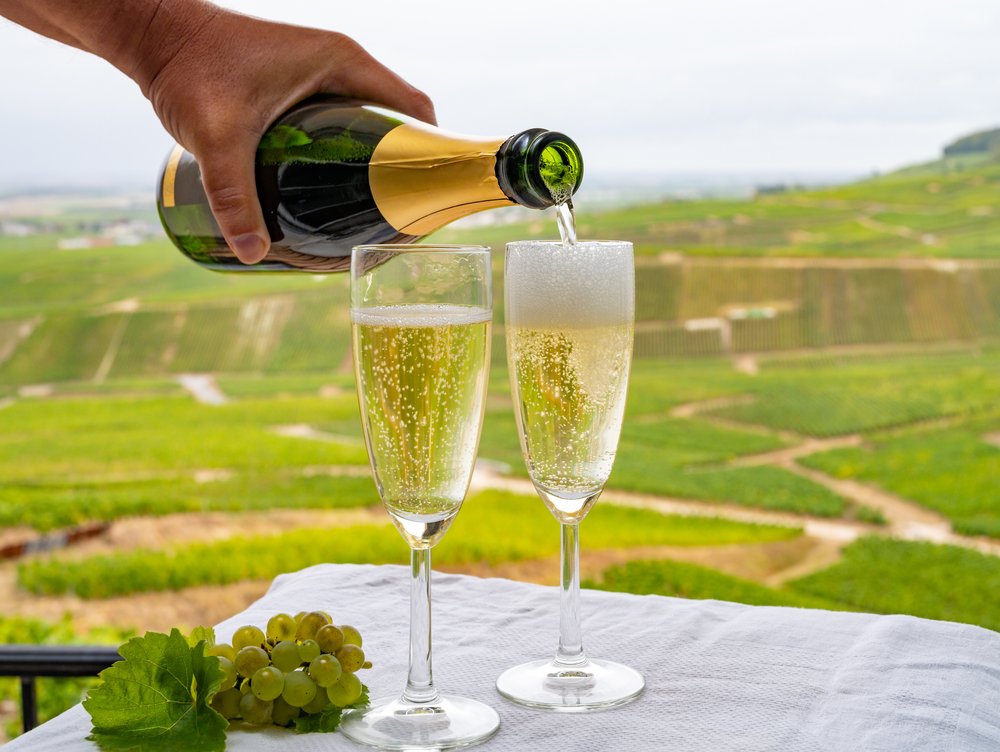 There's no better way indulge in life's finer pleasures than with a glass of Champagne!
Just a short drive from Paris (making Champagne tours from Paris a breeze), the rolling vineyards of Champagne welcome you with their sparkling charm. 
Discover the art of méthode champenoise by going on a Champagne tour from Paris, where you can try tastings at renowned houses such as Moët & Chandon.
From the elegant Chardonnay-based blanc de blancs to the blanc de noirs to the exclusive vintage wines made only from grapes from a spectacular year, Champagne wines truly sparkle!
Some people may be surprised to know that Champagne is not necessarily exclusively made from white wine grapes.
While Chardonnay is often a component in Champagne (except for blanc de noirs), the other two grapes that make up Champagne are actually red wine grapes: Pinot Noir and Pinot Meunier.
Chardonnay comes from Brut Nature (very dry) to Doux (sweet), but mostly you'll find Brut — dry, but not as dry as Brut Nature.
In addition to its bubbly effervesence, you'll find notes of apple, pear, lemon, almond, or even yeasty brioche in your Champagne!
As it ages, it can develop very complex flavors — I once had a Champagne as old as I was that developed some whiskey-like notes!
Chablis
I used to part of the ABC (anything but Chardonnay) club.
It's not my fault: I grew up traumatized by California Chardonnnays (but mostly, the way my mother drank it by the gobletful at room temperature).
I thought Chardonnay could only be big-nosed, oaky butter bombs that tasted like a bottle of vanilla perfume exploded in my mouth.
But then I tried Chablis, and I decided to treat Chardonnay with the respect it deserves (aka, keep it away from oak).
Made in the northernmost fringe of Burgundy, Chablis has minerality that you wouldn't normally expect to find in a Chardonnay.
The fact that it's typically aged in stainless steel (or very old oak, as opposed to new oak like American chardonnays) also contributes to its pure, mineral-driven flavor.
Because Chablis typically doesn't interact with oak, you get the purest expression of Chardonnay: bright apple and citrus notes, with some floral or herbal touches.
Chablis can also be aged for several years, especially at the higher appellation levels (Premier Cru and Grand Cru), where they'll develop more complex flavors.
Vouvray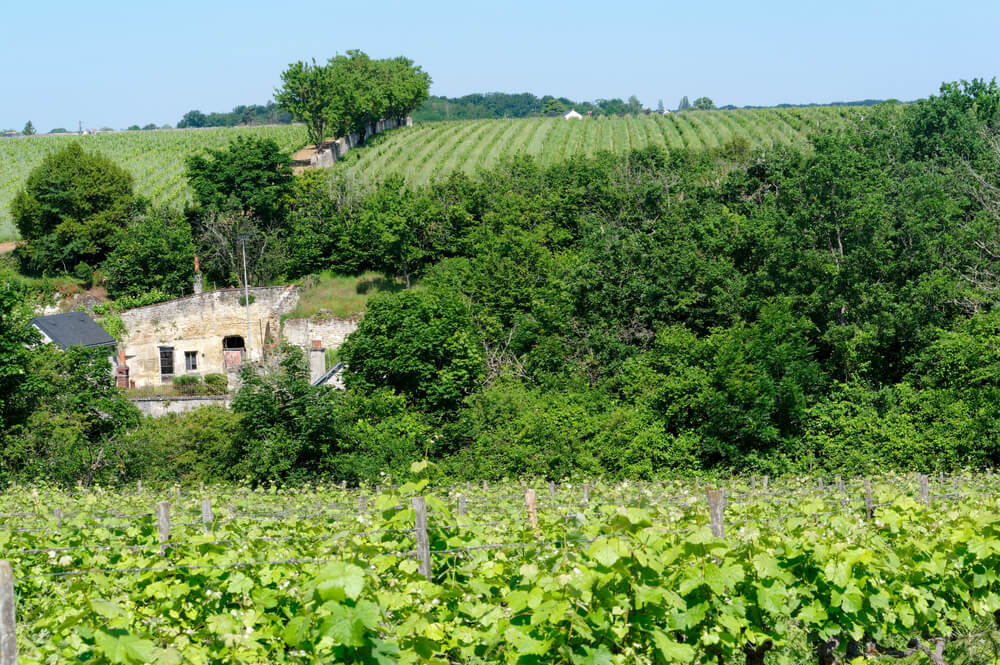 Produced from Chenin Blanc grapes in the Loire Valley, Vouvray wines are one of my favorites, partly because they're so versatile and wide-ranging.
You can have anything from a bone-dry, acidic zippy summer wine to a sparkling Vouvray to a sweet dessert wine — all from the same grape, which is pretty cool.
Chenin Blanc is a very mercurial grape, changing flavor profile based on where it's grown (don't even try to compare a Chenin from France to a Chenin from South Africa to a Chenin from Australia!)
Generally, Chenin Blanc from the Loire (and particularly from Vouvray) will have a pronounced apple taste and nose with some other fruity notes, as well as a fuller body compared to other white wine varietals.
Provençal Rosé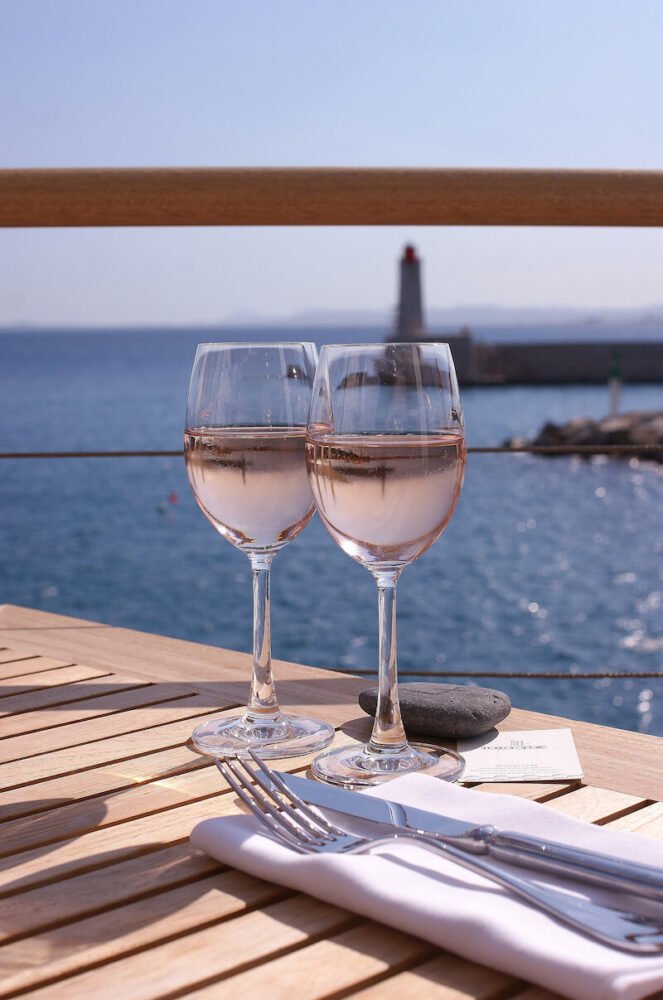 Not so much a location, appellation, or style, Provence's rosé is grown all over the region with little oversight over what exactly is be considered a proper Provençal rosé…. and that's a good thing, in my book.
Basically, if it's within the confines of Provence, and it's a rosé: that's all it needs.
There's no fuss about what grapes are used — you might find anything from Grenache to Mourvèdre to Syrah to Cinsault in varying quantities, each of which will give it a slightly different color, nose, and flavor.
Generally, the desire is to make something delicate, refreshing, and drinkable immediately.
The perfect rosé from Provence is a light pink color (done in the traditional saignée method of direct pressing the grapes), with an acidic backbone, a citrus or mineral edge, and lots of fresh summer fruit flavor, like strawberry and raspberry.
To me, the most essential quality of a Provence rosé is that it's served chilled, preferably at a picnic with the best cold cuts and cheeses you can find!
Bandol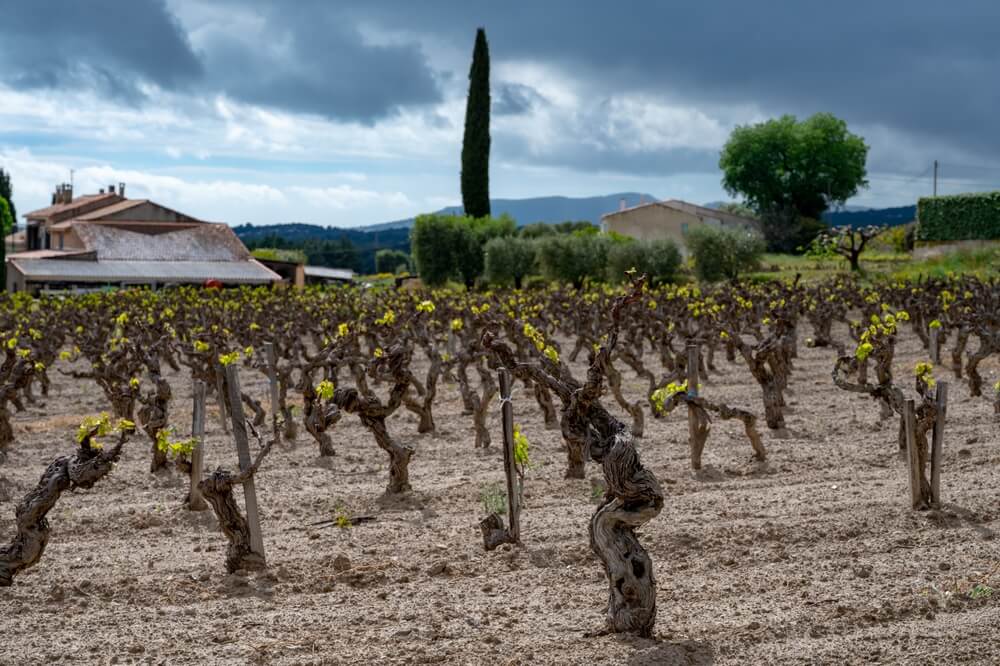 As mentioned above, Provence is generally known for its light, summery rosés that match the eternal-summer vibe of charming Provençal towns.
But the region of Provence also produces one of France's most powerful reds with incredible aging potential: Bandol.
Bandol is primarily made from the rich, full-bodied Mourvèdre grape (must be at least 50%, though typically, it is higher), full of dark fruits on the palate and earthy notes on the nose.
Mourvèdre is also rather tannic, giving Bandol wines the structure that allows it to age beautifully — typically 10 to 15 years or even more!
While the Bandol region also produces other wines, like rosés and whites, its red wine is what people really talk about when they talk about Bandol.
Bordeaux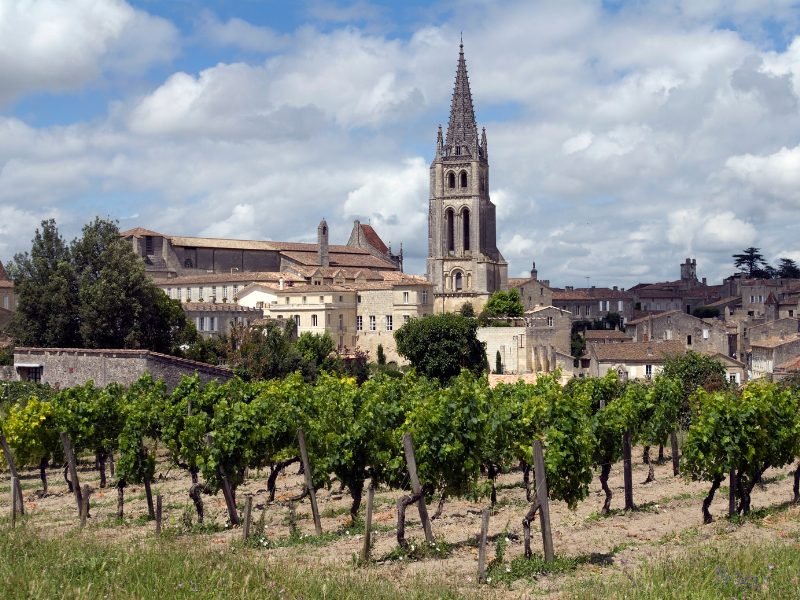 Frankly, Bordeaux is far more of an umbrella term than a kind of wine, as it includes everything from red to white to rosé wine and even one of the world's most beloved sweet wines, Sauternes (but more on this one in a bit).
That said, when we talk about Bordeaux, we're typically talking about red Bordeaux from one of the main growing areas of the region.
Bordeaux is known for its Premier Crus and appellations based on regions, such as its Saint-Émilion, Pauillac, Médoc, and Margaux wines.
Wine tours from Bordeaux are quite popular and typically focus on the Saint-Émilion, Médoc, and Margaux regions.
Red Bordeaux always has Cabernet Sauvignon and Merlot, but it can also have additions of three other grapes: Cabernet Franc, Petit Verdot, and Malbec to create a more robust, well-rounded flavor profile.
Depending on what ratio of grapes is used, you'll get different flavors, but generally, you'll find a plummy, cherry wine with more rough notes like tobacco or leather (brought in by the Malbec) or an herbaceous side (brought in the Cab Franc).
Alsatian Riesling and Gewürztraminer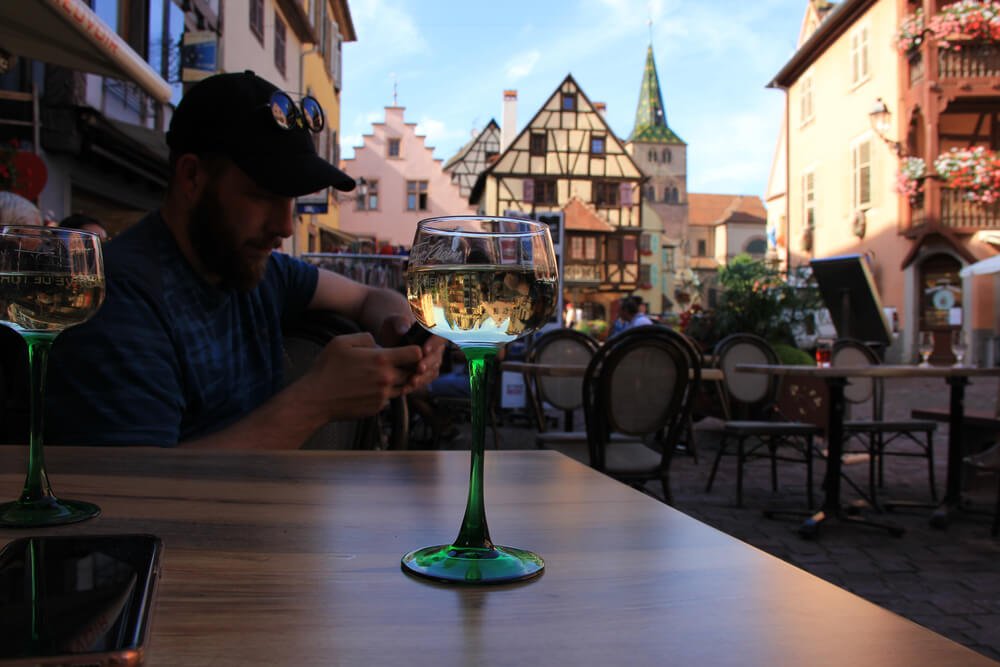 Alsace is best-known for its delicious and delicate floral white wines, which balance sweet floral notes and sharp, tangy acidity on a razor-sharp edge.
I couldn't pick which to highlight, so I picked both, because these are some of my favorite wines in the world!
Alsatian Riesling can age for years and years — way more than you'd expect of a wine like Riesling that is known for its sweetness, which typically doesn't age well.
An aged Alsatian Riesling will develop a wonderfully complex profile, blending its apple, honey, and floral notes with flinty, steely notes or even a "petrol" nose that has to be smelled to be understood why it's so appealing!
Meanwhile, Alsatian Gewürztraminer may not have the same aging potential, but it's also a flavorful powerhouse.
While occasionally, it can be too sweet, when it's vinified with a restrained hand it can be one of the most delicious white wines on the planet, balancing crisp acidity with notes like rose petals and vanilla.
Châteauneuf-du-Pape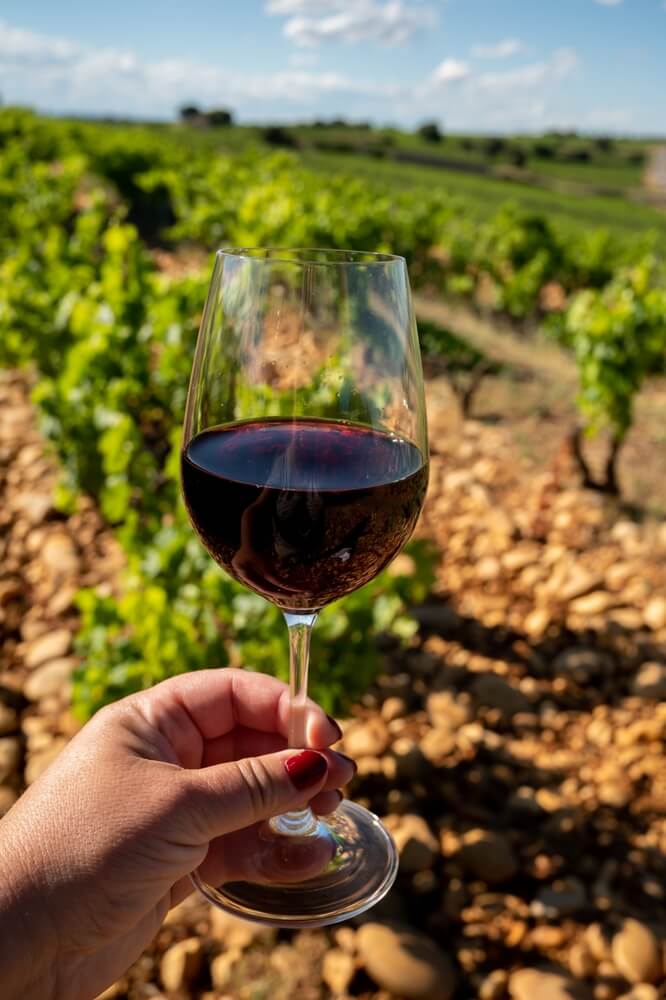 A storied wine region with immense wine history, Châteauneuf-du-Pape is grown in the heart of the Rhône Valley.
Here, the sun-soaked vineyards yield powerful, full-bodied reds, blending Grenache, Syrah, and Mourvèdre in perfect harmony.
Châteauneuf-du-Pape wines tend to be rich and a little rough, structured with bold tannins, so they age well and go well with heartier meals like meat-based dishes.
Like a Cabernet Sauvignon from Napa, over time, its rough edges will mellow out and you'll develop a more soft-edged, mellow wine with fun secondary and tertiary characteristics.
Gigondas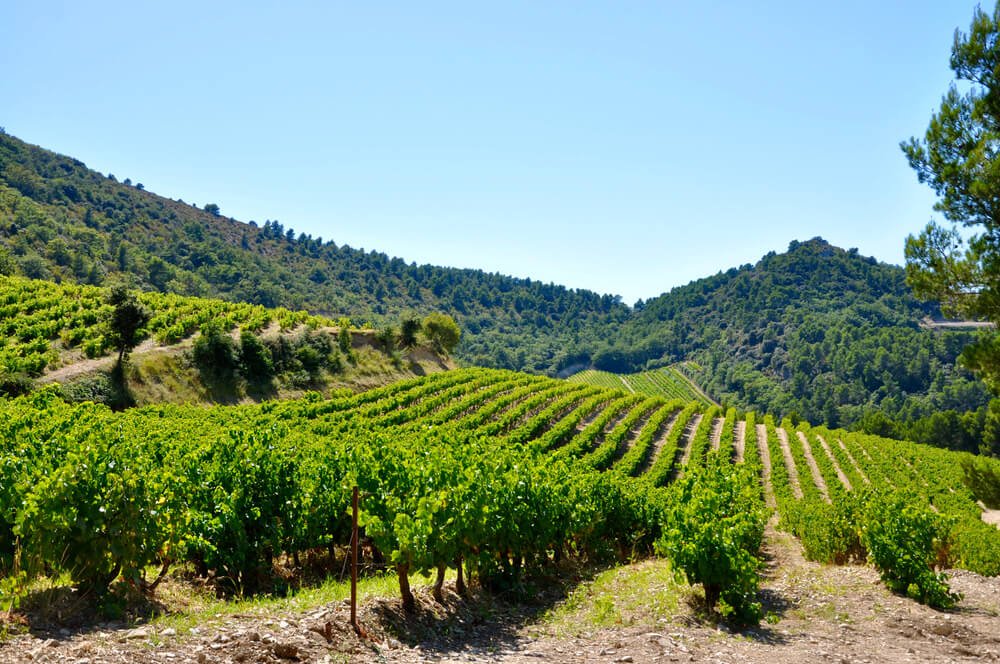 Another powerhouse from the Rhône region, Gigondas is a much-beloved complex red wine with great food pairing potential, as well as a structure that benefits from aging.
Predominantly made of the Grenache varietal, the wine is given more complexity by its alliance with Syrah and Mourvèdre, which round some of the rougher edges of Grenache grown in this region (which is rather rocky and arid, creating a concentrated and tannic wine).
Gigondas is full-bodied to its core, with abrupt tannins that will mellow over time — typically at least five years, but often at least a decade.
Once opened, you'll enjoy dark fruit notes, like deep cherry and blackberry, but also some more interesting notes like spice, leather, and even the so-called 'barnyard' (earthiness).
Gigondas often offers good value-for-money, a wine that's not exactly cheap but isn't too expensive to buy a few and stash away in your cellar as an experiment to see how it ages.
Beaujolais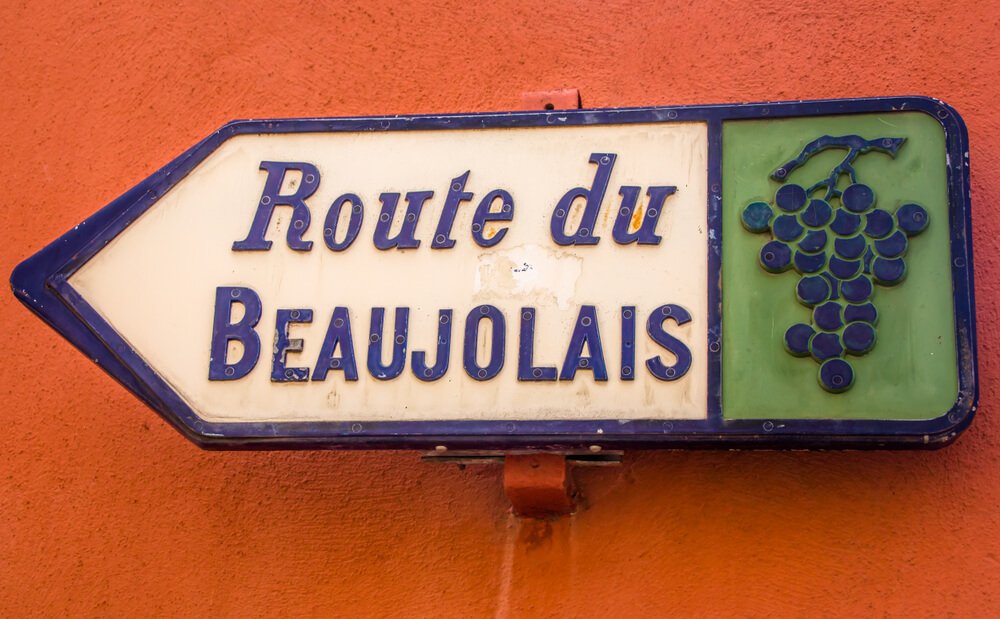 Beaujolais is a fun wine region that exudes youthful energy, producing unpretentious wines meant to be drank at a casual dinner gathering.
Best known for its light and fruity Gamay-based wines, Beaujolais offers a delightful respite from the heavier reds of other French regions.
You can also try to time your search to acquire some Beaujolais Nouveau, the very first wine of the harvest, which has a very fruity, almost bubble-gum flavor.
The region has a diverse range of Crus which are distinctive compared to the other, each showcasing its own unique expression of the terroir.
Jura Whites & Vin Jaune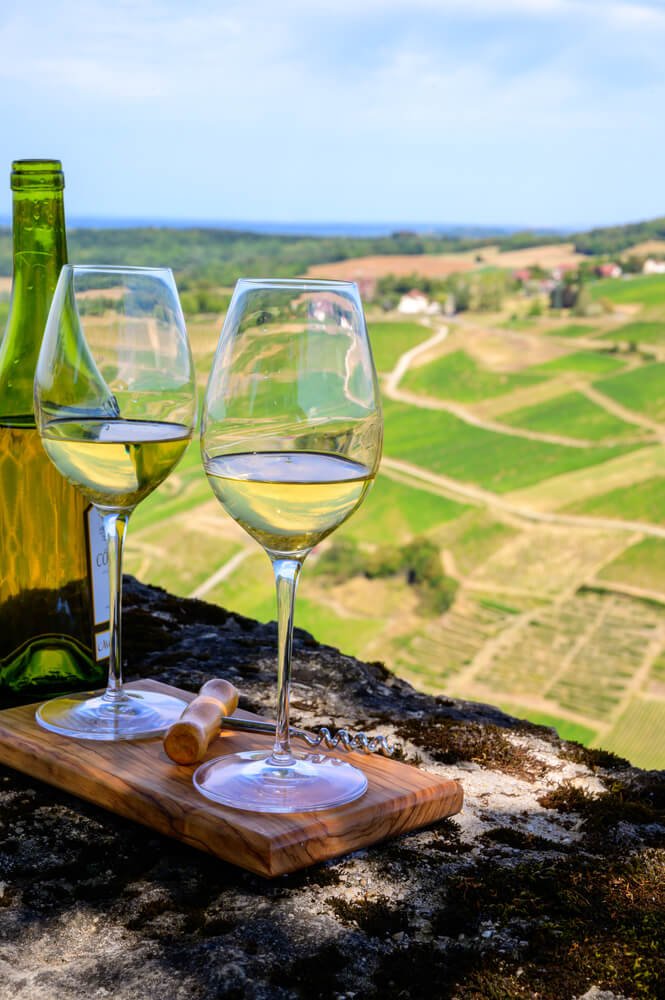 Jura 'Vin Jaune' is one for the real French wine geeks out here who want something bold and experimental!
Hailing from a small, mountainous region near the Swiss border, Jura wines are distinct from any other French wine out there, typically made from Chardonnay and the local indigenous varietal, Savagnin.
Jura's Chardonnays are more similar to Chablis-style Chards than rich, white Burgundies.
And while it's hard to get your hands on, the Crémant de Jura (a sparkling version of these white wines) are rather intriguing!
But where Jura really expresses itself is in its 'vin jaune', aka yellow wine!
Made using the Savagnin grape, vin jaune is aged similar to sherry — a layer of yeast (voile) sits atop the wine, which ages in an oak barrel for over six years. Wine this unique can't be rushed!
Over the years, the oxidative aging process creates a robust wine with a complexity of flavors you don't usually find in a non-fortified wine.
The resulting wine has that characteristic nutty oxidative quality, with an undercurrent of dried fruit and warm spices.
Due to its long aging process, you end up with a wine that has a long and complex finish while still maintaining enough acidity to stand up to rich delicacies of the Jura region like its cheeses.
Sauternes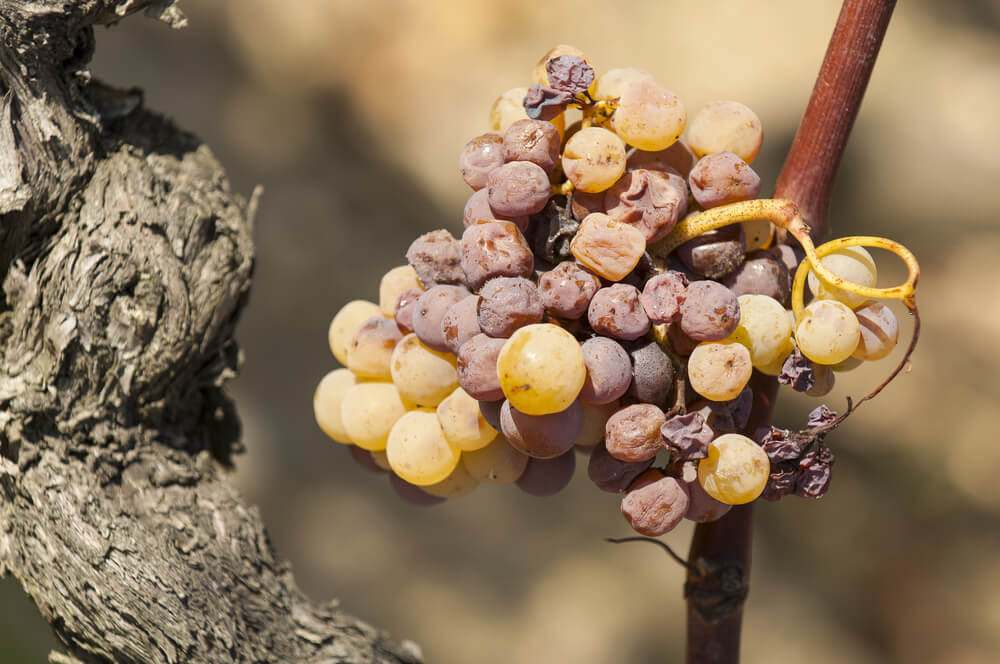 Bordeaux isn't just red wine, all the time: it's also home to one of the best regions for sweet wine in the world.
Sauturnes, a white dessert wine from the Sauternais region, is one of the world's most revered dessert wines.
It's made mostly from Sémillon but also sometimes Sauv Blanc and Muscadelle. But how these traditional white wine grapes gets to become Sauternes is quite an interesting journey!
Unlike wines like Port and Madeira that are fortified, Sauternes undergoes a natural process of developing sweetness through the intention development of 'noble rot', a fungus otherwise known as botyrtis cinerea.
Why? This rot dehydrates the grape like a raisin on steroids, concentrating their sugar but also their acidity.
The resulting wine is incredibly rich and decadent, but with a perfect balance of sweetness and acidity that keeps the dessert wine from getting too cloyingly sweet.
A Sauternes will typically have lots of stone fruit notes — apricot and peach — combines with sweet notes like honey and tropical fruit. Secondary notes include nutty notes like hazelnut or even sweet notes like vanilla and caramel, but these notes develop over time through an aging process.
Sauternes can age for decades, and often do before being opened, especially in the case of the beloved Château d'Yquem, the most beloved producer of Sauternes in Bordeaux.
Tip: To age Sauternes a little quicker, buy it in a half-bottle!
Banyuls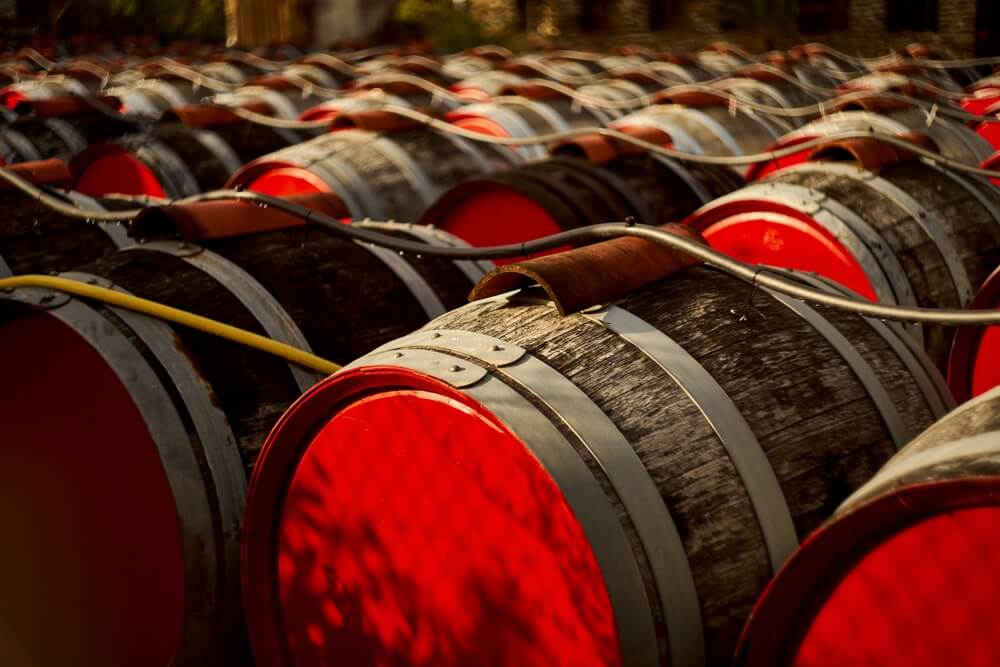 Speaking of sweet wines, another famous dessert wine coming from France is Banyuls.
Grown in the southernmost part of France (the Roussillon), Banyuls is a Vins Doux Naturels (VDN) — a naturally sweet wine that is fortified similar to Port or Madeira (unlike Sauternes, which has no fortification process).
Also unlike Sauternes, which comes from white wine grapes, Banyuls is made from red wine grapes: in particular, usually Grenache.
The resulting dessert wines are full-bodied, rich, and deep red in color, with a ripe cherry or plum core that might also have intriguing secondary notes like coffee, chocolate, or vanilla from the aging process.
An interesting thing about Banyuls is how its aged outside, partly exposed to the elements, giving it the traditional oxidative and nutty flavor you might find in a tawny port.
Allison Green is a former educator turned travel blogger. She holds a Masters in Teaching and a B.A. in English and Creative Writing. Her blog posts merge her educational background and her experience traveling to 60+ countries to encourage thoughtful travel experiences that both educate and entertain. She has been a speaker at the World Travel Writers Conference and her writing, photography, and podcasting work has appeared in National Geographic, CNN Arabic, CBC Canada, and Forbes, amongst others. Now based in the San Francisco Bay Area where she grew up, she has also lived in Prague, Sofia, and New York City.