While Copenhagen is absolutely a delight all year round, Copenhagen in the winter offers something truly special.
And why wouldn't it be?
I mean, this is the country that invented hygge: that supposedly untranslatable concept of coziness and contentment that means that basically everywhere in Copenhagen is adorable and comfortable.
While I think Copenhagen in December is the city's most charming, I've visited Copenhagen in November and found it to be already delightfully wintry.
It's the month where everyone is gearing up for Christmas in Copenhagen, getting the city all lit up, glittery, and cozy.
Meanwhile, Copenhagen in January and February is a little colder and a little less exciting because the Christmas activities have already come and gone.
However, the cozy cafés, the cheery craft beer bars, the icy canals, and candy-colored buildings will surely add enough brightness to your day to help you survive winter in Copenhagen.
So, if you're planning to visit Copenhagen sometime between November and March — here's what I recommend!
13 Best Things to Do in Copenhagen in Winter
Stroll around a cheery Tivoli Gardens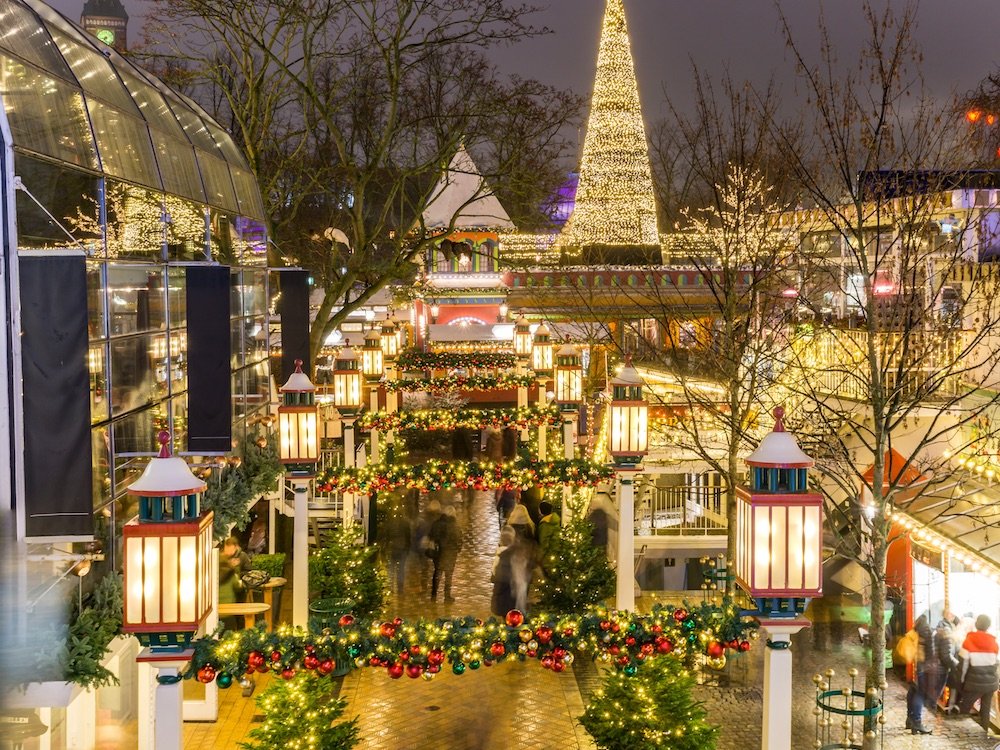 Note: This post contains affiliate links, which means I may receive a small commission if you purchase something through one of these links. Thank you for supporting the free content on this site! For more information on affiliate links and cookies, see my disclosure page for more details.
Tivoli Gardens is one of Denmark's most visited attractions, especially because it's so much more than a typical amusement park. It's also a stunning natural park, with many tiny paths and unique greenery.
But in the winter, Copenhagen's famous attraction gets even more incredible: a snowy paradise with excellent rides, a large collection of restaurants, and a serene atmosphere.
Although it's mostly open for the summer, it reopens again just for the weeks surrounding Halloween and Christmas, where they close for a while to create an even more spectacular festive atmosphere.
The updated opening dates for 2019 are October 11 to November 3, and then again for Christmas from November 16 to January 5.
Generally, it's open 11 AM to 11 PM on weeknights and 11 AM to midnight on Fridays and Saturdays.
If you're going in December, Copenhagen's busiest winter month, I recommend you book fast-track tickets to avoid queueing.
You can buy them online here and then just show tickets on your smartphone – no need to print or wait in line!
Pro Tip: Admission to Tivoli Gardens is included if you buy a Copenhagen Card, so be sure to not accidentally buy both – pick one or the other! Copenhagen Cards are valid in intervals of 24 hours from 1 day to 4 days, and include all public transportation, 87 museums and attractions, and a canal cruise. Depending on what you have planned, it can save you a bucket of money in otherwise-pricy Copenhagen, so check inclusions and prices here.
Eat your heart out on a delicious food tour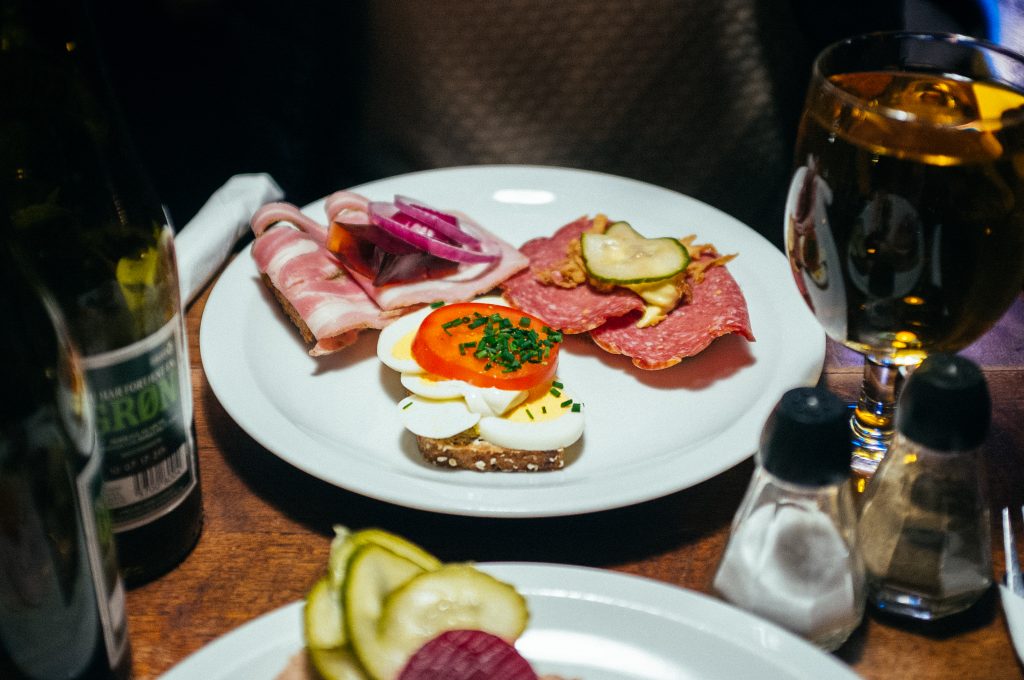 Danish cuisine has risen in popularity over the last few years, and Copenhagen is the perfect place to try it – it's where it's the most inventive, tasty…. and expensive.
Taking a food tour is a great way to defray the cost of eating out, while still getting to learn about and try as much local Danish cuisine as possible in a short amount of time.
Personally, food tours are my favorite way to experience a city: you gain knowledge and culture (and a few pounds, I'll be honest) as you hop from restaurant to restaurant in search of the best food that Copenhagen has to offer.
And an important note for winter is that there is limited time outside and plenty of time to warm up with local food and beer before you brave the cold again.
Many food tours also include some tasty Danish beer, which has become highly celebrated in recent years for their creative craft brews.
I recommend this 2.5-hour food tour which includes beer tastings, traditional Danish hot dogs, smørrebrød, and other tasty Danish classics!
It's affordably priced – about what you'd pay sitting down for any other meal in the Danish capital, honestly – but you'll get a cultural context and local tips at the same time as your meal.
Get out of the city to explore some beautiful Danish castles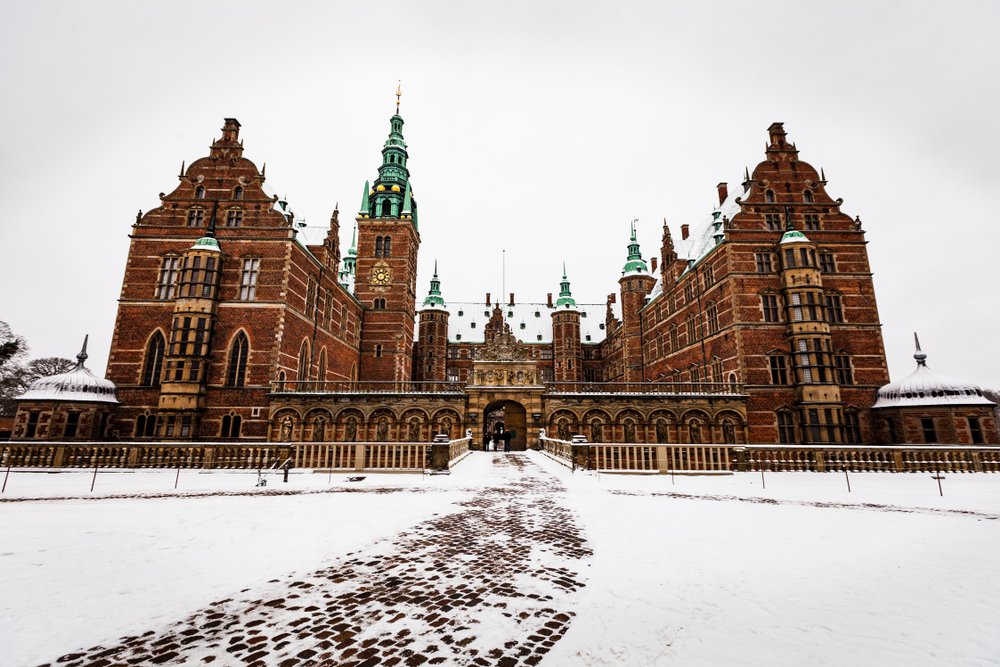 Denmark's past is full of tales of Vikings, kings and queens, and conquest.
Even the Bard Shakespeare himself set his famous play Hamlet in one of Denmark's most famous castles – Elsinore.
From Viking museums where you can see old reconstructed boats, to romantic views from the castle walls, the Danish castles are awesome places.
There are two castles plus the famous Roskilde Cathedral which are all rather close to Copenhagen.
You can easily see all three sites in one day if you take a guided tour; if going by public transit, I recommend you just choose one or possibly two.
This eight-hour day trip is a perfect way to spend a lovely day in winter in Denmark exploring historic castles and cathedrals – hopefully covered in a bit of snow, if you're lucky.
It covers Roskilde Cathedral, Frederiksborg Castle, Kronborg Castle, and the Viking Museum as well as transportation between all sights.
Check out the itinerary, availability, and prices for more information.
Tip: If visiting Copenhagen in December, book in advance, as that things in Copenhagen around Christmas tend to get really busy and they're some of the most popular places to visit in Denmark in winter.
Explore Copenhagen by night on a lively pub crawl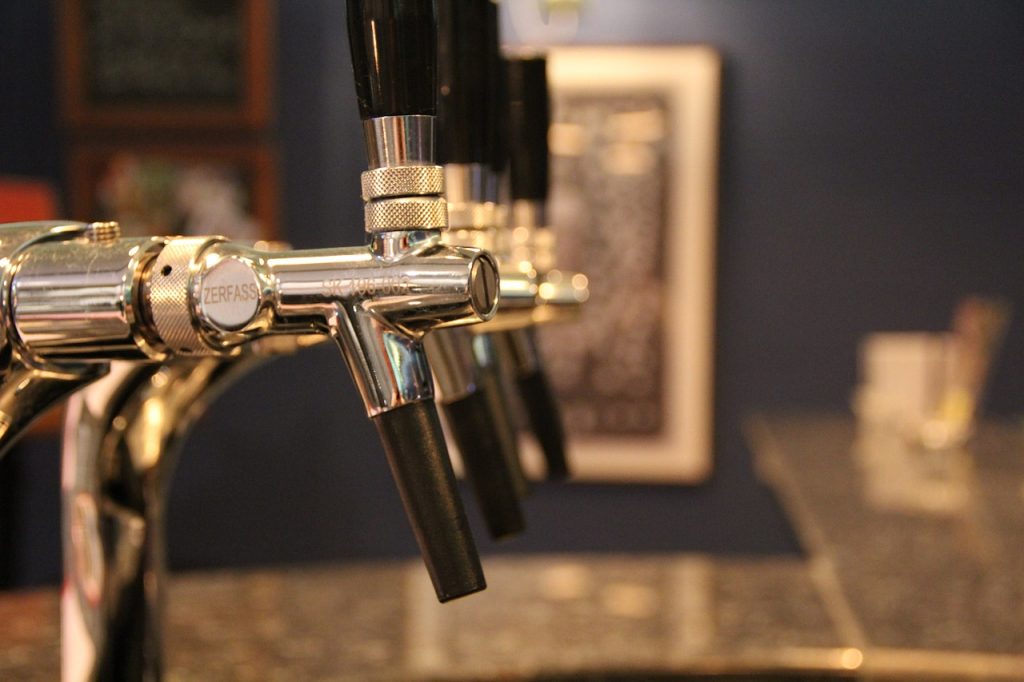 Copenhagen's nightlife is incredibly vibrant and lively.
There is no better way to experience the pure energy of the city than by a good old-fashioned pub crawl.
The city is packed with travelers from all over the world, and this is a great opportunity to make new friends.
From dancing to trying out dashing new drinks, the party scene in Copenhagen – in winter or otherwise! – is amazing.
I recommend this fun and inexpensive pub crawl if you're not sure where to go.
If it's not too icy – go on a bike tour!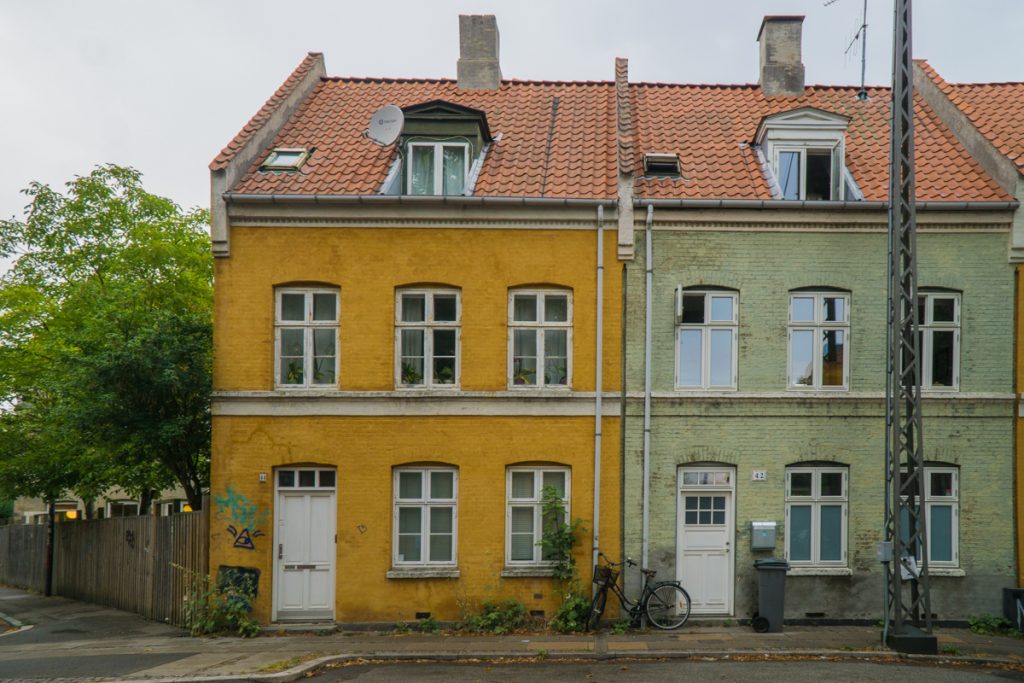 Danes don't stop riding their beloved bicycles just because of a little snow!
If there is not too much ice on the ground, exploring Copenhagen by bike is one of the best ways to see the city – just be sure to dress warmly!
Denmark is one of the world's best places to ride a bike, and a bike tour is a great way to experience a day in Copenhagen.
You can rent bikes from the city's bike share program (details here) or you can join an official tour.
If you opt for the bike tour, you'll be guided all the way by an experienced guide who'll explain the history of the city.
Since the tour lasts for about an hour and a half, you'll get to see some of Copenhagen's most beautiful sights.
Make sure to not forget to bring water with you even in the Copenhagen winter!
You'll work up a bit of a sweat, even if it's cold out!
Eat your way through Torvehallerne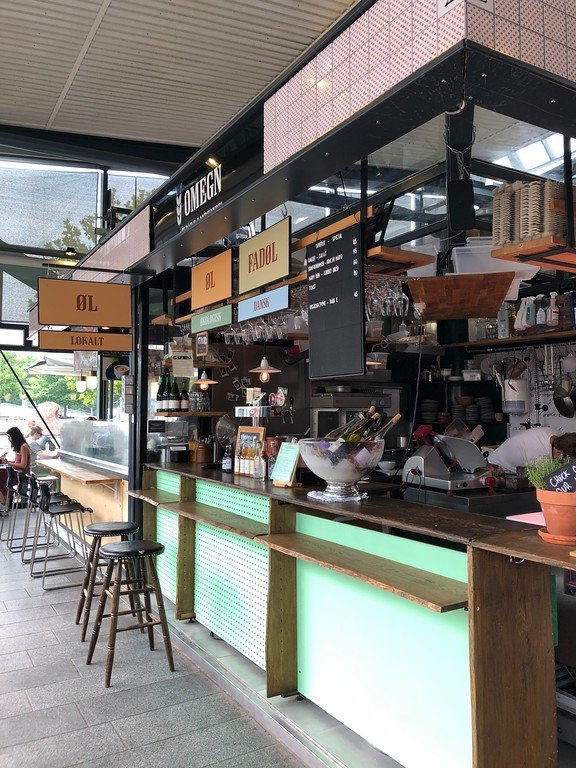 Located in the heart of the city, Torvehallerne is an enormous food hall with practically infinite options.
The best part is that it's inside, giving you a great place to shelter from the occasionally harsh Copenhagen winter weather while you try some of the tastiest places to eat in the city.
The entire hall is always buzzing with activity, as there are numerous stands each offering fresh and delicious delicacies.
It's the ideal place to have a unique cup of coffee, or to indulge in some delicious pastries, as well as go shopping for fresh ingredients if you're doing self-catering some nights to cut back on food expenses.
My top recommendations for unique places in Torvehallerne are the Mikkeller bottle shop for creative Danish beer and Ma Poule for, well, coffee!
For food, check out Ma Poule's duck confit sandwich (drool), Lêlê Street Kitchen for Vietnamese banh mi, or Hallernes Smørrebrød if you simply can't be blasphemous about not eating local food like I always do…
Stroll and snap photos of the colorful Nyhavn neighborhood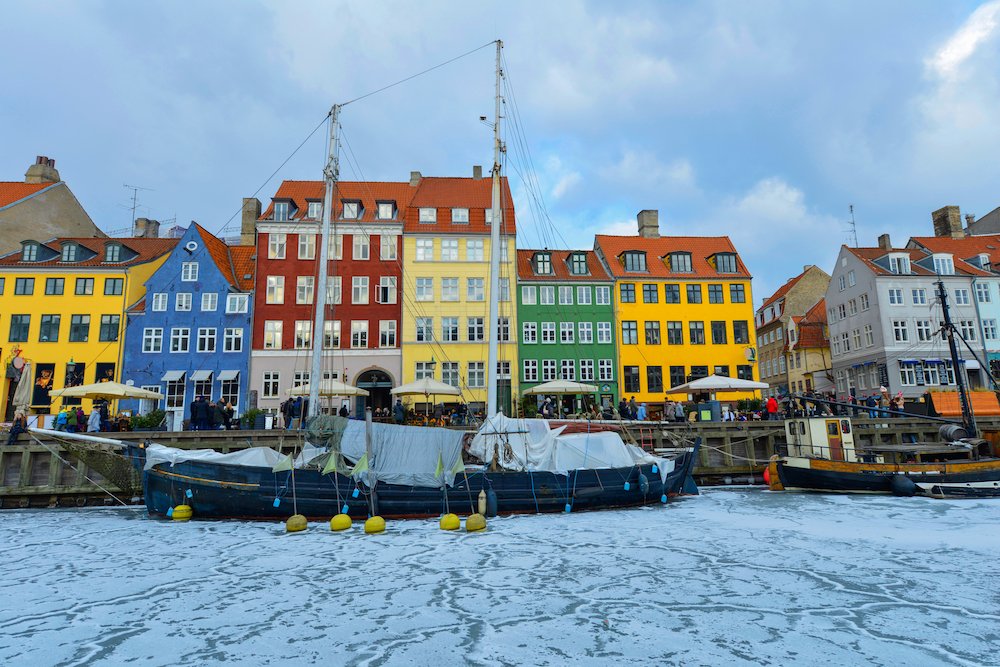 What was once the home of the legendary Hans Christian Andersen is now one of Copenhagen's most charming neighborhoods – colorful as can be!
Previously a port town, today it's a spot filled with old, yet renovated, houses and perfect restaurants.
In winter the entire neighborhood lights up, and Christmas spirit is completely in the air. The streets become full of decorated stands, and the Copenhagen Christmas markets take center stage.
It's also a popular departure point for canal tours – more on that below!
Note: Nyhavn is one of the most touristy areas in the city, and while it's perfectly safe to visit, this is one of the more active areas for pickpockets in the city. Keep aware!
While travel in Europe is safe, pickpocketing is a major issue. Thwart would-be pickpocketers with a chic, sleek backpack with double-interlocking zippers, slash-proof construction, & RFID blockers! I've carried this PacSafe backpack to 30+ countries with me, and it's my #1 travel companion. Pick from one of seven colors — I have and love the classic black one!
Go on a delightful canal tour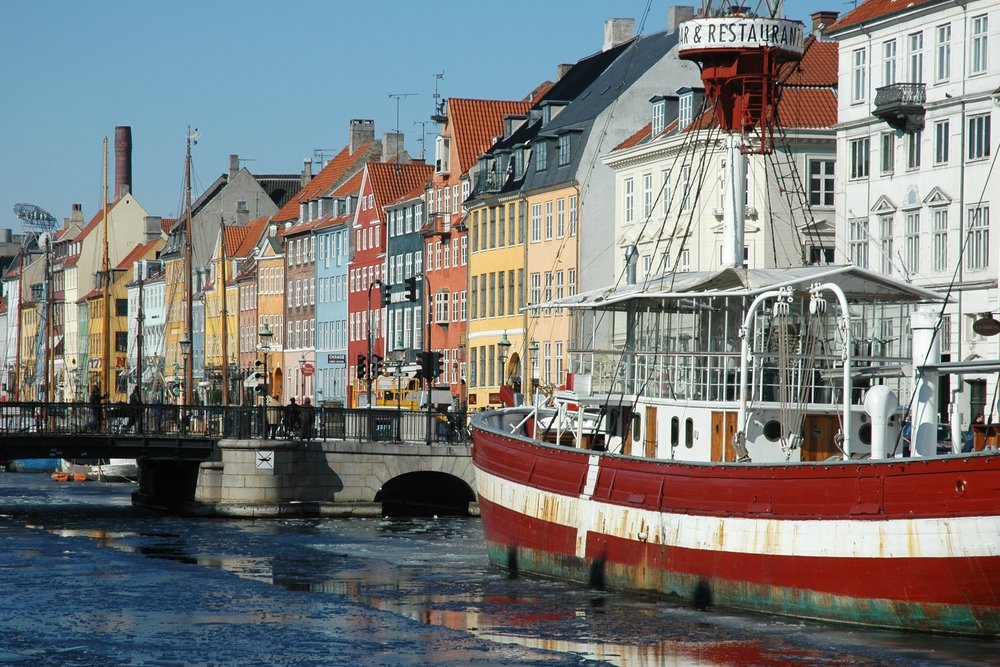 As long as the canals don't completely freeze over (which is relatively rare, especially given the current warming climate), exploring the city by boat in the canals is a delightful winter experience.
If you visit Copenhagen in November or December, you definitely should be able to do a canal cruise.
If you visit Copenhagen in January or February, the likelihood goes down a bit, but you still have a good shot at a canal cruise. The boats are climate-controlled with glass windows so you'll be protected from the cold!
You'll not only see some of Copenhagen's most legendary historical sites, but you'll also be in an eco-friendly boat while doing it.
You'll see spots like the Opera House, Christiansborg Palace, Black Diamond Library, and so much more.
Most of the departures are from either Nyhavn or Gammel Strand, and the tours usually last for about an hour.
You can pre-book your ticket here and show a mobile ticket so you don't have to wait in line in the cold!
Take in the view from the Rundetaarn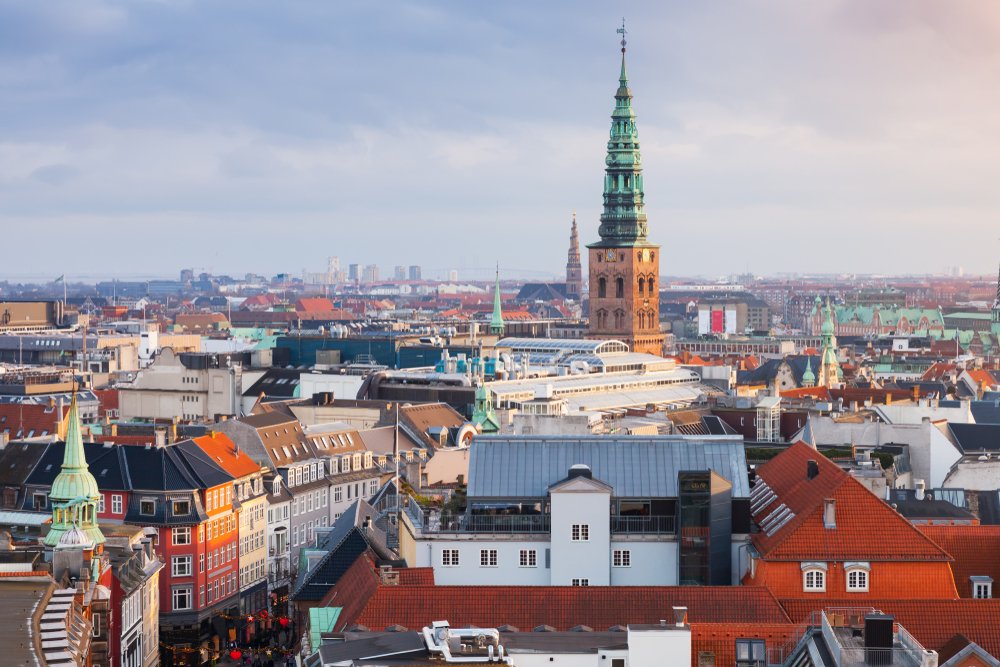 The Round Tower of Copenhagen, also known as the Rundetaarn, is Europe's oldest functioning observatory.
It was constructed on orders from King Christian IV, and it's one of the main reasons why, in the 17th century, Denmark was an astronomical powerhouse.
While it has no actual scientific purpose today, it's still frequented by amateur astronomers (and tons of Instagrammers and selfie-lovers).
To get to the top you'll need to pass long spiral staircases, only to be rewarded by some of the best sweeping views of Copenhagen.
Tip: If you get a Copenhagen Card, admission is free.
Marvel at the excellent museums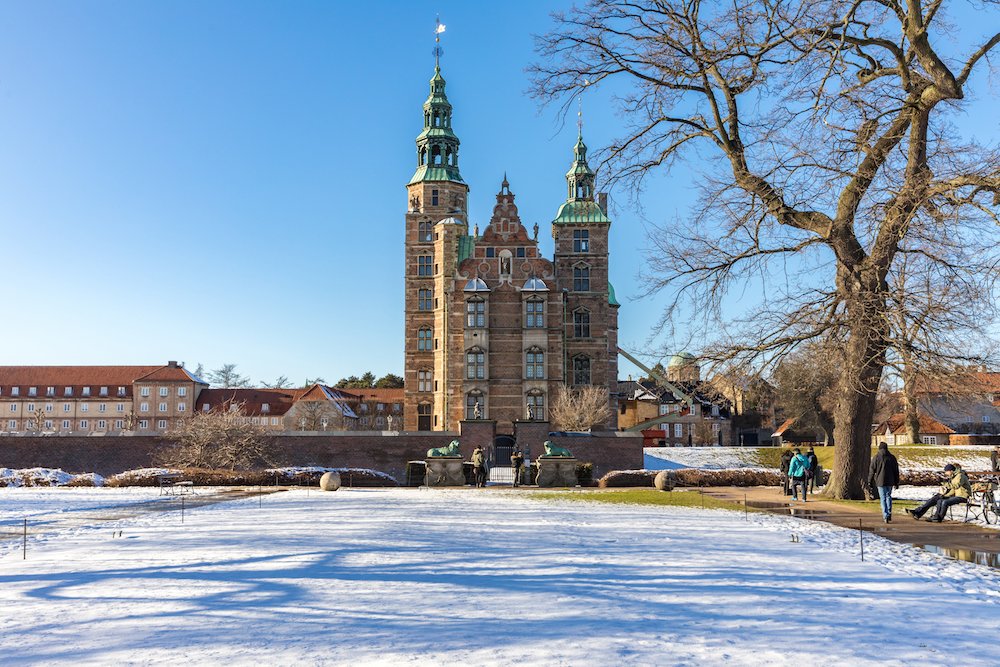 What says winter more than strolling through museums?
One you shouldn't miss is the National Gallery of Denmark.
Home to Denmark's finest art collections, here you can find excellent exhibitions, tours, and stunning architecture.
Here you can enjoy many of the grandmasters of art, both Danish and international, as the gallery is home to an incredible amount of diversity in the displayed works.
Artists like Rubens, Matisse, Abramovich, and Mantegna are some of the many whose work you'll encounter. T
here is a significant amount of contemporary artists on display too.
There are other museums in Denmark which are certainly worth visiting – whether it's modern art at the Arken Museum or Dan Frie Center of Contemporary Art, interior decor at the Design Museum Danmark, architecture at the Danish Architecture Center, or Danish history at Rosenborg Castle & Museum there's something for every interest.
Money-Saving Tip: If you plan a visit a few museums, definitely pick up a Copenhagen Card – the savings add up fast, especially when you factor in that the card also includes transportation and discounts to restaurants and other attractions.
Stop for a deliciously brewed coffee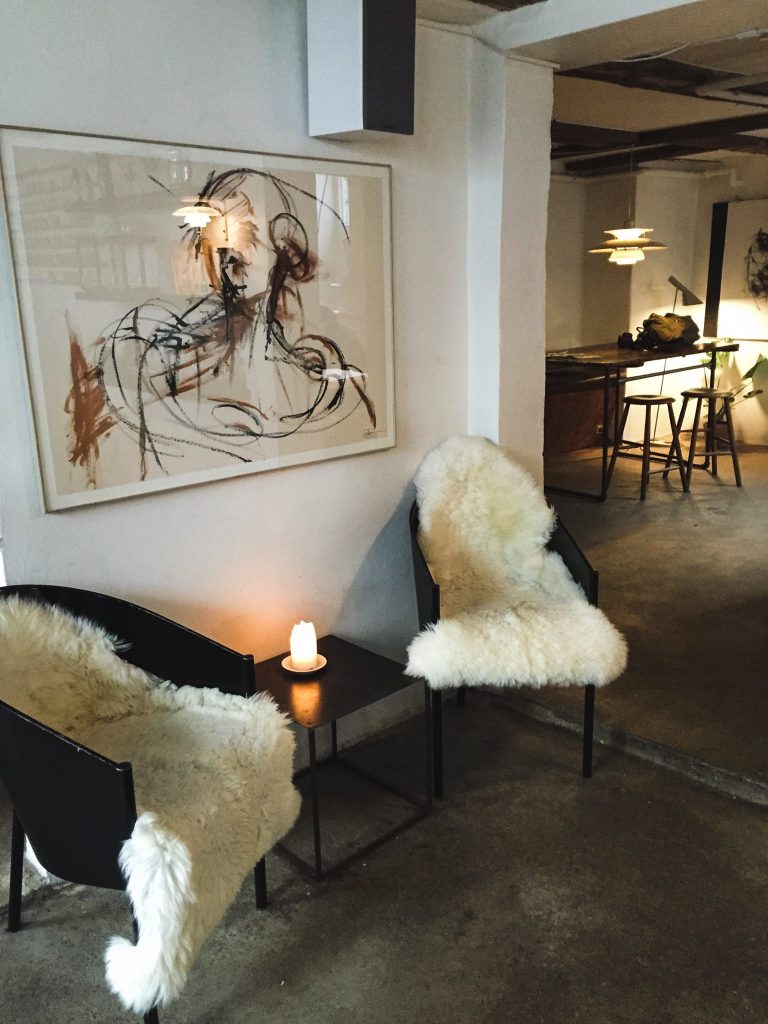 Coffee and winter go hand in hand. The Nordic countries love their coffee, and Denmark is no exception.
Actually, Denmark is the 4th largest consumer of coffee in the world, just behind its Nordic brothers: Finland, Norway, and Iceland.
I mean, I'm sure I'd drink even more coffee than I already do if I have to survive Copenhagen winters where days are so short and cold!
Like everything in Denmark, you'll find coffee to be a bit more expensive than you're used to (unless you're coming from Iceland, Norway, or Switzerland, in which case Denmark will feel free by comparison).
Whether you're stopping at a touristy café or a trendy coffee shop that specializes in single-origin beans, coffee costs usually around $5 USD per cup.
Since you'll be paying a premium on your coffee anyway, you might as well enjoy one of Denmark's finest cups of coffee and head to a specialty coffee shop!
Some of Copenhagen's best coffee – and arguably, some of the best Danish design, too – can be had at Copenhagen Coffee Lab in Amagerbro, which is one of my favorite neighborhoods in Copenhagen.
However, there are plenty of places you can find a good cup of coffee around the city if that's out of the way!
Warm up with some delicious ramen in Nørrebro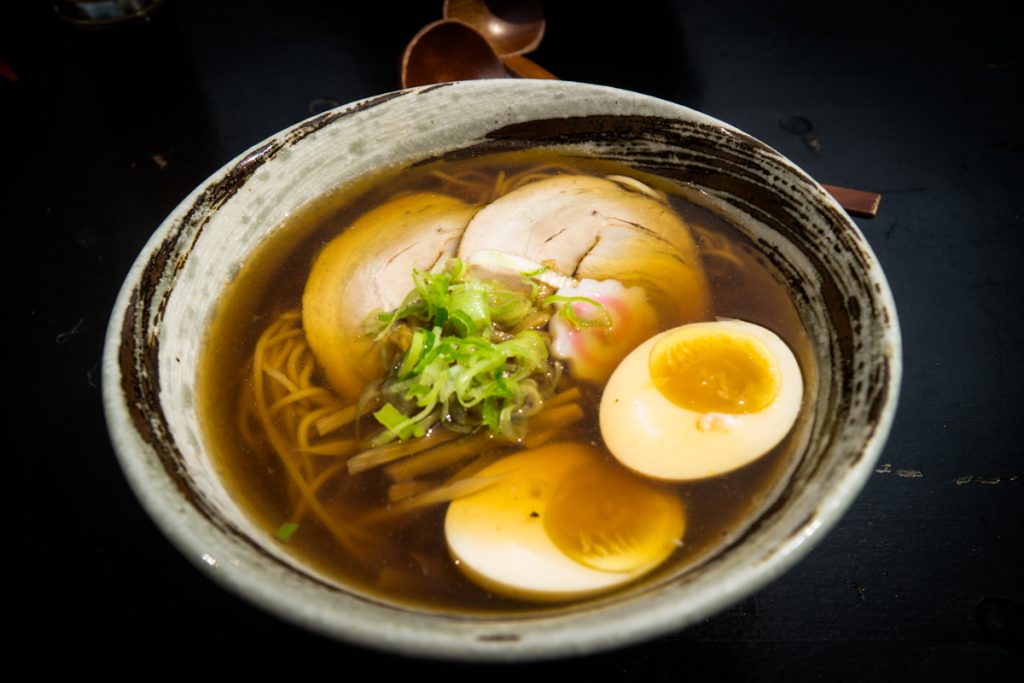 There's no better winter food than ramen, in my book, and there's no better ramen joint in Copenhagen than Ramen to Bíiru.
It's the best-rated ramen restaurant in town, and even better – you can actually try Mikkeller beer (a Danish craft brewery) specially crafted to be paired with your ramen.
And the extra fun part: you get to order your ramen with a vending machine just like you do in Japan!
Copenhagen has become an increasingly diverse city over the years and it reflects in the cuisine.
While I love a smørrebrød or two, there's only so much pickled herring a girl can take. So, thank god for immigration!
Nørrebro is one of the most diverse neighborhoods in all of Copenhagen and it's where you can find delicious international cuisine from all over the globe. If you're not feeling ramen, there are plenty of other options.
Two other fantastically belly-warming options are Ethiopian at Ma'ed, Eritrean at Asmara, or Michelin-starred Thai at Kiin Kiin.
As for Ramen to Biiru – we loved it. My friend went for the spicy miso ramen and I went for the classic shoyu ramen as my stomach is no longer to take spicy food the way it used to.
Both were phenomenal!
Prices are reasonable for Copenhagen, around 120 DKK ($18 USD) for a huge bowl of ramen.
End the night at one of Copenhagen's craft beer bars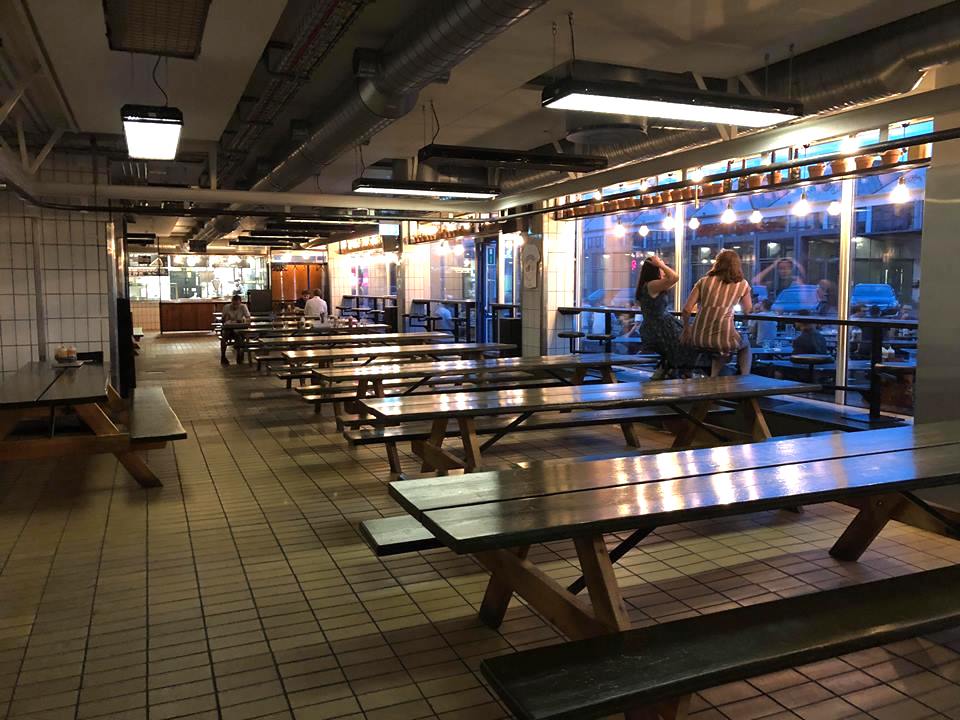 Denmark is on the cutting edge of craft beer and WarPigs is one of the best-loved bars for beer lovers in town, as certified by my Copenhagen travel buddy and craft beer expert Megan Starr (check out her awesome beer guides here).
Yes, going out for a few beers in Copenhagen will be pricy – expect to pay around 60-90 DKK for a beer, with the most common price being around 80 DKK ($12) for a beer.
But you'll be getting to sample of Denmark's most creative brewers and support local entrepreneurs. Megan particularly enjoyed the New England IPA by WarPigs called 'Opposite Optimist' – it was delicious.
If none of the 22 taps at WarPigs suit your fancy, you'll be in the heart of Copenhagen's Meatpacking District (Kødbyen) so there's plenty of other bars to hop around afterward!
Alternately, you could take an organized pub crawl if you prefer to find some new drinking buddies.
Bonus: Take a day trip to Sweden!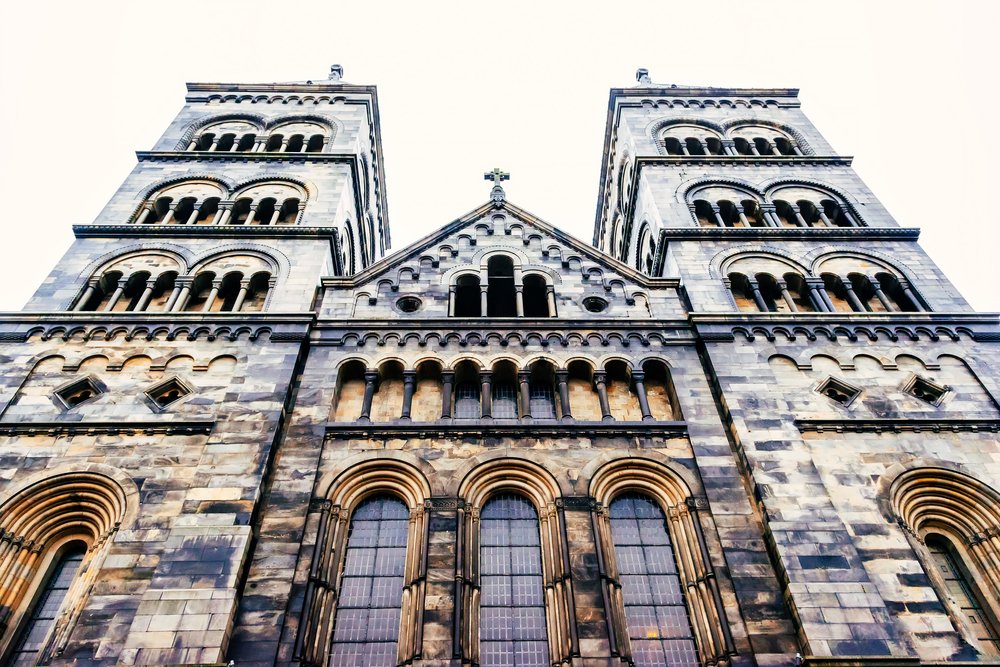 If you're an unrepentant country counter like myself, take advantage of Copenhagen's position next to Sweden and pop over the border for the day!
This day tour takes you to Elsinor Castle – the one from Hamlet! – before setting sail on the Øresund, the body of water separating Denmark and Sweden.
From there, you'll visit the ancient city of Lund with its church dating back to the 12th century and its Old Town houses from the 18th century.
Afterwards, you'll end the afternoon in Malmö – the third-largest city in Sweden – before heading back to Copenhagen!
It's easy enough to get to either Lund or Malmö via public transit, but I recommend combining all cities plus Elsinor Castle to maximize your time and remove the stress of coordinating public transit between all these points.
This day tour does it all for you and has over 100 positive reviews, so I'd suggest streamlining your planning and booking the tour.
Where to Stay in Copenhagen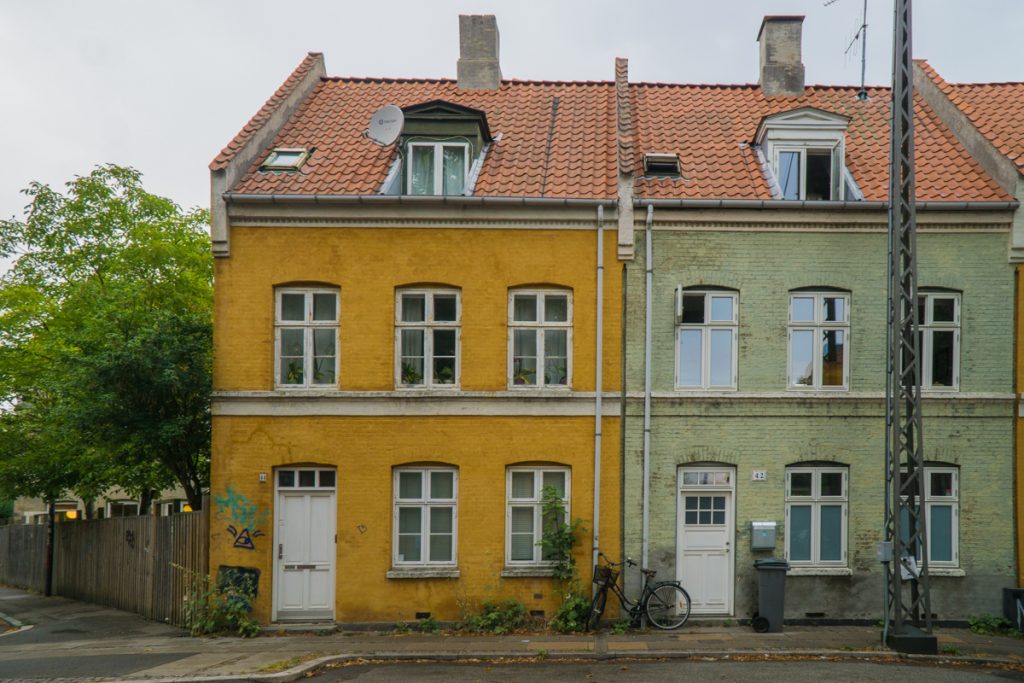 Copenhagen hotels are pricy, that's for sure. I've been lucky enough to get to stay with friends the last two times I've visited Copenhagen – that's the perk of having friends all over the world!
While I don't have any firsthand recommendations, here's what I've curated from my research.
Budget
Hostels in Copenhagen are not cheap by any means and a simple bed in a dorm will likely set you back $30 USD a night at a minimum. The cheapest, best hostels book up quickly so you want to book in advance if you are traveling on a budget.
The best-reviewed value hostel in Copenhagen is Steel House, which is located in central Copenhagen near the trendy Kødbyen neighborhood. With a perfect location, excellent Danish design, and nearly 6,000 positive reviews, it's an easy choice.
Mid-range
If you prefer a little more privacy than a hostel offers, but don't have much of a budget to spend on accommodations, I recommend SleepCPH.
It's a bit outside the center but still walking distance (40 minutes, or faster with the metro) from Nyhavn, the heart of central Copenhagen.
It's located close to the airport so it's extra convenient if you have an early or late flight. While it's not the most exciting neighborhood, the price is great and it is very convenient!
Luxury
Big money to spend in Copenhagen? You've got plenty of choices.
For a quirky but quietly upscale choice, Babette Guldsmeden has a gorgeous design, is super eco-friendly, and has a rooftop terrace and sauna to enjoy (ideal in winter!).
The price is quite reasonable for expensive Copenhagen as well, especially if you are traveling outside of peak season.
What to Wear in Copenhagen in Winter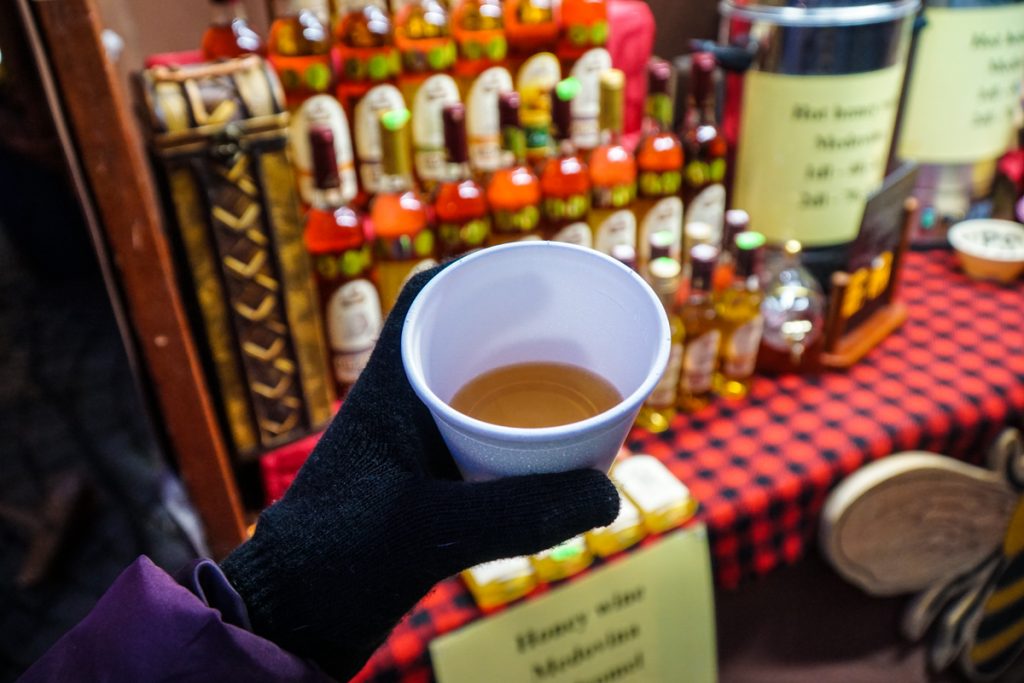 Despite what you may think of Denmark in winter, Copenhagen's climate is actually relatively mild. Average low temperatures are usually right below freezing (31°F/-1°C), while average highs can be 38-40°F (3-4°C).
I didn't find it to be much colder than New York or other North American cities that get cold in winter… and I actually find Central and Eastern European cities like Prague and Sofia are often much colder in winter than Copenhagen! Here's what I recommend you bring (I also have a list of what to pack for 2 weeks in Europe that may be useful to use, as it has a dedicated winter section).
Waterproof boots. I just brought my waterproof leather Blondo boots that I have legit owned for 8 years (I did get them re-soled once). If you're looking for a proper snow boot, Sorel and Keen are the two brands I hear recommended most often. It can snow in Copenhagen, but generally, Copenhagen isn't extremely snowy most of the time, so you should be okay with any basic waterproof boot — no need for anything crazy heavy-duty. However, do check that your shoes have good traction, as sidewalks can be icy.
A knit hat. Any beanie will do as long as the knit is fairly tight, but a fleece-lined knit hat will give you a bit of extra warmth (and the pompom will look cute on Instagram).
Thermal base layers. I personally can't usually tolerate wool as it makes me feel like my skin is on fire, but if you know you can wear wool without issues, merino wool base layers are the standard recommendation for cold weather. However, fleece-lined layers work great for me. I have these 90 Degree by Reflex fleece-lined leggings for my bottom base layer and I wear a UNIQLO 32 Degrees thermal layer for my top base layer. If you can tolerate wool, merino wool leggings from SmartWool are the gold standard.
Wool socks. Despite my previous screed against woolen clothing, I actually can tolerate wool if it's just on my feet, as my skin is thicker and I don't notice it. I love SmartWool socks for cold winter weather and didn't find them itchy at all. I recommend bringing a few pairs though because it's nice to have socks to rotate out during the day.
Gloves. Gore-Tex waterproof gloves are the gold standard and got me through many a winter bike rides in NYC, and they did just fine in Copenhagen in winter. I also have a cheap thin pair of gloves I used during the daytime that could work with my smartphone. I got mine from Target but this pair is similar.
An ultrawarm parka and also a thin ultra-light down jacket. Yes, I'm a total baby when it comes to the cold (it happens when you grow up in California). I live in my North Face parka every winter and consider it an excellent investment.
There are cheaper down jackets you can buy for sure; just make it goes down to at least mid-thigh, trust me. I also layer my Uniqlo ultra-light down jacket underneath at night or when it's really cold.
You can buy yours at Uniqlo but this jacket is really similar and cheaper on Amazon. They roll up really small so it's not a pain to bring two jackets. Just wear your heavier one on the plane.
Don't Forget Travel Insurance!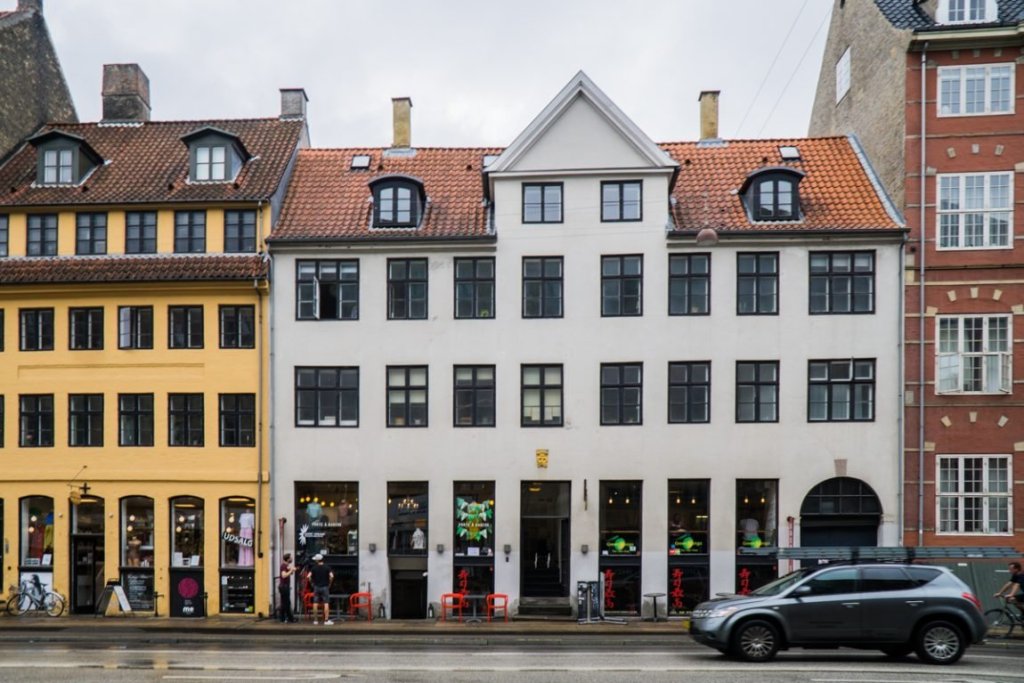 When planning any trip, especially a winter trip, be sure not to forget about travel insurance!
I use SafetyWing and its Nomad Insurance to insure all of my trips for its affordable rates and comprehensive coverage for all my travel needs.
Especially when you consider all the disruptions and potential for illness that winter travel can bring, it's a no-brainer for me.
SafetyWing's Nomad Insurance provides both travel insurance (coverage for trip delays, cancellations, interruptions — the likelihood of which increases in winter) and travel medical insurance (coverage for things like accidents, illnesses including Covid, etc. — also more likely in winter!).
Coverage is really affordable — for me, it costs roughly $11 USD for a week of coverage outside of the U.S., with a policy max of $250,000 after a deductible of $250. Not bad!
Allison Green is a former educator turned travel blogger. She holds a Masters in Teaching and a B.A. in English and Creative Writing. Her blog posts merge her educational background and her experience traveling to 60+ countries to encourage thoughtful travel experiences that both educate and entertain. She has been a speaker at the World Travel Writers Conference and her writing, photography, and podcasting work has appeared in National Geographic, CNN Arabic, CBC Canada, and Forbes, amongst others. Now based in the San Francisco Bay Area where she grew up, she has also lived in Prague, Sofia, and New York City.