Interlaken is considered the adventure capital of Switzerland, and it's not hard to see why.
Nestled between two lakes – each distinctly beautiful in its own way, with the brilliant turquoise of Lake Brienz and the calmer blue of Lake Thun – Interlaken is a place where nature reigns supreme.
As a result, the best day trips from Interlaken often involve getting out into the mountains, lakes, and rivers — what Switzerland truly does best.
The mountains that surround Interlaken offer several opportunities to get high, whether it's on adrenaline from a paragliding flight over the beautiful Swiss valleys or on altitude from one of the many beautiful alpine peaks near Interlaken.
Here are a few of my favorite Interlaken day trips for every kind of traveler!
Best Way to Do These Day Trips from Interlaken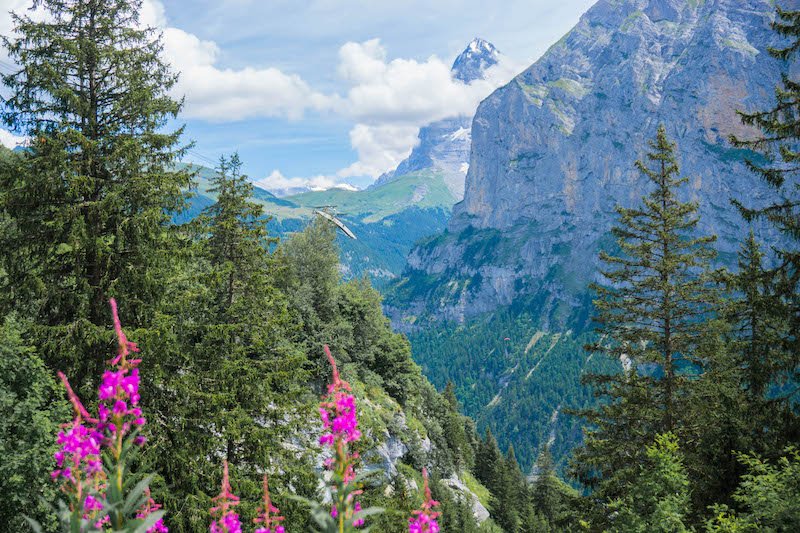 Note: This post contains affiliate links, which means I may receive a small commission if you purchase something through one of these links. Thank you for supporting the free content on this site! For more information on affiliate links and cookies, see my disclosure page for more details.
Switzerland is one of the most delightfully easy-to-navigate countries int he world. It makes my anxious heart finally slow down a beat.
Interlaken is very central to many destinations in Switzerland, conveniently located along many useful train lines. It's also at the heart of the Jungfrau region, one of Switzerland's most beautiful areas.
There are a few days you could take these day trips from Interlaken.
Jungfrau Travel Pass
The first way is buying a Jungfrau Travel Pass which allows you unlimited access to trains in the Jungfrau region!
The pass includes all the following routes:
Train from Interlaken Ost to both Lauterbrunnen and Grindelwald
Train from Lauterbrunnen to Kleine Scheidegg and Grindelwald
Train to Kleine Scheidegg
Train to Schynige Platte
Aerial cableway from Lauterbrunnen to Grütschalp
Train from Grütschalp to Winteregg and Mürren
Bus in Grindelwald
If you select the 5-day pass, you can also get a free boat journey on Lake Thun and Brienz, as well as the train from Interlaken to Brienz.
You can also get a special rate to connect to Jungfraujoch, the tallest train station in all of Europe, with amazing glacier views!
Buying Transport Tickets a La Carte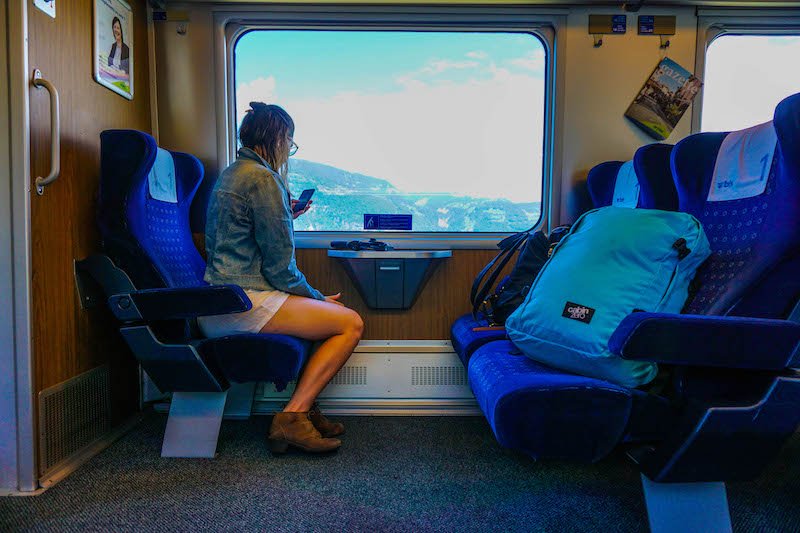 Depending on how far in advance you book your tickets and which trips you want to take, it may work out cheaper to buy train tickets a la carte.
If you do it this way, I strongly recommend buying your tickets well in advance, as they get far more expensive as your date of travel approaches.
This can work great if you're an extensive pre-planner — but if you prefer a bit of spontaneity or you tend to be a more fly-by-the-seat-of-your-pants traveler (Sagittarius with ADHD here, so I get it), the Jungfrau Pass is the better choice.
If you want to individually price out whether tickets a la carte are a better deal, you can check out the SBB website.
Guided Day Trips from Interlaken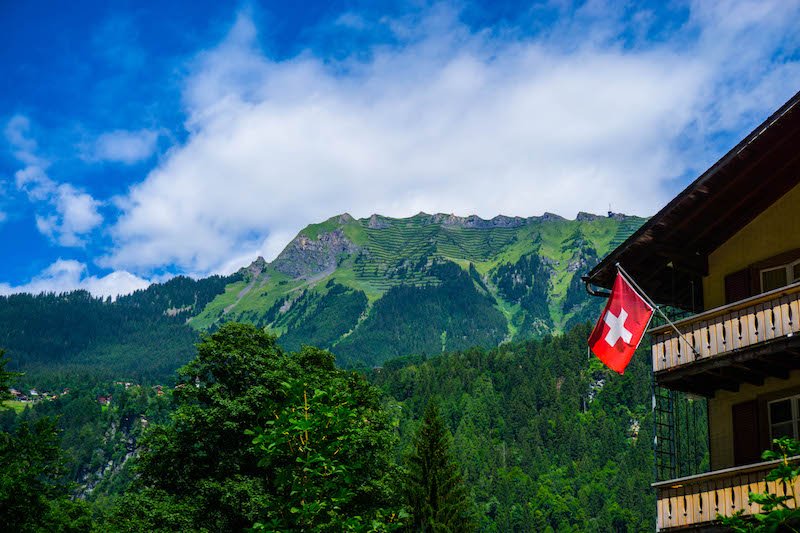 For people who prefer more guidance and structure, picking a few guided day trips may be the best way to explore the area around Interlaken without the hassle.
Especially for trips that involve multiple methods of transit, like to Jungfraujoch and Schilthorn, these can be stressful to self-navigate. Having a local may simplify things, at a bit of an added cost for convenience.
Additionally, there are some Interlaken day trips you just can't do solo… like any paragliding, canyoning, rafting experience, etc.
Rental Car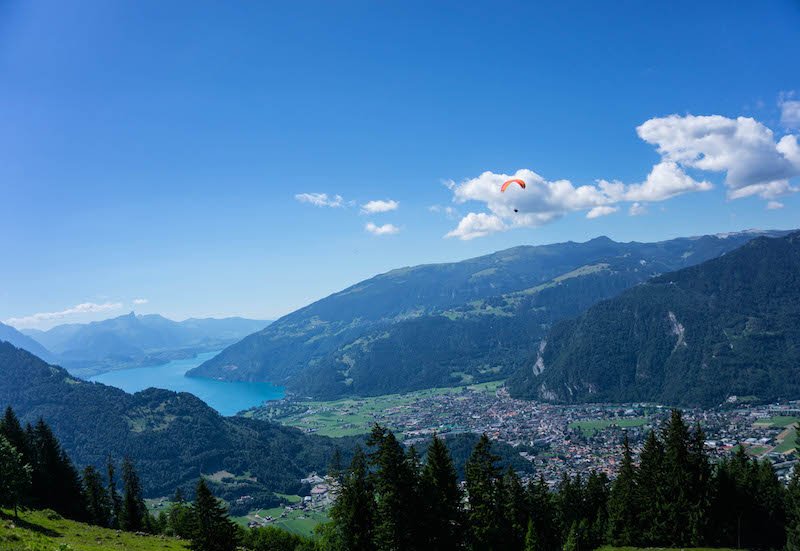 This is probably the least convenient way to travel around Switzerland, actually. Many of the villages here are car-free, so you won't be able to access them by car anyway.
A rental car may work out to be a good idea if the only day trips in Interlaken you are interested in are visiting cities like Geneva, Zürich, etc..
Still, it's not certain to work out to your advantage, especially factoring in Switzerland's high fuel costs.
In the rare occasions where a rental car makes sense — such as if your itinerary includes crossing several country's lines, or visiting a few out-of-the-way destinations, I suggest booking it through Discover Cars, which searches over 500 rental agencies to find the best price for your rental.
Best Small Town Day Trips from Interlaken
Lauterbrunnen
Lauterbrunnen is so beautiful that honestly, it deserves a spot of its own on any Switzerland itinerary.
This scenic spot in the Jungfrau region is one of the most picturesque places to visit in Switzerland.
However, I know time is limited for many people and therefore, a day trip from Interlaken may be all they have time for.
Luckily, Lauterbrunnen couldn't be easier to get to from Interlaken. From Interlaken, it's a quick 30-minute train ride to the railway station in Lauterbrunnen.
The whole way, you take the Bernese Oberland Railway, which is a gorgeous narrow-gauge train that passes through the Bernese Alps, lined with glacial rivers, mountain peaks, and captivating views.
My favorite thing to do in Lauterbrunnen is simply checking out the traditionally Swiss gingerbread-looking houses, made of wood and with flower boxes bursting with colorful blooms in the summer – it's really a photographer's dream.
There are also two waterfalls right in town which are both well worth seeing for yourself – they comprise just two of the 72 different waterfalls you can find in Lauterbrunnen Valley.
A 45-minute walk or a short bus ride outside of central Lauterbrunnen and you can find the powerful Trümmelbach Falls, a series of 10 different glacial waterfalls, many of which are located inside a mountain.
These waterfalls are insanely powerful, churning tunnels through the mountain, and are truly a sight to behold.
Mürren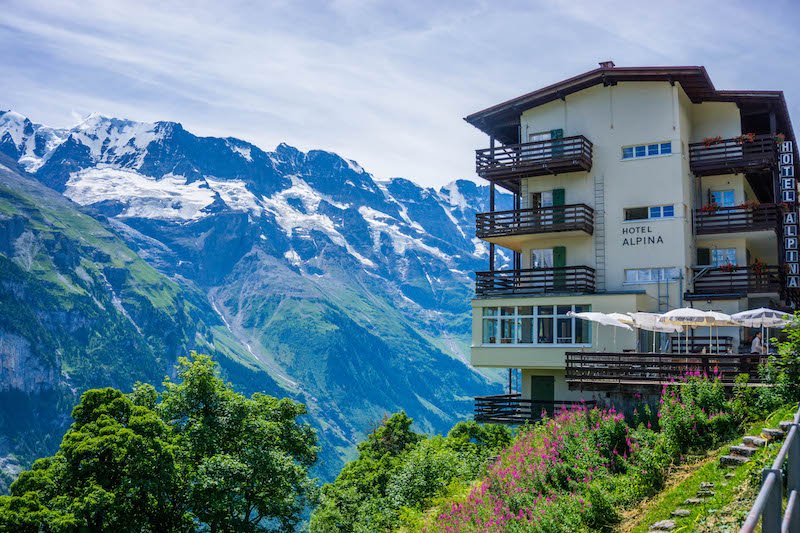 If you want to get away from Lauterbrunnen, and sneak in a day trip on your full-day trip from Interlaken, Mürren is a great addition!
I recommend taking the cable car and train up to the scenic village of Mürren, a beautiful car-free village tucked away up in the mountains.
It's just a short walk to access the cable car from the Lauterbrunnen train station, so you can easily do this as a side-trip from a Lauterbrunnen day trip.
Enjoy beautiful views on the terrace of Hotel Alpina with a coffee, or grab a fondue at one of the restaurants in town.
Gimmelwald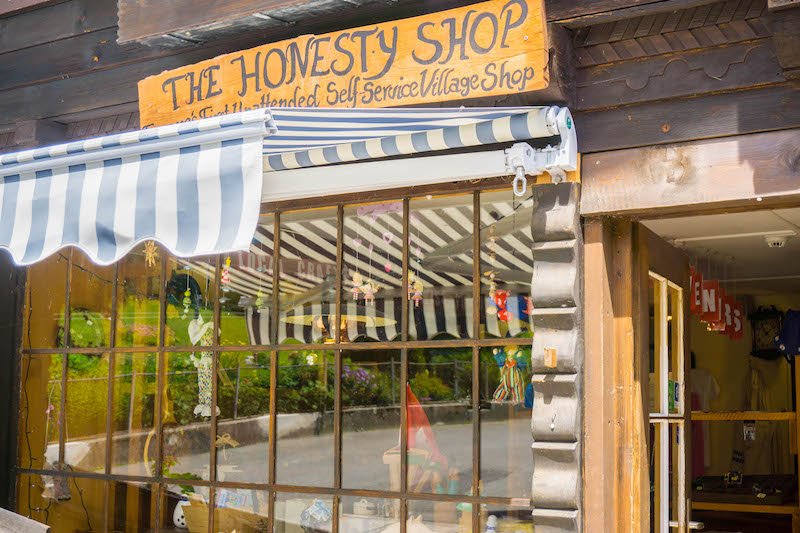 From Mürren, you can also visit Gimmelwald, another beautiful village accessible by cable car or by foot.
It is also quite easy to visit from Lauterbrunnen, so it's possible to do all of the above in one quick-paced day trip from Interlaken.
Gimmelwald is best known for its adorable Honesty Shop, a store with no merchant that where you pay for your goods by the honor system.
It's also just a cute and charming town that will take your breath away with its Jungfrau mountain views.
Thun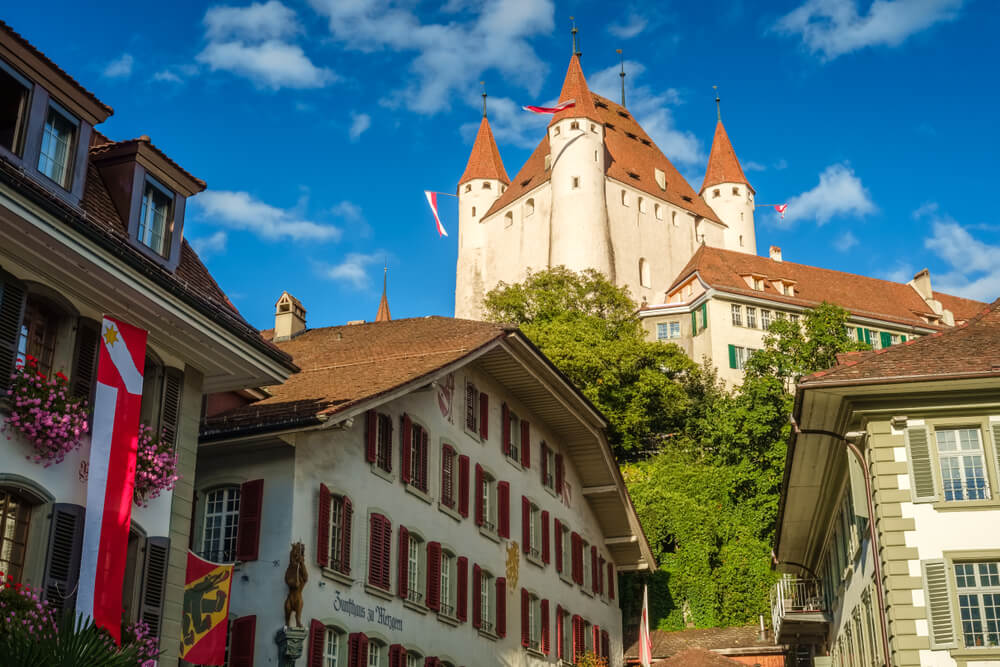 One of the two lakes that flank Interlaken is Lake Thun, which is named for the town of Thun on its banks.
The big draw is the fairytale Thun Castle – one of the most beautiful in Switzerland I'd say, after Chillon Castle in Montreux – and is well-worth taking the scenic boat ride from Interlaken to Thun.
The castle dates back to the 12th century and is host to a museum that exhibits prehistoric and medieval artifacts from the region. It's located in the middle of Thun's picturesque Old Town, which is also worth a wander.
Further down Lake Thun, you can also visit another castle, Spiez Castle, so if you are a huge history or castle geek spending a day bouncing around the beautiful sights on Interlaken's lakes are definitely worth making a day trip out of.
Kleine Scheidegg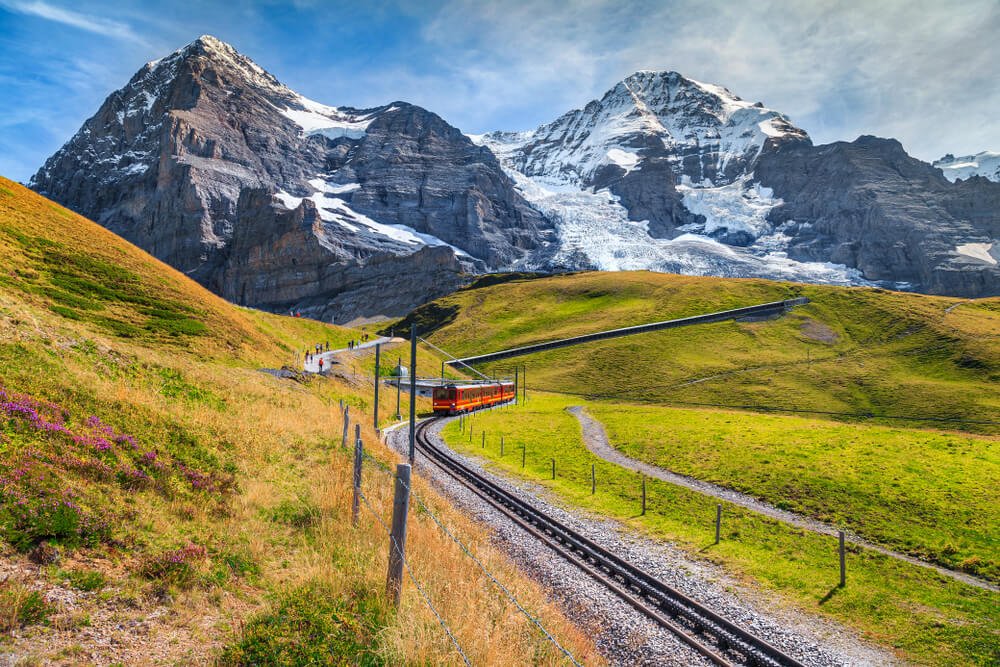 If you want to get into the mountains on a quick one day trip from Interlaken, head to Kleine Scheidegg.
This beautiful mountain pass sits just above 2,000 meters (6,600 feet) with stunning views over the Bernese Oberland mountains.
There are a few ways to get to Kleine Scheidegg but the one I would recommend is by taking the train to Männlichen (via either Grindelwald or Wengen) and then hiking to Kleine Scheidegg on the beautiful trail.
It's only 2.75 miles one-way (and you can take a train at Kleine Scheidegg to return to Interlaken rather than having to return) and best of all, it's all downhill with views of the most famous mountains in the Jungfrau region the entire time.
Grindelwald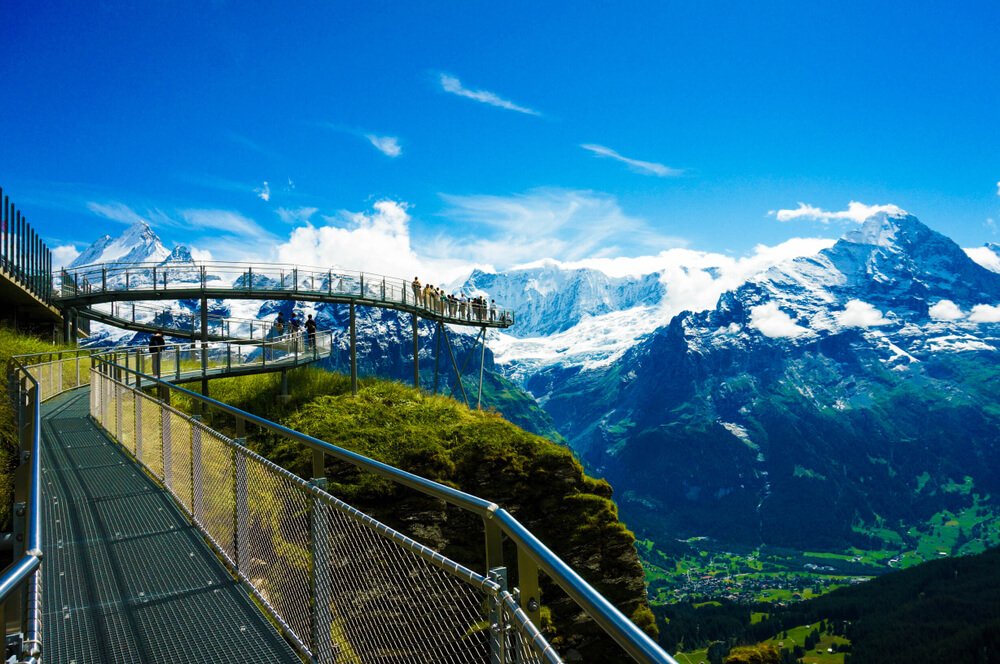 The beautiful village of Grindelwald is one of the more popular day trips from Interlaken due to its small town charm, Bernese Alps scenery, and abundant hiking opportunities.
Use Grindelwald as a gateway to Gletscherschlucht, a stunning glacial gorge, or Bachalpsee, a beautiful alpine lake.
Grindelwald-First is also a great spot for launching adventures on your day trip to Grindelwald, such as the Cliff Walk, Trottibike, Gliders, or Mountain Carts.
And of course, the most famous thing you can do in Grindelwald is the famous Canyon Swing.
This guided tour includes a transfer from Interlaken and the cost of the Canyon Swing!
Best Adventure Day Trips from Interlaken
Canyoning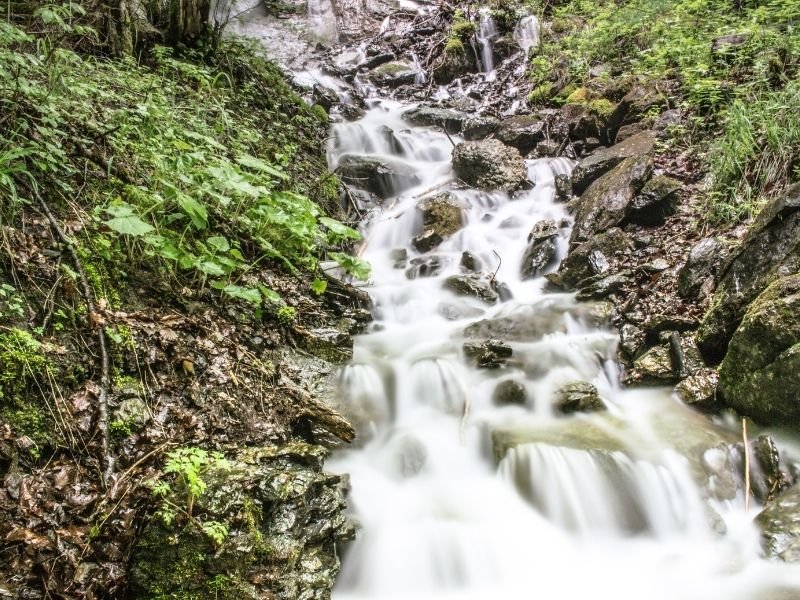 Interlaken is considered the adventure capital of Switzerland because it's so close to so many different kinds of outdoor adventure activities.
A lot of those activities include extreme adrenaline — bungee jumping, skydiving — but several others are a lot more low-key, such as this canyoning tour of the Saxeten Gorge.
This half-day activity is the perfect outdoor activity for people seeking a dash of adventure and outdoor time without any high-octane adrenaline.
No previous experience is necessary and you don't even need to be able to swim, though it is recommended.
It's a great choice for families with older kids who want to do something outdoors, but find the other offerings in Interlaken to be a bit too extreme.
Keep in mind kids must be 12 years or older to join the canyoning tour!
So, what is canyoning exactly? It involves jumping and abseiling down rocks and waterfalls, though the heights are not extreme.
On this tour, the highest jump is 7 meters high (22 feet), but it's optional and totally possible to skip if you get a bit nervous of heights.
It might sound scary, but it's a lot of fun. I haven't done canyoning in Interlaken, but I did do it in Nicaragua and loved it, and I'm not an adrenaline-rush person at all!
The canyoning excursion takes place in a lush forest just 10 minutes from Interlaken: a totally different environment than the mountainous scenery you may be thinking of when you think of Switzerland.
The canyoning part of the experience lasts about an hour and a half.
Paragliding or skydiving over Interlaken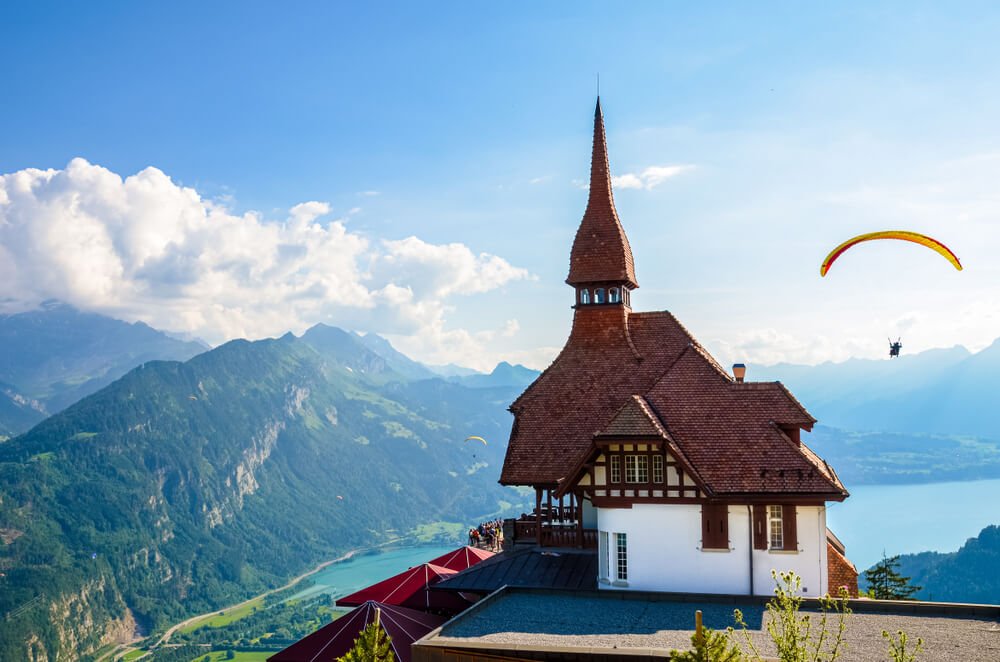 If you're in the mood for a lot more adrenaline, a bucket list-worthy paragliding or skydiving experience is the ultimate Interlaken day trip!
Both the paragliding and the skydiving are tandem experiences, meaning you glide or dive with a licensed guide who ensures you do everything safely and makes you feel at ease.
Personally, I'm too much of a chicken to either paraglide or skydive, BUT it is one of the top things to do in Interlaken for adventure enthusiasts!
There are a few highly rated paragliding and skydiving tour outfitters. I suggest this company for tandem paragliding and this company for tandem skydiving.
Want even more adrenaline? You can also try bungee jumping over one of the beautiful lakes of Interlaken!
Rafting in the Lütschine River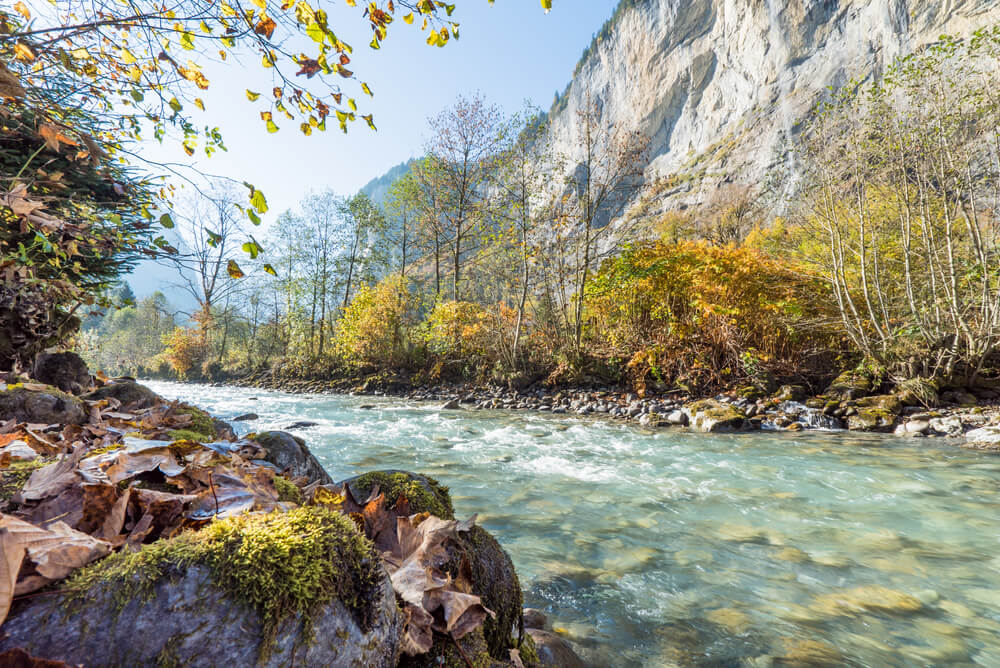 Want some adrenaline but you don't necessarily want to jump off a cliff? White water rafting is another popular outdoor activity that makes a great day trip from Interlaken.
The Lütschine River is perfect for white water rafting, as the summer water levels go hard and fast as the snow from the glaciers melt and create rapids in the river.
Equipped with wetsuits, helmets, and all the necessary rafting gear, you'll head out on a raft with experienced and licensed guides.
You'll enjoy an hour and a half of white water rapids and then the pace mellows out near the end on this white water rafting tour.
Approaching the calm of Lake Brienz with its brilliant turquoise blue-green waters is the perfect end to a fun, adrenaline-pumping day out!
No previous rafting experience is necessary, although you do have to be able to swim independently to be able to do this tour safely.
Best Day Trips from Interlaken by Scenic Railway or Cable Car
Harder Kulm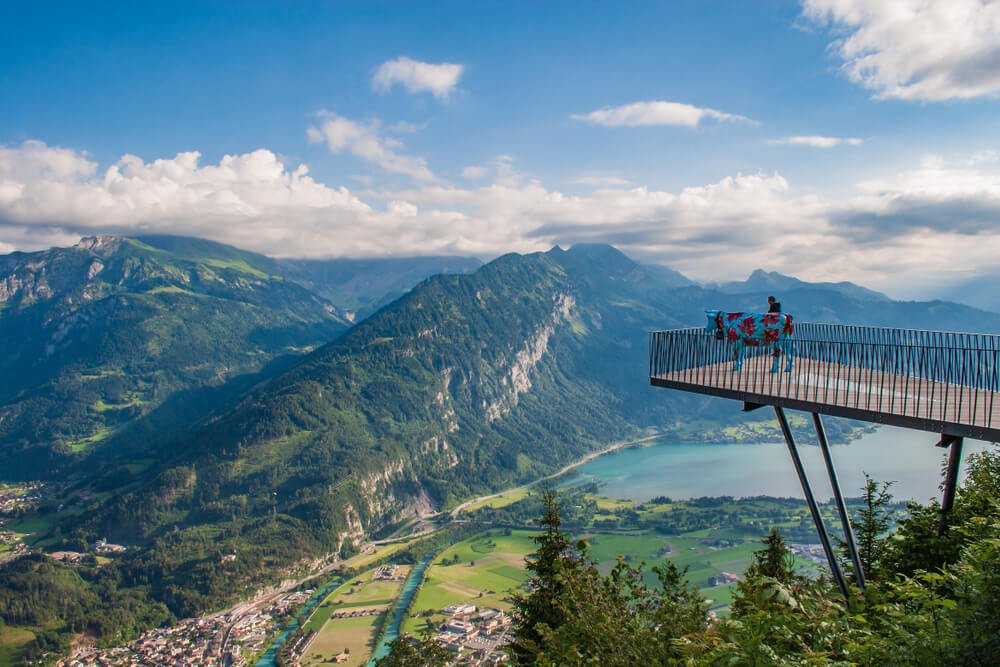 The beautiful Harder Kulm (also written Harderkulm) offers a stunning vantage point 1,300 meters (4,200 feet) above sea level.
The view overlooks the city of Interlaken and its two scenic lakes as well as the town of Unterseen.
Harder Kulm is one of the easiest day trips from Interlaken — in fact, it's more of an activity in Interlaken than a true day tour, but I digress.
To get to Harder Kulm, simply take the funicular close to the Interlaken Ost railway station, about a 5-minute walk away from the train station.
You can buy your ticket at the funicular station or save time by booking it online at a discount.
The funicular takes about 10 minutes to reach the top and once you arrive, you'll see stunning views of the mountain peaks of the Bernese Alps: Eiger, Mönch, and Jungfrau, amongst others.
At the top, be sure to eat a meal in the panoramic restaurant, Harder Kulm Panorama Restaurant — it literally looks like a castle!
Schynige Platte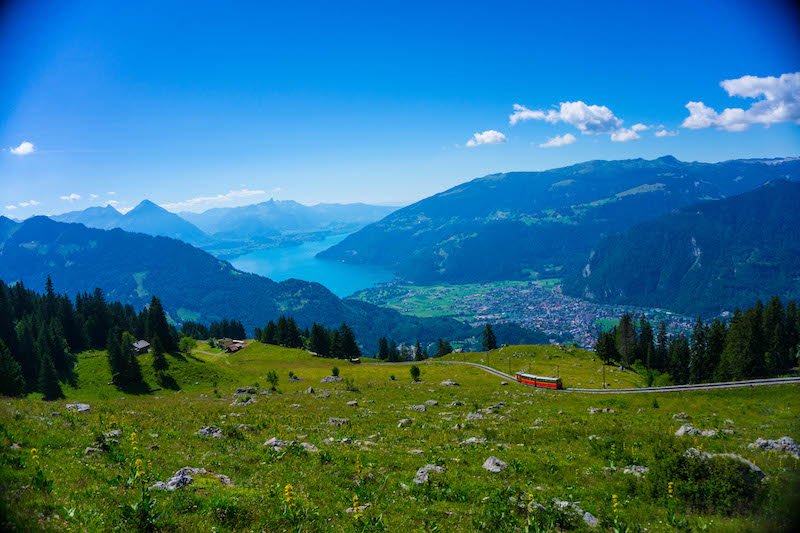 Another one of my favorite day trips from Interlaken, it's quite easy to take the scenic cogwheel train up to Schynige Platte, a beautiful mountain that overlooks Interlaken.
Starting from Interlaken, you can take the Bernese Oberland Express train one stop to Wilderswil, and then take the adorable red train about 1 hour up the mountain, taking in gorgeous views of Interlaken valley from your train window.
At the top of Schynige Platte, there's plenty to do to while away an afternoon. You can eat at the restaurant there enjoying the views, or simply sit at the café and enjoy a coffee or glass of wine if you are on a budget.
Either way, you'll enjoy a view of the triple peaks of Eiger, Mönch, and Jungfrau.
There are hiking trails you can take in order to get beautiful views over Interlaken, or if you're after a more restful day, you can just kick back and enjoy the scenic train ride.
For more information on the train ride, check out their official website here.
Bonus: If you have a Jungfrau Travel Pass, the Schynige Platte scenic railway is included!
Jungfraujoch (The Top of Europe)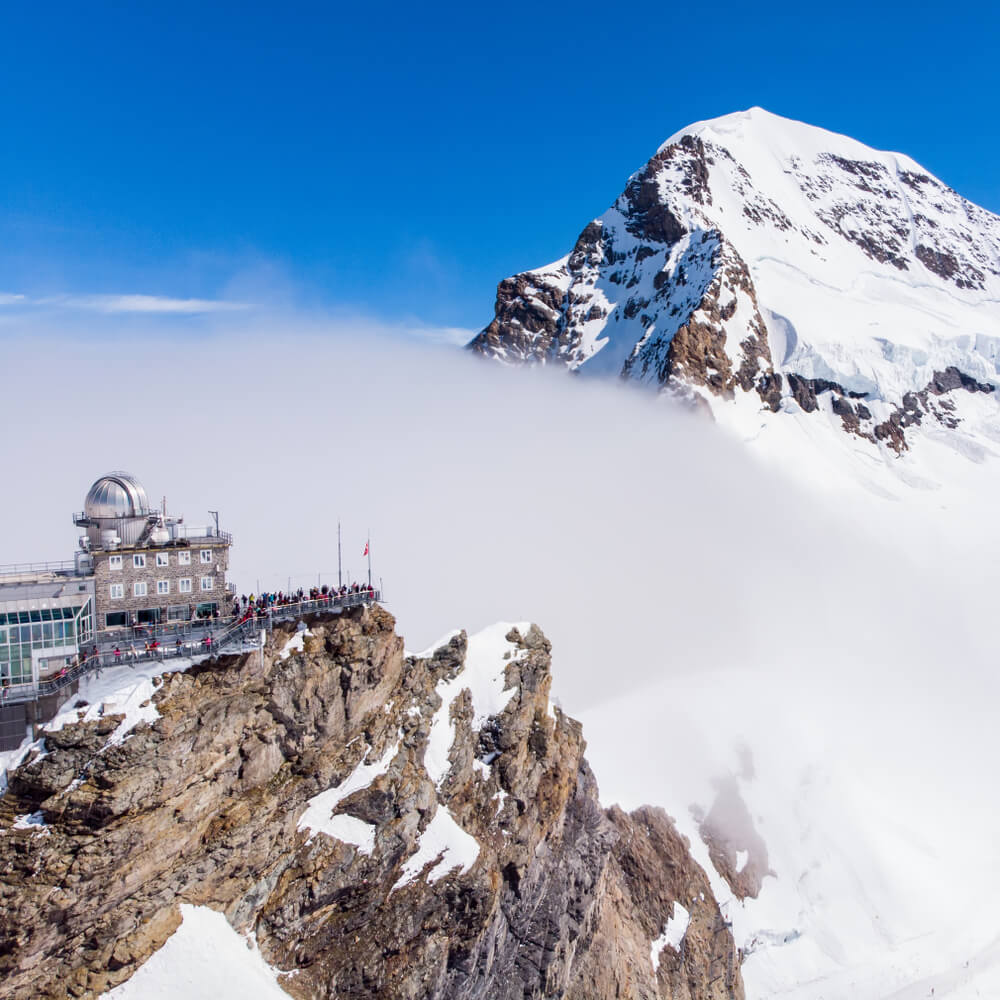 If you're intrigued by the idea of climbing to "the Top of Europe" – without having to do much more than sit on a scenic train (where my fellow lazy people at?) then you'll love visiting Jungfraujoch.
This is the highest railway in Europe, taking up to nearly 3,500 meters above sea level (more than 10,000 feet). It's also a UNESCO World Heritage Site, if you're a collector of historic sights!
At the top of Jungfraujoch, you're able to see a handful of peaks over 4,000 meters tall all around you, as well as the ancient Aletsch Glacier which has survived millennia and is still the largest glacier in the Alps.
There is a year-round Ice Palace, carved by artists to create a wintry wonderland that will delight kids and even adults with ice sculptures taking the forms of animals.
While the view at the top can sometimes be obscured by the clouds (you are 3,500 meters up, after all – clouds are often a given) there is the Jungfraujoch panorama which gives you an immersive, cinematic experience of the snowy peaks and vastness of the glacier.
I recommend visiting Jungfraujoch as part of a guided tour that includes transportation to Grindelwald, the scenic train ride up to Jungfraujoch, a stop in Wengen and finally a stop in Lauterbrunnen, allowing you to see the most on your day trip from Interlaken.
Check prices, reviews, and tour availability here. Or, if you prefer to go independently at your own leisure and save some money, you can just purchase the roundtrip train ticket here.
Schilthorn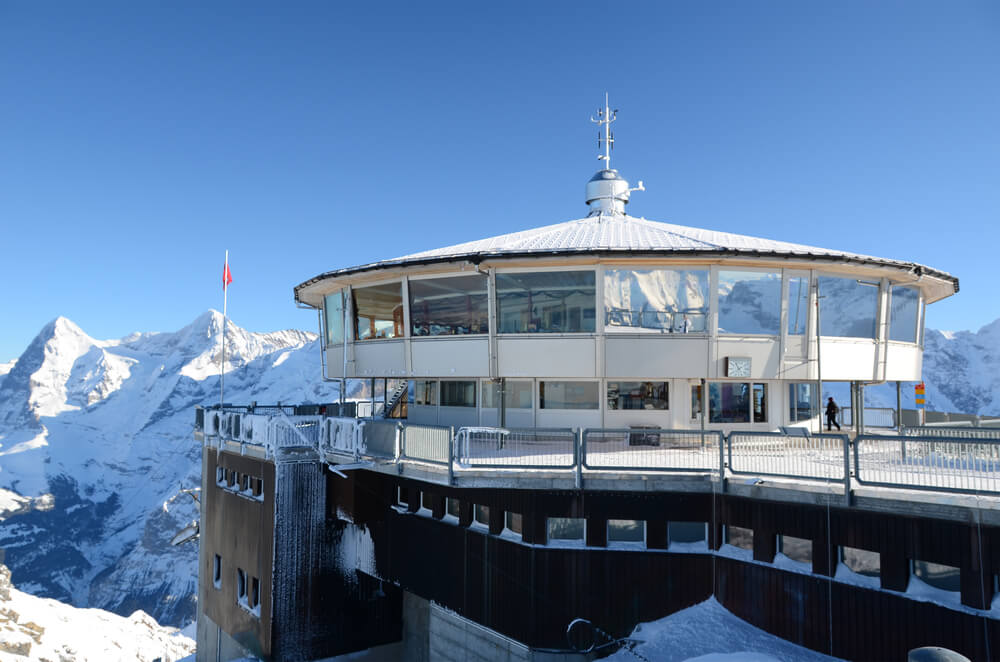 Another popular day trip from Interlaken, Schilthorn is another scenic mountain experience, but this time by cable car rather than train.
Lower than Jungfraujoch at 2,970 meters (9,750 feet), it still offers quite an impressive vista.
It may look familiar to you, as the panoramic revolving restaurant Piz Gloria was featured in the famous James Bond movie On Her Majesty's Secret Service.
Generally, you get here via a series of cable cars, which start in Stechelberg (near Lauterbrunnen) before heading up to Gimmelwald and Mürren, then onwards to Birg for the final cable car to Schilthorn.
You could also hike, though it would take at least 5 hours from Gimmelwald and I wouldn't recommend it unless you're insanely fit.
If navigating all those transfer points seems stressful, you can go by guided tour and still take the final ultra-scenic cable car up to Schilthorn! Check availability here.
Best City Day Trips from Interlaken
Bern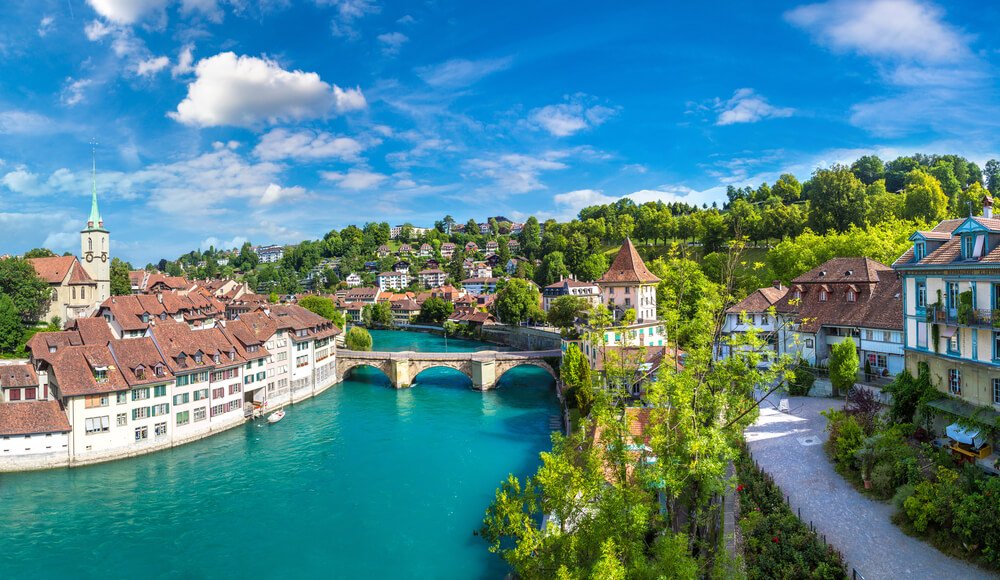 Bern is the capital of Switzerland and the heart of Bernese Oberland, the region that encompasses Interlaken and all the above-mentioned Interlaken day trips.
But Bern is quite different, way more of a city whereas the other day trips so far on this post are all either villages or scenic mountains.
But don't worry, it's still incredibly scenic: the Aare River runs right through Bern, with beautiful, impossibly turquoise waters.
Bern is famous for its Zytglogge, a medieval 13th-century clock that shows that the Swiss obsession with timeliness is not a new phenomenon.
There are also several excellent museums, such as the Einstein Museum and the Kunst Museum (Art Museum), as well as a beautiful Old Town to walk through.
Trains from Bern to Interlaken run like, well, clockwork, so it's quite easy to organize a day trip from Interlaken to Bern independently.
There's no need to spend money on a pricy experience or entry ticket, so it's a great day trip option for travelers on a budget.
Zürich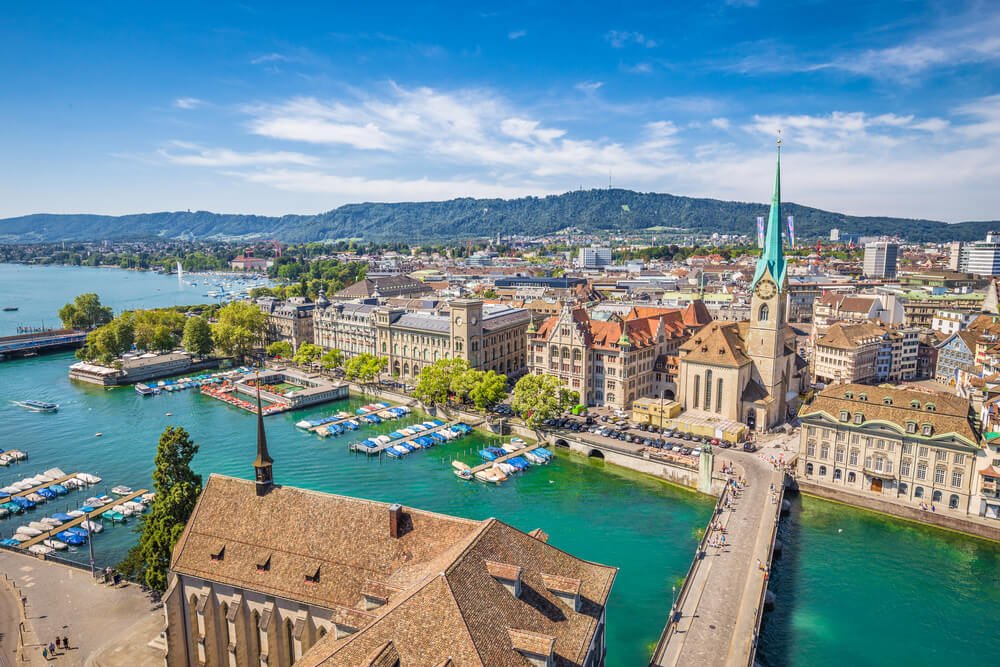 The train ride from Interlaken to Zürich is just two hours, and it passes through Bern on the way there.
Zürich is the largest city in Switzerland despite not being the capital, and it's a great place to go for a day tour full of sightseeing and immersing yourself in Swiss city life.
There's a ton to do in Zürich and there's no way you'll see it all with just one day in the city, so pick activities based on your interest. Museums, shopping, nature, culture: Zürich has it all.
Lucerne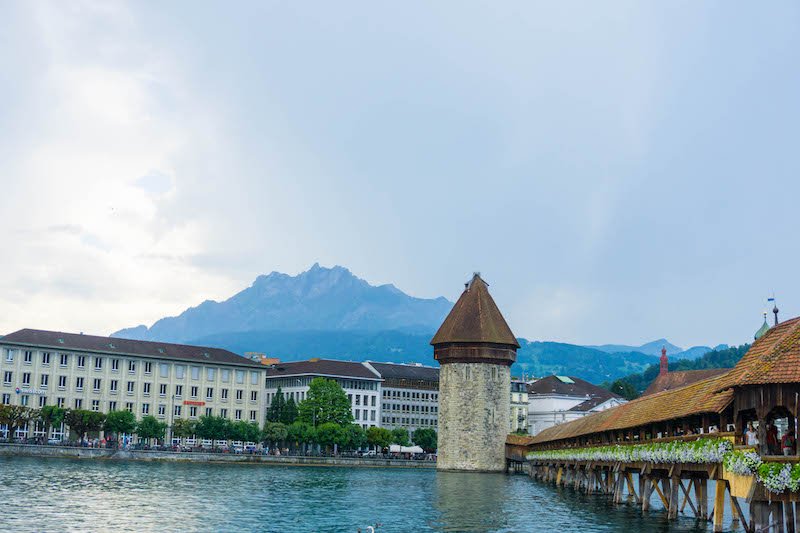 From Interlaken, it's easy to get to Lucerne, just two hours on a train, no need for any connections.
Lucerne (or Luzern as it's written in German) is a fun and vibrant city with incredibly scenic surroundings.
Take a steamboat tour of Lake Lucerne to really appreciate the beauty of the region, admiring Mt. Pilatus and Mt. Rigi, two accessible mountaintops from either lake level or by ascending them by train or gondola.
You can also explore the charming city of Lucerne, enjoying its shopping scene (be sure to pick up plenty of Gruyere cheese and chocolates!) and getting a sense of the city culture.
Geneva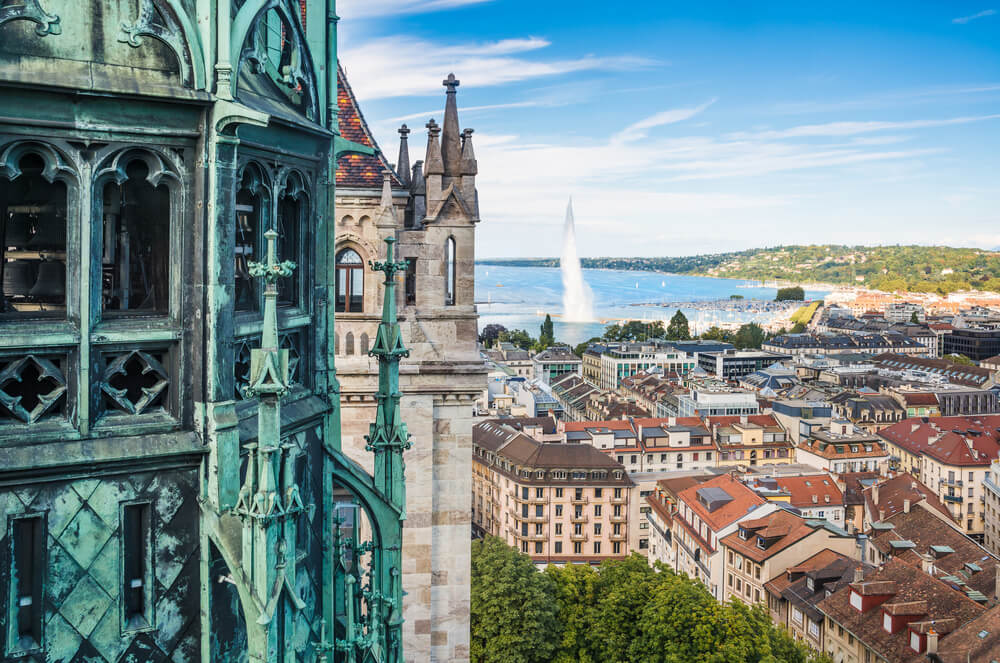 Geneva is a wonderful city that I recommend basing yourself in for a few days if you can!
Like Interlaken, Geneva also has a ton of wonderful day trips, both in Switzerland (Montreux, Lausanne, etc.) and in neighboring France (Chamonix, Annecy, etc.), that makes it an excellent base for a few days of your Switzerland travels.
However, if you only have time for a day trip to Geneva and you are based in Interlaken, it's definitely possible to have a fantastic day in Geneva.
Check out the Jet d'Eau, the enormous water fountain that shoots water 140 meters (over 500 feet) in the air in the middle of the harbor in Lake Geneva.
What you do on your day in Geneva depends on your interests. If you're into history and culture, you can take a private tour of the city on foot or on Segway, explore Geneva's incredible museums, and learn about the U.N. in Geneva.
You can even take a tour of the U.N. building, Palais des Nations, if you book a guided tour online, although the U.N. is not yet reopened due to the pandemic.
For nature lovers, you can take a steamboat ride on Lake Geneva (also called Lac Leman) and admire the beautiful views of the Swiss Alps in the distance.
Where to Stay in Interlaken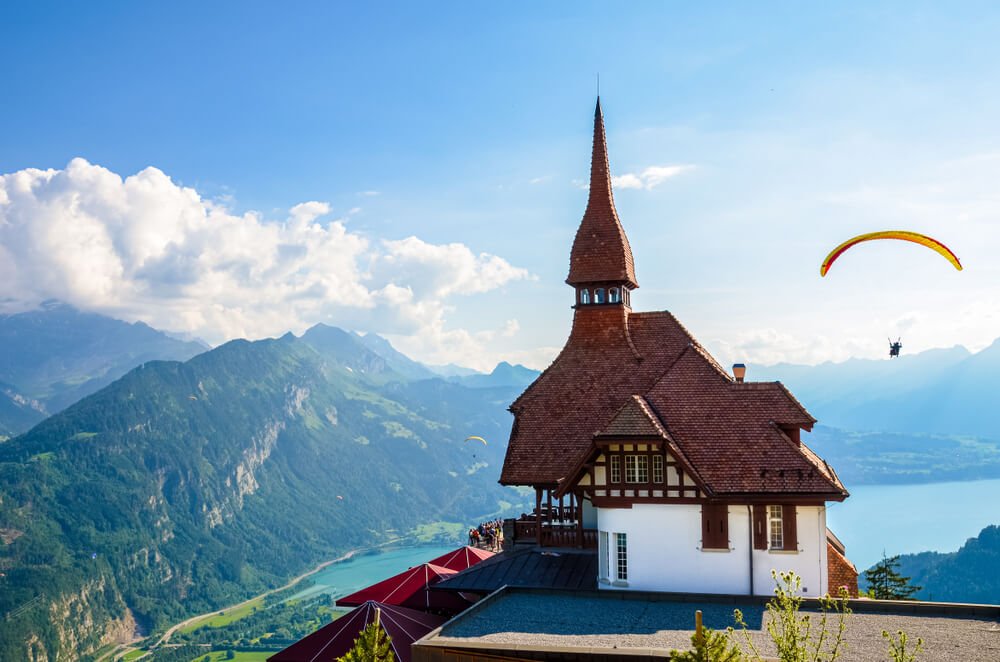 Budget
Budget travelers, take note: Interlaken is one of the most affordable places to visit in Switzerland.
There are several hostel options (unlike in other Swiss towns and cities, where the options are minimal).
One of the cheapest and best-reviewed is Balmers Backpackers Hostel, and since it comes with free breakfast, it's really a great deal for Switzerland!
Book in advance here as hostels in Switzerland often fill up early due to high demand and low inventory!
Mid-Range
Switzerland doesn't have a ton of boutique hotels – more often, you'll choose between guesthouses and fancy chain hotels – but B3 Boutique Bed & Breakfast looks like a real charmer.
It's a touch outside of central Interlaken in a town called Gsteigwiler, but for the great price and rave reviews, it's a great choice in Interlaken.
Luxury
The Royal St. James is a Sofitel property, a chain of hotels I trust.
It's a gorgeous building with a great location, spa and sauna, and raved-over breakfasts. I think it's one of the best luxury options in Interlaken.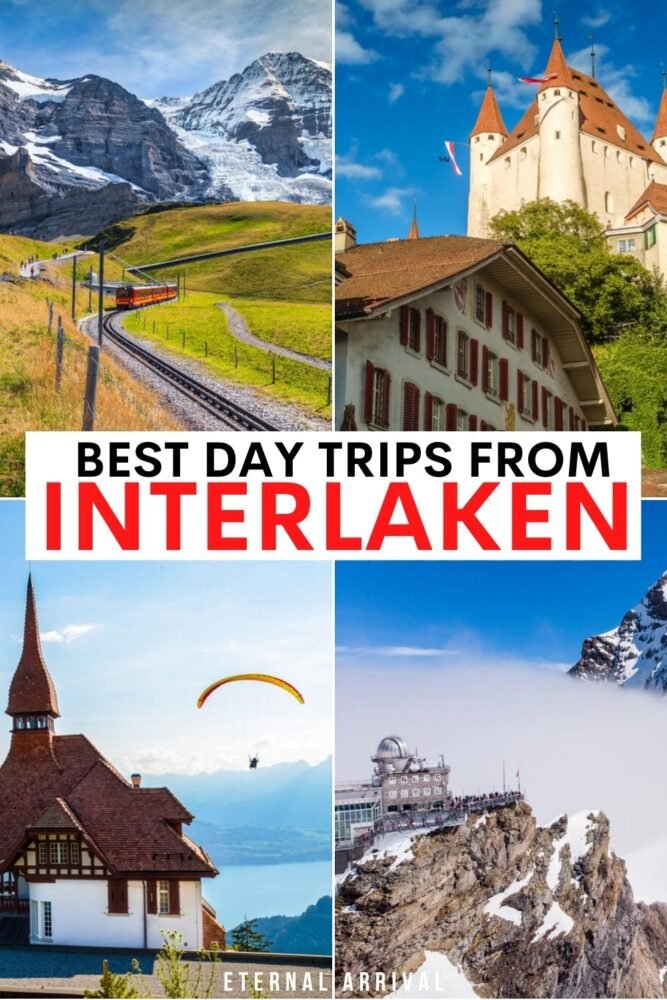 Allison Green is a former educator turned travel blogger. She holds a Masters in Teaching and a B.A. in English and Creative Writing. Her blog posts merge her educational background and her experience traveling to 60+ countries to encourage thoughtful travel experiences that both educate and entertain. She has been a speaker at the World Travel Writers Conference and her writing, photography, and podcasting work has appeared in National Geographic, CNN Arabic, CBC Canada, and Forbes, amongst others. Now based in the San Francisco Bay Area where she grew up, she has also lived in Prague, Sofia, and New York City.