Taipei is one of my favorite cities I've visited.
Bustling with life yet manageable to navigate, sprawling but incredibly efficient to get around, Taipei feels made for a big city lover like myself.
Taipei's got incredible (and cheap) eats at all the night markets, boutiques selling uniquely Taiwanese handicrafts, interesting museums and markets, and tons of parks and green spaces.
You could be forgiven for never wanting to leave the Taiwanese capital that seems to have it all.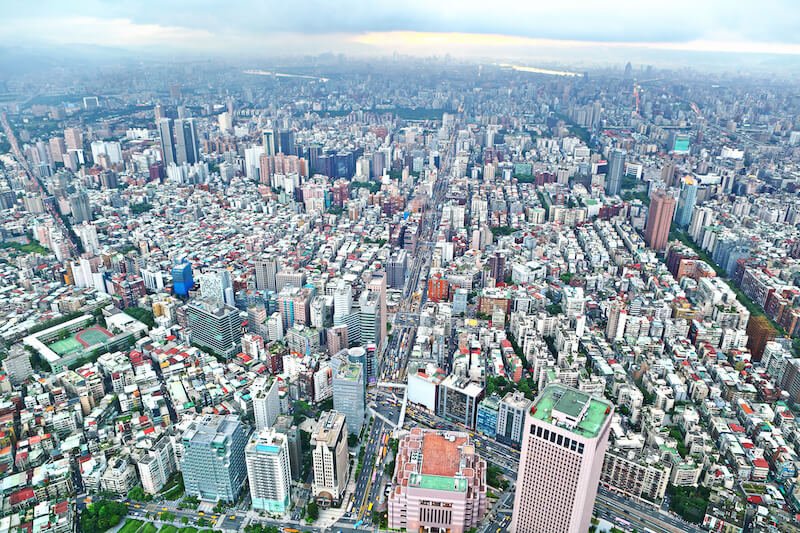 Note: This post contains affiliate links, which means I may receive a small commission if you purchase something through one of these links. Thank you for supporting the free content on this site! For more information on affiliate links and cookies, see my disclosure page for more details.
But one of the best things about traveling to Taipei is that there is such a varied abundance of day trips from Taipei all within easy distance!
The excellent public transportation network around Taiwan makes day trips form Taipei to even the most farflung places actually quite feasible!
As a result, it's possible to take a day trip from Taipei to places nearly 200 kilometers away, without much time or effort.
I did several day trips during my time in Taipei, including my personal favorite to Shifen Waterfall.
But I didn't have time to do it all, so I've also included a few picks from other bloggers who have done their own Taipei day trips!
13 Top Taipei Day Trips
Shifen Waterfall & Old Street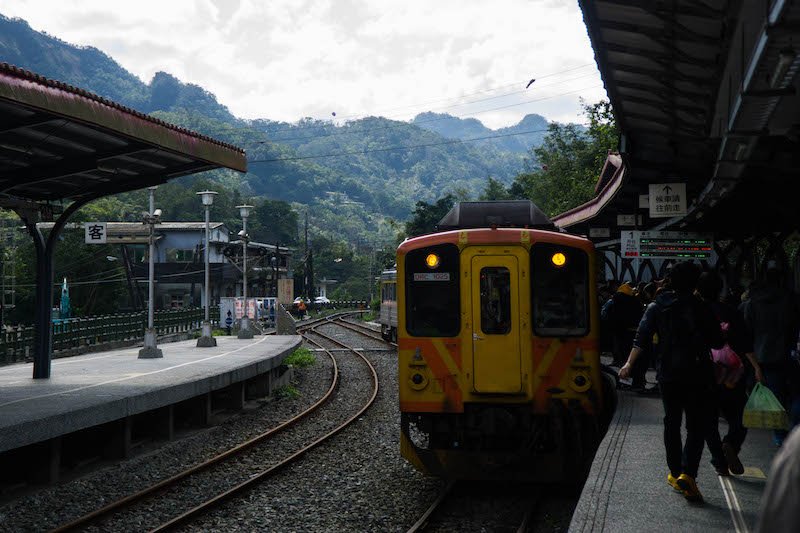 The small village of Shifen is definitely one of the best day trips from Taipei that you can take!
The best part is arriving in the middle of Shifen village – literally, as the train splits the main "Old Street" in two!
All up and down the streets along the Old Street, people are selling delicious traditional Taiwanese treats such as fried squid, xiao long bao, and fish balls.
Definitely follow your nose and sample as much as you can up and down this main street!
Another common thing to do on Shifen Old Street is to paint your own lantern and set it off into the sky, making a wish along the way.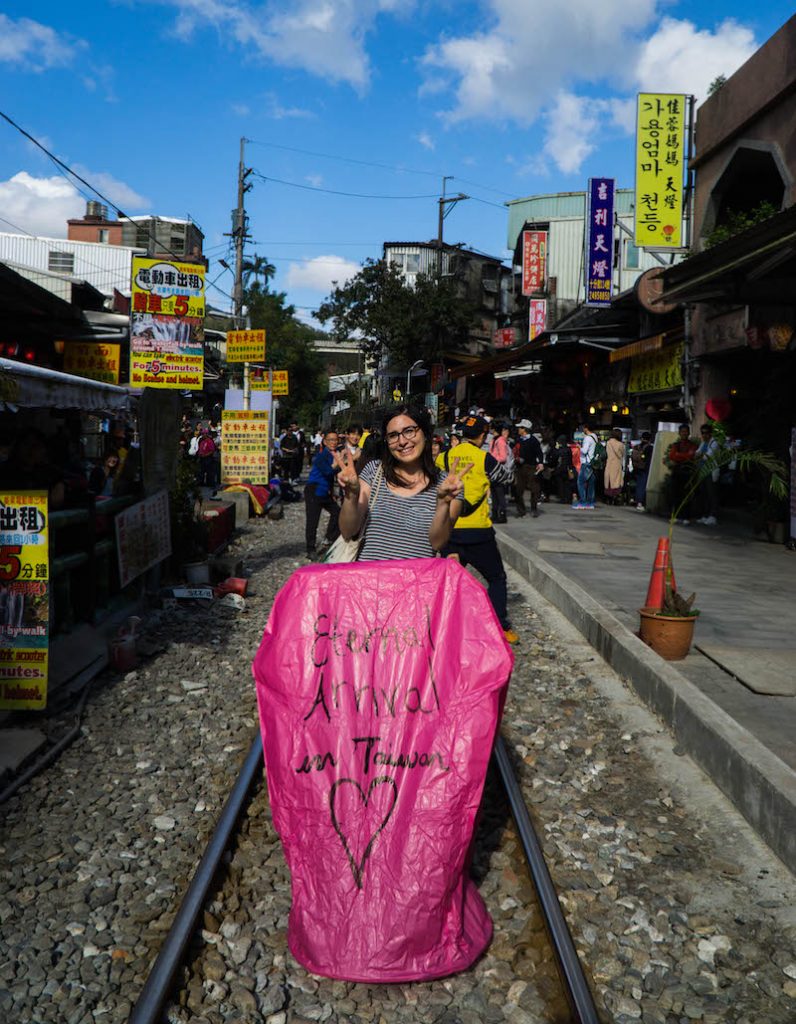 You can select your colors of the balloon (each color has a special significance) before painting it with well-wishes, then lighting it off into the sky!
It's quite a touristic activity to be sure, but I loved it all the same.
It doesn't come close to the magic you'd experience at, say, the annual lantern festival but it's fun and worth doing all the same.
After lighting off your lantern and watching your wishes reach skywards, you can make your way to Shifen Waterfall.
The traditional way to get there is with a (very weakly powered) electronic scooter; however, it is actually perfectly easy to walk if you so chose.
We opted for the electronic scooter because it seemed a little more fun.
There's no need for insurance or even a deposit – they literally just give you the keys and off you go!
It's about a 5-minute ride by scooter or probably a 30-minute walk.
Shifen Waterfall is about a 20-minute walk from the entrance.
Here, you'll find some areas to rest and relax as well as more food if you get hungry.
(However, the food on Shifen Old Street looked a whole lot fresher and tastier)
Keep walking down the path and soon enough you'll encounter the beautiful Shifen Waterfall viewpoint!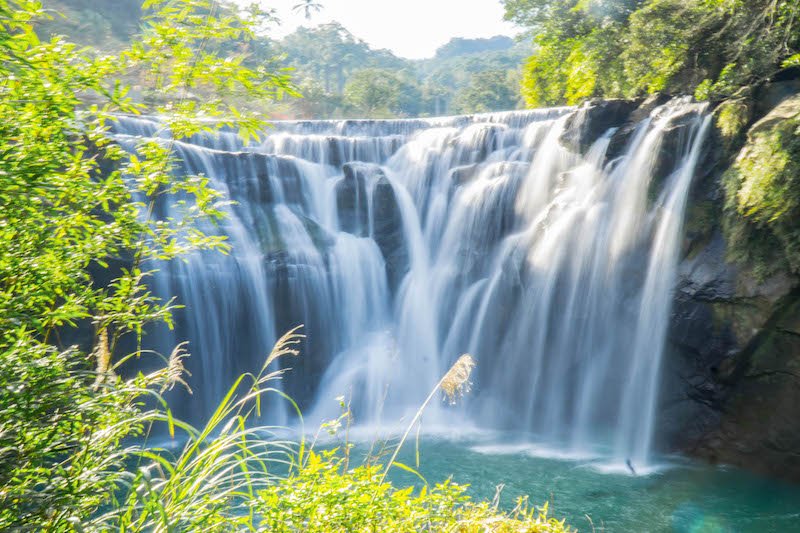 Shifen Waterfall is 40 meters tall and 60 meters wide, in a horseshoe formation that has given it the nickname "Little Niagara".
Be sure to walk around a bit to avoid the crowds (it's a popular day trip from Taipei, so you definitely won't be alone!) and get the best photo.
I recommend bringing a travel tripod and some neutral density filters to get the ideal "blurry water" photo like I shot below.
How to Get to Shifen from Taipei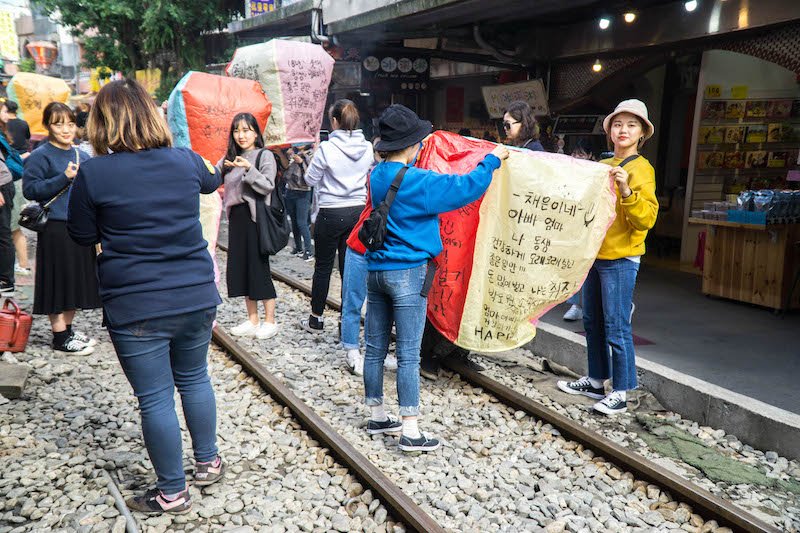 It's quite easy to get from Shifen to Taipei; I've explained it in detail on this post here. I'll recap it here:
First, take the MRT to Taipei Main Station. From there, you can board any northbound train except a Keelung-bound train to Ruifang (the express trains are called Tzechiang).
A ticket cost 78 Taiwanese dollars, or about $2.50 USD. The signage can be a little confusing here, so ask a local to be sure if you're getting on the right train: the stop you want is Ruifang (瑞芳).
It may help to have the Chinese written out on your phone to show someone if needed.
At Ruifang, transfer to the Pingxi line and ride that all the way to the end.
The best deal is to buy a day pass for the separate Pingxi line, which costs NTD $80 (about $2 USD), since you'll have to return this way.
If that's all too much, you can also book private shuttles there and back.
If that all sounds a little stressful, you can just book a tour. They typically combine a few destinations, like this Shifen, Jiufen, and Yehliu tour (that includes pastry making as an added bonus!)
Jiufen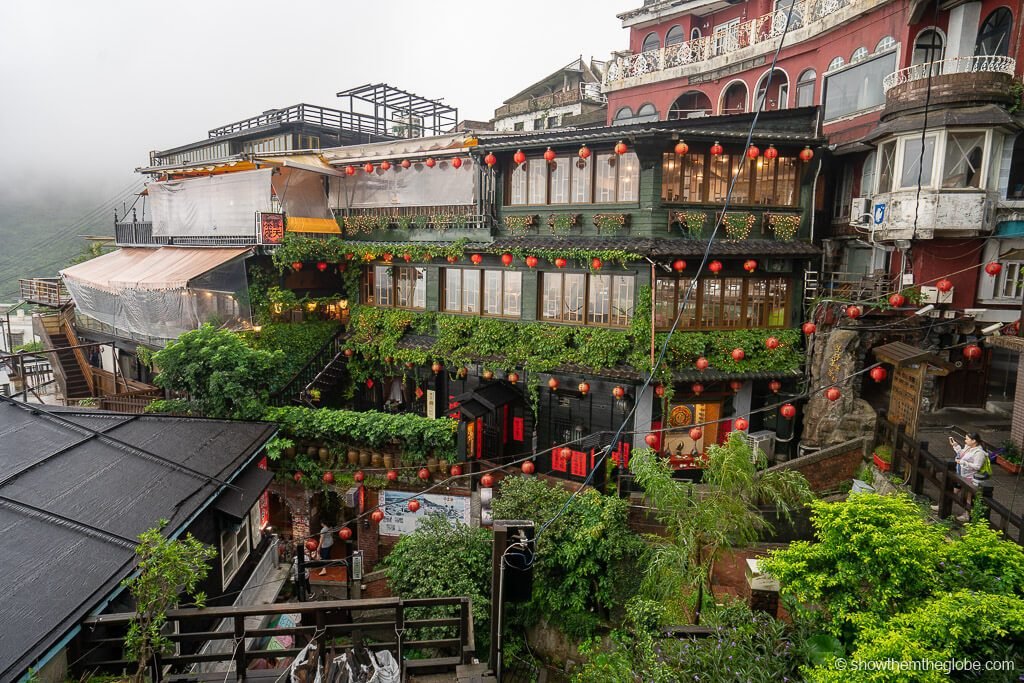 The charming old town of Jiufen, once famed for its prosperous gold rush and gold mining activities, is located about 40 kilometers east of Taipei.
The picturesque mountain town offers a vibrant mix of tradition and culture and is a lovely contrast to the chaotic streets of Taiwan's capital city.
Jiufen's old street is a maze of souvenir shops and eateries and is the first stop for most visitors on a day trip from Taipei.
Glutinous rice cakes, peanut ice cream, meatballs, Taiwanese sausages, and fish balls are among the many delicious snacks which must be tried along the way!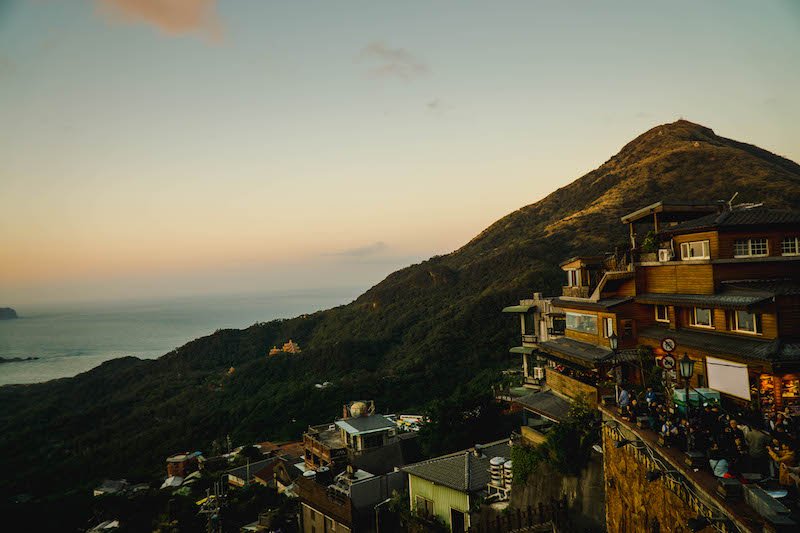 The A-Mei Tea House is one of Jiufen's most prominent landmarks and is hugely popular with visitors who stop by the beautiful building and indulge in both the tea and the views.
Jiufen is also home to the picture-perfect Shengping Theatre, which is considered the first modern theatre in Taiwan.
Other great sightseeing options include the nearby Gold Ecological Park in Jinguashi and a hike to the top of Keelung Mountain for some amazing views.
How to Get to Jiufen from Taipei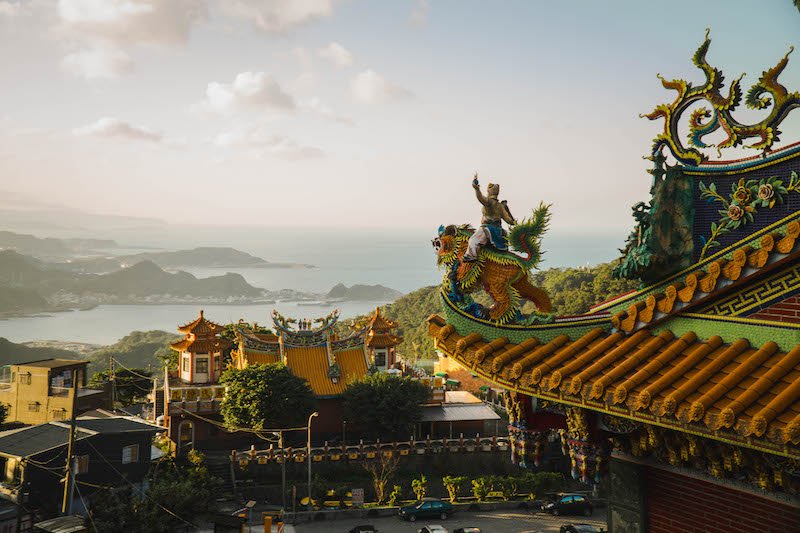 Jiufen can be accessed by public transport: take the #1062 bus which departs frequently from Zhongxiao Fuxing MRT and travels to Jiufen Old Street.
Alternatively, ride the train to Ruifang Station and switch to the Golden Fulong tourist shuttle bus.
Other options for traveling to Jiufen include booking a private shuttle for the trip or joining a group tour from Taipei.
However, note that returning back on this bus is incredibly difficult due to the crowds!
Once, I actually tried to return via public bus but several went by without stopping because they were already full.
I ended up taking a shared taxi back to Taipei for 300 Taiwanese per person (about $10 USD).
There are also tours which will take you to Jiufen as well as some off the beaten path places that are hard to get to with public transport.
The Shifen tour above includes Jiufen, and you can also take this Jiufen and Northeastern Coast tour which includes some unique sights.
The Northeastern Coast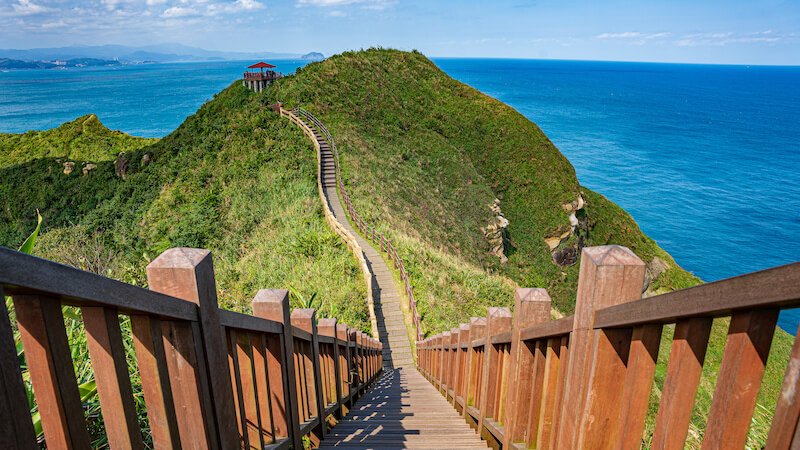 There are some amazing places on the Northern Coast of Taipei!
However, as a Taipei day trip, they can be hard to visit without either your own car or motorbike or a private tour.
A few of the highlights of the Northern coast include Bitou Cape, Sandiao Cape Lighthouse, the stunning Nanya rock formations, Fulong Beach, and Beiguan Tidal Park.
How to Get to the Northern Coast from Taipei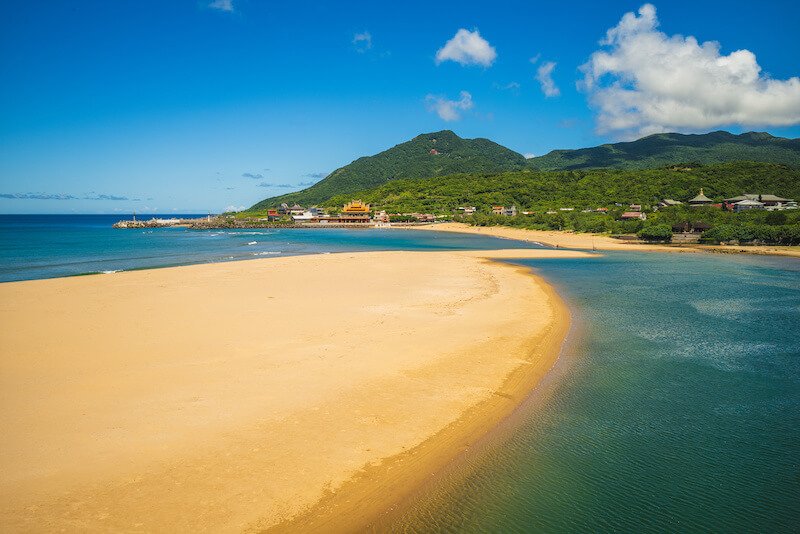 Public transportation in this region is limited and takes quite a while to travel independently, when it exists at all.
As a result, I only recommend doing this as part of a guided tour unless you have your own transport sorted.
It would simply be too difficult to see all these places as a day trip from Taipei without either a tour or a car.
Here's a Northeastern Coast tour that includes many of the sights above!
Taroko National Park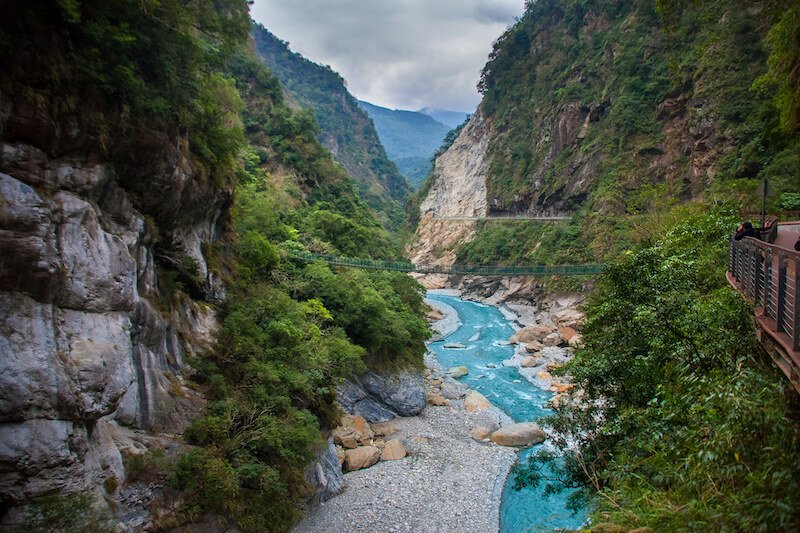 Taroko National Park is Taiwan's most iconic park and should be on any Taiwan itinerary.
The park is easily reached from Taipei for a day trip to do most of the unique short hikes, but longer hikes logical require an overnight stay.
Taroko National Park is all about magnificent views of gorges, mountains, waterfalls, and forest. If you're lucky you can spot some wildlife too!
In case you might run out of time, then remove the Meandor Core Scenic Trail and the Baiyang Trail from the below suggested itinerary.
This Taipei day trip is full of relatively short hikes over good accessible paths. They are all quite flat although the area is very mountainous.
After getting the entrance ticket at the visitor's center, start with the 2-kilometer Shakadang Trail.
Continue to the Changchun Temple and Changuang Temple; they are both worth a look.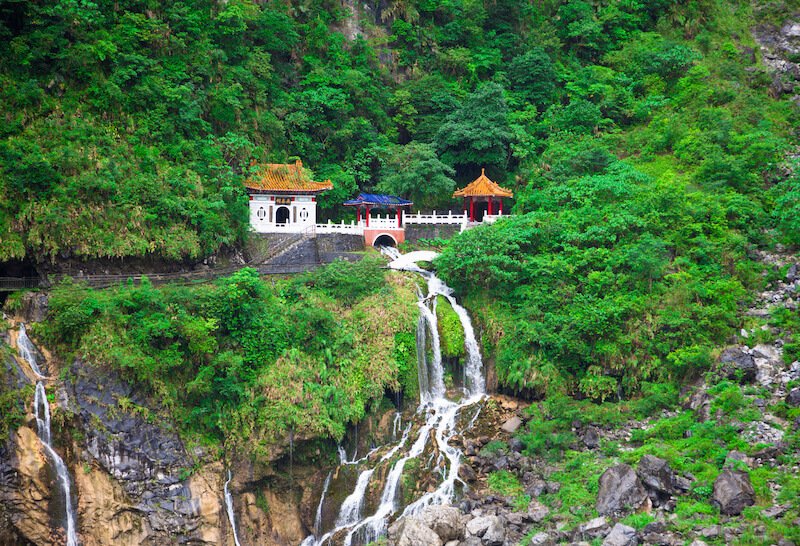 The next trail is the Meandor Core Scenic Trail, which is best in spring when flowers are in full bloom. 
Now go to Swallow Gorge (Tunnel of Nine Turns) and have a look at the magnificent geological formations and, as the name says, the swallows. There is a restaurant there too where you can stop for lunch.
Continue further down the road for the Lushui Trail, but just do the short hike that doesn't require a permit.
One kilometer further is the last stop: Xiangde Temple. If you have time left and the trail is open, you can finish the day with the Baiyang Trail where at the end is a beautiful waterfall. 
How to Get to Taroko National Park from Taipei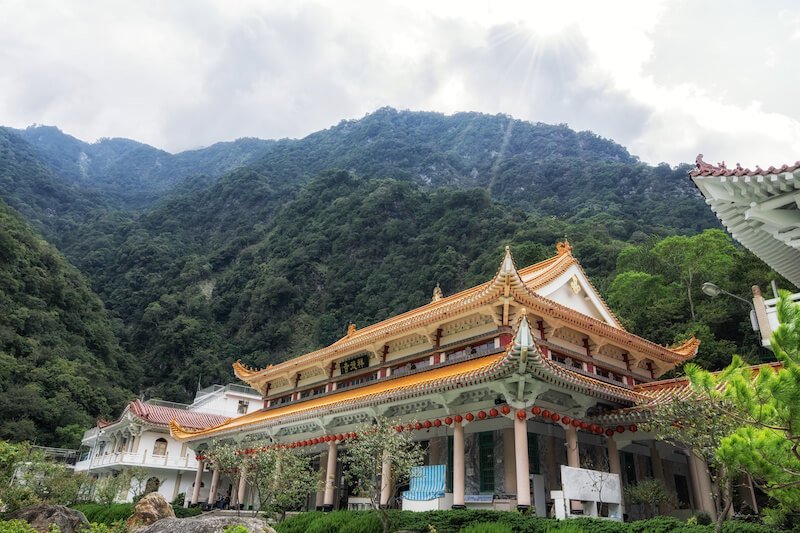 Getting to Taroko National Park for a day trip is best done by car as driving in Taiwan is easy.
Alternatively, you can go on an organized tour too, which gives you less flexibility since you have to stick to the planned itinerary.
However, if you don't have a car, it's the only way to visit Taroko in a day trip, so check out tour details here.
If driving yourself, keep in mind that the drive takes about 2 and a half hours, so it's best to leave Taipei at 6 AM so you can start at 9 AM when the park opens.
Start at the visitor's center to buy your ticket and map and go from there to each spot.
Parking is available everywhere, and keep in mind you will be driving back in the dark as you need all the daylight hours to explore the park.
Wanli Beach & Yehliu Geopark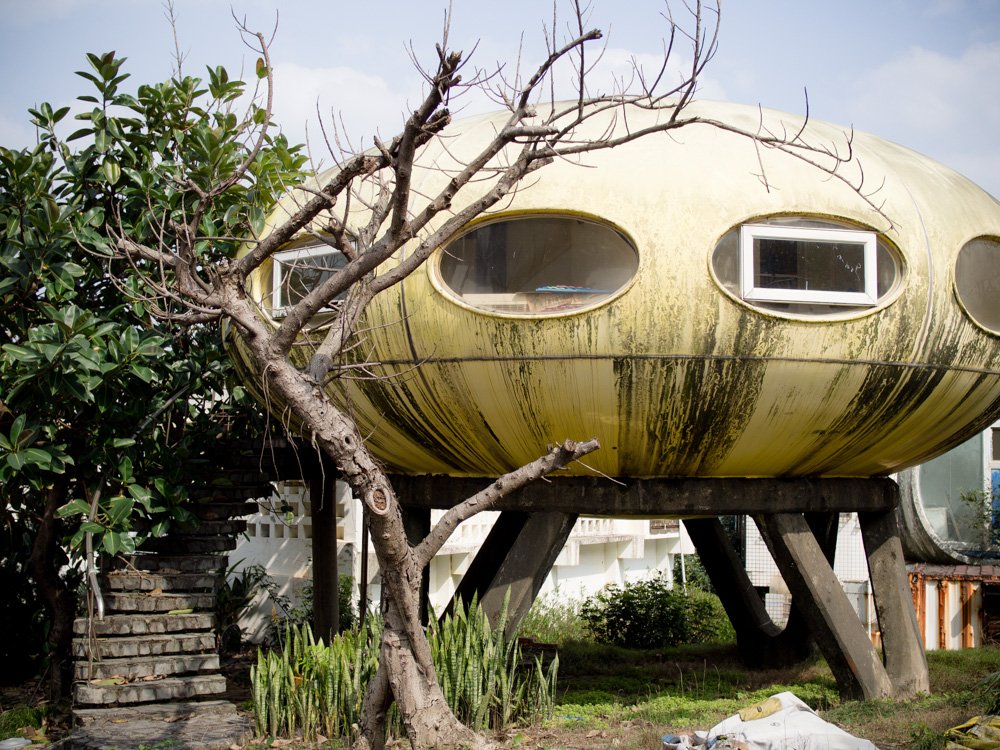 Both located on Taiwan's northeast coast, Wanli Beach and Yehliu Geopark can easily be combined to make a quirky day trip from Taipei.
Just half an hour by bus from the city, Wanli is a resort destination with a white sand beach — but it's also known for its so-called UFO Village.
The collection of futuristic Futuro and Venturo houses were designed by Finnish architect Matti Suuronen and constructed in the 1970s.
Most of the UFO-shaped dwellings and pod houses now lie abandoned (the exact reason why the village was vacated is still a point of conjecture), making Wanli a paradise for urban explorers.
Inside, some have original 1970s furnishings, homewares and possessions (including VHS tapes) still lying about.
Take care when exploring, especially if you go inside any of the pods!
After spending a few hours wandering around Wanli, continue north along the coastal road.
You can either re-board the same bus, or walk like I did, stopping in at fishing villages and lookout points along the way.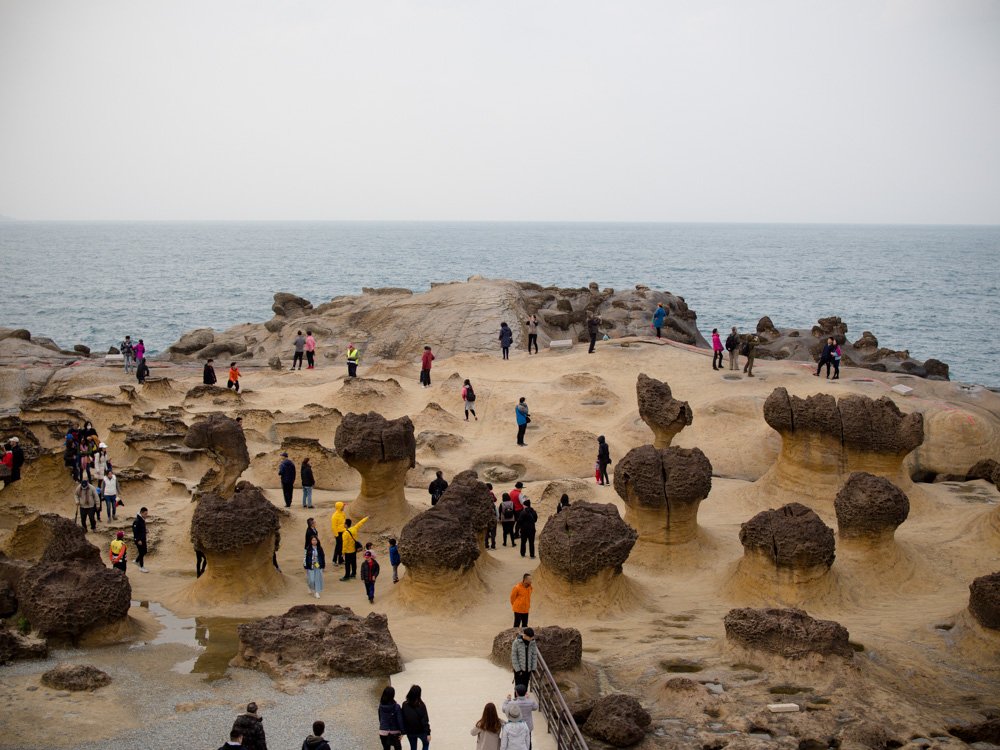 After 4 kilometers, you'll reach Yehliu and its famous geopark.
Yehliu is crowded with odd rock formations, many of which resemble human or animal forms.
The boardwalks and pathways that lead visitors along the cape are usually jam-packed, especially on weekends.
Entrance to the geopark costs around 2 USD – bring cash.
How to Get to Wanli from Taipei
Take bus 1815 from Taipei City Hall and get off when you see the Howard Greenbay Resort Hotel.
The UFO Village is tucked just behind the hotel on the beachfront. From Yehliu, you can take a bus 1815 back to Taipei City Hall.
Tamsui Old Street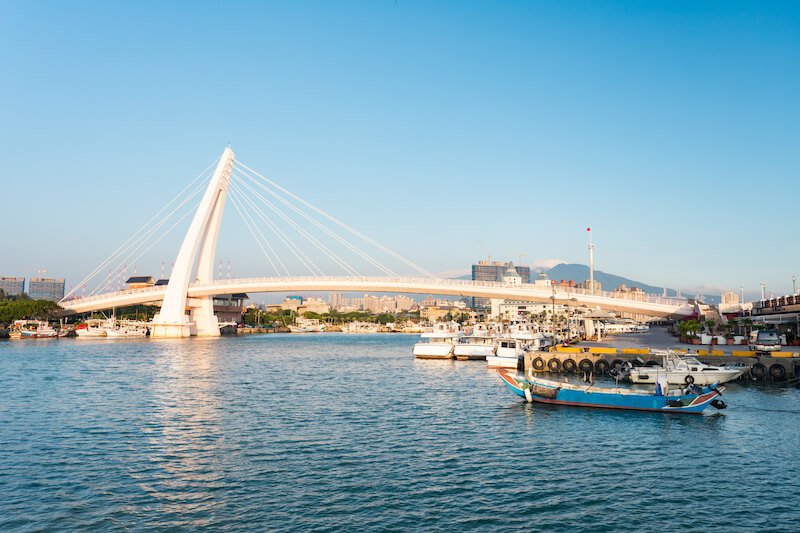 Tamsui has a super interesting history and is one of the best places to visit as a day trip in Taipei, especially if you're spending a long weekend in Taipei.
The town of Tamsui, sits at the mouth of the Tamsui River, for which it is named — and where you'll see the iconic Lover's Bridge.
First, be sure to check out Tamsui Old Street.
This street is similar to a boardwalk where you can shop for souvenirs, grab amazing street eats, and also explore more of the town.
Some of the most famous foods from Tamsui can be found here, such as the iron egg (a preserved quail egg), ah gei (tofu fishcake filled with mung bean vermicelli), and freshly made fishballs.
After you've had your fill of food, time to explore the history of Tamsui, which is rather interesting!
It began as an Indigenous settlement, but in the 17th century, the Spanish arrived and built the first non-aboriginal settlement at and around Fort San Domingo.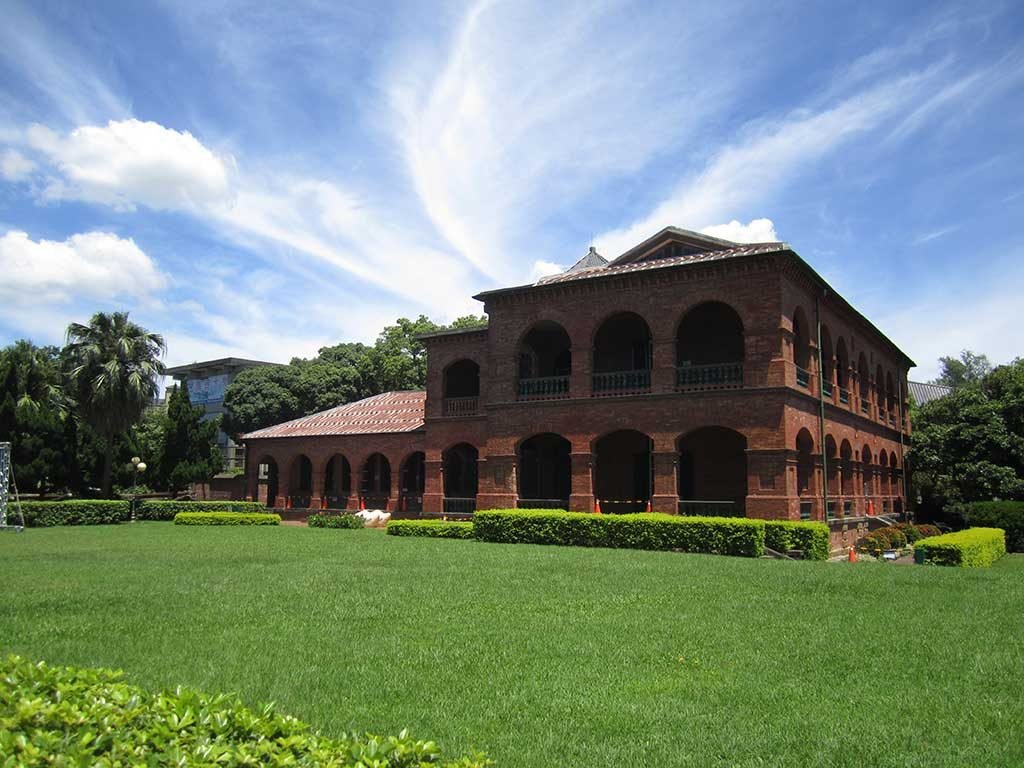 In the mid-1600s, the Dutch arrived and expelled the Spanish, encouraging settlement by Han Chinese from mainland China.
About 30 years later, the Dutch were defeated and left the area. After this, the population of Chinese continued to grow and it became a major fishing and trading port with mainland China.

Aside from its remarkable history, Fort San Domingo has also become a tourist site in Tamsui.
The complex is located on the hillside of Tamsui, it is one of the most recognizable buildings due to its red brick facade.
Today, the main building is a museum and there are cannons placed around the property.
How to Get to Tamsui from Taipei
As it's part of the greater Taipei City, Tamsui can be easily reached by the MRT subway system.
Simply take the Tamsui-Xinyi (Red) Line to the last stop, Tamsui Station.
Wulai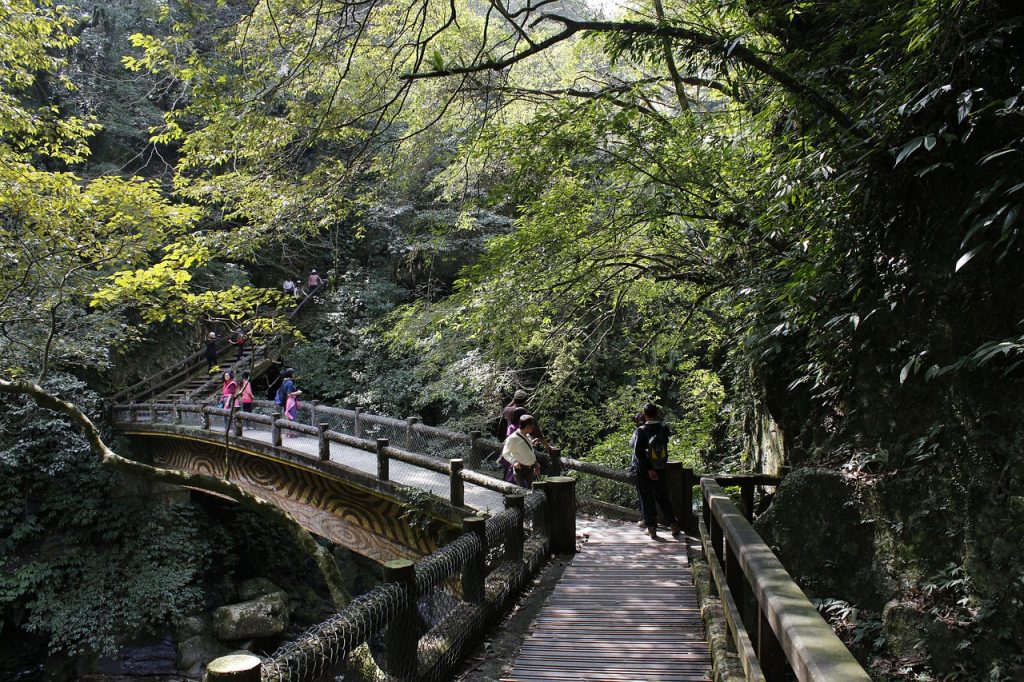 While not far from Taipei since it's technically part of New Taipei City, Wulai takes about an hour to get to from Taipei — so that's a day trip, right?
Wulai is famous for its hot springs and indigenous culture, all set along a brilliantly turquoise river bisecting the town, so it's a fascinating and incredibly relaxing day trip from Taipei.
The primary reason to visit Wulai is to relax in the natural geothermic waters at one of the many beautiful spas (the most highly recommended is Re Change, which you can book here).
If you're on a budget, there are also free public hot springs you can access.
Cross the bridge after Wulai Old Street, turn right, and walk up the road until you reach a stairway down to the river and signage for the outdoor public hot springs area.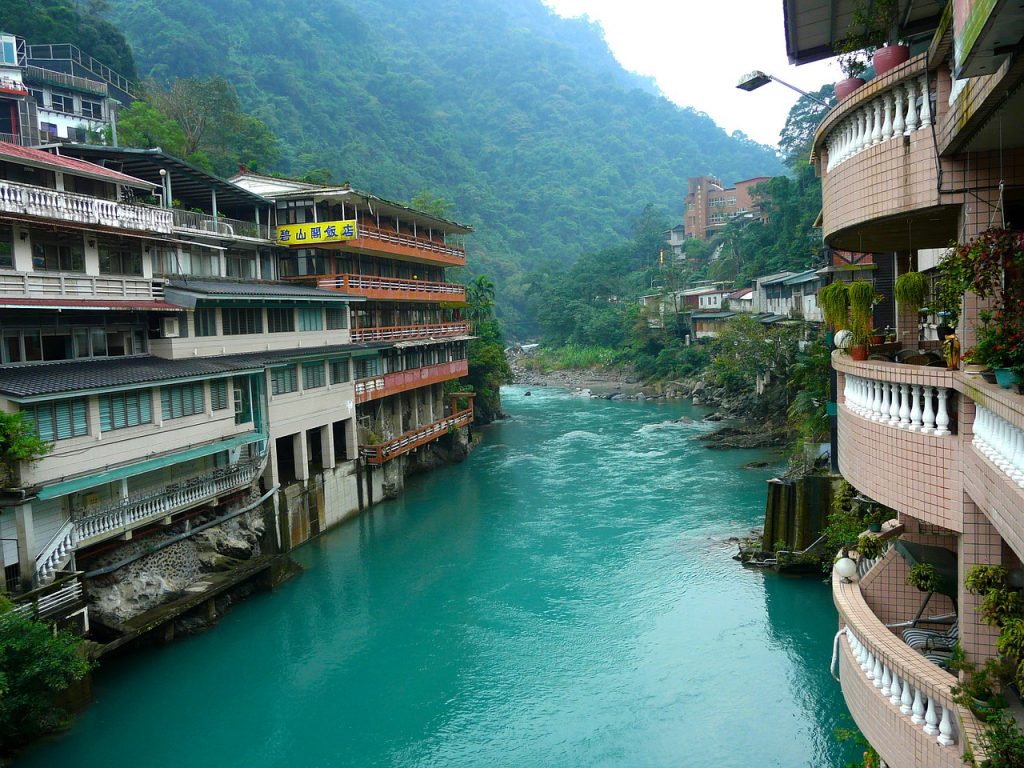 Besides enjoying a natural thermal spa, you can check out the Wulai Atayal Museum
This museum tells the history and present of the indigenous Atyal people, who also perform traditional songs from their culture. Admission is free.
Don't miss the beautiful Wulai waterfall, a 20-minute walk from Wulai Old Street.
At a whopping 80 meters, it's one of the tallest and most beautiful waterfalls in Taiwan.
How to Get to Wulai from Taipei
If you book with a hot spring resort, they'll often include a transfer, like this one from Re Change Wulai.

Alternately, from Xindian Station, there is a bus to Wulai which takes about 40 minutes.
Qiandao Lake & Pinglin Tea Plantation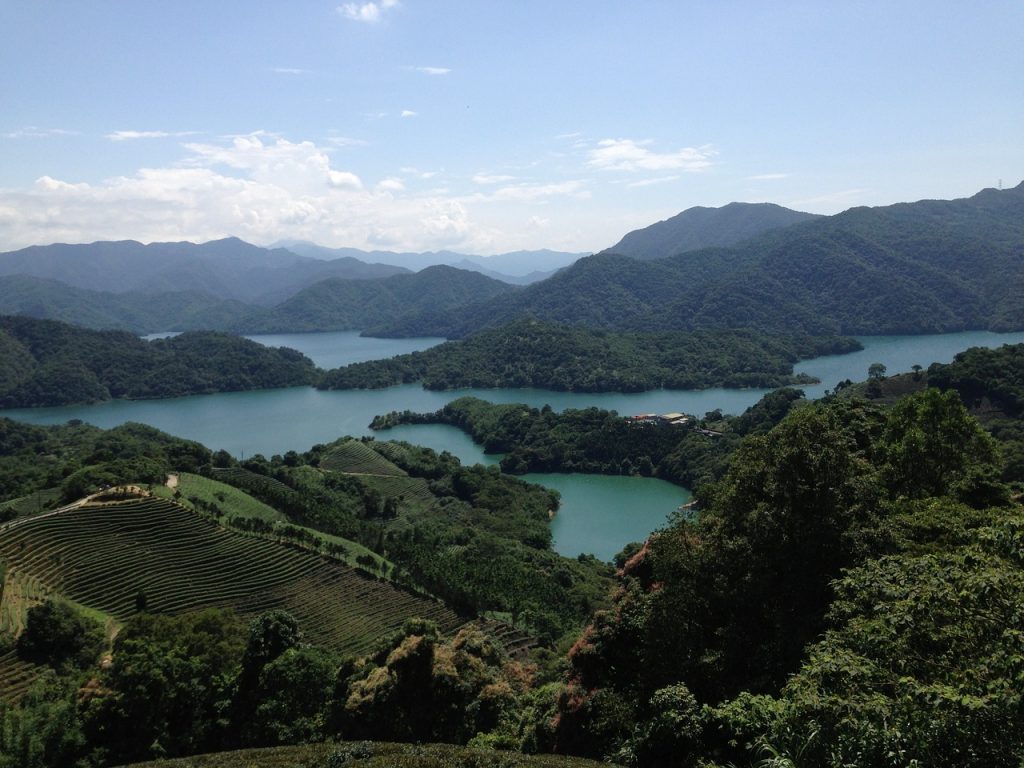 If the hustle and bustle of Taipei is getting to you, then you can unwind at the gorgeous Qiandao Lake.
It's also nicknamed the Thousand Island Lake because the rolling green hills surrounding the lake give it the illusion of having a handful of floating miniature islands.
This part of Taiwan is the heart of Taiwanese tea culture, so aftewards you can explore Pinglin Tea Plantation and learn about the history and cultivation of tea in Taiwan.
The mountains combined with the beautifully terraced tea plantations are a perfect respite from the city vibes of Taipei.
There's also the educational Pinglin Tea Museum, where you can taste several local teas (some of the most famous teas in Taiwan!).
You'll also learn from a tea expert about the specifics on how to brew the ideal pot of tea!
How to Get to Qiandao from Taipei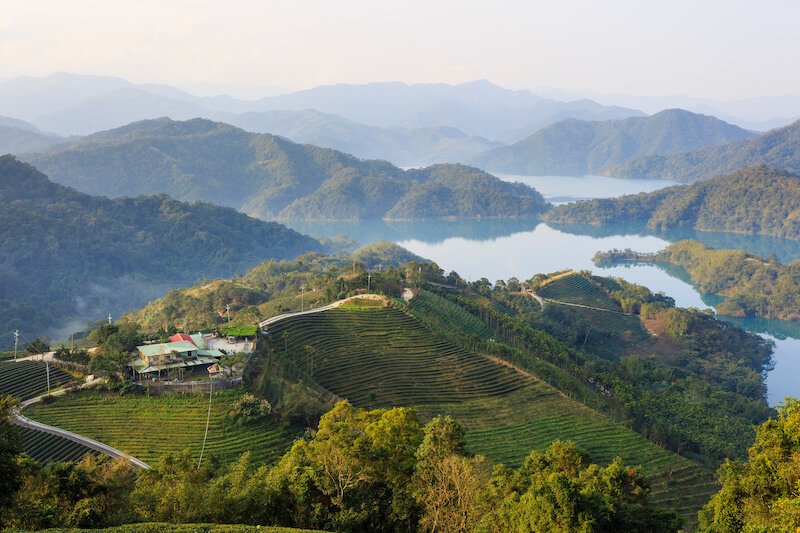 Taking a guided tour is probably the best way to visit Qiandao, but there is a public transportation option.
From the Xindian MRT station, you can take the #12 bus to Shiding to the Shisangu bus stop, and walk down the hill from there.
However, I haven't tried it, so I'd probably book a tour instead.
Keelung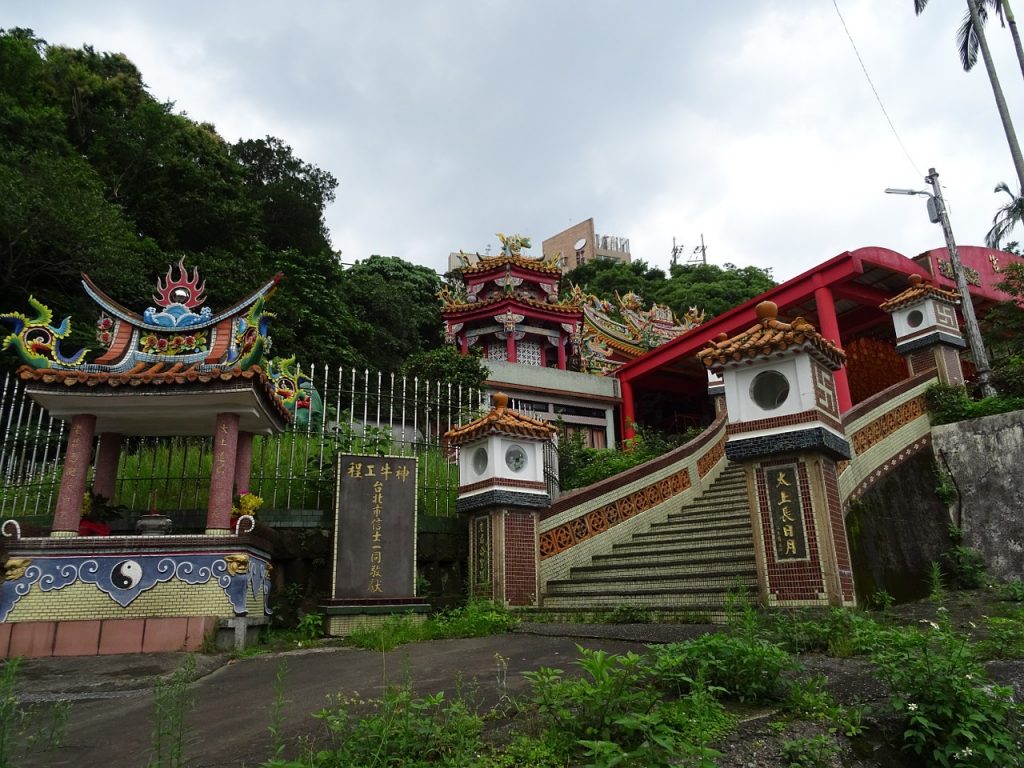 One of the closest cities to Taipei, a day trip to Keelung is an easy addition to any Taipei itinerary.
Keelung is a port city most famous for its delicious seafood as well its vibrant night markets and fish market.
Whereas many of the night markets in Taipei have become a slightly touristy affair, the night market in Keelung is mostly frequented by locals.
There are a few interesting things to do in Keelung, including the Chiang Kai-Shek Memorial in Zhongzheng Park, the abandoned Qingyu Hall, and of course, the Night Market for which it is best known.
And of course, if you're a foodie, you won't want to miss a night market food tour while in Keelung!
How to Get to Keelung from Taipei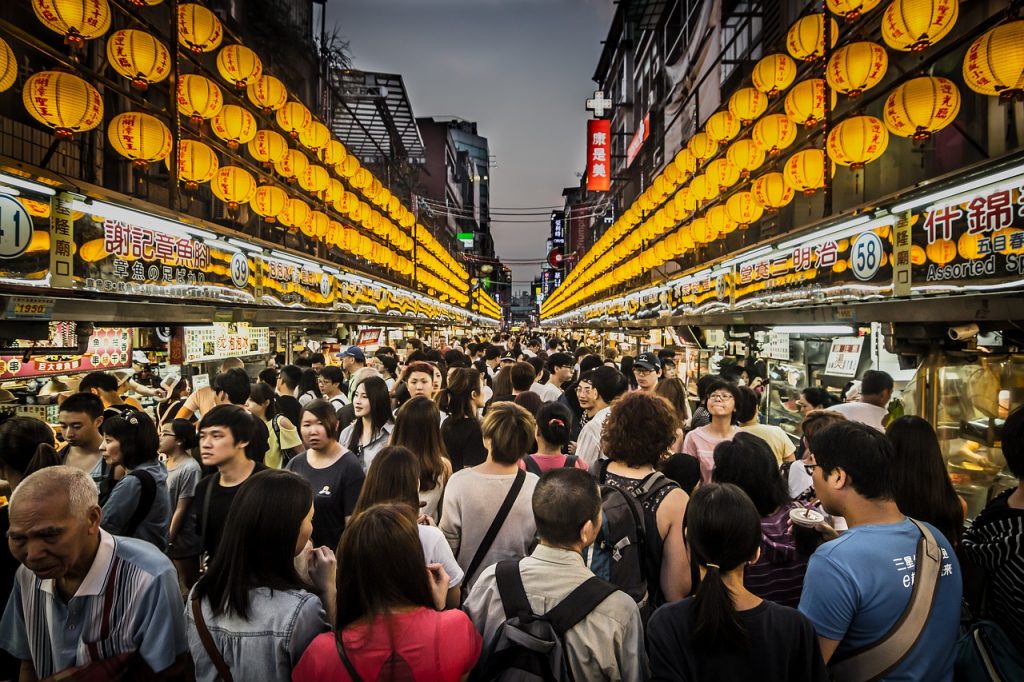 It's quite easy!
Simply take any Keelung-bound train from Taipei Main Station, which will cost about 41 Taiwanese dollars (less than $2 USD).
They leave about once every 20 minutes all throughout the day.
You can also take the Kuo-Kuang Bus outside of Taipei Main Station (exit 3) for 55 Taiwanese dollars, which will also take you to Keelung.
Yangmingshan National Park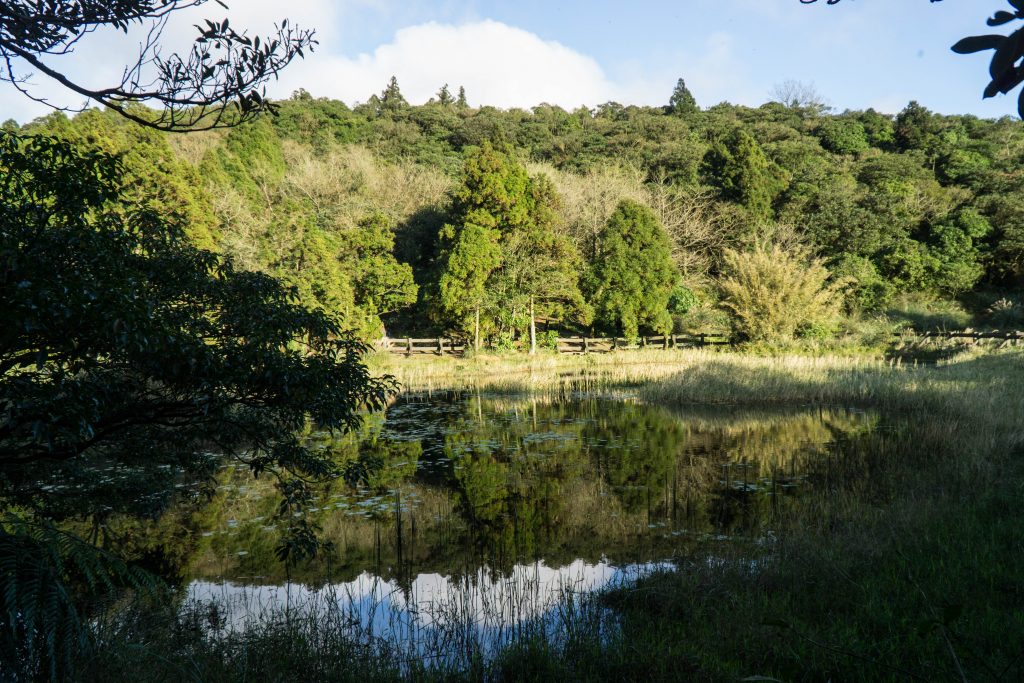 While also part of greater Taipei, getting to Yangmingshan takes a bit of effort and definitely feels like a true day trip from Taipei.
I visited using public transportation which I actually don't recommend.
Getting to the park was easy, but figuring out the shuttle bus that goes throughout the park was pretty inscrutable as a non-Chinese reading tourist!
If I did it again, I would definitely go on a guided tour to make the most of my time.
A few highlights of Yangmingshan include the hike to Mount Qixing, the highest volcano in all of Taiwan at 1,120 meters.
It's not for the faint of heart – we started this hike, but because we started too late in the day in the middle of winter, we had to abandon the hike about halfway up.
A few other points of interest are the Milk Lake, the sulphur fumaroles, and the many thermal hot springs that dot the volcanic area around Yangmingshan.
How to Get to Yangmingshan from Taipei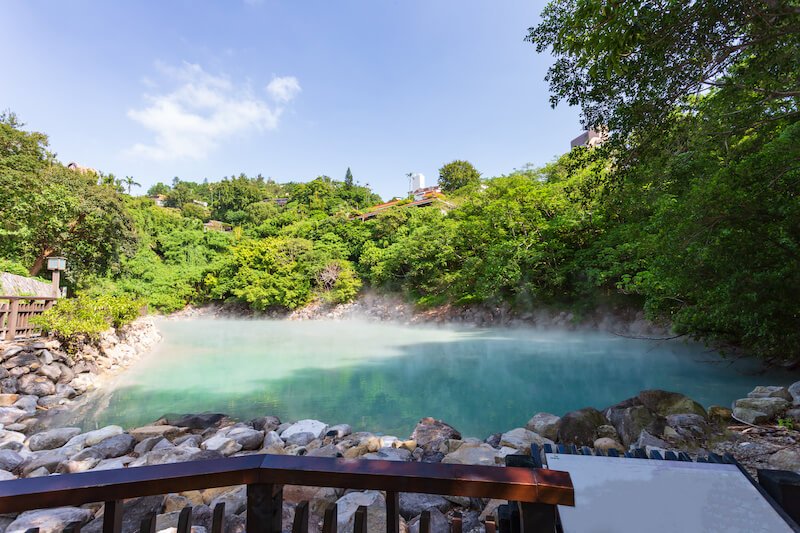 In my opinion, the best way is via a guided tour, as once you're in the park, it can be hard to get around (and getting back is a nightmare on the public buses!)
There's this tour which combines a trip to Beitou's hot springs and thermal valley with a tour around Yangmingshan National Park.
If you just want to explore the park independently, you can take the MRT to Jiantan stop (1 before Shilin) then take the red bus #5 or small bus #S15 or #S17 to Yangmingshan.
However, once in the park, I found it kind of confusing to get around, so leave early in the day and allow yourself plenty of time to figure out the transportation or walk between destinations.
Taichung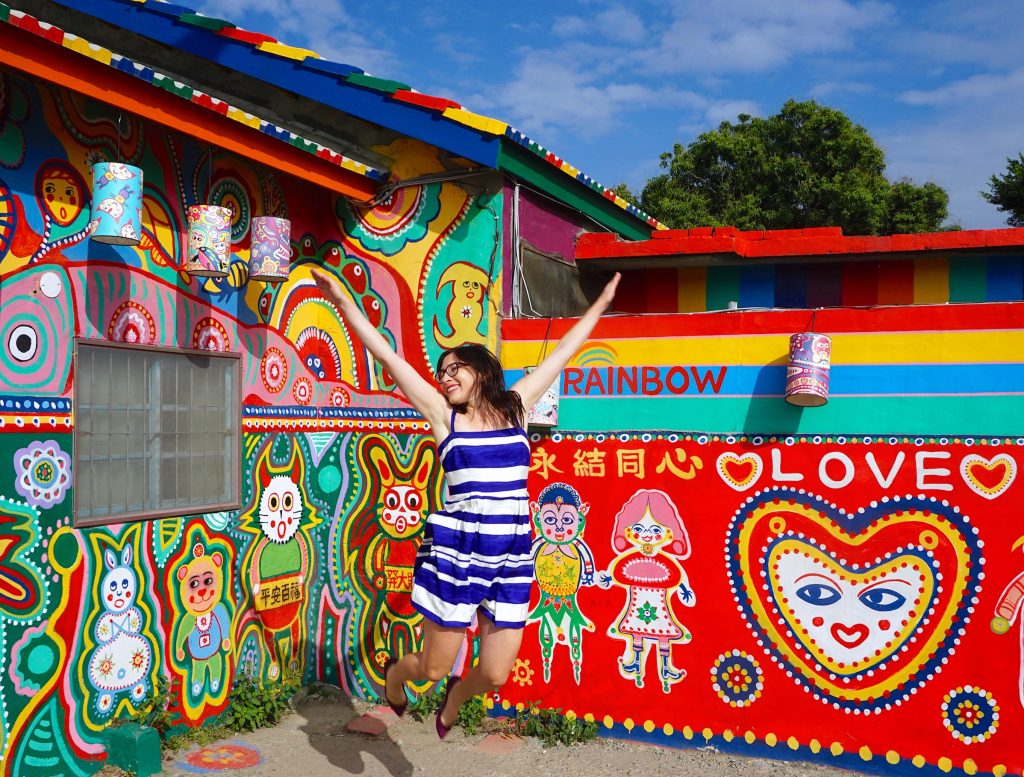 While of course, I'm of the opinion that Taichung deserves a few days of its own, it still isn't a bad idea to make a day trip from Taipei using the high speed rail.
Using the high speed train, you can get from Taipei to Taichung in a mere 55 minutes.
Just know that the high speed train station is a bit outside of Taichung City in Wurih, so you will want to use a taxi or public bus to get into Taichung proper.
A few things worth seeing in Taichung: getting pineapple tarts from Miyahara, walking around the Taichung Cultural and Creative Industries Park, visiting the calm Taichung Park, and eating your way through the Fengjia Night Market.
And my favorite part, visiting Rainbow Village, located about a 20-minute cab ride outside the city.
How to Get to Taichung from Taipei
Take the high speed train from either Taipei Main Sation or Banquiao. The train will take less than an hour and cost around 670-750 Taiwanese dollars, around $21-24 each way.
You could also get a 2 or 3 day THSR tourist pass, which will enable you to visit Taichung as well as Kaohsiung (next on this list!), Chiayi, Taoyuan, and other places along Taiwan's densely populated West Coast.
Kaohsiung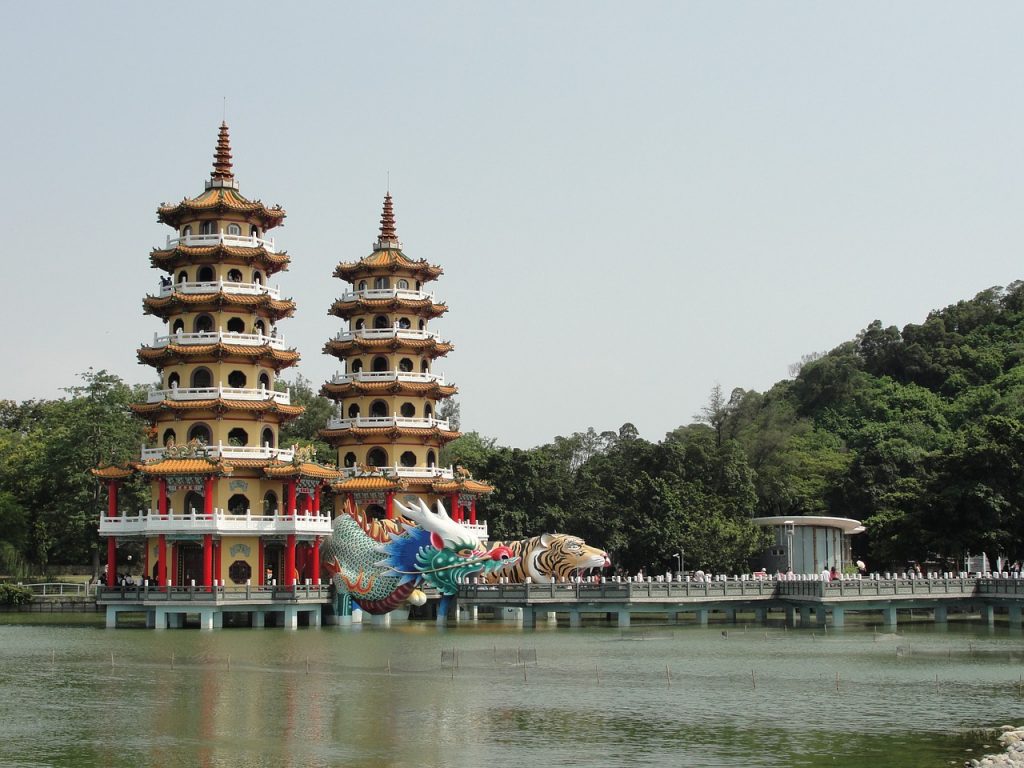 Even though this city is nearly 400 kilometers away, it's actually only 90 minutes by high speed rail, making this an easy day trip from Taipei!
Kaohsiung has so much to offer: the beautiful, photogenic Lotus Pond, the delicious Liuhe Night Market, the Dragon and Tiger Pagodas, the Takao Consulate, the Chimei Museum, the 85 Sky Tower, and so much more.
You definitely could spend a few days in Kaohsiung, but it is also quite doable as a day trip if you have limited time in Taiwan and want to use Taipei as your base.
If you love colorful places, don't miss the Formosa Boulevard MRT Station, one of the most beautiful subway stops in the world.
How to Get to Kaohsiung from Taipei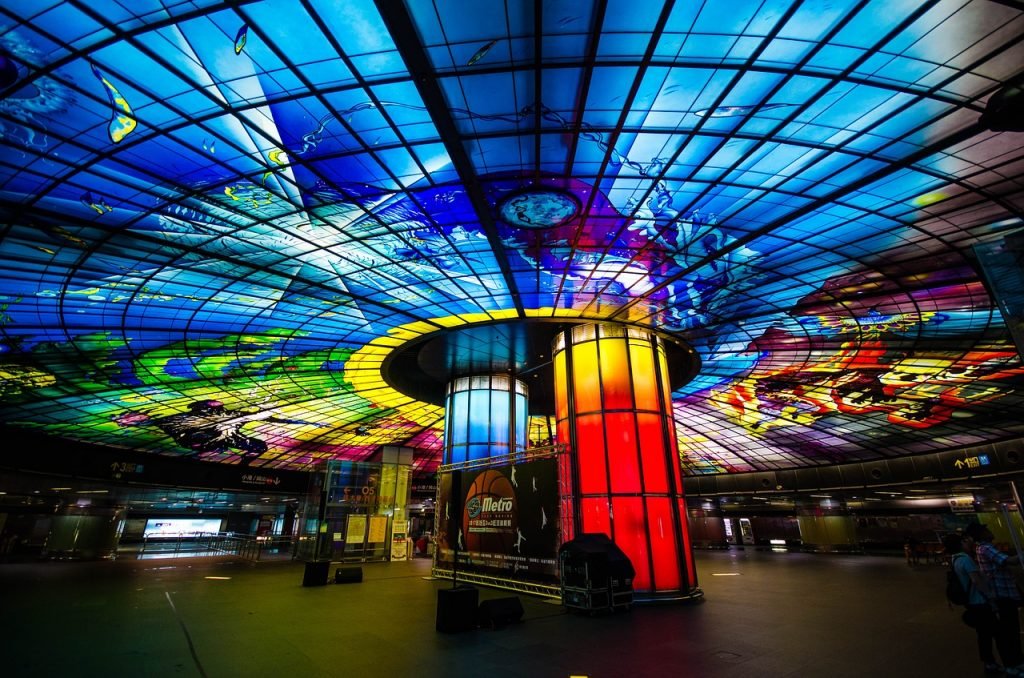 Go to Taipei Main Station or Banquiao to take the High Speed Train to Kaohsiung, which will take about 90 minutes and cost around 1500 Taiwanese dollars ($48 USD) one way.
Because it's an expensive ticket, I recommend just buying the 2 or 3-day unlimited THSR pass — it will already save you money on just the roundtrip high-speed train ticket.
Plus, you can use it to explore other cities on the high speed network — a fantastic deal!
Sun Moon Lake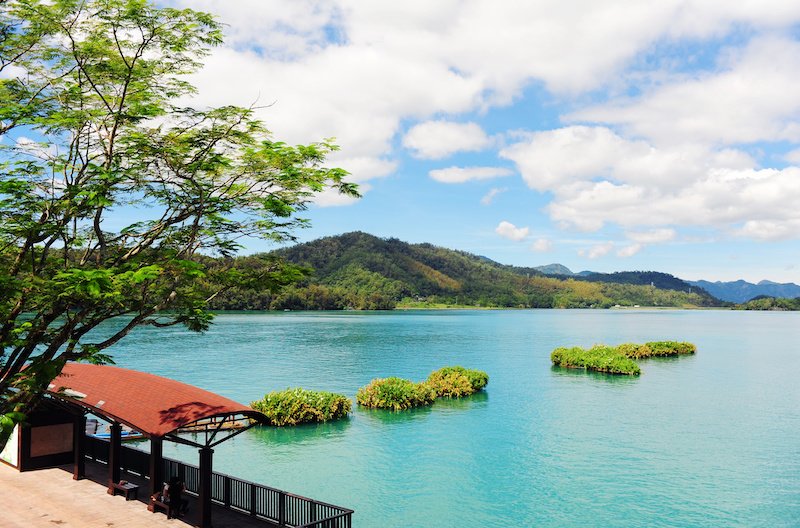 This is a far one that you'll need a guided tour for, but it's worth it for this stunningly clear lake in the mountains!
This tour uses the high speed rail to get you to Taichung first and then transports you by bus to Sun Moon Lake.
It's a full day but it's worth it!
Protect your travel investment!

Travel insurance coverage helps you recoup your losses in case of emergency, accident, illness, or theft.

I rely on SafetyWing for coverage when it comes to trip interruptions and cancellations as well as accidents and medical emergencies.

It offers great rates starting around $12/week with clear, easy-to-read coverage.
Allison Green is a former educator turned travel blogger. She holds a Masters in Teaching and a B.A. in English and Creative Writing. Her blog posts merge her educational background and her experience traveling to 70+ countries to encourage responsible, enriching travel. She has been a speaker at the World Travel Writers Conference and her writing, photography, and podcasting work has appeared in National Geographic, CNN Arabic, CBC Canada, and Forbes, amongst others. Now a full-time traveler, she has lived in Prague, Sofia, New York City, and the San Francisco Bay Area.