It's hard to get sick of Taipei: the city is electric, full of activity and excitement!
Whether you're exploring the urban architecture or snacking at one of the many night markets in Taipei, it's nearly impossible to get bored of all the great things to do in Taipei.
However, you can get a bit tired of the constant flow of traffic and go-go-go atmosphere of city life anywhere, and Taipei is no exception.
Luckily, one of the most amazing things about Taipei is just how accessible this city of nearly 3 million people is to such green, beautiful nature.
Even better, Taiwan's excellent transit system makes it pretty easy to get just about everywhere you'd like to go — an epic Taipei day trip is always within reach.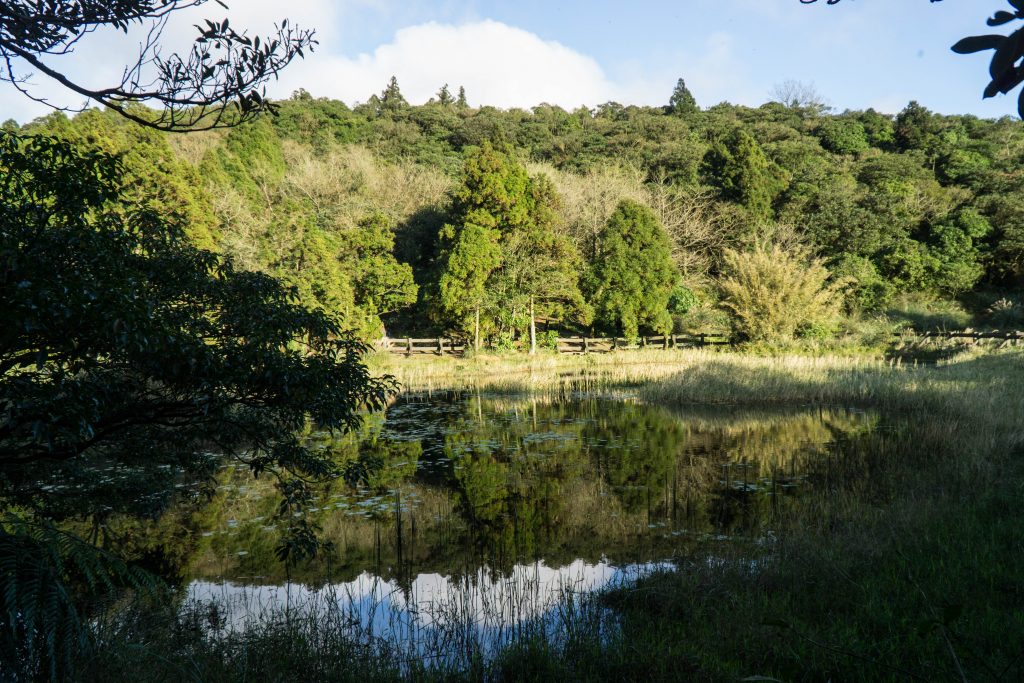 Note: This post contains affiliate links, which means I may receive a small commission if you purchase something through one of these links. Thank you for supporting the free content on this site! For more information on affiliate links and cookies, see my disclosure page for more details.
I was initially a bit nervous to try to traverse Taiwan's public transportation given that I neither speak nor read Chinese: turns out I shouldn't have worried at all!
Like I learned while navigating the Taipei airport, the public transportation here has excellent signage with plenty of English language directions.
And in my few moments of confusion, Taiwanese locals have always proven to be extremely friendly and ready to help!
(That said, one of my top Taiwan tips is to have a SIM card and to use Google Translate's camera feature to help you translate Chinese characters when needed — it always is handy to be self-sufficient when possible!).
Tours, however, can make the experience incredibly easy: this day tour even picks you up and drops you off at your hotel, including stops at Pingxi, Shifen Old Street, and Shifen Waterfall.
Getting from Taipei to Shifen
Via Public Transportation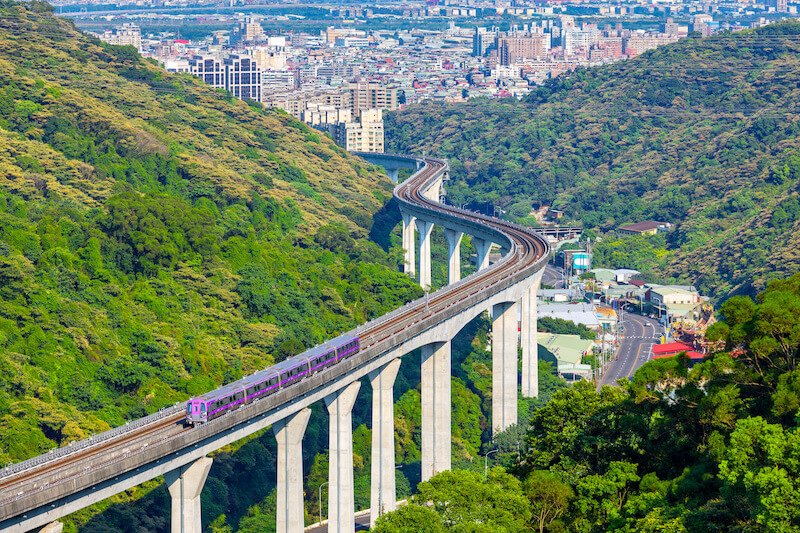 There's a reason why Shifen is among the most popular Taipei day trips: not only is it beautiful and interesting, but it's quite easy to get to Shifen from Taipei independently.
First, you'll want to to take the MRT to Taipei Main Station.
From there, you can board any northbound train except a Keelung-bound train and then get off at Ruifang (note: the express trains are called Tzechiang, and I believe those cost a bit more).
As of 2023, the cost of the trip is 49 TWD from Taipei Station to Ruifang Station, which is about $1.50 USD.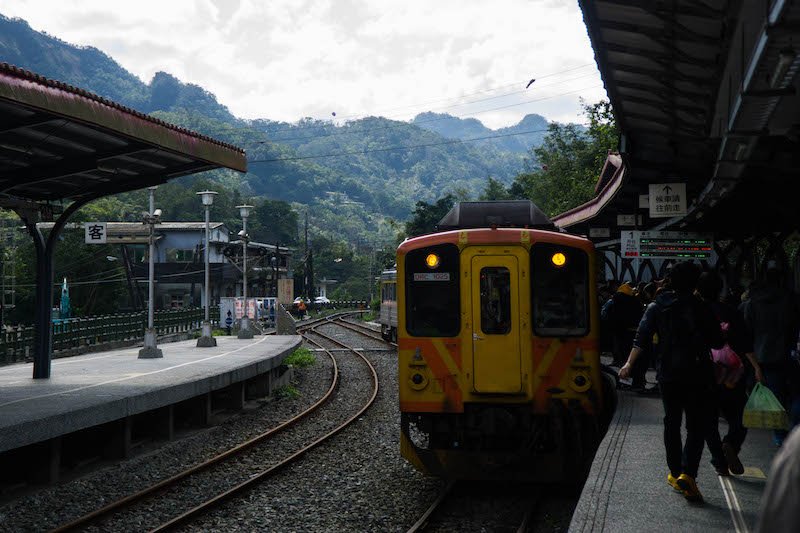 This is the only place I found the signage a bit confusing, as it wasn't immediately apparent which trains were going to stop at Ruifang.
You might want to ask a local to be sure you're getting on the right train if you don't read Chinese!
At Ruifang, transfer to the Pingxi line and ride that all the way to the end.
The best deal is to buy a day pass for the separate Pingxi line. As of 2023, it costs 80 TWD ($2.60 USD).
The Pingxi line can be quite crowded and you may have to stand – but try to look out the window as you go because you'll cross some really beautiful scenery!
Via Tour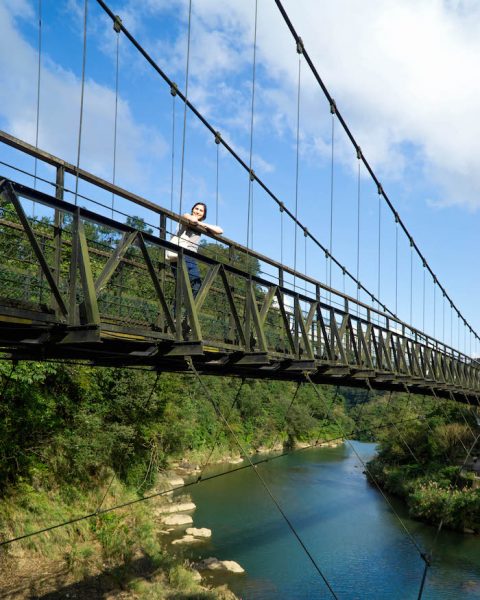 Alternately, you can skip the headache of navigating public transit and take a tour, as many of them are quite reasonably priced for a day trip.
This is a good idea if you have limited time on your Taipei itinerary and really want to make the most of your time.
This day tour includes hotel pickup and drop off and includes the town of Pingxi, as well as Shifen Old Street, and Shifen Waterfall.
There are also full-day tours that include several epic Taipei day trip spots in one, like this Yehliu, Shifen, and Jiufen tour that ticks off 3 day trip-worthy spots in one single day!
Book this half-day Shifen + Pingxi tour or this full-day Yehliu + Shifen + Jiufen tour here!
Things to Do in Shifen Old Street
Watch the train go by!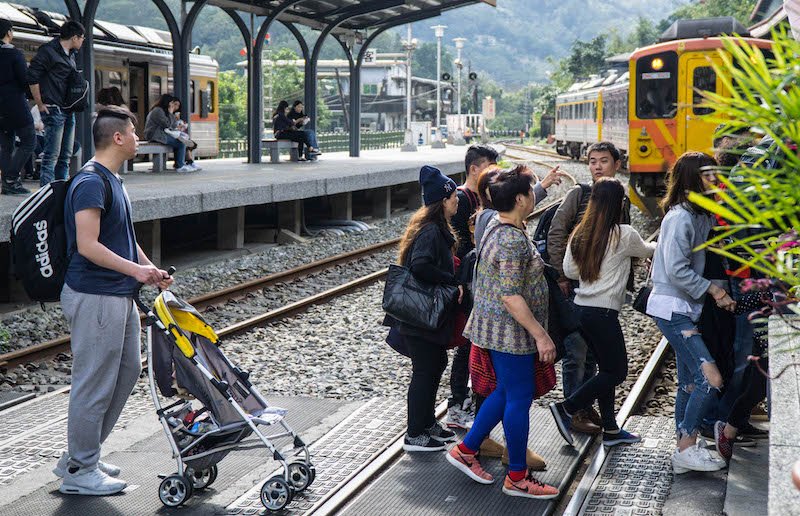 Originally built during the Japanese colonial area for the purpose of transporting coal, the Pingxi railway runs right through the heart of Shifen, and the Old Street clusters around that.
The train still runs through the middle of the street today! Watching it pass by is a unique experience that you can't find in many other places — though Shifen Old Street does remind me a bit of that famous Train Street that goes right through a market in the center of Hanoi.
As you pull into town, the bell will ding manically, telling the people standing in the train tracks taking selfies and sending lanterns into the sky to get off the rails.
This train ritual is a well-oiled machine though (pun fully intended — I can't help myself), and plenty of conductors are present to direct the selfie-stick wielding crowds off the tracks in a timely and safe manner.
You'll cross the tracks and immediately, you're in the heart of Shifen's Old Street, where plenty of delicious and tempting Taiwanese street snacks await you.
Eat all the delicious snacks along Shifen Old Street.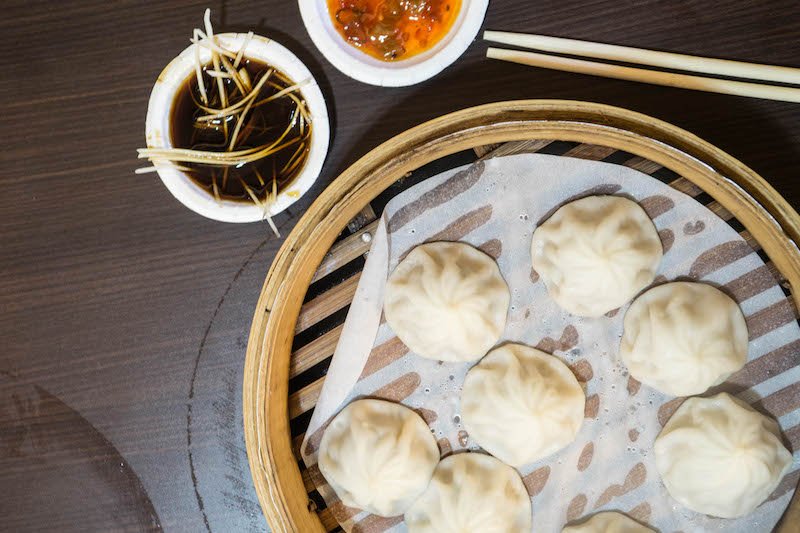 Some personal favorites are Taiwanese fried chicken and xiao long bao (pork soup dumplings — look for steam rising from bamboo baskets!).
My Taiwanese girlfriend's favorite street snacks are stinky tofu (she swears it tastes like blue cheese — I've yet to confirm it!) and pork pepper buns, so keep an eye out for those while you visit Shifen Old Street.
You can also look for delicious taro balls and grilled sausages, and a variety of tasty fried goodies!
For a sweet treat, keep an eye out for peanut ice cream rolls — they're another one of my girlfriend's favorites.
Light a lantern and make a wish.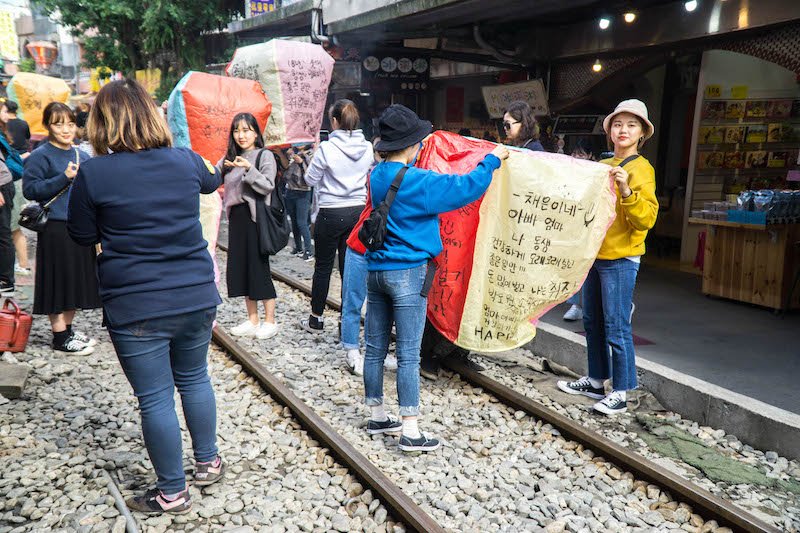 The quintessential thing to do in Shifen is light a lantern for good luck and send it off into the sky.
It has an interesting history and isn't just a tourist trap — it actually has rich cultural history to the region as reported on by Al Jazeera.
This tradition goes back to the 16th century, and the original purpose is thought to be to deliver messages during wartime, or to let outsiders know the village was being invaded.
The lantern was used as a method of protecting the candle or oil lamp within from getting blown out with the wind while their message was being delivered.
With phones and the internet, lanterns are no longer necessary to send out such alerts, but the artistry of the tradition continues.
And tourists are welcome to join in on the fun!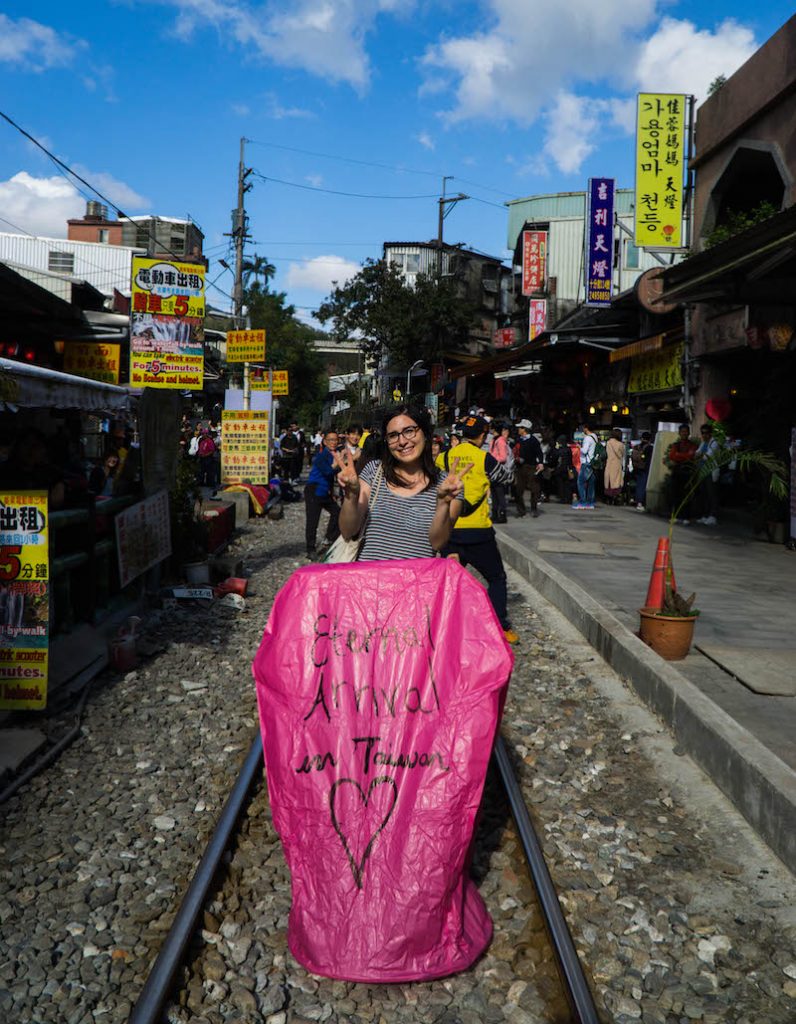 It costs 150 TWD (around $5 USD) for one color, or 200 TWD (around $6) for 4 colors; each color is symbolic and represents a wish you'd like to come true.
Ever the narcissists, we chose attraction and popularity (in reality, Janet just wanted a pink one!).
Jury's still out on if it's working yet.
Jokes aside, while touristy, I'll admit it was a fun experience!
It was a cool experience to write our wishes (and our blog names, because again, #narcissists) on the lantern, light it up, and watch it go careening into the sky to disappear somewhere over Taiwan's green mountains.
Getting from Shifen Old Street to Shifen Waterfall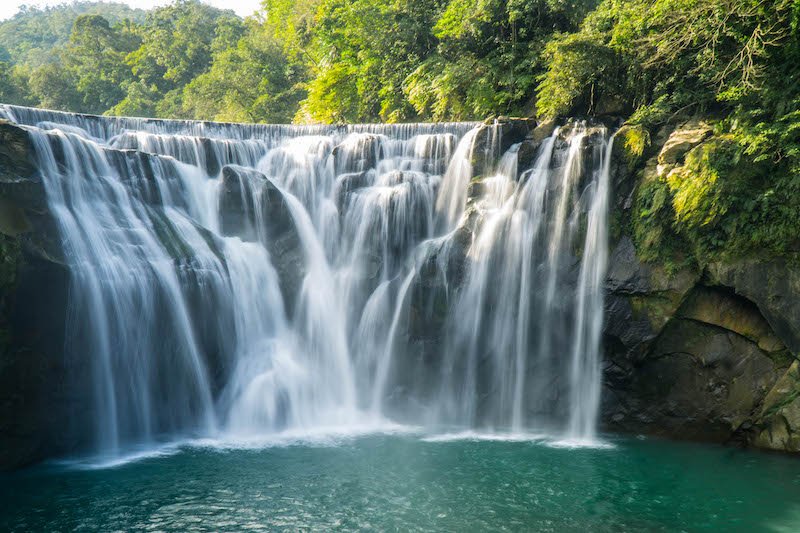 Once you've snacked to your heart's content and sent your wishes skyward, it's time to visit the stunning Shifen Waterfall.
We were able to rent an electric bike for an hour for 200 TWD (about $6 USD), which carried two people — barely.
At some points, I thought I was going to have to get off and let Janet scoot her way up the hill, as all the xiao long bao I've consumed over the past few days certainly wasn't helping our center of gravity.
To be honest, though, the electric bike ride was so short that I don't even know if it's worth it unless you're really in a rush.
I think it would have only been like 30 minutes walking to the parking lot (signs say it's one hour, but that includes the walk from the parking lot).
You have to walk about 20 minutes once you've reached the parking area anyway, so an e-bike only saves you about a 30-40 minute walk… but it is rather fun!
Visiting Shifen Waterfall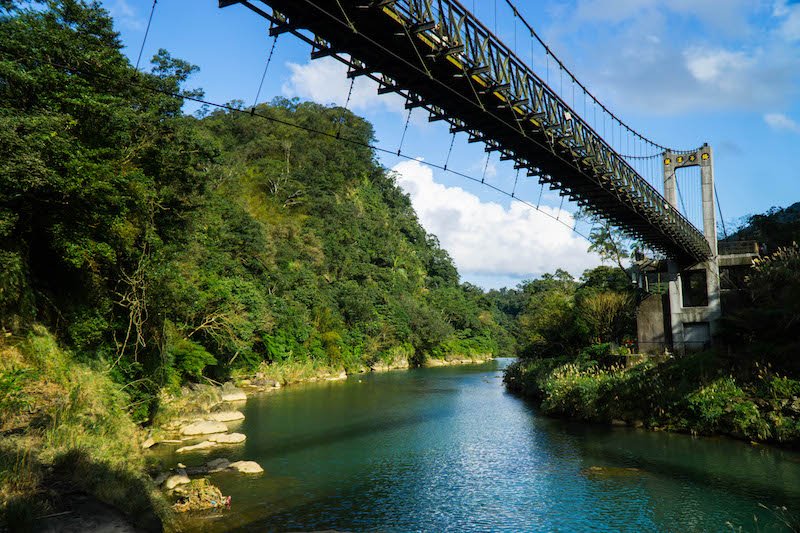 The walk to the waterfall is a real beauty, passing two suspension bridges, an insanely turquoise river set into luscious green mountains, and countless photo spots.
It struck me when I was there that this is a side of Taiwan that too few people know about.
Most people who haven't been to Taiwan probably just think of Taipei and Chinese food (if they think about it at all, to be frank).
They don't think about the verdant green mountains, stunning landscapes, or ease of access to an abundance of different natural wonders within a maximum two hour train ride from the city.
The walk to Shifen Waterfall is easy, and there's also some cafés here in case you get peckish (though after visiting Shifen Old Street, I'd doubt you are!).
The offerings here looked a little less interesting and fresh than on the Old Street, so I'd recommend eating in the town first.
Make sure you go to the Observation Point Trail past the first major viewpoint of the falls.
You can walk nearly all the way to the bottom of Shifen Waterfall where you'll get the best view and photos (that is why you came, no?).
Shifen Waterfall is probably Taiwan's most famous and has been nicknamed "Little Niagara" because the horseshoe shape mimics North America's most famous waterfall.
It's not as tall nor as wide, at 20 meters high and 40 wide — though it is incredibly powerful. It is, however, insanely beautiful!
Tips for Photographing Shifen Waterfall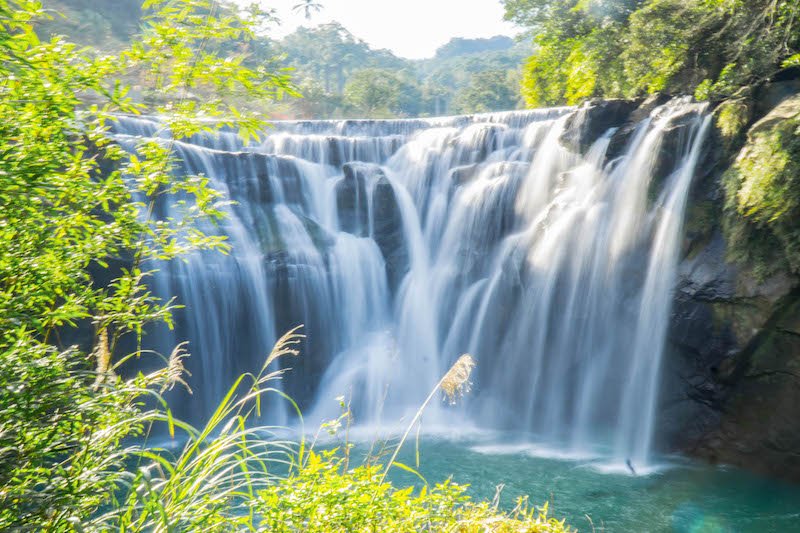 To get the best photos of Shifen Waterfall, I recommend using a manual camera where you can change the settings.
I set mine to f/22 (as high as it could go, to let in less light), 0.5 seconds shutter speed (to keep the shutter open longer), and my ISO to 100 (to decrease light sensitivity).
I balanced my camera on the fence to reduce my hand shaking, as I have perpetually caffeinated twitchy fingers.
As you can see, there's a slight blur on some of the foreground, but I don't think it impacted the shot negatively.
If you're super prepared, which I am never, you'd bring a tripod and maybe some filters to let you take an even longer exposure.
But I found with these settings, I was able to get that silky smooth waterfall look I was aiming for.
What Else to Do on a Shifen Day Trip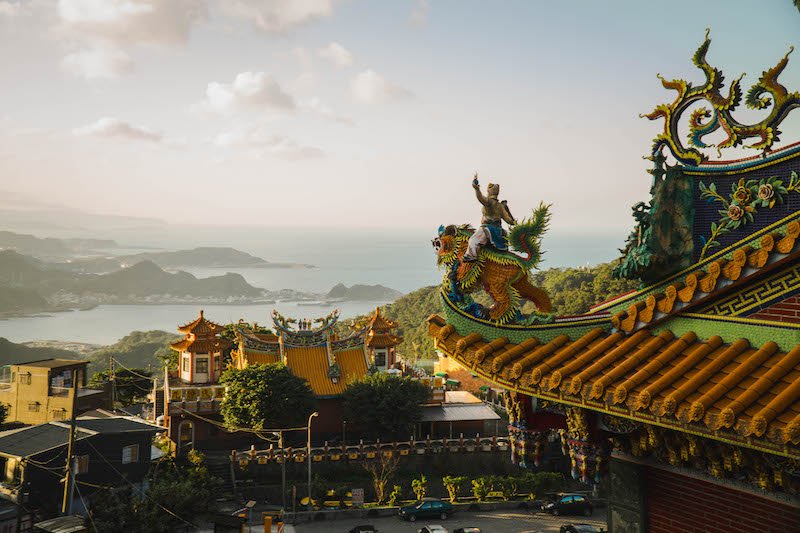 If you've finished up in Shifen and are looking to add something else to your day trip from Taipei, I have two suggestions.
One is to visit Houtong Cat Village, a village packed with stray cats that's now become a tourist attraction in its own right.
The location is super easy to add on to your Shifen day trip as it's right on the Pingxi line on the way back to Taipei from Shifen.
We didn't get a chance to visit here, as we ran out of time, but I'm hoping to have a chance to visit on an upcoming trip to Taiwan!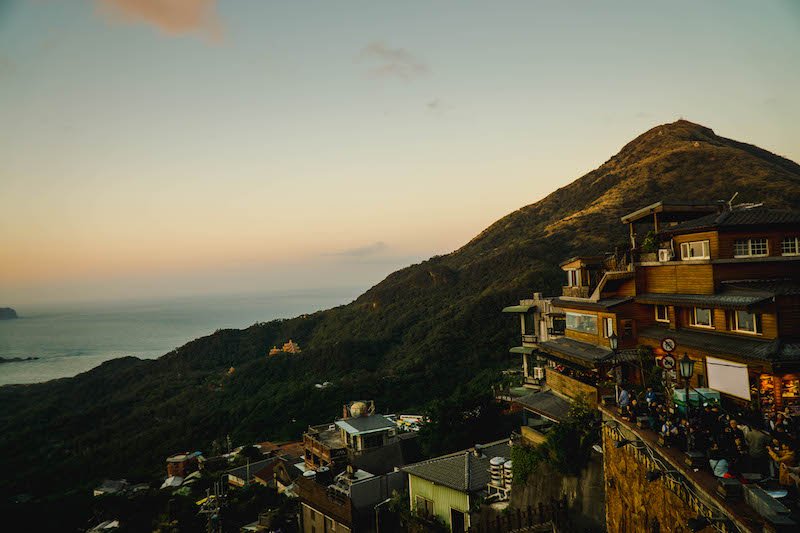 What we did instead was return to Ruifang and then catch a bus to Jiufen in time for sunset.
As soon as you step off the bus in this hillside town, you're treated to epic views of Taiwan's beautiful, temple-studded coastline.
Climbing up through the Old Town, you'll get even better views which you can enjoy with a sunset cup of (overpriced) coffee or dessert.
Once the sun is down, thousands of orange paper lanterns light up the streets and it becomes incredibly crowded — even on a normal-seeming Monday night in the middle of winter.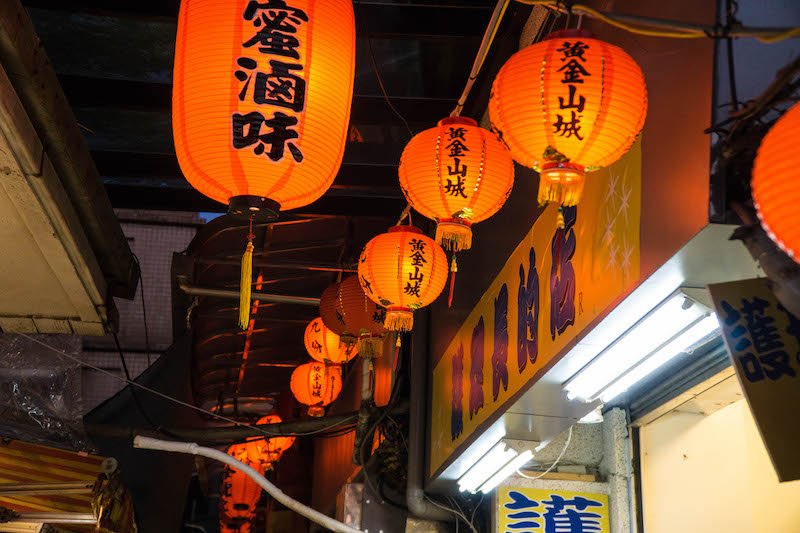 Still, even with all the crowds, it's beautiful and quite easy to combine Shifen and Jiufen into a one-day trip from Taipei.
We did this independently with public transportation (and then shared a taxi back — there are several shared taxis that wait around at the overcrowded bus stop!)
If you are concerned about figuring out the transportation systems in a country with Chinese-language signage (which admittedly can be a bit tough to navigate), you can always pick a tour that includes Shifen and Jiufen together, like this one.
What to Pack for a Shifen Day Trip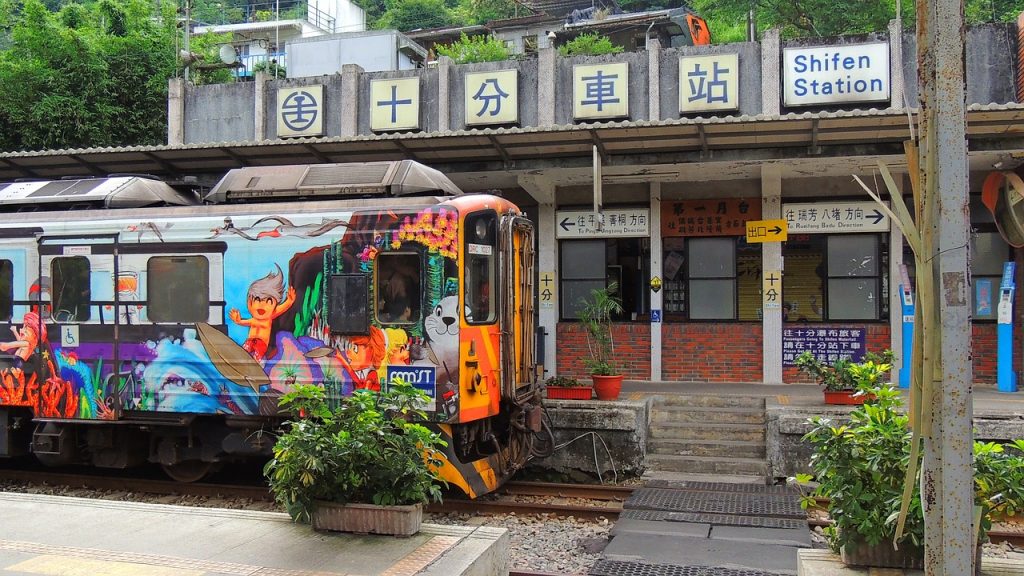 Protect your travel investment!

Travel insurance coverage helps you recoup your losses in case of emergency, accident, illness, or theft.

I rely on SafetyWing for coverage when it comes to trip interruptions and cancellations as well as accidents and medical emergencies.

It offers great rates starting around $12/week with clear, easy-to-read coverage.
Allison Green is a former educator turned travel blogger. She holds a Masters in Teaching and a B.A. in English and Creative Writing. Her blog posts merge her educational background and her experience traveling to 60+ countries to encourage thoughtful travel experiences that both educate and entertain. She has been a speaker at the World Travel Writers Conference and her writing, photography, and podcasting work has appeared in National Geographic, CNN Arabic, CBC Canada, and Forbes, amongst others. Now based in the San Francisco Bay Area where she grew up, she has also lived in Prague, Sofia, and New York City.