I went to Taipei curious and hopeful, but with low expectations. I expected a city more like Singapore: flashy, busy, crowded.
While Taipei is certainly busy, I found it so much more down-to-earth, calm, and easy to breathe in than other large cities in Asia I've visited.
To say Taipei was a surprise is an understatement. I didn't imagine the amount of green spaces, even in bustling central Taipei.
I didn't think I'd be able to hike amongst volcanoes or see sulfuric thermal valleys with steam rising skywards like a dense fog — all without leaving Taipei proper.
I certainly didn't imagine pristine waterfalls and suspension bridges just a short train ride away, nor did I expect to meet some of the friendliest people of my travels (no small feat after visiting nearly 60 countries).
I spent about 10 days in Taipei and doing day trips from Taipei to surrounding areas, and honestly, I still didn't even come close to running out of things to do in Taipei.
In short, Taipei is one of the most rewarding metropolises I've ever visited.
Delicious, unpretentious food cooked in front of your eyes for a few dollars, the most orderly and efficient metro I've ever used, and the welcome smiles transcending language barriers — these are the things that stick in my mind after leaving Taipei.
While most of these things to do in Taipei are focused on the city proper, Taipei is so well-connected that I've included several side trips that you can easily do in case you'd like to get out of Taipei for a bit and see the beautiful surrounding Taiwanese nature.
Taiwan is super well-connected by metro and bus, making getting around pretty easy for the most part, even if you don't speak or read Chinese (I most certainly do not).
I'd at least recommend a trip to Shifen Waterfall or Jiufen, as both were huge highlights of my time in Taipei and easily doable as a half-day or full-day excursion.
Getting into Taipei
Most likely you will fly into Taoyuan International Airport. There are three simple ways to get into Taipei from there
MRT
Hop on the MRT from the Taoyuan Airport and you'll arrive at Taipei Main Station in 35 minutes. This ticket costs 160 Taiwanese dollars, a little more than $5 USD. Be sure to select the express train to get there quickly.
From there, you can then transfer to the regular citywide MRT, where tickets are even cheaper (based on zone, but roughly 20-40 Taiwanese dollars per ride, less than $1.50 USD).
This is only an option from 6 AM to 11:30 PM, so if your flight is outside of those times, you will need to select another option.
Bus
There are two buses that take you downtown. #1960 will bring to to Xinyi near Taipei 101. It costs 145 Taiwanese dollars, about $5 USD.
The next is 1819 or 1961. Either of these bring you to Taipei Main Station where you can easily get to wherever you need to go by MRT. Bus 1819 is a 24-hour bus. The other buses, 1961 and 1960, only run from 6 AM to 1 AM.
But 1819 costs 125 Taiwanese dollars, about $4 USD, whereas 1961 will cost 90 Taiwanese dollars, about $3 USD.
Private taxi
If you get stressed out with airport arrivals (same) and have any compunctions about figuring out Taipei's public transport system after a long flight, I recommend just booking a private taxi to make your life easier.
It's inexpensive and easy as can be, since they personally greet you with a sign with your name, assist you with your luggage, and drop you off right to your door. It's a nice treat to yourself to make arriving in Taipei stress-free.
You can book it easily online here (also works for departures)
Delicious & Fun Things to Do in Taipei
Eat your heart out at Shilin Night Market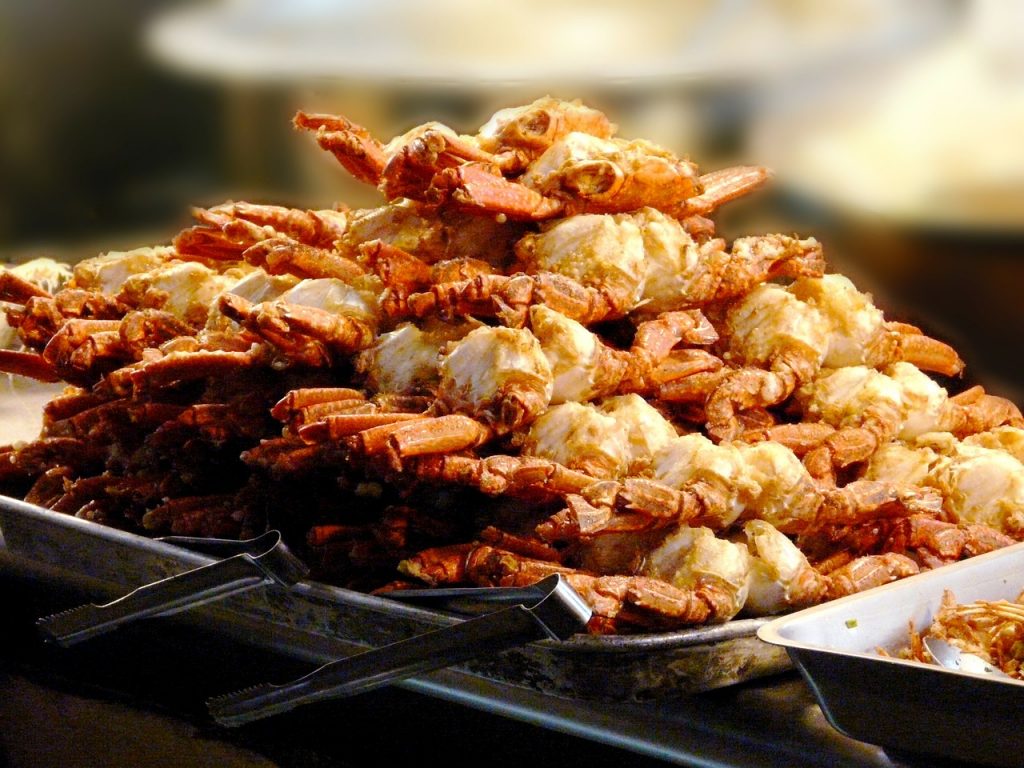 Note: This post contains affiliate links, which means I may receive a small commission if you purchase something through one of these links. Thank you for supporting the free content on this site! For more information on affiliate links and cookies, see my disclosure page for more details.
If you only make time for one of the many things to do in Taipei, you've got to check out a night market.
Taiwan is famous for its delicious and inventive night markets, where street vendors specialize in a single dish and prepare it to perfection to long queues of salivating visitors.
For my first four nights in Taipei, I stayed within walking distance of the Shilin Night Market, which is the most popular of the Taipei night markets.
It's considered by Taiwanese to be the most "touristy" night market, but since I was visiting Taipei in the off-season (January), the crowd was mostly locals.
A few of my favorites: Japanese-style takoyaki (octopus balls covered in BBQ sauce, mayo, and bonito flakes), the flame-grilled beef sprinkled with cumin, the suckling pork wraps, the pepper pork buns baked in clay ovens until crispy, the steamed leek buns… I'm drooling just typing this and a few seconds away from opening up Skyscanner just to fly back and eat ALL THE FOOD.
But check out the other night markets, too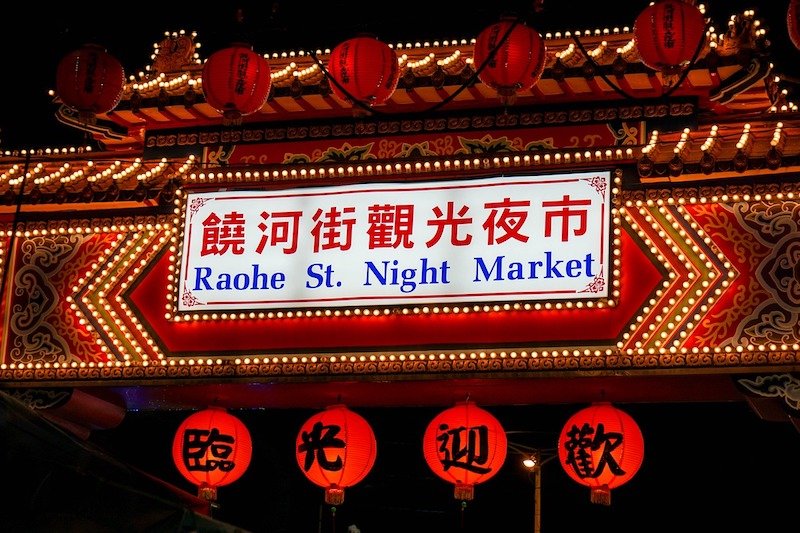 Shilin is fantastic, but it's not the only Taipei night market. During my two weeks in Taiwan, I also went to Feng Shia Night Market in Taichung, which is said to be the largest night market in the world and supposedly, it's where all the newest street food inventions are given a trial run.
On my last night in Taipei, I also went to Raohe Night Market, which is a slightly more local night market that was recommended to us by a local who worked at the pop-up craft beer bar at one of the creative parks.
The food was delicious (you can't miss the pepper pork buns) to see another night market. Plus, it has a super central location, so you have no excuse to miss it!
Check out this great guide from Migrationology about the Raohe Night Market to help you plan your visit, as the sheer number of stalls at the night markets and the fact that a lot is written in Chinese can make this markets slightly more intimidating initially than the more tourist-focused Shilin market.
If you prefer a guide to help you work your way through the night markets, this Taipei bike & night market tour is a fantastic choice – it includes a bike tour around the city, some night market tastings, and a complimentary drink at the end of your tour!
Book your night market tour today!
Drink bubble tea where it was created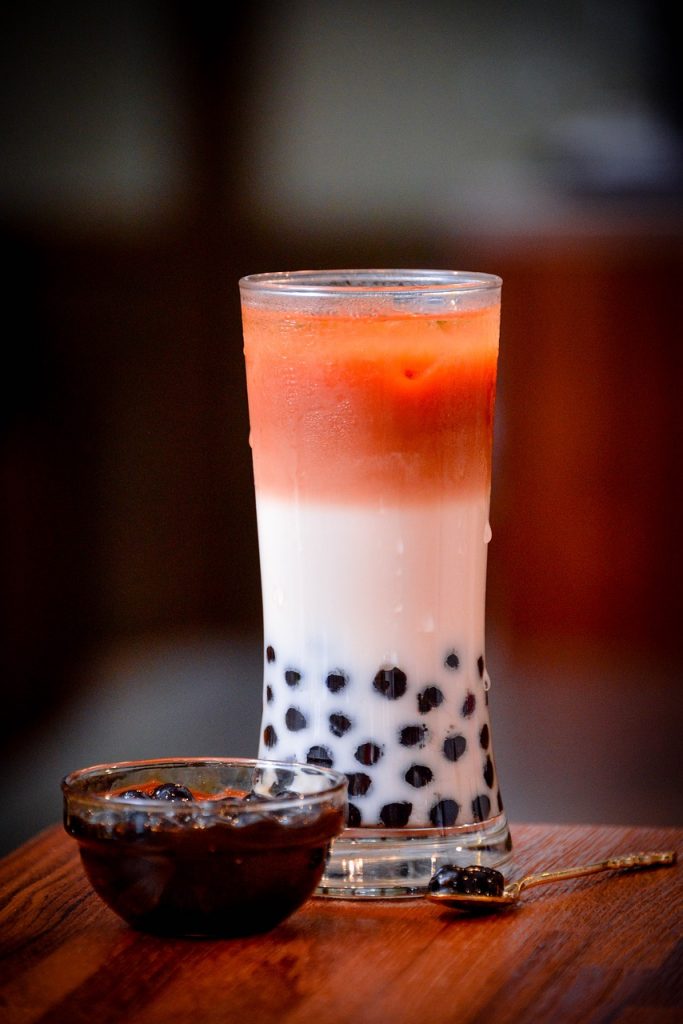 Aside from its night markets, Taiwan is also famous for having invented bubble tea.
Bubble tea is basically an iced tea, usually quite milky and sweet, served with tapioca pearls called boba.
You use an extra-wide straw to suck up the boba, giving you something to chew as you drink. The boba don't really taste like anything — the point is the chewiness.
The Taiwanese are obsessed with the texture of food, and chewy textures are one of their favorites. Curious? Read all about the beloved "Q texture" found in Taiwanese food.
Explore Taipei's own Yangmingshan National Park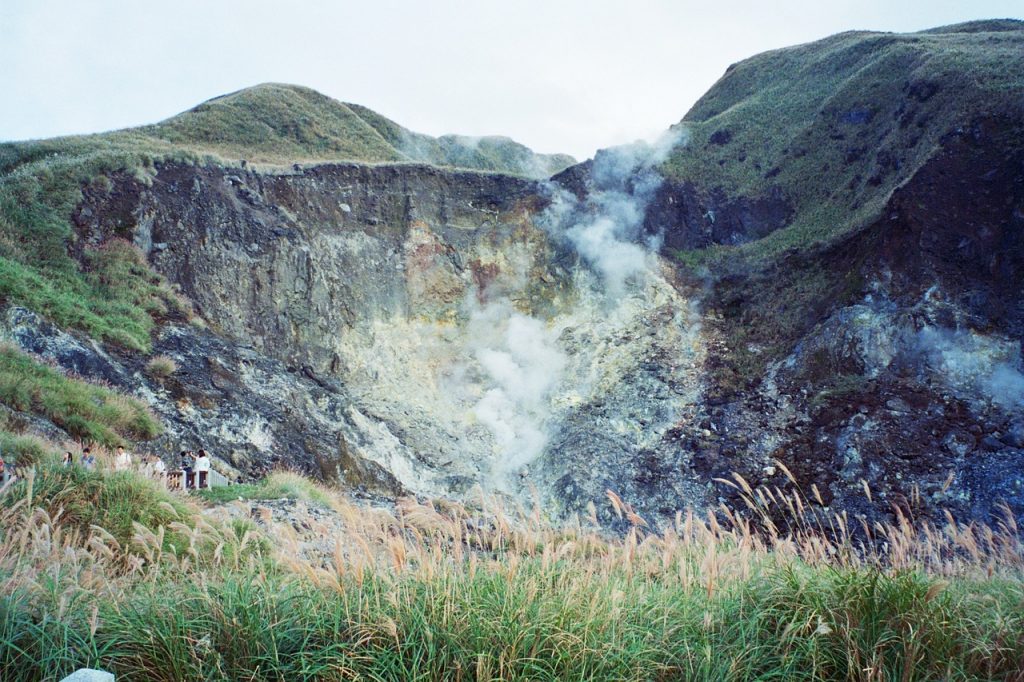 How many capital cities can boast a national park within their city limits — let alone a national park complete with volcanoes, hot springs, and sulfur pits?
Taipei is located on the Pacific Ring of Fire, which makes it quite geologically active. In fact, just two weeks after I left Taiwan, a magnitude 6.4 earthquake hit the country.
But the small risk of earthquakes is just part of the reason why Taiwan's landscapes are so visually stunning, full of mountain peaks, waterfalls, and hot springs.
In Yangmingshan National Park, you can hike to the highest peak in the park, Mount Qixing, enjoy the hot springs all around the park, walk across the beautiful Jingshan suspension bridge, see the aptly-named "Milk Lake", and so much more.
There are resorts in the national park offering relaxation packages in the thermal waters with private rooms – check them out here.
We kind of bungled our day in Yangmingshan by sleeping in and getting there too late in the day to properly enjoy all the sights, but we still enjoyed our day out of Taipei.
However, if I did it again I would probably take a guided tour to make sure I saw all that I wanted to see, such as the sulfur fumaroles and all the best hot springs.
This tour of Yangmingshan National Park (check availability and ratings here) hits all the highlights and is a lot more convenient than trying to figure out the bus system inside the park, which is a bit complicated for non-Chinese speakers.
Alternately, there is this self-guided shuttle bus that takes you to several important points in Yangmingshan National Park, including Xiaoyoukeng, Bamboo Lake, Lengshuikeng, and Qingtiangang Grassland.
Relax in Taipei's Beitou hot springs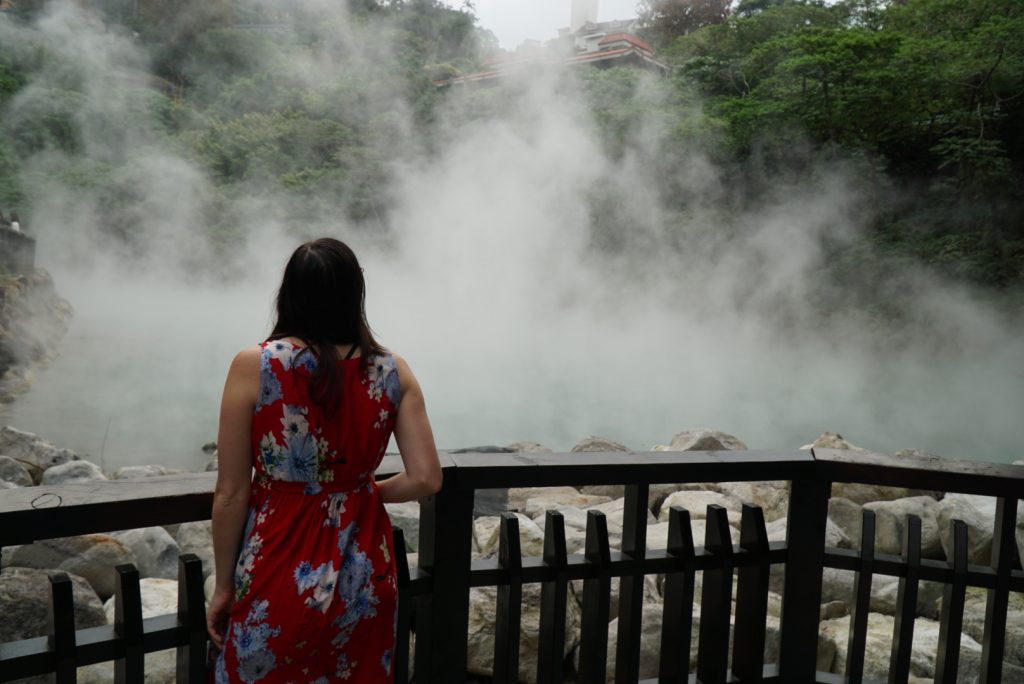 Taipei is positively covered in hot springs — and you don't even need to venture to Yangmingshan National Park to find them, as they are quite literally out in the open in the city for all to use and enjoy!
Just take the metro out to Beitou on the red MRT line and you'll find plenty of hot springs available, including a free hot spring foot bath being enjoyed by all the locals in a public park!
But the biggest draw to me was "Hell Valley," which you will most definitely not want to dip your toes into, considering the hot springs are nearly boiling!
It was gorgeous to see the milky, whitish blue water sending up a layer of mist towards the sky — the smell, though, not so much!
There are also a lot of hotels in the area that offer thermal waters and spa treatments if you're looking for a bit of a getaway within the city, but I haven't tried this personally.
Grand View Resort is one of the nicest hotels in the Beitou area and has a sauna, steam room, white sulfur waters, outdoor pools, stone spas, and great views, plus a shuttle service from the Beitou MRT – check out the package deal here.
Stroll along the Tamsui Old Street boardwalk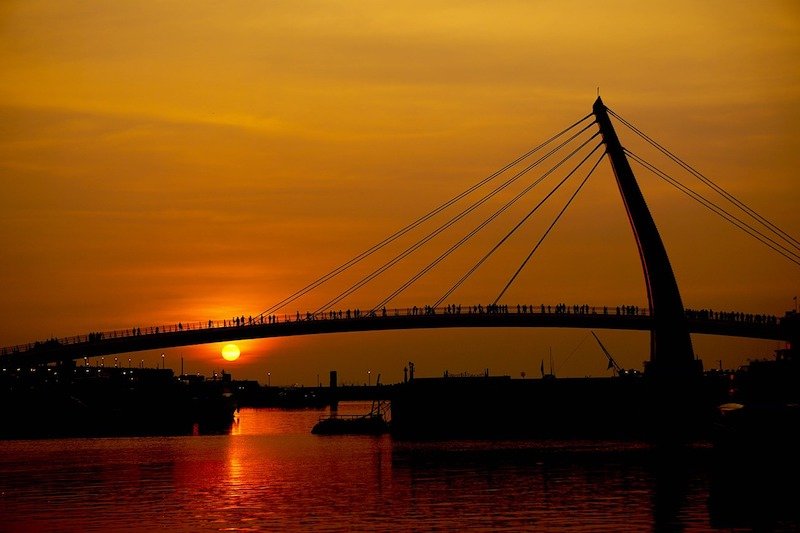 Tamsui Old Street is one of the coolest places to visit in Taipei. Simply take the red MRT train to the end of the line at Tamsui and walk along the waterfront to enjoy the historic neighborhood of Tamsui.
There are countless food vendors to enjoy, plus the area around the boardwalk is super gorgeous around sunset with the many bridges and mountains across the river.
It's popular with families but I also really enjoyed walking around ordering from all the different street food vendors and drinking way too much bubble tea.
I recommend going at sunset so you can photograph the beautiful Tamsui Lovers' Bridge, which is gorgeous silhouetted against the sky.
Drool over delicious xiao long bao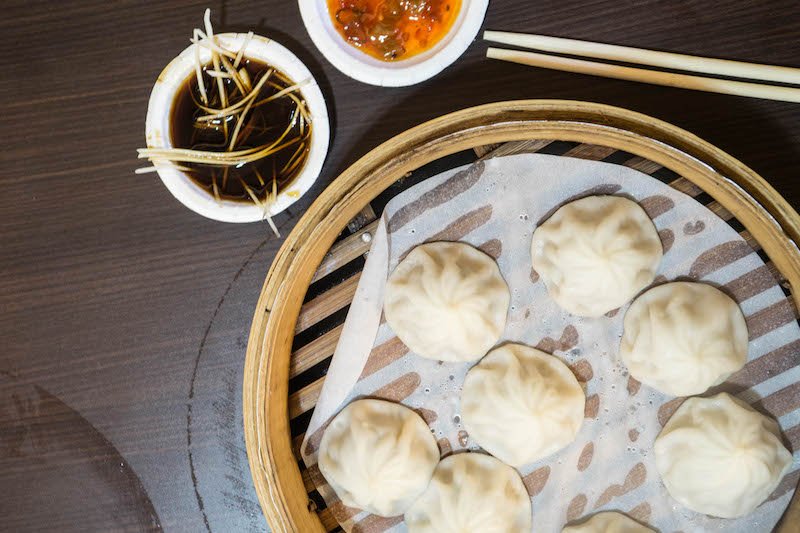 One of my favorite foods to eat in Taipei is the tasty xiao long bao, aka Shanghai soup dumplings.
I've yet to go to Shanghai, but I'd be willing to bet that Taiwan's version of the xiao long bao gives Shanghai's a run for their money.
Soup dumplings are usually either pork or a mix of crab and pork, filled with a piping hot dose of broth and wrapped up neatly in a pleated dumpling skin.
They are steamed to perfection and served with a soy and rice vinegar mixture as well as some thin ginger matchsticks which you place in the soy-vinegar sauce.
To eat a soup dumpling, dip it in the soy-vinegar-ginger combo, place it in your spoon, poke a hole or take a small nibble of the skin to slurp out the sauce, and then eat the dumpling all in one bite.
It sounds tricky, but by your second or third dumpling, you'll have gotten the hang of it.
Din Tai Fung is the quintessential, Michelin-starred place to go, but lines can stretch up to two hours at peak meal times – hardly an enjoyable way to spend your Taiwan trip!
If you want to combine some dumping-eating with some nighttime sightseeing, take a dumpling and night tour of Taipei (check ratings and availability here).
This tour includes a meal at Din Tai Fung without the crazy waits you normally have to endure!
Get a breath of fresh air at the lush Taipei Botanical Garden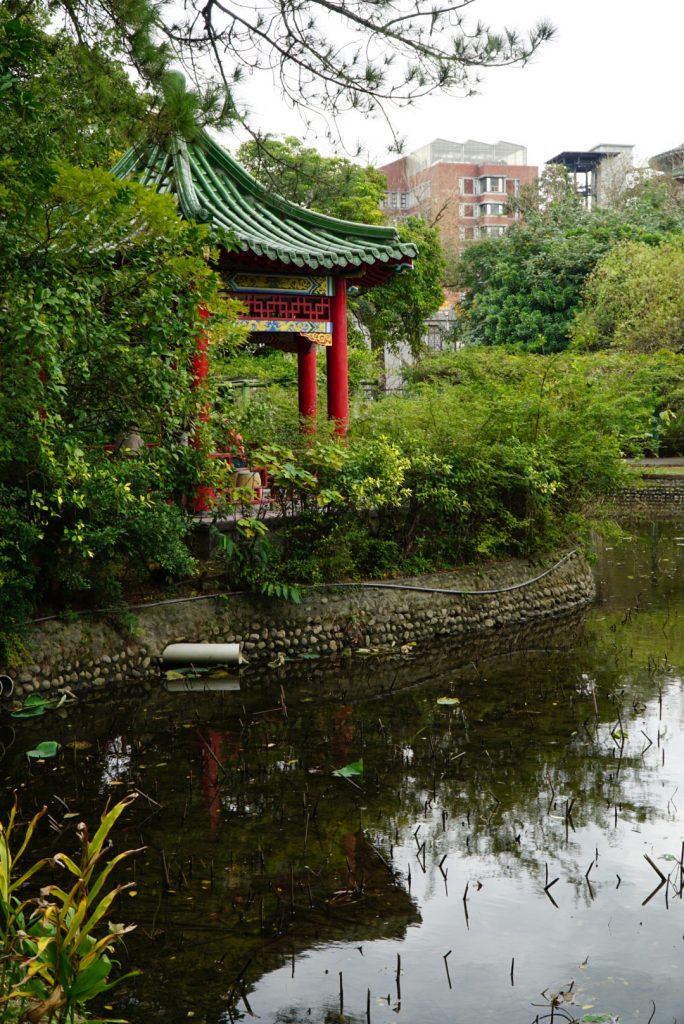 Sure, there is tons of nature within a short distance of Taipei – from the waterfalls of Shifen to the mountains of Yangmingshan National Park to the hot springs of Wulai.
However, if you really want a quick hit of nature without even leaving the city center, it's definitely worth taking a stroll through Taipei's gorgeous botanical gardens.
The Taipei Botanical Garden is over 100 years old and is home to over 2,000 different species of plants and takes up a massive 82,000 square meters of central downtown Taipei – further showing how much the Taiwanese value being close to nature, even in their cities.
It's just a short walk away from the Chiang Kai-Shek Memorial Hall and entrance is free, so there's really no excuse not to visit this lovely garden if you have time while in Taipei.
Go to the top of the Taipei 101 (and drink at the world's tallest Starbucks, if you must)
Formerly the world's tallest building for 6 years (before being unseated by the Burj al Khalifa in Dubai), the Taipei 101 is the most recognizable icon of Taipei and even Taiwan as a whole.
It's a beautiful skyscraper, inspired by Chinese pagoda-style architecture and looking — to my hungry eyes, at least — a bit like an ornately layered cake (others say it looks like a stack of Chinese takeout boxes, and I can't disagree with that either).
The building is truly remarkable. It's one of the greenest skyscrapers in the world, with a platinum certification in environmental-friendly design.
It's also built to withstand both the typhoon winds and earthquakes that often shake Taiwan, thanks to the unique pendulum damper inside.
And in true Taiwanese form, apparently, this steel damper has even been given the adorable mascot treatment by Sanrio and now a "Damper Baby" mascot exists. You can't make this up.
If you hate crowds and lines (which are usually about ~1-2 hours), you can buy this skip-the-lines pass which will allow you to be at the top of Taipei 101 with no wait involved for an extra convenience fee.
It's a bit extra, but waits can be upwards of an hour, so for me on my vacation, it's worth it — your opinion may differ depending on budget, schedule, and travel style.
If that's too pricy, you can buy an e-ticket which you can pick up at the self-service desk and save yourself a few bucks and some time waiting in the ticket queue, but you'll have to wait for the elevators like everyone else.
Hike to the top of Elephant Mountain for sunset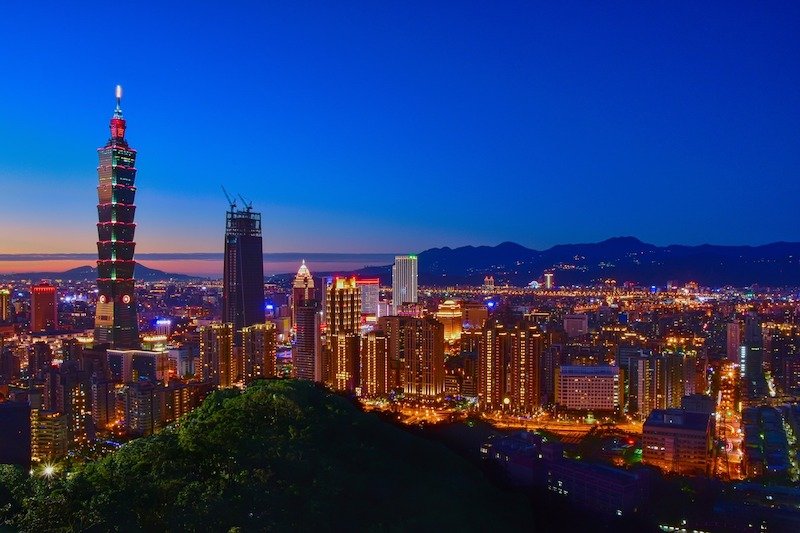 If you want a killer photo of Taipei 101, you can't miss hiking up Elephant Mountain, one of the easiest but most rewarding hikes in Taiwan!
It's more of an eternal staircase than an actual hike, to be honest.
Simply take the red line to its beginning stop and follow the signs for Elephant Mountain; it's pretty hard to miss.
After about 20-30 minutes of huffing and puffing, you'll be rewarded with spectacular views over Taipei.
Try to get up there before sunset so you can have the best photography opportunities, although when the city lights up after dark it's spectacular in a whole different way.
I recommend bringing a tripod if you want crystal-clear night shots!
Bask in the bright lights in Ximending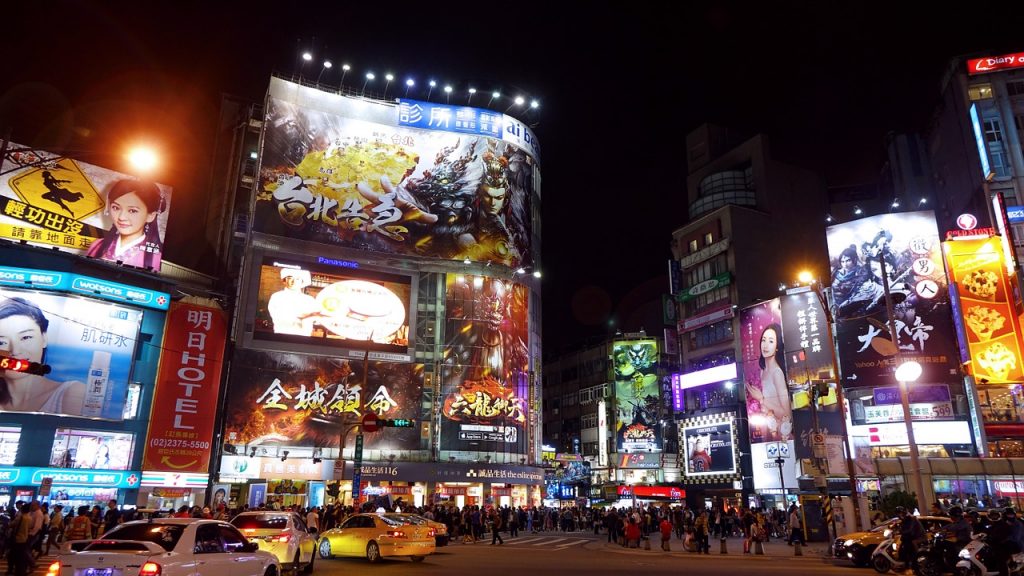 Ximending is one of the most bustling areas of Taipei, and it kind of reminds me of Tokyo's Shinjuku or Osaka's Dotonbori.
With neon lights everywhere, groups of friends out for nighttime strolls, and delicious restaurants everywhere, it's definitely one of the best places to go out in Taipei after dark.
Oddly, though, there aren't a lot of bars in this area — nor in much of Taipei, either.
It became a bit of running joke between Janet and me that we could never find a proper bar in all of Taipei (until we caved and researched a pub on our final night).
Still, even though we ended up beerless, we had so much fun wandering around Ximending at night and enjoying the energy of all the young Taiwanese out and about.
It's also one of the best areas for LGBTQ+ travelers to Taipei to go out!
Taste your way through Taipei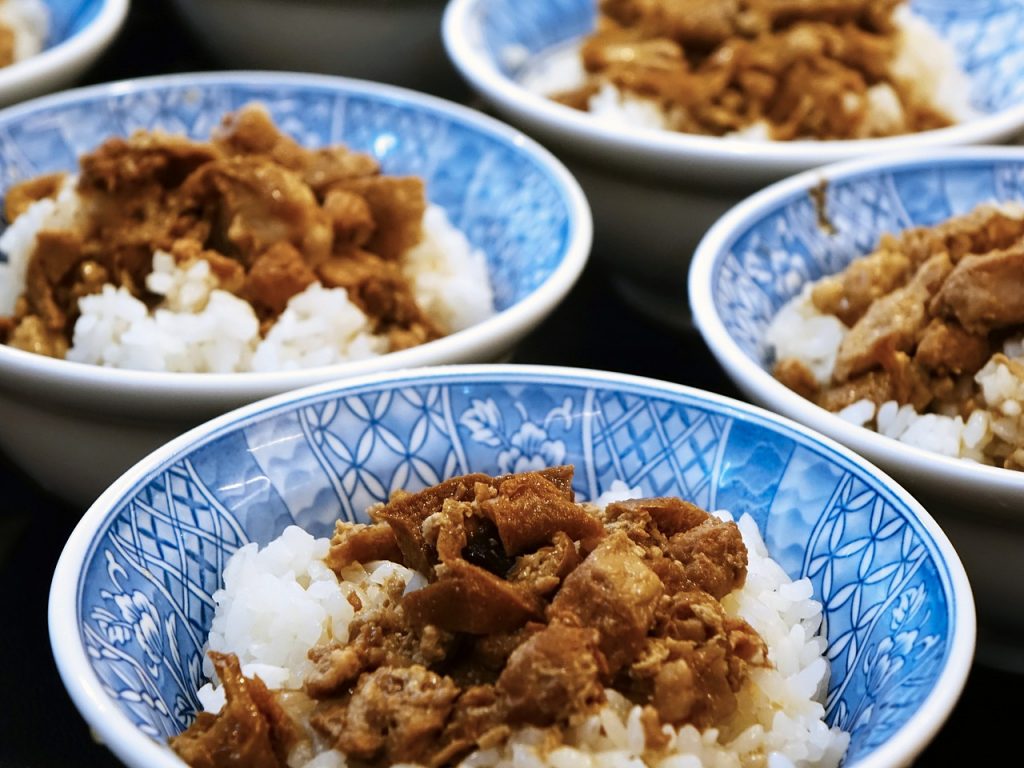 If you want to taste the very best of Taipei and suffer no FOMO, I'd recommend signing up for a tasting tour (check availability and ratings here).
This tour lasts three hours and will cover 8 food samples and 2 drinks, including scallion pancakes, sushi, meat pies, mochi rice cake, tempura, pork rice, and so much more.
While you snack hop, you'll have the opportunity to learn about Taipei's history and how the confluence of cuisines mixing over the years to create a uniquely Taiwanese food scene.
You'll get to explore hole-in-the-wall eateries, local markets, hidden alleys, and other places packed with locals yet not so well-known by tourists yet.
The price is super affordable for the amount of food it covers, so I'd highly recommend doing this while in Taipei!
Check out Taipei's unique creative parks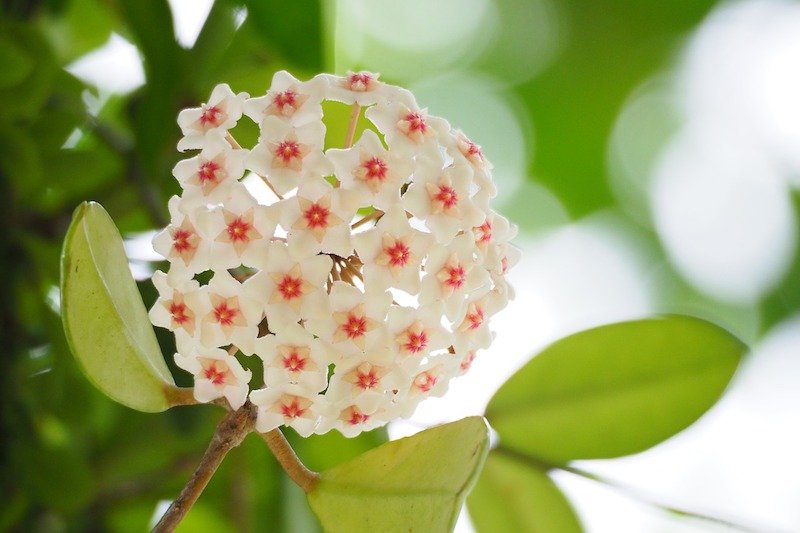 Taiwan has several "creative parks," which are an interesting combination of pop-up shops, handmade craft stalls, nature, and selfie "parks" where you can take photos with a variety of the cartoon characters the Taiwanese are so enamored with.
I had never seen anything quite like these, so I visited two in Taipei and one in Taichung. 
Huashan 1914 Creative Park was really cool, but I was a bit sad to see that their upside-down houses display that was so beloved by Instagrammers had been dismantled.
We also saw what looked like a really interesting color-themed selfie park that was in the process of being built, that we couldn't visit.
Basically, these creative parks are in constant flux, so just go and prepare to be surprised!
We did, however, stumble across a Canada-themed (I know, I'm confused too) pop-up craft beer bar with a lovely, super friendly bartender who kept us full of samples of different craft beers.
We also visited Songshan Cultural Creative Park, which had more nature and was super beautiful to wander around but had fewer galleries and things to see.
Eat at a themed restaurant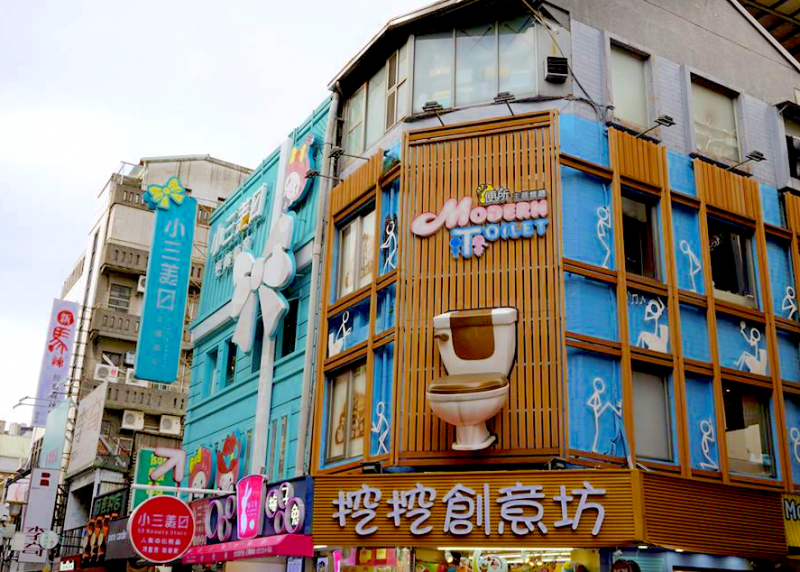 Taiwan is well-known for its kooky themed restaurants, the most notorious of which being Modern Toilet, which is — you guessed it — toilet themed. I couldn't help but join in on this hilarious gimmick.
I mean,  how often do you get the chance to eat out of a miniature toilet bowl while sitting on a toilet while people around you eat poo-shaped meatballs and pay $10 for the honor?
The food wasn't great, and the price was definitely on the expensive side for Taiwan, but the hilarity was definitely worth it in my eyes.
However, it's definitely a one and done experience, I'd say.
If the idea of eating at a toilet themed restaurant makes you squeamish, that's understandable.
There's also the more benign Hello Kitty cafe, a Lego cafe, and even an alpaca café (however, this is located way out of the center of Taipei and is quite a trek unless you are a huge llama enthusiast!)
Eat and shop your way down Yongkang Street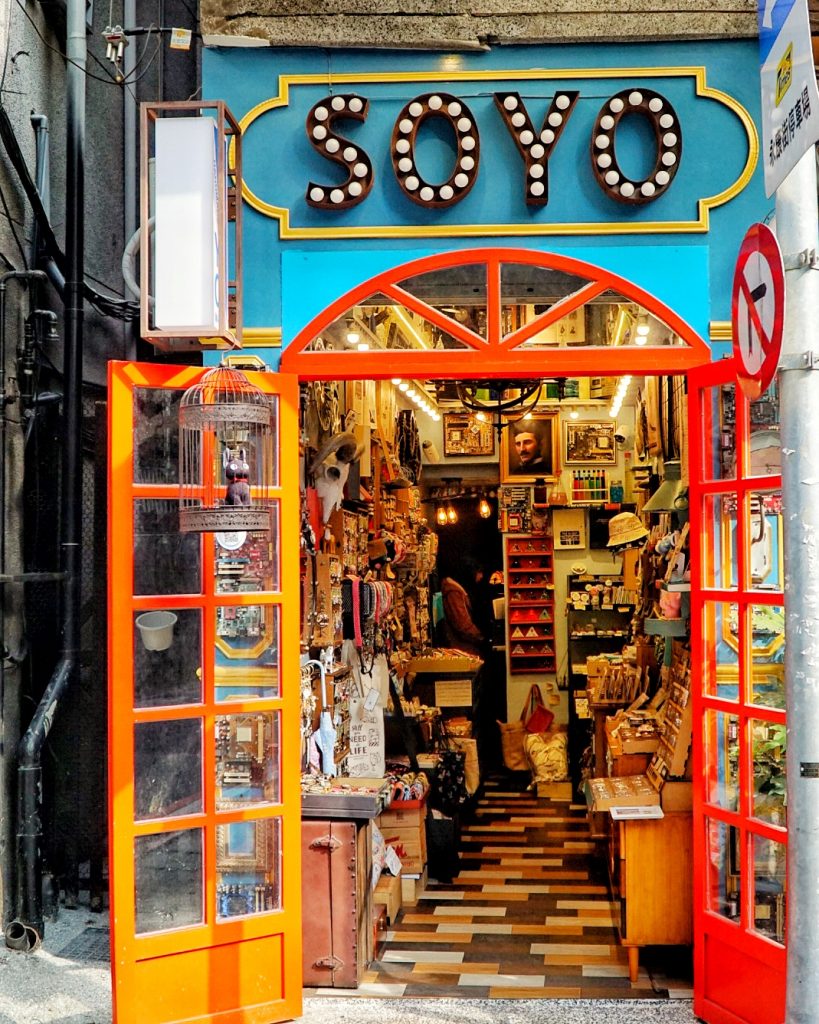 Yongkang Street was one of those lucky finds!
I originally went here because it is the location of the original branch of Din Tai Fung, but when I saw the insane line I decided it'd be better to eat elsewhere and had delicious xiao long bao and dan dan mien (another one of my favorite Chinese staples) at a small restaurant just down the street.
But Yongkang Street is great for more than just dumplings. There are also lots of cute quirky shops just waiting to be explored, a great coffee shop, and an inexplicably large number of umbrella shops (which seem to be a thing in Taiwan for whatever reason!).
This was one of the cutest streets I found in Taipei, and it's in a very central location between Chiang Kai-Shek Memorial Hall and Daan Park, so it's definitely worth a wander if you're starting to run out of things to do in Taipei.
Dine or drink in trendy Zhongxiao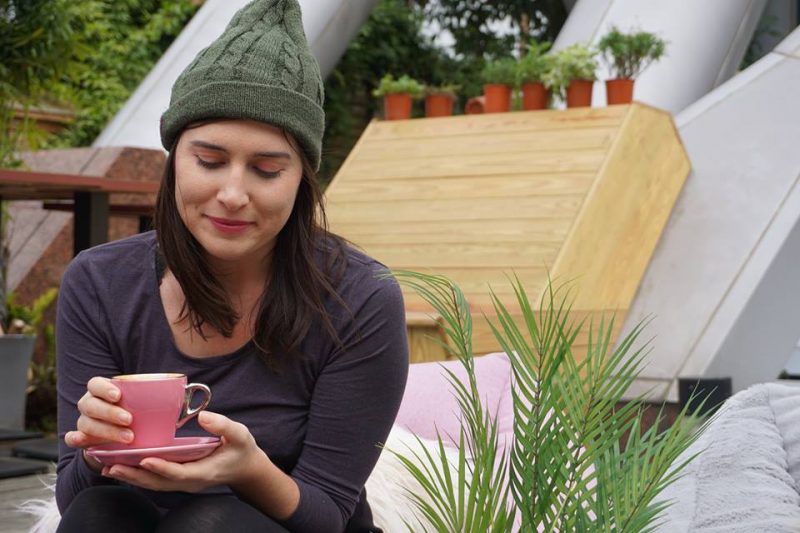 If you're in need of refreshing your wardrobe when you're in Taiwan, Zhongxiao is the place to go! But this is also the best area to go out in Taiwan.
As I wrote above, one thing we found when we were in Taiwan is that there is a puzzlingly low number of bars in the city.
Drinking doesn't seem to be that popular of a pastime for young Taiwanese — or if it is, the bars are quite well hidden away from the eyes of foreigners.
However, Zhongxiao is the exception to the rule. While there isn't a proper bar area, there are a few good bars in Taipei if you look for them, most of which are clustered in Zhongxiao.
We enjoyed a night out at ON TAP, which was fun, unpretentious, and had passable Mexican food.
Long-suffering readers of this blog will know that I commit foodie sacrilege in basically every city I visit, which usually means eating Asian food in Eastern Europe, but in a major plot twist, this time involved eating Mexican food in Asia. I'm a Californian who misses home, what can I say?
It's also home to some delicious Korean food (again committing foodie sacrilege) and cute coffee shops and boutiques, so night or day, this is a great spot to check out in Taipei.
Snack on some Hot Star Fried Chicken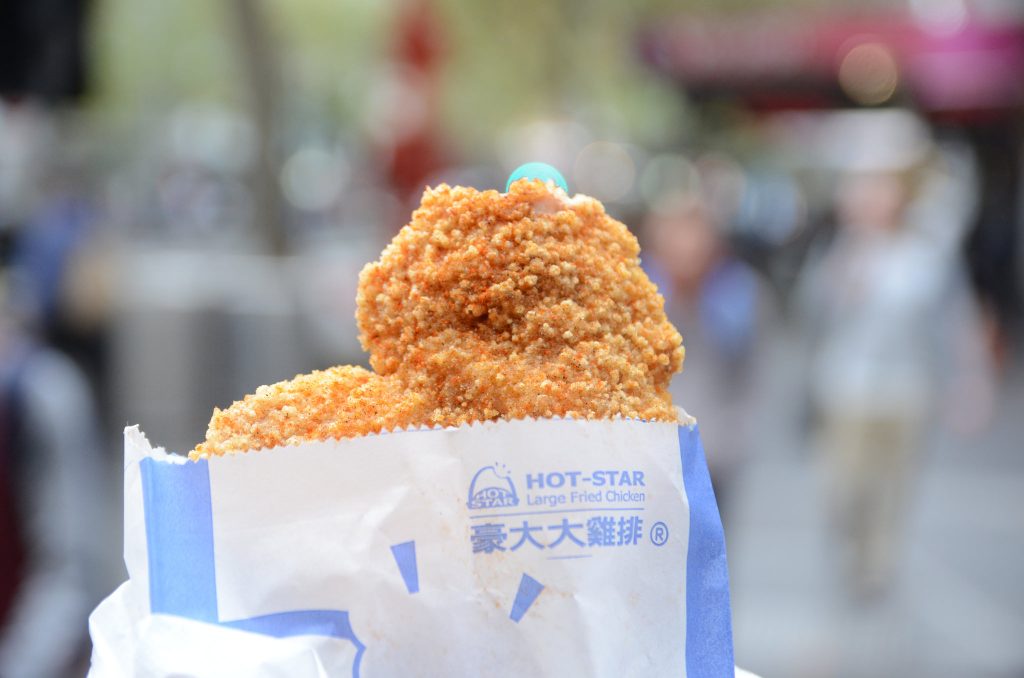 Taiwanese food is famous for its stinky tofu, soup dumplings, and bubble tea, but if you ask a young Taiwanese person their favorite food, odds are they'll say — Taiwanese fried chicken!
This ain't no KFC, though. Taiwanese fried chicken is different than any other chicken I've tried.
It's pounded thin until it's really flat and tender, breaded and spiced, deep-fried to golden perfection, and then coated with a little extra spices.
I ate a piece of chicken that about twice the size of my face at Hot Star Fried Chicken in Ximending and adored every bite.
The sweet potatoes were also really delicious there — I highly recommend getting them too!
Visit Liberty Square and the Chiang Kai-shek Memorial Hall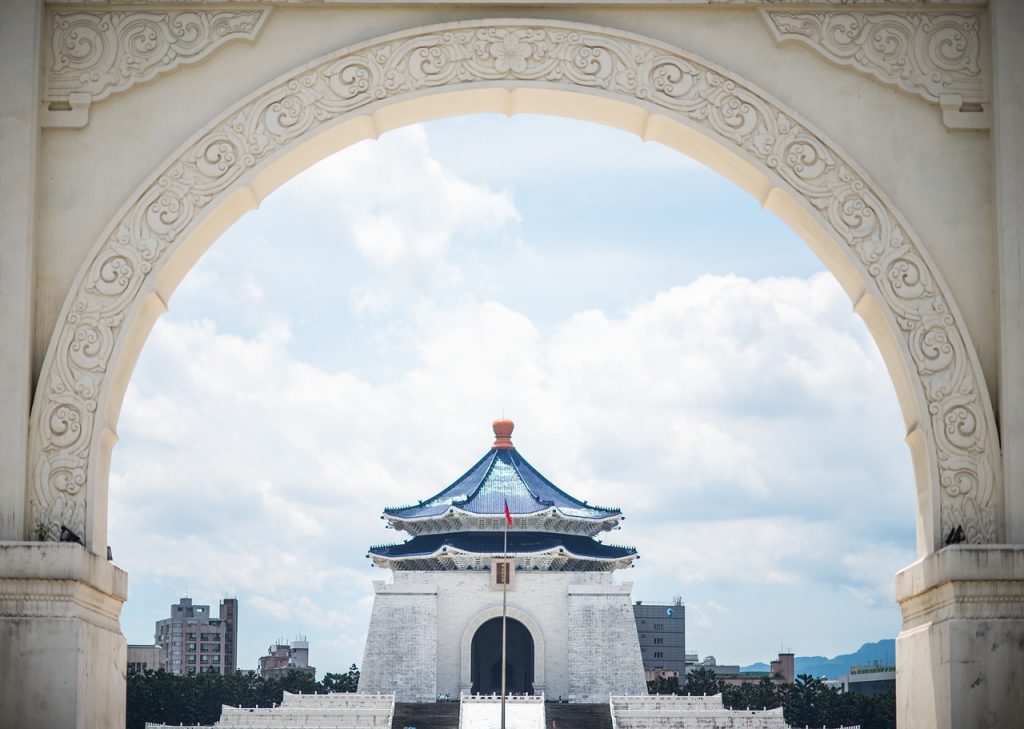 I won't pretend that I understand the full history of the relationship between mainland China and Taiwan.
It's complicated to a degree that I can't even comprehend, let alone distill into a bite-sized informational nugget on a listicle of things to do in Taipei.
What I do know though is that Chiang Kai-shek ruled over Taiwan from 1945 to 1975 with an iron fist, placing the country under martial law for decades, making enemies of journalists and dissenters.
However, he was successful in keeping Taiwan independent from Communist mainland China, a thing for which many Taiwanese are grateful. 
Today, his legacy is controversial – in fact, this monument will likely change its name and function in the future.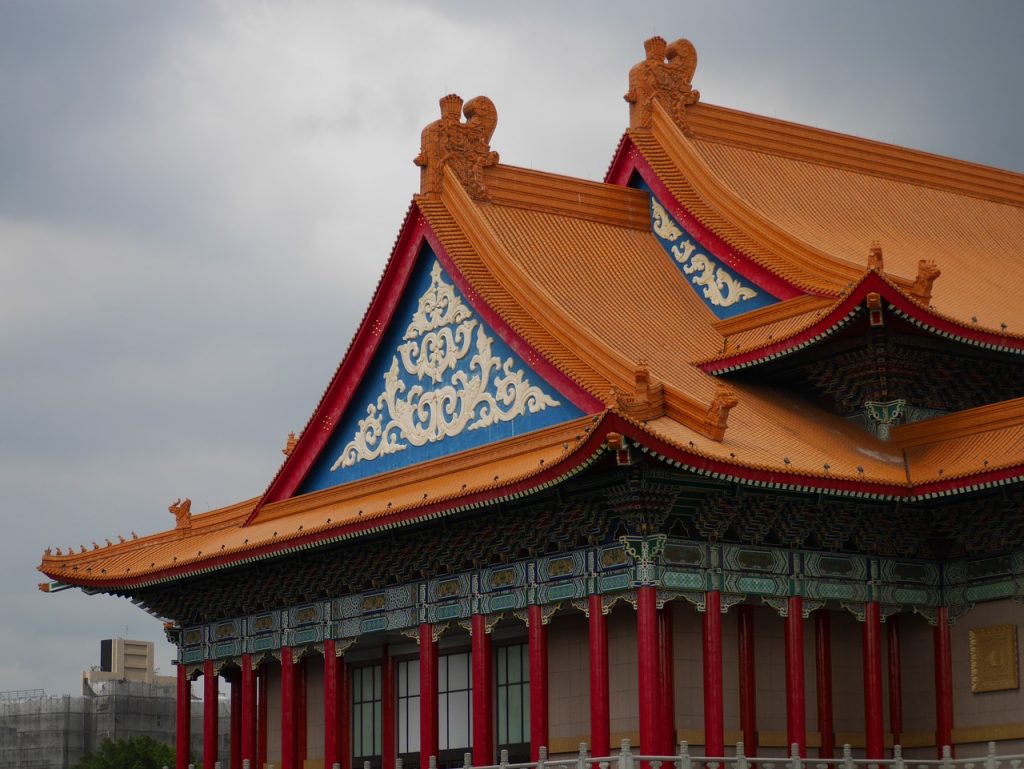 For now, though, it's one of the most iconic areas of Taipei and a common meeting and gathering spot. With the National Concert Hall, the National Theatre,  and the DaXiao Gate all within walking distance.
Despite the complicated history, Chiang Kai-shek Memorial is one of the most beautiful feats of architecture in Taipei.
If your time in Taiwan is limited, you may want to consider doing a bus tour. To see this and other essential Taipei itinerary musts (Taipei 101, Longshan Temple, and beyond!) a hop-on hop-off bus tour may save you some time.
See the stunning 18th century Longshan Temple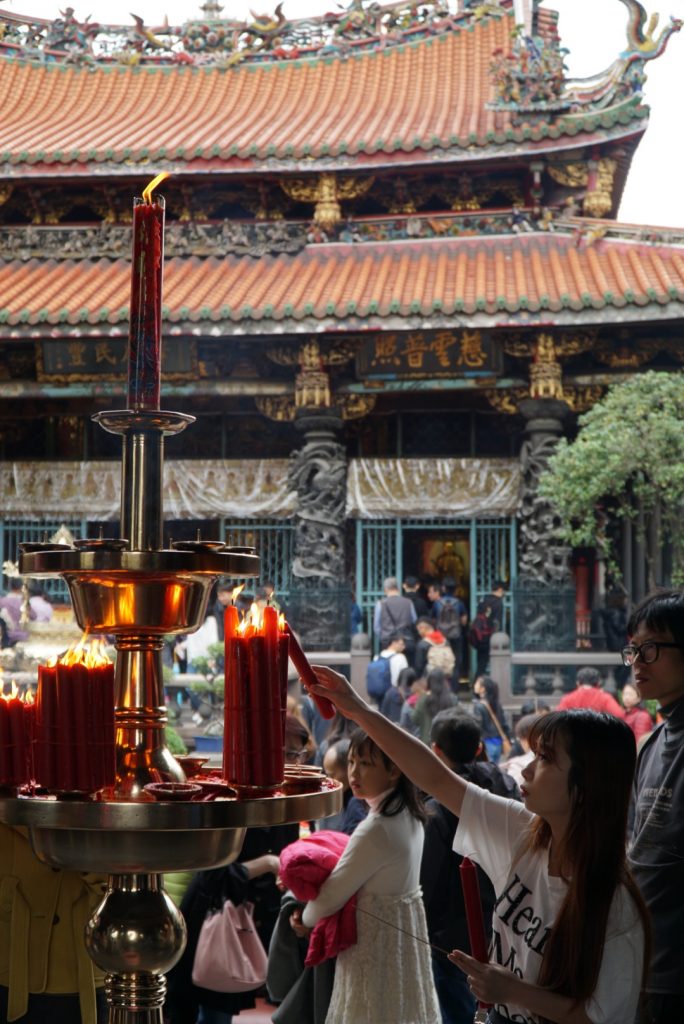 Longshan Temple is the most famous temple in Taipei, and it's very active with local Taiwanese going about their prayers. Visitors are welcome (just dress respectfully, as you would in any place of worship).
There are some interesting customs that the Taiwanese observe when praying that I've never seen elsewhere.
For one, there are small, painted pieces of wood that are shaped somewhat like a segmented orange. It's common for people to pick up the painted crescent-shaped wood, hold it in their hands, toss it to the ground, and pick it back up again.
They're apparently called "jiaobei blocks" or "moon blocks", which are thrown in pairs and used as a divination method — learn more here, as the custom is really interesting
I really love observing other cultures' religious customs (especially as someone who is not particularly religious) and Longshan Temple is a great place for those curious about Taiwanese religious customs to learn more about them.
Things to Do Near Taipei (Within 2 Hours)
Admire the "Niagara Falls of Taiwan," Shifen Waterfall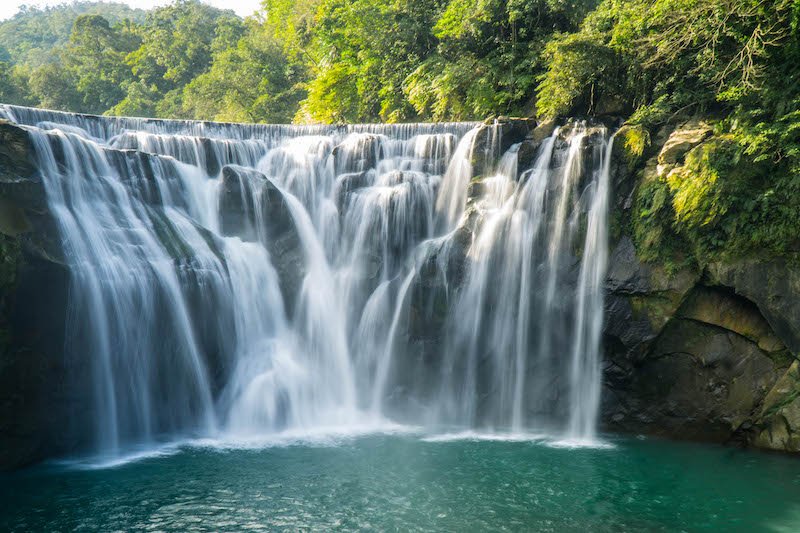 Shifen Waterfall is not technically in Taipei proper, but it is so easy to get there that it deserves a spot on this list.
Within about two hours and under 5 dollars, you can be walking in the beautiful park that is home to Shifen Waterfall.
I've written a complete guide to visiting Shifen Waterfall if you're interested in making this trip, but for now, I'll let the photos do the talking. Simply gorgeous!
Note: I recommend combining a trip to Shifen Waterfall, Shifen Old Street, Jiufen, and Keelung Market using this convenient shuttle bus service, which is easier than planning your trip out using public transportation and not much more expensive.
Let off a lantern on Shifen Old Street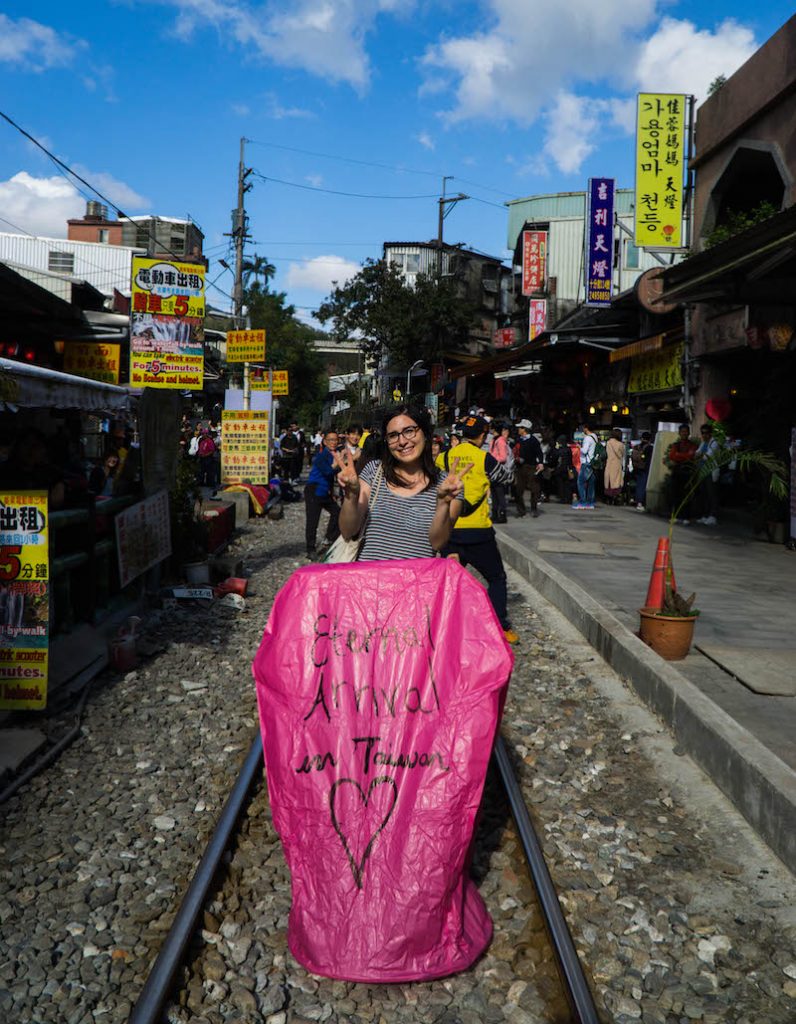 Yes, this is a super touristy thing to do in Taipei (well, technically Shifen) but it was so much fun, so to hell with it.
For 100-200 Taiwanese dollars (about $3-6 USD) you can purchase a lantern, write your messages on it, take all the selfies, and set it off into the sky with all the other tourists on the train tracks.
It was pretty fun to photograph all the other balloons going up into the sky as well.
Aside from setting off lanterns, you can also eat at all the various street stalls selling fried and steamed Taiwanese snacks, check out the nearby suspension bridge, or rent an electric scooter (or walk, it's really not that far) to nearby Shifen Waterfall.
Head to Jiufen Old Street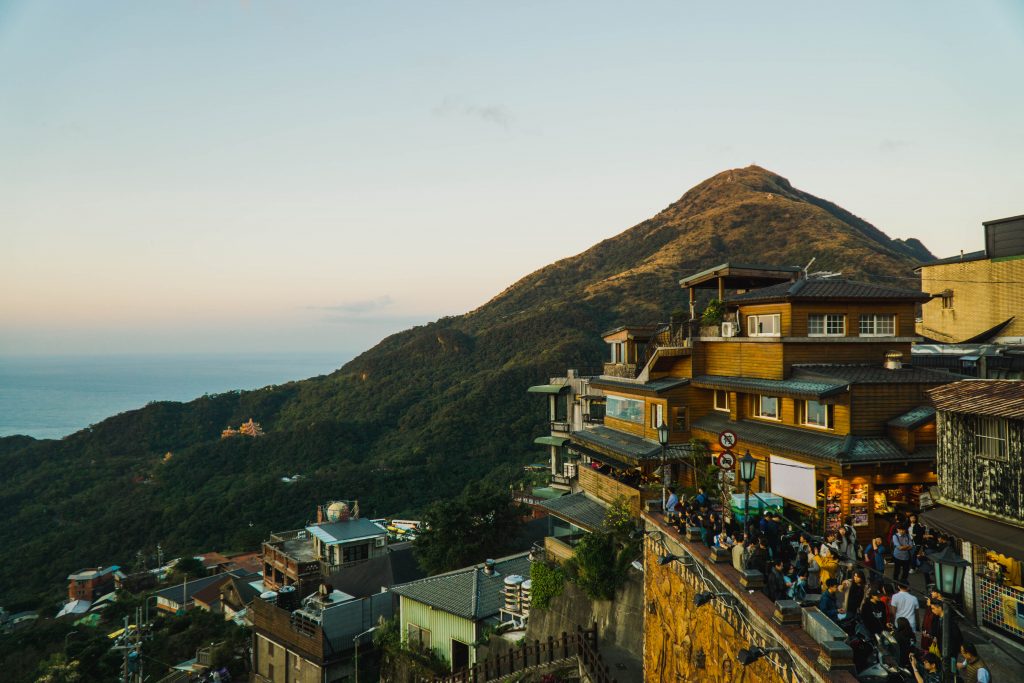 Jiufen is another trip well worth making while you're in Taipei. I've heard it called "the Santorini of Taiwan" and honestly, I can see it!
The city of Jiufen is built on a hill overlooking the spectacular coastline, making it a perfect place to take in the sunset in one of the many teahouses on the hill.
The entire city is covered in orange lanterns and food stalls, and there are gorgeous tea houses dotting the mountainside overlooking the coastline at sunset.
In fact, the city is often cited as being the inspiration for Japanese director Miyazaki's film Spirited Away, and there does seem to be a kind of magic in the air.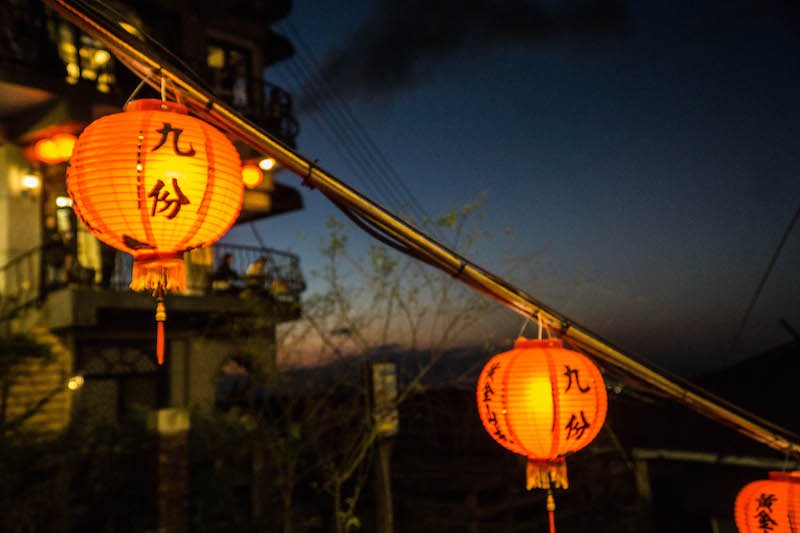 However… a place this beautiful is impossible to enjoy alone. Expect to share the magic with approximately 75,000 other people, all trying to cram down a few tiny staircases.
Claustrophobes and my fellow anxiety sufferers, be warned — descending the stairs after the sun sets is a neverending hellscape of people.
We got stuck in a slow-moving river of people for what felt like ages (but was probably 10 minutes). And we visited in January, which is about as off-season as it gets!
You could go with a tour to Jiufen, but that would just compound the chaos, in my opinion. It's easy enough to go independently.
The buses are really crowded on the way back, so I'd suggest taking a collective taxi back to Taipei. I believe it cost about 300 Taiwanese per person ($10) for the one-hour journey back to central Taipei. Well worth it.
See the rock formations of Yehliu Geopark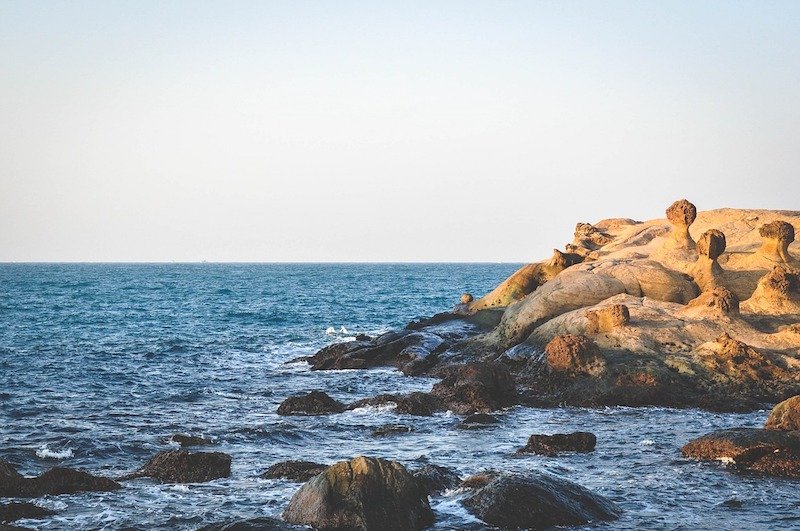 I ran out of time in Taipei to get to do this, but it was on my list and it's easily doable as a day tour so I figure I'd include it for you, anyway.
Yehliu Geopark is an amazing natural phenomenon located on the north coast of Taiwan, just two hours outside of Taipei.
Here, rocks have been carved away by twin forces of sea and wind erosion, leaving behind alien-esque rock formations including the famous "Queen's Head" rock.
It's perfectly possible to do with public transport, but you can also take a guided tour that will show you the port city of Keelung as well (see prices and availability here) and save you a bit of a headache with local transportation.
Go tea tasting and see the beautiful Thousand Islands Lake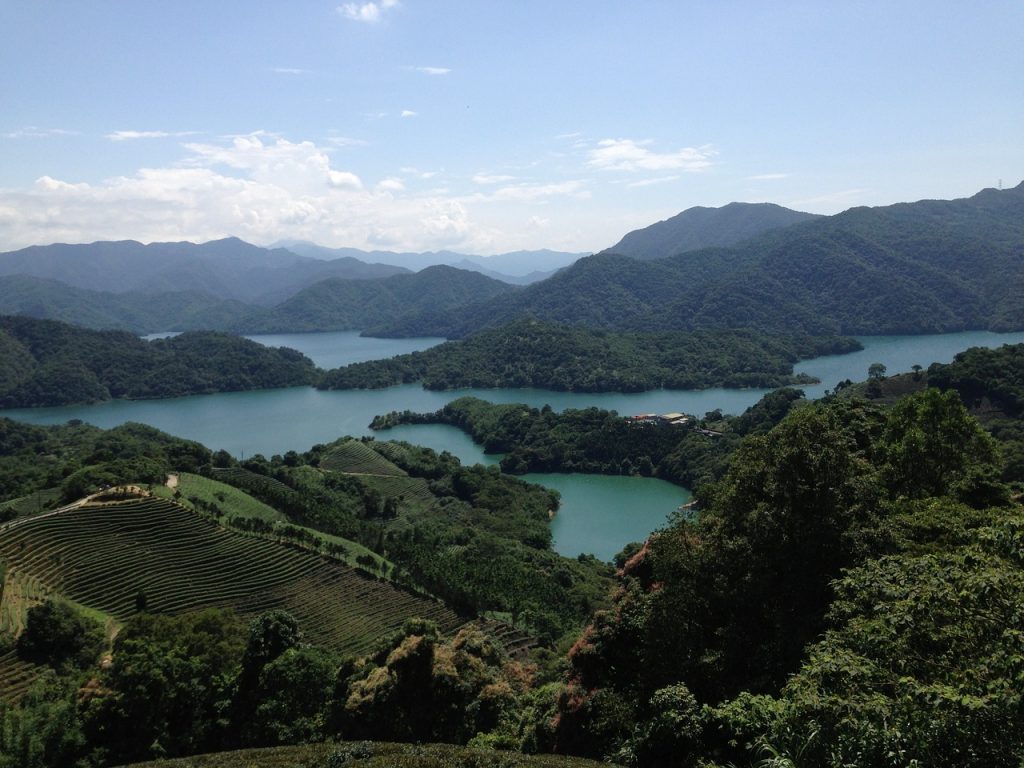 If you really want to get away from the hustle and bustle of the Taipei metro area, a day tour to Thousand Islands Lake is a fantastic escape.
It's especially pleasant when combined with a trip to the Pinglin Tea Plantation where you can sample a few different Taiwanese teas while admiring views of turquoise lakes and terraced tea fields.
Visit Taichung's adorable Rainbow Village
While I believe Taichung is definitely worth at least two days – especially since you've got to check out the largest night market in Taiwan at Feng Jia – if you only have a day and you want to visit Instagram heaven, check out the Rainbow Village just outside of Taichung.
This is easily done in a single day thanks to Taiwan's high speed rail connections, which connect Taipei and Taichung in a mere 45 minutes — for a price (about $22 each way).
If you have more time and you'd like to save some cash, you can also take the regular train, which costs about a third as much and take twice as long.
From Taichung, it's a cheap Uber or taxi to Rainbow Village, or you can work out the local buses (I'm lazy and took an Uber).
I'll be honest, before I researched Rainbow Village, I thought it was just an Instagram gimmick.
But the story is so much cooler than that. Check out this video I made for the full history of how this village got this way (and who the badass "Rainbow Grandpa" is)
A Larger Taiwan Itinerary
If you're planning to visit more of Taiwan than just Taipei, I've got you covered. I've written a 5-day Taipei itinerary (including day trips from Taipei) as well as a 2-day Taichung itinerary that you can combine to make a proper week in Taipei.
Have more time? Tack on Tainan or Kaohsiung further down the west coast after Taichung (perhaps adding on Kenting National Park if it's summer), or head the east coast and stay a bit in Hualien to be at the gateway to Taroko National Park.
Overwhelmed by all the options? You can also book an affordable tour of Taiwan and combine that with some independent exploration in Taipei. Compare tour itineraries and find the best prices here.
Where to Stay in Taipei
Taipei is a vibrant, bustling city with so much to see. I spent about 12 days in Taipei, experiencing different neighborhoods along the way.
When I first arrived in Taipei, I stayed near Shilin, which was great for visiting the night market every single night! It's also super convenient with the excellent Taipei MTR serving Shilin easily.
However, if you want a more central location, I'd recommend staying around Ximen or Zhongxiao. I also stayed in Xinpu and really enjoyed the vibe around that area – it is much more local-feeling but there were plenty of great restaurants and street food to be found!
Though to be honest, the MRT is so convenient and extensive that no matter where you stay, you are not far from anywhere in the city with the MRT.
I've broken down where to stay in Taipei into three budget ranges, which can roughly be defined as follows:
Budget: Under $25 per night for a dorm bed
Mid-range: $50-100 per night for a hotel room
Luxury: $150+ for a hotel room
Budget: For a super-affordable stay with excellent aesthetics and a good location, I recommend LuckyOne Hostel in Datong. The hostel is very well-designed in a way that I wish more hostels were — simple things like the top bunk being high enough that the person on the bottom bunk can sit comfortably, reading lights and outlets next to each bed, etc. have all been considered in the design. Check rates, availability, and reviews here.
Another great option is Ximen Duckstay Hostel (the name is hilarious, I know) which has an amazing central location in Ximen, one of the most bustling areas of Taipei in the evening. The rooms are small but well-designed, with designated places to keep your luggage to keep the floor clear, privacy curtains, reading lights, etc. There's also a hostel bar so it's good for solo travelers who want to socialize, as Taipei doesn't have the best bar scene. Check rates, availability, and reviews here.
Mid-range: Taipei is home of one of my favorite affordable hotel chains, citizenM ! I love booking rooms with citizenM because I know that I'm going to get a well-designed room at an affordable price, without having to pay for a bunch of luxuries I won't use. The deisgn is fun and quirky, with a real sense of personality that is missing from many hotel chains. You always know when you are stepping into a citizenM and I love that. The location is also great. Check rates, availability, and reviews here.
Luxury: If you're looking for luxury meets a dash of quirkiness, I highly recommend Eslite during your stay. Located in Songshan Creative & Cultural Park, this 5-star hotel is beautifully appointed with tons of amazing details like unending shelves of books in the lobby (swoon!). With perks like private balconies, enormous beds, sunken bathtubs, in-room sound systems, you can stay in style at Eslite without paying an insane amount. Check rates, availability, and reviews here.
5 Things You Shouldn't Forget to Pack for Taipei
So, if you've been to Taipei, what are your favorites — am I missing anything?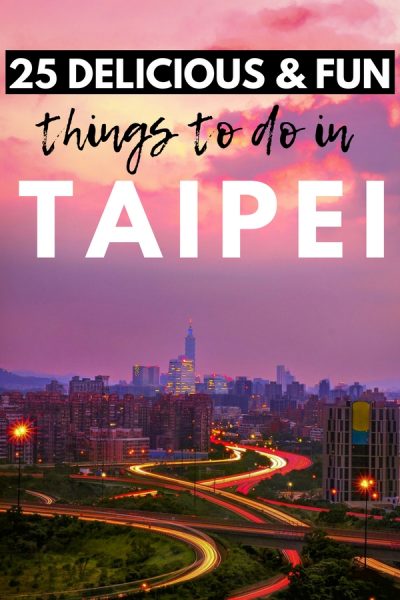 Allison Green is a former educator turned travel blogger. She holds a Masters in Teaching and a B.A. in English and Creative Writing. Her blog posts merge her educational background and her experience traveling to 60+ countries to encourage thoughtful travel experiences that both educate and entertain. She has been a speaker at the World Travel Writers Conference and her writing, photography, and podcasting work has appeared in National Geographic, CNN Arabic, CBC Canada, and Forbes, amongst others. Now based in the San Francisco Bay Area where she grew up, she has also lived in Prague, Sofia, and New York City.