On a far-flung cluster of 18 of the most impossibly beautiful islands, how do you prioritize what to see when literally everything is stunning?
How do you make a Faroe Islands itinerary that sees the very best of what this magical place has to offer – without doing the exact same thing as everyone else and risk turning this beautiful place unsustainable?
These were some of the questions that kept recurring in my brain when planning my Faroes itinerary with my friend Megan, who'd be joining me on the trip.
She had been once before and seen a handful of the highlights and a few hidden gems, such as the island of Sandoy which few tourists visit despite being a quick ferry from the capital of Tórshavn.
We decided that there were a few musts. Since the whole purpose of my trip was to write an article for Visit Faroe Islands about the Kalsoy lighthouse hike, that was an obvious yes (you can read that article here).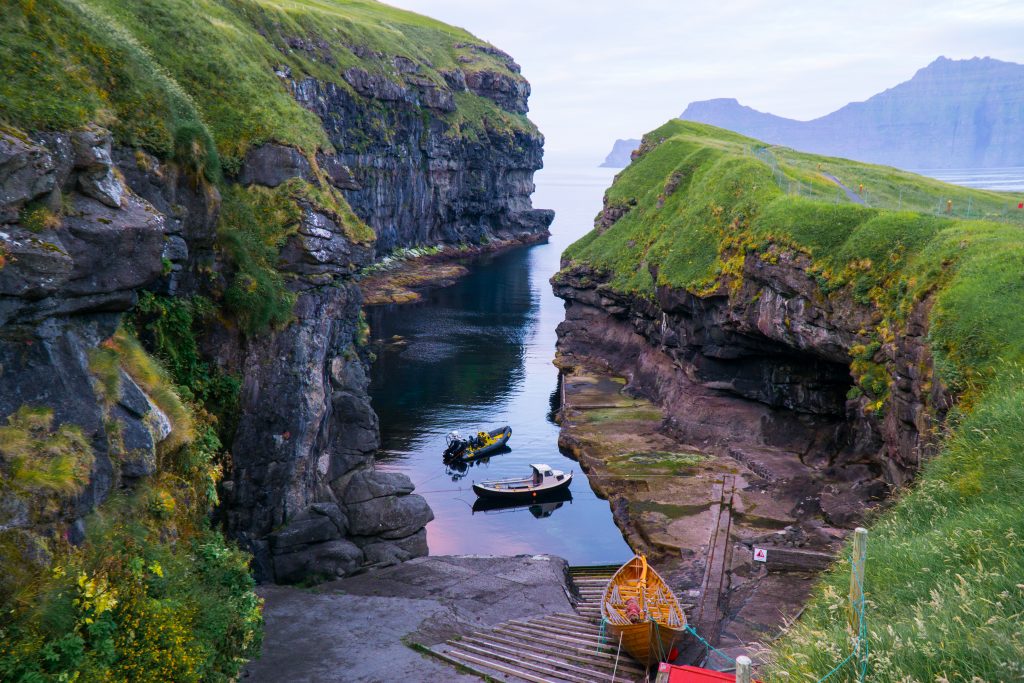 Note: This post contains affiliate links, which means I may receive a small commission if you purchase something through one of these links. Thank you for supporting the free content on this site! For more information on affiliate links and cookies, see my disclosure page for more details.
Since we flew into Vágar, it felt silly to miss Gásaladur and the "optical illusion" hike to Lake Sørvágsvatn – both are within a 15-minute drive of the airport. Gjógv was another village I decided I couldn't miss.
But one of the problems of Instagram is that it promotes a certain type of travel that is ultimately unsustainable, as everyone goes to the same handful of places. I respect that everyone has a right to see the most beautiful places and travel how they please.
I'm not trying to be a gatekeeper of your experience – by all means, do as you wish while of course following Leave No Trace principles. This Faroe Islands itinerary may not be right for everyone!
However, as a blogger who considers the impact of the resources I publish, I have to make this point. On islands as tiny as the Faroes, overtourism will be more immediately noticeable than in tourist-impacted cities such as Barcelona or Amsterdam, where the problems may lay below the surface.
There are a handful of places that have been made so famous by Instagram that they can lead to truly unsustainable conditions and an unfavorable relationship between the locals and the islands.
One prime example is "that Saksun house", where everyone tramples and trespasses to get the same photo as hundreds of others who have come before them.
Another place that is grappling with an influx of tourists is the tiny island of Mykines, a puffin breeding grounds which is a mecca for any wildlife enthusiast.
However, Mykines is getting so swamped by visitors that luckily, Visit Faroe Islands is implementing a few modest measures and guidelines to control tourism, such as requiring you to book in advance and pay a modest entrance fee for preservation.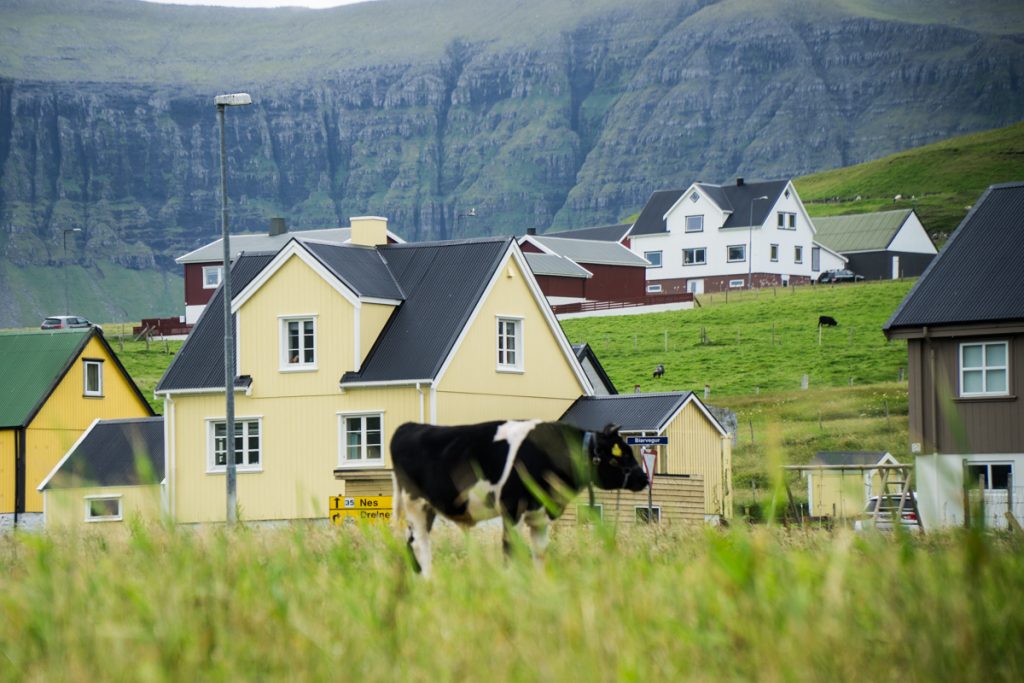 For some of these beautiful yet often visited places, we decided to give them a pass.
We did this in favor of allocating time for other harder-to-reach and often-skipped islands, so that we can help travelers spread out a bit and keep visiting the Faroe Islands sustainable.
That's why this Faroe Islands itinerary will be a little different than others.
However, this is your Faroe Islands trip – I'm here to share my experience, and you're free to plan it how you wish.
Long sidebar aside — this Faroe Islands itinerary can be completed in 4 long summer days. If you're traveling in the winter, when days are shorter, you'll need more time. Of course, a lot of this also depends on your luck.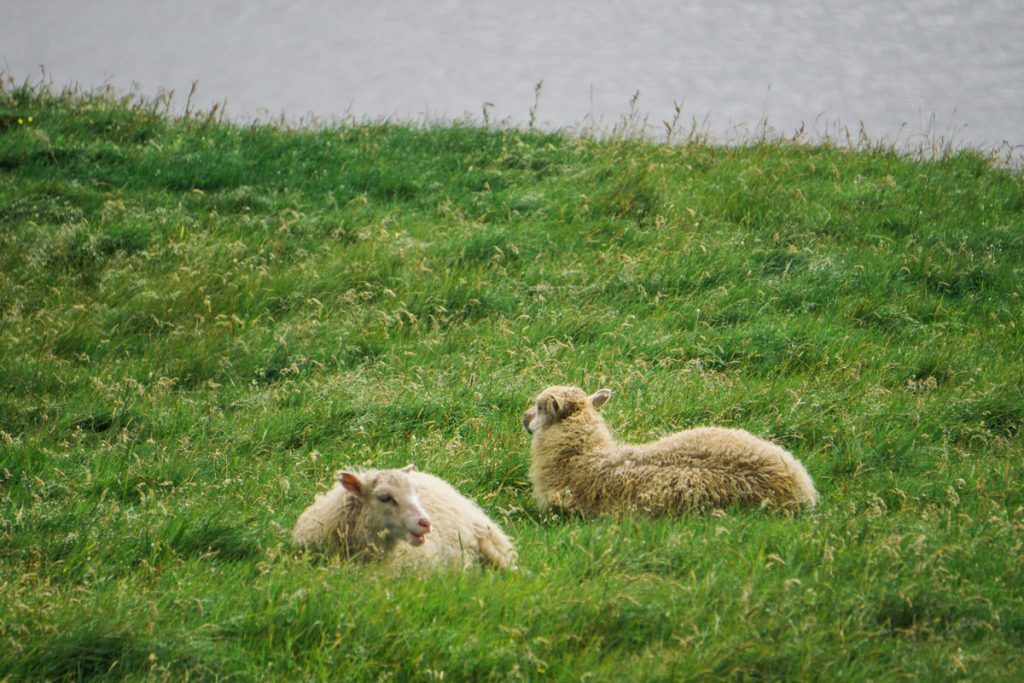 Weather in the Faroe Islands is mercurial at best and violently unpredictable at worst.
Passing fog (the thickness of which even I, a native of the San Francisco Bay Area, had never seen before) will likely spoil your plans at least once – and that's not accounting for any storms that may roll through.
Before planning your Faroe Islands trip too painstakingly, be sure to check the weather (though don't pay it too much heed as things are quite subject to change around here!). Inclement weather will delay or even cancel ferries, so have backup plans.
If you have a flight on a specific day, I recommend staying the night before on one of the many islands that are connected to the airport by road rather than by ferry, just in case you get stranded on an island for longer than expected.
Getting Around the Faroe Islands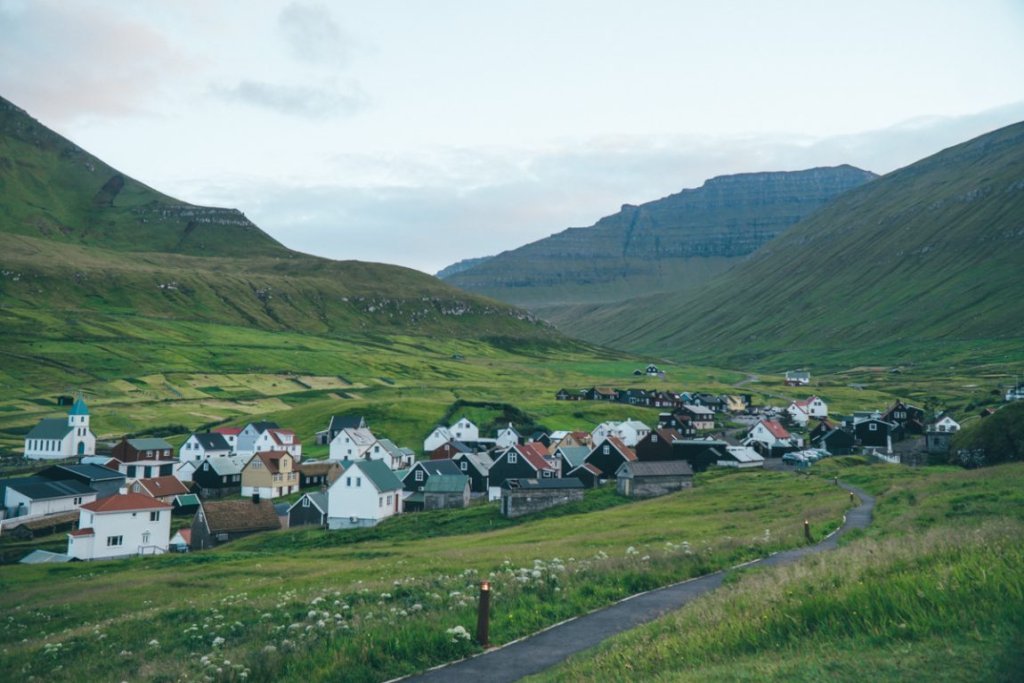 I cannot emphasize enough how essential renting a car is when you are in the Faroe Islands!
The best way to experience everything in a short amount of time is by doing a Faroe Islands road trip by car and by ferry.
While public transit exists, it is limited, especially between the small villages that make the Faroes so unique!
Rather than booking with a specific car company, I recommend searching for rental cars on a search aggregate like RentalCars.com to find the best price on your rental!
Faroe Islands Itinerary, Day 1: Vágar & Eysturoy (overnight in Klaksvík)
There's only one airport in the Faroe Islands, on the island of Vágar, and as a result, this is where nearly all tourists start their trip.
And incidentally, it's one of the most varied and beautiful of all the islands, with two of the Faroes' most iconic sights easily within reach.
In fact, when we asked our dinner host in Suðuroy what he thought was the most beautiful of the Faroe Islands, he didn't have to think for long before blurting out Vágar (though it did take us considerably longer to understand what he was saying — Faroese is not easy to understand or pronounce).
Gásadalur & Múlafossur Waterfall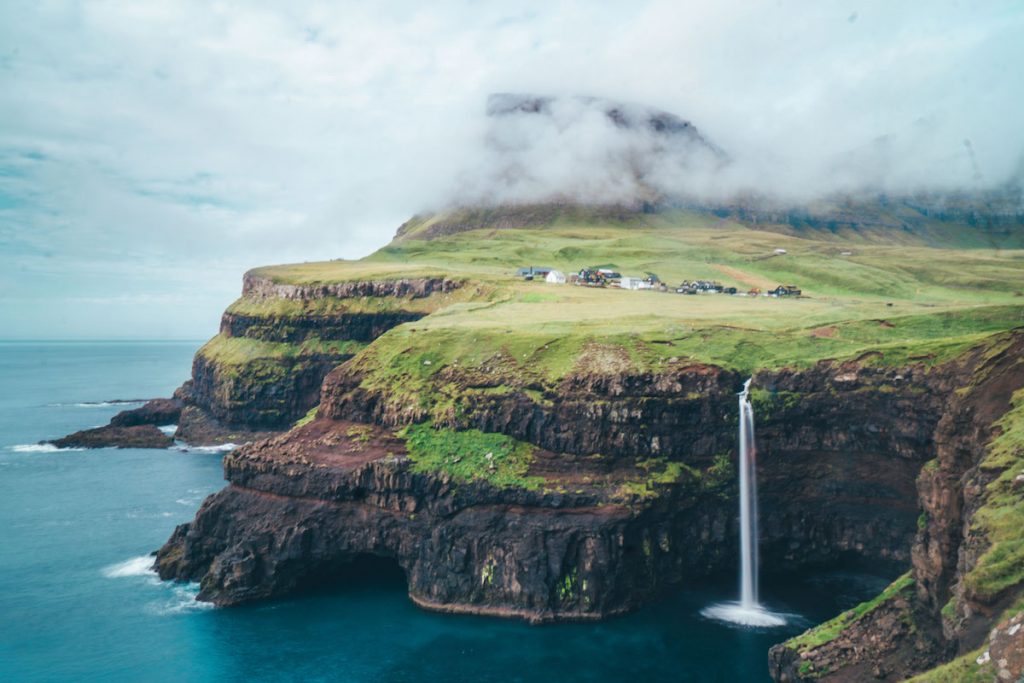 Yes, it is one of the most done-to-death photos of the Faroe Islands, but that's for a handful of reasons.
For one, it couldn't be easier to get here from the airport – it's about a 15-minute drive through a newly-minted tunnel, only opened in 2004.
Prior to that, the 10-odd villagers who lived in Gásadalur could only access the rest of the islands by climbing the 400-meter, incredibly steep mountain that blockaded it from the rest of Vagar.
It's easy just to drive here, which is what we did, but if you have extra time and want to make it a memorable hike, you can do the hike in about 4 hours.
This hike is often nicknamed "the Postman's Path," as the only way for the postman to get the mail to the residents prior to the tunnel was via this difficult, 4-hour return schlep!
With our time constraint, we opted to drive and just photograph Múlafossur from the pull-out spot on the road.
This area is signposted and clearly marked on the left side when you cross through the tunnel to Gásadalur, so no need to park somewhere stupid (please).
This is where you'll find the best view of Múlafossur – there is no need to go into town to see the waterfall, though you surely could explore this tiny village.
Since it's formerly one of the Faroes' most isolated and still one of its smaller villages in terms of population, it's certainly an interesting place.
Lake Sørvágsvatn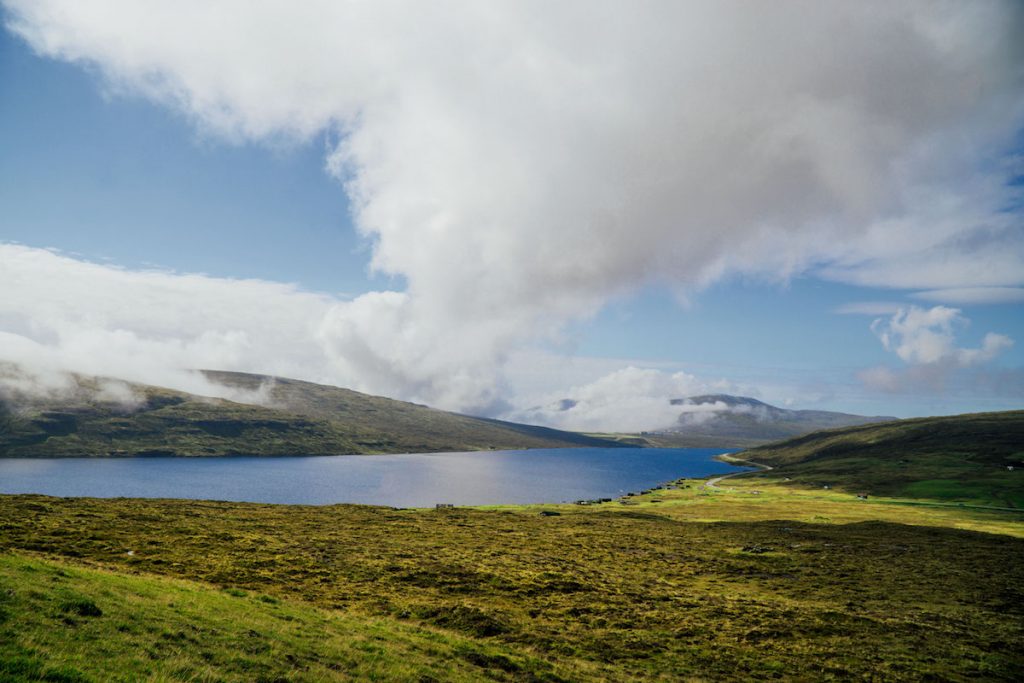 Another famous photo spot on the Faroe Islands, this hike is one of the most beautiful and easy you can do – on a clear day.
It's about a two-hour roundtrip hike out to Trælanípa, where you may (or may not!) witness one of the most spectacular views in the Faroes: a gorgeously placid lake where, through a trick of perspective, the height difference between you and the lake basin makes it appear as if the lake itself it is teetering on the edge of the cliff!
Unfortunately, we got rather unlucky with the fog and the viewpoint that we were aiming for ended up being completely obscured by fog.
We waited nearly two chilly hours for the fog to pass, making up ridiculous names for the sheep who milled around in the meantime.
(In case you're wondering, the best name we came up with was Baarbara, though Graham ran a close second.)
If you're lucky, you'll see some truly incredible cliffs as well as the optical illusion lake, and if you walk a bit further you can also see Bøsdalafossur, a waterfall that trickles from Lake Sørvágsvatn into the Atlantic Ocean below.
This hike is by no means a hidden gem; however, we didn't find it particularly crowded here, despite traveling in peak season (early August). We'd encounter fellow hikers every 5 or so minutes on the path, but it never felt jam-packed.
Note: Due to the popularity of this hike (and subsequently, people disrespecting the land), the land owners have implemented a hefty fee to do the hike – the equivalent of $67 USD, to be precise (read more here).
Eiði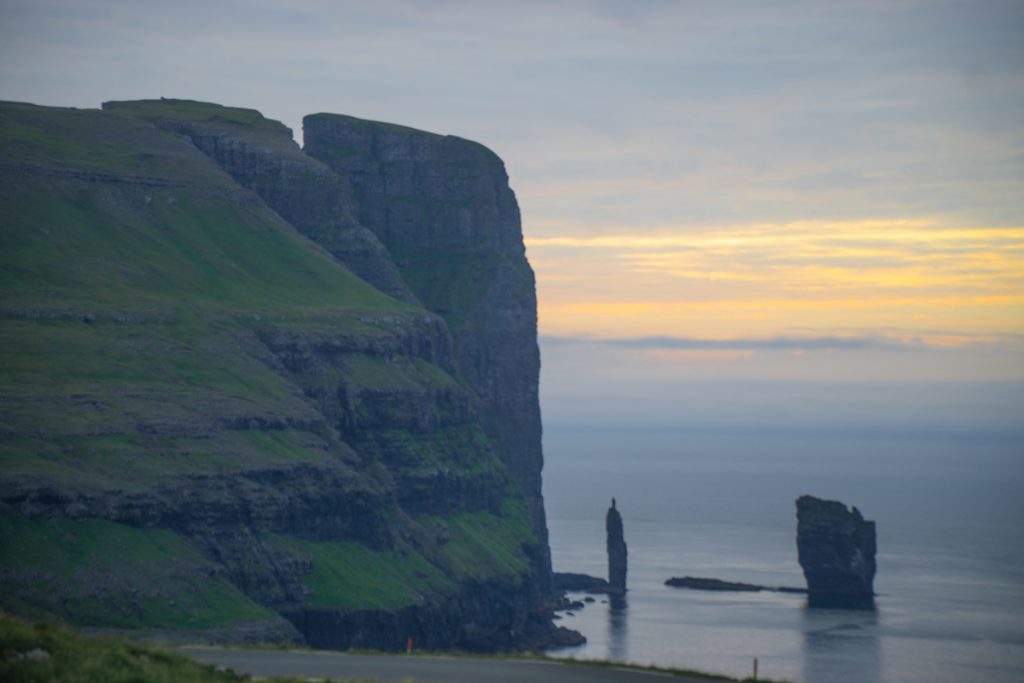 The next stop on this Faroes itinerary is Eiði, which means you'll briefly pass through the largest island of Streymoy on the way.
There's a ton to see on Streymoy, but since you'll have to pass back through on your way to the airport, I'm saving it for a later day – so don't fret!
Eiði is a beautiful village, made all the more beautiful for the views of Tjørnuvík you can get from across the water.
But the real reason I'm choosing Eiði is so that you can take one of the most beautiful buttercup roads (the incredibly cute Faroese way of saying 'scenic roads')!
Along the way, you'll be passing the highest mountain the Faroe Islands, Slættaratindur, on the way to Gjógv, another can't-miss spot in the Faroes.
Eiði is known for being home to two of the Faroes' most beautiful sea stacks, Risin and Kellingin, which are the subject of many Faroese legends. However, we found an even more incredible view of these two stacks on the buttercup road heading towards Gjógv.
Gjógv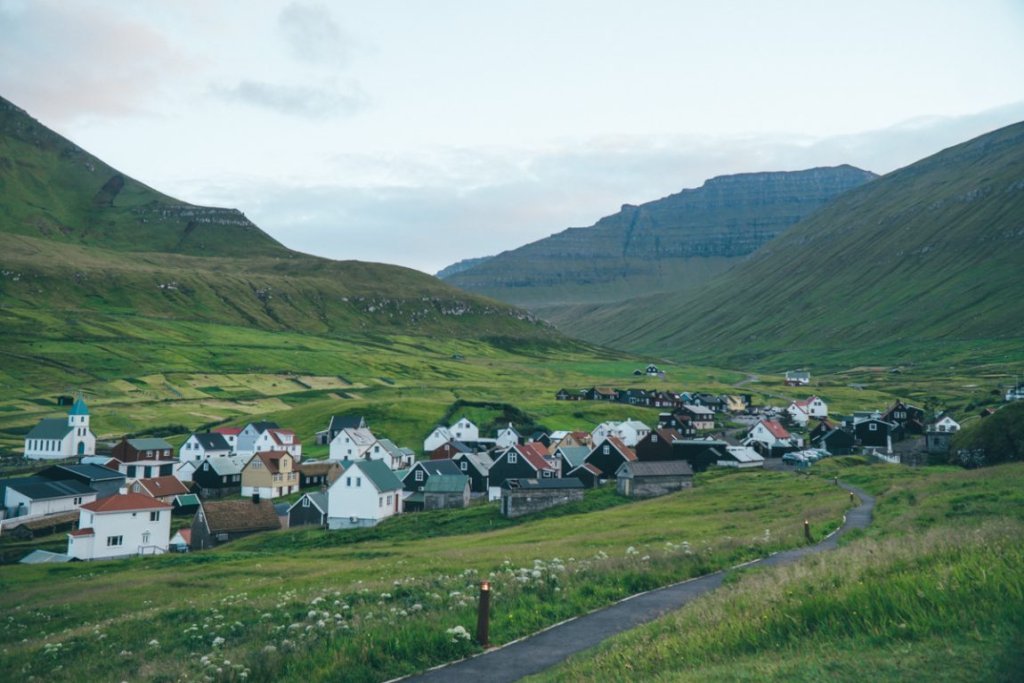 The picture-perfect town of Gjógv is up there on my list of favorite villages in the Faroes.
Perhaps it was arriving these in nearly fog-free golden hour perfection, but I found it to be one of the most picturesque of all the villages in the Faroe Islands, which is a high distinction!
The town's name of Gjógv means 'gorge' in Faroese, and upon arriving to the tiny harbor in the center of the village you'll understand why.
But beyond just the harbor, I loved the scenic church, the tiny triangular houses that sated my obsession for symmetry, and just watching kids play in the creek in the middle of the town, seemingly immune to the knowledge that they just so happen to live in one of the most beautiful places on the planet.
Klaksvík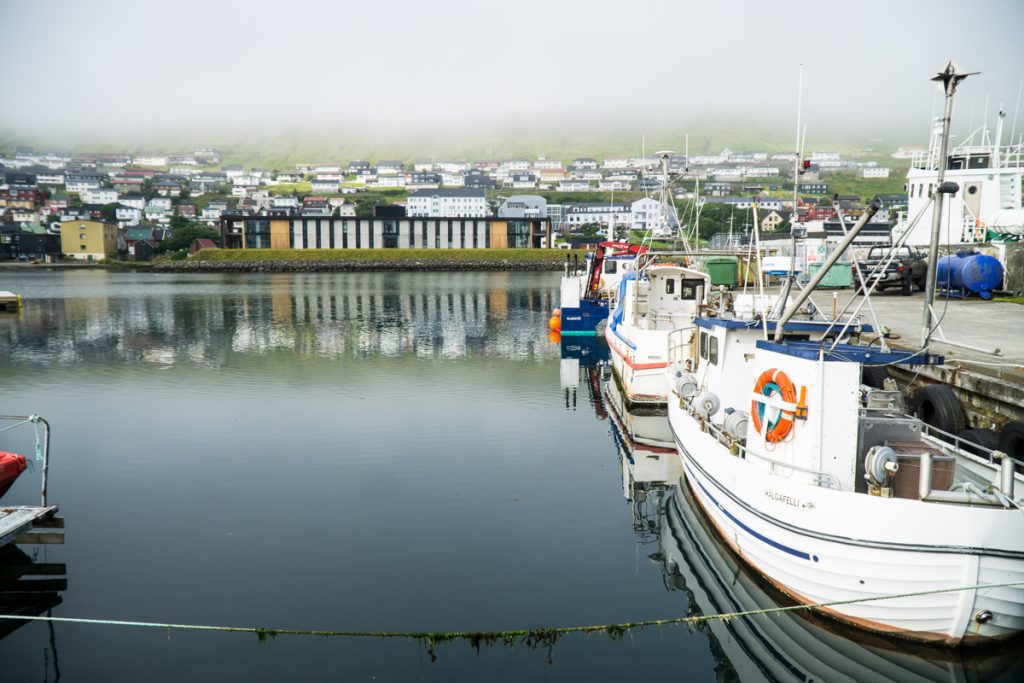 Depending on what time of day you arrived (this Faroe Islands itinerary assumes you arrived earlyish in the morning to take full advantage of your day) and what time of year it is, you may or may not arrive to Klaksvík in the dark.
That was the case for us. Dilly-dallying around Lake Sørvágsvatn waiting for the fog to clear ate up several hours, despite arriving around noon at the Faroes.
After all of our scenic driving and photo-stopping we found ourselves arriving in Klaksvík in the inky blue hours (in August, the sun never goes down far enough for the sky to get well and truly black).
We checked into our lovely hotel, where we'd stay for the next two nights, and collapsed into our beds. You'll have more time to explore Klaksvík tomorrow morning and evening, so don't push yourself unless you want to!
Where to Stay in Klaksvik
We stayed at Hotel Klaksvik for two nights, which is not available to book online so you'd have to call.
If you want something you can book online easily, I recommend this nearby and affordable alternative, visitHOMES Faroe Islands Leirvík, which is 6 kilometers away and an excellent value for budget-minded travelers.
It has a family-run feel, magnificent views, a delicious breakfast included in the price, tasteful decorations, and plenty of free parking on site.
I recommend booking this for two nights as it's a convenient stopping point after tomorrow's stops as well.
Faroe Islands Itinerary, Day 2: Kalsoy & the Northern Islands (overnight in Klaksvík)
The main reason why we wanted to end our first night in Klaksvík was so that we could easily access the Kalsoy ferry the next morning.
As I mentioned before, the main reason I was coming to the Faroes was to write about hiking in Kalsoy for their website, so it was unavoidable to visit it.
After visiting Kalsoy, we wanted to explore a handful of the lesser-visited Northern Islands which are all easily connected by tunnel – those include Viðoy (the northernmost island), Kunoy (with one of the only 'forests' in the Faroes), and Borðoy (the island Klaksvík is on).
The plan was to do this all before settling back in for a chill night in Klaksvík — which, for the record, didn't go quite as chill as planned… but that's a story for later.
Klaksvík Harbor to Kalsoy Ferry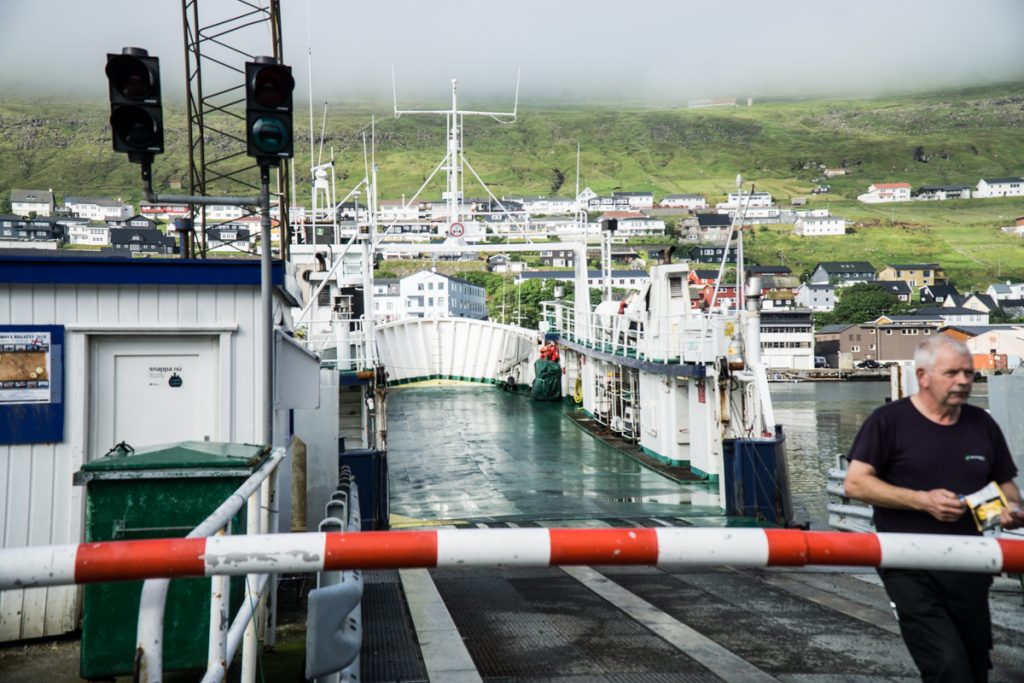 We woke up early, stuffed ourselves at the hotel breakfast, and drove to the ferry (about a 5 minute drive from our hotel) about an hour and fifteen minutes before the 8 AM ferry.
However, it's easy to just drag yourself to the ferry terminal and park in one of the lanes. Keep in mind that the first lane is reserved for Faroe Islanders who use the ferry to commute, who naturally do and should get first priority.
Feel free to then leave your car while you walk around and photograph the beautiful Klaksvík harbor – it's truly stunning, especially with that early morning light. However, be prompt on your way back!
We got there early out of my anxiety that if we waited later we may not get a spot on the first ferry and have to wait until 10.
This ended up being a very good idea, as the ferry filled up entirely and people who only arrived ~45 minutes early or so found themselves without a spot
The ferry to Kalsoy takes about 20 minutes, which is either pleasantly short or feels terrifyingly long if you're encased by thick fog and other cars pressed in tight — which was the case for me and Megan, who both have varying degrees of claustrophobia.
Note: Please don't be a jerk and go back to your car on time, at least 20 minutes before departure time.
It takes a while to board the ferry as you pay while boarding (they accept credit cards or cash) and also they pack the cars extremely close together to fit as many as possible on the tiny ferry.
A tourist came back from wandering around the area late and didn't move their car, making cars have to maneuver around them, and when they wanted to get back in, they got very aggressive that people didn't wait for them *eye roll*
The Kallur lighthouse hike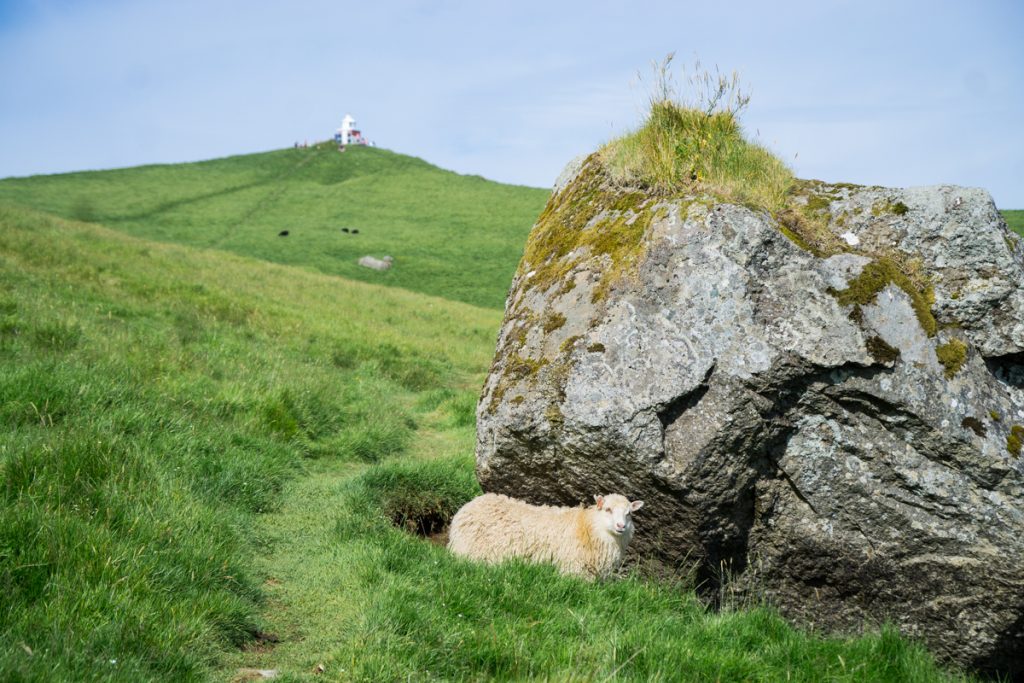 There's one main reason why people flock to Kalsoy, and it's to see the Kallur lighthouse, which is not necessarily a beautiful lighthouse in and of itself.
However, it does have one of the most spectacular backdrops I've ever seen anywhere in the world. If you're a hiker, undoubtedly this features high on your wishlist for your Faroes itinerary!
From the ferry terminal in the village of Syðradalur on Kalsoy, you'll need to drive to the other end of the island to Trøllanes, which takes about 20 minutes.
There are several one-lane tunnels, so read the signs cautiously to see who has right of way (it is posted at the entrance of each tunnel).
Prepare to pull over as needed if you see another car's headlights approaching, and even if you have right of way, don't take it for granted as tourists who do this route may not know the rules of the road, particularly with respect to one-lane tunnels.
This won't happen too much as the flow of traffic is generally determined by the ferry arrival and departure times, but you should be aware regardless. It's a little scary, but not so bad.
I have a slight fear of tunnels due to my claustrophobia (oh, and probably residual trauma from the time my family drove through the Caldecott tunnel during the Oakland Hills fires), but I managed.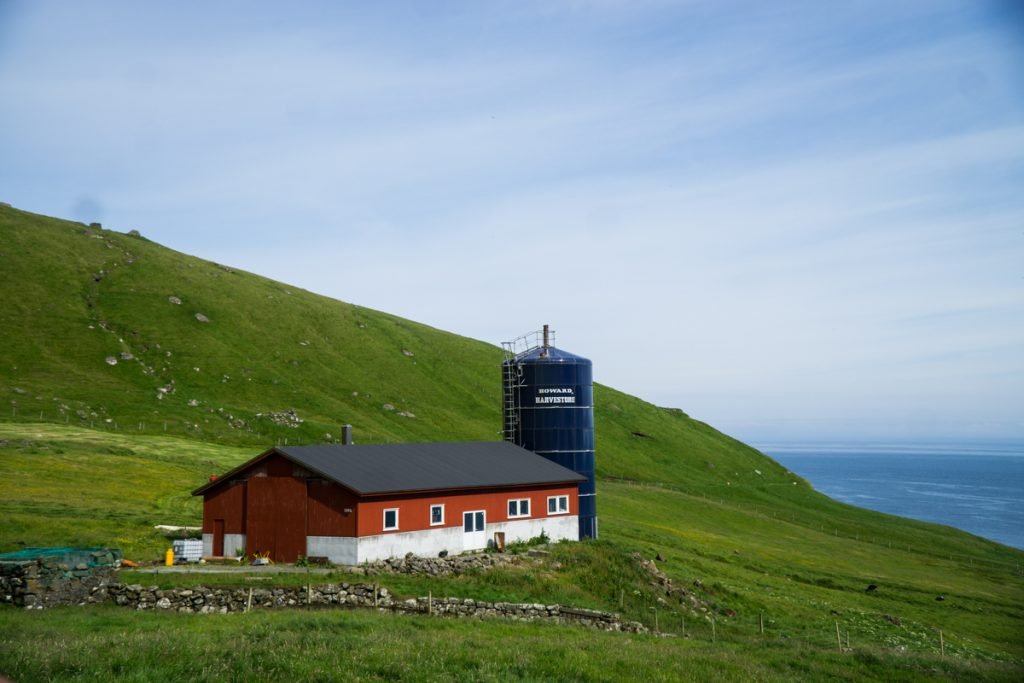 Once you arrive in Trøllanes, park your car and walk towards the red farmhouse with the blue silo. There's a gate there that you can pass – it's there to keep the sheep in, not to keep travelers out.
Immediately start climbing up the hill – it's quite steep at the start – until you start to see a more well-trodden path that levels out so it's not such a steep ascent. The path is not immediately obvious at first, so climb up until you see the path with more clarity.
From the steep part of the hill (about 5 minutes' climb), it's a relatively smooth 45 minutes to an hour to the lighthouse itself, with one final uphill push.
There is one steeper part of the hike, where it helps to side-step. If it is very muddy (quite likely) this is where trekking poles will come in handy. I did my hike without them, but Megan had hers and was grateful for them, especially as she has a bit of a fear of heights.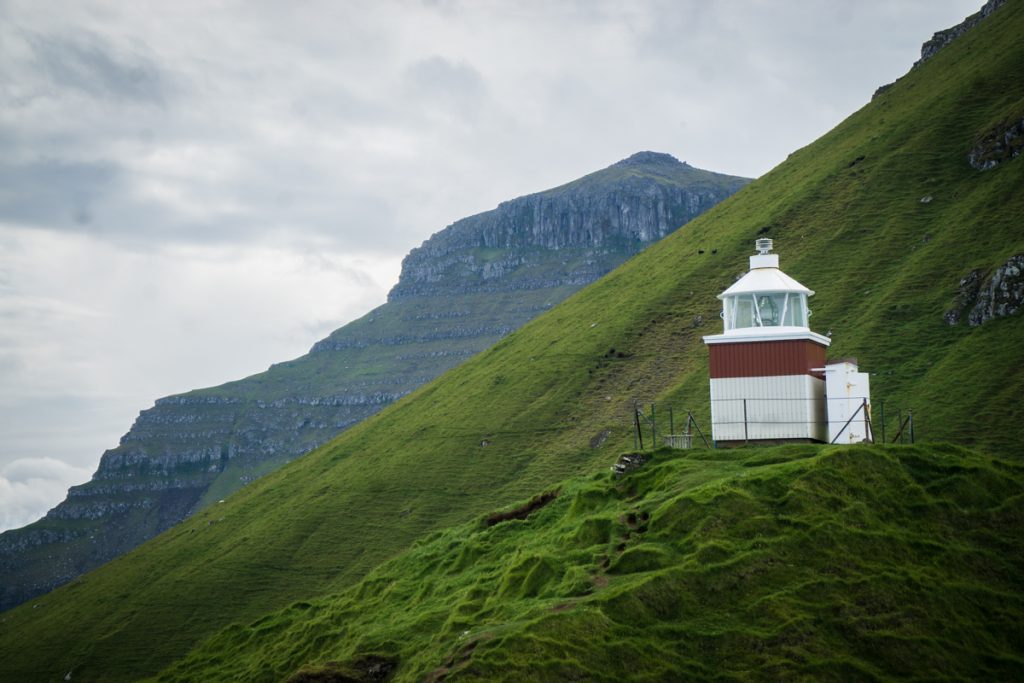 If you're lucky, the gorgeous local pup named Leika will join you for a bit!
Megan ran into her on her first hike to Kalsoy and she was an excellent emotional support pup, helping her through some heavy patches of fog.
We actually ran into her again once we finished the hike — talk about a reward!
In order to get to the most epic viewpoint of the Kalsoy lighthouse, you have to go down and then up a tiny, narrow path with drops on each side.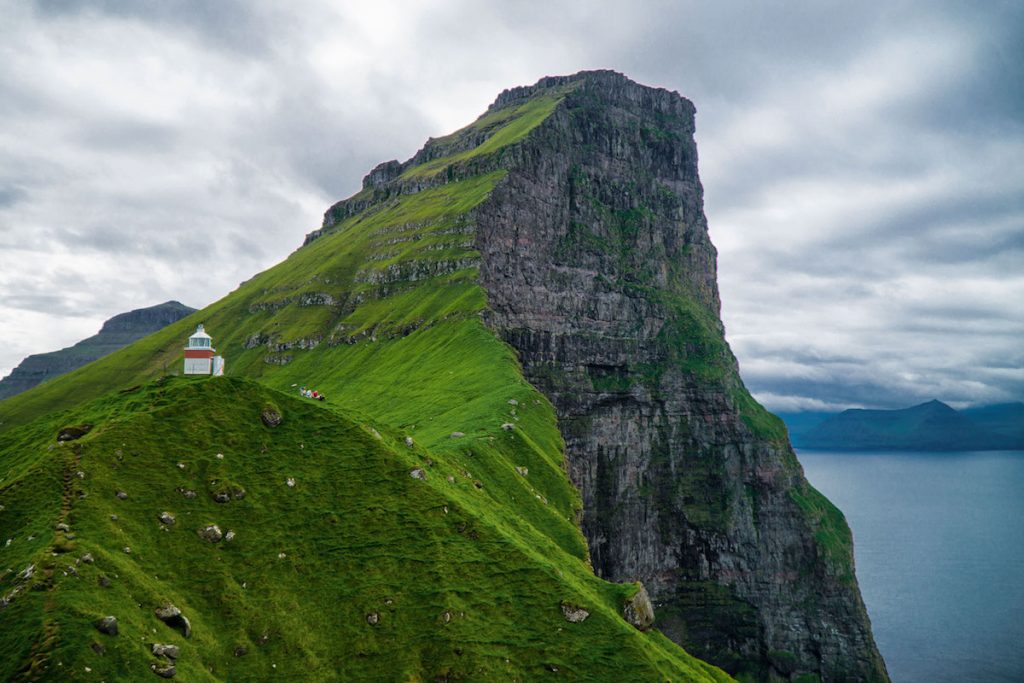 Be extremely cautious when doing this. A local man actually died doing the hike on Kalsoy in 2018, so it's not something to laugh off or take unnecessary risks doing.
I assessed the ground, found it to be rather dry and solid, and scooted using 3 points of contact at all times on the more treacherous bits (so basically all of it because I'm a fraidy-cat).
I felt safe, but I was constantly aware of what I was doing. I recommend you exercise similar precautions and if you don't feel it's safe – don't do it!
Your life is never worth a photo.
The walk back took another hour or so, mostly because we stopped to admire some of the most regal sheep I've ever seen.
Mikladur
A lot of people skip past Mikladur on their rush back to the ferry, but I think that's a mistake. This Faroese village is well worth a short stop (about 30 minutes).
Be sure to check out the Seal Woman statue, Kópakonan, down the stairs at the edge of the sea. She is made of bronze, but the sea water and salt air have quickly given her a gorgeous green patina.
There's a small informational sign giving you the legend of Kópakonan – it's well worth reading, and something about being in this setting, having just completed one of the most magical hikes of my life, made me understand the appeal of myth in a place like the Faroes.
There was also a super-cute local dog belonging to a man who was painting some street art here, so that's another check in Mikladur's favor!
Ferry back to Klaksvík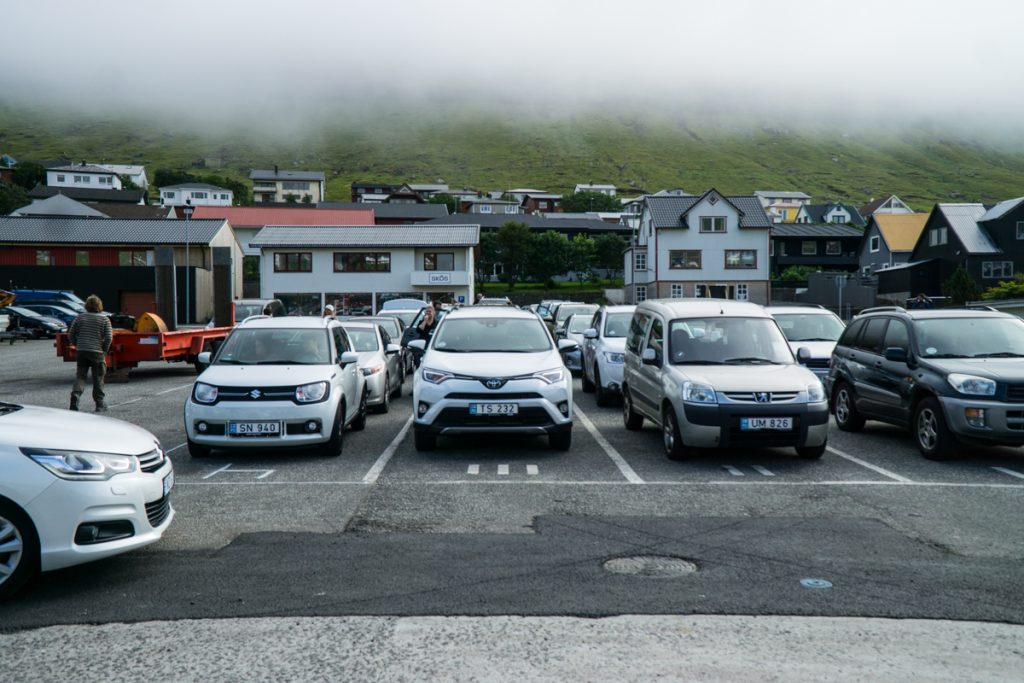 We arrived about an hour before the ferry back to Klaksvík but we still missed it, as it was at full capacity.
We had to wait about two hours in total for the ferry, which since we didn't have data on our phones, we spent scrolling through our photos and annoying each other by singing embarrassingly age-inappropriate songs.
I recommend having a book or something to do with you, as you likely will encounter at least an hour's wait, maybe two, back to Klaksvík. The car ferries are quite small, and the demand for the hike is high.
Part of me hopes they will implement bigger ferries in the future, but I also fear that Kalsoy will get too crowded, so it's a tough balance to not overtax the infrastructure while also allowing tourists to see one of the most beautiful parts of the Faroes.
Viðareiði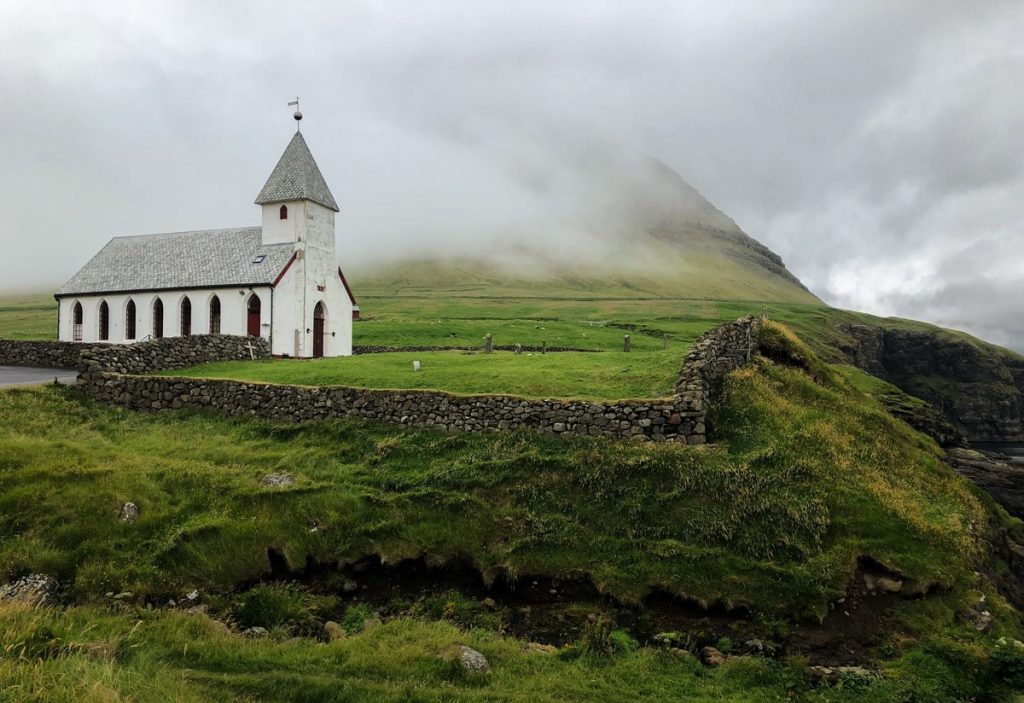 Next up on our Faroes itinerary was the little-visited village of Viðareiði, the northernmost village on the northernmost island of the Faroes.
Not many people go here as it's at the literal edge of the Faroe Islands, but it is only a 25-minute drive from Klaksvík so it's well worth the effort, in my opinion.
While Viðareiði is rather offbeat, what it is known for is its beautiful white and silver-roofed church set against a gorgeous sea backdrop. It really can't be missed!
We didn't get to explore Viðareiði quite as much as we'd like, because on our way back we hit a bit of a… snag, shall we say?
I pulled over to let another car pass on a one-lane road…. yet I pulled over a little too early, and two wheels of my car ended up suspended above a ditch in the side of the road.
Luckily, the Faroese are natural-born problem-solvers (living on a cluster of islands hundreds of miles away from any other civilization will probably do that to you).
Within minutes, we had a team of 4 locals from Viðareiði expertly helping us maneuver our car out from its stuck position.
It took about 40 minutes of their help, but they got it out with smiles and jokes along the way, expecting nothing in return – the Faroese are just that friendly.
Honestly, it's such a small village that I half-suspect they were more grateful for the entertainment than anything else.
We tried to buy them beers, but found out that the only store to buy alcohol was back in Klaksvík and had already closed for the day — so we shoved some krone into their hands to say thank you and went on with our day, slightly nervy but still excited to keep exploring the Faroes, and eternally grateful to our awesome saviors.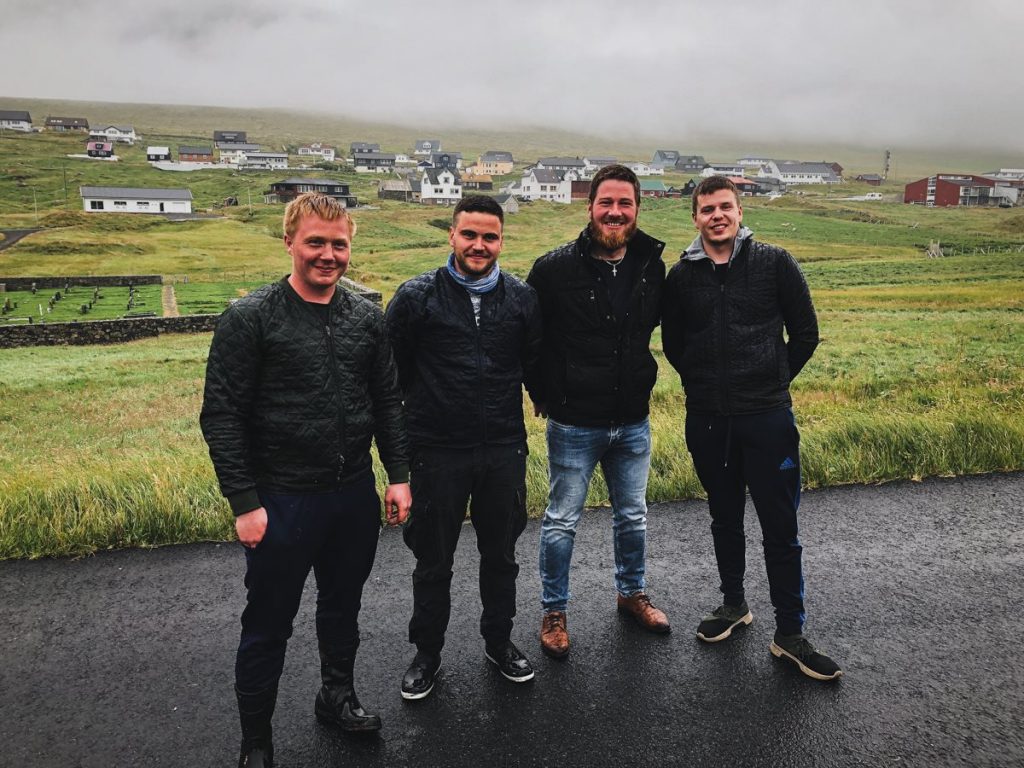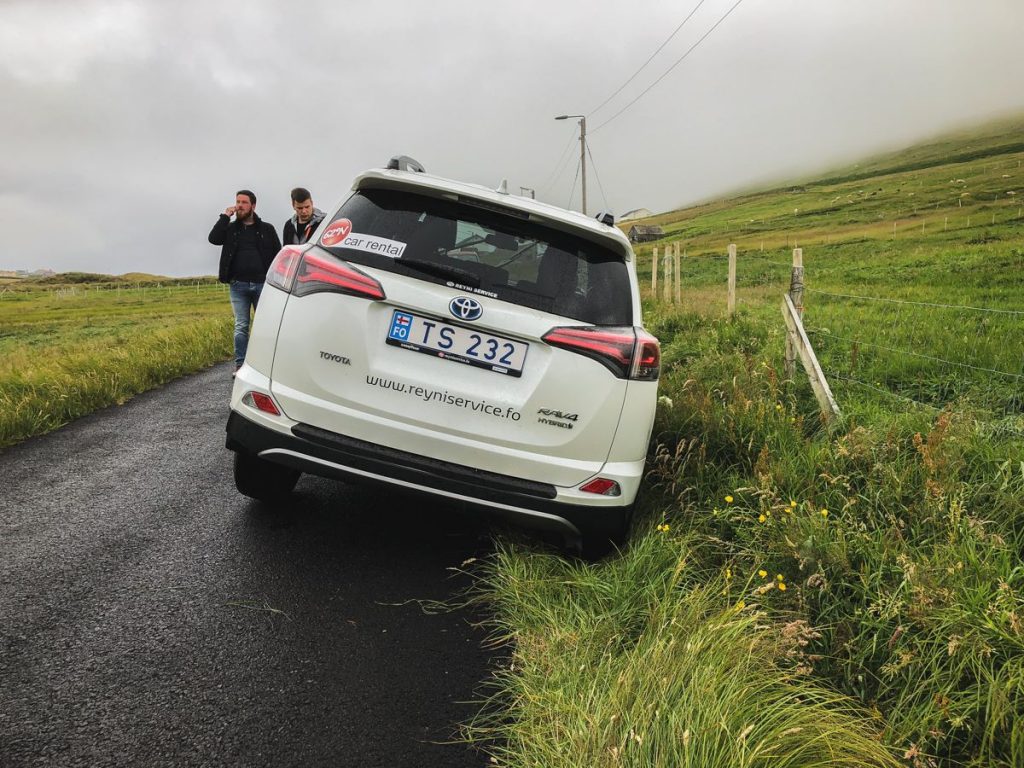 Kunoy
After that… adventure… we nearly canned the rest of the day and went back to our hotel to lick our wounds and unwind.
But I couldn't help but feel like it would have been a waste of our limited time on our Faroe Islands itinerary, and so we pushed on, heading to the tiny island of Kunoy next.
Kunoy is a funny place – an island with a population of around 100 people, linked to the larger island of Borðoy with a subsea tunnel stretching a massive 3 kilometers long. One thing that's incredible to me is the infrastructure of the Faroe Islands.
It's a place that truly takes care of its people and allows them mobility, and they've invested so much into improving the lives and connectivity of those who live there (and therefore also tourists).
It's really an inspiring example to other countries out there, though admittedly, not all countries have the power of the Danish krone behind them.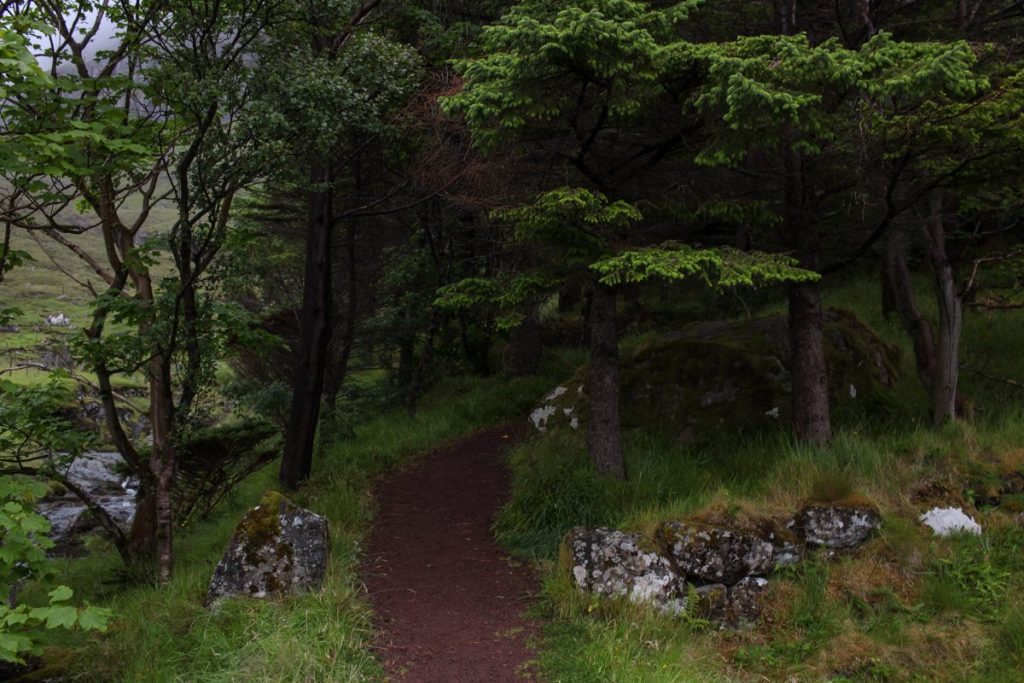 In Kunoy, we visited the main village (also named Kunoy) briefly before attempting to find the 'forest' of Kunoy. Located above the village, the 'forest' is really more of a grove, with flowers, trees, and benches for visitors and locals to enjoy.
Having spent less two days in the Faroes at this point, I was surprised by how surprised I felt to see trees in this landscape.
In general, the landscape is quite barren – grass-covered crags leading up to the sky and then down into the sea, and not much variation on that.
Although trees once grew on the Faroe Islands, there are no naturally growing trees today. This grove was planted in the late 1800s and remains today, one of the only 'forests' in the Faroes.
Another town on Borðoy (we picked Múli)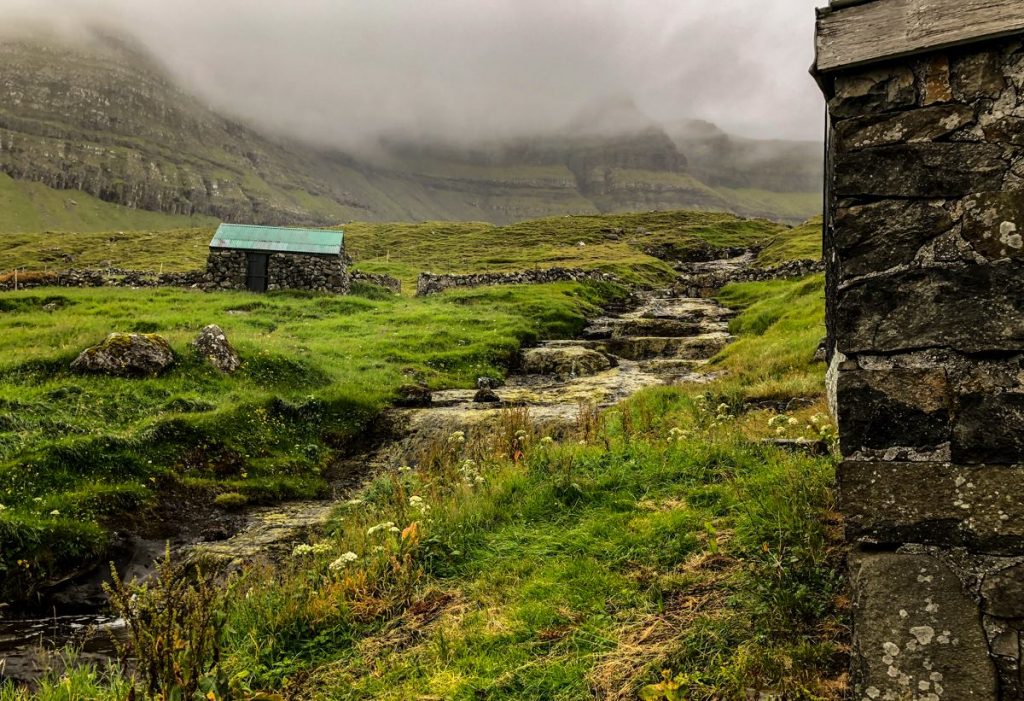 We wanted to do something truly off the beaten path for our next stop – so we picked the abandoned village of Múli.
Múli is home to no permanent residents. It was the last village in the Faroes to receive electricity, not until 1970 – can you imagine?
It used to have no road, but a road between Norðdepil and Múli was built some years later, an attempt to stem the depopulation of this small village.
And yet time did what upgrades could not, and as of 2002, the village is by and large considered abandoned.
To our surprise, after traversing the quite rocky and poorly paved single-track road to Múli (no residents mean that upkeep is not really prioritized, understandably), we found that Múli wasn't actually abandoned — but was being enjoyed by two German tourists in a holiday home!
Some other towns you could enjoy that are also off the beaten track include Norðoyri (rather close to Klaksvík, with traditional boat sheds), Árnafjørður (quiet and rather off beat), Depil (with traditional grass-thatched roofs), and Hvannasund (with a beautiful harbor) on Viðoy.
But rather than putting any of those into your GPS, I just recommend you take a circuitous route back to Klaksvík, enjoying as many hours of sunlight as you can before you grow tired.
Klaksvík
We expected Klaksvík to be a sleepy town, not up to much. While objectively this may be true, by Faroe Islands standards there's quite a bit going on in Klaksvík – after all, it is the second largest city in the Faroes after the capital, Tórshavn.
It's the heart of city life for those living on the quieter Northern Islands who don't want to go all the way to the capital for a city experience.
We ended up at a pub, Roykstovan, just in time for their pub quiz! Not used to having foreign visitors, but suddenly finding themselves with a handful of Norwegians and Americans, the pub quiz emcee quickly adapted and translated as much as he could into English, which was a kind gesture we much appreciated.
One of the most memorable moments of my Faroe Islands trip will be that night I spent in the pub, drinking surprisingly affordable (maybe too affordable) pints while dragging a poor young Faroese ex-soccer star named Karl from Kunoy onto our team — and losing spectacularly after initially placing a hopeful second place in the first round.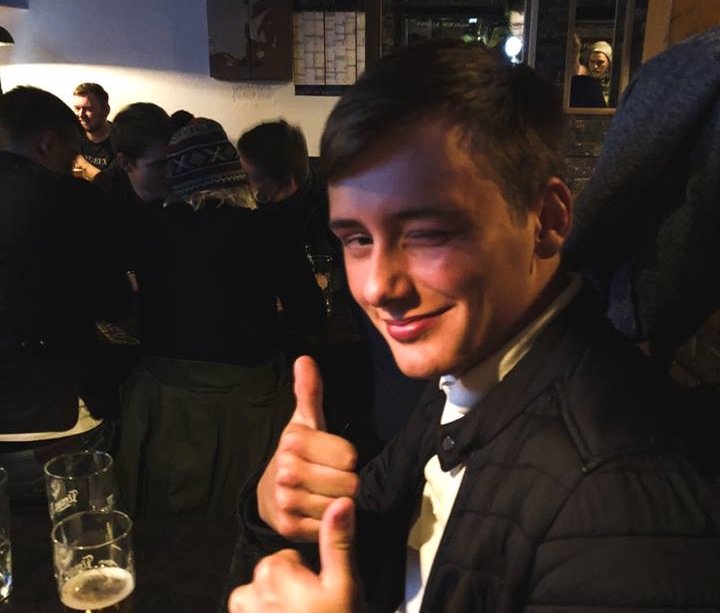 The thing about the Faroes is that you rarely interact with locals in any sort of natural-feeling way because most people do Faroe Islands road trips that are fast-paced and focused on photography.
Most Faroese you'll meet work in tourism – as restaurant servers, hotel workers, or guides – or you'll maybe pass by them wordlessly on your way to the next photography spot.
It's a place that's primarily about its landscapes, not its nightlife or city scenes. Which is understandable, but I also think that's what makes some tourists treat the Faroe Islands like a canvas for their photography, rather than a place where people actually live, work, and love.
So to be able to break the mold a bit and actually spend the night getting to know a handful of locals was quite a bit of fun! It truly deepened our perspective of our Faroes trip in a larger context.
… and it was well worth the hell of a hangover the next day.
Where to Stay
I recommend staying in or near Klakvsik another night, in a hotel like visitHOMES Leirvik or Hotel Klaksvik.
Faroes Itinerary, Day 3: Streymoy & Suðuroy (overnight in Suðuroy)
I promised earlier that we'd return to Streymoy, the largest island of the Faroes and home to its capital city, and today we do!
This day of our 5 day Faroe Islands itinerary will take you to two important cities in Eysturoy, Kirkjubøur and the capital Tórshavn, before catching the ferry in the late afternoon towards Suðuroy.
Honestly, we knew so little about Suðuroy before arriving — just that very few people visit it and there were pretty much no accounts from other bloggers about their time there — and that was exactly the appeal.
We both left with Suðuroy firmly planted as one of our favorite Faroese islands and with plans to return. If you're questioning if it's worth the 2-hour ferry ride, then let me tell you – it most certainly is.
Kirkjubøur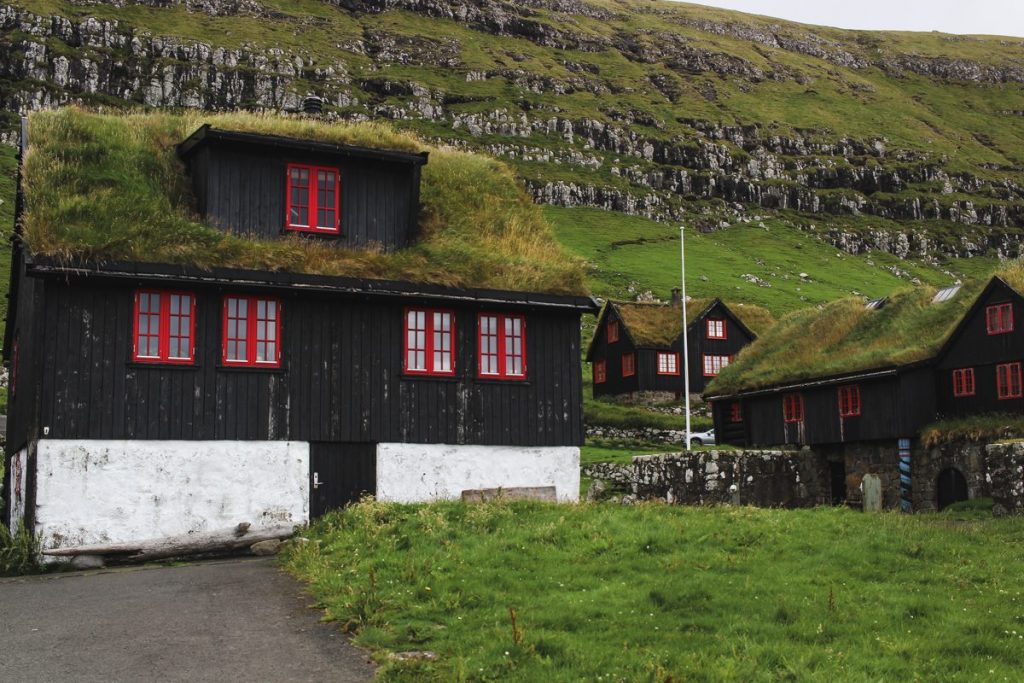 One of the most important towns in Faroese history, I think it'd be a shame to skip Kirkjubøur on your Faroe Islands itinerary.
It's very convenient, super close to Tórshavn, the roads getting there are both excellent and beautiful, and it has a lot of the things that make people go ga-ga for places like Saksun (grass-roofed houses, anyone?) without the crowds.
Don't miss the beautiful and unfinished St. Magnus Cathedral, started in 1300 yet never given a roof.
Still standing despite the elements, it's one of the few pieces of medieval history in the Faroes.
Meanwhile, the white church of St. Olav is completed and standing in perfect condition since the 12th century, the oldest church still in use in the Faroes.
But the most interesting part of the town is Kirkjubøargarður, which means "The King's Farm," and it's one of the oldest still-inhabited wooden houses in the world with its origins in the 11th century – yes, nearly a millennia old (it probably helps that the Faroe Islands are one of the places least likely to get destroyed by a fire in the world).
You can visit the building, which has now been turned into a museum, although the family still resides there (and have been since 1550!)
Tórshavn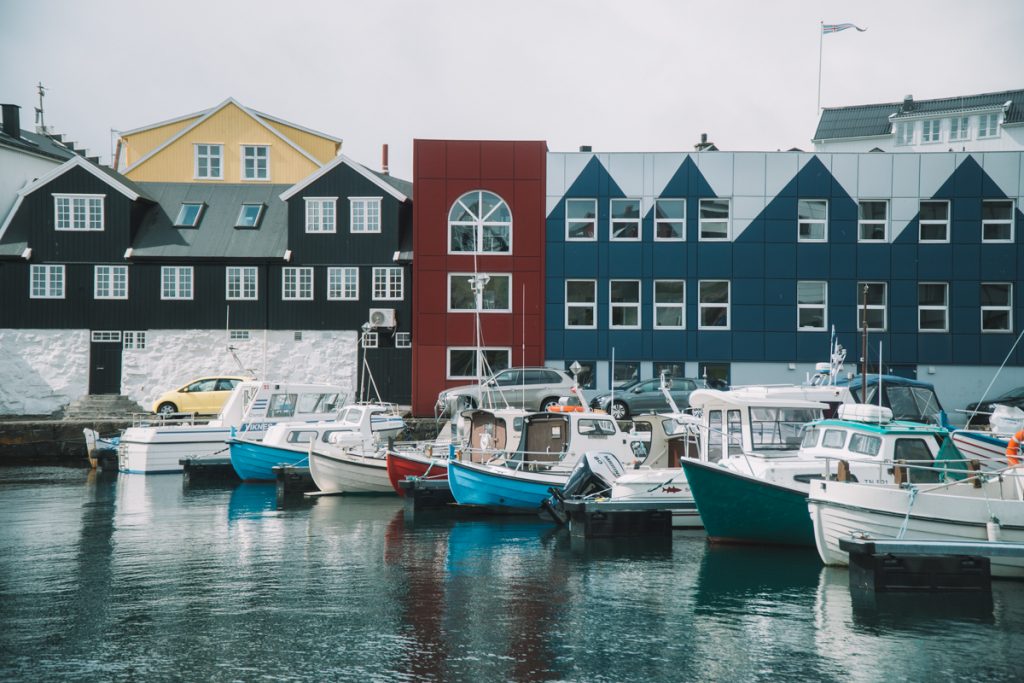 One of my biggest regrets of my Faroe Islands trip was not giving myself more time in Tórshavn. Instead check out this awesome Tórshavn guide from Along Dusty Roads for a better glimpse at what to do and see there; I'll just share my impressions.
Despite being one of the smallest capital cities in Europe with a mere 14,000 or so residents — literally, the size of the San Francisco suburb I was born in, which I thought of as so tiny any stifling.
Despite its relatively small population, Tórshavn feels quite busy. After all more than 1 in every 4 Faroese do live here. The island groups' population is just under 50,000 and are dramatically outnumbered by the 70,000 sheep who also call the Faroes home.
We spent about three hours whiling away time in Tórshavn, having a delicious lunch and coffee at the sleekly designed Paname, strolling through Tinganes, and taking photos of all the adorable houses and the beautiful harbor.
I shouldn't gloss over Tinganes, which is perhaps one of the most interesting places in the entire Faroe Islands.
It is one of the oldest parliamentary meeting places in the world – Norwegian colonists (aka Vikings) placed the first parliament there in 825, and it's existed in some form or another ever since.
Walking around the red buildings with their green grass roofs was one of my favorite things I did in Tórshavn, and I wish I had more time to enjoy it!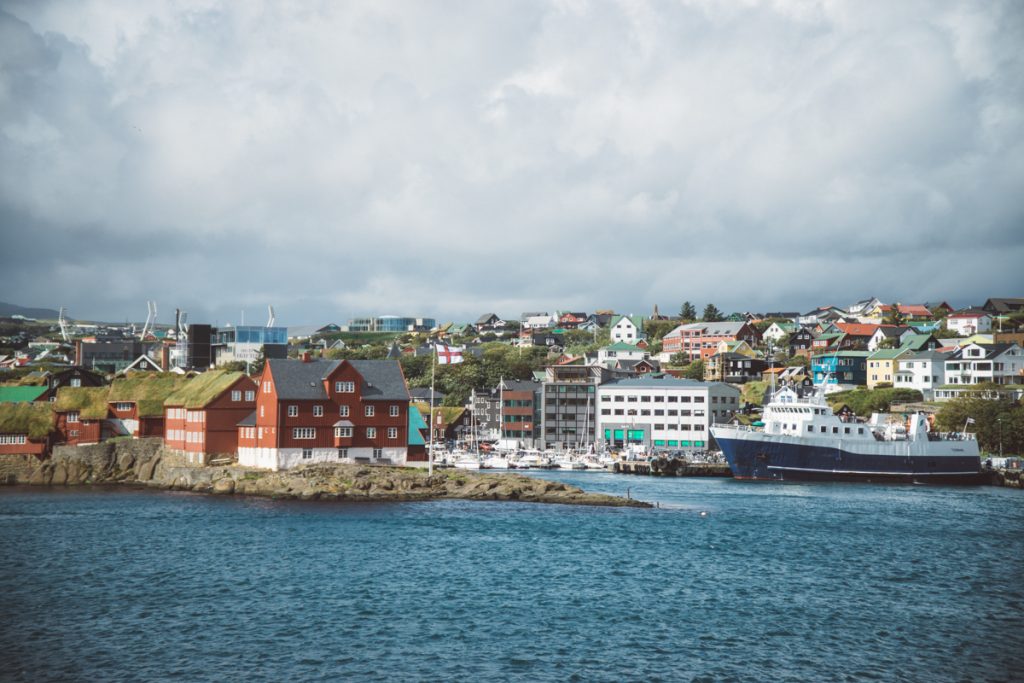 Unfortunately, our ferry to Suðuroy was waiting, so we got back in the car (we parked it in the ferry lot) and got ready to board.
Compared to the experience of trying to squeeze onto the Kalsoy ferry, the Suðuroy boat was utterly massive – a parking lot compared to a parking space.
It certainly made boarding less stressful and the ferry experience a lot more pleasant – which was good, seeing as we'd be on it for a good two hours, easily the longest ferry ride in the Faroe Islands.
No complaints about the ferry ride – I did get a tad seasick, as per usual, but no catastrophes.
Tvøroyri (Suðuroy)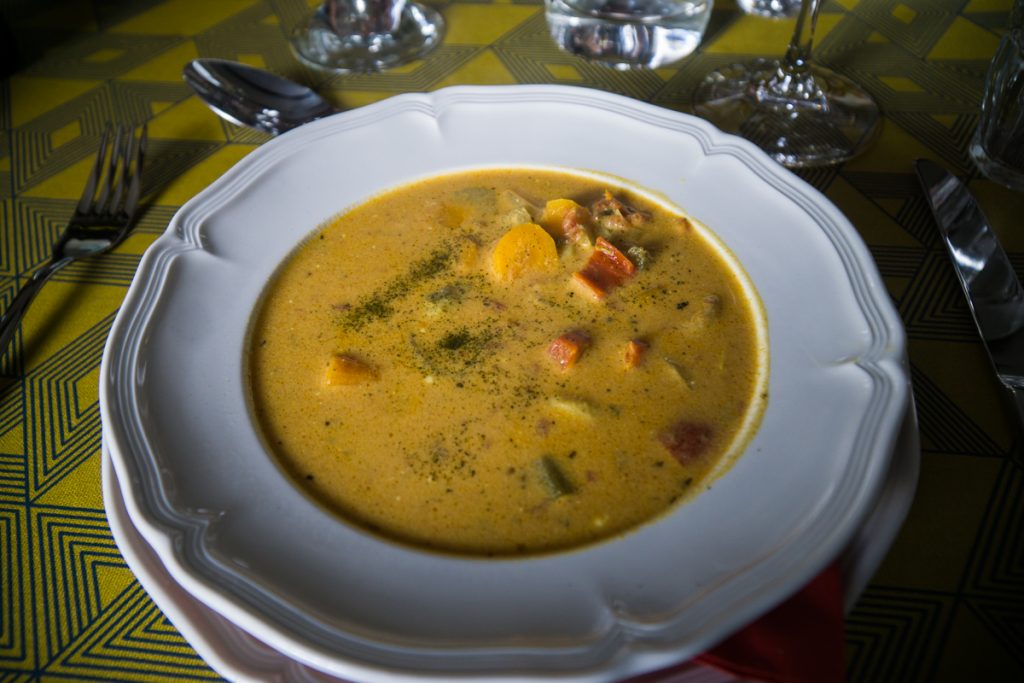 We arrived in Suðuroy with a bit of time to kill before our scheduled dinner, a heimablidni (home hospitality, a hosted dinner) with Elin and her family, including Bella, the world's most smiley dog. You've probably gathered like I really like dogs.
Having dinner in her home was an amazing experience. We enjoyed some amazing fish soup before moving onto some courses that I was slightly less excited about – including a plate of dried whale jerky and whale blubber served with boiled potatoes.
Many people get up in arms about the fact that the Faroese eat whale and I'm not here to entertain that.
Frankly, Americans and Europeans who happily eat factory-farmed meat raised in cruel conditions have a lot more to answer for than the Faroese.
The Faroese sustainably hunt pilot whales in a millennia-old, community-based fishing practice where the number of whales killed is highly regulated.
Pilot whales are wild animals who have lived their entire lives in freedom until their final moments. In my opinion, hunting them is no more cruel than any other form of eating meat — and far less cruel than eating factory farm-raised meat.
Also, try being vegetarian in islands like the Faroes, where only 2.1% of the land is arable, and even that in extreme weather conditions that keep all but the hardiest of vegetables from thriving.
Is it really logical to expect a nation of 50,000 to survive off a few crops worth of potatoes and root vegetables?
Sustainable fishing, including responsible whaling, is more environmentally sound than flying in vegetables and GMO tofu from all corners of the globe or eating factory-farmed beef. That's all I have to say about the ethics of it!
I get that the optics are not great — a bay filled with blood makes for a fantastic viral photo — but look closer (and look at yourself and your own country's stance on animal welfare) before you judge.
That said, whale meat is not something I have the taste for, nor is it something I would order for myself personally at a restaurant.
But being invited to try it in someone's home, I gave it a shot (and promptly tried to not run to the bathroom afterwards – whale blubber really does not sit well on a vaguely seasick and slightly hungover stomach).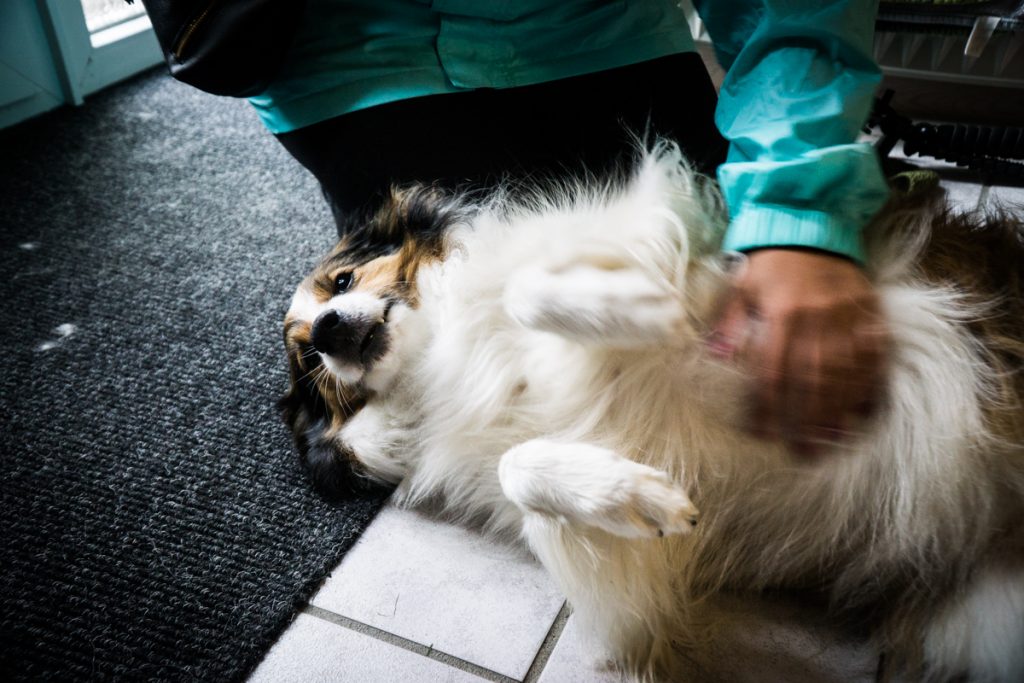 What I really did enjoy, however, was the chance to speak with Elin and her family about a variety of topics about Faroese life (and also to rub her dog's tummy).
It was great to listen to her perspective on tourism, especially coming from someone who lives on a less-visited island, as well as her and her husband view's on economic opportunity and the future of the Faroe Islands.
We got to meet Elin's daughter and son as well – one studying in Copenhagen, the other in Tórshavn – and it was quite interesting to hear from some young Faroese perspectives' as well.
Afterwards, we made our way to our B&B, mercifully an easy walk from Elin's place (Tvøroyri is small).
We were hosted by the lovely Bindi in one of the best places we'd stay in all of the Faroe Islands (accommodation guide to come, but you can find out about her B&B here. We settled in for an early right, ready to take on the rest of Suðoroy the next day!
Where to Stay
We stayed at the lovely Suduroy B&B hosted by Bindi and found it to be a great choice, with two bedrooms (you can book both if you want the whole place to yourself or share the bathroom and kitchen with the other room), a comfortable lounge area, and a modern kitchen and bathroom.
We especially loved the breakfast basket the next morning, which let us cook for ourselves and bring some supplies for a mid-day picnic. You can book it on Facebook here.
Another option is this excellent one-story standalone hotel in Tvøroyri, which you can check out online here.
Faroe Islands, Day 4: Suðoroy (overnight in Tórshavn)
I'm going to keep this section brief (mostly because I'm super wordy and we're already at 5,000 words, and I assume you have other things to do other than hear me blab about how great my Faroe Islands trip was).
It's not because I have self control or because there's not much to say, but because I've already written an extremely in-depth guide to Suðoroy, which is probably the most comprehensive single-page resource to this island out there.
I highly recommend you read that, but I'll go over the basics of my route here so that you don't have to toggle back and forth.
Tvøroyri
If you are following this Faroe Islands itinerary, this is likely where you'll wake up!
There's not too much to see in Tvøroyri but I do recommend checking out the church and the adorable harbor on the side of the bay that is opposite the ferry terminal (close to the main part of town).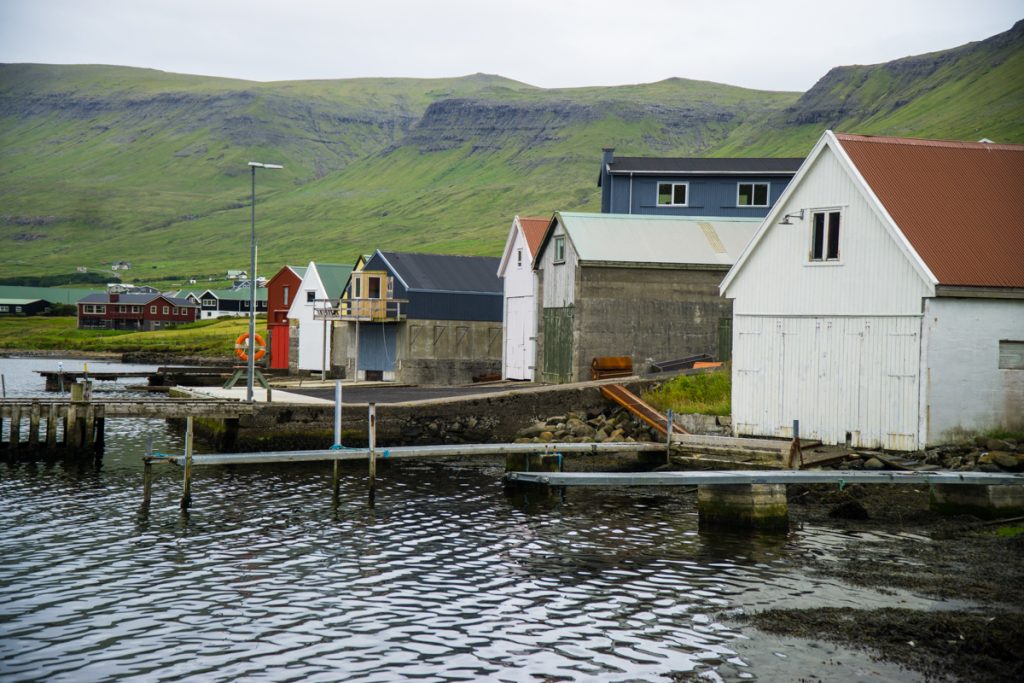 I also recommend making a quick detour to Froðba, another town not far from Tvøroyri.
This town is thought to be the oldest settlement in the Faroe Islands and you'll also see some awesome basalt columns on the way, as well as some interesting fishing structures (fishing is the main economy of the island, as to be expected as tourism is not very strong in Suðoroy!)
If you have time and the weather is nice, I strongly recommend the two-hour beautiful hike to Hvannhagi, with its interesting geological formations and stunning circular lake called Hvannavatn.
The weather wasn't in our favor, with lots of rain and fog, but it's on the list for next time. The route is right next to Bindi's B&B, so she can give you directions.
Hvalba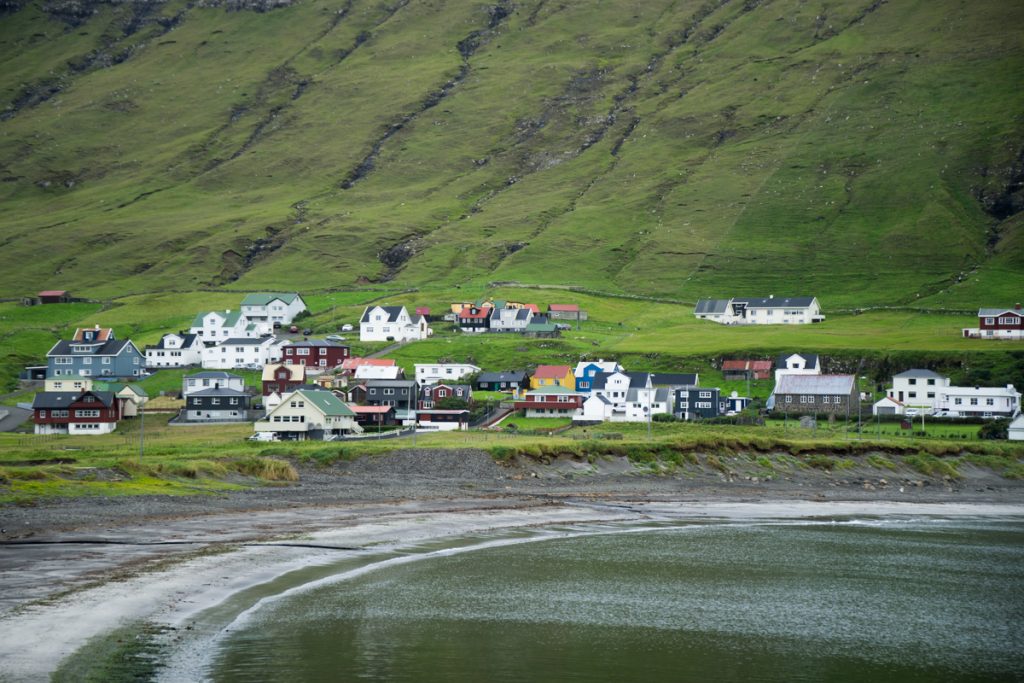 I loved Suðuroy in general, but Hvalba was one of my favorite places we visited there.
Perhaps it was the gorgeous black sand beach with a view of the tiny uninhabited island of Lítla Dímun, which looks like a tiny green dollop of whipped cream in the middle of the sea.
The black sand beach is in the middle of town and we really enjoyed taking a brisk summer afternoon's walk along the edge. The old harbor area, Fiskieiði, is very photogenic and worth visiting when in town.
We ended up doing a short hike in Hvalba, past quiet Lake Norðbergsvatn and onwards to the sea cliffs of Norðbergseiði, where the water is far rougher and the scene more dramatic than the calm bay in Hvalba.
You can park by the public restrooms and enjoy a short walk – about 30 minutes in each direction – to get to Norðbergseiði. There was hardly a soul around, so it's quite worthwhile.
Sandvík
The northernmost town in Suðuroy, to be frank there's not much to see in Sandvík but it's lovely all the same.
I liked seeing the old harbor and pausing near the tunnel at a quiet beach, which was really peaceful. We hoped to visit the sea stacks around Asmundarstakkur but weren't quite sure where to find them, so we did a loop and went back southward.
Vágur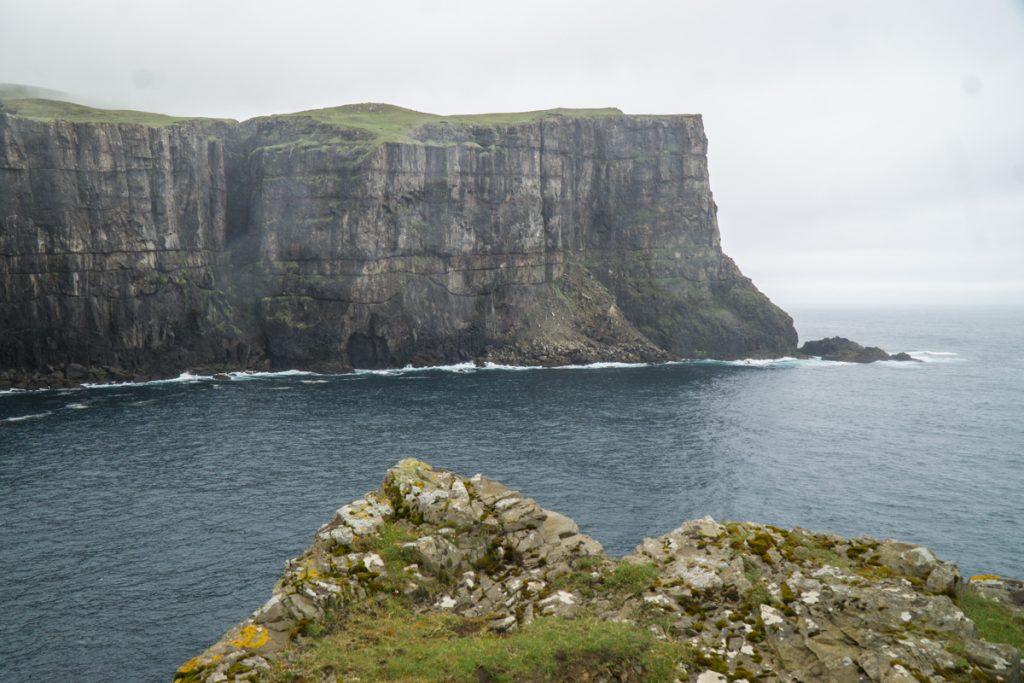 Definitely the largest town in Suðuroy with some 1,300 residents, Vágur is well worth visiting for its church and the beautiful cliffs of Vágseiði.
There, you'll find spectacular views of Vágur as well as Vágsvatn Lake and the Eggjarner cliffs, one of the most scenic places in Suðuroy.
Sumba & Akraberg
After crossing through the longest land tunnel in the Faroe Islands, you will reach Sumba, the southernmost town on the southernmost island in the Faroes (look at all those superlatives!).
Sumba is a cute town and well worth a visit. Just beyond Sumba, you can find Akraberg Lighthouse, which is the actual southernmost point in the Faroe Islands.
This isn't in Sumba per se, but in Akraberg about 5 kilometers outside of the town. We got a little lost looking for it as there wasn't any clear signage, but we eventually found our way and boy, was it worth the effort!
Ferry back to Tórshavn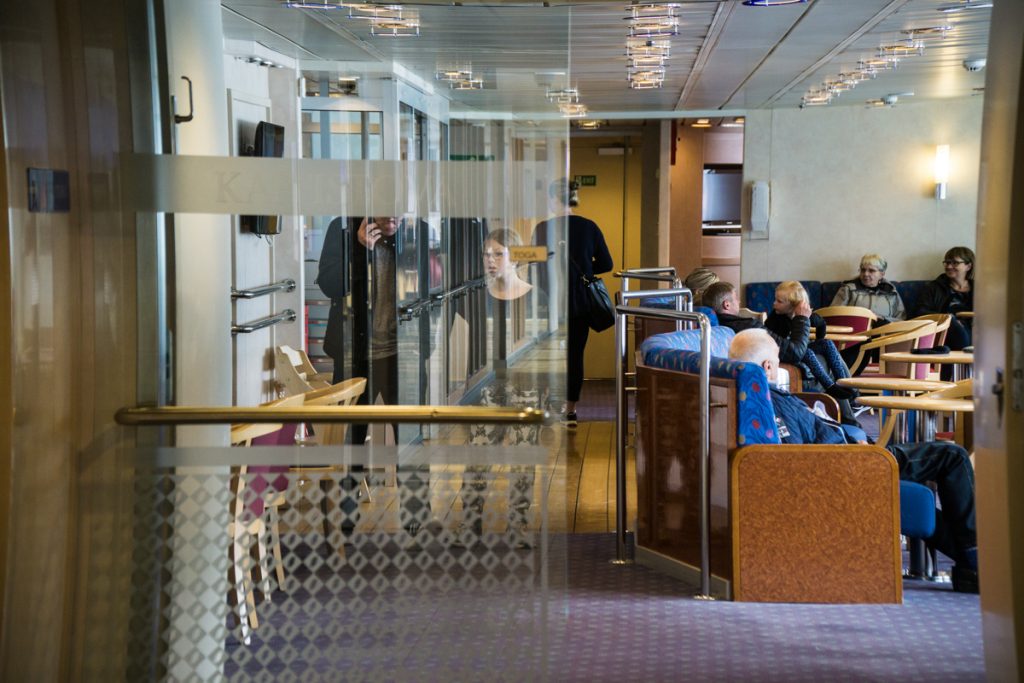 After all that excitement exploring Suðuroy, catch the late afternoon ferry to get back to Tórshavn in time for dinner. Remember to pay for the ferry on the way back (you won't have paid on the way over).
There are several excellent restaurants in Tórshavn. We opted for Sirkus, which is a bar slash restaurant that is the heart of (admittedly quite calm) Tórshavn's nightlife scene.
There is also Japanese food and sushi meets Faroese fusion at Etika, or fine dining at Áarstova.
Sirkus is probably the best blend of affordable on the budget and excellent, mellow vibes.
You could continue your night, but we opted to go to bed early to rest up for our final adventure.
Where to Stay
I have a ton of recommendations for Torshavn hotels (you can find my full Faroe Islands hotel guide here) but if I had to pick one it'd be the Havgrim Seaside Hotel 1948.
It's a really unique place to stay and it's absolutely stunning, with quirky décor that makes you feel like you're staying in the home of a dear friend.
It's quite close to the city yet far enough away from the hustle and bustle to provide free parking for its guests, perched high enough up to offer incredible views over Tórshavn's harbor and the nearby island of Nolsoy.
Faroe Islands Itinerary, Day 5: Vestmanna & the airport
Our flight left around 2 PM, giving us time for one final activity before making our way back to the airport and returning our car.
So we saved (one of) the best for last – an epic excursion around the bird cliffs of Vestmanna.
Vestmanna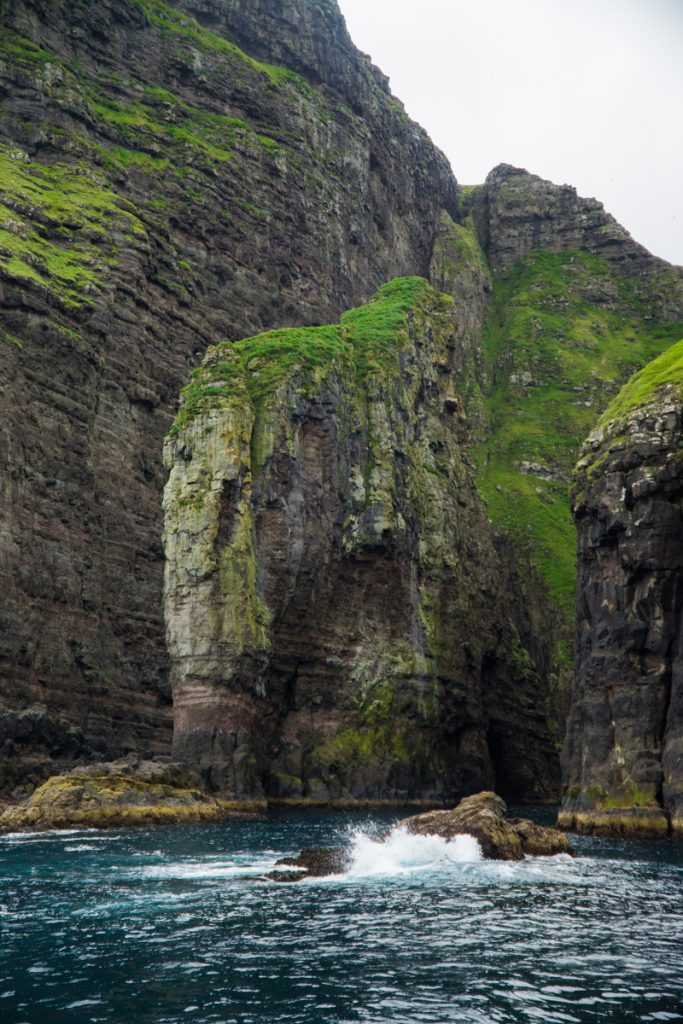 We checked out of our hotel in Tórshavn and drove about 40 minutes through dense fog.
We were a bit afraid that our tour would get canceled on account of the fog, but it cleared and were we ever glad it did!
Taking a 2-hour boat ride around the Vestmanna sea cliffs was magical. I'll never forget the scale of it all.
There is something so incredible about being at the foot of 2,000 feet high cliffs, on choppy waves in the Atlantic, stretching into the sky as birds mill about by the thousands over head.
It was truly spectacular – spectacular enough that it took me about an hour to realize I was seasick (bring some motion sickness pills, y'all).
The Vestmanna Tourist Center organizes one or more boat trips daily during the peak season, which runs from April to September. Here are the departure times:
April: Weekdays and weekends at 10:15am
May 1st to September 30th: Weekdays at 10:15am, 2:15pm and 4:20pm & weekends at 11:15am, 2:15pm and 4:20pm
Returning to the airport
Tip: Fill up on gas at the Magn in Miðvágur, it's the final gas station before the airport!
I felt truly sad as I returned to the airport, not quite ready for my Faroe Islands trip to end, even though I knew the islands had so captivated me that I would find a way to come back sooner rather than later.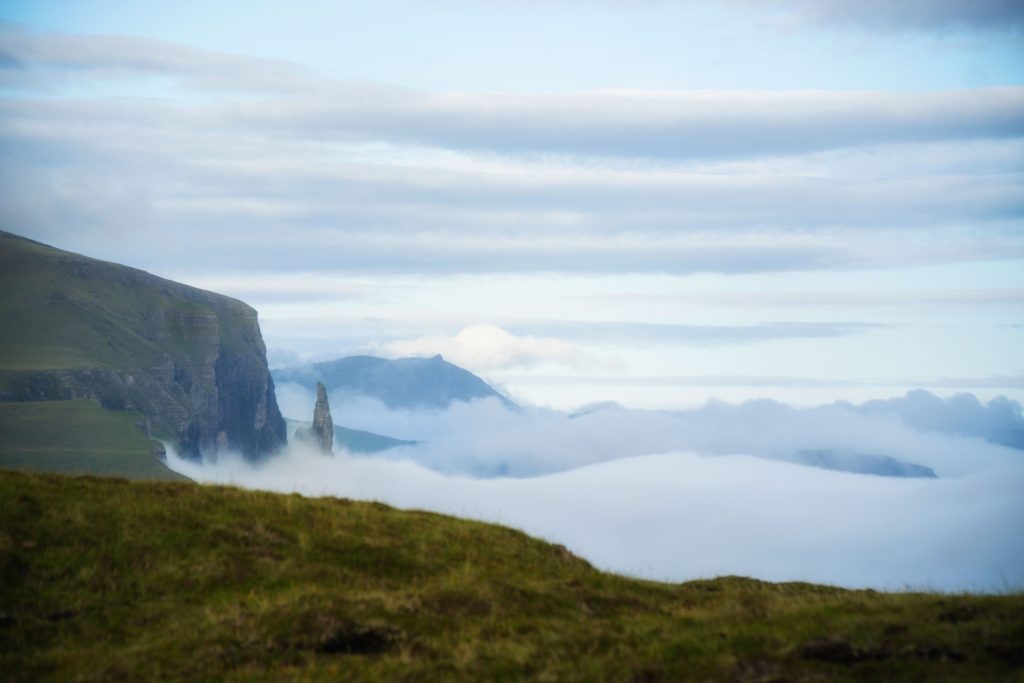 Renting a car and driving through the Faroe Islands is truly a bucket list experience for a lifetime and well-worth saving for.
The spectacular scenery, the tininess of the islands with their strange sense of vastness, and the friendliness of the locals we met along the way all but ensure a return trip.
I hope this Faroe Islands itinerary is helpful to you in planning your own adventure. There is truly no ugly corner to this island, so I encourage you to put down the map or phone and explore!
Note: A huge thank you to Visit Faroe Islands for hosting me and Megan during our time in the Faroe Islands. All opinions throughout are my own.
Allison Green is a former educator turned travel blogger. She holds a Masters in Teaching and a B.A. in English and Creative Writing. Her blog posts merge her educational background and her experience traveling to 70+ countries to encourage responsible, enriching travel. She has been a speaker at the World Travel Writers Conference and her writing, photography, and podcasting work has appeared in National Geographic, CNN Arabic, CBC Canada, and Forbes, amongst others. Now a full-time traveler, she has lived in Prague, Sofia, New York City, and the San Francisco Bay Area.