Rovaniemi, Finland is the largest city in Finnish Lapland and one of the most popular touristic destinations in all of Finland.
While Helsinki in winter is a delight, Rovaniemi in winter is even more magical!
From its dancing Northern lights to its endless list of enthralling winter activities, Rovaniemi is a true bucket list destination for many.
We'll get into all the best things to do in Rovaniemi in winter in just a minute — first, we'll talk a bit about where to stay.
Where to Stay in Rovaniemi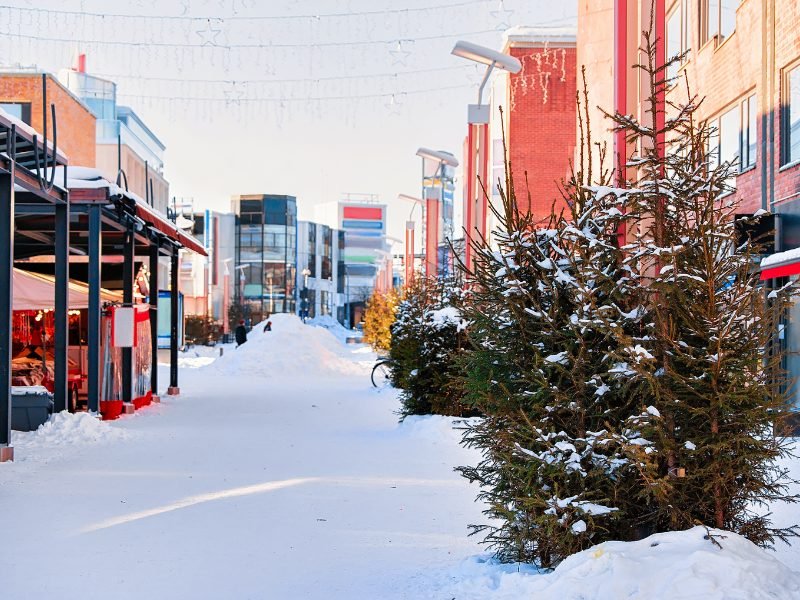 Note: This post contains affiliate links, which means I may receive a small commission if you purchase something through one of these links. Thank you for supporting the free content on this site! For more information on affiliate links and cookies, see my disclosure page for more details.
Budget: Guesthouse Arctic Heart
If you're on a tight budget while visiting Rovaniemi or you simply like to save on accommodations so you can splurge on activities or food, this is a great and highly-rated option.
There are private single and double rooms as well as 4-bed, single-gender dormitory rooms if you are a solo traveler who doesn't mind staying in a hostel-type setup.
The amenities are minimal, but there are things such as a shared kitchen and laundry facilities. Some of the private rooms have electric kettles, etc. for preparing tea and coffee.
Mid-Range: Arctic City Hotel
This mid-range option is not too expensive and has great ratings and a prime location in downtown Rovaniemi.
The rooms are spacious and comfortable with modern, unique decor elements that add some flair. Breakfast is included with your stay, and there's an in-house restaurant that also serves room service.
Best of all, the hotel has not one but two saunas available for use! There is also a room option with your own private sauna (check out the junior suite with sauna).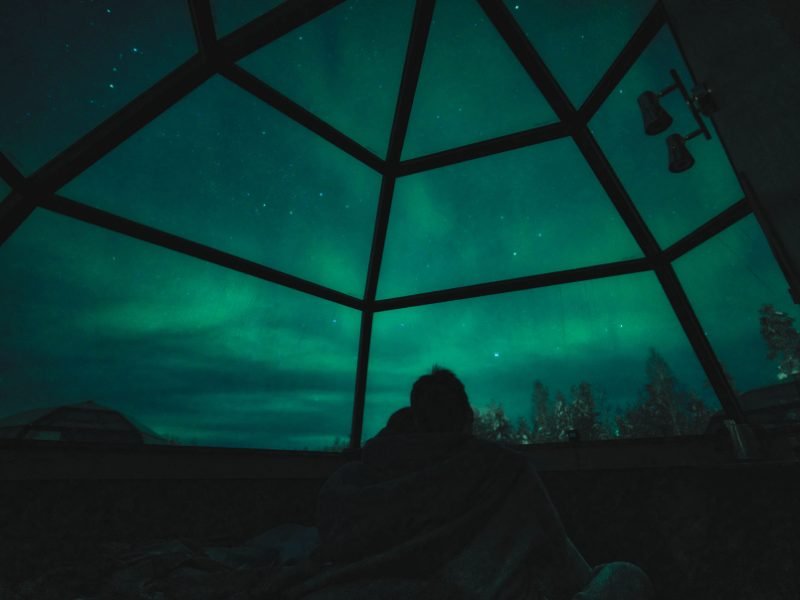 Luxury: Santa's Igloos Arctic Circle
Want to stay in a glass-roof igloo? Of course you do!
These climate-controlled igloos are located about 5 miles outside of central Rovaniemi in a beautiful winter wonderland.
The igloos are climate-controlled and well-heated, and include a private bathroom with a rain shower, bathrobe, and slippers.
Each igloo has its very own tablet which you can use to contact the front desk with any needs — and also get Northern lights alerts so you can wake up and see the lights dancing above! They even have a button you can press to defrost the glass for the perfect view.
The premium igloos for two even include a private sauna, and there are also family igloos for four with an alcove for two more people to sleep.
This property is located close to Santa Claus Village, about a 5 minute walk away, and shuttles are provided to Rovaniemi city center.
21 Best Things to Do in Rovaniemi in Winter Time
Go chasing the Northern lights.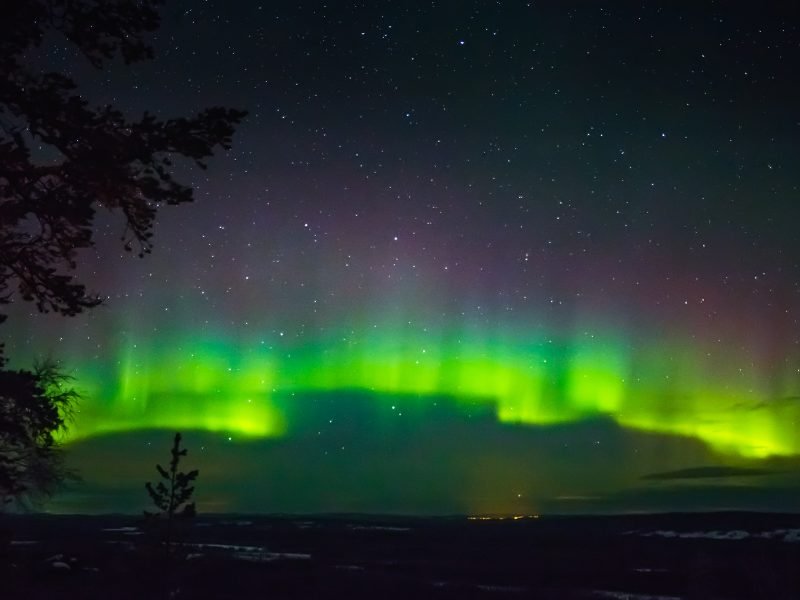 Due to Rovaniemi's position just 4 miles south of the Arctic Circle, this is one of the best places for Northern lights tours in all of the Nordics!
While it is certainly possible to see the Northern lights from the city of Rovaniemi, a dedicated Northern lights hunting tour will give you far better results.
These Northern lights tours are typically small group tours conducted in a minibus. Your seasoned Northern lights spotters will bring you away from the light pollution of Rovaniemi and into the Finnish wilderness.
There are several options for Northern lights tours in Rovaniemi: let's go over a few of the most popular.
One option is a basic Northern lights tour which will last about 3 hours. This tour brings you to frozen lake about 15 miles away from Rovaniemi where you'll camp out and wait for the aurora to appear while enjoying a campfire and BBQ dinner.
Considering the sky-high price of restaurants in Rovaniemi, this tour is a great deal! The tour includes a dinner of fire-roasted sausages, traditional Arctic fish soup, Lappish bread, and traditional blueberry tea.
In addition to dinner, the tour also includes cold weather clothing to borrow if needed, pick-up and drop-off at your hotel, and a guide to help you spot the aurora.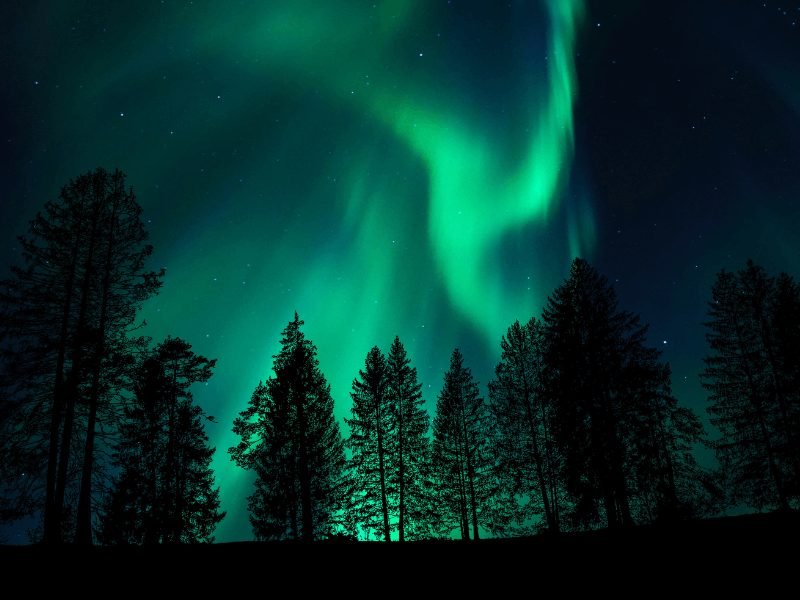 There are all sorts of other ways to experience the Northern lights in a more unique way, including a sauna and Northern lights experience, a photography-focused Northern lights tour (where a professional will take photos and also help you capture your own photos), and a snowmobile and Northern lights tour.
No matter which tour you pick, you have a fairly good chance of seeing the lights — but of course, being a natural phenomenon, there are no guarantees.
Because Rovaniemi is located inland and not on the coast like other Northern lights destinations like Iceland and Tromso in Norway, you have less chance of cloud cover obstructing your Northern lights views.
In fact, Tromso Northern lights tours often have to drive all the way to Norway to even see the lights (this was the case with the last Northern lights tour I took in Tromso!).
Visit Santa Claus Village.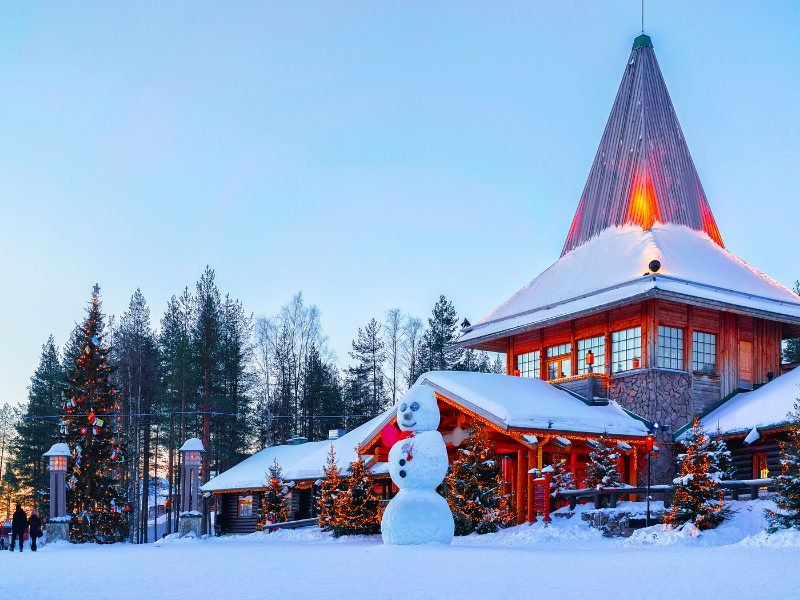 This is one of the essential things to do in Rovaniemi in winter if you have kids. If you don't have kids and Santa Claus Village doesn't appeal to you, feel free to skip ahead to the next section: there's still plenty to do in Rovaniemi!
Santa Claus Village is one of Rovaniemi's biggest draws. While older kids and adults may find it a bit cheesy and Disney-esque, the kids are sure to have a blast in this festively decorated atmosphere!
You can visit Santa Village and Santa's Post Office either independently or on a guided tour.
If you want to get to Santa Claus Village independently, you can either drive if you've rented a car (take Highway 4 north towards Ivalo, about 8 miles away), hire a taxi (approximately $30 USD each way), or take the local bus #8 from Rovaniemi train station.
There is no entrance fee to Santa Claus Village, although you will want to budget for food and souvenirs on your visit.
If you'd prefer a guided experience that also includes a visit to the Arctic Circle (complete with a certificate), a Christmas buffet lunch, and getting to meet some reindeer, you can book a tour.
Book your tour of Santa Claus Village and the Arctic Circle here!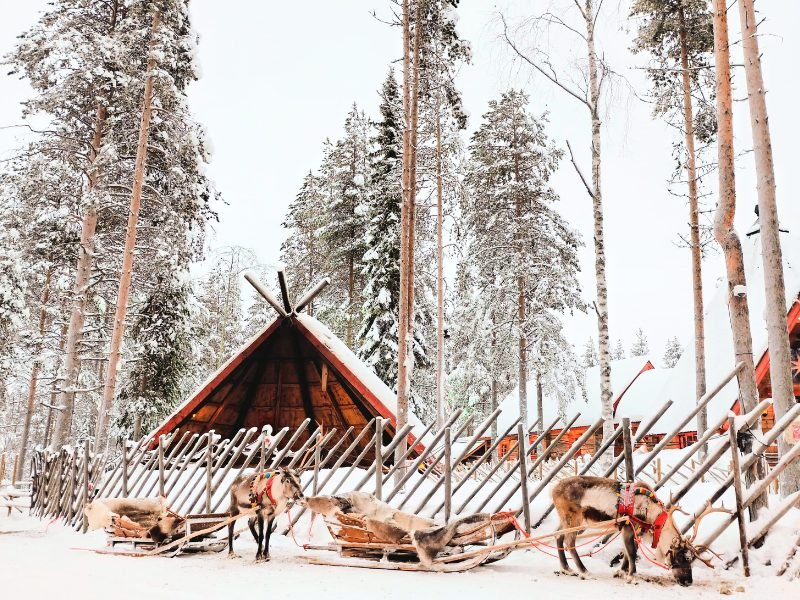 Another fun way to visit Santa Claus Village is to take a trip that includes both Santa's Village and a snowmobile ride to the nearby reindeer farm!
Your kiddos can meet Santa Claus and his elf helpers, send a postcard to friends from home at Santa's post office, and then have a tasty lunch.
After visiting Santa Claus Village, you can take snowmobiles to the reindeer farm. Don't worry, kids of any age can do this part of the tour!
Kids under the age of 14 can ride behind in a sled pulled by the snowmobile, while parents and young adults can drive (so long as they have a valid driver's license!).
Once at the reindeer farm, you can go on a sleigh ride pulled by reindeer. Like the other tour mentioned above, you'll cross the Arctic Circle and receive an 'official' certificate as a souvenir to take home with you as a memory from this day.
Visit the Arctic SnowHotel.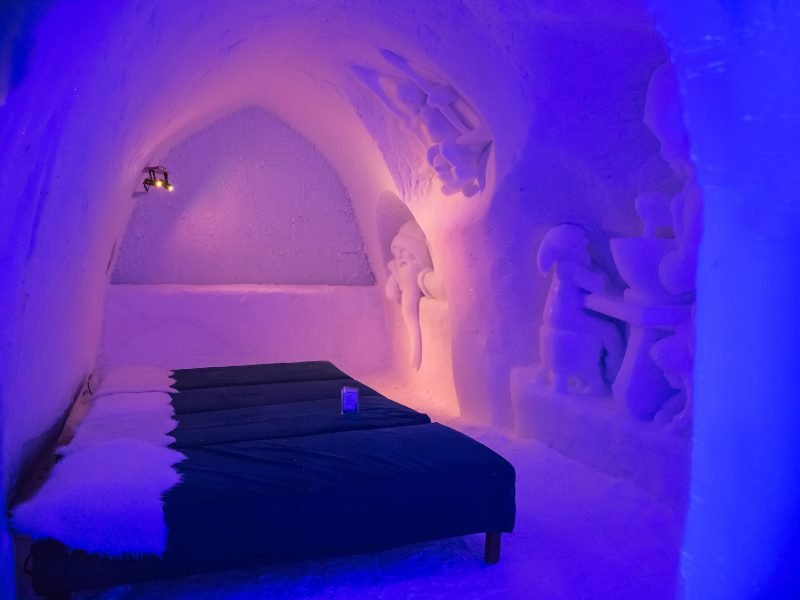 One of the most unique winter activities in Rovaniemi is visiting the Arctic SnowHotel! It is one of few snow hotels in the world (there are others near Abisko, Sweden and Tromso, Norway).
While staying in a snow hotel is really expensive, it's rather affordable to visit this stunning Lapland hotel for a tour!
In particular, this tour offers excellent value because it not only includes a tour of the snow hotel and the glass igloos but it also includes a 3-course dinner meal of Lappish-inspired cuisine.
For this year's menu, the starter is a forest mushroom soup, the main course is one of 4 choices (roast elk, Arctic salmon, chicken breast, or cold-smoked tofu), and the dessert is a lingonberry-caramel custard. Delicious!
The tour includes transportation from your hotel to the snow hotel (about 30 minutes away), as well as a guided tour of the hotel and its unique features like its snow sauna, carved ice sculptures, ice bar, ice restaurant, and of course — its rooms!
You even have the option to add on your own snow sauna experience with time in a private jacuzzi!
This snow hotel is created from scratch each year and opens annually on December 16th, so it's only available for a few short months each year — don't miss this top thing to do in Rovaniemi in winter if you can help it!
If you just want to visit the snow hotel with no meal included, you can also book that here, but personally I think the visit plus meal options offer better value per dollar!
There is also another snow hotel in Kemi which you can visit as part of a longer day trip, but I'd suggest the snow hotel closer to Rovaniemi to save time and money.
Go on a husky safari with a team of enthusiastic dogs.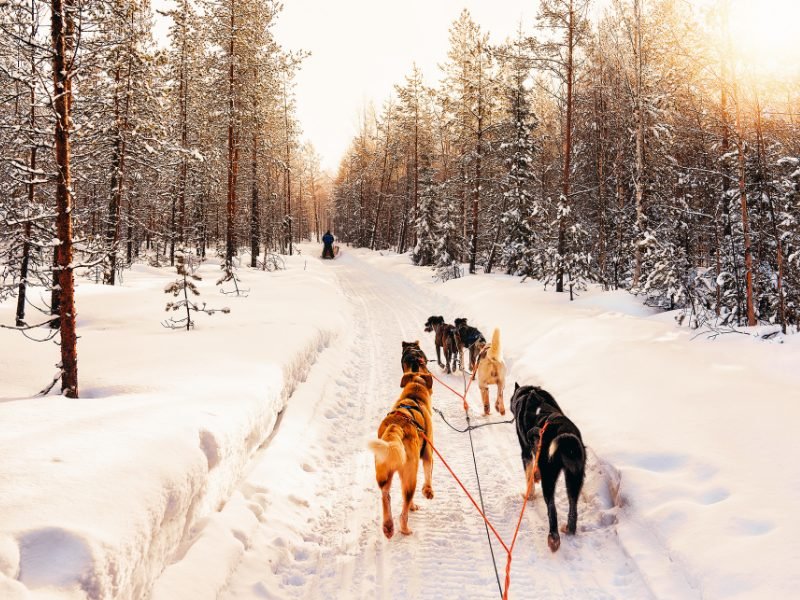 One of the best things to do in Rovaniemi in winter is go dog sledding!
Dog sledding is one of my favorite activities and I've gone in a handful of destinations around the world (including a Tromso husky safari and an Abisko one too)… it's something I do every time I'm in the Arctic in winter!
Tours will bring you to a husky farm in Apukka, Finland where you can first meet all the lovely huskies who live here year-round.
Your experienced guides will give you a demo of husky sledding and how to self-drive a husky sled safely, for both you and the huskies!
It is really a team sport: you will be running and pushing the sled up hills and generally actively helping your huskies pull the sled, so don't expect to just sit back and enjoy a husky ride!
If you're traveling with kids, there are also family-friendly options that do not involve self-driving your husky sled.
Instead, this tour has you and your family being carried by your team of huskies on a short sleigh ride, led by an experienced musher.
This tour also includes ample time for husky meet-and-greets, and the ride is followed up with some snacks and hot beverages.
Try your hand at ice fishing.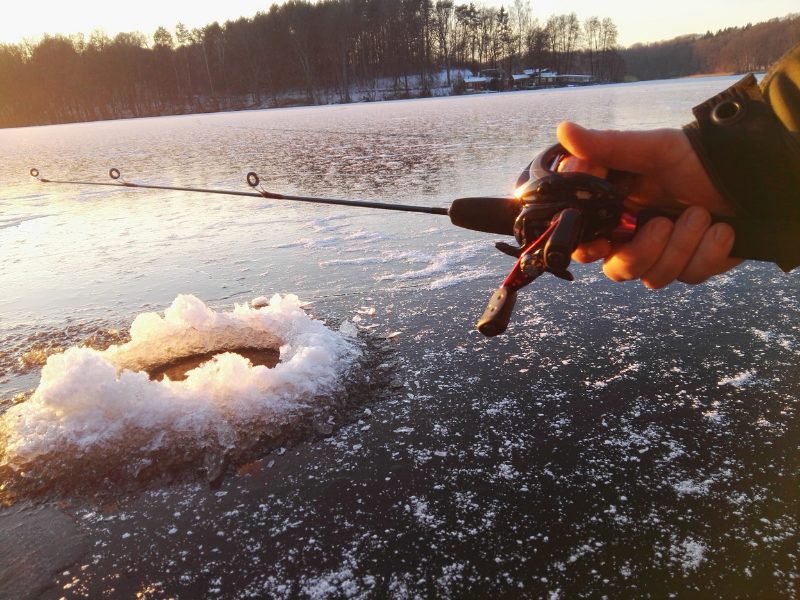 Another fun activity you can try when visiting Rovaniemi in winter is ice fishing!
There are several different combinations of activities, such as snowshoeing and ice fishing, snowmobiling and ice fishing, or this combo hiking, snowshoeing, ice floating, ice fishing and BBQ tour.
Whichever combination piques your interest, it's a great way to combine two (or more!) unique Lapland activities into one guided experience.
Enjoy a snowmobile safari through the Lappish wilderness.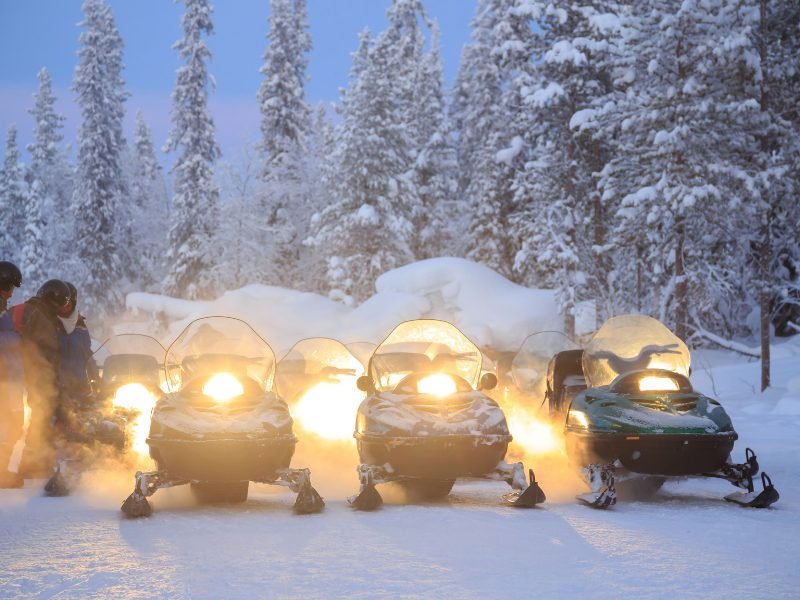 One of the most fun ways to experience the Finnish wilderness is on a snowmobile ride!
Don't worry if you've never ridden a snowmobile before — it's quite easy to get the hang of, and you can take a snowmobile tour so you'll be guided through the landscapes without worrying about getting lost or stuck in the snow.
Take a traditional Finnish sauna.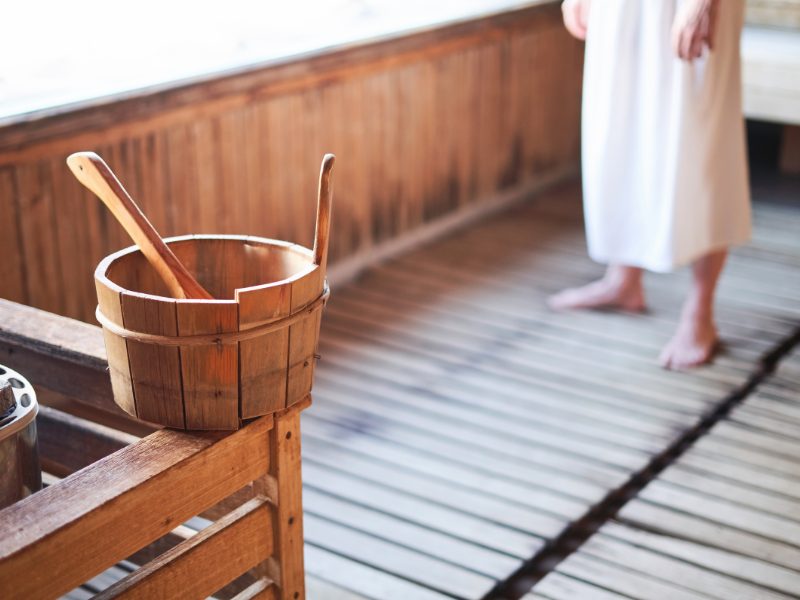 One of the most typical ways to experience a touch of Finnish life is to have a sauna experience!
Whether that's taking a sauna at your hotel (most hotels include a sauna) or booking a special sauna experience, there's nothing more quintessentially Finnish than sauna!
Try ice floating under the Northern lights.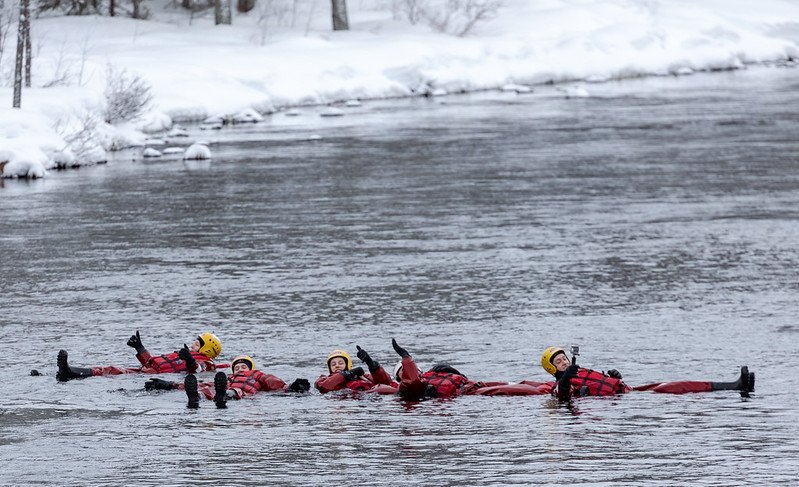 Ice floating? Wait, hear me out!
This unique winter activity in Rovaniemi is perhaps one of the most surprising ways to see the Northern lights!
On this tour, you can fit in an icy lake where a hole has been dug out so people can float in the icy water.
And if you're worried about getting cold: you wear an insulated, buoyant suit that keeps you warm no matter how cold the water is!
Guests reported staying relatively warm and dry as they floated in the icy lake and say it's a must-try in Rovaniemi. I haven't gotten to do this yet but it's on my bucket list for my next trip to Finland!
Go on a reindeer safari at a Sami reindeer farm.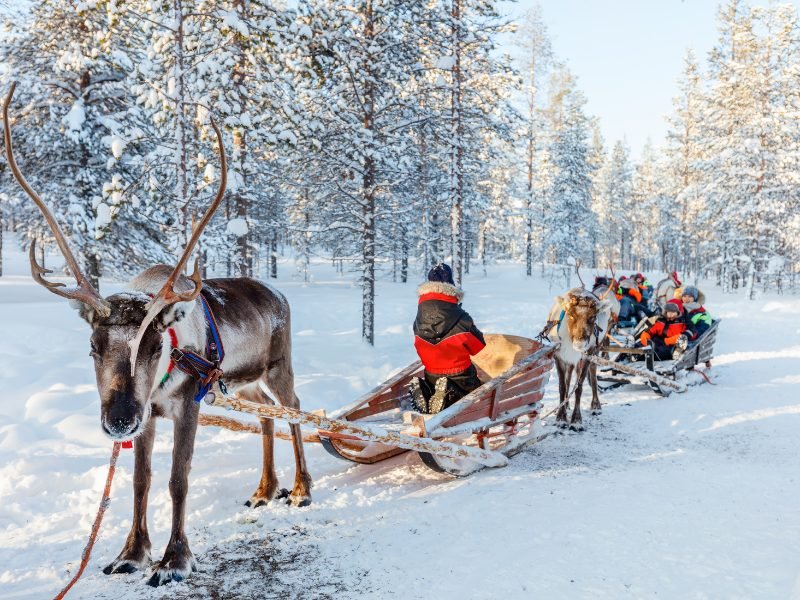 The Sami people are the Indigenous people of Sapmi, which covers the Northern reaches of Norway, Sweden, Finland, and Russia.
For millennia, the Sami people have been reindeer herders, which is a difficult job that involves herding reindeer across a variety of unforgiving terrains without losing track of them.
While traditionally, herding and harvesting reindeer for their meat was one of the main ways that Sami people made a living, now tourism is also an important part of the economy for Sami people.
Rather than herding their reindeer all over an icy landscape in search of food for the reindeer to forage, some reindeer herders set up a reindeer farm for the winter season and offer tourist activities like feeding the reindeer and going for reindeer sleigh rides.
On a reindeer sled experience, you'll get the chance to meet Sami reindeer herders and ask them questions about what it's like to be a reindeer herder — and see what it's like for yourself!
Go snowshoeing outside the city center.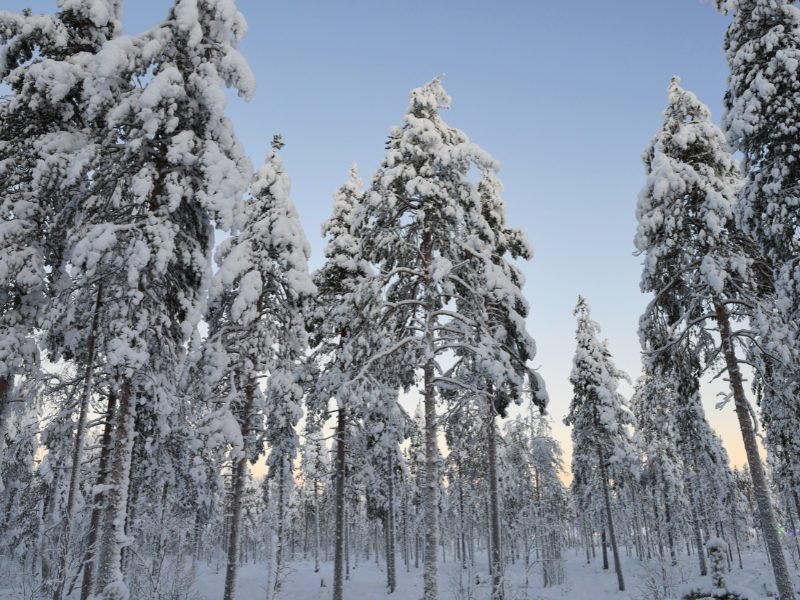 If you like to get active on your travels, going snowshoeing is one of the best things to do in Rovaniemi in winter!
Going on a guided hiking and snowshoeing tour is an excellent way to get acquainted with the Finnish nature.
This tour includes a guide and a pick-up/drop-off transfer to a forested area full of nature trails that cross the Arctic Circle, where you can snowshoe past frozen rapid rivers and waterfalls, and possibly even spot some arctic wildlife!
It also includes a forest campfire BBQ where you can enjoy sausages, marshmallows, and blueberry tea as a delicious lunch to fuel up after your hike!
Try cross-country skiing.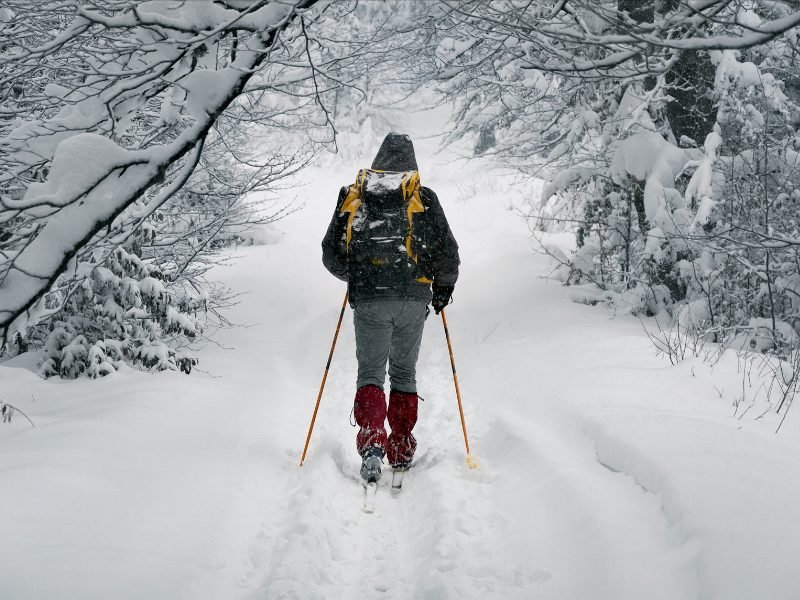 If you've never tried cross-country skiing, Rovaniemi is a great place to give it a try!
There are plenty of well-groomed cross-country ski trails outside of Ounasvaara, also a popular downhill ski areas near Rovaniemi.
This guided tour is a good thing to try if you've never cross-country skied before — they will teach you the motions you need to do in order to glide smoothly across the ski trails!
Tours include pickup and drop-off, a guide, winter clothing and ski suit rental, all ski equipment you'll need, and a treat at the end of hot beverages and cookies to replenish your energy after your trek!
Chase frozen waterfalls in Korouoma National Park.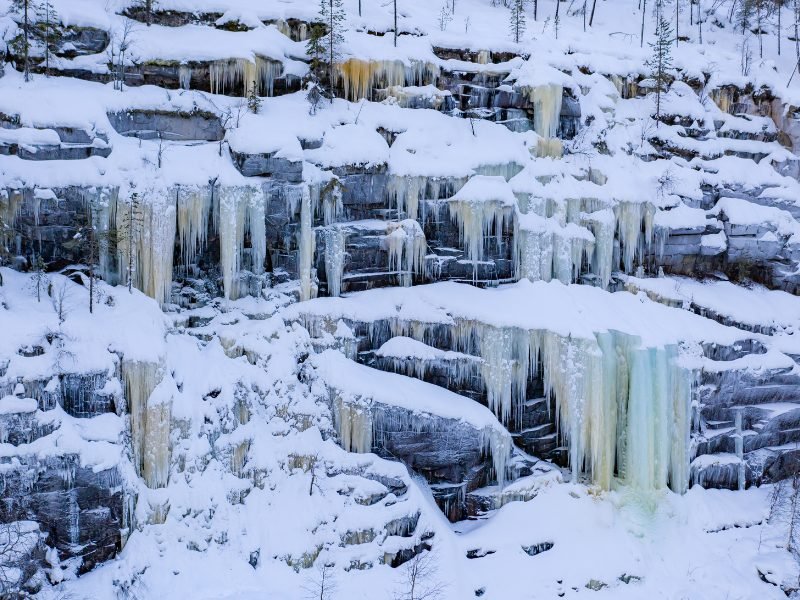 One of the benefits of Lapland getting so cold is the opportunity to see some truly otherworldly landscapes… like frozen waterfalls!
One of the best places to spot frozen waterfalls in Finland is in Korouoma Canyon, located in a national park.
If you have a rental car, you can drive there independently. If not, you may want to take a guided tour like this one.
Stay in a glass igloo.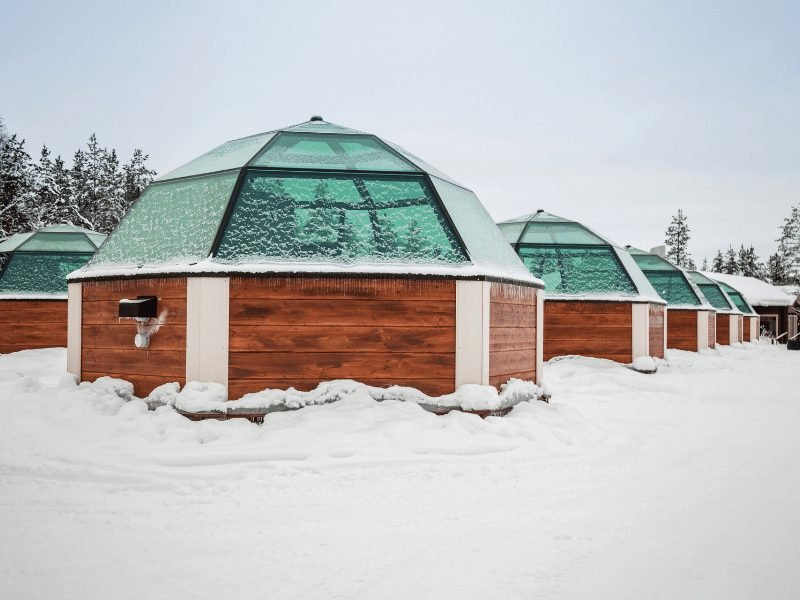 Finland is known for its incredible glass igloos from which you can watch the Northern lights in bed! While many are located further north, there are a handful of options near Rovaniemi.
I listed one above in the Luxury section of the Where to Stay section, Santa's Igloos Arctic Circle. If that doesn't quite fit the bill, here's another choice!
Another popular glass igloo option near Rovaniemi is Apukka Resort, 15 minutes away from Rovaniemi.
Because it's located a bit outside of the town of Rovaniemi, you'll be able to enjoy beautifully clear night skies without the light pollution of the city — better chances of the Northern lights, while still getting to enjoy all the fun winter in Rovaniemi activities!
This magical place is truly unforgettable: beyond just glass igloos, they also have an ice sauna as well as moveable saunas that are portable and transported on skis!
There are also private sauna and Jacuzzi experiences, with either an electric sauna or the traditional wood-heated sauna.
But the coolest thing about staying at Apukka Resort is how you can stay in glass igloos that offer you incredible views of the Northern lights dancing overhead through the clear ceiling.
All glass igloos also include an en-suite bathroom so you won't have to worry about going outside in the cold in the middle of the night! A free breakfast is also included with every night's stay.
Check reviews, room types, and availability here at Apukka Resort here!
Check out the Arktikum Museum.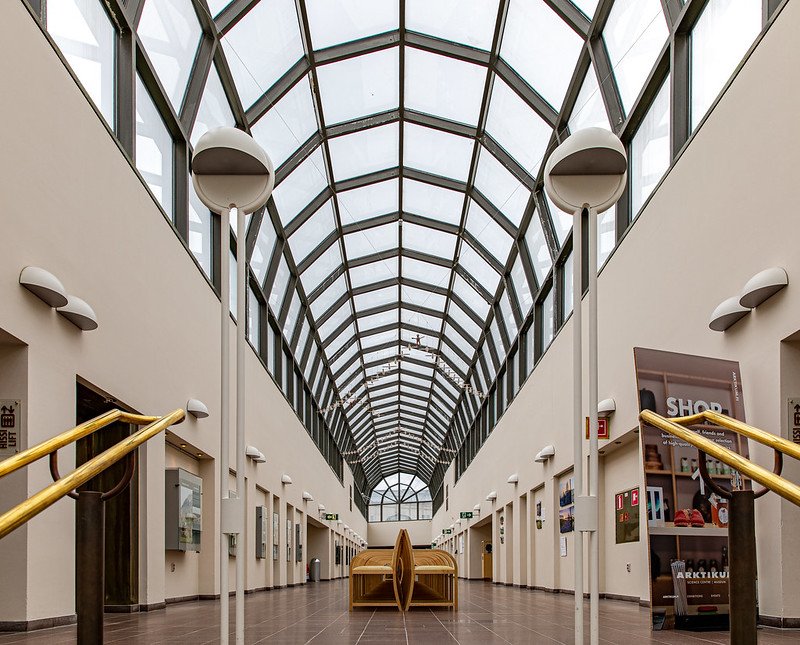 One of the coolest places to visit in Rovaniemi is the Arktikum Science Center and Museum. It's a really interesting place to visit for adults and kids alike, with interactive features as well as informative exhibits.
There are four permanent exhibits which focus on the drastic seasonal shifts in the Arctic (land of both the polar night and midnight sun), life in the North, the changing Arctic climate, and the Arctic Ocean's history.
They also have a rotating temporary exhibits that change typically once per season. The upcoming year will feature an exhibit on Antarctica.
Tickets cost 15€ for adults and 5€ for children 7-15 (children under 7 are free).
Learn all about arctic wildlife at Ranua Wildlife Park.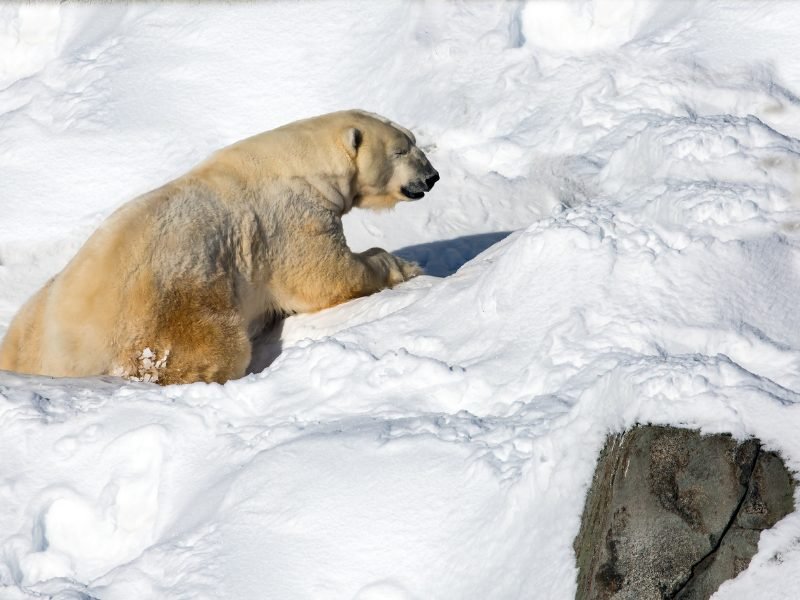 Ranua Wildlife Park is located about a one-hour drive away from the city of Rovaniemi, but if you want to see some arctic animals, this is the place to do it!
This unique wildlife park is home to over 50 different species of arctic animals, including polar bears, arctic foxes, lynxes, and wolverines!
The Ranua Wildlife Park takes you on a 1.5-mile walk on a boardwalk through a forested winter wonderland where you can see all sorts of animals along the way.
The Ranua Zoo houses all of its animals in habitats that replicate their natural arctic landscapes to the furthest extent possible… which is fairly easily, since it's the second northernmost zoo in the world!
This makes the Ranua Zoo a far more ethical zoo option than many others which house arctic animals in non-ideal living conditions.
If you've rented a car for your time in Rovaniemi, you can drive to Ranua Wildlife Park.
Alternately, you can opt for a guided tour, which includes pick up and drop off, transportation, entrance fees to the park, and a guide in the park who can teach you about all the animals you see.
Go downhill skiing at Ounasvaara.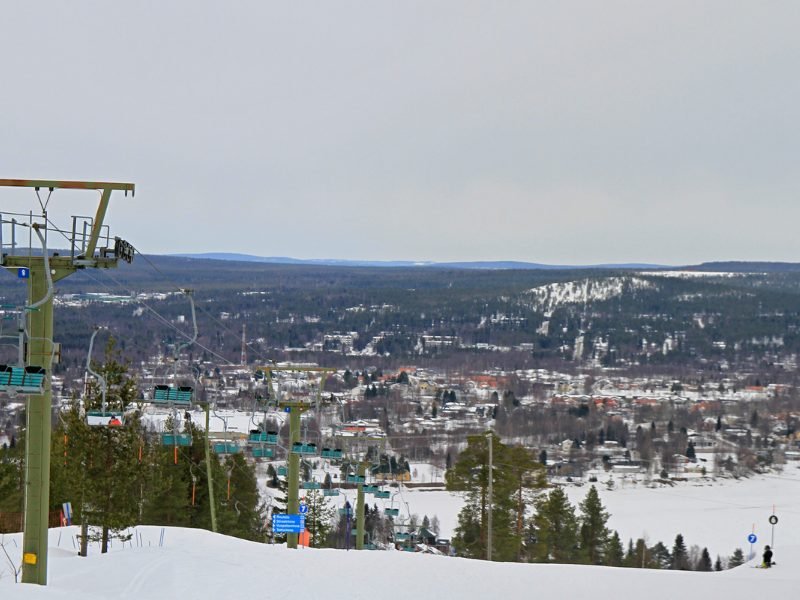 Generally, Rovaniemi isn't the place to go for downhill skiing in Finland — that would be Levi, about 100 miles away.
However, there is Ounasvaara Ski Resort not far from Rovaniemi if you want to do some downhill skiing as opposed to cross-country skiing (which is a lot more popular in the Rovaniemi area).
Lift tickets are approximately €42.50 per adult for a day pass or €31 for a 2-hour night skiing pass, but there are other options: you can check more pricing details here.
Getting to Ounasvaara from Rovaniemi is not too hard, with public transportation options available from the city center, or you can also take a taxi or drive.
Enjoy art and music at the Korundi House of Culture.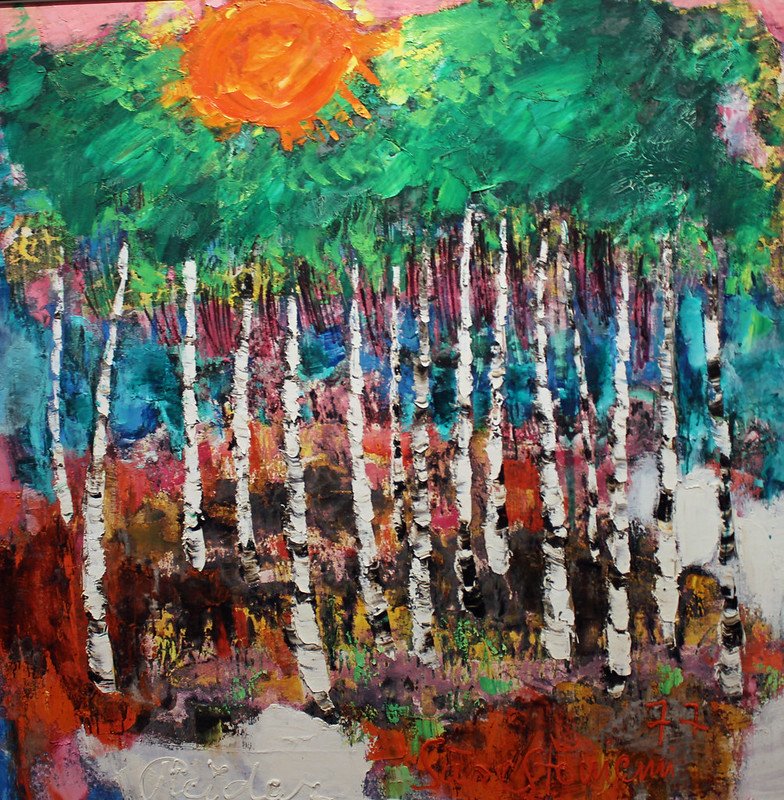 Another place in Rovaniemi that is worth visiting is the Korundi House of Culture.
This center is home to the Rovaniemi Art Museum and the Lapland Chamber Orchestra, as well as shops and a cafe.
Tickets to the Rovaniemi Art Museum cost 10€ for adults and 6€ for children, making it one of the more affordable activities in town — and it's even free on Thursdays between 4:00 PM and 6:00 PM!
The Orchestra is also rather affordable as well. Performances typically fall on Thursday and Friday nights and ticket options typically cost around 35€; book tickets online here.
Walk along the Kemijoki River… and maybe go for an ice dip!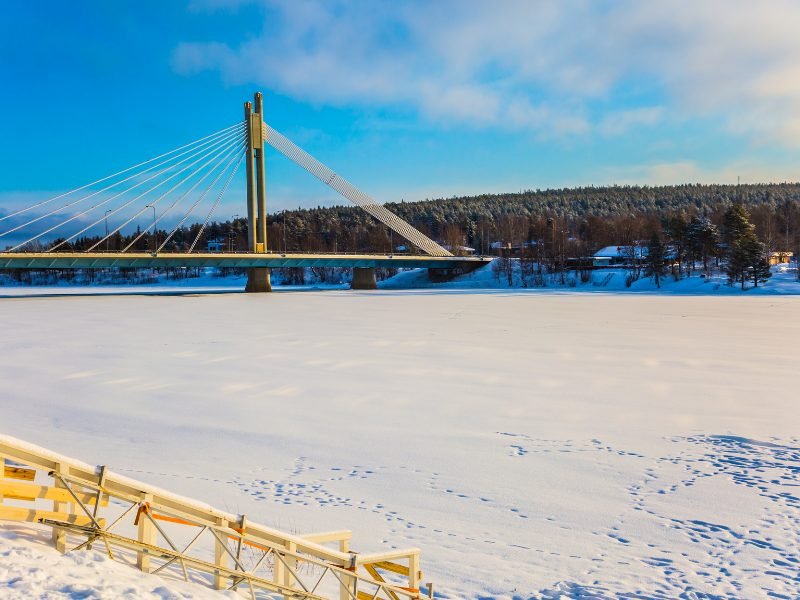 Rovaniemi is located at the convergence of the Ounasjoki River and the Kemijoki River.
These rivers both tend to freeze over during the winter, making it even more beautiful.
Take a stroll along the waterfront street, Koskenranta, and admire the scenery — see if you can spot the hole dug on the other side of the river for swimming in the ice hole.
Some brave Finns may even be taking a dip…
… And you can too if you're feeling up to it — there is a heated changing room and a steam room available to warm up in afterwards for a small fee of about 3€.
Visit the Luosto Amethyst Mines.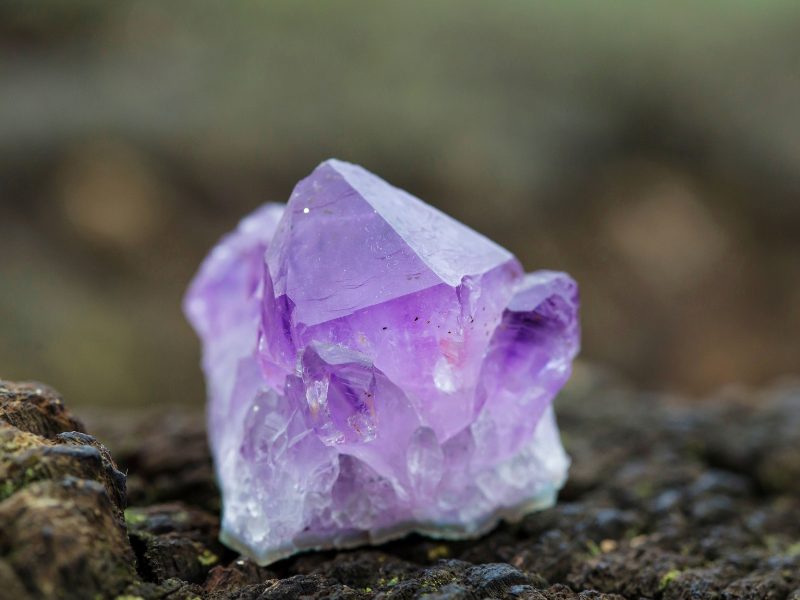 One of the more unique things to do in Rovaniemi in winter is take a day trip to the amethyst mines in Luosto.
Located about 60 miles from Rovaniemi, visiting these mines in winter is even more interesting because the roads shut down between Lampivaara and the mine, so you'll have to take the mine's dedicated Snow Cat, The Amethyst Pendolino.
This tour includes a guide who will tell you all about the history and geology of the area, as well as stories about the amethysts that have been excavated here.
You'll even have the change to dig for your own amethyst with the proper tools, assisted by expert amethyst miners. You can even bring home your very own amethyst that you dig up yourself!
The tour also includes a BBQ lunch (including options like salmon soup, reindeer sandwich, and sausage) and hot beverages, in addition to all the necessary transportation.
Check out the Pilke Science Centre.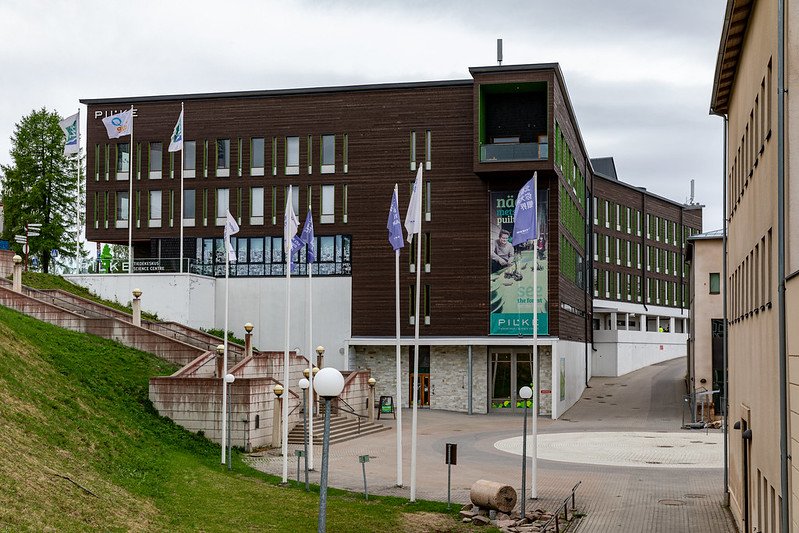 Another fun place to visit in winter in Rovaniemi is the Pilke Science Centre in downtown Rovaniemi.
The Pilke House focuses on an ecosystem very near and dear to Finnish hearts: the forest. It looks at the forest not only through a scientific lens but also a cultural one, exploring the relationship of Finns (and humans in general!) to their forest environments.
Adult tickets cost 7€, tickets for children aged 7-15 cost 5€, and children under 7 are free. Family tickets are also available for 20€.
Go on a horseback ride through the snow.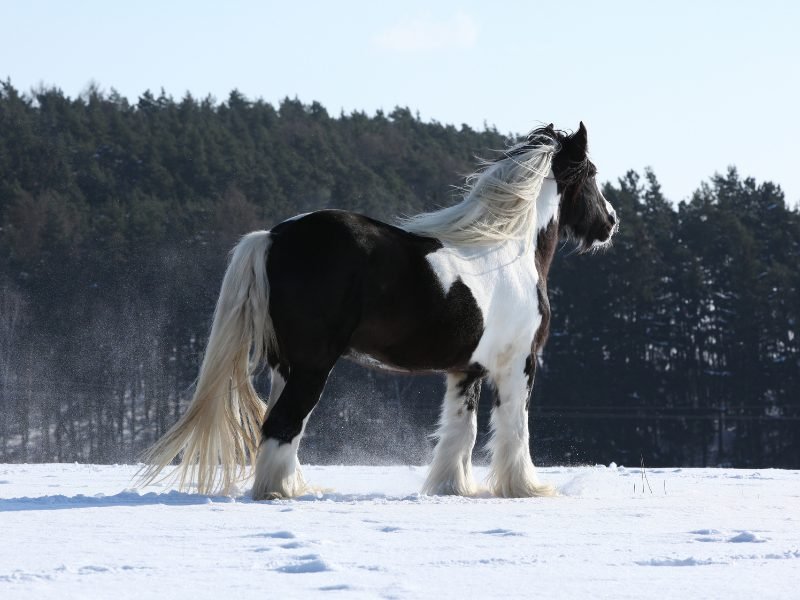 Horseback riding in the Arctic? Why not! This 3-hour horseback tour is a great option for horse lovers who want the chance to ride wherever they travel.
Enjoy riding atop a Irish cob horse for a 1-hour horseback ride through a forested, glistening winter wonderland, admiring the beautiful Finnish countryside a short distance from Rovaniemi.
You'll also get the chance to brush the horses and learn a little about their life on the farm and how the horses are well-adapted to the cold environment.
Enjoy delicious Nordic cuisine in Rovaniemi's best restaurants.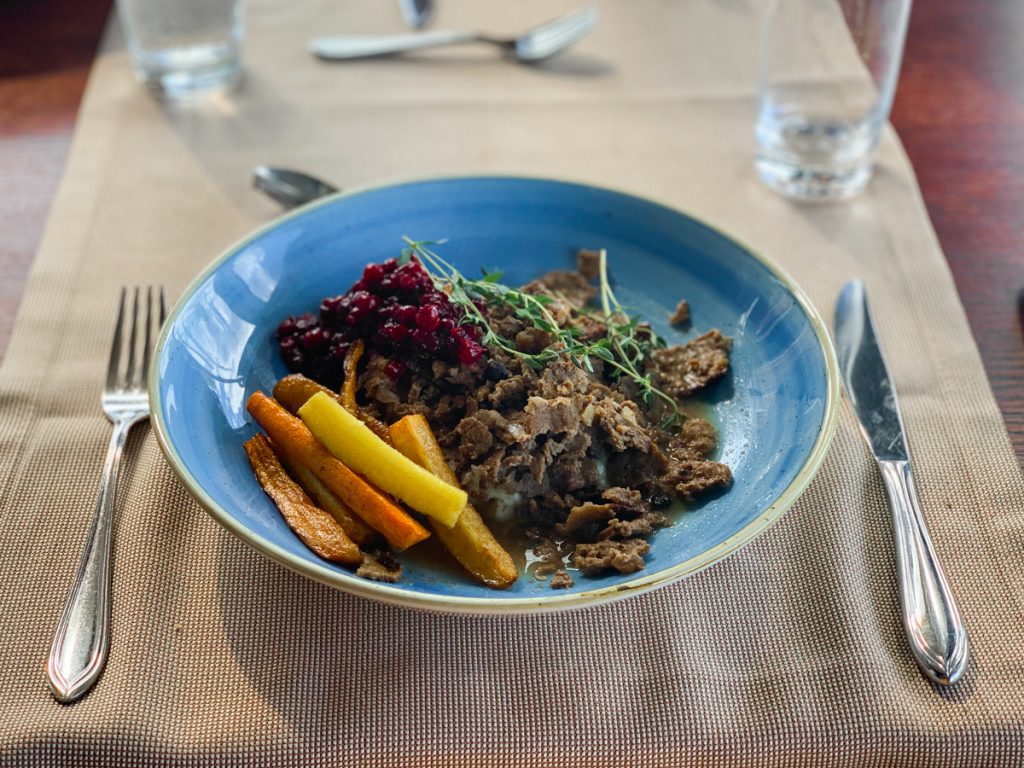 Nordic cuisine is a fascinating mix of ingenuity and local ingredients, and you simply must try some Finnish cuisine while you visit Rovaniemi.
In such an extreme environment, limited ingredients are available, and seasonality — as well as preserving the ingredients that are available during the few times of abundance — plays a huge role in Finnish cuisine.
Ravintola Nili is one of the best restaurants in Rovaniemi that serves up traditional Lappish dishes prepared with seasonal ingredients.
If you're feeling adventurous, try the surprise menu, which offers 4 courses for 59€ — a rather good value for Rovaniemi!
Gustav Kitchen & Bar is another great choice, with an excellent selection of wines and dishes ranging from 15€-25€, all utilizing local Finnish ingredients.
If you have a special occasion, you can reserve one of their two heated igloos! There is no additional charge for reserving one of the igloos, but they require a minimum 200€ spend, and can fit a party of up to six.
Things to Know Before You Visit Rovaniemi, Finland
Renting a car is likely not necessary.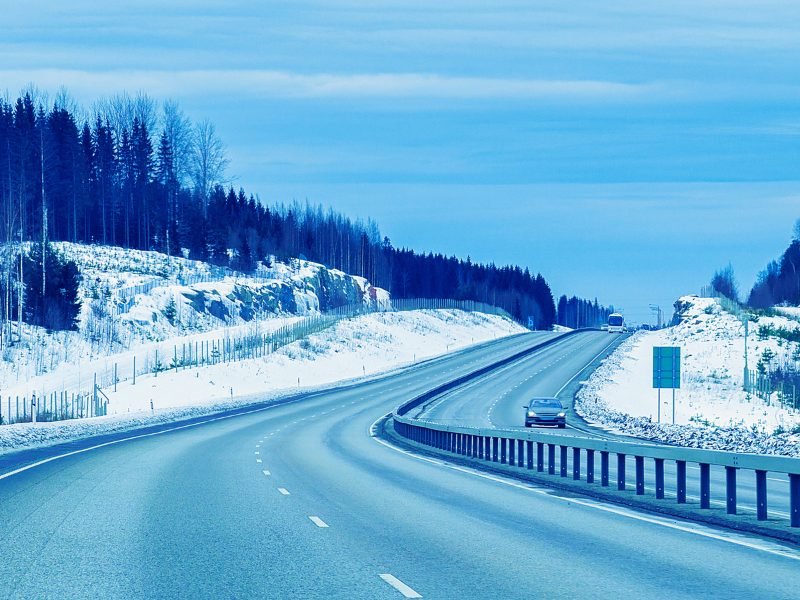 Rovaniemi is a compact, walkable city with excellent public transportation. Additionally, most guided tours provide transportation.
If you rent a car in Rovaniemi, chances are it will just sit around unused, racking up parking costs and being more of a hindrance than a help.
The exception for this is if you plan to visit different national parks independently, aurora hunt independently, etc., but if you follow a typical Rovaniemi winter itinerary
If you do decide to rent a car, I recommend searching with Discover Cars, which browses through a database of over 500 rental car agencies to find the best price for your rental.
Book everything — especially flights and accommodations — well in advance!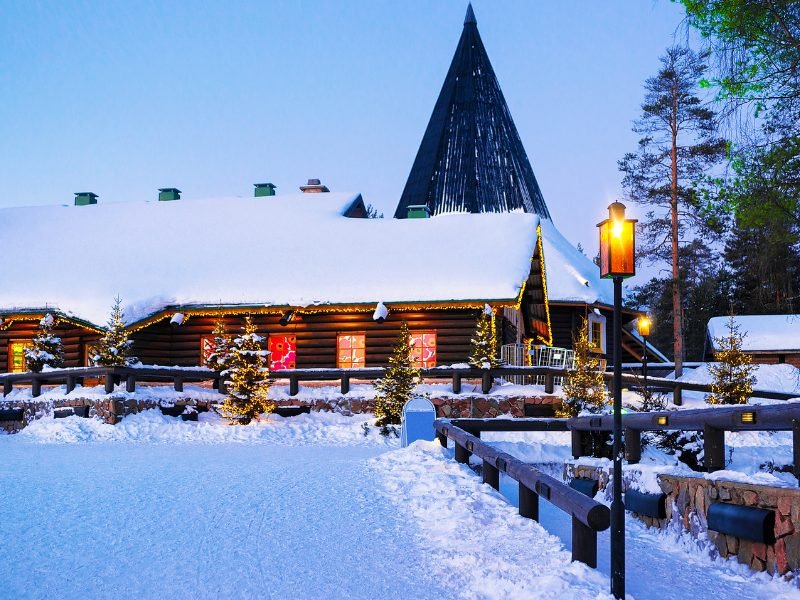 Rovaniemi is the most popular winter destination in Finland, and one of the most popular Arctic destinations period. It's also a rather small city with limited accommodation options.
You'll want to book everything in advance, especially if you're on a budget. Just make sure you opt for things with flexible cancellation policies, because we're still in a pandemic!
I like booking my tours with Get Your Guide because of their great cancellation policy (within 24 hours) and my accommodations with Booking.com (cancellation policies vary but are always stated explicitly on the website).
How to Get to Rovaniemi, Finland
By Flight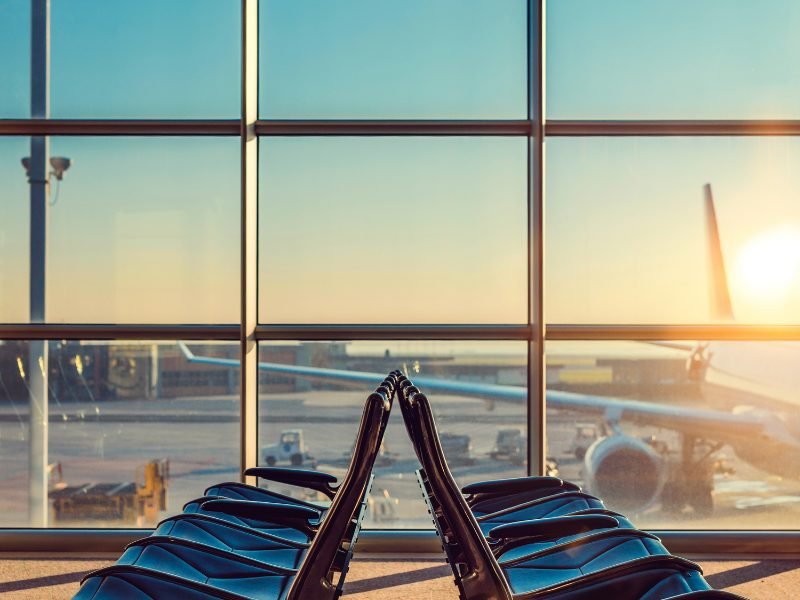 The most common way to arrive in Rovaniemi is by plane. Typically, people fly first into Helsinki, and then connect to a flight to Rovaniemi Airport.
Finnair is the airline with the most flights to Rovaniemi, followed by Norwegian Airlines.
If you're flying from Europe, there are seasonal flights to Rovaniemi from Istanbul, Dusseldorf, Brussels, London, Paris, and Dublin.
Once you arrive in Rovaniemi, it's quite easy to get into town. Remember, as mentioned above, I generally don't recommend renting a car, since Rovaniemi city center is so walkable and you will mostly rely on guided tours for your winter activities.
Just take the Rovaniemi Airport Shuttle for 7 euros which will drop you off at many hotels in downtown Rovaniemi as well as in the Santa Claus Village area.
Your hotel may also offer a shuttle, so inquire with them as well.
By Train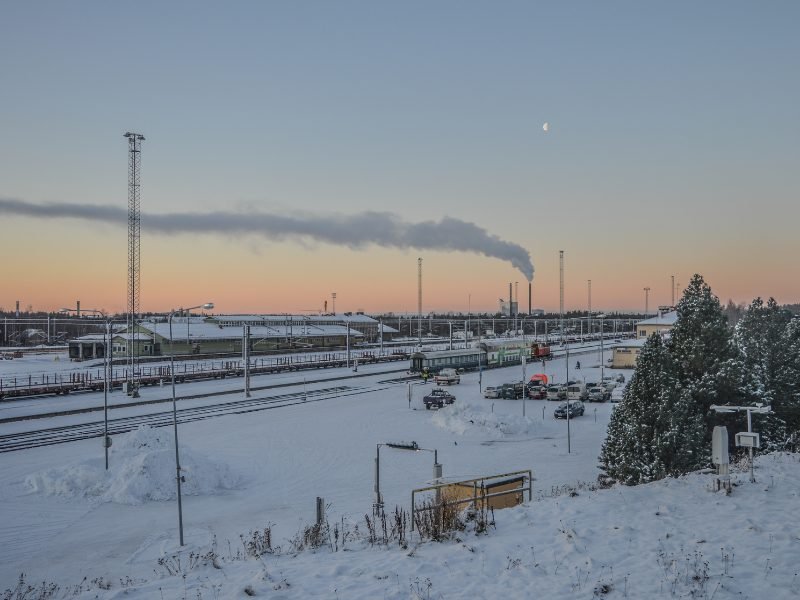 You can arrive in Rovaniemi by train from other places in Finland such as Helsinki.
Generally, the train is more expensive than flying, but for some people it may be a good option. You can check details on trains here.
As of June 28, 2022 there are three trains daily: two take approximately 8.5 hours and cost 102 €, arriving in Rovaniemi at 16:46 and 22:47, taking up most of a day.
There is an overnight option which takes 13 hours, but the majority of the travel takes place overnight which can save you time.
It is a higher price at 126€ for a seat or about 300€ for a two-person private sleeper car, but remember, you won't need accommodation that night so it may shake out to be better for the budg
What to Pack for Visiting Finnish Lapland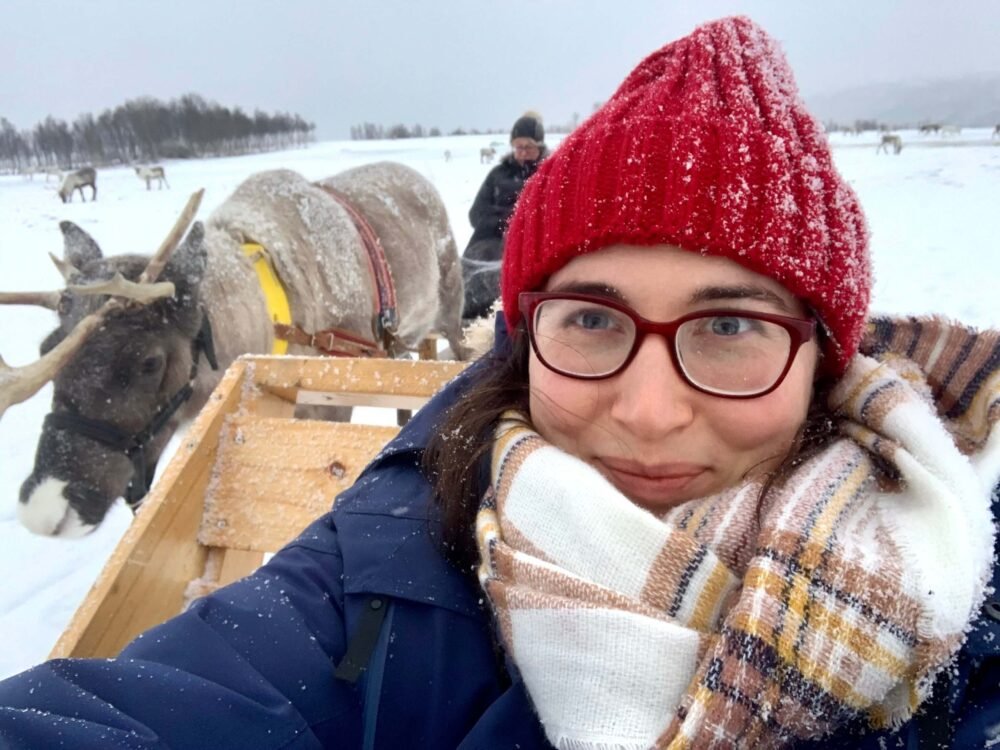 Warm Clothing
You can get away with wearing most of your normal winter clothing in Rovaniemi as long as you have proper base layers that help insulate you and keep you warm.
You want something moisture-wicking and antimicrobial, which will keep you warm and dry even when you sweat — and reduce the odor, so you can re-wear the same base layers.
For thermal leggings, I recommend these for women and these for men, both by Columbia, a trusted outdoors brand. For a top thermal layer, I recommend this top for women and this top for men.
On top of these layers, you can wear your typical winter clothing, such as sweaters, jeans, etc. — the base layers and your outer layer will be doing much of the work!
For an outer layer, I love my North Face parka — I've owned it for 10 years and absolutely love it!
In terms of footwear, you'll want a winter snow boot like this one from Sorel (here's a women's version and a men's version). I recommend sizing about half a size up to account for thick winter socks.
Be sure you use appropriate socks — cotton socks won't do, you'll want wool. I invested in Smartwool socks after some hemming and hawing about the price and I'm so glad I did.
Then, of course, you'll want a scarf, a beanie that covers your ears, and gloves (preferably ones with touchscreen-friendly fingers) to keep you warm.
And if you're planning to do any ice swimming or anything like that, you'll also want to bring a bathing suit.
If you're visiting a sauna, check the rules. Some saunas in Finland allow bathing suits, some require it, and some do not allow bathing suits at all.
Yaktrax
One of the most important things to pack for Rovaniemi in winter is a sturdy pair of crampons that slide over your shoe.
Crampons are basically small spikes or grips that you attach to your winter boot with a stretchy silicone attachment. I used these simple Yaktrax which were really easy to take on and off.
They are perfectly grippy for icy city streets and I didn't have any slips while wearing them, walking around in the snow and ice for miles (and the one day I went out without them on accident, I definitely noticed the difference!).
Moisturizer and lip balm
Winter in Lapland will really dry out your skin, and you'll definitely need a very strong moisturizer and lip balm or you'll have dry, flaky skin and painfully chapped lips.
I love this moisturizer from La Roche-Posay and highly recommend Aquaphor Lip Repair for keeping your lips moisturized in the cold Finnish winter!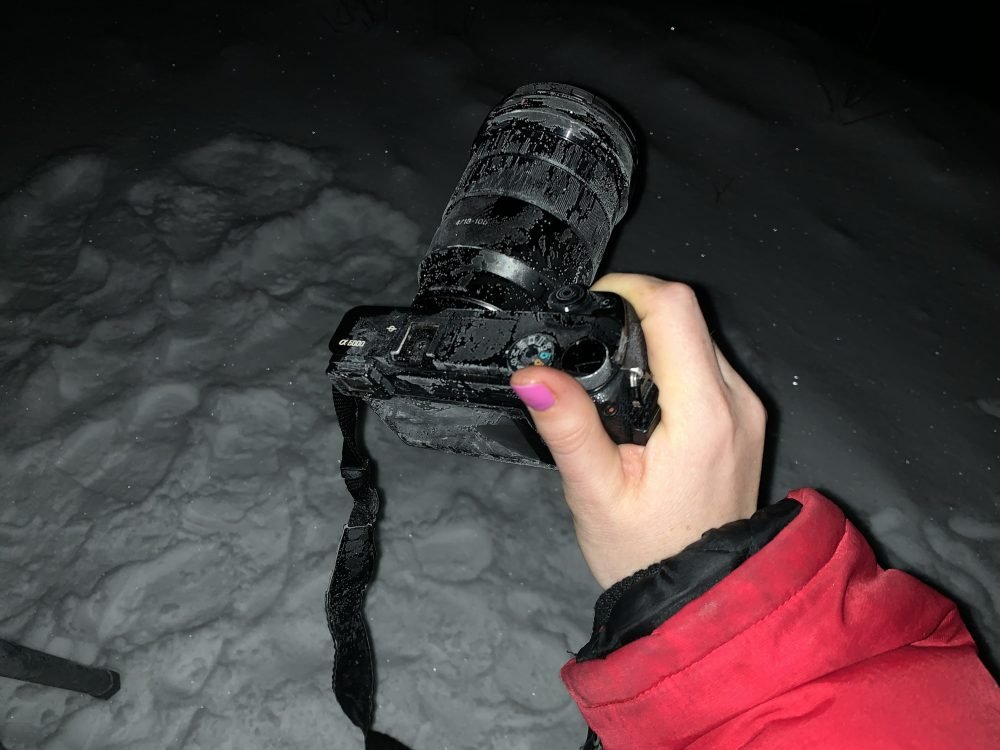 Camera
It's highly likely that one of the reasons why you are going to Rovaniemi in the winter is to see the Northern lights!
Make sure you have a camera with adjustable manual settings – a smartphone won't do if you want proper photos, unless the aurora is insanely strong (and even then, you'll wish you had a camera).
You don't need to be able to do too much, but you do need to be able to manually choose the aperture, ISO, and shutter speed.
I now use a Sony A7 II camera body, which is a step-down from their top-tier full frame camera, but it is still professional grade. Before that, I was using a Sony A6000, pictured above, which is a more affordable option.
Besides your camera body, you'll also want to make sure you have a wide-angle lens (like this one for the Sony full frame series, or this one for the Sony crop sensor cameras).
Additional Camera Gear
If you're snapping the Northern lights, you'll need a few other things in order to get the best shots.
External Battery Pack
As mentioned above, electronics lose battery power much faster in the cold — and that includes your phone!
I highly recommend you bring a portable charger (I actually usually bring two, just in case I get forgetful with charging overnight) with the ability to store enough power to complete 4 or 5 charges.
Anker is a reliable brand for portable battery packs, and it's what I (and most bloggers I know) personally use — I have this one.
Adaptor
Finland uses the standard European outlet, so bring one if you need it, which you will if you're coming from the UK, the Americas, or Asia.
If you don't have an adaptor, here's a universal one that you can use on all your future travels!
Allison Green is a former educator turned travel blogger. She holds a Masters in Teaching and a B.A. in English and Creative Writing. Her blog posts merge her educational background and her experience traveling to 70+ countries to encourage responsible, enriching travel. She has been a speaker at the World Travel Writers Conference and her writing, photography, and podcasting work has appeared in National Geographic, CNN Arabic, CBC Canada, and Forbes, amongst others. Now a full-time traveler, she has lived in Prague, Sofia, New York City, and the San Francisco Bay Area.