Oahu is within the Hawaiian Island chain. It was formed from volcanic eruptions millions of years ago.
Oahu is known for mesmerizing natural beauty — complete with white sands, humpback whale watching, tropical flora, dense jungle and waterfalls.
Oahu is also a culturally rich and historically significant place. It's known for important landmarks that should be on any Honolulu itinerary, like Pearl Harbor and the Iolani Palace.
Visitors can enjoy extravagant luaus, sip Mai Tais, and learn about the island's early Polynesian inhabitants.
Tackling these incredible hikes in Oahu, you'll also experience the island's captivating allure. See its beauty first hand. Visit historically significant locations, and connect with locals.
These Oahu hikes are perfect for backpackers, tourists, and adventurers. These hikes span a variety of skill levels, so there's something for everyone to enjoy!
A Note on Visiting Hawaiʻi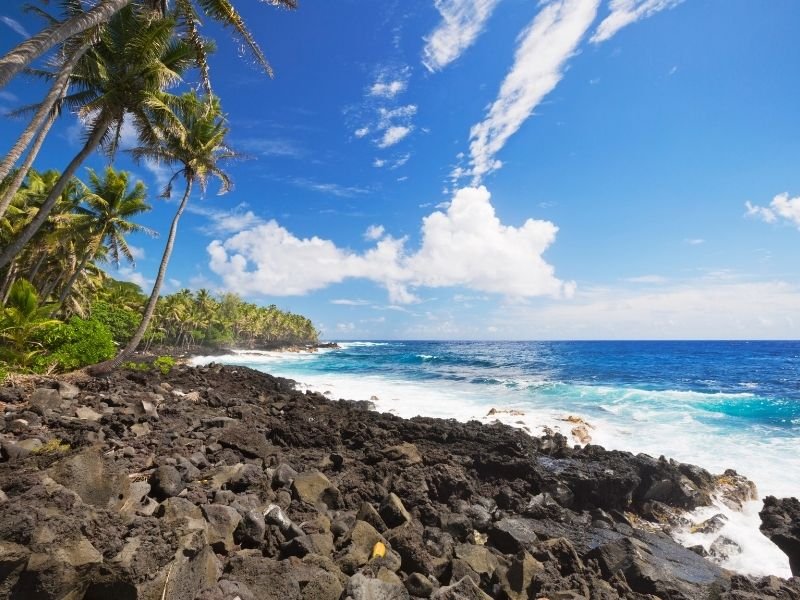 Note: This post contains affiliate links, which means I may receive a small commission if you purchase something through one of these links. Thank you for supporting the free content on this site! For more information on affiliate links and cookies, see my disclosure page for more details.
One important thing to mention about the island of Hawaiʻi is that it is the home to the Kingdom of Hawaiʻi, which is under U.S. occupation.
When you visit this island, be curious and respectful of the Native Hawaiian way of life. The state we now know as Hawaii was forcibly annexed, without treaty or legal right, from the Kingdom of Hawaiʻi.
This island is their ancestral land, and many of the locations mentioned here are sacred to them. Do not take anything from the island, including lava rock. It is said it will bring you bad luck if you do!
If you are respectful, you will have a wonderful time on this island. It is full of magical, intense energy. With the right mindset, visiting the Big Island, the land of aloha, can be transformative.
Move with Aloha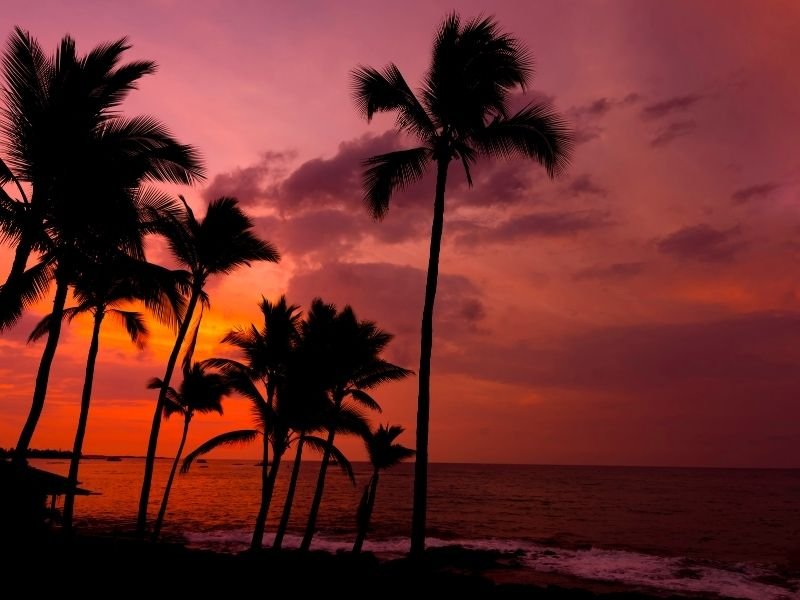 A note on the concept of aloha: Despite what popular culture portrays, aloha is more than just hello and goodbye!
In the Hawaiian language, "Alo" means "presence." "Ha" means "the essence of life." It is an expression of love and understanding that we are all connected to spirit.
When you live with aloha, you live with passion and considerations for the natural world, its creatures, and your fellow humans. Isn't that a great way to be?
So try it out while you move through this Big Island itinerary. I promise you won't regret it, and you may walk away with a new point of view!
Enjoy and move with aloha in your heart during your five days on the Big Island.
5 Best Hikes in Oahu
All of these hikes are impressive in their own way. You'll be guaranteed to enjoy stunning views and natural features. Some of these hikes are very low key, and others are quite challenging.
This guide includes all the information you'll need to pick the hike that's right for you… or enjoy them all!
Diamond Head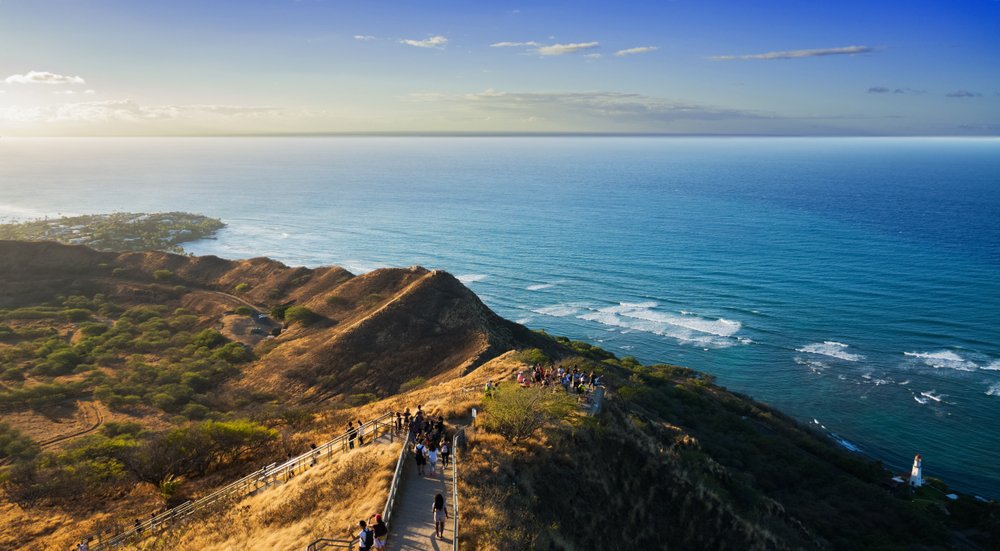 2023 NOTE: A permit is now required to hike Diamond Head.
Diamond Head is one of the top attractions on the island of Oahu. It is a massive volcanic tuff cone located on the island's southern shore.
This crater is over 300,000 years old! Also, the topography you see was all made from one single eruption!
Diamond Head is a short 30-minute bike ride from Waikiki. Waikiki Beach is one of the popular places to stay in Oahu among tourists.
Waikiki is where you'll find all the best shopping, dining and entertainment on the island.
Besides insane geological history, Diamond Head also has a unique military history. The US Government purchased this land in 1905 and built Hawaii's first military reservation here.
The slopes of the crater were used to store guns and ammo.
Some of these tunnels created by the military still remain, and you'll be able to walk through one of them!
You'll also be able to lay eyes on a WWII bunker & the famous Diamond Head Lighthouse.
At Diamond Head, visitors can hike to the edge of this prehistoric volcano. Views from the top are amazing!
Enjoy a 360-degree panorama of the Pacific Ocean and spot the city of Honolulu in the distance.
This out and back trail span 1.8 miles. Along the way, you'll climb some stairs and gain nearly 500 ft in elevation.
This trail is rated moderate in difficulty. It's best to arrive early in the morning because the sun can be unrelenting. There is no tree cover along this path.
Waimea Falls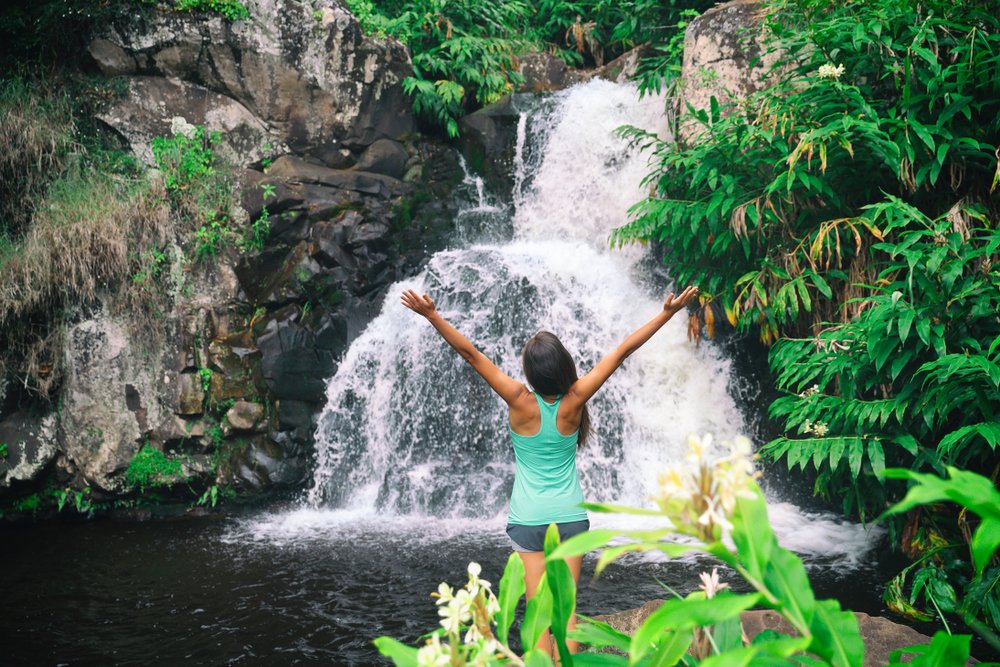 Waimea Falls is a very short and scenic hike. It's perfect for families. This 1 mile out and back path takes you through lush botanical gardens, ending at a waterfall.
Waimea Falls is located on Oahu's North Shore. This place has an interesting history as well.
In the past, it was an community entertainment venue where locals would come to watch cliff jumpers and hula dancers.
Today, Waimea Falls is still a cultural hub. Make sure to check their schedule for workshops, activities and classes offered.
It's a great place to learn more about Hawaiian culture and history.
Once you hike to the waterfall, you will be provided with life jackets. This is one of the few waterfalls in Oahu that you are able to swim up to!
Jump in and enjoy the surrounding jungle views!
Manoa Falls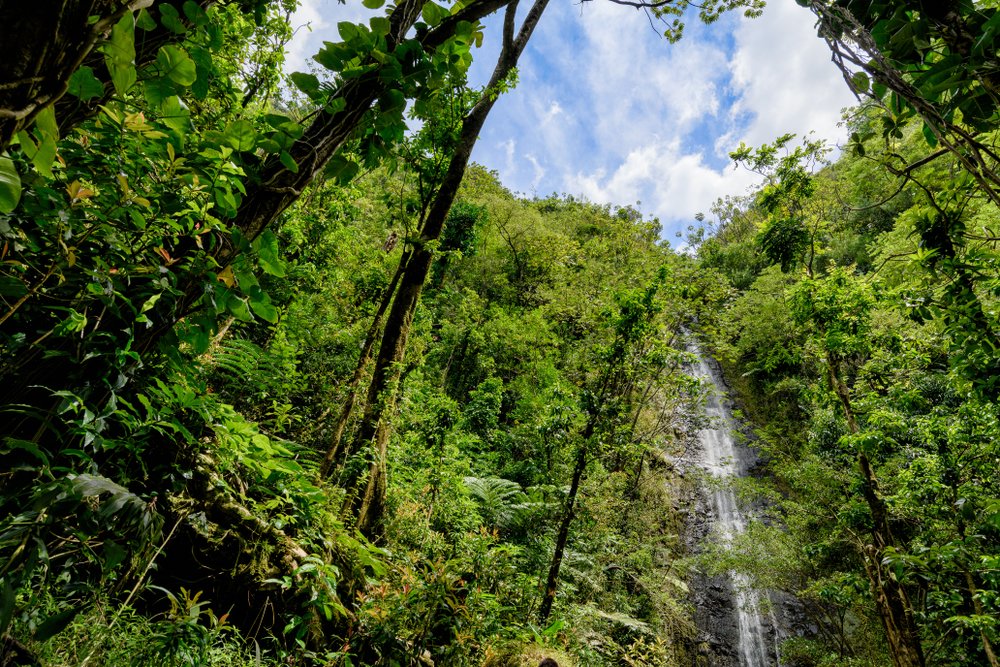 Manoa Falls is one of the most captivating waterfalls in Oahu!
The water falls over 150ft over the edge of the mountainside. It's a popular hike among tourists and locals alike.
It's a 1.7 mile out and back trail that's rated moderate. You gain over 600 ft in elevation.
The trail can be a bit slippery and muddy, so be sure to wear appropriate attire and shoes. Along this hike, you can spot guava, bamboo and eucalyptus plants! It takes most people about 30 minutes to reach the falls.
Disclaimer: This is not a waterfall you can swim in! There are some big slippery rocks in the pool and some microbes that can cause disease.
When visiting Manoa Falls, be sure to check out the nearby Lyon Arboretum.
Makapu'u Point Lighthouse Trail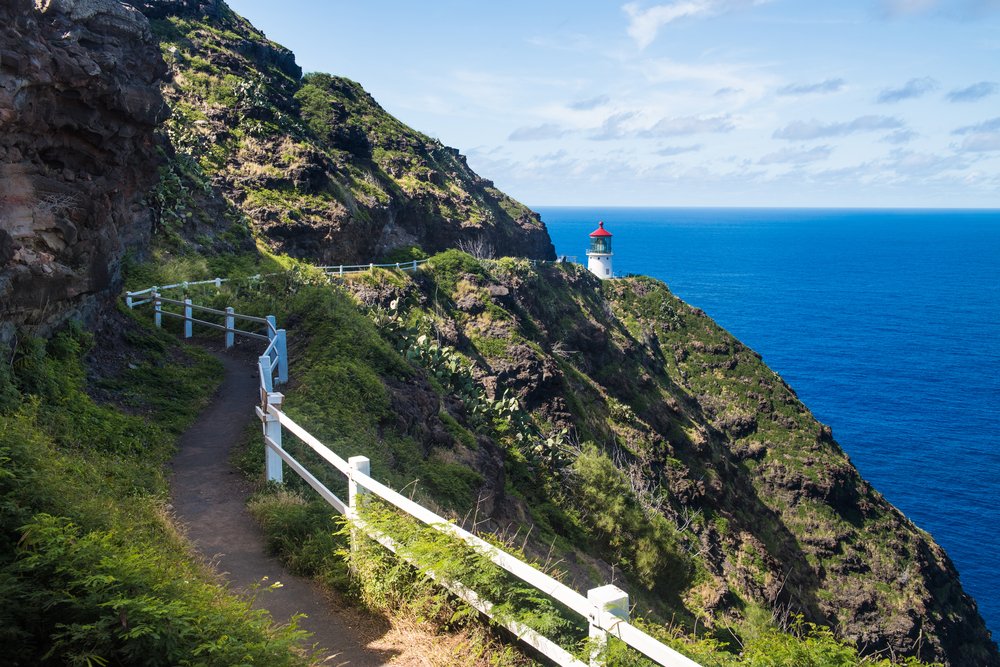 The Makapu'u Point Lighthouse Trail is one of the most scenic hikes in Hawaii.
It's a 2 mile round-trip trek that offers panoramic views of Oahu's southeastern shoreline. Along your hike, you'll be able to catch glimpses of the Koko Crater and Koko Ridge.
The trail's namesake is the Makapu'u Lighthouse. This historic lighthouse was built in 1909 and displays an iconic red roof.
It has the largest lens of any lighthouse in the United States, and it's been listed as one of America's Historic Places.
Makapu'u Point is the southeasternmost point on Oahu. Before the lighthouse was built, this area was vital to maritime commerce.
When the lens for this lighthouse was created, it was an engineering and technological marvel. It was displayed proudly at the World's Columbian Exposition of 1893.
During your hike, you'll be able to see beautiful views of this distinct lighthouse, and postcard perfect pictures!
On a clear day, you may even be able to see to Moloka'i and Lana'i.
Just offshore of the hiking trail, there are many nature sanctuaries including a bird refuge. You can also spot migrating whales! This is a place where you'll want to bring your binoculars.
There's not much shade along this trail, so make sure to bring a hat and sunscreen!
Koko Stairs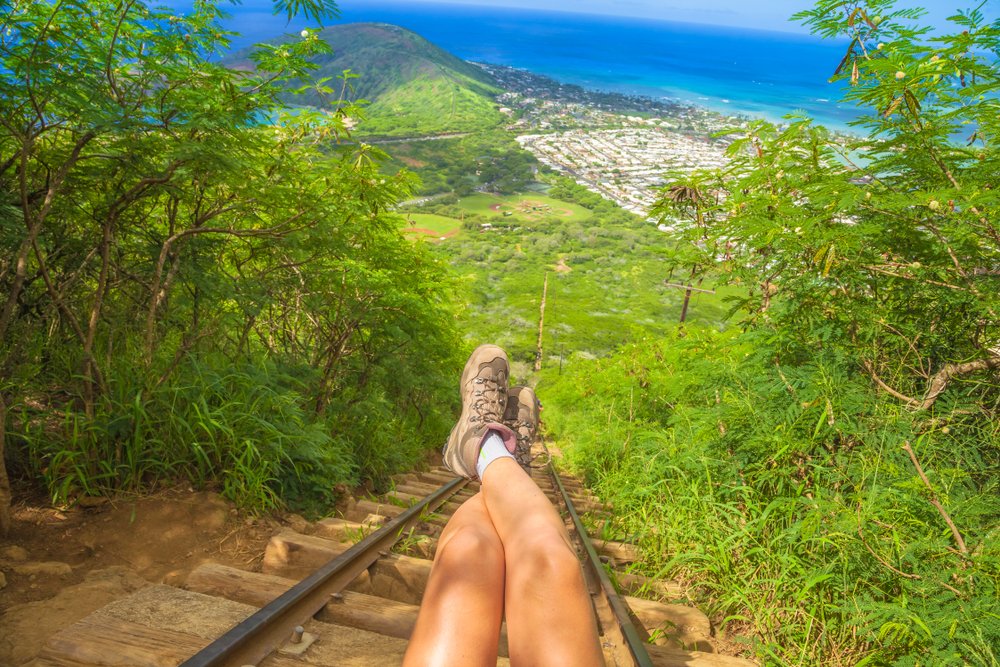 The Koko Stairs are also called the 'Koko Crater Trail.' It's a challenging hike that involves climbing up 1,000 stairs! Seriously.
This trail is rated difficult and it's 1.8 miles total out and back. Hikers will gain nearly 1,000 ft in elevation during this climb!
The Koko Crater is another volcanic tuff cone.
The "stairs" aren't really stairs. It's actually an old railroad line that's been attached to a hillside. One could easily twist an ankle here! So, please bring appropriate footwear.
These stairs also have ties to military endeavors during WWII. They were built to lead up to one of the famous Pillbox bunkers.
At that time, a railway was used to carry essentials up to the bunker.
It's usually easy to find parking at the base of this hike. It starts off pretty easy, but gets progressively more challenging as you climb.
There is also one scary area where you will have to pass over a questionable bridge. Although, alternative route options are available for hikers wanting to skip that part.
Although, you'll be graciously rewarded at the top. Soak in the mesmerizing views of Hanauma Bay and the Port Lock Peninsula! Make sure to take plenty of breaks and to pace yourself on the way to the top. There is limited shade on this hike.
Author Bio
Valentina's Destinations was born from my obsession with meticulously researching, organizing, and planning my travel itineraries. I'm originally from Serbia, but I grew up in Chicago. I love hunting down local restaurants, unique experiences, and hidden gems.
You can follow my adventures on Facebook, Instagram, and Pinterest.
Pin These Oahu Hikes!
Allison Green is a former educator turned travel blogger. She holds a Masters in Teaching and a B.A. in English and Creative Writing. Her blog posts merge her educational background and her experience traveling to 70+ countries to encourage responsible, enriching travel. She has been a speaker at the World Travel Writers Conference and her writing, photography, and podcasting work has appeared in National Geographic, CNN Arabic, CBC Canada, and Forbes, amongst others. Now a full-time traveler, she has lived in Prague, Sofia, New York City, and the San Francisco Bay Area.