There's nothing more incredible than seeing whales out in the wild, and Hawaii is one of the few places where you can see one of the most majestic whales of all: the marvelous humpback whale.
These stunning whales migrate all the way from their feeding grounds in Alaska to bask, breed, and calve in the warm waters of Hawaii, making the longest migration journey in the world!
Seeing baby humpback whales with your own eyes is a rare and magical experience you can have in few places around the world, and Hawaii just so happens to be one of the best places in the world to do it.
So what are you waiting for? Be sure to add a whale watching tour to your Honolulu or Oahu itinerary: it's simply unmissable if you are visiting in the winter months when the humpback whales come to frolic in the waters off of Oahu.
Here's everything you need to know to book your whale watching tour today!
FAQs About Whale Watching in Oahu, Hawaii
When can you see whales in Oahu?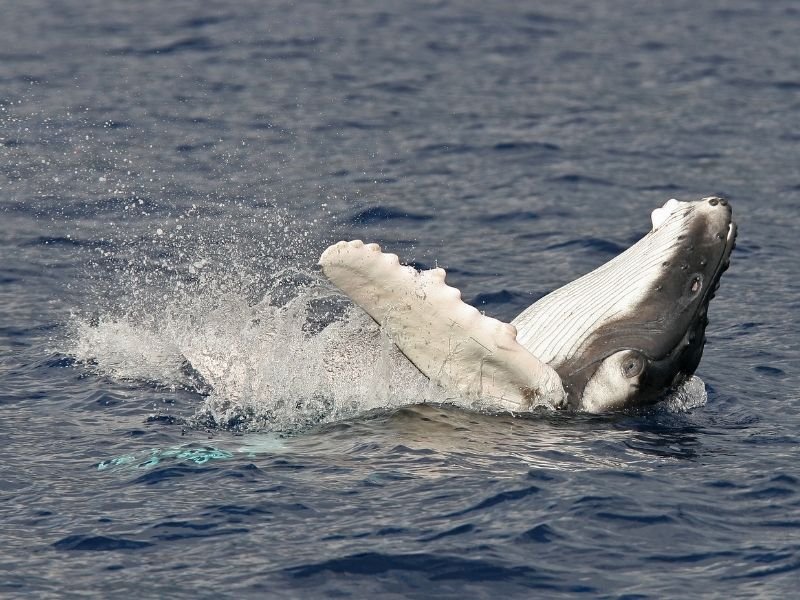 Note: This post contains affiliate links, which means I may receive a small commission if you purchase something through one of these links. Thank you for supporting the free content on this site! For more information on affiliate links and cookies, see my disclosure page for more details.
Oahu whale watching season runs from December through May, when humpback whales migrate to the warm waters around Oahu and the other Hawaiian islands to breed and give birth to new whale babies (calves).
The North Pacific Humpback group of whales that migrate to Hawaii each year number some 20,000 whales strong!
I visited Oahu at the very beginning of March and was lucky enough to see a baby humpback whale no older than 12 hours old, swimming alongside its protective gentle giant mama!
Which Hawaiian island is best for whale watching?
Both Maui and Oahu are considered to be the best islands for whale watching — I've written about Oahu here as that's where I most recently did my whale watching cruise.
Humpback whales tend to love the area around Maui and its nearby islands of Lanai and Molokai, where the water is quite shallow in Auau Channel.
The humpback whales also enjoy the calm and warm waters around the West Shore of Oahu up through the Windward Coast.
They tend to congregate often around Waianae and Honolulu, which is where most of the Oahu whale watching cruises depart from.
What is the best month for whale watching in Hawaii?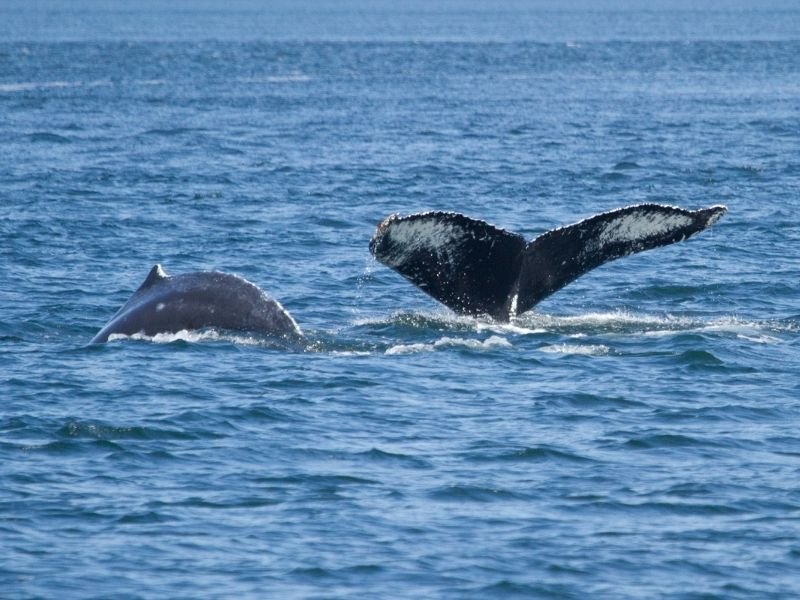 While the whales will be in the area roughly between December and May, the season does shift a bit.
After all, whales aren't following a calendar like we are — they arrive based on the water temperatures, and the time they leave is also dependent on that.
It's all but certain that if you visit Hawaii in the late winter months of February or March, you will get to see humpback whales on your whale watching cruise.
In fact, many companies even offer a whale sighting guarantee and will let you rebook your tour if you are not able to see a whale on your cruise!
What are some of the best spots for whale watching in Oahu?
The better spots for whale watching in Oahu are located along the West Shore of Oahu and the area around Waikiki, Honolulu.
These areas offer more whale watching cruises than other spots in Oahu such as the North Shore and Haleiwa area, because the waters are much calmer on the West and South Shore.
What time of day are whales most active in Oahu?
Whales are active throughout the day, with a little more activity around sunrise and sunset.
Generally, you'll have an equal chance of seeing whales on a morning tour or an afternoon tour.
However, morning tours tend to have slightly better lighting conditions for whale watching, as well as calmer waters, so they tend to be a little more popular.
What should I pack for whale watching in Oahu?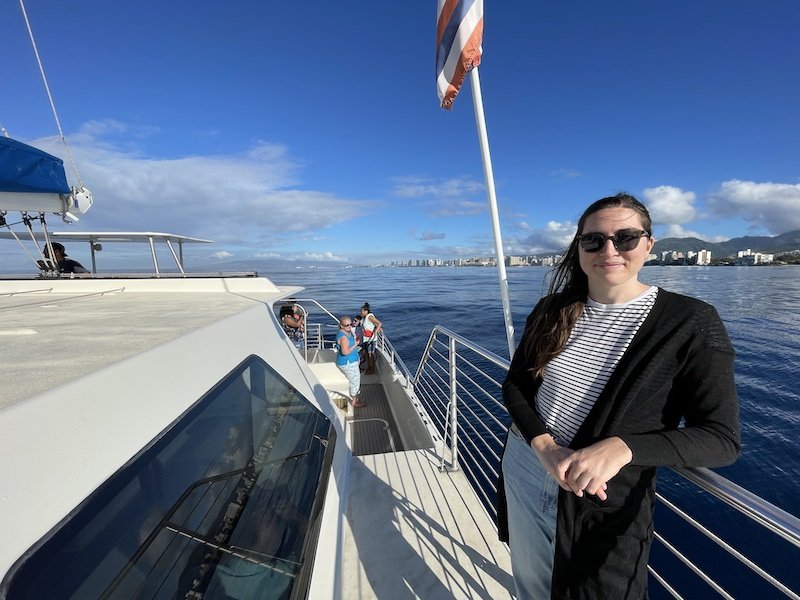 A whale watching cruise is generally just 2-3 hours long, but you'll want to make sure you're prepared for it. That means:
Dramamine if you are prone to motion sickness like I am
Binoculars if you want to see the whales even more closely
Sunglasses to help reduce glare and help you spot whales
A warm layer in case the ocean is a little windy when you get out there
What types of whales can you see in Oahu?
The main reason people go whale watching in Oahu is to see the majestic humpback whale (koholā in the Hawaiian language).
There are other whales, though, that live in the waters off the shores of Oahu year-round!
The next most common whale you might see is the Short-Finned Pilot Whale. However, despite their name, these marine mammals are actually members of the dolphin family.
Other possible dolphin and whale sightings include Cuvier's Beaked Whales, Pygmy Killer Whales, and False Killer Whales (true orca sightings are extremely rare — maybe one or two in a decade!).
And of course, Hawaiian spinner dolphins are a common sight that you might see at any time of year!
What if I'm not visiting Oahu during whale watching season?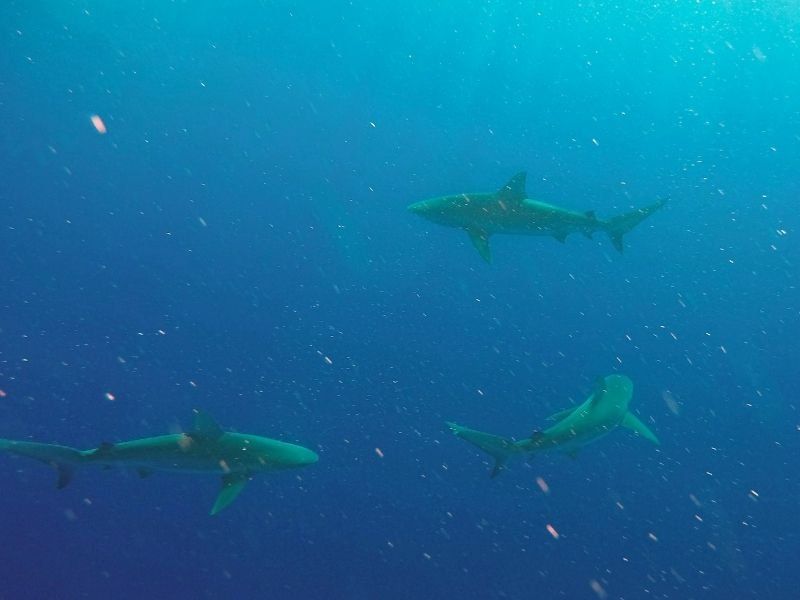 If you're missing the whales, there are still other ways you can experience the wonderful thrill of ethical wildlife ecotourism.
There are dolphin excursions year-round (this one includes a snorkeling stop), since the dolphins call the Hawaiian waters home all year.
Another ocean adventure you can experience in Oahu no matter the time of year is shark diving — either in a cage or free-swimming!
Other options include learning how to SCUBA dive, taking a sunset cruise, enjoying a snorkeling tour, etc.
My Recent Oahu Whale Watching Experience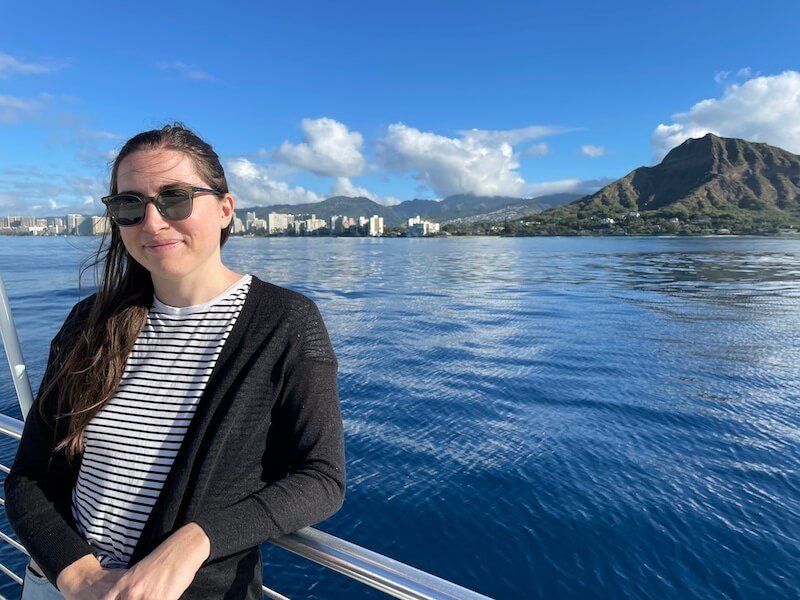 I did the morning tour with Hawaii Nautical and it was one of the best whale watching experiences I've had in my life — and I've gone whale watching in several countries all around the world!
We took an Uber from our hotel in Waikiki Beach to the Kewalo Basin Harbor, located next to Ala Moana Beach Park, for about $10 since we didn't feel like a long walk.
We arrived about 20 minutes early to complete check-in, and once we all checked in, we were able to board the catamaran.
I was a bit nervous as I can get really seasick, but I had prepared myself with Dramamine beforehand and I was fine for the entirety of the 2-hour whale-watching tour.
I relaxed on the hanging nets of the catamaran with pineapple juice and Goldfish in hand, enjoying the free drinks and snacks that the tour offered.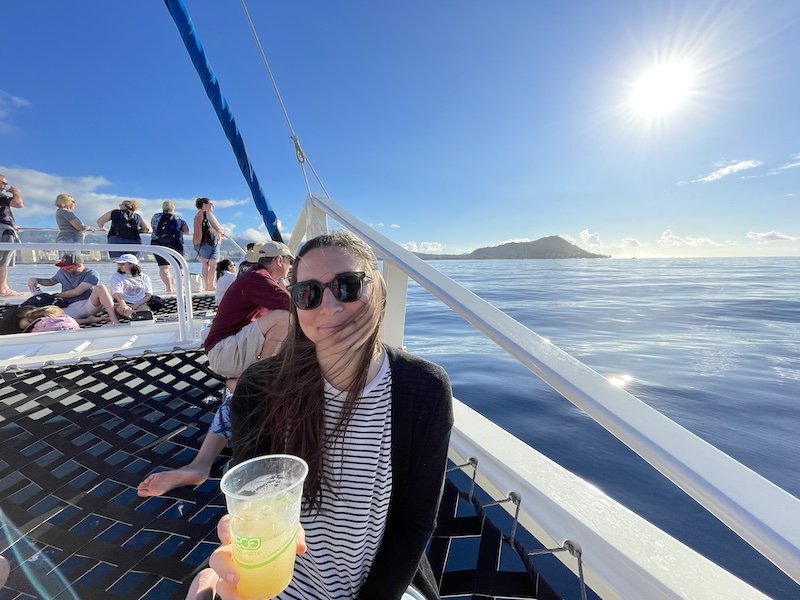 (Alcoholic drinks are also included, if you feel like getting plastered at 8 AM — I was responsible and opted for pineapple juice)
Before we even got to see the whales, I was loving sightseeing from the boat tour, admiring the views of the Waikiki skyline and Diamond Head crater from the water.
… but of course, that all paled in comparison to the humpback whales we eventually saw!
At first, we didn't see much more than the mother whale and her telltale spouts and dives where she flashed her tail.
But soon, we realized that she was with a newborn baby humpback whale.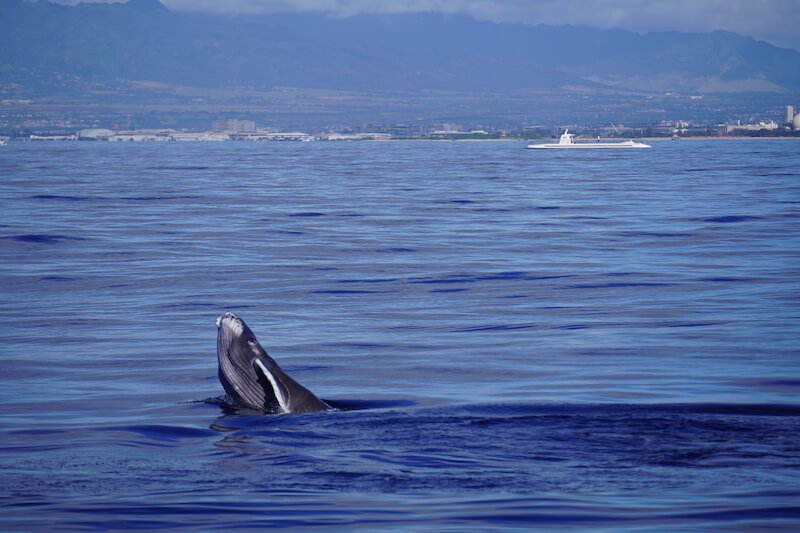 And when I saw newborn baby…. I mean our whale watching guides estimated his age at 6 hours to 12 hours old.
For a newborn, he was huge, active, and playful, dancing around and flopping on his back dramatically, already practicing his breech.
We watched this duo for the entirety of our tour, keeping an ethical distance and occasionally maneuvering the boat to get slightly closer before turning the engine off to allow them to approach closer to the boat if they wanted.
I would estimate that the whales passed within a mere 15-20 feet of our boat, which was pretty spectacular to see!
What to Expect on an Oahu Whale Watching Tour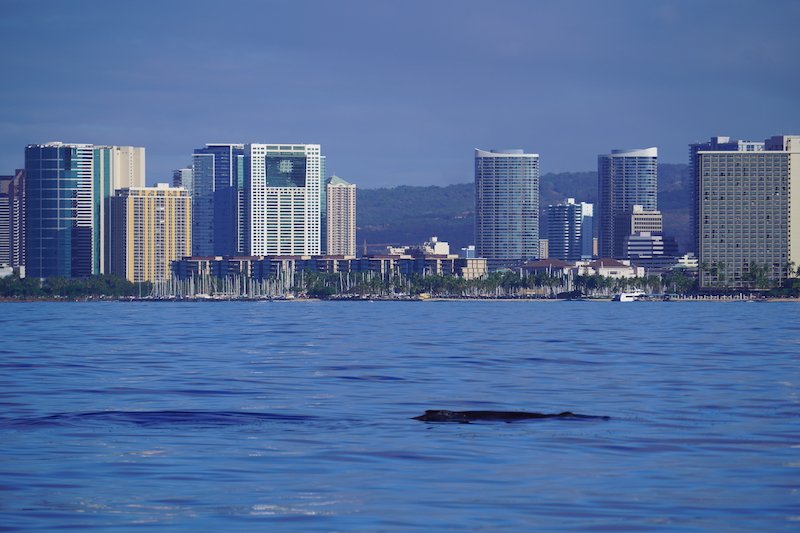 If you're visiting Oahu in February or March, you are practically guaranteed a whale sighting!
Some tours will even offer a sighting guarantee, allowing you back on a later tour if your tour was unlucky and didn't get to see whales.
While my whale watching tour was super magical in that I was lucky enough to get to see a baby humpback whale, keep in mind this isn't guaranteed.
More often than not, you will see mama whales just going about their business, which typically means only seeing their backs, their spouts, and their tails before they dive down.
Female whales don't breach quite as often as their male counterparts, but they can sometimes do so, especially if they are trying to teach their young ones to breach!
Male whales are more likely to be seen breaching, but you can't be certain what kind of whale you'll encounter on a whale watching tour.
I've taken probably a half dozen whale watching tours in my life, and I've never been lucky enough to see a full-grown whale breach, so don't expect this and be surprised and delighted if it happens!
Best Oahu Whale Watching Tours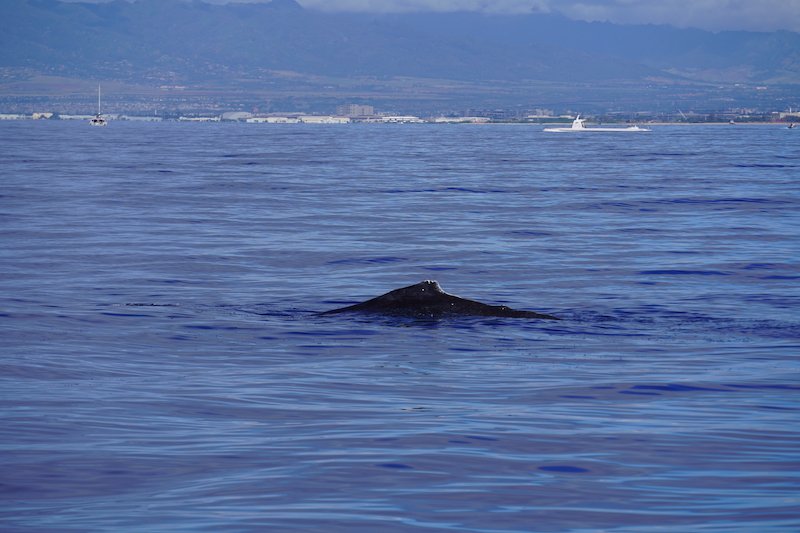 There are so many Oahu tours that it can be overwhelming to decide on what you want. A few things to keep in mind are:
Do you want whale watching only, or do you want other options included (such as snorkeling or lunch)?
Do you want a tour that offers a whale watch guarantee, where you are rebooked on a later tour if your tour doesn't see whales?
Do you have a rental car or do you need transportation to your whale watching excursion?
Answer those questions first, and you'll be able to pick between all the Oahu tour options a little more easily!
Below, I'll break the tours into two sections: tours departing from Honolulu & Waikiki and tours departing from West Oahu (Waianae area)
Honolulu & Waikiki Whale Watching Tours
Eco-Friendly Catamaran Cruise with Hawaii Nautical (1.5 Hour Morning & Afternoon) – Book Here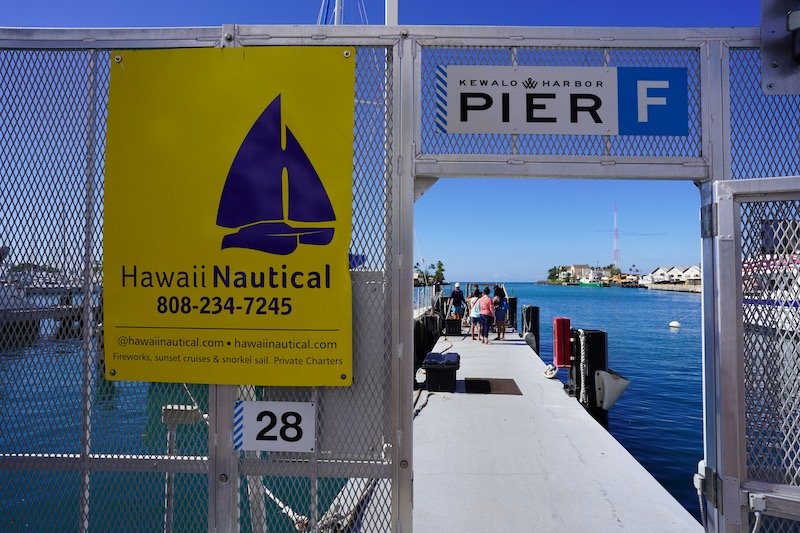 Quick Highlights: Most affordable catamaran cruise option, located central to most Waikiki hotels; shorter tour (90 minutes), morning option
Note: Even though this tour is listed as an 'afternoon' on the website, there is also a morning option at 8 AM!
This is the exact whale watching tour I did on my trip to Oahu and I can't recommend it highly enough!
We sailed out on a beautiful catamaran and had 90 minutes to spend with these gentle giants. The crew was wonderful and they kept the drinks and snacks flowing!
If you're looking for a whale watching tour in Honolulu on a budget, this is the one for you. Just disregard the 'afternoon' tour and know that you can book it at either 8 AM or 3 PM.
Eco-Friendly Catamaran Cruise with Hawaii Nautical (2 Hour Afternoon)- Book Here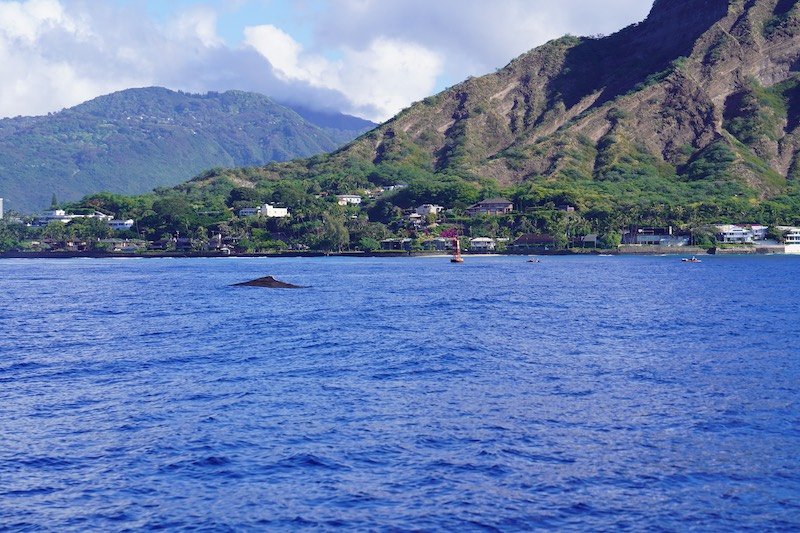 Quick Highlights: Catamaran cruise, afternoon only, still budget-friendly but a little more expensive than the above tour as it is 30 minutes longer
This is the same company that I went with on my whale watching tour, but this tour differs in that it is only offered in the afternoon and it is 2 hours in length as opposed to 90 minutes.
Other than that, I expect everything about this tour would be the same as the tour described in detail above!
Whale Watching Tour with Hula Show – Book Here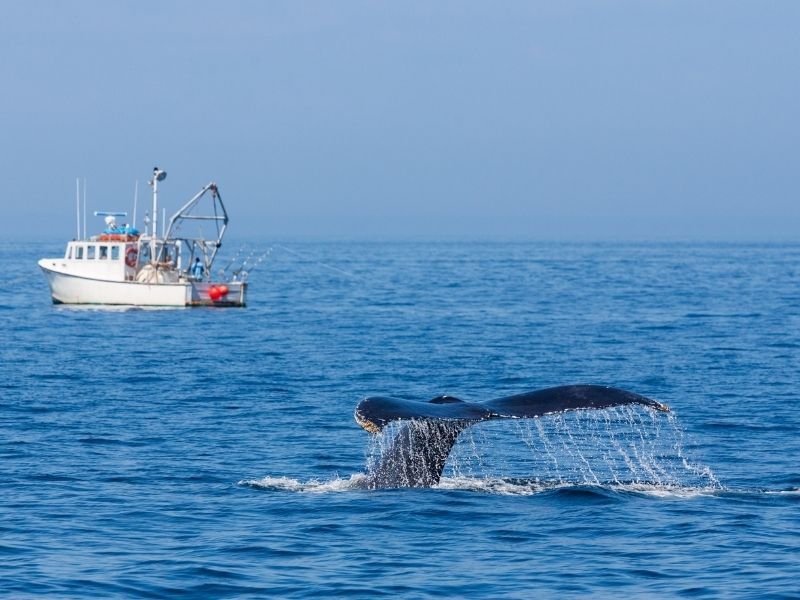 Quick Highlights: Hula Show & E Ho Mai ceremony to add a Hawaiian cultural experience to whale watching
This unique morning whale watching tour combines a hula show with a whale watching experience so you can tick off two items on your Oahu bucket list at once!
Ride on a marvelous double-decker boat on this two-hour whale watching cruise, learning from the crew about the history of humpback whales in Hawaii, including how they went from endangered to thriving.
This tour also is unique in that it includes the E Ho Mai ceremony, a Native Hawaiian chant that prays to the sea gods for a safe trip and the ability to see the whales.
After you enjoy your whale watching experience, you can watch a brief hula show on your way back to Honolulu.
A light breakfast of pastries and beverages is included in your tour.
Bonus: This boat has a cool hydrophone (microphone that can hear underwater) so you can listen to the whale songs if they are close enough!
West Coast (Waianae) Whale Watching Tours
West Oahu Whale Watching Tour – Book Here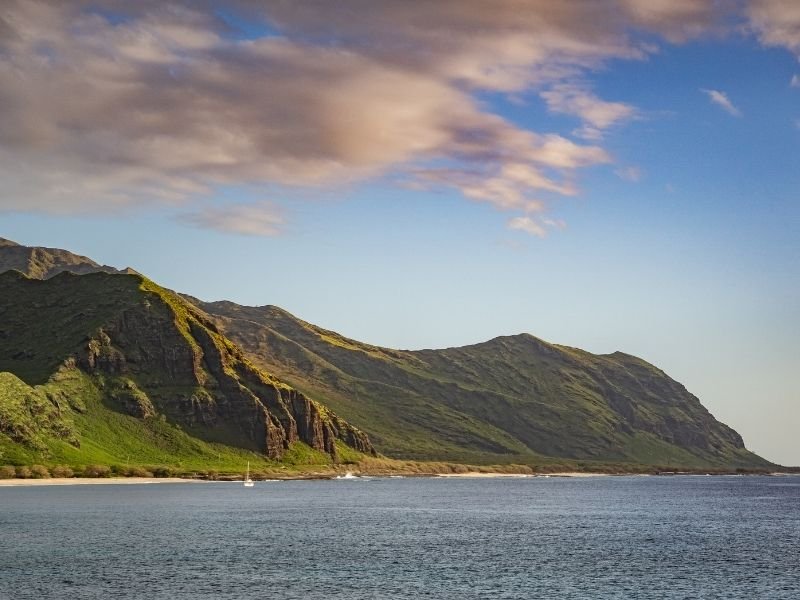 Quick Highlights: Small group (24 maximum people) with a sighting guarantee; cheaper option
Leaving from Wai'anae Small Boat Harbor or Ko Nau Lani depending on the day, this West Oahu whale watching tour is a great choice for those who aren't looking to snorkel and just want to focus on whale watching.
This small group tour has a maximum capacity of 24 spots, on a boat that can fit 40 people, so you're guaranteed a good view without having to hustle too hard to get a good angle like you do on some boat tours.
Plus, they offer a whale watching guarantee, so if you are not able to see whales you can rebook on another tour for no additional charge.
Waianae Coast Small Group Snorkeling & Whale Watching Tour with Dolphin Excursions – Book Here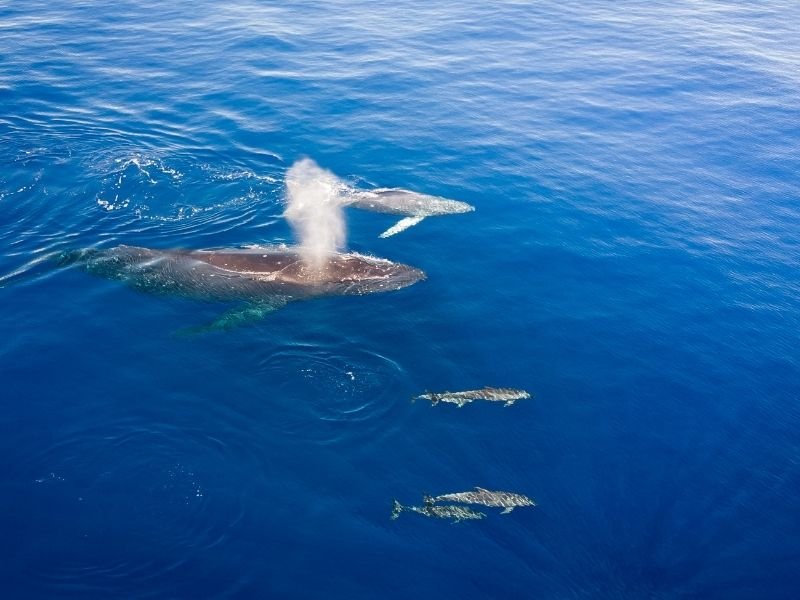 Quick Highlights: Smallest group (15 maximum people) and marine biologists on board; snorkeling
This extremely small group whale watching tour departs from Waianae Small Boat Harbor, so you'll need a rental car to get here unless you are staying in Waianae (transportation is not offered with this option).
This 3-hour tour includes a scenic cruise in a small boat (groups no larger that 15 people — so everyone has a great view), traveling along the West Coast of Oahu alongside spinner dolphins and humpback whales.
This tour is primarily a snorkeling tour, which allows you the opportunity to snorkel with Hawaiian green sea turtles and all sorts of tropical fish, but if humpback whales are spotted, the tour will stop to observe them!
Snorkeling equipment (including prescription masks for those who need vision correction) is provided and if you get cold easily, wetsuits can be rented for $10.
The great thing about this tour is that you are led by marine biologists and naturalists who really know the area, so they can tell you all sorts of facts about the animals.
Be sure to check in 30 minutes before your departure time to allow for a smooth process!
Whale Watching, Snorkeling & Buffet with Ocean Joy Cruises – Book Here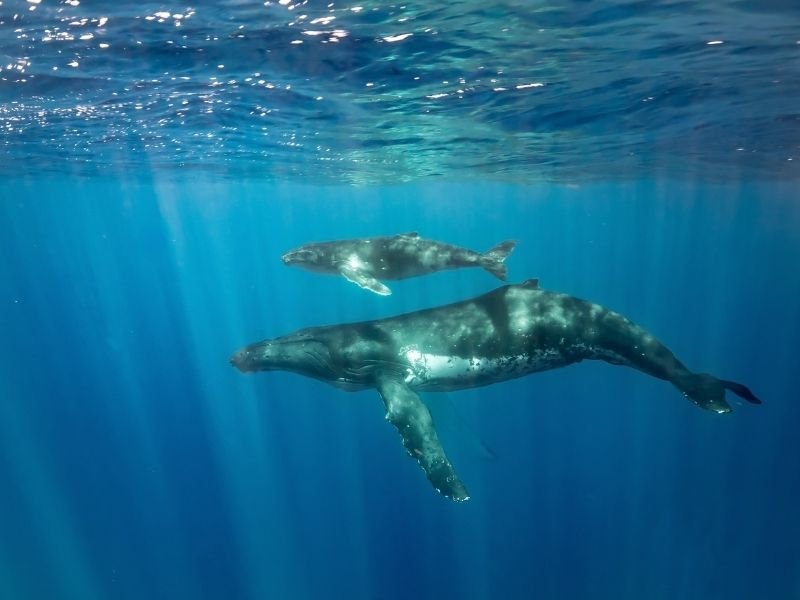 Quick highlights: Catamaran cruise with snorkeling stops and buffet; transport option
Gliding aboard a 60-foot-long catamaran, this 3.5 hour whale watching cruise starts in Ko Olina Harbor and makes its way north along the Waianae coast of Oahu, looking for whales, wild dolphins, and Hawaiian green sea turtles (honu) as you go.
There are three daily departures — morning, afternoon, and sunset — so you can pick what works best for your schedule.
However, morning usually has the best light and calmest waters, and is well timed to enjoy the included buffet lunch, so this is what I recommend.
This tour includes a stop where you can enjoy an hour of snorkeling at a secret spot away from crowds off the shore of Oahu.
You'll get to see colorful coral reefs and brilliant tropical fish and other marine life underneath the sparkling blue waters.
Snorkeling gear is included in the coast of the tour if you did not bring your own equipment.
After snorkeling, you can take a quick rinse in the freshwater shower and then enjoy a traditional buffet lunch with options like kalua pork as well as cocktails, beer, wine, or non-alcoholic drinks.
If you have a rental car, you can drive to the Ko Olina Harbor in Kapolei, HI (about an hour drive) or you can opt for pick-up and drop-off at your hotel in Waikiki for an additional $25 per person.
Fun Facts About Humpback Whales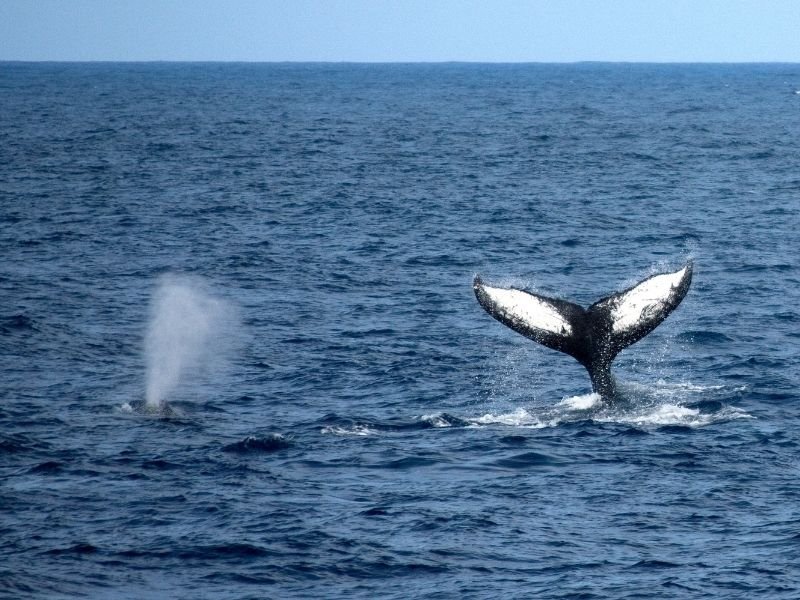 If you want to know more about these gentle giants — or if you want to impress your travel companions with some knowledge about humpback whales, here are some incredible facts about humpback whales!
Their tail patterns are so distinctive that they are as unique as a human fingerprint and are used to identify them.
Humpback whales have the longest migration in the world, up to 5,000 miles long!
During feeding season in places like Alaska, a humpback whale will eat up to 2,000+ pounds of food in a single day in order to build up its blubber reserves.
Only males sing songs, and each year, the song will change slightly, until it is eventually the same song sung by all males in the same area — an area that can be thousands of miles apart!
Whale songs typically are 10-20 minutes long and are repeated for hours at a time!
Allison Green is a former educator turned travel blogger. She holds a Masters in Teaching and a B.A. in English and Creative Writing. Her blog posts merge her educational background and her experience traveling to 60+ countries to encourage thoughtful travel experiences that both educate and entertain. She has been a speaker at the World Travel Writers Conference and her writing, photography, and podcasting work has appeared in National Geographic, CNN Arabic, CBC Canada, and Forbes, amongst others. Now based in the San Francisco Bay Area where she grew up, she has also lived in Prague, Sofia, and New York City.