While every one of the Hawaiian islands offers something special, Oahu is the one that really feels like it has it all.
A thriving metropolis, delicious food culture, incredible history, and of course — amazing beaches, hikes, and landscapes everywhere you look when you visit Oahu.
This post outlines a Honolulu itinerary for a short trip to Oahu that only stays in the general Honolulu area.
This post has you based in the Honolulu neighborhood of Waikiki; itinerary wise, Waikiki makes a fantastic base as it's very central to a lot of Honolulu activities you'll want to do, and many tours offer pickup from Waikiki hotels.
How This Honolulu Itinerary Works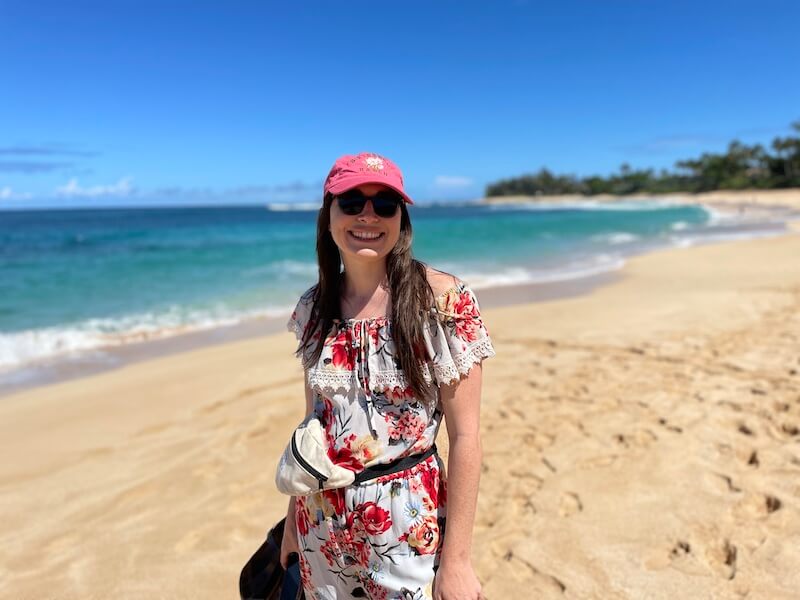 Note: This post contains affiliate links, which means I may receive a small commission if you purchase something through one of these links. Thank you for supporting the free content on this site! For more information on affiliate links and cookies, see my disclosure page for more details.
This Honolulu itinerary assumes you have 2 days in Honolulu and are flying in and picking up a rental car.
I have a one week in Oahu itinerary that covers more of the island as a road trip, including places like the North Shore and Windward Coast.
However, this post will focus on the immediate area around Honolulu, and in particular, Waikiki.
That means snorkeling excursions, Waikiki Beach, sunset cruises, a bit of the Windward Coast, and more.
At the end of this Honolulu itinerary, I'll include recommendations for if you have 3 days in Honolulu (or more!) on how you should extend this itinerary for Honolulu.
Where to Stay in Honolulu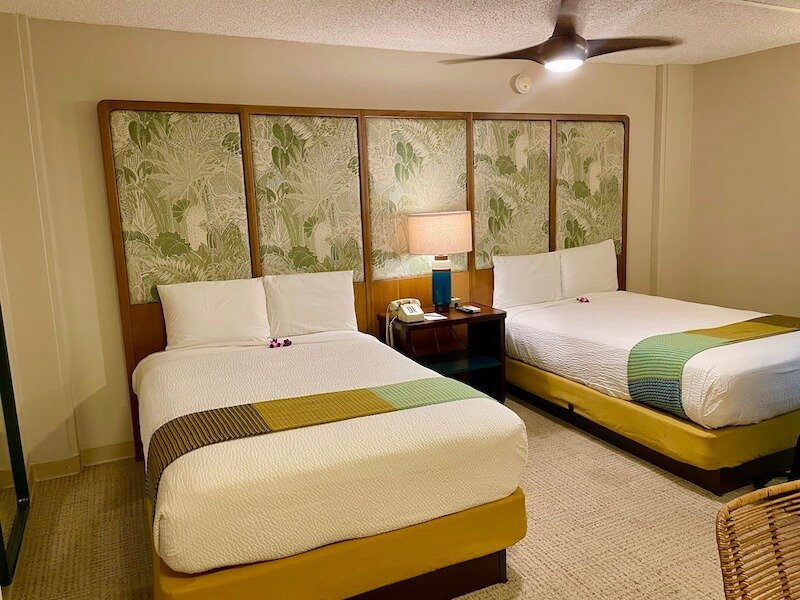 For the purpose of this Honolulu itinerary, I suggest staying in Waikiki. It has the most food and accommodation options, and the neighborhood is safe and vibrant at all hours of the night.
Some areas of Honolulu are not quite as nice for tourists, but Waikiki is definitely a safe bet.
BUDGET | White Sands Hotel: During my Waikiki itinerary I stayed at White Stands Hotel and I can certainly recommend it for the price.
It is one of the more affordable Waikiki accommodation options, but I didn't feel like it was missing much (except perhaps breakfast, which would have been nice to have included!)
The White Sands Hotel is the only walk-up hotel remaining in Waikiki (aka no elevators), and it has a vintage feel that remains charming through its retro yet updated detail and design.
I loved the central pool area, which was very modern and photogenic, and a great place to relax in between activities on our packed Honolulu itinerary.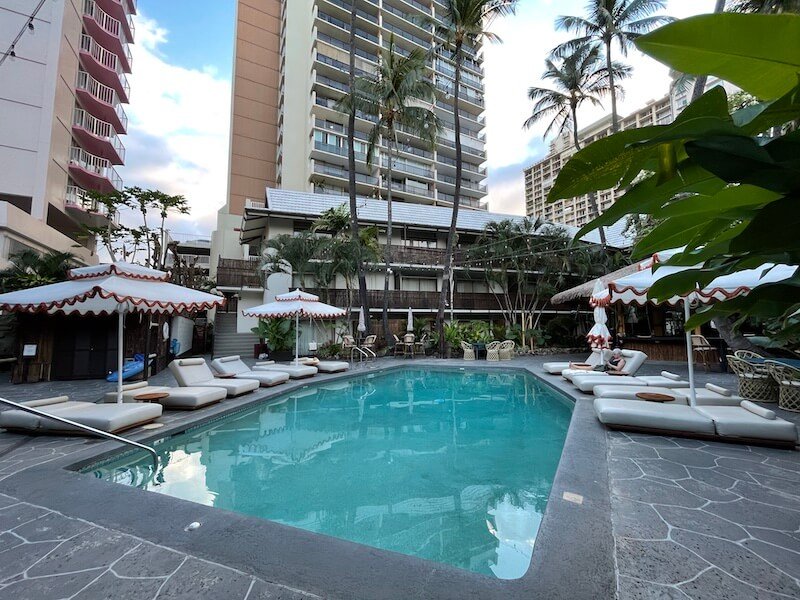 BOUTIQUE LUXURY| Moana Surfrider: This stunning beachfront hotel is one of the best options for where to stay on your Waikiki itinerary because it is central and has amazing views everywhere you look.
The architecture is ornate and exquisite — it is definitely one of the most impressive hotel exteriors in all of Oahu, and the inside is just as beautiful!
I especially loved the outdoor areas, centered around a huge banyan tree, with a beachfront veranda restaurant and outdoor pool, all opening up to Waikiki Beach. It doesn't get much better than this!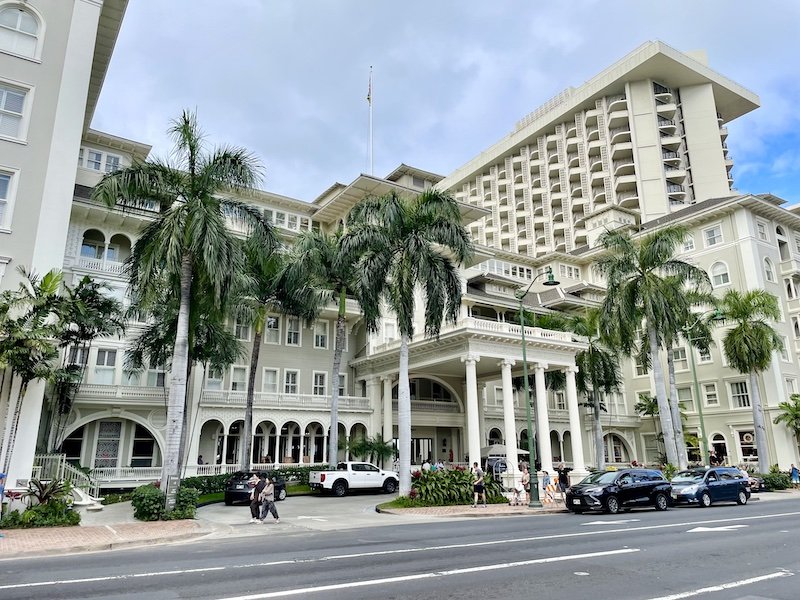 RESORT LUXURY | Halekulani: For a totally upscale, honeymoon-worthy Honolulu resort stay, it doesn't get much better than Halekulani. It has stunning views of Diamond Head yet it is also located on Waikiki Beach: the best of both worlds!
The resort is like a mini world unto its own: several restaurants, a jazz lounge, a spa center with Polynesian wellness offerings like lomi lomi massage, and so much more for guests to enjoy.
The rooms are luxurious with welcome treats, private lanais in every room, marble bathrooms, soaking tubs, rain showers, and of course — incredible views!
What to Pack for Honolulu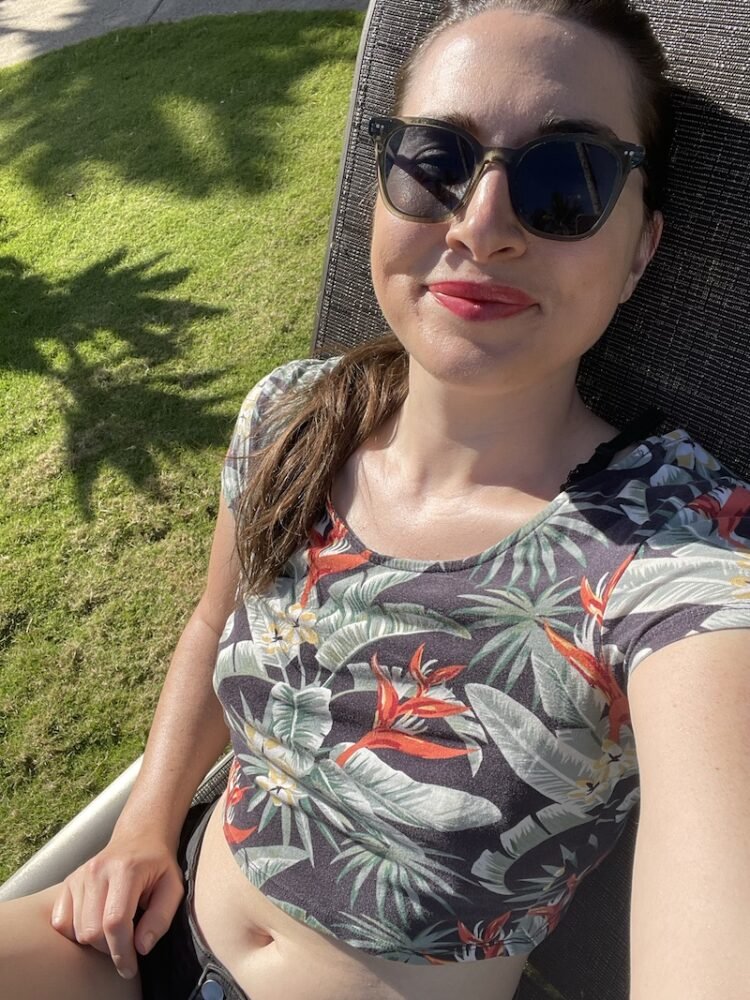 Reef-safe sunscreen: Not only is reef-safe sunscreen the right thing to do for the environment, it's also the law in Hawaii! I use SunBum SPF 50 sunscreen which is both octinoxate and oxybenzone free. I recommend using the non-aerosol version which is better for the environment, and you!
Sunhat and scalp sunscreen: RIP my scalp on this trip, because I forgot both. Learn from my mistakes… literally, that's why bloggers exist, to mess up our trips and admit it and you can learn from all the ways we f***ed up. A foldable sunhat like this one is still cute, but less high-maintenance than other sunhats that can't be packed or folded. Also bring some scalp sunscreen like this one (which is also reef-safe!)
Travel beach towel / sand-repelling mat: I hate traveling with a traditional beach towel. They get sopping wet and collect sand like a mofo and basically just drive me insane. They're only a small fraction better than not having one at all. Enter your travel beach mat! Microfiber beach towels double as a sand mat and travel towel, and they're sand-repelling and dry in a flash, even in the Oahu humidity. Plus they come in adorable prints!
Camera or smartphone: Obviously you'll want to bring an awesome camera for photographing Oahu as best you can! I use a combination of my smartphone (an iPhone 12) and my Sony A 7II when I travel. Bring a versatile zoom lens if you're bringing a proper camera as that's the one you'll end up using most!
Protective case for your smartphone: Take it from me, an idiot who nearly fried my phone while sea kayaking in Maine — salt water will destroy even a "waterproof" phone. You'll want a basic waterproof case like this one at the very least, if not something more sturdy like a LifeProof Free case which allows you to submerge it up to 6 feet of water, including salt water.
Snorkel set (mask, snorkel and fins): It's a lot more fun to have your own snorkel set than to have to seek out a rental service every time — plus, if you happen upon a secluded beach with great snorkeling, you won't be left out! This set is good if you're low on space and just want a mask and snorkel — otherwise, grab this full set with fins.
Bathing suits: You'll want at least two bathing suits for your time in Honolulu, so that you never have to put a grody, still-wet one on (is there any worse feeling?). Personally, I love high-waisted bikinis that will hide all the Kalua pork and ube ice cream I'm eating. I love this adorable orange set and this vintage-styled tropical set if you're looking for inspiration.
Hiking boots or sturdy sneakers and hiking socks: I didn't have any heavy-duty hikes planned on my Oahu itinerary, so I went with my trusty Nike Flyknit sneakers. If I had more intense hikes planned, I'd go with my typical Teva hiking bootswith their comfy Vibram soles.
Renting a Car in Honolulu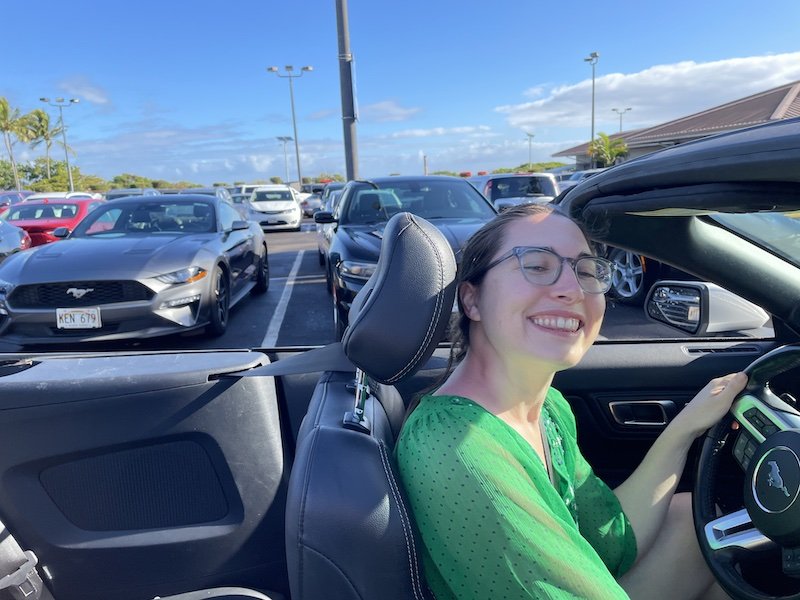 During my last trip to Honolulu, we rented a car for a portion of the time and relied on rideshare the other days.
Frankly, we should have just rented a car for the whole itinerary — we ended up spending more money this way, as Uber is quite expensive in a city as large as Honolulu!
Driving in Oahu is quite easy; however, parking in Waikiki is limited so you will definitely have to factor in parking costs to wherever you are staying.
When we stayed at the White Sands Hotel, it was an additional $35 per night to park the car there. It is still worth it considering that a one-way Uber from Waikiki to the airport or Waikiki to Pearl Harbor is about $35-45 per way!
Honolulu is a larger city than you may expect given how remote Hawaii is. Traffic can get a bit intense around rush hour, so I planned this itinerary to avoid driving around peak times.
Not sure where to get the best deal on your rental? I've rented cars dozens of times through various search engines and have settled on Discover Cars as the best, most extensive car rental search engine.It searches over 500 trusted rental companies to find the cheapest price for your rental! Compare prices for car rental in Honolulu here.
Day 1 of Your Honolulu Itinerary
Option 1: Start the day with a snorkeling tour of Turtle Canyon.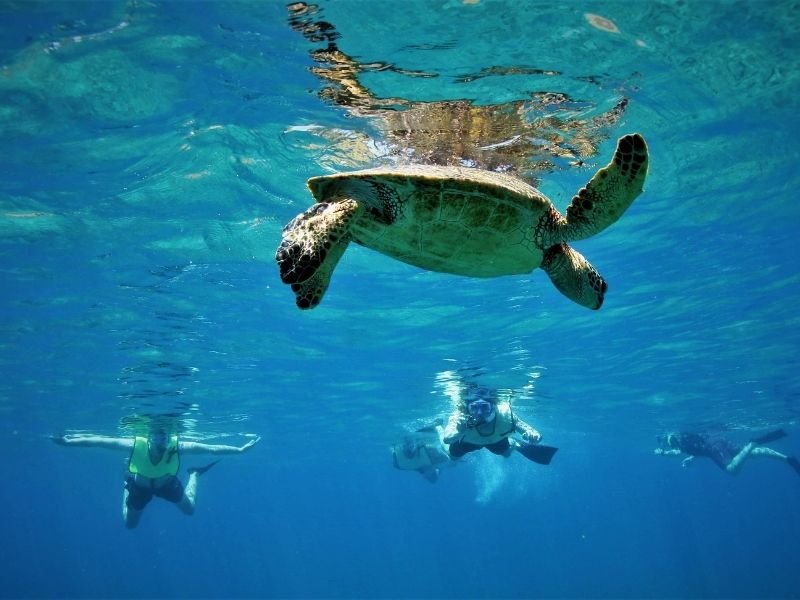 Why visit Honolulu and not spend time underwater?
Hawaii is one of the best places for snorkeling in the United States, especially if you want the chance to swim with one of the island's most famous residents… the Hawaiian green sea turtle (called honu in the Hawaiian language)
Taking a snorkeling tour in Hawaii ensures that you will get to see the best snorkeling spots on the island, where you have the highest chance of seeing beautiful marine life.
One of these spots is called Turtle Canyons, where you are practically guaranteed the chance to swim with Hawaiian turtles, as well as a rainbow kaleidoscope of other tropical fish!
Along the way to your snorkeling spot, you may be lucky enough to see Hawaiian spinner dolphins swimming alongside the boat, or perhaps even migrating humpback whales if you are traveling in the winter months!
This tour includes rental of any and all snorkeling equipment as well as life jackets (so no need to stress if you are not a strong swimmer!).
The tour also covers complimentary non-alcoholic refreshments and a small selection of snacks.
You'll have to bring your own towels, though — I love this cute microfiber travel towel that packs up teeny-tiny and is easily carried in my day bag.
Option 2: Do a self-guided snorkeling experience in Hanauma Bay.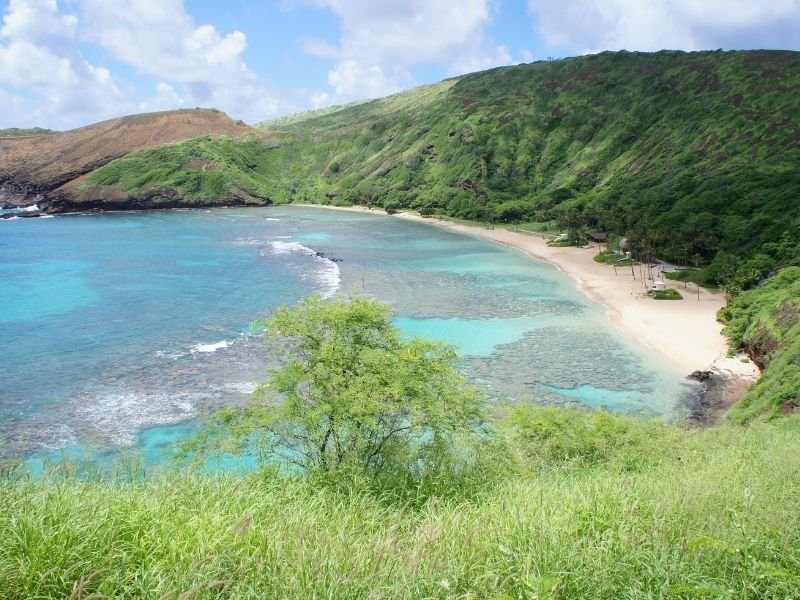 An alternate option is spending time snorkeling in Hanauma Bay, which is one of the most beautiful parts of Oahu.
However, you will have to time the planning of this perfectly, as access to Hanauma Bay is by permit only and there are limited spots available.
Hanauma Bay was starting to become too crowded, so it has now become a designated nature preserve. That means there is limited entrance capacity, so you will have to plan a trip there accordingly.
The way it works is that you need to book tickets online here here for a designated entry period. The tickets are quite limited in number.
Tickets are sold by 10 minute entry intervals, and during each interval, only 30 people are allowed to enter during that time.
That may sound easy enough to plan, but you can only make bookings two days in advance…. at 7 in the morning, Hawaii time!
The slots do book up almost immediately. Therefore, you will want to set an alarm for a few minutes before 7 AM Hawaii Standard Time (luckily, if you're booking from the West Coast or East Coast, this won't require a very early wake-up time!).
If you are lucky enough to snag one of the few spots, enjoy: Hanauma Bay is truly one of the most beautiful beaches in Hawaii.
While the permit process is a little bit of a pain in the butt, the limited entrance that caps capacity means that its beauty, wildness, and tranquility can remain preserved for years to come.
You will have to drive yourself to Hanauma Bay (about 30 minutes from Waikiki) and if you don't have your own snorkeling gear, you will also need to rent it there.
Spend some time relaxing on Waikiki Beach or walking along the oceanfront.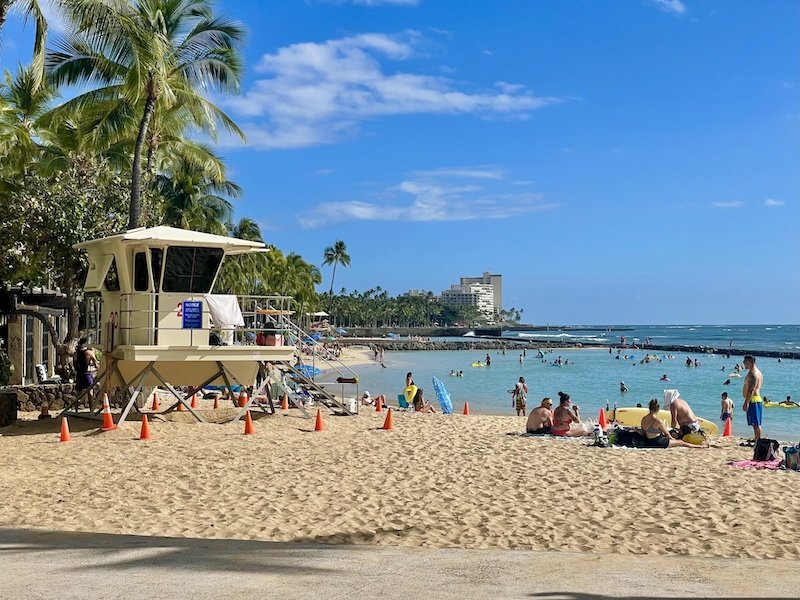 After your snorkeling tour or time at Hanauma Bay, it's time to relax and enjoy the beautiful Waikiki Beach.
This long sandy beach is one of the best beaches in Honolulu. Be sure to check out the Duke Paoa Kahanamoku Statue at the heart of Waikiki Beach — he's a legendary Hawaiian surfer.
There are other beach areas in Waikiki that are lovely and perhaps a little less crowded, such as Ala Moana Beach Park (also a great sunset spot!) and Queens Beach.
Depending on your travel style and mood, you can lay out on the beach for sunbathing, wade in the water, let the kids play with some sand toys, or take a walk from one end of the beachfront to the other along all of Waikiki.
Grab a delicious lunch in Waikiki.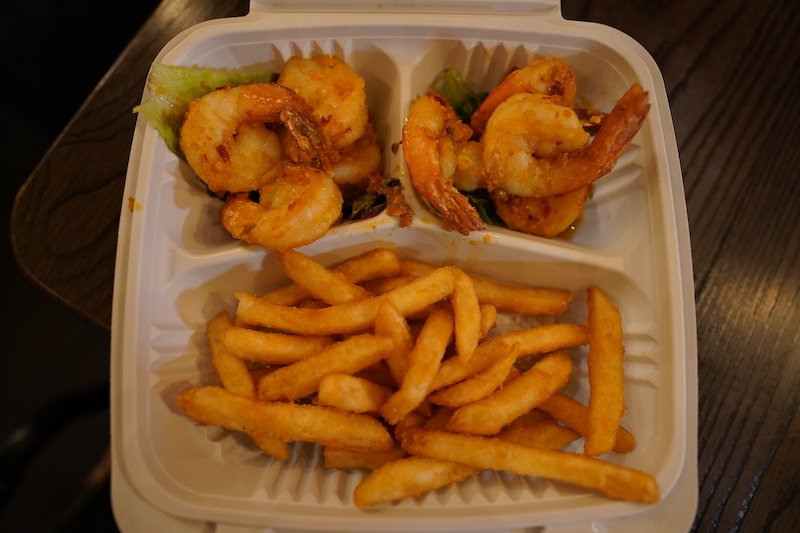 Once you've worked up an appetite from snorkeling and some beach time, it's time for a delicious meal in Waikiki! Luckily there are so many good food options here that it's almost impossible to choose.
For your first day lunch, my suggestion is Sam's Kitchen.
This counter-service restaurant specializes in garlic shrimp and tasty teriyaki plates. It's quite affordable and the quick-serve style is perfect for getting back to the rest of your Honolulu itinerary.
The garlic shrimp is their best option (Truthfully, I found the shrimp better here than at the more famous shrimp food trucks up on the North Shore)
Address: 353 Royal Hawaiian Ave, Honolulu, HI 96815 | Hours: 10 AM to 1 AM daily
Stroll and shop around downtown Waikiki.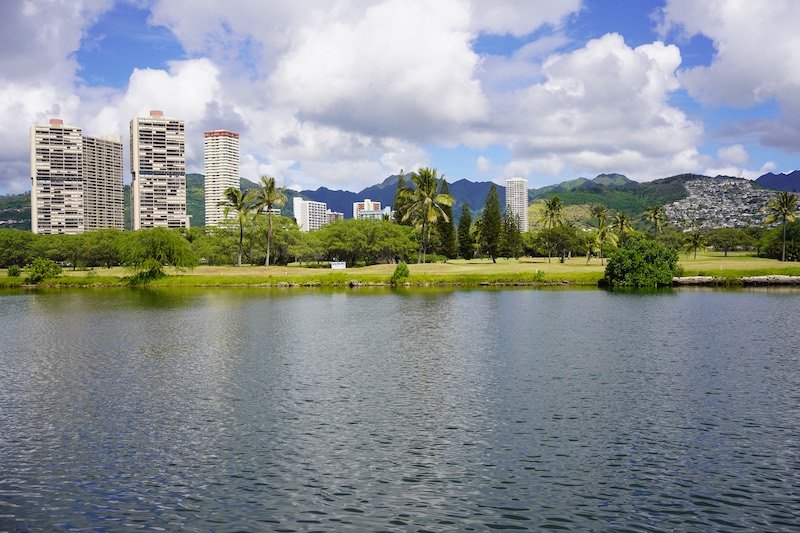 There are many great places to walk around Waikiki depending on what you are looking for!
If you want a scenic walk, I recommend walking alongside the Ala Wai Canal and then stopping at any cafés or boutiques that catch your interest.
If you want to shop, there are countless stores along Kalaukaua Avenue, which is the main shopping thoroughfare in Honolulu.
For more luxurious shopping (or window shopping, as your budget – like mine – may only allow for), check out the International Market Place which is home to all of the fanciest brands!
Finally, if you want to sample a few different snacks, Duke's Lane Market is a great place to go on a self-guided food crawl of different snacks and bites.
If you need an afternoon pick-me-up, don't miss a coffee at Kona Coffee Purveyors right by Duke's — it has the best coffee in Honolulu (and incredible pastries too!)
Take a sunset cocktail cruise around Honolulu Harbor.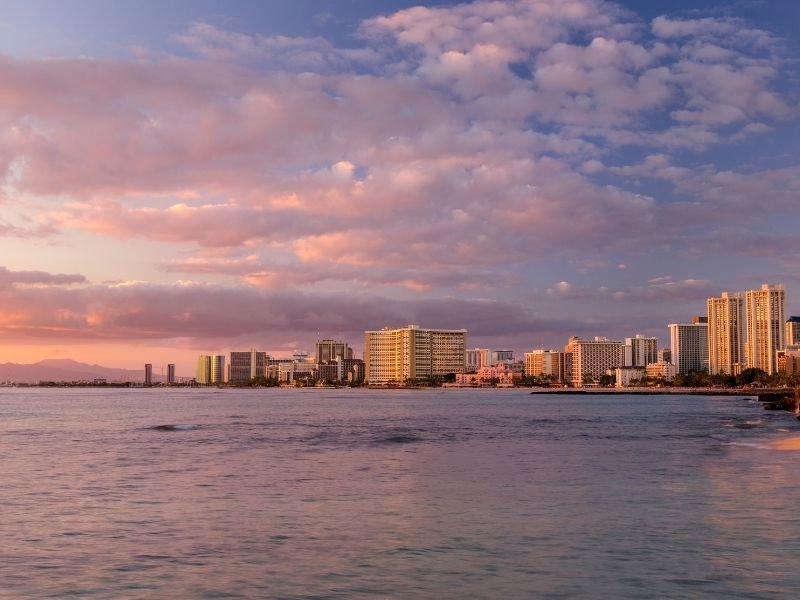 What better way to end your first night in Honolulu than on a sunset cruise around Honolulu Harbor with a view of the Waikiki skyline twinkling in front of you?
With a cocktail in hand, of course — which you can do easily on this cocktail cruise leaving from Honolulu Harbor.
This tour lasts an hour and a half and includes one welcome drink, and you can purchase more (and snacks) on board.
Have a delicious dinner in Waikiki.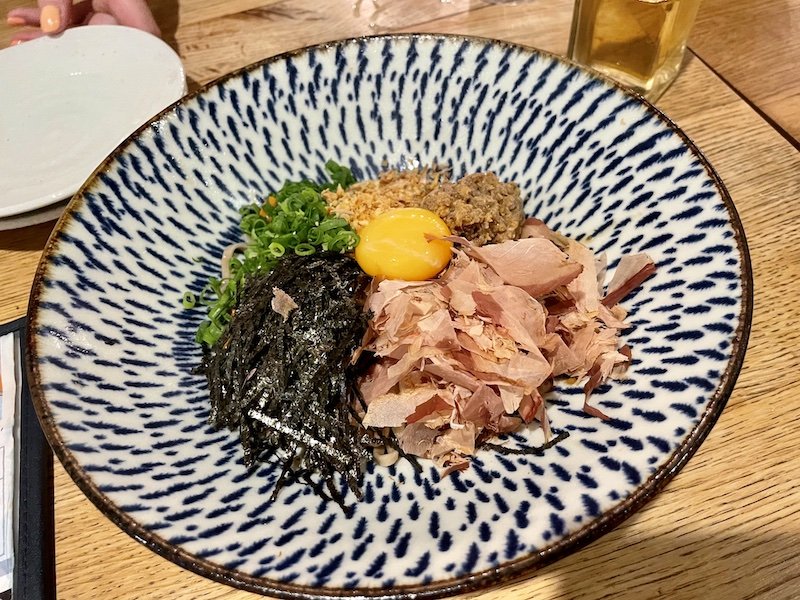 Hope you're hungry, because there are a ton of great dinner options in Waikiki for a fantastic meal!
One of my favorite sit-down restaurants is the contemporary restaurant ZIGU, a restaurant and sake bar that focuses on Japanese recipes with a Hawaiian local twist.
Some of their best dishes include the miso-marinated and macadamia-crusted salmon (decadence embodied!), the ahi tuna cutlet, and the spicy chilled soba noodle bowl with crumbled pork and bonito flakes.
Address: 413 Seaside Ave #1F, Honolulu, HI 96815 | Hours: 4 PM to 10 PM daily
Day 2 of Your Honolulu Itinerary
Take a tour of Pearl Harbor and Downtown Honolulu.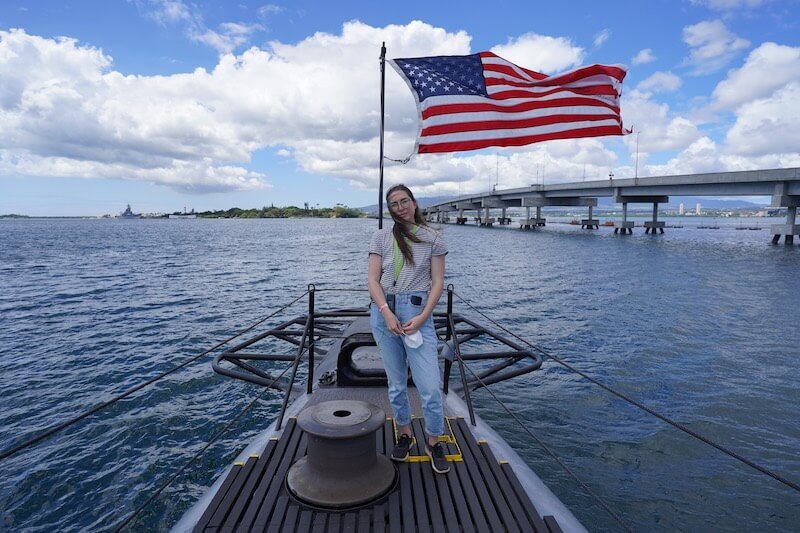 You can't come to Honolulu for the first time without learning a little bit of the history of Oahu: both as its role as an important site in the Hawaiian Kingdom before it was overthrown by American settlers, and for its role in World War II.
This tour will bring you to Pearl Harbor to see its most famous sight: the USS Arizona Memorial, accessible via a navy boat.
This memorial is located above a battleship that sunk on the day that Pearl Harbor was attacked, leading to the loss of life of 2,403 American lives.
You can also visit the wall of remembrance which honors the lives lost on that day.
After you visit Pearl Harbor, your guide will take you on a tour of downtown Honolulu and explain the historic sites in the downtown, such as ʻIolani Palace, the Aliʻiōlani Hale Building and King Kamehameha Statue, and the Aloha Tower.
Book your guided tour of Pearl Harbor & Downtown Honolulu here!
Grab a quick poke lunch in Waikiki.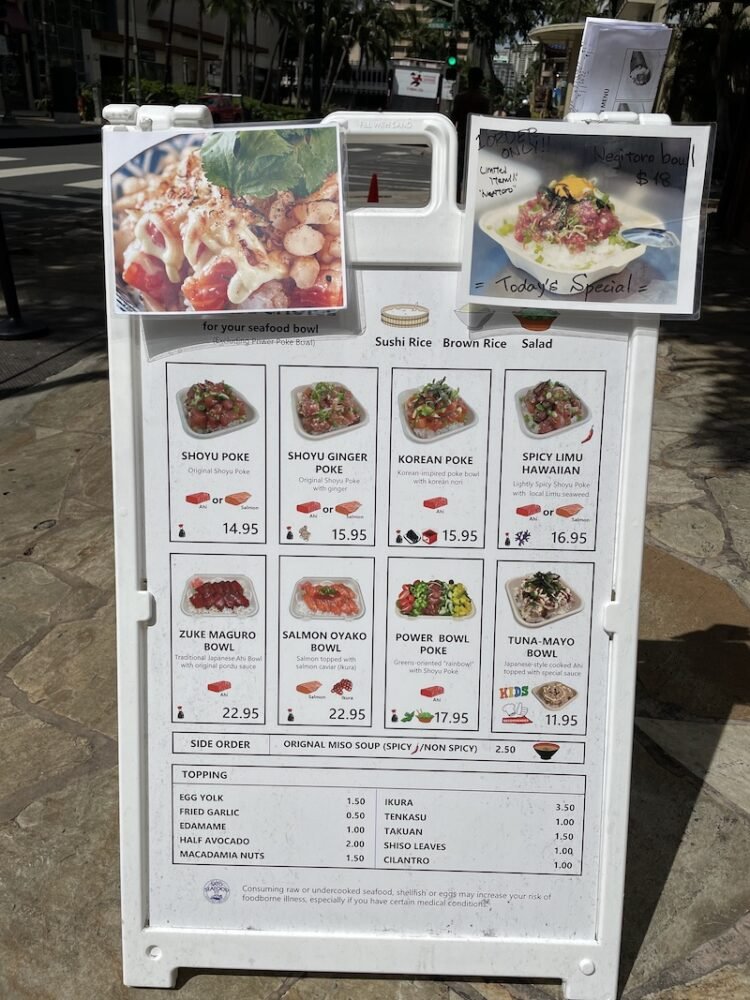 Since this Waikiki itinerary is so fast-paced, we'll want to maximize our time by grabbing delicious take-out lunches so we can see more of the island with our limited time.
I recommend getting poke at Sato Seafood. This unassuming poke bar is often hidden by the lines at neighboring Marugame Udon, but don't miss out.
This is easily the best poke in Waikiki! I recommend either the spicy ahi and spicy salmon (if you can handle spice — it's actually rather spicy!). Pro tip: add macadamia nuts for even more decadence and deliciousness!
Address: 2310 Kūhiō Ave. #215, Honolulu, HI 96815 | Hours: 10:30 AM to 8:30 PM daily
Check out Kailua Bay and the Windward Coast.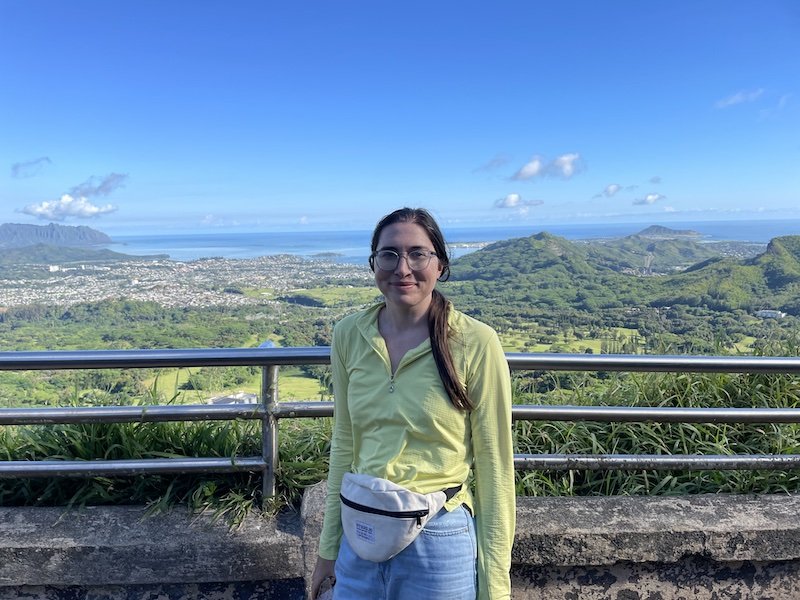 After your tour of Pearl Harbor and grabbing a quick takeaway lunch, it's time for a little mini road trip to the Windward Coast.
Head over the Pali Highway towards Kailua through the tunnels that bore through the Koʻolau Mountains.
I recommend making a stop at the Nu'uanu Pali Lookout, which has stunning views over the island of Oahu but also was the site of an important historic battle that ended up uniting the warring islands of Hawaii under one monarch.
After the lookout, do a quick drive to Kaneohe for a drive through Ho'omaluhia Botanical Garden for some time at one of the prettiest botanical gardens in Hawaii. There is no entry fee, and the drive here is spectacular!
Then, after that, head towards Kailua Beach and Lanikai Beach for some beautiful beach time, or perhaps tackle the Lanikai Pillbox hike if you are up for a heart-pumping challenge!
Another alternative option would be heading up to Kualoa Ranch if you want to check out where they shot film and TV classics such as Jurassic Park, Lost, and Godzilla — all on a tour via a vintage school bus.
Have a tasty izakaya dinner.
Honolulu is a mecca for Japanese food due to the large population of Japanese-Americans on the island.
You can get some of the most authentic Japanese food in America here — when I ate at Izakaya Pau Hana Base, I literally felt like I was transported back to my time in Japan!
So, what is an izakaya? It is a typical Japanese restaurant that focuses on casual small plate types, serving up snacks and meals meant to be enjoyed with drinks.
Their portions are very generous and delicious — I recommend their fried calamari, the okonomiyaki, and the yakitori!
Address: 407 Seaside Avenue #107, Honolulu, HI 96815 | Hours: 5 PM to 11 PM daily, except SundayDay 3 of Your Honolulu Itinerary
If You Have More Time for a Multi-Day Oahu Itinerary…
Take a whale watching tour (seasonal December-April).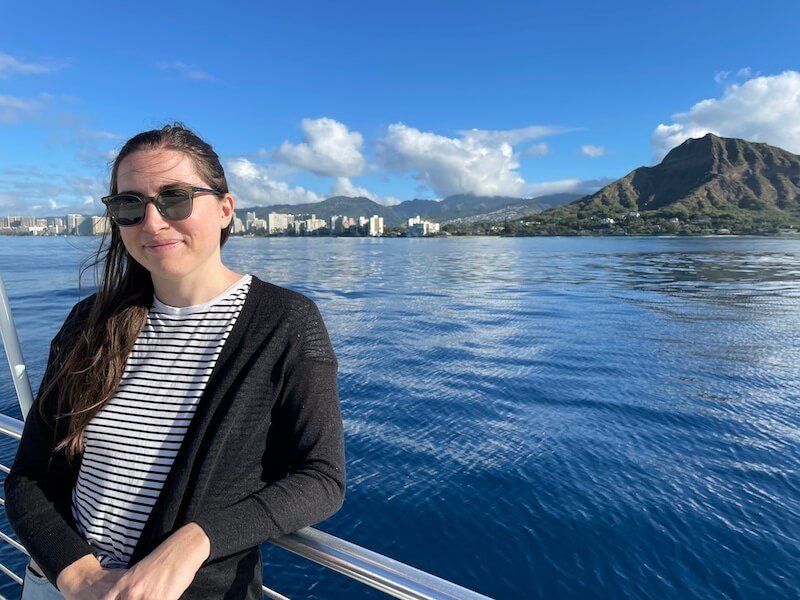 Depending on the time of year, humpback whales migrate through the waters of Oahu, which is a magical sight you need to add to your bucket list.
During whale watching season, there are morning and afternoon whale watching cruises that typically last 1.5-2 hours.
Want more information? I wrote a full guide to whale watching in Oahu, including suggested tours and what to pack.
Humpback whales are one of the most majestic whale species and you are guaranteed a sighting of them during whale watching season or they'll allow you to come back out again for free.
I did this tour in February and had the amazing privilege of seeing a mother humpback whale and her baby who had just calved. Our guides estimated the baby whale was just 6-12 hours old!
Despite being so young, he was so active, jumping around and playing in the water, learning how to breech and play. It was an incredible sight to see!
Kayak to the islands in Kailua Bay.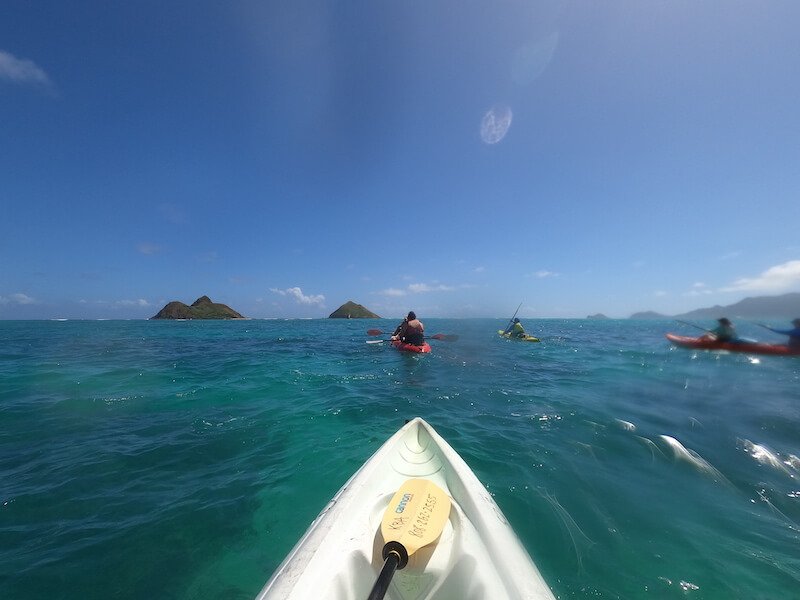 If you're a confident sea kayaker, you can take a self-guided tour to visit the Mokulua islands.
If you're not experienced with sea kayaking, I recommend going with a guide as there is definitely a learning curve kayaking in the open sea versus a calm body of water like a lake… I learned this the hard way in the rough Atlantic waters of the Maine coast!
This kayaking trip involves paddling out to the two beautiful Mokulua Islands, where you can enjoy amazing views of the Windward Coast from out on the ocean. This is the inverse view as from the Nuʻuanu Pali Lookout!
On Moku Nui (one of the two Mokulua islands), you can take a dip in the beautiful "Queen's Bath", a small natural pool that was used as a bathing spot by Hawaiian royalty.
Hike Diamond Head Crater for epic views.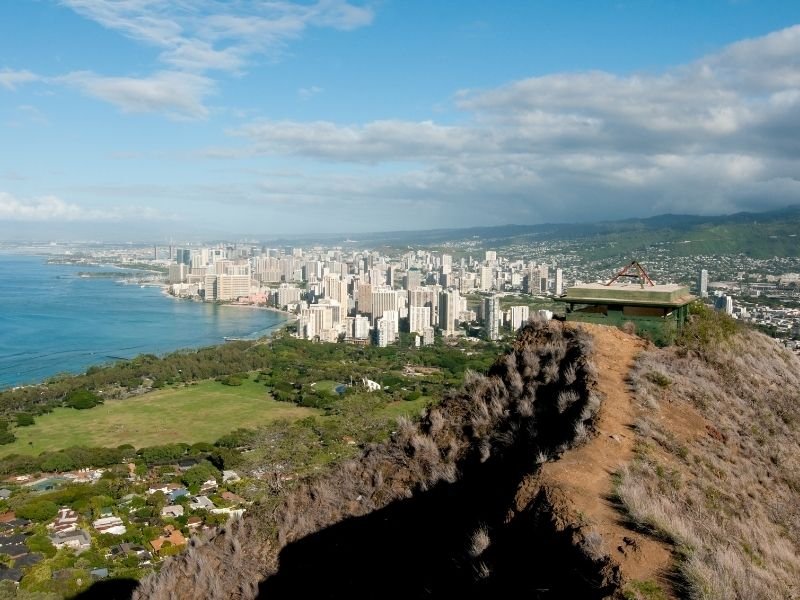 Note: As of May 12, 2022 advanced reservations will be required for visiting Diamond Head Crater National Monument if you are an out-of-state visitor. You can make reservations here two weeks in advance.
This stunning hike up Diamond Head offers some incredible views over Honolulu and Waikiki. It's not too tough of a hike, either: the Diamond Head Summit Trail clocks in at 1.8 miles roundtrip and 450 feet of elevation gain.
Diamond Head is actually a dormant volcano over 500,000 years old — and yes, it's very dormant; it hasn't erupted for more than 150,000 years. The hike starts in the middle of the crater and brings you up to the crater rim.
The hike starts on a paved path, then quickly changes to a few steep switchbacks and then some stairs. You'll also climb through a tunnel, then more stairs before you reach the WW2 era bunkers (more pillboxes!) at the rim's edge.
If you can't get tickets to Diamond Head Crater, I recommend hiking to Manoa Falls instead! Koko Head is also another option, but the hike is a lot more intense.
Explore the North Shore.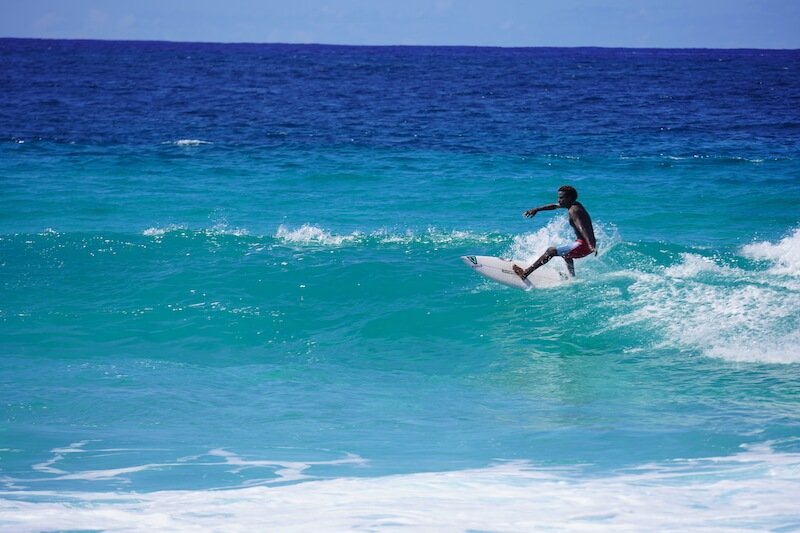 The North Shore of Oahu is one of my favorite parts of the island!
I didn't include it on this Honolulu itinerary because it's about 1-1.5 hours away by car, but it definitely is a place you should go if you have extra full day to dedicate to the north coast of Oahu.
The main town of Oahu's North Shore is Haleiwa, a charming small town famous for its shave ice and shrimp trucks.
Don't miss Laniakea Beach, where you can often find sea turtles chilling on the beach, and Sunset Beach Park where you can watch surfers ride the wild waves of the North Shore, which often exceed 10 feet, especially in the winter months!
Shark's Cove is a great place for snorkeling on the North Shore, as it is a sheltered little cove area in a place that usually has too many rough waves to have decent snorkeling or swimming areas.
Another great place to visit on the North Shore is Waimea Valley, a beautiful walk through a botanical garden in a valley that ends in a stunning waterfall.
What This Honolulu Itinerary Skips (and Why)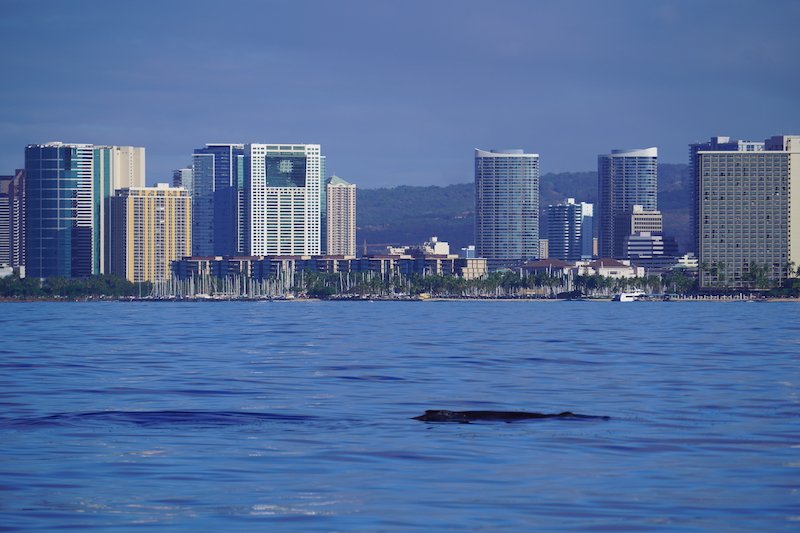 When I wrote this Honolulu itinerary (as well as my one-week Oahu itinerary), I was trying to be mindful of the more harmful aspects of tourism. There are three major places I am specifically not recommending.
Number one is the Polynesian Cultural Center and their popular "Breath of Ha" show. While the name seems educational, I actually find it quite pessimistic.
From what I can see, it is not run by Polynesian-descended people at all, but rather, it is run by the Mormon Church, who have a huge temple and presence in the town of Laie.
Daytime events at the "Polynesian" Cultural Center include a bus tour of Brigham Young University Hawaii and a visit to the Laie Hawaii Temple which is located next to the cultural center…. which doesn't sound very Polynesian to me.
Number two is the luau that takes place at the Sea Life Park Hawaii (I also don't recommend visiting the park itself — see the wildlife in nature in Hawaii, not captive in a park being tortured for visitor amusement).
As someone who cares about responsible wildlife tourism, I don't support giving money to organizations that promote hands-on animal tourism such as getting to touch and swim with captive dolphins or forcing animals to perform in shows for tourists.
Number three is the Dole Plantation. Yeah, you might want your Dole Whip, but honestly, the Dole family history is really quite dark and this family is one of the reasons why the Hawaiian islands are currently an occupied nation.
Put your money elsewhere when visiting Hawaii to ensure your visit does more good than harm.
Allison Green is a former educator turned travel blogger. She holds a Masters in Teaching and a B.A. in English and Creative Writing. Her blog posts merge her educational background and her experience traveling to 70+ countries to encourage responsible, enriching travel. She has been a speaker at the World Travel Writers Conference and her writing, photography, and podcasting work has appeared in National Geographic, CNN Arabic, CBC Canada, and Forbes, amongst others. Now a full-time traveler, she has lived in Prague, Sofia, New York City, and the San Francisco Bay Area.