The area around Manuel Antonio National Park is one of Costa Rica's most ecologically diverse regions, with lush humid rainforests, pristine beaches, and an uncountable number of species of animals who call this area home.
But if you only visit the rainforests by daylight, you'll be missing out on all the incredible nocturnal animals who also call this part of the central Pacific Coast of Costa Rica home!
At night, the landscape of Costa Rica takes on a totally different character, with a loud chorus of chirps, squeaks, and creaks from the noisy nocturnal creatures enjoying their natural habitat.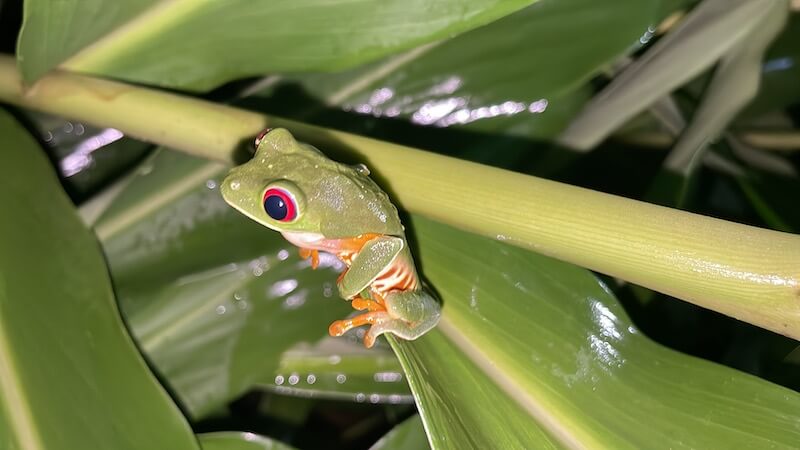 Note: This post contains affiliate links, which means I may receive a small commission if you purchase something through one of these links. Thank you for supporting the free content on this site! For more information on affiliate links and cookies, see my disclosure page for more details.
From the pocket-sized red-eyed tree frog to the two-toed sloth, many of most iconic residents of the Costa Rican rainforest only come out at night…
… which is why taking a Manuel Antonio night tour is a must-do if you want to fully understand just how much biodiversity Costa Rica has to offer!
In this post, I'll talk about what it's like to go on a jungle night walk in the Manuel Antonio park area, what you should know before you go, and what night tours in Manuel Antonio I recommend.
What It's Like to Go on a Manuel Antonio Night Tour?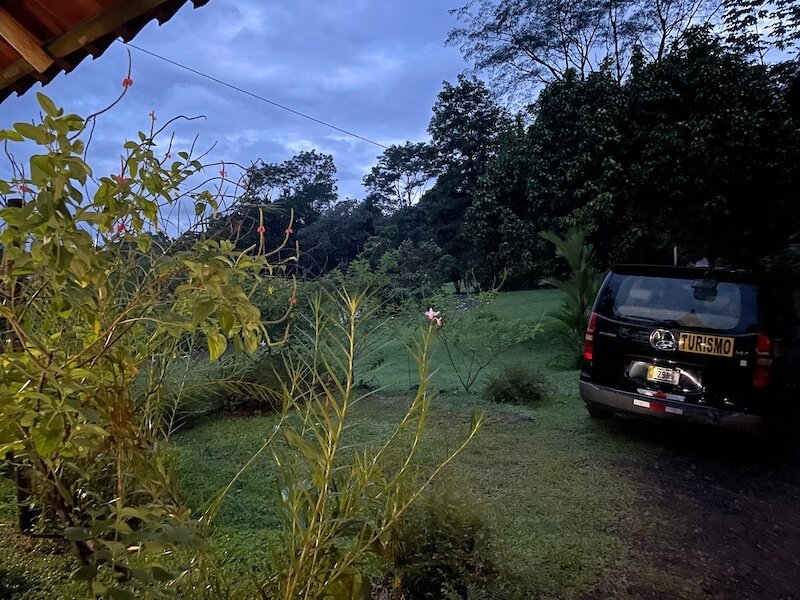 My night tour started with a hotel pickup, bringing us about 30 minutes outside of the Manuel Antonio & Quepos area to a place in the hills around Manuel Antonio called Rainmaker Park.
Note that none of the tours actually take place in Manuel Antonio National Park, even the tour listed on the park's official website. The park closes at 4 PM every day, so there's no tours there during the night time.
Rainmaker Conservation Park is one of the best places besides the national park itself to see wildlife, with well-kept trails and a diverse ecosystem that is a huge magnet for all sorts of tree frogs, lizards, and other nocturnal creatures!
Once we arrived at Rainmaker Conservation Park, which is a private reserve that is the perfect habitat for all sorts of nocturnal life.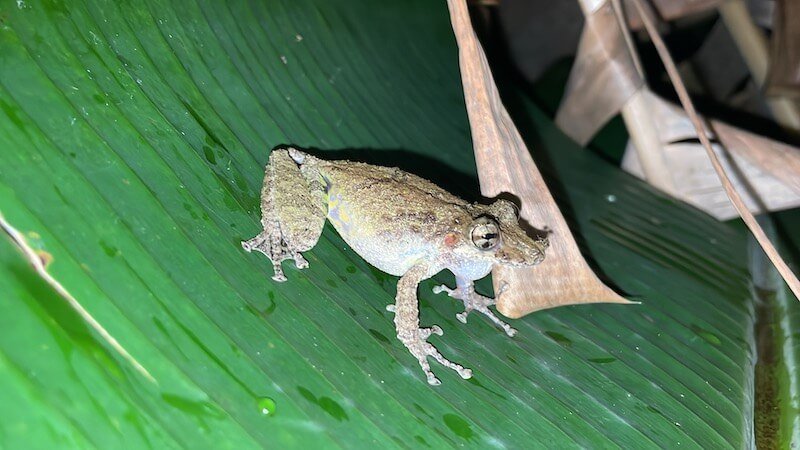 We dutifully followed our certified tour guide as he showed us all sorts of species of frogs around the pond area during the first hours of the night.
Note that for safety purposes, your guide should always lead the group, as sometimes there are snakes or other creatures on the ground, as well as tripping hazards that they might need to alert you to.
With his expert eye, we immediately spotted one of the famous basiliscos, also known as Jesus Christ lizards for their ability to scamper across the surface of water!
We continued on as he listened for the calls of the frogs, which he knew well, one which was nicknamed a "whiny tree frog" as all it seemed to do was lament "why" loudly through the lush green forest.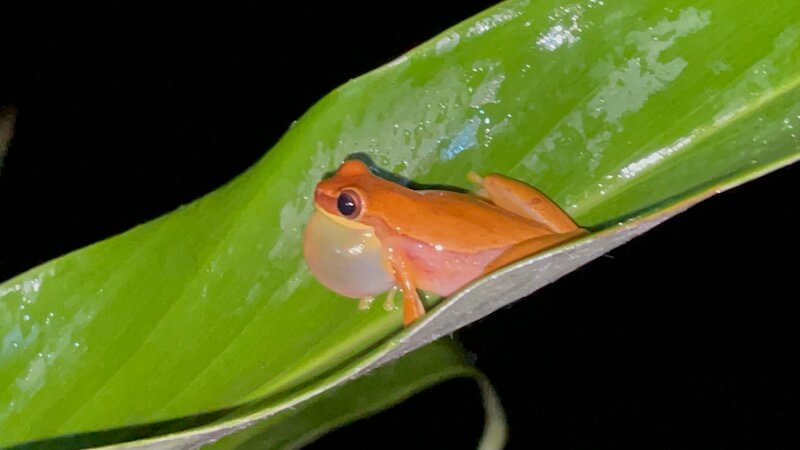 I'm not sure which exact frog it was that made that call (I think it was a snouted tree frog) but we found so many!
According to my notes, which I dutifully kept like a nerd conducting serious research, we spotted: two leopard frogs in the water, several bullfrogs (both female which is more green and male which is more orange in color), a frilled tree frog, and a yellow cricket tree frog.
Some other cool amphibian sightings include an hourglass tree frog with beautiful markings on its back, a green climbing toad, a reticulated glass frog (very rare to spot — our guide was elated!), and of course, Costa Rica's trademark red-eyed tree frog.
I'm sure there are some others that I missed, too!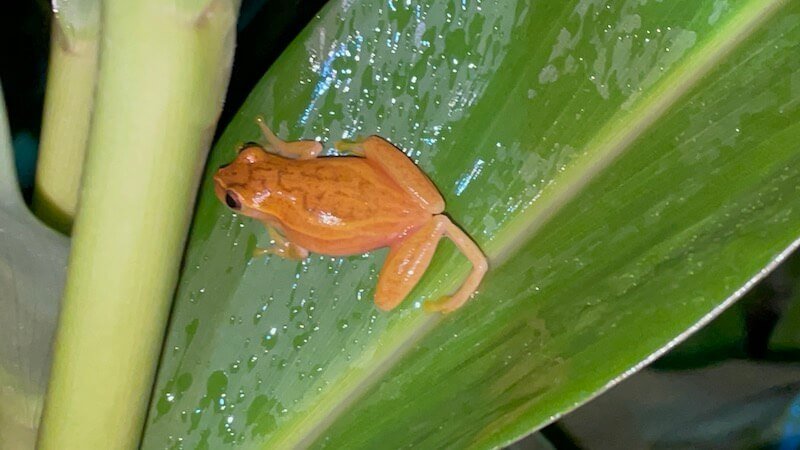 After exploring the pond area and seeing a truly unfathomable number of frogs, we headed into the forested area to try to spot some other nocturnal creatures.
This is the part where arachnophobes and people scared of insects and snakes may want to look away!
We spotted so many cool creepy-crawlies, including a jewel-colored turquoise stink bug, a poisonous centipede, a sac spider, a millipede, and a bark scorpion (whose sting is painful but not fatal, don't worry — and they bioluminesce under a UV light, which is pretty cool to see!).
We also spotted a wolf spider (also poisonous but not fatal), a horned katydid, a walking stick bug, and a surprising runner-up when it came to most toxic creature of the night.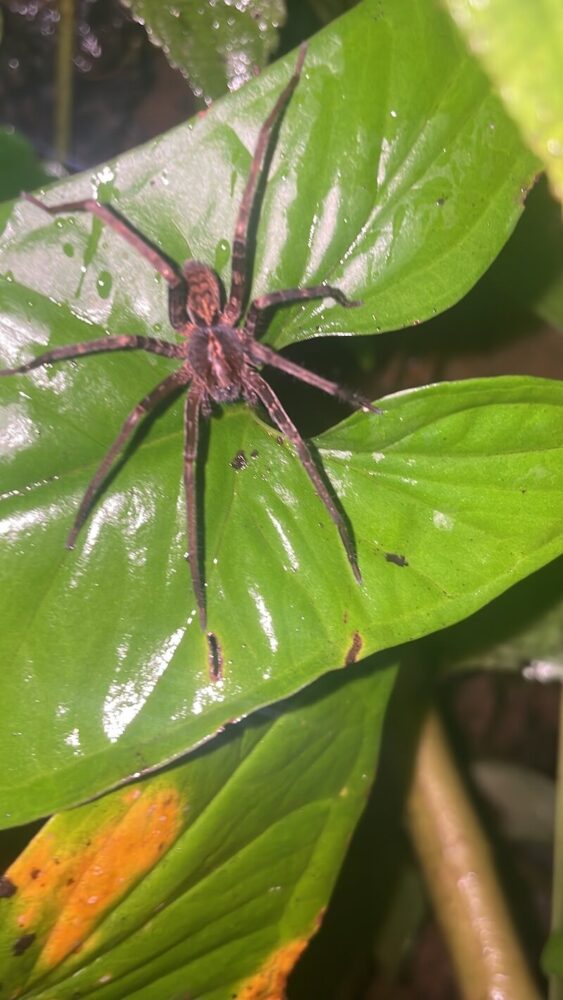 That honor goes to a fluffy looking white blob, which is actually a puss moth caterpillar, high up in the treetops….
… that was, until we saw the actual most deadly creature, the banana spider (also known as a Brazilian wandering spider) shown above!
When it comes to local reptiles, we spotted a few besides the Jesus Christ lizard, including a harmless cat-eyed snake and a tropical night lizard.
But what I found the most cute was this adorable sleeping smooth-helmeted iguana who clung to the same patch of tree trunk for our entire night tour.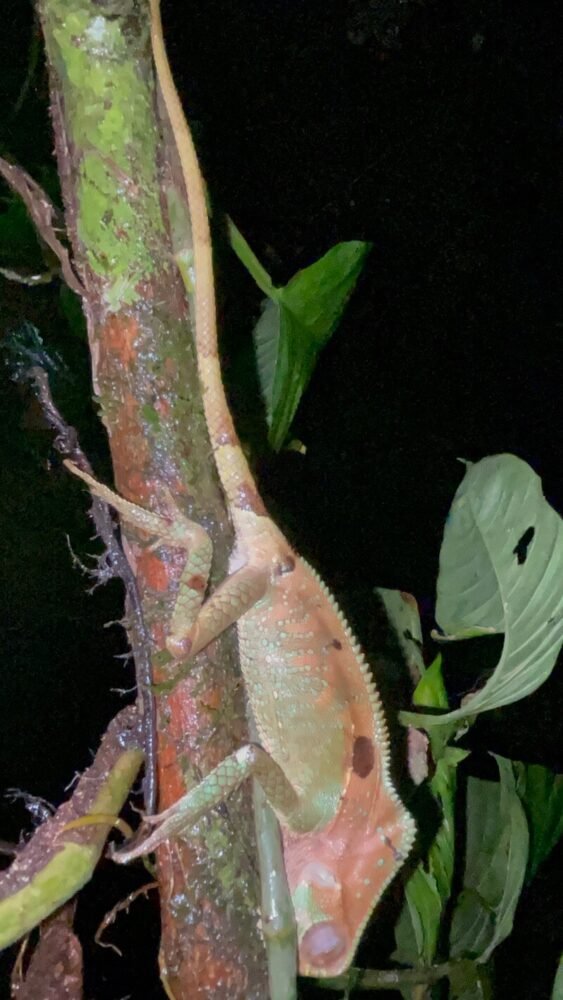 After the night tour came to an end, we had a hearty meal of chicken and rice back at the park's kitchen, which was included in the price of the tour (as was the entrance fee to the reserve), before we got driven back to our hotels.
I absolutely loved my night tour in Manuel Antonio: it was a wonderful experience.
It's definitely my favorite thing I did in Manuel Antonio (and my second-favorite thing in did in all of Costa Rica, after diving Caño Island — and ziplining in Monteverde is a close third).
If it sounds up your alley, this is the exact night tour that I booked.
What to Know Before Going on a Night Tour in Manuel Antonio
​Weather conditions may not be your friend — wear a rain jacket!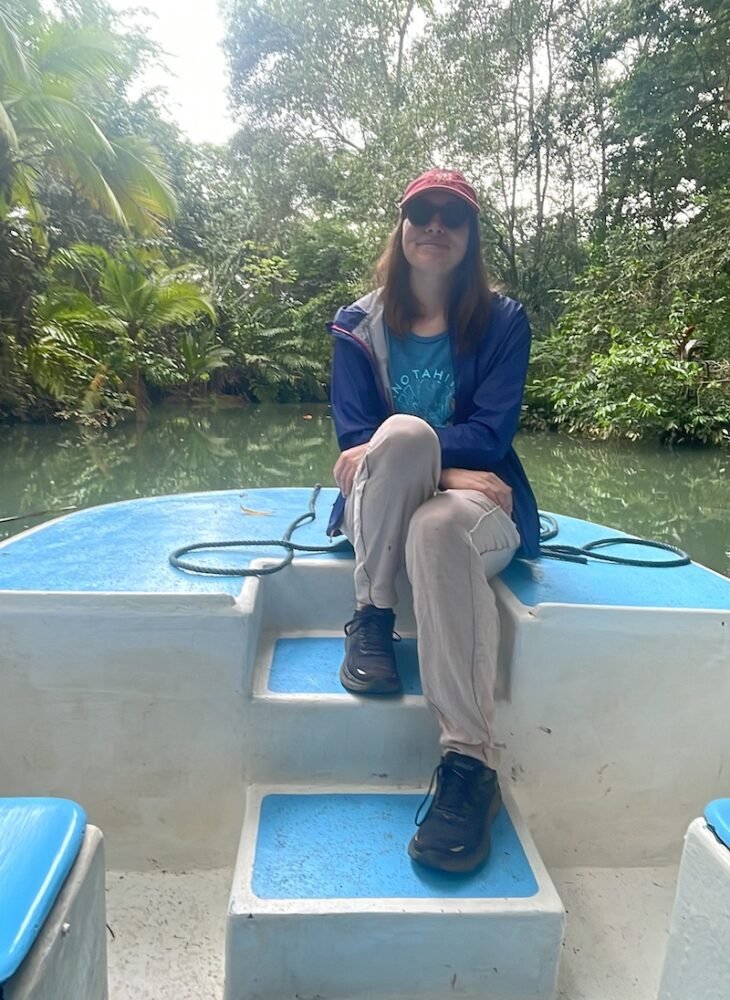 Whether you visit in the rainy season or the dry season, rain is a common occurrence in Costa Rica, and it's more likely in the late afternoon and into the evening.
It rained for pretty much the entirety of my night tour, but it wasn't that much of a downer because I was well-dressed for the occasion with a proper waterproof rain jacket (I wore my one from Patagonia).
Don't forget long pants and closed-toe shoes.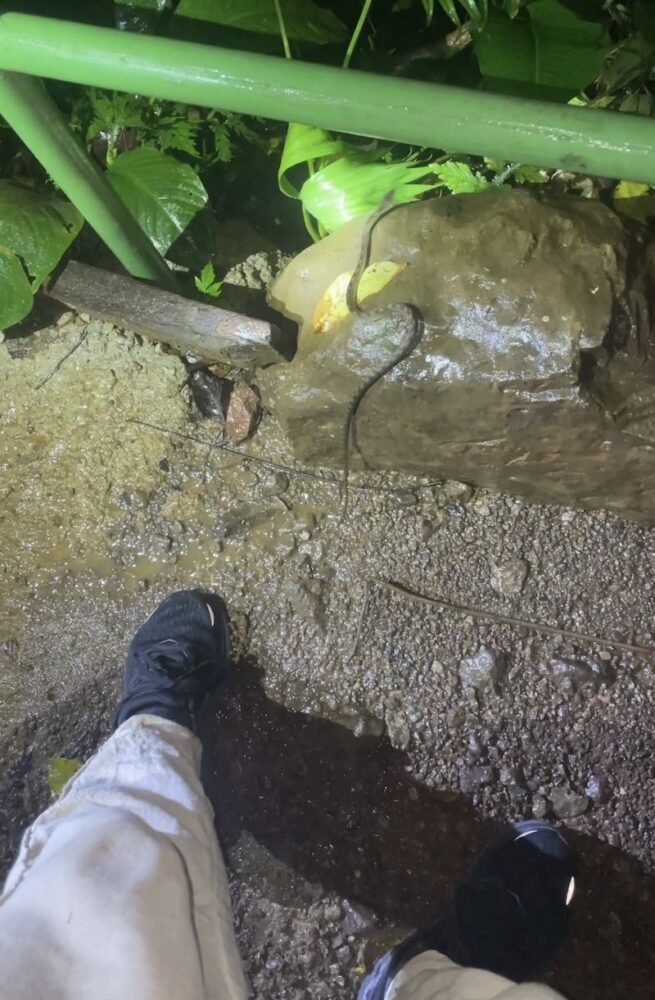 ​Under a rain jacket layer, you'll want to wear comfortable clothes that are breathable and easy to move in, as well as long pants to avoid insect bites.
If you're prone to bug bites, you'll also want to wear some mosquito repellent.
You'll also want the right footwear, like a closed toe sneaker or hiking shoe.
You don't need any special equipment for a night tour.
Since you're going with professional guides, they'll bring all the needed equipment for the group tours.
For example, your guide will bring things like a spotting scope if needed (we didn't end up using it, as we didn't see anything in the canopy), UV light, flashlights, etc.
What you will need is the proper clothing I mentioned above (rain jacket, closed-toe shoes, long pants) and an excited attitude for all the cool wildlife you're about to see!
You don't need special camera gear, either.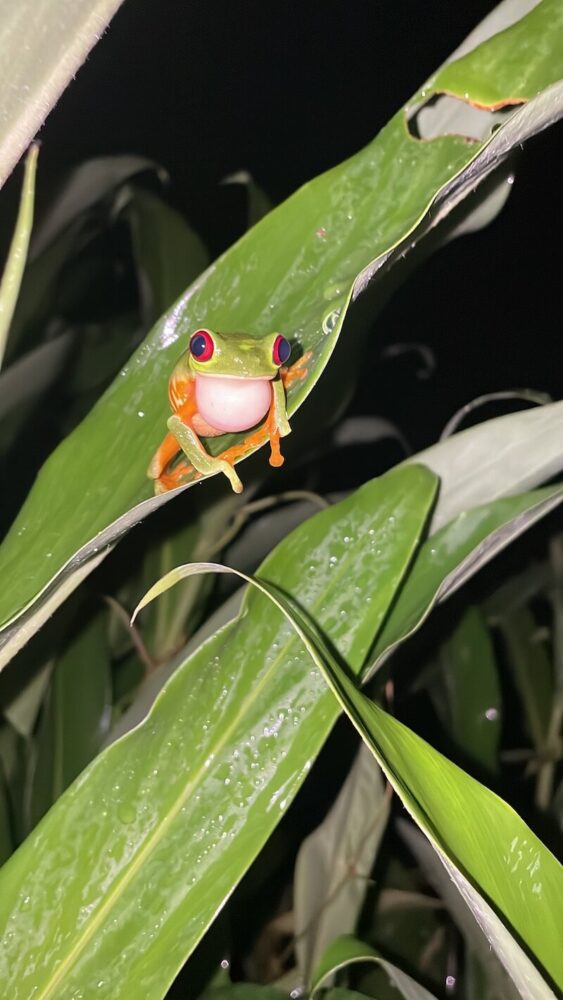 When it comes to photography, your guide will be your best pal — they're simply amazing at getting incredible shots of these wonderful creatures even in low-light conditions with a simple iPhone.
Every single photo in this post was taken with my iPhone, most with the assistance of my tour guide in getting the lighting and focus right.
If you're a huge wildlife photography geek, like two people on my tour were, you may want to have all the fancy gear (external flash, a mirrorless or DSLR camera, etc.) but it's really not necessary if you just want photos for your own memory and use!
There are dangerous creatures, but you'll be safe.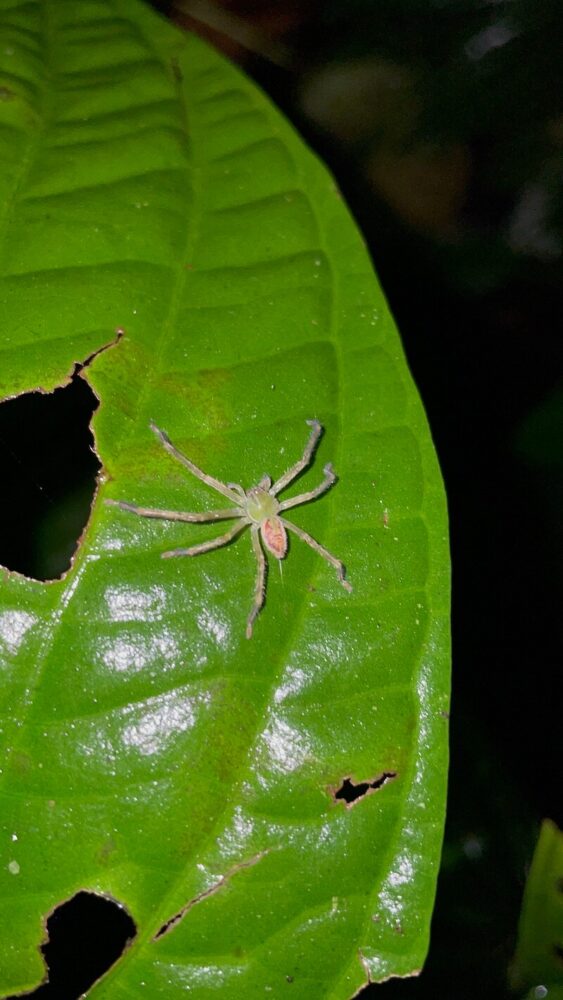 As I mentioned above, we spotted several poisonous and venomous creatures on our hike — but I never once felt like I was in any danger, as we kept a respectful distance.
Plus, the guide handled all the photography when it came to some of the more dangerous creatures that you don't want to touch, like the bark scorpion, the puss caterpillar, the wolf spider, and the banana spider.
I don't love insects, spiders, and bugs, but I also don't hate them — at least, not when I'm outside and they're not inside my house, which is a different story altogether!
The reality is that most of these creatures don't actually want to be around us: shy snakes want to avoid humans rather than see them, and spiders mind their own business unless you threaten them — they've got webs to tend, and humans don't exactly make a snack they can eat.
​Actually, on the tour, I grew to appreciate the colorful insects and spiders more — again, so long as they stay out of my house!
That said, it's not for people with extreme phobias.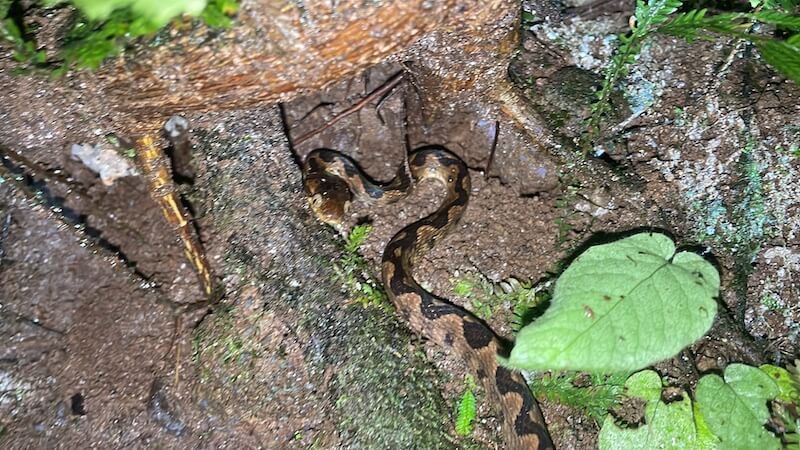 While I do maintain that the Manuel Antonio night walk is totally safe to do, it's a different story altogether if you have an actual phobia of snakes, spiders, or insects.
Not liking these creatures vs. having an a true phobia is an entirely different story.
I almost guarantee you will see some sort of snake or spider along the tour, so if that's a dealbreaker for you, a jungle night walk in Manuel Antonio is really not the tour for you!
​It's a bit of a long excursion, but it's absolutely worth it!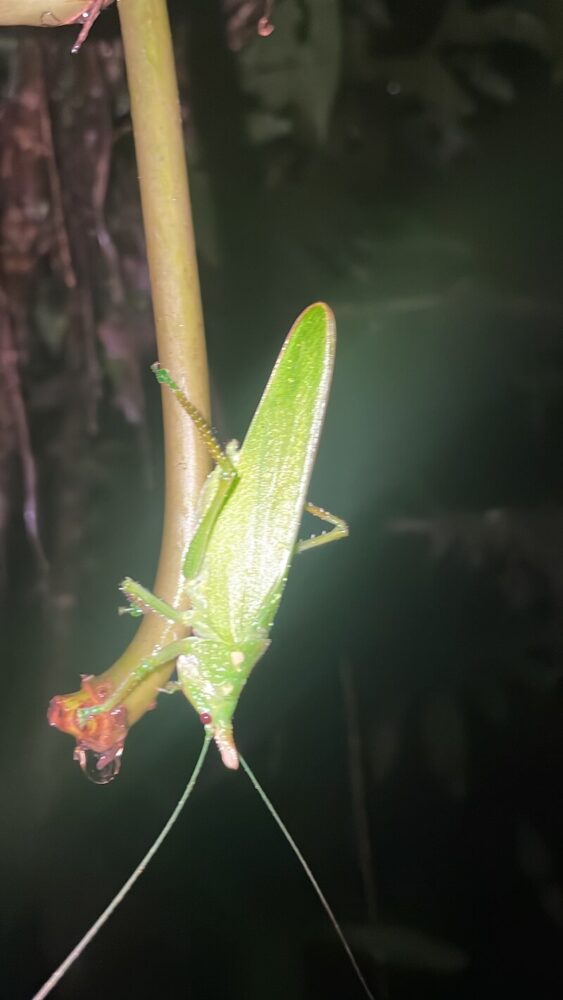 I was definitely a bit knackered from the night tour, but I had the best time and it was absolutely worth it.
Just keep in mind that you will be walking in a pitch black forest, with only a flashlight to guide you, and the weather conditions may be cold and damp!
You'll keep to keep your wits about you as you walk, since there may be obstacles on the ground that are hard to spot unless you're shining your light on it.
There isn't any heavy-duty hiking, but it is easy to moderate in terms of effort required to walk around for about 2 or 3 hours in the jungle.
The 5 Best Night Tours in Manuel Antonio
​Rainmaker Conservation Park Night Tour — What I Did — Book Here!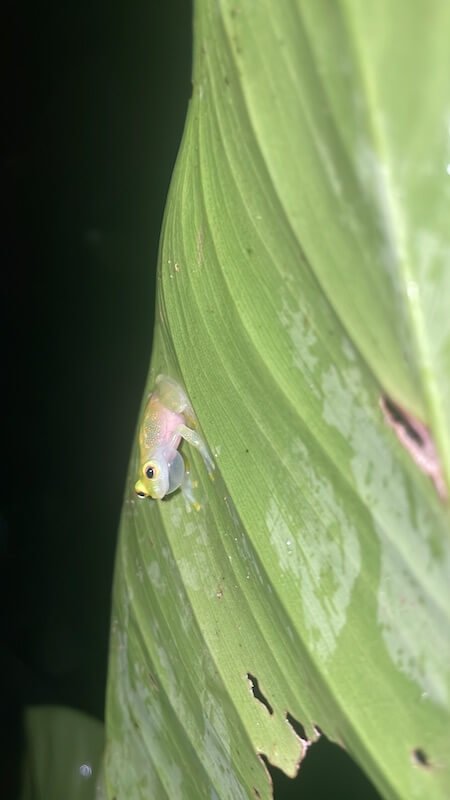 ​I already talked in detail about my experience taking this Manuel Antonio night tour above, so I won't fully repeat myself here.
​This tour is just excellent — the tour operators really know what they're doing, and everything is run like a well-oiled machine.
Communication regulation pickup location and time was excellent, the transportation was smooth and easy, the tour guide was an amazing nature interpreter, and he was passionate about helping us get epic photography.
He also was very tolerant of my constant questions and note-taking of all the different species of animals we saw.
Truly, shoutout to his patience as I asked him to repeat the names of the different species we saw so I could take notes for this blog.
I don't have much more to say — I think this is a great option for a night tour of Manuel Antonio, and I'd happily do it again — I had such a great time.
Manuel Antonio Jungle Night Tour with Pick Up – Book Here!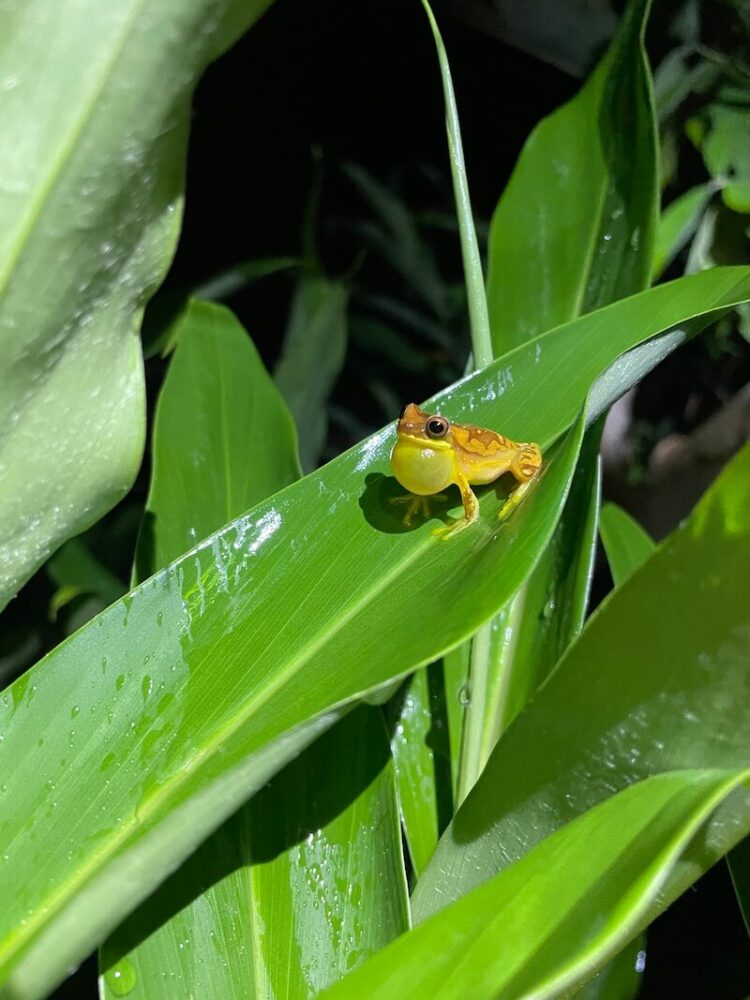 ​Another great opportunity to explore the jungles of Manuel Antonio by night is with this tour.
On its face, the tour appears to be cheaper than the above tour.
However, note that the $10 entrance fee to the nature area is not included…
… Nor is there a meal included, which in Manuel Antonio will definitely run you well over $10.
When you add that all up, the tours are the same cost, but the first tour is an hour longer, so you have way more chances to see incredible creatures.
However, the fact that this is a shorter tour may be a good thing if you don't like to stay up too late or you don't want to walk for as long.
Quepos Jungle Night Tour – Book Here!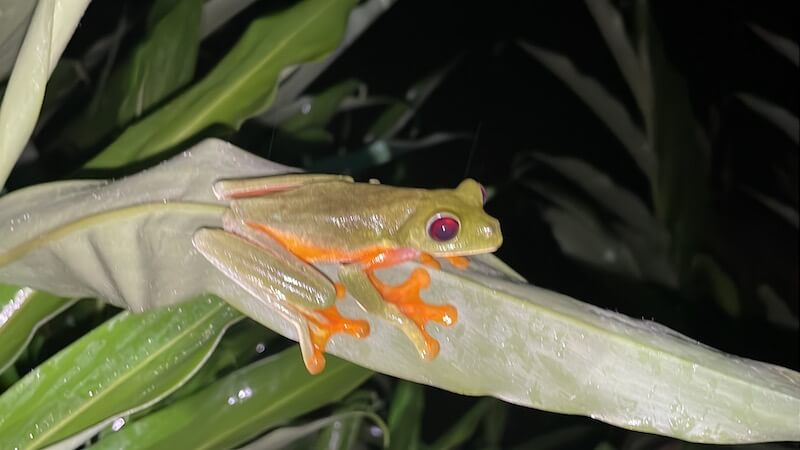 Another option is this three hour night tour of the Manuel Antonio area, including pick-up and drop-off anywhere in Manuel Antonio or Quepos.
This tour lasts two hours and includes transportation, a guide, equipment, and all entrance fees, but it doesn't include dinner.
To me, that lessens its value compared to the tour I took, which was the same price but had an hour longer in the tour as well as diner included.
Still, it has excellent reviews — on Viator, it has 150 reviews with an average of around 5 stars, indicating it's w crowd pleaser!
If you want a shorter tour and to choose your own dinner spot after the tour time is up, this is a good choice.
Personally, I was quite tired after my tour and was happy that dinner — even if not the most exciting dinner — was there and waiting for me, as I wouldn't have wanted to deal with finding a restaurant after the tour.
However, if you have dietary restrictions and prefer more control over your food choices, one of the two tours above that does not include a meal is probably a better alternative.
Combination Chocolate Tour & Jungle Night Walk Tour — Book Here!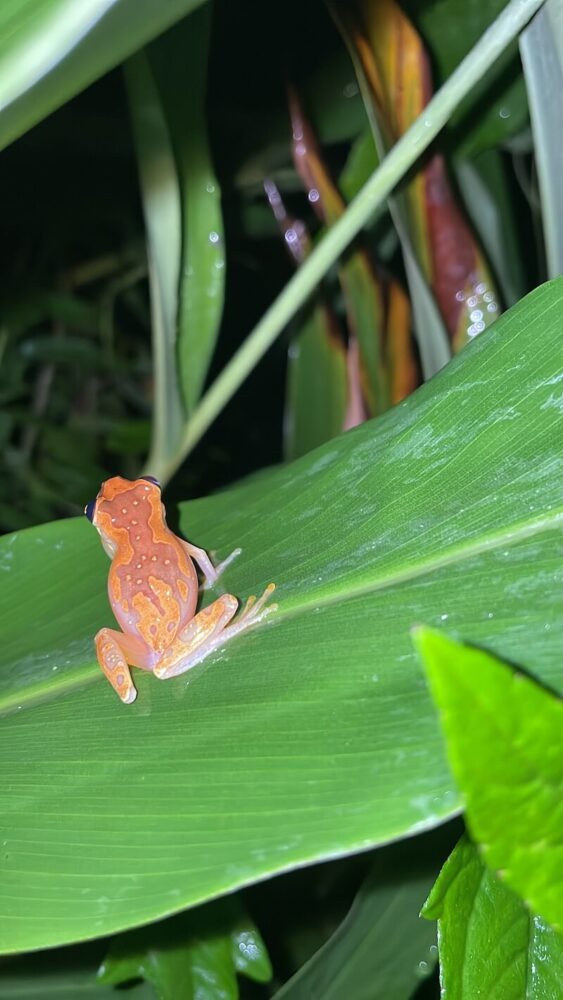 ​If you want to tick off two things on your Costa Rican bucket list in one easy combination tour — this is the one for you!
Starting at 5 PM, you'll start the trip at a cacao plantation where you'll learn all about the art and science of making chocolate — as well as chocolate's significance in the history and culture of Costa Rica.
You'll get the chance to sample local artisan chocolate where it was made, from bean to bar!
That chocolate buzz should keep you going as you continue onwards to a nighttime walking tour in the jungle, looking for diverse wildlife like rain forest frogs, nocturnal reptiles, snakes, and insects.
You can also start the tour at 8 AM, visit the cacao plantation for your chocolate tour, then get picked up later in the day to go on your night tour.
​Combination Day & Night Tour of Manuel Antonio — Book Here!
​Another cool way to experience the full range of Manuel Antonio's biodiversity is to compare and contrast it by day and by night on a combination tour.
This small group tour starts bright and early at 7 AM, so you can be there as the jungle wakes up, spotting creatures that are extra playful at this time of day like capuchin monkeys and squirrel monkeys.
Keep an eye out for the three-toed sloth, which aren't strictly nocturnal like their two-toed brothers.
They're hard to find on your own, but luckily, your guide will have a spotting scope and a well-trained eye to help you!
You'll be returned back to your hotel where you can unwind or enjoy some of the beaches in the area until you get picked up again for your night tour around sunset-time.
Then, you can return to a similar environment and see how it comes to life in a totally different way, with the morning bird calls turning into a raucous symphony of dozens of frogs vying for attention!
​
Allison Green is a former educator turned travel blogger. She holds a Masters in Teaching and a B.A. in English and Creative Writing. Her blog posts merge her educational background and her experience traveling to 60+ countries to encourage thoughtful travel experiences that both educate and entertain. She has been a speaker at the World Travel Writers Conference and her writing, photography, and podcasting work has appeared in National Geographic, CNN Arabic, CBC Canada, and Forbes, amongst others. Now based in the San Francisco Bay Area where she grew up, she has also lived in Prague, Sofia, and New York City.