There's a place where mountains disappear into alpine lakes, wildlife roams free and abundant, and breathtaking views await around every turn.
Welcome to Glacier National Park, set in Montana's Rocky Mountains!
Part of the world's first international peace park, Glacier NP is located in northern Montana and is seamed to Waterton Lakes National Park at the border of Canada and the USA.
Many of the roads in this mountainous paradise are only open from July – October due to snowpack.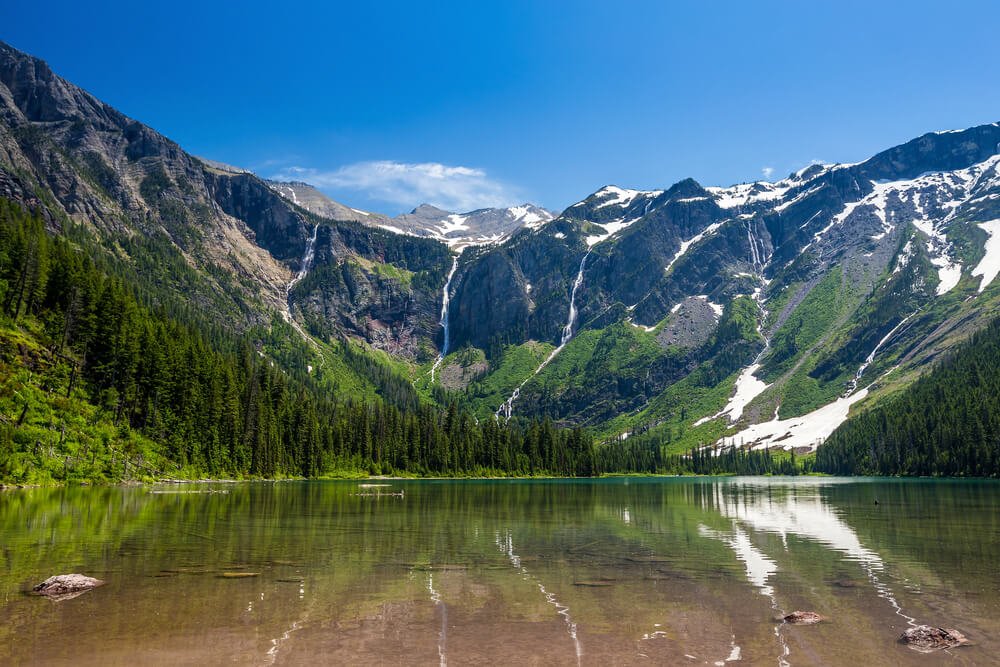 Note: This post contains affiliate links, which means I may receive a small commission if you purchase something through one of these links. Thank you for supporting the free content on this site! For more information on affiliate links and cookies, see my disclosure page for more details.
It's important to plan your trip accordingly and check on road conditions if you wish to see all the park's driving attractions.
Even in mid-summer, be prepared for chilly weather and the possible snow flurry that can catch many visitors by surprise!
Glacier National Park is home to many species of animals, hundreds of miles of hiking trails, glacial blue creeks, and scenic roads that wrap around the mountainsides for some of the best views in the country.
There's no wonder why it's on so many traveler's bucket lists!
This post was written in June of 2020 by Emily Lessard, a Montana local who lives in Big Sky, MT and hikes in Montana and Wyoming's National Parks frequently! It was updated most recently on August 3, 2023 to reflect changes that have occurred since then.
Planning for Glacier At A Glance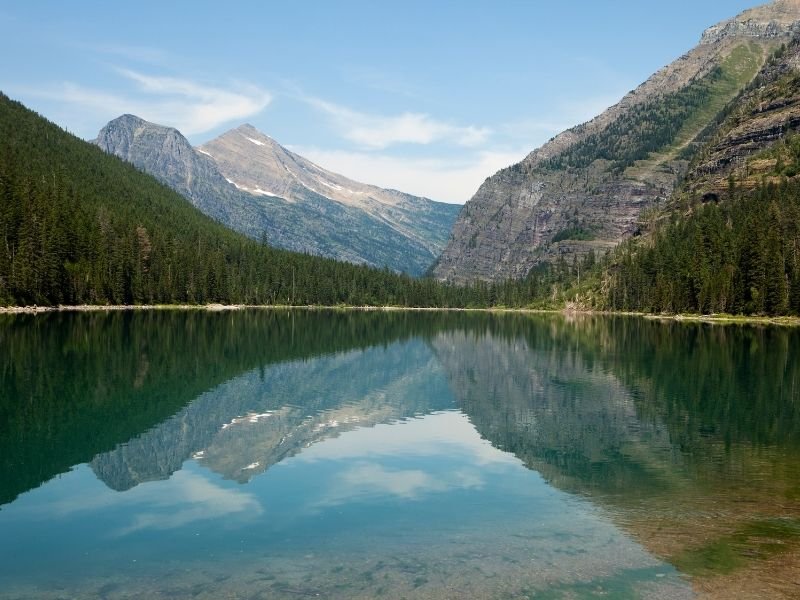 When to Go: There is no doubt that Glacier National park is impressive all year round but most of its beautiful driving roads are only open from July to October due to snowpack.

This means that summer is the best time to visit Glacier National Park (though parts of it are accessible in winter too), but keep in mind that it's also its peak season so you'll need to go early to bit the crowds.

If you don't mind that Going-to-the-Sun-Road will be closed, spring in Glacier National Park is a fantastic time to visit!.

Where to Stay: Glacier National Park has several in-park lodges to stay at.

Pick Many Glacier Hotel for stunning mountainous views or Rising Sun Motor Inn and Cabins for budget and mid-range travelers.
In that case, I recommend Glacier Outdoor Center (stunning chalet), Great Northern Resort (Lodge) for mid-range travelers, or Wonderstone at Glacier for a luxurious stay in Columbia Falls. And for a homey feel, I suggest staying at this cozy and luxurious cabin.

How to Get Around: A car is crucial for Glacier National Park! There are shuttle services within the park but I don't advise relying on them as they can be slow, crowded and they don't go to some areas within the park that are interesting to see.

If you're renting a car, compare car rentals and prices from here.
Alternately, you can rent an RV or campervan via RVShare and save on accommodations.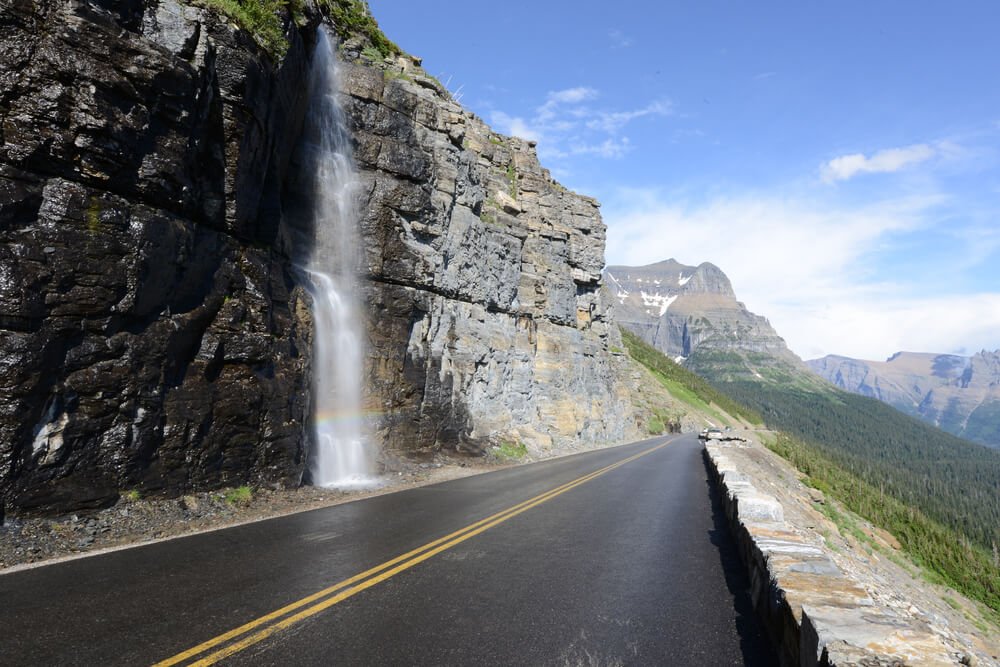 3 Things Not to Forget to Pack: Binoculars are key for spotting wildlife like bears, elk, moose, and bison– I suggest these Nikon binoculars. For hikes, you'll want a sturdy pair of hiking boots — I love my Ahnu boots — and some bear spray for safety reasons.

Know Before You Go: If you plan to visit multiple national parks in a year, the America the Beautiful Pass will save you a bundle! It costs $80 for an annual pass (for an entire vehicle traveling together) to all US national parks and federally managed sites.
Before You Visit Glacier National Park…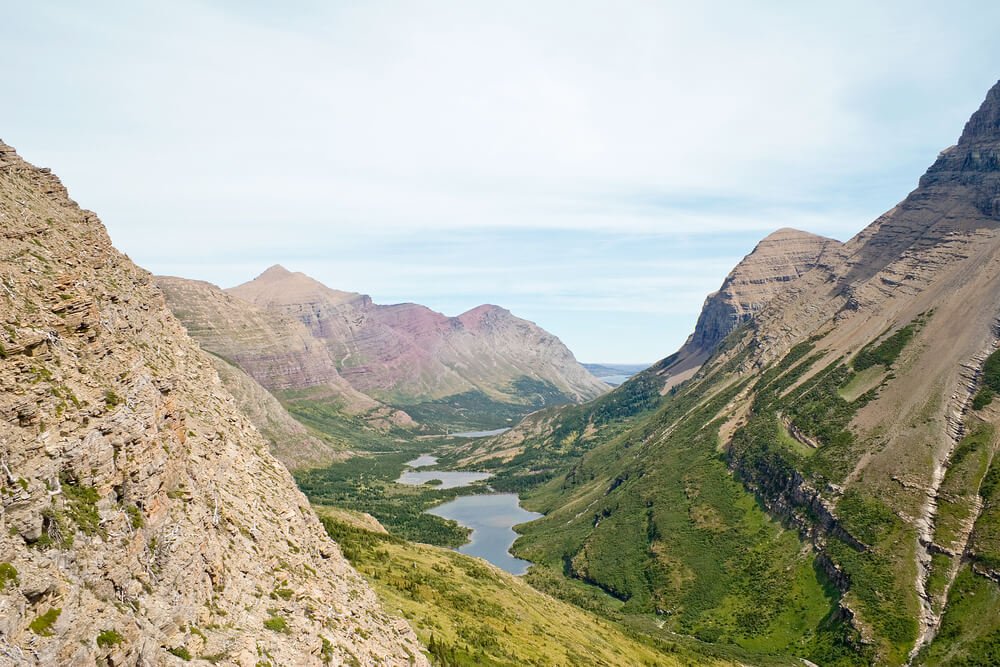 This Glacier National Park itinerary assumes that you have an entrance pass to Going-to-the-Sun Road, which requires a separate reservation due to the massive demand for this part of the park.
This Glacier National Park reservation system has been in place for several years to maintain the natural environment and keep this area from getting too crowded.
First, try to get tickets. You will see the option on recreation.gov to buy entry passes to the park.
Do not be fooled, entry passes do not get you into the Going-to-the-Sun Road entrance! This is just to enter other parts of the park.
In order to enter via the West Entrance, which is the most popular, you will need both the entrance ticket and the Going-to-the-Sun road ticket.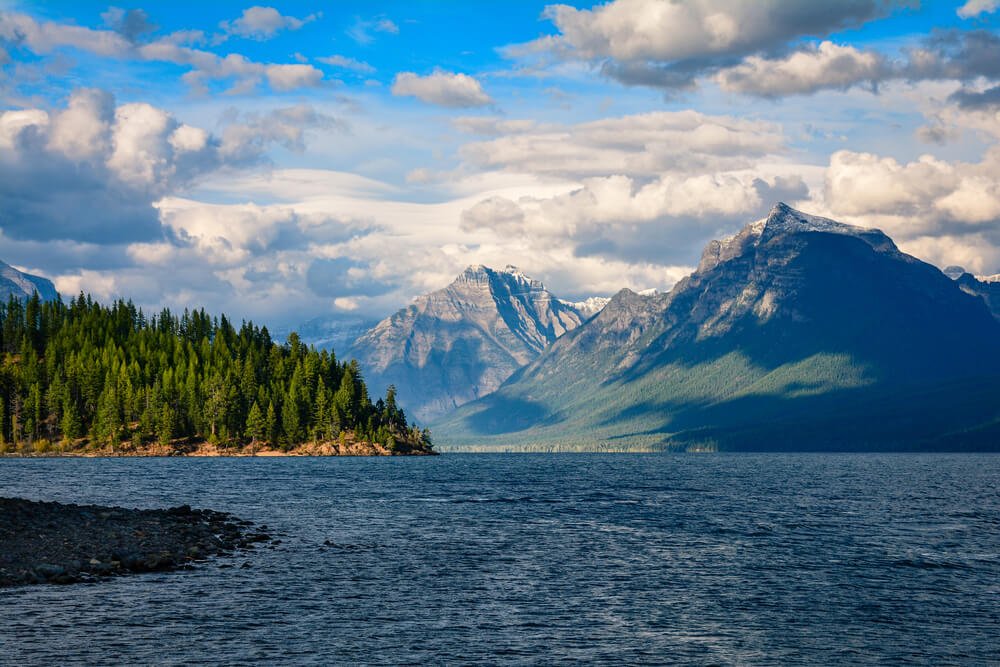 If you have a National Park Pass, such as the America the Beautiful pass, that will allow you to waive the entrance ticket.
However, it does not get you the Going-to-the-Sun Road ticket either. 
Landing a ticket to that entrance is the hardest part! The tickets are released online 60 days in advance on the rolling day window.
That means if you want a seven-day reservation ticket for July 1st, you can purchase that ticket 60 days prior to July 1st. It is then valid for that whole week.
These tickets in advance typically sell out within 5 minutes for days in demand!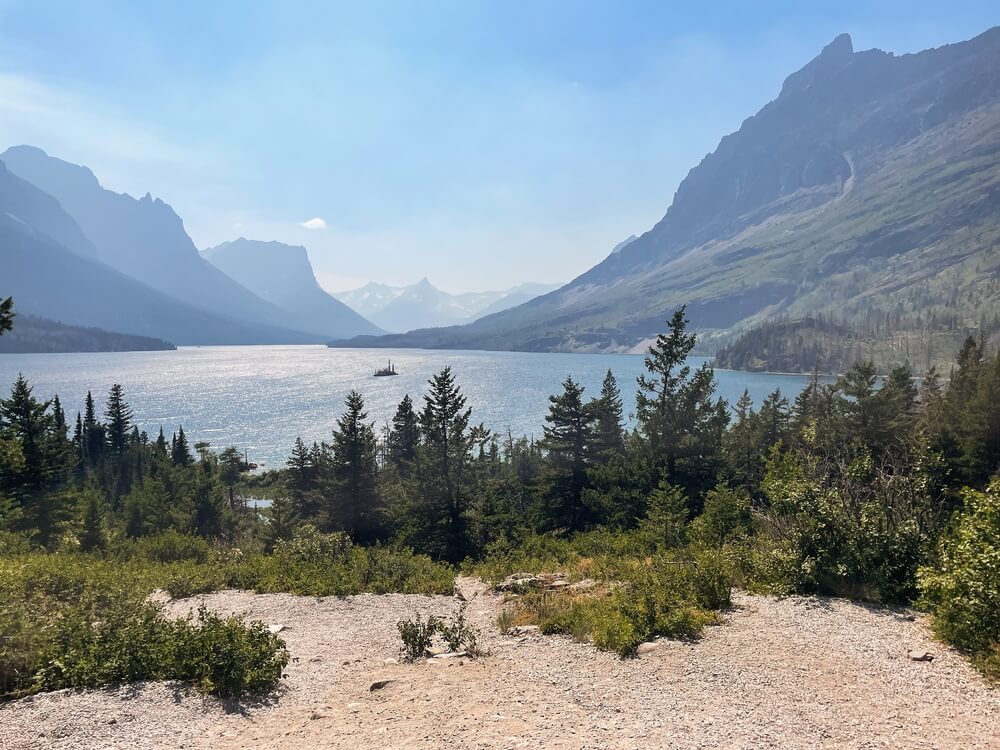 The park also releases a small batch of the tickets 2 days before at 8:00 AM MST, giving visitors a second chance to score a chance to see Glacier National Park.
Most of the time, both options sell out, leaving travelers frustrated and hopeless.
Luckily there are a few tricks to get around this (ethically) with the exceptions listed on recreation.gov!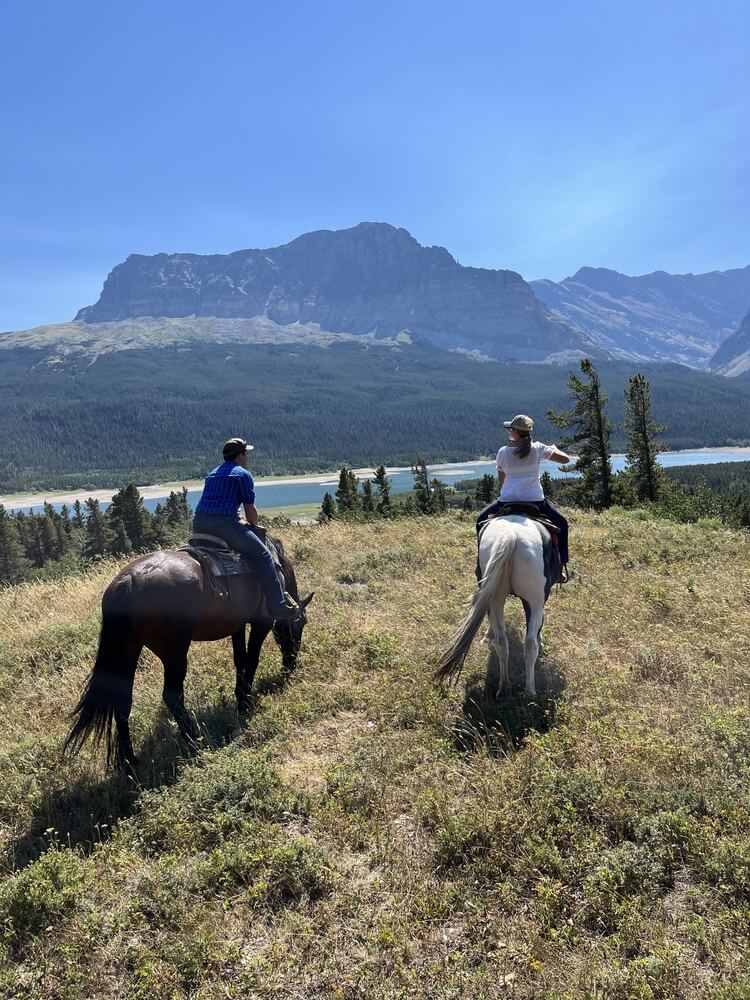 Those include having camping reservations at Fish Creek Campground and Apgar Campground.
You can also stay in a lodge or chalet along the Going-to-the-Sun Road corridor.
One of the most practical options is by booking a horseback ride, guided hike, or boat tour that uses Going-the-Sun Road.
Renting a Car for Glacier National Park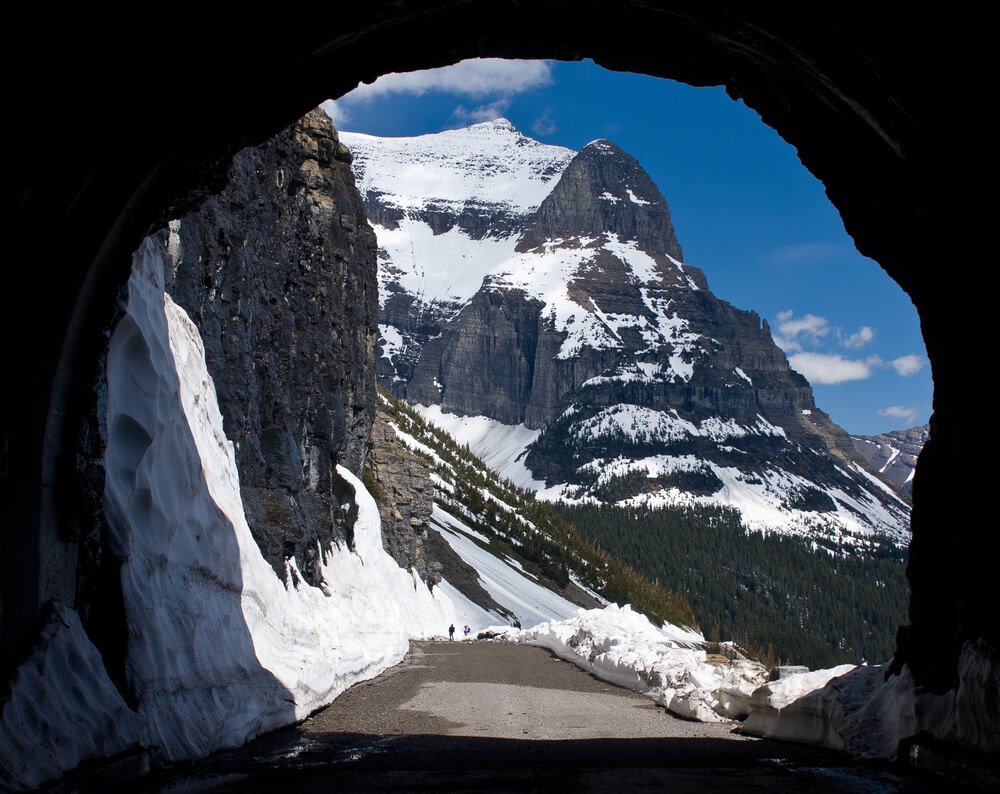 If you're visiting Glacier National Park in your vehicle, you can skip to the next section.
If you're flying into Glacier, Glacier Park International Airport in Kalispell is the closest airport to fly into as it offers the easiest access.
If your trip also involves visiting both Grand Teton and Yellowstone National Parks, you may want to look into flying into Bozeman.
If you choose to fly into Glacier, I recommend renting a car from Kalispell airport.
Not sure where to get the best deal on your rental? I've rented cars dozens of times through various search engines and have settled on DiscoverCars as the best car rental search aggregator – it sifts through dozens of trusted rental companies to find the cheapest price for your rental! Compare prices for your car rental here!
I recommend driving as the best way to experience the park, since you have the freedom to stop at any of the scenic pullouts for epic views!
Parking lots can get full, but aside from the trailhead parking lots, there tends to be a rather quick-moving flow of people, so having your own car is definitely more convenient than other options, such as a bus tour.
If you really can't rent a car or just don't want to, there are other options, including taking a red bus tour or utilizing the limited free shuttle.
What to Pack for 2 Days in Glacier National Park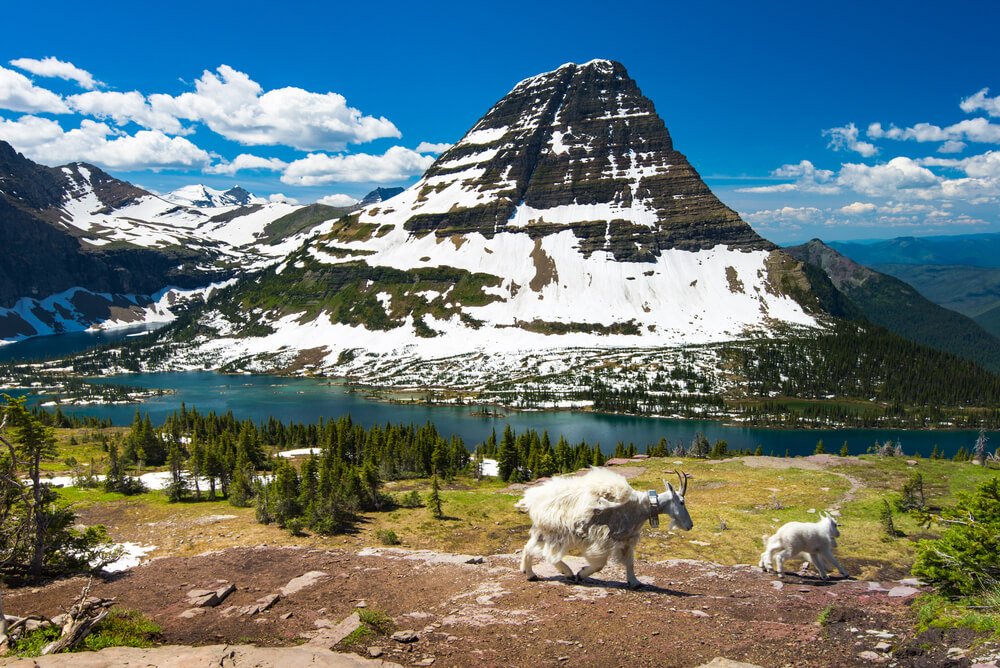 I have an article about what to pack for a road trip here, but for a quick rundown, here are the essentials to pack for a 2 day Glacier National Park itinerary.
Travel Guides: I have included everything that I think will be useful in this Glacier National Park itinerary but sometimes guides offer a lot more information than I can fit in one article.
Together with my personal experience and this best of Glacier National park guide, you will be guaranteed an amazing time in the park.
Layered Clothing: Being on a high elevation, Glacier National park gets chilly even in the summer months, especially at night so plan accordingly!
For summer or early fall, you'll want at least 2 shirts (synthetic or wool, long and/or short sleeve depending on the season), 2 pairs of leggings or pants, 2 pairs of shorts, 1 fleece outer layer, a waterproof jacket, a beanie, gloves, and 3 pairs of socks.
Comfortable Footwear: The best way to enjoy Glacier National park is by hiking so it's important that you pack a sturdy and comfortable pair of hiking boots.
I love my Ahnu Sugarpine boots for women, and for men, I suggest the KEEN Durand boot.
Sunscreen: With several mountains exceeding an elevation of 10,000 feet, you can be sure that you'll get sunburned even on cloudy days if you don't wear sunscreen — believe me, I learned this the hard way. Now that I know better, I always carry this chemical-free organic sunscreen
Sunhat: I recommend a lightweight but packable hat like this one that has a strap on to prevent it from being blown away by the outbursts of wind. And you can even wear it on your back if you get tired of wearing it on your head.
Day pack: A lightweight daypack is very essential when hiking the beautiful trails of Glacier National Park to put all your day hiking essentials in a place that can easily be accessed even when walking! I like this inexpensive and lightweight Osprey day pack. The best part is that it has mesh panels on the back to allow for airflow.
Snacks: Though none of the Glacier National Park trails are extreme, I recommend having some snacks in your daypack should you get hungry and don't want to waste time sitting down to have a big lunch.
I suggest you make or pick up a picnic lunch before you make your way to the park. Alternatively, you can pack a number of snacks like protein bars (I love CLIF bars), nuts, or other high-density snacks that give you a lot of caloric energy for their weight!
Camera: I can never go anywhere without my Sony A6000 — I love it! It's mirrorless, lightweight, and perfect for capturing good-quality photos of the amazing wildlife of Glacier National Park.
Unlike a D-SLR, it won't weigh you down but since it's just the body, I suggest bringing a zoom lens for wildlife and a wide-angle lens for landscapes.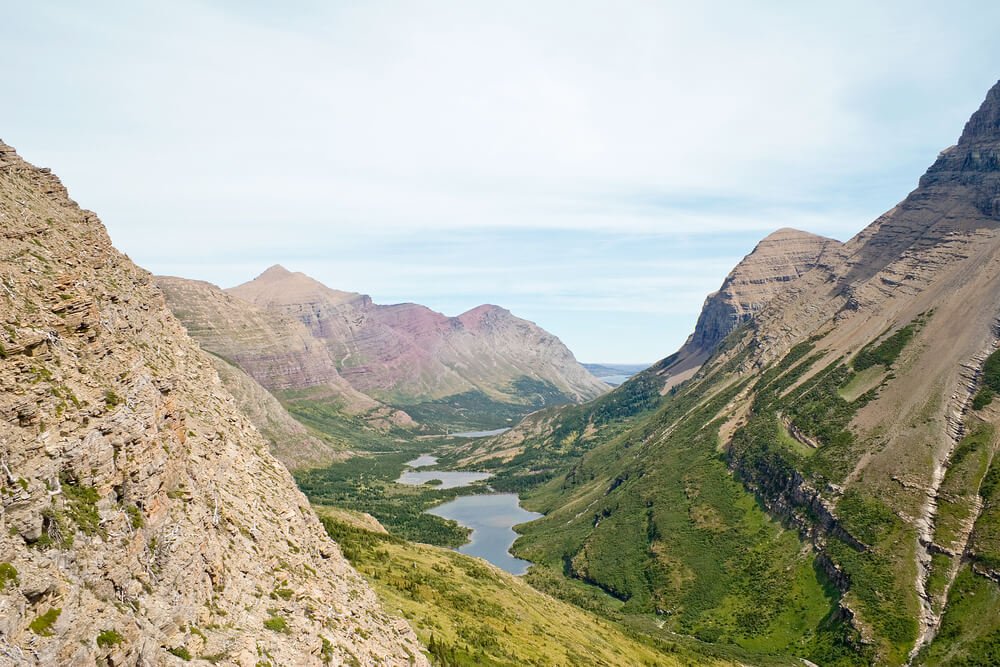 First aid kit: Don't let things like blisters or scrapes ruin your Glacier trip! I recommend putting a first aid kit like this HART Weekend First Aid kit in your day bag. It's lightweight, but if you ever need it, you'll be so glad to have it.
Headlamp (and extra batteries): I recommend bringing a headlamp like this Petzl headlamp if you plan on going for a sunrise or sunset hiking.
Water filter bottle: While there are water fountains and bottle filling stations in Glacier, I still suggest having a water bottle with a filter so you can fill up anywhere there's a water source — like all the beautiful alpine lakes around you!
There is a variety of water filtration systems but I personally have and love the GRAYL Geopress, which makes filtering water from any source easy. It's compact and easy to use and filters out 99.99% of microplastics, viruses, bacteria, and other nasty particles, making water instantly safe to drink without plastic waste.
Bug Spray: Keep away those little monsters by packing and using this bug spray.
Where to Stay in Glacier National Park
There are a number of options for where to stay in Glacier National Park, both inside and outside the park but the former requires booking way in advance — more than 6 months before your trip. Below are some of the places to stay both inside and outside the park.
In-Park Accommodations
CLASSIC LODGE | If you're all about beautiful views, then I recommend staying at Many Glacier Hotel. This lakefront hotel is perfectly located to give you outstanding mountainous views with just a peep in the window or its balcony.
It has exposed wooden beams and a large fireplace in its dining area adding to its already impressive features.
>> Check photos and reviews on Hotels.com
BUDGET INN | Located along the Going-to-the-Sun Road, Rising Sun Motor Inn & Cabins offers both cabins and guestrooms perfect for budget travelers. The rooms are super clean with large windows that offer amazing views.
>> Check photos and reviews on Hotels.com
Though everyone would want to stay inside the park, it's just not possible all the time as it requires a lot of planning and a booking of over 6 months in advance.
If you find yourself in that situation, you can still enjoy Glacier National Park by staying outside the park in either East Glacier or West Glacier. Both towns are near the park so accessibility with not be an issue.
You can also find accommodation in Columbia Falls, Hungry Horse, or even Coram but East Glacier and West Glacier offer much more possibilities in terms of activities and accessibility.
East Glacier Accommodations
COTTAGE | If you're looking for both mountainous and lake views, then I suggest staying at this beautiful cottage.
With a private bathroom and a tub, a well-equipped kitchen, and a large outdoor deck with a grill, this cottage will take your experience at Glacier to the next level.
The cottage has 2 bedrooms but the convertible sofa in the living room adds an extra sleeping space for a big group! And let's not forget the fireplace in the living — perfect to cozy up on those chilly nights.
>> Check photos and reviews on Vrbo
BUDGET | Exceptional, clean, and great location are some of the qualities that describe Mountain Pine Motel. This little motel is owned by a family that has poured their hearts into making it a comfortable place to stay at.
Each room has a private bathroom, a refrigerator, a microwave, and a comfortable bed that will help you save some money without sacrificing comfort.
>> Check photos and reviews on Hotels.com
LUXURY | Sitting on the edge of Glacier National park, St. Mary Lodge and Resort is the perfect hotel if you want to experience luxury at its best.
This rustic hotel offers soaring views on the mountain with spacious rooms that are perfectly decorated in woody colors to create a distinct appeal.
>> Check photos and reviews on Booking.com | Book it on Hotels.com
West Glacier Accommodations
BOUTIQUE | Located near the entrance of the park and Going to the Sun Road, Great Northern Resort (Lodge) is the perfect place for travelers who want a taste of luxury with a mid-range budget.
This charming and rustic cabin features exposed wooden beams that bring out the beauty of its interior, large bedrooms, big bathrooms, a sports court, a natural pool, and a lovely garden to walk around. There might not be TVs in the rooms but who needs a TV with all the stunning views outside.
>> Check photos and reviews on Booking.com | Book it on Hotels.com
CABIN | Staying at Glacier Outdoor Center is the closest you can ever get to getting a comfortable and amazing stay on a budget! It might not be much of a budget but it's a steal for what you'll get at that rate.
The cabin features a large deck that overlooks the beautiful mountains, a fully furnished kitchen, a large living area with an open concept, and a cozy interior with a brand new look that will make you feel right at home — everything in this cabin will make you want to extend your stay.
>> Check photos and reviews on Booking.com | Book it on Hotels.com
Your Perfect Glacier National Park Itinerary
Day 1 of Your Glacier National Park Road Trip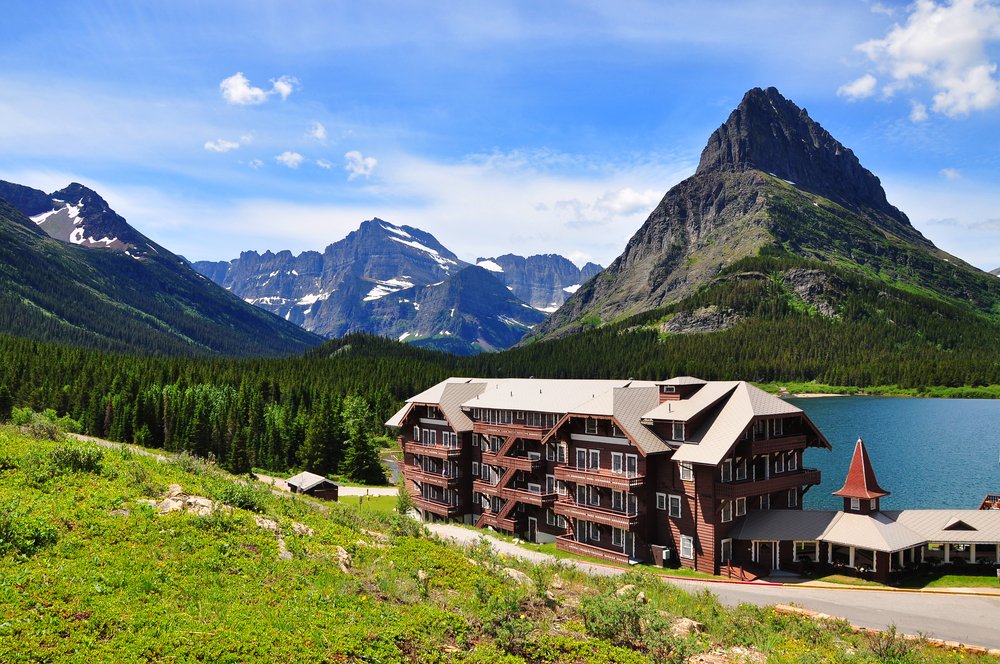 Your adventure in Glacier begins in east Glacier National Park in Many Glacier, which boasts the some of the best mountain views in the entire park!
The Many Glacier Road runs just north of the famous Going-to-the-Sun Road. With all there is to see on this less commonly explored route, it is well worth exploring for a full day.
From the small town on the Blackfoot Indian Reservation (home to the Siksikaitsitapi people), Babb, head towards the Many Glacier Entrance to begin the first day of your Glacier National Park adventure!
Many Glacier
Ask any park employee or former visitor what their favorite area of Glacier National Park is, and the answer will likely be Many Glacier.
The first few miles of road are pretty socked in with vegetation, but drive cautiously because this is a popular area for wildlife crossings! Watch as the landscape begins to reveal itself.
Lake Sherburne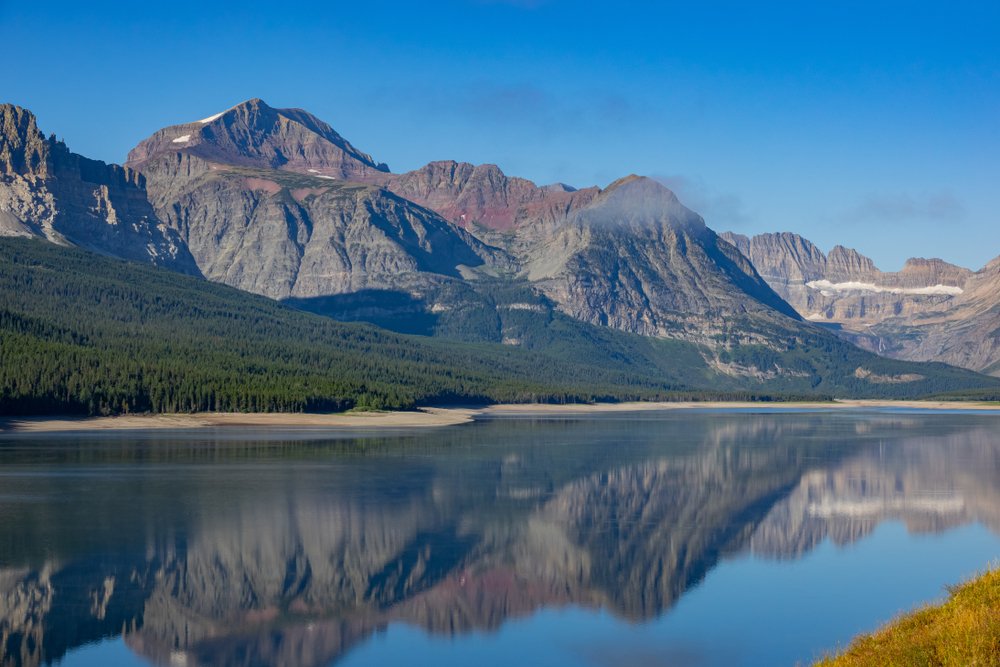 Now, this is where it starts to get really good. Get your camera ready!
As you near the lake, the sky-scraping mountains of the Lewis Range begin to come into view to the west.
Trumpeter swans can occasionally be spotted swimming along the shores in the fall and spring.
Grinnell Lake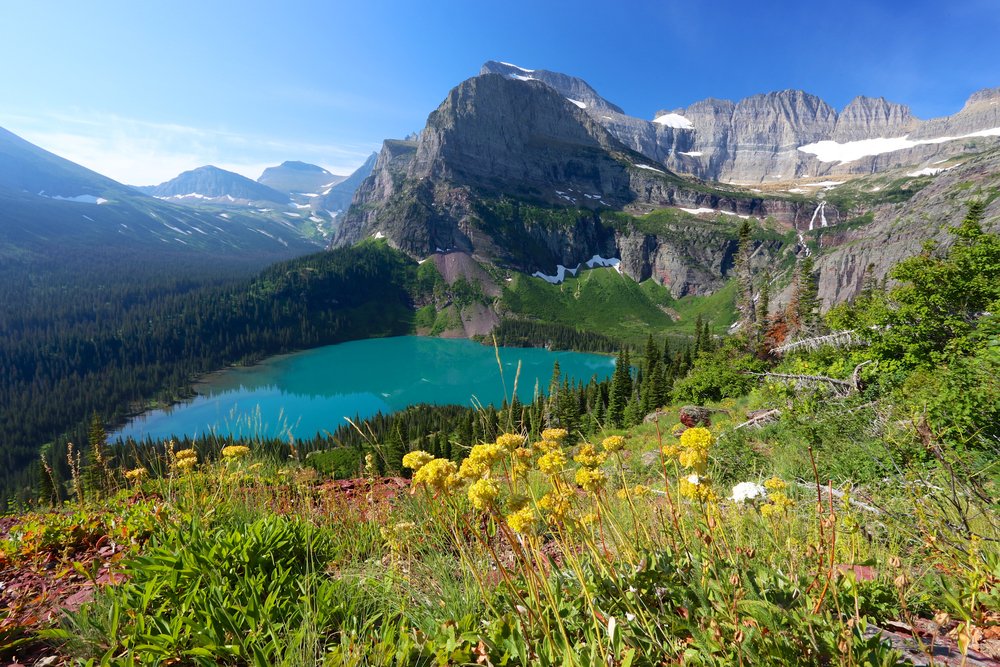 As you continue on the Many Glacier Road, there are lots of scenic turnouts providing photogenic views of the rocky peaks.
Keep on the road toward the Many Glacier Hotel.
There, you'll head over to the docks and hop on a boat shuttle to get to your first hike of the day, Grinnell Lake!
There is a small fee for taking the shuttle and one transfer is required to reach the trailhead.
Although hikers can forgo the boat shuttle and hike from the hotel area, this convenient and scenic ferry shaves 5 miles off the round-trip distance, making the total excursion a manageable 3 miles.
Expect this day hike to take about 2-3 hours with a 20-minute boat shuttle, making it a great option for those who have a limited amount of time.
When you land at the final dock, follow the signs toward the Grinnell Lake Trail.
After about 1/2 mile you'll be met by a suspension bridge that extends over the glacial blue stream. Just before crossing the bridge, check out the side trail (to the left) that will take you to a beautiful hidden waterfall. It's worth the very short uphill climb for the view that awaits!
Back on the main route, cross the bridge one hiker at a time.
Just a little bit farther and… there it is! The magnificent Grinnell Lake with Grinnell Glacier nestled in the nearby peak in the background.
This is a great spot for a group photo and a snack break. There are no bad views here!
On the way back to the Many Glacier Hotel, you can take the shuttle boat again or opt to hike around the lake adding some extra miles and opportunities to see wildlife like mountain goats or even bears (this is why you should bring bear spray!)
The choice is yours, but plan accordingly because there is much to see here… if you can't tell already!
Many Glacier Hotel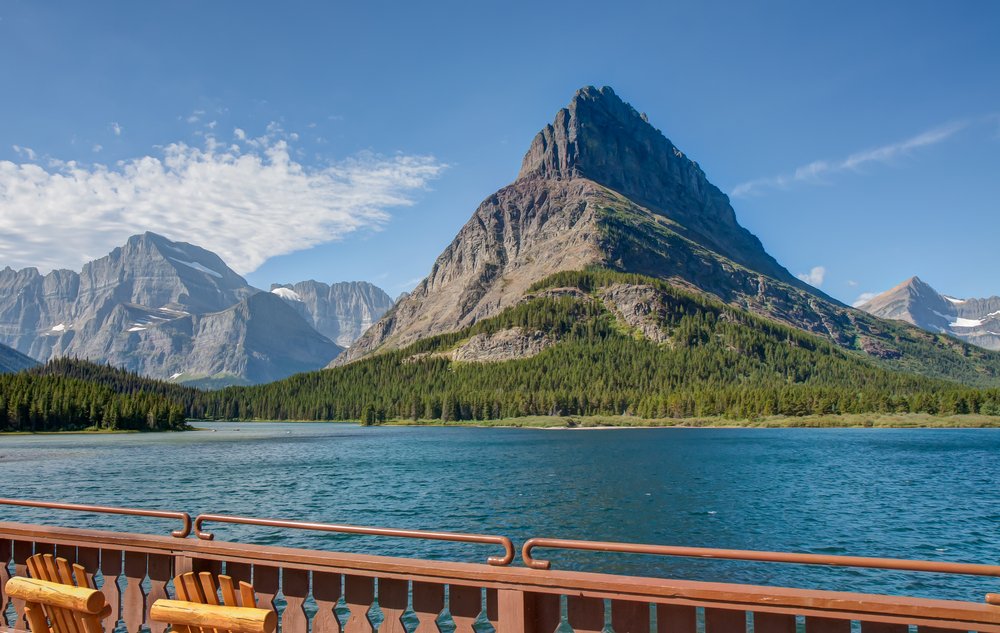 That hike was something else, and now your legs deserve a little break at the stunning patio of the Many Glacier Hotel.
Relax in the comfy chairs along the hotel's deck and lawn while you hydrate and have a bite to eat.
We know this is the exact view you have been dreaming of!
Redrock Falls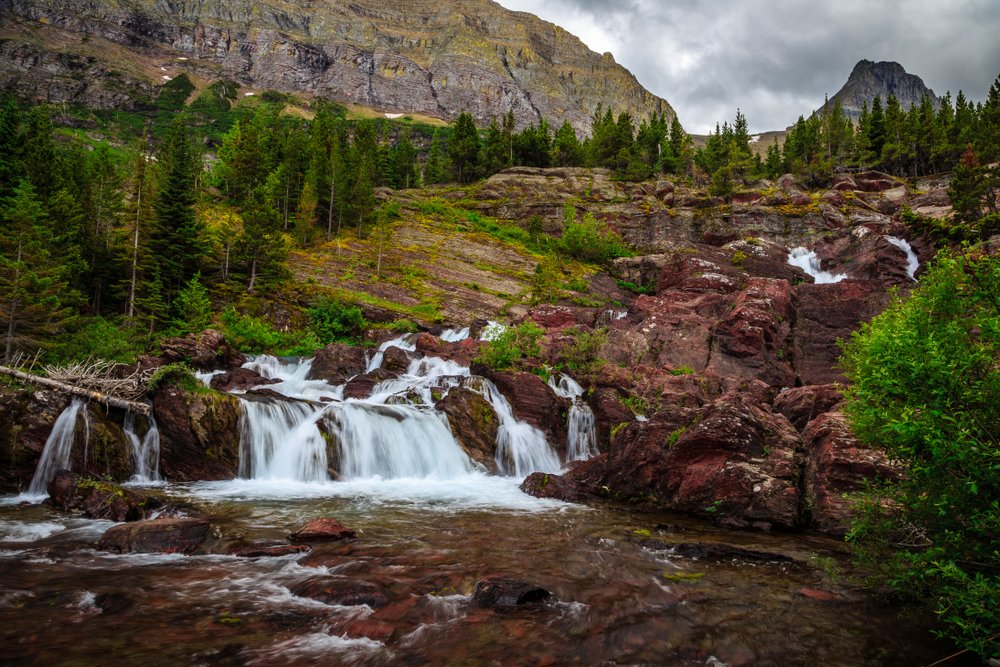 When you've taken plenty of photos and are ready to depart the Many Glacier Hotel, continue on the main road toward Swiftcurrent.
Watch for bighorn sheep along the roadway!
At the end of the road, you'll find a campground, general store, dining options, and a visitor center.
Redrock Falls is accessed via the Swiftcurrent Pass Trailhead, which is near a campground and Swiftcurrent Lake.
This trail is famous for its moose sightings and, like all other areas of the park, sees the occasional bear.
This easy 3.5-mile out-and-back trail has very little elevation gain and is good for all abilities. Huckleberry ice cream waits for you at the general store!
That's all for today! Spend tonight in one of the conveniently located campgrounds or lodging accommodations.
Rest up, refuel, and get ready for another exciting day in Glacier National Park.
Day 2 of Your Glacier National Park Road Trip
Wasn't the Many Glacier area of the park beautiful? You may feel like there's no way it can get any better, but it's about to!
Today you'll be exploring the well known scenic drive, the Going-to-the-Sun Road, which covers much of the west side of the park.
This route stretches 50 miles across the park, and is often snowed in until late June or even July!
Be sure you have a permit to access Going-to-the-Sun Road, which is addressed above!
St. Mary Lake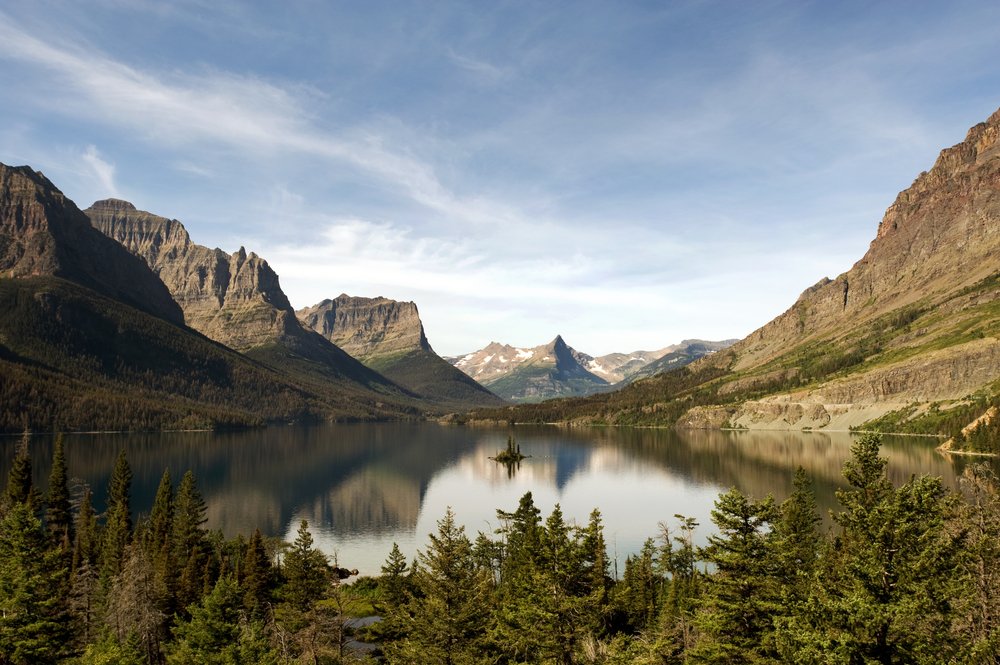 Since we're still on the eastern side of the park, today will begin from the St. Mary Entrance.
As you drive alongside St. Mary Lake, you will pass by several scenic turnouts.
Take the time to pull off the main road and enjoy the mountain views!
Be sure to snap a photo of the scenic Wild Goose Island in the middle of Saint Mary Lake!
You may want to also take the time to hike to St. Mary Falls on one end of the lake — it's a short 1.7-mile out-and-back hike that's worth the extra mileage!
Rising Sun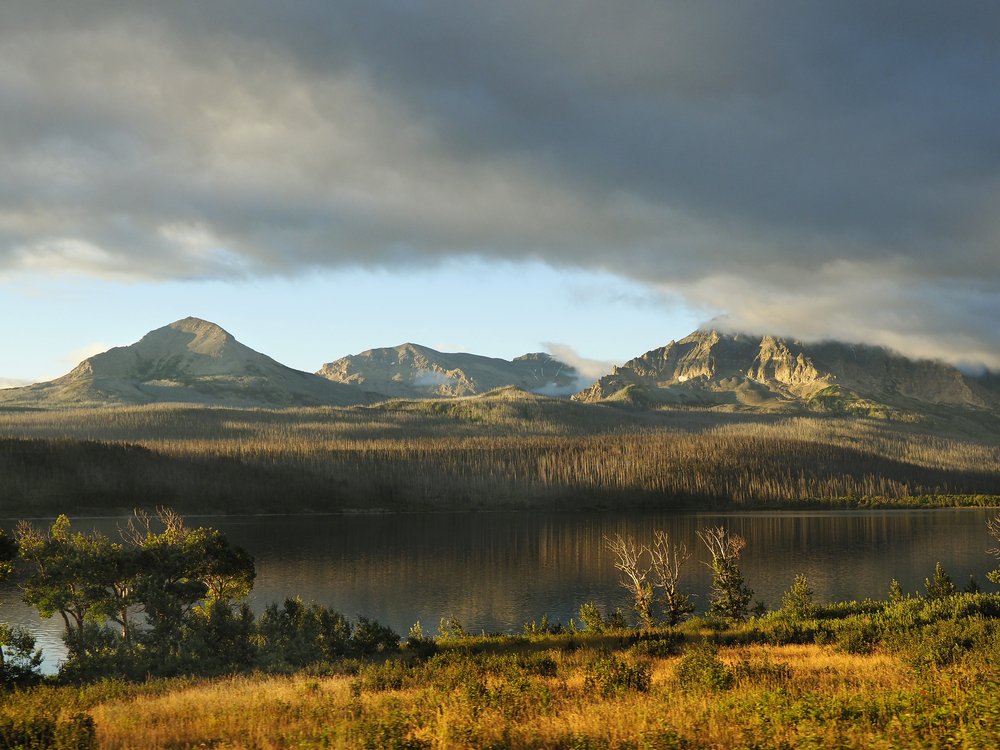 Our first official stop of the day is going to be at Rising Sun!
Here you will find the easy 0.5-mile out and back trail that brings you along the rocky shore of St. Mary Lake.
This is the perfect morning walk for uninterrupted views of the dramatic peaks on the far side of the lake.
Sun Point Nature Trail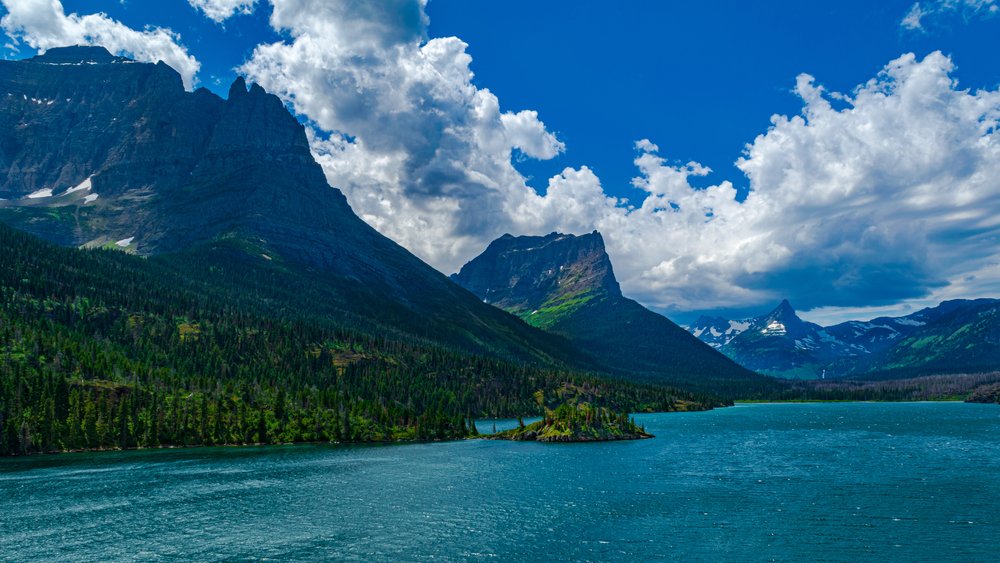 Take in your last bit of the beautiful St. Mary Lake with another easy hike on the 1.7-mile out and back Sun Point Nature Trail.
With epic views and frequent wildlife sightings, this is one you just can't miss.
If you want to cover a little more distance than what we have planned, a visit to St. Mary and Virginia Falls will add on a few miles.
We still have quite a bit of ground left to cover today, so plan accordingly!
Logan Pass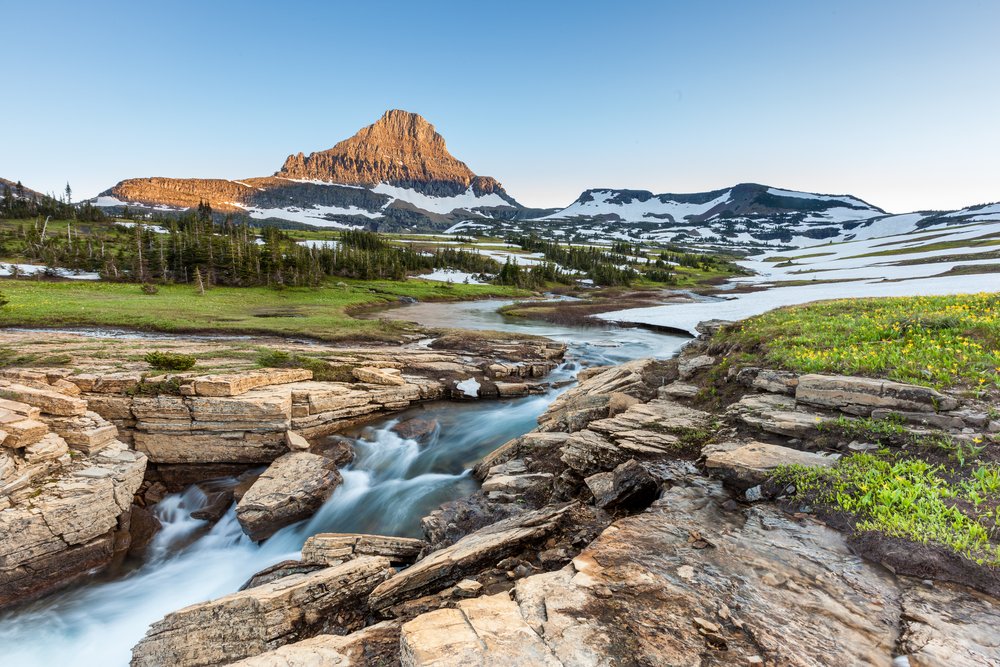 Welcome to the highest point on the Going-to-the-Sun Road at 6,646 feet!
You'll have the perfect view of the towering Clements and Reynolds Mountains in the Lewis Range!
Take your binoculars out and see if you can spot any bighorn sheep roaming in the scree fields.
Bird Woman Falls Overlook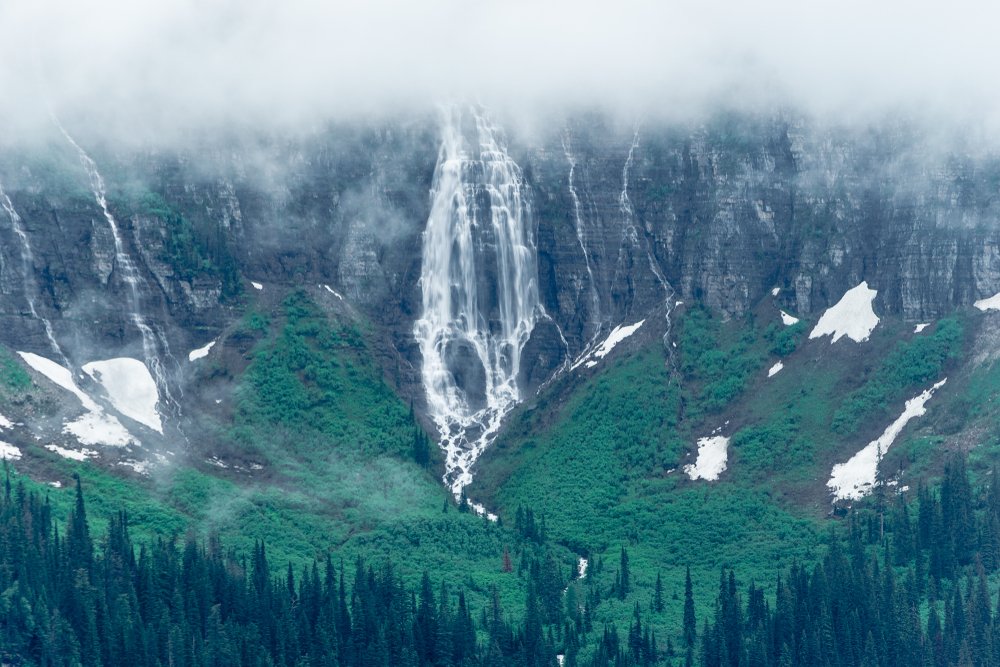 Continuing on the main road, it's all downhill from here… elevation wise, that is, the good views only continue!
Not far after the famous flows of the Weeping Wall, the overlook for Bird Woman Falls is a must-see attraction on the right side of the road.
You will find varying information on the actual height of this waterfall.
The signs at the overlook list 492 feet, while the World Waterfall Database says the falls is 960 feet.
Go see for yourself! Which measurement do you think is correct?
Trail of the Cedars Nature Trail and Avalanche Lake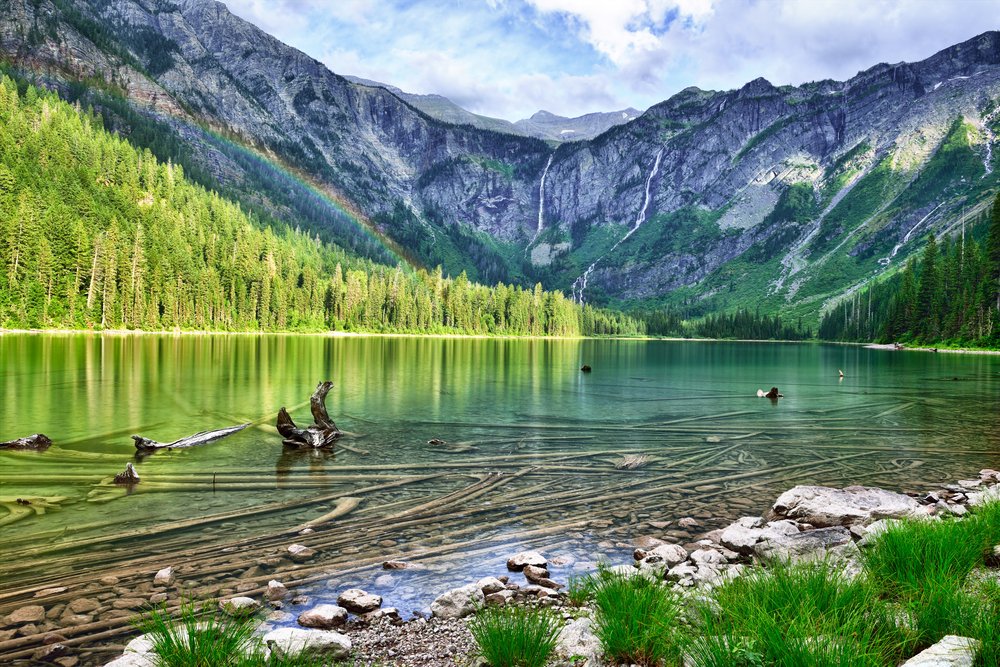 Enter the magical forest of giant old-growth cedars! Some of these massive trees tower over 80 feet tall.
The trees are easily accessed via the Trail of the Cedars Nature Trail right near the Avalanche Creek Picnic Area.
The boardwalk trail weaves through the trees offering appearances by the icy blue waters of Avalanche Creek.
That was a beautiful scenic drive along the Going-to-the-Sun Road, but by now you're probably ready to get a good hike in to really stretch out your legs!
From the Trail of Cedars, follow signs to the Avalanche Lake Trail.
This 5.7-mile out-and-back trail is a moderate hike along Avalanche Creek and leads up to astonishing views of Avalanche Lake.
The trail is nicely shaded for most of the way, which makes it perfect for warmer mid-afternoon hikes in the summertime.
It's definitely one of the best hikes in Glacier National Park!
Lake McDonald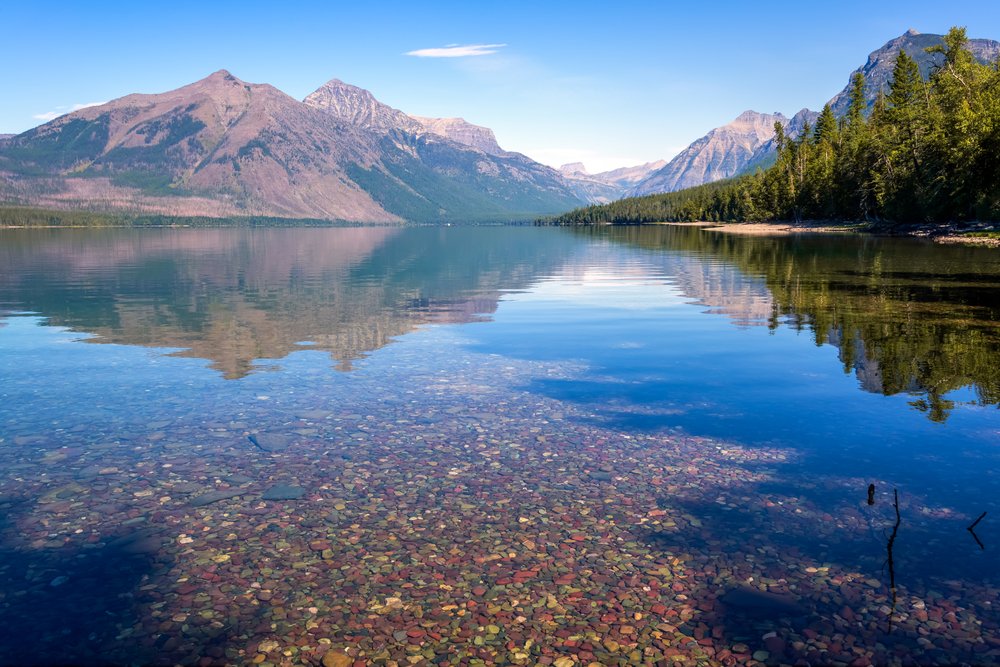 The famous rainbow-colored rocks of the Lake McDonald shores wait for you at the end of the Going-to-the-Sun Road.
This is the largest lake in Glacier National Park — a park of many, many lakes!
You may have seen photos of the shores sprinkled over social media, but now you get to see the real thing, no filter needed!
Some of the best places to view the lake are the Sprague Creek Picnic Area and the Apgar Village Area.
Well, here we are with the perfect way to end your Glacier National Park road trip.
This is where we leave you to find your next adventure in the little town of West Glacier.
Happy trails!
Protect your travel investment!

Travel insurance coverage helps you recoup your losses in case of emergency, accident, illness, or theft.

I rely on SafetyWing for coverage when it comes to trip interruptions and cancellations as well as accidents and medical emergencies.

It offers great rates starting around $12/week with clear, easy-to-read coverage.
Emily is a freelance travel and outdoor recreation writer from Big Sky, Montana. Her adventurous spirit has led her to the high peaks of the Sierras and the largest wilderness areas in the lower 48. When she's not writing, Emily can be found backpacking, road tripping to outdoor destinations, climbing, or rowing whitewater.