If you're looking for a popular winter vacation destination with fewer crowds, Naples is the perfect destination for you!
Located in Southern Italy, Naples has mild winters, making it the ideal city to explore in the off-season.
Over my 15 years living in Italy, I traveled to Naples on multiple occasions and winter may just be my favorite season to visit the city!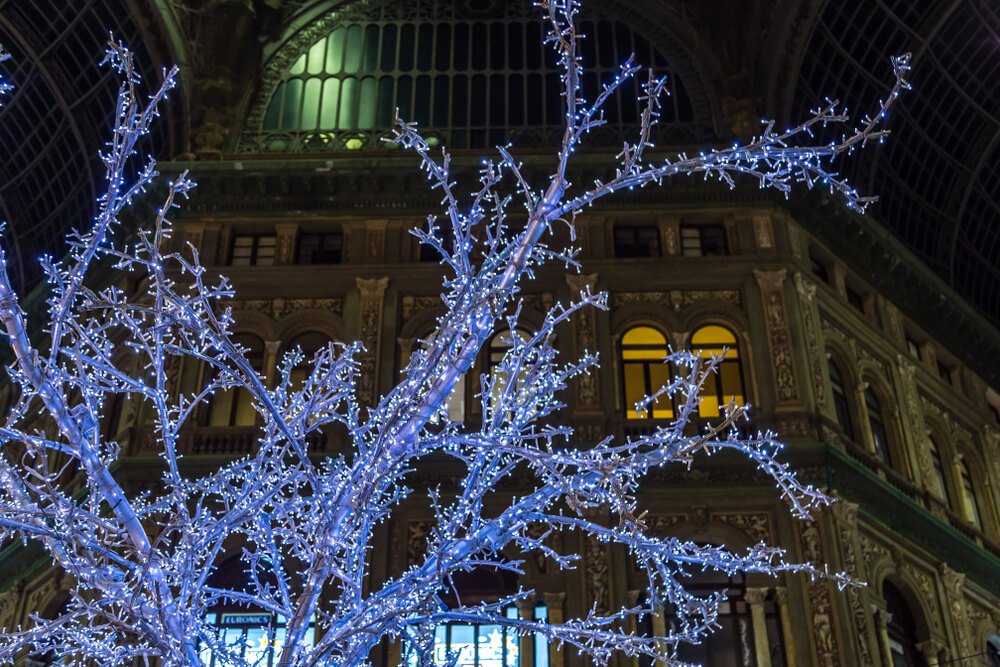 Note: This post contains affiliate links, which means I may receive a small commission if you purchase something through one of these links. Thank you for supporting the free content on this site! For more information on affiliate links and cookies, see my disclosure page for more details.
Although some popular areas and attractions may still be slightly busy, you'll get to enjoy pleasant strolls around the city center, visit stunning museums, enjoy delicious food, and even take a few nice day trips nearby.
In this guide to visiting Naples in winter, you'll find a bit of everything.
There's interesting museums, impressive archaeological sites, all the best shopping spots, and even the most festive places to experience the Christmas atmosphere.
Things to Do in Naples in Winter
Check out the Presepe display on Via San Gregorio Armeno.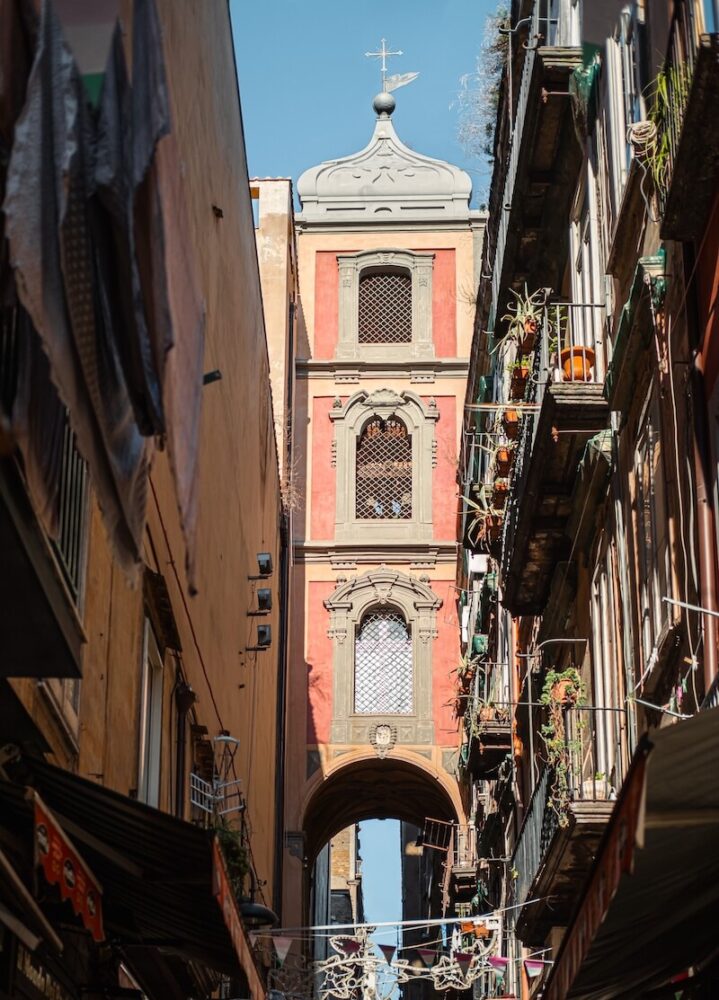 If there is just one thing you absolutely have to do in winter in Naples, it's taking a beautiful stroll along Via San Gregorio Armeno to admire the Presepe displays.
Presepe is the Italian term for the nativity scene, and it's a long-standing, cherished tradition in Naples.
You'll see a Presepe in most Italian squares during Christmas time, but Via San Gregorio Armeno is the go-to place to admire these elaborate and beautiful displays.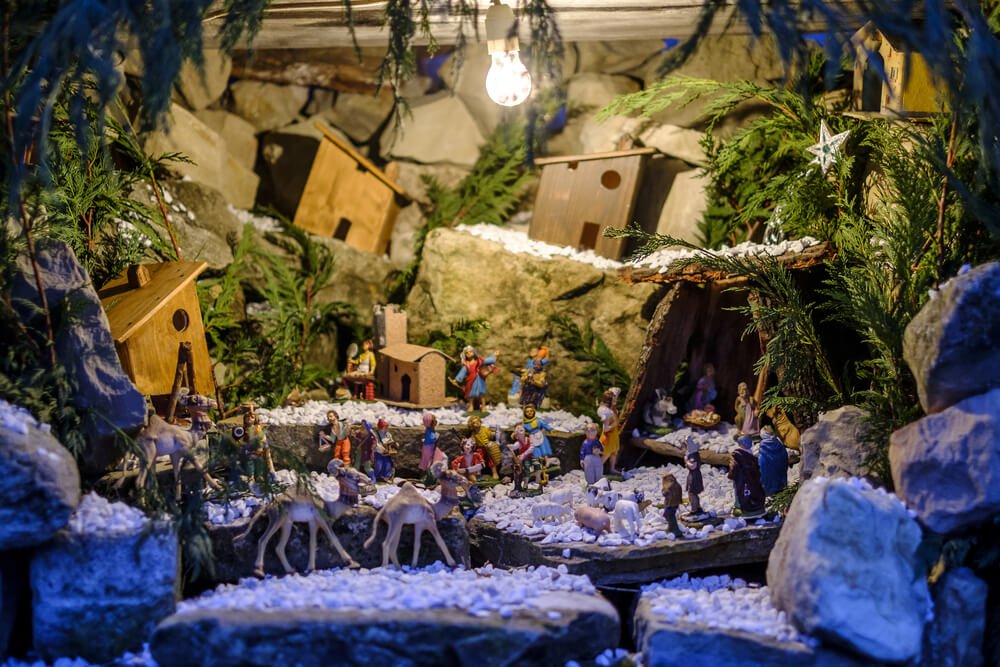 While Christmas is the time when everyone shops for figurines and decorations to make their Presepe at home, on this particular street in Naples, you can see them year-round.
Of course, the best time to visit the renowned street, also known as Presepe Street, is from early November through mid-December.
It's probably best to avoid the days surrounding Christmas and New Year's Eve unless you're a fan of crowds. 
No matter when you visit Naples, don't forget to check out this lively street!
Enjoy exploring the city with fewer crowds.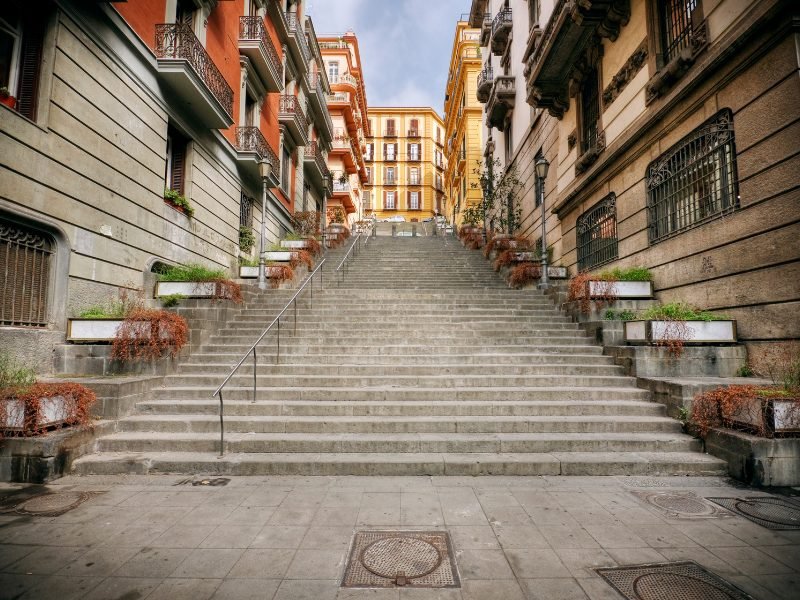 The best part of visiting Naples in winter is being spared the huge crowds that overtake the city during summer.
From November to February (except, of course, for the Christmas holidays!) you can take your time to explore the city with much fewer crowds.
It's also true that Naples has mild winters, so more and more people are opting to visit during the off-season.
Nevertheless, you can still enjoy a relatively empty city, shorter lines for the biggest attractions, and overall, just a more pleasant visit.
Check out the imposing Piazza del Plebiscito, explore the popular Via Toledo, go window shopping on Via Chiaia, and stroll along the Lungomare di Napoli for beautiful views of the sea and Mt. Vesuvius in the background.
Get festive at the Christmas Markets in Vomero.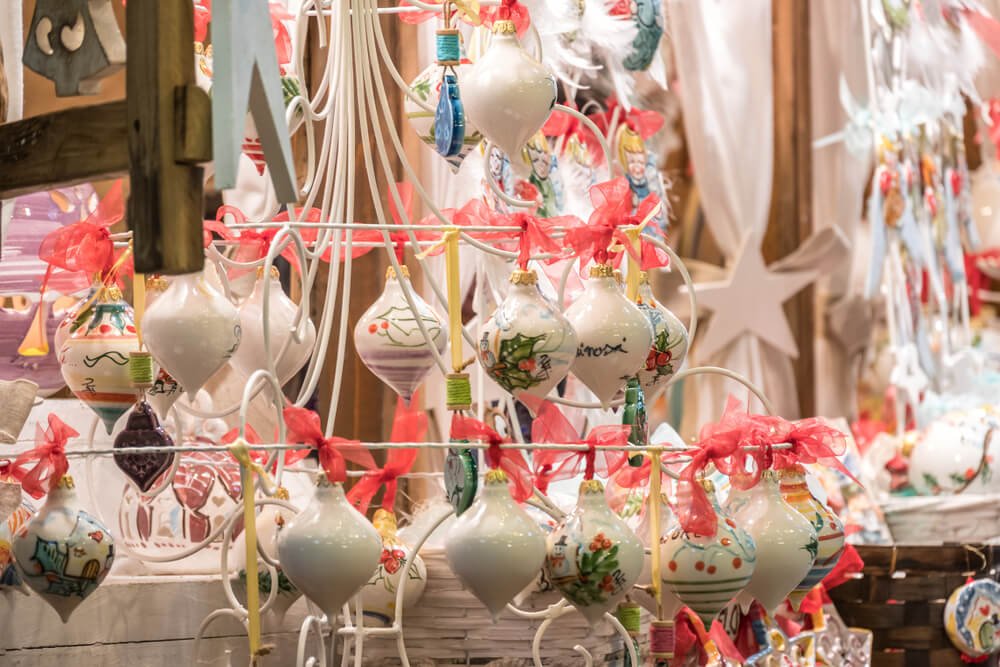 Naples isn't exactly renowned for its Christmas markets, but the tradition has started to gain popularity, so you can now find a few markets, mainly in the Vomero neighborhood.
Vomero is a lively hilltop district around the central square of Piazza Vanvitelli.
The area is best known for the medieval fortress, Castel Sant'Elmo, and the scenic views of the Gulf of Naples.
However, the neighborhood is also the best place in Naples for Christmas decorations and markets.
The Christmas markets in Vomero run from early December until January 6th.
You can find stalls selling Christmas decorations, local food and drinks, and souvenirs around Piazza degli Artisti, Via Enrico Alvino, and Via Angelica Kauffmann.
Visit the hilltop Castel Sant'Elmo.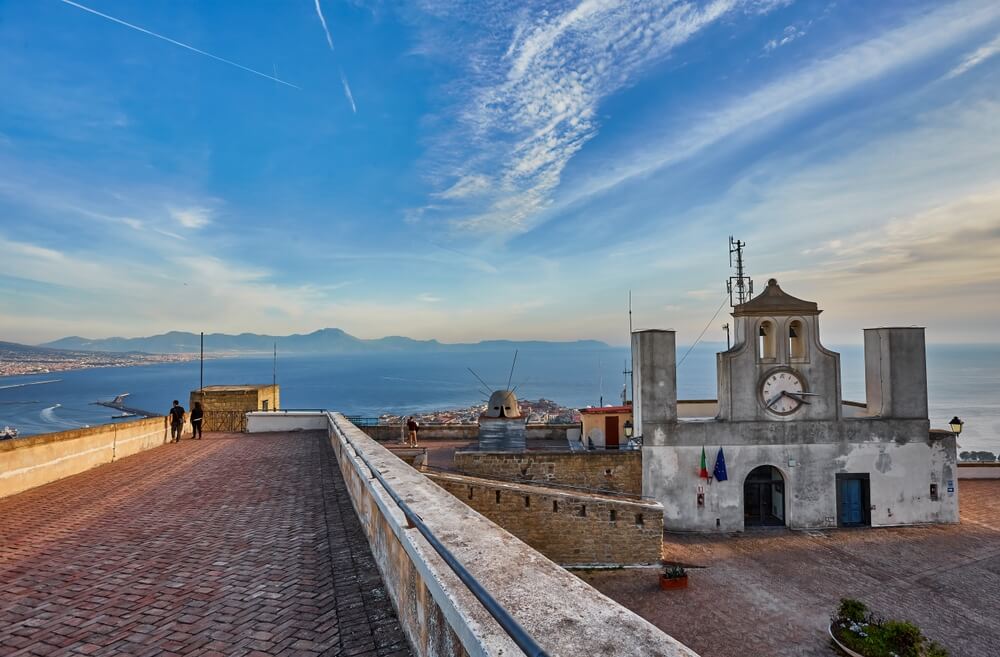 While in Vomero, you should also pay a visit to the stunning Castel Sant'Elmo.
Perched at the top of the Vomero hill, the medieval fortress stands on the site of a 12th-century fortified residence.
This castle offers spectacular panoramic views of the city, the Gulf of Naples, and of course, a snow-capped Mt. Vesuvius dominating the bay.
In summer, Castel Sant'Elmo is among the most popular tourist attractions in Naples, especially around sunset, when the view of the gulf is even more stunning. In winter, you can enjoy a crowd-free visit.
However, nearly the entire visit is outdoors, so this might not be the best place on a rainy day — check the weather before planning this part of your Naples winter outing!
If you're around on a clear winter day, you should head to Castel Sant'Elmo just before sunset. You can pair this with a visit to the nearby Christmas markets!
Even better, the entrance fee is really cheap! Visit on a Tuesday or any other day after 4 PM, and you'll only pay 2.5€.
Discover Certosa e Museo di San Martino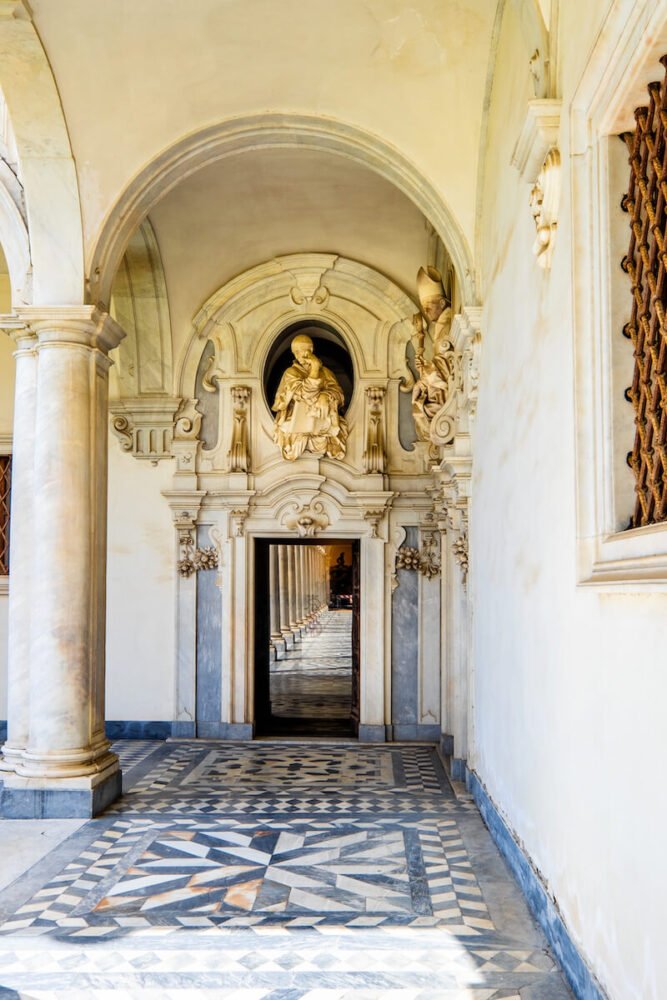 Just below Castel Sant'Elmo, Certosa di San Martino is a former monastery complex overlooking Naples from the Vomero hill.
The monastery was built in the 14th century and expanded several times later before ultimately being turned into its current form as a museum
Today, Certosa di San Martino houses the National Museum of San Martino.
Inside, you can admire several works of art and artifacts from the Spanish and Bourbon eras, from paintings and sculptures to carriages and ships.
If you ask me, the best things to see in the museum are the traditional presepe displays (Nativity scenes), which make this the perfect place to visit in Naples in winter.
However, don't forget to check out the monumental courtyard with its beautiful cloisters.
Admire the Veiled Christ at Museo Cappella Sansevero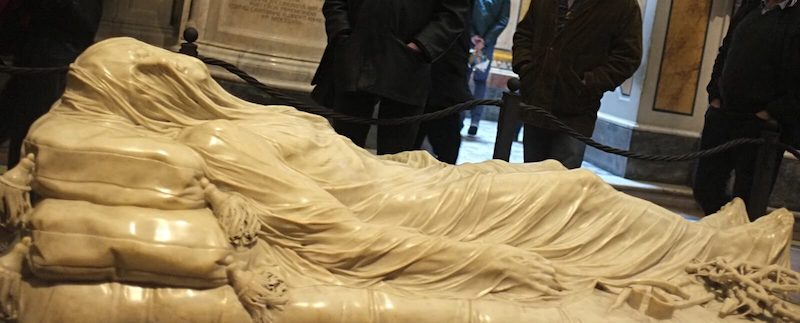 The Veiled Christ, Cristo Velato in Italian, is one of the main things to see in Naples.
The sculpture is considered one of the world's great masterpieces, a white marble sculpture that will leave you in awe of its incredible life-like details.
The sculptor Giuseppe Sanmartino sculpted the Veiled Christ from a single marble block, which is impressive enough.
But the detailed rendering of the transparent veil covering Christ's body and his face is what makes the sculpture awe-inspiring.
The representation is so realistic that many believed it was created through alchemy!
You can admire the stunning sculpture and many others in the Sansevero Chapel, a 16th-century family chapel that is now a museum.
The chapel is among Naples' most popular tourist attractions, so get your tickets online in advance.  
You can also join a guided tour that includes entry to the Sansevero Chapel along with a tour of downtown Naples with stops at other landmarks like the Naples Cathedral, Santa Chiara Monumental Complex, and Chiesa Del Gesù Nuovo.
Book this Downtown Tour and Veiled Christ Entry a few days before your visit.
Discover the underground side of Naples.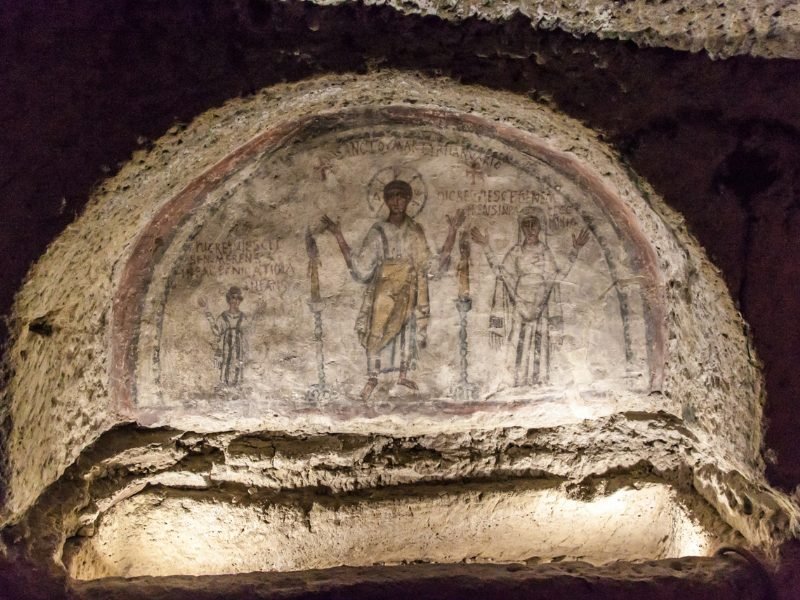 If you happen to be in Naples on a cold and rainy day, the best way to escape the bad weather is to join a tour of Naples Underground.
You'll head beneath the modern city to discover its history dating back to ancient Greek times!
A whole complex of archaeological discoveries lies beneath the city, unveiling what Naples looked like as far back as 2,400 years ago.
The only way to explore this area of Naples is with a guided tour that will lead you through narrow galleries and remains of Roman buildings.
The most popular experience is this Naples Underground Guided Tour in the heart of the city.
However, other underground tours are available, like this Bourbon Tunnel Guided Tour or the Catacombs of San Gennaro.
Visit the magnificent Castel Nuovo.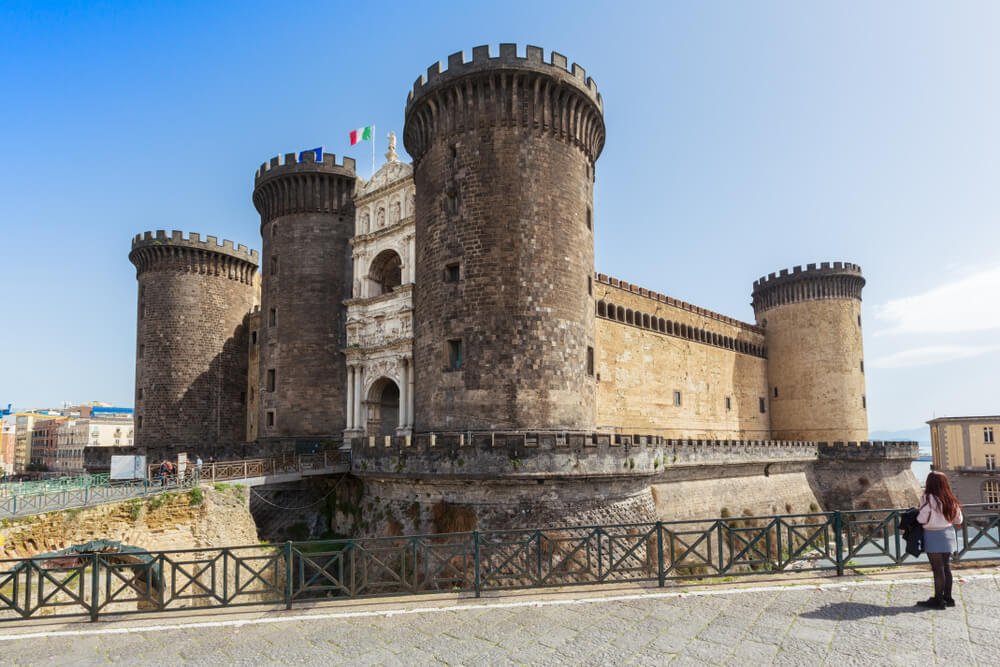 Unlike Castel Sant'Elmo, Castel Nuovo has several indoor areas you can explore, including the Civic Museum and the Palatine Chapel.
This helps make it the perfect place to visit on a cold and rainy winter day in Naples!
Castel Nuovo, also known as Maschio Angioino, was built under the reign of Charles I of Anjou in the late 13th century.
The stunning castle is located in a scenic location close to the sea and was named Castel Nuovo (New Castle) to distinguish it from the older Castel dell'Ovo.
Inside Castel Nuovo, you can explore the imposing rooms and halls, visit the Palatine Chapel and the Chapel of the Souls in Purgatory, and check out beautiful works of art inside the Civic Museum.
Access to all available areas of the castle is only 6€, which is a great deal for how much you get to see!
Admire Naples' art museums.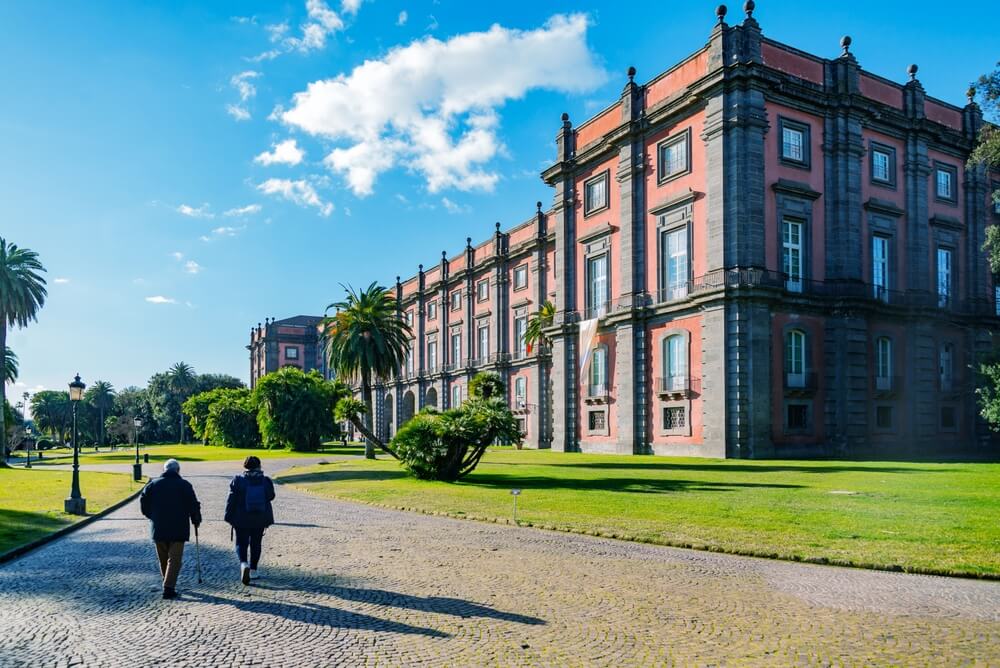 There are lots of art museums in Naples which are the best place to spend a rainy winter day.
One cool such museum is the Museo di Capodimonte, located in a Bourbon-era palazzo called Palace of Capodimonte.
This museum features classical works, such as pieces by Caravaggio and Titian, so it's more for the fans of the classics.
If you're an admirer of contemporary art, be sure to check out the Palazzo delle Arti di Napoli, also known as PAN.
The museum is inside a historical 17th-century building and houses various art exhibitions, from paintings and sculptures to photography and visual arts.
The exhibitions at PAN change every few months, so you'll have to check what's on when you visit Naples.
Depending on the exhibition, entry may be free or there may be a small fee. 
However, the great thing about PAN is that it stays open until 7:30 PM!
That makes it the perfect place to visit in the late afternoon when it tends to get cold outside.
Check out the Naples National Archaeological Museum.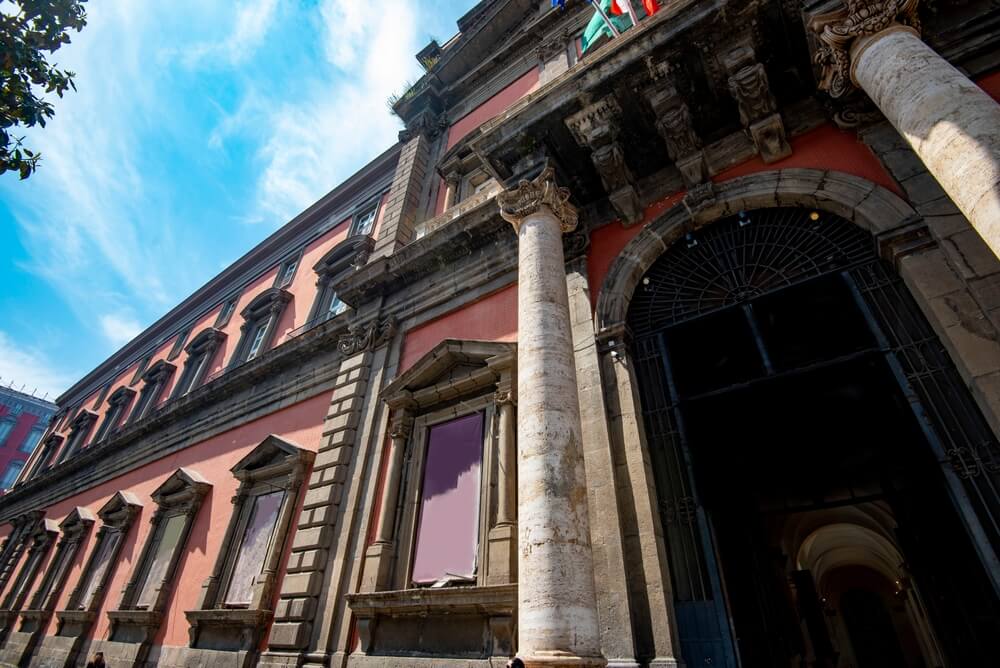 The Naples Archeological Museum (or MANN – Museo Archeologico Nazionale di Napoli) is one of the best museums you can visit in Naples.
MANN is home to one of the richest archaeological collections in the world, including many artifacts unearthed during the excavations of Pompeii and Herculaneum (both of which you can visit from Naples, as well).
The Egyptian collection, the Farnese collection of Roman antiquities, the collection of daily life objects from the Vesuvian area, and the Magna Graecia collection are just a few of the impressive collections you can see in the museum.
Even better, you can admire frescoes from Pompeii and sculptures from the Villa of Papyri in Herculaneum.
The museum is huge, so you should set aside a few hours for your visit.
Aside from the permanent collection, you'll often find temporary exhibitions, too.
The entry ticket gives you access to the museum for two consecutive days, so you can also split your visit across two days if you really want to see everything!
Take a half-day trip to Pompeii or Herculaneum Archaeological Sites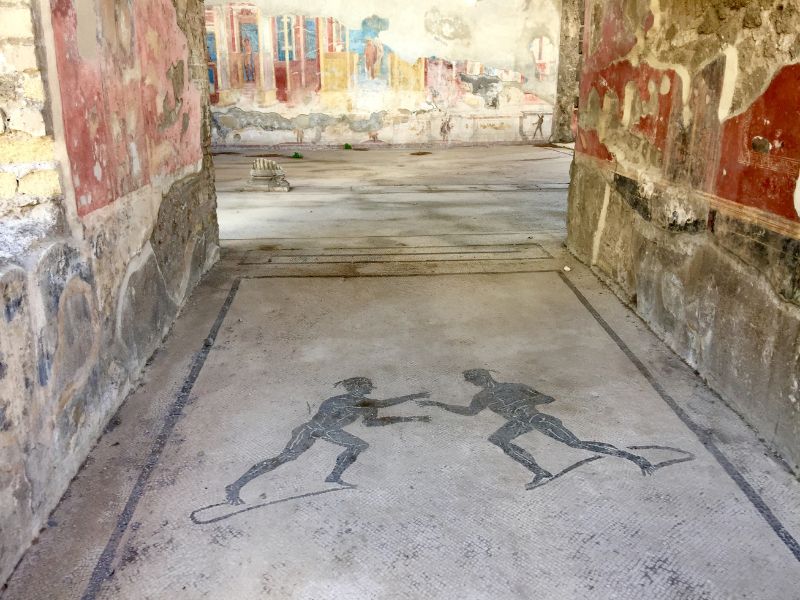 Visiting the archaeological sites near Naples in winter has two main advantages: avoiding the huge summer crowds, and enjoying a pleasant stroll without the unbearable heat of a southern Italian summer.
I visited Pompeii in February, and it was the best timing, a pleasant sunny day with just under 20°C (68°F) and only a small crowd that immediately spread out around the huge site, leaving me to wander in peace.
With some luck, you can have a similar experience any time from November to February at both Pompeii and Herculaneum.
Herculaneum is much closer to Naples, less than a 20-minute train ride from Naples Central Station.
The site also provides more covered areas and is more compact, so it's easier to visit if you don't have much time or if the weather is drizzly and not pleasant.
Pompeii is about half an hour away by train and much larger, so it requires at least half a day to visit.
Not sure which to visit? Check out our guide on Pompei vs. Herculaneum if you need help choosing.
Have delicious pizza at one of the historical restaurants.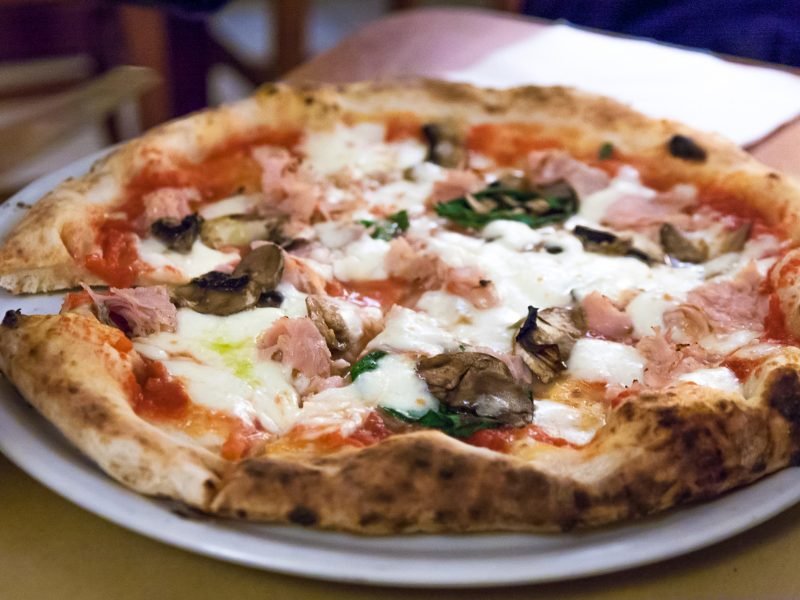 When in Naples, eating pizza is a must!
Although the dish became widely popular after Italian immigrants brought it to the US, Naples is the birthplace of pizza.
Therefore, you can expect to enjoy phenomenal Neapolitan pizza at a few historical places throughout the city.
My top picks? Gino e Toto Sorbillo, Antica Pizzeria Brandi, and L'Antica Pizzeria da Michele are just three places worth checking out in Naples.
Each of these spots has its own story and reason to try. 
Gino e Toto Sorbillo is often referred to as one of the best pizza places in Naples, but you'll need to brace yourself for a wait, because the line is long, and they don't take reservations.
Da Michele is another popular spot, made famous by the movie Eat, Pray, Love.
As you may remember, Julia Roberts is "having a relationship with her pizza" in the movie!
Well, you can try the very same pizza and see if it lives up to that lofty praise. The line can be long here too, so get there early!
Lastly, Brandi is referred to as the birthplace of the Margherita pizza.
Supposedly, pizza maker Raffaele Esposito created the Margherita in this very spot for Queen Margherita of Savoy in 1889.
Whether or not the story is true doesn't matter, since the pizza here is delicious!
Attend a show at Real Teatro di San Carlo
Many people have heard about Teatro alla Scala in Milan or Teatro La Fenice in Venice, but Real Teatro di San Carlo is the world's oldest continually active opera theater.
Importantly for the art form, it has served as a model and inspiration for many other European opera theaters too!
Founded in 1737, San Carlo Theater features a lush interior in classic 18th-century style and an impressive royal box with the best seats in the theater!
You can attend many events here, including opera, ballet, and symphonies.
If you don't want to attend a show, the theater also offers guided tours.
The tour lasts half an hour and allows you to admire the main stage hall, the royal box, and the foyer. 
However, I would argue that the best way to see the theater is during a show. Check out the upcoming events; prices start as low as 10€!
Go shopping in Galleria Umberto I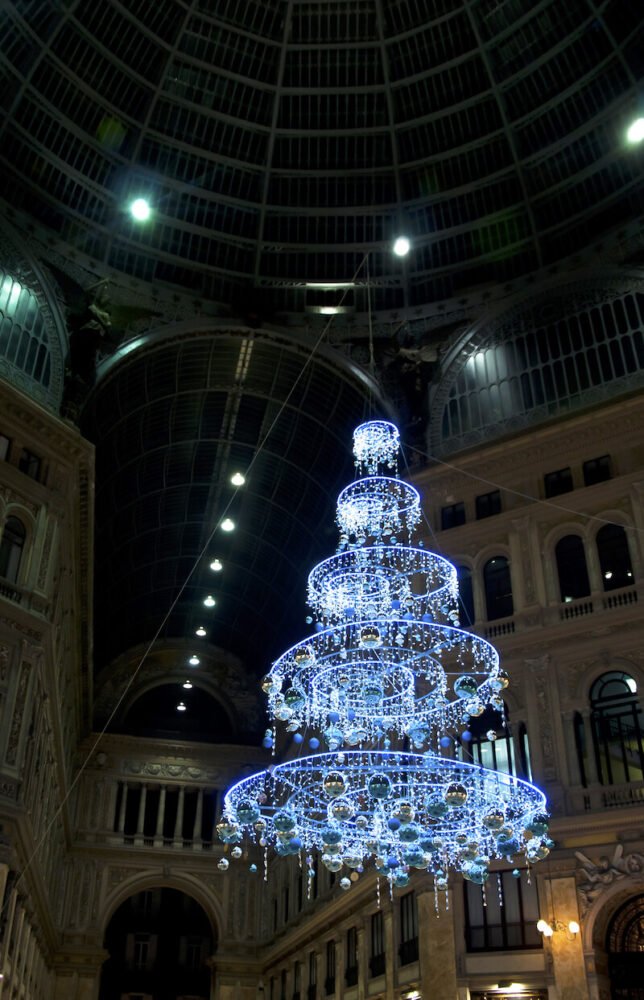 While Via Chiaia is one of the most popular areas to shop in Naples, it's no fun if the weather isn't playing nice.
Luckily, on a rainy day, you can simply head to Galleria Umberto I, a stunning covered gallery.
Even if you're on a budget and can't do much shopping, it's still worth visiting the covered arcade simply to admire the beautiful architecture!
The stunning Galleria Umberto I was built in the late 19th century, placed in central location close to Via Toledo and Castel Nuovo.
In designing it, it was meant to be an important and monumental building equal to other nearby landmarks, like the Royal Palace of Naples and Real Teatro di San Carlo.
For its beauty, convenience, and grandeur, Galleria Umberto I immediately became a significant place in Naples — it even housed the first movie theater in the city!
Go on a day trip to Reggia di Caserta.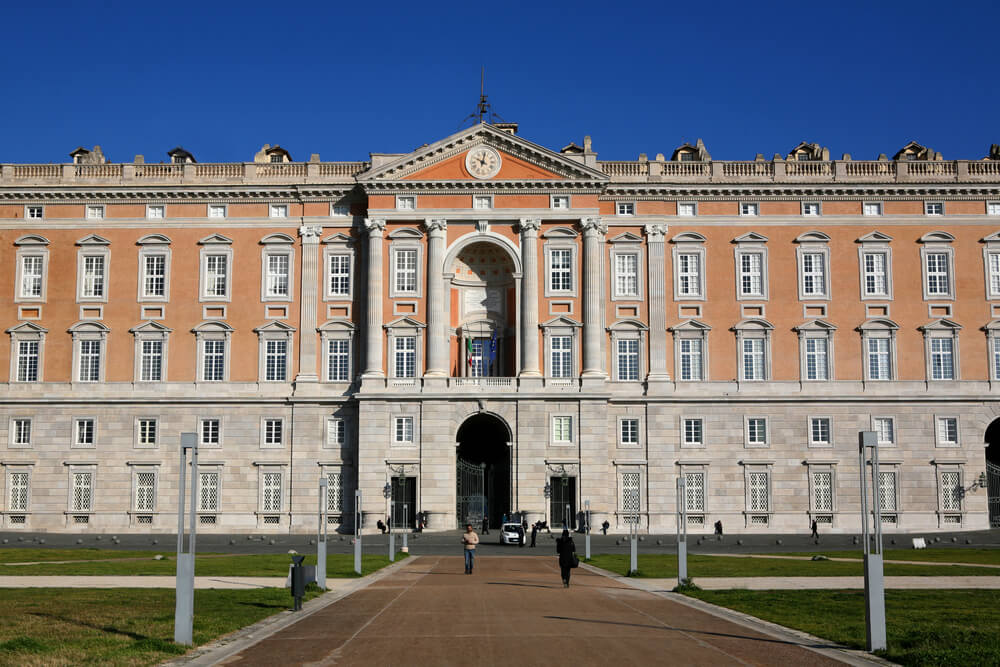 Lastly, if you're up for a short day trip, head to Caserta, just a 40-minute train ride from Naples, and visit the magnificent Reggia di Caserta.
Once a 18th-century royal palace, it was actually the largest built in Europe at the time! For that reason, it eventually became part of UNESCO's list of sites in 1997.
The stunning Palace of Versailles is noted to be its inspiration, and while Reggia di Caserta has a character all its own, it's just as majestic.
The palace has lovely gardens with fountains and statues if you want to explore the outer areas; meanwhile, the inside has ornately decorated rooms, extraordinary staircases, and stunning art pieces everywhere you look.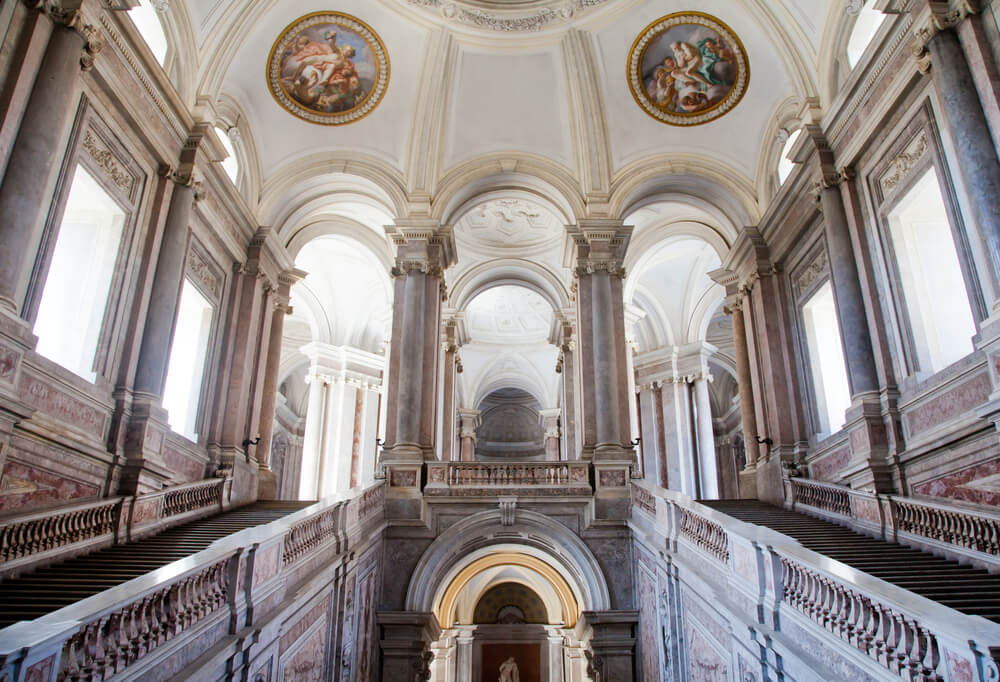 You can visit the palace on your own or join a guided tour with a local guide who will tell you more about the magnificent palace.
If you decide on the individual visit, book your tickets online. 
Alternatively, check out this 3-hour Royal Palace of Caserta Tour for all the historical context on this spectacular site.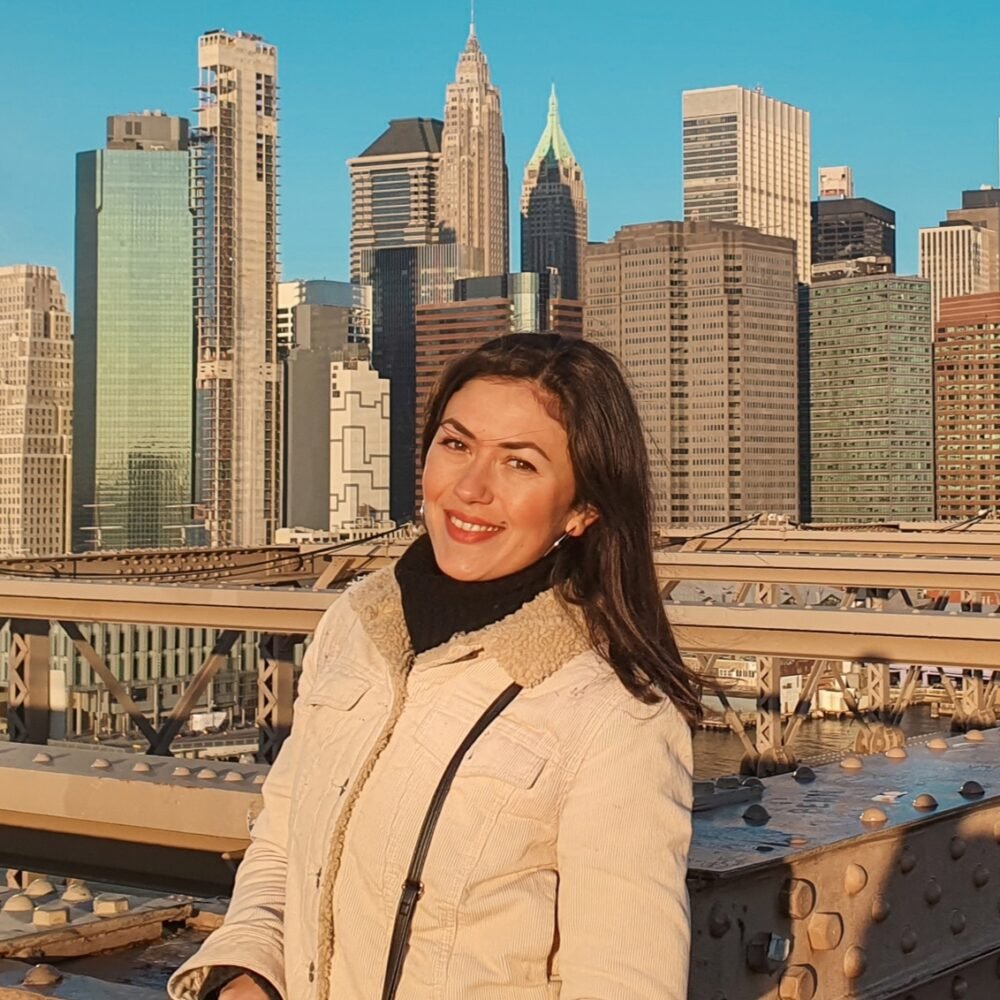 Roxana is a Romanian-born freelance travel writer who has lived in Italy for over 15 years. She has a Master's in Journalism and a Bachelor's in Film Studies, and she studied at Università degli Studi di Roma Tre. Besides her native Romania, Roxana has lived in Rome, Lisbon, and Berlin, and she has traveled through much of Europe in search of hidden gems, history, and culture.