Often overshadowed by Pompeii, its more famous ruined cousin, not everybody is aware that Herculaneum is a fascinating archaeological site in its own right, with findings dating back to the same period of the Mount Vesuvius explosion. 
Since it is smaller, easier to visit, and often less crowded than Pompeii — some of the most famous ruins in Europe — Herculaneum is a great alternative (though if you're trying to pick just one, we've covered the differences between Herculaneum and Pompeii here).
It's especially worth a visit if you're interested in learning about the ancient Roman way of life, before the eruption of Mount Vesuvius that changed everything in these historic, prosperous cities.
The ancient site of Herculaneum is an Italian archaeological gem and UNESCO World Heritage Site that is is bound to leave you speechless as you take in the magnitude of the ruins, which are in excellent condition considering their age.
Seeing the town preserved right at the moment of its destruction is pretty moving and it really makes you connect to the city's ancient inhabitants in a way that's sometimes more difficult at other historic sites.
If you're visiting Naples during your next trip to Italy, you might just want to carve out some time to check out the fascinating — and sometimes eerie — corridors of Herculaneum!
Getting to Naples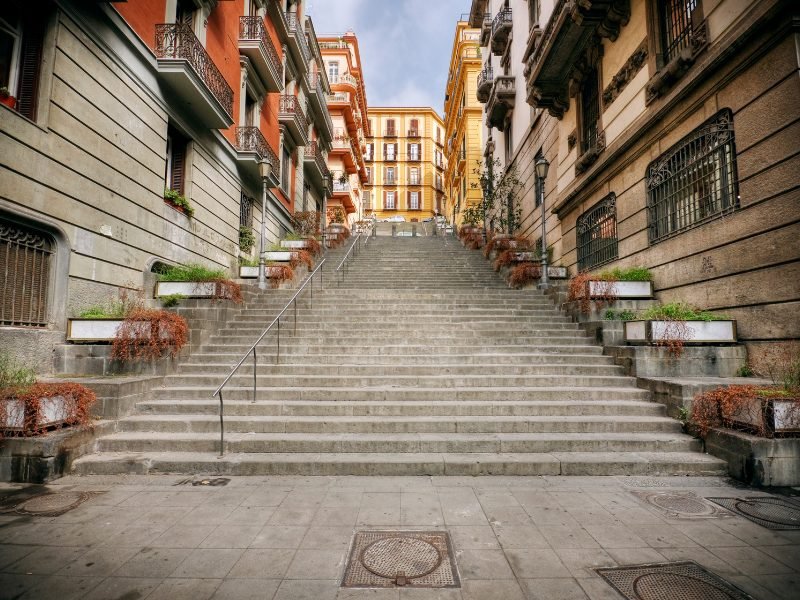 Note: This post contains affiliate links, which means I may receive a small commission if you purchase something through one of these links. Thank you for supporting the free content on this site! For more information on affiliate links and cookies, see my disclosure page for more details.
The ancient site of Herculaneum is located in modern Ercolano, a town easily reached from Naples (Napoli in Italian)
No matter where in Italy you are, it will be easier to visit the archaeological site via Naples, so we recommend heading there first.
Naples is in the southern part of Italy, about 2 hours from Rome by train — less if you catch a high-speed train (such as the Frecciarossa).
It's also possible to get to Naples from Milan (about 4 hours), Florence (about 3.5 hours), and Venice (about 5 hours). All train timetables are available at the Trenitalia site.
If you prefer to fly, Naples has its own airport that receives both domestic and international flights.
You can get to Naples by plane from Milan, Venice, Turin, and of course, Rome.
However, keep in mind that the train tends to be much simpler and faster as there are no security checks, out-of-town transport, or extra waiting time like you'd have to deal with if you chose to fly.
Plus, the train is more scenic, and public transport is always more eco-friendly!
How to Visit Herculaneum From Naples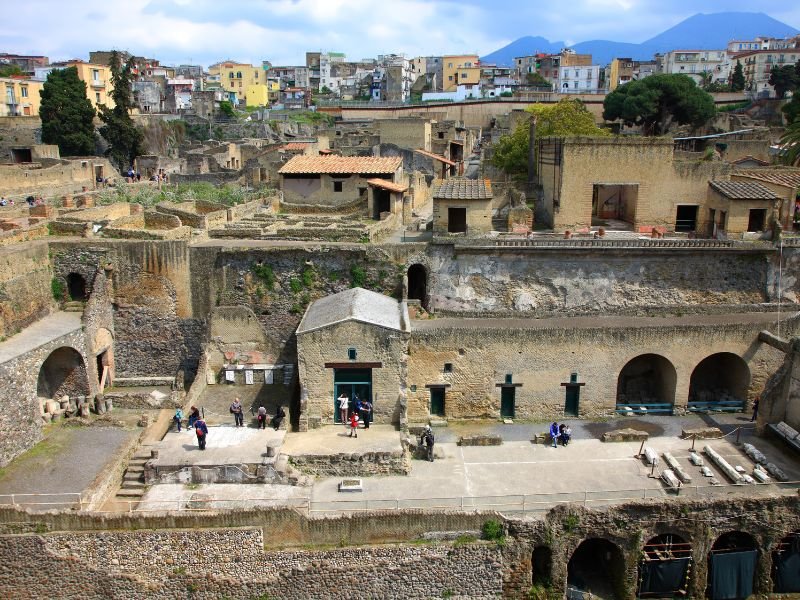 Herculaneum is not very far from the Archaeological Park of Pompeii (located in the town of Pompei), and as you might have already read here, both parks are quite straightforward to visit from Naples.
The archaeological site of Herculaneum is located in between Naples and Pompeii, and you can get there on the Circumvesuviana train in about 25 minutes and a few-minute walk.
You can catch the Circumvesuviana train at the Naples Garibaldi train station, one of the main train hubs in town — making it really convenient to add Herculaneum to your Naples itinerary.
The ticket to Ercolano Scavi station is about €2.50. You can also buy the Pompeii ticket and get off at Pompeii Scavi station if you're planning to visit Pompeii, too.
It is a good idea to purchase the round trip ticket at this time as well, to avoid waiting in line twice — lines can be longer when you return, especially if traveling in the afternoon!
When making your way towards either Herculaneum or Pompeii, keep in mind that the train you have to board is the one going to Sorrento.
The ruins of Herculaneum are in the modern, large city of Ercolano, directly facing the Bay of Naples.
With the Bay as your reference point, once you've exited Ercolana Scavi station, you can simply walk down the hill and towards the coast to get close to the sea and thereby the entrance of the site.
Don't overthink it — it's quite easy to get there! In fact, the whole route is marked with signs for Herculaneum Scavi, so just follow those.
When Is the Best Time to Visit Herculaneum?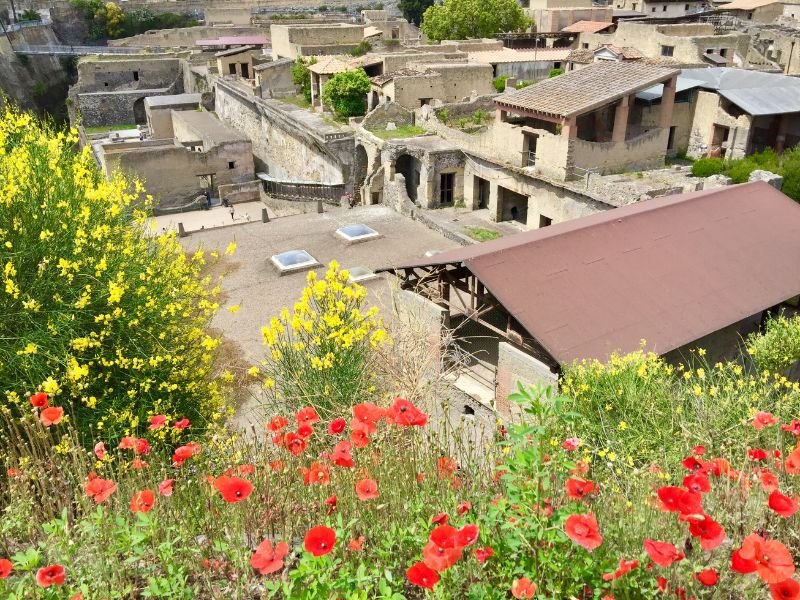 The city of Ercolano is in the south of Italy. This means hot Mediterranean weather most of the summer — often really hot and humid, but with very little rain to break the humidity.
On the other hand, winters can be quite cold and rainy, with some possible snow around December.
My visit was during January, and although it was quite cold, it allowed me to explore the site at my own pace, without long lines and almost no visitors at the site.
If you're not a fan of extreme temperatures, spring and autumn are your best bet — not just for the more pleasant weather, but to beat the peak crowds, too!
A Brief History of Herculaneum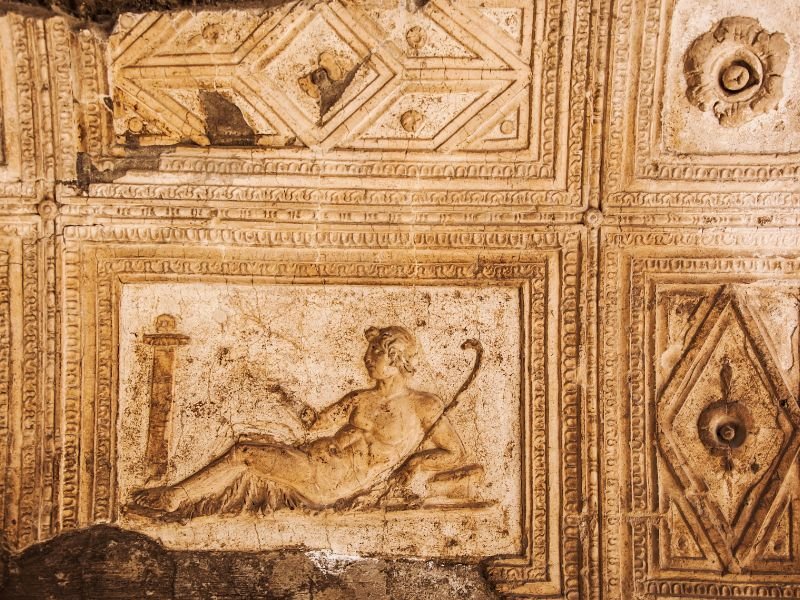 For different reasons that we will discuss further down, Herculaneum is much better preserved than Pompeii is.
For that reason, if you're truly interested in Roman life pre-79 AD (when Mt. Vesuvius exploded), then this is the place you have to visit — not Pompeii, as you might think!
According to the legend, the city was founded by the Greek demigod Hercules while he was traveling back to Greece from shenanigans further afield.
True or not, historical sources estimate the founding of the city (with or without Hercules' involvement) had occurred somewhere between the 6th and 7th centuries BC — quite the past!
Before becoming an important Roman city, the place was a strategic commercial port during the Classical Greek era.
When the Romans took control of Herculaneum in 89 BC, it evolved into a prosperous Roman coastal town.
Perhaps ironically, it reached its most developed stage during the decades just prior to the Vesuvius eruption.
At that time, the city had dozens of shops, many of them with a dedicated space for the owner to use as a residence on-site.
But there were also separate buildings used primarily as homes, as well as a marketplace (agora) that served the daily needs of the city's residents.
Among the objects that have survived and are on display today, you'll find remarkable artifaccts of amphorae (vases) and casks, both of which would have been used for storing everyday essentials olive oil and wine…. not so dissimilar to modern Italy!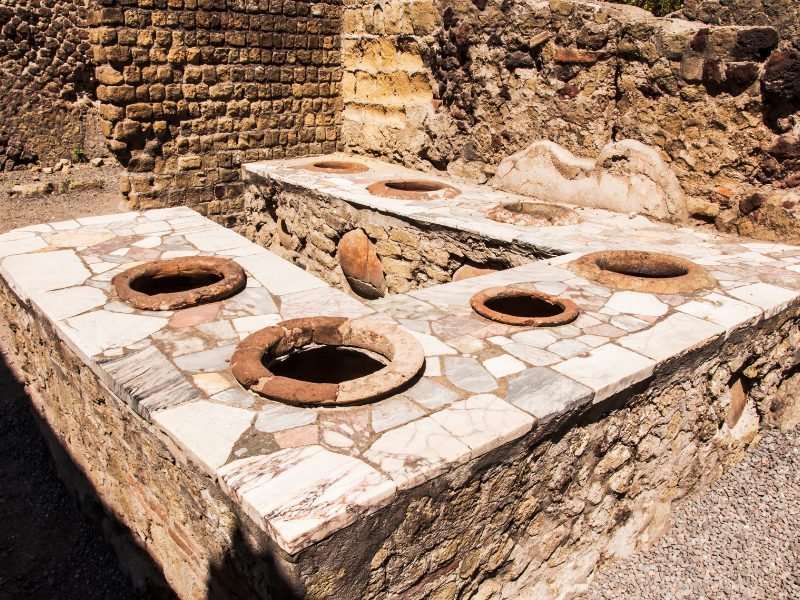 Another element showing the level of development in Herculaneum is its sewage and drainage system.
The highly-advanced drainage system featured a central drain for rainwater and kitchen waste. Bathrooms had a separate drain system that kept waste segregated, avoiding disease.
During the devastating Vesuvius eruption back in 79 AD, the volcano ejected massive amounts of volcanic ash and other materials, hitting first Pompeii due to the whims of the wind.
During the days following the explosion, the accumulated pyroclastic material (a dense combination of gas, rock, and ashes) fell back on the volcano.
This then flowed down over Herculaneum, burying the city in six different stages — contributing to the high levels of preservation you see today.
The inhabitants of Herculaneum were far luckier than their Pompeii neighbors, having had more time to evacuate.
Nonetheless, many of the city's residents failed to leave and perished during the darkest hours of the city, mainly from the extreme heat and noxious gas produced by the volcano.
Why Are the Herculaneum Ruins Better Preserved than Pompeii?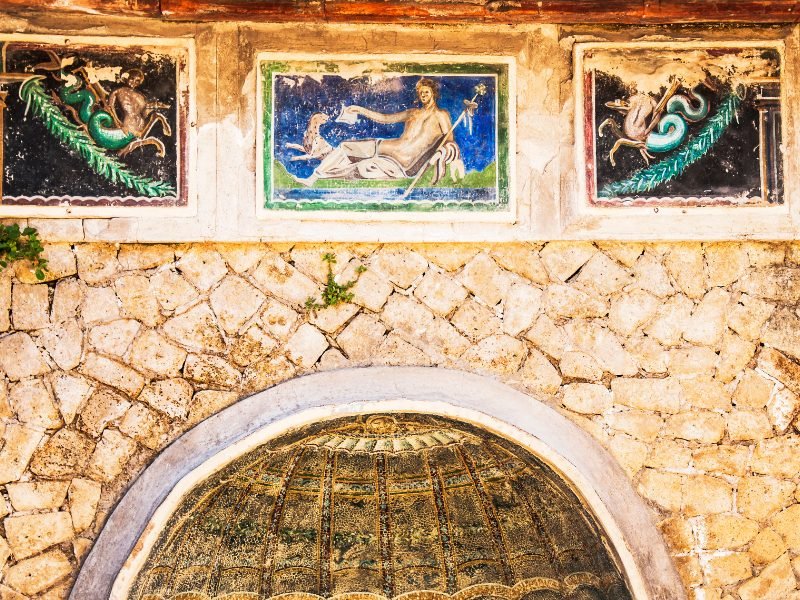 The volcanic eruption of Vesuvius caused pyroclastic material to flow down the mountain and over the city of Herculaneum.
This completely covered the city, while also exposing the entire area to extremely hot temperatures.
According to archaeologists, this excessive heat was a benefit in disguise — at least for future generations of archaeologists, though not for the ancient residents of Herculaneum.
The high heat carbonized everything organic, which solidified later on, creating a hard volcanic rock layer that protected the area from time's erosion.
This volcanic rock basically acted like a shell, preserving the remains of not just the human and animal victims, but also homes, food, and other objects just as they looked at the time of the eruption.
Another factor that helped protect the ruins in the site is that while Pompeii was buried under no more than 4 or 5 meters of ash, the layer covering Herculaneum with about 25 meters thick, so archaeologists had to dig really deep to find it.
Being hit slightly later than Pompeii did give some of the residents time to escape. However, more than 300 human remains were still found on the site, so clearly not everyone left in time.
Who Lived in Herculaneum?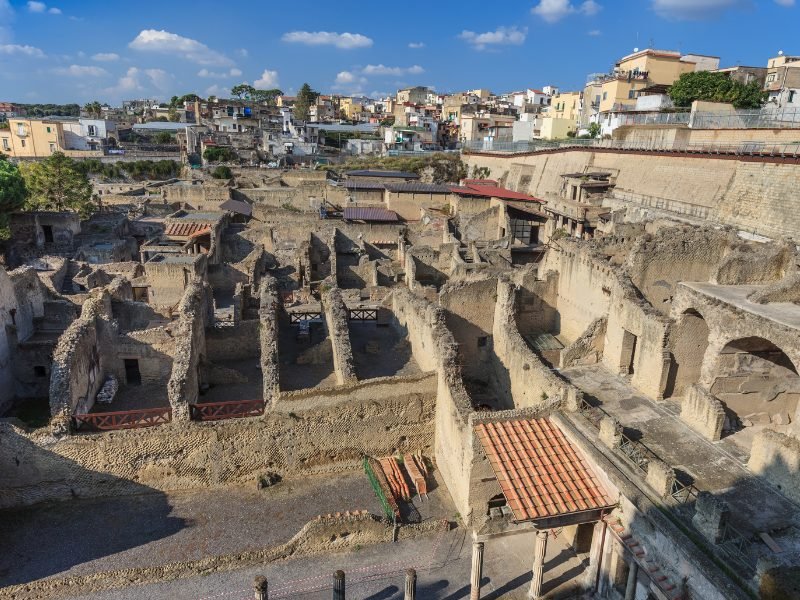 Although there are various theories out there based on different findings, most scholars are convinced that Herculaneum was quite a wealthy and striving coastal trade town.
They believe the city was a thriving commerce base and was mostly populated by freed people who had formerly been enslaved.
Archaeologists came to this conclusion after analyzing the graffiti found on the site, mostly written in Vulgar Latin.
Key Things to See on a Herculaneum Tour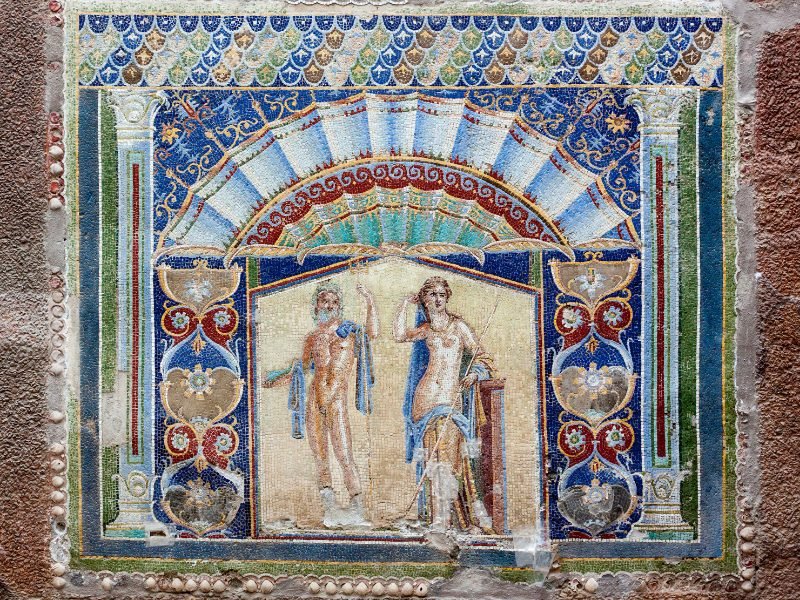 One of the most impressive structures to visit is the so-called Villa of the Papyri, home to an impressive library holding over 1,800 scrolls.
It is considered one of the most opulent villas in the whole Ancient Roman empire due to its complex ornaments and intricate architectural details.
It also housed 90 Greek and Roman sculptures and it is believed to have been the home of Julio Caesar's father-in-law!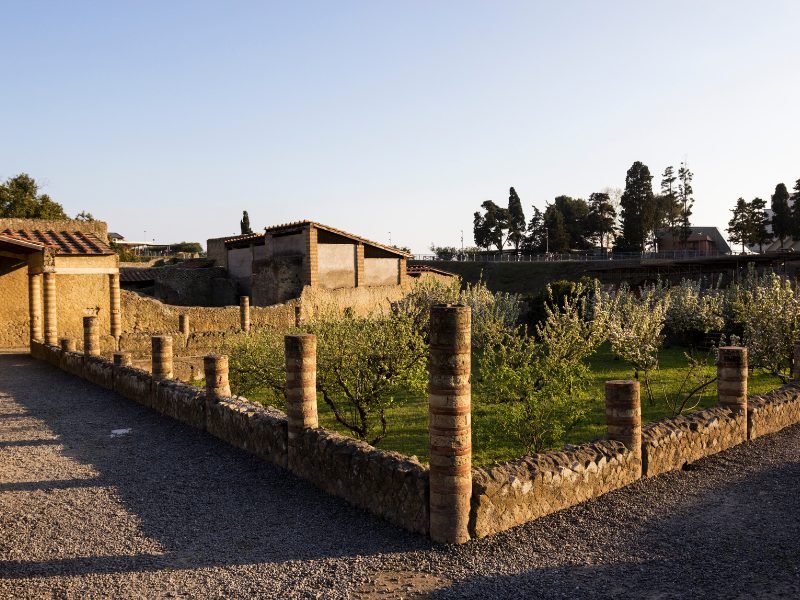 Another place to check out is the House of Argus.
Argus was a mythological multi-eyed Greek giant, and the fresco representing the mythical creature found on the house is what gave the name to the villa.
Excavations of this house also uncovered wood shelves, a garden, furniture, and even balconies facing the sea — talk about a room with a view!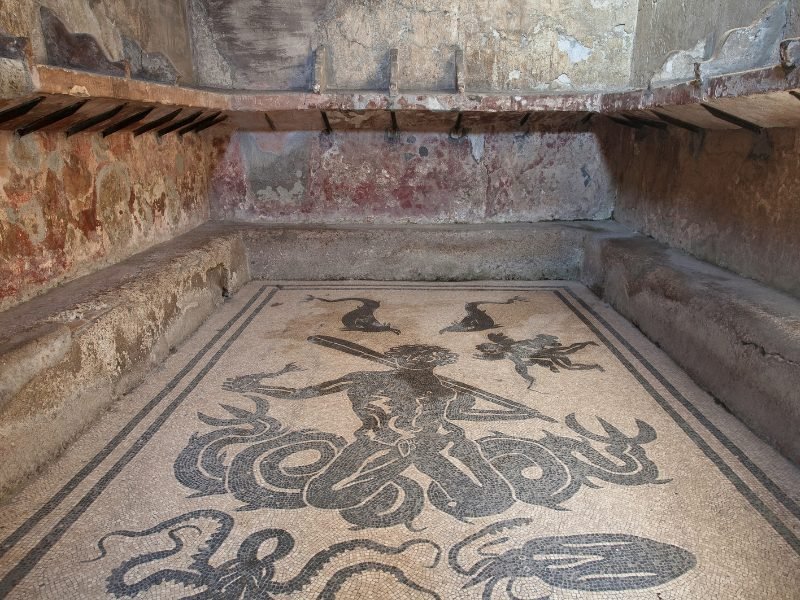 Also important among the ruins are the Central Thermae — or bath-houses — which were popular all over the empire.
The ones in Herculaneum feature separate areas for men and women, common for this era.
The central bath faced directly towards the seafront and featured an imposing black and white mosaic of Triton (the Greek sea god and son of Poseidon) surrounded by sea creatures such as dolphins, octopi, and squid.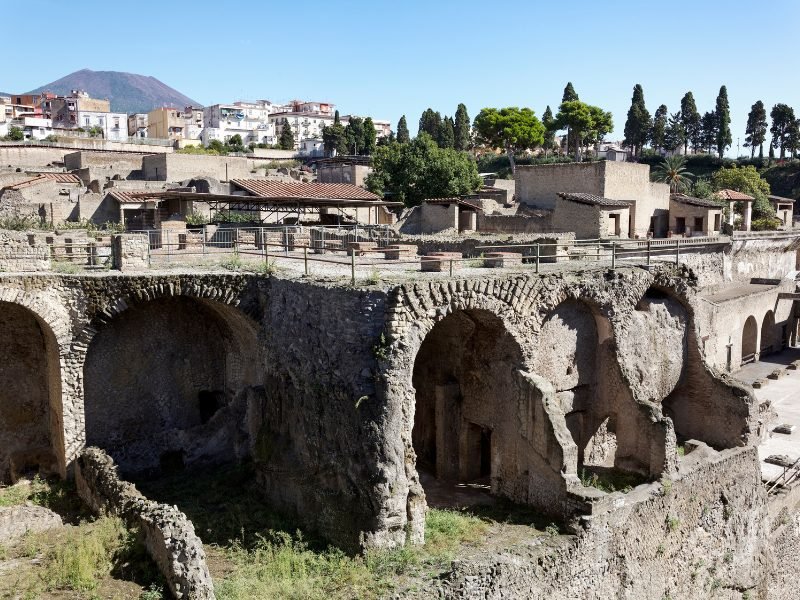 Make sure not to miss the Boathouse, located right on the ancient seashore.
This site alludes to a different aspect of Herculaneum, as the vessels docked here were not commercial but mainly recreational, which suggests a fairly high standard of living.
The Boathouse also opens the door to one of the most impressive — and haunting — findings on the site.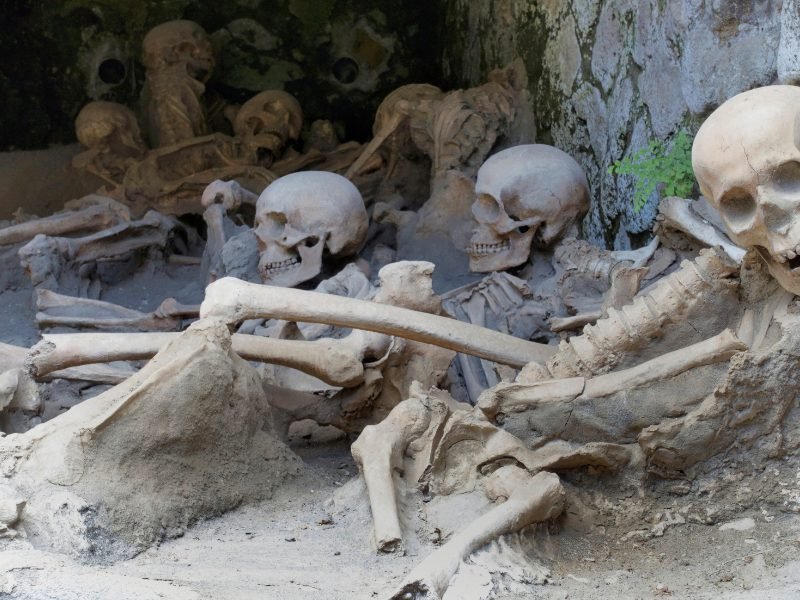 In this area, archaeologists found the remains of over 300 people (including women and children) who likely sought protection in the docks or may have been waiting there to be rescued by boats.
The volcanic mudflow kept their corpses almost intact, allowing us to learn about their clothes as well as the treasures they took with them while fleeing Herculaneum.
These objects reveal a lot about the inhabitants of Herculaneum — about their lives and what was considered important and precious to them.
Replicas of the skeletons have taken their place, so you can see how it looked when archaeologists first made this discovery.
Finally on our round-up of site highlights (which of course, is not comprehensive!), you should check out the so-called College of the Priests of Augustus.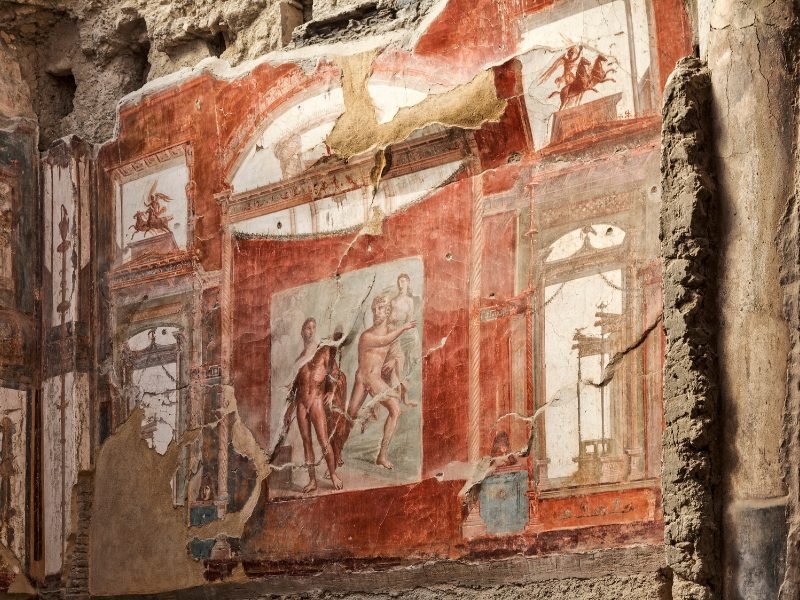 This building was probably a Roman cult temple for those freed slaves who worshipped Augustus, a former Emperor, as it is believed that many enslaved people considered him a divine figure.
In the temple, which also served as a sort of town hall, it is possible to admire several frescoes and inscriptions relating to the cult and to the life of Hercules.
Visiting the Virtual Archaeological Museum of Herculaneum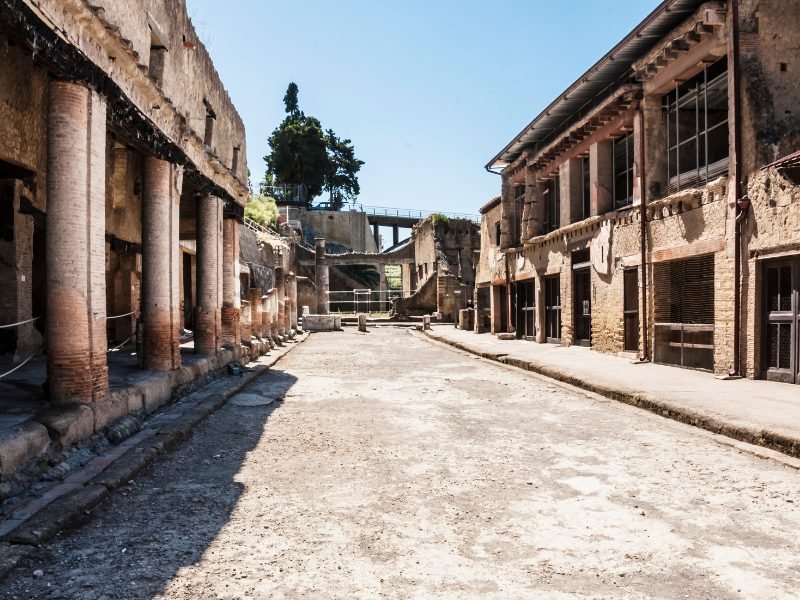 There is also a unique site called MAV, the Virtual Archaeological Museum of Herculaneum.
It is not located in the archaeological site itself, so it requires a separate entrance fee, but it is just a short walk away.
It's a great way to get younger kids and teenagers excited about the ruins they just saw or are about to see.
This museum uses VR displays in order to give you a sense of what Herculaneum looked like in its heyday.
It's a great supplement to visiting the ruins — you can book your tickets online here.
Is a Herculaneum Day Trip Worth It?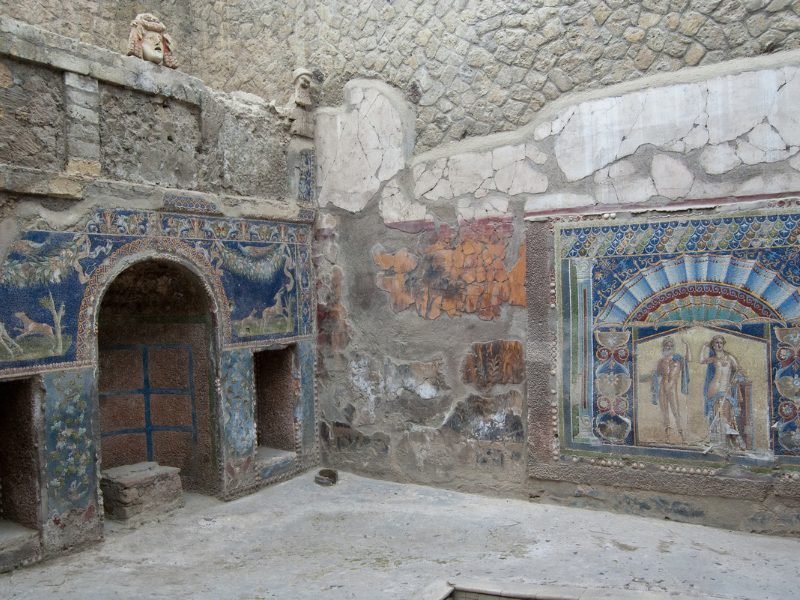 While each ancient Roman city has its draws, I personally believe that Herculaneum is more impressive than Pompeii in terms of the excellent state most ruins were preserved in.
It can also be visited in a shorter amount of time, as it is much smaller than Pompeii, and therefore easier for quick sightseeing.
Of course, taking a walking tour of Pompeii will impress you due to the imposing size of its site.
That said, it's interesting to keep in mind that only 25% of Herculaneum has been excavated and brought to light so far, so there is lots more to still uncover.
This is partly due to the fact that Herculaneum is far more difficult to uncover, being that it was buried under a far deeper layer of volcanic debris.
While Pompeii gives you a good panorama of what a city would look like in Roman times, Herculaneum is more effective for learning the details about how ancient Roman homes and lifestyles used to be.
Here you can admire incredible mosaic floors and frescoes that showcase much more detail and lively color compared to those in Pompeii.
Herculaneum Ticket Costs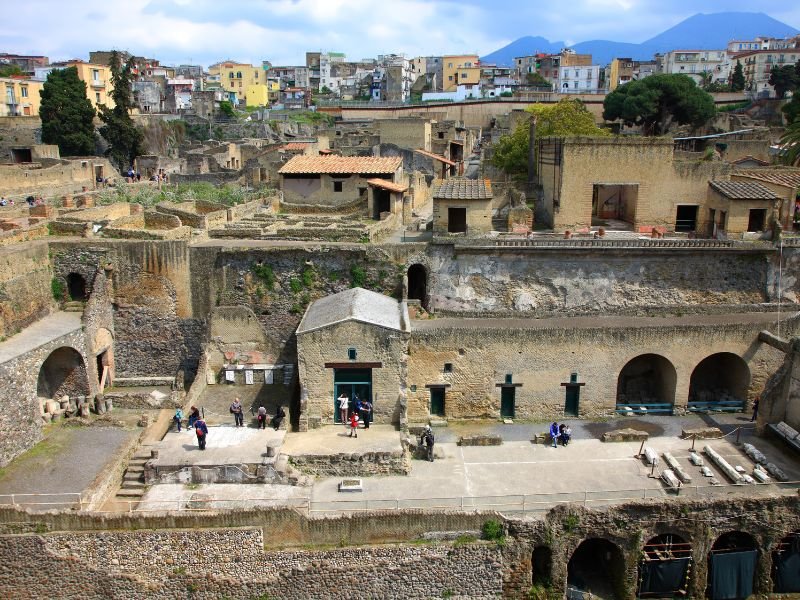 If you only want to visit Herculaneum, the tickets are cheaper than the ones to Pompeii.
However, there is a combo ticket to visit both sites that could make things nice and simple. 
Prices for Herculaneum
Adults: €13
EU Citizens under 18 and over 65: free entrance
Combined ticket including Pompeii, Herculaneum, and other sites in the area
Adults: €22
EU Citizens under 18 and over 65: €10
Is It Worth Visiting Herculaneum on a Tour?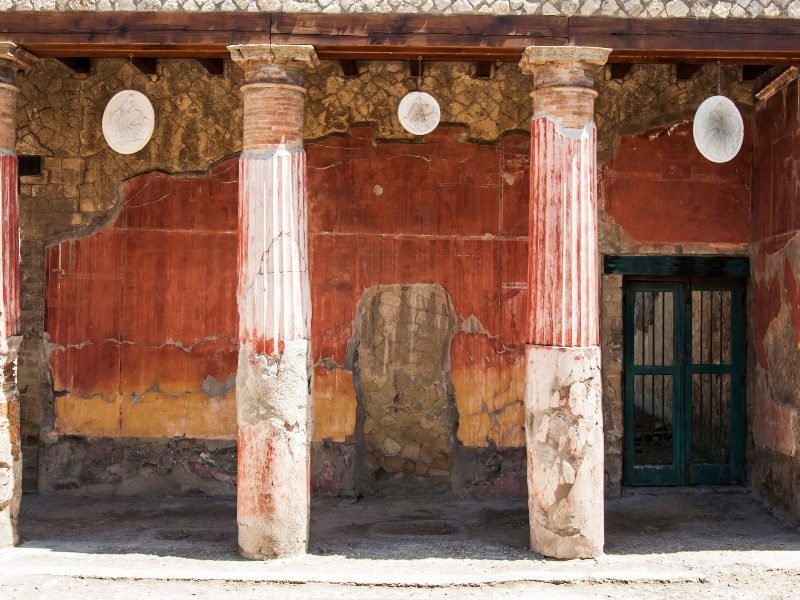 Of course, you can decide to visit Herculaneum from Naples with a tour.
In fact, we think this can be a great idea if you find it stressful to get there independently by train (although navigating the Circumvesuviana is rather easy… once you've figured out how to buy tickets) or if you'd like to meet fellow travelers along the way.
Some tours include transportation to and from the site and might even combine with visits to other sites, which could turn out to be excellent value for money.
Most tours allow for free cancellation up to 24 hours before you travel, so I suggest booking in advance — you can always change up your mind after the fact.
If you're curious about a guided tour, these are the ones I recommend checking out:
Guided tour of Herculaneum with transportation from Naples: This half-day tour includes skip-the-line tickets to the site and offers incredible insight from your travel guide into the history of the ruins of Herculaneum with a small group.
Private guided tour of Herculaneum: A private guided tour with a specialist allows you to ask as many questions as you want and to stop and take your time in the places that interest you the most.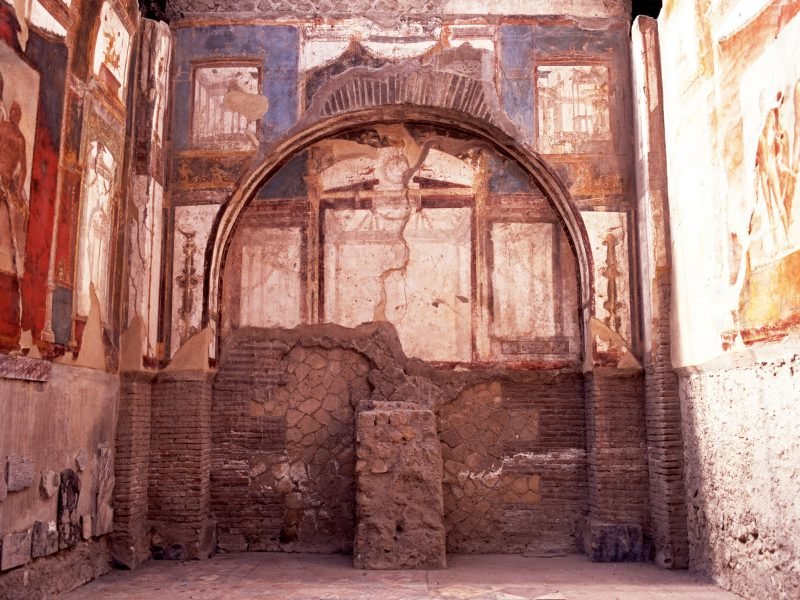 Tickets and tour of Herculaneum (no transport): Since navigating the coast of Naples with the Circumvesuviana on your own is quite affordable and not very difficult, you might want to skip transportation and get a skip-the-line ticket as well as a tour of the site only. This will save you time and money, but still give you the historical context of this ancient city that only an expert tour guide can deliver.
Access tickets to the archaeological site: Purchasing tickets to access the site before getting there is a smart way to avoid waiting in line and enjoy priority entrance, so I always recommend considering pre-purchasing your entrance ticket. Once at the site, you can directly head to the entrance gate, ticket in hand, smugly skipping past all the people in the queue who didn't realize this was an option!
Visiting Herculaneum After Visiting Pompeii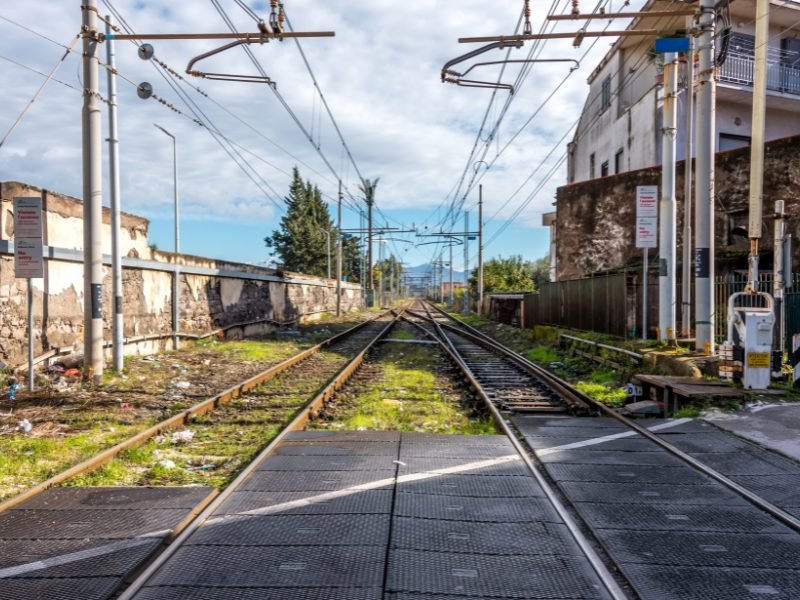 If you've decided to devote a full day to Ancient Rome, you can choose to check out just the highlights in Pompeii and then head to Herculaneum for a more detailed (and, arguably, more rewarding) visit.
If you choose to do this, you can purchase a combined ticket at either of the two sites — make it the first one you visit if doing so. Do note that you cannot buy these combined tickets in advance, so you will have to wait in line.
To get to Herculaneum from Pompeii's Scavi station, hop on the train headed towards Naples. The ride is about 15 minutes and your station will be Ercolano Scavi (Herculaneum).
You can also do the visit the other way round from Herculaneum to Pompeii. At Ercolano Scavi station take the train towards Sorrento and get off at Pompeii Scavi station.
At the ticket office, you can pick up an audio guide for €5 to enhance the visit and bring the ruins to life.
If you choose to self-guide, don't forget to grab a map of the site while in the office to navigate the archaeological ruins easily and to be able to head directly to the places that interest you the most.
Herculaneum Opening Times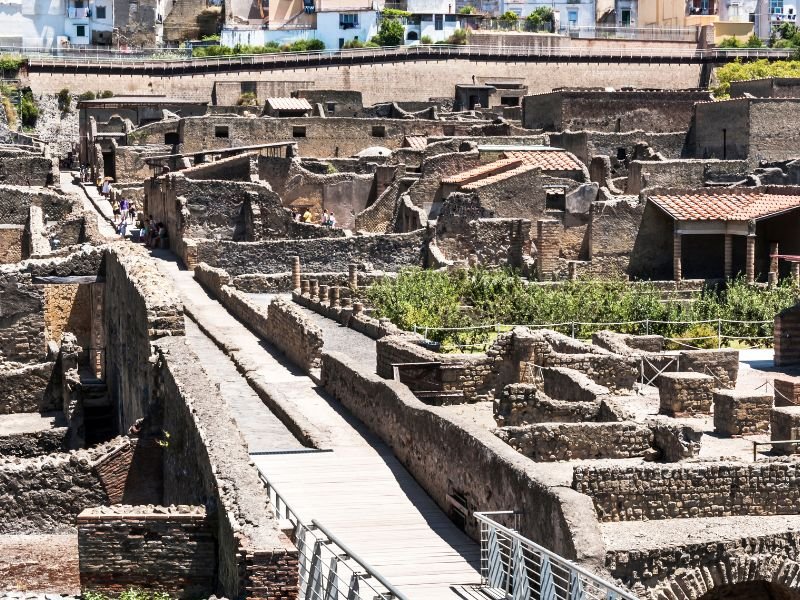 Winter hours (from November to March): 8:30 AM to 5 PM
Summer hours (from April to October): 8:30 AM to 7:30 PM
Where to Go Next After Herculaneum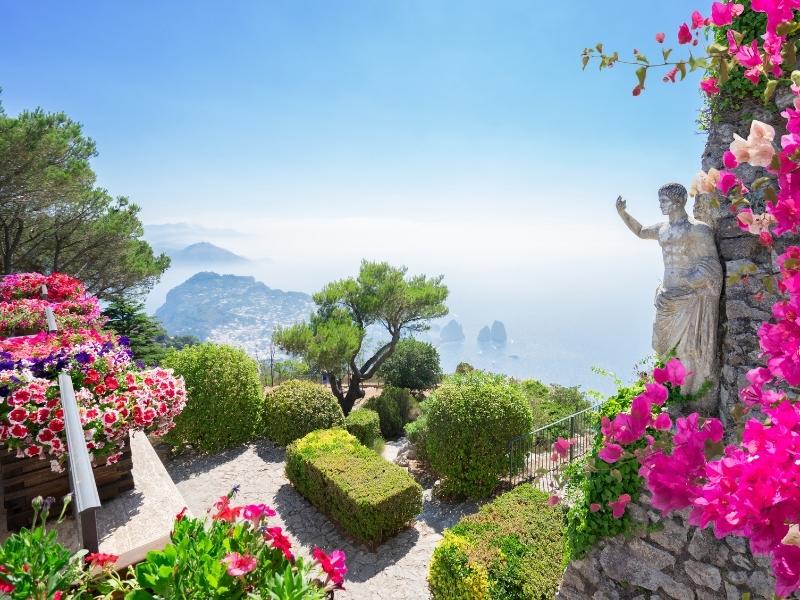 If you're basing yourself in Naples, you can easily visit both Pompeii and Herculaneum before moving on elsewhere.
Naples is the heart of the Campania region of Italy, so it's a great jumping-off point for further Southern Italy adventures.
From Naples, you can head to Sorrento, which is also a great departure point for excursions to the Amalfi Coast and the stunning island of Capri.
Spend a few days in the charming towns of the Amalfi Coast — if you have a few extra days, check out this Amalfi itinerary (including Capri) to help you plan your trip.
Gabi Ancarola is a full-time travel blogger, tour guide, and freelance writer currently living in Crete, Greece. She spent decade of her life living and traveling Italy, and she shares her knowledge of Italy in her writings as an Italy expert on Eternal Arrival. She also shares her knowledge of Crete and Greece on her blog, TheTinyBook.com, where she has also published several digital travel guides.