Peschiera del Garda may just be the most impressive town on Lake Garda — and that's saying something!
The town itself is developed on a set of small islands located at the River Mincio's outlet from the lake.
But perhaps even more beautifully, it features incredibly well-preserved Venetian fortifications spread across these islets.
I visited Peschiera del Garda during one of my trips to Milan while living in Italy, since it's an ideal day trip.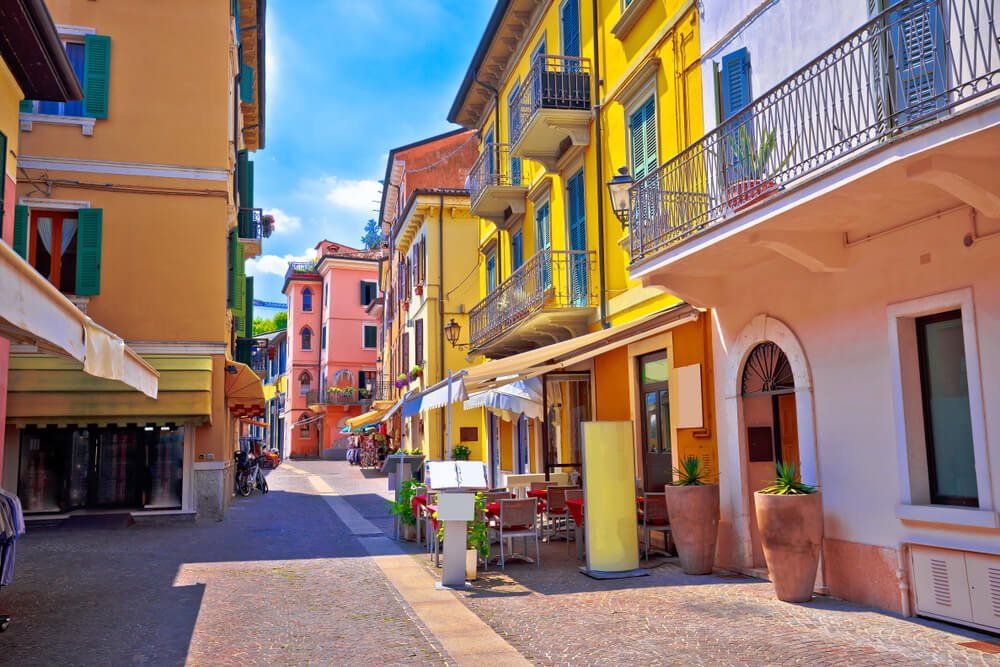 Note: This post contains affiliate links, which means I may receive a small commission if you purchase something through one of these links. Thank you for supporting the free content on this site! For more information on affiliate links and cookies, see my disclosure page for more details.
The train station just outside the old town makes it easy to reach from several nearby cities, including Milan, Verona, and Venice.
You can easily explore Peschiera del Garda in just a few hours if you're stopping by on a road trip around Lake Garda.
At the same time, there are plenty of things to do in Peschiera del Garda if you want to spend a couple of days in town.
In this quick guide, you'll find a variety of attractions and activities to fill one or two days in Peschiera!
Tips for Visiting Peschiera del Garda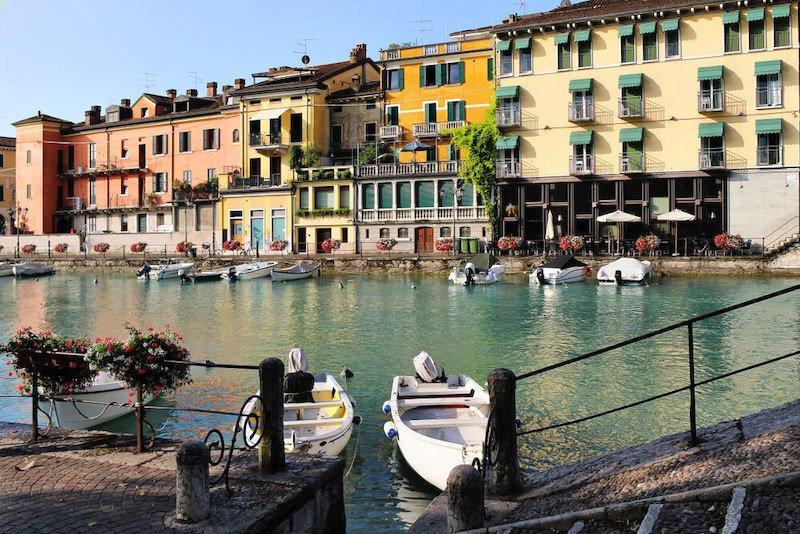 Peschiera del Garda is a popular destination both for Italians and foreigners, especially in the summertime.
People who live in the surrounding Northern Italian cities often head to Peschiera and other towns on Lake Garda to spend the weekend, so you can expect to find it busy almost any time of the year.
While summer is the best season for swimming in the lake, going on boat cruises, and escaping the heat of the bigger cities, it is also when Peschiera is at its most crowded and its most expensive!
Winters on the lake can still be enjoyable despite the cold, and you'll certainly find fewer people around.
If you want to enjoy nice weather while avoiding the big crowds and saving on accommodation and activities, visit Peschiera in the spring or fall.
If you can only visit one town on Lake Garda on a day trip, Peschiera del Garda is a great choice.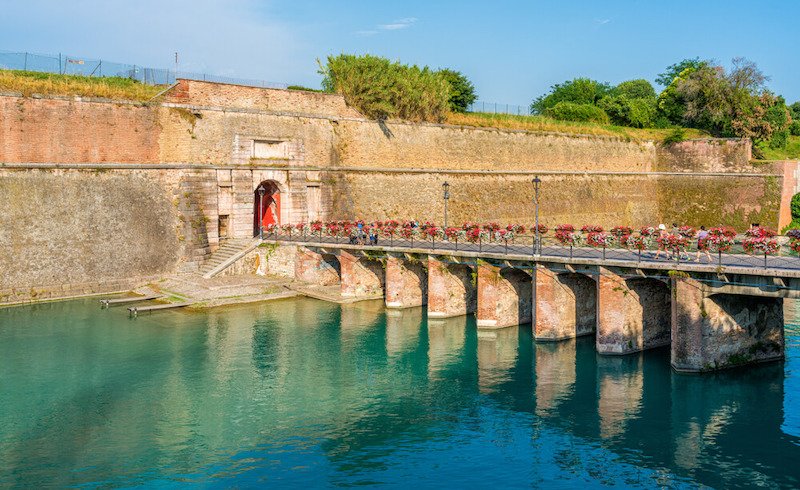 For one, it is one of the two towns served by a train station (alongside Desenzano del Garda).
It takes less than an hour to get there from Milan, under two hours from Venice, and fastest of all, it's only 15 minutes from Verona!
However, the best thing is to rent a car and spend two or three days driving around the lake and visiting the most important towns.
Regardless of how you visit, here is a list of things to do in Peschiera del Garda to help you plan your stay!
Things to Do in Peschiera del Garda
Peschiera del Garda is small, as in, it takes roughly 10 minutes to walk from one gate to the other of Peschiera del Garda, so don't expect countless landmarks and attractions!
Nevertheless, the town's location makes it a perfect base for many activities, from swimming in the lake to visiting one of Italy's main amusement parks.
Here is how to spend a day (or more) in Peschiera del Garda!
Explore the fortified city.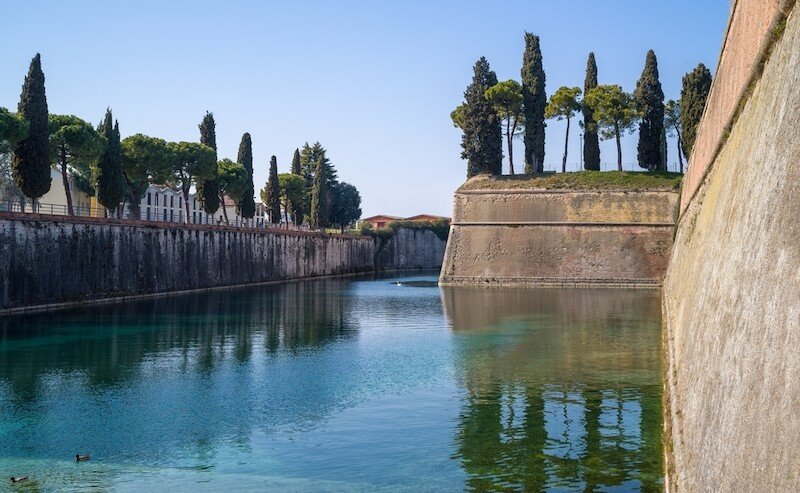 The fortified region of of Peschiera is basically one big open-air museum that is super cool to visit!
The massive fortified complex is actually part of a larger UNESCO World Heritage Site, one that includes several Venetian defense structures in the Garda region.
The top thing to do in Peschiera is to walk around and admire the impressive defense system that surrounds the small island that Peschiera is built on.
The fortifications date back to the Roman period in origin; however, they were modified during the 15th century, when the Republic of Venice controlled Peschiera.
It was during this time that the two main city gates, Porta Verona and Porta Brescia, were created — two must-sees while exploring this town!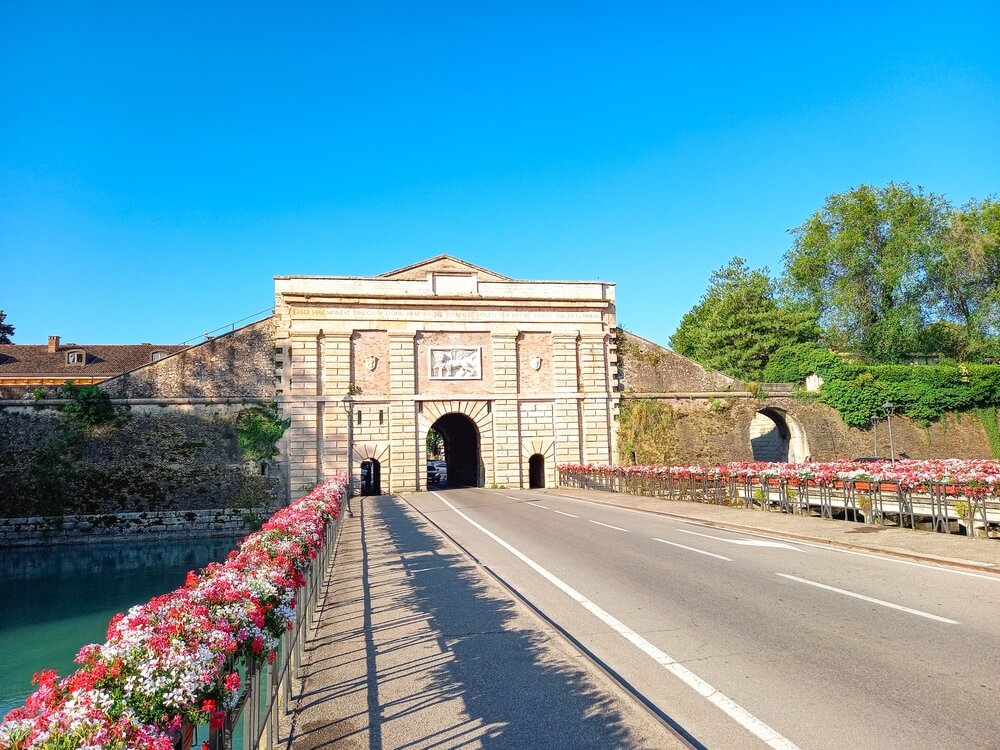 The best spots to check out the city walls are the bridges that connect the islands: Ponte di Porta Brescia and the iconic Ponte dei Voltoni.
Given the size of the town, you can walk around in roughly half an hour, but you could definitely spend more time if you wanted.
Here is where a guide would be helpful, to show you things you would have missed on your own.
To learn more while you explore Peschiera, book a tour with with an expert guide who can share cool facts about the town's history, like on this Peschiera Walking Tour.
Stroll along the lake.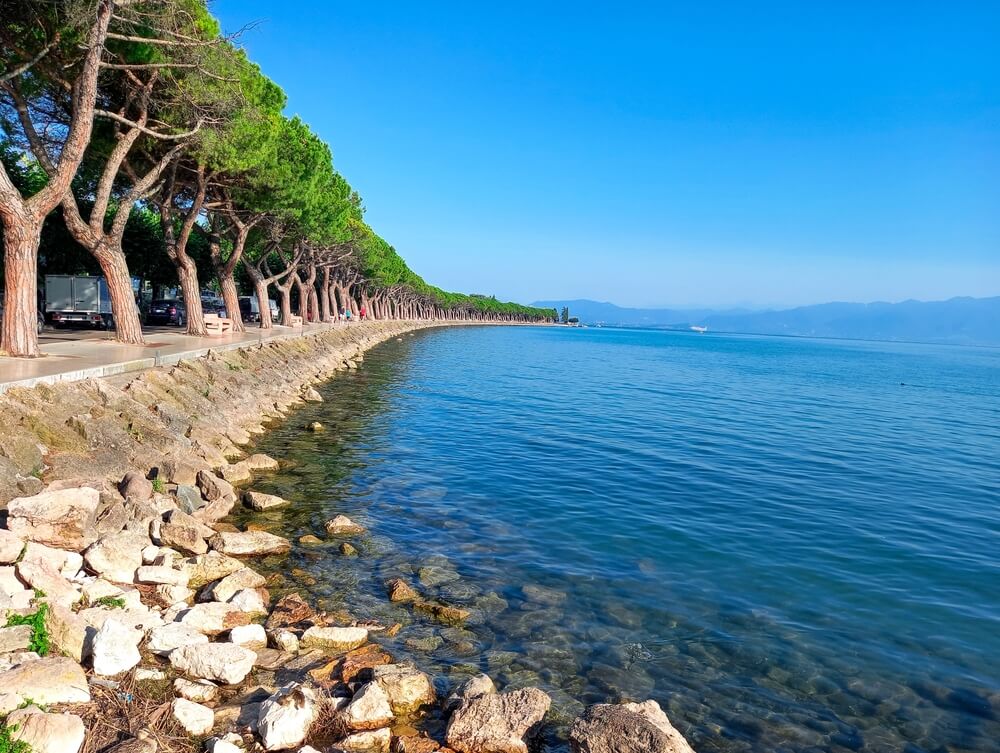 Peschiera is small (especially the walled-in portion), and as a result, it can get very crowded in summer.
If you want a break from the crowds, you can leave the fortified town and enjoy a peaceful walk along the lakeshore for a breath of fresh air (literally!).
The main area to walk is Lungolago Mazzini.
This peaceful promenade starts from Piazza Maestro Luigi Battistoni and continues for roughly three kilometers along the lake.
Along the way, you'll pass several beaches, restaurants, and cafés — all perfect spots to stop for a break and enjoy the view.
Check out the Madonna del Frassino Sanctuary.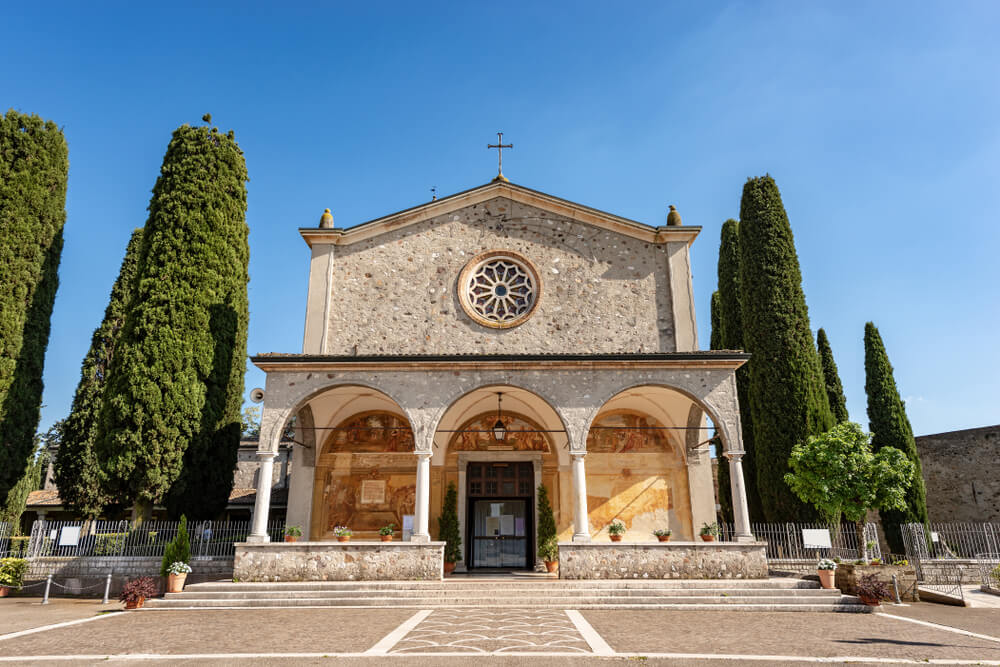 Just outside Peschiera, you can visit the beautiful Sanctuary of Madonna del Frassino.
The 16th-century sanctuary has a storied past, as it was said to be the location of apparition of the Virgin Mary.
According to the legend, the farmer was about to be bitten by a snake when he saw the Virgin near an ash tree (frassino in Italian, hence the sanctuary's name).
A lovely cypress-lined street leads to the peaceful location of the sanctuary — also some great spots to get photos while in Peschiera.
Since it's a little bit out of town, the best way to get there is by car or taxi. On foot, it takes roughly half an hour from the center of Peschiera, which can be hot in the summer.
The sanctuary features a convent, a series of chapels with decorated altars, and beautiful cloisters.
Best of all, admission is free (and there's also ample free parking), making it a great addition to your Garda itinerary.
Visit the fishing museum.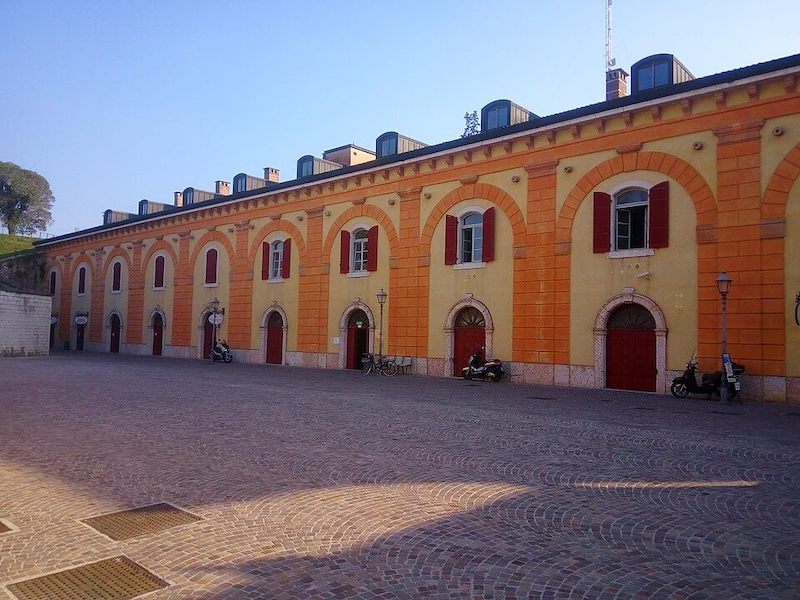 The lovely Museo della Pesca e delle Tradizioni Lacustri is actually the only museum in the small town of Peschiera.
That said, it's still worth a visit; this small but interesting museum dedicated to the fishing tradition on Lake Garda, which is still ongoing despite the lake's turn towards tourism.
This museum is rather small, so it only takes around half an hour to visit. That said, it's definitely an interesting way to learn more bout the region.
The exhibit includes photographs and artifacts used in the Garda area, including fishing gear and traditional boats used in regattas.
The museum has free access, but you can make a donation and get an audio guide for a small fee.
Relax at the beach.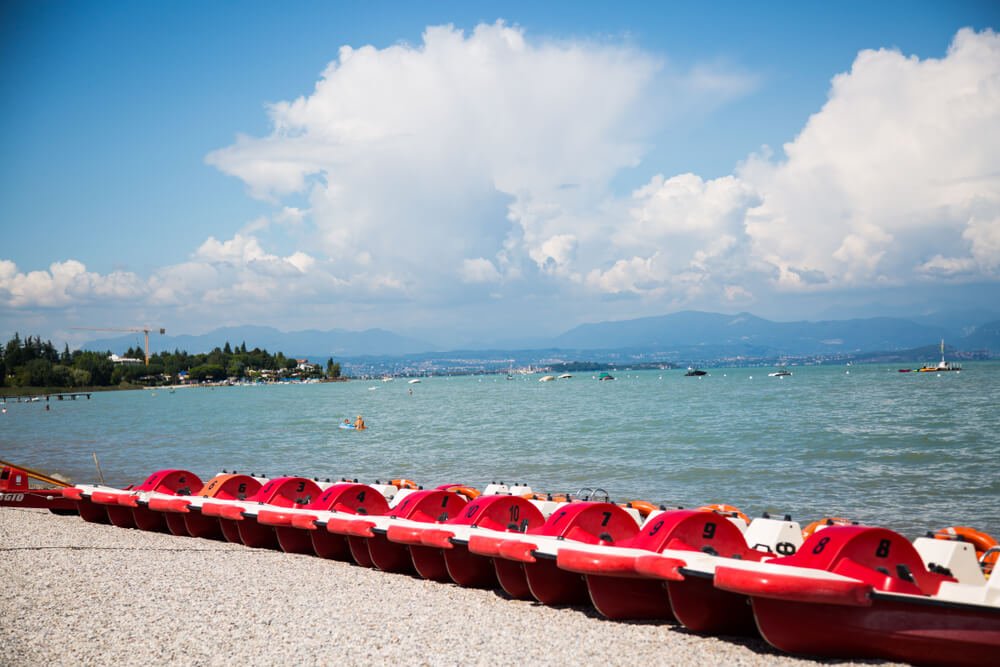 If you visit Peschiera in summer, you definitely want to set aside a few hours for relaxing on a beach and enjoying the view of the beautiful lake!
Some of the most popular beaches are Braccobaldo Beach and Lido Cappuccini on the southern lakeshore.
There's also Spiaggia Lido ai Pioppi on the eastern one.
You can rent a sunbed to spend a few hours relaxing, swim in the lake, or maybe even rent a paddle boat and go for a ride.
You'll find boat rental services in several spots along the lakeshore, another great way to enjoy the summer lake scene.
However, you definitely ought to book ahead in the peak summer months, especially for weekend travels.
Have lunch at a traditional restaurant.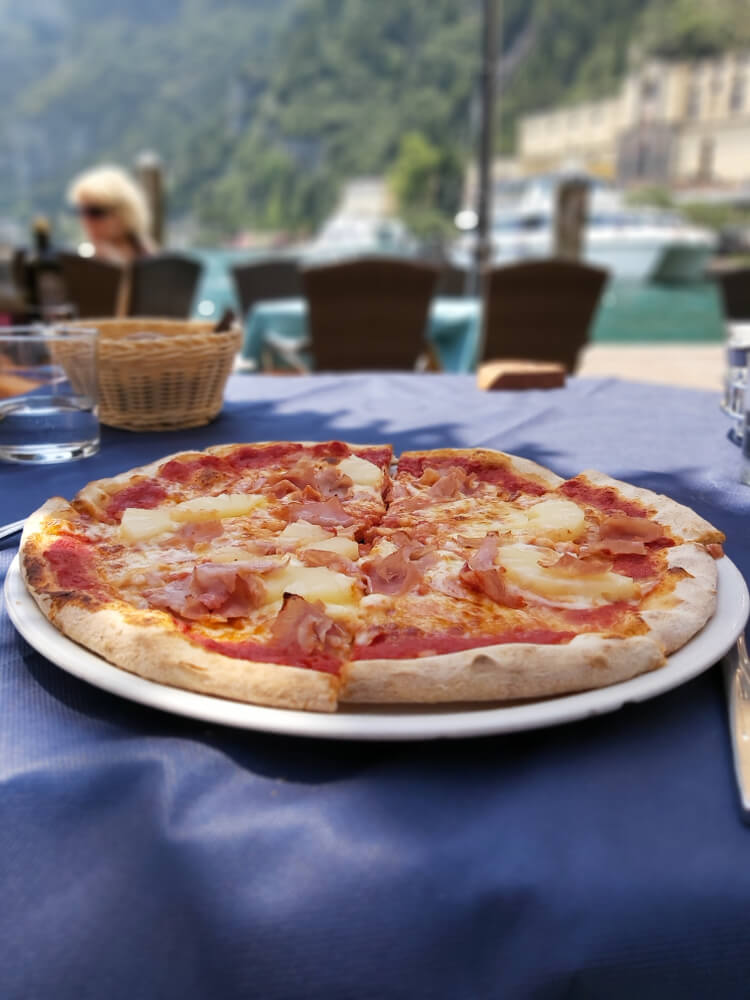 A trip to Peschiera del Garda wouldn't be complete without savoring some delicious Italian food… particularly its seafood, if you eat it!
Peschiera may be small, but it has several great restaurants packed into its tight quarters.
You're spoiled for choices here: I suggest that you head to Raffilù for delicious fish dishes, or try Osteria Rivelin for tasty pasta and meat dishes.
If you're looking for a quick bite in a laid-back spot, grab a quick plate of pasta or some cold cuts at Pasta Salame — it's a great choice for an easy meal.
Spend a fun day at Gardaland.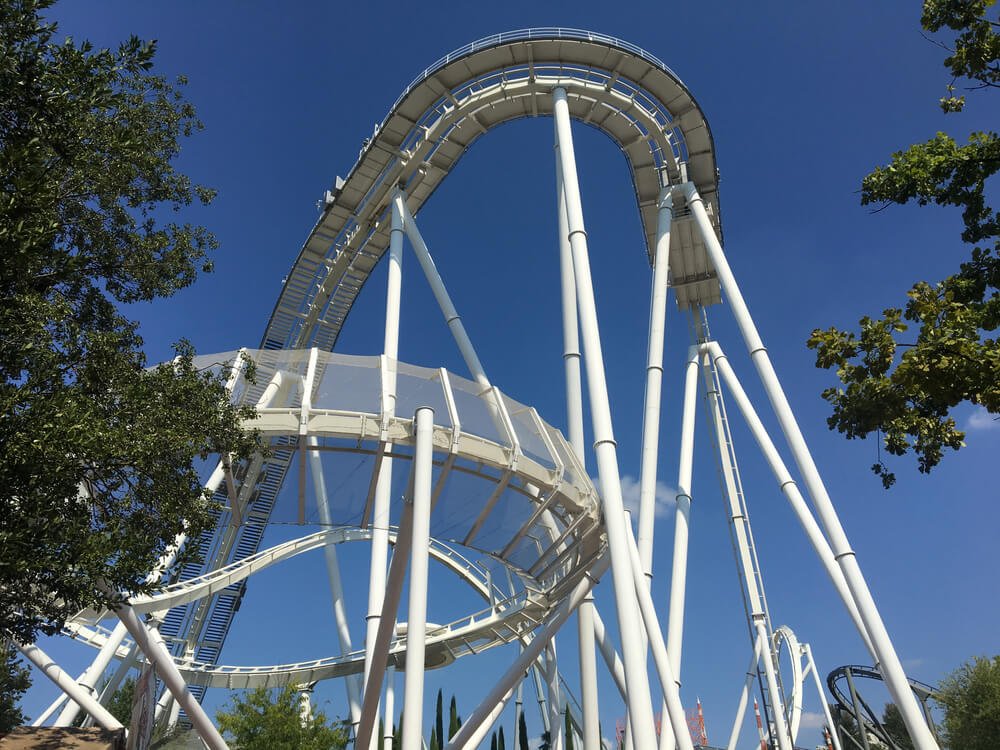 Many people choose Peschiera del Garda as their base for visiting Gardaland, one of Italy's largest and most popular amusement parks.
If you can spend at least one night in Peschiera, (given that you like amusement parks), I think it's worth planning one day at Gardaland.
The amusement park consistently ranks among the best in all of Europe, with dozens of rides, including several roller coasters and water slides and other water features perfect for a hot summer day.
The prices aren't bad either, starting at just 25€ for a day pass — a true bargain compared to other major amusement parks.
Join a self-guided scooter tour.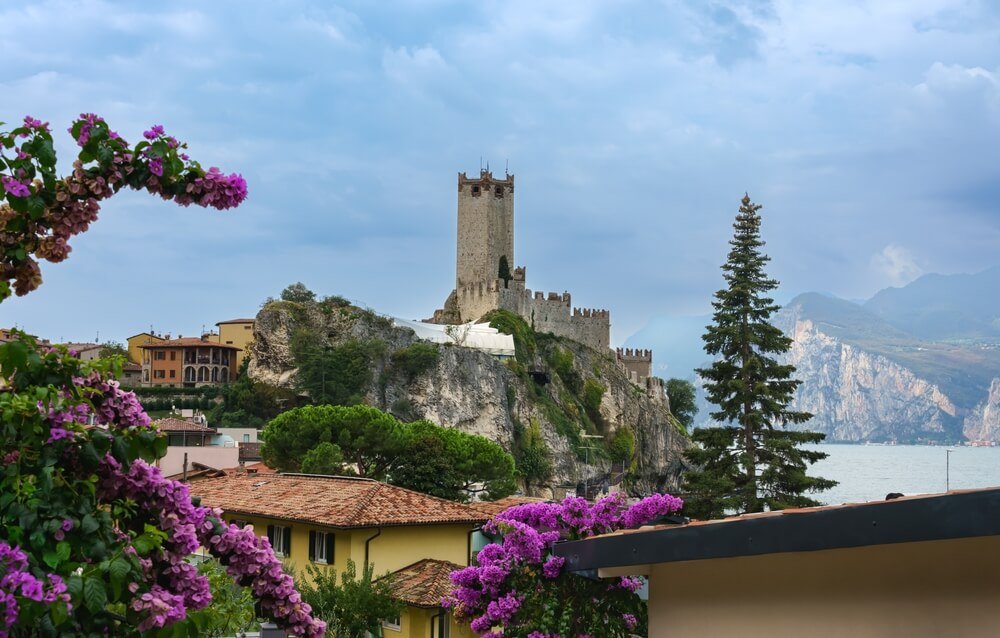 Another unique and fun way to explore Peschiera and Lake Garda is on a Self-Guided Scooter Tour!
This activity can be booked online before you go, and it includes the scooter rental and a digital guide.
This e-guide will allow you to discover some of the most scenic spots around the lake at your own pace (great if you don't like to follow the rushed itinerary of typical day trips).
On this scooter tour, you can make the choice to stop by several important spots along the lake, like Torri del Benaco, Pieve di Tremosine, Limone sul Garda, and Malcesine, among others.
The activity also includes a ferry trip, and the digital guide will also help you narrow down the best places to eat and buy local goods while you're visiting the towns in the area.
Where to Stay in Peschiera del Garda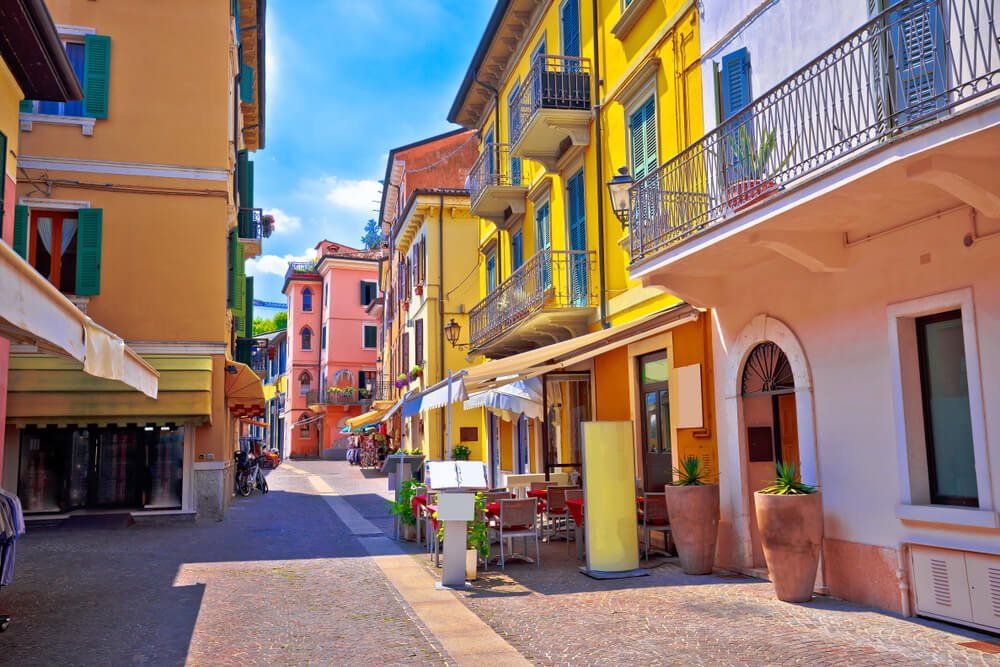 SEI Garda Apartments offer self-catering apartments with modern contemporary design.
The apartments are compact but have all that you need, including a kitchenette and seating/eating areas.
This is not your typical hotel, but rather a modern and stylish apartment complex you can stay at: somewhere between an Airbnb and a hotel.
The apartments are great for families, with bunk beds for the kids — and it's also close to Gardaland!
For a spa hotel in Peschiera that won't drain your entire budget, consider the Ziba Hotel & Spa.
It is located in a 19th-century building just outside the town center, still with its original detailing but updated rooms for a modern touch.
With an outdoor pool and spa that includes a Finnish sauna, Turkish bath, and a hot tub, this hotel is the perfect spot for relaxing in Peschiera without breaking the bank.
Le Ali Del Frassino is a luxury hotel: think multiple outdoor pools, including a larger family pool and a peaceful infinity pool overlooking the water.
The sizeable rooms are minimalist and rustic, with exposed beams adding a touch of farm-style charm.
The hotel also has a top-notch spa: it even has its own indoor heated plunge pool and sauna, plus a fantastic fitness center.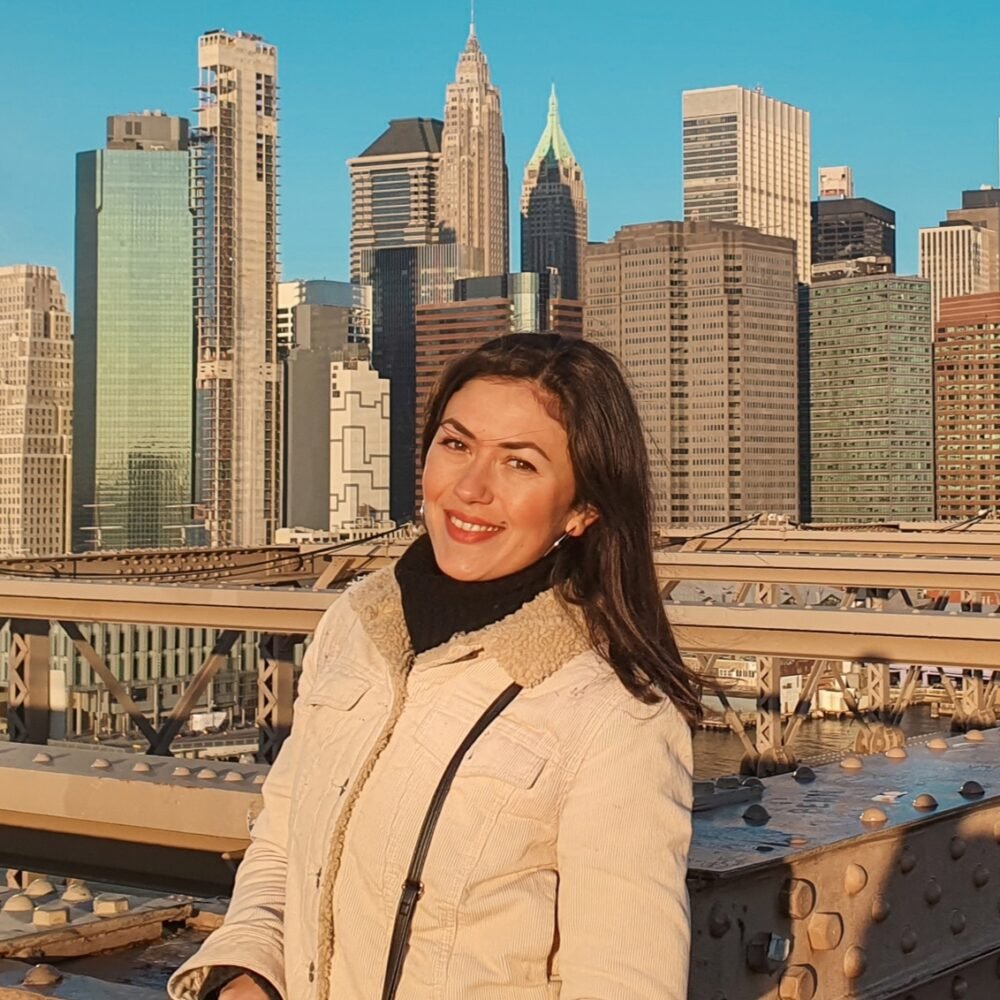 Roxana is a Romanian-born freelance travel writer who has lived in Italy for over 15 years. She has a Master's in Journalism and a Bachelor's in Film Studies, and she studied at Università degli Studi di Roma Tre. Besides her native Romania, Roxana has lived in Rome, Lisbon, and Berlin, and she has traveled through much of Europe in search of hidden gems, history, and culture.