Lisbon has become a bit of a poster child for mass tourism these days.
Everyone seems to come to the city just to do the exact same thing as everyone else… and suffers in the crowds for it.
The typical one day in Lisbon itinerary goes something like this: snap some photos on Pink Street, ride the iconic 28 tram, and wait in line for fresh pastel de nata (OK, the last one is entirely worth it).
And that's great to get an introduction to Lisbon…. but what about when you want to see a little more of the city?
Visiting Lisbon off the beaten path means getting away from the crowds (what's that Sartre quote? Hell is other tourists?) and seeing a side of the city that is a bit protected from mass tourism.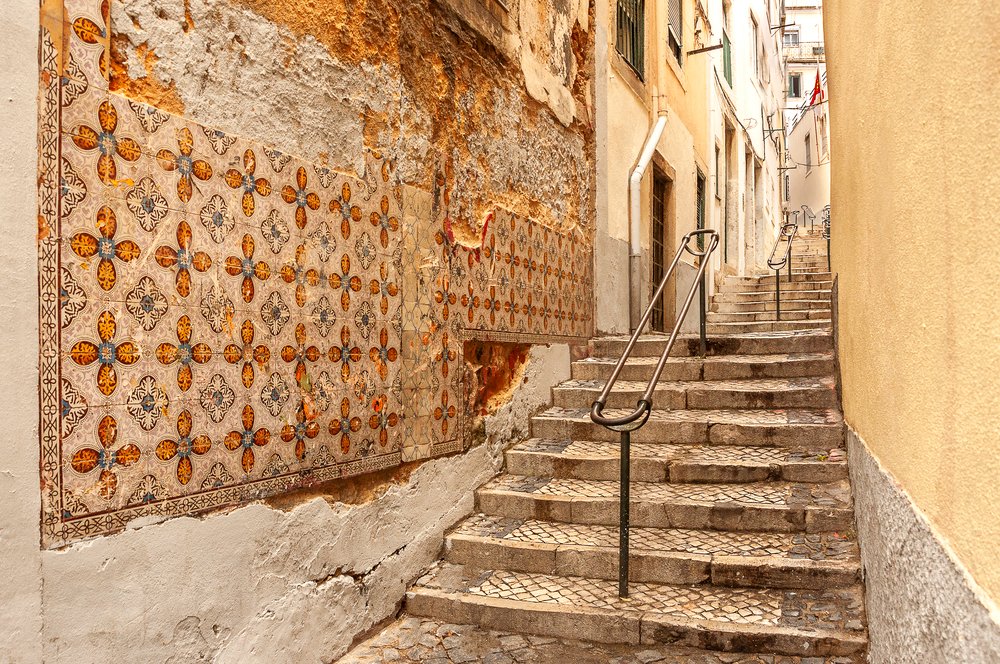 Note: This post contains affiliate links, which means I may receive a small commission if you purchase something through one of these links. Thank you for supporting the free content on this site! For more information on affiliate links and cookies, see my disclosure page for more details.
For example, if you've ever been to the ruins of a castle before, you can safely skip the Castelo de San Jorge: the most interesting part of which is its view.
You can get basically the same view at the nearby and far less touristy Miradouro da Nossa Senhora do Monte.
The famous elevators are also worth passing over — I only took one when I had a sprained ankle and was trying to hobble my way through the city in spite of it.
Instead, I sought out some alternative Lisbon hidden gems, things that wouldn't necessarily make it on most guides to the city. Here are 5 of my favorite off the beaten path Lisbon activities!
SIP, SHOP, & EAT AT LX FACTORY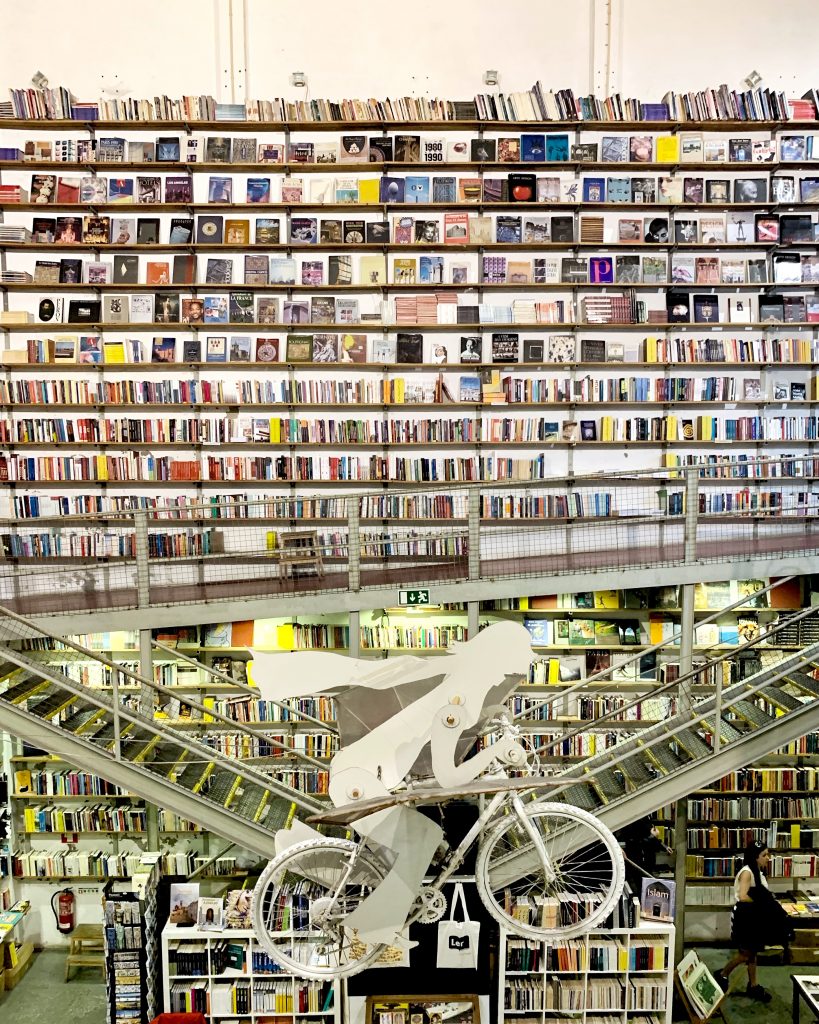 LX Factory is Lisbon's hipster utopia, a converted fabric factory that's been turned into an urban playground for the city's young crowd.
In this multi-functional space, you'll find everything from coffee shops to art galleries to delicious restaurants to funky bookstores.
A few restaurants worth noting in LX factory are Sushi Factory, which serves up atypical sushi creations (not for Japanese food purists!) and Cantina LX, which serves up Portuguese food with a fancy, contemporary twist – and delicious local craft beers and wines to match.
I wanted to check out Rio Maravilha, which has a 4th-floor location serving up Brazilian food (mmm, coxinhas) with stunning views over the Tejo River and Lisbon's Golden Gate Bridge lookalike… but it was closed for a private event when I was there.
My favorite place in LX Factory, though, is the excellent bookstore Ler Devagar, which means "read slowly" in Portuguese. It's an incredibly photogenic bookstore with an excellent selection of books in both English and Portuguese.
STROLL THROUGH THE PEACEFUL CEMITERIO DO ALTO DO SAO JOAO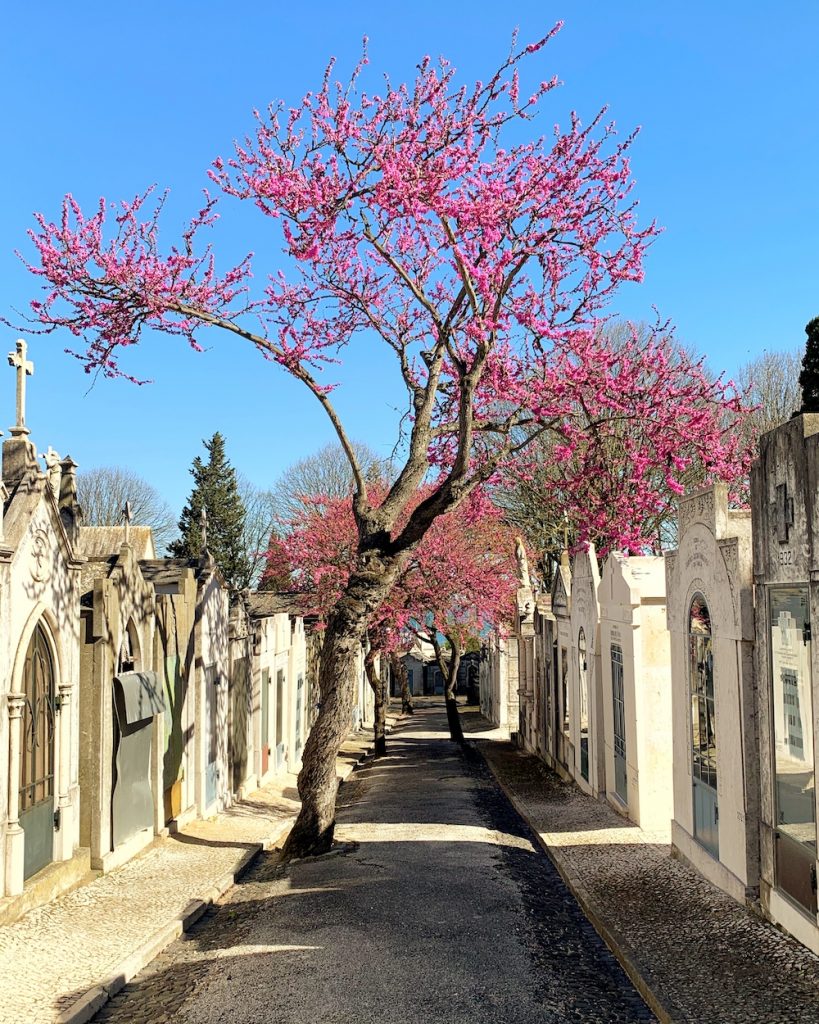 Lisbon's cemeteries are quite beautiful, and visiting one is definitely among one of the more unique off the beaten path Lisbon experiences.
There are two large cemeteries in the city that were built in the 1830s, during an epidemic of cholera that decimated Lisbon.
The Cemiterio do Alto do Sao Joao served the eastern part of Lisbon, whereas Prazeres was reserved for the western part.
Both cemeteries are still in use, with beautiful funerary architecture that is quite unique.
Rather than having gravestones under the ground, the cemeteries feature a number of mausoleums and tombs that house an entire family of coffins.
The cemetery almost works as if a city: the "houses" are numbered and the "streets" are all given names. It's beautifully landscaped, with jacarandas and cypress trees and other beautiful flora.
EAT DELICIOUS AFRICAN FOOD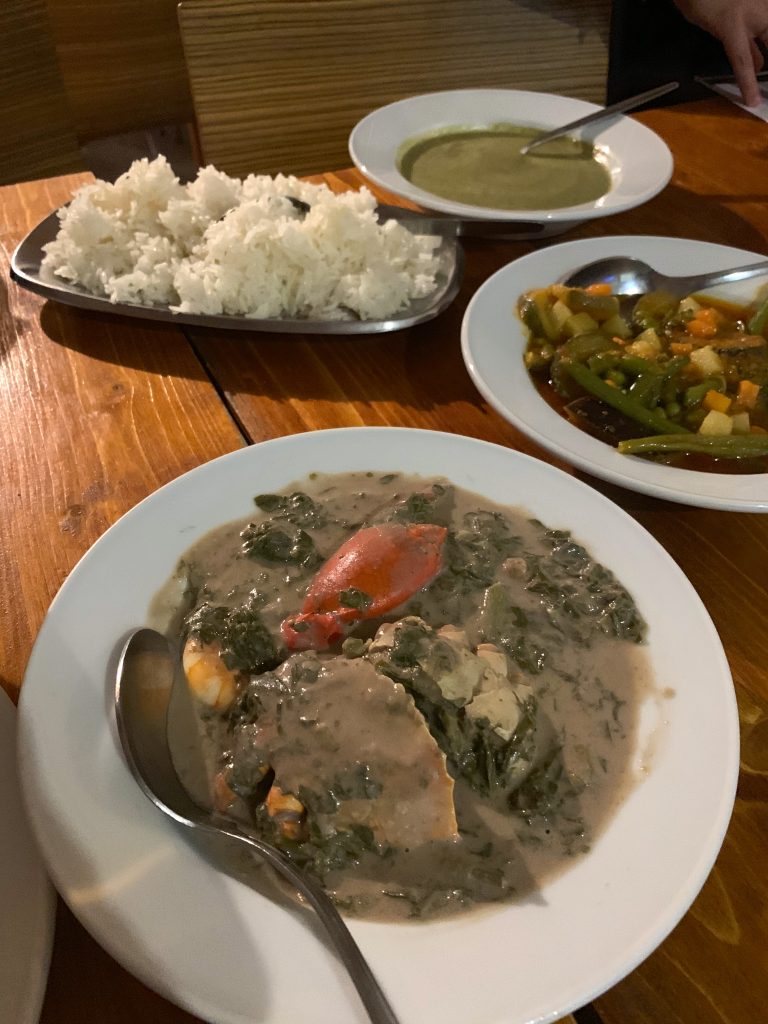 Portugal had one of the longest-lasting empires in the world, spanning nearly six centuries from the establishment of its first colony in Ceuta in 1415 up until 1999, when Portugal ceded Macao back to China.
Of course, six centuries of colonial rule don't go by without brutality, and the War of Liberation fought in Portugal's African colonies was no exception.
It lasted nearly 15 years, only culminating in 1974, long after most English and French colonies had won their independence.
Since independence, there has still been a lot of cultural interchange between Portugal and its former colonies, particularly in the form of food.
If you're a fan of trying hard-to-find ethnic cuisines, Lisbon is a gastronomic goldmine!
I got to try two different cuisines that were brand-new to me (a rarity when you spend nine years in New York eating your way through the city's food scene) in just a matter of two weeks in Portugal: Mozambican and Cape Verdean.
I had a memorable Mozambican meal at Cantinho do Aziz and can recommend their matapa, vegetable curry, and makoufe.
But even better was the Cape Verdean food I tried at Anastacia – the cachupa was absolutely incredible and hands-down one of the best meals I ate in Lisbon.
There are also Angolan restaurants worth seeking out, but unfortunately, I didn't get a chance to try any on my last visit to Lisbon!
GAWK AT TILES AT THE MUSEO DOS AZULEJOS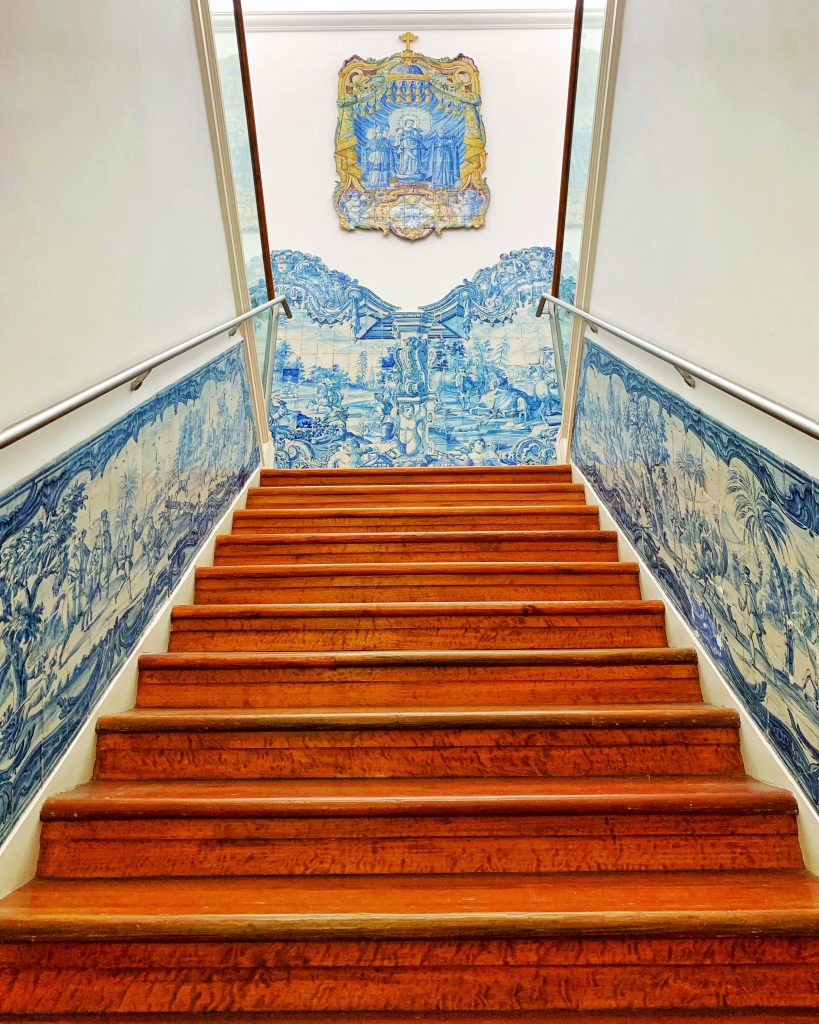 While Porto is the best-known city in Portugal for its intricate tilework, you can get a taste of this beautiful and distinctly Portuguese art form in Lisbon at the Museo Dos Azulejos.
As it's located a bit outside of the historical center, it's often skipped by tourists, which is why I rate this as one of the true Lisbon hidden gems.
The museum traces the history of tile work in Portugal back to Moorish influence and the beautiful Islamic tiles that were common in mosques from this region.
It explored the evolution of Portuguese tiles over the centuries, from the transition from the Islamic calligraphy tiles to the blue-and-white tiles that come together to form large-scale murals that you see all over Portugal today.
They also showcased new takes on Portuguese tilework from contemporary artists, who continue the legacy with their own unique modern spin.
Don't miss the beautiful "Panorama of Lisbon" on the top floor, where an entire room is dedicated to an azulejo reproduction of Lisbon's skyline with its most important features all identified.
CHECK OUT THE BEAUTIFUL (AND FREE) FILM MUSEUM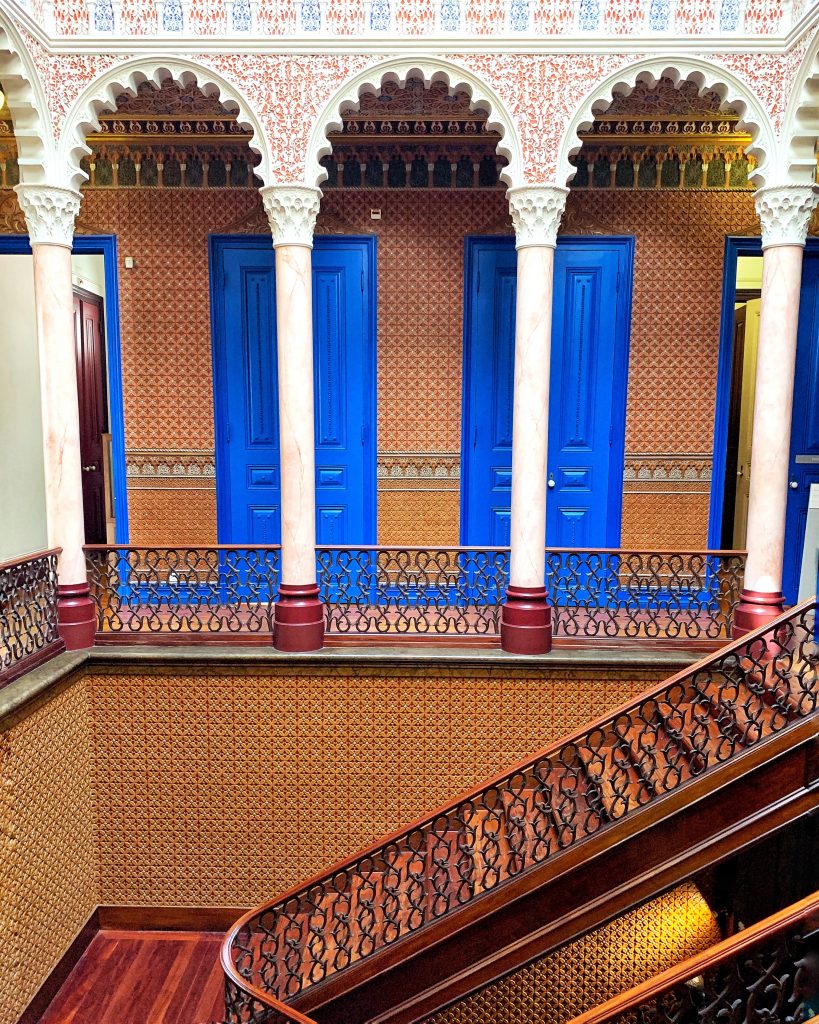 One of my favorite Lisbon hidden gems is the Portuguese Cinemateca located near Marquês de Pombal.
There's a free film museum with rotating exhibits and old cinematography equipment, as well as an excellent bookstore that features a huge selection of film-related literature.
The building itself is beautiful and the interior architecture is worth a visit alone: I loved the Moorish detailing inside the townhouse.
There are some theaters on the ground floor if you're in the mood to catch a movie, or you can simply explore the 2nd-floor museum and bookstore and have a drink at the café there.
Allison Green is a former educator turned travel blogger. She holds a Masters in Teaching and a B.A. in English and Creative Writing. Her blog posts merge her educational background and her experience traveling to 60+ countries to encourage thoughtful travel experiences that both educate and entertain. She has been a speaker at the World Travel Writers Conference and her writing, photography, and podcasting work has appeared in National Geographic, CNN Arabic, CBC Canada, and Forbes, amongst others. Now based in the San Francisco Bay Area where she grew up, she has also lived in Prague, Sofia, and New York City.