Visiting a city as rich in culture, history and attractions as Lisbon in one day only is no easy task, but I've got you covered!
If you're pressed for time or just passing through and only have 24 hours in Lisbon to check out Portugal's delightful capital, make sure to pack some comfortable shoes and get ready for a packed itinerary.
Over the two years or so that I lived in Lisbon, I got to know the city pretty well.
Aside from exploring the city myself, I happily showed around many friends who came for short stays, so I got pretty good at picking the highlights and optimizing time to make the most of it!
This itinerary for one day in Lisbon will focus on the city's most important landmarks, a few of its distinctive scenic views, also known as miradouros, sampling traditional food, and exploring its historical neighborhoods.
What to Know Before Visiting Lisbon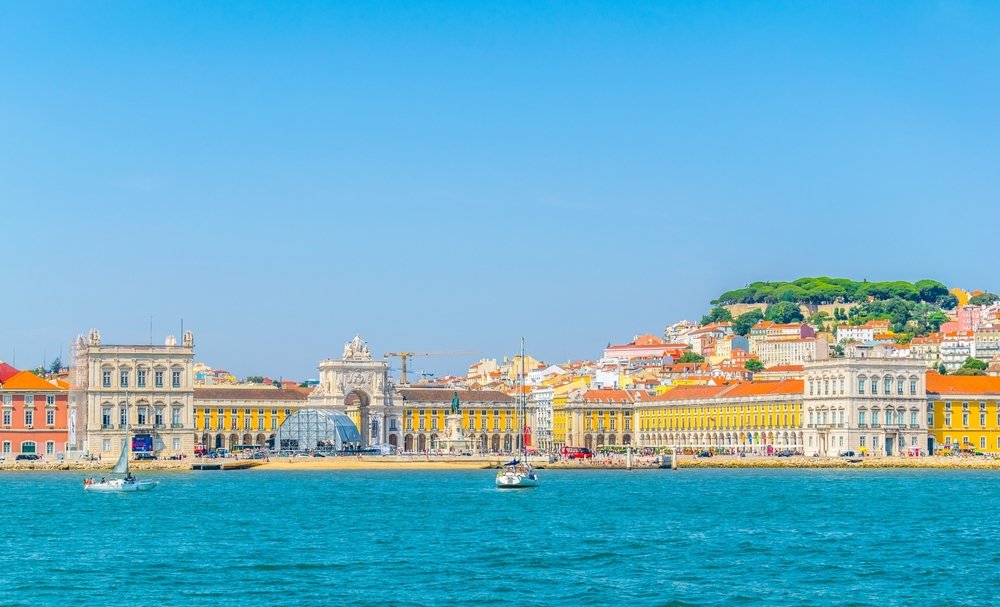 Note: This post contains affiliate links, which means I may receive a small commission if you purchase something through one of these links. Thank you for supporting the free content on this site! For more information on affiliate links and cookies, see my disclosure page for more details.
While ideally, you'd have at least two days in Lisbon, you can see the main sights in one (busy) day — maybe that's all you have before you rent a car and explore the rest of Portugal by road trip!
Luckily for you, most of Lisbon's top sights are concentrated in one relatively small area, so you can easily walk from one place to the next.
The downside is that Lisbon is built on seven hills, so you'll need to be prepared for some climbing.
But even this downside has a silver lining; at the end of each climb, you'll be rewarded with sweeping city views.
Lisbon is famous for its many miradouros (Portuguese for viewpoints), where you can recover from your climb with a drink at the local chiringuito (a small bar or kiosk).
While you're there, enjoy a breathtaking view while listening to enchanting music played by the ever-present street artists.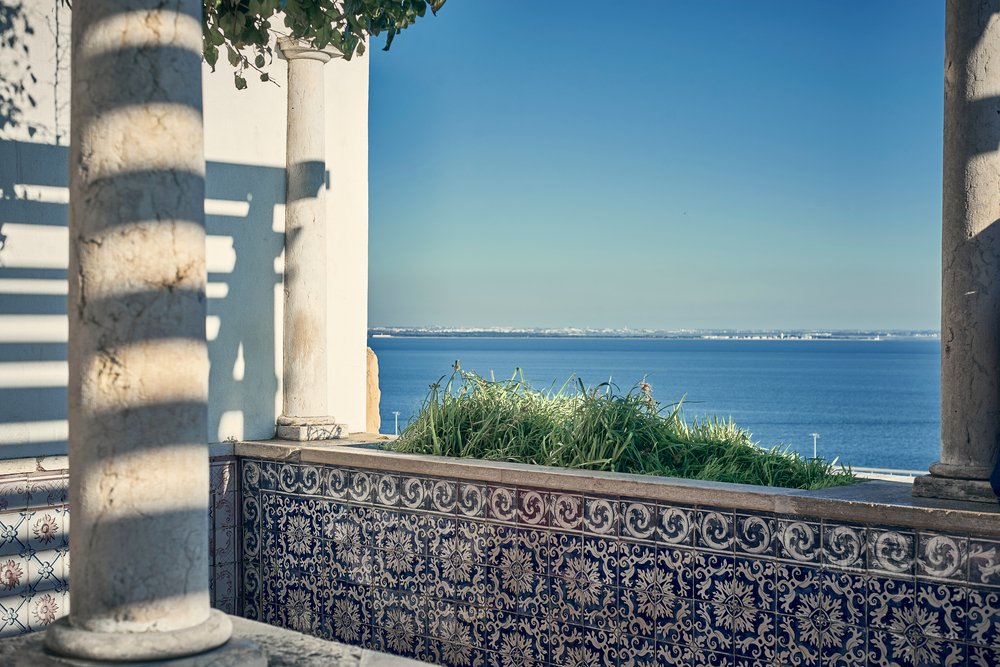 For the walking champs among us, this one-day Lisbon itinerary is intended to be fully walkable.
However, if you need public transit options, Lisbon has four subway lines and several buses, not to mention charming historical streetcars!
If you're going to use public transportation, including the streetcar, you can buy a refillable card (Viva Viagem) that you can top up at any metro station.
Alternatively, buy a 24-hour Lisbon Card that includes unlimited travel on the metro system and all the elevators and streetcars, as well as free or discounted entry to 40+ attractions.
As for the weather in Lisbon, temperatures are usually pleasant year-round, with generally mild winters and summers — March in Lisbon is a great time to visit!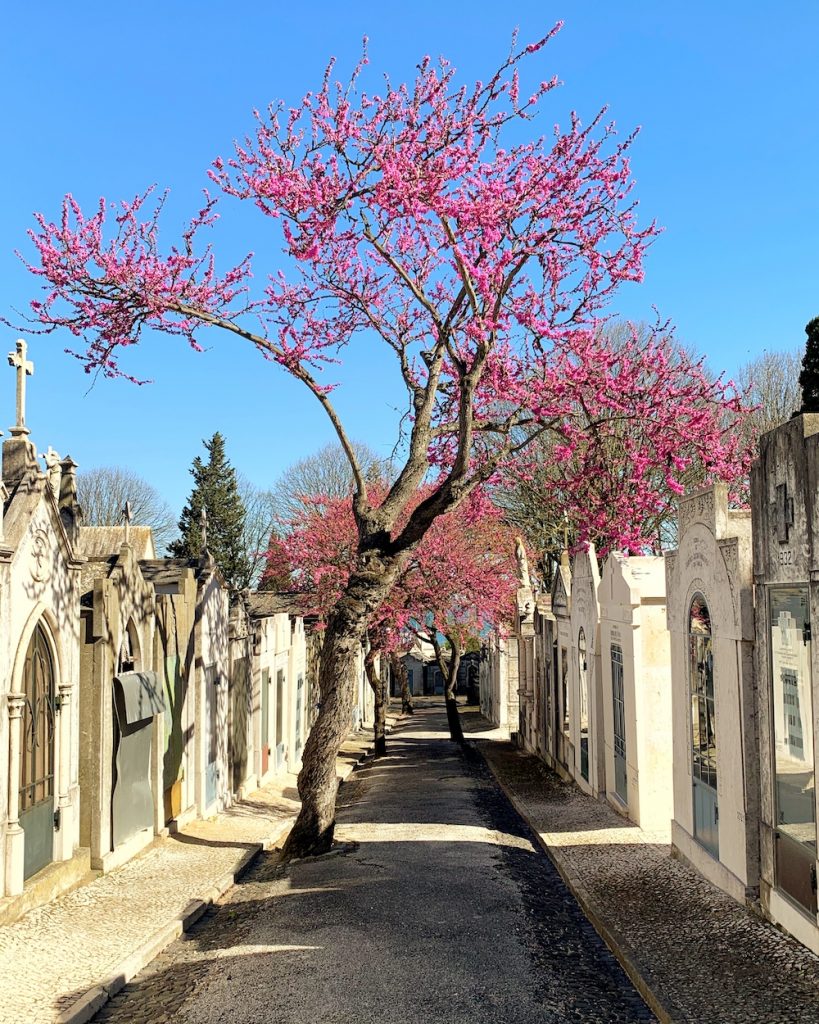 However, temperatures tend to drop at night, even in summer, so always bring a jacket. Lisbon can be quite windy, which means it can feel colder, especially in winter.
One last thing to be aware of is the famous calçada portuguesa, which is a typical Portuguese pavement made with small stones that combine to form beautiful mosaics.
While this scenic feature is one of many local charms, it can be quite slippery, so pay attention when walking downhill, and for the sake of your feet, wear practical shoes!
Your Ultimate One Day in Lisbon Itinerary
Start with a Portuguese breakfast.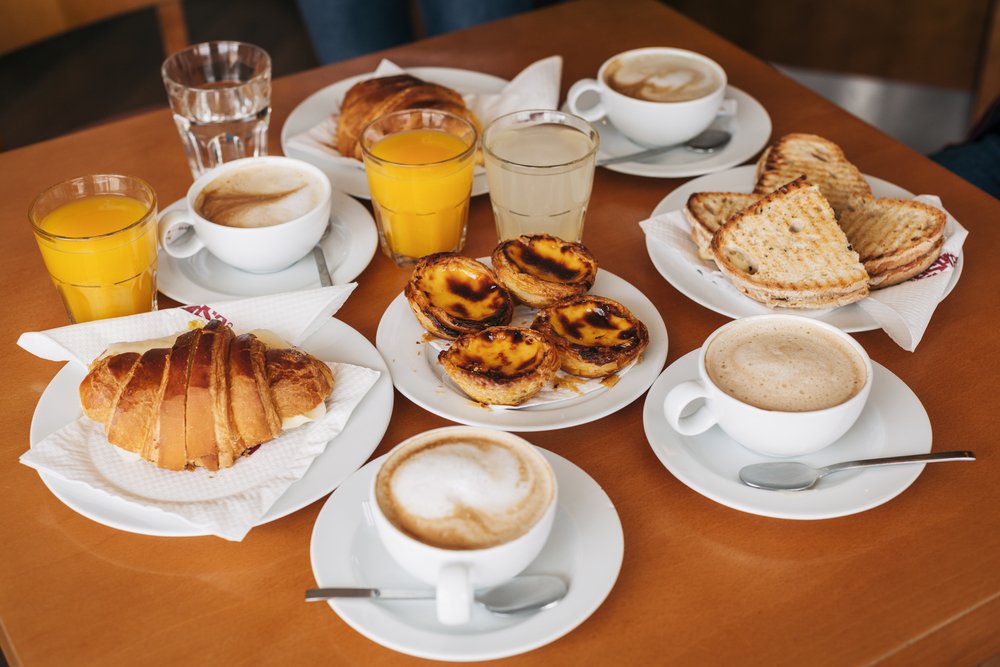 To start your day on the right foot, grab a nice Portuguese breakfast at Padaria Portuguesa.
This is a chain of cafés you'll find all over Lisbon, so you'll probably have no trouble finding one near where you're staying!
When I was living in Lisbon, these cafes were one of my absolute favorite spots, with their tasty and affordable breakfast menus.
The typical Portuguese breakfast is a perfect way to fuel a day of walking, since it consists of a sandes mista (ham and cheese sandwich), orange juice, and coffee.
If you prefer a sweet breakfast, try the delicious Pão de Deus, a fluffy ball of dough covered in a mixture of egg and coconut.
For fans of coconut, this pastry is as divine as the name "God's Bread" suggests!
Explore the historic Alfama district.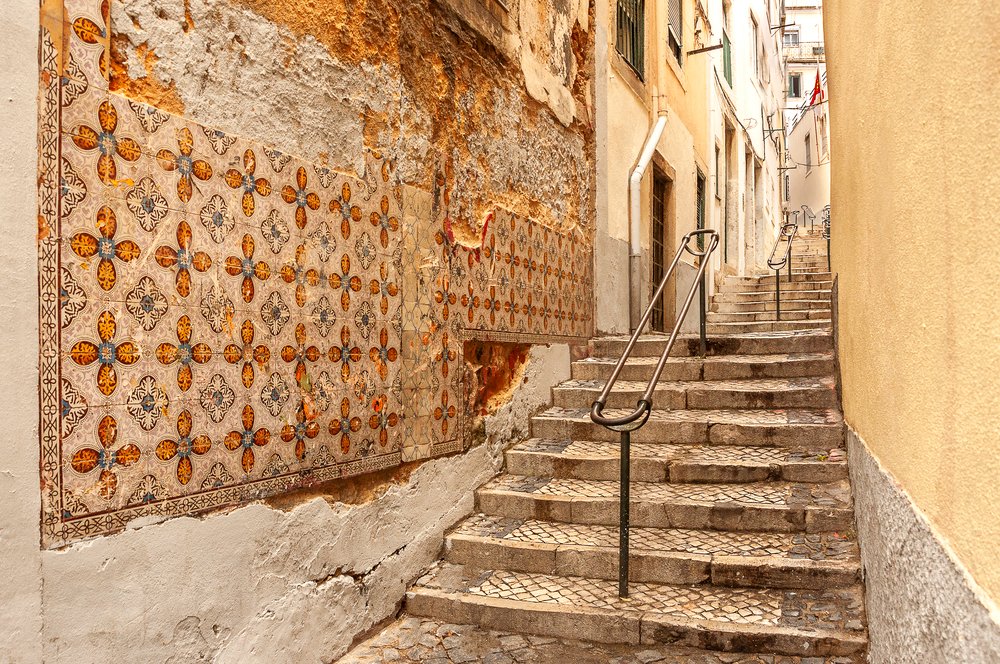 After breakfast, it's time to get walking and explore Alfama, Lisbon's most charming and authentic neighborhood.
An intricate maze of alleys and stairways, Alfama is Lisbon's oldest neighborhood and has maintained its old-fashioned charm.
Depending on where you're staying, you can walk there or catch the blue line subway to Terreiro do Paço.
From the metro station, walk through Alfama to fully take in the lively atmosphere.
Prefer not to explore by foot the whole time? Book a private 2 or 3-hour tour in a charming vintage tuktuk, exploring the nooks and crannies of Alfama and sights beyond it.
Check out the historic Lisbon Cathedral.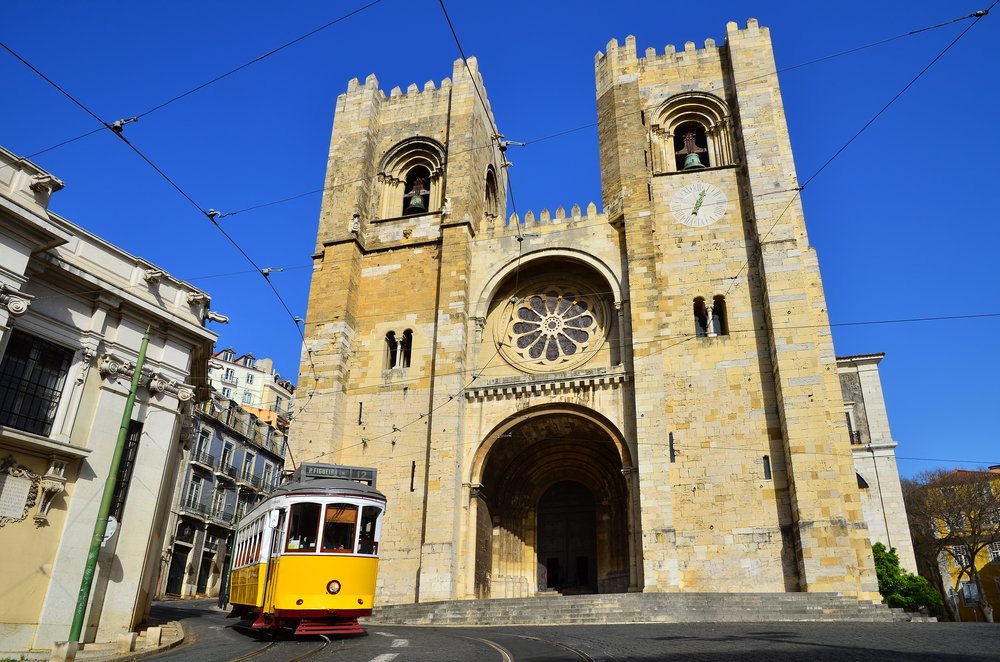 First, visit Lisbon's Cathedral, one of the city's most iconic landmarks.
The Cathedral of Saint Mary Major is known to locals as the Sé de Lisboa, or even just the Sé.
Sé comes from Sedes Episcopalis, or bishop's seat, and is the Portuguese word for cathedral.
Lisbon's cathedral dates to the 12th century but was renovated multiple times throughout the centuries, due to damage from multiple earthquakes, including a particularly severe one in 1755.
As such, the building combines a number of architectural styles, becoming a sort of architectural history record!
While this history of renovations can be seen throughout the cathedral, the most recent renovations took place in the early 20th century.
The cathedral's exterior, with the historic streetcars passing by, is one of the most scenic sights.
However, the interior of this cathedral has so much more to see, so it's absolutely worth going in as well.
Entrance to the prayer area of the cathedral is free of charge, but an entry ticket for around 5 euros gives you access to the cathedral naves, the High Choir, and the Museum of the Treasury of the Cathedral.
See castle ruins and soaring views at Castelo de São Jorge.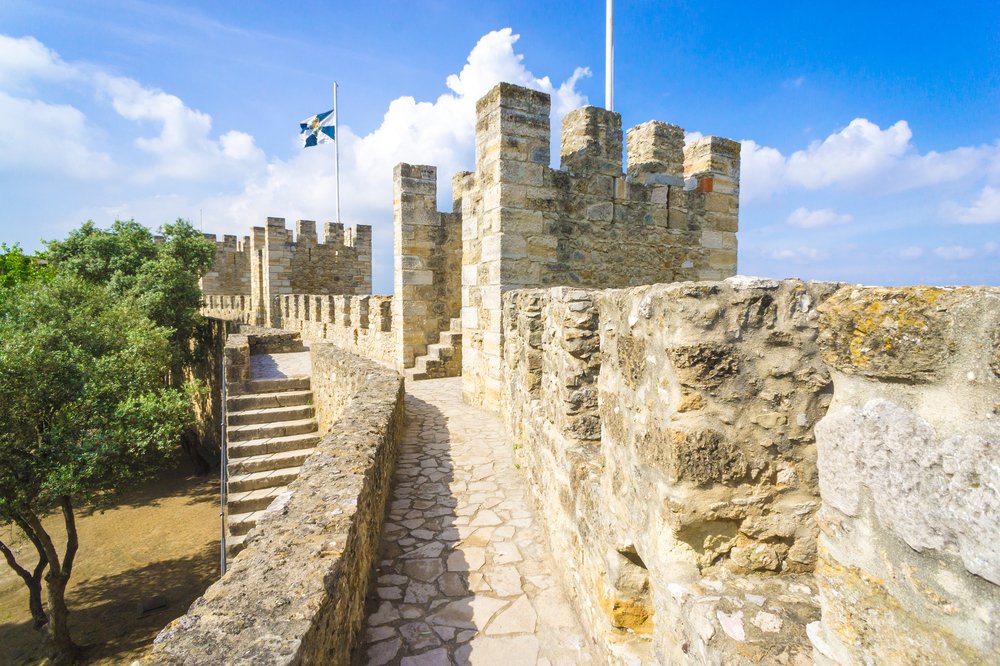 From the cathedral, make your way to the São Jorge Castle, just a quick 10-minute walk away.
This hilltop Moorish castle was built in the 10th century, but the earliest fortifications on the site date all the way back to the first century BC.
In 1147, the first king of Portugal, Afonso Henriques, fought the Moors in what would become known as the Siege of Lisbon, during the Second Crusade.
After his victory lifted the siege, Lisbon and its castle were freed from Moorish rule.
A visit to the castle is likely your biggest expense in Lisbon — expect to spend around 30 euros on an entry ticket plus audio guide or in-person guide — but it's so worth it.
Not only will you get to visit the impressive fortifications, but you also get some of the best views in the city.
This skip-the-line ticket gives you access to all the castle areas, the museum, and the gardens for an unlimited time, plus an audio guide to help you understand the context of the ruins you're seeing.
For an even more in-depth dive into the history of this iconic castle, you can join a guided tour that allows you to skip the line and get a personal orientation of the castle area with a 15-minute introduction by an expert guide.
This is great for people who don't want to take too long of a time on a guided tour but do want to know what they're looking at. The rest of the time, you're free to the explore the castle area at your pace.
Admire the views at Portas do Sol and Miradouro de Santa Luzia.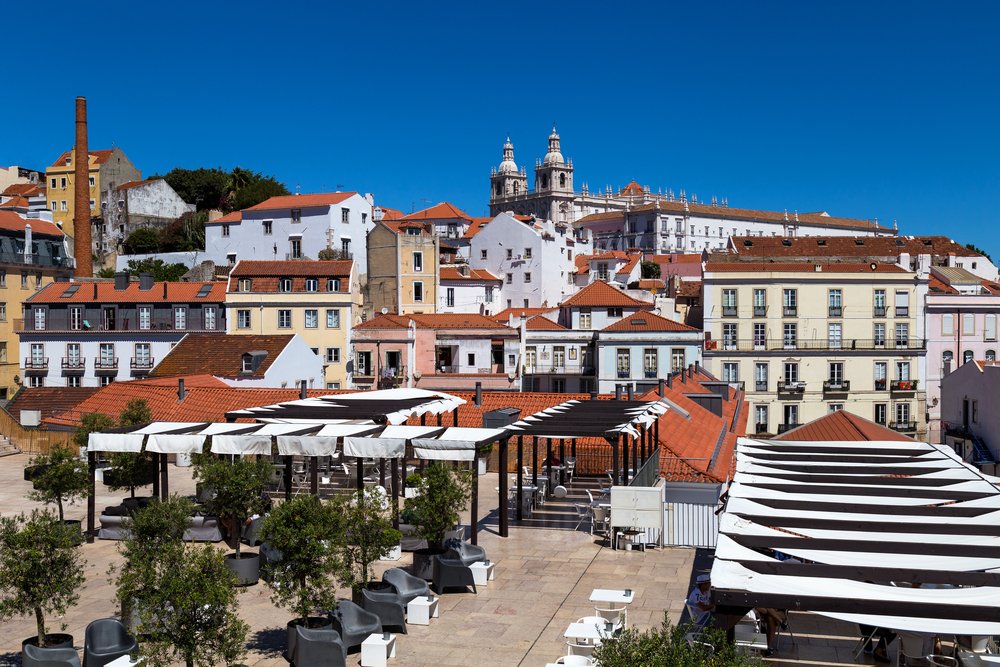 After visiting the castle, head toward Portas do Sol to enjoy even more sweeping views of Lisbon.
Portas do Sol is a big square with a viewing platform that overlooks Alfama and the river.
After you descend the stairs just by the viewing area, you'll find a small archway covered with murals depicting Lisbon's history.
Just steps from Portas do Sol, you'll find Miradouro de Santa Luzia, one of the prettiest views in Lisbon.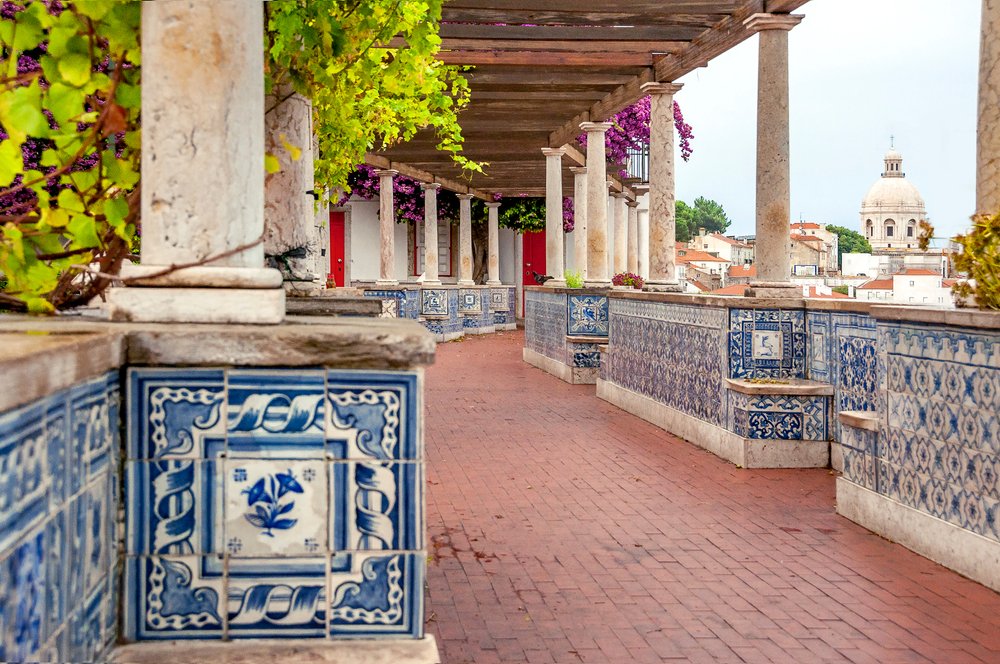 This lively miradouro is always filled with people and street artists.
You'll likely find someone selling beautiful art and someone playing music.
It's easy to lose yourself in the cheerful atmosphere here, so be sure to relax and take some time to just soak it all in!
Spend whatever time you have left before lunch exploring Alfama.
Just get lost (although hopefully not literally!) wandering the narrow alleys and stairways.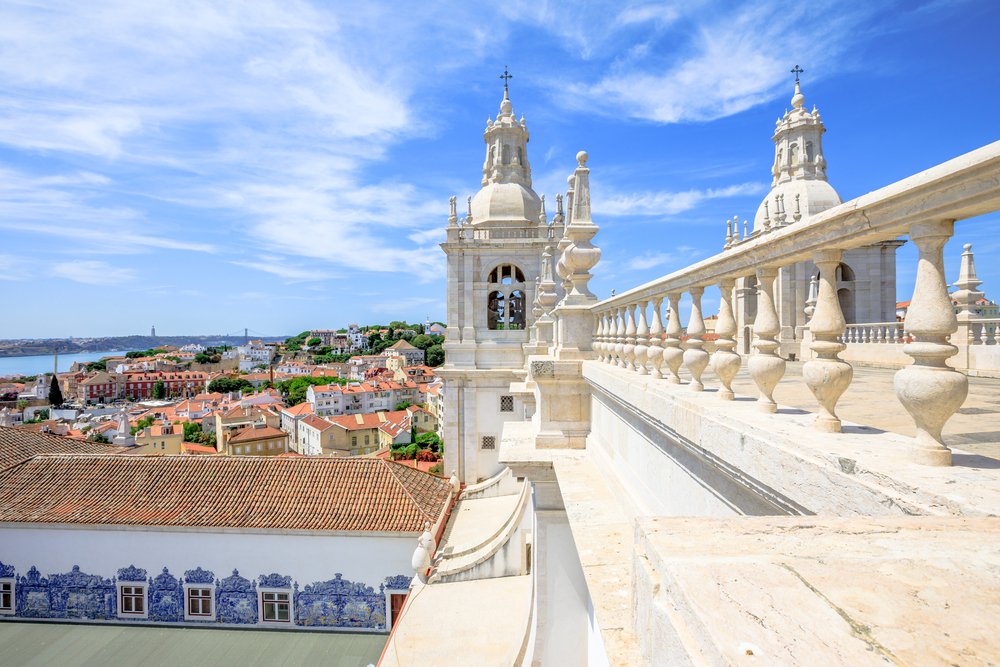 Be sure to pass by the Church of São Vicente de Fora and the National Pantheon, where you can see a gigantic azulejos mural that's well worth the detour.
If you happen to be in the area on a Tuesday or Saturday, you'll also find the Feira da Ladra just behind the Pantheon.
This is Lisbon's most famous flea market, where you'll find anything from vintage clothes to furniture.
Have a typical lunch in a tasca.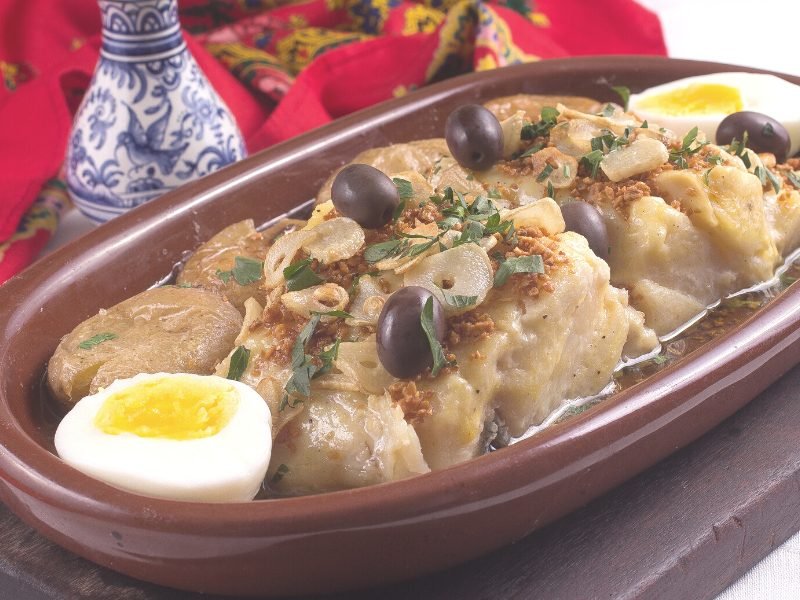 Stay for lunch in Alfama, where you can eat traditional Portuguese food in one of the many tascas.
A tasca is usually a small and unassuming restaurant, but don't let appearances fool you!
These little spots serve up some of the best food I ever had the chance to enjoy during my time in Portugal.
You can't go wrong with A Parreirinha do Paraíso, A Muralha, and O Tasco Do Vigário — these three became my favorites while living in Lisbon.
If you want to try a local dish, nothing says Lisbon more than codfish (bacalhau).
They say codfish in Portugal comes in at least 365 different recipes, one for every day of the year!.
In Lisbon, some local favorites are Bacalhau com Natas (with cream), Bacalhau à Brás (with eggs and shoestring fried potatoes), and Bacalhau Grelhado (grilled).
If you're vegetarian, don't worry! You can still find many options around Alfama.
Portuguese tascas usually have a couple of vegetarian dishes, but if you're looking for a specifically vegetarian restaurant, you can also check out Green Revolution or Tazza in Giro.
Discover the lively district of Baixa.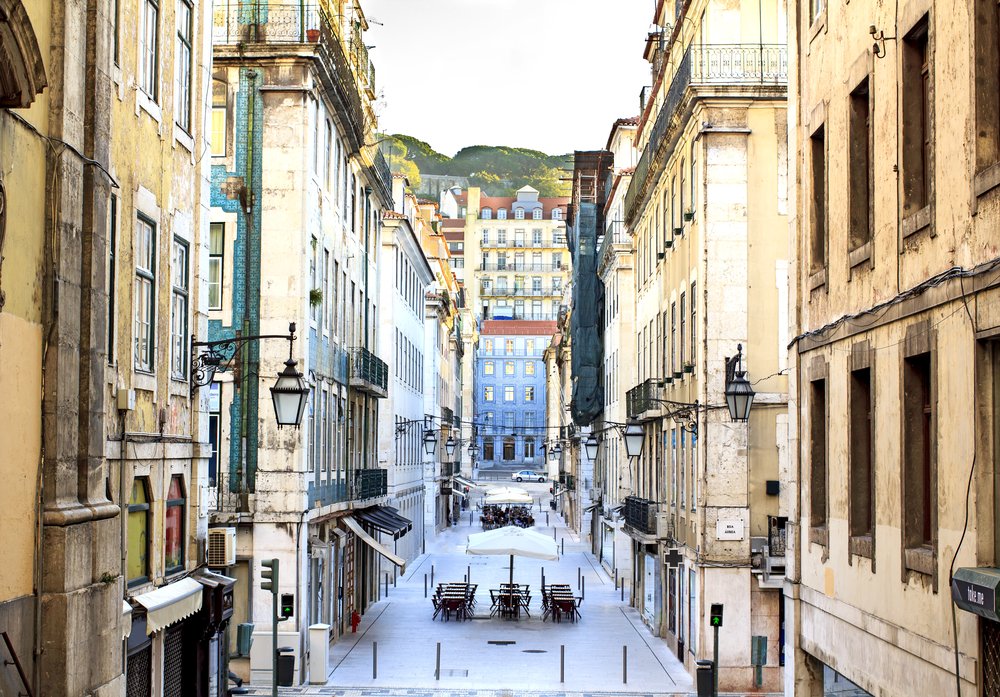 After lunch, it's time to leave Alfama and explore the area of Baixa.
You can walk back or save some energy by catching one of the historical streetcars.
The 15 will leave you right in Praça do Comércio, but you can also catch the 12 or 28 and get off at R. Conceição.
Baixa is the heart of Lisbon, a lively area filled with monumental squares, restaurants, museums, and historical landmarks.
This is also the perfect area to go shopping and take in Lisbon's vibrant nightlife!
Admire the sprawling yellow-hued Praça do Comércio.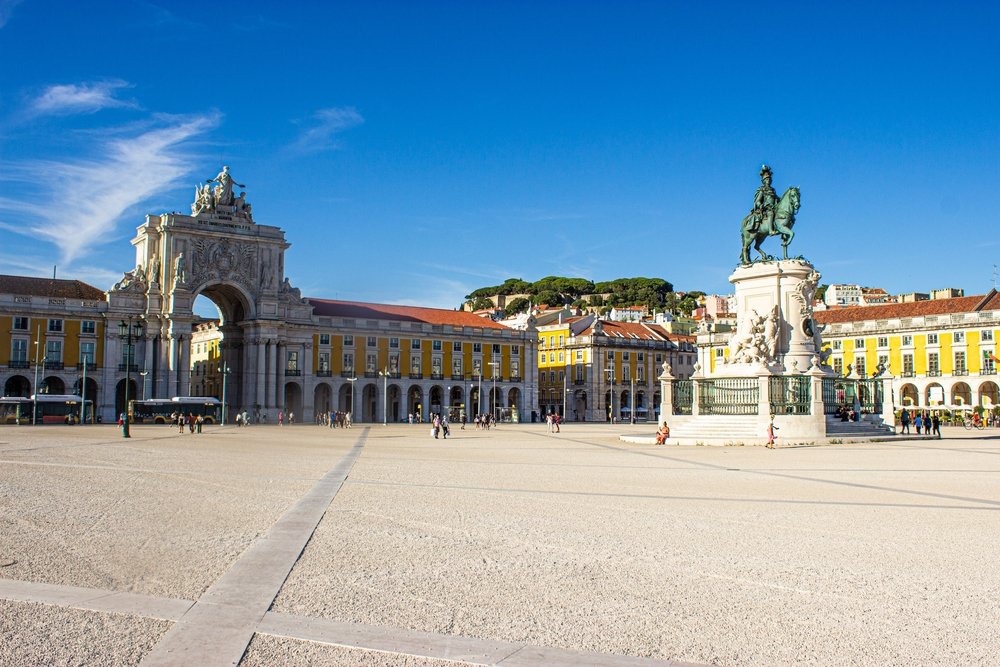 Praça do Comércio, one of the largest public squares in Portugal, sits right on the Tagus River.
Historically, the square was named Terreiro do Paço, which means Palace Yard.
It was named this for being adjacent to the Paço da Ribeira (Royal Palace of Ribeira), the former residence of the Portuguese royal family in Lisbon.
Tragically, the Royal Palace of Ribeira, was destroyed in the 1755 earthquake, which also caused a tsunami and several fires across Lisbon that destroyed many other buildings.
The square you see today is the result of the restoration ordered by the Marquis de Pombal in the second half of the 18th century during the rule of Dom José I, whose statue you can see at the center of the square.
Wander down Rua Augusta and admire its Arch.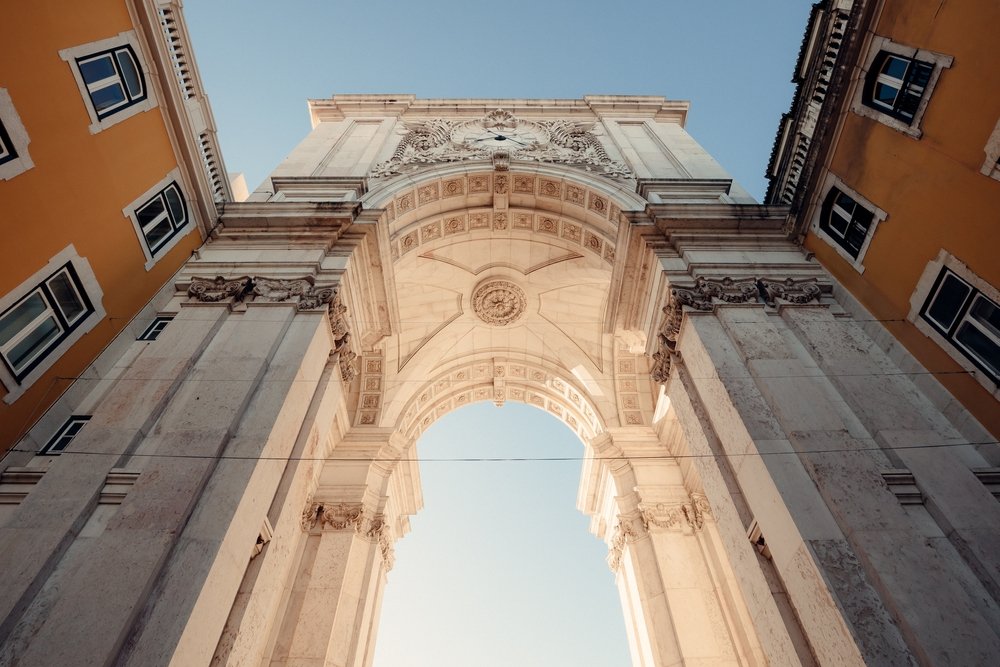 On the city side of the impressive square, there's a massive ornate arch.
Construction of the Rua August Arch started right after the 1755 earthquake as a triumphant symbol of the city's dedication to reconstruction efforts. However, the arch was only completed in 1873.
For a small entry fee, you can climb right up to the top of Rua Augusta Arch and have a stunning view of Praça do Comércio and the river!
From its heights, you can see as far as Ponte do 25 de Abril, Lisbon's Golden Gate-style bridge.
The street that starts from the arch is called Rua Augusta and it's one of the main shopping streets in Lisbon.
With the traditional calçada portuguesa and the beautiful historical buildings, Rua Augusta is a lively street filled with tourists and locals alike.
Make your way to the scenic Rossio Square.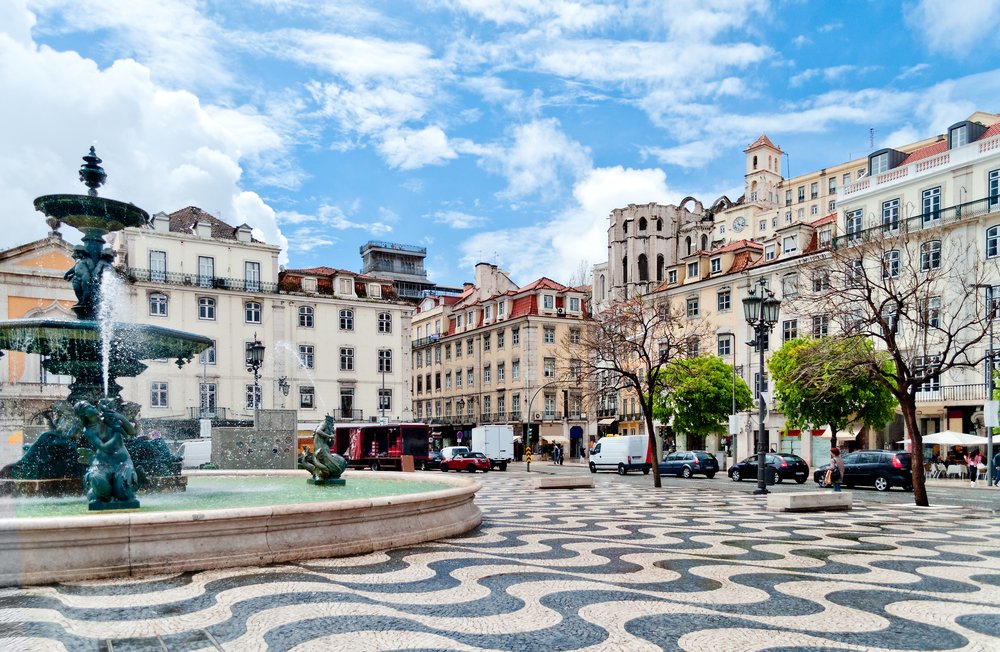 At the end of Rua Augusta, you'll reach one of Lisbon's most important squares, Rossio Square.
The beautiful square features a statue of Dom Pedro IV (a former Portuguese king) at its center and has two gorgeous fountains at each end.
Be sure to check out the stunning pattern of the calçada portuguesa here — its undulating wave patterns are stunning.
If you're lucky enough to visit in spring, the jacaranda trees around the square will be in full bloom, adding a truly magical quality to its beauty.
See the ruins of the Carmo Convent.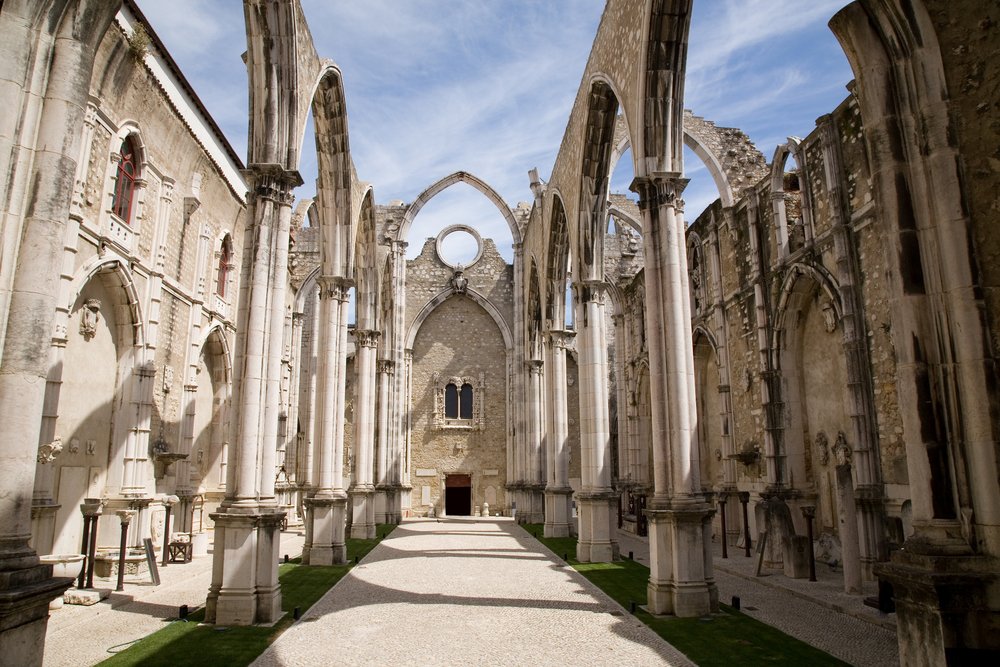 From Rossio Square, it's time to visit another important landmark, the Convento do Carmo.
You can walk for roughly five minutes to the convent or ride the iconic Santa Justa Lift if the line is not too long.
You can pay for the ride with your Lisbon transportation card or a €5.30 return ticket.
However, you can still enjoy the view from the top for free if you want to save money!
You can also walk up, but it'll take about 5-10 minutes to walk up the hill via the zig-zagging side roads up the hillside.
Even if you're on a budget, the Carmo Convent is totally worth paying for.
The small entrance fee of €5 allows you to enjoy the spectacular sight of one of the few buildings that (mostly) survived the 1755 earthquake.
After the damage it sustained, the convent no longer has a roof, leaving a haunting hollow skeleton of columns and arches reaching for the sky in a dramatic, beautiful setting.
There's also an archaeological museum inside featuring mummies and other interesting exhibits.
Head to Praça Luís de Camões for some pastéis de nata.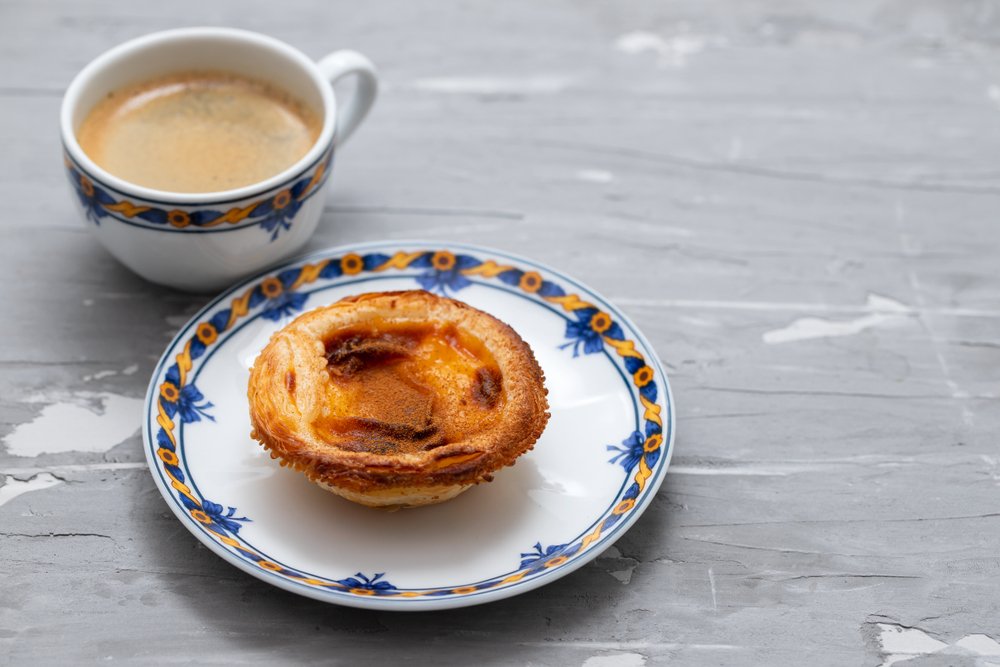 From the Carmo Convent, walk back down to Praça Luís de Camões, another beautiful square.
On your way there, you'll pass by the café A Brasileira, one of the city's oldest cafés, famous for being frequented by writer Fernando Pessoa.
A statue of Pessoa stands right by the outdoor tables, as if he were still just one of the many customers!
If you have a little extra time or need a quick break, head to Manteigaria to try the best pastéis de nata in town.
Some may say Pastéis de Belém are better, but if you ask me, the ones from Manteigaria are hands down the best. (Plus, smaller crowds!)
Why settle for just taking my word for it, though? Just try for yourself, maybe even with an espresso for that perfect afternoon pick-me-up!
Take in the views at Adamastor.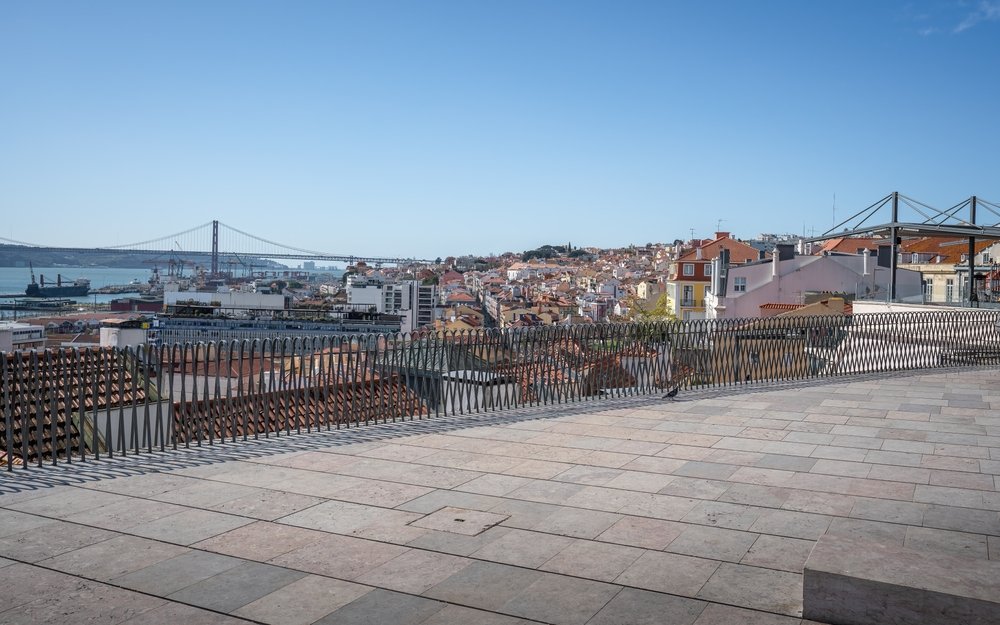 By now, we're almost done with our Lisbon walking tour, but we've got a couple more stops to round it out!
Miradouro Adamastor is a short walk from Praça Luís de Camões and is one of the best spots to people-watch while having a drink and listening to some street artists playing guitar or singing.
There's always someone playing music here, so just follow the sound and find yourself a little spot to wind down at the end of your perfect day in Lisbon.
There's a small chiringuito with tables if you want to sit with a beer or a glass of wine. Alternatively, you can just sit on the steps and enjoy the gorgeous view.
To the left, you can see the historical center of Lisbon, while to the right, you'll see the sun go down near Ponte 25 de Abril bridge.
Head back down to Baixa via the Ascensor da Bica for dinner.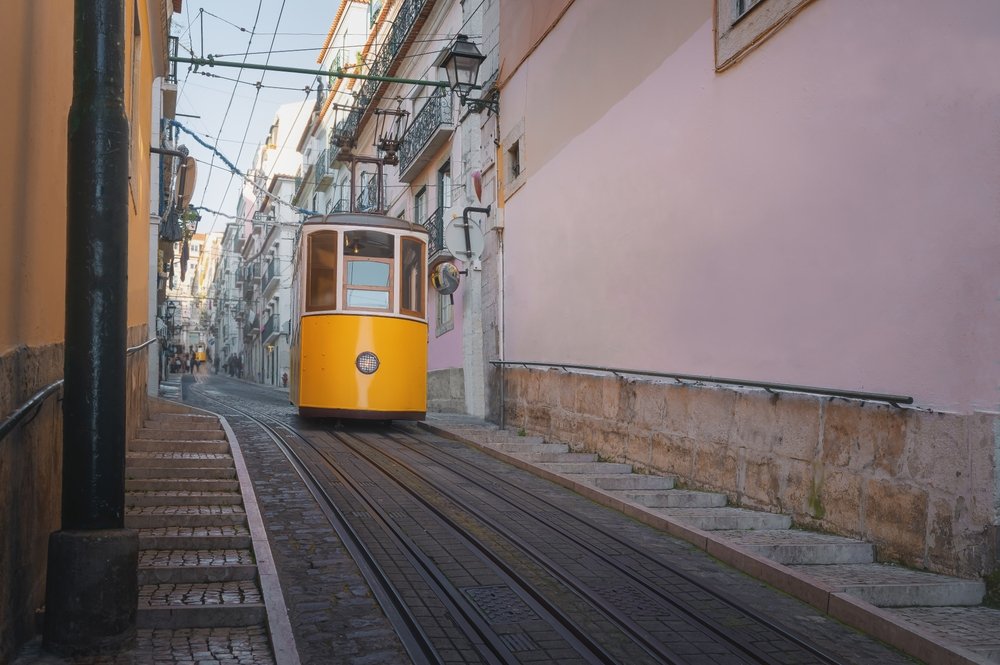 After enjoying the views, make your way back down to Baixa for a sunset cruise and then one more delicious Portuguese meal.
You can walk down or catch the historical Elevador da Bica, a 19th-century cable railway that goes up and down the hill.
This is one of Lisbon's most iconic spots, so even if you don't ride the lift, you should be sure to go check it out, just for the memories.
Best of all — you can use your Viva ticket for the lift!
Take a sunset catamaran cruise on the Tagus River.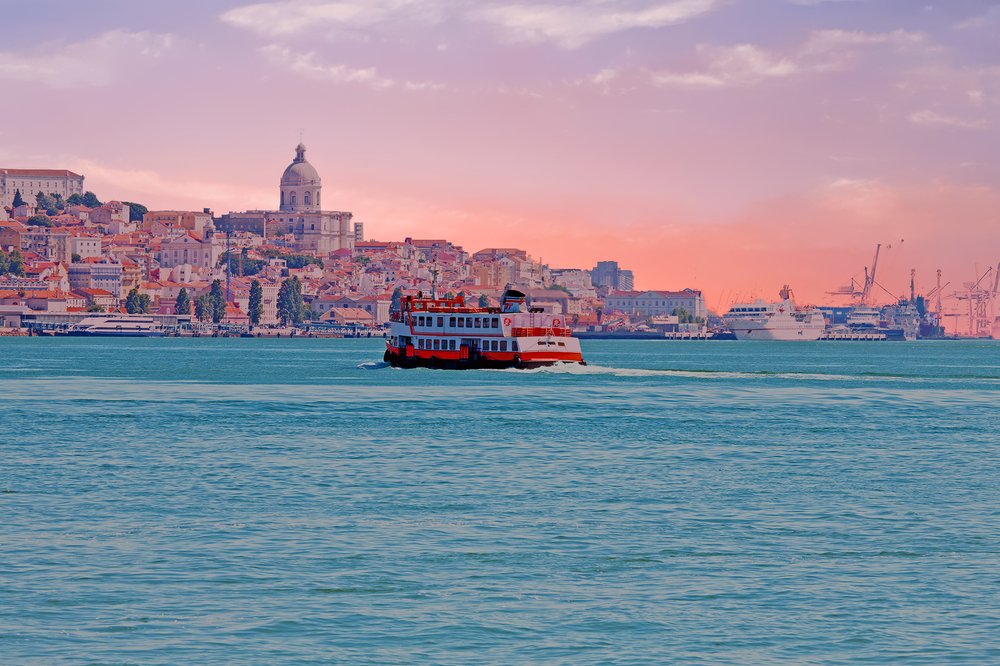 What's the best way to wrap up a day in Lisbon? Cruising the Tagus on a catamaran as the sun goes down, of course.
This 1.5-hour cruise on the Tagus (called Tejo in Portuguese) includes one drink as well as live music to accompany the sunset views.
You'll pass by many of the spots you saw from different places in the city from a whole different perspective — and in a whole new light, literally speaking.
Relax on the catamaran nets as you admire the city as you sweep past it, and enjoy the well-earned rest (your feet will thank you!).
Grab dinner somewhere special.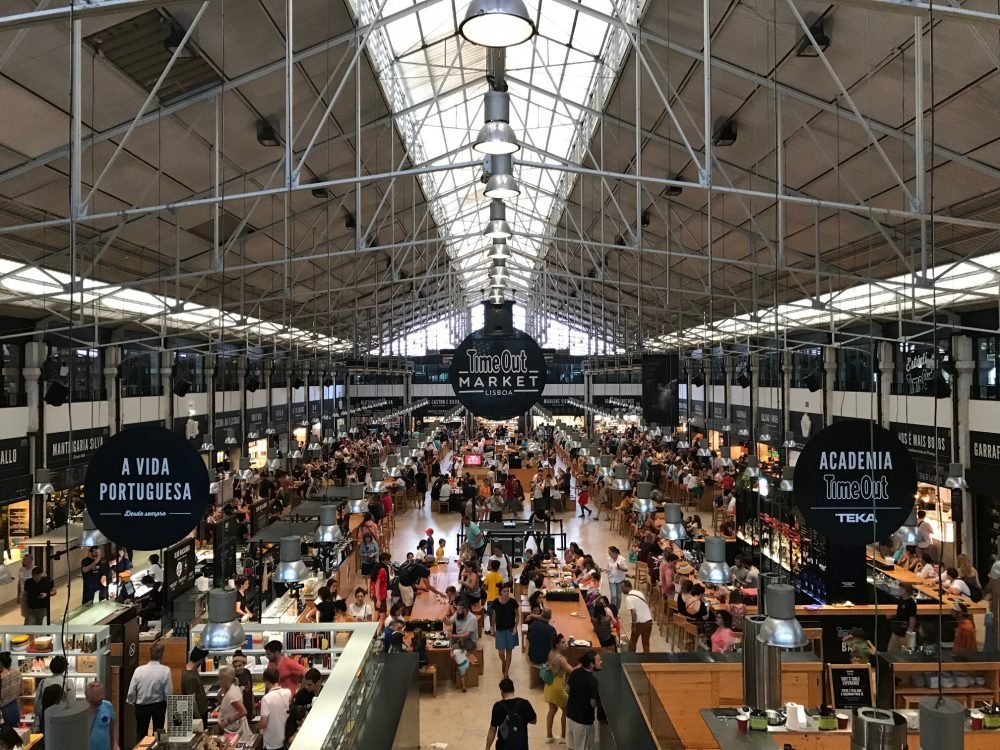 In the area around Rua de S. Paulo, you'll find yourself faced with endless choices for dinner.
You can try one of the spots inside the huge food court Time Out Market, or one of the nearby restaurants.
If you want my top picks, try Popular da Bica for traditional Portuguese dishes, Santos à Bica for a mix of Portuguese and international cuisine, or Farès for Middle Eastern vegetarian dishes.
Party on Pink Street.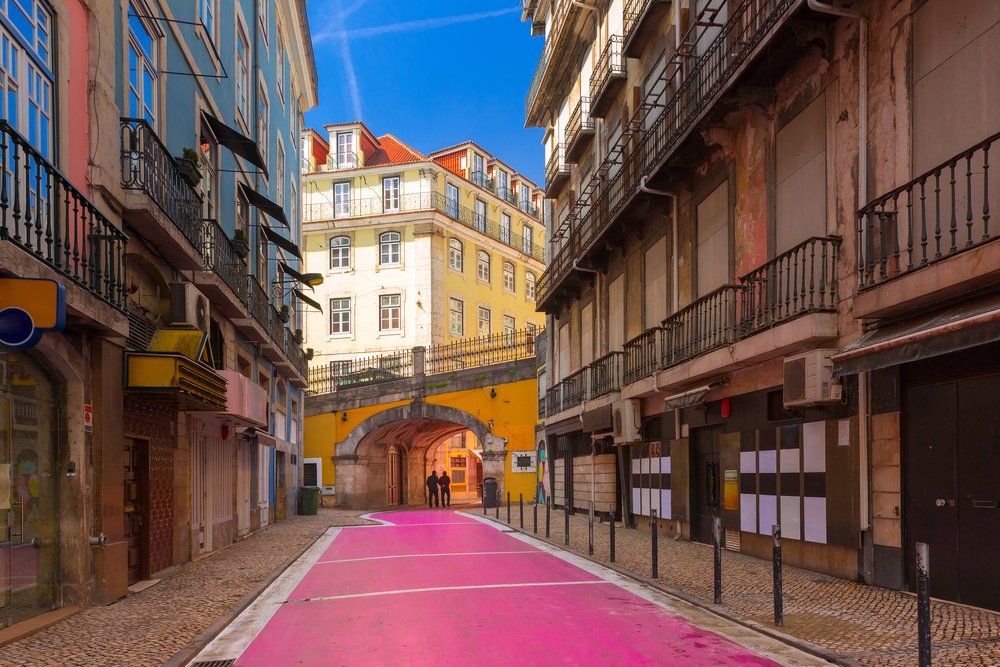 If you somehow still have some energy left after this jam-packed day in Portugal and you're up for a party or even just one small drink, head to Pink Street, Lisbon's most lively nightlife spot.
As the name might suggest, Rua Nova do Carvalho is literally a street painted an eye-popping pink, just a few steps from Time Out Market.
The street is lined with bars and clubs where night owls can party until dawn.
One of my favorite spots for a cocktail or a glass of wine in a lively atmosphere and unique setting is Pensão Amor.
Each room has a different vibe, and the cocktails are great!
***
This wraps up your one-day Lisbon itinerary, but I'll be honest, you've just scratched the surface of everything this wonderful city has to offer.
If you can, I seriously recommend going back for a longer stay, so you can discover more impressive landmarks and visit nearby places like beautiful Sintra.
I mean, just check out this Sintra itinerary for one to three days and tell me you're not already eager for more time in Portugal!
That said, all of Portugal is beautiful, so if you're making your way up from Lisbon to Porto to spend a few days in Porto and the Douro Valley, that's a great choice as well.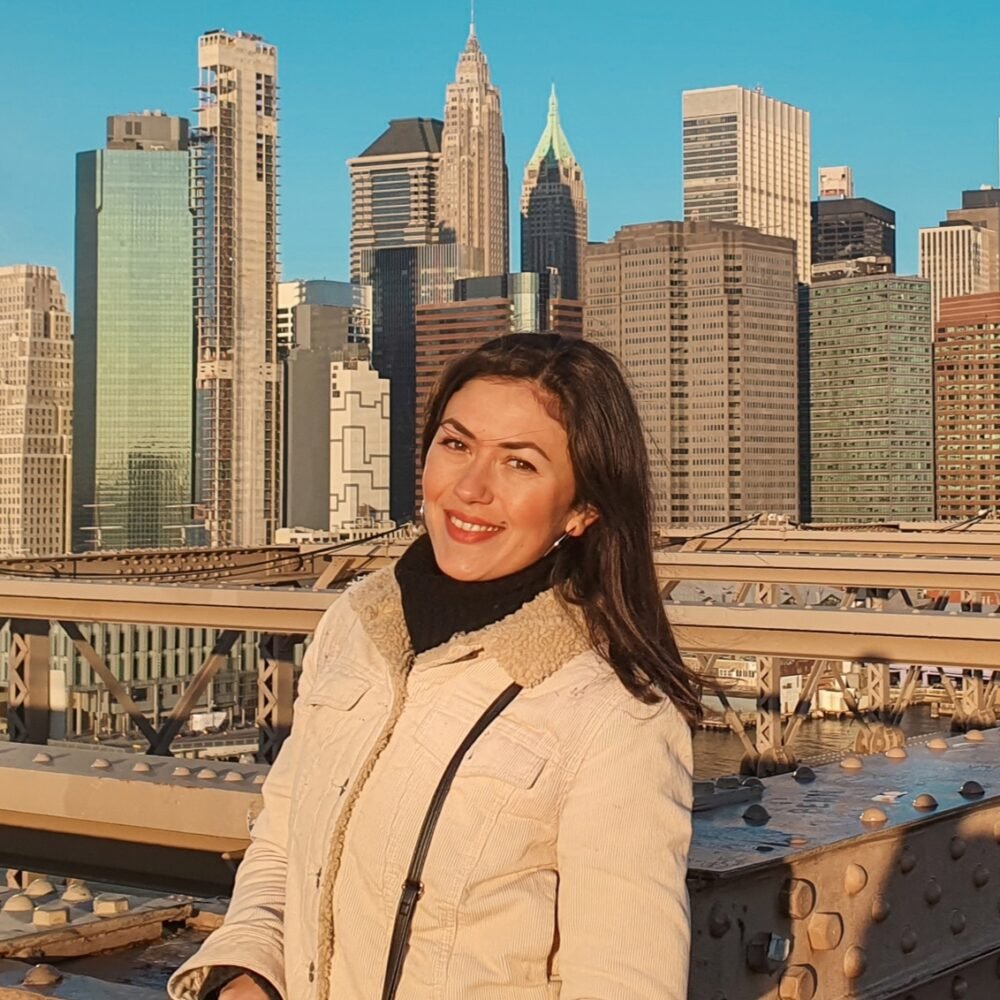 Roxana is a Romanian-born freelance travel writer who has lived in Italy for over 15 years. She has a Master's in Journalism and a Bachelor's in Film Studies. Her mission is to find hidden gems, even in the most popular travel destinations, and to inspire people to explore new places and cultures with the same curiosity! When she is not traveling, writing, or planning her next trip, she is either binge-watching TV shows or reading books.