If you're planning a desert trip from Marrakech, there are a lot of different options, and it can be quite confusing to say the least.
There are a lot of words bandied about – Zagora, Merzouga, Ouarzazate, Sahara – and it can be a bit much to decipher if you're not familiar with Morocco's geography.
When I was planning my trip to Morocco, I spent a lot of time researching the best desert tours from Marrakech, which was where I landed.
I ended up picking a Sahara desert tour which, ultimately, in fact never brought me to the Sahara at all (to be honest — most tours don't).
According to the slayer of dreams and bringer of realness, Wikipedia, the dunes I visited were actually part of the "semi-arid Pre-Saharan Steppes and not part of the Sahara desert which lies some distance to the south." Oops.
So, first things first, let's clear up the terminology: most 'Sahara' tours bring you to Erg Chebbi and its surrounding ergs (massive sand dunes) which are not quite the Sahara per se, but are pretty damn impressive and pretty damn close.
These 'Sahara' tours in fact bring you to the tourist center of Merzouga, where you then embark on camelback into the ergs.
However, I spent several years of my life blissfully unaware of this fact, and most tourists will as well, and I think you're basically close enough to say you've been to the Sahara Desert if you've been to Merzouga… but that's up to you!
Zagora vs. Merzouga: What's the Better Fit for Your Trip?
Choose Zagora if…
… You're on a short trip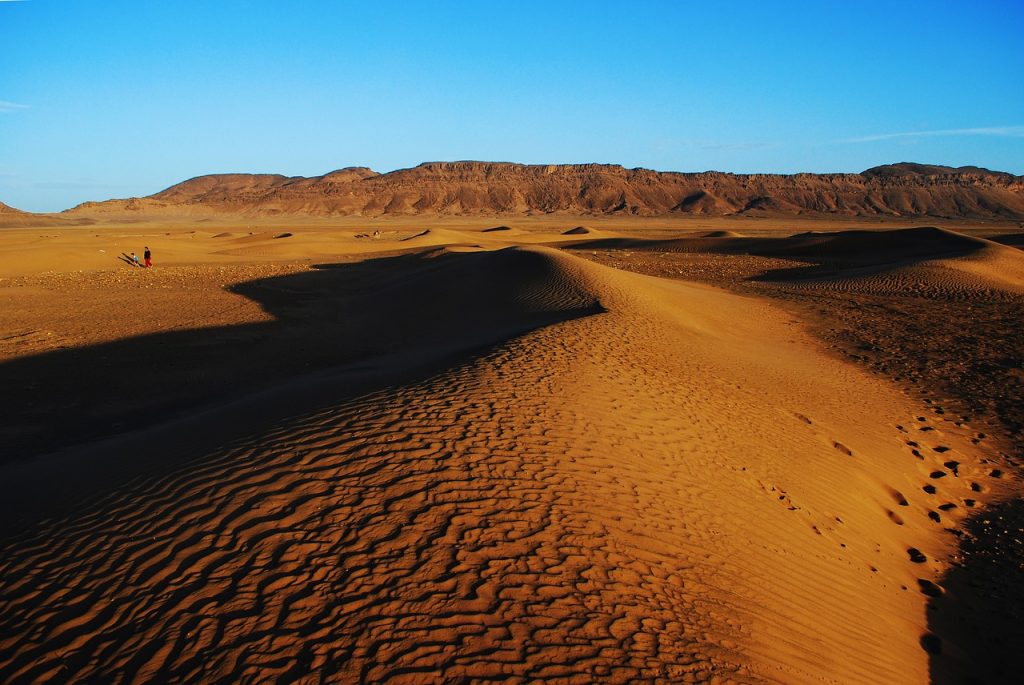 Note: This post contains affiliate links, which means I may receive a small commission if you purchase something through one of these links. Thank you for supporting the free content on this site! For more information on affiliate links and cookies, see my disclosure page for more details.
The Zagora desert is about 6 hours away from Marrakech, as opposed to Merzouga, which is about 10. There are basically zero options for a day trip or one night stay to Merzouga/the "Sahara" short of booking a private driver, and that would be so much driving time that I wouldn't recommend that.
If you only have, say, 4 days in Marrakech and you want to see the desert, I'd recommend opting for a Zagora tour as it's shorter and only will take up two days and one night of your trip, as opposed to a Merzouga desert trip which would take up nearly all of your time in Morocco.
However, bear in mind that the Zagora desert doesn't have proper dunes in the same way that Merzouga has and is more of a rocky desert. While it is, literally, a desert, it likely won't live up to your dreamy expectations of massive, coral-orange sand dunes. Deserts come in a variety of shapes and sizes, and the Zagora desert will not have dunes as you might expect.
… You're on a tight budget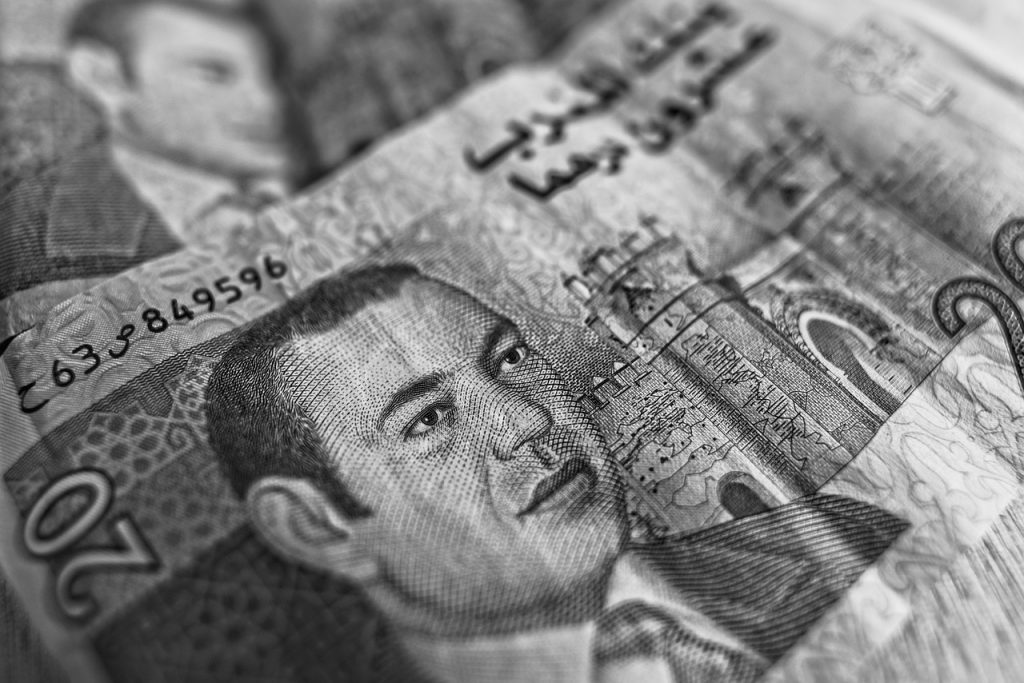 That said, because the desert trip from Marrakech to Zagora and back is far shorter and requires one less night of accommodation, it's a bit cheaper than the other options (and involves less expenses that end up adding up, such as 'suggested' tips and guides and overpriced lunches)
If you want the chance to ride a camel and visit a rocky desert in Morocco but budget is a concern, I'd actually recommend doing just a day trip to the Palmeraie (there's a camel + quad bike option that looks fun!) instead – it's much cheaper and the surroundings aren't that drastically different.
… You are flying in and out of Marrakech and don't want to backtrack much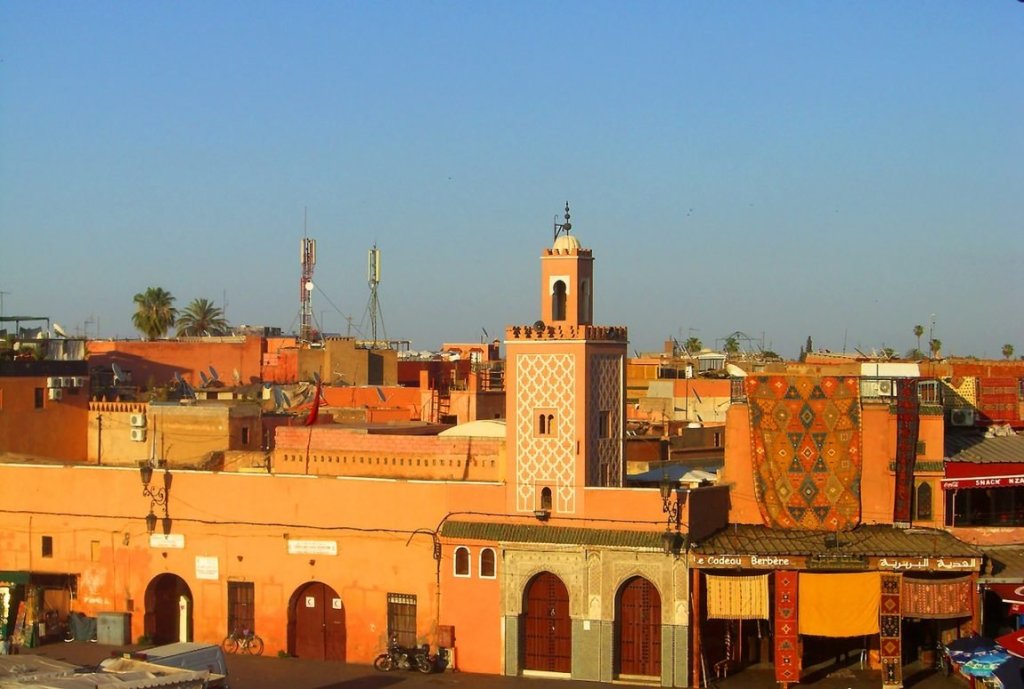 Because Zagora is closer to Marrakech than Merzouga, it is an easier option (read: about 8+ fewer hours driving) if you are flying in and out of Marrakech.
However, I generally recommend that you fly into one airport in Morocco or out of another to avoid tedious backtracking. Personally, I flew into Marrakech and then made my way up to Tangier and took the ferry to Spain, which is another common route that many people opt for. My itinerary looked like this: Marrakech – Sahara – Fes – Chefchaouen – Tangier – ferry to Tarifa, Spain.
If you're going back to Marrakech, say, to fly back out or possibly to visit Essaouira or another coastal town, going to Zagora may be smarter (but again, I'd actually probably recommend the Palmerie instead, as it's way closer and fairly similar in terms of landscape).
Choose Merzouga if…
… You want to say you've been to the Sahara Desert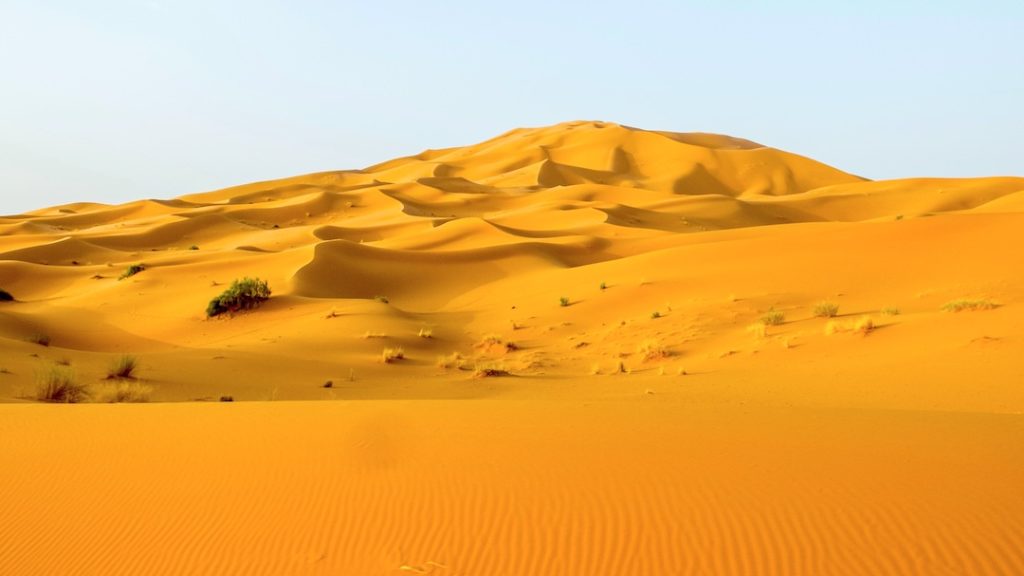 While, technically speaking, Merzouga is the gateway to the Sahara Desert and the ergs (sand dunes) you'll find here are part of the "Pre-Saharan Steppe," in popular speaking, everyone considers the dunes outside of Merzouga to be the Sahara Desert.
And looking around at the impressive sand dunes you'll find everywhere, it's not hard to see why that distinction is pretty much just nitpicking. You're surrounded by sand and 150-meter-high dunes: go ahead and call it the Sahara (I did).
… You want the true camel-in-the-desert experience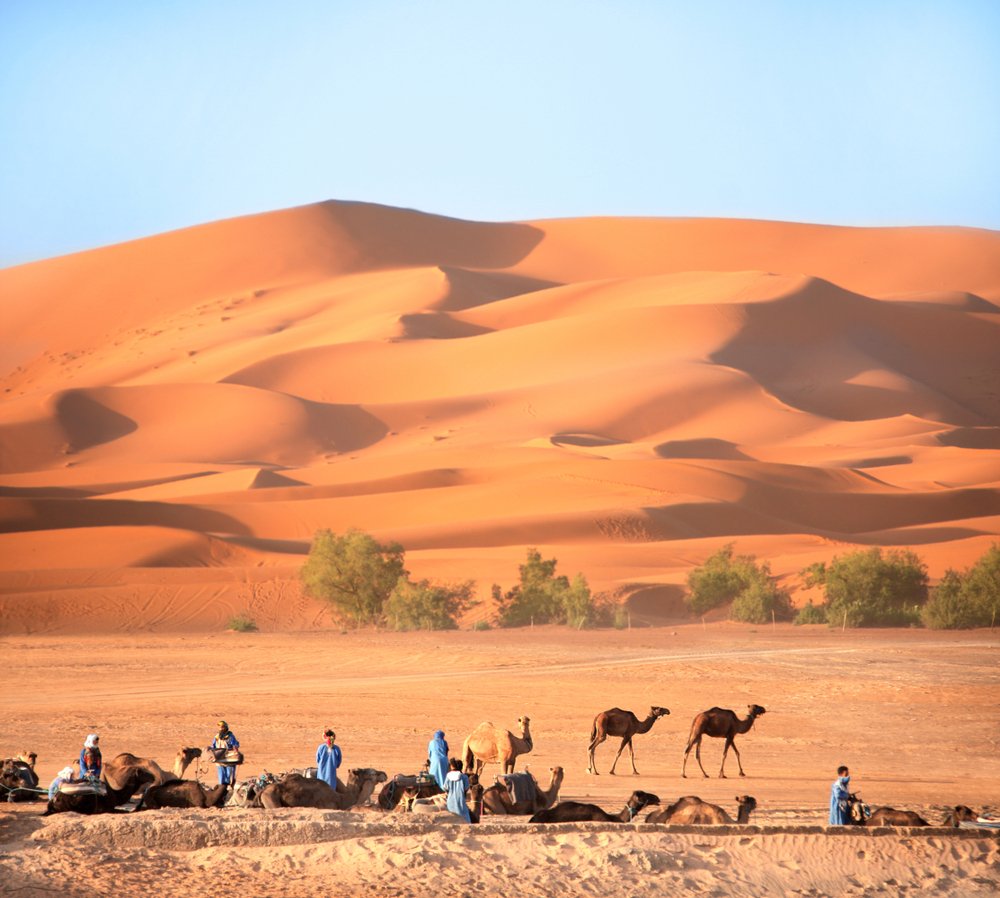 While I didn't personally visit the Zagora Desert, I've read all the reviews and most people were a bit disappointed in their trip.
Mostly, they were disappointed that their camel ride was basically along a highway, and only the last bit of their ride went into the actual 'sandy' part of the Zagora.
That will definitely not be the case with Merzouga, where you immediately embark into impossibly high sand dunes that look picture-perfect and seem to go on endlessly.
Honestly, if you're going to go 6+ hours into the desert, you may as well go all the way.
Plus, there are some truly fantastic desert campsites in Merzouga if you feel like glamping in the Sahara!
… You want to continue onwards to Fes and Northern Morocco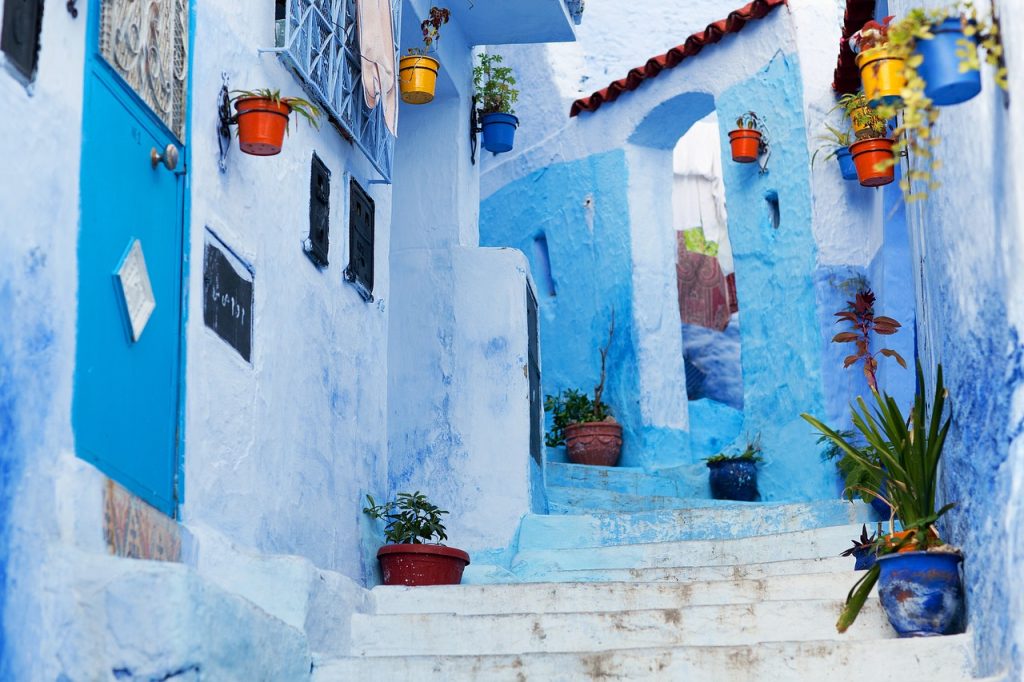 It's quite a waste of time in my view to go from Marrakech to Merzouga and then back to Marrakech, unless you are flying in and out of Marrakech as your only option and aren't planning to do anything else in Morocco.
Far better, in my mind, is to use Merzouga as an inconvenient triangulation point for future Morocco exploration. There are tours that go from Marrakech to Merzouga to Fes (this is the tour I recommend if you want to do that route).
It's what I did when I visited Morocco and it saved me a full day of transit compared to going back to Marrakech and continuing onward. And since transportation in Morocco isn't exactly the most comfortable, that's saying something.
Choose either Zagora or Merzouga for…
… An incredible night under a starry sky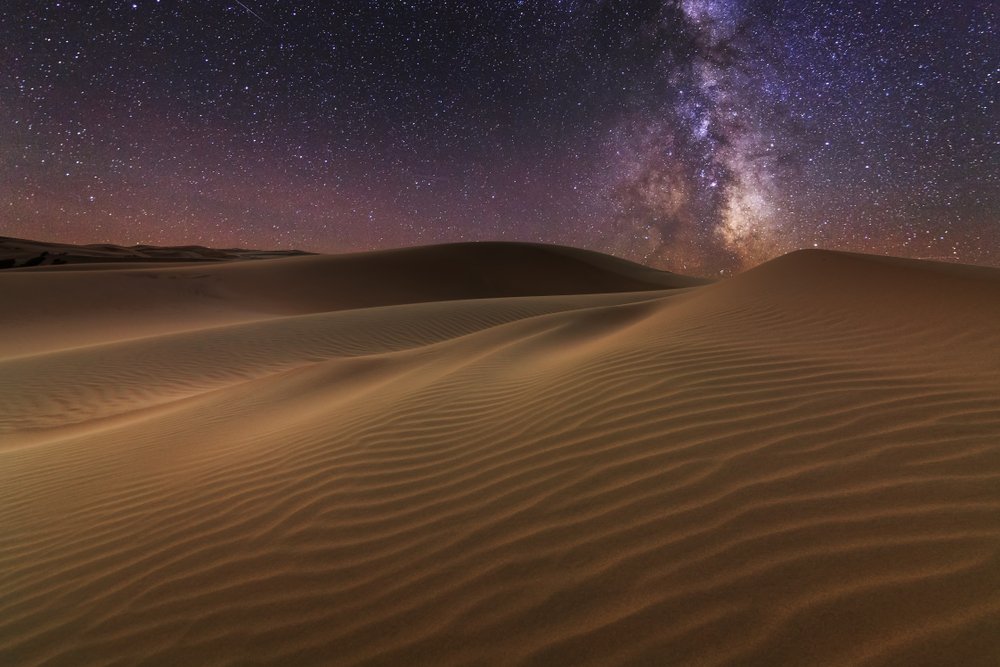 Whether you opt for Merzouga or Zagora, either way, you're far away from the light pollution and hustle and bustle of urban Moroccan life. If you're lucky enough to have a cloudless sky, you'll enjoy some of the most beautiful stars of your life.
However, the further you go east into Morocco towards the Algerian border, the more remote it gets and therefore the less light pollution you'll find. If you're into astrophotography and want to take some amazing photos of the Milky Way, I'd definitely choose Merzouga over Zagora as the stars there are truly incredible and worth the 3-day trek again.
… To stop at the Atlas Mountains, Ait Ben Haddou, and Ouarzazate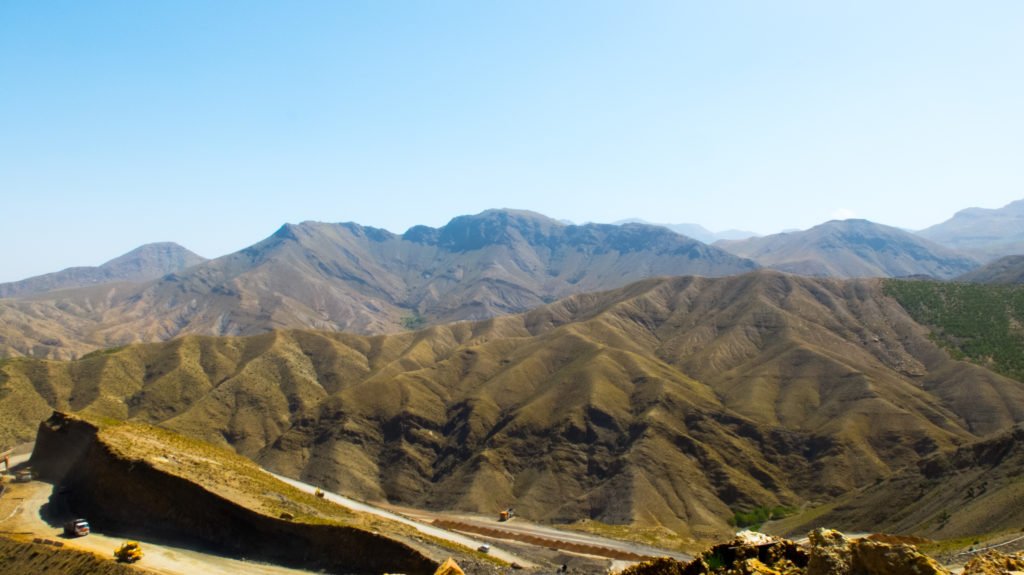 The tours follow a fairly similar itinerary and you'll get to stop off in the Atlas Mountains, the UNESCO-listed kasbah of Ait Ben Haddou where Game of Thrones and Lawrence of Arabia were filmed, and Ouarzazate a.k.a. the Moroccan Universal Studios.
I loved Ait Ben Haddou and stopping in the Atlas Mountains, however briefly, so I was grateful that these were included. My trip to Merzouga also included a stop in the stunning Dades Gorge (trips to Zagora don't) and I felt this was definitely a plus that the trip to Merzouga offered.
… An incredible but challenging experience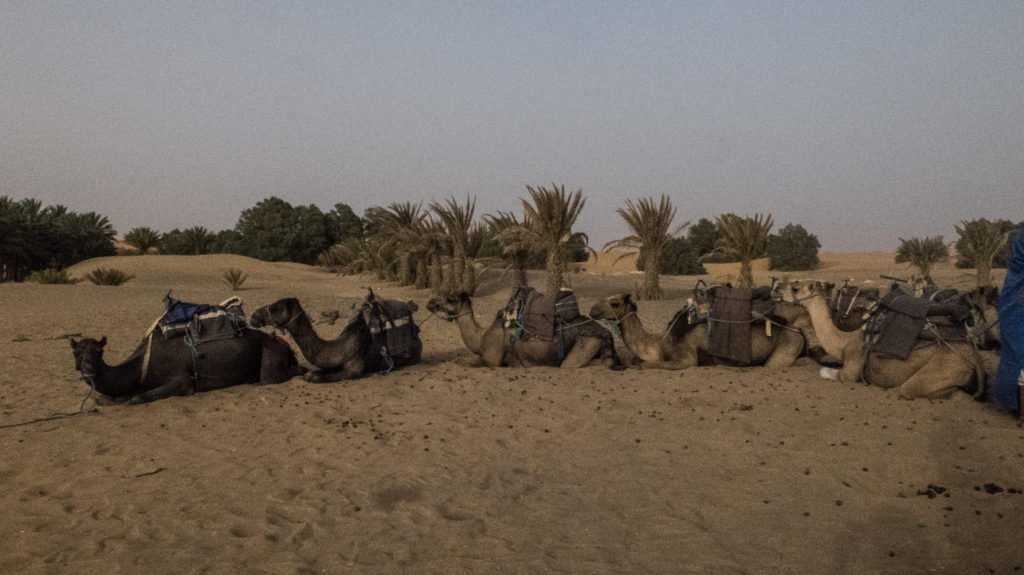 I don't want to burst your bubble when planning an epic desert trip from Morocco but no matter which you choose, both desert excursions present their fair share of challenges. For one, both include several long days of driving – Zagora involves two looong car days, whereas Merzouga is three long days of driving with the final day being almost entirely all on the road. Also, camels hurt like HELL to ride.
Both are tiring and involve quite a few annoying quirks, such as constantly being upsold things like guides, unnecessary scarves that are supposedly 'mandatory' for the desert, and expensively mediocre food. Keep of all this in mind (I go into more detail on my Morocco desert guide). Don't let these things ruin your trip, but be realistic about what to expect and you'll be far less annoyed.
Just Tell Me Which To Pick: Zagora or Merzouga?
Merzouga. Honestly, I don't think that going all the way to Zagora is worth it, especially when you can get to Merzouga which is a lot more impressive with just a little more time and patience.
If you have limited time, I'd probably opt for doing a camel ride through the Moroccan Palmeraie (there's a camel + quad bike tour option as well as a sunset camel ride option). It's a half-day excursion giving you plenty of time in Marrakech without the hassle of heading all the way into a lackluster desert.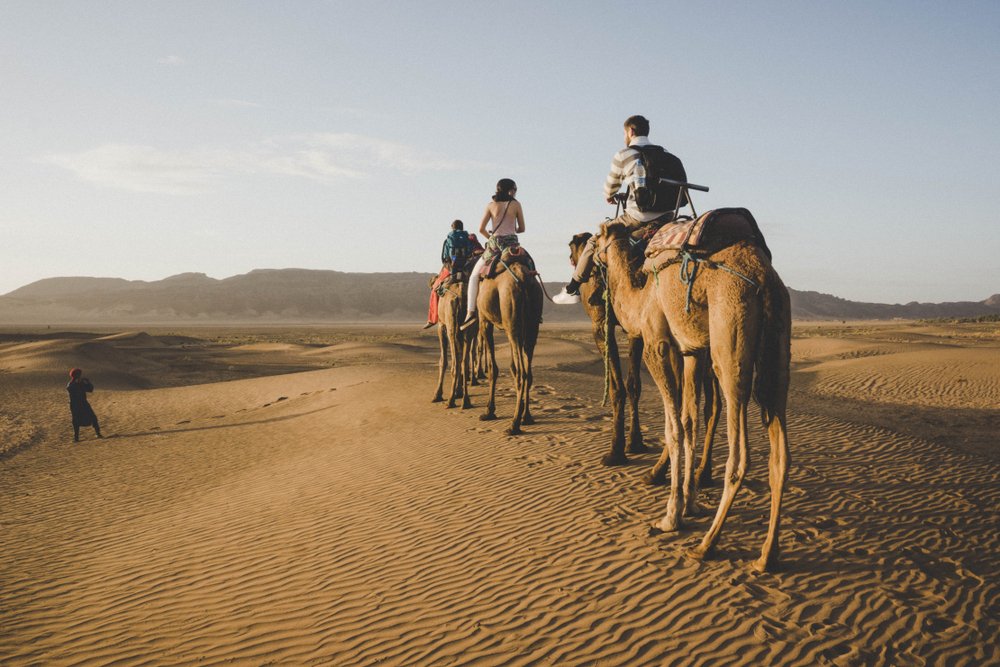 If you've settled on Zagora, then I'd recommend this tour by Ando Travel (not sponsored, just the best-rated option). They have one of the better reputations among tour operators in Morocco and they have a 4.3/5 rating on GetYourGuide, which is among the highest for this specific tour type. As always, read through recent reviews before committing.
However, I'd really urge you to pick Merzouga vs. Zagora if you're picking between those two.
In that case, I'm still sticking with Ando Travel as I've researched them pretty thoroughly and they seem to be well-reviewed by solo female travelers (I was nearly assaulted on my desert tour, so you have to be careful with who you book with).
As for going to Merzouga, this tour goes from Marrakech to Merzouga and back and has an overall pretty solid review (4.4/5 stars with over a thousand reviews). I feel comfortable recommending them to couples, families, and solo travelers, and you can check out the most recent reviews here to ensure nothing has changed since the time I wrote this article.
However, what I would recommend most strongly if you can is to plan to go from Marrakech to Merzouga and onwards to Fes and Chefchaouen. Chefchaouen in particular was the highlight of my Morocco experience and since it's pretty much Instagram heaven, I'm sure it features heavily on many people's hopeful Morocco itineraries.
In that case, rather than doubling back via Marrakech, I'd recommend finding a tour that moves onward to Fes. That used to be annoying, and when I did it I had to negotiate with my tour company to figure out a driver to take me onwards to Fes (which, surprise surprise, I got cheated on… which is why you really should never book a trip in a souk and instead use reliable booking services like GetYourGuide or Viator). Ando Travel also organizes this kind of trip, and I'm happy to recommend them here.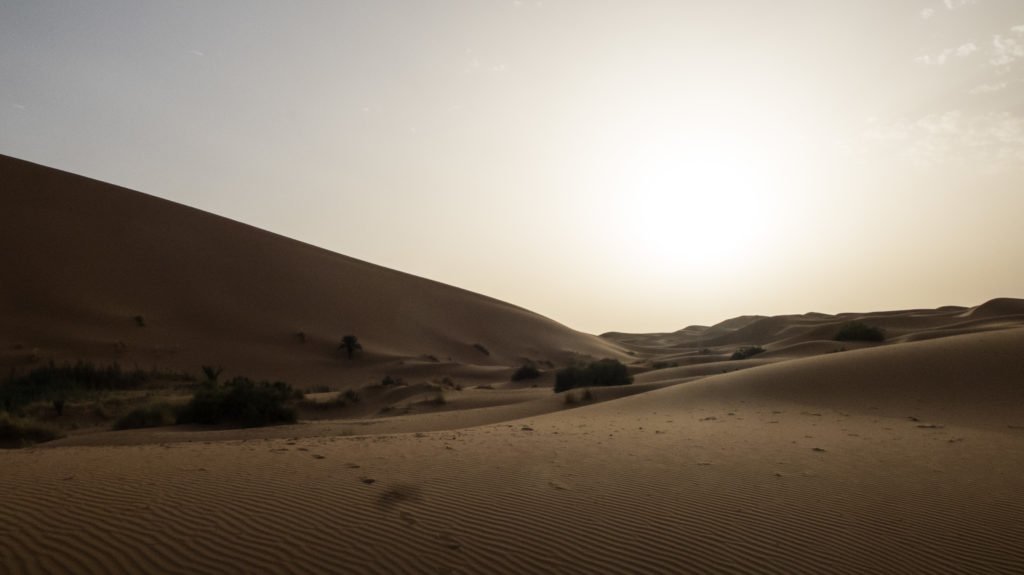 Finally, be sure to read my guide to visiting the Sahara (aka Merzouga) before you go – there's a lot in there I wish I had known before my trip.
And if you're going to be in Marrakech, be sure to check out my Marrakech itinerary for how to spend 3 perfect days in Marrakech.
Where to Stay in Marrakech
Since I'm assuming you're starting your desert tour in Marrakech, here are my top picks for where to stay in Marrakech if you haven't yet figured out your accommodations.
Budget: Nondescript on the outside, Riad Dar Maria is gorgeous and cozy on the inside. Updated design makes the indoor courtyard a lovely place to relax, and comfortable private rooms with AC offer excellent value for the price. The riad is family-run and treats you like one of their own. Highly recommended by fellow travelers with a 9.5 average rating on Booking.com. Click here to see lowest prices and current availability.
Mid-range: The lovely Riad Enchanté lives up to its name – it will truly delight and enchant you. With stunning tilework, a rooftop terrace (with jacuzzi!), large rooms with AC, and amazing attention to detail (check out those lovely wooden doors), you'll probably never want to leave this homey, delightful riad. Click here to see lowest prices and current availability.
Luxury: For five-star comfort at not insanely outrageous prices you can't do much better than Villa Lavande, a traditional riad with a comfortable in-house hammam, a gorgeous pool, air conditioning (a must if you travel in summer), and helpful staff. Cooking lessons are available on-site in case you fancy learning how to make your own tajine.. or you can simply eat at the in-house restaurant beloved by guests. It's located in the medina but away from the hustle and bustle, the best of both worlds. Click here to see lowest prices and current availability.
More Morocco Travel Resources
I've written quite a bit to help you plan the perfect trip to Morocco! First, start with my Morocco travel planning checklist – it walks you through every step of the planning process.
Next, check out my Morocco packing list with specific advice for what women should wear in Morocco.
If you are starting your trip in Marrakech, like most people do, I have a guide to the best riads in Marrakech on any budget, as well as a guide to spending 3 days in Marrakech with recommended tours and outings.
Allison Green is a former educator turned travel blogger. She holds a Masters in Teaching and a B.A. in English and Creative Writing. Her blog posts merge her educational background and her experience traveling to 70+ countries to encourage responsible, enriching travel. She has been a speaker at the World Travel Writers Conference and her writing, photography, and podcasting work has appeared in National Geographic, CNN Arabic, CBC Canada, and Forbes, amongst others. Now a full-time traveler, she has lived in Prague, Sofia, New York City, and the San Francisco Bay Area.