If you're planning a trip to Morocco's Sahara Desert, there is an overwhelming amount of potential places you can go glamping in Morocco!
From luxury desert camps to more minimalist but still comfortable desert camps, there's a place to stay in the Sahara Desert for your budget.
I've chosen Sahara desert camps that offer many of the amenities you'd want from while Morocco desert camping: a blend of comfort and stripped-down nature.
Everything listed features en-suite private bathrooms, free breakfasts, bookable day trips and excursions, and free nightly activities like bonfires and music included with glamping in the Sahara Desert.
While each of the desert camps I've chosen share that as their baseline, there are also some that have more luxury camp offers, like air conditioning and heating (which may be very necessary during particular times of the year), on-site massages, etc.
Before I detail my curated list of Sahara Desert glamping options, I'll quickly go into the different between taking a Sahara Desert tour from Marrakech or Fes vs. going glamping independently at a Sahara Desert luxury camp.
I'll also give you a quick run-down of what to expect at your Sahara Desert luxury camp, so you can be prepared.
Taking a Sahara Desert Tour vs. Glamping at a Sahara Desert Camp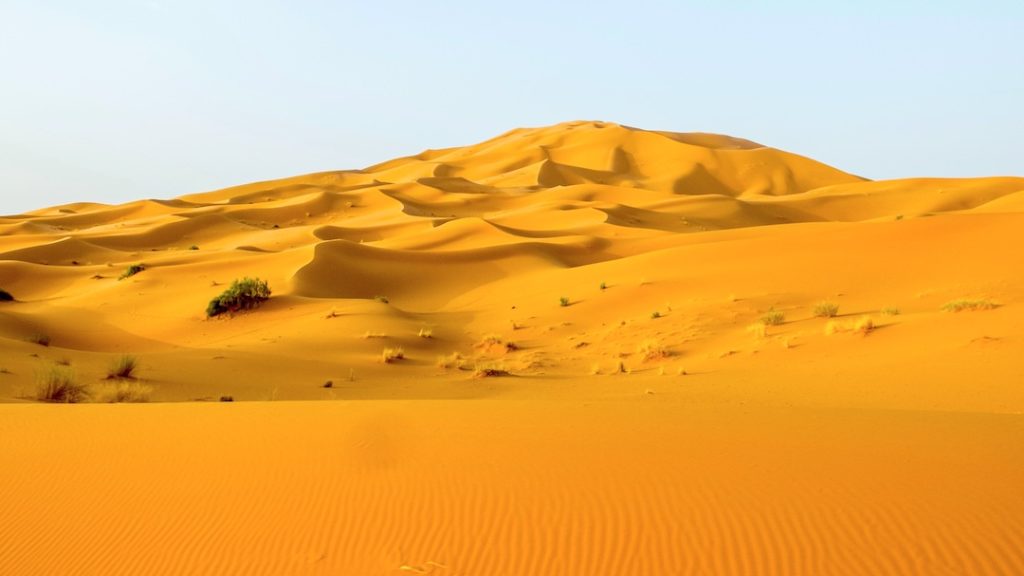 Note: This post contains affiliate links, which means I may receive a small commission if you purchase something through one of these links. Thank you for supporting the free content on this site! For more information on affiliate links and cookies, see my disclosure page for more details.
No matter how you experience the Sahara Desert, it's a must on any Morocco itinerary.
Many people — myself included — opt to do a desert tour as an add-on to Marrakech itinerary or a stay in Fes.
While you can take a Sahara Desert tour from Marrakech or Fes, I would say it's not the best way to experience the desert, if you have the time to do it at your own pace.
While these tours are undoubtedly convenient and affordably-priced, they don't leave much time for enjoying the actual Sahara Desert experience.
When I did my 3-day, 2-night small group tour from Marrakech, it took us two of those days to reach the desert itself.
We didn't arrive in Merzouga until just before sunset on the second night. We took a camel ride to our bare-bones desert camp, and then we slept underneath the stars — which was the most magical part of the whole travel experience by far.
Then we woke up for sunrise to return by camel or Jeep to our van back to either Marrakech or onwards to Fes (also written Fez).
All in all, we had just over 12 hours in the Sahara Desert, some of which we slept sleeping (we were Morocco desert camping, after all!) — which is a little wild when you consider it took us about 36 hours in transit to get there, including an overnight stop along the way.
Another option is taking a 2-day, 1-night tour to the Zagora Desert from Marrakech, but I don't recommend this compared to visiting the actual Sahara Desert — it doesn't come close in terms of beauty.
Since you're aiming for a once-in-a-lifetime experience, I say get all the way out to the Sahara Desert — you won't regret it.
However, if you find all the transportation and everything intimidating and you just want the simplicity of booking a tour, I get it (I mean, that's what I did after all!).
Note that these desert camps will typically be quite bare-bones (i.e., expect a communal use bathroom, not private ones in your room) and no heat or air conditioning.
I recommend this highly-rated tour from Marrakech or this one from Fes if you choose a tour vs. glamping in Morocco at a luxury desert camp.
How to Road Trip to the Sahara Desert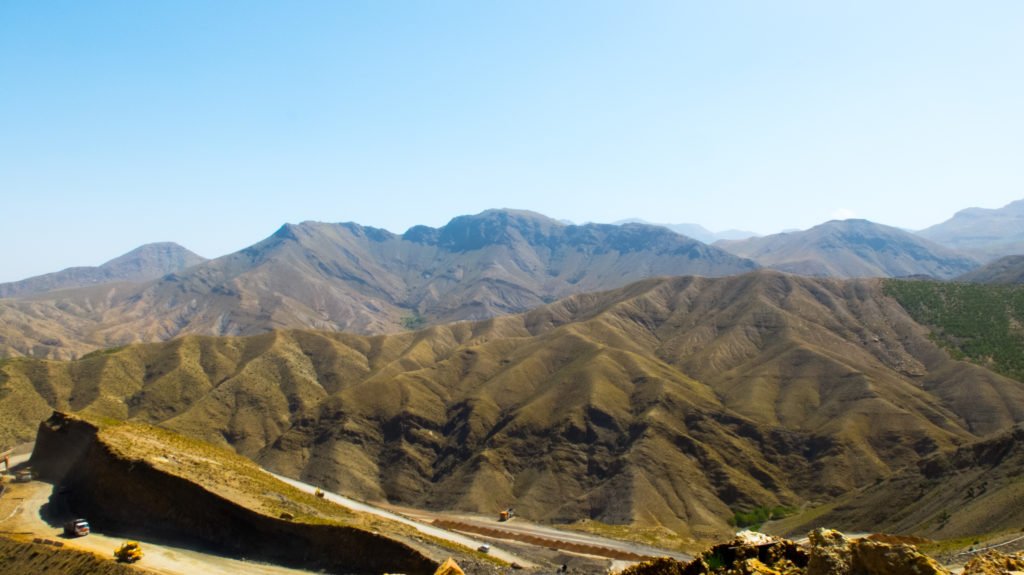 If you're going to the Sahara Desert independently and not on a tour, I suggest hiring a private driver (or renting a car) and creating your own itinerary.
Not sure where to rent a car from? I always use Discover Cars when renting a car abroad. They search from over 500 different car search engines to find you the best price on your rental! Check prices renting a car from Marrakech airport here!
Driving straight from Marrakesh to Merzouga takes approximately 9 hours. You may choose to break up the trip with an overnight somewhere along the way.
A few of the sights worth seeing on the bay between Marrakech and the Sahara Desert town of Merzouga include the Atlas Mountains, Ait Ben Haddou (a historic kasbah), the Dades Gorge (Tinghir) and Ouarzazate (aka "Moroccan Hollywood").
Of those places, Ouarzazate and Tinghir have the most accommodation options and will likely be the most comfortable place to spend the night.
Once you arrive in Merzouga, you can arrange with your luxury camp where to leave your car and they will help you with a transfer into the desert, since you'll need to go by Jeep or camel trekking…
Where we're going, we don't need roads!
How to Fly to the Sahara Desert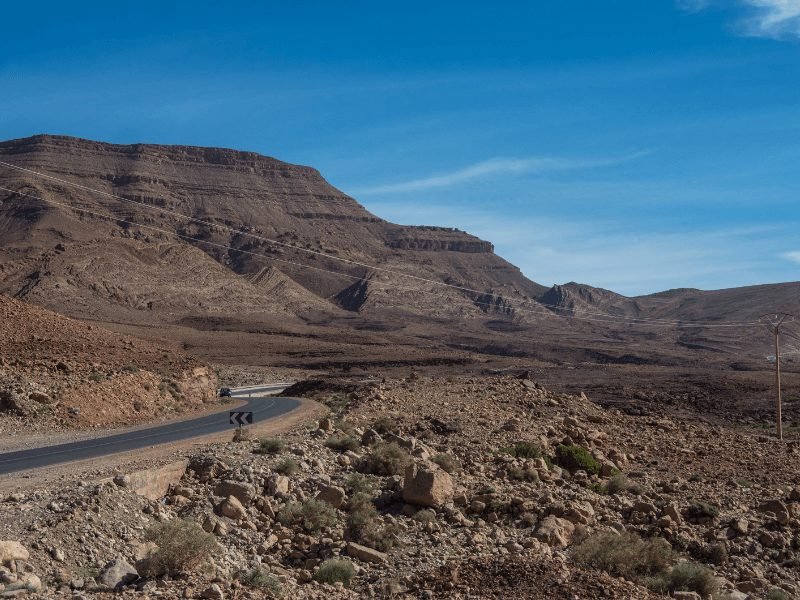 If your time is limited and you don't feel like taking a long road trip to get out to the Sahara Desert, flying is an option.
The nearest airport to Merzouga is in Errachidia, which is about a 2-hour drive to Merzouga and its desert camps.
Most of these luxury Sahara Desert camping destinations will happily arrange a transfer for you from the airport so you can arrive without any stress.
If you are flying, the most convenient place to fly from is Casablanca, where the flight is only one hour and costs typically less than $50 each way.
If you fly from Marrakech, you will have a stopover in Casablanca, and tickets are closer to $200 each way! I don't recommend flying from Marrakech for that reason.
What to Expect from a Sahara Desert Camp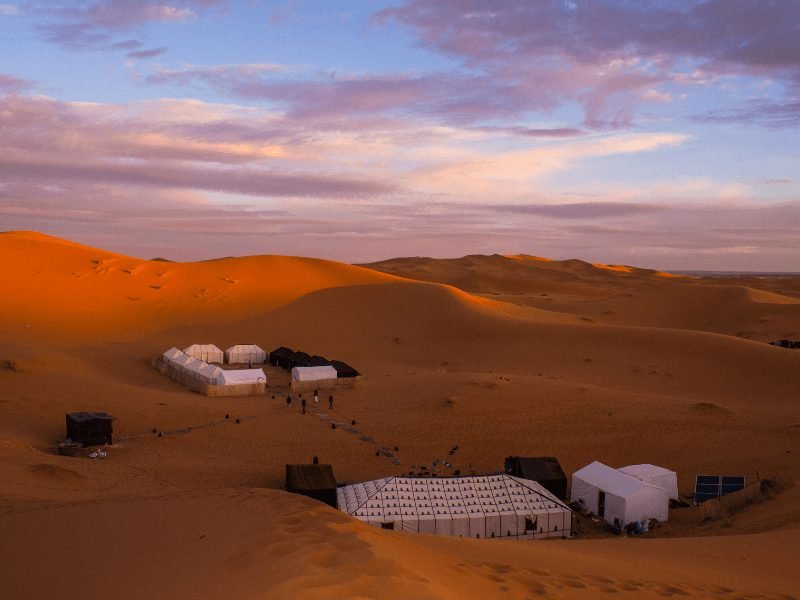 When staying at a Sahara Desert Camp — even a luxury one! — it's important to be mindful that you are staying out in the middle of nowhere.
Your hosts will do everything to make you comfortable, but there are some things that are simply out of their control, such as the strength of the WiFi.
Keep in mind that very few of the hotels listed have air conditioning (I've listed two that do), which can be a big detractor in the summer when Morocco desert camping.
This is because electricity is hard to come by out in the Sahara Desert, since everything is powered by solar and generators, and A/C is rather resource-intensive to run.
If you are visiting in the summer (which I did), note that your room may get quite hot if you don't have A/C! I suggest leaving the doors open whenever possible to allow cool air to circulate. I ended up sleeping outside because my tent was too hot to sleep in!
On the flip side, the Sahara Desert can get freezing cold — literally! — in the winter. If you are staying in the winter months, you'll want to make sure your hotel provides warming options, whether that be electric blankets or radiators. I've noted the ones that do on this list.
In terms of inclusions, each Sahara Desert glamping destination is different. Some are nearly all-inclusive in the sense that breakfast and dinner are provided each day, and some amenities like sandboards are provided for free, and other activities are an additional charge.
Others provide breakfast but not dinner, and they may charge extra for pickups/dropoffs. Additionally, certain experiences that are included in others (such as a complimentary camel ride) may not be included in others.
When deciding which Merzouga luxury desert camp is best for your budget, also consider the cost of inclusions, especially if you are traveling with a larger group where the fees may add up!
A more expensive hotel in terms of nightly rate that has more inclusions may end up being the more affordable alternative.
Best Luxury Sahara Desert Camps
Best for Bucket List Uniqueness: Sunrise Sahara Camp
Is it on your bucket list to stay in one of those 'glass igloos'? Well, you can in the Sahara Desert, at Sunrise Sahara Camp.
Instead of canvas tents like many of these desert luxury camps offer, the accommodations are geodesic dome-type tents that resemble the glass igloos you may have seen in places like Finland.
It'll truly be an unforgettable experience you're not likely to be able to replicate anywhere else in the world. It's the only place in Morocco to offer this style of accommodation.
They are a little different than true 'glass igloos' (the roofs are covered — otherwise it would be far too unpleasantly hot!) but they keep the overall look, which makes it a great place to go if you want some epic Instagram photos that are different from the rest!
The domes are huge and spacious, and they're exquisitely designed. Every single inch of these domes are Instagrammable, inside and out!
They all have really nice Moroccan design touches, such as wooden vanities with typical Moroccan mirrors, elegant bedding, leather poofs, and a wood-wall that separates the en-suite bathroom with a toilet and shower.
The domes are all located quite far apart from each other so you have a ton of privacy.
Stargazers, rejoice: each dome has their own deck so you can sit out and stargaze beneath the pitch-black night sky.
You can also enjoy the sunset or sunrise from the comfort of your own little slice of the desert!
You can arrive by car or take a complimentary camel ride to the desert camp (many other Morocco desert camp accommodations make you pay extra for this!).
Guests also loved the tasty Moroccan food which is offered at this hotel, saying it exceeded their expectations!
Most Luxurious: Itran Royal Camp
With a nearly perfect 10-star review, Itran Royal Camp is one of the top luxury options in the Sahara Desert.
First of all, it has air conditioning! I cannot emphasize enough how essential this is in the summer! (It also has heat in winter as well).
The tents also have beautiful windows so you can view the dunes at sunrise without ever needing to get out of bed — pretty amazing.
The en-suite bathrooms are also a lot more private than many of the other camp offerings here, with a full sliding door that separates the bathroom (many are just partitioned off).
This is also the only Sahara Desert luxury camp I could find that also has some spa offerings, such as massages on-site.
People also raved about the tasty meals, the nightly bonfire and music, and overall vibe of their stay, which perfectly combined 5-star luxury with a nature getaway.
Best Overall Experience: Tassili Luxury Desert Camp
Set amongst the undulating orange sand dunes, these luxury tents are one of the highest-rated options for glamping in the Sahara Desert.
What sets Tassili Luxury Desert Camp apart from other glamping experiences is the beautiful Moroccan decor elements that are a step above other glamp sites.
Tassili would be a beautiful place to stay whether you are in the middle of the desert or in a riad in the middle of Marrakech. That's a rare trait to find when glamping!
The large canvas tents look like real bedrooms you'd find in a Moroccan riad, complete with king-sized beds in some of the rooms, and other configurations that are perfect for families.
There are family rooms that can sleep five (one king bed and three single beds), double rooms for couples (which can also be configured as two single beds for friends traveling together who don't want to share a bed), and tents with three or four single beds (great for groups).
Each room has a private bathroom with running water, as well as a toilet (and bidet!) and a shower with all needed toiletries, which pretty amazing for being in the middle of the desert in Morocco!
Also, the hotel has free WiFi — yes, WiFi in the middle of the desert! Though if you chose to eschew connection in favor of stargazing and admiring the views of the Milky Way, I could hardly blame you — that's partly why you go all the way out to the desrt!
This hotel offers dinner and breakfast included with each night of stay, plus a mint tea welcome (which they cheekily call 'Berber whiskey'). They also host a nightly bivouac (campfire) with Berber music and singing.
There are sandboards available to borrow for free at the hotel, and you can also pay a small extra fee for classic desert experiences like a sunset camel ride!
Check amenities and reviews of Tassili Luxury Desert Camp here!
Best for Activities: Sahara Dream Luxury Camp
One of the best places to stay in the Sahara Desert if you are activity-focused is the lovely Sahara Dream Luxury Camp.
This stunning luxury camp has a ton of fantastic amenities that you wouldn't expect in the middle of the desert, including excellent WiFi and privates bathrooms with toilets, bidets, and showers.
If you visit in the winter when it's cool at night, they even provide electric blankets to keep you warm (I know it seems crazy that it gets cold while camping in the desert of Morocco, but it does – it even snows there on occasion!).
You can speak with the staff to arrange all sorts of day tours and activities like camel trekking, quad biking through the sand dunes, sandboarding, and Jeep tours of the desert where you get to visit Erg Chebbi dunes (the largest in the area).
Check amenities and reviews of Sahara Dream Luxury Camp here!
Best for Instagram: Beldi Camp
If you're looking for a truly pleasing design hotel experience while glamping in the Sahara Desert, Beldi Camp blends the best of both worlds!
With only 8 rooms, each is beautifully curated with gorgeously decor elements. We're talking ornate four-poster beds with Beni Ourain rugs, comfortable seating areas, and lovely art decorating the tents.
Each room is rather unique, so you won't have a cookie-cutter experience when you stay at Beldi Camp: every room guarantees a unique experience.
There are also all sorts of lovely photo spots besides the tents themselves, such as canopies with a rug and poofs to sit on, a bed out in the middle of the desert lit by lanterns, a fire pit area, and candles lit in the shape of hearts all over the place.
It's great for a Morocco desert camping romantic getaway, with private en-suite bathrooms with a solar-powered shower providing hot water (a true luxury while desert glamping!)
And of course, all sorts of activities are available, such as camel riding, quad bike driving, desert hiking with or without a guide, sandboarding, paragliding, visiting other Berber settlements, going date picking on the nearby date farms, or going for shopping excursion with a guide.
Yoga classes in the desert are also offered by a certified yoga teacher, so it's great for a wellness escape combined with a desert camping experience!
Best for Luxury on a Budget: Sirocco Luxury Camp
One of the best-rated and longest-established luxury desert camps in the Sahara, Sirocco Luxury Camp is a fantastic choice with relatively affordable price tags compared to other desert camps.
One downside is that the design inside the tents is a little dated compared to some of the more modern, Instagram-friendly offerings I've curated on this list.
However, the design is quite traditional Moroccan, so if that's what you're looking for, it won't disappoint. There are en-suite bathrooms in each room, as well, all with hot water!
The desert camp is really intimate, with only six tents available and one large communal tent for meals, making it a great large for an incredible experience that is personalized to your exact liking.
You can also arrange day trips and activities at the camp, such as camel treks and hikes to nearby places like dunes of Erg Chebbi for epic sunset watching.
Best for Families: Erg Chebbi Camp
One of the best options for family travelers to the Sahara is Erg Chebbi Camp. It's one of the few luxury camp that offers that has a children's playground for kids to enjoy!
Older kids will enjoy the experiences of sandboarding and going camel trekking in the desert.
The rooms are beautiful and comfortably appointed with en-suite private bathrooms. There are only six private tents, as well as six little canopies for each family to enjoy during the day.
They also provide heaters during the colder months (necessary as the desert gets freezing cold during the winter months!)
They also offer a nightly campfire with singing and traditional music. Guests raved about the top-notch hospitality of the staff, high quality service, and the private camp experience.
Best for Winter & Summer Visits: Golden Camp & Oasis
For a highly-reviewed, long-established desert camp in Merzouga, Golden Camp & Oasis is a one of the best choices for a Sahara Desert camp in Morocco.
It's not the newest or trendiest desert camp, but it's got several hundred reviews with an average rating of 9.4 — pretty great considering its remote location in the desert!
Guests raved about the kindness of the staff, the attention to detail in the rooms, and the tasty food at the on-site restaurant. Dinner is included in the price, too!
Golden Camp & Oasis is a rare all-season comfort camp in that they offer both air conditioning and heating.
If visiting in winter or the cooler months of shoulder season, they also provide radiators that will keep you nice and warm in your tent.
Of course, they can also organize all the amazing experiences in the desert that you want, from trips to Erg Chebbi and Erg Chigaga to camel trekking.
Allison Green is a former educator turned travel blogger. She holds a Masters in Teaching and a B.A. in English and Creative Writing. Her blog posts merge her educational background and her experience traveling to 70+ countries to encourage responsible, enriching travel. She has been a speaker at the World Travel Writers Conference and her writing, photography, and podcasting work has appeared in National Geographic, CNN Arabic, CBC Canada, and Forbes, amongst others. Now a full-time traveler, she has lived in Prague, Sofia, New York City, and the San Francisco Bay Area.