One of my favorite times of the year to travel is February.
Typically, at this point, I'm sick and tired of winter weather and in need of something to shake off the winter cobwebs and inspire me again.
… and what's great is that February often is one of the cheaper times to travel, after the holiday rush subsides and before spring travel picks up.
If you're planning to stay domestic for your next late-winter trip, here are some of the best destinations to visit in February in the USA, curated by fellow travel bloggers.
I've broken it into warm weather vacation spots and cold weather places since people are looking for very different things when they travel in the US in February.
Some want to enjoy the snow for winter sports, others want sunshine and to get away from the cold!
Best Warm Places to Visit in February in the USA
Los Angeles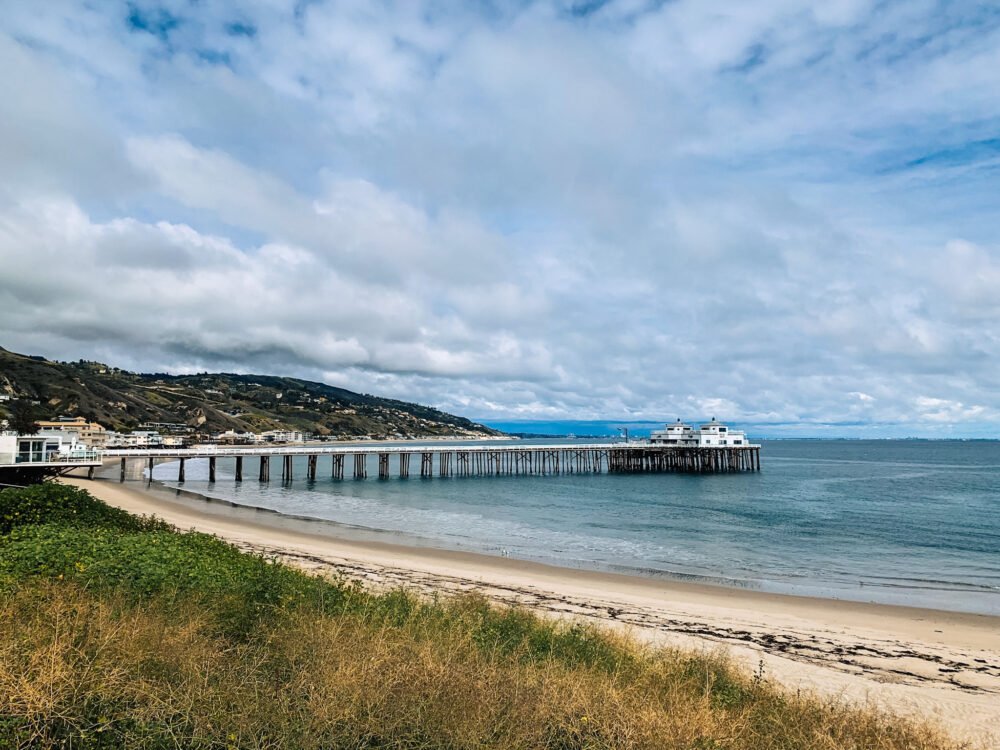 Note: This post contains affiliate links, which means I may receive a small commission if you purchase something through one of these links. Thank you for supporting the free content on this site! For more information on affiliate links and cookies, see my disclosure page for more details.
Recommended by Jenifer from The Evolista
February is a great time to visit Los Angeles!
The weather is mild with daytime highs in the upper 60's and lows in the 50's. While there are less than 5 days of rain, there are plenty of fun things to do, rain or shine. 
First up, the annual Golden Dragon Parade and Chinese New Year street festival are a must-see.
The parade dates back over 100 years and features people dressed in traditional Chinese costumes marching down historic Chinatown streets. The festival includes food, music, and dance performances. 
Sports fans won't want to miss a Lakers or Clippers game, while art lovers should check out the sensational collection at the Broad Museum. Get there early for a shorter line to the Infinity Room.
Another fun thing to do is the Downtown Art Walk where you can see museums, galleries and incredible murals.
In Venice, the Cupid's Undie Run is a 1-mile fun run (or walk) in your undies to raise money for the Children's Tumor Foundation. How many people can say they ran around LA without their pants?!
Afterwards, take a stroll through the Venice canals, shop along Abbot Kinney or check out the crazy antics at Venice Beach.
If you are looking for romantic things to do with your Valentine, take one of the best scenic drives in LA to a romantic lookout point on Mulholland Drive for breathtaking sunset views of the cityscape below.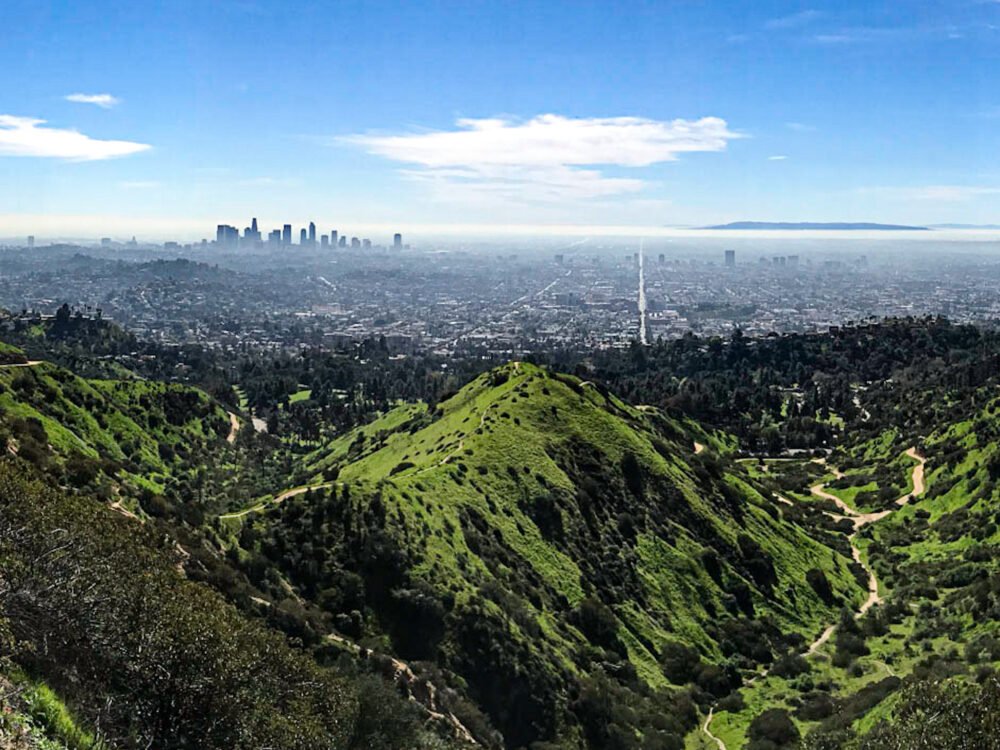 Or head up Pacific Coast Highway to Malibu. You can go wine tasting, take a hike at Solstice Canyon or spend an afternoon sunbathing and swimming at Zuma Beach.
Stop at Malibu Farm or John's Garden to refuel with a delicious meal!
From sporting events and festivals to hiking and visiting museums are plenty of fun things to do in Los Angeles in February.
Where to Stay
Stay at the Santa Monica Proper with stunning decor and a rooftop pool.
Best of all, it's perfectly located near the beach, great restaurants, and the LA Metro Expo Line, which will get you Downtown without having to drive in LA traffic!
Miami, FL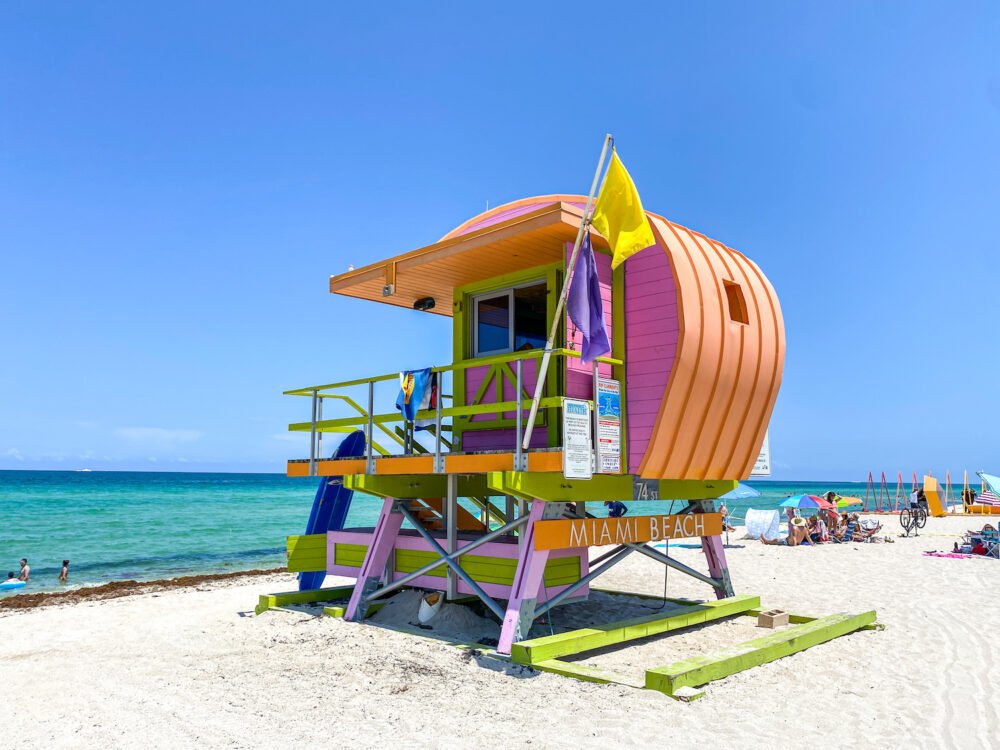 Contributed by Megan Starr of Megan & Aram
The city of Miami is the perfect place to jet off to if you're looking to escape the cold for a bit of South Florida sun.
With average highs around 75F and lows in the mid-60s, Miami experiences the dry season in February with only 4 days of rain.
With little rain comes little humidity and fewer mosquitoes, making this time of the year perfect to head on a day trip to the Everglades.
Airboat tours are not legal in the Everglades, but there are plenty of tram tours and hiking trails that will allow you to see the alligators better with lower water levels.
Other popular day trips from the city are Biscayne National Park, Fort Lauderdale, and Bimini in the Bahamas.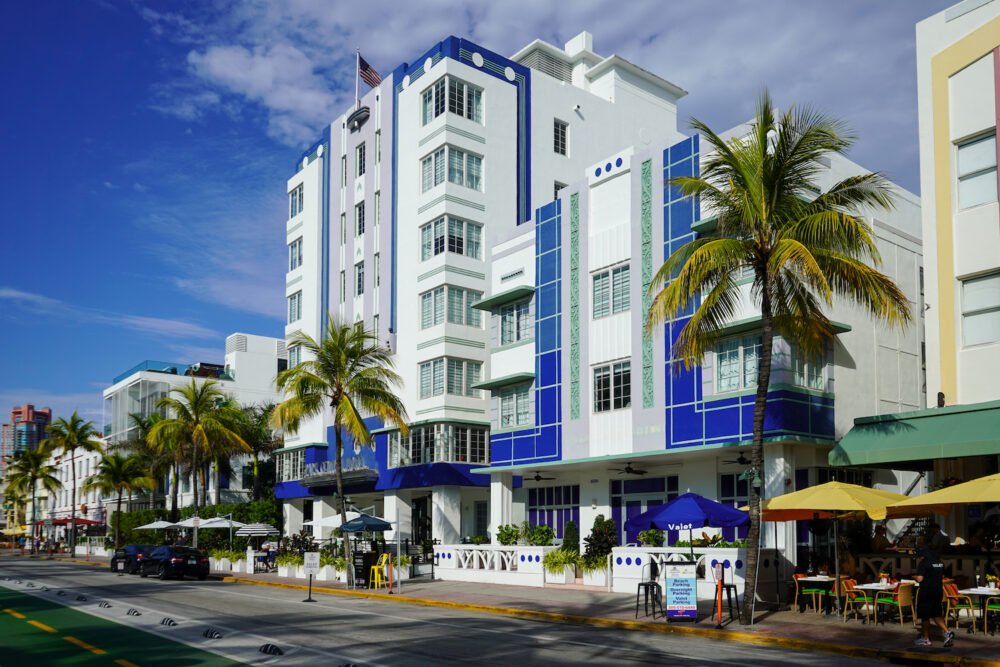 If you're looking to stick around Miami, be sure to head over to Wynwood and explore the famous Graffiti Walls.
After checking out the colorful murals, you can head for lunch or dinner at Bartaco where you'll find some of the best tacos in the area.
Other popular things to do in Miami are to take a tour of Little Havana, head out jetskiing from Virginia Key, or explore the art deco buildings along South Beach.
Where to Stay
Esme Hotel is a fantastic choice if you're looking to stay near South Beach nightlife and some of the best food in this part of town.
The hotel is located on the historic Española Way and offers boutique rooms and a rooftop pool and bungalows — plus, it's only a 5-minute walk from the beach!
Panama City Beach, FL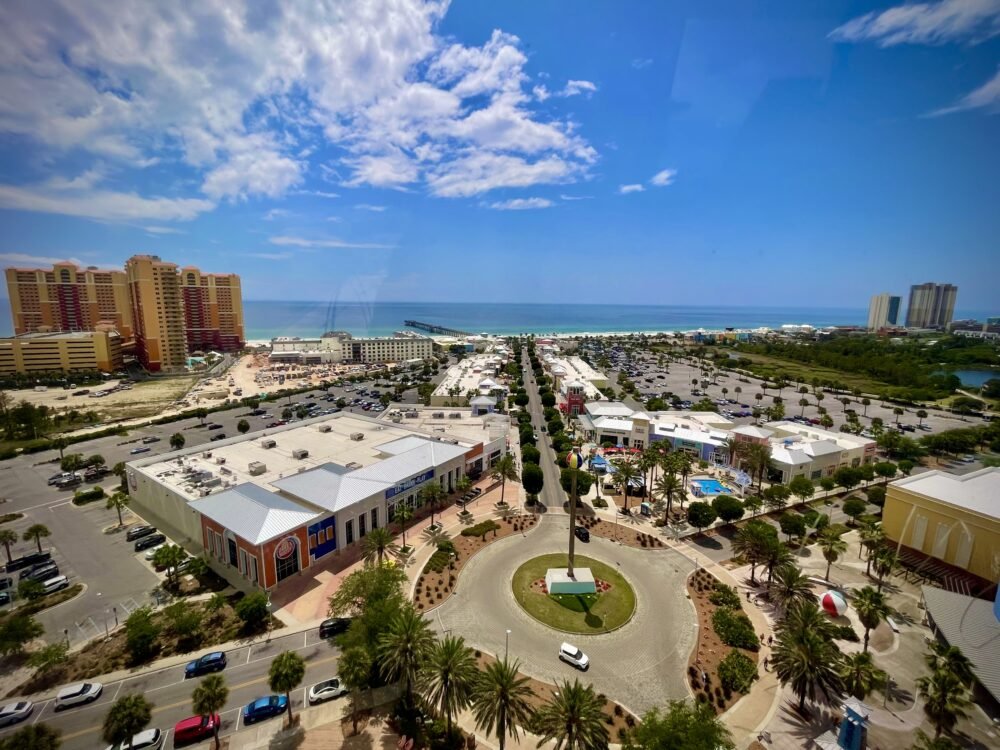 Situated on the Northwest coast of the Sunshine State, near Louisiana, Georgia and Alabama, is the Florida Panhandle.
It is one of the most underrated places to visit within the state, and the family friendly destination of Panama City Beach is just one of its must visits! 
February is a great time to explore as the summer and Spring break tourists haven't arrived yet, meaning you can pack in all the best things to do in Panama City Beach in just a short trip if you want!
Its great weather in February (average of 66 degrees F) means that it's easy to take advantage of its 27 miles of pristine white beaches, even if it's not full sunbathing weather!
Highlights include going sailing around the Gulf of Mexico, and visiting the uninhabited but stunning Shell Island.
This barrier island is a haven for bottlenose dolphins, and plenty of birdlife meaning it is protected, but you can still snorkel, swim and relax in this undeveloped slice of paradise.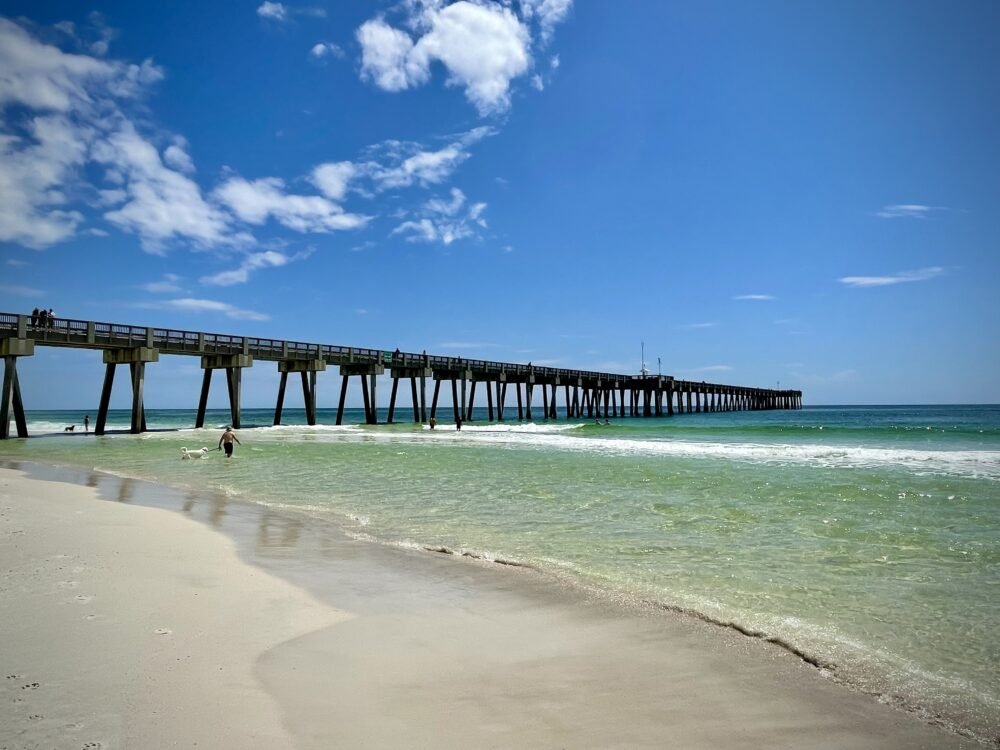 Other outdoor activities include visiting the beautiful state parks of Camp Helen and St Andrews, where you can kayak, hike, and paddle board in peace (especially in February).
If the weather takes a turn, you can always head to Pier Park, located just opposite the beach. It is a complex full of rides, shopping, entertainment and restaurants, and can easily keep you busy for a day.
Where to Stay
If you want a beautiful and convenient place to stay, choose Calypso Resort & Towers!
It is located right next to Pier Park, but still has its own private beach, several swimming pools, a gym and is within walking distance to plenty of bars and restaurants.
San Antonio, TX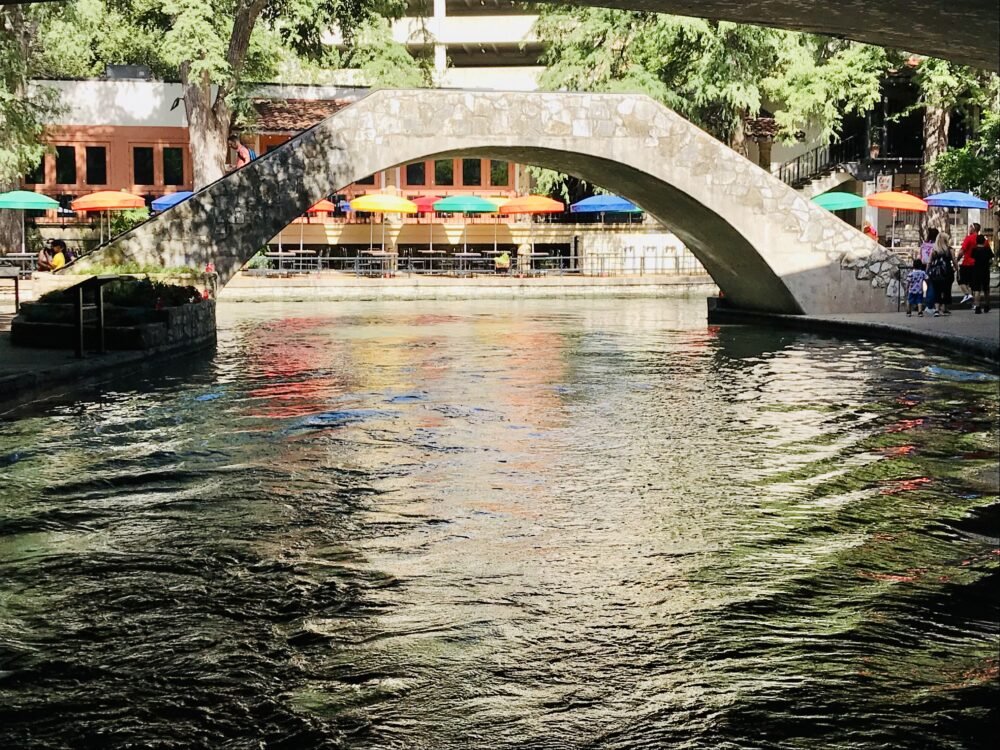 Contributed by Kim of Traveling Swansons
San Antonio, Texas is the most visited city in all of Texas and there's no better time to visit San Antonio then February!
Much of the year is very hot and humid in San Antonio, but not in February! 
With an average high of 67°F and an average low of 43°F combined with one of the driest months of the year, February is the perfect month to explore all of San Antonio's famous outdoor sites.  
Must-see sites in San Antonio include The Alamo, The River Walk, Historic Market Square and Hemisfair Park. 
Looking for some thrill rides?  San Antonio also has major theme parks like the Six Flags Fiesta Texas.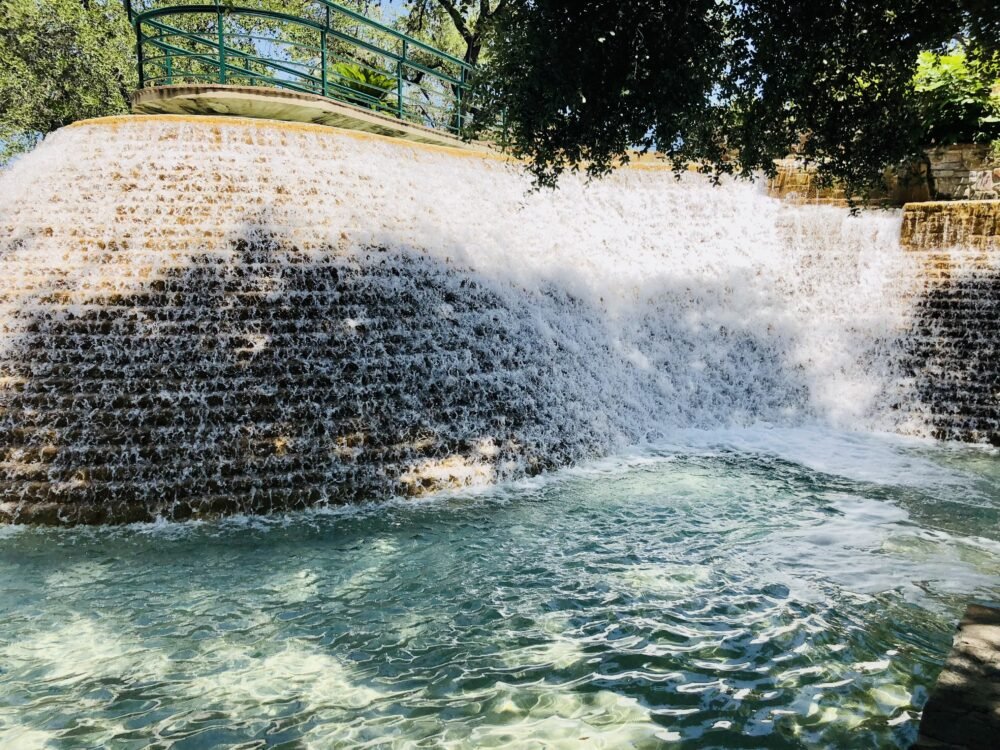 Another reason to visit San Antonio in February is for the San Antonio Stock Show and Rodeo.
This huge event takes place every February for three weeks, so you're almost certain to overlap if you visit San Antonio in February. 
Enjoy this action packed event which includes bareback riding, barrel racing, bull riding and more!
The San Antonio Stock Show and Rodeo is more than just a rodeo though — it also includes a fair and many live concerts with well-known artists.  
Where to Stay
Embassy Suites San Antonio Riverwalk-Downtown is a great hotel to stay at in the heart of San Antonio. 
Not only is it located in the heart of the city, but it's also located on the River Walk! 
Its rooms are spacious and modern, and they also serve an amazing free breakfast buffet and have a nightly complimentary evening reception with drinks and snacks.
Best Cold Places to Visit in February in the USA
Yellowstone National Park, WY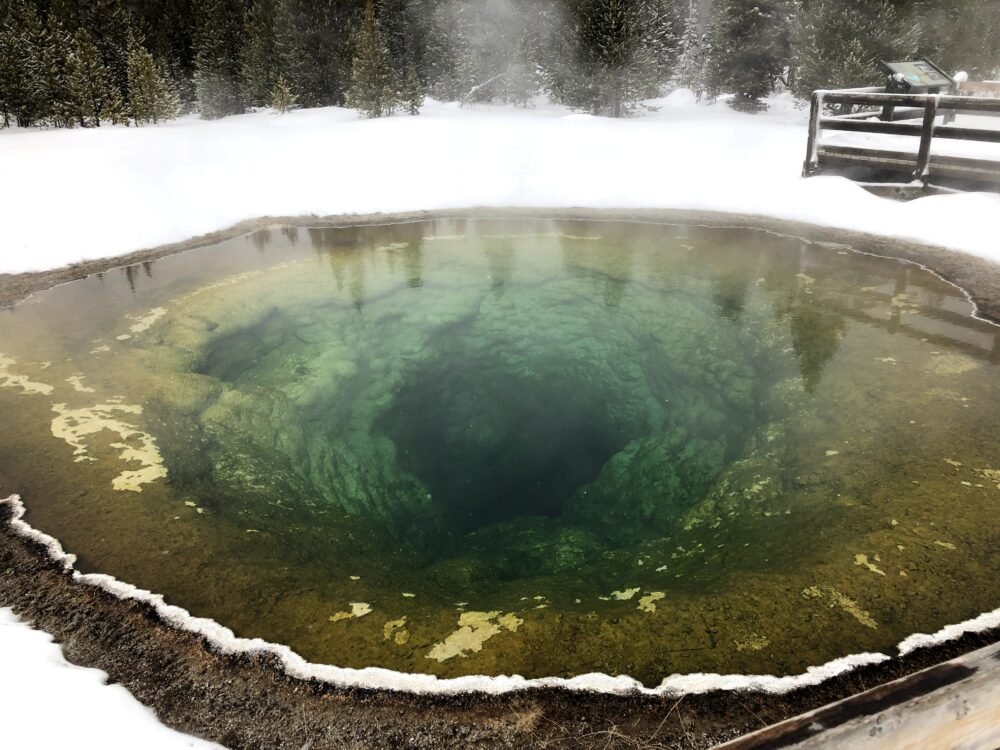 Contributed by Amber of Amber Anywhere
Yellowstone National Park is an iconic American destination, and February is perhaps the best time to see it because you can escape its notorious crowds.
The park's natural beauty is on full display in February, and you can see rock formations poking out behind snow drifts and bison nibbling on grass as they slowly traverse the large fields.
Even Old Faithful, typically mobbed with visitors, is a quieter affair; you'll be able to appreciate the geyser up close. 
To see the park's highlights, take a van or snowmobile tour that ends at Old Faithful.
The tour drives along roads that are inaccessible to cars during the winter, so you'll get to see far more of Yellowstone than you would on your own.
There are also several snowshoeing/cross country skiing trails accessible by car; make a stop at the Visitor's Center for a map, advice, and an overview of current conditions before you set off on your adventure.
When visiting Yellowstone, you can car camp in the park, provided you have high quality gear that is designed to keep you warm in harsh winter conditions.
In February, the average high temperature is around 30°F, the average low temperature is 4°F, with average snowfall of about 25 inches.
While you'll need to reserve a space far in advance when visiting Yellowstone in the summer, everything is more relaxed in February and you'll have your choice of spots after you arrive. 
Where to Stay
If you're not camping in the park, stay in the nearby city of Bozeman, Montana for the best food and accommodation options.
The RSVP Motel in Bozeman is a great choice, with consistently wonderful reviews and quirky, eclectic decor.
As a bonus, it's a short drive from two great spots in Bozeman, the Wild Crumb bakery and Treeline Coffee Roasters.
Park City, UT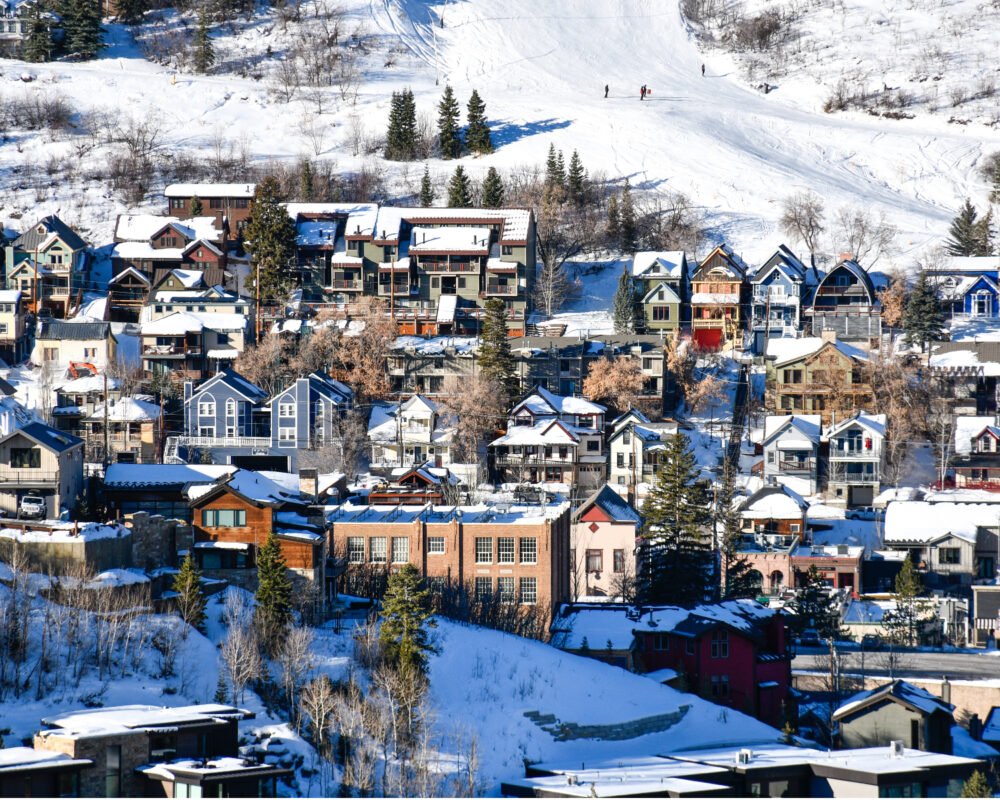 Contributed by JJ Haglund from The Minivan Bucket List 
If you're looking for a snowy destination, one of the best US places to visit in February is Park City, Utah!
The weather in February is cold and snowy, with average highs in the 30s and frequent snowstorms — but that also means frequent fresh powder!
Park City is a world-class ski town with three different resorts and a vibrant town full of restaurants, shops, and art galleries.
When Salt Lake City hosted the Winter Olympics in 2002, Park City was one of the main locations for events like the bobsledding, ski jumping, aerials, and snowboard halfpipe.
You can actually still visit the Utah Olympic Park and marvel at the athletes training there or even take a ride down the bobsled track yourself, if you dare!
The main draw for visiting Park City is the skiing and snowboarding, but you can also try tubing, fat biking in the snow, or cross-country skiing. It's also a popular place to go for a ride in a hot air balloon.  
Where to Stay
There are many luxurious places to stay in Park City and if you can afford it, there's nothing like the experience of renting a ski-in/ski-out cabin.
Otherwise we recommend staying at Marriott's Mountainside located at the base of Park City Mountain Resort.
It's as close as you'll get to ski-in/ski-out at a hotel and they have villas big enough for the whole family, and the heated outdoor pools right next to the slopes are a fun bonus.
If you haven't been skiing in Utah, now is the time to add it to your Utah bucket list!   
Boston, MA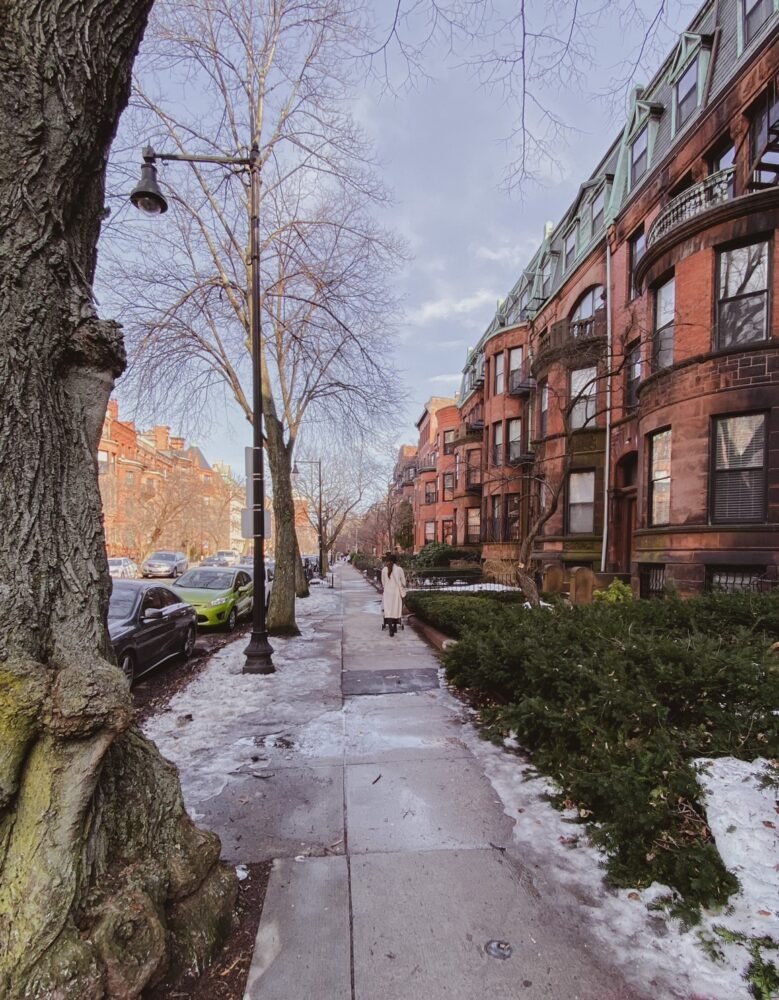 Contributed by Amanda of My Vintage Map
If you want to experience a winter wonderland in February, visit Boston!
Winter lovers will love visiting Boston in February, when there is an average 7 days of snow and temperatures range from 24 to 39 degrees.
If you're lucky, you may even get to witness a good, old-fashioned Boston snow storm from the warmth of your hotel room.
When you're ready to brave the Boston cold, take a quick walk past the historic Old City Hall and Benjamin Franklin statue to Clover Food Lab for some delicious fair trade coffee.
Walk to Boston Common and go ice skating on the Frog Pond before heading over to Charles Street to explore the quaint shops of Beacon Hill. 
While in Beacon Hill, be sure to visit Rouvalis Flowers to see their seasonal floral arrangements and decorations.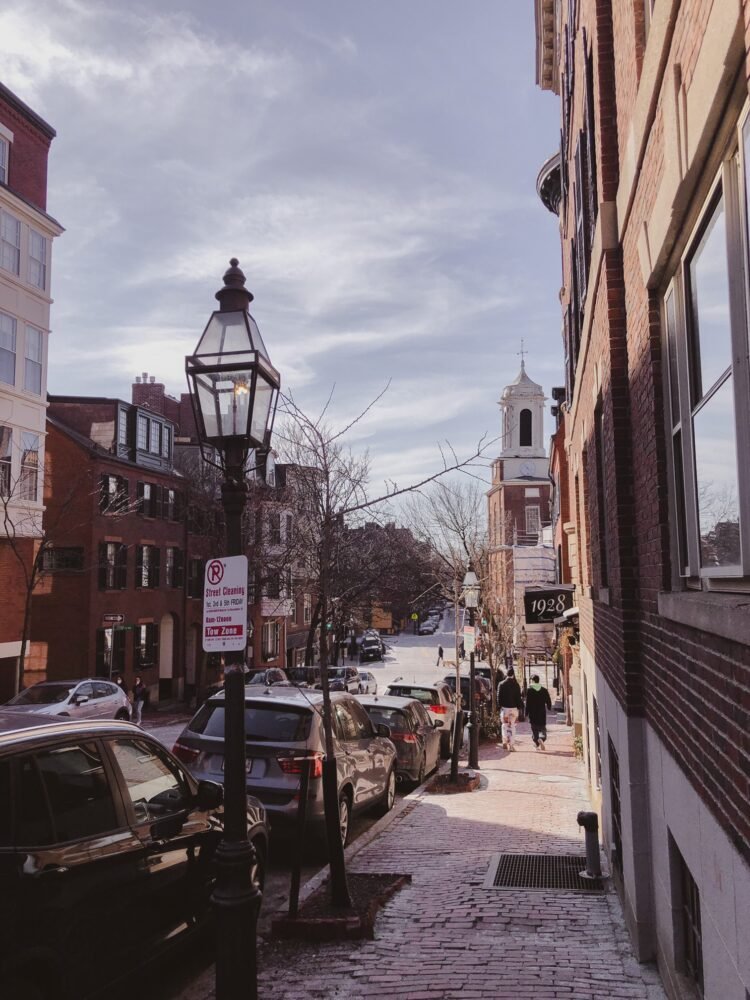 And you can't miss Acorn Street, one of the few streets left in Boston with the original cobblestone. It is one of the most photographed streets in America!
If you're interested in shopping, stroll down Newbury Street in Back Bay, where you'll find dozens of stores and cafes in traditional brownstone buildings.
The Prudential Center is also not far away and is home to Eataly Boston, where you can warm up with fresh pizza or pasta. Yum!
While in Boston, consider venturing out to see other hidden gems in Massachusetts as well!
Where to Stay
Stay at the glamorous Omni Parker House, which has been in operation since 1855 and has hosted the likes of Charles Dickens, Mark Twain, John F. Kennedy, and more. 
Enjoy a cozy meal at the hotel's Parker's Restaurant, the birthplace of the beloved Parker House Rolls and Boston Cream Pie.
Fairbanks, AK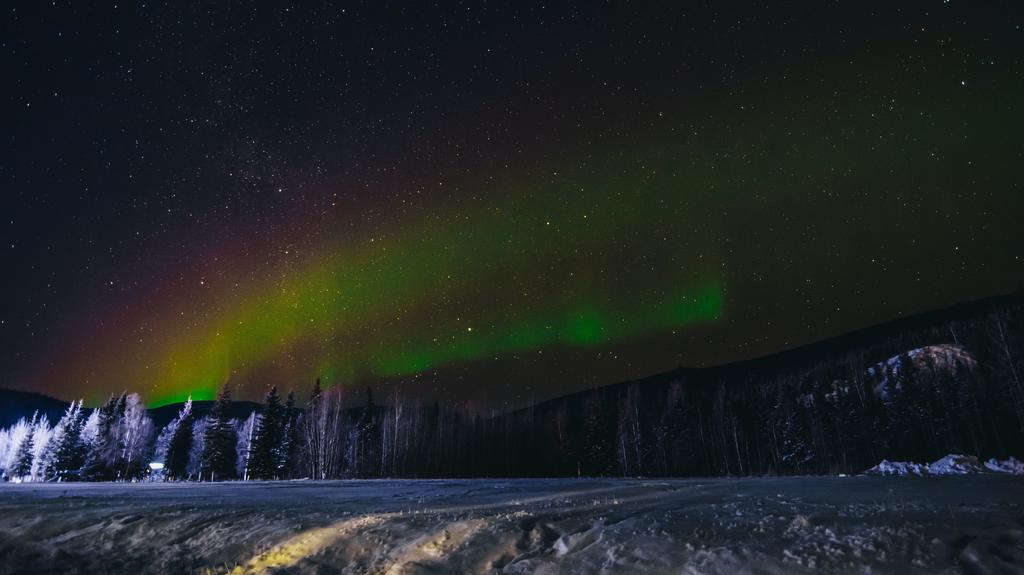 Contributed by Bradley of Dream Big Travel Far
Famous for its world-class resorts, restaurants, native Alaskan culture, and impressive wilderness, Fairbanks is a hub city in Alaska.
The Golden Heart City, as it's nicknamed, has an interesting history and generous hospitality.
February is actually the best time to visit if you want to enjoy the quintessential Alaskan winter but in a more comfortable way.
With longer daylight and slightly warmer weather of between -3°F and 12°F, it's still possible to enjoy their wintery activities.
What comes to mind when someone mentions Alaska? For most people, it would be the northern lights.
Good news! The aurora season lasts until mid-April, which means this is the perfect time to go hunting for some northern lights.
These swaying lights of green, yellow, and red hues are a truly mesmerizing sight that you can easily spot on a clear night from Fairbanks. On average, they're visible on four of five nights.
With plenty of hot springs to choose from, it's always great to unwind in a natural rock lake, pools, and hot tubs, while enjoying the chilly breeze.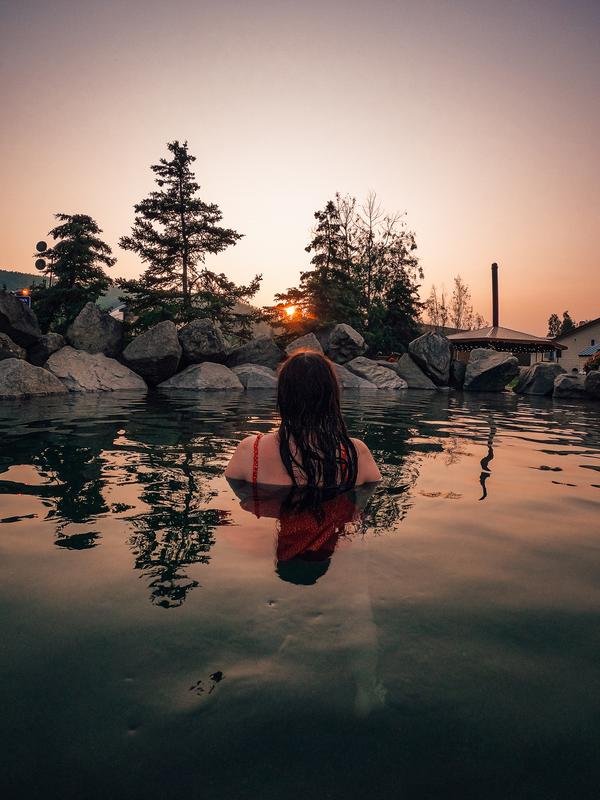 Don't skip the famous Ice Museum at Chena Hot Springs Resort, which houses awesome ice structures and sculptures for you to marvel at. 
It's a great way to stretch your legs after plunging in the hot springs!
Where to Stay
Another great thing about Fairbanks is that you can find all sorts of accommodation to fit any budget.
From a bed in a hostel or a traditional yurt to something more luxurious, you name it.
A good mid-priced option is the Northern Sky Lodge, a beautiful property with a serene atmosphere and all the facilities you need—a shared lounge, a garden, and even BBQ facilities.
Sun Valley, ID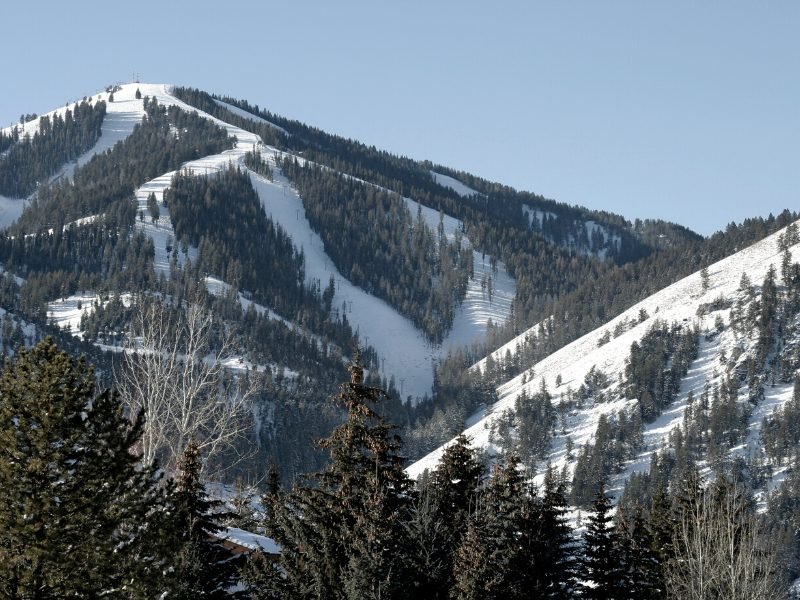 Contributed by Rose of Rose Campau
For lovers of all things snowy and winter, there's nowhere better to visit in February than Idaho's Sun Valley.
This little mountain town was originally developed as America's first ski resort due to its stunning scenery and ideal winter conditions.
There's nothing better to do here in February than hit the slopes!
By this time in the winter, all of the runs have accumulated a perfect snowpack from earlier in the season, and the crowds aren't as dense as during the holidays.
Other popular outdoor activities to take advantage of the great conditions include snowmobiling, nordic skiing, snowshoeing, fat-biking, and paragliding.
To the delight of snow sports enthusiasts everywhere, Sun Valley is renowned for being one of the snowiest places in the United States.
Average snowfall in February is about 12 inches, with highs hovering just around 32F and lows around 10F.
Despite the cold temperatures and heavy snow pack, it still manages to get more than 200 days of sun, guaranteeing plenty of bluebird days out on the slopes!
Where to Stay
While you're visiting Sun Valley, I recommend staying at Knob Hill Inn, a charming Tyrolian-style hotel located right in the middle of town.
It's walking distance from dozens of great cafes and restaurants, and with a great breakfast spread included in each stay.
They also offer on-demand shuttle service throughout Sun Valley and Ketchum, making trips to and from the slopes a breeze.
Allison Green is a former educator turned travel blogger. She holds a Masters in Teaching and a B.A. in English and Creative Writing. Her blog posts merge her educational background and her experience traveling to 60+ countries to encourage thoughtful travel experiences that both educate and entertain. She has been a speaker at the World Travel Writers Conference and her writing, photography, and podcasting work has appeared in National Geographic, CNN Arabic, CBC Canada, and Forbes, amongst others. Now based in the San Francisco Bay Area where she grew up, she has also lived in Prague, Sofia, and New York City.