Swaying palm fronds, teal and azure waters, a kaleidoscope of marine life below the surface…
You almost don't need any souvenirs from Tahiti because this place is so special it imprints itself on your mind forever!
That said, some physical reminders of Tahiti's magic and beauty never hurt.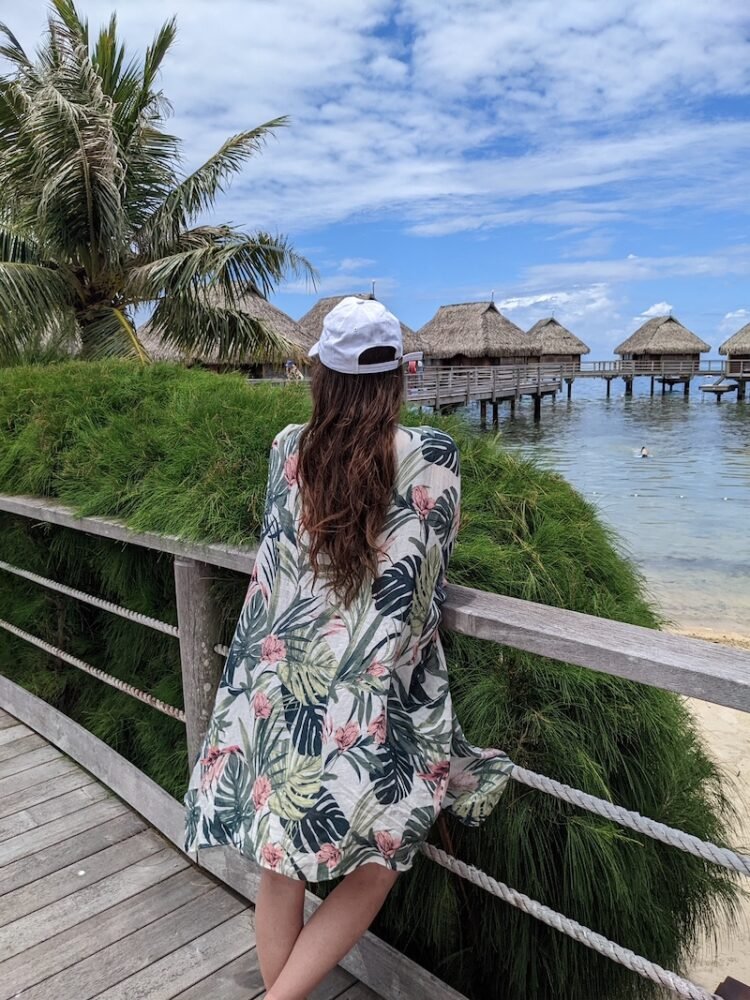 Note: This post contains affiliate links, which means I may receive a small commission if you purchase something through one of these links. Thank you for supporting the free content on this site! For more information on affiliate links and cookies, see my disclosure page for more details.
After spending 10 days in Tahiti and Moorea in 2022, I couldn't help but want to bring back some of my own tangible memories of the islands.
It certainly lessens the blow of getting on that return flight home, knowing you have the sights and tastes of Tahiti awaiting you when you return!
Here are a few ideas of what to buy in Tahiti — and don't worry if you're not visiting Tahiti, as you'll find many of these on other islands of French Polynesia such as Bora Bora and Moorea, as well.
The 13 Best Tahiti Souvenirs to Bring Home
Tahitian Vanilla Beans and Products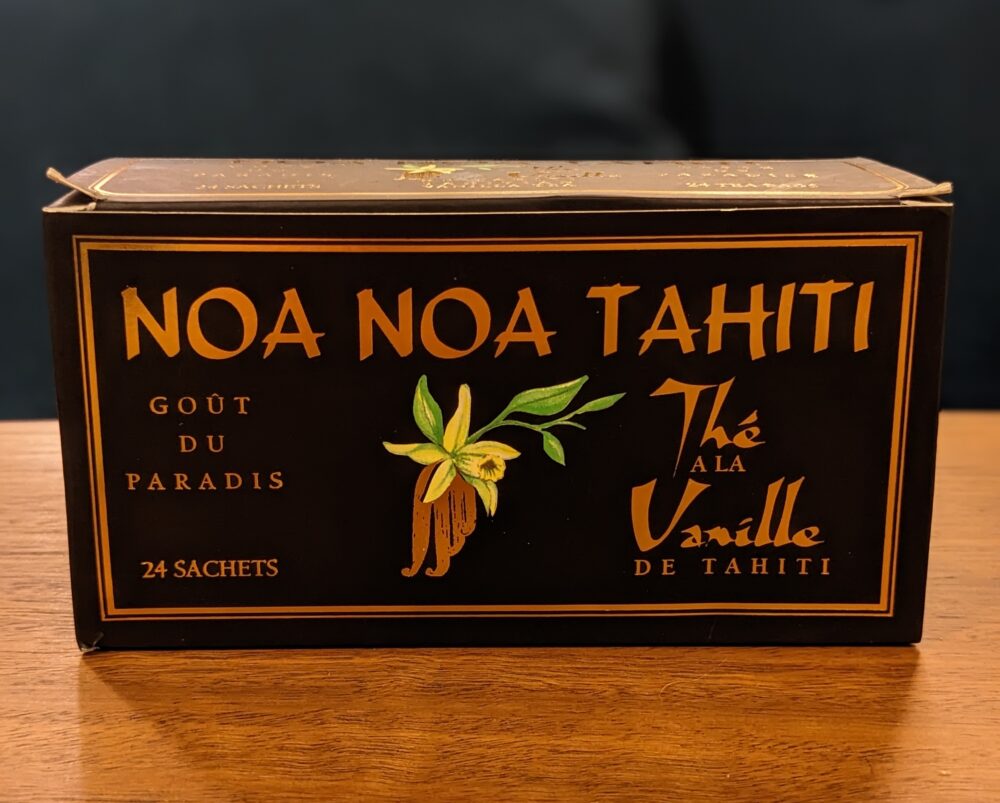 Many say that scent brings back the strongest memories. Rich and fragrant, vanilla beans from Tahiti are a wonderful way to remember your time on the islands!
While visiting Tahiti, I had several delicious dishes that incorporated Tahitian vanilla beans into it, including mahi mahi with a rich vanilla-coconut sauce and crème brûlée with Tahitian vanilla.
You'll find Tahitian vanilla incorporated into many locally made products — one of my favorite iterations of this was a Tahitian vanilla black tea that we picked up at a local market.
When I did a 4×4 tour of Moorea, we had the chance to visit a local vanilla farm where they sell vanilla beans they've grown — and they told us all about the hyper-involved process of farming vanilla, which makes sense as to why it's so expensive.
In addition to selling vacuum-sealed vanilla beans, they also sold a variety of vanilla-infused products as well!
Pineapple Jam from Moorea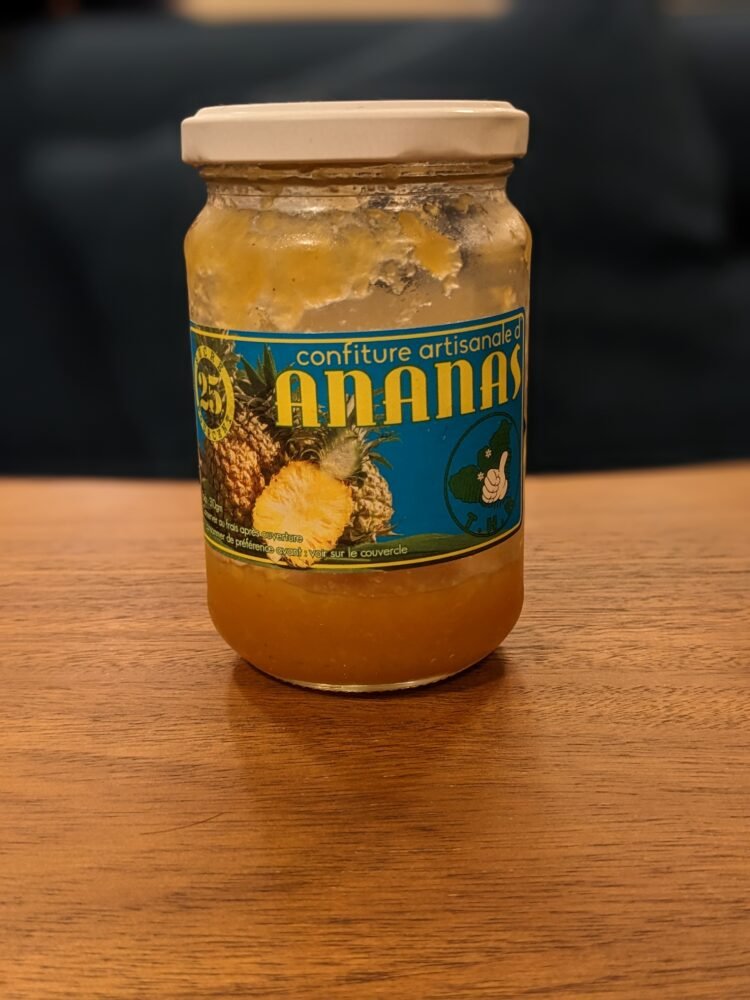 The sister island to Tahiti, Moorea is known for its delicious pineapple. It's the sweetest and tastiest pineapple I've ever tried!
Rotui is the local pineapple plantation, and you'll find that you can order a carton of Rotui pineapple juice with nearly every meal you eat on Moorea… but a carton of juice is not exactly an easy thing to bring back home.
Luckily, Rotui also makes pineapple jam, which transports home a lot better! (Visiting the factory is a must on any Moorea itinerary!)
Besides Rotui brand products, you can also find smaller jam brands both at supermarkets like Super U all over Tahiti and Moorea, or small farms like Tropical Garden in Moorea.
Tahitian Pearls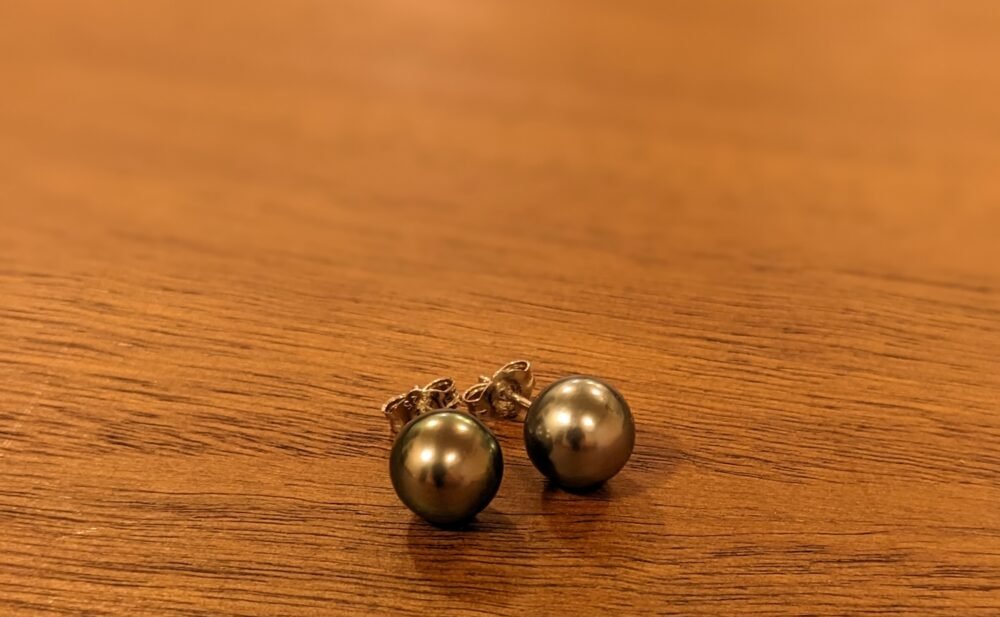 Another famous souvenir from the islands of Tahiti are pearls!
This South Pacific island is known for its stunning, lustrous pearls and jewelry lovers will absolutely love to take home some sort of jewelry incorporating Tahitian pearl.
Despite being called Tahitian black pearls, these pearls don't actually come from the island of Tahiti, but further afield in French Polynesia.
Tahiti's famous black pearls come from pearl farms in the Tuamotu Archipelago and the Gambier Islands, which have the exact conditions needed to grow beautiful pearls.
Tahitian pearls are graded according to several factors — size, flaws, luster, etc. — and then set in jewelry such as necklaces, pendants, earrings, etc.
Tahitian pearls are rather pricy — expect to spend about $150 USD at a minimum for a pair of grade B stud earrings.
Definitely factor this into your Tahiti budget if this is something you want to buy in Tahiti!
Grade B is a great value to buy because while it's not technically grade A, they have to be free of major imperfections.
The imperfections can be hidden by jewelry mountings, so they're perfect for earrings, etc. where a portion of the pearl is obscured.
Mother of Pearl Jewelry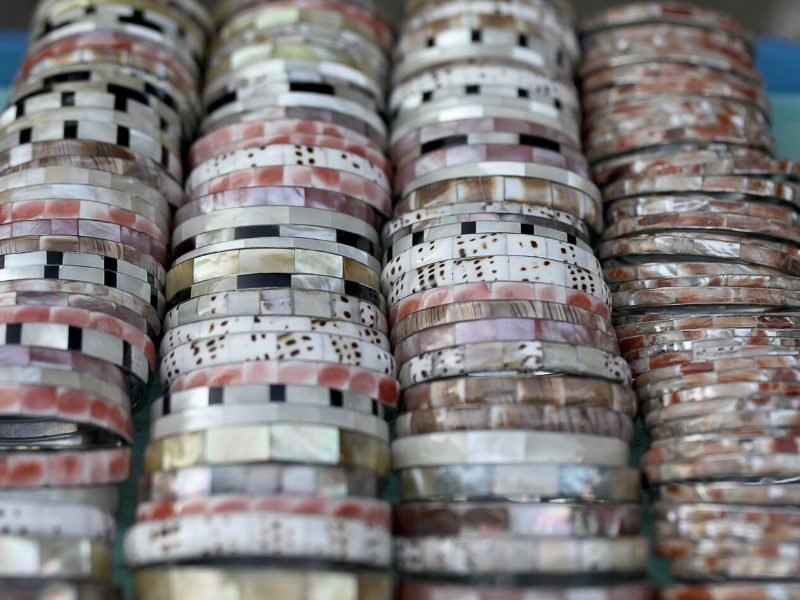 If you're looking for more affordable jewelry to bring home, mother of pearl is a great option for a wearable Tahiti souvenir.
It's far more affordable than pearls themselves, since it's a far more abundant resource.
Mother of pearl is made from the inner shell of several types of mollusks, including pearl oysters but also mussels and abalone.
The inner shell of those mollusks is made of a nacre coating, which creates a beautiful iridescent sheen that coats the interior of the shell.
Meanwhile, pearls are completely made of nacre all the way throughout, so it's rarer and thus more expensive.
Hinano T-Shirt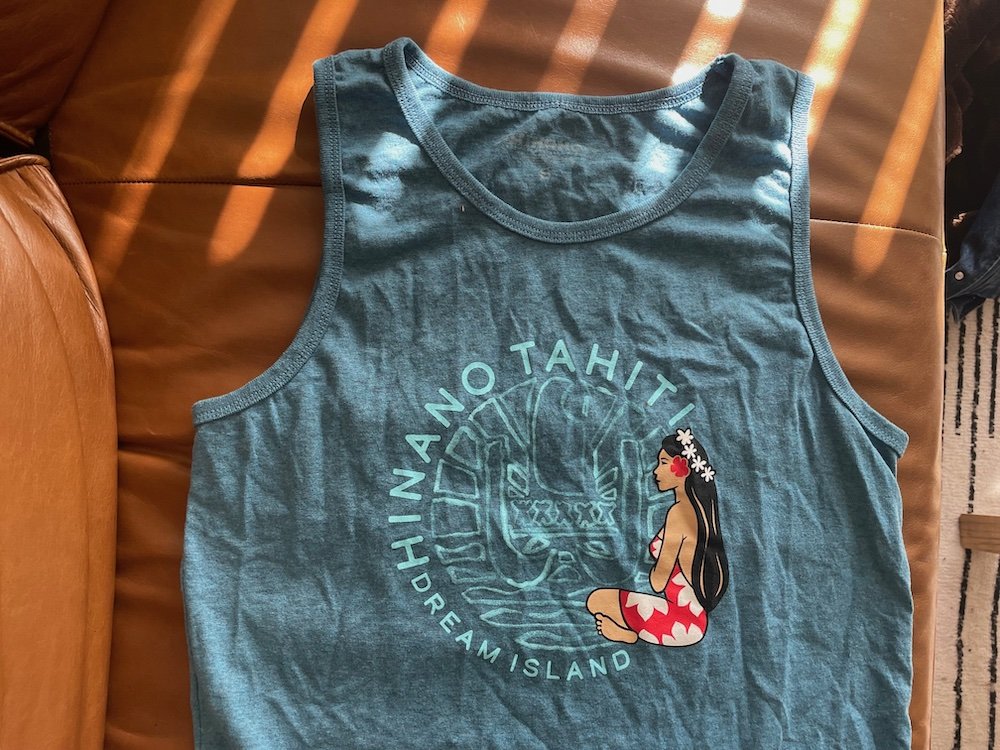 You'll likely see the famous girl from the Hinano logo before you even know it's a local beer logo!
Featuring a Polynesian girl with a gardenia tucked behind her ear, Hinano T-shirts ooze island vibes and are a great wearable souvenir to bring back from Tahiti.
I bought a tank top with the Hinano logo and my girlfriend brought back a windbreaker with the logo on the back, which we found at a shop in Papeete.
Monoi Oil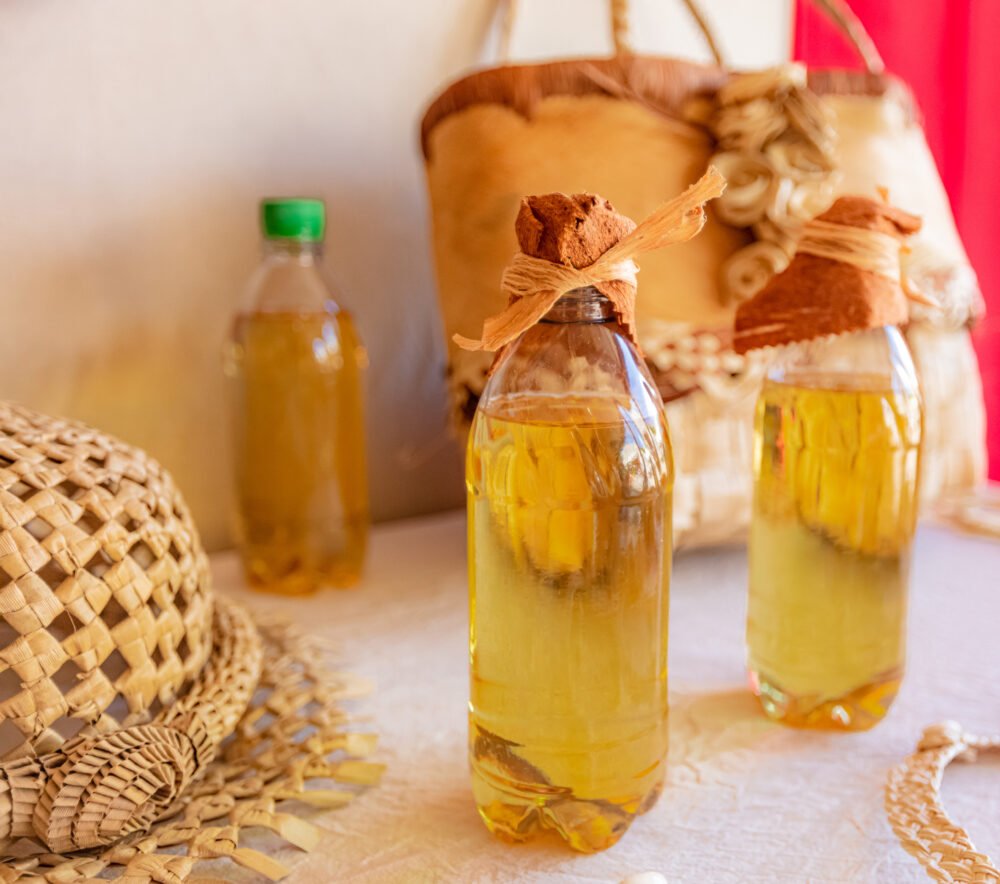 If you want to recreate the Tahitian spa experience at home, pick up some monoi oil to bring home!
Monoi oil is a coconut oil that has been infused with tiare flowers (gardenias), which are the national flower of Tahiti.
Monoi oil is a uniquely Polynesian product that has been made by indigenous Polynesians for over 2,000 years and used for all sorts of purposes, including medicinal and religious ones.
It only began to be commercially produced in the last 70 years, so it's a unique and authentic souvenir from Tahiti to bring home.
Pāreu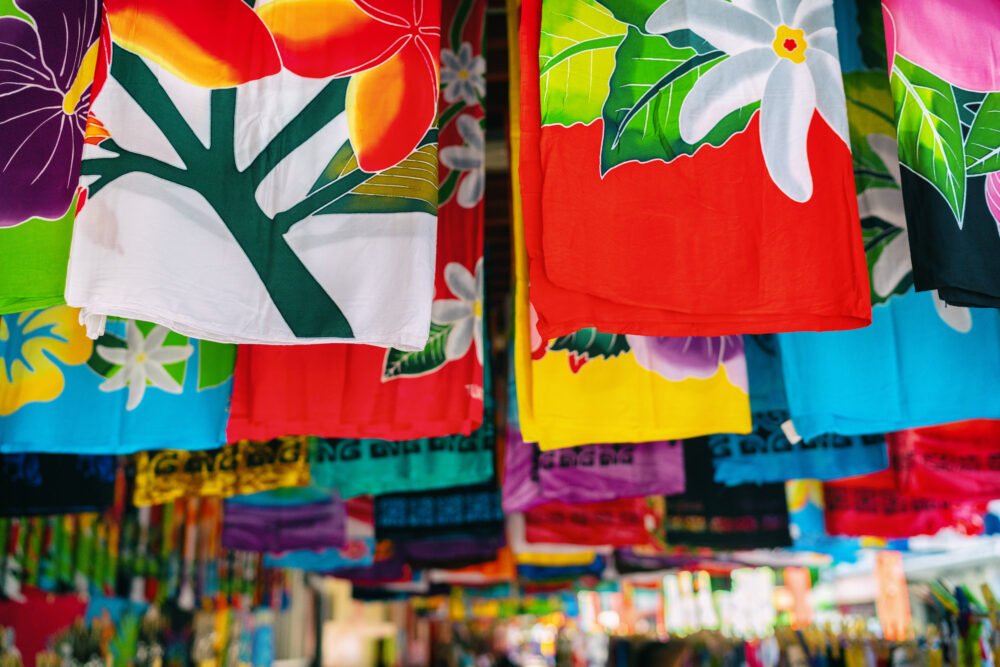 A pāreu (also known as a pareo) is a traditional Tahitian type of sarong, made of a long swath of printed cotton that can be worn as a dress or a skirt.
Typically, the pāreu is extremely colorful and printed with flower patterns.
Many sarongs are imported from abroad, but some may be made locally, so keep an eye out for locally made pareos — especially hand painted ones!
You can find pāreu for sale all over the islands, but one great place to pick one up is at the Bambou Shop Moorea which sells a selection of them for great prices (around ~$20 USD).
The Papeete Market (a must on any Tahiti itinerary) also has a ton of pareos available for sale at affordable prices.
Polynesian Wood Carvings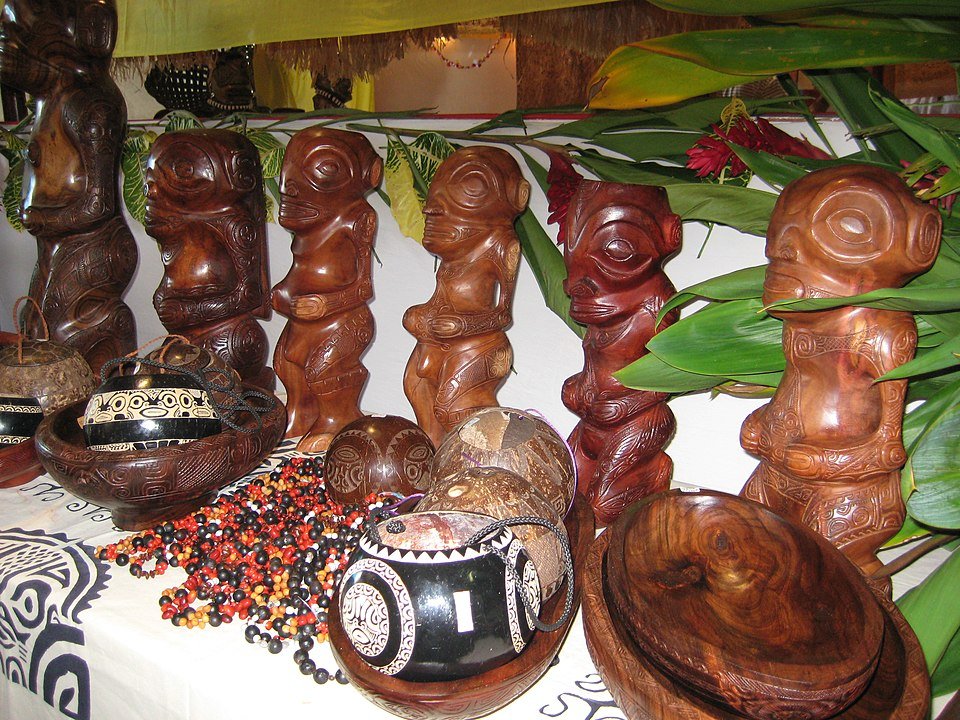 Wood carvings are another traditional piece of Polynesian art, with the best-known examples coming from the Marquesas Islands, particularly Ua Huka.
Marquesan wood carvings are made by tuhuna, craftsmen who specialize in wood carving and tattooing, so you'll often find overlap in the details and significance of the patterns in both these arts.
The most common figure is the tiki, a human-like figure, but you'll also find things like bowls, game boards, etc. carved out of wood, if you want something that blends form and function.
You can find wood carvings at the MANUA Exquisite Tahitian Art gallery in downtown Papeete, and they usually have a stall at the Papeete Market as well.
Prints and Artwork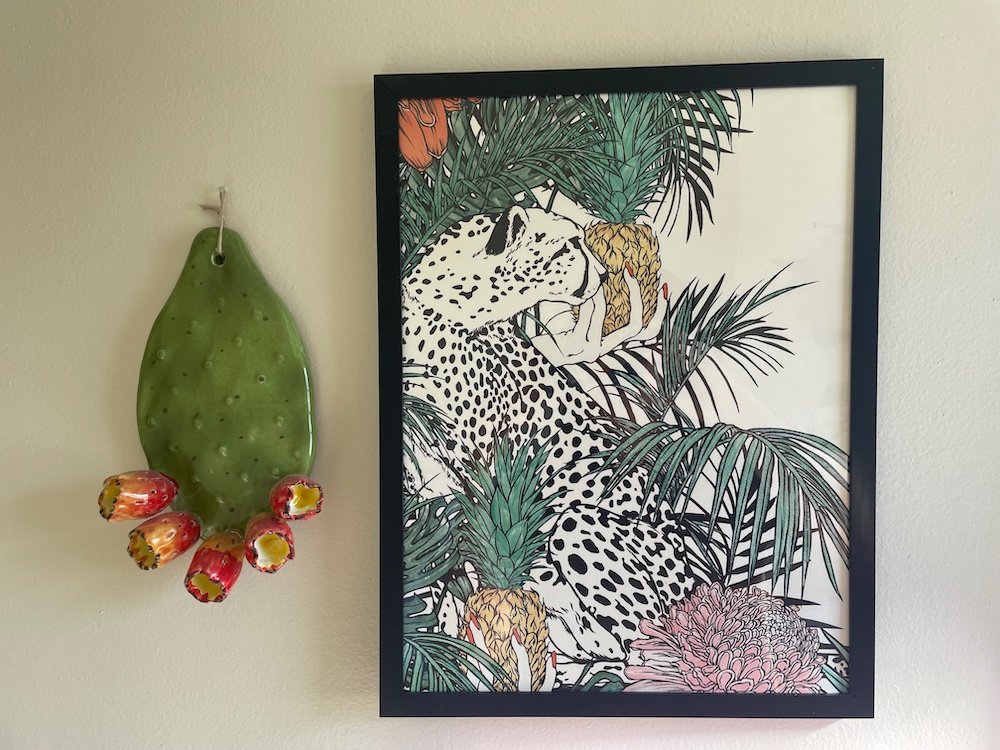 A fun way to remember your trip to Tahiti is with a piece of artwork that brings you back to the islands!
There are several art galleries in downtown Papeete but I particularly liked the Take Me Back to Tahiti store in the Vaima Shopping Center, where I picked up a print of my own!
A few other art galleries include Galerie Winkler and Walk of Arts which you can both find downtown.
Tifaifai Quilts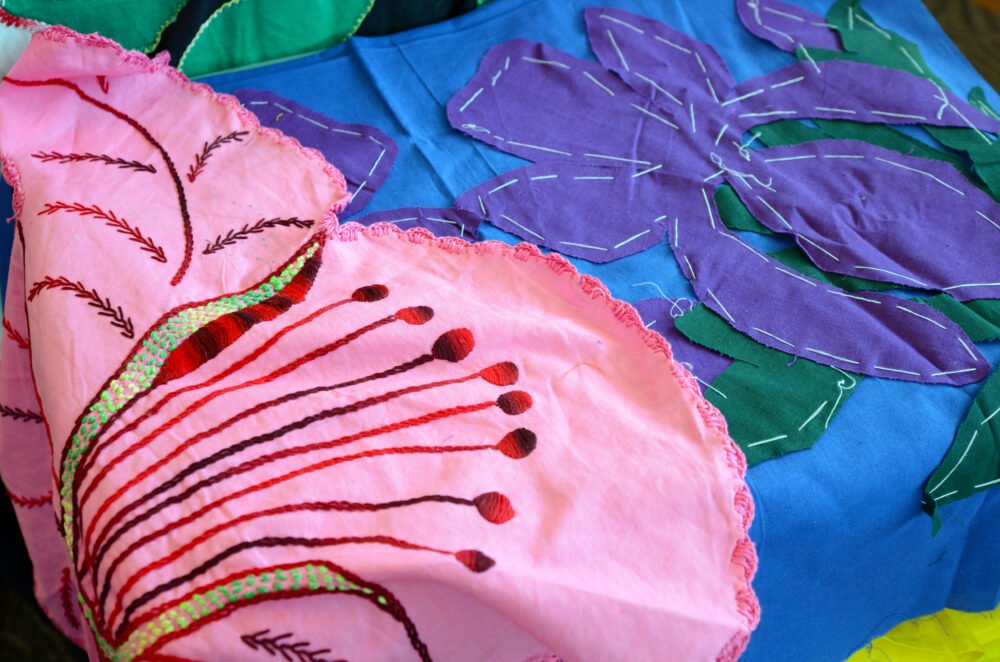 Another local craft form, tifaifai are Polynesian quilts that use an appliqué technique.
The most common kind you'll find is the tifaifai pa'oti which is the style done in the Society Islands (the group of islands that includes Tahiti). These use an appliqué style to sew patterns directly onto the quilt.
There's also the tifaifai pû style from the Austral Islands which is more of a mosaic-style pattern, where small pieces join together to make larger patterns.
You'll often find hand-sewn tifaifai for sale at the Papeete Market.
Incredible Underwater Photography or Videography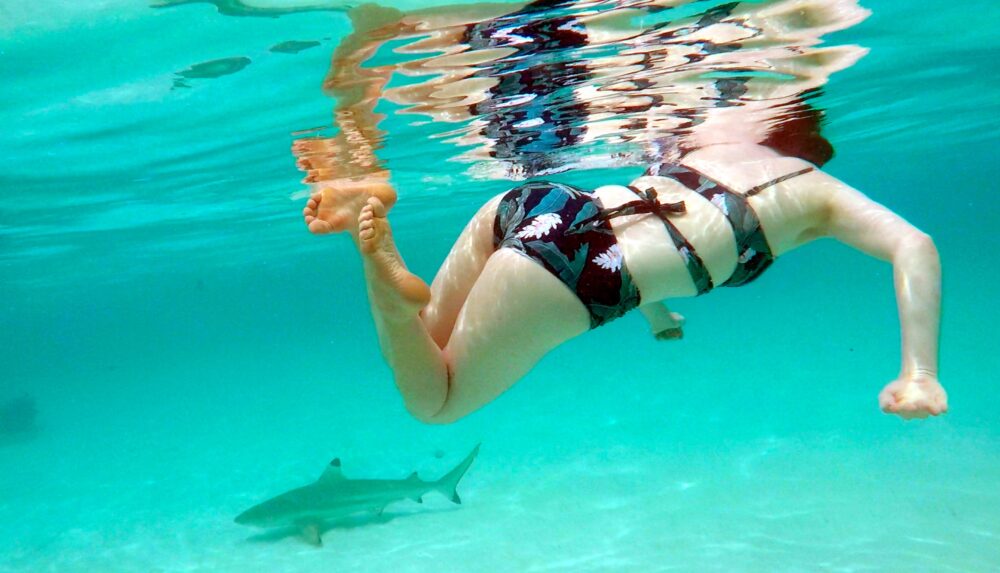 I believe that the best souvenirs are the memories you come home with, and the best thing about this Tahiti souvenir is that it jogs those memories so vividly!
The dive videos I have from my visit are my personal favorite souvenir from Tahiti, because they're specific to my experience and bring me right back to the amazing underwater world I was lucky enough to experience.
Whether you snorkel or dive, there's enough incredible marine life and variety to capture on camera.
I recommend a GoPro for this — be sure to encase it in a protective dive housing if you plan to go diving!
This photo was captured while snorkeling in Moorea with blacktip reef sharks and pink whiprays — one of my favorite memories of the trip!
Woven Crafts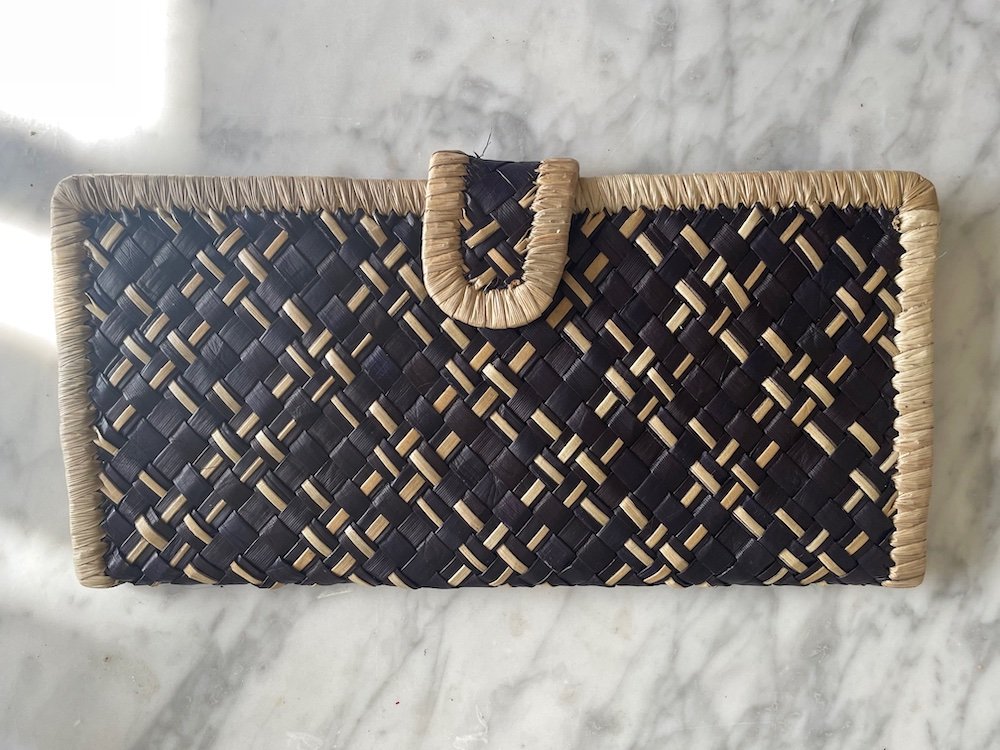 Woven craftsmanship is another popular souvenir from Tahiti and there are many forms this can take!
You'll find baskets, hats, etc. but these can be hard to carry home. Better yet are flatter items like placemats, wallets, and hand fans!
I opted for a large woven wallet which has a gorgeous pattern yet is small and compact, easy to bring home!
I bought this at the gift shop at the Vaipahi Water Gardens, one of my favorite places to visit in Tahiti.
Polynesian Tattoos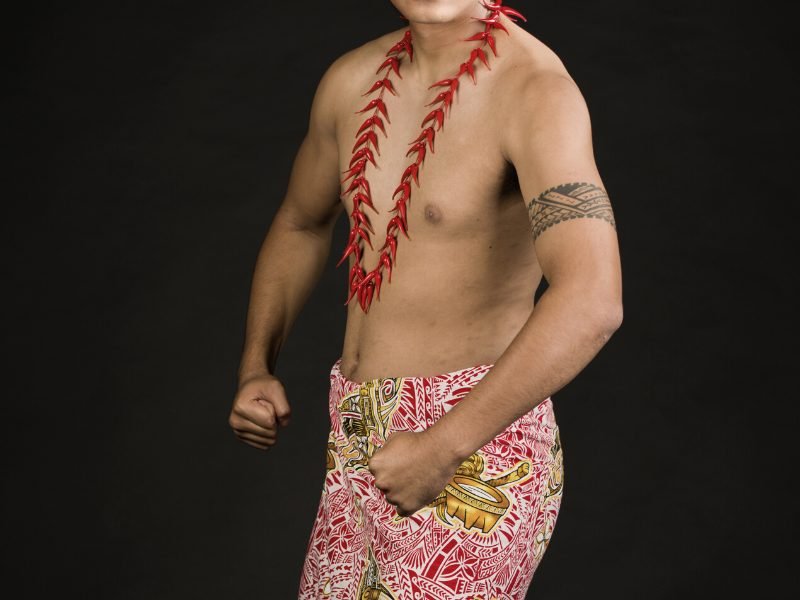 I placed tattoos last on this list because they're not just a souvenir — I think it's important explain the meaning of Polynesian tattoos and whether or not it's appropriate for non-Polynesians to get them.
After doing some research, my answer is a tentative yes — but with a big ol' asterisk that you need to understand and appreciate the context of these tattoos.
Tattoos are one of the Polynesian people's earliest forms of storytelling, dating back at least 2,000 years.
The patterns and the combination and placement of them tell a story of the person's life, symbolizing one's family background and personal story.
For this reason, you should never copy a Polynesian tattoo — if you do, you are basically stealing someone's life story preserved in art and tattooing it on yourself for aesthetics, without appreciating the context under which that art was created.
Furthermore, some Polynesian symbols are sacred (tapu), and those should not be used outside of ceremonial contexts.
Many other symbols are common (noa), and those can be combined and used in a way that is non-appropriative, as long as you are working with a native Polynesian artist to create a tattoo that is meaningful to you personally and representative of your story.
If you know you'll want a Polynesian tattoo, I recommend reaching out to a local artist whose work you admire first and working with them to articulate your vision so it can be executed on your visit!
Allison Green is a former educator turned travel blogger. She holds a Masters in Teaching and a B.A. in English and Creative Writing. Her blog posts merge her educational background and her experience traveling to 70+ countries to encourage responsible, enriching travel. She has been a speaker at the World Travel Writers Conference and her writing, photography, and podcasting work has appeared in National Geographic, CNN Arabic, CBC Canada, and Forbes, amongst others. Now a full-time traveler, she has lived in Prague, Sofia, New York City, and the San Francisco Bay Area.