Picturesque Palermo, one of my favorite destinations in Sicily, is home to spectacular UNESCO World Heritage Sites, stunning beaches, and mouth-watering food.
The vibrant capital of Sicily is famous for many reasons, including the dubious honor of being the most conquered city in the world.
This patchwork of ruling powers over the centuries left behind a unique blend of cultures that live on to this day, making Palermo a truly unforgettable destination.
I lived in Italy for many years, and was lucky enough to visit Palermo on one of my trips to Sicily.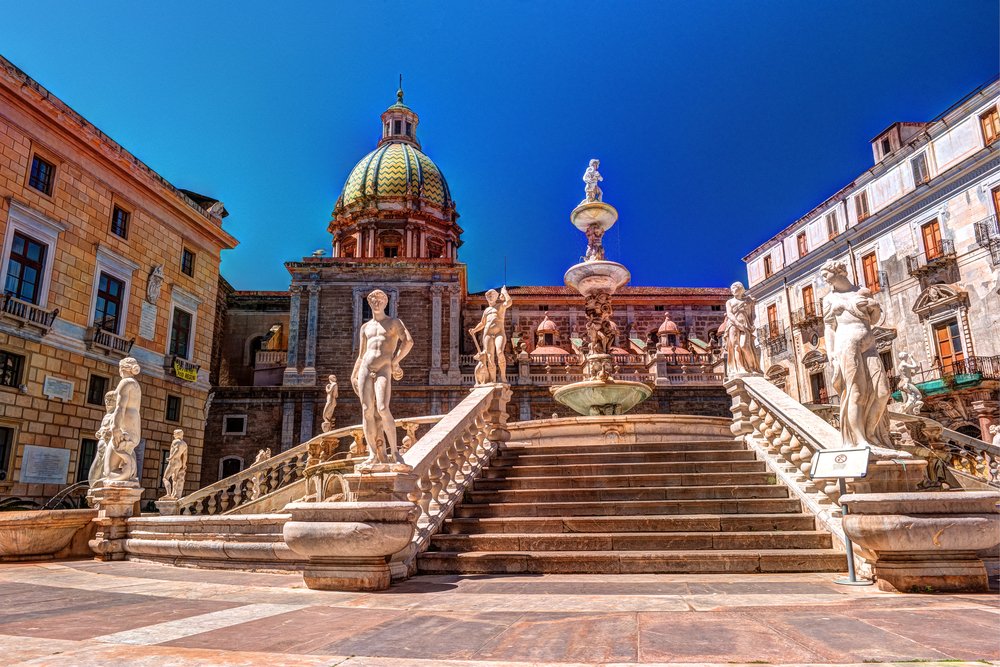 Note: This post contains affiliate links, which means I may receive a small commission if you purchase something through one of these links. Thank you for supporting the free content on this site! For more information on affiliate links and cookies, see my disclosure page for more details.
The gorgeous architecture, breath-taking churches, and delicious food blew me away, and I'm so excited to share them with you in this three day itinerary for Palermo!
Pack some comfortable walking shoes and an appetite, and get ready to discover a lively city with rich history and stunning landmarks.
But first, a few quick facts!
What to Know Before Visiting Palermo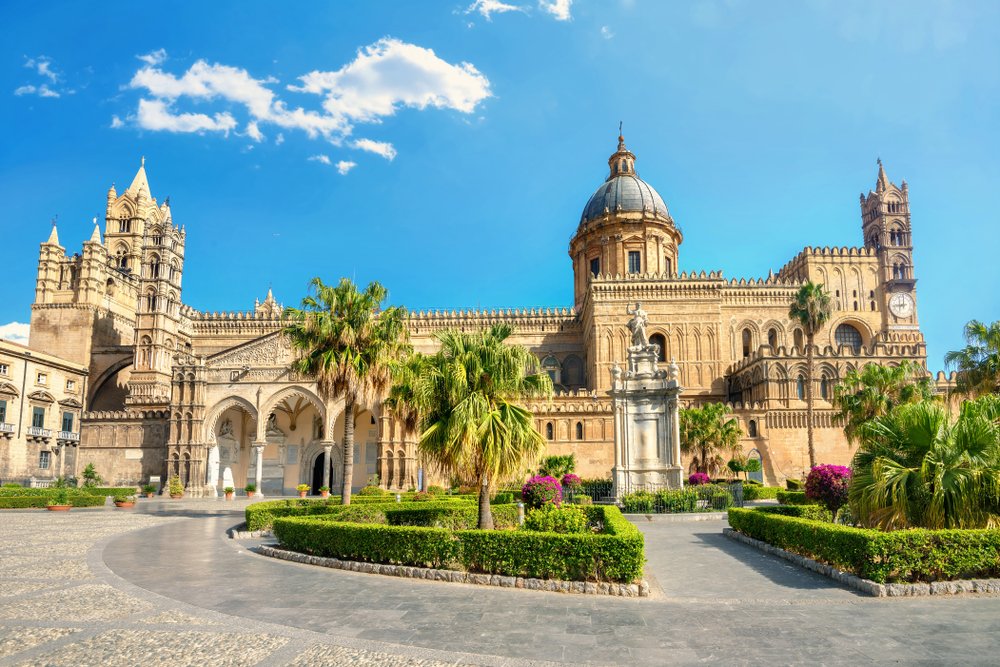 A little context is key before we jump right in!
Before diving into this three-day Palermo itinerary packed with spectacular landmarks, let's talk about the basics.
Going over a few practical tips will help you make the most of your short time in the Sicilian capital (and yes, 3 days in Palermo is short given how much there is to do and see!).
Best Time to Visit Palermo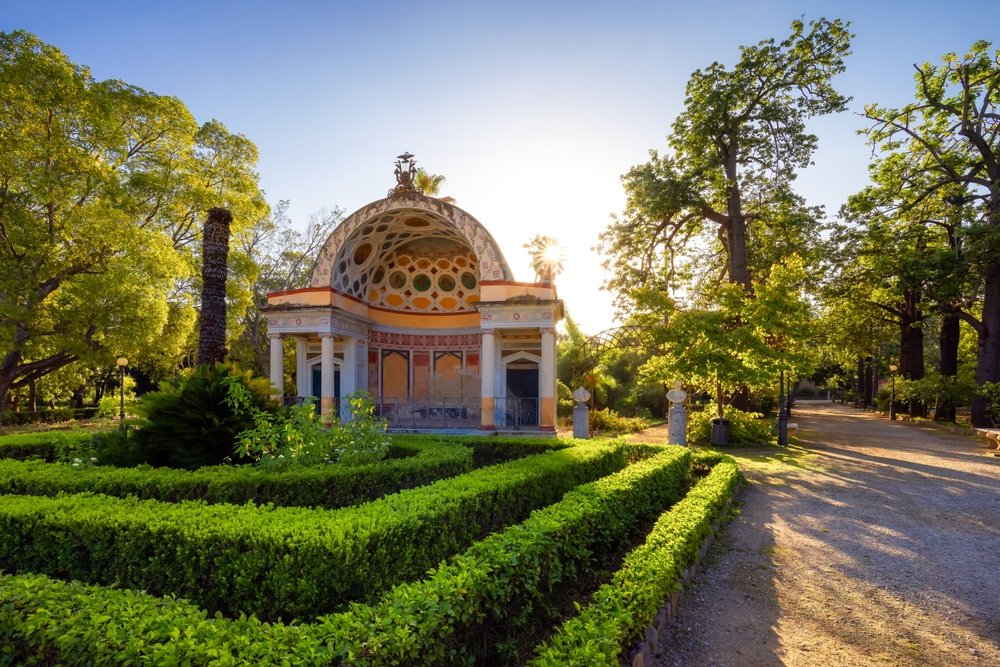 With its many landmarks and museums, Palermo is a great city to visit all year round.
However, unless unbearable heat and crowds are your idea of a good time, I'd steer clear of the summer months.
August and July are the peak tourist times, so consider visiting outside ofthose months.
In winter, you'll have a better shot at avoiding the crowds, but you may find that some places close for the slower season, and some tours may not be available.
The weather is still generally pleasant, even in the coldest months of January and February.
So, when's the best time to go? If you ask me, the sweet spot for a trip to Palermo runs from late April to mid-May, or throughout October.
You'll have the perfect mix of nice weather and smaller crowds, so you'll really be able to enjoy your time there.
How Many Days to Spend in Palermo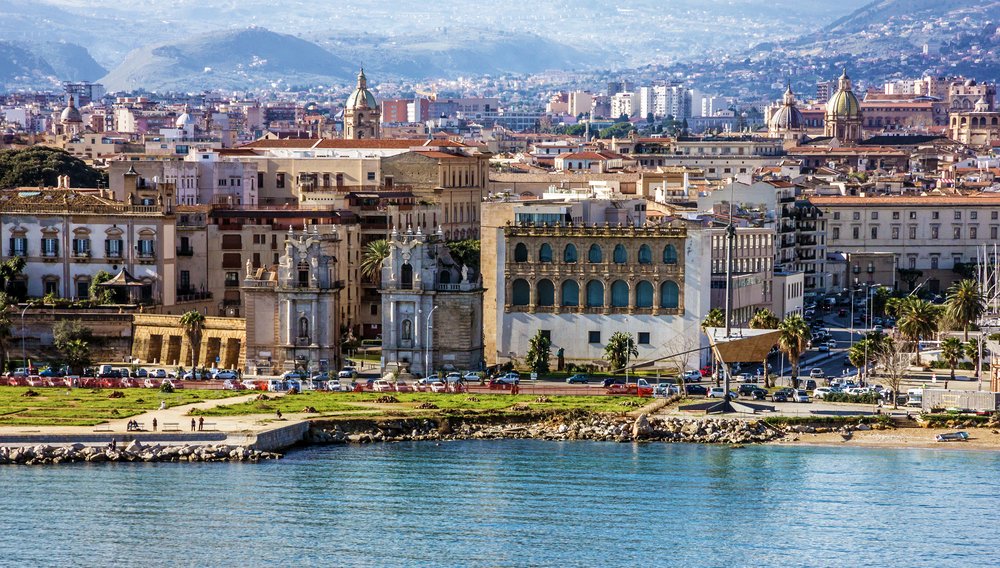 The right amount of time to spend in Palermo completely depends on the time of year and whether you want to visit museums and art galleries, or just take it easy and explore the city.
You could even see the main sights in a single day if you're taking a road trip around Sicily and are really pressed for time.
If you're not in such a rush, though, two days would be better to see all the important landmarks, but three days in Palermo is the sweet spot to really soak in the city and its surroundings (such as having a beach day at one of the many gorgeous beaches near Palermo).
This three-day Palermo itinerary covers all the most important sights to see, as well as a few spots within just an hour's distance from the city center.
How to Get to Palermo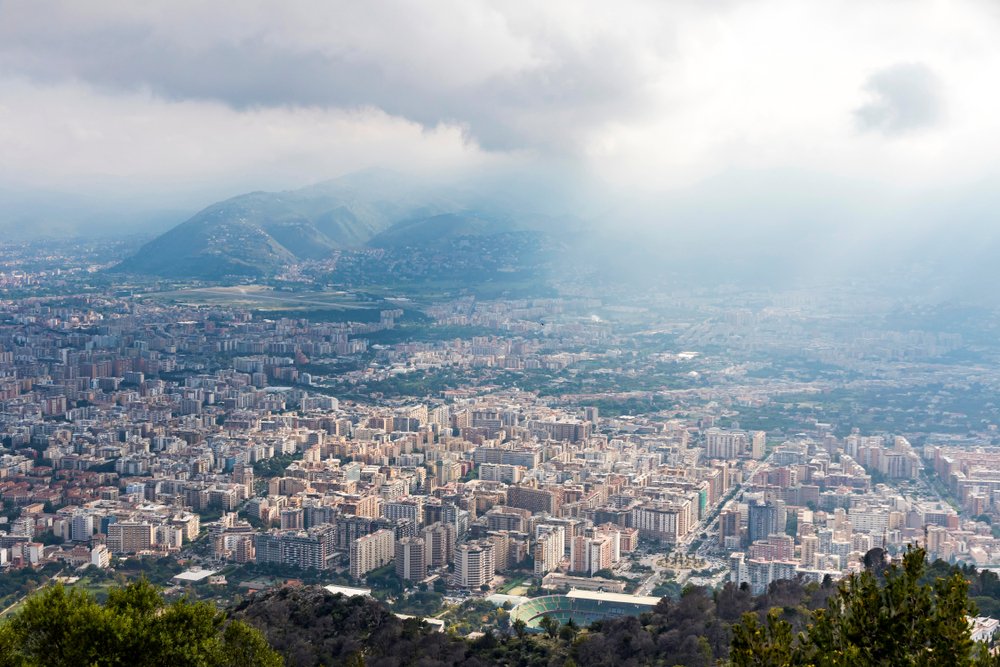 Conveniently, Palermo is served by an international airport, Aeroporto di Palermo Falcone e Borsellino, and it's only half an hour from the city center!
You can fly to Palermo from many cities in Italy and Europe, so it's a super easy spot to explore on a longer trip through the region!.
Alternatively, if you'll be driving through Italy and don't want to take a plane, you can cross the Messina Strait via ferry – from there, it's just about a three hour drive to get to Palermo.
For a truly unforgettable experience, I've saved the best for last! Since Palermo is a port city on the island of Sicily, you can even get to Palermo by ship!
Be warned, it's not a quick trip though. The most popular routes from mainland Italy are from Naples and Civitavecchia, just north of Rome.
The ride takes roughly 10 hours from Naples and 14 hours from Civitavecchia — perfect if 'slow travel' is up your alley, though perhaps not best if you only have a weekend in Palermo!
Getting Around Palermo
By Foot and Public Transit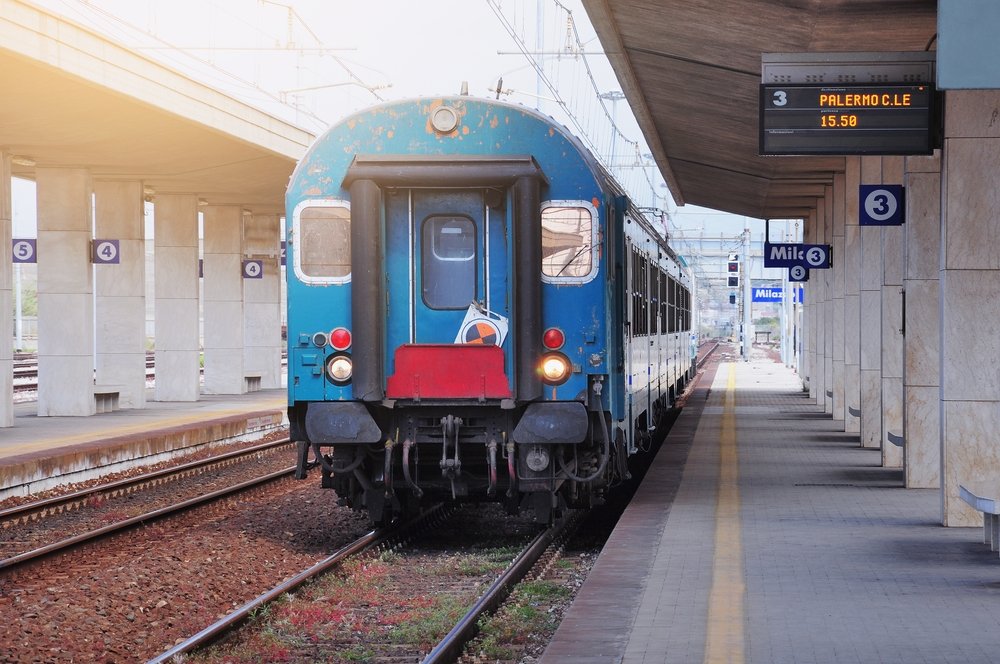 You can easily walk between most landmarks in the historical center of Palermo, but if you're traveling without a car, you may need to use public transport to reach a few spots further away.
If you can, try to stay close to the historical center, or the neighborhoods of Politeama-Libertà, Albergheria, Kalsa, Monte di Pietà, or Castellammare.
Palermo's public transit includes both trolleys and buses, and the fares are quite reasonable!
A single ride is just €1.40, but if you'll be relying on public transit to get around, you can also buy a daily, 2-day or 3-day ticket for between €3.50 and €8.
You can also book a hop-on, hop-off bus that will take you directly to Palermo's tourist sights if you want something convenient so you don't have to figure out the metro yourself.
Taxis in Palermo are cheaper than in other Italian cities, so that's also an option, especially at night.
There's even Uber service available through your phone, just like back home.
By Car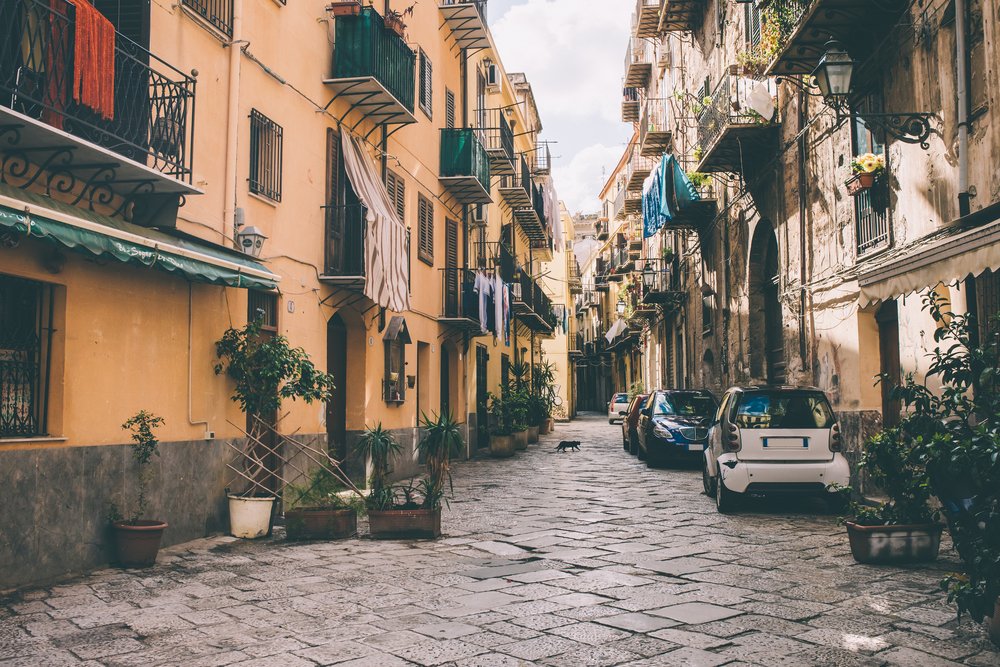 If you want to reach some of the further-out parts of Palermo, like the beaches near the city, renting a car may be your best bet.
That said, renting a car in Sicily (especially in Palermo!) is not always the best idea.
In Palermo, the streets are narrow, much of the center is a ZTL (zona traffico limitato) which you cannot access unless you are a resident, and parking can be a nightmare.
Renting a car is likely only a good idea for a day or two of this Palermo itinerary, or if you are spending a few days in Palermo as part of a longer Sicily itinerary.
If you do rent a car in Palermo, I highly recommend (and personally use!) Discover Cars for all my Europe car rentals.
They get the best prices compared to other car rental search aggregators, plus they show ratings and reviews easily so you can weed out unreliable companies.
Plus, their full coverage insurance is some of the cheapest around, typically adding only around $7 a day to have total peace of mind about your rental.
Be aware that Italy rental car prices only include a collision damage waiver, not full coverage, so you'll definitely want to add on full coverage to avoid any headaches if something goes wrong with your rental.
🚗 Best Sicily Rental Car Prices: Discover Cars

This search engine not only looks at the typical rental car agencies (which can be $$$), it also looks at local, small Sicilian agencies that may offer better deals. Their pricing is straightforward (no bait-and-switches) and they offer free cancellation if you need it.

➜ Check rental prices in Palermo with Discover Cars here!
Day 1 of Your Palermo Itinerary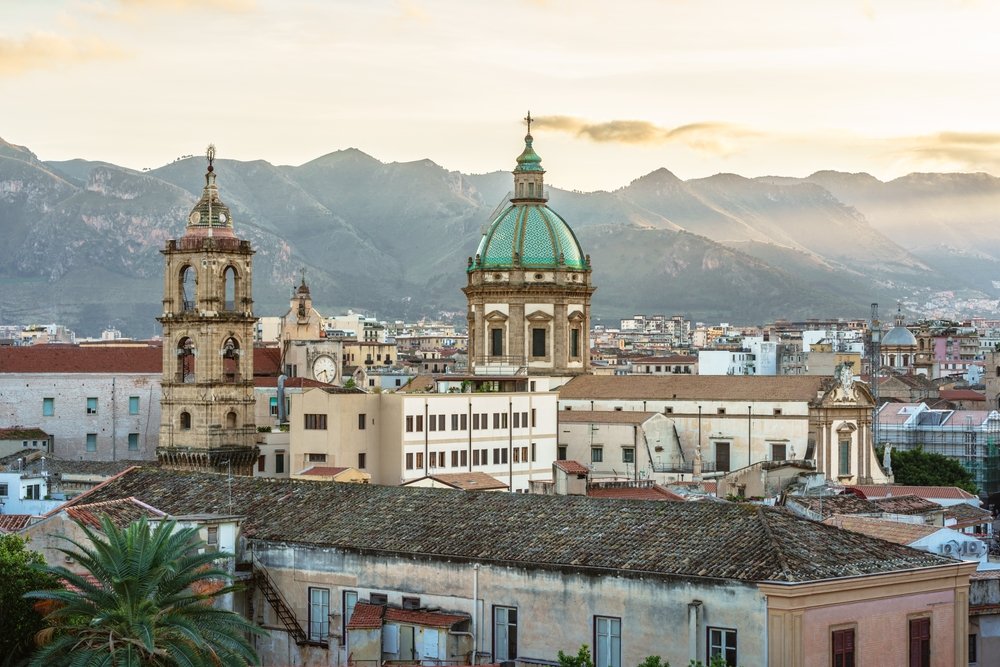 Okay! Enough with the preparations, let's get on with your trip to Palermo!
For your first day, just take in the city by exploring the historical center and its main landmarks.
Grab a quick breakfast to begin your day.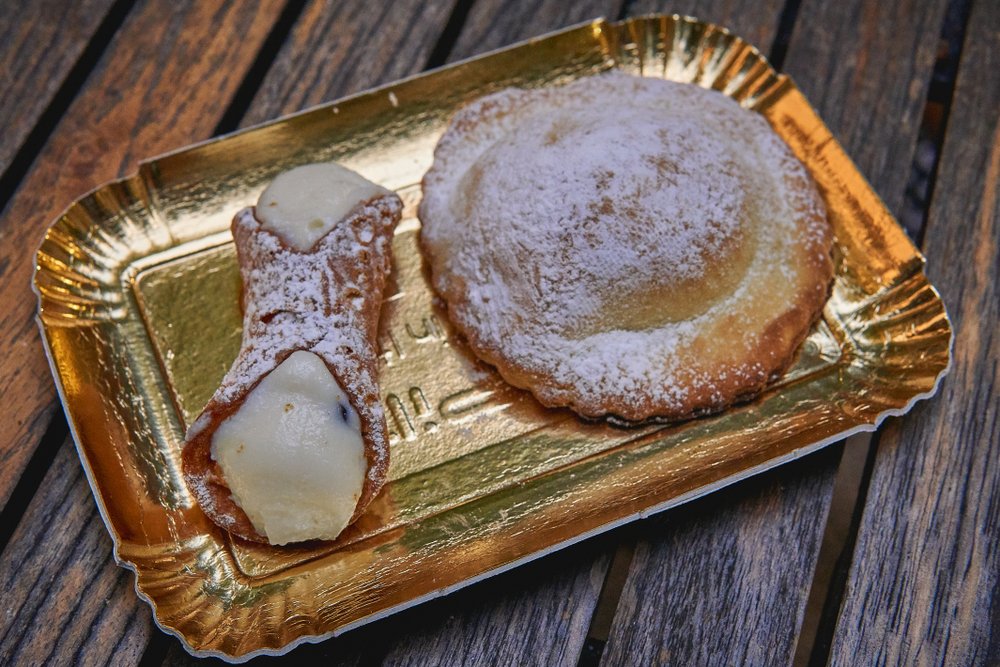 Before you do, start your day with a traditional (and delicious!) breakfast at Pasticceria Cappello, one of the best pastry shops in Palermo.
There are two locations, one close to Teatro Politeama and the other near the Norman Palace.
Start your sightseeing at the Palermo Cathedral.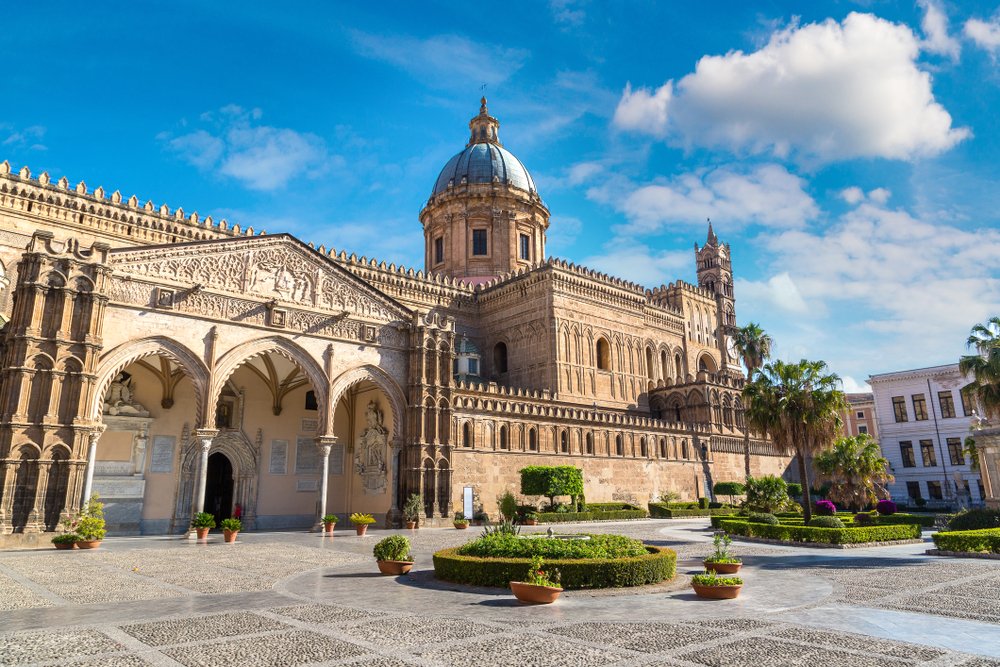 Begin your tour of historical Palermo with a visit to the city cathedral, the Metropolitan Cathedral of the Assumption of the Virgin Mary. Whew.
If that's too much of a mouthful, don't worry: most people just call it the Duomo di Palermo (Duomo is Italian for 'cathedral').
Built on the site of a former Byzantine basilica in the 12th century and later turned into a mosque during the Saracens' occupation, the Palermo Cathedral is history built atop history.
Like the city of Palermo itself, the Palermo Cathedral combines a variety of styles due to centuries of renovations and additions. It features elements of Norman, Moorish, Gothic, Baroque, and Neoclassical styles.
Palermo Cathedral is part of the UNESCO World Heritage Site known as "Arab-Norman Palermo and the Cathedral Churches of Cefalù and Monreale," which includes nine structures, seven of which are in Palermo.
The rich Arab-Norman heritage of Palermo is one of the city's most important features, and you will be able to discover it through many landmarks.
The cathedral itself is free of charge but you'll need a ticket for the Monumental Area.
This is so worth it, though! You'll get to seethe royal tombs of former rulers and their family members, the treasury, and the cathedral roofs (a must-see photo spot in Palermo!).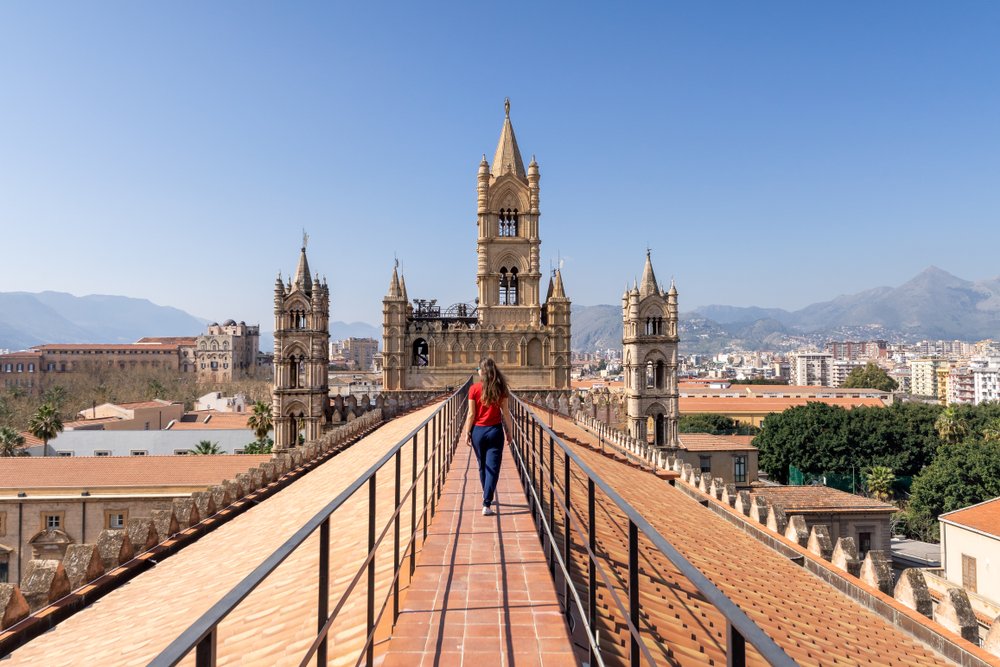 Plus, it includes access to the crypt with the tombs of former Archbishops of Palermo, including Gualtiero Offamilio, the founder of the cathedral.
The full ticket, including access to all the spaces of the Monumental Area, costs 12€, but you can also choose to visit only some areas.
If you really want the full historical and artistic experience, you can buy a combined ticket, which includes the Cathedral's Monumental Area and the Archbishop's Palace Complex with the Diocesan Museum.
The latter houses a rich collection of paintings, sculptures, and other art pieces from the 12th to the 19th centuries.
If you choose the full ticket with the Diocesan Museum, you can easily spend the whole morning visiting the various areas and art collections.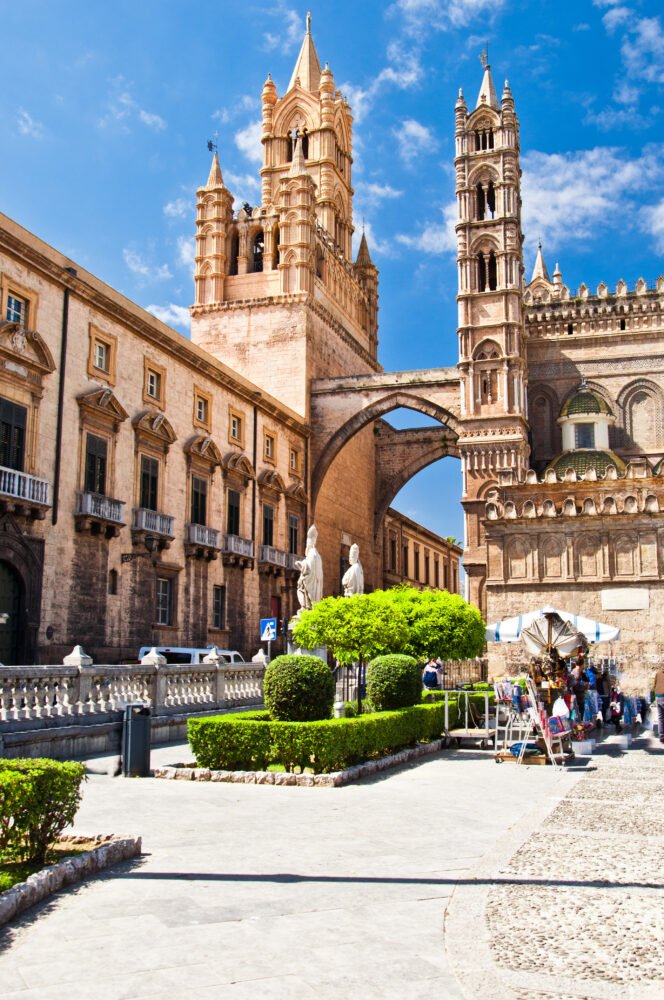 Just a heads up though; the Monumental Area is usually open only in the morning, so you'll want to get there early if you want to take it all in.
At the very least, I recommend getting a ticket with roof access – the view of the city will take your breath away!
If you prefer a more guided experience that gives you plentiful historical context, there are also UNESCO Heritage walking tours that cover the Arab-Norman churches that make up this historic site, including a visit to the Duomo.
This small group tour lasts 3 hours and brings you past the Piazza Pretoria, the Town Hall, the Royal Palace, the Martorana Church, etc. while giving you a history of the city.
The local guide then brings the tour group inside the Cathedral of Palermo for a historical tour of the interior, before ending on a sweet note (literally!) with a cannolo at the end… yum!
Continue to visit the Quattro Canti.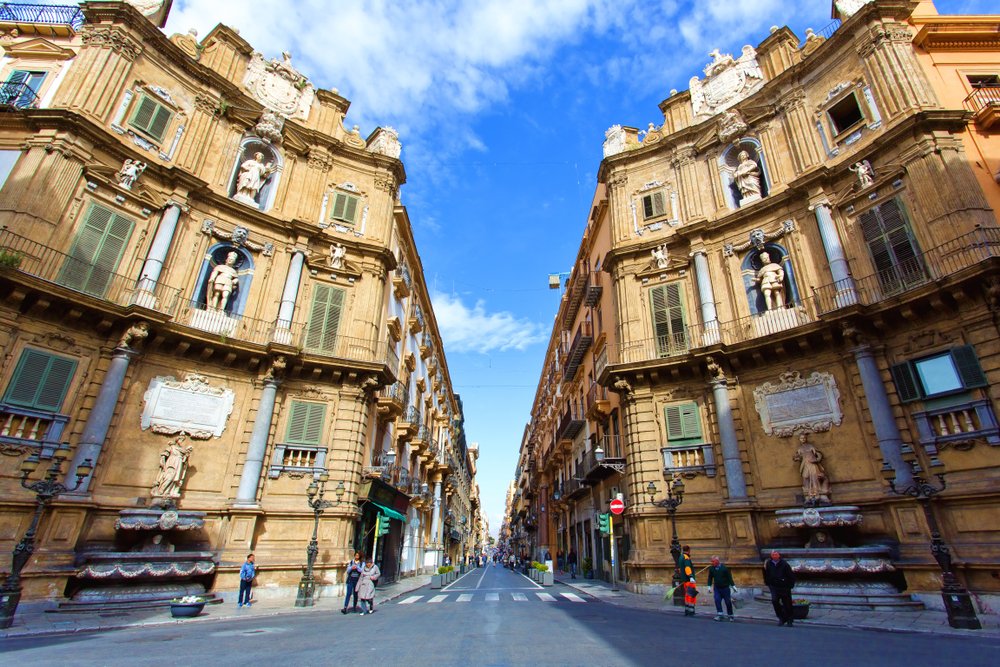 Continuing your trip into Palermo's storied past, you'll spend the rest of the morning exploring the historical center, in particular the area around Quattro Canti.
The octagonal square colloquially known as Quattro Canti is actually called Piazza Villena.
It's one of the most important squares in Palermo, thanks to its position at the intersection of two important streets, Via Maqueda and Via Vittorio Emanuele.
The name Quattro Canti (Four Cantons) refers to the four ancient quarters of Palermo that come together in this square: Kalsa, Castellammare, Albergheria, and Monte di Pietà.
Four of the eight sides of the square are similar Baroque buildings featuring intricate decorative elements and statues placed in niches on each of their three stories.
Visit the "Fountain of Shame" in Piazza Pretoria.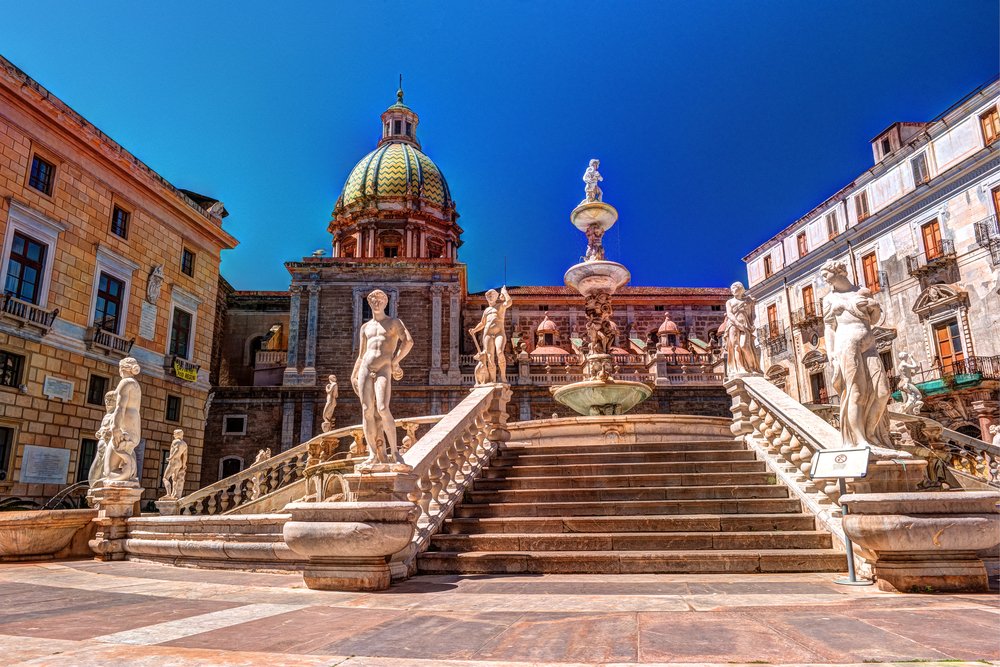 Right behind Quattro Canti, check out Fontana Pretoria, a 16th-century ornate fountain with a long and controversial history.
The fountain was initially built in Florence but was later acquired by Palermo's senate and placed in the same square it occupies today.
So, what's all the controversy about?
Well, the nudity of the many statues adorning the fountain angered the nuns of the nearby Dominican Convent (as well as many locals) and it soon became known as the "Fountain of Shame."
Take a lunch break.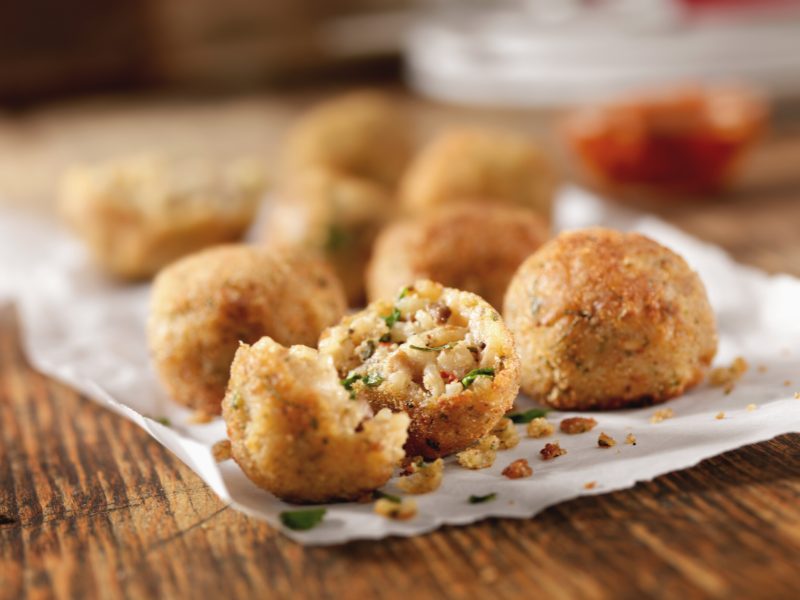 After all that, you'll probably have worked up quite the appetite!
Have a quick lunch break with local specialties like the delicious arancini from Ke Palle or a traditional sandwich from Pani câ Meusa – Porta Carbone.
Try the focaccia cà meusa (spleen sandwich) or panelle (chickpea fritters).
If you prefer to take a longer break, take in a proper lunch at Caffè del Kassaro.
Explore the massive Palazzo dei Normanni.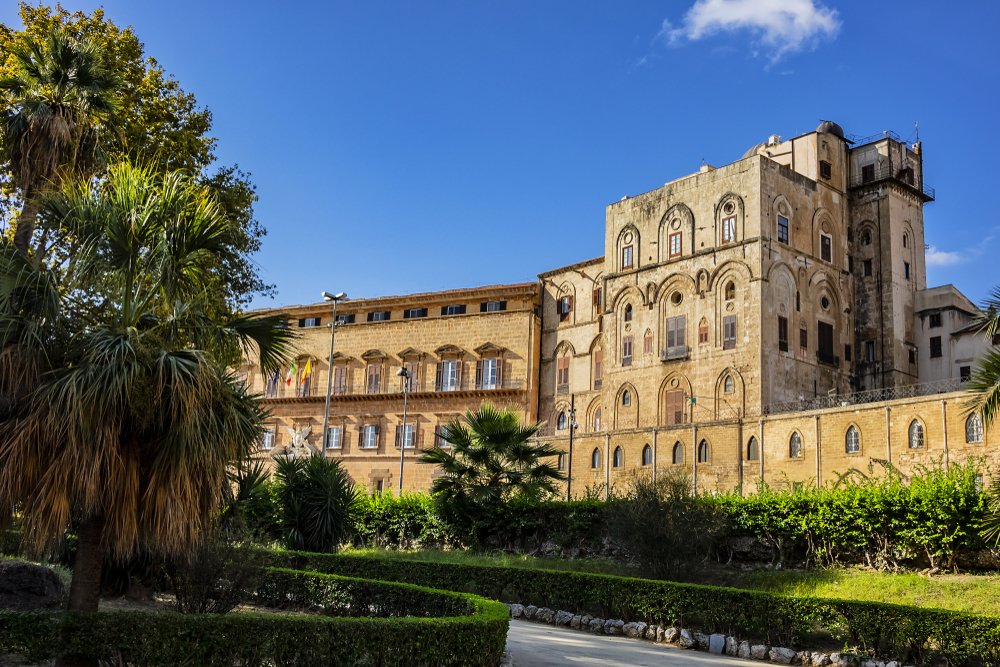 Feeling rested and full? Let's keep moving!
In the afternoon, head to the Norman Palace (Palazzo dei Normanni), a.k.a. the Royal Palace.
This is one of oldest royal residences in Europe (!!!) and the home of Sicily's royal family for centuries before being home to the Parliament of the Reign of Sicily.
The building is part of the same UNESCO World Heritage Site that includes the other Arab-Norman structures in Palermo.
The visit to the Norman Palace includes the Royal Apartments, the Royal Gardens, and the Palatine Chapel.
This last one is considered one of the world's most beautiful chapels, combining Byzantine, Islamic, and Norman elements for truly stunning and unique effect.
The Palatine Chapel dates to the early 12th century and stands on the site of an older chapel.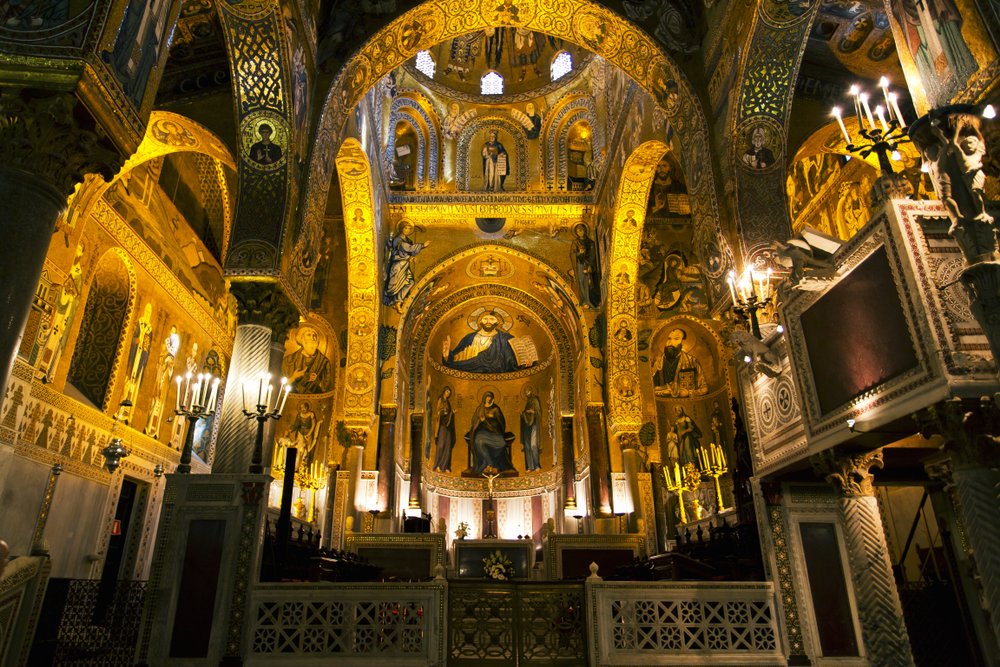 The most notable features are the mosaics covering the church's dome, ceiling, and drum, in particular the Byzantine ones.
Be sure to the opening hours of the Royal Palace before you go. In winter, the palace closes as early as 4:30 PM, so the last entry is at 3:30 PM.
Also, note that you can't visit the Royal Apartments on Tuesday, Wednesday, and Thursday.
Lastly, there may be early closures on certain days of the month, but all of this information will be available on the website.
See a show at Teatro Massimo.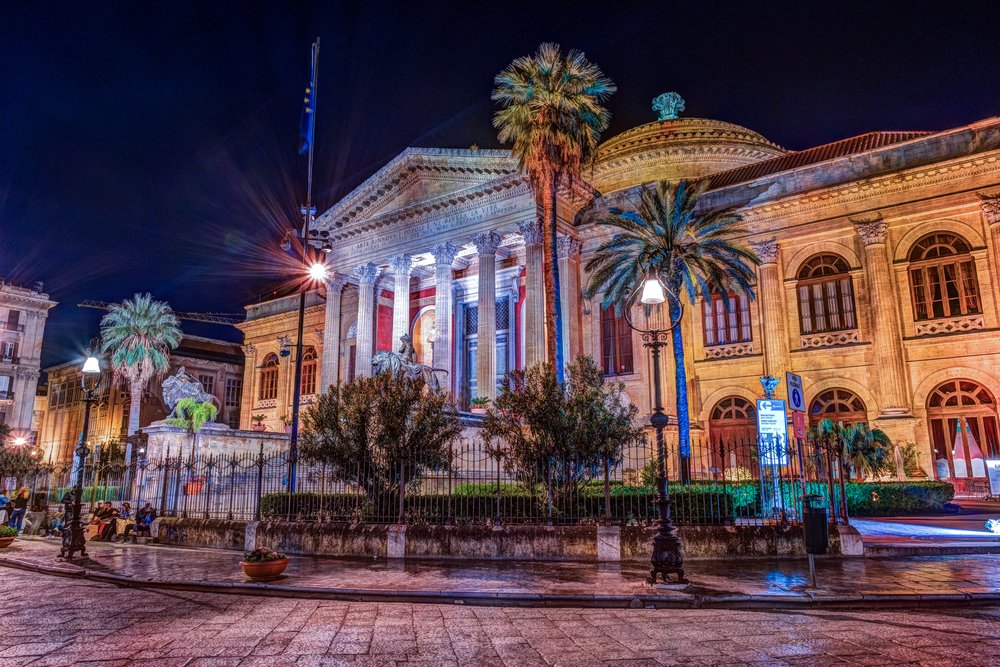 Your first day in Palermo wraps up with a visit to the city's spectacular opera theater. Even if you're not an opera fan, you just can't skip the iconic Teatro Massimo.
The opera theater is the largest in Italy and among the largest in Europe, renowned for its perfect acoustics. Sharp-eyed film fanatics might notice that the opera theater even served as a filming location for The Godfather, Part III.
Teatro Massimo dates to the end of the 19th century. Local architect Ernesto Basile wanted to build the most magnificent theater in Italy, even tearing down a nearby church to make space for the theater.
The first opera show in Teatro Massimo was the Falstaff, by Giuseppe Verdi, which premiered on 16 May 1897.
So if you're convinced now that you can't skip this iconic destination, you'll have two options to check it out.
You can take in a show or just join a guided tour, but you cannot visit the theater on your own.
There are half-hour guided tours daily between 9:30 AM and 5:30 PM. Save time by buying tickets online to avoid long lines, especially in the busy season.
If you're inclined to take in the full operatic experience, you can check what shows are on during your trip.
Tickets start at just €10, which is the same rate as the guided tour, so you might as well enjoy the full-on show experience!
Have a lovely walk and a dinner.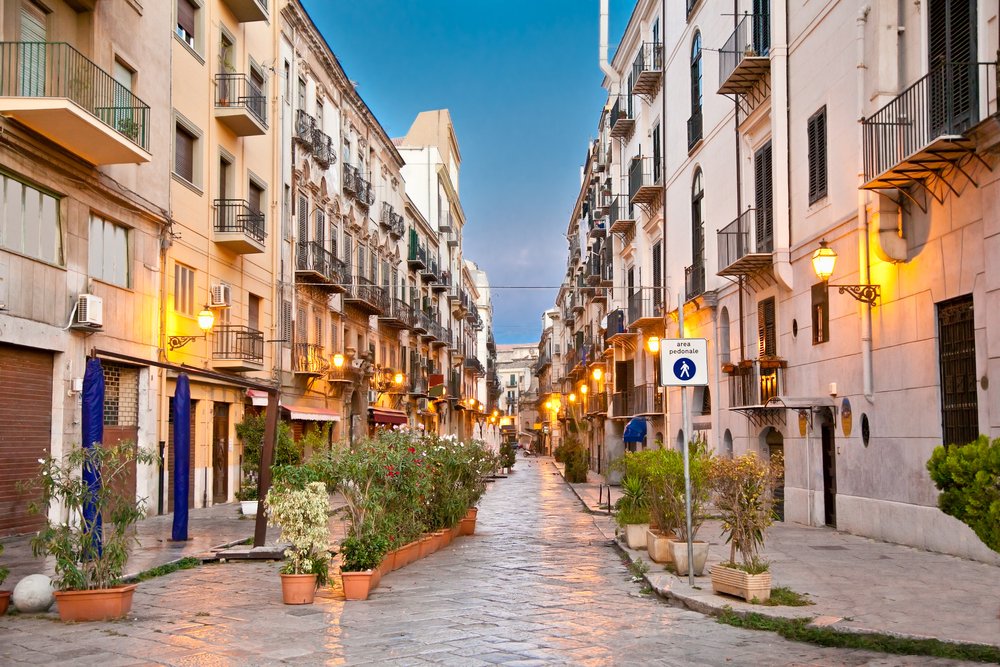 If you're not quite ready for dinner yet, simply wandering around Palermo's lovely historical center is a beautiful way to pass some extra time.
For some great shopping, check out Via Ruggero Settimo, Via Roma, and Via Libertà.
Another fun area to walk around by foot is La Kalsa or Mandamento Tribunali, both located in the old Arab quarter.
If you're in the mood for a seaside stroll, enjoy the beautiful views along Lungomare Yasser Arafat.
Since you'll surely be hungry by now, try seafood pasta, fish, and incredible Sicilian specialties at local restaurants Il Cambusone or Taverna Dei Canti.
Day 2 of Your Palermo Itinerary
Ready for another full day of beautiful Palermo?
There are plenty more landmarks to discover, so fuel up with a nice breakfast and get ready to visit even more beautiful churches and other historical buildings.
Check out the church of Chiesa della Martorana.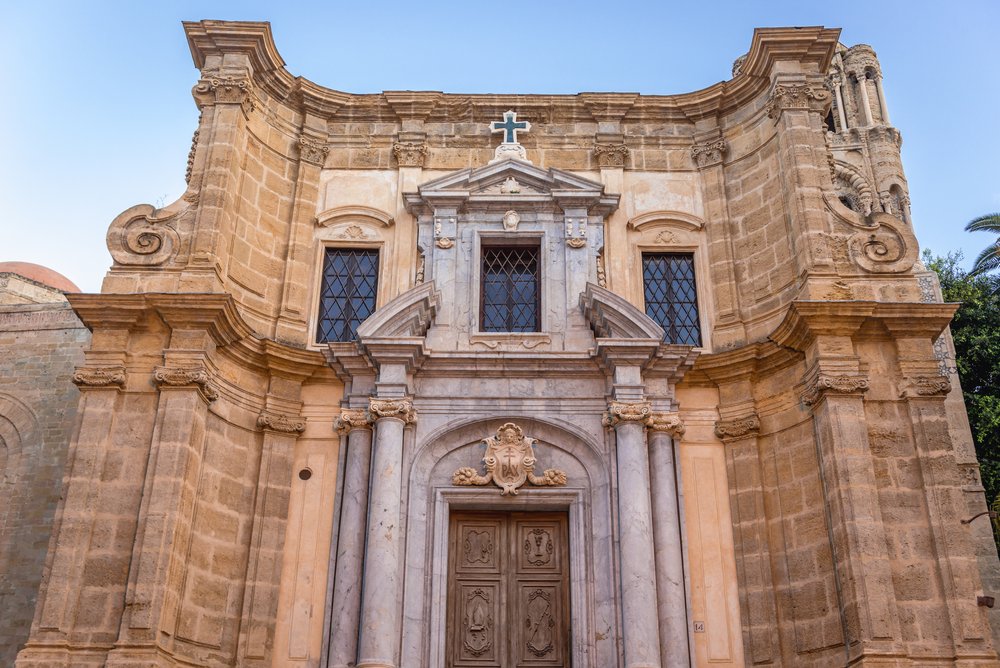 Santa Maria dell'Ammiraglio, also known as Chiesa della Martorana, is one of Palermo's most beautiful churches and cathedrals.
The 12th-century church is another part of the UNESCO site of Arab-Norman Palermo and features colorful mosaics in Byzantine style.
The church's nickname, La Martorana, comes from Eloisa Martorana, founder of a female Benedictine convent that used to be right by the church.
The nuns were renowned for their marzipan, made in the shape of various fruits, which soon became known as Frutta di Martorana.
As a tribute to this sweet history, you'll still find these marzipan treats in pastry shops all over Palermo!
There's a small fee to visit this church, but it's well worth it to admire the wonderful works of art inside.
Plus, you get a discount if you also visit other nearby churches, like Sant Cataldo, another beautiful church right next to La Martorana.
Visit Sant Cataldo with its iconic red-domed roof.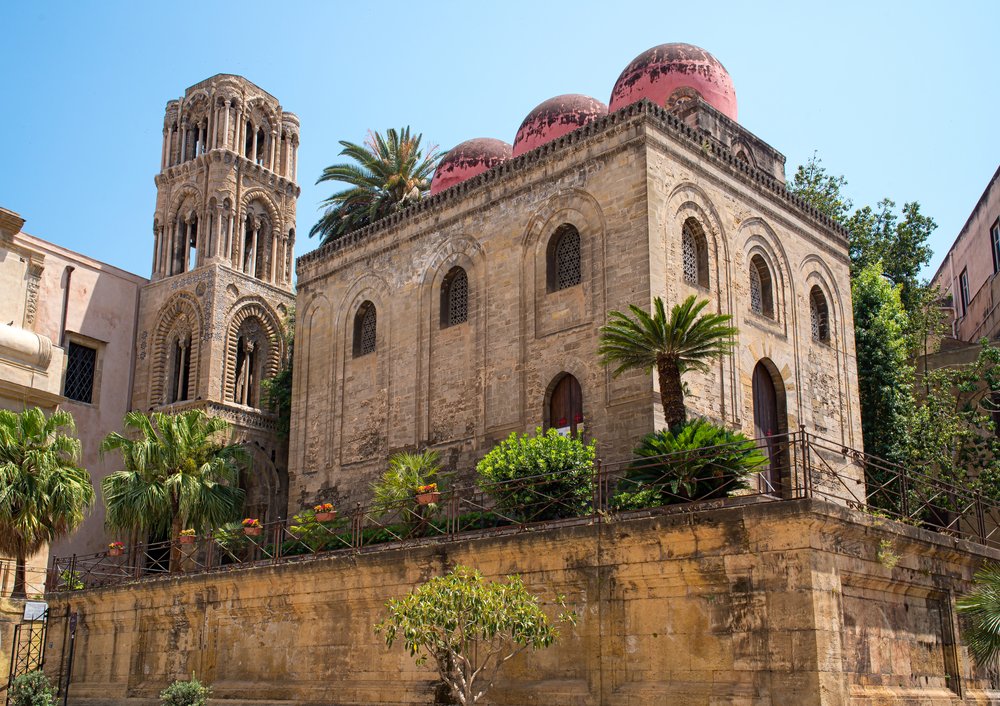 The Church of San Cataldo was built shortly after La Martorana, in the second half of the 12th century.
The distinguishing feature of the church, which is also part of the same UNESCO site, is the roof with three red domes.
The inside of San Cataldo Church is less lavishly designed than La Martorana, but its simplicity is strikingly beautiful.
Instead of the colorful mosaics, you'll see bare stone walls and imposing columns.
Wander through the Palermo street markets.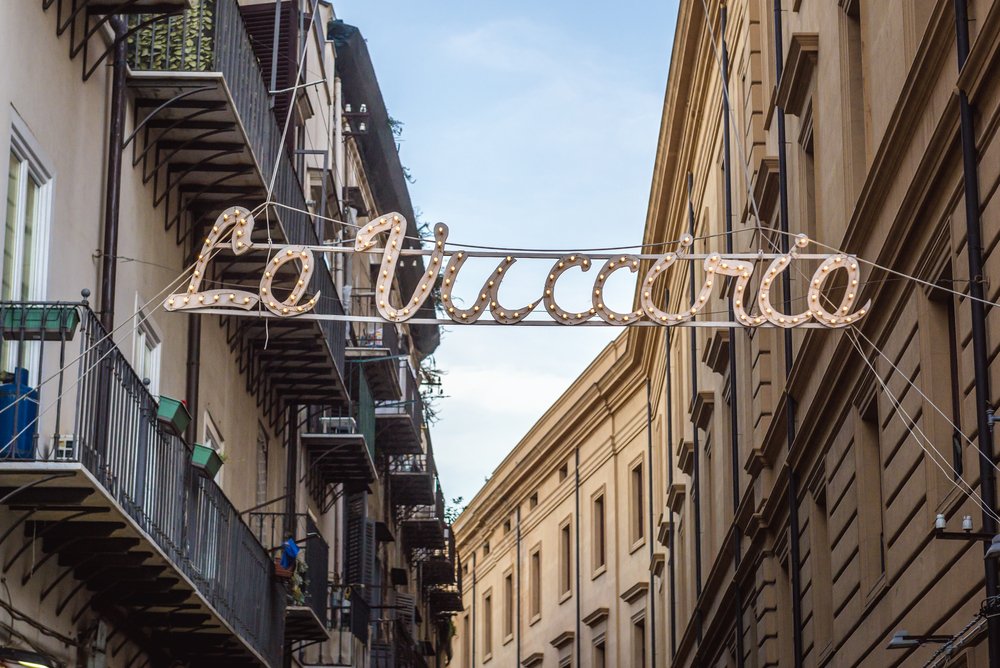 After all that history and hushed whispers, why not liven things up a bit?
Spend the rest of the morning wandering around the lively street markets of Palermo's historical center.
Here, you can take in all the flavors and colors of local products, buy some fresh fruits, and stop for a quick lunch. Try a tasty sandwich and indulge in a delicious cannolo.
The most popular markets in the center of Palermo are Ballarò and Vucciria.
The markets are very close to the churches of La Martorana and San Cataldo, so you can easily walk to both of them.
Ballarò is the oldest street market in Palermo, but Vucciria is just as important. Check them both out for an authentic taste of Palermo!
This is a great place to grab a quick lunch and truly taste the flavors of Sicily the way the locals do.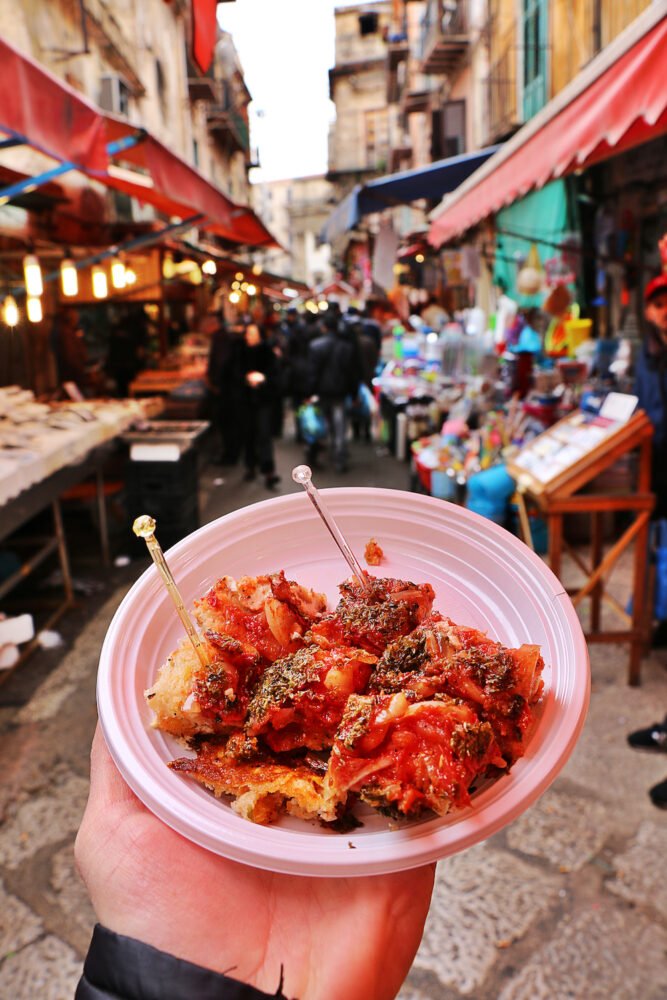 Another lunch option is to take a Sicily street food tour that includes a market visit — this will help you get a far better idea of what Sicilian food entails!
This tour of the slightly-quieter Capo Market includes tastes of five typical Sicilian street foods: arancine, crocché, sfincione, panelle, and the delicious sweet cannolo that everyone knows and loves!
While touring the market and tasting the foods, you'll also learn about Palermo's history, explore the Quattro Canti area, and get some historical context about the most important landmarks in the area — all while you nosh on some delicious Sicilian treats!
Best of all, this tour is relatively inexpensive considering it combines a 3-hour walking tour with a tasting tour that can easily replace lunch.
Note: This tour starts at 10:30 AM and lasts until 1:30 PM, so you may want to shuffle around a few of the morning activities unless you can get quite an early start!
Take a walk on the lovely Monte Pellegrino to see the Saint Rosalia Sanctuary.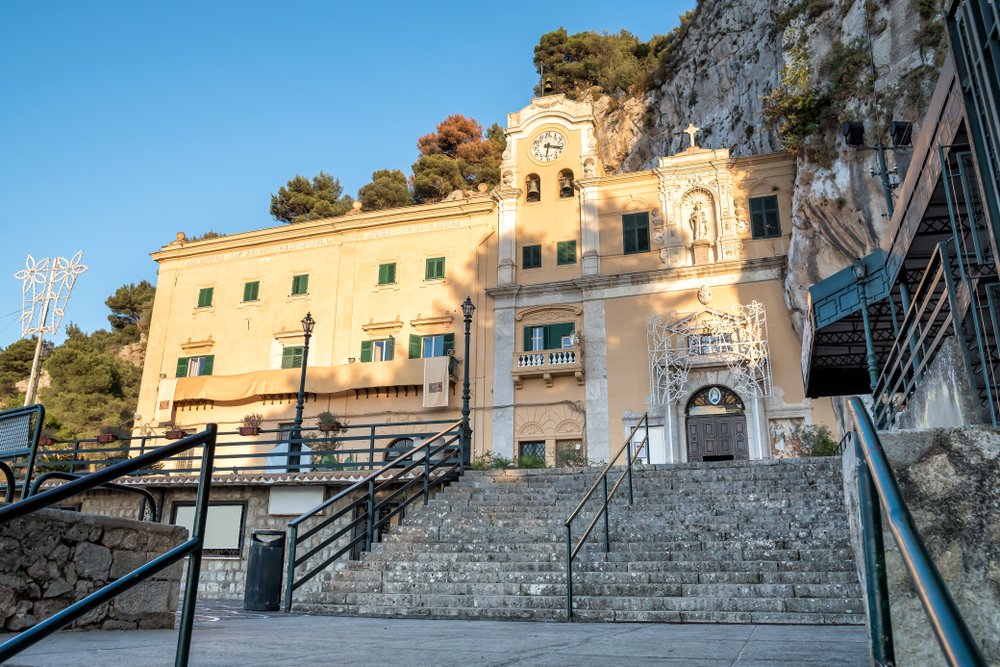 After lunch, if the weather allows it, stretch your legs and take a short hike on Monte Pellegrino.
The promontory in the north of Palermo offers absolutely stunning panoramic views of the coast as well as the beautiful Saint Rosalia Sanctuary.
To get to Mount Pellegrino, you can catch bus 721 from Piazza Crispi.
The bus stops right at the foot of the promontory, where you can start the climb.
It takes roughly an hour to get to Santa Rosalia Sanctuary, but you'll also find many viewpoints along the way.
The impressive sanctuary marks the site where the bones of Saint Rosalia were retrieved in 1624.
According to legend, Saint Rosalia lived as a hermit on Mount Pellegrino until her death.
The 17th-century church was built into the mountainside with access to the cave dedicated to the saint.
You can spend between two and four hours wandering the lovely paths that criss-cross Mount Pellegrino and taking in the picturesque views.
Depending on the time of the year, you may want to get back to the city in the early afternoon before it gets dark.
Explore the Catacombe dei Cappuccini.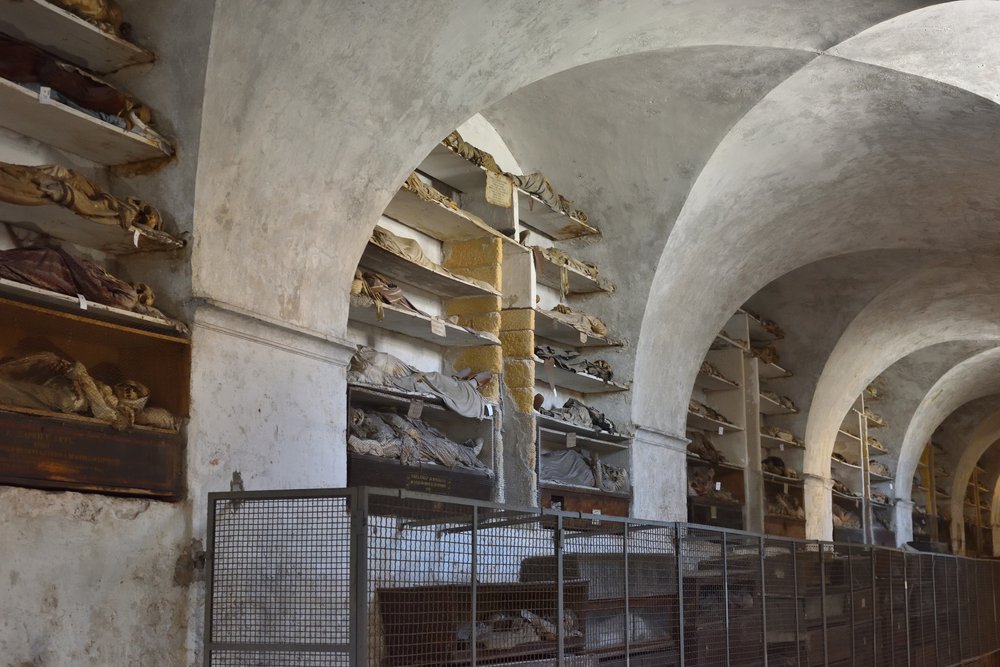 If you still have some time and energy left after the hike on Monte Pellegrino, you can spend the rest of the afternoon visiting two more landmarks close to each other.
The Capuchin Catacombs and Castello della Zisa (next up on this Palermo itinerary) are only 10 minutes apart on foot.
Start at the Catacombs, which tend to close earlier in the afternoon. The macabre yet fascinating place on the site of the Convent of the Capuchin Friars owes its origin to pure chance.
At the end of the 16th century, the growing community of Capuchin friars had a problem.
They were running out ofspace in the cemetery, so they decided to move the bodies of previously buried brothers to a new cemetery.
That's when they made a shocking discovery — 45 of the bodies were naturally mummified!
The Capuchins then decided to display the mummified bodies in niches on the cemetery walls.
Over the centuries, the Capuchins worked on perfecting the mummification technique, and today, you can see thousands of mummified bodies, including that of two-year-old Rosalia Lombardo, who was embalmed in 1920.
If you're not easily spooked, be sure to pay a visit to this incredible place. The entry ticket is only €3, and the visit takes only about half an hour.
Visit the Castello della Zisa.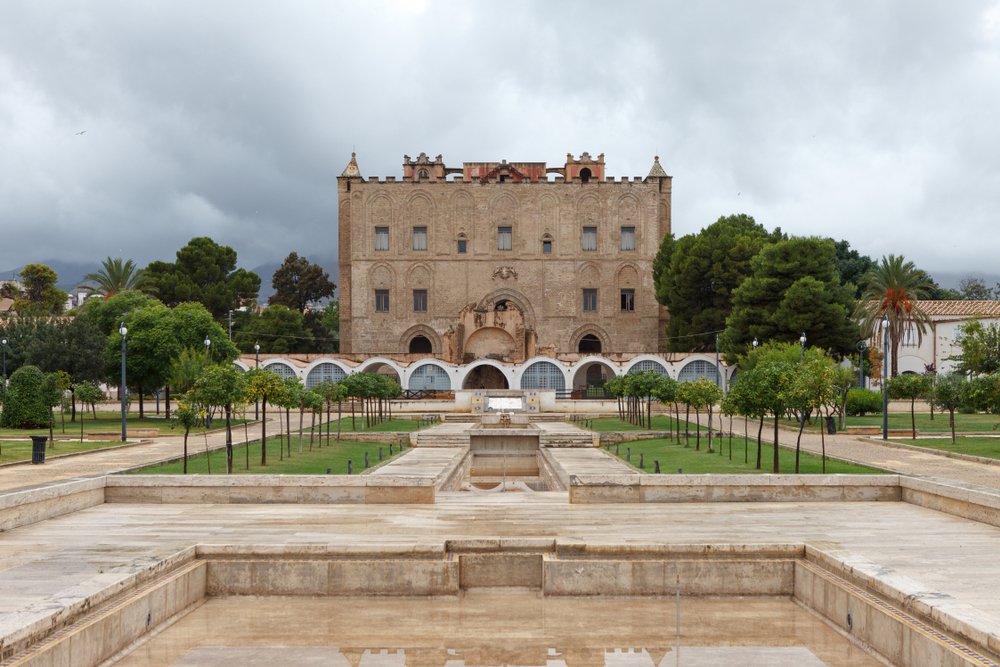 A short walk from the Capuchin Catacombs, you'll find Castello della Zisa, a.k.a. La Zisa.
This castle is another of the seven Arab-Norman structures included in the UNESCO list — and don't worry, it's far less of a gross-out than the catacombs above!
Although it has lost a bit of its historical magnificence, the castle is still an important landmark in Palermo.
La Zisa was built in 1165 on the orders of King William I of Sicily, also known as "William the Bad."
The castle was built using thick materials and small windows to control the temperature of the interior.
Far before its time, it also had an ingenious air conditioning system inspired by Egyptian and Mesopotamian architecture!
Have a mouth-watering dinner.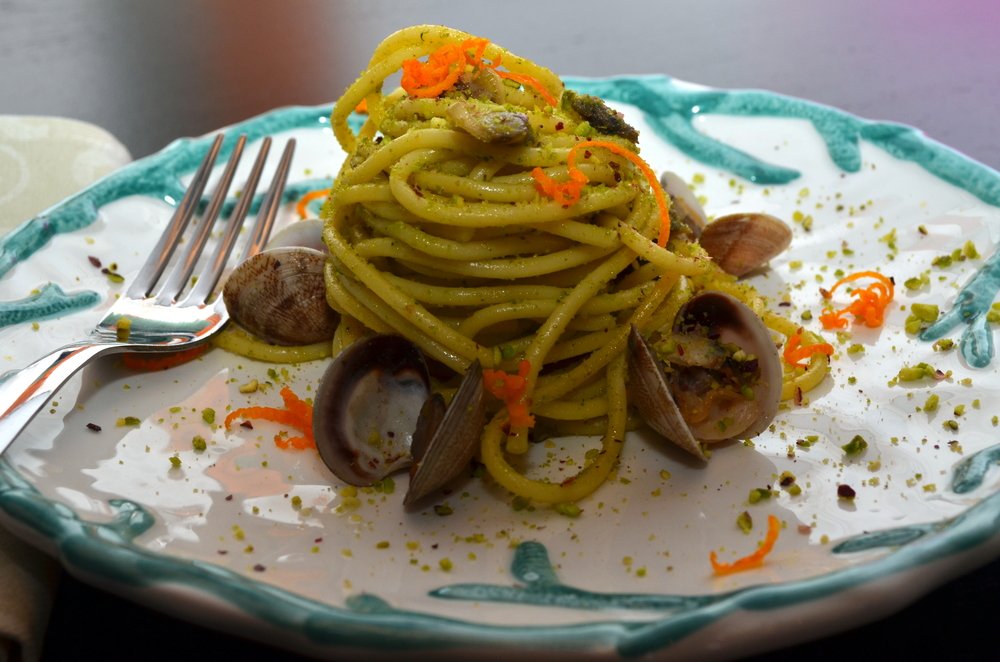 After the last stop of the day, head back to the historical center of Palermo for more wandering around, or just rest for a while in your room before going out for dinner.
If you want more Sicilian food, especially seafood, try the tasty and beautifully plated dishes at Sesto Canto.
If you're looking for something different and vegetarian-friendly, try the colorful and tasty vegan burgers at Flower Burger.
Day 3 of Your Palermo Itinerary
On your third day in Palermo, it's time to start exploring a few places in the surroundings of Sicily's capital.
Get your walking shoes on — this day of the Palermo itinerary is a long one!
Visit Monreale and Cefalù.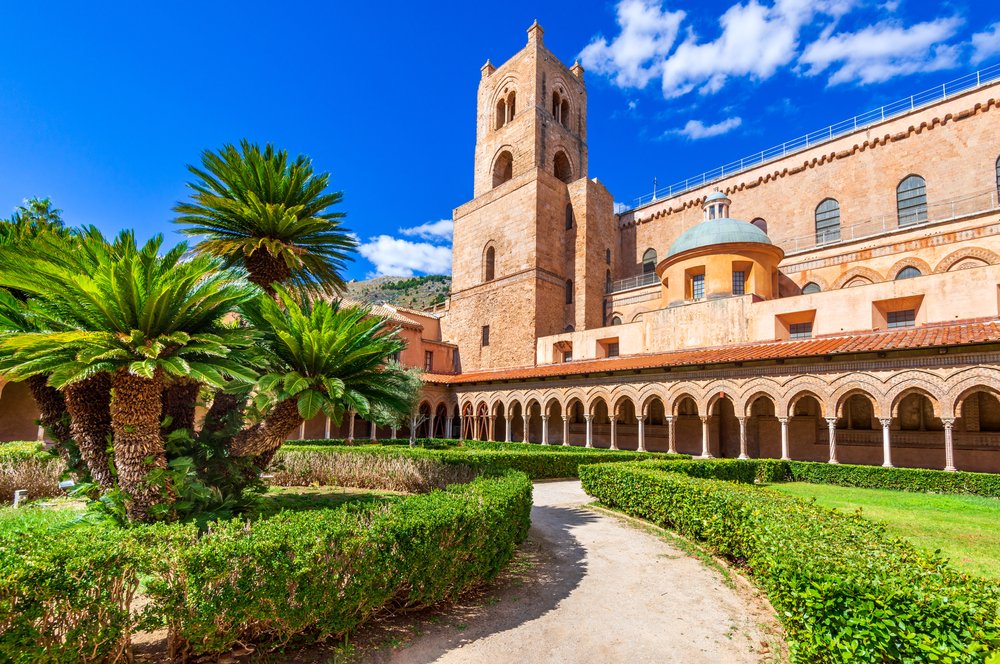 Begin your third day in Palermo with a half-day tour to Monreale and Cefalù.
This is how you'll discover the last two cathedrals of the UNESCO World Heritage Site dedicated to Arab-Norman architecture.
You can do this short trip on your own or join a tour: we'll go into both below!
By Guided Tour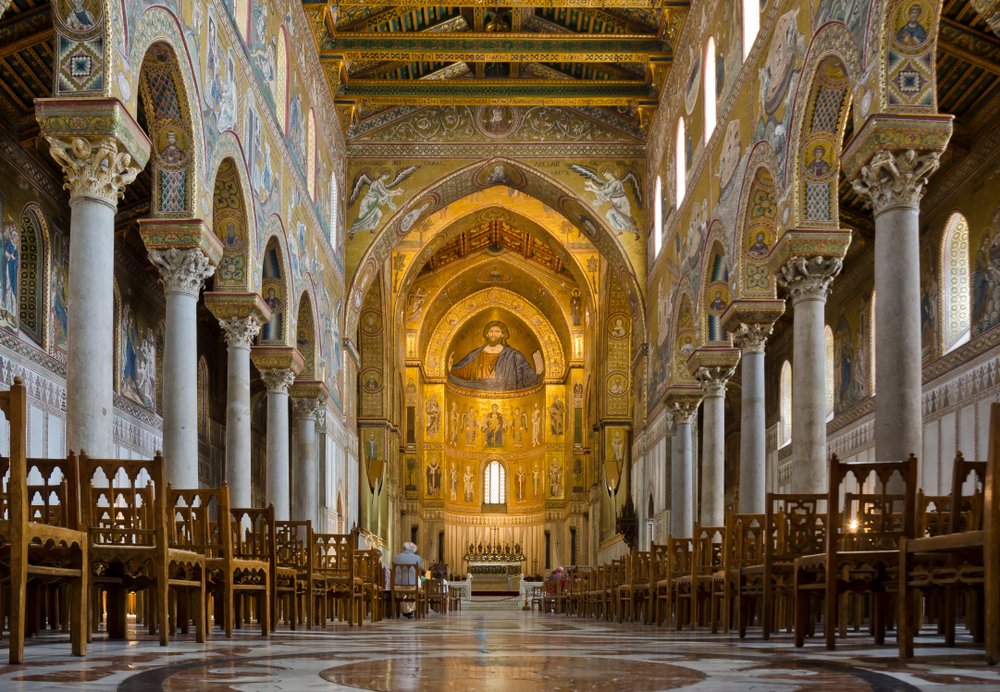 If you prefer the comfort of a guided tour, we suggest a tour like the Monreale and Cefalù Half-Day Trip to make things easier for yourself and not have to worry about deciphering Palermo's public transit system.
If you decide to join the group tour, you'll have to get an early start to leave from Palermo at 8:30 AM and head to Monreale, where you'll have one hour to visit the Duomo.
From Monreale, you'll go straight to Cefalù to visit the other cathedral and explore more of the lovely seaside city.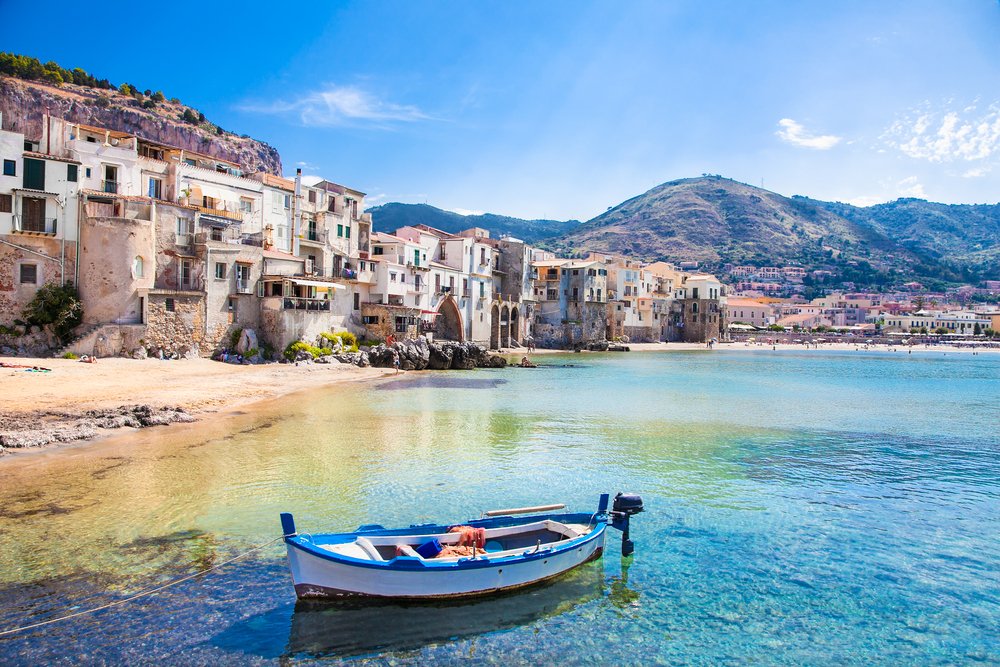 This half-day tour only includes pick-up, drop-off, and transportation between the sites in Monreale and Cefalù.
You'll have to factor in the entry tickets for the cathedrals and your meals.
However, the tour is a stress-free option if you want to save time.
By Public Transit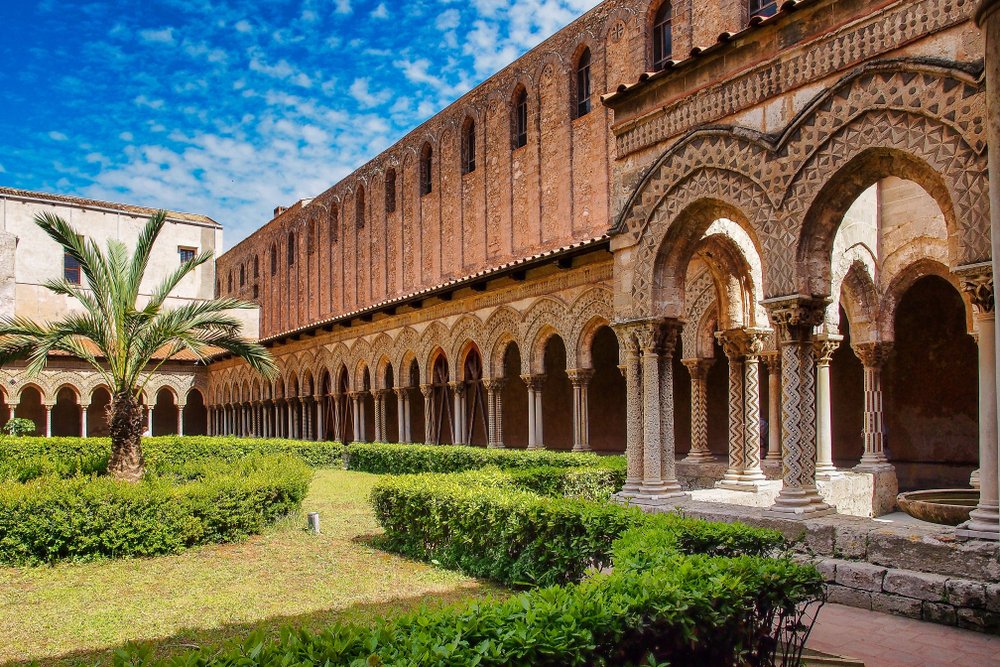 This self-guided part of the itinerary has you visiting Monreale first and then Cefalù.
If you prefer to sleep in a bit, or just want to move at your own pace, you can get to both places by public transport.
However, there is no transit between Monreale and Cefalù — you will have to double back to Palermo first, which can make this option a little more bothersome (and make a tour a little more tempting).
Monreale is very close to Palermo, on the slope of Monte Caputo.
To get there, Bus 389P departs from the Norman Palace and takes roughly half an hour to get to Monreale.
The Monreale Cathedral is famous for its golden mosaics depicting biblical scenes from the Old and New Testaments.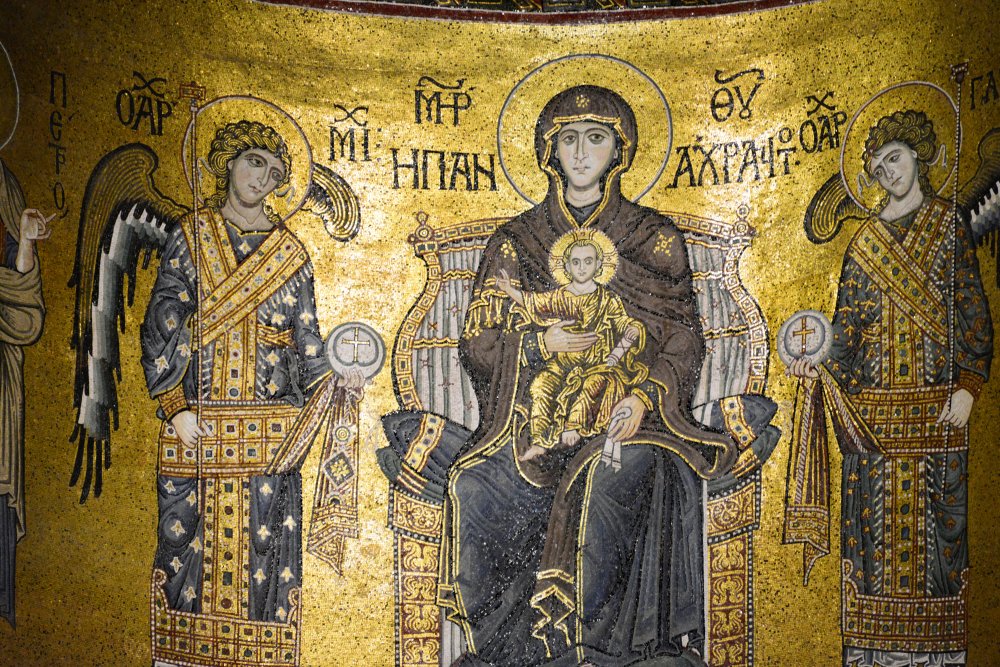 The Byzantine-style mosaics were executed between the 12th and 13th centuries by local and Venetian masters.
Aside from the Cathedral, you can also visit the beautiful Santa Maria Nuova Cloister. You can get a combined ticket for both monuments for €13.
After visiting the two sites, you can walk a bit around the small historic center of Monreale before continuing on to the next activity.
From Monreale, you'll have to get back to Palermo and catch another train to Cefalù.
The train ride from Palermo Centrale takes just over an hour and drops you close to the historical center of Cefalù.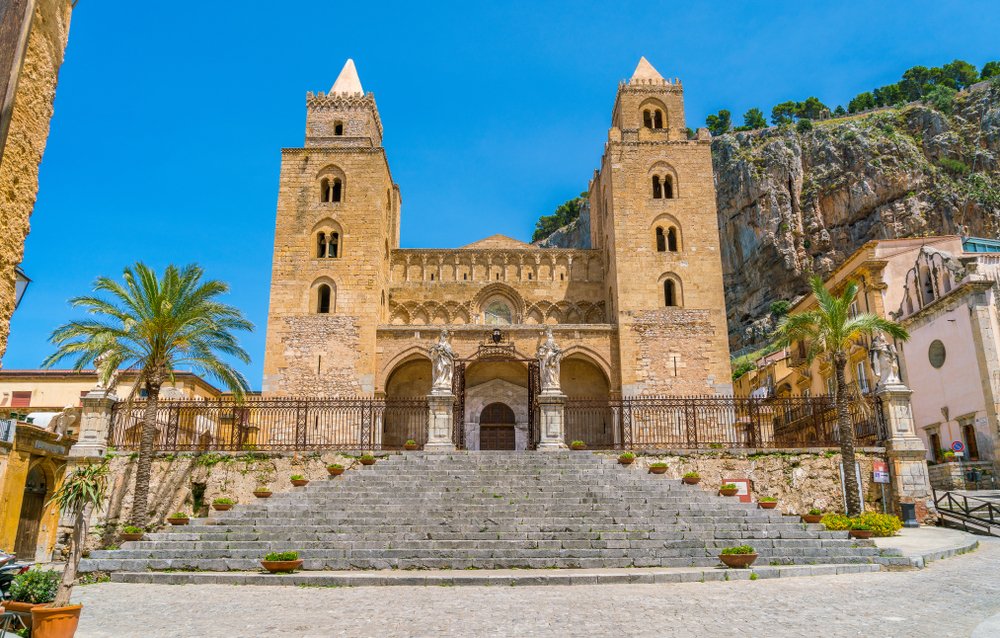 Like the other cathedrals included in the UNESCO list, the imposing Cefalù Cathedral features stunning mosaics in its interior, the most remarkable being a truly massive one of the Christ Pantocrator.
You can access the cathedral for free any time of the year. From May to October, you can also buy tickets for various itineraries.
These multi-site passes include not just the cathedral interior but also access to the towers and roof, the museum area, the Episcopal Chapel, and the Canons' Cloister.
You'll also get a chance to have an up-close look at the Christ Pantocrator mosaic.
After visiting the cathedral, you'll have some time to relax and explore Cefalù.
Check out the viewpoint at the northwestern tip, close to the cathedral, and go for a walk along the main city beach.
You can also stop for lunch in Cefalù, either before or after the cathedral visit, depending on your appetite!
Try delicious arancini at Sfrigola Cefalu or have a proper Sicilian lunch at Ristorante La Brace Cefalù.
Head back to Palermo for some final sightseeing.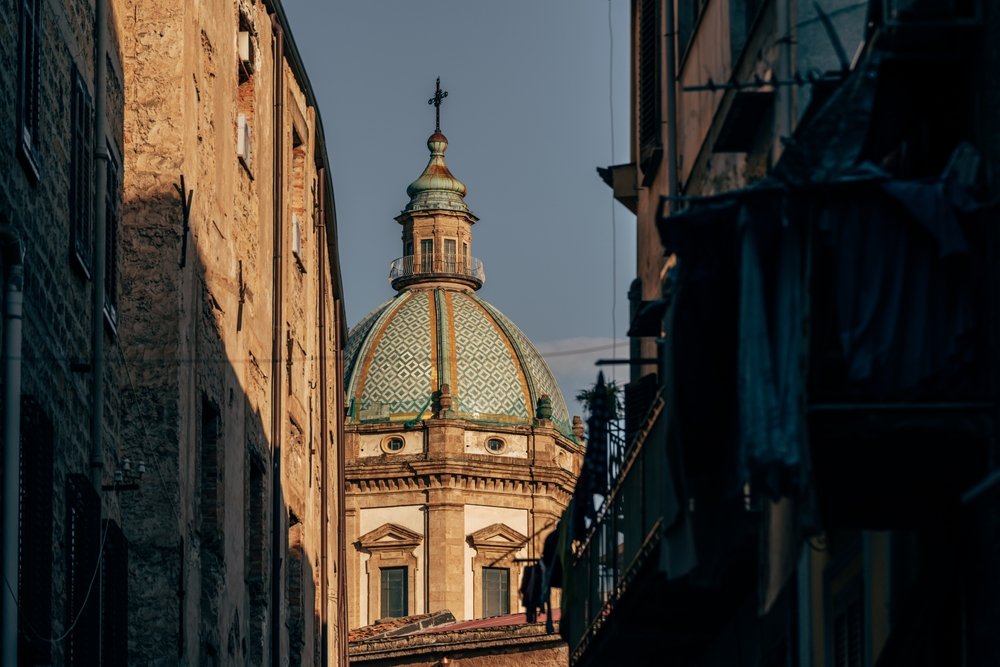 After exploring Cefalù, head back to Palermo and spend any time you have left checking out a few more sights you didn't get to see.
Other spots worth checking out are the Baroque-style Chiesa del Gesù with its elaborate bas-relief decorations and ornate, beautiful cupola which adds color to the Palermo skyline.
If you're interested in art history, check out the Regional Archeological Museum Antonio Salinas, dedicated to Phoenician and Ancient Greek art.
Grab a final dinner in Palermo.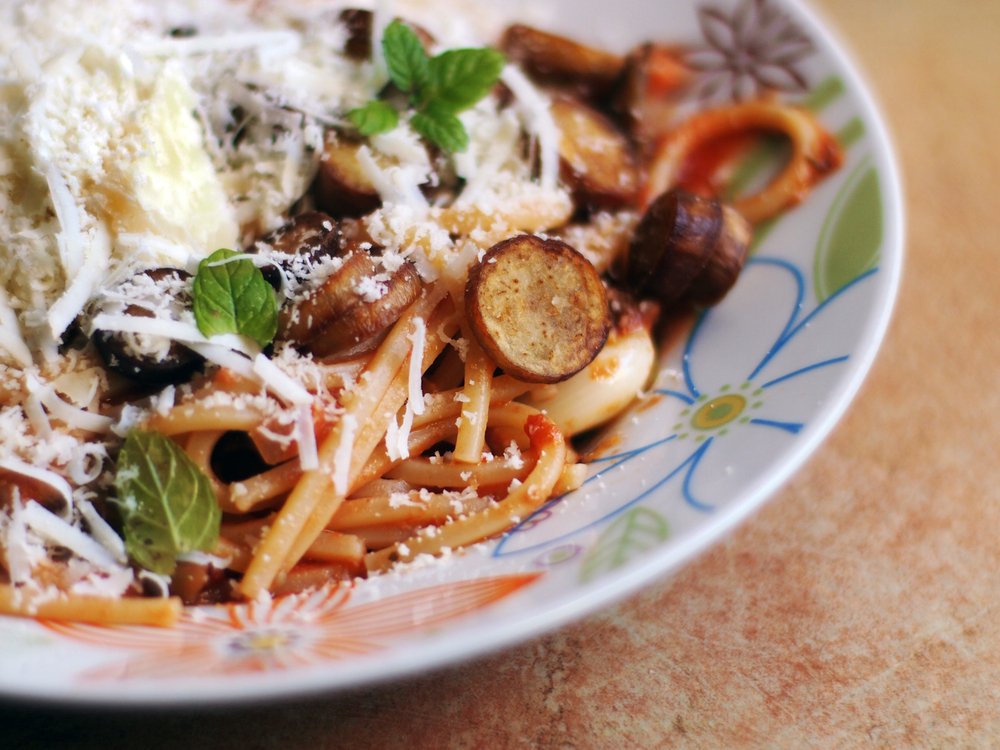 End your last day in Palermo with one last tasty dinner to end your trip with a memorable meal.
Some more great restaurants you can try are Osteria Nonna Dora for heartwarming traditional dishes and Carizzi d'amuri for more elegant fine dining.
If you're in the mood to experiment, try the combination of Italian and Ghanaian cuisine at HAMA Restaurant — it's a unique blend you won't find anywhere else!
If You Have More Days in Sicily…
These three days complete this short Palermo itinerary, but there's much more to discover in the Sicilian capital and within a couple of hours by car or train.
If you visit in summer, check out Mondello Beach and the nearby Sicilian beach towns of Castellammare del Golfo and San Vito Lo Capo.
Another must-see place not too far from Palermo is Agrigento and the Valley of the Temples, a stunning archaeological site with well-preserved Greek temples.
If you don't feel like packing up again and settling in a new home base, you can also find guided day tours from Palermo to Agrigento, like this full-day Villa Romana and Valley of the Temples Trip.
Where to Stay in Palermo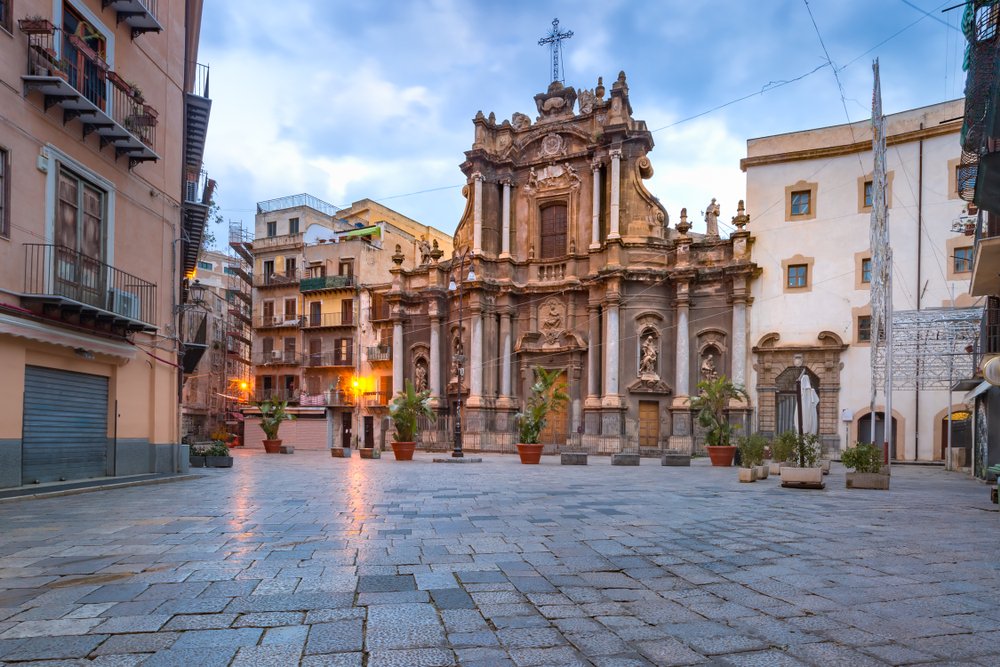 This beautifully redone hotel from the 20th-century, The Wagner, is now one of Palermo's top prestigious hotels and the ultimate luxury option for where to stay in Palermo.
Right in the heart of Palermo, you'll also fall in love with its design as well as its convenient location.
Its furnishings give off old-world opulence in every nook and cranny: beautiful chandeliers, exquisite oil paintings, rich marble details, and lovely wooden antique furniture.
There are also great amenities such as a piano bar, a fitness area, a sauna, and spa center.
Not far from the central location near Teatro Massimo, this is a great mid-range boutique hotel that offers a reasonable price.
While in a palazzo-style building, the rooms embrace a more minimalistic aesthetic that still manages to feel luxurious.
The coziness of the furnishings and palazzo is made even better by the charming hospitality of the host!
Budget: La Querencia (Check Availability Here)
This charming yet budget-conscious Palermo guesthouse is also near Teatro Massimo, enjoying a prime location.
However, it's a better place to stay than the above choices if budget is a concern, but you still want comfort and some convenience.
Simple but spacious and comfortable, the rooms give you all you need without any of the extras, and the kind hosts will make you feel right at home.
Plus, the lovely terrace views are something worth writing home about!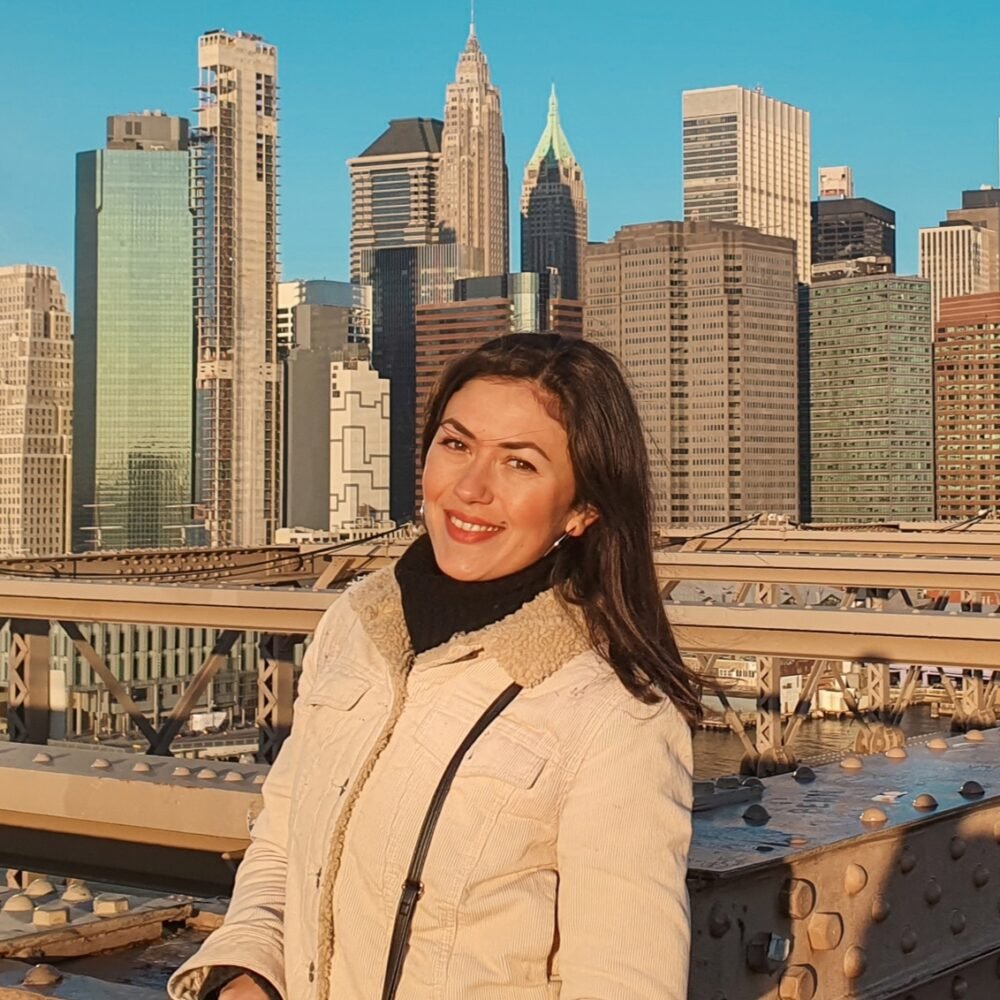 Roxana is a Romanian-born freelance travel writer who has lived in Italy for over 15 years. She has a Master's in Journalism and a Bachelor's in Film Studies. Her mission is to find hidden gems, even in the most popular travel destinations, and to inspire people to explore new places and cultures with the same curiosity! When she is not traveling, writing, or planning her next trip, she is either binge-watching TV shows or reading books.