From sparkling turquoise coastlines to rugged alpine peaks, taking a road trip through Italy is one of the greatest joys of traveling in Europe.
Taking an Italy road trip to enjoy the Mediterranean country's spectacular landscapes and charming little towns is certainly worthy of its spot on your bucket list; but where to go?
If you're not sure what the must-see places in Italy are and how best to organize them on an Italian road trip, don't worry!
You're in the right place to discover some of the best itineraries for road trips in Italy — we're about to hit you with 9 of our favorite Italy road trip itineraries.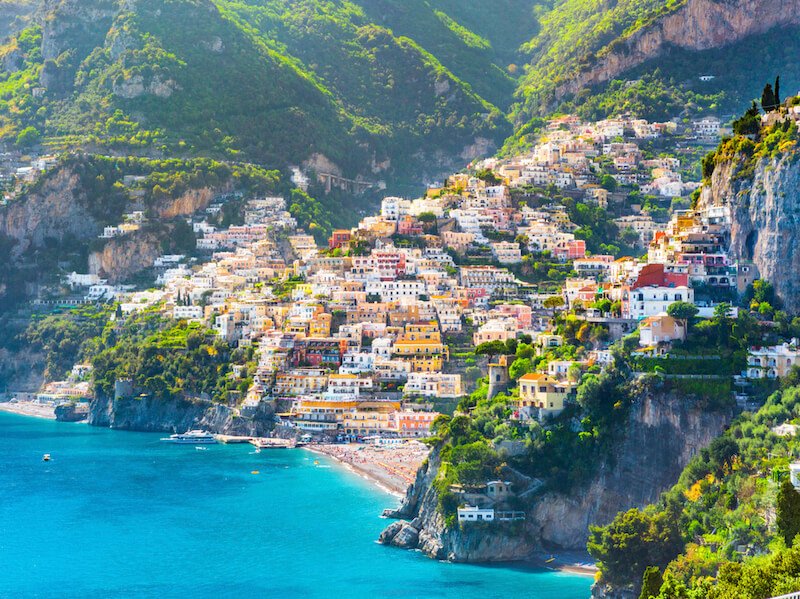 Note: This post contains affiliate links, which means I may receive a small commission if you purchase something through one of these links. Thank you for supporting the free content on this site! For more information on affiliate links and cookies, see my disclosure page for more details.
From breathtakingly beautiful beaches and perfectly jagged mountain ranges to azure lakes and picturesque little towns, you'll find a little of everything in this compilation of the best road trips in Italy.
Every Italy road trip itinerary covers a specific region, listing all the the highlights you shouldn't miss on a road trip ranging from four to eight days.
To make things simpler for your travel planning, each of these Italy road trips start and end in a big city served by an international airport, so you can easily book your car rental and discover some of Italy's most popular places and a few hidden gems.
And of course, while these Italy itineraries are rather jam-packed, don't forget to savor the little things that make Italy's la dolce vita so grand.
Remember, you always have enough time to stop at one of the cute corner cafés for an espresso or an inviting stand for a scoop (or two!) of gelato!
Picking Your Rental Car for Italy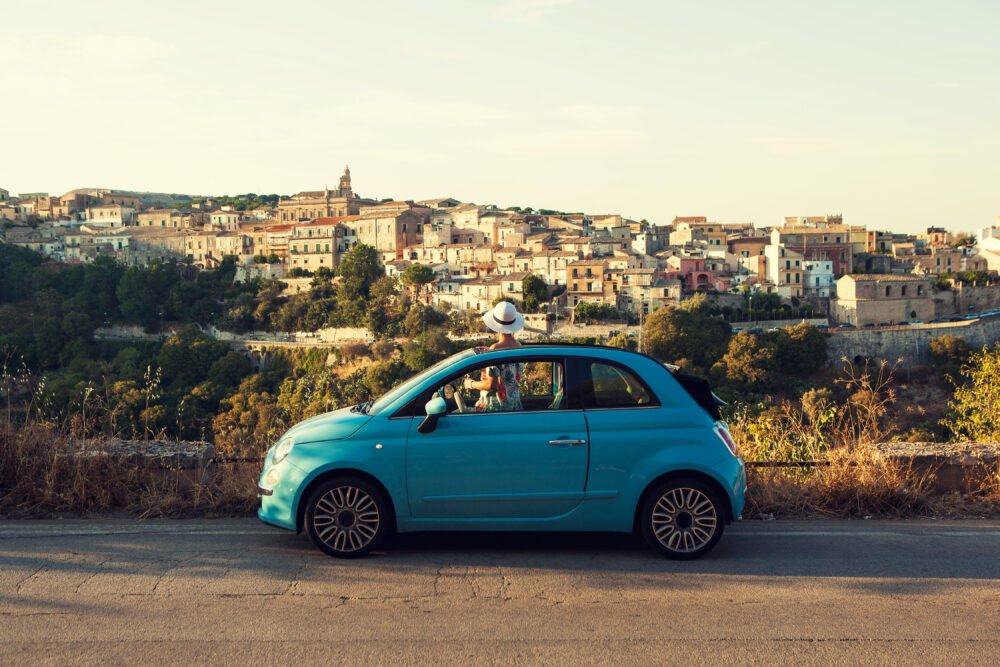 I always use Discover Cars when I'm traveling to find the best prices on my rental car.
I like that their pricing is very straightforward (and the best around) and it's easy for me to read recent reviews to weed out any rental agencies that aren't as reputable as the others.
Plus, Discover Cars offer the lowest prices on full coverage insurance, which isn't legally required to buy, but is extremely good to have in Italy.
Typically, their full coverage prices are only around $7 per day, a small price to pay for peace of mind!
🚗 Best Rental Car Prices: Discover Cars

This search engine not only looks at the typical rental car agencies (which can be $$$), it also looks at local, small Italian agencies that may offer better deals. Their pricing is straightforward (no bait-and-switches) and they offer free cancellation if you need it.

➜ Check rental prices in Italy with Discover Cars here!
The Best Road Trips in Italy
Puglia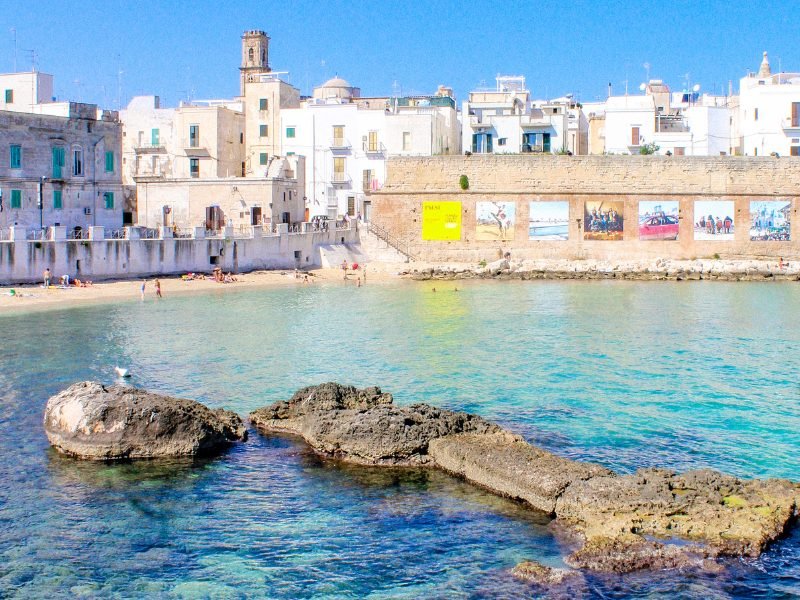 Recommended Road Trip Itinerary: Bari > Polignano a Mare > Monopoli > Ostuni > Alberobello > Bari
Rent a Car in: Bari
Recommended Time: 5-7 days
Puglia Road Trip Map:
Start your Puglia road trip in Bari, Puglia's capital city and one of the most important cities in Southern Italy.
Luckily, Bari is a major hub for a lot of low-cost airlines, so you'll find that it's easy to arrive at this Apulian capital if you're already in Europe.
Spend two nights in Bari to explore the lovely historic center with its impressive churches, experience delicious local food, and enjoy a walk along the waterfront promenade.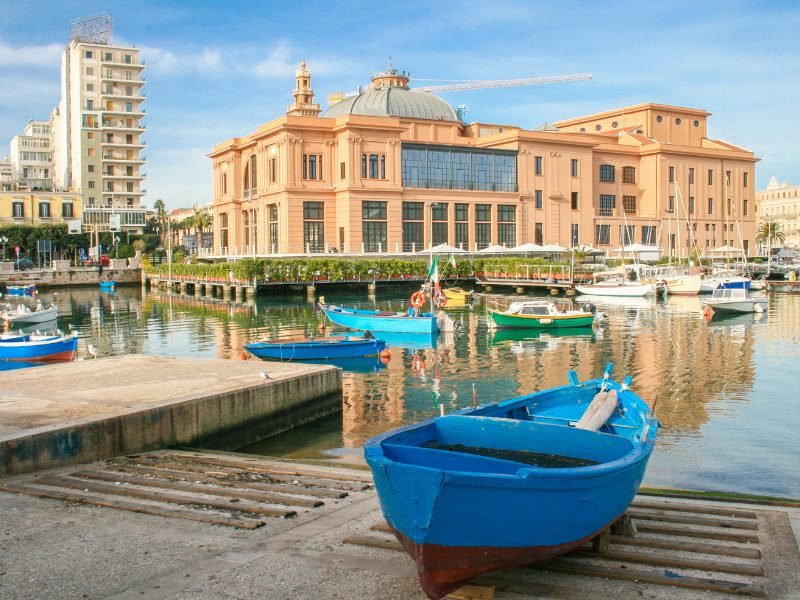 Along the narrow alleys of Bari Vecchia, stop by the local ladies selling all kinds of local goods, from traditional orecchiette (hand-made ear-shared pasta) to delicious taralli, a type of ring-shaped cracker that can be either sweet or savory.
From Bari, drive south to Polignano a Mare, an exceedingly charming small town best known for its picturesque beach, Lama Monachile.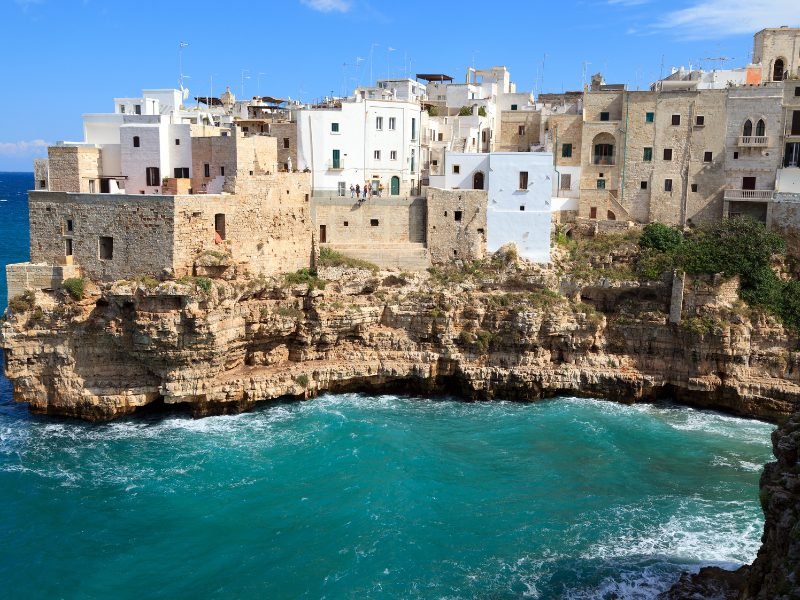 The small pebble beach with views of the sparkling Adriatic Sea is enclosed between dramatic cliffs topped by white houses.
It's a charming spot, althogh note that it is very crowded during summer months, especially because the beach is so small.
Fun fact: the spot is a popular location for the Red Bull Cliff Diving World Series!
From Polignano a Mare, keep driving south to reach Monopoli, a fascinating seaside town dating back to ancient times and featuring a charming historical center and a gorgeous Baroque cathedral.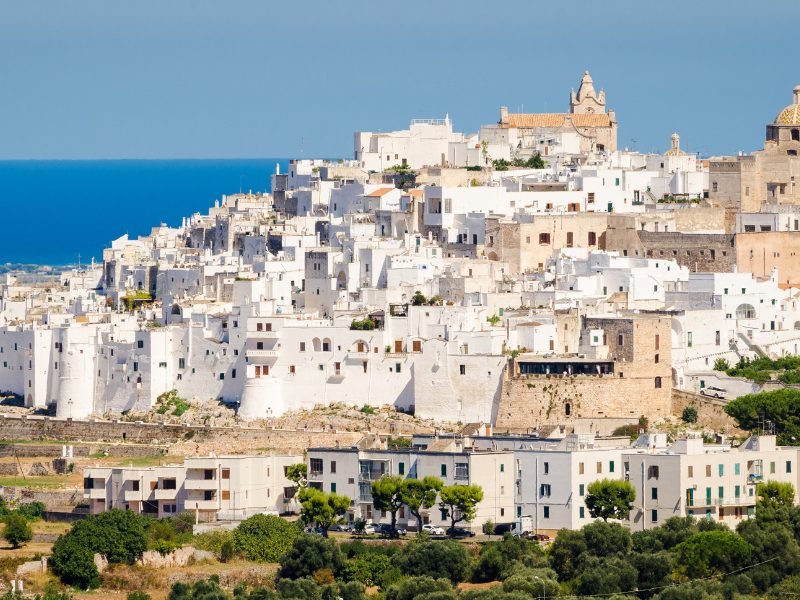 Further south, stop by Ostuni, also known as the White City, to admire its famous whitewashed houses of the historical center.
Explore the little alleys of the old town, check out ancient landmarks, and dine at a cozy osteria.
On your way back to Bari, don't miss the chance to stop in Alberobello!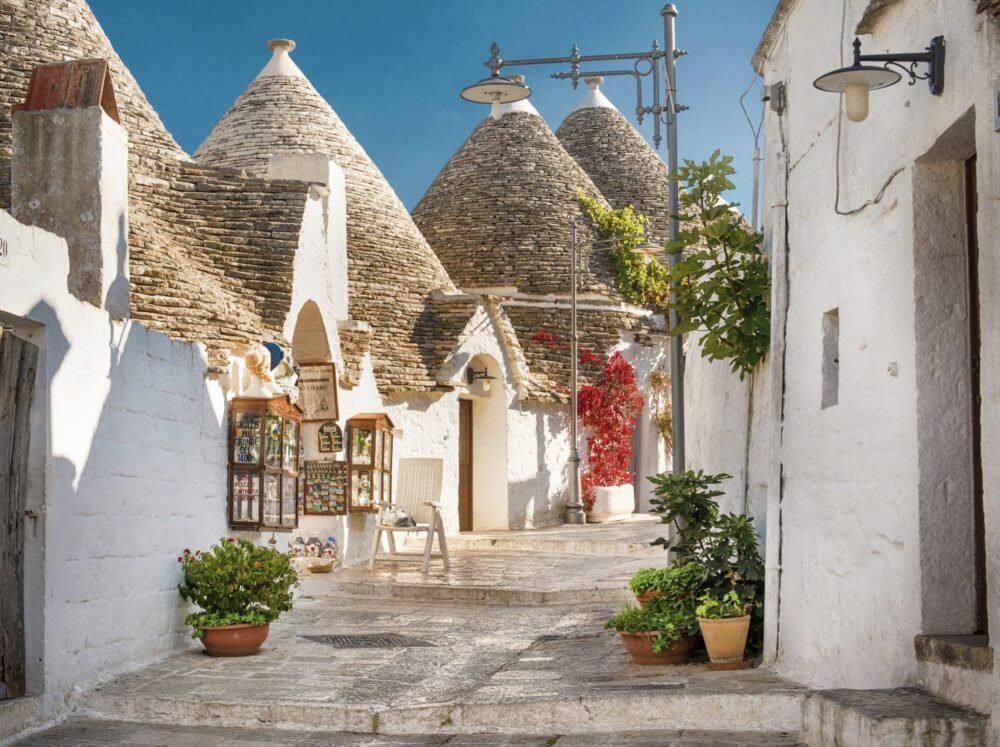 The little town looks like something out of a fairytale, with the adorable trulli, whitewashed round houses with conical roofs.
Spend a night in a trullo for a trulli unforgettable experience of Puglia!
(Sorry for the world's worst pun: I couldn't resist).
Stop at Grotte di Castellana between Alberobello and Bari to visit a stunning karst cave system dating back roughly 100 million years!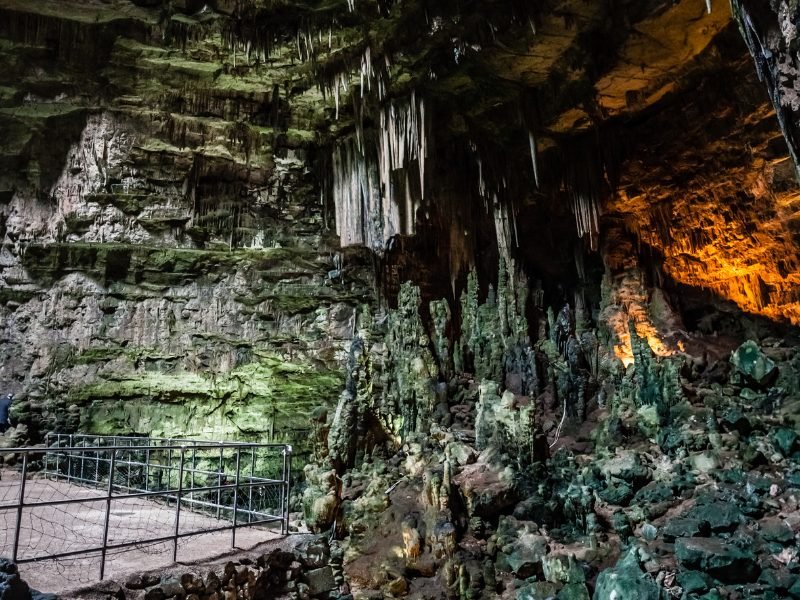 After this last stop, drive back to Bari, where you can end your road trip by dropping your car rental back at the airport or first spend one more afternoon visiting its museums and sampling more delicious food.
Bonus: While technically not in Puglia and instead in the region of Basilicata, Matera is also a frequently visited destination that can be easily tacked onto a Puglia road trip, as it's located just a 50-minute drive away from Bari.
Amalfi Coast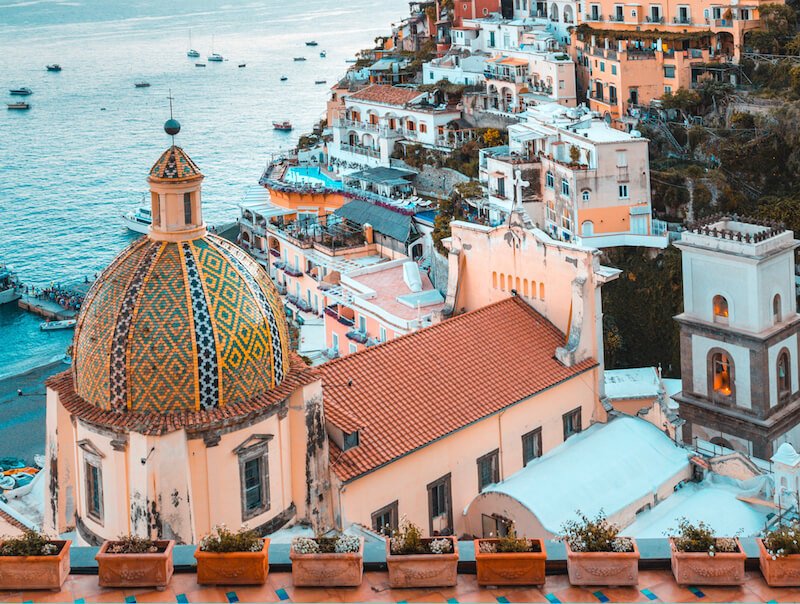 Recommended Road Trip Itinerary: Naples > Pompeii (optional) > Sorrento > Positano > Amalfi > Cetara > Salerno > Naples
Rent a Car in: Naples
Recommended Time: 5-8 days
Amalfi Coast Road Trip Map:
A road trip on the Amalfi Coast is one of the best experiences you can have in Italy!
But first, spend a couple of days in Naples (pick and choose some activities from this Naples itinerary).
Spend your time in Naples exploring the lively historic center, eating delicious pizza (it's the hometown of famous Neopolitan-style pizza, after all), and visiting its beautiful churches and landmarks.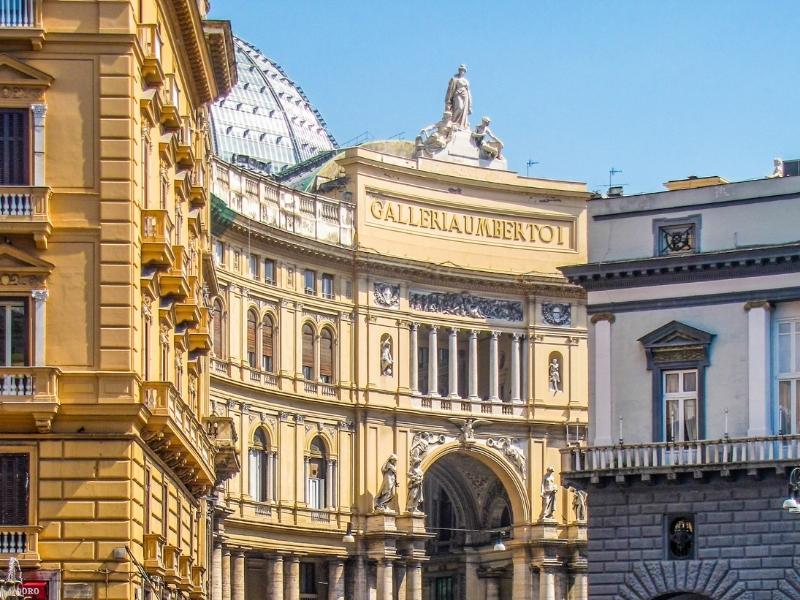 You may also want to visit some sights near Naples, like Pompeii or Herculaneum if you like Roman ruins, or perhaps Mt. Vesuvius if you're curious to see this historically destructive, now-peaceful volcano.
These destinations are all on the way to the next stop, Sorrento, a charming town on the Sorrentine Peninsula overlooking the Bay of Naples.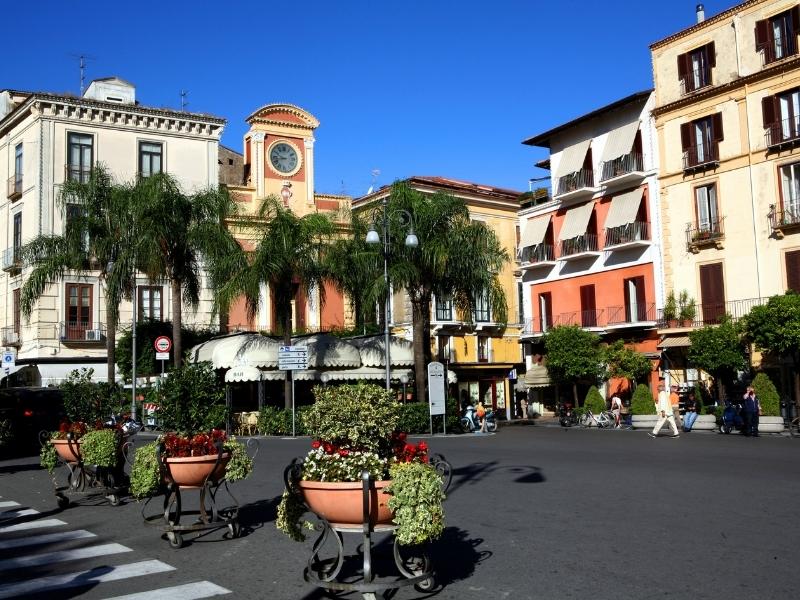 Spend at least half a day in Sorrento to explore the historical center and sample some limoncello and/or lemon granita before moving on to the first stop on the Amalfi Coast, Positano.
By far the most famous town on the Amalfi Coast, Positano is best-known for the colorful houses perched on the cliffs enclosing a charming little beach.
While it may be pricy to stay the night in Positano, you must spend at least one night here to wake up to a wonderful view overlooking the deep blue Tyrrhenian Sea!
Plus, the sunsets here are unreal, especially if you get to watch it from your very own balcony.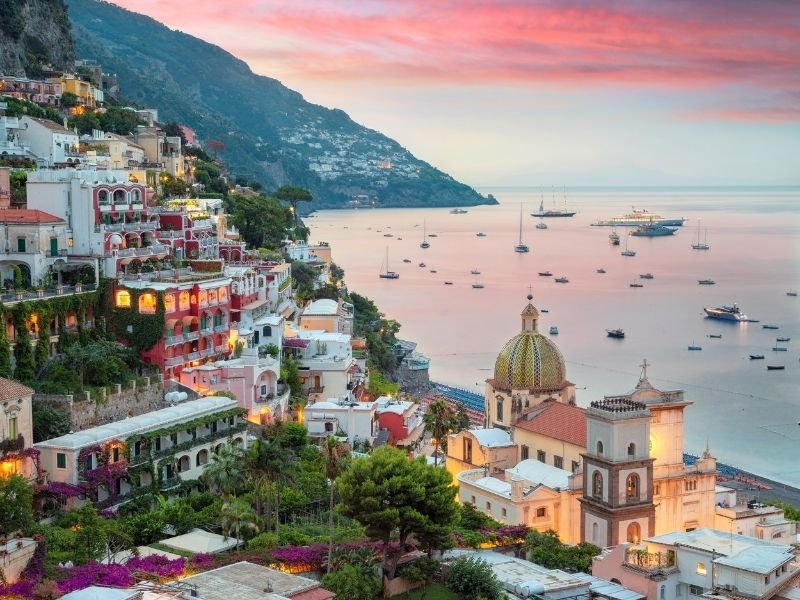 From Positano, move on to the town that gives the name to the coast, Amalfi.
A minimum of one night in Amalfi is a must, so you can also visit the surrounding towns of Atrani and Ravello.
In Amalfi, wander around the narrow alleys and get lost on the many stairways offering gorgeous coastal views.
Walk along the coast to nearby Atrani before continuing on in your car to visit Ravello to check out the awe-inspiring Villa Cimbrone Gardens.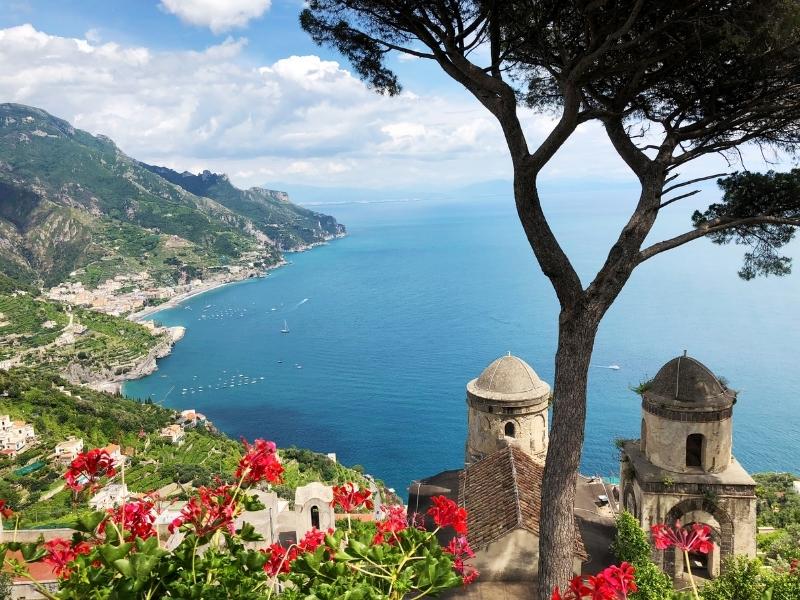 The next town on the coast is Cetara, a quintessential Mediterranean fishing village.
The atmosphere here is more laid back than in the other more famous towns, so you can relax at the beach, stroll around town, and eat delicious seafood.
From Cetara, drive towards Salerno, but make sure to stop for a couple of hours in Vietri sul Mare for more stunning views.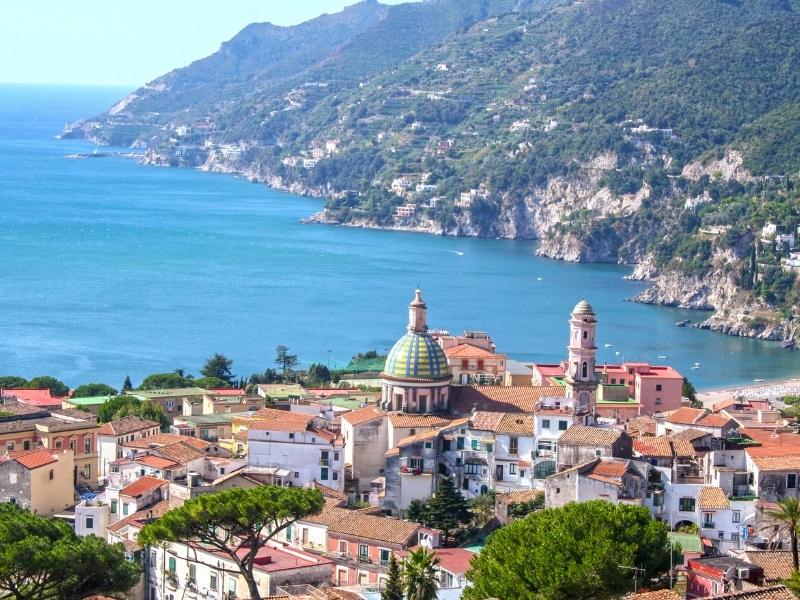 Finally, explore the historical town of Salerno, stroll along its promenade, and discover the lovely botanical garden Giardino della Minerva.
You can drive straight back to Naples from Salerno in less than one hour if you avoid the coastal route, or you can take the scenic road back and stop at any Amalfi Coast villages you missed on the way down!
Dolomites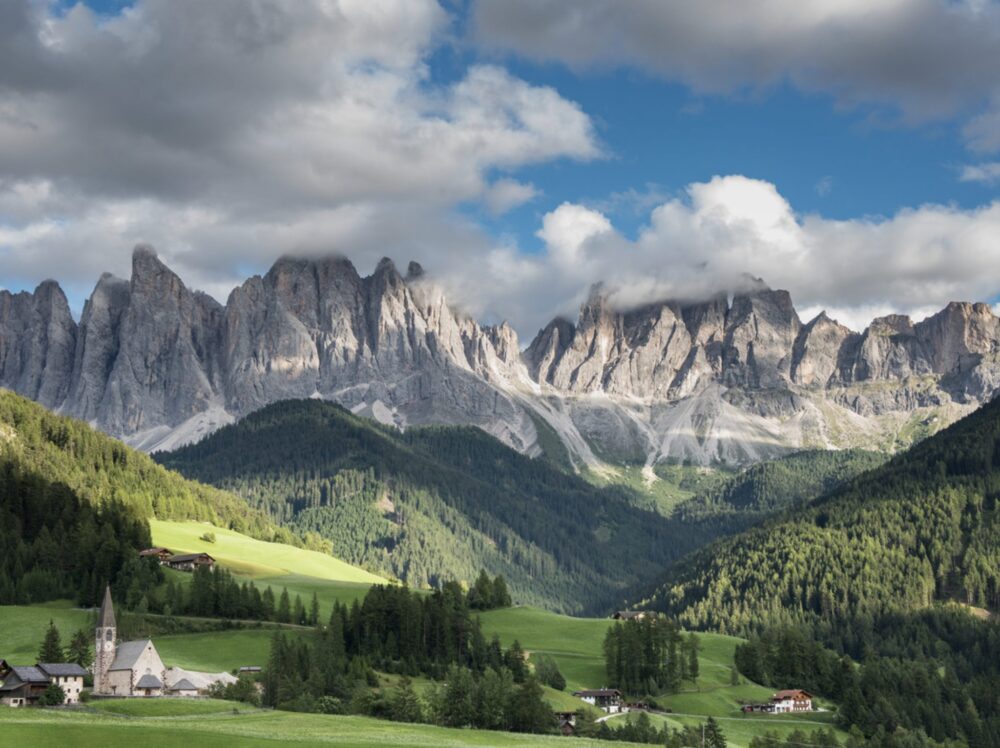 Recommended Road Trip Itinerary: Venice > Belluno > Cortina d'Ampezzo > Lago di Braies > Bolzano > Verona > Venice
Rent a Car in: Venice
Recommended Time: 5-7 days — read our full 7 day Dolomites itinerary here!
Dolomites Road Trip Map:
The Dolomites, or Dolomite Alps, are a picturesque mountain range in northeastern Italy and home to the Dolomiti Bellunesi National Park, a UNESCO World Heritage Site.
For the most convenient way to start your Dolomites road trip, fly into Venice, the nearest city served by an international airport.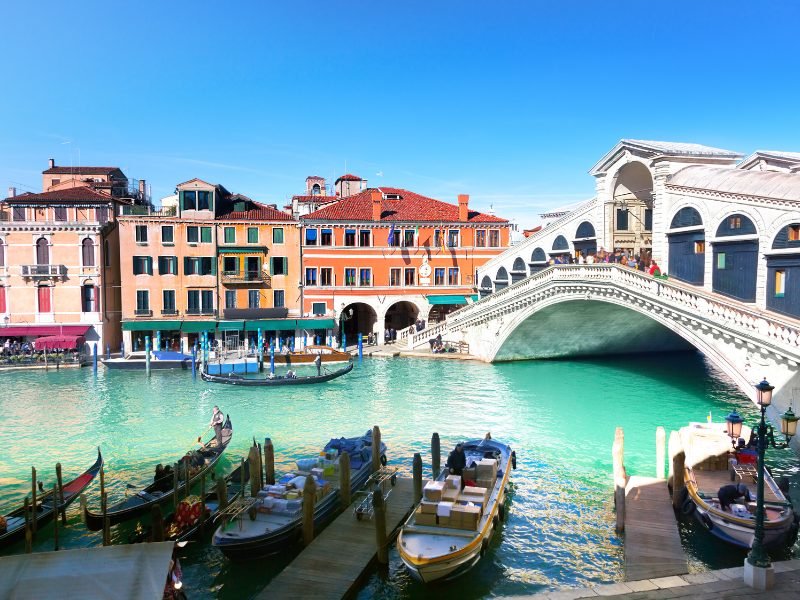 Optionally, start your trip with a few days in Venice, taking a gondola ride and sightseeing Venice's key landmarks, before heading onto the Dolomites.
Alternately, you can explore a bit of the Prosecco wine region near Venice, or you can just get going right away!
If you spend a few days in Venice (check out our 3 day Venice itinerary here), we don't recommend you rent a car until you are ready to leave Venice — it won't do you any good in the city of Venice!
Drive from Venice to Belluno, the gateway to the Dolomites located in the eastern portion of the park.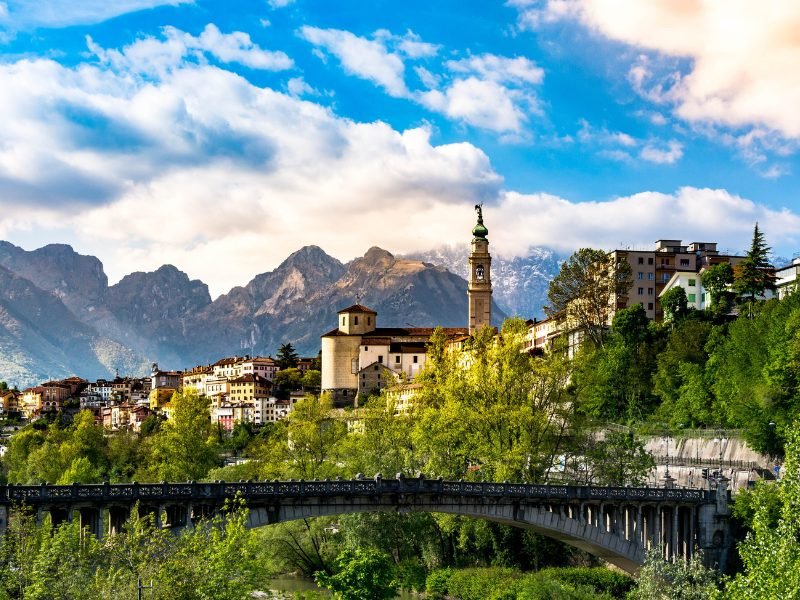 Spend a night in the town and explore some of the national park's hiking trails for incredible views!
Next, drive to the ski resort town of Cortina d'Ampezzo, a wonderful town to base yourself in and explore the surroundings.
From Cortina d'Ampezzo, you can easily reach the Cristallo massif, the turquoise Lake Sorapis, and the dramatic chain of mountains Croda da Lago.
If you have enough time, hike around the Cinque Torri rock formations — it's a relatively easy hike with some fantastic views!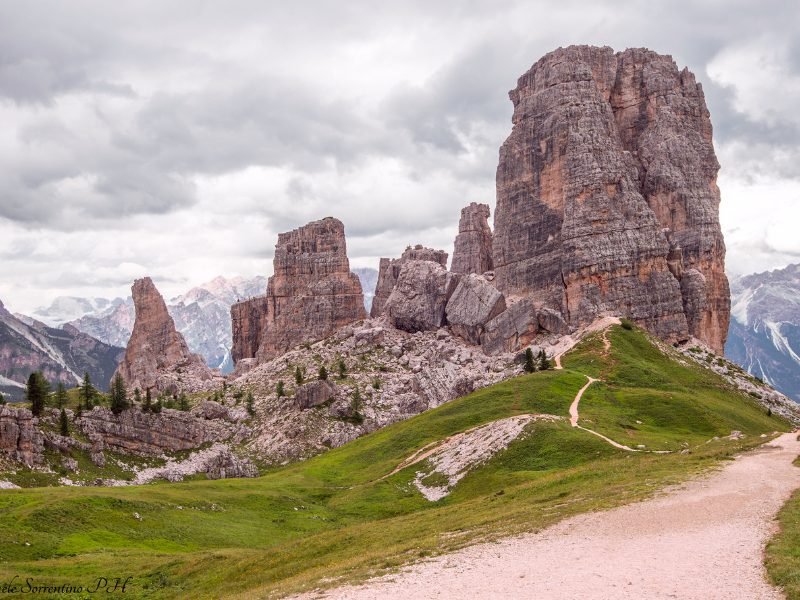 Spend the next day driving from Cortina d'Ampezzo to Lake Misurina, then make your way to Tre Cime di Lavaredo, a set of three dramatic peaks surrounded by hiking trails.
This is one of the most iconic sights of the Dolomites, so make sure not to miss it!
Finally, end the day at Lago di Braies (also known as Pragser Wildsee), a scenic lake with crystal clear water reflecting the snow-covered Dolomites — one of the most Instagram-famous sights in all of Northern Italy!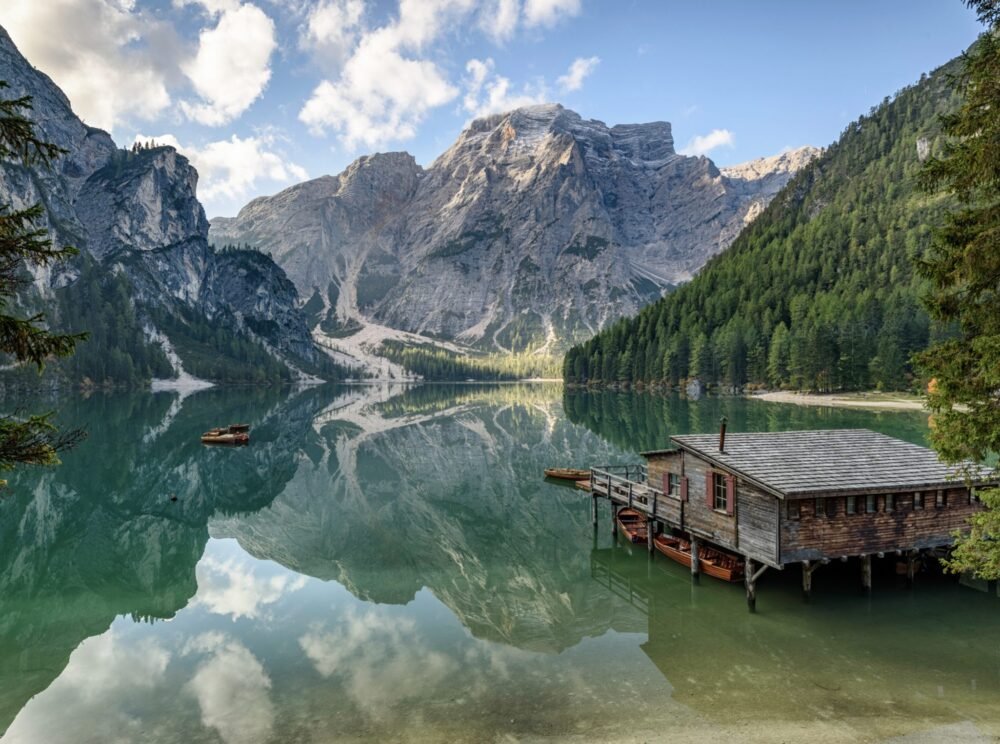 As you make your way back south, stop in Bolzano, the capital of the South Tyrol region.
This city features a lovely historic center, the 13th-century Castel Mareccio, and the South Tyrol Museum of Archaeology famous for housing the body of Ötzi the Iceman!
On your way back to Venice, you can pass by Verona to spend a few hours exploring the charming historic center and paying a visit to Juliet's House, or even spend a night or two in the city before ending your Dolomites road trip.
On the way to Verona, you may also want to make a stop in Trento, the capital of the Trentino region and home to the Brenda Dolomites.
Tuscany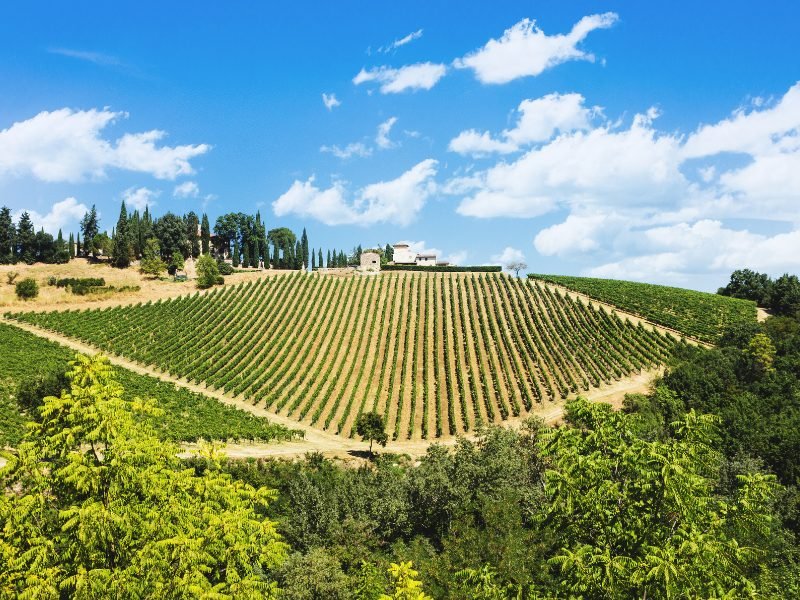 Recommended Road Trip Itinerary: Florence > San Gimignano > Siena > Montepulciano > Arezzo > Florence (Read a full road trip itinerary here)
Rent a Car in: Florence (Read this guide to renting a car in Tuscany here)
Recommended Time: 4-6 days
Tuscany Road Trip Map:
The Tuscan countryside is one of the most charming areas in Italy, offering a little of everything.
A road trip here is guaranteed to reward you with dreamy sights, a gastronomy scene that will satisfy even the most discerning foodies, and rich Renaissance history.
Start your road trip in Florence, where you can spend anywhere from one day to three days in Florence visiting the city, depending on how much time you have and if you've already been there.
Make some time to see essentials like the Florence Duomo and the Statue of David.
Florence is also a great base for day trips — but if you're doing a road trip, you might as well not head back to Florence in between destinations!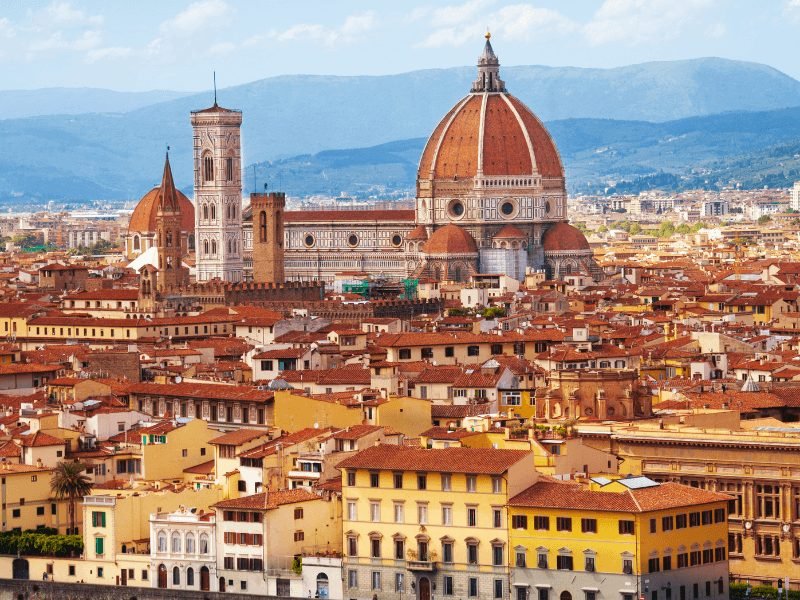 From Florence, start driving south to your first Tuscan destination, the picturesque town of San Gimignano.
The most picturesque road is the S22, also known as Via Chiantigiana — this is the kind of road that shows you that the journey is just as important as the destination.
You'll be driving by beautiful vineyards and through charming towns such as Strada in Chianti and Greve in Chianti until you reach Castellina in Chianti.
As you can guess by the town names, they're all known for their wine production, especially — you guessed it — Chianti!
Finally, reach San Gimignano, a hilltop town known for its many towers and beautiful historic center.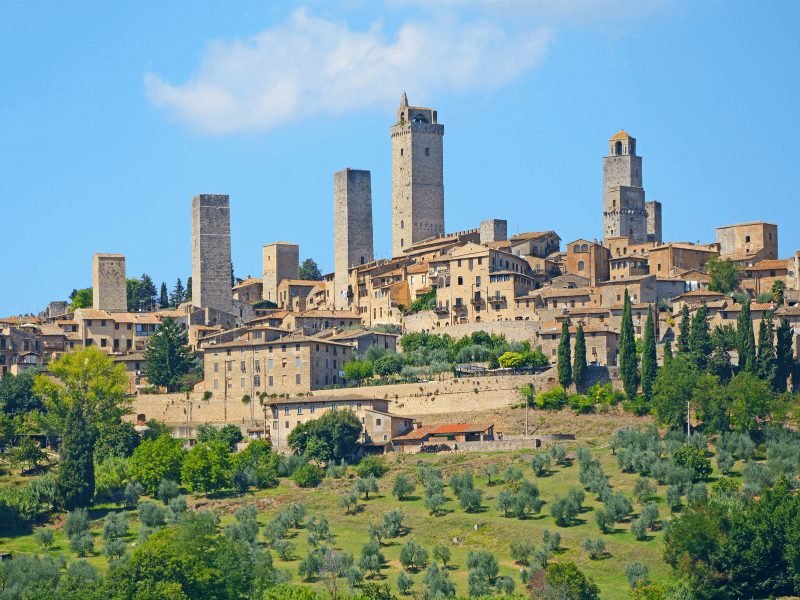 After one night in San Gimignano, drive to beautiful Siena and dedicate at least one or two nights here.
Spend your time wandering around the old town, admiring the gorgeous Piazza del Campo, and visiting spectacular landmarks like the Siena Cathedral and the Basilica of San Domenico.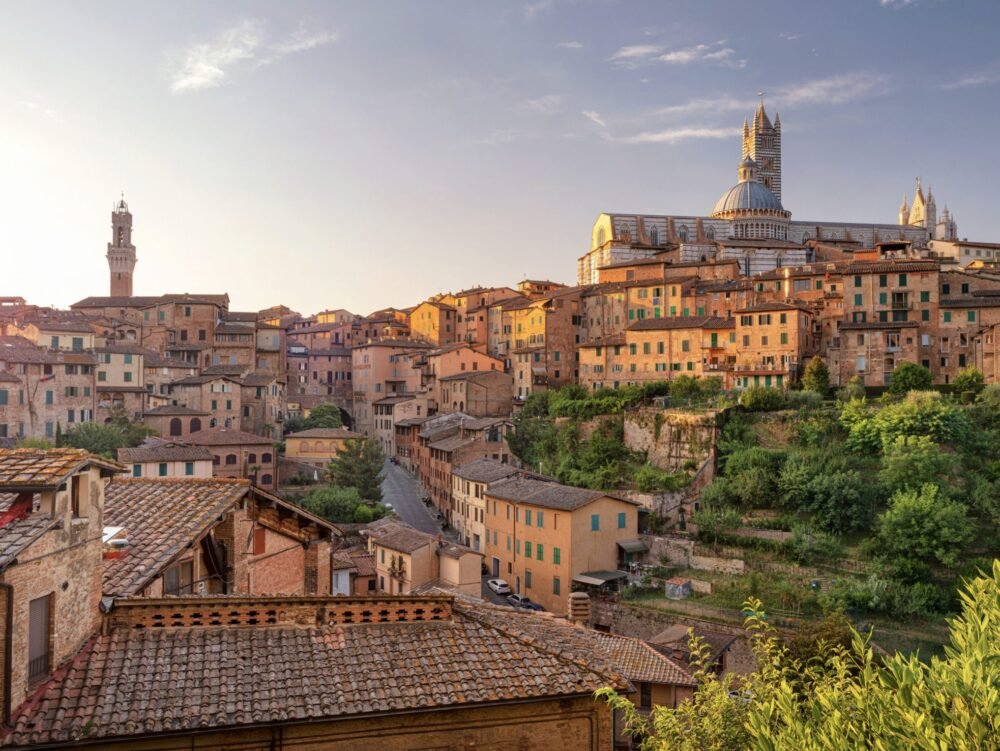 Your next stop is Montepulciano, famous for the grape variety with the same name and, of course, its wine.
But on the way, be sure to stop at the Val d'Orcia near Pienza — it's one of the most scenic parts of the Tuscan countryside.
Once you arrive in Montepulciano, dedicate a day to visit the town and make sure to go on a wine-tasting tour!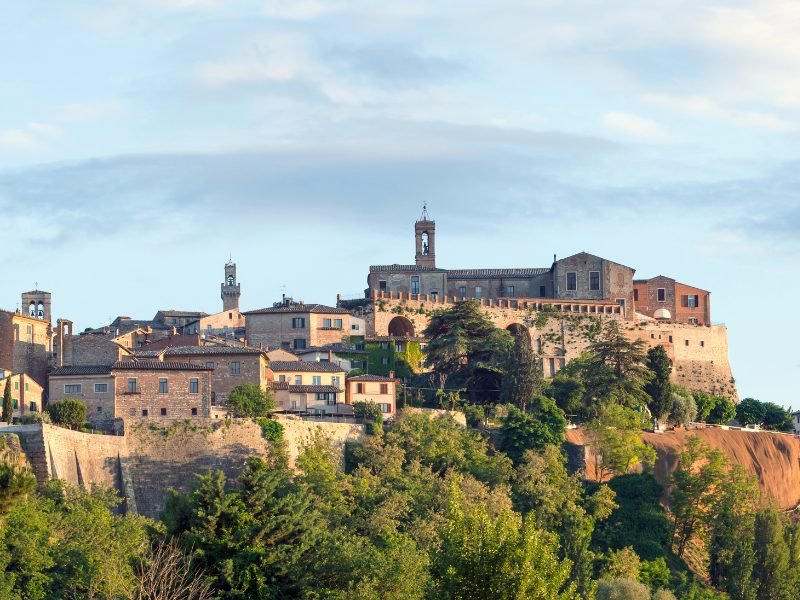 Finally, make your way to Arezzo to visit beautiful churches like the Arezzo Cathedral and the San Francesco Basilica.
Visit the Medicean Fortress for sweeping views of the city and Tuscan countryside. From Arezzo, drive back to Florence.
Lazio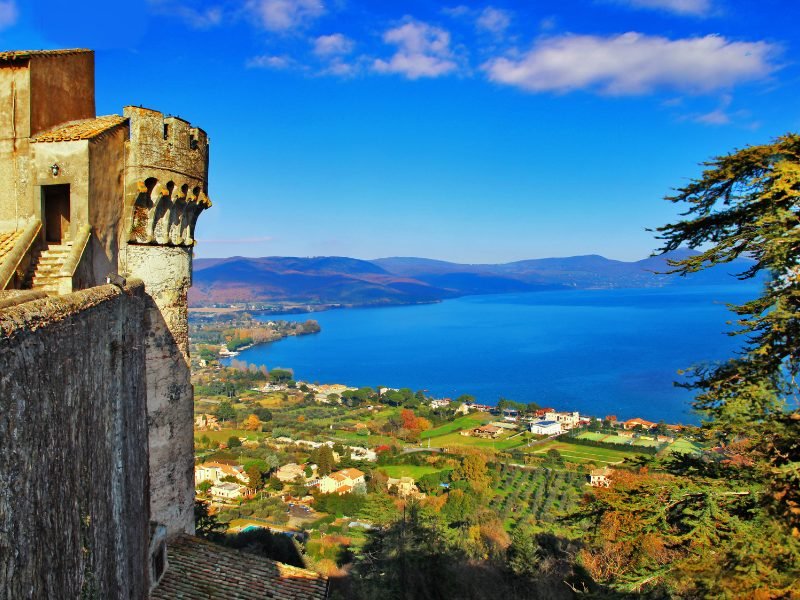 Recommended Road Trip Itinerary: Rome > Castelli Romani > Tivoli > Viterbo > Bracciano > Rome
Rent a Car in: Rome
Recommended Time: 4-6 days
Lazio Road Trip Map:
If you've already visited Rome and its many landmarks, it's worth exploring its surroundings to discover some of the lesser visited places in Lazio!
Start your road trip by driving south of Rome, towards the Regional Park of the Castelli Romani.
Castelli Romani translates to Roman Castles, and it's an area comprising of the lakes of Albano and Nemi, surrounded by charming small towns, many of which had castles and palaces belonging to noble families and popes.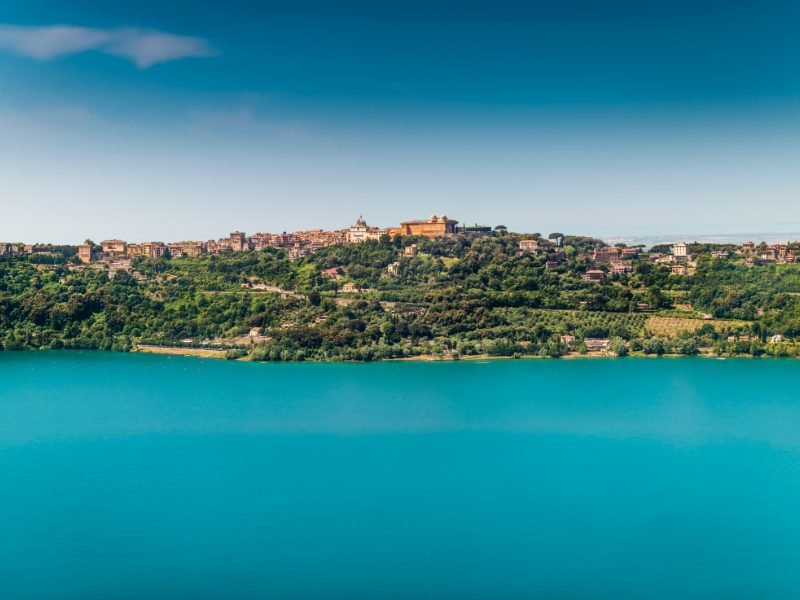 Around Lake Albano, visit the picturesque Castel Gandolfo, home to the pope's former countryside retreat, and Albano, with its beautiful baroque cathedral and lovely lake views.
On Lake Nemi, the two towns not to miss are Genzano and Nemi.
The bigger Genzano is known for its beautiful historic center and the 18th-Century Palazzo Sforza Cesarini, whereas the smaller Nemi features splendid gardens, a charming historic center, and impressive views of Lake Nemi.
From the Castelli Romani, drive north to Tivoli to discover the spectacular Villa d'Este, a 16th-century villa and UNESCO World Heritage Site with spectacular fountains and gardens.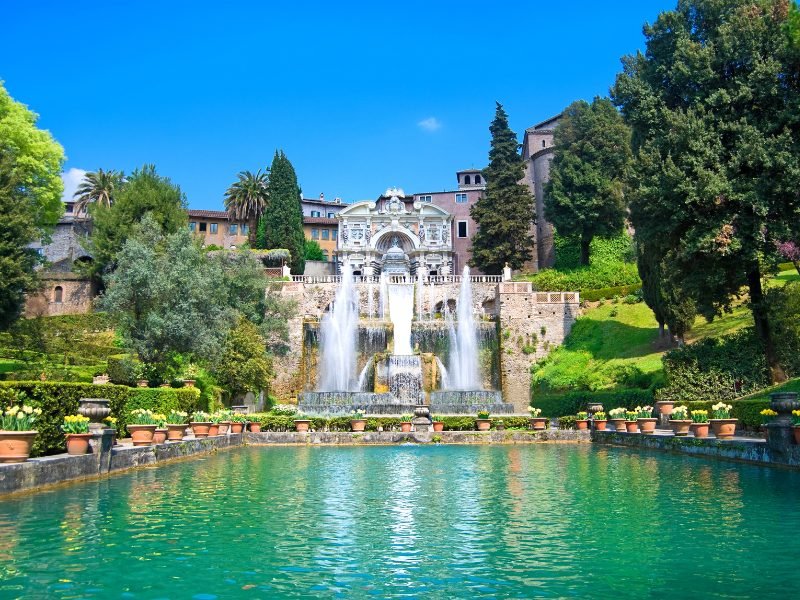 Just outside Tivoli, pay a visit to the ruins of the 2nd-century Hadrian's Villa.
Drive further north to reach Viterbo, a city with a rich history that you can witness in the well-preserved medieval center.
Viterbo is better known for the Papal Palace, which served as the pope's residency for roughly two decades.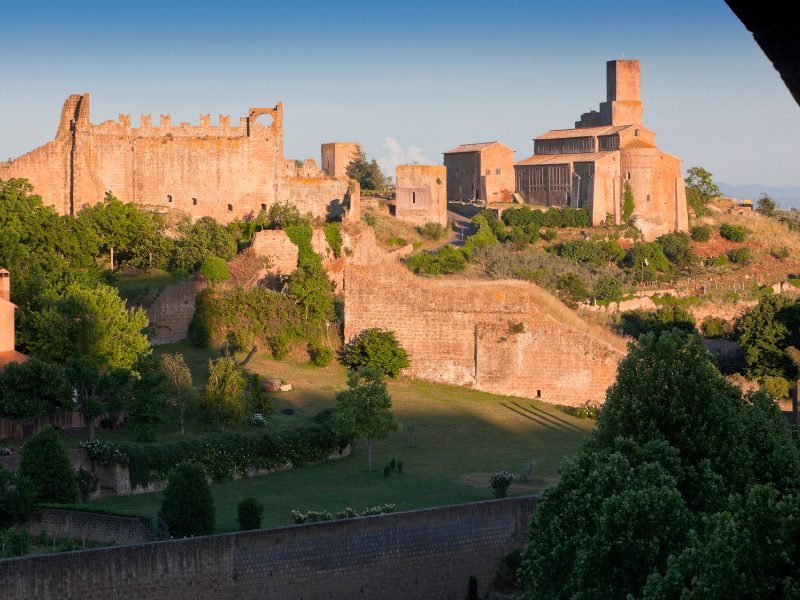 Spend a night in Viterbo, then start driving back south towards Rome. Along the way, stop to visit the medieval center of Ronciglione.
Your last stop before making your way back to Rome is Bracciano, a small town on the shore of the homonymous lake, better known for housing the Orsini-Odescalchi Castle and offering gorgeous views of the lake.
Spend an afternoon in Bracciano or stay overnight. Finally, drive back to Rome, only one hour away.
Sicily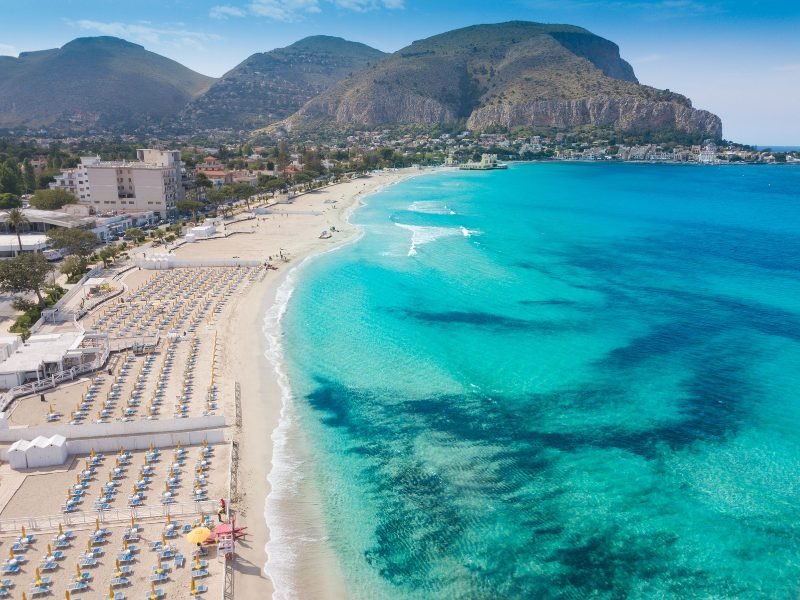 Recommended Road Trip Itinerary: Palermo > Marsala > Agrigento > Ragusa Noto (optional) > Siracusa > Catania (and Mt. Etna) > Taormina (optional) >Palermo
Rent a Car in: Palermo [psst: read this full guide to renting a car in Sicily here]
Recommended Time: 6-8 days
Sicily Road Trip Map:
Sicily is probably the most lively and charming Italian region, so unique it's not comparable to the mainland.
The island — the largest in all of the Mediterranean — will awaken all your senses with beautiful landscapes, delicious food, the pervasive citrus smell, and the constant presence of the beautiful Mediterranean Sea!
Start your road trip in the capital Palermo, home to historical landmarks like the 12th-century Cathedral of Palermo, the 9th-century Norman Palace, and the Baroque Quattro Canti Piazza.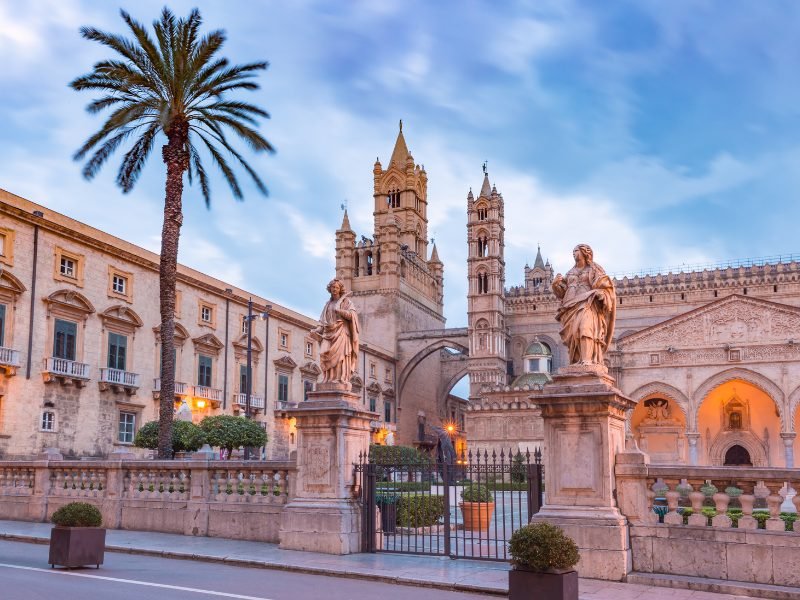 Spend at least one or two nights in Palermo (for more detail, read the first two days of this Palermo itinerary) before driving west to your first destination, Marsala.
Better known for the Saline of the Laguna Marsala and the fortified Marsala wine, the city is on the westernmost tip of Sicily.
Visit the salt pans at the Stagnone Nature Reserve, eat delicious seafood, and taste some wine before moving on to Agrigento.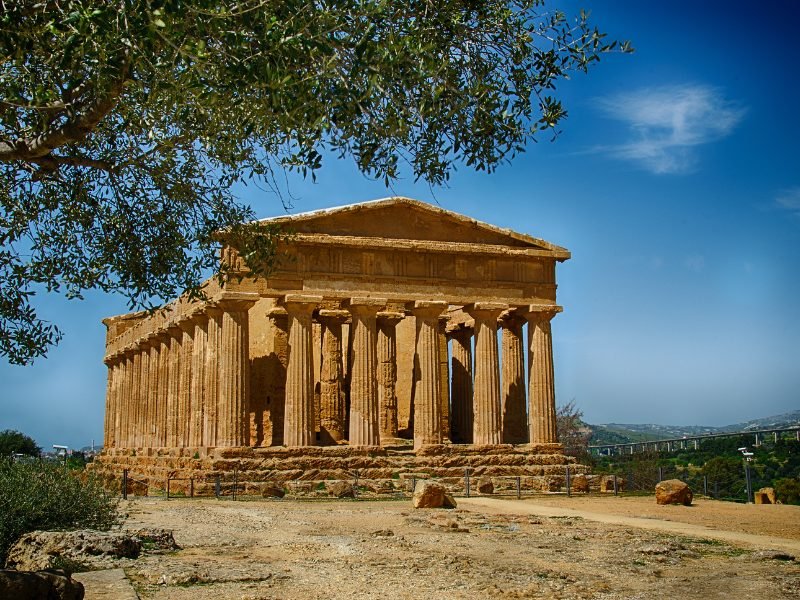 The main reason to visit Agrigento is the impressive Valley of the Temples, an archaeological site featuring imposing ruins of incredibly well-preserved Greek temples.
However, don't skip a tour of Agrigento's historic center, with picturesque alleys, stairways, and gorgeous churches.
From Agrigento, keep driving east to reach Ragusa, a hilltop city with beautiful baroque buildings, the gorgeous Duomo di San Giorgio, and the serene Giardino Ibleo.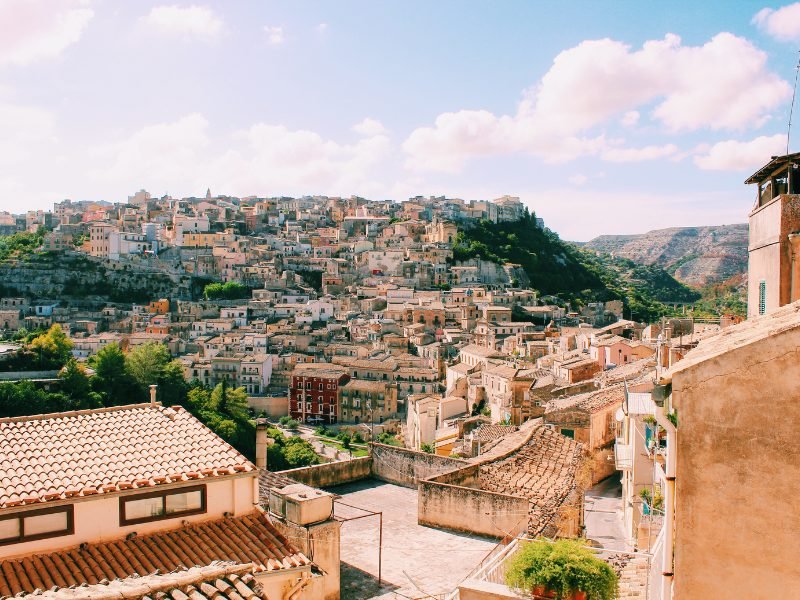 Spend a night in Ragusa or explore it during the day and continue to Siracusa, where spending at least one night is a must.
You can make an optional stop in Noto along the way, famous for its beautiful architecture and laid-back pace.
Some famous stops you can make are the recently renovated Noto Cathedral, the Palazzo Ducezio with its famous Hall of Mirrors, and the Palazzo Nicolaci.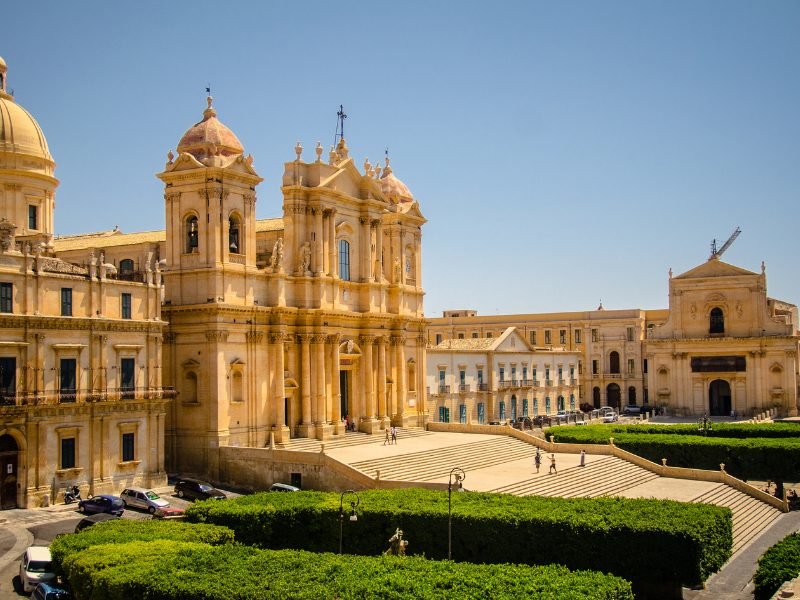 Siracusa has a lot to offer, with its beautiful historic center on the Island of Ortigia, boasting ancient ruins and historical palaces.
There's also the Neapolis Archaeological Park with the Roman Amphitheater and the limestone cave Ear of Dionysius.
From Siracusa, drive to Catania for 2 days, which you can use as your base for hiking Mount Etna, a must when in Sicily.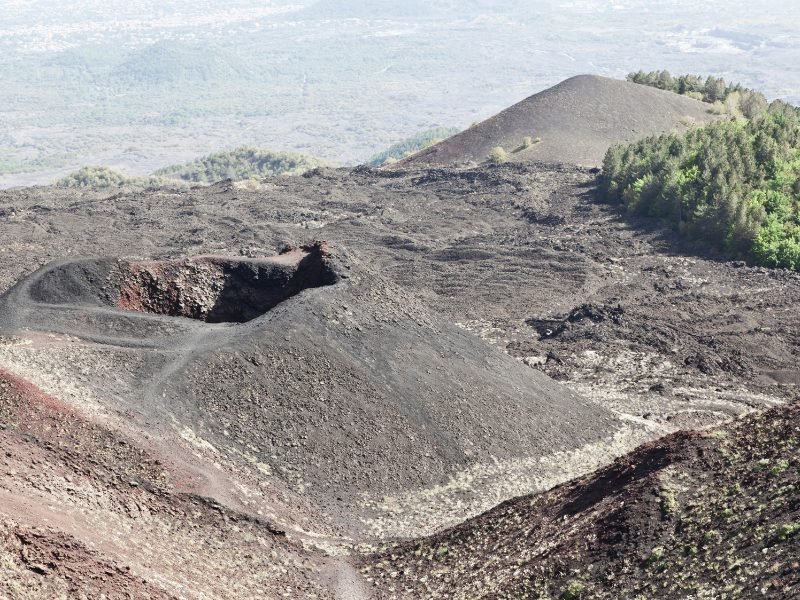 Explore the historic center of Catania and plan a day trip to the Etna National Park.
You can take a cable car up close to the summit of Mt. Etna, hike along the trails, or do a combination of both.
After some time exploring the heights of Etna, why not stop by the one of the gorgeous beaches near Catania?
Finally, you can drive straight back to Palermo to end your Sicily road trip.
Alternately, make an additional stop in Taormina for a day or two and the beaches near Taormina for some of the best coastal views in Sicily before returning back.
Sardinia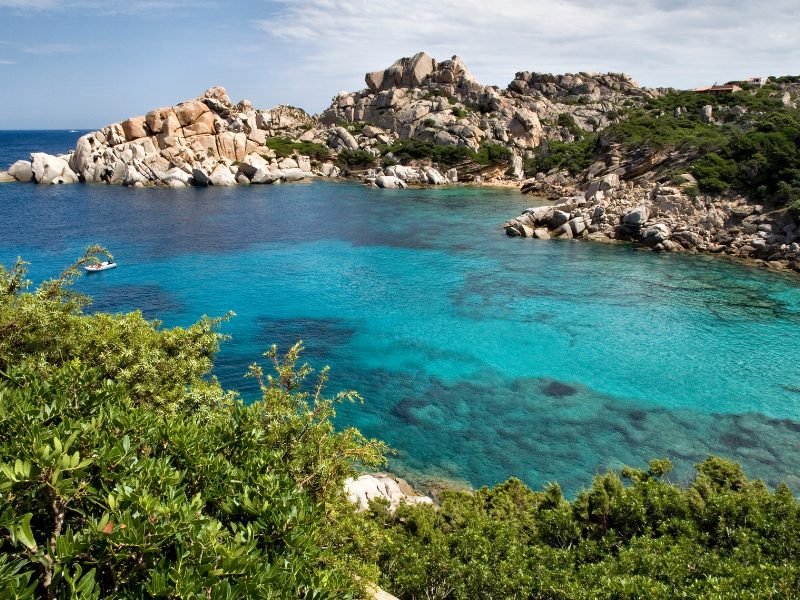 Recommended Road Trip Itinerary: Cagliari > Bosa > Alghero > Stintino > Porto Cervo > Nuoro > Cagliari (Check our 7-day Sardinia itinerary here)
Rent a Car in: Cagliari
Recommended Time: 6-8 days
Sardinia Road Trip Map:
A road trip around Sardinia could take many weeks and still barely do the island justice, but don't worry, you can fit some of the most scenic spots in a week-long trip.
Start in the island's capital Cagliari, which has the best flight connections to many European cities.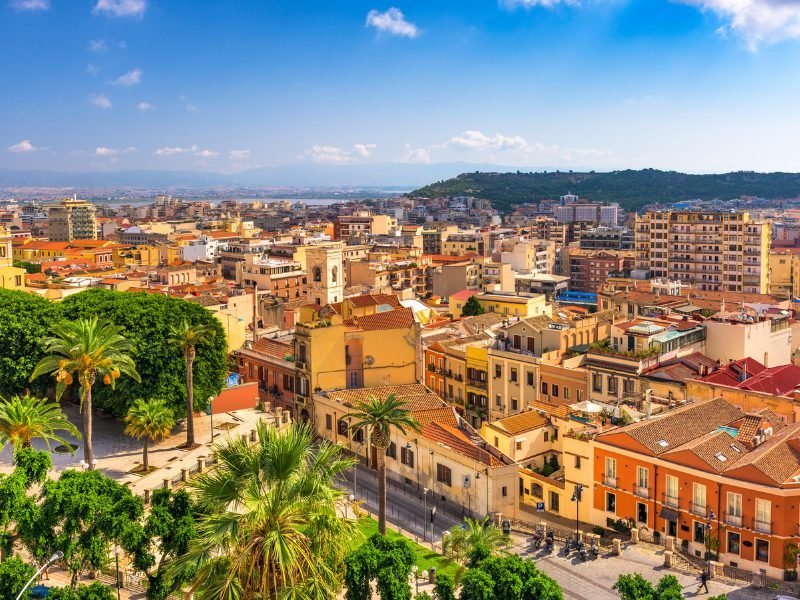 Cagliari has a lovely historic center worth exploring, but you can easily see the most important sights in one day and start driving north.
On your way to Alghero, stop for a few hours in Bosa, a colorful gem of a town considered one of the most beautiful in Sardinia!
Spend at least one night in Alghero to explore the old town and check out a few nearby beaches, like Le Bombarde and Punta Negra.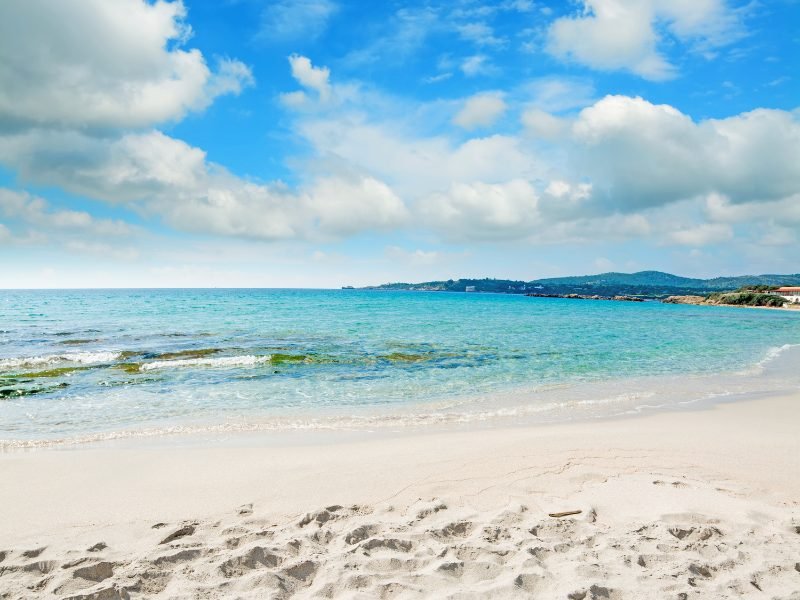 From Alghero, drive north to Stintino, on the northernmost tip of Sardinia.
This area boasts gorgeous beaches with blue waters like La Pelosa or Spiaggia del Gabbiano.
If you decide to spend the night, go on a boat tour to Asinara National Park, a small island just off the tip of Sardinia with incredible landscapes!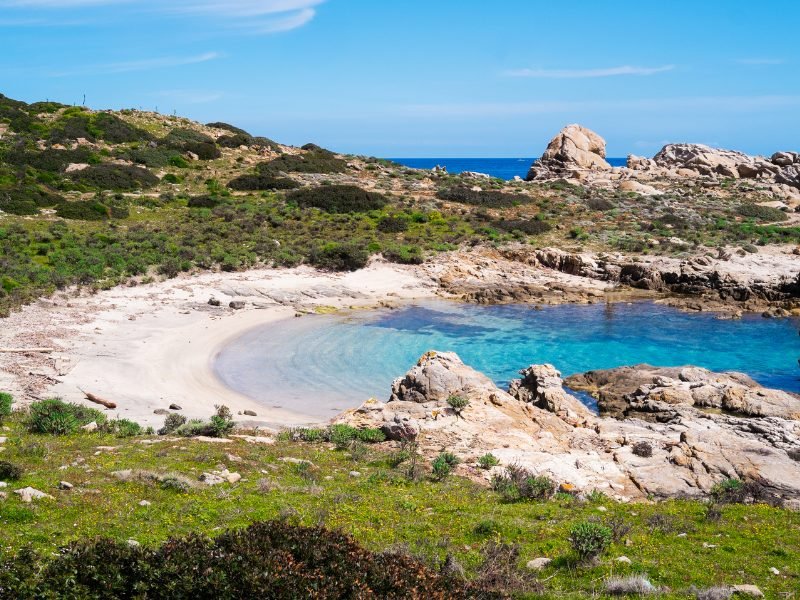 From Stintino, drive along the northern coast to Porto Cervo, a seaside resort and capital of the Costa Smeralda, better known for its nightlife and exclusive beach clubs.
While the resort town is better known for attracting the yachts of millionaires coming to party and enjoy the turquoise waters, there is a lot you can do in the area, even if you're not part of the jet set!
Enjoy amazing beaches like Grande Pevero or Spiaggia del Principe (also known as Poltu Di Li Cogghj), try water sports, and drive along the Costa Smeralda to fall in love with the coastal views.
As you drive south from Porto Cervo back towards Cagliari, stop by Nuoro and the Complesso Nuragico e Nuraghe di Noddule where you can admire the nuraghe, ancient megalithic constructions dating as far back as 1900 BCE!
Ligurian Coast & Cinque Terre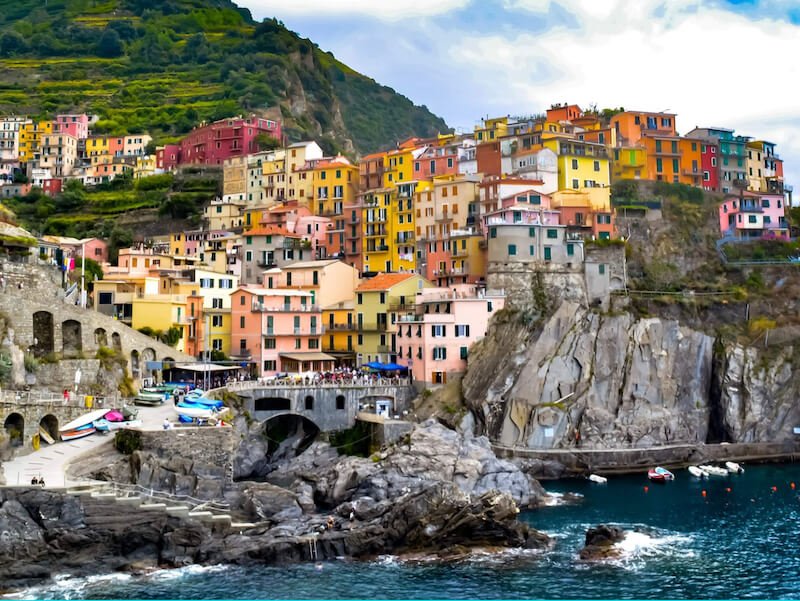 Recommended Road Trip Itinerary: Genova > Rapallo > Portofino > Monterosso al Mare > Manarola or Riomaggiore > Vernazza or Corniglia > La Spezia > Porto Venere > Genova
Rent a Car in: Genova
Recommended Time: 4-5 days
Liguria & Cinque Terre Map:
One of the loveliest Italian road trips is in the Liguria region, through the famous Cinque Terre!
Aside from the popular five villages to which this area owes the name, this Northern Italian road trip will take you through several other coastal towns that are just as pretty — and far less crowded!
Before starting your road trip, spend one or two nights in Genova.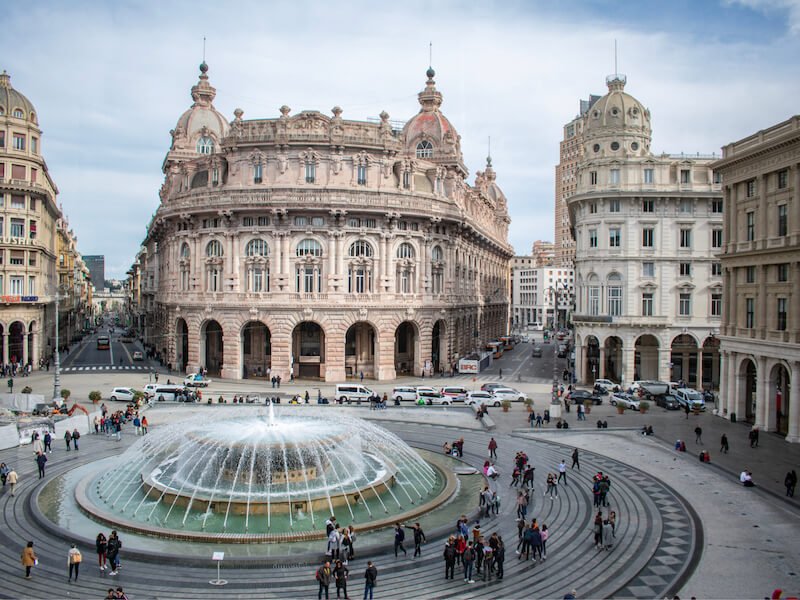 Sample delicious pasta with pesto Genovese at the Caruggi (historical district) restaurants, explore the harbor area of Porto Antico, and visit the city's key landmarks and museums, such as the famous Aquarium of Genoa.
From Genova, drive south to your first destination, the town of Rapallo, and enjoy views of the Italian Riviera from the Sanctuary of Our Lady of Montallegro.
Near Rapallo, visit the gorgeous Portofino, a small fishing village with colorful houses, boutiques, and great restaurants.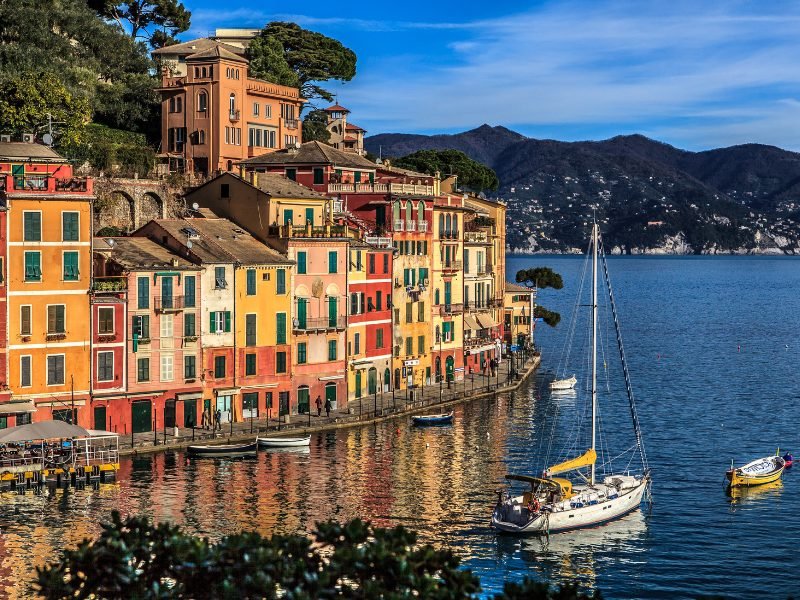 After Rapallo, it's time to visit the actual Cinque Terre!
Note about accessing the Cinque Terre by car: The villages of the Cinque Terre are all car-free, but there are car parking areas available near each village. This can be expensive, with parking fees ranging from about 10 Euro to 25 Euro daily. Additionally, the roads are quite steep and winding — great if you love scenic drives, terrible if you're afraid of heights or get motion sickness. If this all sounds like a lot of headache, it's best to leave your car either at the Levanto or La Spezia train station, visit the Cinque Terre by car, and then continue on your road trip.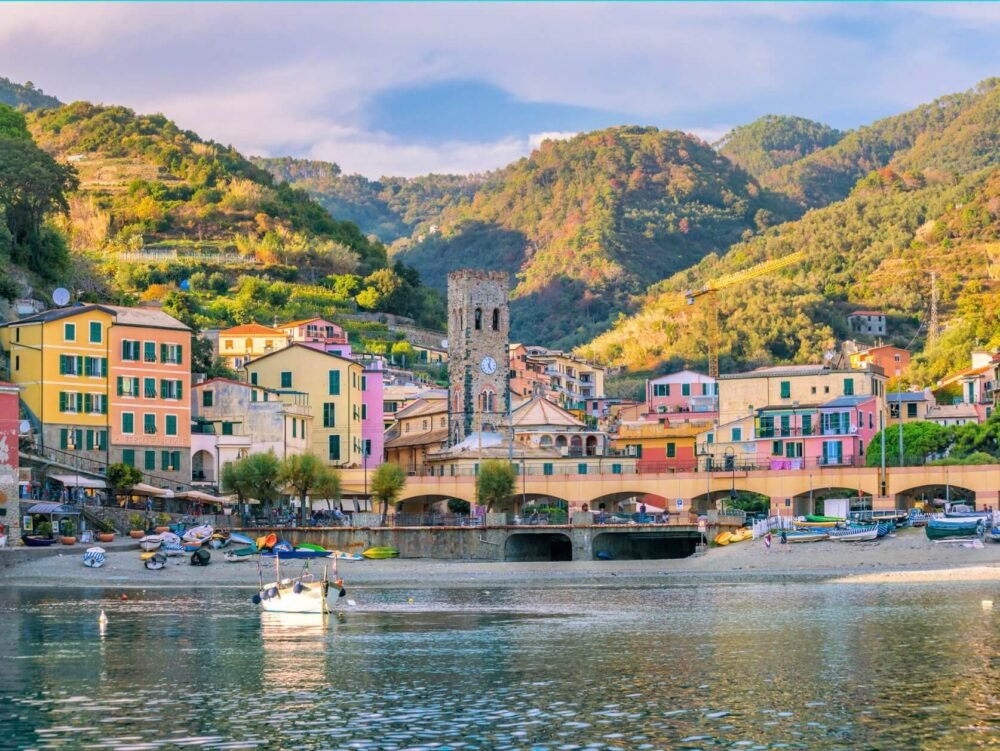 Drive along the coast to Monterosso al Mare, the first village from the north.
If you have enough time, plan to spend one night here and another in Manarola or Riomaggiore.
From these two, you can easily explore the other two villages, Vernazza and Corniglia.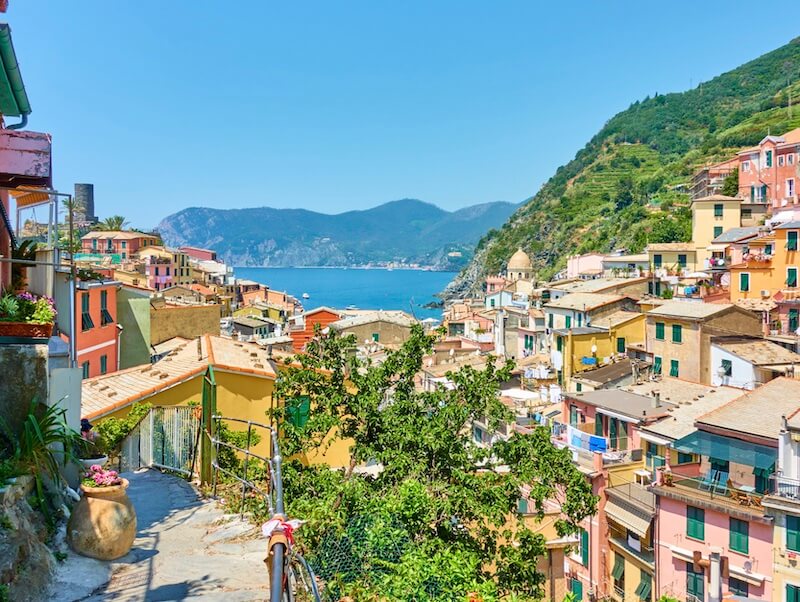 If you only have one night, stay in Corniglia, which is right in the middle.
But really, all five villages are lovely, with colorful houses, great restaurants, and picturesque coastal views. It's hard to go wrong here!
End your road trip in La Spezia, a beautiful port city home to the 14th-century San Giorgio Castle and cool museums.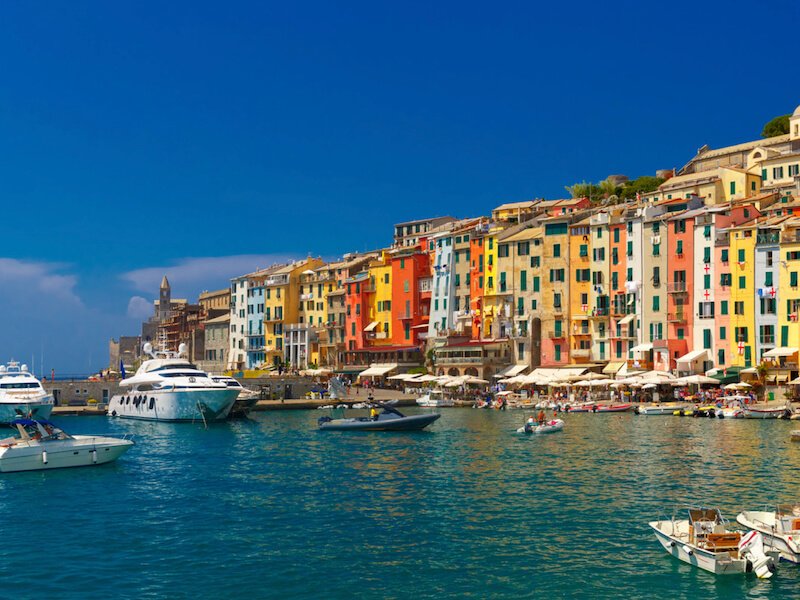 If you have enough time, take a day trip to Porto Venere to visit the gorgeous Parco Naturale Regionale di Porto Venere, a protected natural area with stunning landscapes.
For the best views over the coast, check out Doria Castle!
Finally, make your way back to Genova.
Lake Garda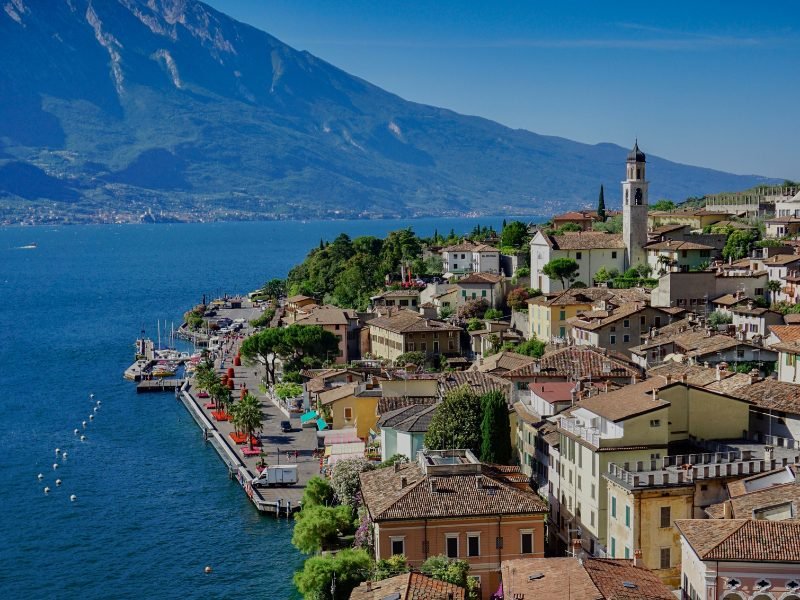 Recommended Road Trip Itinerary: Milan > Desenzano del Garda > Sirmione > Saló > Limone sul Garda > Riva del Garda > Malcesine > Garda > Verona > Milan
Rent a Car in: Milan
Recommended Time: 4-6 days
Lake Garda Map:
If you're looking for a short road trip from Milan, your best choice is to explore the picturesque villages and towns on the shores of Lake Garda!
(Note: I have a full guide to a Lake Garda itinerary here!)
Starting in Milan, make sure you visit its key sights, like the Last Supper and the Duomo di Milano (Milan Cathedral).
From Milan, you can reach the first town, Desenzano del Garda, in just over one hour.
Make this your first base and explore its surroundings, including the charming Peschiera del Garda and the lovely Sirmione, where you can catch boat tours of the lake.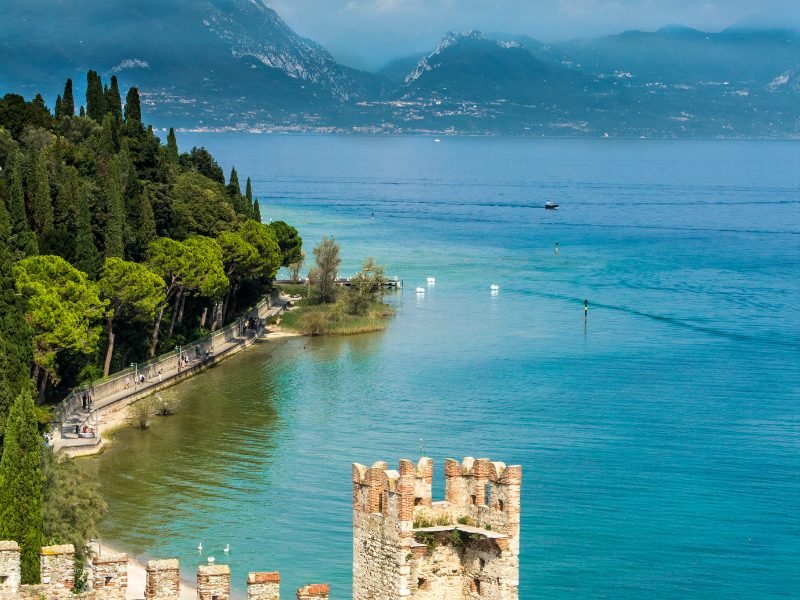 Spend one or two nights in Desenzano del Garda, then drive north to Limone sul Garda, passing through Saló, where you can stroll along the pretty lakeshore promenade or go hiking to enjoy lake views from beautiful scenic points.
In Limone sul Garda, go swimming in the lake, explore the many hiking paths, and discover the lovely San Giovanni Waterfall.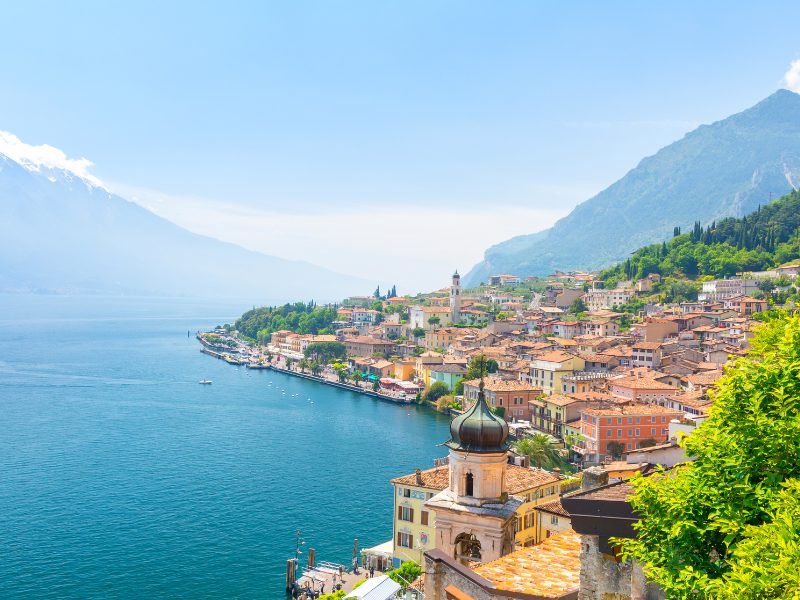 The next stop, Riva del Garda, is the best town on the lake for sailing and water sports.
The town is also known for the nearby Cascate del Varone, a beautiful natural park with stunning waterfalls. For gorgeous lake views, climb to Bastione di Riva.
From Riva del Garda, drive back south along the lake to enjoy more lovely views as you pass through Oriental Gardesana Integral Nature Reserve and other charming towns like Malcesine and Garda.
A great addition to this road trip is a stop in Verona, the romantic city home to Juliet's House, the Verona Arena, and the historic Piazza delle Erbe.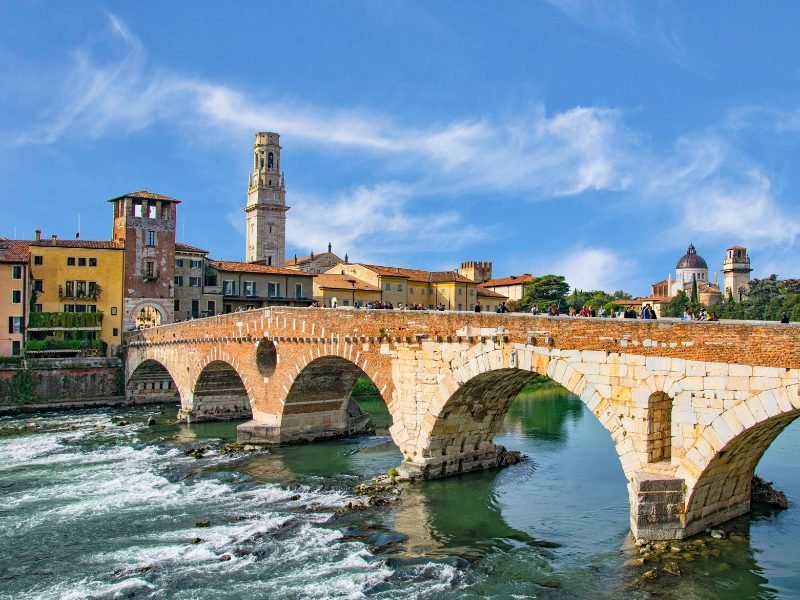 After exploring the historic town, take the cable car to Castel San Pietro for the best city views from above.
Spend one or two nights in Verona, depending on how much time you have, then drive back to Milan to conclude your road trip.
Don't Forget Your Travel Insurance!
While of course, you'll want to make sure you have rental car insurance covered, don't forget to cover yourself, too!
Rental car insurance covers the car and your general liability on the road, whereas personal travel insurance covers your health and your trip in general.
I use SafetyWing to cover me on all my trips — their Nomad Insurance program is very affordable and covers basically all you'd need: medical assistance and evacuation, trip cancellation and interruption, etc.
And when I say affordable, I mean it: I paid just $18 USD for my most recent 10-day trip!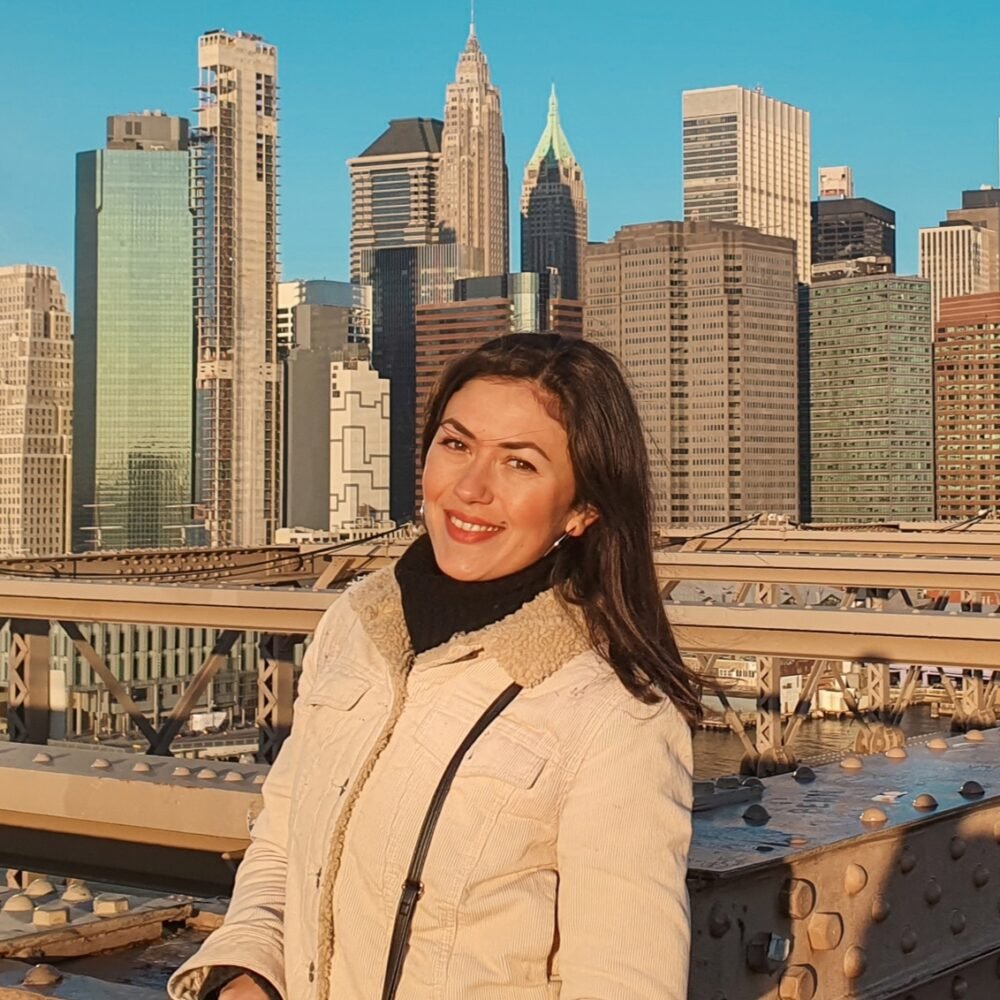 Roxana is a Romanian-born freelance travel writer who has lived in Italy for over 15 years. She has a Master's in Journalism and a Bachelor's in Film Studies, and she studied at Università degli Studi di Roma Tre. Besides her native Romania, Roxana has lived in Rome, Lisbon, and Berlin, and she has traveled through much of Europe in search of hidden gems, history, and culture.