Nicaragua was just made for bucket list adventures – with nearly 20 active volcanoes and two equally epic coastlines, it's heaven on earth for the adventurous spirit.
The icing on the cake? Nicaragua is one of the most affordable places to travel in all of North America, with budget-friendly hostels and lots of affordable things to do.
Nicaragua is far cheaper than its neighbors Costa Rica and Panama, but it's just as full of adventures.
In fact, it's one of the cheapest countries in the world to travel!
If you don't know what is there to do in Nicaragua, you're in luck – this country has something for everyone.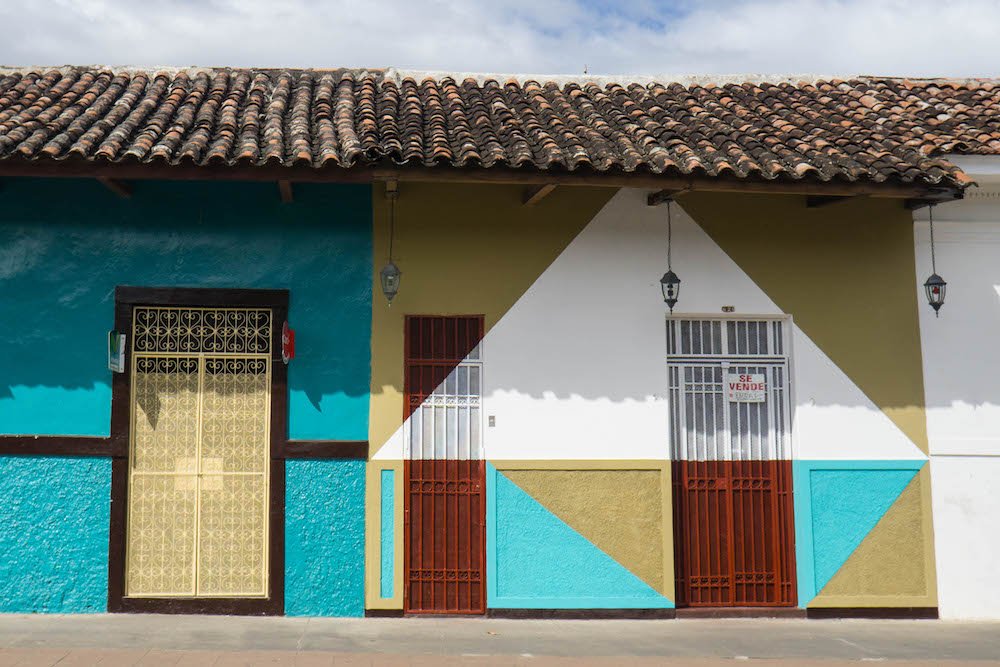 Note: This post contains affiliate links, which means I may receive a small commission if you purchase something through one of these links. Thank you for supporting the free content on this site! For more information on affiliate links and cookies, see my disclosure page for more details.
I spent over five weeks in this small yet action-packed country and had the adventure of a lifetime.
From hurdling down the slope of an active volcano to scuba diving in the Caribbean Sea, I couldn't simply pick a top 10… so here are the 25 best things to do in Nicaragua to help you plan your trip.
Curious to see what to do in Nicaragua? Let's get started!
Best Things to Do in Nicaragua
Volcano board down Central America's youngest volcano.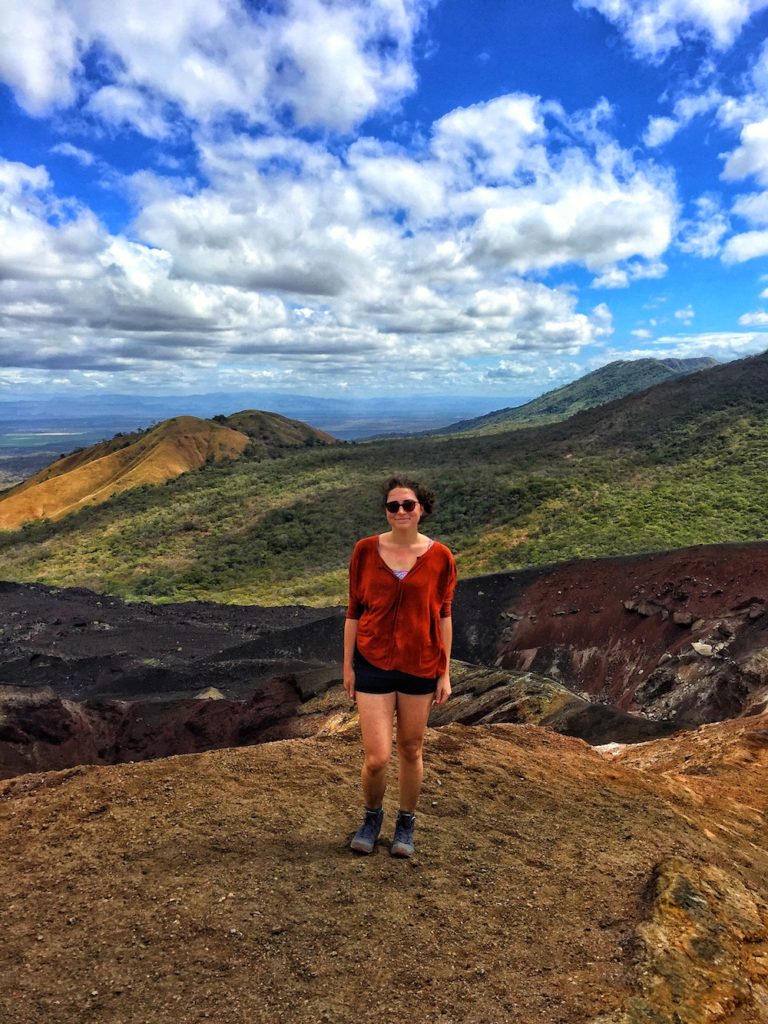 Of all the top things to do in Nicaragua, volcano boarding down Cerro Negro is perhaps the most unique.
Cerro Negro is a young volcano at only 150 years old, and it's also one of Nicaragua's most active.
In fact, it's overdue for an eruption, adding an extra death-defying element to your 30+ mph hurdle down thousands of feet of volcanic gravel!
It's one of the most popular activities to do in Nicaragua… truly, you can't go far in the country without seeing a backpacker wearing a volcano boarding T-shirt.
This one's not for the faint of heart — I fell three times and lived to tell the tale — but it's an adrenaline rush that only Nicaragua can offer.
Volcano boarding is something you have to do with a tour; it's impossible (and unwise!) to do independently.
It's the most popular thing to do in Leon, so be sure to book ahead to reserve a spot.
It should go without saying, but make sure you have travel insurance in Nicaragua, especially when doing crazy things like this!
Protect your travel investment!

Travel insurance coverage helps you recoup your losses in case of emergency, accident, illness, or theft.

I rely on SafetyWing for coverage when it comes to trip interruptions and cancellations as well as accidents and medical emergencies.

It offers great rates starting around $12/week with clear, easy-to-read coverage.
Where to Stay
I stayed in a dorm at Hostal Casa Abierta and loved it, especially the excellent outdoor pool (perfect for hot Léon) and the delicious restaurant.
It's quiet but well-kept, with its own eco garden and sustainability measures, which I really liked!
Cliff jump and swim through Nicaragua's canyons.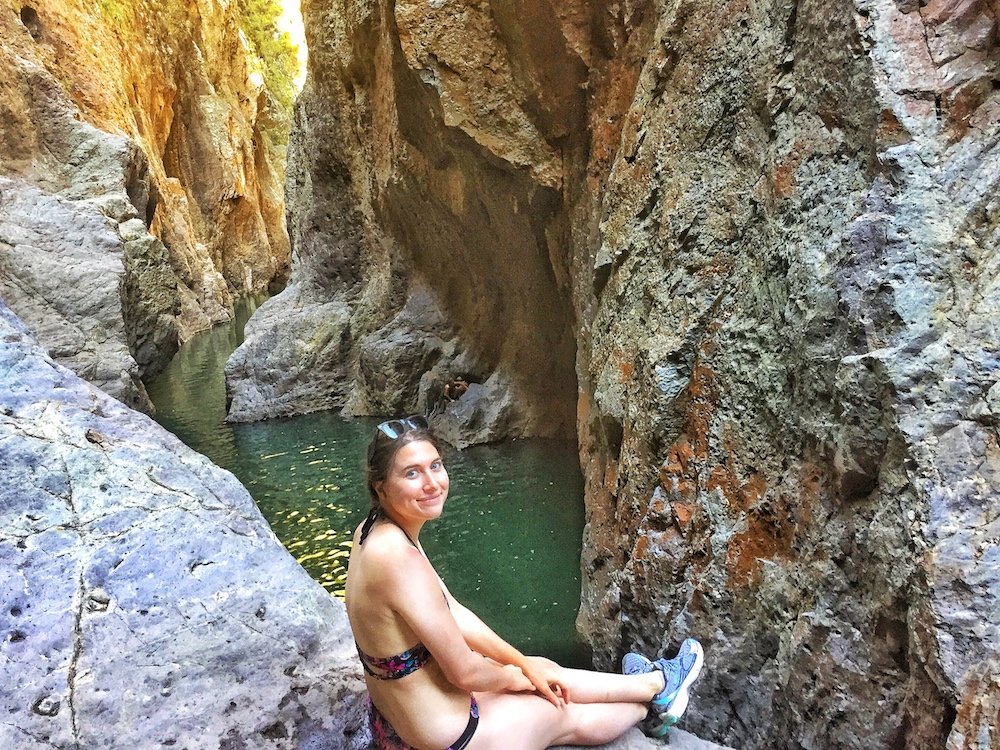 The incredible Somoto Canyon was only "discovered" in 2004, and it's a well-kept secret (though less guarded as each year passes).
Few people outside of Nicaragua have even heard of it!
Those who go will be rewarded with turquoise blue water surrounded by limestone cliffs reaching hundreds of feet high.
You can jump off cliffs up to 33 feet high or just swim and float through the peaceful water.
No matter how you enjoy it, Somoto is one of the best things to see in Nicaragua, so be sure you make time for it if possible.
Be sure to reapply your sunscreen carefully under your life jacket, so you don't end up permanently branded with a tramp stamp suntan like I did. Ooops.
I suggest you go with a tour like I did — my friends who tried to go on their own found it rather difficult.
Where to Stay: Stay in Léon or if you want to attempt to self-guide, check out Estelí. You can get to Somoto easily from there, about 1.5 hours away.
For Estelí, Casa Vínculos is among the best-rated rated in town and an excellent bargain.
See lava bubble and glow at Masaya.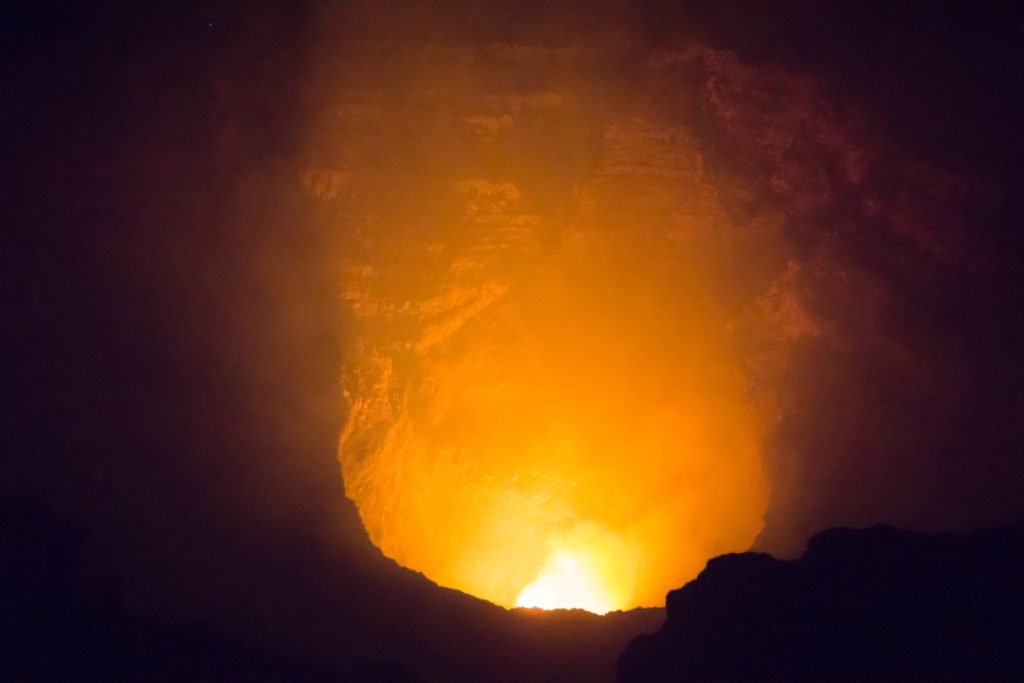 In Granada and wondering what to do? Nicaragua's most lively volcano is right outside the city!
There's nothing that makes you respect the badass b*tch that is Mother Nature like staring into the eye of a bubbling orange lava pit!
At Masaya Volcano, you can peer into the volcano from a safe distance, though because of the noxious fumes they limit your time at the crater to about 10 minutes.
Still, it's an incredible experience, and definitely one of the most iconic things to do in Nicaragua.
Best as a day trip from Granada, a night tour to Masaya surely should top any list of must dos in Nicaragua.
Where to Stay: I prefer to stay in Granada and take a tour, though it's possible to stay in Masaya as well.
For hostels, I recommend El Caite since they have a pool and Granada is hot, hot, hot.
If you prefer hotels, try Hotel Colonial – the nicest in town and not too expensive!
Swim in an ancient volcanic caldera at Laguna de Apoyo.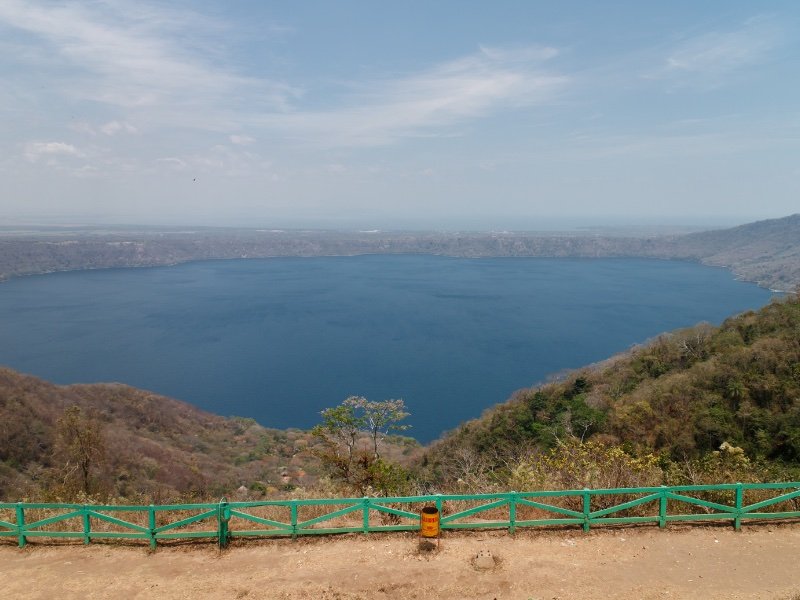 Laguna de Apoyo is a lake formed in the caldera of an extinct volcano between the capital of Managua and the tourist favorite of Granada.
At 175 meters (574 feet) deep, this natural lake is actually surprisingly warm… thanks to the geothermal activity below!
Hostels nearby offer amenities like kayak and stand-up paddleboard rental.
You can do a day trip for as little as $12 including roundtrip transportation and day access to amenities.
Now really, where else can you kayak inside a volcano?
There's a reason this is one of the most popular places to visit in Nicaragua, so join the crowds and enjoy it.
If you don't feel like making the day trip to Laguna de Apoyo and would prefer some nature right in Granada, kayaking the Isletas of Granada are a great second choice!
Where to Stay: Same as above – stay in Granada; my recommendations are above!
Learn to surf in Las Peñitas.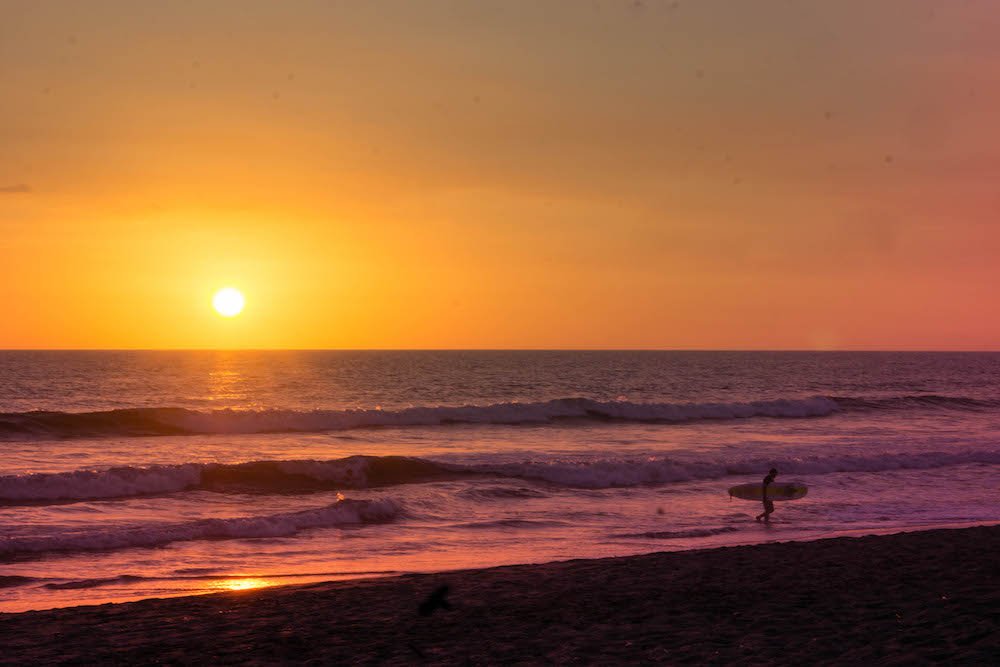 Many people go to San Juan del Sur to learn to surf, but I preferred quiet little Las Peñitas, about a 30 minute chicken bus from León.
Lessons start around $20, cheaper than San Juan del Sur where they're around $30, and the beach in town is much lovelier than San Juan's.
If surfing's not your thing – the sunsets ain't bad either!
The die-hards amongst us can choose a surf camp, but it's also possible to pick lessons á la carte as you prefer.
Where to Stay: For a hostel, I recommend Mano a Mano Eco Hostel. For a guesthouse, I'd suggest Nayal Lodge.
Hike in the Miraflor Nature Reserve.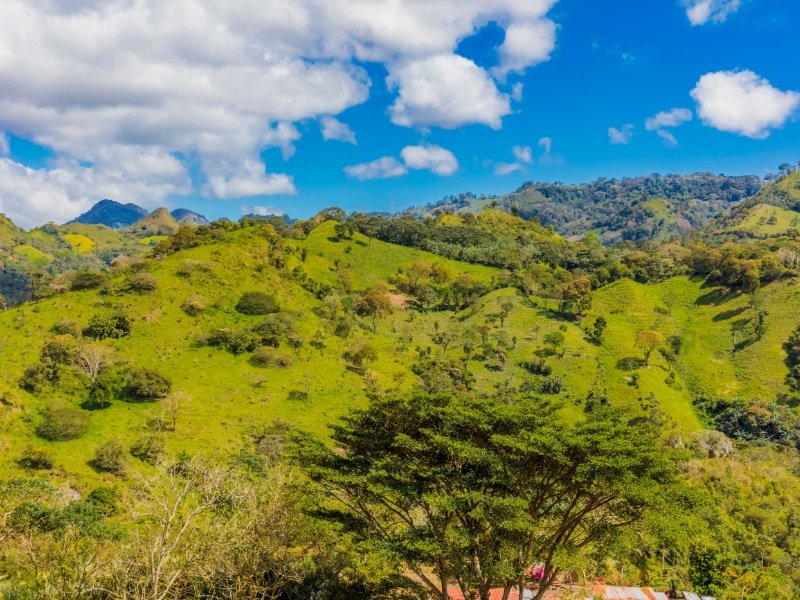 Nicaragua's north is untouched and pristine, and Estelí makes the perfect base for jumping off to nearby Somoto Canyon and Miraflor Nature Reserve.
You can even arrange 3- to 4-day long homestays with local families who live within the nature reserve if you really want to get off the beaten path and discover Nicaragua's north.
You can easily make it a day trip by asking around in Estelí.
Where to Stay: Same as my recommendations for Somoto Canyon, Casa Vínculos.
Party in San Juan del Sur.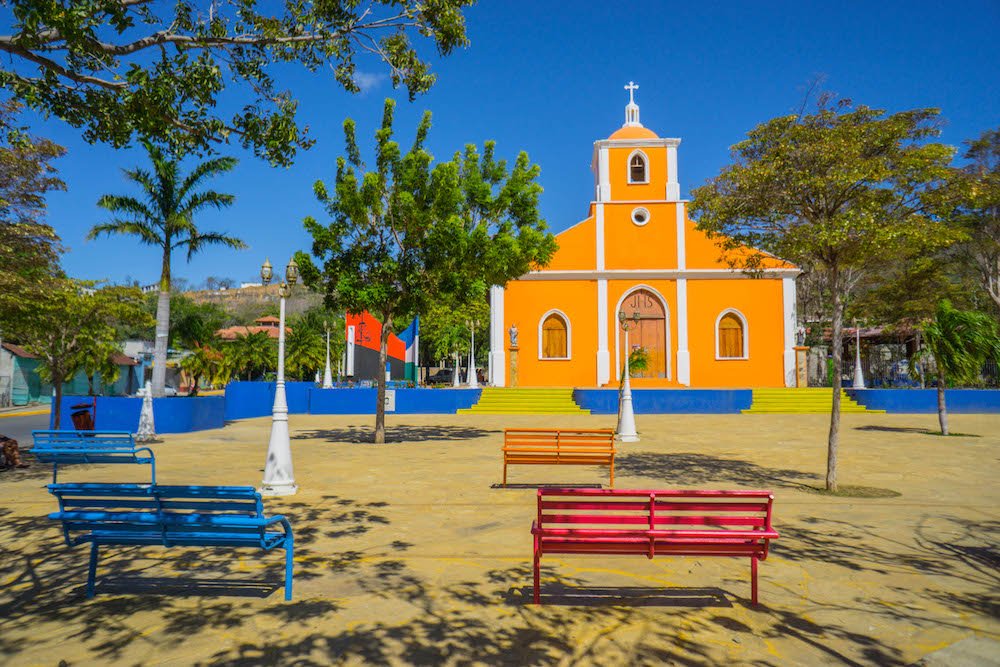 This little touristy town in the very south of Nicaragua (that's where the "del Sur" comes in) is surprisingly charming despite the legions of Sunday Funday-ers.
Sunday Funday is a massive pool crawl that takes place — you guessed it — each Sunday, with an open bar across 3 different hostels.
The bad news is that this'll cost you a cool $30 USD, a fortune in cheap Nicaragua.
My liver definitely cannot make $30 worth of beer worthwhile, so I passed.
If you're younger and hipper than I am, this is one of the can't-miss things to do in Nicaragua.
Where to Stay: Pick a place wisely — the hostels in town are very party-heavy. If you have more of a budget, Hotel Alcazar has some of the nicest rooms in town.
Sleep on top of an active volcano.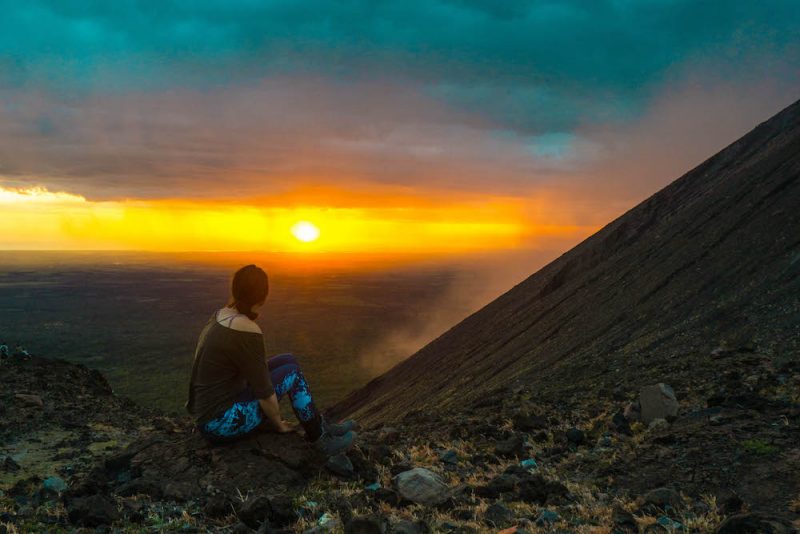 Telica Volcano is another one of Nicaragua's most active, and it also has the best view of all of them!
And that's saying something, as Nicaragua has nearly 20 of them.
It's home to a constantly smoking lava pit and views out to the Pacific as well as San Cristobal.
Since it's located right on the Ring of Fire, you can also see the other surrounding volcanoes (five of 'em in a row) all the way down to Lake Nicaragua.
The smoke from the crater may look ominous, but it's actually a good sign — my guide told me that when it stops smoking, that's when it's time to run!
On lucky nights, you can look down and even see lava glowing, though not quite at the level as you can at Masaya.
We didn't have any luck to see the red lava, but the sunset and the following morning's sunrise were more than worth the climb.
In my eyes, this is one of the best places to visit in Nicaragua, so if you're into hiking, be sure to make time for Telica.
I recommend doing this as a tour unless you're a super experienced hiker, as the paths leading up to the volcano aren't well marked and there aren't too many people around.
There's nowhere to stay on Telica — just your tent — so see my references above for where to stay in Leon.
Scuba dive – or just relax – in the Corn Islands.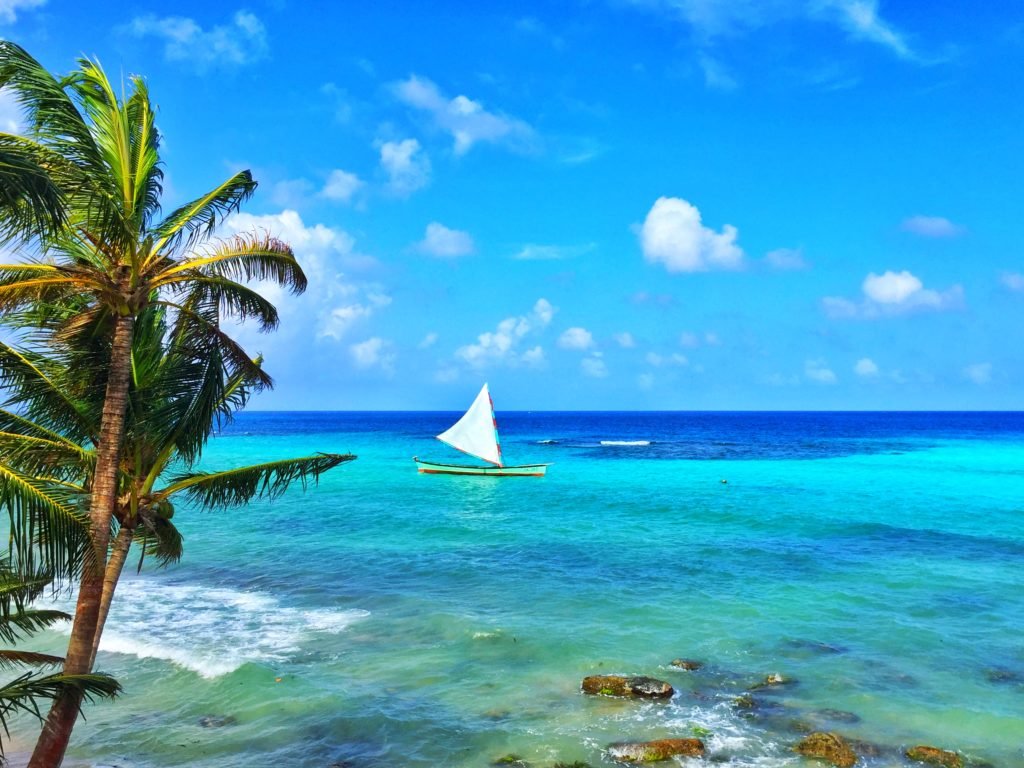 The untouched paradise of Little Corn Island will forever have a little piece of my heart – this gem of an island is simply special.
In contrast to the lovely laidback island life, the surrounding reefs are teeming with active marine life.
Swim with peaceful nurse sharks, parrotfish, spiny lobster, barracudas, blowfish, and more.
It's one of the best places to visit in Nicaragua, if not the entire Caribbean (I found the diving there comparable to Roatan and Utila, though not quite as good as Cozumel).
Little Corn is one of the cheapest places in the world to get SCUBA certified; when I was there, it only set me back about $330 USD.
If you're already certified, dives here are cheap. When I was there, you could get a package of fun dives, 5 for $150, or single dives for about $35 each.
Make sure you have dive insurance if you dive in Nicaragua! I use DAN, and I use that in addition to my regular travel insurance.
Where to Stay: There aren't too many options for hostels – I stayed in a private room with a shared bathroom at Three Brothers and thought it offered great value for money.
If you have more money to spend and want something a bit fancy, you can't go wrong with Yemaya Reefs, where I was a guest for two nights and was the highlight of my time in Nicaragua!
Learn how chocolate is made in Matagalpa.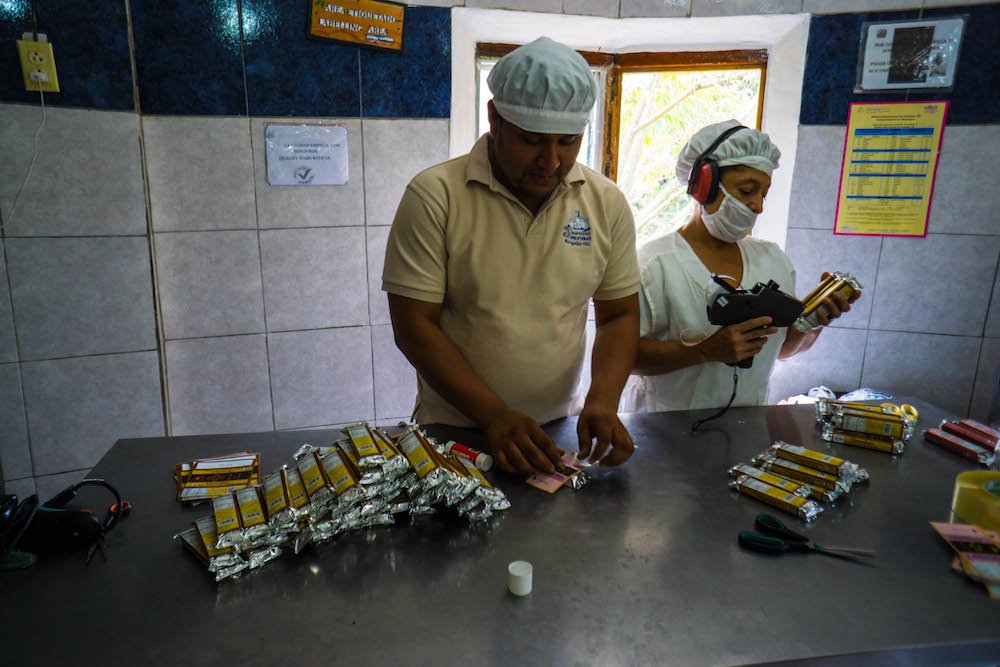 Wondering what to visit in Nicaragua's northern highlands?
If in Matagalpa, be sure to check out El Castillo de Cacao, a small little chocolate operation where for around $6 USD, you can receive a tour showing you how they make their own chocolate from nearby farms.
It's no Willy Wonka, but it's a charming and humble little factory — and samples and coffee are included, of course!
As chocolate is one of the most important crops in the country, it's definitely one of the most iconic (and delicious!) top things to do in Nicaragua.
Where to Stay: In my opinion, Maria's B&B can't be beat in Matagalpa!
Visit a coffee farm.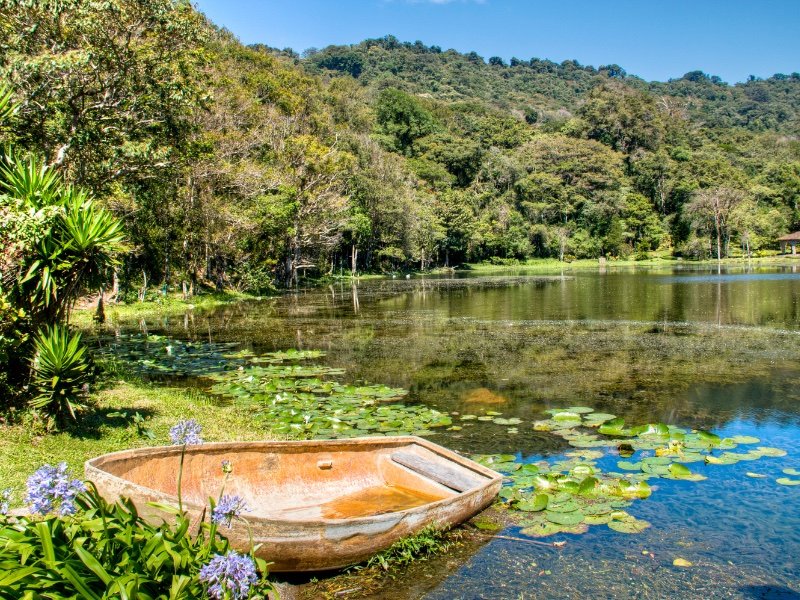 Nicaragua is renowned for its delicious coffee, and Matagalpa's surrounding highlands are some of the best places to grow coffee in the world.
If you take the chicken bus from Matagalpa towards Jinotega, you can stop at Selva Negra and take a coffee tour for $20 USD, including tasting the best of Nicaragua's coffee scene.
These tours only happen once or twice daily, so be sure to call ahead to inquire about schedules.
If that's not in your budget, you can get a cup of freshly brewed coffee at the restaurant for less than a dollar and enjoy the views of the pond.
You can also hike around the surrounding cloud forest, which is extremely well marked with clearly defined paths.
Where to Stay: See above recommendations for Matagalpa!
Stand atop the largest cathedral in Central America.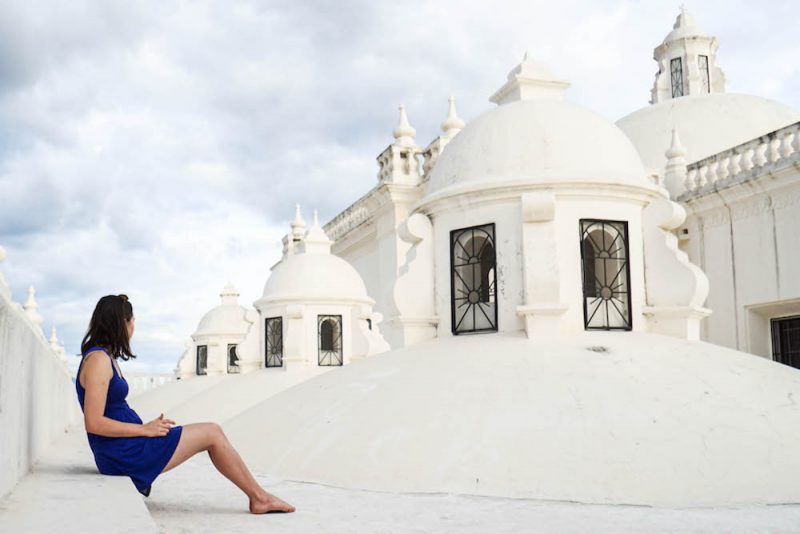 In a country not particularly known for its architecture, the Cathedral de Léon is one thing you simply must see in Nicaragua.
It's iconic for a reason: how incredibly dreamy is that white rooftop?
They keep it so white by requiring you take off your shoes — wear socks or be prepared for your feet to scorch!
From there, you have an amazing view of the volcanoes surrounding León – you can see Cerro Negro of volcano boarding fame, Telica, Momotombo and Momotombito, San Cristobal, and others flanking the city.
Definitely one of the most photogenic things to do in Nicaragua – I may have had a 30-minute long solo selfie shoot!
Where to Stay: As before – Poco a Poco Hostel for budget; Casa Azul for mid-range.
Pay your respects to those who died in the Revolution.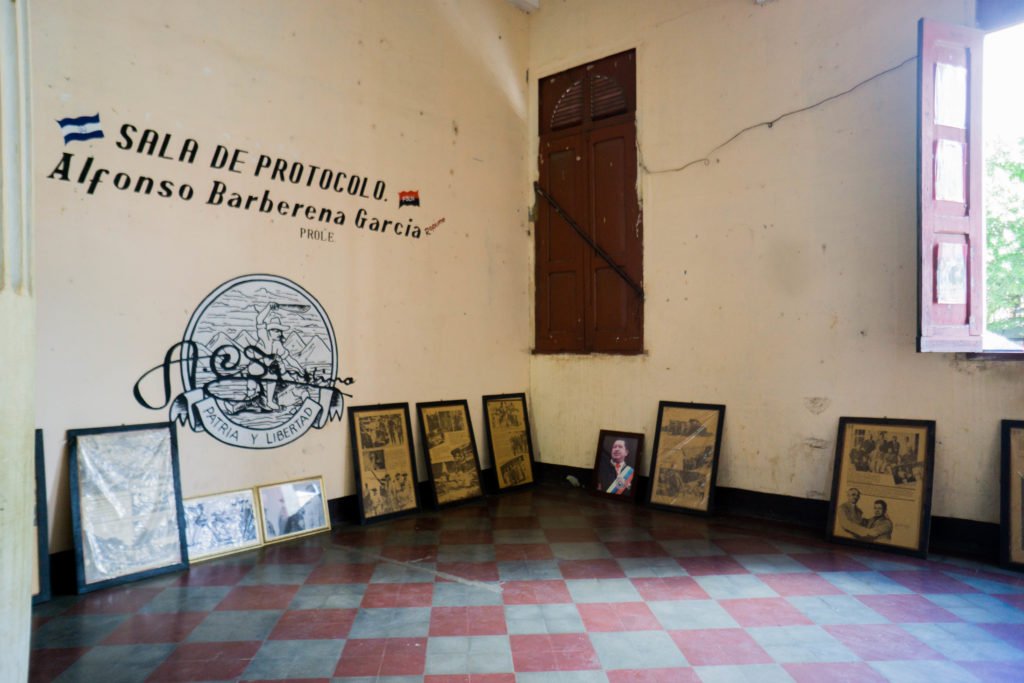 Wondering what to do in Nicaragua's revolutionary city, Léon?
Visit the Museo de la Revolución, of course!
It is not really a traditional museum; there are no informational placards and very few artifacts to speak of.
What makes this collection of rooms — mostly filled with simply framed photos resting on the floor — a museum is the people who guide you through it: survivors of Nicaragua's bloody revolution.
Listening to the guide will help you understand the issues both historical and present which face the country today.
Learn how to roll Nicaragua's finest cigars.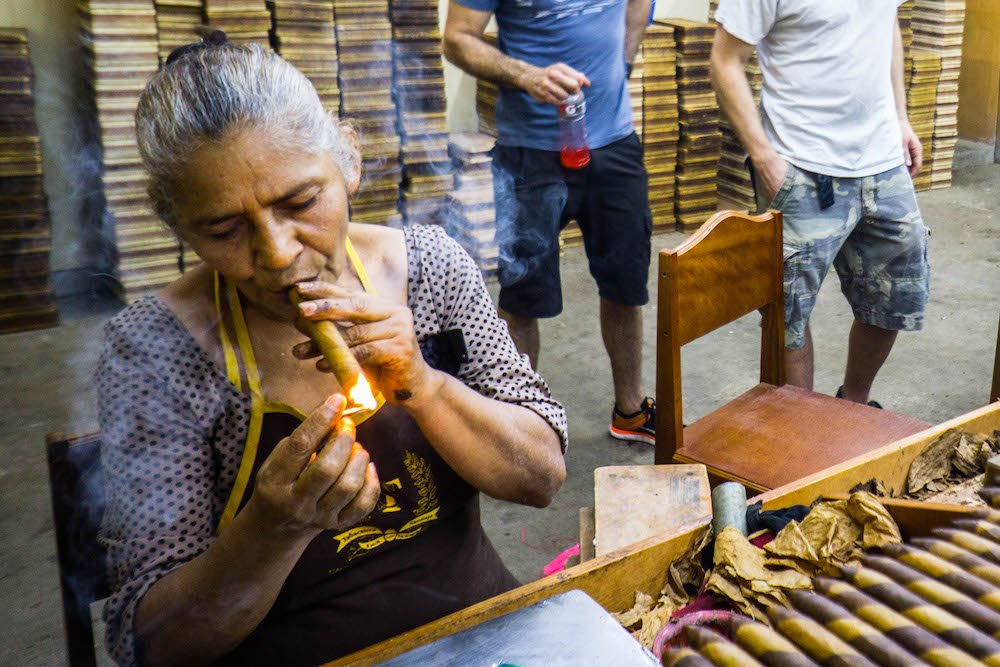 When you think cigars, your mind naturally goes to Cuba – but did you know that hundreds of Cubans fled to Nicaragua after the Cuban Revolution and brought their tobacco farming knowledge with them?
Now, Estelí makes some of the finest cigars in the world, and for around $10 you can take a tour of one of the city's many small cigar factories selling the best of Nicaragua.
One of the most badass grandmas in the world, who had been working at the factory for nearly 50 years, carefully taught me how to roll cigars.
I had to smile when she deemed me fit to work in the factory and dubbed me "la reina de la fábrica" — queen of the factory.
Learning to roll cigars from the pros is definitely a can't miss thing to do in Nicaragua's north, even if you're not a cigar smoker!
Where to Stay: If you want a hotel, Casa Vínculos is the highest rated in town.
Chase waterfalls in Estelí.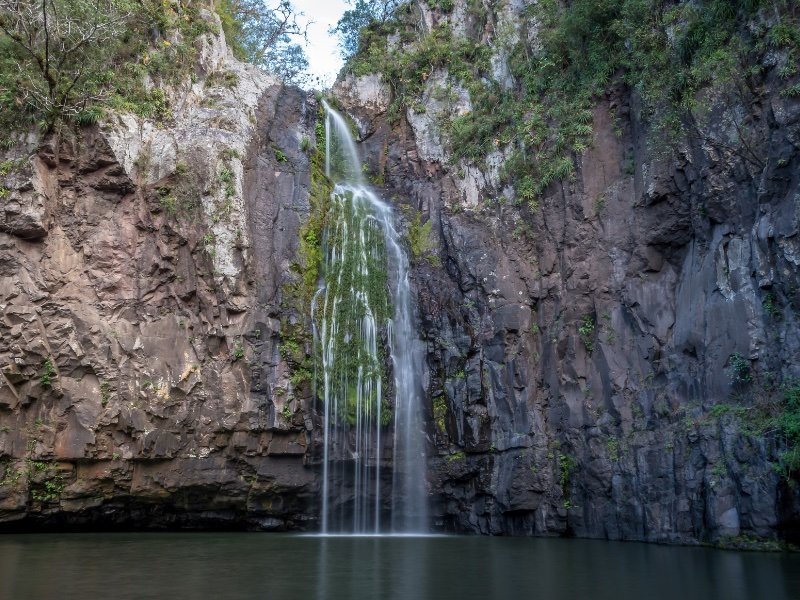 If you're in Estelí looking for some exciting things to do, Nicaragua's waterfalls can't be missed!
The cigar factories of Estelí are so cool, but you leave them feeling as if you've just lost a year of life from your lungs because the fumes are ridiculous.
Refresh your poor lungs at one of the many beautiful waterfalls flanking Estelí.
Tisey Estanzuela is the most well-known and is quite close to town – about two hours' walking distance or a cheap, quick taxi ride away.
If you want to go further afield, there are day trips to Colocondo and Quiabuc las Brisas, which you can find in town when you visit Estelí.
Where to Stay: See recommendations for Estelí above.
Kayak in Nicaragua's idyllic mangroves.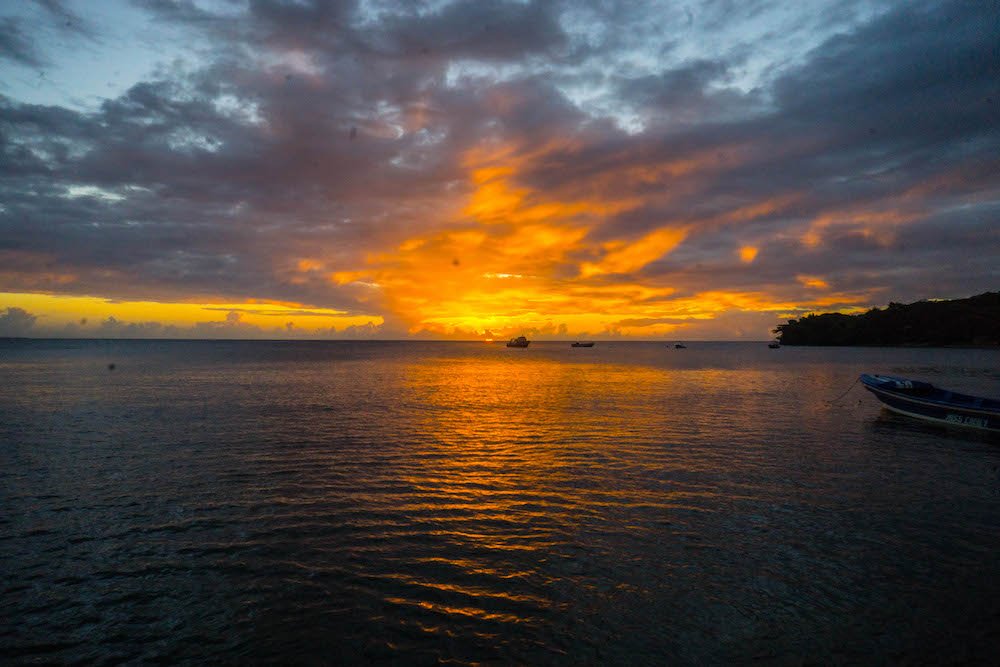 Kayaking through mangroves of Isla Juan Venado, a nature reserve near Las Peñitas on Nicaragua's northern Pacific coast, is one of the most peaceful things to do in Nicaragua.
Look for birds and other native life, and if you're lucky, you may even see a turtle laying its eggs in the sand, as this is a protected turtle sanctuary.
It's one of my favorite places to visit in Nicaragua, and it's peaceful and not very touristy.
Where to Stay: I recommend staying in Las Peñitas and getting a day tour or overnight stay. For a hostel, I suggest Mano a Mano Eco Hostel or for a guesthouse, I'd suggest Nayal Lodge.
Get a chocolate massage.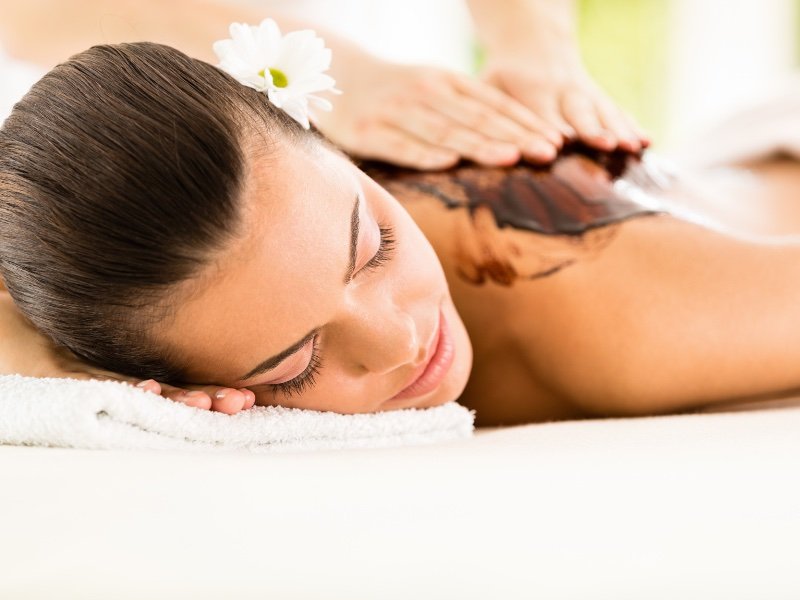 You may be exhausted just reading all of the epic things to do in Nicaragua….
… So why not take 5 (or 60) and relax with a chocolate massage at the luxe Mansion de Chocolate, a colonial era building turned hotel and spa in the beautiful city of Granada?
For a mere $40 USD or so, you can get lathered up in chocolate, scrubbed off, and then have an invigorating massage to soak up all that cacao-y goodness.
Not into the massage, but still curious about chocolate? There are also chocolate workshops in Granada that teach you how to make chocolate.
Where to Stay: If you're on a budget, try El Caite. If you have some extra cash, though, you can stay at the Mansion de Chocolate itself for not that much money!
Photograph the colonial buildings of Granada.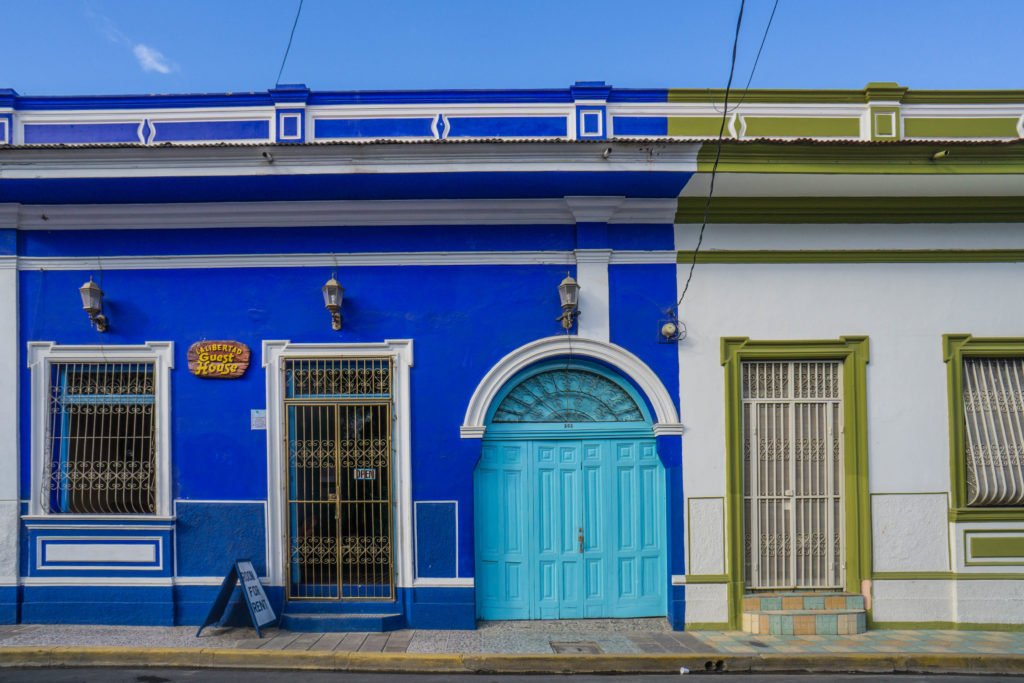 Granada is an Instagrammer's dream and its colonial architecture is one of the top attractions in Nicaragua – houses of every color line the streets.
From deep cobalt blues to vibrant yellows and hot pinks, basically every color you can think up has a home here.
The doors are no less stunning, and so fun to pose in if you can grab a photo buddy. One of the can't-miss things to do in Nicaragua without a doubt!
Where to Stay: See above recommendations for Granada.
Get the best view of Nicaragua's most iconic church.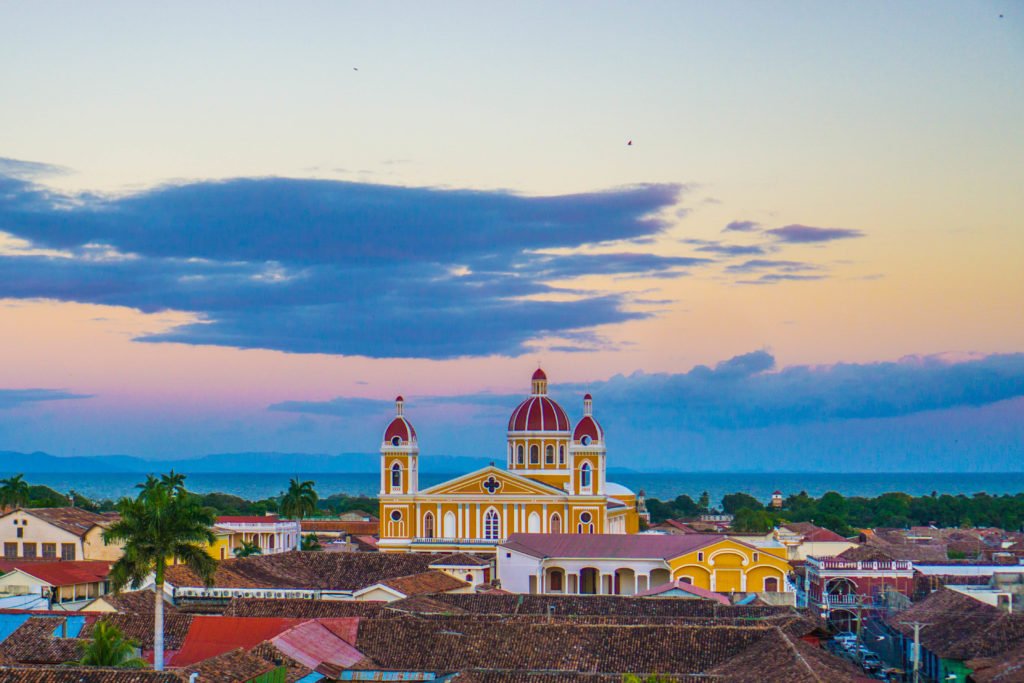 The best view in Granada costs only a buck, and it's a Nicaragua must see.
Climb to the top of Iglesia de la Merced's belltower and marvel at the view of the yellow and red postcard-perfect Granada Cathedral.
Lake Nicaragua even peeps behind it to make a photobomb appearance so you can really grab the perfect photo!
Go around 5 PM for the best light and a sneak glimpse of sunset before the belltower closes at 5:30.
Where to Stay: See above recommendations for Granada.
Try the local food.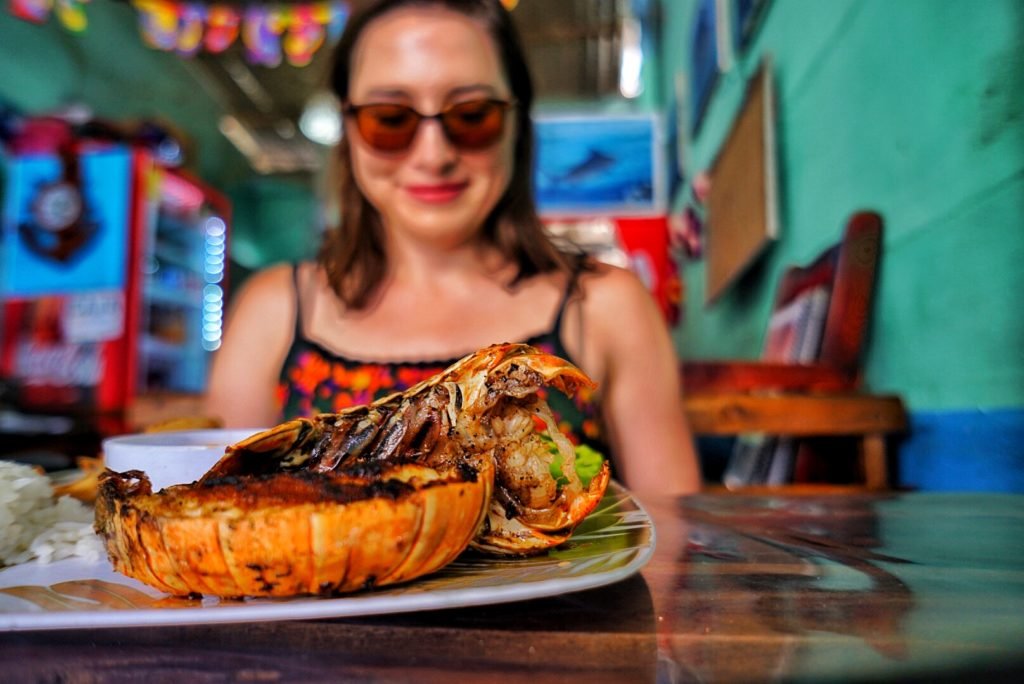 Nicaragua's food will never win any awards for creativity, but it's not without its comforts.
Gallo pinto – a simple side of rice and beans – will adorn basically every local meal you eat in this country.
Have it with pollo asado (grilled chicken), tajadas (super-thin plantain chips), ensalada, and maduros (sweet roasted plantains) for the most Nica of meals.
Other things to try include vigerón in Granada, a dish made of yucca, cabbage, and chicharrón, and nacatamales, a Nicaraguan spin on the tamale.
Also, if you like lobster, this is one of the cheapest places in the world to eat it!
You can get a whole lobster meal for about $10 USD in certain parts of the country, particularly the Pacific Coast and Little Corn Island.
Swim in a natural spring on Isla de Ometepe.
El Ojo de Agua is a natural swimming hole on the stunning Isla de Ometepe, an island composed of two volcanoes in the middle of Lake Nicaragua.
Nicaragua is freaking hot pretty much any time of year, so cool off with a lovely dip at this natural beauty.
There are lots of fun things to see in Ometepe to make it worth your while, so swimming in the springs is only one of many things you can do!
Where to Stay: I didn't make it to Ometepe – I blame the beautiful Corn Islands for holding me captive for two weeks – but I've heard to skip Moyogalpa, the port city. Instead, try to find accommodations in Altagracia, Balgue, or Mérida on Ometepe.
Hike Nicaragua's toughest volcano, Concepción.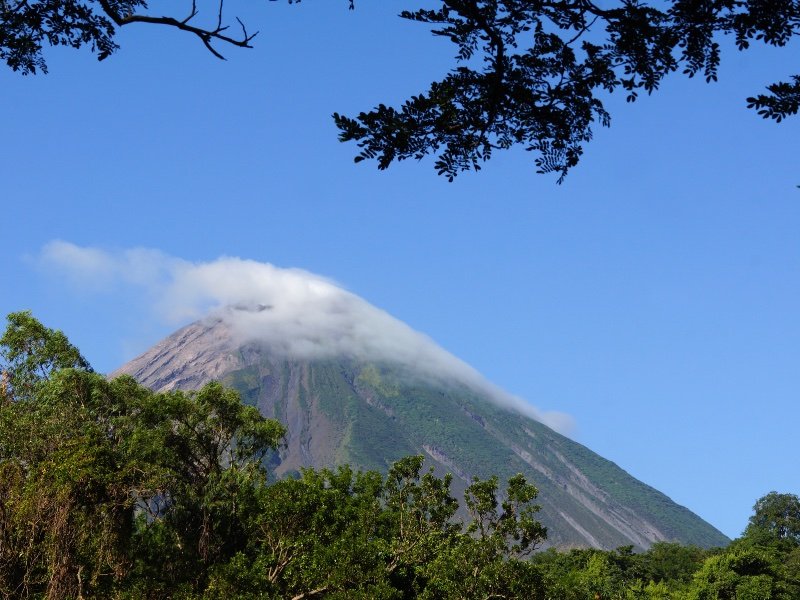 Warning: not for the faint of heart.
I didn't even attempt this one after hearing from countless people that it took over 10 hours and was the toughest thing they have done in their lives.
At 5,282 feet or 1,610 meters, altitude is not what'll get you here: it's the sheer steepness of the incline, muddiness of the paths, and relentlessness of the Nicaraguan sun.
After climbing Telica and Cerro Negro, I can attest that climbing any volcano in Nicaragua is tough, and Concepción only ups the ante.
Maderas, the other volcano composing Ometepe, is also tough but supposedly not quite as difficult.
It is illegal to hike either volcano without a guide, and with good reason – people have lost their lives trying. A guide will cost you around $50-70 for a day hike.
See a Pacific sunset.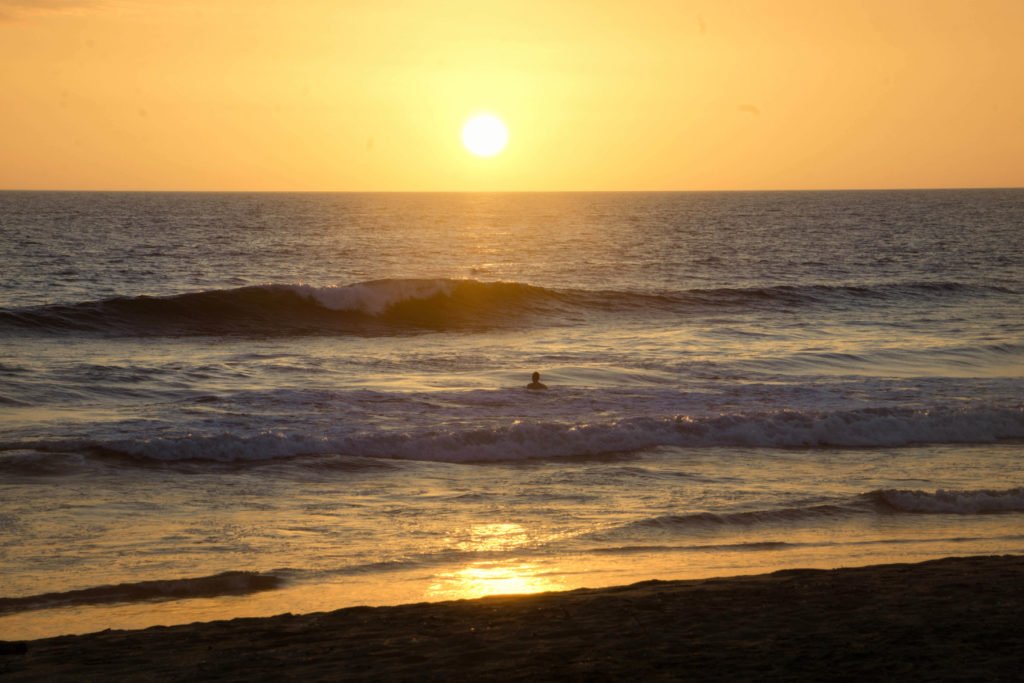 As a California girl, the Pacific holds a special place in my heart.
Whether you watch the sun sink into the ocean from the chilled out beach town of Las Peñitas, the surf mecca of Popoyo, or the party city of San Juan del Sur, you can't go wrong with that view.
One of the simplest yet best things to do in Nicaragua.
Check out a traditional craft market in Masaya.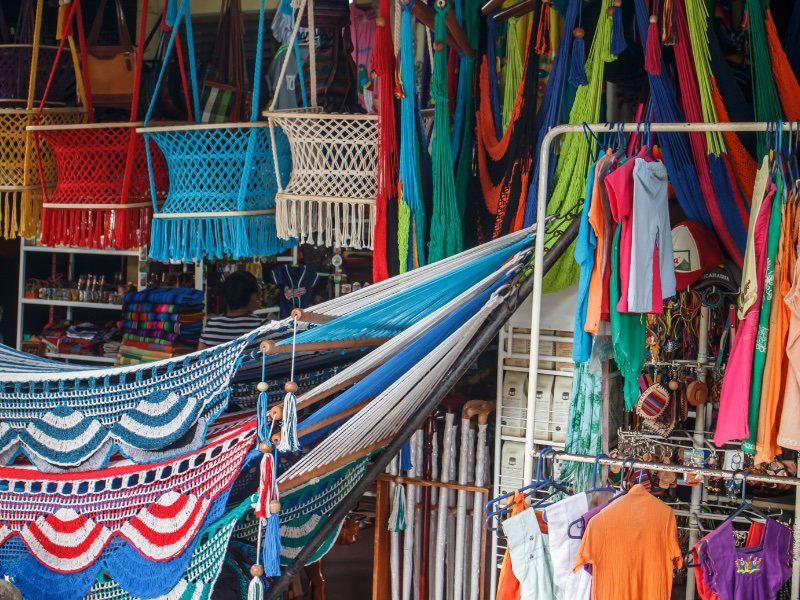 If you're a souvenir person, Nicaragua's got your back.
Quite literally, in fact, if you opt for their most famous export, the high-quality hand-woven hammocks. These'll set you back about $20 apiece.
Ceramics, jewelry, and embroidered clothing also round out the craft offerings you'll find here.
Masaya's craft market is the most traditional in the country.
Just make sure to ask to be directed to the municipal or local market – prices are half the price of the tourist market!
Where to Stay: Masaya is easy enough to get to by chicken bus from Granada, but if you'd like to stay and get a more local experience, there are lots of affordable places to lay your head at night in Masaya. The best-reviewed guesthouse in town is Hostal Casa San Miguel.
Ride a chicken bus.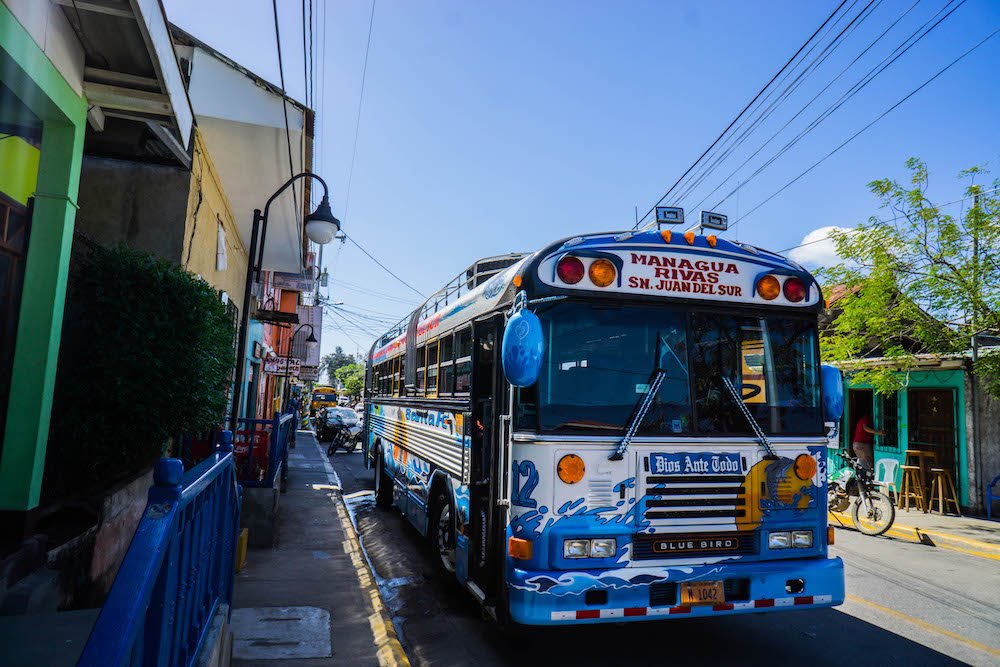 This is more of an inevitability than a thing to do, but alas.
If you haven't taken a chicken bus, I don't think you get to say that you've been to Nicaragua.
The humble chicken bus will take you virtually anywhere you need to go in this country for a song – I never paid more than $2 for a single journey, and often less than $1.
These are converted American schoolbuses tricked out to the nines with distinctly Jesus-y vibes.
Enterprising locals swarm the bus at every stop, selling sodas, tajadas, enchiladas (which are basically empanadas with salad), cakes, coffee, you name it.
It doesn't get more Nicaraguan than that!
Important Safety Notes
Travel Insurance: Nicaragua is generally a safe but developing country, and accidents, illness, or theft can happen anywhere. There have also been intermittent protests and unrest between 2018 and 2022, which could potentially impact some travel plans. Have travel insurance just in case – I use SafetyWing.
Mosquitos: Nicaragua has a tropical climate with mosquitos year-round, particularly in the rainy season. Zika, dengue fever, malaria, and chikungunya have all been reported there.
While there's no reason to cancel your trip on account of it, unless you're pregnant and concerned about Zika, protect yourself anyway with mosquito repellent.
I also carry around a few mosquito repellent wipes with me in my backpack in case I forget to bring spray.
Petty Theft: Nicaragua is one of the safer countries in Latin America. However, crimes of opportunity happen everywhere.
Pay attention to your belongings, especially on public transit, and I recommend this anti-theft backpack with locking zippers if you chose to carry a daypack.
Allison Green is a former educator turned travel blogger. She holds a Masters in Teaching and a B.A. in English and Creative Writing. Her blog posts merge her educational background and her experience traveling to 70+ countries to encourage responsible, enriching travel. She has been a speaker at the World Travel Writers Conference and her writing, photography, and podcasting work has appeared in National Geographic, CNN Arabic, CBC Canada, and Forbes, amongst others. Now a full-time traveler, she has lived in Prague, Sofia, New York City, and the San Francisco Bay Area.