Albania is a country that will defy every expectation.
It's more beautiful than you can picture and more unique than is able to be described — believe me, I tried with my list of 75 reasons to visit Albania.
While there are so many incredible things to do in Albania, I'm here to narrow it down to the absolute musts.
I wrote this guide after my first trip to Albania in 2016, but I've updated this guide after returning to Albania twice.
To make it most useful, I've broken down this list into regions and cities from North to South.
I know some travelers will have enough time to see Albania in full and others will have to cut things from their itinerary in order to make it work for their time frame.
I spent four weeks in total in Albania on my first trip and then a week on a return trip.
That said, many travelers visit Albania in just about a week or two and make it work.
You will likely have to pick and choose off this list of things to do in Albania, but I can guarantee you that you won't be disappointed!
Best Things to Do in Albania: Northern Albania
Northern Albania has the country's nature at its wildest: we're talking pristine, untouched mountains, streams so fresh you can drink from them, and some of the most placid and gorgeous lakes you'll find.
Northern Albania is a hiker's paradise, and the Valbona to Theth hike through the mountains is legendary for its beauty.
Meanwhile, cute little Shkodra (also written Shkodër) is often passed by, used maybe as a stopover for the Valbona-Theth hike or as little more than a bus exchange on travelers' way north to Montenegro.
However, Shkodra is a delightful city with a distinct feel from other cities in Albania, certainly worth dedicating at least a day or two to explore.
Rent a bike and idle around in Shkodra.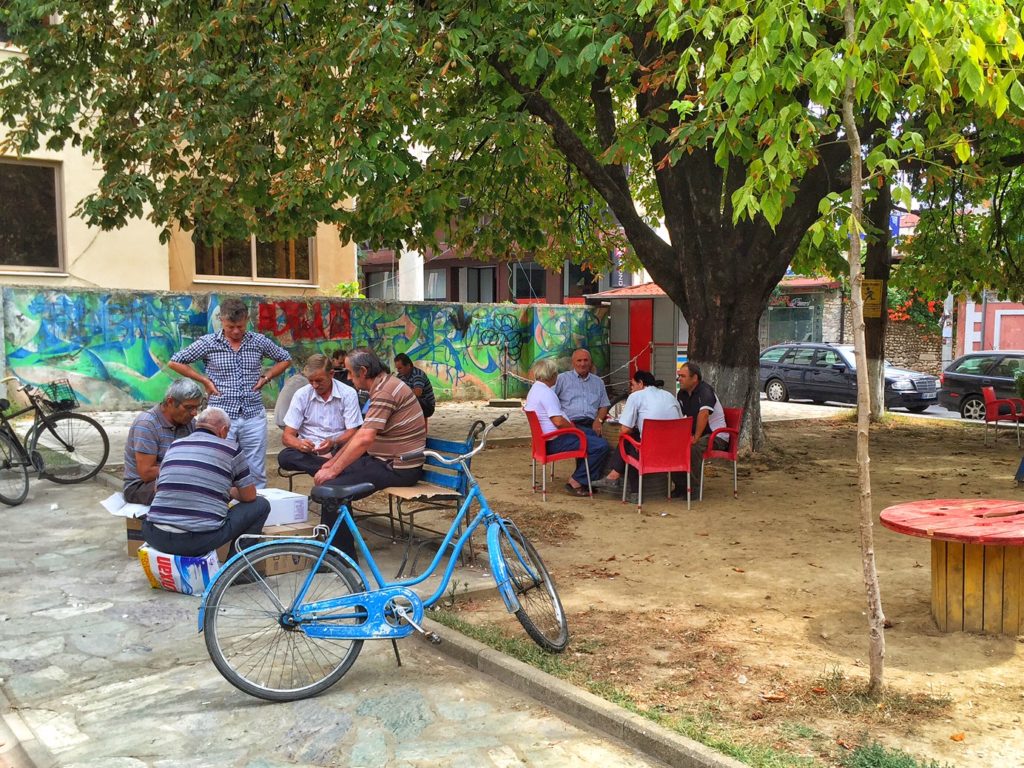 Note: This post contains affiliate links, which means I may receive a small commission if you purchase something through one of these links. Thank you for supporting the free content on this site! For more information on affiliate links and cookies, see my disclosure page for more details.
One of the things that contributes to Shkodra feeling so Western European compared to other cities in Albania which feel more Balkan is the fact that people bike everywhere.
In most of Albania, this would be basically a death wish between the potholes and the crazy drivers.
In Shkodra, though, the pace of life is much slower and you'll see everyone around you on two wheels instead of four.
Might as well join in!
Visit the ruins of Shkodra's Rozafa Castle.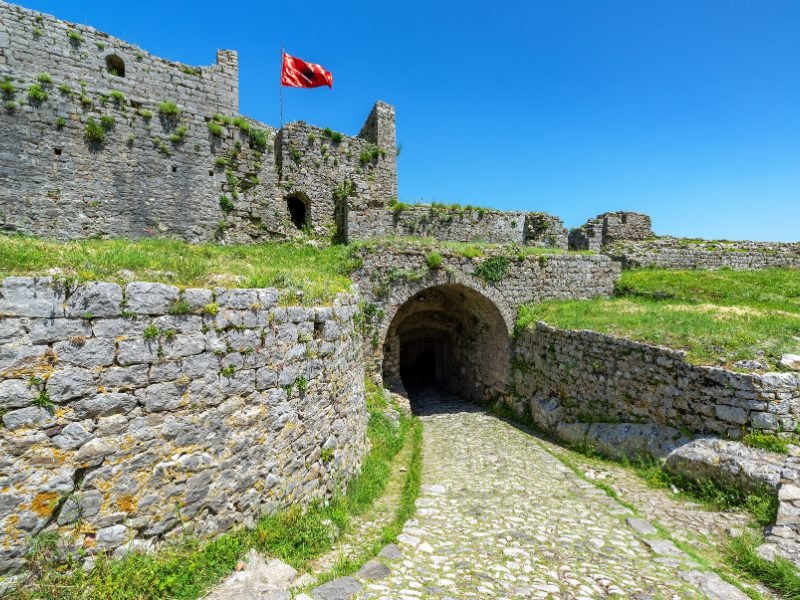 "Castle" is a bit of a generous term, I'll admit — Rozafa is far more ruins than castle, these days.
Still, it's a beautiful site to explore and absolutely worth its spot on this list of things to do in Albania.
Its location at the top of a hill means that you'll have stunning views of Lake Shkodra.
This lake is also known as Lake Skadar according to Albania's neighbor to the north, Montenegro, which shares the lake as its border.
Enjoy a free walking tour of Shkodra.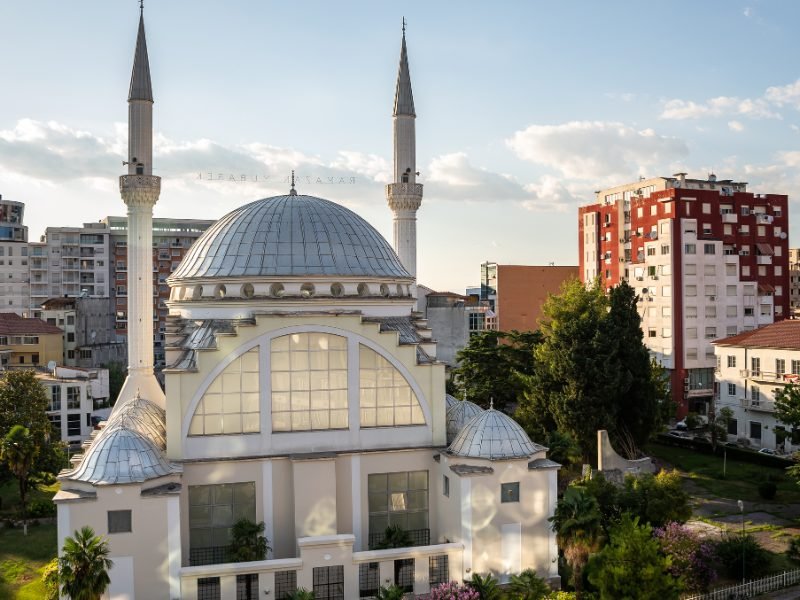 The best way to explore a city is by learning from its locals!
The Shkodra free walking tour covers some interesting landmarks in the city, such as the central mosque, several historic monuments, the local market, and the main pedestrian walking street of Shkodra.
This tour is jam-packed with interesting historical details, such as Shkodra's role in the uprisings that ended communism in Albania.
Do the hike from Valbona to Theth.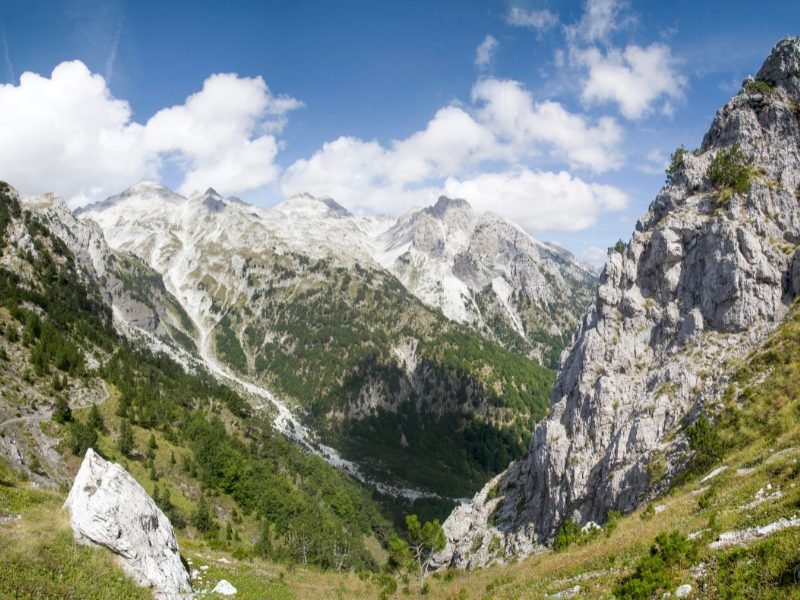 I'll admit was foiled twice when trying to do this hike; my first time in Albania, it was forecast to storm for about a week straight.
I experienced the most intense thunderstorm and flash flood of my life while outdoors at a beer festival in Shkodra, right before my planned Valbona-Theth hike.
I figured I'd move onto Prizren in Kosovo, where the weather forecast was slightly better, and loop back through Albania later.
However, when I got back to Albania halfway through October, it had already started to snow on the mountains and temperatures were below 0 C at night — not ideal hiking conditions.
So I haven't done this hike, but not for lack of trying! I guess they really earned their nickname of the 'Accursed Alps.'
That said, I can advise you that it's best to leave your big luggage in your hostel in Shkodra and to take only what you'd need for a short hike.
Typically, you take a furgon to Lake Komani, then take a ferry across the lake, transit to Valbona, and overnight there.
You start the hike from Valbona to Theth the following day, and it takes about 8 hours.
Things to Do in Albania's Capital, Tirana
Tirana is a city that takes you by surprise – no matter what your expectations are. It's quirky, quick-paced, friendly, and slightly frantic.
There's a sense there that everything is just improvised. Rhyme and reason are unwelcome.
Anything goes there… and that's why there are so many quirky, fun things to do in Tirana.
Most people give this city a quick pass through and bolt. I spent four days exploring Tirana's attractions after tearing myself away from the Albanian Riviera, but even as I left I felt compelled to stay.
Albania is a place I know I'll return to time and time again: partly out of love for the country, partly out of curiosity to see how it adapts to modernization. Go now, while Tirana is still unique.
Visit a museum/art gallery in a bunker.
I'm not quite sure what BUNK'ART is – and I'm not quite sure it knows, either.
The first bit of it is historically accurate representations of the bunker as it would have been used during the dictator's Enver Hoxha's iron grip over Albania.
The middle part is more museum, demonstrating how such a crazy communist regime was able to take root.
The last part is, presumably, the "art" part – with inscrutable video installations, disco lights, ghost bicycles, etc.
One of the coolest Tirana attractions by far!
There is free wifi in the bunker, but if you feel tempted to send videos to your pals, be sure to give them more details than just "I'm in an underground bunker in Albania" if you don't want to get back panicked texts of "is this a hostage situation?"  Context, right?
Take the cable car up Mount Dajti.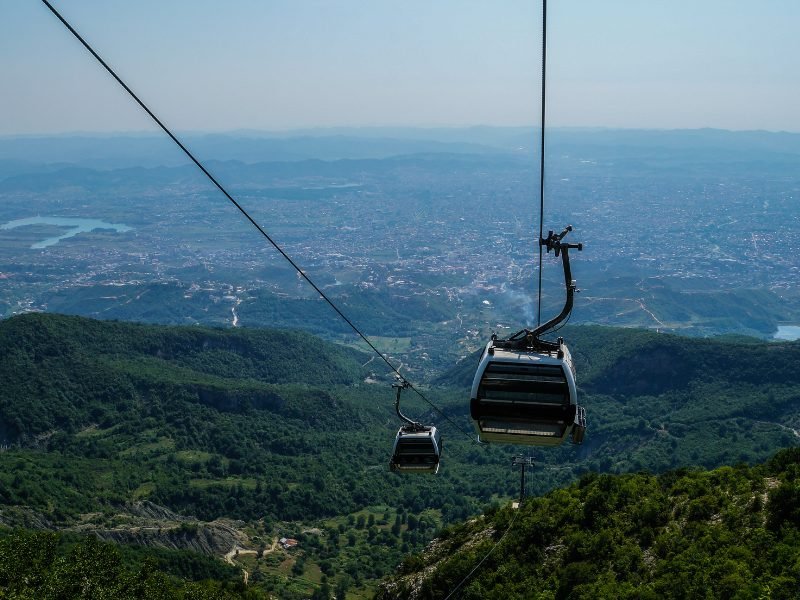 After a quick and somewhat pricy cable car up Mount Dajti, you're in a wonderful nature escape where Tirana feels a world away.
Take a hike in the nature leaving from one of the trailheads, grab lunch, or join in at the Rogat Shooting Range on the mountain.
Because nothing says fresh air, nature, and relaxation like firing off a couple of rounds at some beer cans that never did anything to you, right?
Gorge on grilled meat with mountain views.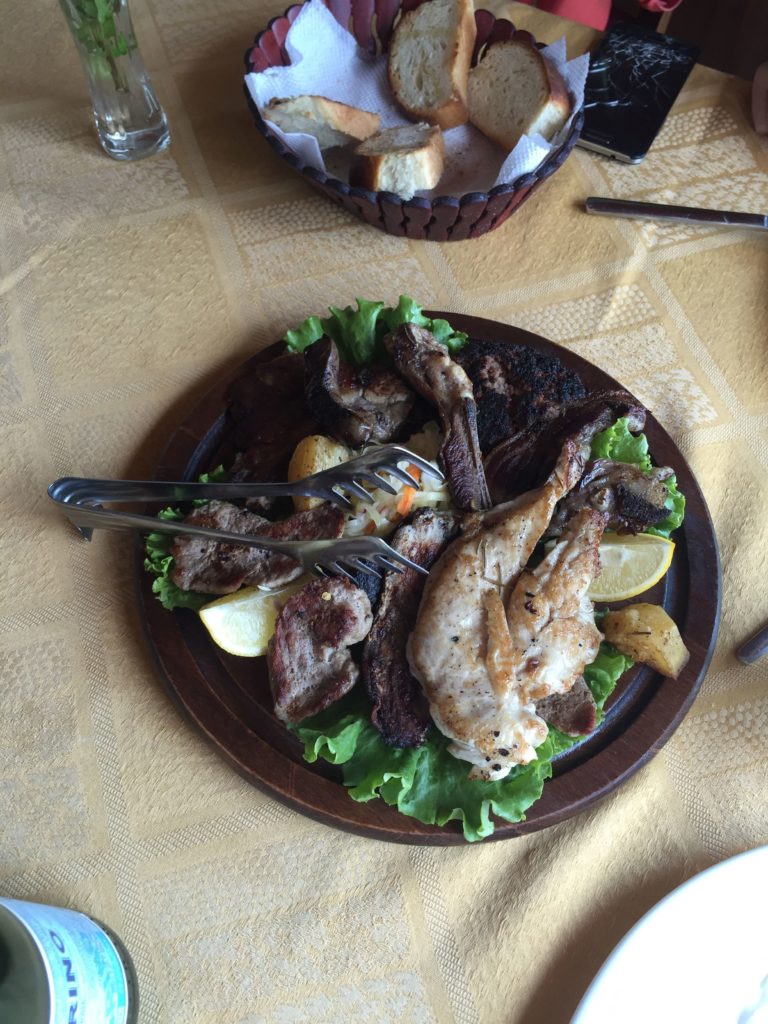 After you've worked up an appetite shooting random things, you may want to refuel with a kilogram of mixed meat!
Lunch, the Albanian way.
A feast of three kinds of meat, definitely enough for two people, will set you back about $15-20 USD.
Drink with hipsters in the former heart of communism.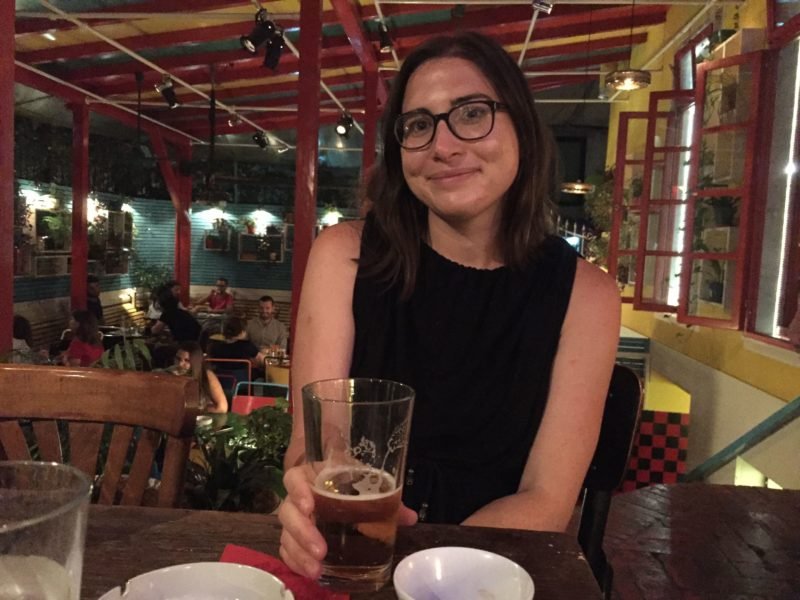 Nothing says sticking it to Enver Hoxha's dictatorial idea of communism like downing some craft beer in the ultimate emblem of modern-day globalized capitalism: hipster bars.
Blloku used to be the spot where party loyalists all lived – now it's the hippest neighborhood of Tirana.
Get ready to sit at a table with an old sewing machine on it and feel like you're in Brooklyn – all this in a former communist brown noser's backyard.
With delicious cocktails and great music, a night out in Blloku is definitely one of my favorite things to do in Albania!
Eat KFC across from Enver Hoxha's house.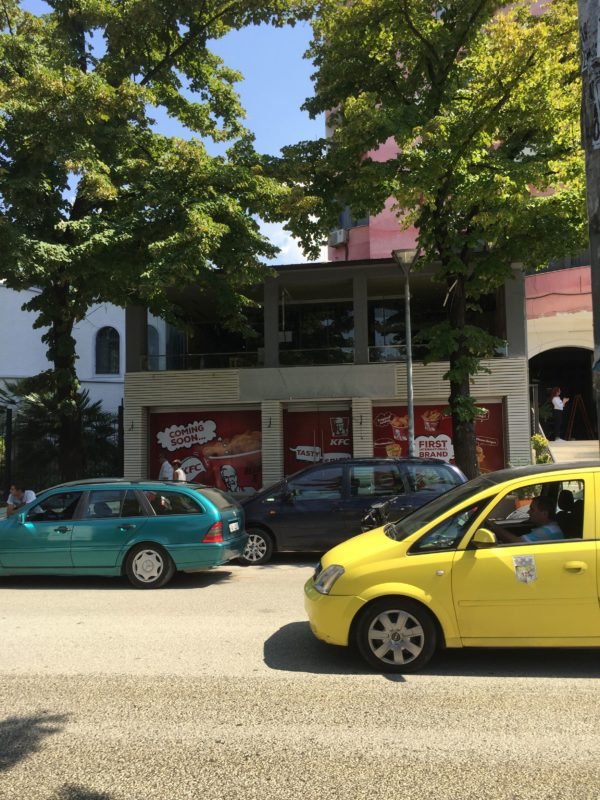 Okay, so maybe there is a better way to stick it to Enver Hoxha's regime.
The very first international food chain is coming to Albania – America's own national treasure, Kentucky Fried Chicken.
The best part? It is literally opening right across the street from deceased dictator Enver Hoxha's old house.
I really can't think of sweeter poetic justice than this. Too bad it wasn't open when I was there, as I would have loved this deliciously ironic Tirana "attraction."
Visit George W. Bush Street.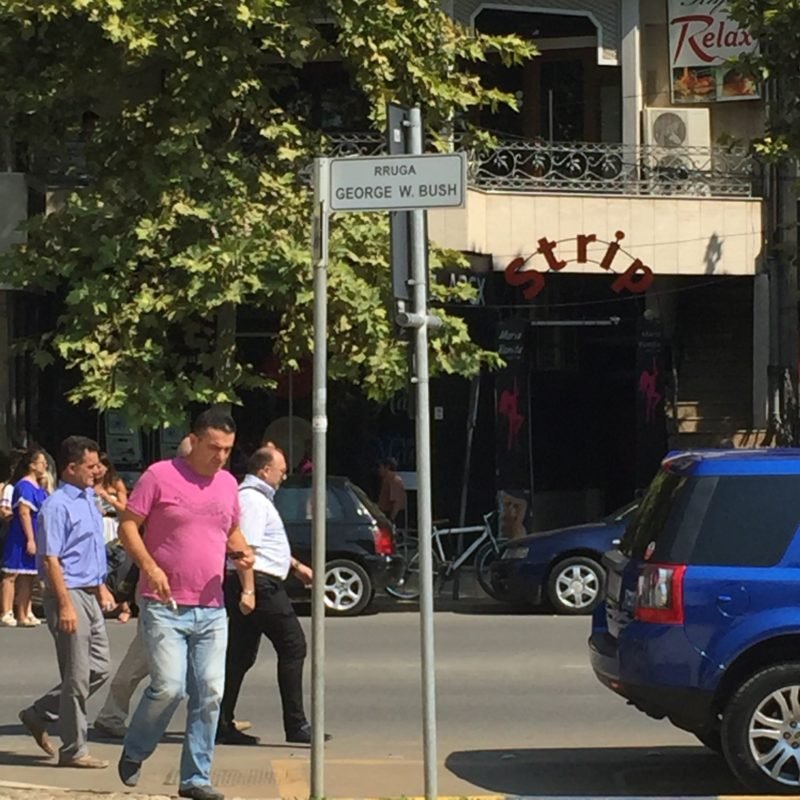 Okay, so you can technically do this in Prishtina, Kosovo as well — and maybe a few places in America, too.
But it's weird to see a figure who is so generally internationally reviled, actually be venerated in a foreign country.
Albania loves George W. Bush because he was the first American president to visit their country.
There's even a statue of him in a town where he once ate lunch, and the restaurant owner has forever shut down his seat so no one can sit where Bush once ate… although I can imagine when the lights go out, he eats there every night.
While I'm no fan of Dubya, I do find it interesting to visit and see another country's perspective, one that is so different from my own.
Admire an odd communist-era pyramid.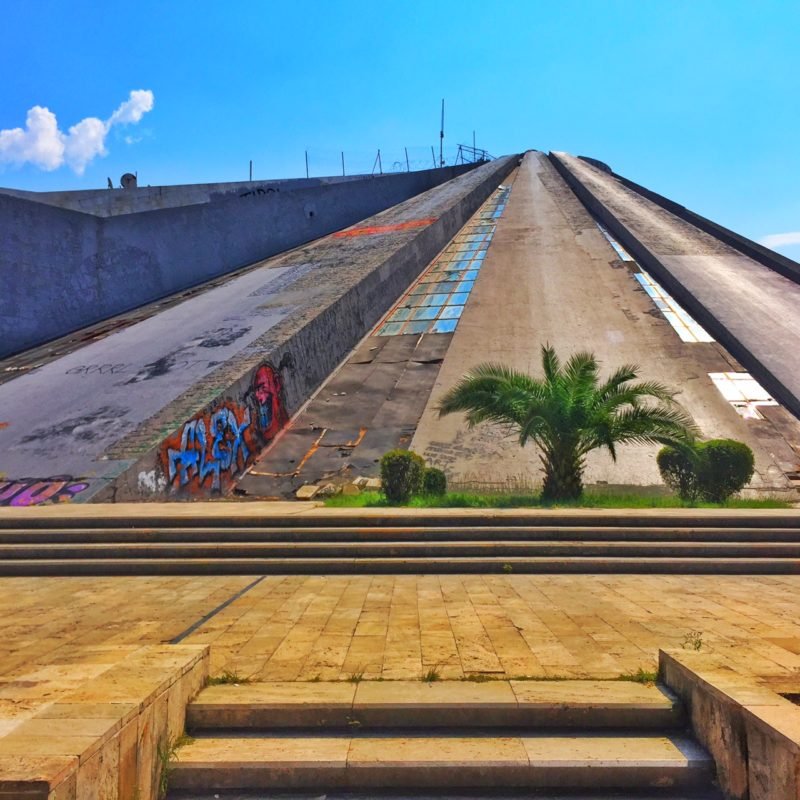 Piramida in Tirana is a monument built in honor of Hoxha's death, and it's almost as ugly as his regime was.
It's now in a state of disrepair, and some kids (and the occasional tourist) have now taken to using it as a slide while the country tries to figure out what to do with it.
Discover Albania's crazy past through a free walking tour.
If you choose just one of all the things to do in Tirana, make sure it's the walking tour.
The guide, Gazi, is one of a kind and will make the history of Albania come to life as experienced through the city of Tirana.
You'll see all of Tirana's major attractions as well as learn about  Albanian history in an intriguing, easy to follow way.
Literally every person I've met who has passed through Tirana and taken this tour raves about it. You can't miss it!
Drink coffee at FRIENDS cafe.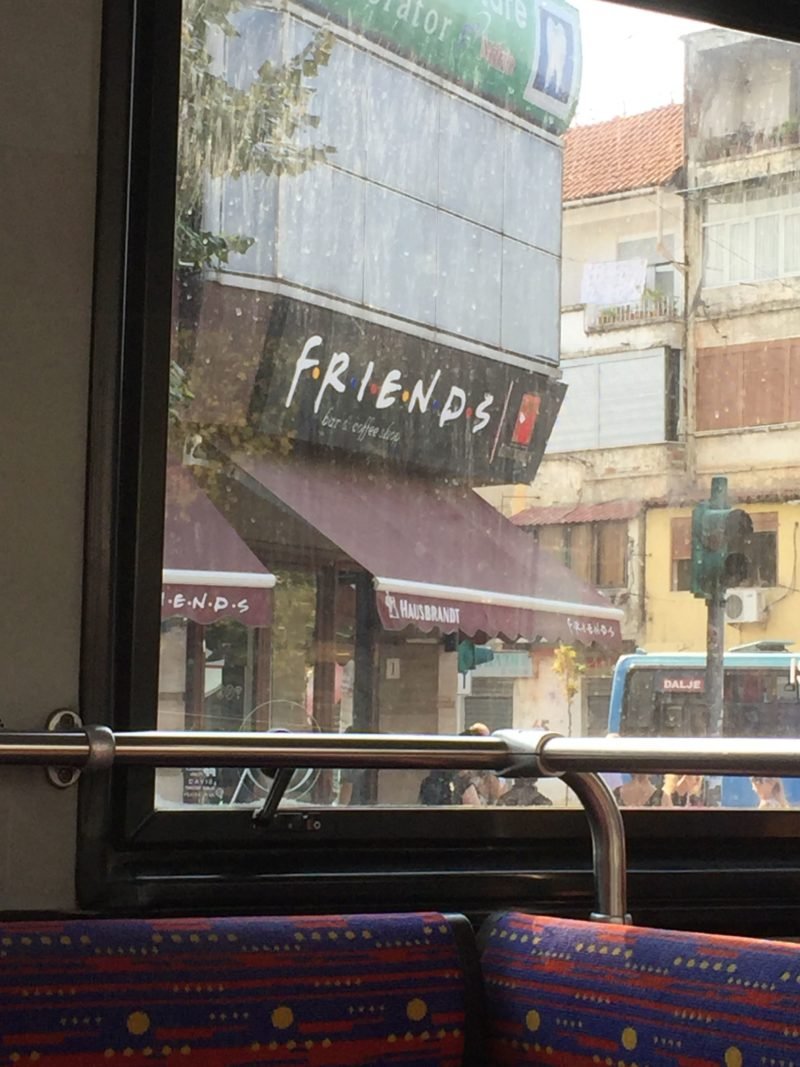 Albania has a bit of a fascination with American culture – and loose enforcement of copyright laws.
Want to live in the 90s forever? Check out FRIENDS cafe.
I didn't hop inside, as I noticed it while on the bus back from BUNK'ART, but rest assured, it'll be theeeere for youuuuu when the rain starts to pour.
If you don't want to have 90s flashbacks with your coffee, there are plenty of other cafés both trendy and traditional elsewhere in Tirana.
Enjoy a cappuccino for about 80 cents in most places!
Grab sunset drinks at Sky Bar.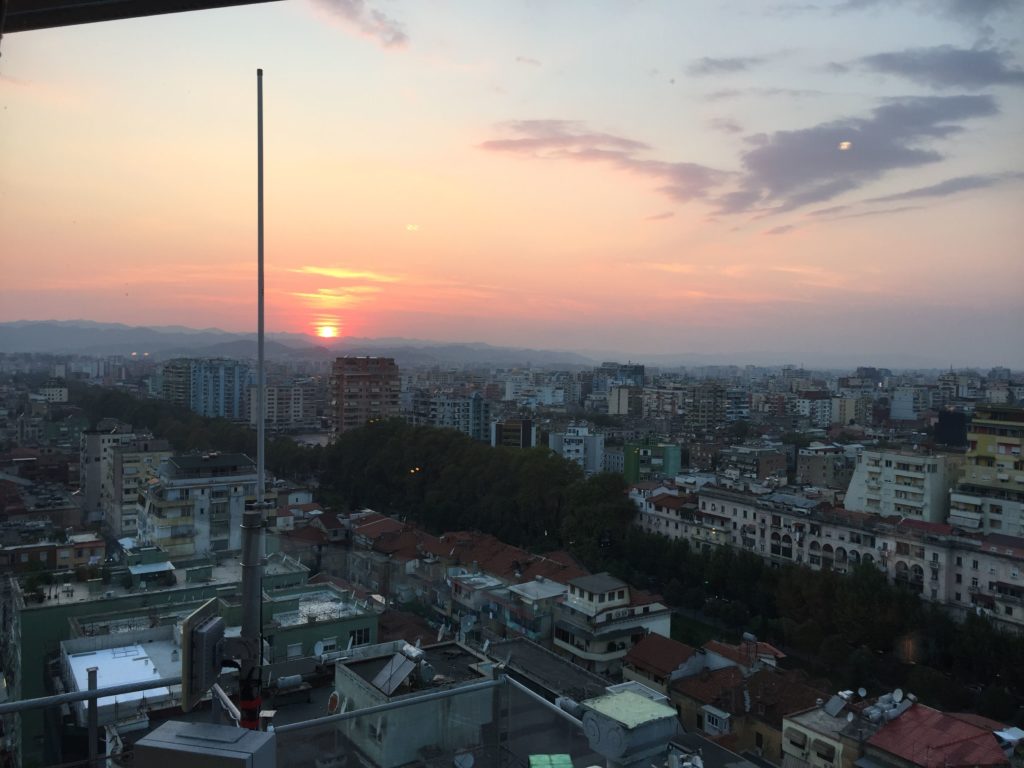 Doesn't drinking grape-based moonshine while spinning in a circle at the top of one of Tirana's tallest buildings sound like a fantastic idea?
No? Well, it is when you have these views. Warning that the chairs spin, too – it can really take you by surprise!
All about Central Albania
Central Albania, covering the area roughly south of Tirana but not including the coastline of the Albanian Riviera, is Albania at its most pure and traditional. Here you'll find "museum cities" such as Berat with its perfect Ottoman-era architeecture and Gjirokastra, the "stone city" that is the birthplace of one of Albania's most unique forms of music.
You'll also find smaller, off the beaten path cities that not many tourists to Albania visit, such as Elbasan, Pogradec (on beautiful Lake Ohrid, which it shares with Macedonia) and Korca.
Things to do in Central Albania (Berat, Korca & Gjirokastra)
Check out the windowed "eyes" of Berat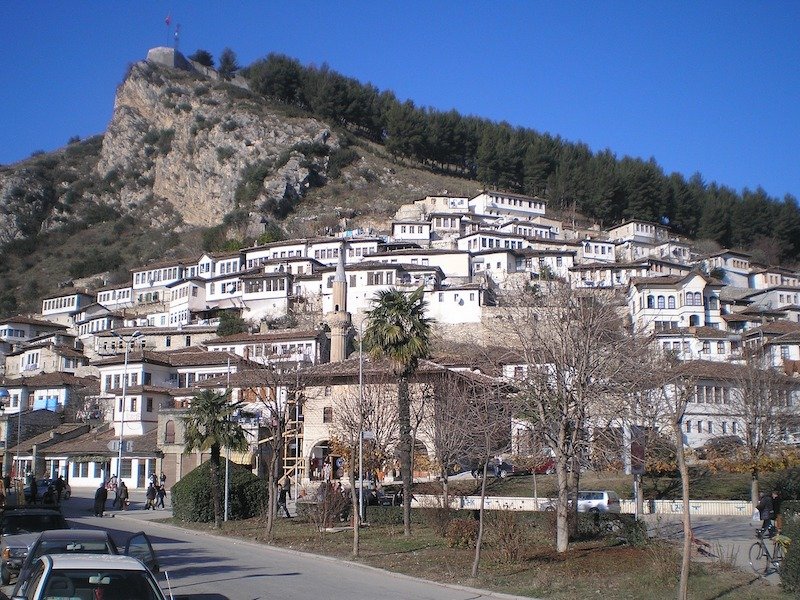 Berat is nicknamed "The City of a Thousand Eyes," and once you've heard that description, you won't be able to put it out of your head. Everywhere you go, the windows seem to be watching you. Wandering around the Old Town of Berat is a load of fun and a photographer's dream, especially during the golden hours.
Join the locals for the nightly xhiro
Besides just the Old Town and castle of Berat, you should also check out the main pedestrian walking street when the locals take their nightly walk (xhiro) and eat at one of the delicious BBQ restaurants overlooking the main street.
But you don't have to be in Berat to find people doing their nightly xhiro – just find the main pedestarian street in any city in Albania (or Kosovo, for that matter), and you'll see people of all ages enjoying a nightly stroll just around sunset.
Check out the castle of Gjirokastra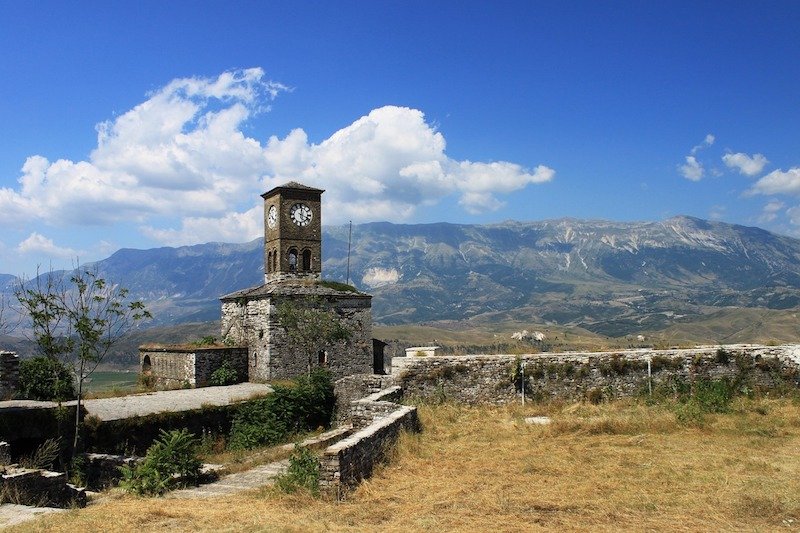 Gjirokastra is a beautiful spot for a day trip or even a few days. It's famous for its architecture, which is unique to this part of Albania; I've actually never seen it anywhere else in the world. The walls and roofs of the buildings are made of layers of flat rock, giving Gjirokastra its nickame "Stone City."
The Gjirokastra castle (kalaja) is also remarkable, with gorgeous views to the Albanian foothills and also the city below. You'll also find, inexplicably, an airplane up by the fortress, as well as a stage where polyphonic music concerts are performed a few times a year.
See the museum houses of Gjirokastra
Besides the castle, you also shouldn't miss the "museum houses" of Gjirokastra which are basically former residences that have been converted into museums. They've never that expensive to enter – maybe the equivalent of $2 or $3 – and are a really interesting way to get a look at Albanian history through artifacts and architecture.
I visited the Skenduli house near the Anthropological Museum (also an excellent place to stop when in Gjirokastra – especially interesting because it's located in the house where Enver Hoxha, the psychotic former dictator, was born) and found it both beautiful and highly insightful. The Zekate House is also recommended but I didn't get a chance to visit it on my day trip to Gjirokastra.
All About Southern & Coastal Albania
To the extent that any part of Albania is touristic, the Albanian Riviera is definitely the heart of tourism in the country. The largest city in Southern Albania is Saranda, where many travelers from Corfu start their Albanian adventure. Saranda is a great base for day trips, such as the Blue Eye, Butrint, and Ksamil Beach, but it's also a great destination in its own right.
Further up Albania's coast, you'll find both cities like Himara and Vlora and small villages like Borsh and Dhermi – but even the largest cities on the coast have gorgeous beaches just outside them. I've written a lot about the Albanian Riviera
Things to do in Southern & Coastal Albania
Visit Butrint, Albania's best-preserved Roman ruins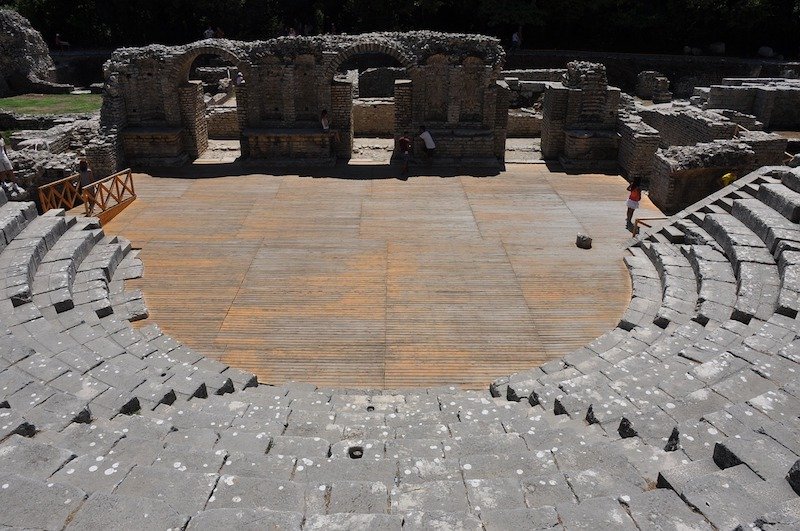 Only in Albania will you find the remains of an incredibly well-preserved Roman city — and barely share it with even a handful of other travelers. Butrint is an archaelogical site and national park in southern Albania about 30 minutes from Saranda.
While Butrint is well-known, even in high season when I visited, there were no tour groups or large groups of people, so it felt a bit like discovering my own lost city. Give yourself adequate time to discover Butrint for yourself – I'd say around two hours is enough.
See Albania's "Blue Eye"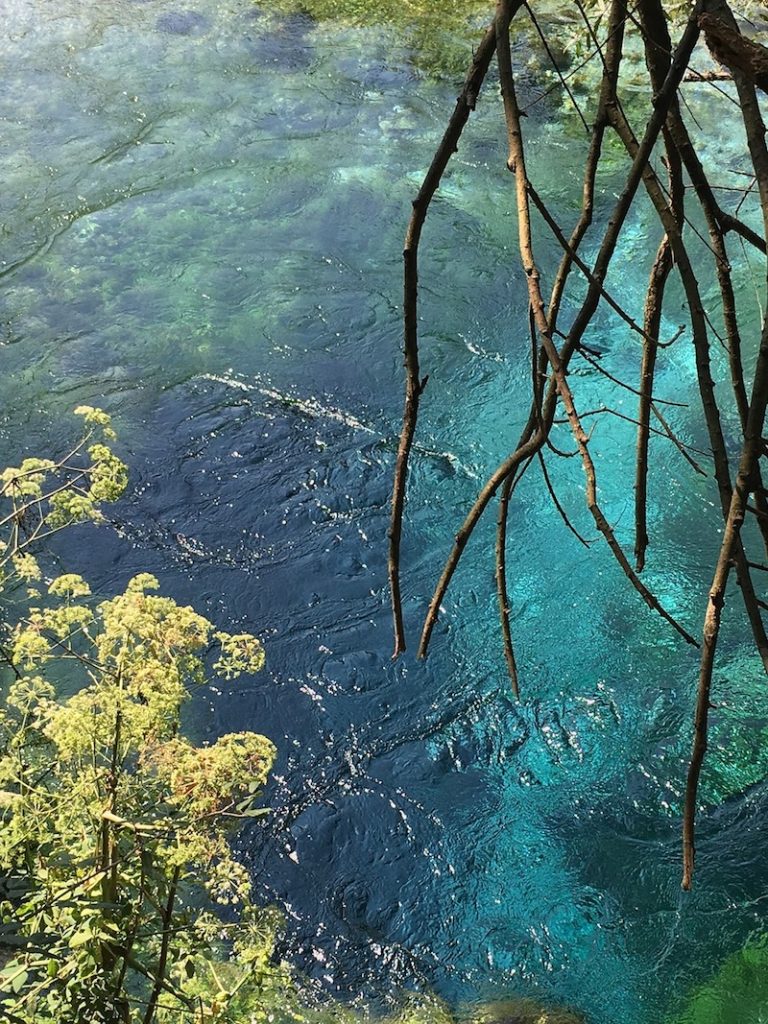 One of the most unique things to do in Albania is to visit its "Blue Eye," a natural spring gushing forth ice-blue water from a sinkhole at least 60 meters deep. Located about halfway between Saranda and Gjirokastra, this is a much-loved spot in Albania.
While there are signs against swimming, I certainly saw a few people in the water, several of them jumping from a ledge a few meters high. Be aware that if you do this, the water is absolutely freezing — I definitely won't be getting in anytime soon.
Visit the islands of Ksamil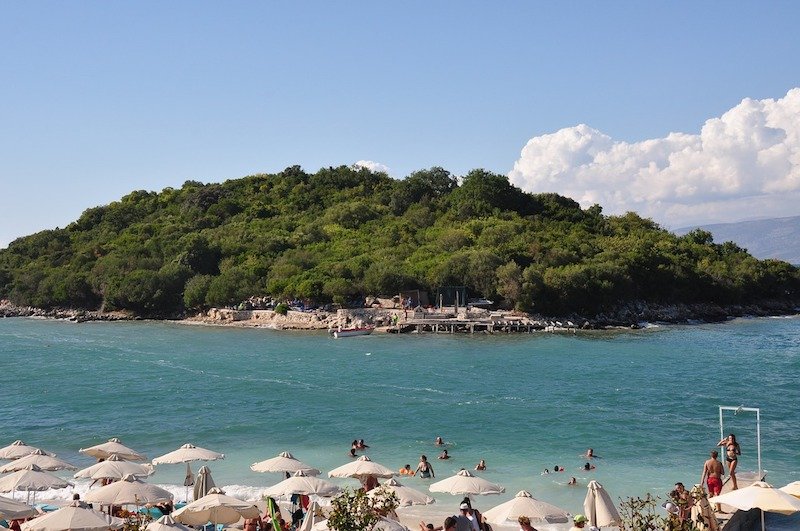 For a coastal country, Albania actually has surprisingly few islands. One of the few places in the country where you will find islands is Ksamil, a small village not far from the larger port city of Saranda. Ksamil is one of the more touristy spots in the country; however, it's still Albania, so it's not that expensive for foreign tourists.The coast of Ksamil is super packed with umbrellas and beach chairs, and there's no shortage of restaurants where you can order a delicious seafood lunch and wine for a great price (I'm talking about $5 USD for a meal). But the islands of Ksamil aren't hard to swim to if you're a decent swimmer, and they're completely undeveloped and peaceful. I recommend bringing a dry bag and enjoying your day on one of the few islands of Ksamil!
Allison Green is a former educator turned travel blogger. She holds a Masters in Teaching and a B.A. in English and Creative Writing. Her blog posts merge her educational background and her experience traveling to 60+ countries to encourage thoughtful travel experiences that both educate and entertain. She has been a speaker at the World Travel Writers Conference and her writing, photography, and podcasting work has appeared in National Geographic, CNN Arabic, CBC Canada, and Forbes, amongst others. Now based in the San Francisco Bay Area where she grew up, she has also lived in Prague, Sofia, and New York City.