If you're traveling to the Azores, you're in for the trip of a lifetime.
There are so many incredible things to do in the Azores that I anticipate you'll never experience a moment of boredom. It's simply impossible to feel boredom in a place this beautiful, diverse, and intriguing.
I spent three days driving the Azores, all on the main island of São Miguel.
It's an incredibly easy destination to road trip, as the roads and infrastructure are excellent and the island is relatively small.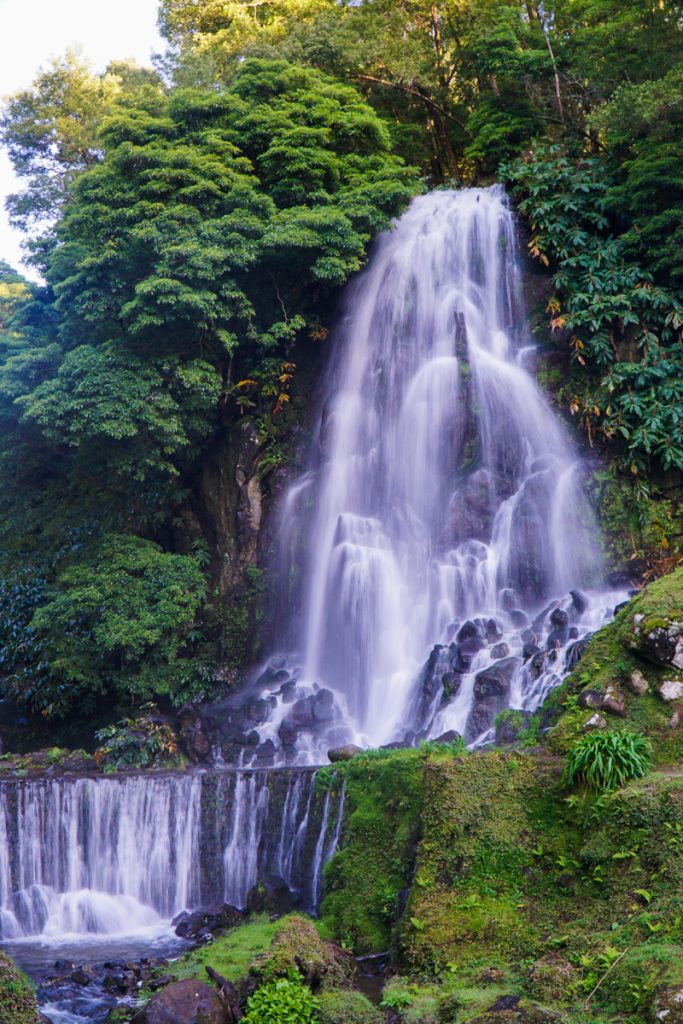 Note: This post contains affiliate links, which means I may receive a small commission if you purchase something through one of these links. Thank you for supporting the free content on this site! For more information on affiliate links and cookies, see my disclosure page for more details.
If you'd like to follow my recommended 3-day itinerary, you can read that post here as it organizes much of the items on this list of things to do in the Azores into a simple circuit that you can complete in a few days.
However, if you're just looking for inspiration or want to hand-craft your own Azores itinerary based on your interests, this is a great place to start.
Read on to discover 30 places to visit in the Azores that seem like they're from another planet!
2022 Entry Requirements for Portugal
Due to the Covid-19 pandemic, there are certain entry requirements in place for entering the country of Portugal.
I've updated this post as of February 9, 2022, and all information was correct at the time of writing.
However, confirm with Portugal's official website, as you've prbably figured out after the last few years of pandemic times… things can change quickly!
Check the list of countries allowed to enter Mainland Portugal on their website. The USA and UK are currently included (note: Canada is not included at the time of writing, but this may change).
You must present one of the following if you are over the age of 12.
A negative PCR test taken with 72 hours
A rapid antigen test taken within 24 hours of boarding
An EU Digital Covid Certificate OR similar certificate from one of the 33 permitted countries. *NOTE: The US is not included.
You must also submit a Passenger Locator Card before departing.
Until recently, the EU digital certificate (Green Pass) was required for staying in hotels and eating at restaurants.
This meant that non-EU citizens who weren't one of the 33 listed countries could effectively enter the country but not dine at restaurants or stay in hotels… making travel very difficult for them!
However, a friend who is residing in Portugal recently informed me that as of the first week of February, this requirement has been dropped within the country and this is no longer required.
Where to Stay in the Azores
I have a full guide to where to stay in the Azores that covers all the different islands; however, since this post focuses on Sao Miguel, I'll just include those suggestions here.
Budget: Casa Ateneu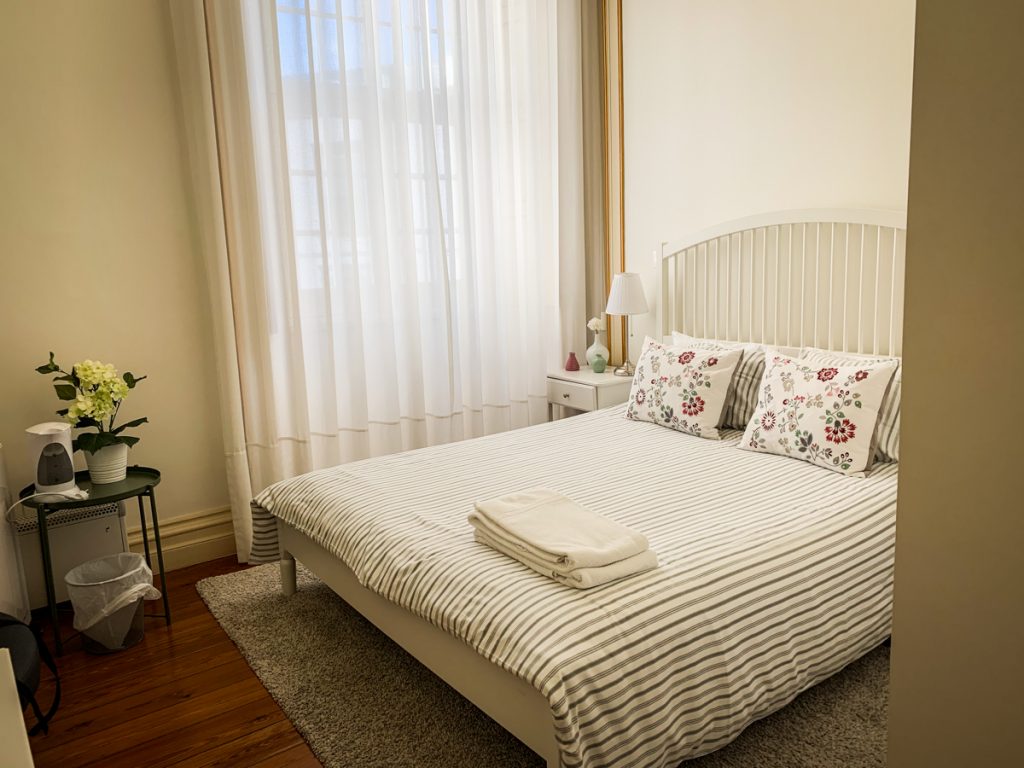 Casa Ateneu is where I personally stayed when in the Azores. I was traveling on a low to mid-range budget and was so happy to find Casa Ateneu at a reasonable price (check here for current rates and availability).
We paid 35 euros per night for a double room with ensuite bathroom and thought it was an amazing value! However, keep in mind we traveled a bit off-season near the end of March, so I would imagine the rooms would cost about twice as much in the summer.
The room was not huge but it felt really spacious with insanely high ceilings (seriously… like two stories tall high!), and lovely, comfortable bedding and plenty of outlets and places to store things.
The whole interior of the house had a really lovely, homey vibe to it, and there was a kitchen that was free to use if you wanted to cook for yourself as well. We didn't use it but it looked quite well-stocked!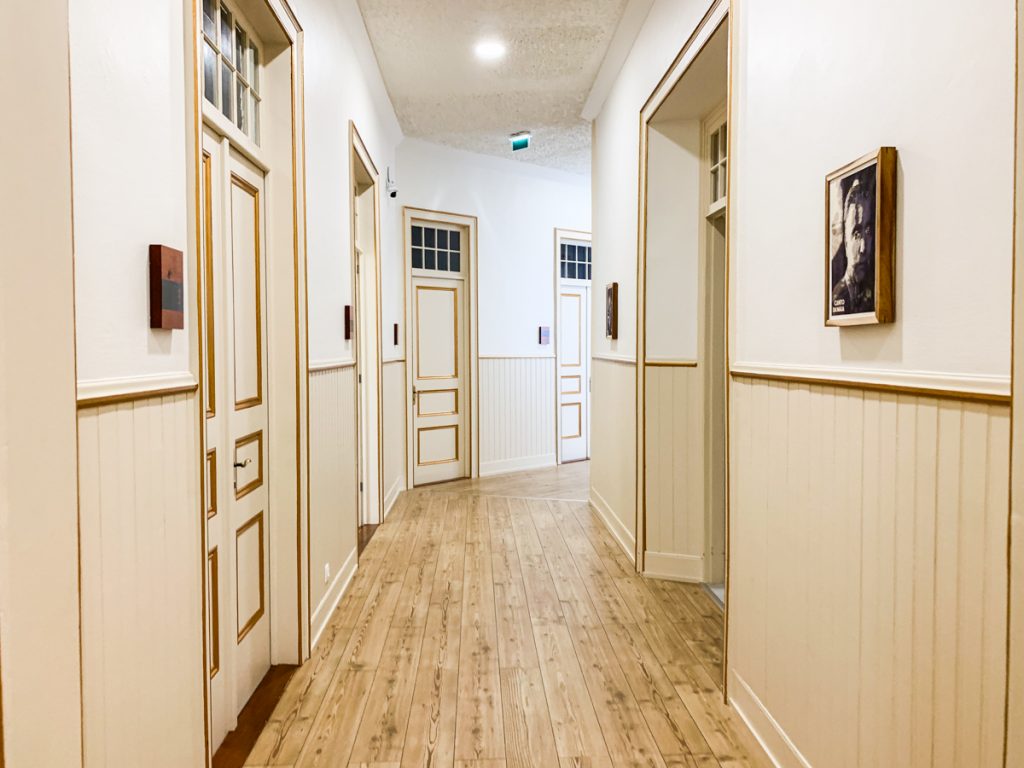 One thing to note: the reception is not actually located at Casa Ateneu but just down the street from it.
That said, check-in was super easy since we could just walk one block away to meet them to get our keys and get a tour of the property.
The staff was always available to help us, even walking over with our printed boarding passes one evening, when the computer at Casa Ateneu was having trouble printing.
But my favorite part of staying at Casa Ateneu was the picnic baskets full of delicious breakfast goodies — most of them local and Azorean! — they gave us every day in lieu of a standard breakfast buffet!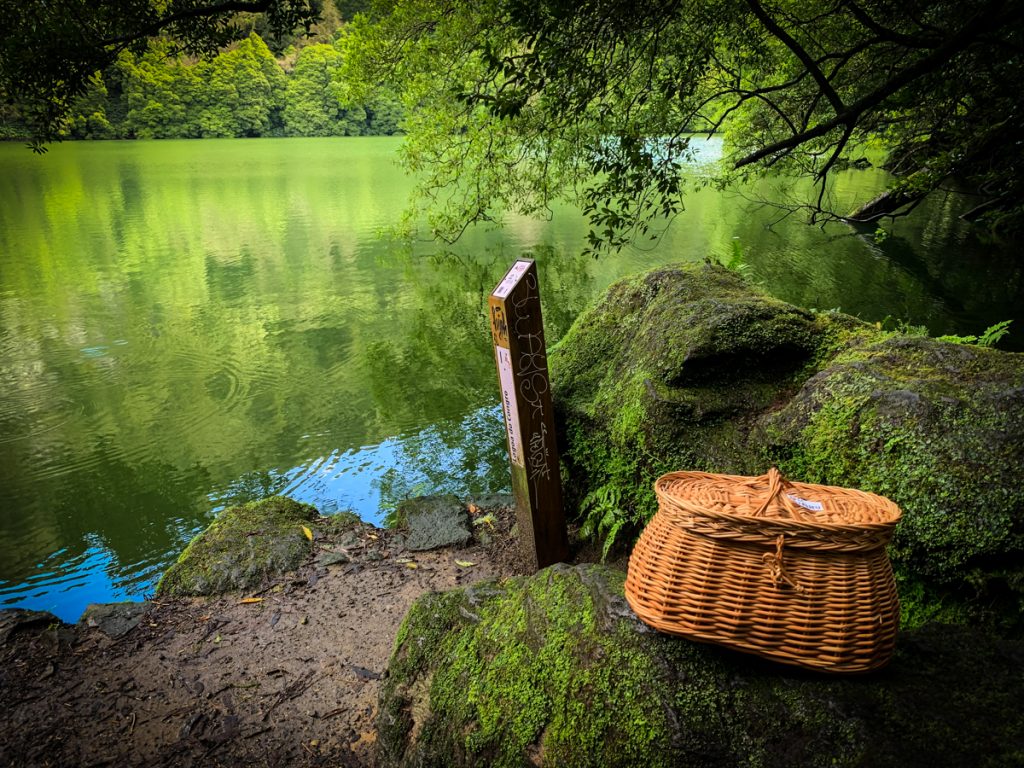 We brought it to eat by a lake one day and it was the most magical morning of our trip. It was a really thoughtful gesture that I wish more hotels did!
Mid-Range: Pedras do Mar Resort
The incredible Pedras do Mar Resort won the World Luxury Hotels award in 2017, due to its excellent customer service and luxe amenities — so you can tell this is clearly one of the best places to stay in São Miguel, especially given the mid-range price tag.
Choose between a breathtaking view of the mountains or the hypnotic view of the sea. The rooms are spacious and you will love the natural light coming in from your large windows! All rooms are carefully decorated with wooden details and sophisticated furniture that enhances its minimalist appeal.
In terms of amenities, there is a fitness center, a spa treatment center, a heated indoor pool, a kids pool, and an outdoor infinity pool. There is also an on-site restaurant that serves gourmet a la carte meals that are beautifully plated, and they are happy to meet a variety of dietary needs.
Check out guest reviews, prices, and availability at Pedros Do Mar here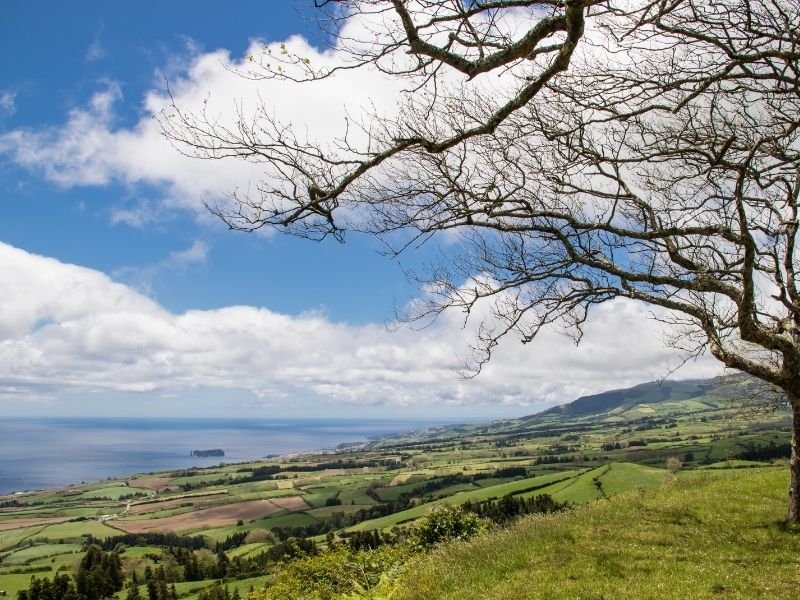 Luxury: Santa Barbara Eco-Beach Resort
This is a 4-star Azores resort that you shouldn't miss! This gorgeous Azores resort has just 14 villas, each with a nice view of the city, mountain, or the sea.
The style of the resort is a little rustic, with wooden walls, floors, and ceilings. They didn't disturb the natural topography of the hills when they built the resort, and it truly blends into its beautiful rugged Atlantic surroundings.
Some of the furniture and décor are also made from driftwood, and most are very simple yet elegant. The villas are divided by concrete walls and each has a huge sliding window that also serves as its main door. They have private tubs where you can soak and relax after a hike, and the private bathrooms are enclosed in glass walls.
One unique feature of their villas is a room that has a private tub which is divided by the concrete bed headboard! There are also 2-bedroom villas with an outdoor Jacuzzi.
The outdoor infinity pool is simple yet elegant, and you will love the deck where you can watch seabirds flying or just simply allowing the sea breeze to waft aross your face.
Guests have mentioned that one of the most outstanding things you will experience at the resort is the service of their staff – which is remarkably great.
The nostalgic feeling of living in the countryside, while still providing world-class service, is their major selling point to guests.
Check out reviews, prices, and availability at Santa Barbara Eco-Beach Resort here
What to Pack for the Azores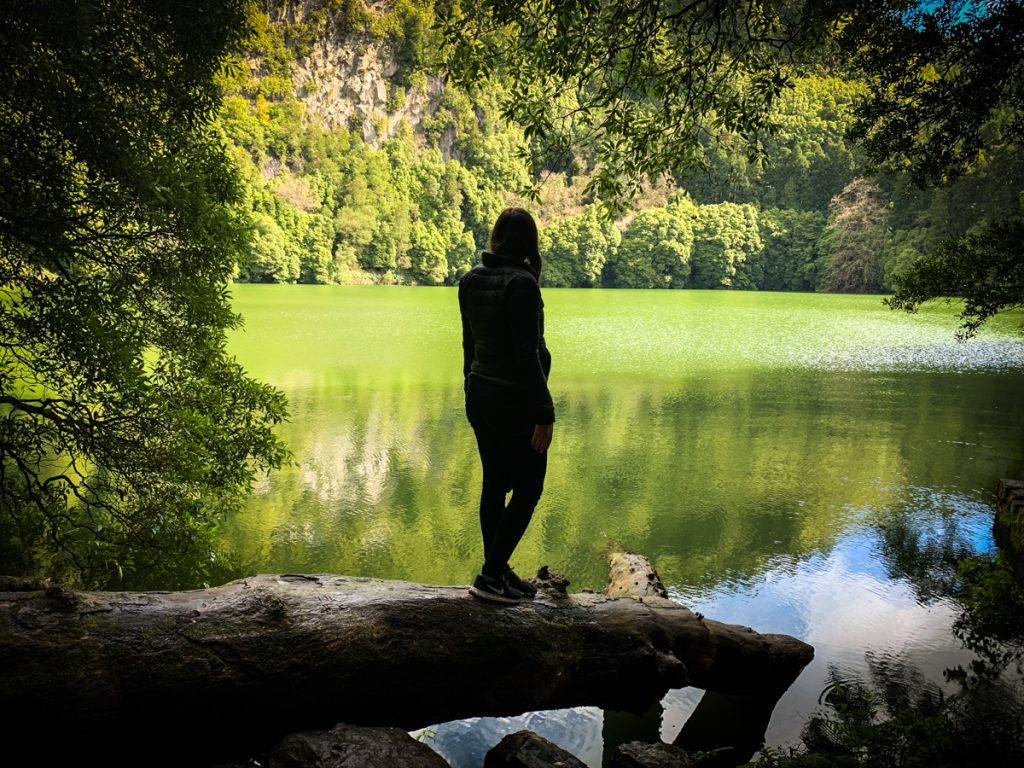 I have a full Azores packing list here, but here is a quick bullet-point list for remembering easily!
Getting Around the Azores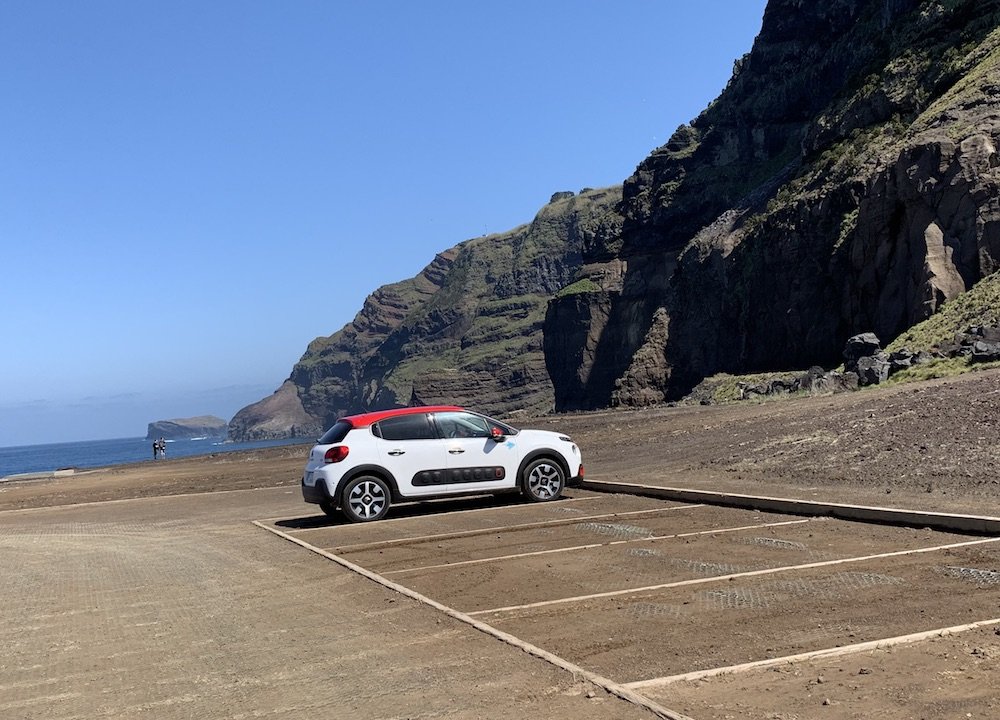 Taking public transportation around the Azores is hard to do: routes are limited and you'll end up having to supplement with a lot of guided tours if you want to see a lot of the islands.
I suggest renting a car, especially on São Miguel. I have a full post with guidance on renting a car in the Azores here!
Not sure where to get the best deal on your rental? I've rented cars dozens of times through various search engines and have settled on Discover Cars as the best car rental search engine.

It searches over 500 trusted rental companies to find the cheapest price for your rental! Compare prices for car rental in the Azores here.
30 Incredible Things to Do in the Azores
This post focuses on São Miguel, as its the only island I visited on my trip to the Azores.
I'm hoping to revisit the Azores soon and add more from other islands – so share your recommendations for places on other islands in the comments!
Soak in the iron-rich yellow waters of Terra Nostra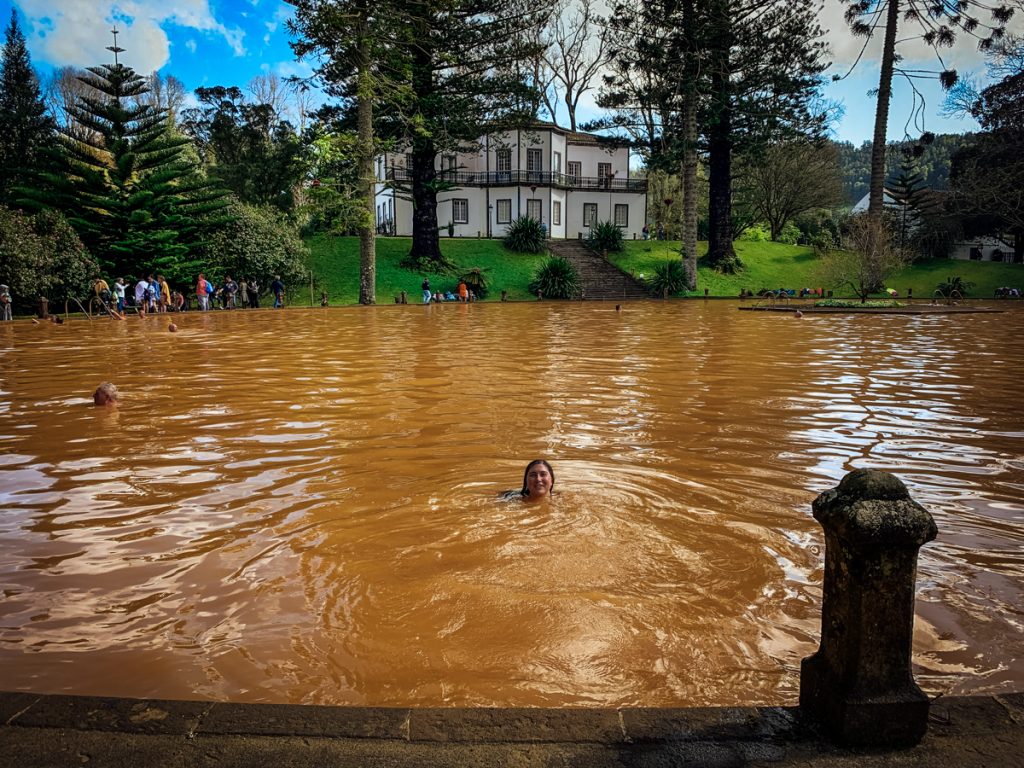 One of the strangest places in the Azores, taking a warm soak in the waters of Terra Nostra Gardens is one of the most essential things to do in the Azores.
Don't be put off by its strange golden-yellow color: the hue comes from the iron-rich mineral deposits in the water, which are a great natural remedy for a variety of ailments.
Personally, I sprained my ankle a few weeks prior to visiting Terra Nostra, and it had been having a hard time healing.
When I got out of the waters after about an hour and a half, I noticed that my ankle's swelling had reduced dramatically and it was less painful to walk on or twist.
Do wear a black or navy bathing suit (or one you're ready to sacrifice), as the iron deposits in the water will ruthlessly stain whatever light-colored bathing suit you are wearing.
Walk around the lovely landscaped garden oasis at Terra Nostra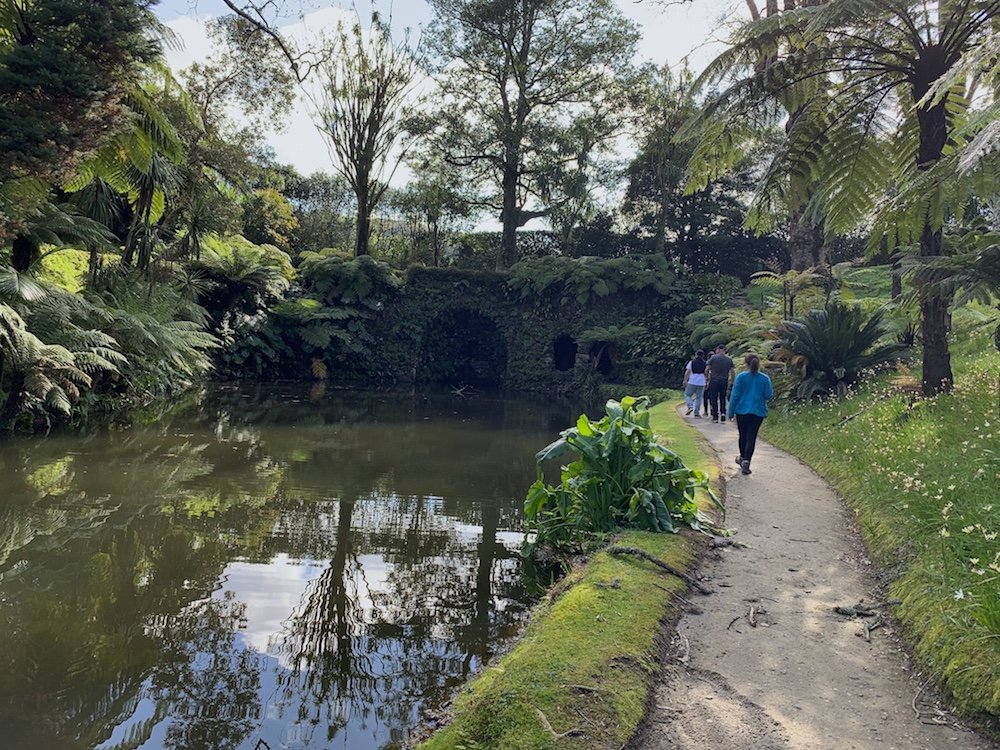 Terra Nostra isn't just known for its funky gold waters, but it's also beloved for its gorgeous garden landscaping that encompasses 31 acres.
It dates back to 1775 and has been continually built upon and improved over the past few centuries.
You'll find all sorts of flowers, vines, and trees here. I visited in March and I was surprised at how much was in bloom.
We just had time for a short walk through the gardens but I wished I had dedicated a bit more time to exploring it, as it was truly spectacular.
Marvel at a brilliant green lake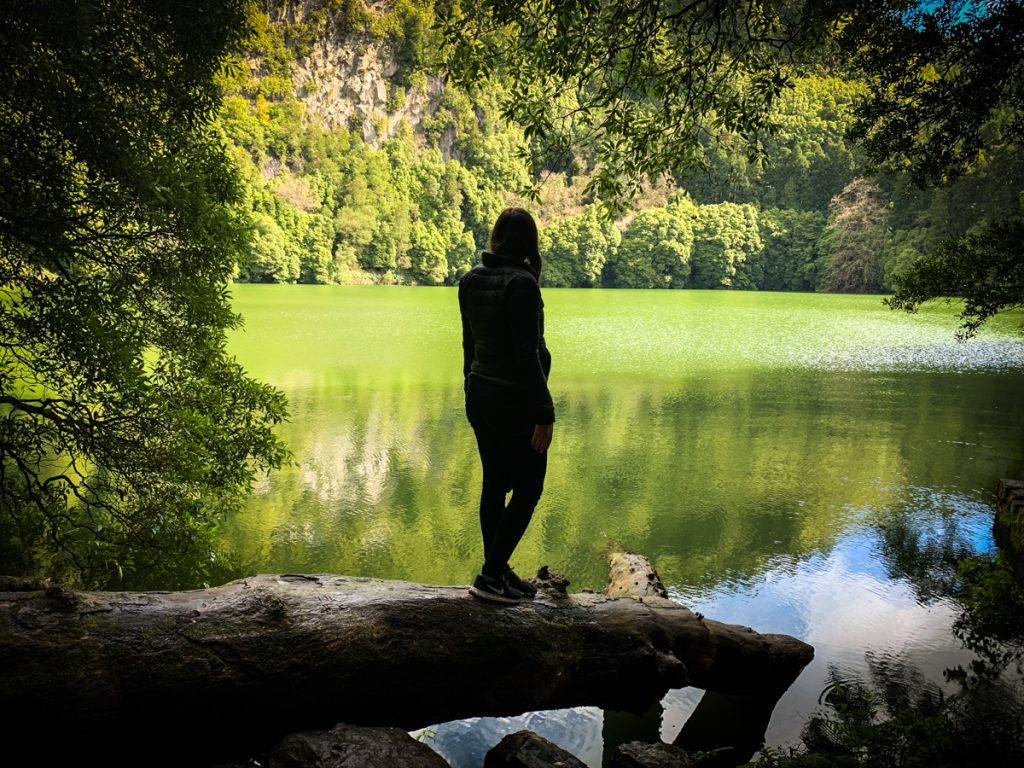 One of my favorite places we visited in Sao Miguel was the stunning, off the beaten path lake of Lagoa do Congro.
Not well-known by many tourists compared to the lakes of Sete Cidades, Lagoa do Fogo, or Lagoa das Furnas, this quiet little lake was a perfect addition to our Sao Miguel itinerary.
It's relatively easy to get here, despite being a bit off the path.
The road to get there is a little perilous and we were nervous in our tiny car, so we stopped a bit before the end of the road.
If you're in a higher-up car than we were, you should be fine driving all the way to the starting point of the hike.
The hike itself is quite easy, a short 15-minute walk through a beautiful forest.
When you reach a fork in the path (there's only one fork, and it's quite obvious) head to your left to get down the lake the easiest way possible.
Relax in the natural ocean bath at Ferraria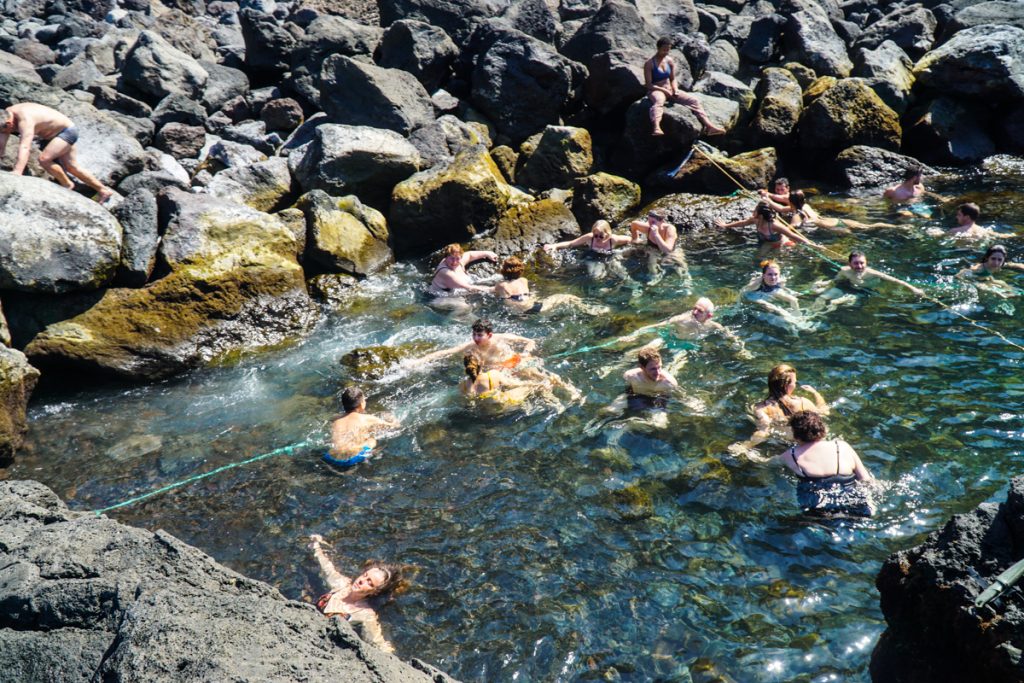 Of all the glorious things to do in the Azores, this was my favorite: experiencing the incredible natural pools of Ferraria.
If you head down to the pools, you'll find a geothermal oddity that's absolutely incredible to experience firsthand.
Hot thermal waters from the ground mix and mingle with the ocean tide, creating a bathwater feel that changes slightly and pleasantly with each ebb and flow of the current.
The smooth ocean rocks and the gentle but incessant tug of the current remind you that you're in the middle of the Atlantic Ocean, even though the water temperature feels like a bathtub!
Keep in mind that as Ferraria is a natural (and free) phenomenon, you'll have to pay attention to the ocean tide schedule and plan your visit accordingly.
The hours right before and right after low tide are perfect: too close to low tide and the water can get way too hot, too close to high tide and the water will be Atlantic-cold and the water level too high to enjoy safely.
Stare slack-jawed at the incredible views from Boca do Inferno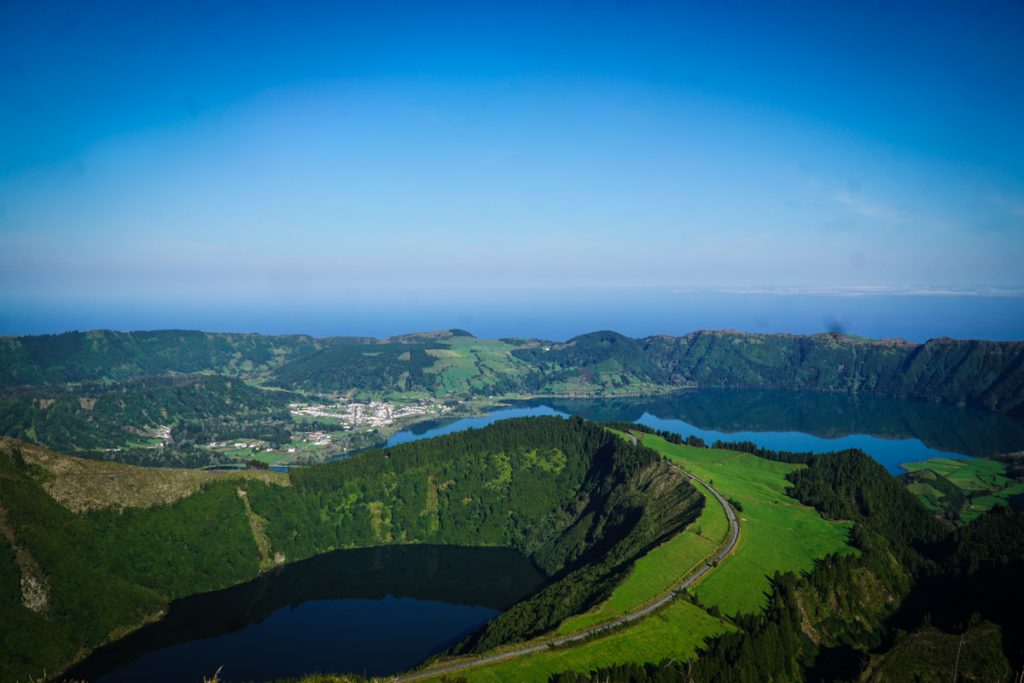 The Azores are known for their incredible miradouros (viewpoints) and one of my favorites was Miradouro da Boca do Inferno.
Overlooking the stunning lakes of Sete Cidades, and yet overshadowed by the nearby and less impressive Miradouro da Vista do Rei, you'll enjoy incredible views over the volcanic-cratered landscape dotted with lakes that makes up the lush Azorean countryside.
Note that the pathway to get to Boca do Inferno is a bit tricky, and if there has been any sort of inclement weather (not at all unusual in the Azores), it will be closed.
This was true for our first attempt at seeing Boca do Inferno. I am so glad we returned, as this was definitely one of my favorite things to do in the Azores.
There is a parking lot just across from the turnoff point to Boca do Inferno, but you can actually drive even closer as the road will take you all the way to the hiking point.
However, you should also explore the beautiful Lagoa do Canario nearby (described below) which is often overlooked.
I recommend parking here and walking the 1 kilometer or so to Boca do Inferno (it's an easy, flat walk and the anticipation build-up is worth it)
Make a quick stop at the mirror-like Lagoa do Canario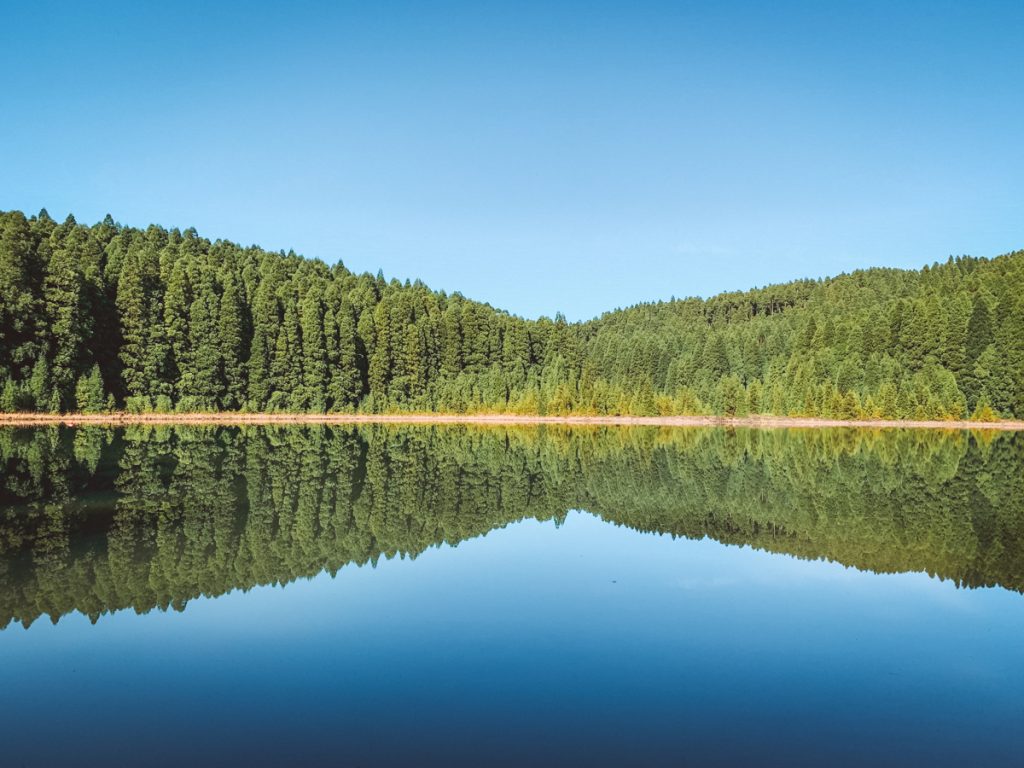 So many travelers must drive right past the small sign for Lagoa do Canario while en route to the viewpoint at Boca do Inferno and not even give it another thought.
Well, I think that's a shame!
Just a two-minute walk (literally) from the road, this serene and calm lake is almost entirely ringed by trees.
This protects it from the legendary Azorean winds, making a calm and still lake that shows a near-perfect reflection.
Have a picnic breakfast somewhere epic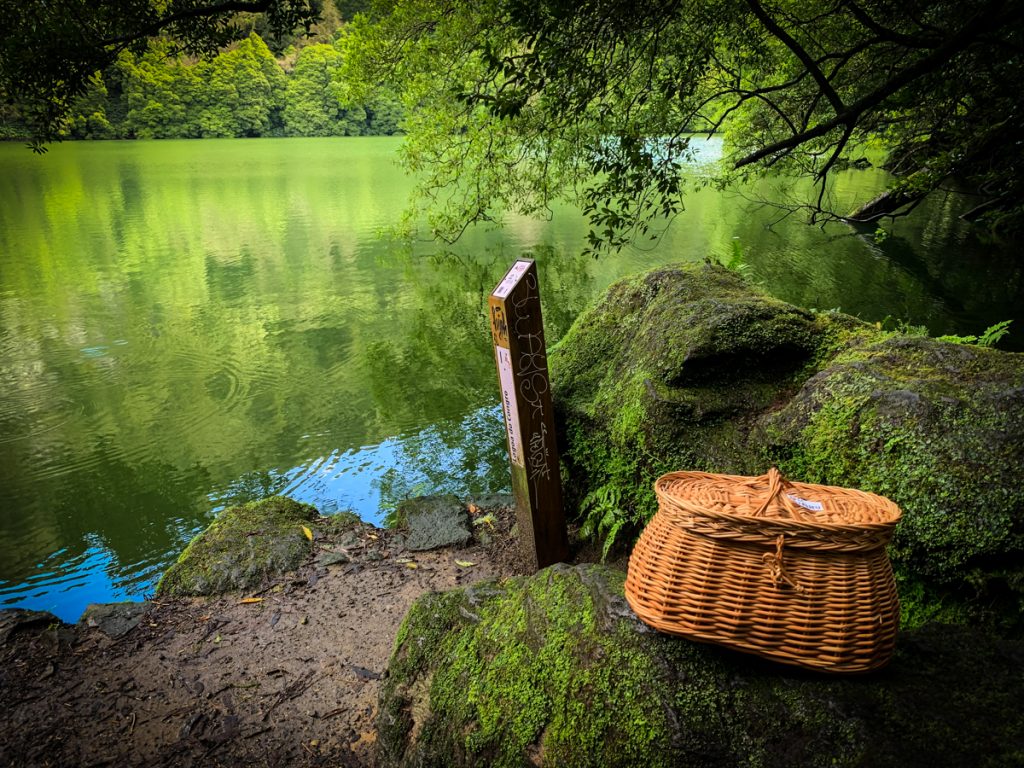 One of the best things of the place I stayed in the Azores, Casa Ataneu, was that every morning they left a picnic basket full of local cheese, tea, bread, and other breakfast goodies outside of our door.
We'd simply wake up in the morning, make ourselves a quick cup of Gorreana tea, grab our picnic basket, and hop in the car en route to our first destination.
We enjoyed one breakfast at Lagoa do Congro, this beautiful green lake pictured above, and another we enjoyed at the picnic tables before the Miradouro da Boca de Inferno.
Tip: Bring a Thermos capable of holding hot water so you can make your own tea or coffee! We didn't have one and we wished they did as the guesthouse provided things to make tea and coffee, but no Thermos or way to bring hot water with us.
Admire the stunning Lagoa do Fogo from above (if fog permits)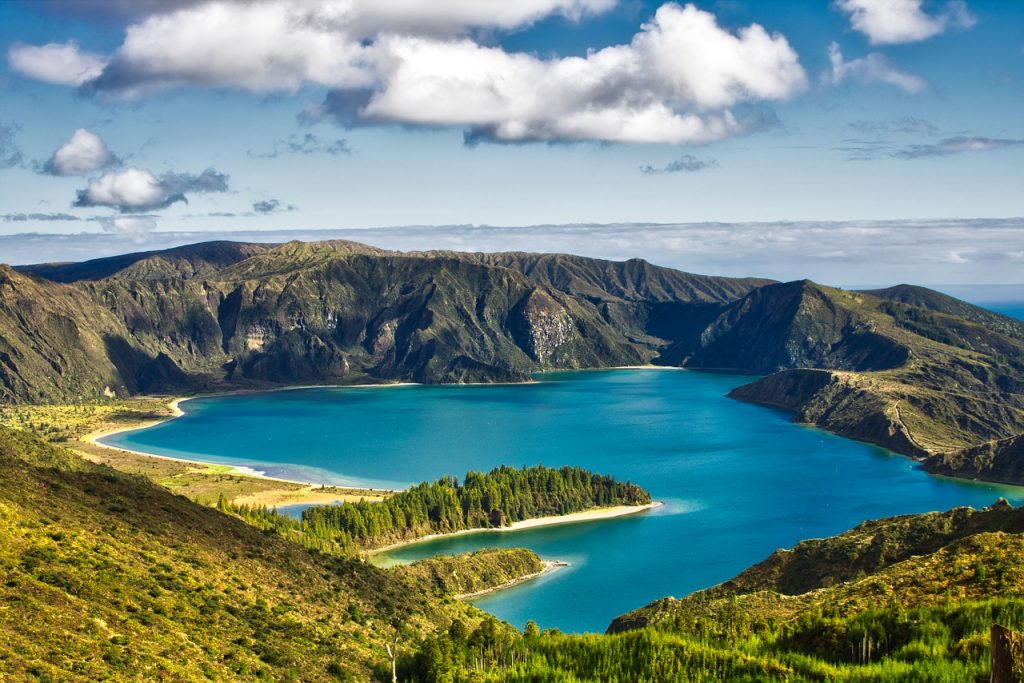 The weather in the Azores is famously fussy and while we tried to see this view and planned our whole day around visiting the lake and its various miradouros, we failed epically when we hit a fall of fog.
Turns out, that's quite common: the name of the lake, Lagoa do Fogo, literally means Lake of Fire.
While it does pay homage to its volcanic, fiery origins, it also has another meaning, as the ever-present tendrils of fog lifting off the lake resemble smoke a lot of the time.
While you should definitely add this to your list of things to see in the Azores, be aware that the odds are generally not in your favor when it comes to seeing this famous spot!
See the abandoned chapel at Furnas Lake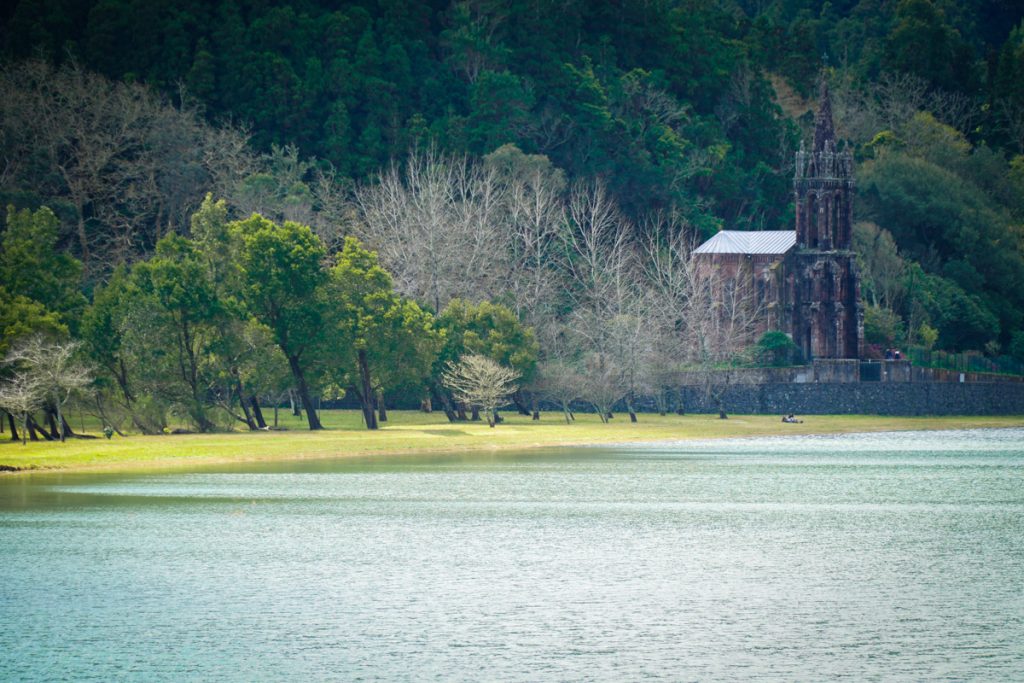 This beautiful, abandoned chapel on the banks of Lake Furnas are one of the most otherworldly places to visit in the Azores.
Despite being in a place so beautifully alive that even the ground boils, this chapel is a place of peace and quiet, in honor of a local woman who fell ill and passed away.
According to Atlas Obscura:
Capella de Nossa Senhora das Vitórias, Chapel of Our Lady of Victories, was intended to honor Maria Guilhermina Taveira de Brum da Silveira, the wife of a local landowner named José Do Conto. She had fallen tragically and terminally ill, and her husband took it upon himself to create this magical lakeside chapel. Calling on his renowned design and landscaping talents, despite the structural elements the whole endeavor feels more like the soft-focus of magical realism than hard-edge gothic.

…

There are no services held here, which gives it an ancient, abandoned, and even timeless feeling as the natural elements take over. It stands like an old tree, firmly rooted and infused into the forest. Between the Chapel, the gardens, the lake, and the surrounding mountains, it stands out as one of the most endearing and rustic places in the Azores.
Stroll the stunning perimeter of Furnas Lake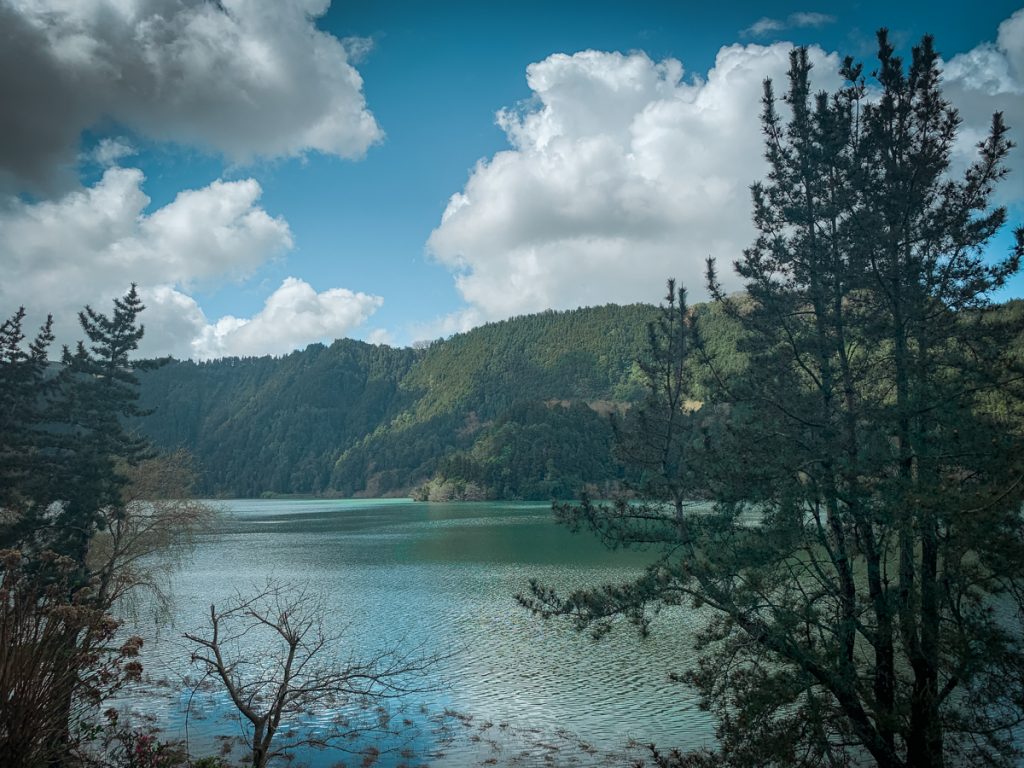 Many people just make a stop at the Furnas fumaroles and then move onwards to other places like Terra Nostra on their whistle-stop Azores tours.
We took about two hours to circumnavigate the path around Furnas Lake and we were so glad we took the time to slow down, get out of the car, and enjoy the lake at a more leisurely pace.
In addition to getting to walk through a bamboo forest and seeing gorgeous pink flowers blooming everywhere, we got to watch the colors of the lake slowly change colors as the afternoon progressed.
It was a rewarding experience that you won't get if you just pop by the lake for your shot and leave; you have to give it the time it deserves.
Laugh at the silly Casa Invertida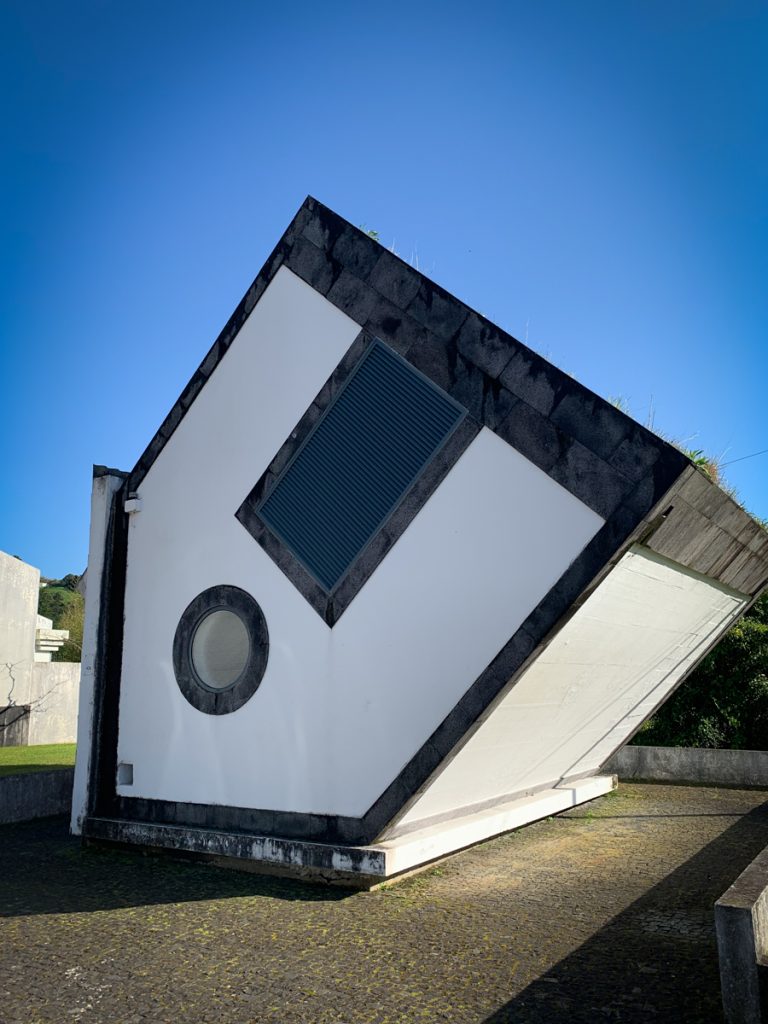 This unique structure in the center of the town of Furnas about one block from the town's bus station is worth a quick visit as it's one of the quirkier things to do in the Azores.
This simple electrical power station was given a funky facelift to look like an upturned house, earning it the name of Casa Tombada ("fallen house") or Casa Invertida ("inverted house").
You can't enter the house or do much other than take a photo and crack a smile at it, but it's worth a visit while you're in the Azores all the same.
See the stunning waterfalls of Ribeira dos Caldeirões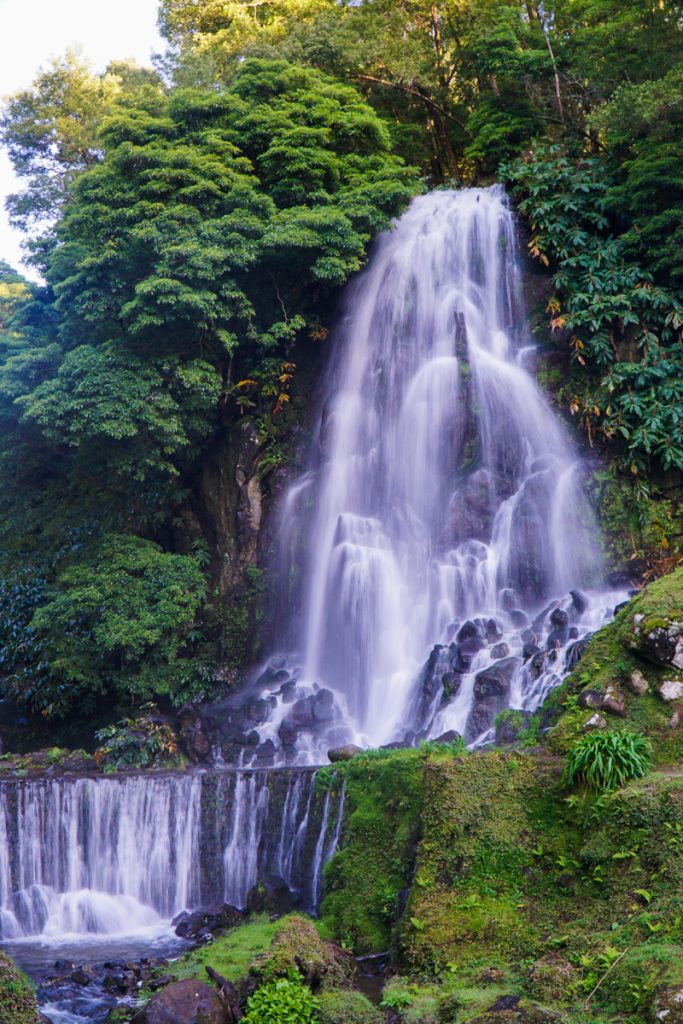 Just outside the entrance to Parque Natural da Ribeira dos Caldeirões (free admission), you'll find this stunning waterfall in the Azores.
You can walk just a few minutes from the parking lot, making it easily accessible to all.
The park itself is lovely, with azalea bushes, palm trees, and just general Jurassic Park minus the dinosaurs vibes (and a river and waterfalls inside the park as well) but I enjoyed this waterfall outside the park just a touch more.
Go whale and dolphin watching in Ponta Delgada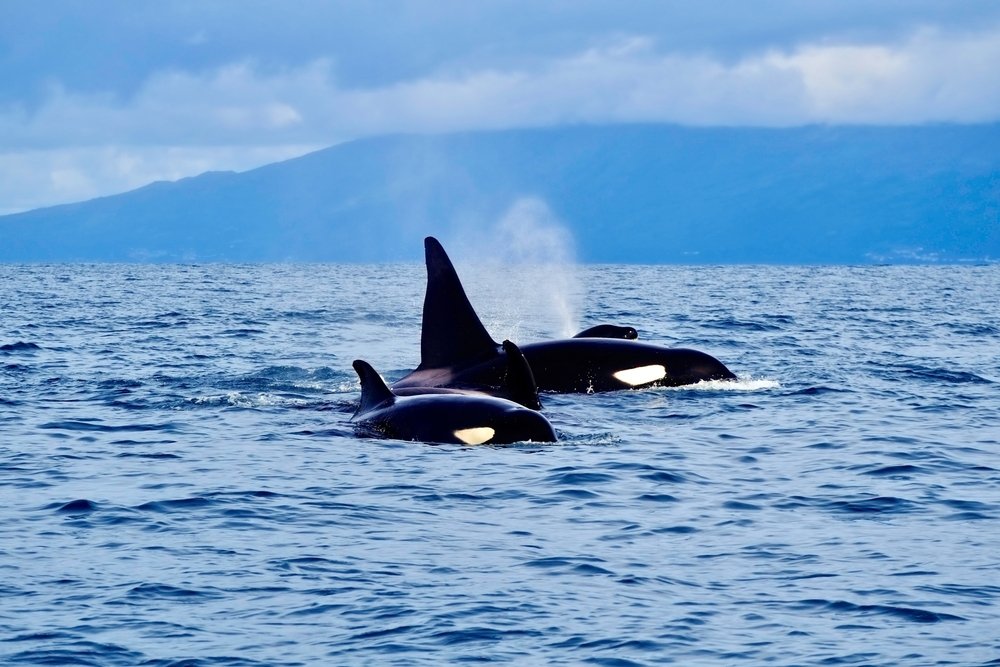 One of the main reasons why people visit the Azores is for the chance to spot whales in their natural habitats.
Blue whales, sperm whales, spotted dolphins, and bottlenose dolphins are all known to frequent the waters around the Azores.
In fact, the Azores are of the best places to spot whales in the world, with one of the highest success rates of successful whale sightings out there!
We were a bit early for whale season when we visited in March so we gave this activity a skip, but if you visit in the whale watching season between April and October you're in for a treat!
Marine mammals make their annual migrations past the Azores at different points throughout the year, but April through October is the peak.
Be sure to go with an ethical operator who refuses to chase the animals and stays within internationally-recognized guidelines.
One note about whale watching: breaching (when a whale 'flops' on its back acrobatically through the air) is rather rare and you are much more likely to just see spouting and tails as they make their dives.
Should you see a whale breach, you're incredibly lucky, but don't make this your primary expectation or you will likely be a bit disappointed in your trip!
Squeal over tiny pineapples at Plantação A Arrudas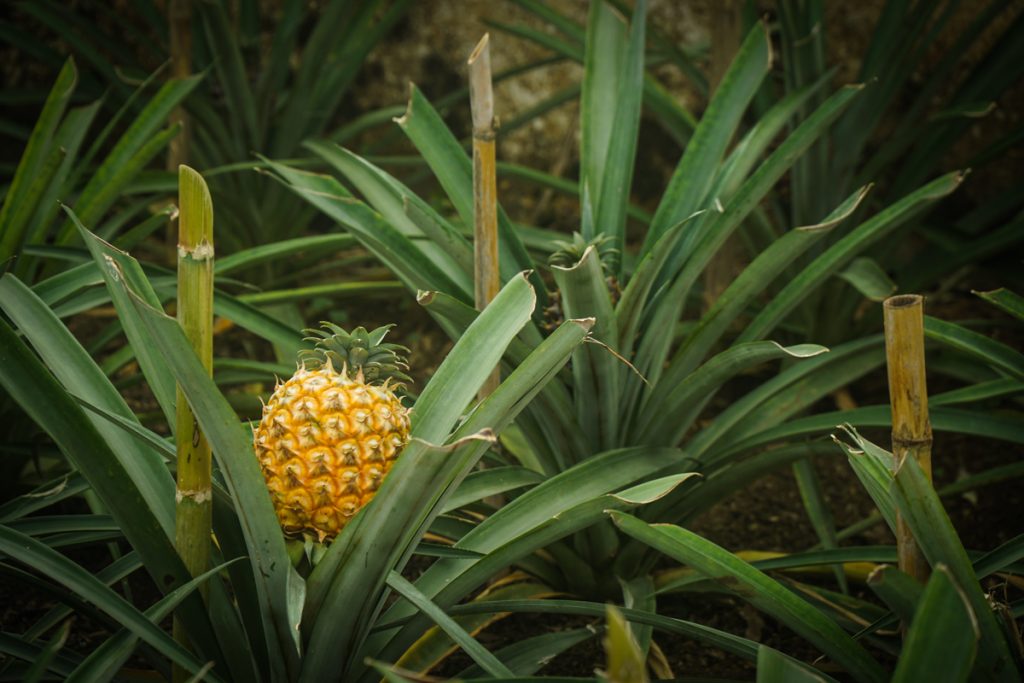 The Azores are known for their unique pineapples, and as far as I can tell, it's the only place in Europe where they grow these delicious fruits.
Azorean pineapples have a distinctive taste, far sweeter and more concentrated than their larger brethren, because of their smaller and more compact size.
Plantação A Arrudas is the most famous plantation, and it's just outside of Ponta Delgada so it's easy for tourists to visit.
Entrance is free, but just try to leave their gift shop without a bag of pineapple toffee or pineapple liqueur!
Eat lunch with a view at Caloura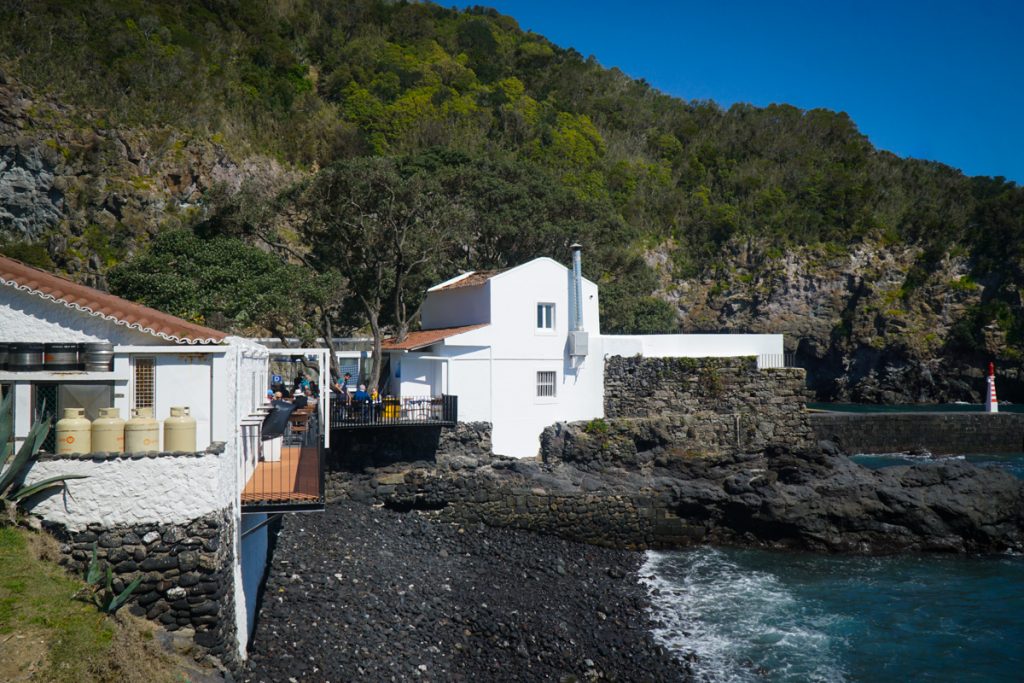 One of my happiest unexpected discoveries in the Azores was the beautiful seaside restaurant of Bar Caloura, where we ended up on a whim after we hit a wall of fog on our way to Lagoa do Fogo.
This gorgeous seaside restaurant is near one of the most breathtaking stretches of coastline, and there's even a small natural pool that gets filled up by the ocean that you can relax in if the weather is warm enough (it definitely wasn't in March!).
It was a popular place amongst tourists and locals alike, and I enjoyed a fish soup and a sandwich while enviously eying everyone's shrimp plates and wondering why I didn't order that instead!
Marvel at the black sand beaches of Mosteiro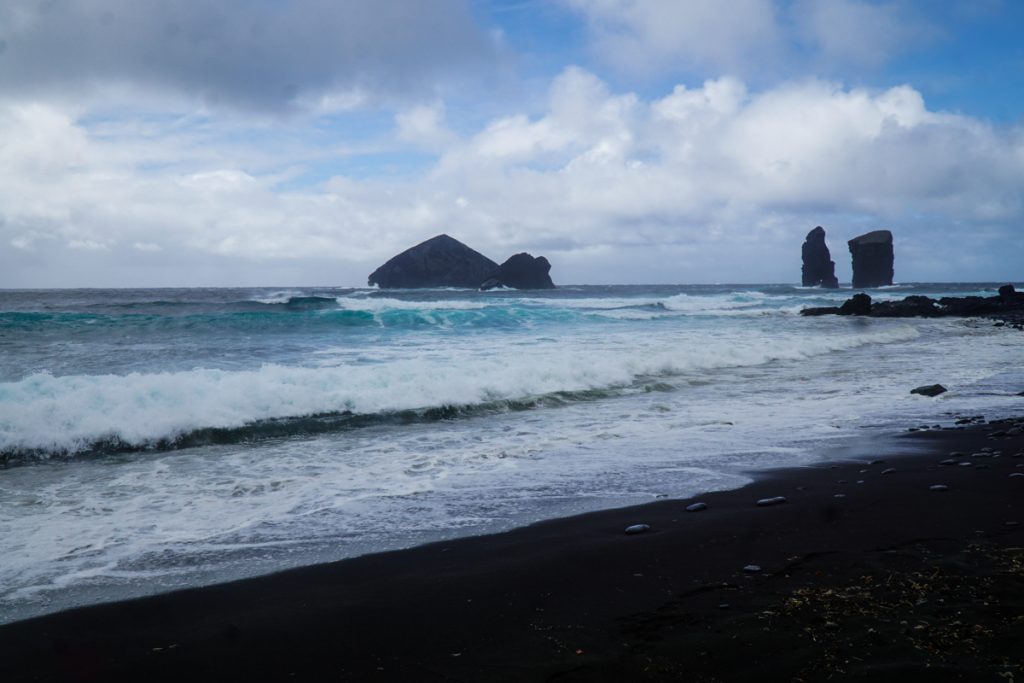 The Azores are volcanic islands and as a result of that you'll see a lot of black sand beaches from when lava rock broke apart and formed a fine, gorgeous sand.
There are several places where you can indulge in some black sand bliss in the Azores.
However, I think Mosteiro just outside of Sete Cidades offered the finest sand and the beautiful view of sea stacks just off in the distance was a nice bonus!
Gawk at one of the best views in the Azores (with hundreds of your closest fellow tourists)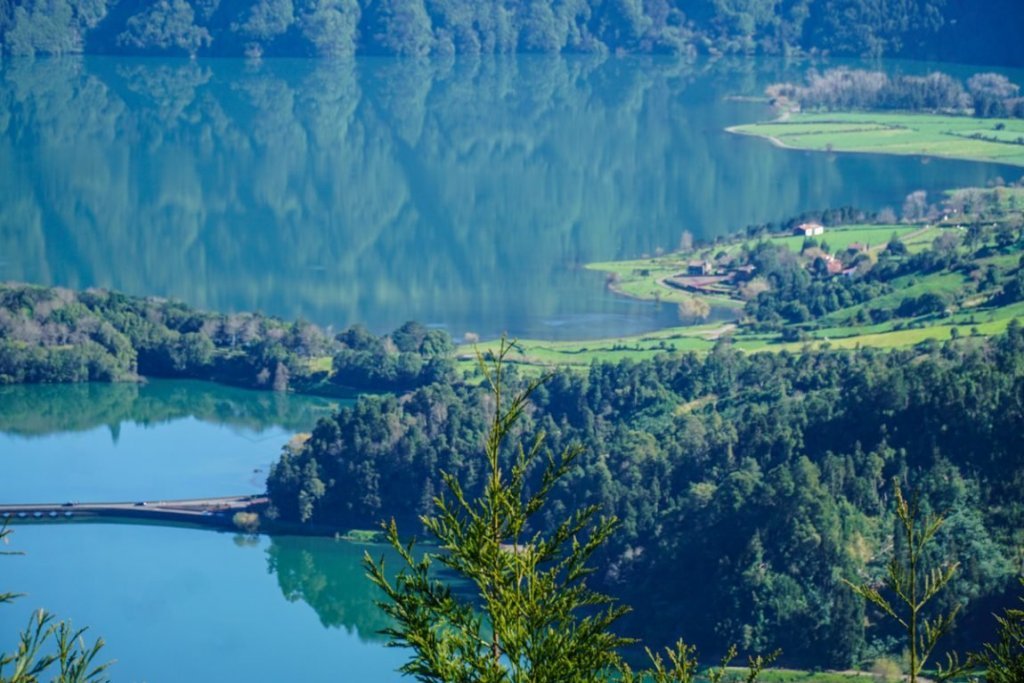 Since I visited the Azores in March, I was lucky to avoid the island at its most touristic time.
While that came with some sacrifices – namely, missing out on whale watching season and not having beach water – it meant that largely, I wasn't fighting for room with other tourists.
A notable exception to that was visiting the Miradouro da Vista do Rei, aka "the King's Lookout."
While you can easily see why the view is fit for a king, you'll feel like a peasant amidst all the other tourists angling to get their photos and crowding.
There's a 20-minute time limit enforced in the parking lot and it was utter madness trying to find a parking spot.
Do I still recommend going? Absolutely. But keep in mind that is no hidden gem and that you'll be around plenty of other tourists who will test your patience.
Pay your respects at a local graveyard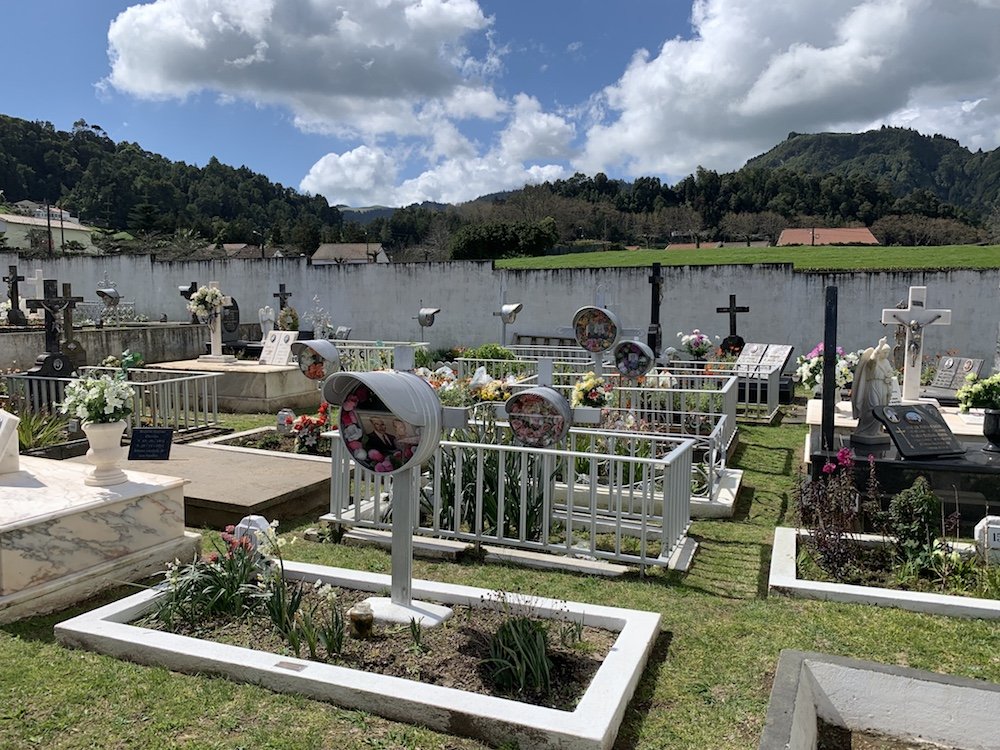 I may be a weirdo (no, I definitely am!) but I enjoy visiting graveyards in other countries because it gives me insight into one of their deepest-held traditions: how they honor their dead.
Visiting this graveyard in Furnas was an eye-opening experience as I found it interesting how the Azoreans display so prominently photos of their loved ones and adorn them with flowers: it makes the loss seem more personal somehow.
Marvel at the hauntingly beautiful church of Sete Cidades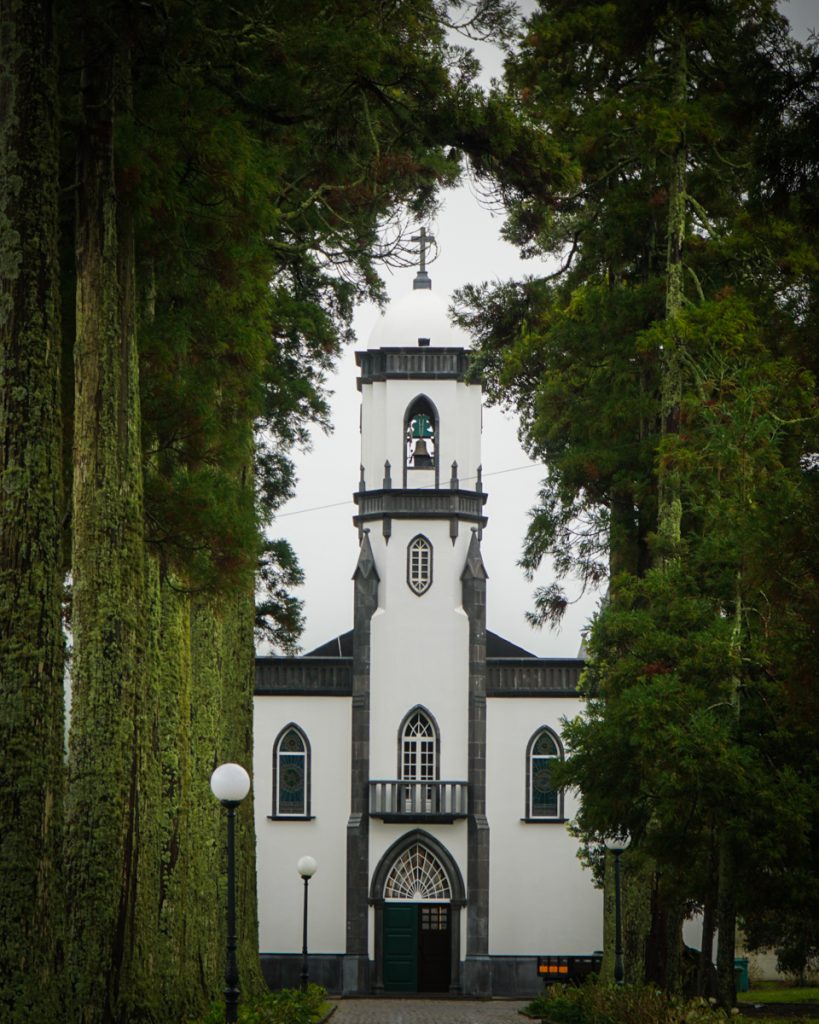 In the small town of Sete Cidades, the beautiful lakes often get most of the attention. It's easy to see why: these crater lakes are brilliant turquoise and frankly, simply stunning.
However, I fell in love with this gorgeous church, the Church of Saint Nicolau, nestled among moss-covered trees in the center of Sete Cidades.
It's quietly located away from tourist crowds nearby at Vista do Rei, and somehow even though it's in the middle of town it has a feel of a place forgotten by time.
The interior has been recently redone, but the grove of trees around it make it look slightly forgotten by time.
See the lesser-known miradouro over Mosteiro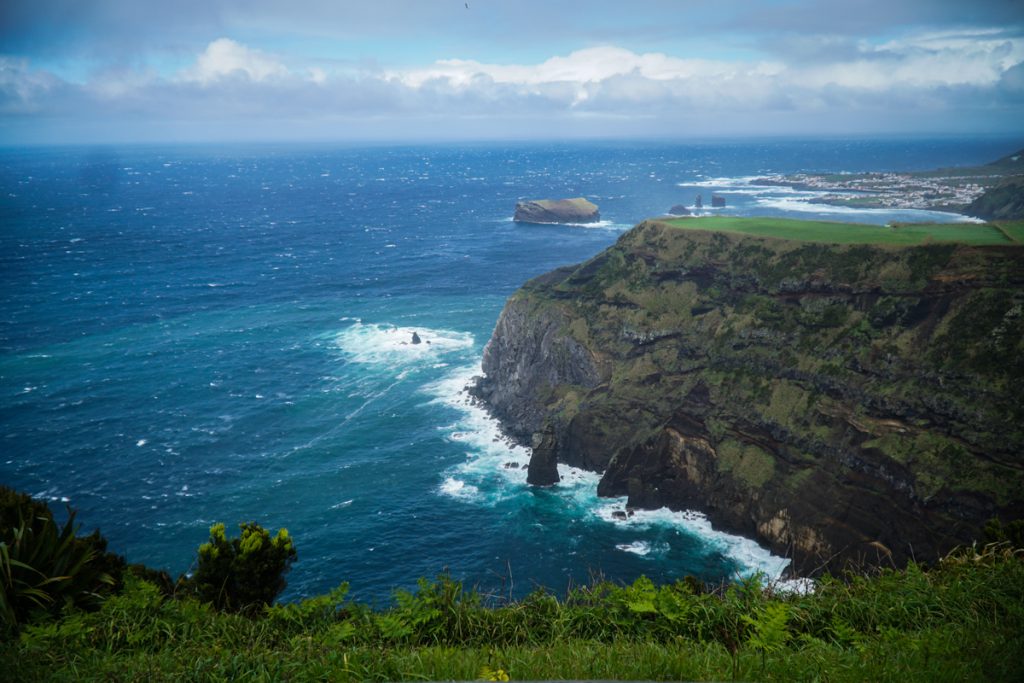 On your way to the black sand beaches of Mosteiro, don't miss a stop at the Miradouro da Ponta do Escalvado.
From there, you'll have a beautiful look over the sea stacks of Mosteiro as well as the rugged coastline nearby.
Apparently, in the right season, you can see whales from this spot, so bring binoculars if you're feeling patient!
Spot the house that time forgot in Sete Cidades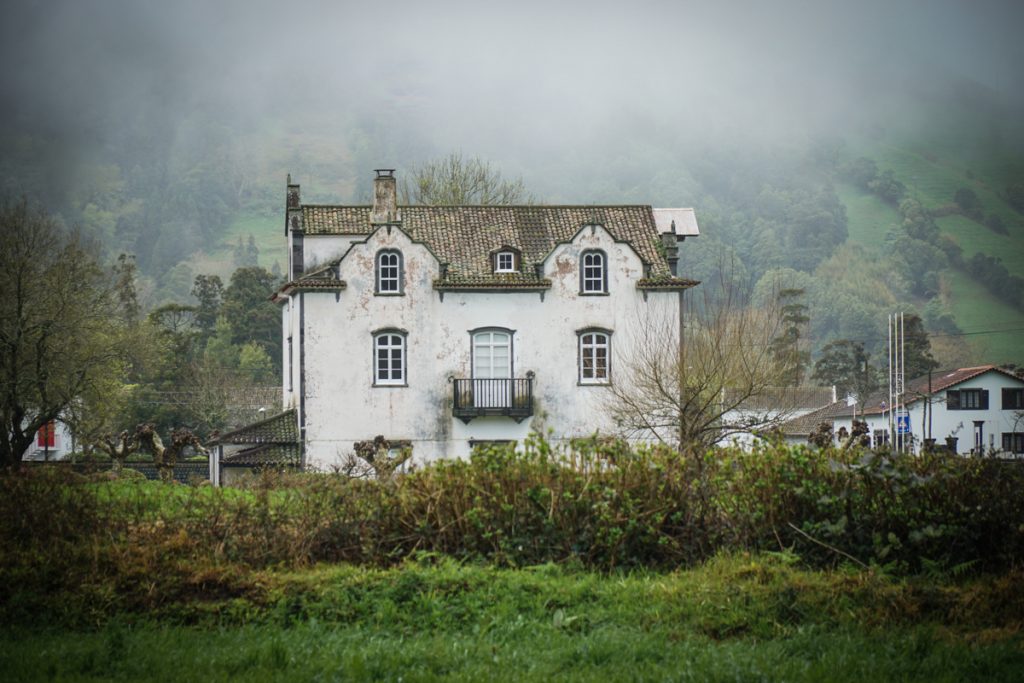 Perhaps it was just the foggy atmosphere on the day that I visited Sete Cidades but I found the town quietly beautiful in a time-worn sort of way.
I fell in love with this house located near the lake – if you cross the bridge that bisects the lake, park at the side of the lake, and turn around, you'll see it not far behind you.
Keep in mind that this is private property and I'm not sure if it's abandoned or just in a bit of disrepair, so just admire from a distance and be a respectful tourist.
Marvel at the facade of the Caloura Convent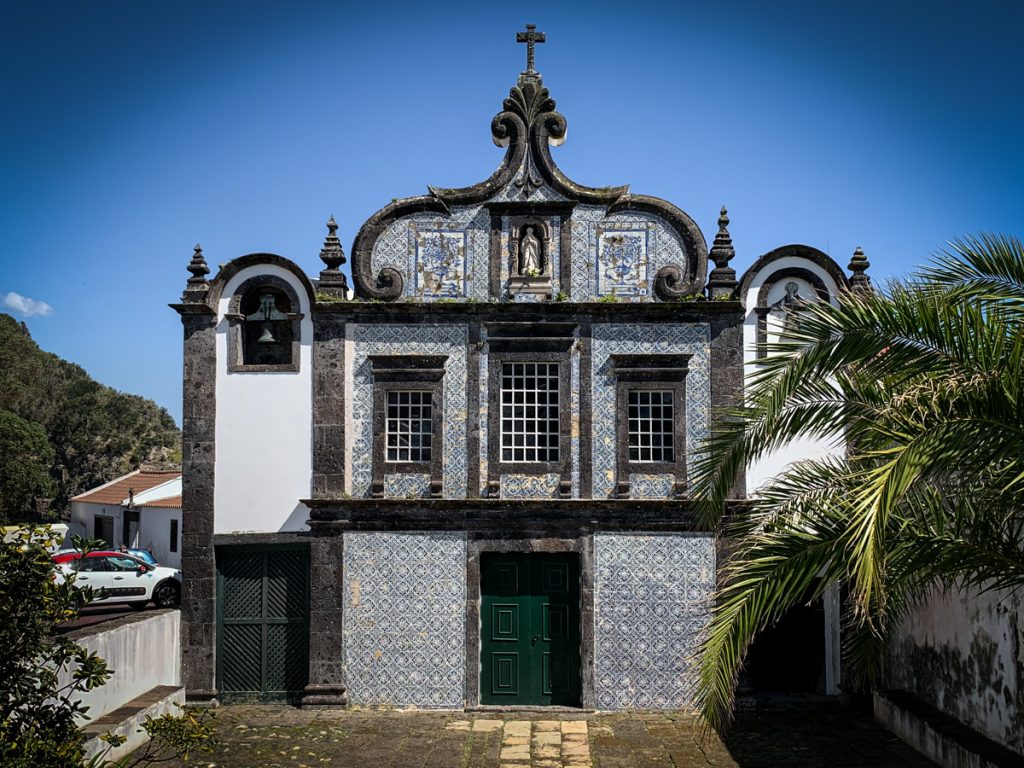 I loved visiting the Caloura Convent on my way to Bar Caloura (just a hundred meters down the road) with its beautiful azulejo-covered facade.
The church and convent was closed when I visited, and I'm not sure if it's open to the public, but you should at least visit the facade if you are making your way to Bar Caloura for a seaside meal.
Explore the gorgeous churches of Ponta Delgada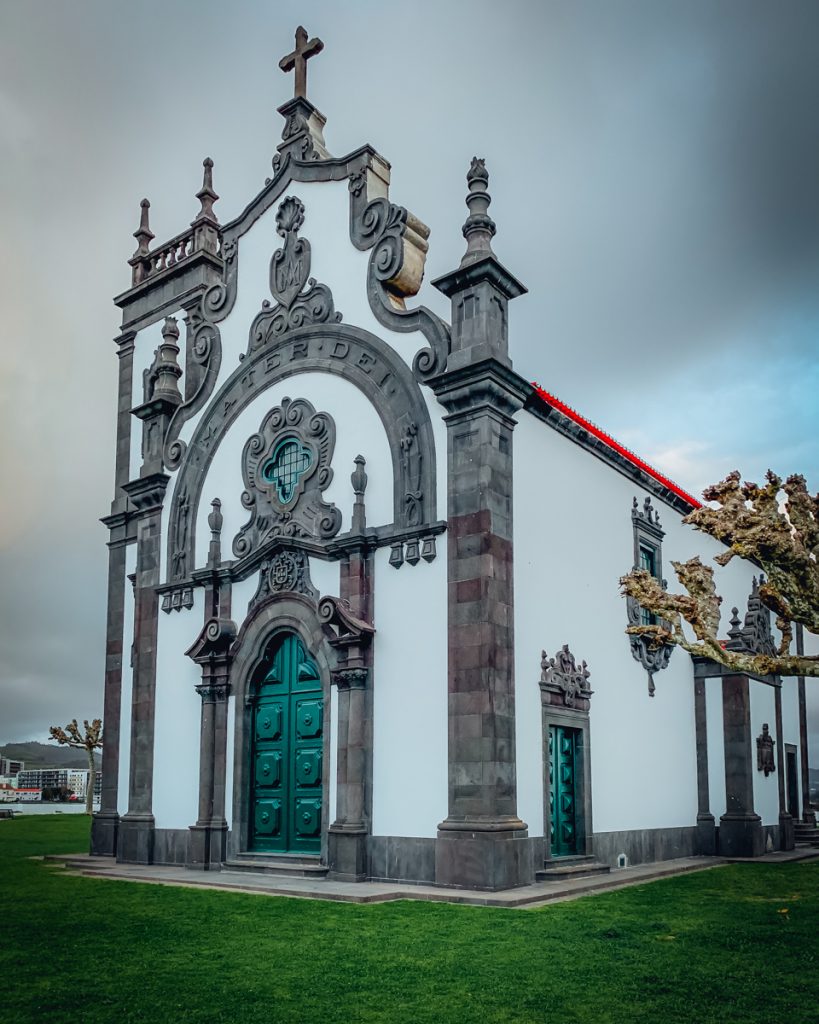 I loved wandering around the town of Ponta Delgada and while I'll write a full post on that soon, one of my favorite things to do in town was visiting the churches.
The most impressive of all the churches is the hillside Ladeira da Mãe de Deus, which offers beautiful views of the entire harbor at Ponta Delgada and would likely be a killer spot at sunset.
Other honorable mentions go to St. Peter's Parish Church and Santuário de Nosso Senhor Santo Cristo dos Milagres, both of which are lovely but not quite as beautifully imposing as Mãe de Deus.
Check out the incredible sulfur fumaroles of Furnas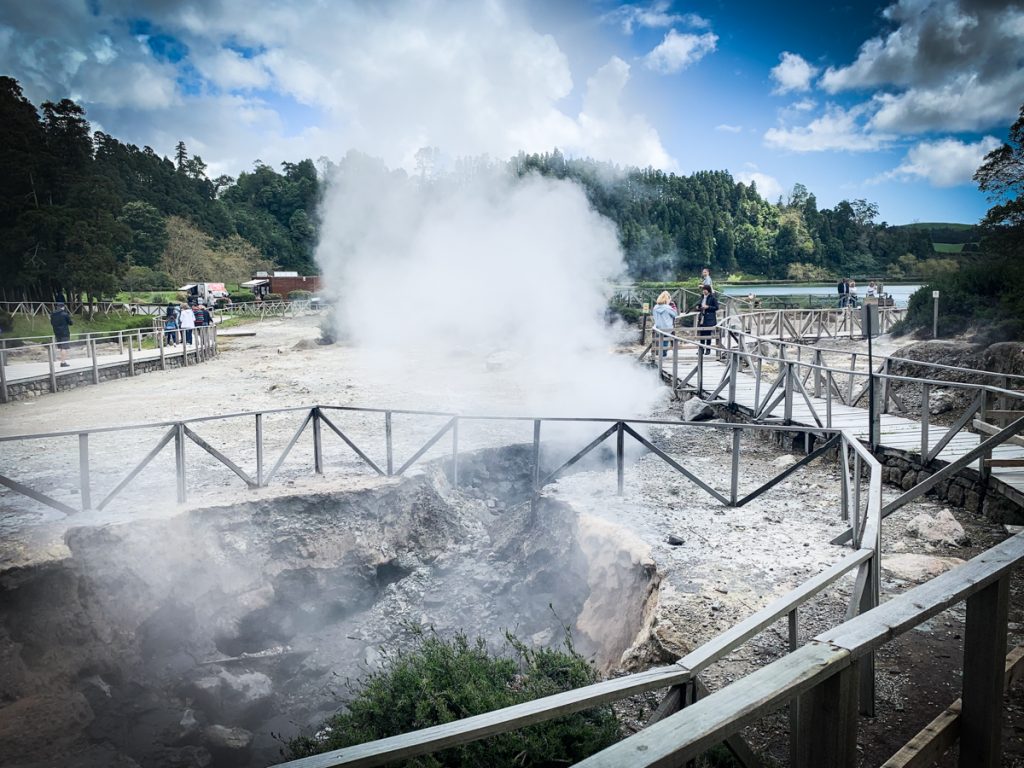 On one bank of Furnas Lake, you won't miss the sulfur fumaroles where the earth quite literally bubbles beneath your feet. If you don't see it, you will most certainly smell it!
It's interesting to walk around the wooden pathways and see the mud bubbling at a rolling boil around you, and it reminds you just how young and active these islands truly are.
Nearby, you'll see some piles of dirt which are actually cozidos, where stew in earthenware pots is quite literally being cooked by Mother Earth!
Have your breath taken away at Ponta do Sossego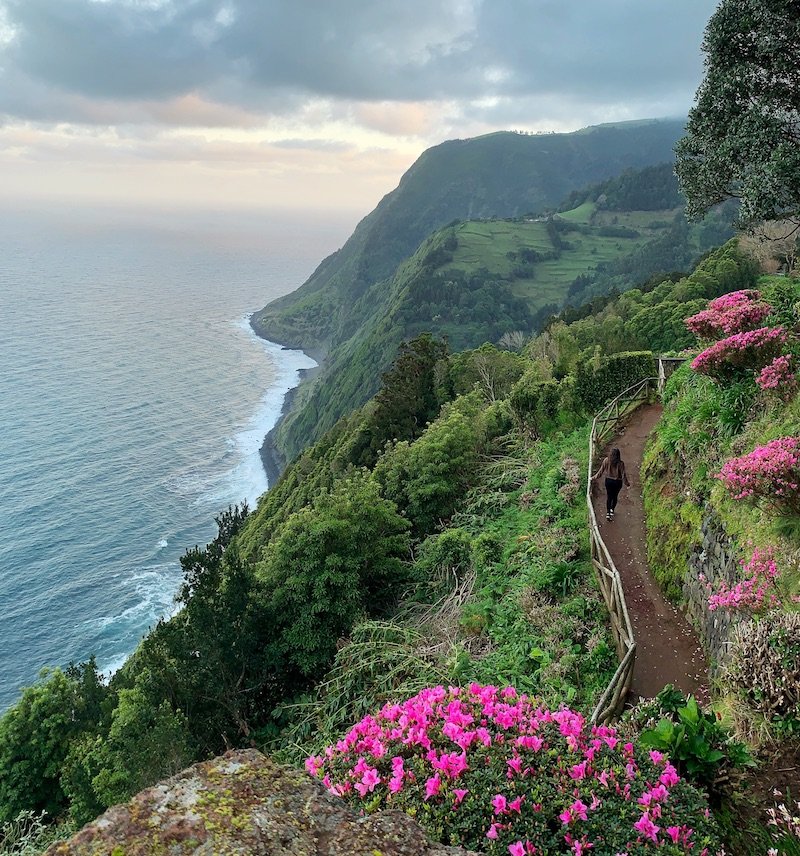 Of all the places to visit in the Azores, Miradouro da Ponta do Sossego is by far my favorite.
It's located in the Nordeste, far from Ponta Delgada and thus the tourists, but it's well worth going out of your way for.
It's a good idea to combine it with the waterfalls at Ribeira dos Caldeirões, which are not too far away.
This is where I took my best-performing Instagram photo of the last two years, so if you're visiting Azores for the photos, this is a spot you shouldn't miss.
Photograph the incredible steps of the Our Lady of Peace Chapel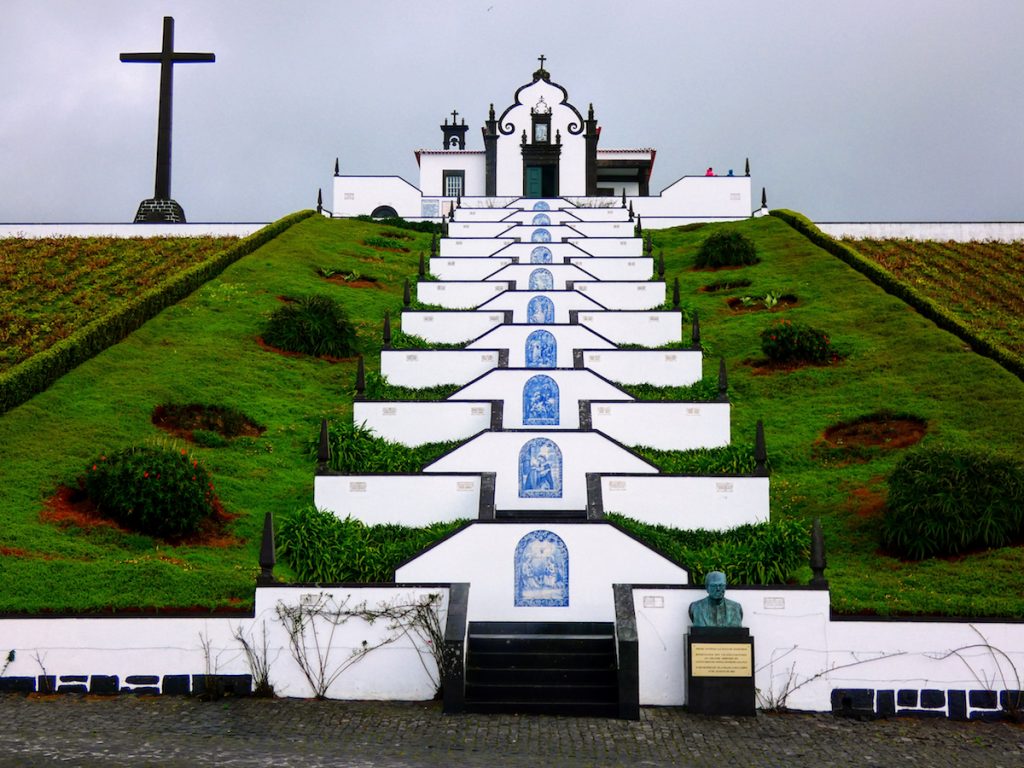 One of the most famous photography spots in the Azores, you shouldn't miss the beautiful Our Lady of Peace Chapel in Vila Franca do Campo, near to Caloura.
This church is home to stunning series of steps with azulejos embellishing each tier, and there are incredible views from the top of the chapel.

Enjoy an incredible Japanese-Azorean degustação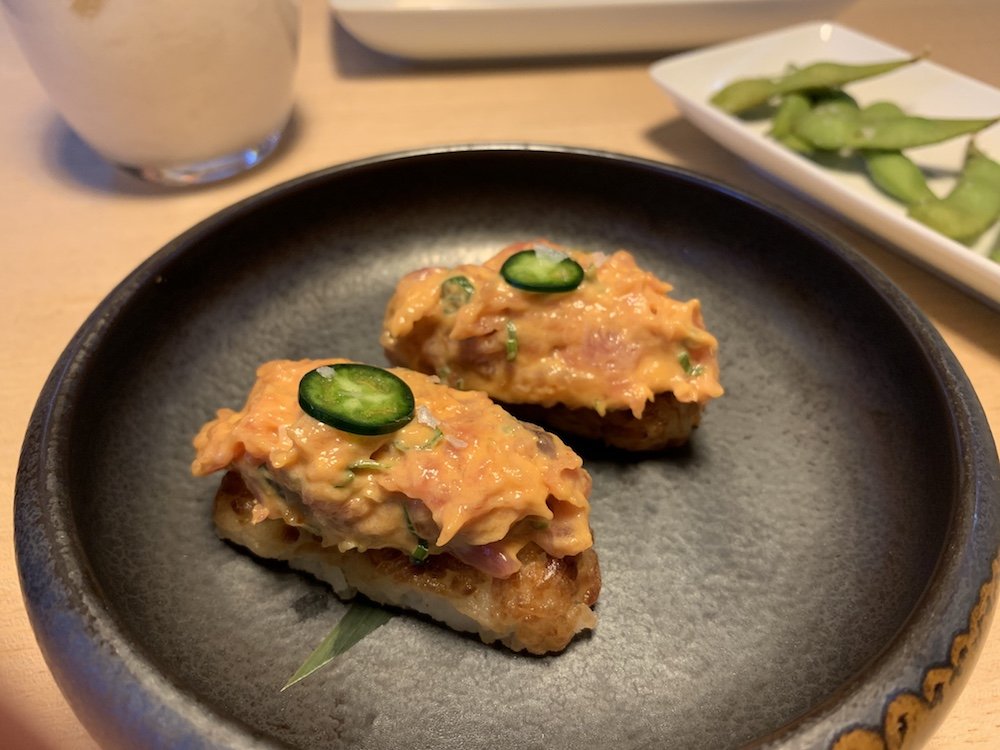 The most delicious thing to do in the Azores is eat a meal at the new Japanese-Azorean fusion restaurant Õtaka in Ponta Delgada.
Our meal there was simply incredible. There are several 'discovery' menus you can try at various price tiers!
You can enjoy a 6- or 7-course tasting menu for literally 25 euros, which is an incredible value for the quality.
My friend and I enjoyed a multi-course meal which included fresh sashimi, tartar on toasted rice, karaage chicken, tempura eggplant that tasted like a cloud, and so much more for 25 euros per person.
Want a fancier meal and splash out even more? There are other menus at higher price points with more expensive ingredients.
Take a soak with locals at Poça da Dona Beijo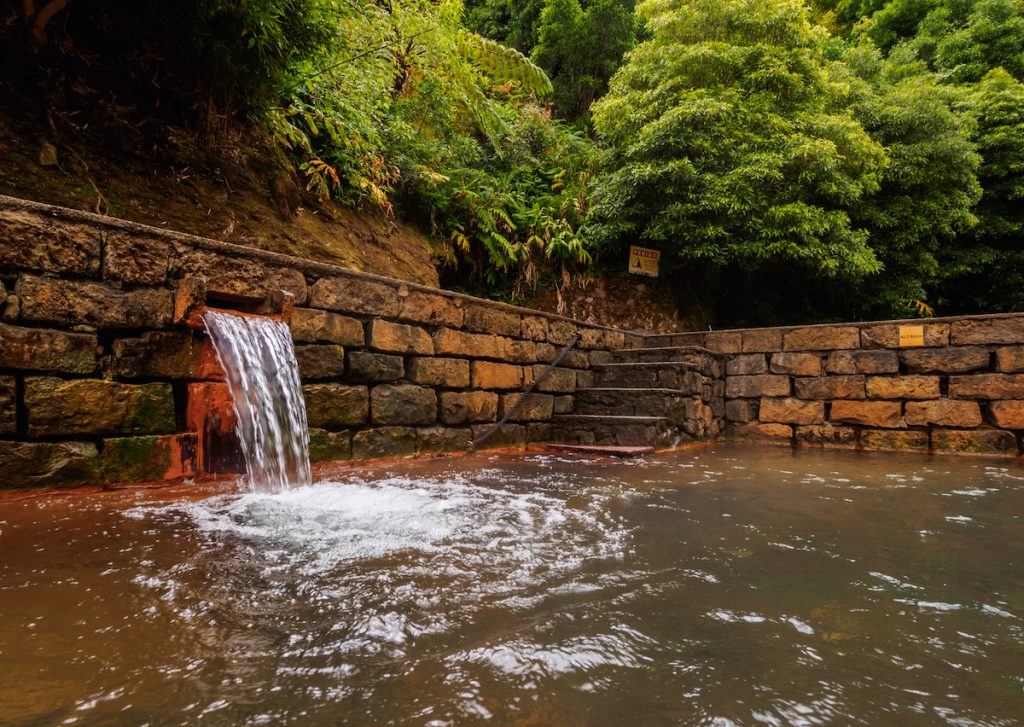 While Terra Nostra in Furnas gets all the tourist cred, the smaller Poça da Dona Beijo flies under the radar and is visited far less often.
If you only have time for one hot spring in Furnas, I'd lean towards terra Nostra because the gardens are really beautiful and worth exploring.
But if you have time to visit both, I'd pop into Poça da Dona Beijo, especially since it's open late (until 11 PM) so you can take a hot soak under the stars.
See Europe's only tea plantations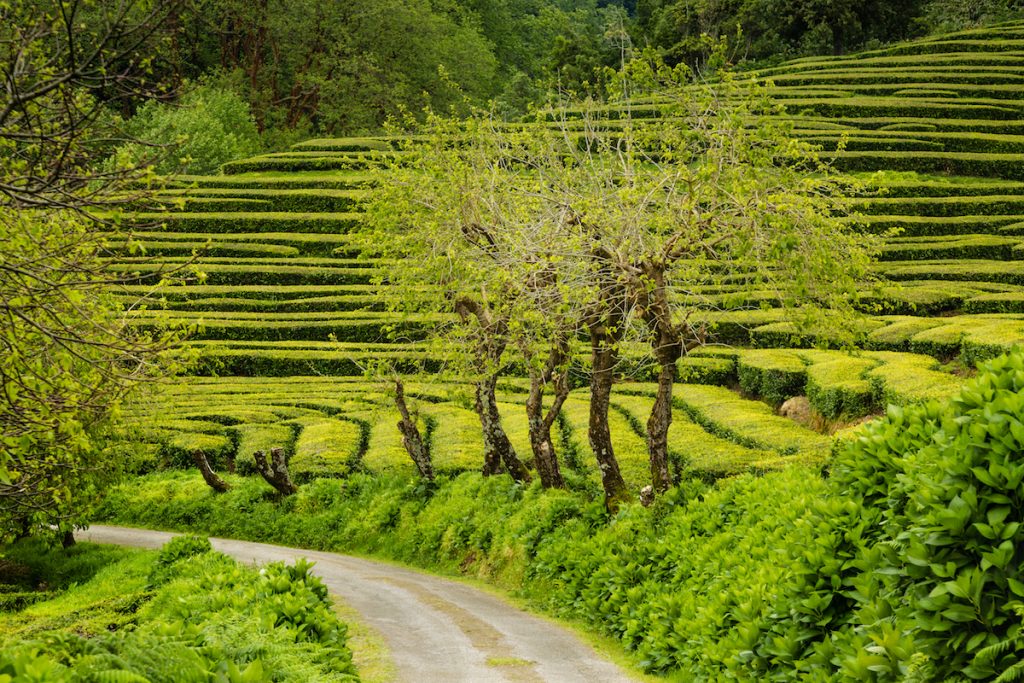 The tea fields of Gorreana Tea Factory are the only operational tea plantations in Europe and the tea they create is absolutely tasty!
I had it every morning during my stay in the Azores and wish I had brought some home with me.
They grow both black and green tea on their plantations and you can check see their fields, tour their factory, and sample all the free tea your heart desires at the factory.
Relax in the thermal baths of Caldeira Velha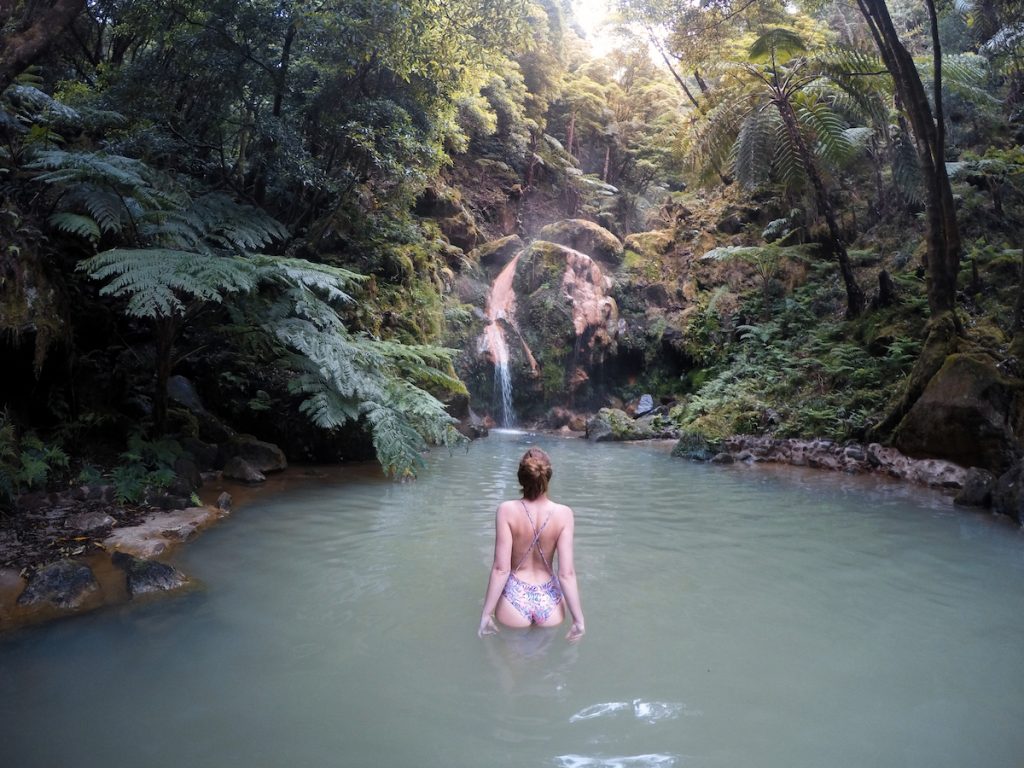 Located near to Lagoa do Fogo, this is a great stop to rest your legs in after you've hiked around the lake… or if you just want to take a hot soak in thermal waters surrounded by ferns and flora.
Similar to the other hot springs like Terra Nostra and Dona Beija, your suit will stain in the iron-rich waters (so this girl's swimsuit color is not recommended!) so be cautious to either wear a suit you don't mind getting stained or to choose a dark color.
Allison Green is a former educator turned travel blogger. She holds a Masters in Teaching and a B.A. in English and Creative Writing. Her blog posts merge her educational background and her experience traveling to 60+ countries to encourage thoughtful travel experiences that both educate and entertain. She has been a speaker at the World Travel Writers Conference and her writing, photography, and podcasting work has appeared in National Geographic, CNN Arabic, CBC Canada, and Forbes, amongst others. Now based in the San Francisco Bay Area where she grew up, she has also lived in Prague, Sofia, and New York City.