Few places represent the Italian idea of la dolce vita like the Amalfi Coast!
The expression, made famous by the eponymous film, refers to a life of pleasure, beauty, and self-indulgence — all things which are plentiful on the Amalfi Coast!
The beauty of the Tyrrhenian Sea, the dramatic coastline with colorful villages, gorgeous restaurants overlooking the sea, delicious seafood, indulgent gelato, and boat trips are just some of the things you can experience in this coastal area south of Naples!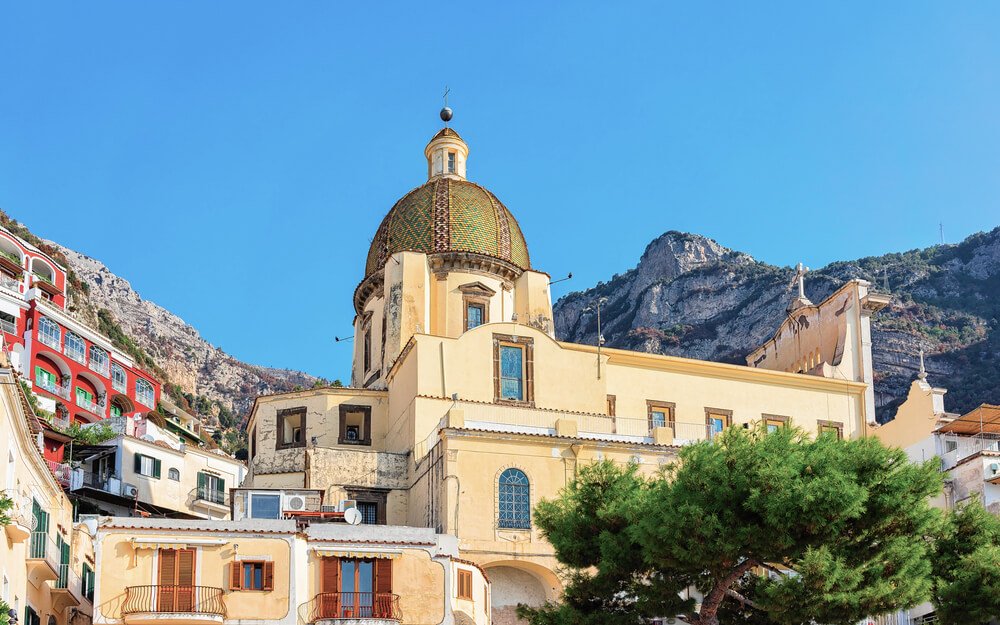 Note: This post contains affiliate links, which means I may receive a small commission if you purchase something through one of these links. Thank you for supporting the free content on this site! For more information on affiliate links and cookies, see my disclosure page for more details.
If you don't know where to stay on the Amalfi Coast, this guide will explore each of the Amalfi Coast towns and their attractions — plus suggested accommodations in each.
So pack your favorite swimsuit and some walking shoes and prepare to experience these Amalfi Coast towns with all your senses!
You'll smell the lemon trees, taste the crispy fried seafood, listen to the sound of the waves crashing against the cliffs, and feel the coarse sand underneath your feet.
Most of all, you'll be amazed by the spectacular views that each of these 13 picturesque towns on the Amalfi Coast has to offer.
No matter where you stay on the Amalfi Coast, epic views are all but guaranteed!
Where To Stay on the AMalfi Coast: towns & best accommodations in each
Positano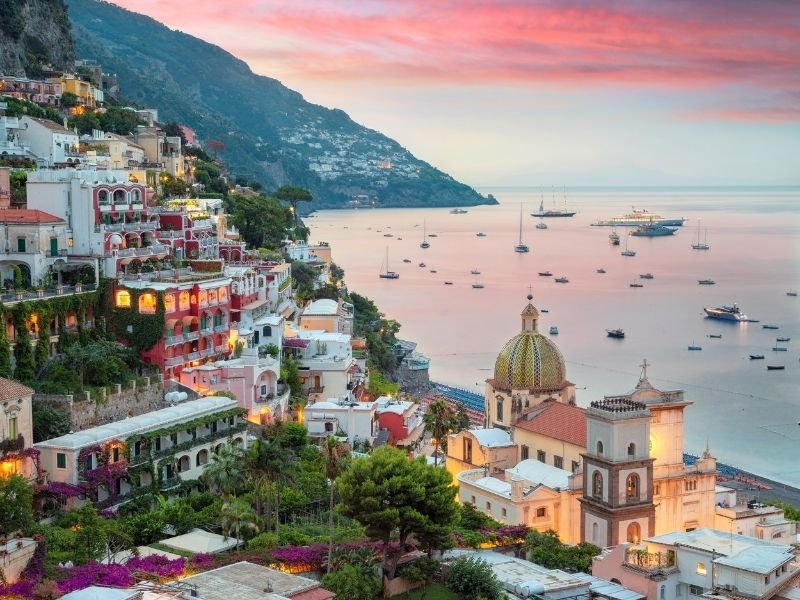 By far the most famous town on the Amalfi Coast, Positano stands out for its dramatic cliffs covered in colorful houses with lovely terraces reaching out towards the blue Tyrrhenian Sea.
From afar, it almost seems like the houses are built one on top of the other, in a vertical mass, interrupted here and there by patches of green spaces.
Narrow alleys and steep stairways will guide you through this charming Amalfi Coast village, while hidden terraces will reward you with glimpses of the coast below and the small beach below dotted with colorful umbrellas.
Walk around the town, enjoy the spectacular views, or relax at the beach to make the most of your time in Positano.
Being such a popular spot, the small beach tends to get quite crowded during the summer months, so visiting off-season could be a good idea if this is your choice for where to stay on the Amalfi Coast.
Don't forget to check out the Santa Maria Assunta Church in the heart of the town, explore the hiking area Le Tese di Positano, indulge in a delicious gelato or a lemon granita, and watch the sunset from one of the many terraces or viewpoints.
Where to Stay:

BUDGET | Relais Il Sogno de Positano is a more affordable options in Positano, although being Positano, 'budget' is subjective! You can enjoy colorful, spacious rooms with views of the sea. However, it's a bit far from the main town area. But with such a scenic place to walk, this isn't such a bad trade-off -- especially considering the huge difference in price tag between this and other options in Positano.
↳ Check prices, availability, and reviews here!

MID-RANGE | Hotel Conca d'Oro is a great choice for a special but not outrageously priced place to stay in Positano. Located in the heart of town, the minimalist rooms are given some warmth with a few elegant details. Most rooms have balconies with stunning sea views, and even if you don't have a balcony of your own, the terrace is a great place to watch the sunset!
↳ Check prices, availability, and reviews here!

LUXURY | Hotel Villa Franca is one of the most luxe hotels along the Amalfi Coast — but it has an eye-watering price tag. That said, you do really get the best of the best: two fine dining restaurants, a rooftop pool with jaw-dropping views, the ultra-luxurious O'Spa Wellness Center with a hammam, and of course, beautifully designed rooms with incredible sea views!
↳ Check prices, availability, and reviews here!
Praiano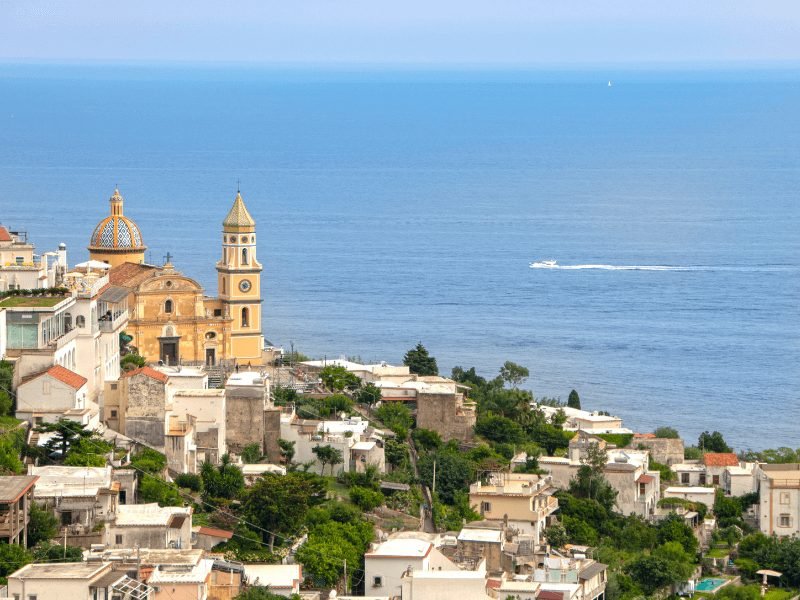 Halfway between Positano and Amalfi, Praiano is a small fishing village, much quainter than Positano and perfect for relaxing, enjoying the beach, and exploring nature.
The village is divided into two parts, the upper part of Praiano and the seaside part of Marina di Praia.
While Praiano offers beautiful panoramic views of the coast, Marina di Praia consists of a small pebble beach enclosed between high cliffs and surrounded by restaurants and hotels.
As opposed to crowded and colorful Positano, Praiano has few white houses scattered across the cliffs between lemon and olive trees.
A must-see is the Church of San Gennaro with its ornate chapel, which is quite typical of churches in towns along the Amalfi Coast.
In front of the church, a wide square with colorful mosaics overlooks the sea, allowing you to admire the coast.
From here, you can easily spot Positano and the Sorrentine Peninsula!
Where to Stay in Praiano:

BUDGET | Hotel Alfonso a Mare is a beachfront hotel at rock-bottom prices (for the Amalfi Coast, at leasts), right on La Praia Beach. The rooms are quite charming, with majolica tile floors and vintage furnishings. If you can swing it, upgrade to a room with a sea view -- you won't regret it!
↳ Check rates, reviews, and availability here!

MID-RANGE | Villa Gianlica is a charming place to stay, close to town center and not far from the beach. It features an outdoor pool with stunning sea views and a tranquil private garden to escape the Amalfi crowds. A tasty breakfast served on the sea-facing terrace is included. Best of all - some rooms even have their own private spa bath!
↳ Check rates, reviews, and availability here!

LUXURY | Tramanto d'Oro has rooms and amenities that would be double the price in Positano or Amalfi, so if you want luxury accommodations at a portion of the price, this is a great choice. We're talking rooftop pool, a Turkish bath, a sauna, a spa center, rooms with stunning sea views, and a delicious on-site restaurant serving up local Campanian cuisine.
↳ Check rates, reviews, and availability here!
Furore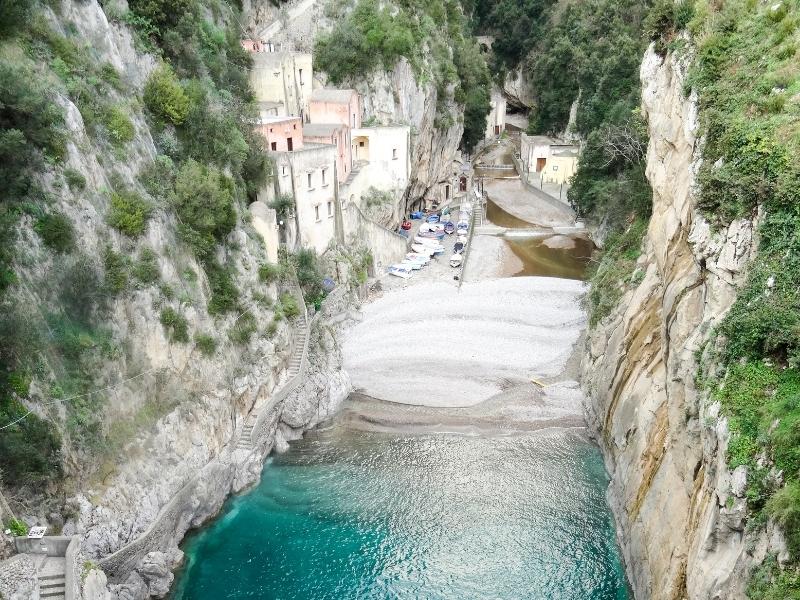 Also known as "the town that doesn't exist", Furore counts just over 800 inhabitants who live in the few colorful houses emerging from the cliff here and there.
There isn't an actual set of houses built close enough to form a village, hence the nickname, nor does this Amalfi Coast town have a town square or center, a rarity even among small towns in Italy!
Furore is famous for the narrow sea inlet making its way between high cliffs in a landscape that evokes the Northern European coastal region, like you'd see in Tromso or Iceland's Westfjords.
The inlet is known as the Furore Fjord, and it's a spot you shouldn't miss on your Amalfi Coast trip (especially if you're driving!)
A bridge connects the two cliffs forming the little fjord that ends on a small beach, the best spot to admire the view.
Swim in the turquoise waters, then make your way to the upper part of the village and walk the beautiful trail Sentiero delle Agavi in Fiore.
The name translates to "the path of the blooming agave" in English, due to the presence of these beautiful succulent plants.
The first part of the walk is known as the Lover's Walk (Passeggiata dell'amore), and it offers a lovely view of Praiano from above.
Where to Stay in Furore:

BUDGET | Roccia Fiorita is located just a 10-minute walk away from the Fjord of Furore. This charming little guesthouse has a garden and terrace to relax in between busy days sightseeing. Rooms are a little basic, but they all feature A/C and en-suite bathrooms, and some have a balcony as well.
↳ Check rates, reviews, and availability here!

 MID-RANGE | San Giacomo Relais is a beautiful place to stay in Furore at a rather affordable price tag. It has an on-site restaurant and bar, as well as a garden and a small pool. The rooms are a little dated in terms of decor, but the views are stunning, and guests loved the breakfast and hosts!
↳ Check rates, reviews, and availability here!
Conca dei Marini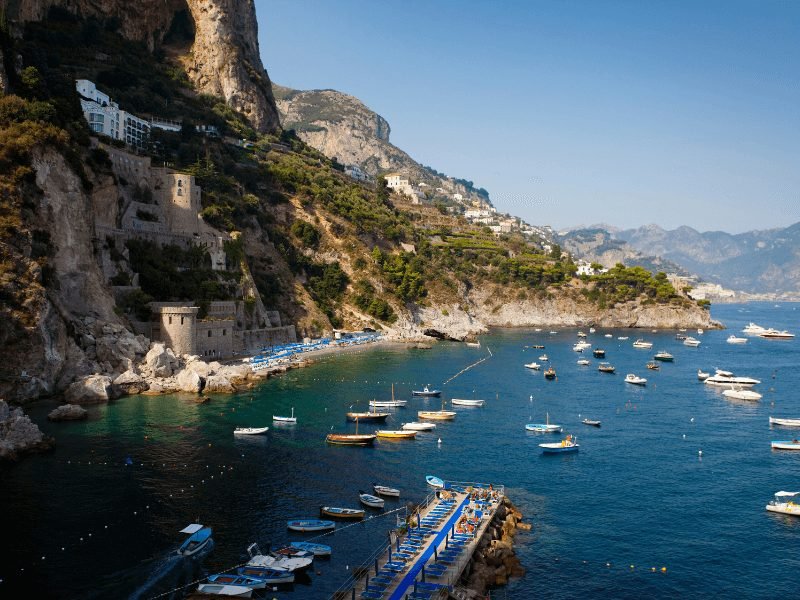 With a small peninsula extending into the Tyrrhenian Sea and over three kilometers of coastline, Conca dei Marini is an old fishing village in the Amalfi Coast.
As one of the lesser-known towns on the Amalfi Coast, it's a lot more peaceful than many of the other coastal towns, which is in itself a great reason to visit it!
Conca dei Marini is a great choice if you're looking to enjoy nature, try out some local food at one of the many restaurants, and relax at one of the nearby beaches, like the rocky one at Capo di Conca or the sandy ones near the Marina.
One of the most popular spots in Conca dei Marini is the Emerald Grotto (Grotta dello Smeraldo).
You can easily access the grotto via elevator from the main road, then take a short boat tour to admire the crystal-clear waters and the stalactites and stalagmites!
To complete your visit, go on a short hike to Torre Capo di Conca. In the past, the tower served as a lookout for Arabic pirate invasions.
Nowadays more tranquil, this is a lovely spot to admire the coast and the deep blue Tyrrhenian Sea!
Where to Stay in Conca dei Marini: 



BUDGET | La Camera del Pescatore is a charming apartment rental located just a short walk from the beach. The room is large and spacious with Mediterranean colors and a sea view balcony. There is a mini fridge and electric kettle but that's the extent of the apartment's kitchen — but the food is so good along the Amalfi Coast, you won't want to cook in, anyway.
↳ Check rates, reviews, and availability here!

MID-RANGE | Rifugio Stellato offers a stunning and tranquil private apartment rental on the Amalfi Coast. It has both sea views and its own private garden, as well as two bedrooms so it's a great option for families or smaller groups. There is also a kitchen (with a washing machine), a terrace with a BBQ (grill up some fresh seafood!), fast WiFi, and easy parking.
↳ Check rates, reviews, and availability here!
Amalfi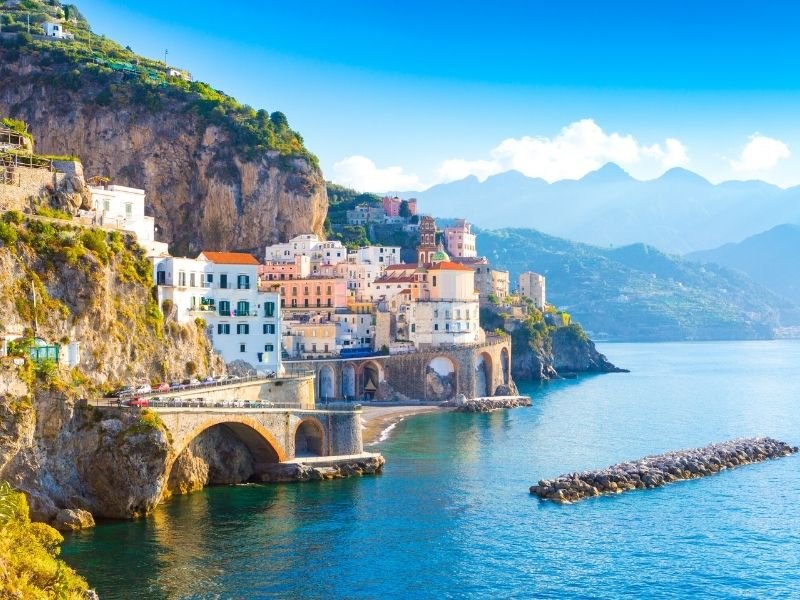 Alongside Positano, the town of Amalfi that gives the name to the coast is one of the most popular places to visit on the Amalfi Coast.
Once an important maritime town rivaling even Genova and Venice, nowadays it's a lively tourist destination offering a mix of culture, beautiful beaches, and great restaurants!
As soon as you arrive in Amalfi, you'll notice the imposing Cathedral of Sant'Andrea, with its ornately-decorated facade, known simply as the Duomo di Amalfi.
The construction of the cathedral started in 987 but was only completed in 1900. As a result, different styles merge into one in this unique building, from the Romanesque to the Baroque and the Norman-Arab-Byzantine facade.
Close to the cathedral, visit the Moorish cloister and garden Chiostro del Paradiso, a wonderful breath of fresh air.
If you're curious to learn more about the Amalfi Coast's history, you ought to check out the Antico Arsenale della Repubblica di Amalfi, a maritime museum where you can learn about the history of the city!
Make your way through the narrow alleys, have a gelato or a cuoppo (a rolled wax paper cone) of fried seafood, then climb the stairways to the upper part of the town to check out magnificent views of the city!
If you want to escape the crowds and enjoy some peace, the monumental cemetery of Amalfi is guaranteed to be one of the most beautiful you'll ever see!
Where to Stay in Amalfi:

BUDGET | Villa Maria Luigia is an affordable, adorable B&B near the town of Amalfi. While it's about a 20-minute walk from town, it's only a 2-minute walk to the closest beach! The rooms are a bit basic and sparsely decorated, but guests loved the hospitality -- and the views from the terrace!
↳ Check prices, availability, and reviews here!

MID-RANGE | Hotel Aurora is a lovely mid-range option a 7-minute walk away from Amalfi's beach -- but even better, it has its own private beach. You can also enjoy a tranquil garden area with colorful bougainvilleas everywhere. Some rooms have sea views (from large windows or somoe rooms have balconies), but everyone can enjoy breakfast on the terrace with a great sea view.
↳ Check prices, availability, and reviews here!

LUXURY | Borgo Sant'Andrea is just a minute from the beach and advertises giving its guests 'the celebrity treatment'. It's true - this is one of the most luxurious hotels on the whole coast! It boasts all the 5*  amenities, plus one of the best infinity pools on the entire Amalfi Coast, plus the rooms have incredible sea views.
↳ Check prices, availability, and reviews here!
Atrani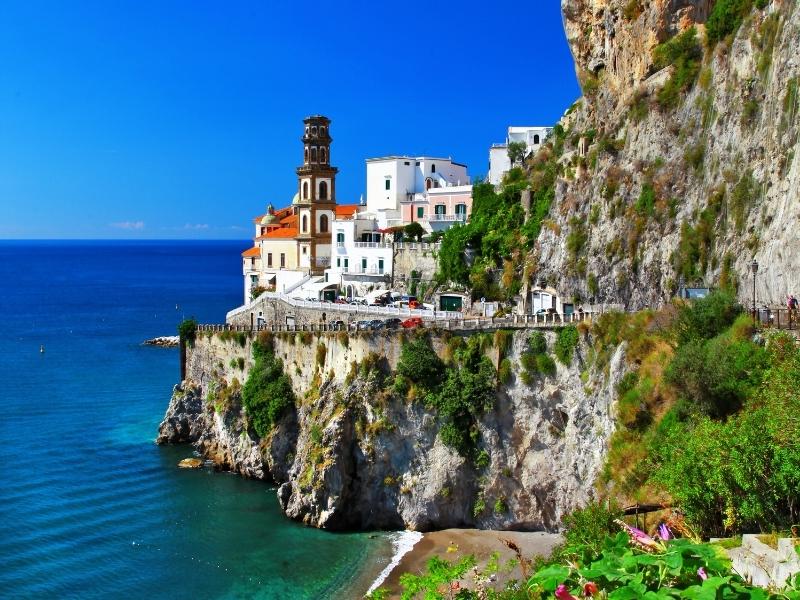 If you walk south along the coast from Amalfi, you'll reach the center of Atrani without even realizing you exited one town and entered another!
The two are so close together that visitors often consider them as one Amalfi coast town!
Atrani is the smallest municipality in Italy, with a surface area of barely 0.12 square kilometers — it really is just a speck of a town!
The town is almost entirely pedestrian, with most of the activity happening around Piazza Umberto I.
Despite its small size, Atrani is famous for the many places of worship it has housed, at one time numbering roughly 300!
Some of the most important ones are the Church of San Salvatore de' Birecto in the very center of the town, Collegiata di Santa Maria Maddalena, and Santuario di Santa Maria del Bando, up a hilltop with stunning views of Atrani.
Another great spot for epic views is the old watchtower Torre dello Ziro, offering mesmerizing views over the Amalfi Coast.
Where to Stay in Atrani:

BUDGET | La Preferita del Doge is just a short walk from Atrani Beach and several other beaches, including Marina Grande Beach and Spaggia di Castiglione. It's a charming little vacation rental with one bedroom, an en-suite bathroom with a washing machine, and a small kitchenette. It's not fancy, but it is convenient and comfortable, and guests loved the host and location!
↳ Check prices, availability, and reviews here!
Ravello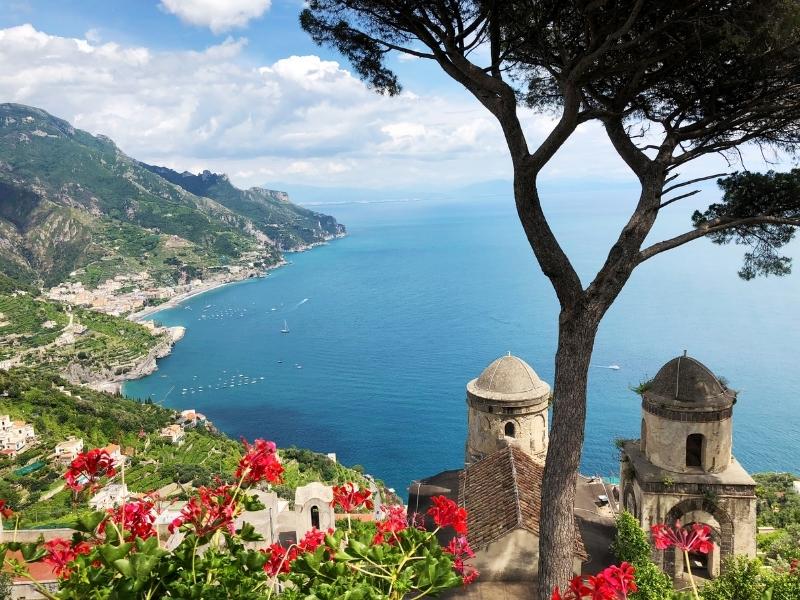 An absolute must when visiting the Amalfi Coast, Ravello is a hilltop town not far from Amalfi and Atrani.
As opposed to most towns on the Amalfi Coast, Ravello is more inland and therefore does not have access to the sea.
However, that gives it some unique characteristics, so don't write off this charming town!
When it was founded in the fifth century, the town served as a shelter from barbarian invasions, due to its sheltered location.
Over the centuries, it attracted many artists, writers, and musicians like Virginia Woolf, Richard Wagner, Truman Capote, and Tennessee Williams, who admired the beauty of its villas and gardens and found inspiration here.
The town of Ravello itself is lovely, with colorful ceramics shops, lovely squares, and beautiful terraces.
However, the main sights are the two villas, Villa Rufolo and Villa Cimbrone. The first one, built by the Rufolo family in the 13th century, was owned by the Scottish botanist Francis Neville Reid, who restored the gardens.
The villa and its beautiful gardens served as inspiration for Richard Wagner and are now the setting of the Ravello Festival, a classical music festival that takes place every year between July and September.
Villa Cimbrone is mostly famous for its beautiful terrace overlooking the sea, Terrazza dell'Infinito.
However, it features beautiful gardens, marble statues, cloisters and courtyards, as well as a bar, a restaurant, and a tearoom.
Go during the day or, even better, in the evening to watch the sunset from the terrace!
Where to Stay in Ravello:

 BUDGET | Sea View Ravello is a great place to stay on the Amalfi Coast if your budget is a bit tight but you still want to enjoy a sea view with a balcony. This little B&B is close to the town centers of Ravello and Scala, as well as Minori Beach on the coast. The rooms are designed with white and blue — like a cloud-streaked sky — with their own sea view terrace!
 ↳Check prices, availability, and reviews here!

MID-RANGE | La Dolce Vita Ravello is a chic boutique hotel with studio and apartment-style accommodations. Each room has a private terrace to enjoy, a small kitchenette, A/C, and an en-suite bathroom. The rooms are decorated beautifully, with unique details like exposed beams and arched windows that open up to sea views.
 ↳Check prices, availability, and reviews here!

LUXURY | Caruso, A Belmond Hotel is far-and-away the fanciest place to stay in Ravello! Enjoying stunning sea cliff views, this building has been renovated beautifully from its origins as an 11th-century structure. The hotel has an infinity pool, private terraced gardens, and beautiful history-rich interiors — fresco ceilings and original details maintained! The property also offers free boat excursions and shuttles to Amalfi and Positano.
 ↳Check prices, availability, and reviews here!
Scala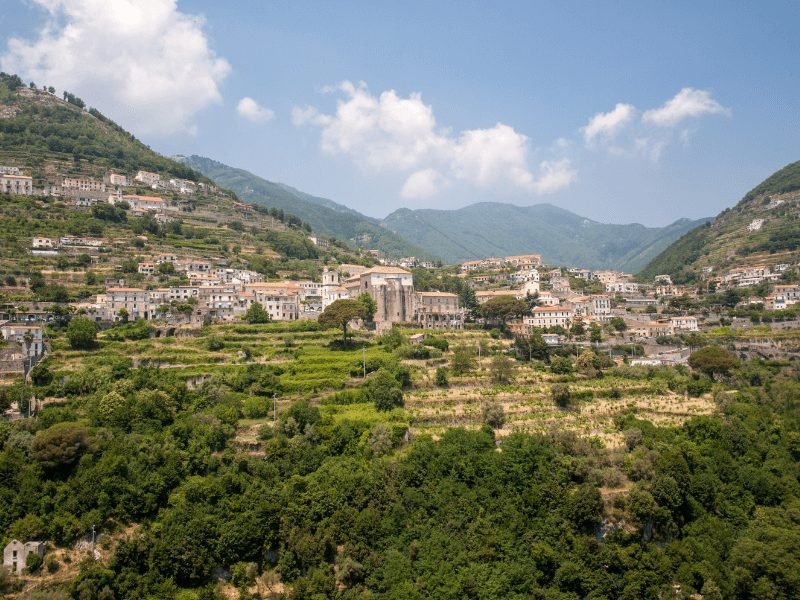 One of the most overlooked towns on the Amalfi Coast, Scala is thought to be the most ancient one, founded in 330 B.C.E. by a group of Roman families who found refuge here after a shipwreck.
It is believed that part of the population of Scala later moved closer to the coast and founded Amalfi.
Scala is not your typical Amalfi Coast town. This is the perfect destination if you want to be immersed in nature, away from the crowds!
Close to the town, you'll find the natural reserve Valle delle Ferriere, with lush vegetation, rivers, waterfalls, and unique plants, like the Woodwardia radicans, a fern dating back millions of years!
Scala is very close to Ravello, so you can easily walk between the two towns.
In the town of Scala, visit the Duomo di San Lorenzo, then make your way to the hamlet of Pontone and check out the ruins of the Basilica Sant'Eustachio.
Where to Stay in Scala:

Note: There are few accommodations in Scala -- you'll find a lot more in Ravello, in the section above.

BUDGET | Palazzo Verone is one of very few choices in Scala, but luckily, it's a great one! The accommodations here are simply stunning, like staying in a palace! The building is a renovated mansion from the 17th century, and they've kept as much of the original details while updating it for the modern age. 
 ↳Check prices, availability, and reviews here!
Minori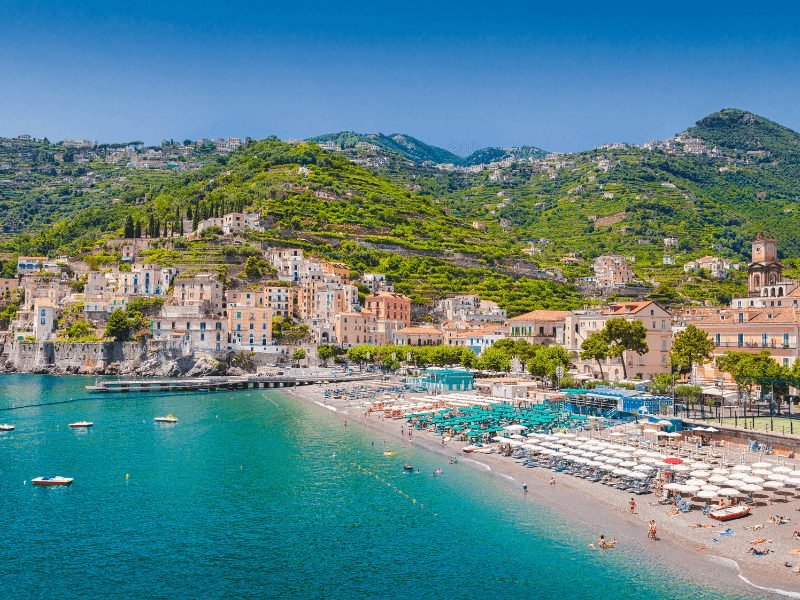 Conveniently located halfway between Salerno and Amalfi, Minori is a popular culinary destination, also known as the "City of Taste".
The town is famous for a variety of pasta types and recipes, many of them involving the use of local lemons and other citrus fruits!
Minori is known for the ndunderi, a type of fresh pasta thought to derive from an ancient Roman recipe. Other local types of pasta are ricci and lagane.
But Minori is not just about food!
You can enjoy a day at the beach, check out the remains of an ancient Roman villa and visit the beautiful Basilica of Saint Trofimena.
Just outside of town, go for a hike on the Sentiero dei Limoni (Path of the Lemons) all the way to Maiori and prepare for more stunning views of the coast!
Where to Stay in Minori:

BUDGET | Casa San Michele is a charming B&B located a 10-minute walk from the center of Minori. It has A/C, WiFi, a flatscreen TV, and a kitchenette and en-suite bathroom in every room. The rooms are a bit basic, but the location and price are great for budget travelers!
 ↳Check prices, availability, and reviews here!

MID-RANGE | Villa Anna is a stunning vacation rental, surrounded by citrus groves, perfect for a group or a family for an affordable price. The villa has two bedrooms, one bathroom, a kitchen, and an outdoor dining area on the patio. You'll find a selection of board games and books to entertain you. Do note that there are 75 steps to reach the villa — but you'll enjoy epic views if you can handle the steps!
↳ Check prices, availability, and reviews here!
Maiori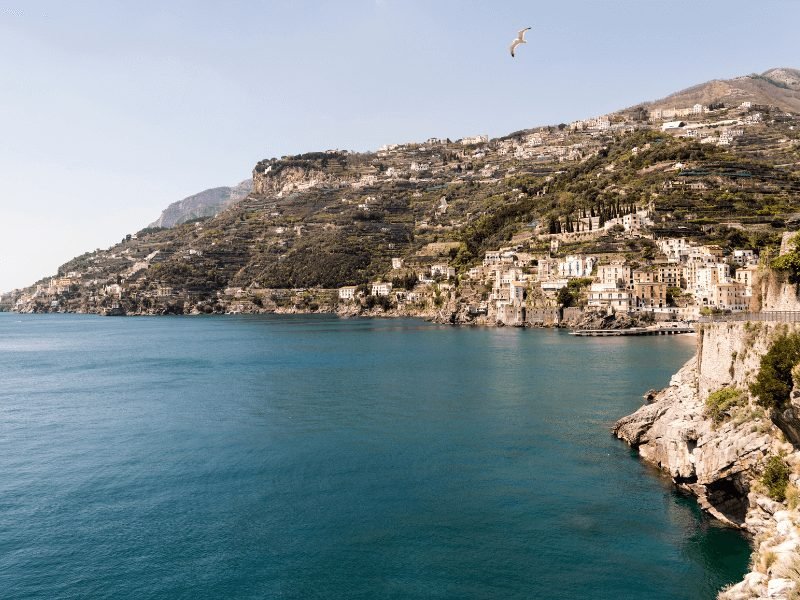 Right next to Minori and very easy to reach by foot, Maiori is one of the biggest towns on the Amalfi Coast.
If what you're looking for is soaking in the sun and swimming in the Tyrrhenian Sea, Maiori may be the best spot, with a long sandy beach, a rare feature in the area!
The seaside promenade in Maiori is a lovely spot for a walk, with several bars and restaurants to have lunch or a coffee with a view.
In the old town, climb up to Santuario Santa Maria a Mare to visit the church and enjoy the view of the town, then take a walk in the quaint Palazzo Mezzacapo Gardens.
While Maiori may appear less picturesque than other towns on the Amalfi Coast, it's more accessible, being mostly flat (great for multigenerational families and people with mobility limitations), plus it is less expensive than the more popular destinations!
It is also conveniently located roughly halfway along the Amalfi coast, so it's a great base to explore the area without spending a fortune on accommodation!
Aside from the actual town of Maiori, you can also visit a few other nearby hamlets, like Erchie, with its well-preserved Torre Cerniola and beautiful beaches like Spiaggia dei Limoni or Spiaggia di Suverano.
Where to Stay in Maiori:

BUDGET | Casamalfita I Dogi is a quaint little B&B located a few minutes away from Maiori beach and 10 minutes from Minori. The rooms are clean and modern with updated details and a central location!
↳ Check prices, availability, and reviews here!

MID-RANGE | The Regina Palace Hotel is a beautiful place to stay in charming Maiori, just a minute from the beach! It has its own swimming pool and garden area, so you can escape from the bustle of the Amalfi Coast and get lost in your own private paradise. The rooms are a bit basic but great for the price and location.
↳ Check prices, availability, and reviews here!
Tramonti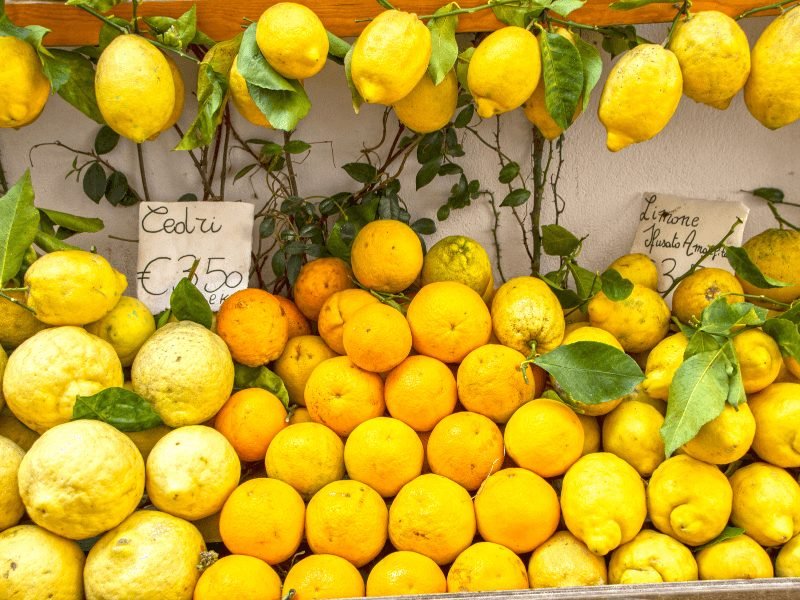 The name of this little village can be translated to "between the mountains" and it's due to its location up in the Lattari mountain range.
The town of Tramonti is spread between many little hamlets across the hills and valleys, and it is considered the lungs of the Amalfi Coast, due to the lush vegetation all around!
Like all over the Amalfi Coast, in Tramonti, you'll find many little churches and even more spots to simply admire the view of the surrounding mountains and hamlets.
Due to its mountain location, if you want to be closer to the coast and go to the beach, this is not the right Amalfi Coast town for you.
However, if you have enough time, it's the perfect spot to disconnect, breathe fresh air, relax, and go for walks in nature with almost no other tourists in sight!
Where to Stay in Tramonti:

BUDGET | B&B Fior Tramontiis a great escape in the mountains, away from the busy bustle of the Amalfi Coast, but just a short drive from the coast. The hosts are very friendly and the gardens are a wonderful place to clear your mind after a busy day.
 ↳Check prices, availability, and reviews here!

FARM STAY | Il Raduno offers a unique way to stay in the Amalfi Coast, located on a working farm with vineyards of its own! It is a bit far — about 30 minutes' drive up a mountain — but the on-site restaurant is amazing and the property is so cute that you'll love the escape!
 ↳ Check prices, availability, and reviews here!
Cetara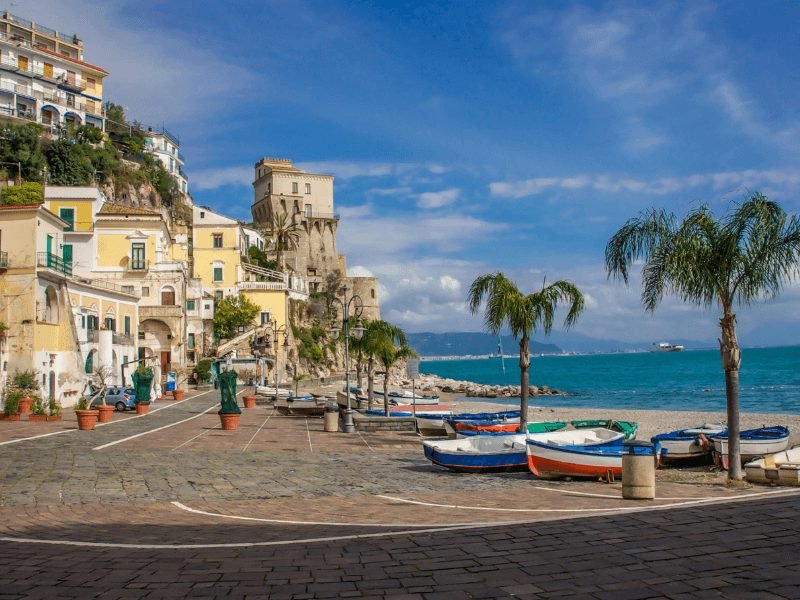 An old and picturesque fishing village, Cetara is one of the most traditional and authentic villages on the Amalfi Coast!
Drawing fewer crowds than other towns along the coast, Cetara is the place to go if you want to eat delicious seafood dishes, go hiking in the surrounding mountains, explore the lovely historic center, and spend some time at the beach — all with some peace and solitude!
Near the main beach and the harbor area, you can visit Torre di Cetara and climb to the upper terrace for a beautiful view of the town.
Further south, in the direction of Salerno, go for a swim at the pebble beach Spiaggia del Lannio.
If you have extra time, you can explore one of the hiking trails in the mountains at the back edge of the town, Monti Lattari.
Where to Stay in Cetara:

BUDGET | Marinella Casa Vacanze may be one of few options in Cetara, but it is still a good option! The guesthouse is literally right on the beach and a short walk from all the town's amenities. I'll admit, the decor inside is a little strange, with some very intense and colorful mood lighting featured prominently, but it sleeps four at an affordable price, making it a good choice for families on a budget.
 ↳ Check prices, availability, and reviews here!
Vietri sul Mare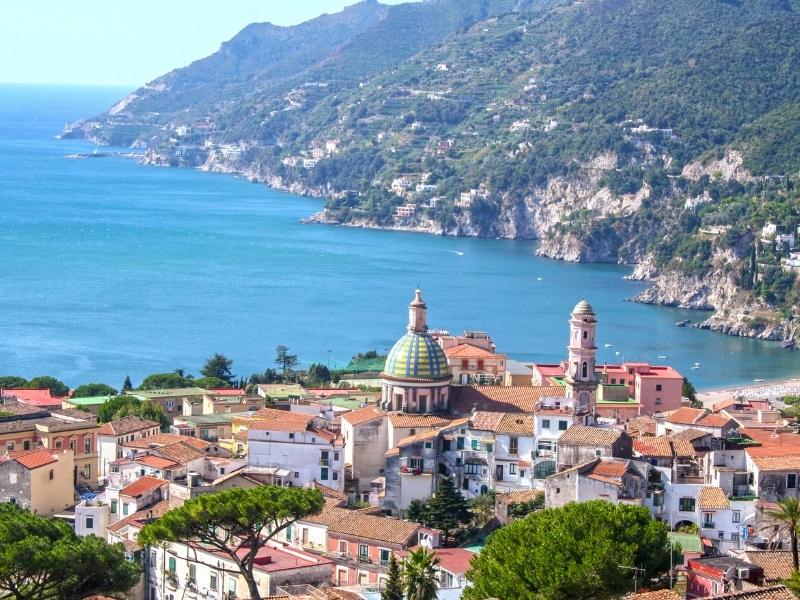 The gateway to the Amalfi Coast, Vietri sul Mare is the first village you'll encounter when leaving Salerno and heading towards the western coastal towns.
The town is famous for its ceramics, and you'll come across many shops with beautifully decorated ceramic objects as well as a museum dedicated to this art form, Museo della Ceramica Vietrense.
Visit the church of San Giovanni Battista in the heart of the old town and go for a walk in the colorful city park Villa Comunale Vietri sul Mare, where you'll be rewarded with spectacular views of the coast.
Crestarella Beach is one of the most popular in town, and it even features an old watchtower that is now a beautiful wedding and events venue!
Where to Stay in Vietri sul Mare:

BUDGET | Casa Colombo is an affordable place to stay with sea views in the kitchen, living room, and bedroom, including a small terrace off the kitchen perfect for enjoying a morning coffee or glass of wine at sunset. It offers all the creature comforts you'd expect of a small vacation rental in a central location.
 ↳Check prices, availability, and reviews here!

MID-RANGE | Octopus Vietri House is a great choice for a moderately-priced two-bedroom vacation rental, great for families or groups. It's a 3-minute walk to the beach, the decor is really cute and modern, and you'll also get to enjoy a fully-equipped kitchen, a patio, and a central location.
 ↳Check prices, availability, and reviews here!

LUXURY | Due Relais is an absolutely breathtaking property located right on a sea cliff in Vietri Sul Mare, just a few steps away from the beach. There are terraced gardens, private terraces and balconies, and epic views everywhere you look at this charming condo-style hotel.
 ↳Check prices, availability, and reviews here!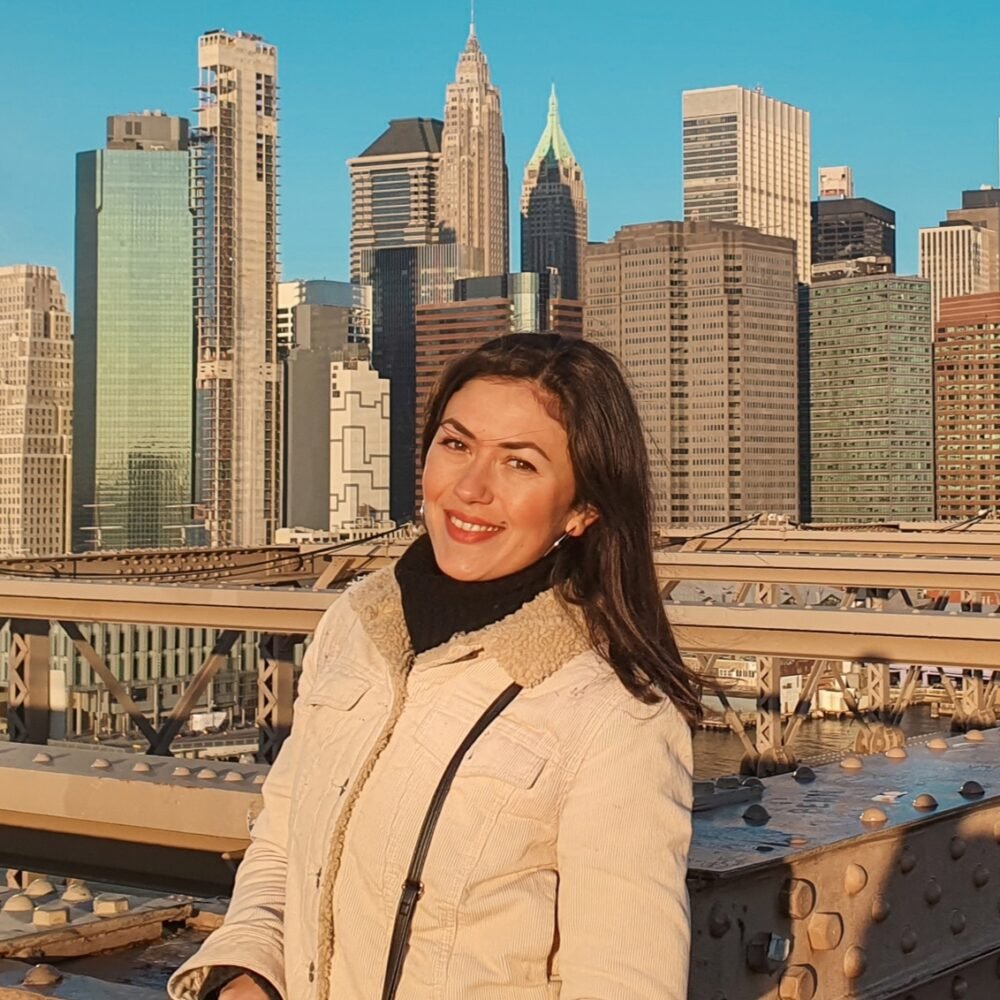 Roxana is a Romanian-born freelance travel writer who has lived in Italy for over 15 years. She has a Master's in Journalism and a Bachelor's in Film Studies. Her mission is to find hidden gems, even in the most popular travel destinations, and to inspire people to explore new places and cultures with the same curiosity! When she is not traveling, writing, or planning her next trip, she is either binge-watching TV shows or reading books.