While the island — a long, thin island shaped like a parenthesis — may look small, there's a deceptive amount of things to do in Roatán, the most bustling of Honduras' Bay Islands.
Roatán is a busy cruise port, and many people visit Roatán as part of a Western Caribbean cruise line stop — but I'd argue that one day in Roatán as a brief excursion from your cruise ship is not enough to enjoy this stunning Caribbean island.
From meeting adorable rescue sloths to diving one of the world's largest reefs to enjoying beach days admiring the turquoise waters of the Caribbean Sea, there's so much to do in Roatán that it merits a vacation all of its own.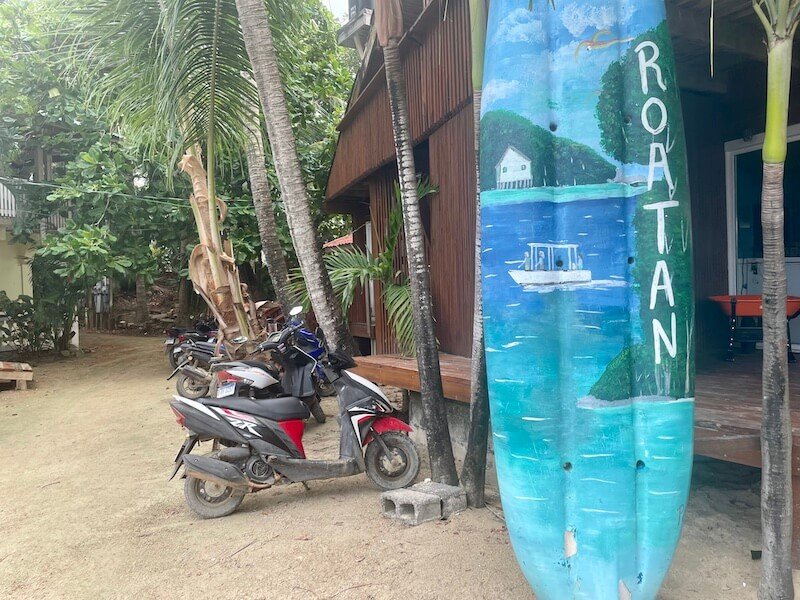 Note: This post contains affiliate links, which means I may receive a small commission if you purchase something through one of these links. Thank you for supporting the free content on this site! For more information on affiliate links and cookies, see my disclosure page for more details.
I spent about a week exploring Roatán island in May 2023, and so I've created this guide to all the wonderful things there are to do in Roatán.
Whether you're visiting independently or as part of a cruise shore excursion, I'm here to help you make the most of your time with this Roatán travel guide!
The Best Things to Do in Roatán, Honduras
Go scuba diving (or get certified!) along the Mesoamerican Barrier Reef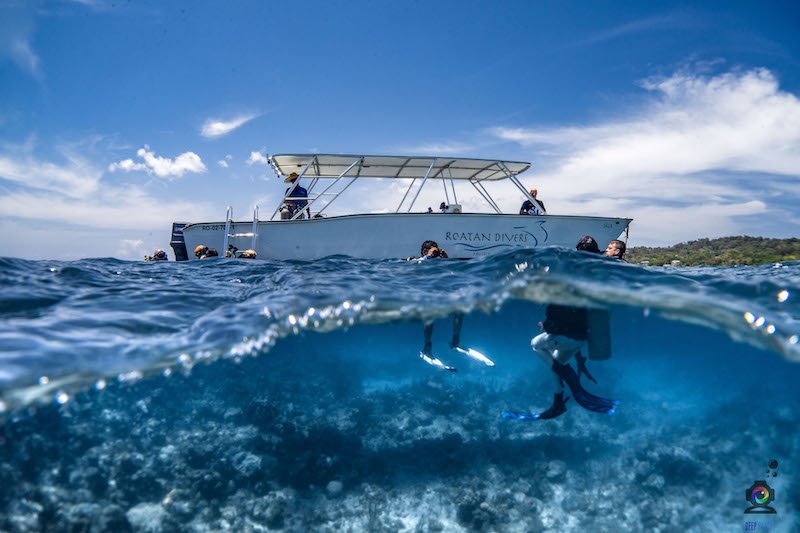 Towering coral pinnacles, gently wavering purple gorgonian sea fans, rare black coral, vibrant sponges (some almost iridescent to the point of being neon): the underwater landscape of the island of Roatán is absolutely picturesque…
… and we haven't even gotten to discussing the marine life yet!
Sea turtles — both hawksbill and green sea — call these reefs home, often with shark-suckers tagging along on their shell for the ride.
You'll also see an eagle ray or two if you're lucky!
In terms of fish life, you'll be absolutely spoiled here: sharp-nosed pufferfish are everywhere, as well as purple-yellow fairy basslets, yellow-and-blue queen Angelfish, black-and-yellow French Angelfish, and the silly-looking colorblock rock beauty.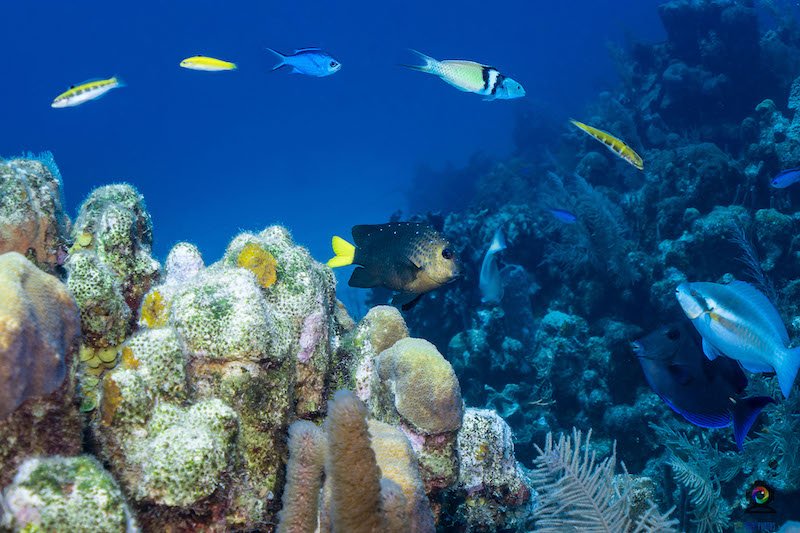 Other fish species you might see are three types of butterflyfish (spotfin, banded, and foureye), schools upon schools of blue tang and ocean surgeonfish, bluehead and yellowhead wrasses, and all sorts of parrotfish (stoplight, rainbow, and queen being the most common).
Rarer fish you might spot include: the stunning indigo and barred hamlets, filefish (orangespotted, whitespotted, and scrawled are relatively common — the elusive tiny slender filefish is rarer and harder to spot), the adorably pouty smooth (or spotted) trunkfish, and the gorgeous honeycomb or scrawled cowfish.
For fans of macro life, you can spot flamingo tongues, banded coral shrimp, and my personal favorite, the purpe Pederson cleaner shrimp (who love a particular kind of anemone, but will occasionally perform dental visits on groupers), and pipefish like the Harlequin pipefish and the shortfin pipefish.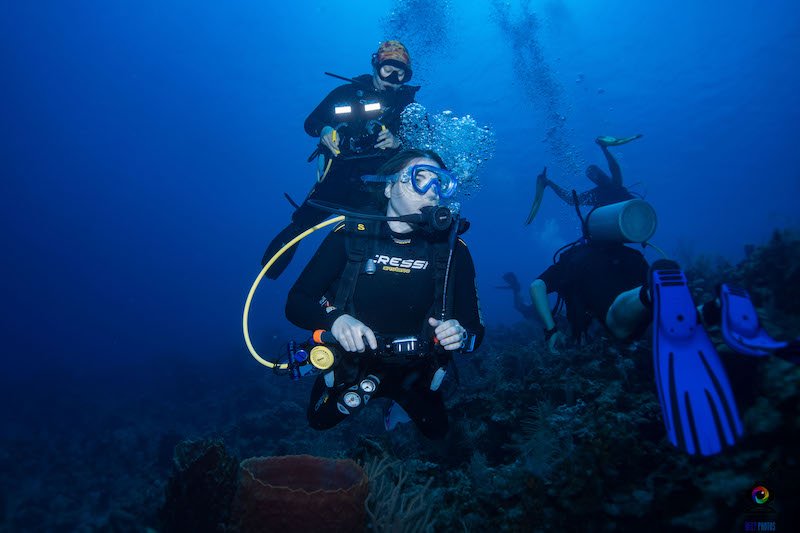 Sharks, unfortunately, are no longer common visitors to Roatán's reefs because there is a dive company that feeds the sharks in order to "guarantee" shark sightings on a dive — which has changed the sharks' behavior, and it's now quite rare to see a shark while diving in Roatán.
If you want to travel ethically, I recommend not doing the shark dive here, because it has been proven that it has changed the feeding behavior of sharks, who no longer swim basically anywhere but this dive site, according to the dive shop I went with.
All I know is I can compare my experience diving in Cozumel with my experience diving in Cozumel: I saw perhaps a dozen sharks while in Cozumel in 15 dives, and I didn't see one single shark in either Roatán or Utila in 14 dives.
If you plan to go diving in Roatan, read my full guide on the subject here!
I also have a guide to diving in Utila.
Note: I wore a 5mm wetsuit while diving in Roatan and it was perfect for me personally. I get cold while I dive, but that's just me!
Getting Certified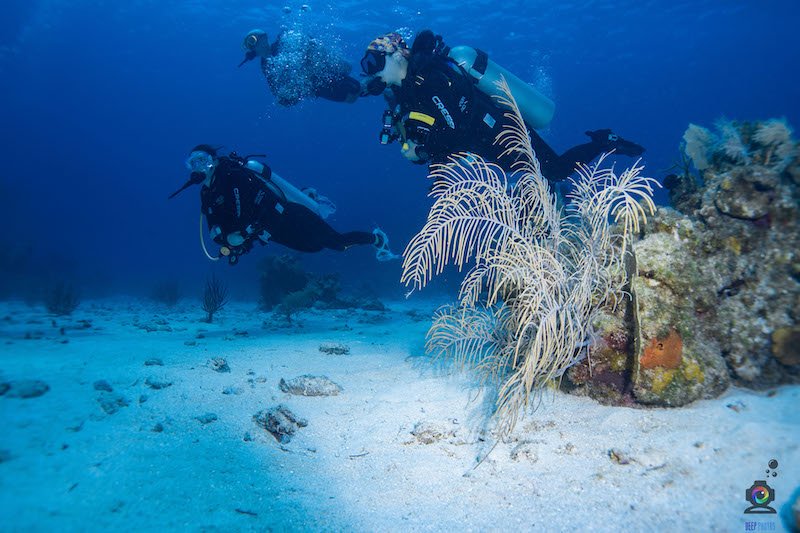 With calm waters and minimal current, stunning marine life, and extremely low prices (though not as low as Utila), it's no wonder than Roatán is a popular place to get PADI Open Water certified.
Depending on the dive shop you choose, expect to pay about $300-350 USD for a PADI Open Water certification course, including materials, rental, instruction, and fees. The course typically takes 3-4 days.
It's also a popular place for more experienced divers to advance their certification with AOW, Rescue Diver, Specialty Certifications like Wreck Diving and Deep Diving, or even Divemaster courses!
Fun Diving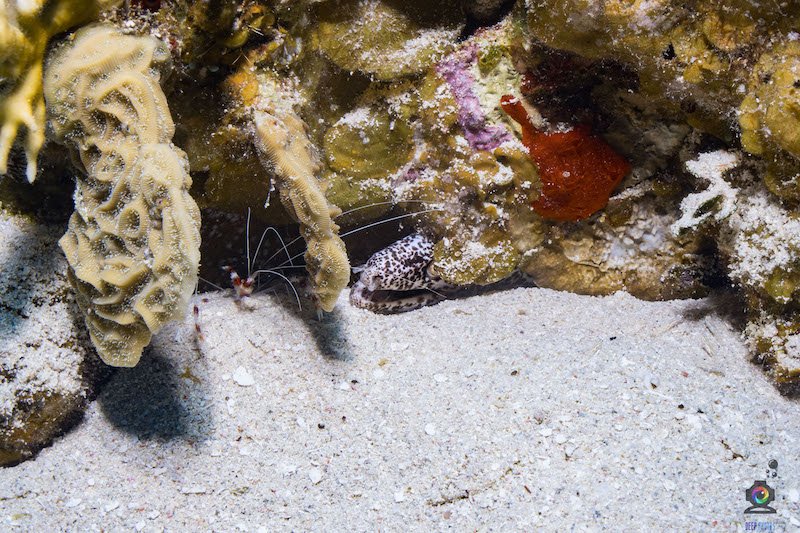 Roatán is also great for fun diving!
The dive sites are quite close to dive shops, meaning short boat rides and no need for long on-boat surface intervals (great for people like me who get seasick on motionless boats!).
I did a total of 9 fun dives in Roatán, including one night dive. I had a blast and would rank Roatán in my top 3 dive destinations I've visited (right after Cozumel and above Moorea/Tahiti!).
Where to Dive in Roatán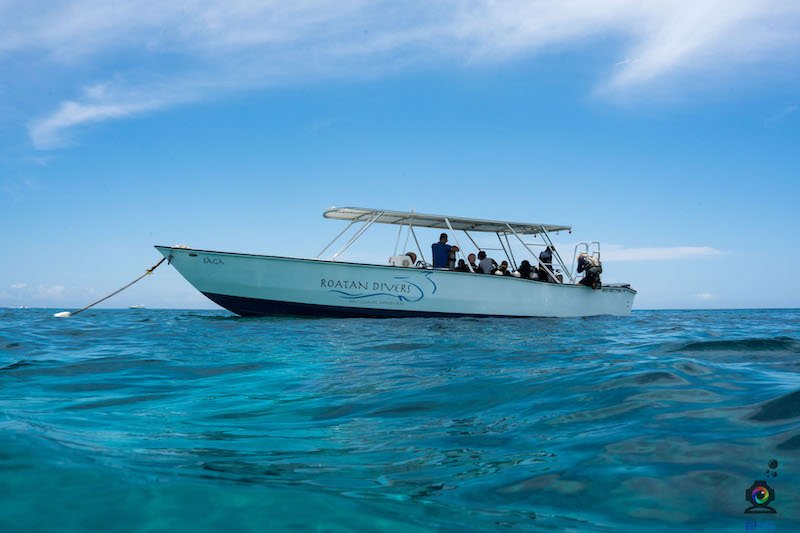 I chose to dive in the West End because I didn't plan on renting a car for the entirety of my stay in Roatán and I wanted to be in a more lively area.
I went with Roatan Divers as they had the best reputation and would happily go back to dive with them again — I see no reason to dive with any other shop on the West End!
That said, other dive shops that rate highly include Sun Divers Roatan and Coconut Tree Divers, which may be worth looking into as well.
I didn't get a chance to dive in East End, although I wish I did, because I wasn't able to dive some of the more famous Roatán dive sites like Mary's Place.
Generally, East End offers a few quiet dive shops like Barefoot Divers as well as a handful of dive resorts like Coco View Resort with a house wall that you can dive as much as you want from the shore!
Go wreck diving at the El Aguila shipwreck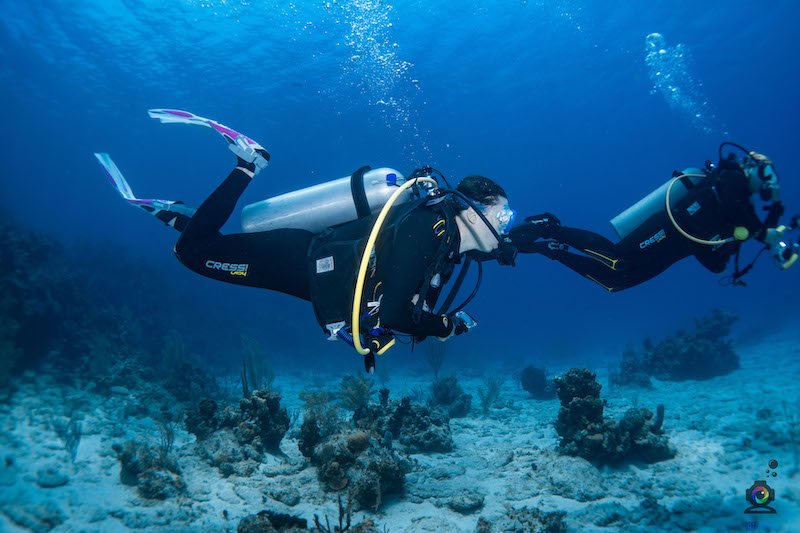 Assuming you're at least Advanced Open Water certified, diving El Aguila is a must-do in Roatán!
Resting on the sea floor about 100 feet deep, this cargo ship was deliberately sunk in 1997 to make an artificial reef.
According to my divemaster, It was first sunk in a shallower area in front of Anthony's Key Resort, likely to appeal to snorkelers… but then a hurricane passing through had other plans, and the rough waters made the ship tumble off the reef wall into deeper waters.
Now, it's one of the most unique dive sites in Roatán: it's fun to see how the marine life has started to reclaim the wreck, with sea sponges and sea fans growing on the boat's stern and hull.
But in my opinion, the coolest part is spiraling up the mast, which is now home to all sorts of interesting soft corals that house some interesting macro life.
After you dive El Aguila, you'll typically explore the shallows, where you'll see all sorts of beautiful fish marine life in the coral formations.
Note: If you don't have a Wreck Diving specialty, you won't be able to enter the wreck. However, there's plenty to see on the outside if you just have your AOW.
Pro Tip: If you're Nitrox-certified, this is a great time to use Nitrox! Since you'll max out at about 100 feet deep, you can use 32% Nitrox to have longer bottom times without needing to worry about hitting NDL limits.
Go on a snorkeling boat trip to admire Roatán's coral reefs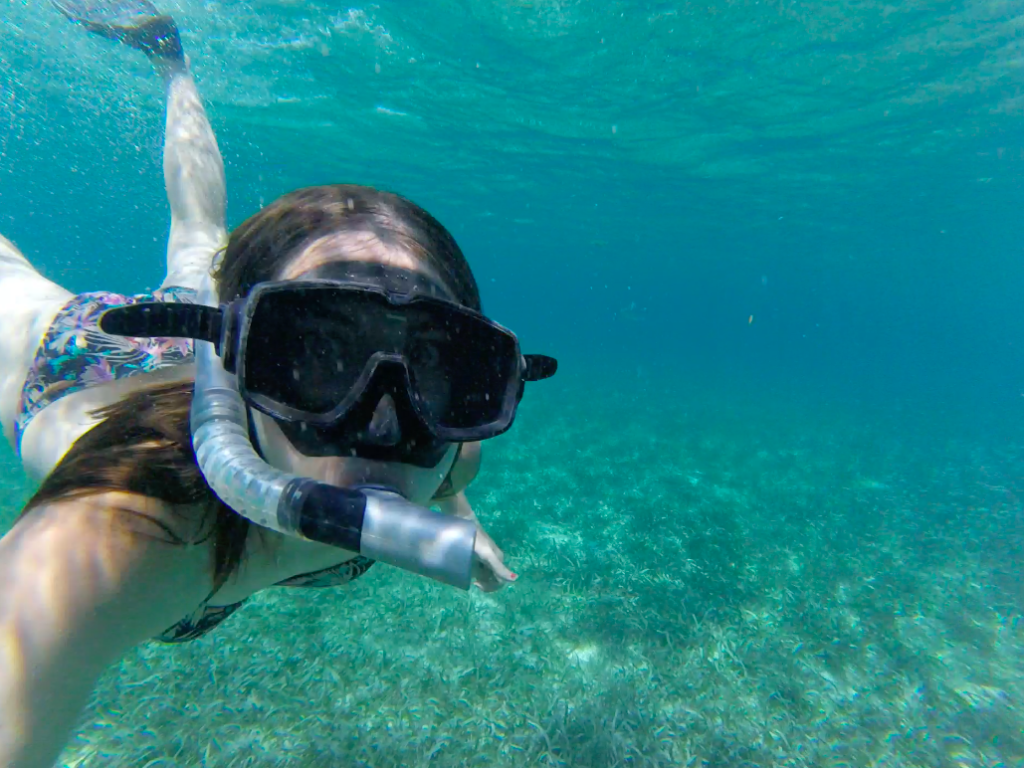 If you're not SCUBA certified (and don't want to be), snorkeling is still a great way to experience Roatán's reefs.
While there are a few reefs you can access from the beach, like Half Moon Bay and West Bay Beach, a snorkeling boat trip will bring you to more remote snorkeling locations where there will be few fellow tourists.
Several tour operators in Roatán offer fantastic snorkeling boat tours that take you to some of the best spots around the island that other people can't get to without a boat!
One option is Roatan Snorkeling Adventure — they have a 3-hour tour that brings you to two different snorkeling spots, and it includes all snorkeling equipment and roundtrip transport from your hotel or cruise ship.
Another option is the Jolly Roger Roatan Catamaran Sailing & Snorkeling Cruise. Similarly, they have a half-day tour with two snorkeling stops, and they include a lunch buffet and open bar in the tour cost, plus any snorkeling gear you need.
Finally, another option is West Bay Tours, with its full-day snorkel tour with 3 stops: the Blue Channel, a cool sunken ship, and Starfish Alley. You'll see everything from colorful coral canyons to starfish-studded sandy bottoms!
Enjoy a zipline experience through the canopy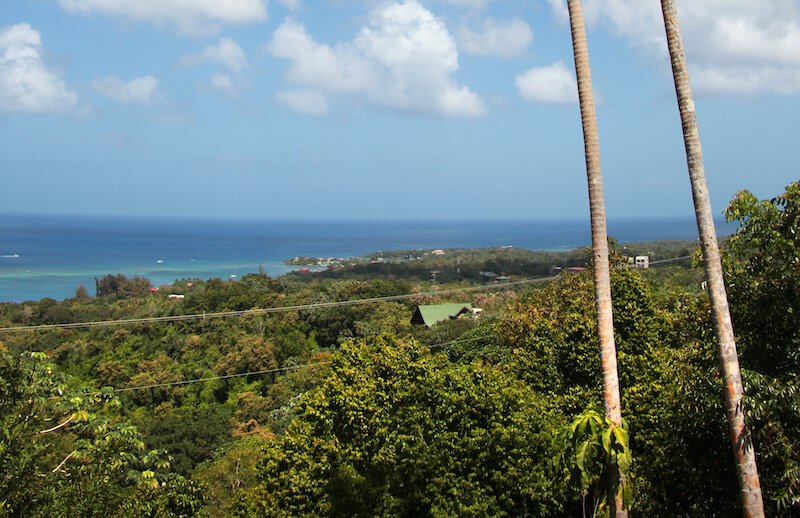 Another fun thing to do in Roatán is explore its lush and varied landscape on an exciting zip line tour!
From soaring over lush jungles to catching glimpses of the spectacular coastline, ziplining in Roatán is an exhilarating experience that'll get your adrenaline pumping.
I didn't zipline during my stay in Roatán — I've ziplined in Costa Rica and Arizona before, and to me, twice is enough — but our driver (and Honduran local) recommended Bodden Tours and their Mayan Jungle Canopy Zipline park.
Their most famous offering is their "Zip-n-Dip" package. This tour starts with a heart-racing zipline ride where you can admire the breathtaking views of the island from above!
Then, you'll be taken to a monkey and sloth sanctuary, where you can learn about and interact with rescued animals.
The tour concludes with a relaxing time at West Bay Beach, one of Roatan's most beautiful and popular beaches.
This particular tour is perfectly coordinated with cruise ship schedules, departing one hour after the ship arrives and ensuring that you're returned one hour before the ship departs.
This seamless scheduling gives cruise passengers a worry-free experience as they explore Roatan's natural beauty.
At a price of $65, the "Zip-n-Dip" tour offers a unique blend of excitement and relaxation, making it excellent value for money.
In addition to Bodden Tours, there are other companies that provide thrilling zip line experiences, such as South Shore Canopy Zipline and King Kong Extreme Zipline. These operators offer similar packages.
If you're not visiting on a cruise, you can drive to or taxi to the Mayan Jungle Canopy Zipline and just book an independent zip line tour.
Eat the delicious Honduran classic, the baleada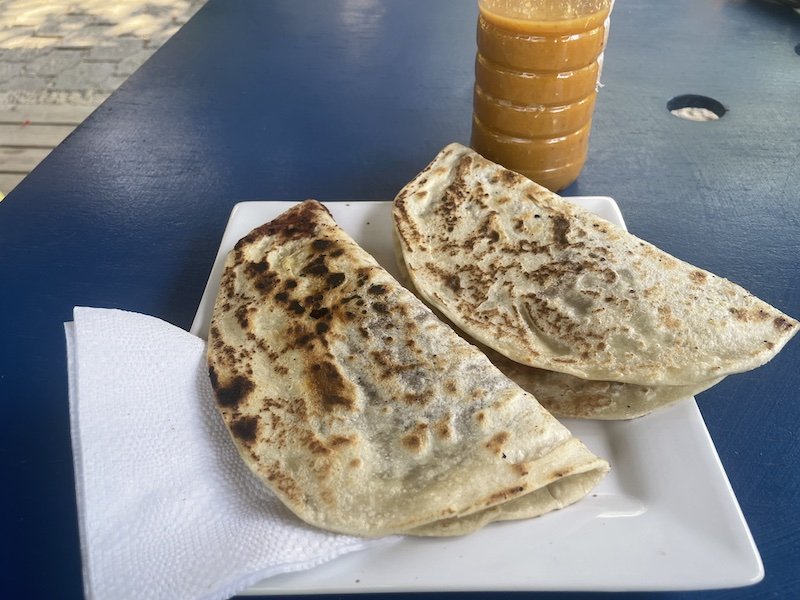 You haven't visited Roatán if you haven't tried the local classic, the baleada!
Made of a huge freshly-made flour tortilla, stretched and baked on the grill in front of your eyes, the perfect baleada will retain a slight chew and pull to it.
You can order it sencilla (simple) with a delicious refried bean-style spread with some salty cheese sprinkles, or order it filled with a variety of fillings.
Avocado, ground beef, chorizo, and egg (or any combination thereof) are a few of the most popular fillings for the baleada.
The baleada with all its fillings is then folded in half like the largest taco you've ever seen — but you'll likely need a knife and fork for this bad boy!
If you want the best baleada on the island, hit up Yahongreh? in the West End, open from 7 AM to 2 PM daily except Mondays.
Watch the sunset on West Bay Beach (or from your hotel pool!)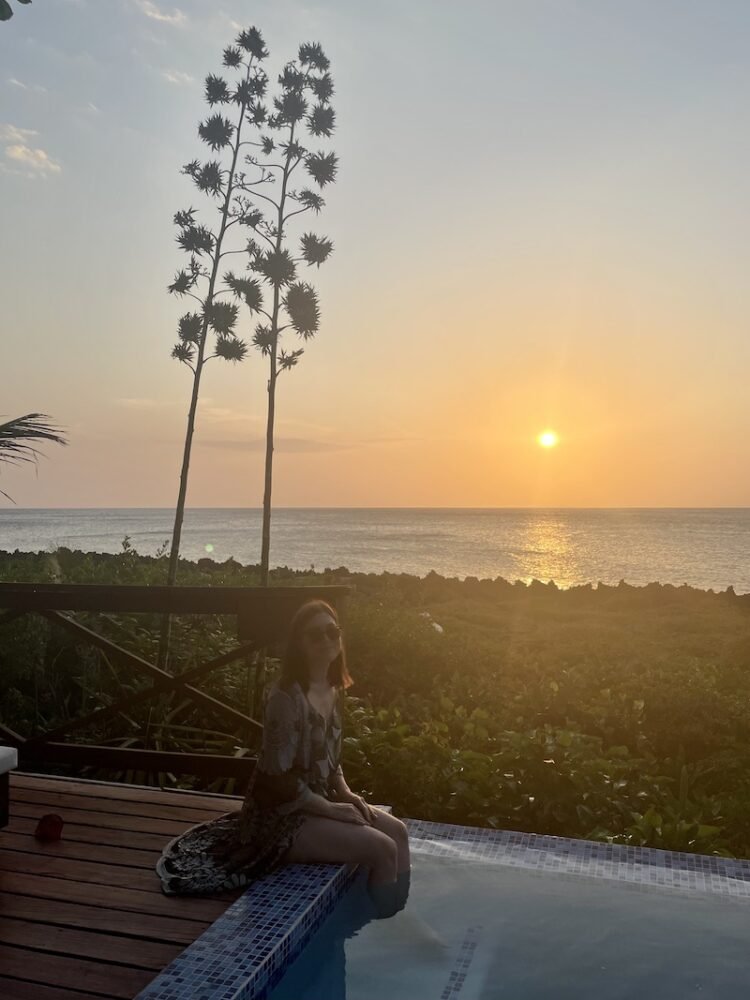 One of the most popular spots to watch the sunset in Roatán is on West Bay Beach, since it has a practically uninterrupted view of the horizon so basically everywhere on the beach will have stellar sunset views.
A bit crazy and jam-packed with tourists during the day, the vibe on West Bay Beach settles down a bit at night, as the beach chairs empty out and people either go for dinner or cocktails and the beach itself becomes a little more tranquil.
While Half Moon Bay in West End is beautiful, it's not quite as great for sunsets, since you won't get to see the sun as well.
We also had great sunsets where we stayed at Cocolobo — the small infinity pool lined up perfectly with the setting sun for epic views!
This part of the West End juts out a bit, giving you a completely uninhibited view of the sunset.
If you can have your own stunning sunset — I highly recommend it — but if not, West Bay Beach is a great public option.
Spend the day relaxing at a beach club with a day pass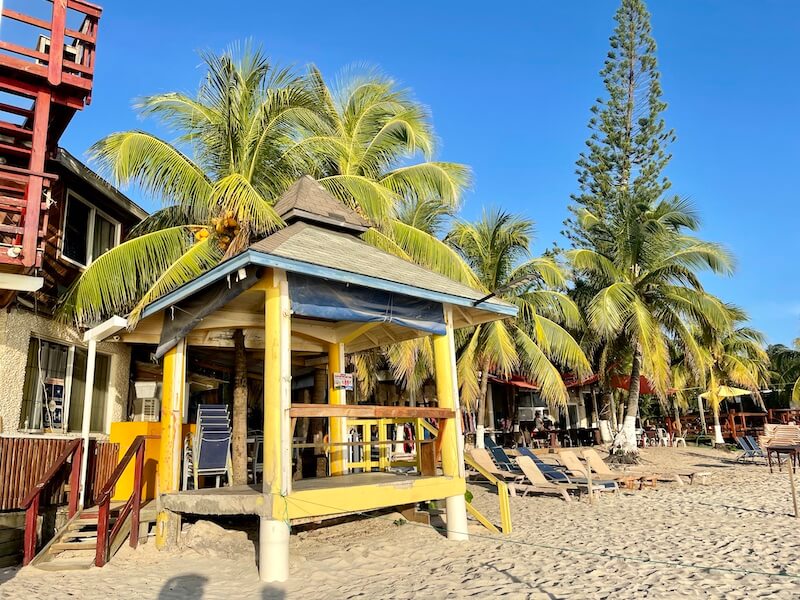 Even if you're not staying at an all-inclusive or a beachfront resort, you can always get a beach club pass to get to enjoy the amenities at a fraction of the price of a long resort getaway.
If you're visiting as part of a cruise stop, you can buy a shore excursion that includes transportation to a beach club and all the day's amenities there.
If you're visiting Roatán as an independent traveler, you can hop on a water taxi to West Bay from West End and obtain a beach club day pass from any of the West Bay resorts you choose.
Infinity Bay Spa and Beach Resort: Known for its stunning beachfront location and luxurious amenities, Infinity Bay offers day passes (recommended to book a week in advance) that provide access to their infinity pool, beach loungers, and facilities. It costs $30 per person for basic access (beach, pool chairs, pools, WiFi; no food) or $80 for an all-inclusive day pass (buffet lunch, unlimited cocktails, plus all beach amenities). You can also buy a day pass that includes transfers from your cruise ship post for just $10 more ($90 total). Book your day pass with transfer here.
Paradise Beach Hotel: This resort also offers day passes, with access to the beach, pools, and other facilities. It costs $65 per person, including transport, roundtrip transportation, a reserved beach lounger, but not food or drinks (those must be paid separately). You can book your day pass here.
Snorkel in Half Moon Bay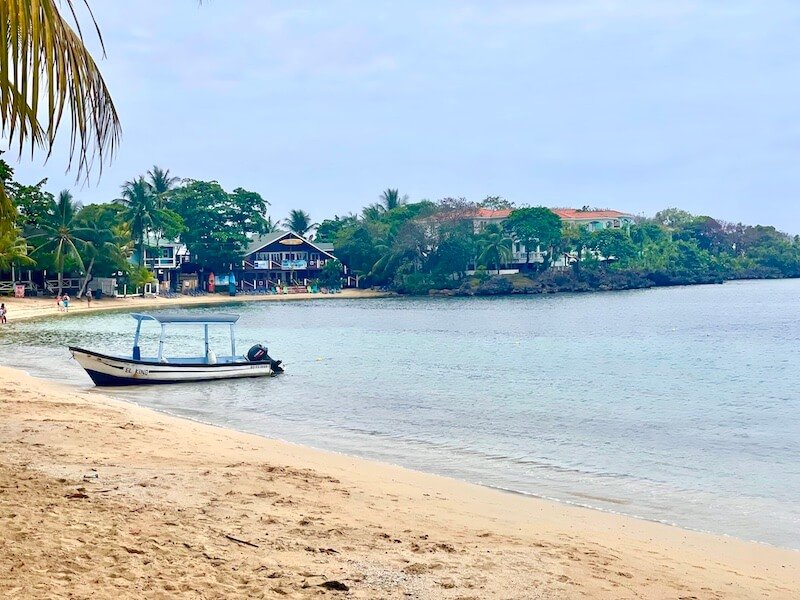 For a fun shore-accessible snorkeling spot, head to Half Moon Bay in the West End.
You don't have to swim out too far in order to see the reef beginning, and there's quite a bit to see in the shallows — and it gets better the further out you go.
You'll see brain coral, soft coral sea fans, and elkhorn corals, which are a perfect house for parrotfish, angelfish, and the territorial damselfish that like to protect their preferred patch of reef.
If you're lucky, you may spot schools of tangs or wrasses, eagle rays, sea turtles, or even moray eels!
Always remember to be respectful of the reef — that means you should avoid touching the coral or disturbing the marine life — and use reef-safe sunscreen to protect this fragile ecosystem.
There aren't any rental shops offering snorkel rentals here on Half Moon Bay that I could see, unlike West Bay Beach, so be sure to bring your own mask, snorkel, and fins from home if you plan to snorkel here.
I recommend doing that anyway — it's way more fun to be able to enjoy impromptu water activities and snorkeling with your own gear that you're comfortable with!
Explore the delicious foodie scene of West End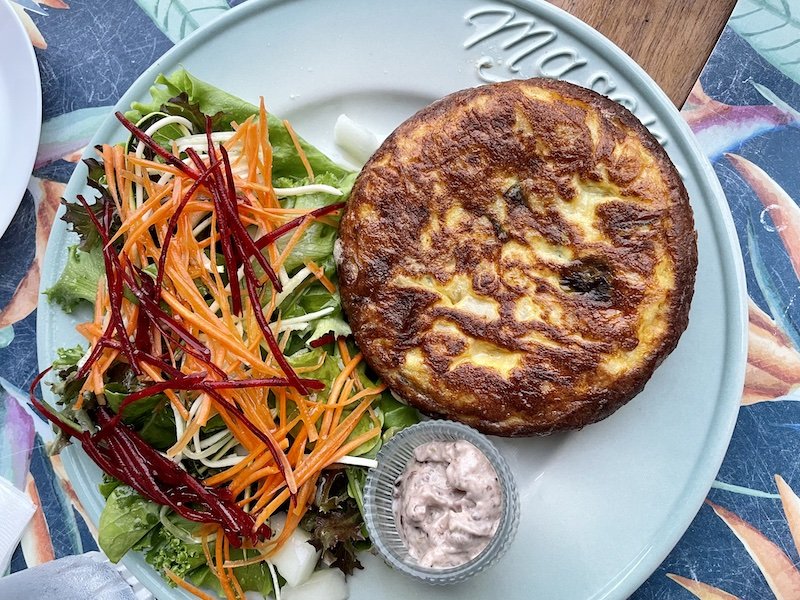 During my week or so exploring the West End of Roatán, I got to eat at quite a few delicious restaurants (so many, in fact, that a post on restaurants in Roatán is definitely in the works!).
Here are a few of my favorite spots to eat in the West End:
Loretta's Island Kitchen for delicious coconut fish and lobster pasta, some of the best home-cooking on the island
Yahongreh? for delicious baleadas and breakfast sandwiches
Sandy Buns for obscenely large plates and a Texas-style menu (seriously, share anything you get — one plate is more than enough for two)
Stowaway for an eclectic tapas-style menu bringing inspiration from Spain and the Caribbean, with things like shrimp and mango ceviche and Spanish tortillas
Crisp for delicious fresh salads and poké bowls when you want something healthy, with lots of vegetarian options
Anthony's Chicken for delicious jerk chicken and some of the best rice and beans on the island
Learn how to spearfish lionfish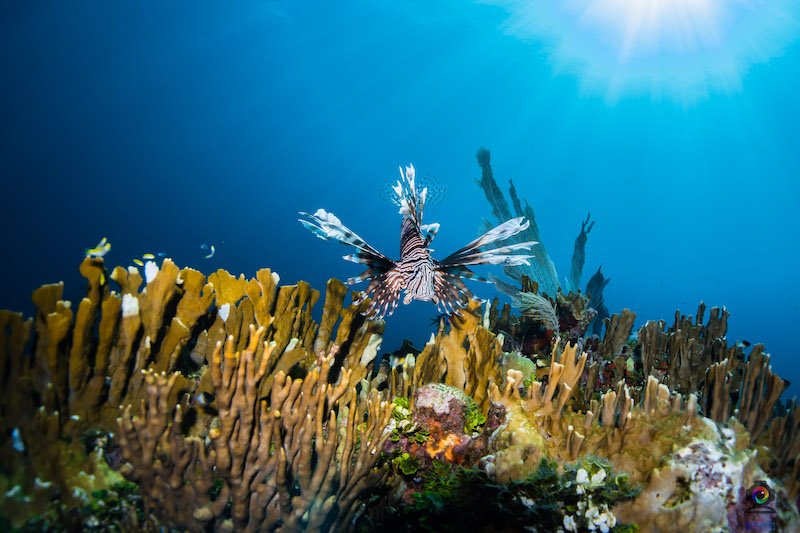 One of the coolest things I saw people doing in Roatán was spearfishing lionfish.
If you don't know, lionfish are beautiful but invasive in the Caribbean, and their impact on the reefs is devastating.
Lionfish are voracious hunters, but they have no meaningful natural predators in the Caribbean (spearhunters don't count!).
This creates a serious imbalance in the reef ecosystem, damaging the fish populations which thus puts the entire coral system at risk, since the balance is so precarious.
Generally speaking, spearfishing is not allowed in the protected marine park around Roatán, but there's an exception for lionfish.
The Roatan Marine Park offers lionfish workshops for $70 USD — license and spear included! — where you learn how to safely spearfish lionfish independently.
These workshops are on Mondays and Wednesdays at 4 PM in West End, and a minimum number of 3 divers or snorkelers need to be present; for groups of 4 or more, they can offer the workshop at a different time.
You'll need to watch a video beforehand and have your own BCD and reg (or have rented one from a shop), as this is not a dive shop experience but rather a grassroots conservation effort organized by the marine park.
Typically, you use a small Hawaiian-style pole spear to catch the lionfish. You can then place them in containment devices, like a lionfish zookeeper, to safely store the fish (remember — their spines are venomous).
Best of all, you'll have some delicious food at the end of it (though of course, you'll have to learn to properly prepare it, avoiding those spines!) — and you'll be eating the most sustainable fish there is!
Eat lionfish everything.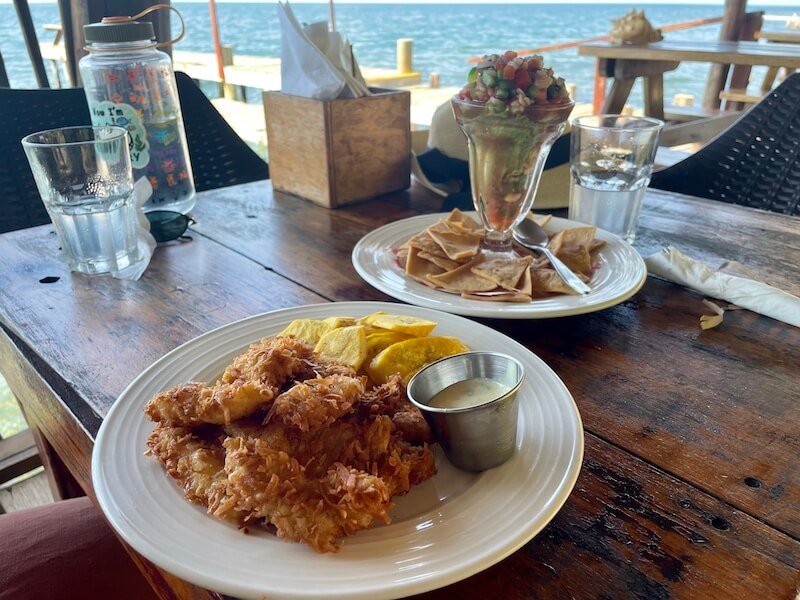 On that note, you'll find lionfish all over the menu in Roatán — and it's one of the best things you can eat, both for taste and for the reef health!
I loved the coconut-fried lionfish fingers we had at La Sirena in Camp Bay, which was spectacular.
We also tried lionfish ceviche, and in Utila, a place called Mister Buddha even offered lionfish tempura sushi!
Spend a peaceful day at Camp Bay Beach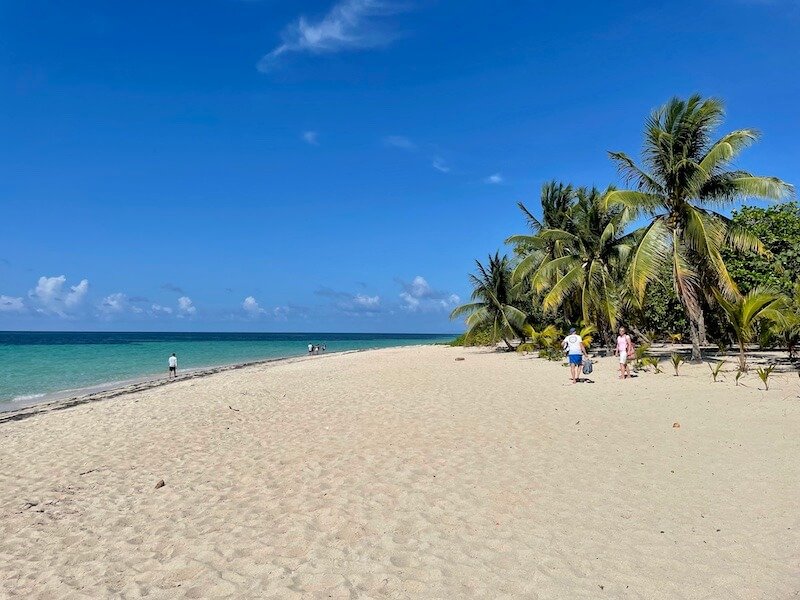 The stunning white sand beach of Camp Bay Beach is little-visited, and that's both a blessing a shame.
It just may be one of the most beautiful beaches in Central America, and yet there's very few people there because it's so hard to get to.
It's about a 1 to 1.5-hour drive from West End, and you'll be driving about 10 kilometers down a dusty gravel road (you'll want a 4×4 car rental, ideally, to handle the roads and their potholes safely).
Still, getting there, you'll see it was worth the long and dusty road: the beach is absolutely stunning and stretches for ages with white sand and stunning, calm turquoise-blue waters, all fringed by beautiful palms.
There's very minimal amenities here — a few beach loungers and sometimes there'll be a food vendor serving up basic eats, like BBQ chicken — so pack what you'd need for a day and don't rely on anything being there!
Meet the sloths, monkeys, and macaws at Daniel Johnson's Monkey & Sloth Hangout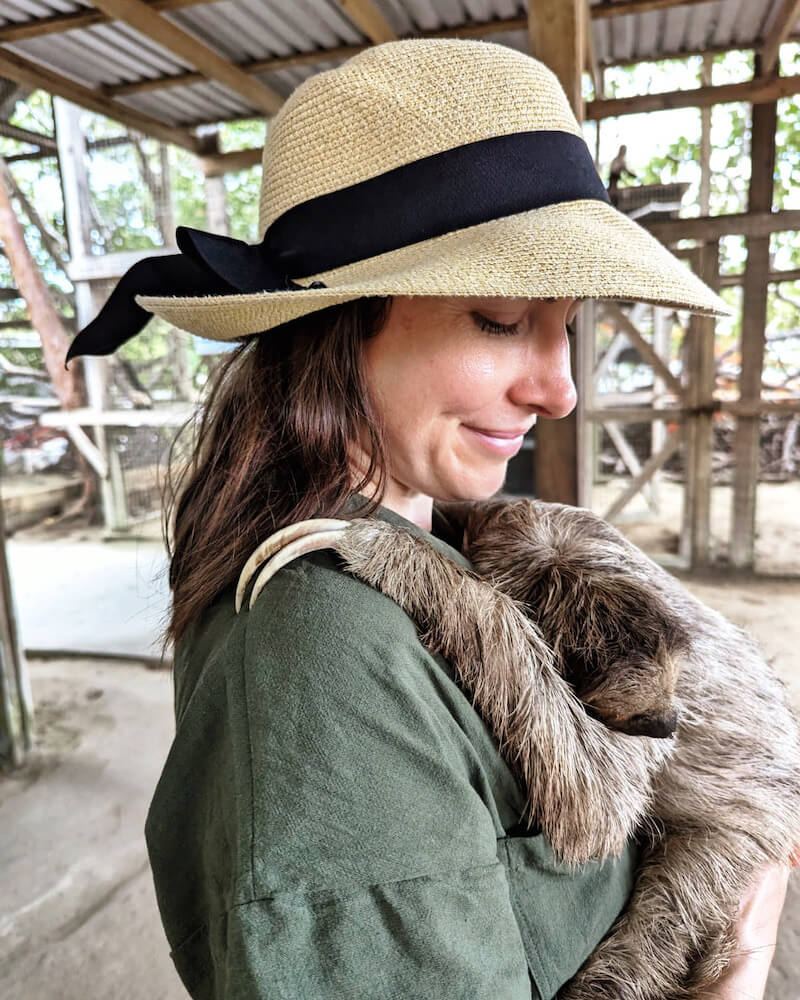 I'm always wary of places that call themselves animal sanctuaries — often, they're green-washed animal tourism that doesn't actually keep animal welfare in mind.
I was pleasantly surprised at how ethically ran Daniel Johnson's Monkey & Sloth Hangout was. They do allow interaction with animals, but in a very limited way.
For example, they will place a sloth on you for you to hold, but it's completely forbidden for you to stroke or pet the sloths (they get quite uncomfortable with this, but they don't mind hanging onto you as if you were a tree as long as you stay still!)
Similarly, they will allow the playful capuchin monkeys to jump all over you, but you're not allowed to pet them — but they'll absolutely jump and climb all over you, especially when you're given a few sunflower seeds to hold in your open palm!
You can also meet macaws, who will also be happy to perch on your arm (again, no touching or stroking the birds).
The macaws were really cool because a red and a green macaw had mated, creating a lot of beautiful hybrid macaw parrots that you usually won't find in nature!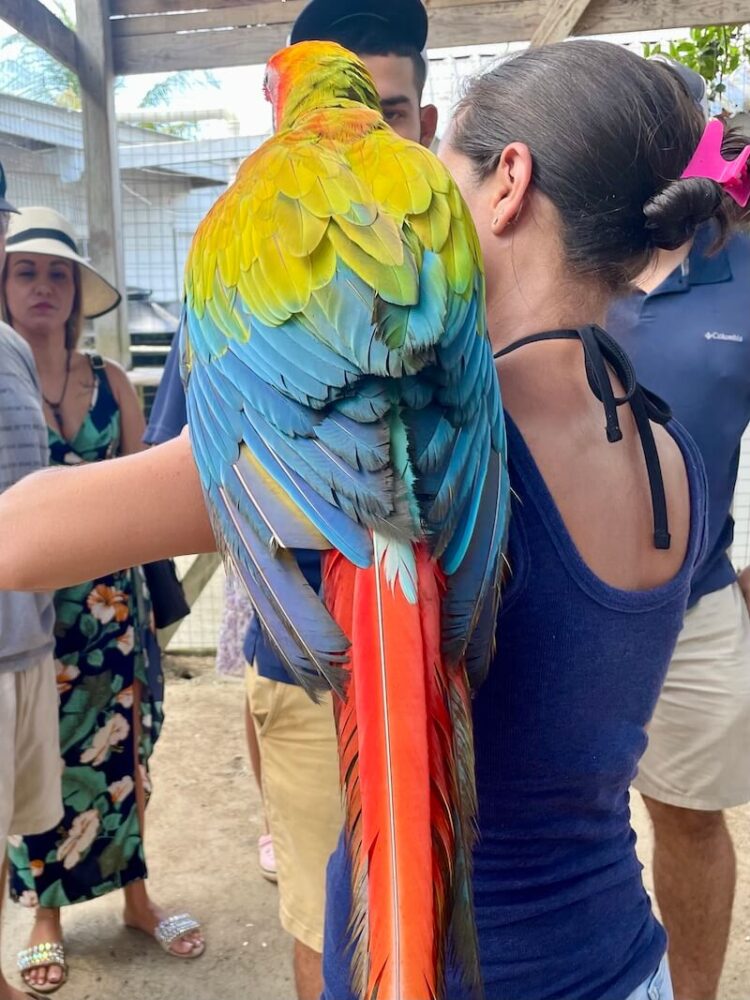 Our tour guide explained that the reason why this sanctuary came about was that many exotic pet owners purchased sloths or monkeys, not realizing what hard work they'd be.
For example, these particular sloths on Roatán can really only eat two things that naturally grow on the island— hibiscus flowers and a very particular type of leaf (cecropia)that is really hard to find on the island.
Lazy exotic animal owners got sick of trying to source food for these sloths and gave them to local animal sanctuaries like Daniel Johnson's, especially during the pandemic. Similarly, people who found monkeys were too much work also surrendered their animals.
The sloths are completely free-roaming in the mangroves around the premises.
The monkeys are in large enclosures with enrichment toys, and they are let out one or two at a time to have free time to roam around the premises without getting lost.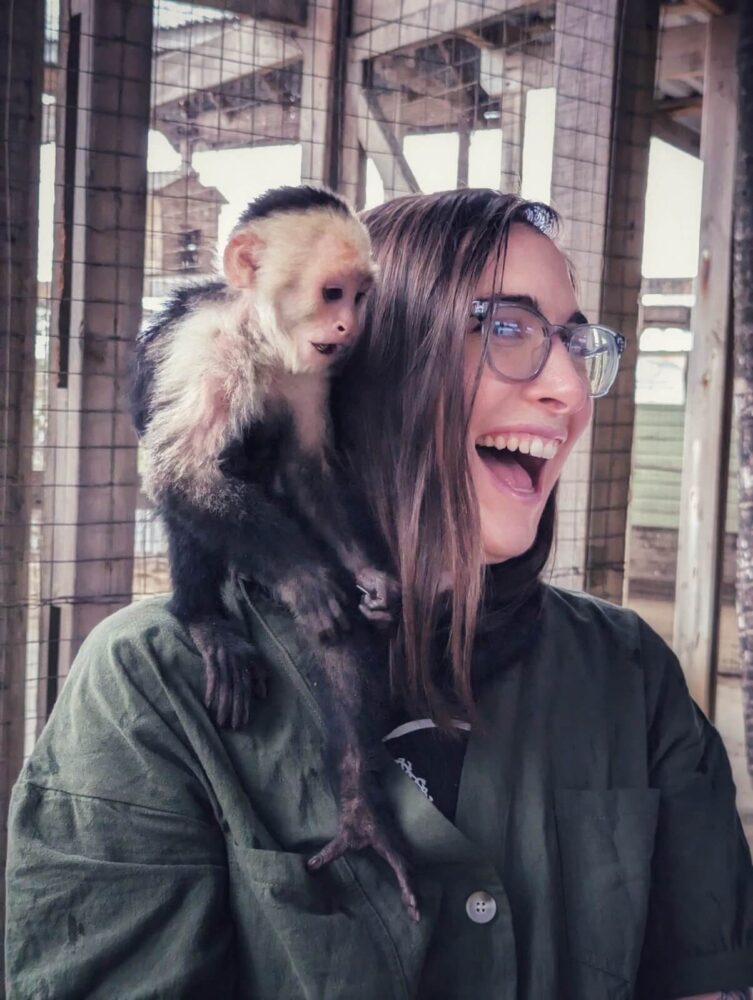 There's also one monkey who is always out and about, free-roaming, because she is the youngest and smallest monkey which makes her get over-groomed (aka: her hair completely pulled out) by the older monkeys.
She loves to jump on your shoulder and surprise you!
There are packages that include transfers for cruise ship visitors and those without rental cars, but if you visit independently with a car as we did, we paid $12 per person for a tour for two.
Go horseback riding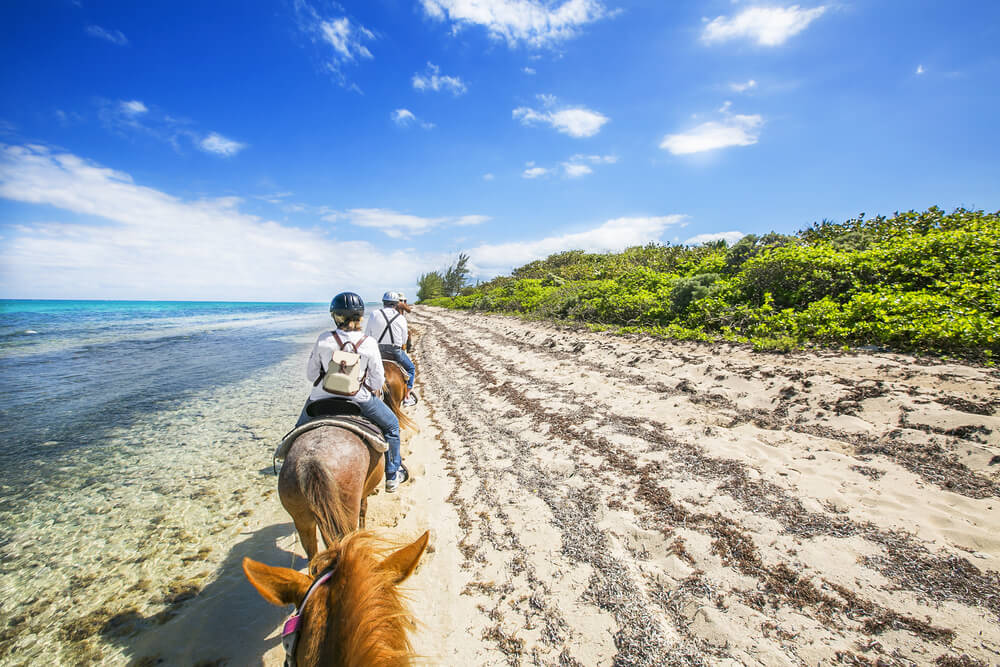 Another thing to do in Roatán is go horseback riding — exploring the island's natural beauty from a unique perspective (and getting to interact with some lovely equines along the way!)
On the mainland of Roatán, you can find a few places that offer horseback riding. One option is at Jungle Top Adventures, a ziplining company that also offers horseback riding options.
You can visit independently if you have your own rental car and are planning to spend some time independently on Roatán.
If you are part of a cruise excursion, you can book a tour like this one, which combines ziplining, horseback riding, and beach time.
In the East End of Roatán (car required), you can also visit El Rancho Barrio Dorcas, where this peaceful rural ranch offers horseback riding tours led by knowledgeable guides. The trails take you through the hills, offering magnificent views of the island's coastline and interior.
If you want to get off Roatán in favor of a smaller little island, there's also the opportunity to horseback ride while on a day trip to Little French Key.
This cay is actually private island resort, and it offers horseback riding as one of its many activities. Little French Key offers a range of packages including different combinations of activities, so the cost may vary.
Take a glass bottom boat tour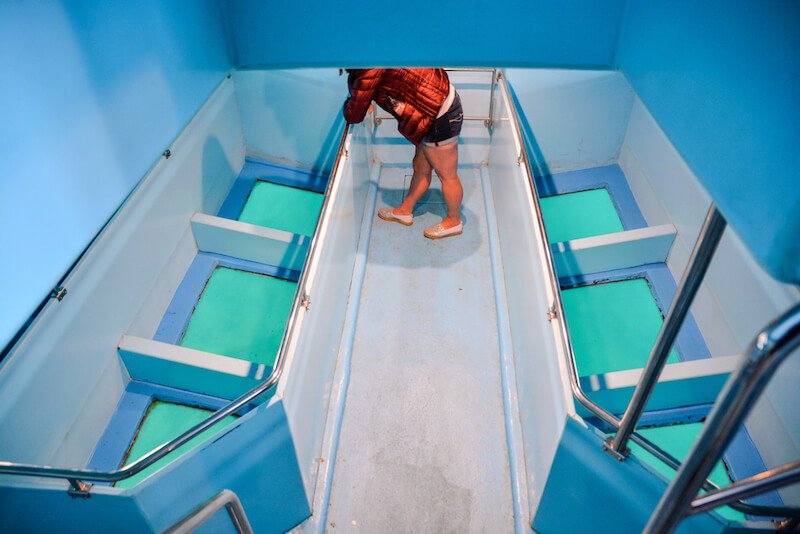 If you don't swim, snorkel, or dive but you still want to see the bottom of the ocean, a glass bottom boat tour is a fantastic option!
Most of these boat tours depart from West Bay Beach and don't need to be booked in advance — you can just walk along the beach and find one.
Roatan Glass Bottom Boat is the big company operating off of West Bay Beach, and it brings you over the reef with a large viewing area beneath your feet — see all the colorful coral and fish beneath you on a 45 minute tour!
You can also contact Ruthless Roatan Charters to see about their glass-bottom boat tours.
Go on an ATV island tour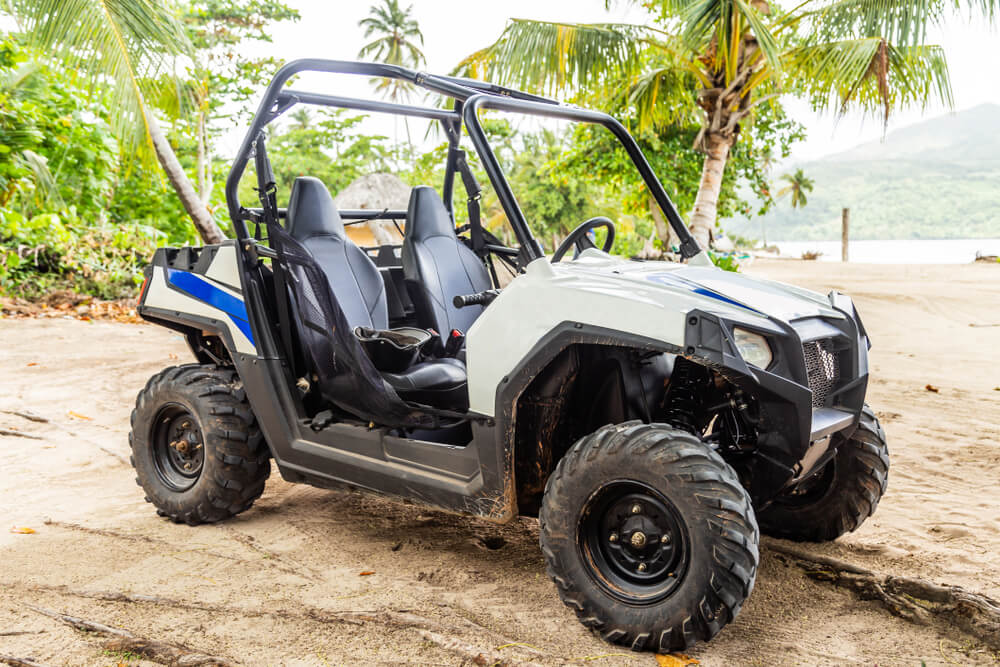 If you like a little adrenaline in your day, an ATV tour may be a fun way to explore Roatán, especially if you're visiting on a shore excursion and have limited time.
A tour like this one offers a half-day experience where you get to go on an ATV ride around the island, as well as visit a monkey and sloth sanctuary.
Take a tour of Little French Key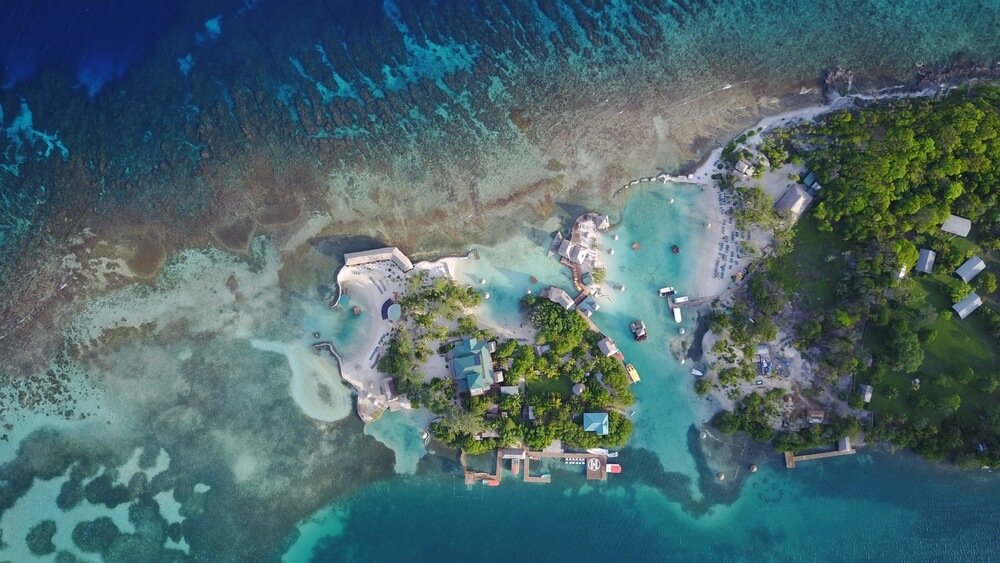 One experience many people say you can't miss on Roatán is taking a day trip to Little French Key, a stunningly beautiful private island retreats.
Off the coast of Roatán, the appropriately-named Little French Key is beloved for its stunning beaches, crystal-clear waters perfect for snorkeling inm and a range of fun activities to suit all types of travelers.
It's just a short boat ride from the mainland of Roatán, but you'll feel a world away!
Whether you relax on one of comfortable loungers, shaded by a palm-thatched umbrella, and alternate sun-soaking with dips in the warm Caribbean sea, or get a little more active, Little French Key has a variety of activities for you to enjoy.
You can snorkel (equipment for rental if you don't have your own), or you can take a glass-bottom boat tour if you prefer to stay dry!
There's also a small animal rescue center here, complete with monkeys and parrots among other animals, or you can also go for a horseback ride or go paddle boarding.
And if you get hungry, Little French Key has a restaurant that serves a variety of dishes, including local seafood and international cuisine.
Visit Punta Gorda on a Sunday to see the Garifuna culture
Every Sunday, the normally-sleepy Punta Gorda comes to life with their Garifuna culture showcased front-and-center.
You'll get the chance to hear Garifuna music and try local Garifuna food, a unique experience you can only have in parts of Honduras, Guatemala, and Belize.
The Garifuna are an Afro-Indigenous population with a distinct language and culture that is distinct.
We unfortunately weren't able to time our visit for a Sunday, but we visited Punta Gorda on a sleepy Saturday, and we found the town very charming.
However, note that it is quite difficult to go to Punta Gorda as it's located pretty much all the way on the East End of the island, and takes about 1 hour to get there by car.
It's great if you have a rental car or are willing to hire a driver for a half-day excursion.
Typically, the scene picks up around 2 PM and winds down early in the evening.
Go kayaking through the mangroves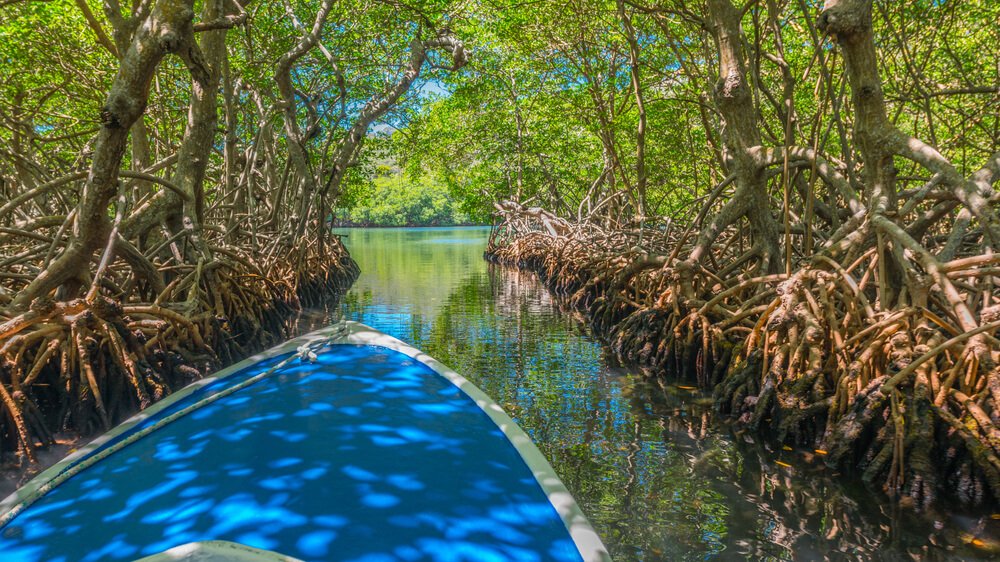 Upachaya Eco-Lodge and Wellness Resort, nestled on the north side of Roatan in Man O' War Harbor, offers a unique way to explore the island's natural beauty through their mangrove snorkeling and kayaking tour.
Mangroves, vital to the health of coastal ecosystems, create a unique environment that's a haven for diverse marine and bird life. Upachaya's tour is a wonderful opportunity to explore this unique ecosystem up close.
Limited to a maximum of ten participants, the tour ensures a personal and non-intrusive experience.
Starting off with a brief safety and information session, you'll then embark on a tranquil kayak journey through the calm, clear waters of the harbor.
The dense mangrove tunnels create a serene and magical setting for the tour. As you paddle through, you might spot a variety of bird species nesting in the trees and fish darting in the shallow waters beneath your kayak.
But you won't just kayak – snorkeling is also a possibility, and one that's quite unique!
The mangrove tree roots provide a shelter that is a welcome respite to many different types of small fish, crabs, and the like. Snorkeling here gives you a unique perspective of this under-appreciated ecosystem!
Take a catamaran cruise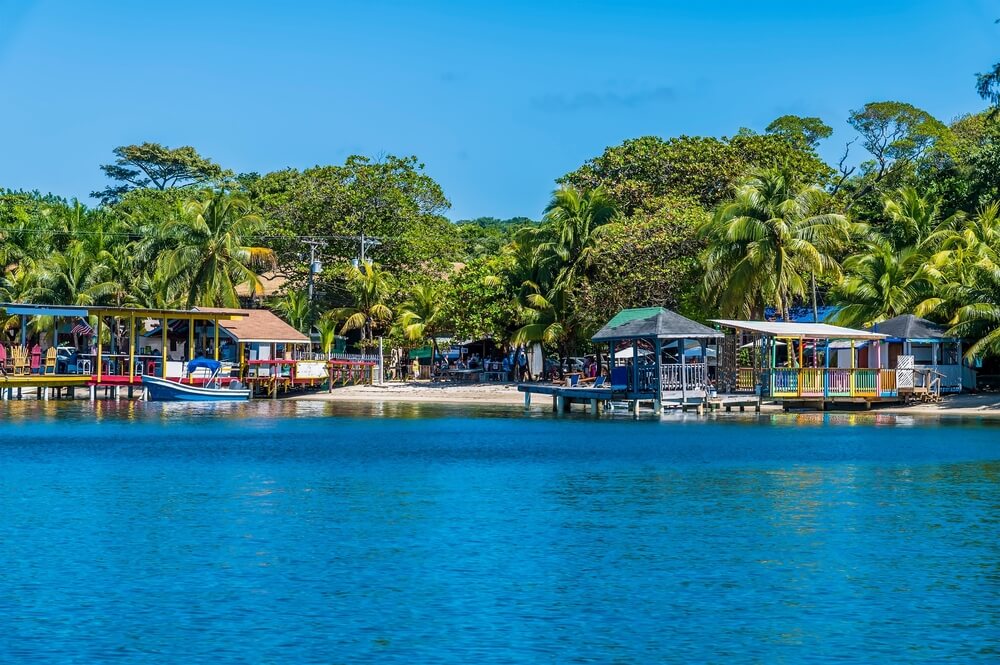 One of the most popular things to do in Roatán is take a catamaran cruise — better yet, one with an open bar!
On board a spacious catamaran, you'll admire Roatán's stunning coastline and Caribbean views. But the real fun begins when the catamaran drops anchor and you have the chance to don your snorkel and get exploring!
Using the snorkeling kits provided, you'll dive into the clear waters and discover Roatan's reef.
Home to a myriad of colorful fish and intricate coral formations, this underwater ecosystem is one of the most impressive in the Caribbean!
Back on board, you can take advantage of the open bar, offering everything from tropical cocktails to mocktails to fresh juices to cold beer. Whatever you drink, you'll enjoy it with one of the best views on the island.
Visit the Roatan Chocolate Factory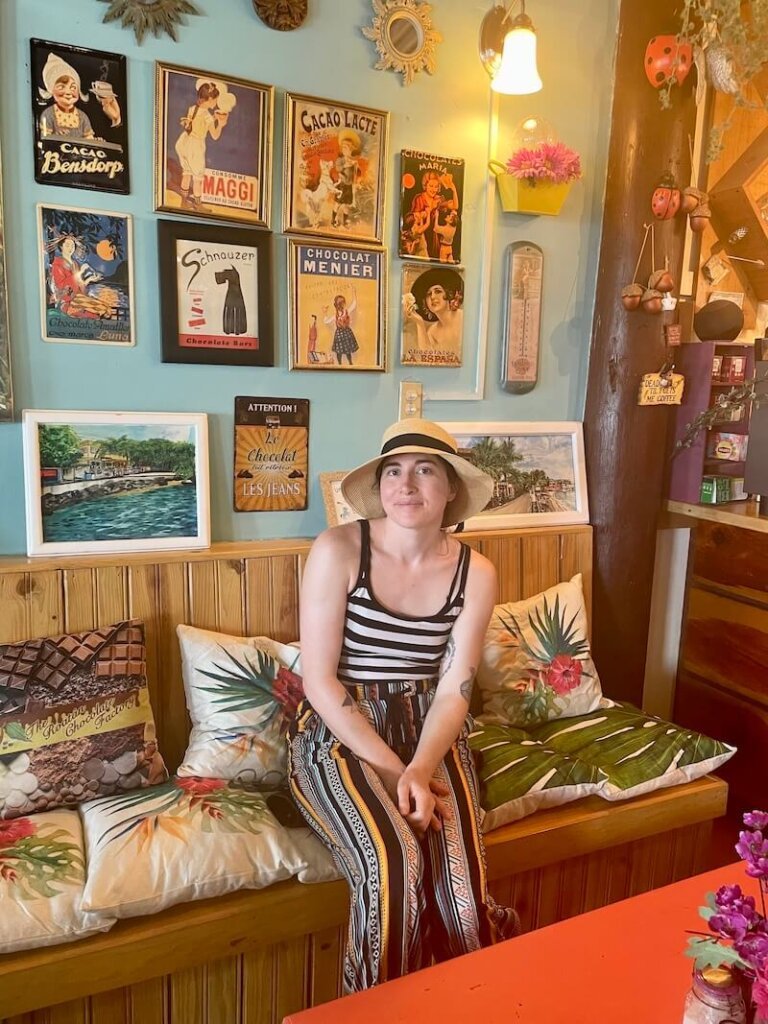 Central America is known for its delicious chocolate, and Roatán is no exception!
Located in West End, the Roatan Chocolate Factory offers free tours of its chocolate-making facilities, and teaches you the process from bean to bar.
If you prefer to just learn through tasting, you can sample their chocolates — they're stunning, with flavors like coconut, chili, and passionfruit — or order up something at the café.
The café is also adorably designed, so it's a nice place to cool off and while away a bit of time while you're exploring the West End.
They offer all sorts of chocolate-ified drinks, like frozen chocolate shakes, as well as tasty chocolate cakes and treats.
Explore the boutiques of West End Roatan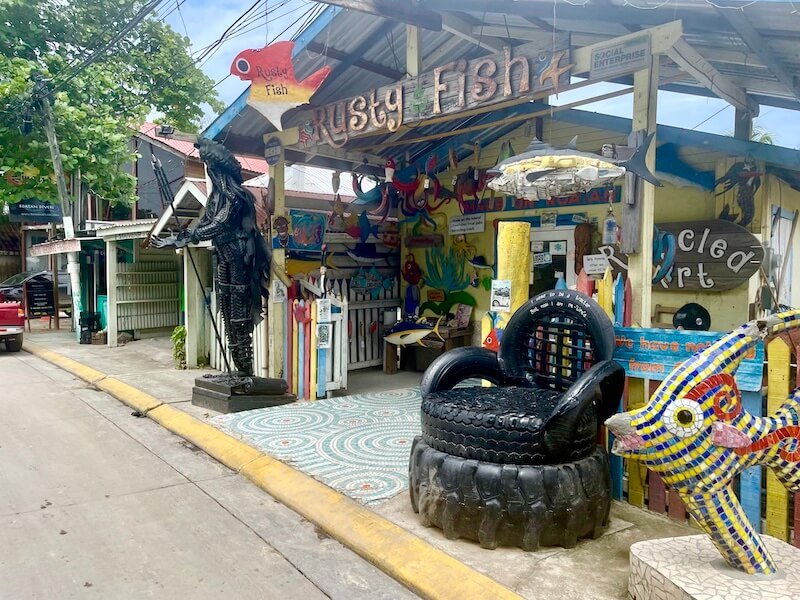 There are a number of fun boutiques located in the West End of Roatán, selling everything from black coral jewelry to upscale clothing.
A particularly fun shop, the Rusty Fish, makes things only out of recycled items!
While visiting the West End, be sure to spend a little time popping into some of the small stores, where you can find all sorts of worthwhile souvenirs.
Spend a few days on Utila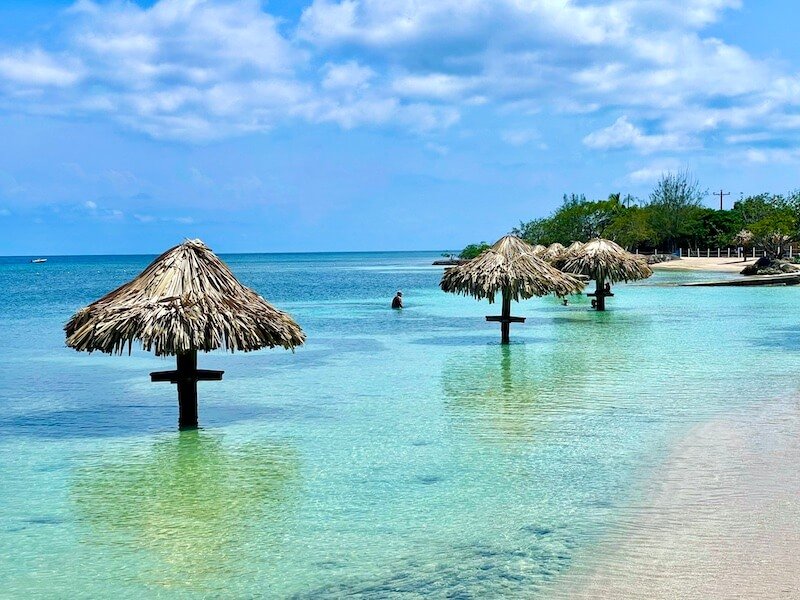 Utila deserves a full post of its own — click here to read my guide to Utila and all the fun things to do there!
While it's not possible to visit Utila as a day trip due to the ferry schedule (learn more about getting from Roatan to Utila here), it's still worth spending some time on Utila if you are visiting Honduras as an independent traveler and not as a cruise passenger.
On our trip, we spend six nights on Roatán and three nights in Utila and it was almost perfect…
I wish I had had one more day on Utila, personally, since we did so much diving that we didn't get enough time to visit one of the pristine cayes like Water Caye or Jewel Caye.
We did, however, get to explore Pumpkin Hill (and Pumpkin Hill Cove), fit in four day dives and one night dive, explore Chepes Beach, visit the Utila Chocolate Factory and Iguana Station, and eat our hearts out!
Visit Gumbalimba Park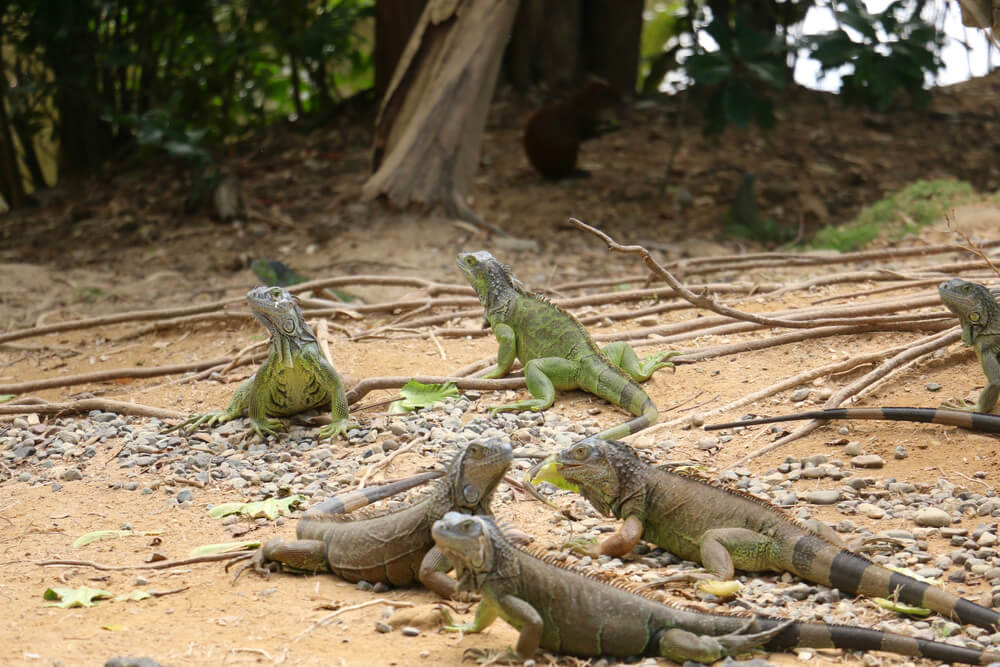 A popular spot for families, Gumbalimba Park is located near the family-friendly resorts of West Bay, Roatan.
This diverse park offers a variety of attractions and activities, from an animal preserve — with free-roaming monkeys who like to hop on your shoulder and an iguana sanctuary — to ziplining canopy tours.
Among the tranquility of nature, the park also features a beautiful pool area and a tranquil beach, perfect for relaxation after a day of activities.
Take a dip in the refreshing water or lounge on the sun chairs to soak up the Caribbean sun!
Visit the Carambola Gardens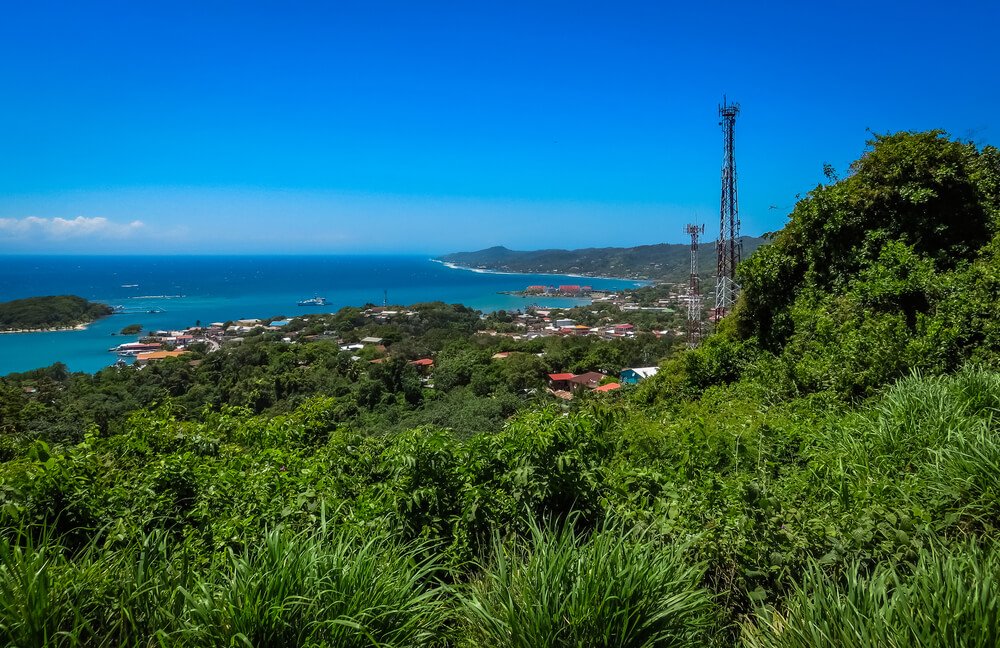 Open 8 AM to 4:30 PM daily except Sundays, the Carambola Gardens are a great place to escape the sometimes-busy vibes of Roatán, especially on a cruise day.
Tucked away in a quiet nook of Sandy Bay not far from Anthony's Key Resort, this 40-acre botanical garden is a beautiful place to lose yourself for a little bit.
There are some jungle trails you can explore, lined with exotic flora, most endemic to the island.
The trails will bring you to different zones, each showcasing a particular plant species or ecosystem, such as the rainforest area (with mahogany and cacao trees) and the orchid area (with beautiful brilliant flowers).
Depending on the season, you may even see its namesake tree in bloom — carambola is the word for starfruit, and there's no shortage of starfruit trees bearing fruit.
The trails will also lead you to a little ridge, where you can see stunning views over the West End and Sandy Bay!
Prices are $15 USD for entrance, including a brief tour of the gardens.
Rent a car and explore Roatan's quiet East End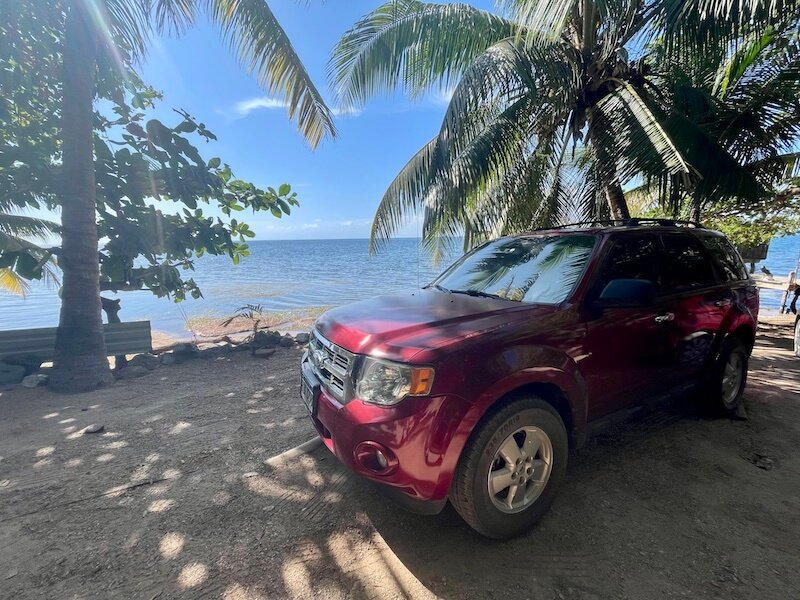 We loved having our own car to explore Roatán's East End area on our own!
We visited Daniel Johnson's Monkey and Sloth Hangout, Punta Gorda, Camp Bay Beach, and La Sirena de Camp Bay all on one day out and about, and it was the perfect quiet little excursion for us.
If you stay longer in the East End area, or are renting a car for more time, you'll be able to explore some other scenic beaches and quiet areas of this less developed part of the island.
Do yoga with a sea view at Sundowners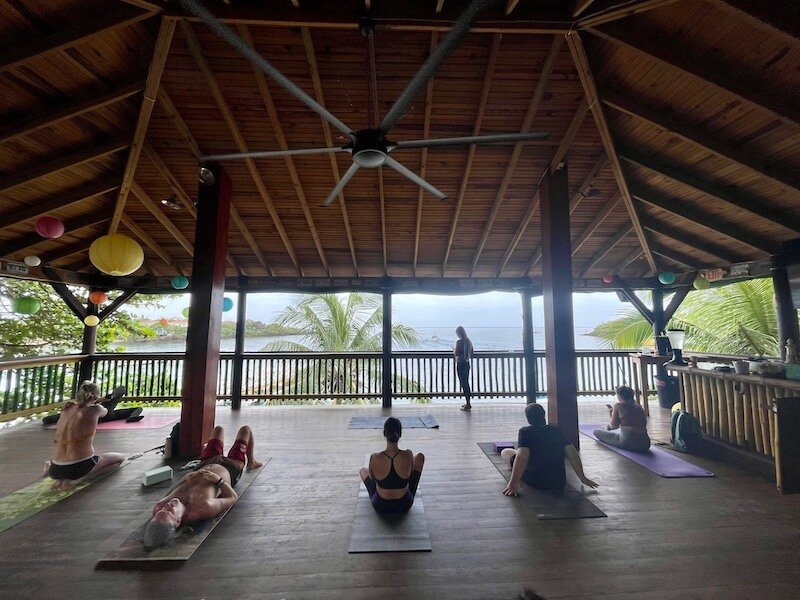 Every morning at 9 AM, you can do yoga with a stunning ocean view on the second floor of the popular beachfront bar, Sundowners Beach Bar in the West End.
It's a great way to stretch out your back after a few too many dives (am I the only one who feels like a hunchback after I dive a few too many times in a row?) or just start the day off on the right foot, centered and grounded.
A drop-in class costs just $10 USD and includes mat rental.
Visit the Roatán Butterfly Garden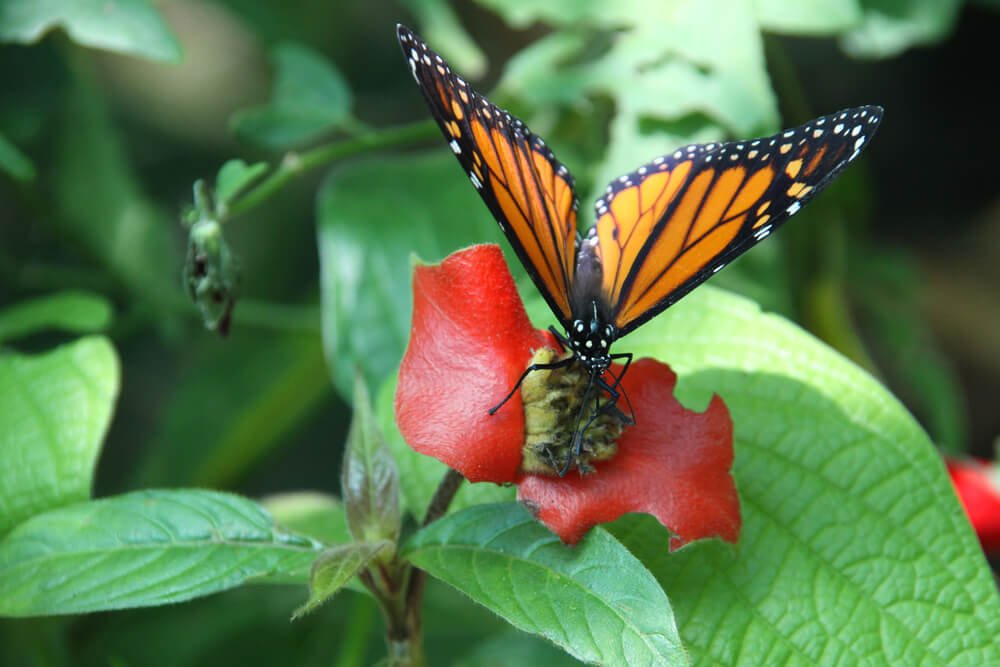 For a peaceful escape from cruise ship crowds and rowdy revelers, step into the Roatán Butterfly Garden, a hidden gem located in West End.
This serene and colorful oasis is home to a variety of butterfly species; the garden is a carefully designed habitat that supports a diverse population of butterflies.
From the striking blue morpho to the delicate longwings, the variety of butterflies here is truly striking!
Guided tours are available, allowing you to learn about the life cycle of butterflies, their importance in the ecosystem, and the threats they face in the wild.
But the garden isn't home to just butterflies. As you explore, keep an eye out for the other residents. You may spot exotic birds, like the vividly colored macaws and parrots, and other creatures like iguanas.
Enjoy Roatán's night life scene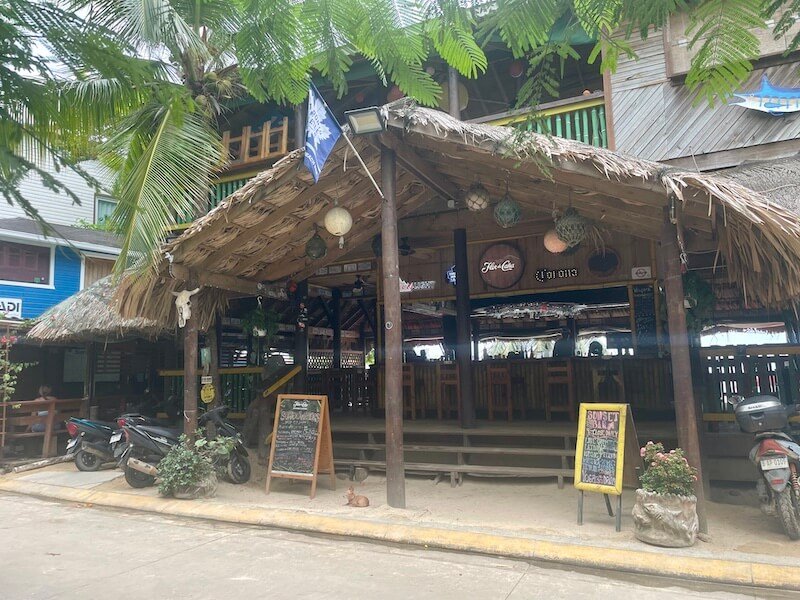 I don't drink, so I didn't really go out and experience the nightlife scene of Roatán, but it is thriving in the West End for those who choose to seek it out!
Sundowners Beach Bar is a popular spot for music and dancing, and there are frequent karaoke nights at Blue Marlin.
Eat with hummingbirds over the sea at La Sirena de Camp Bay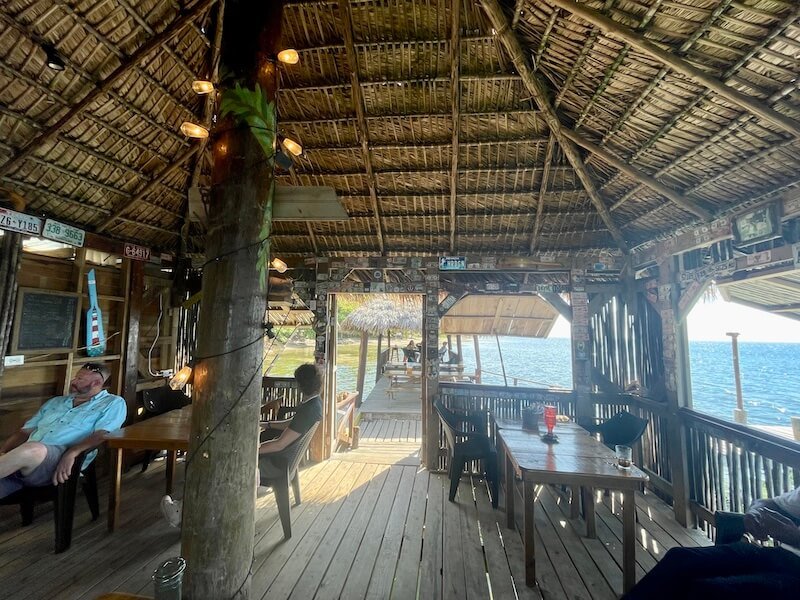 I've saved one of the best things to do in Roatan for last!
Having a meal at La Sirena de Camp Bay is an experience you'll never forget: the owner, Walter, has created a little oasis at basically the very end of the island, so you feel like you're at the edge of the world.
Hummingbirds dart all around you, drinking from a feeder, as you enjoy the view of the waves at this restaurant elevated above the crystalline waters.
Local kids nearby frolic in the waters, and the chalkboard menu reflects the catches of the day and local seafood that is so prized here.
We went with lionfish ceviche and coconut-fried lionfish fingers and both were absolutely delicious — accompanied by some coconut water, it was one of the best meals we had all trip.
Allison Green is a former educator turned travel blogger. She holds a Masters in Teaching and a B.A. in English and Creative Writing. Her blog posts merge her educational background and her experience traveling to 70+ countries to encourage responsible, enriching travel. She has been a speaker at the World Travel Writers Conference and her writing, photography, and podcasting work has appeared in National Geographic, CNN Arabic, CBC Canada, and Forbes, amongst others. Now a full-time traveler, she has lived in Prague, Sofia, New York City, and the San Francisco Bay Area.