Two groups of paradisiacal islands located in the middle of the Pacific Ocean, rich with Polynesian culture, beautiful beaches, and marine life: how's a person to choose?
I've been to Hawaii more times than I can count, and I recently returned from a trip to French Polynesia, where I visited Tahiti and Moorea.
I loved my trip to the South Pacific so much that I'm already planning a trip back to French Polynesia (and also Fiji!) later this year to visit some islands I missed.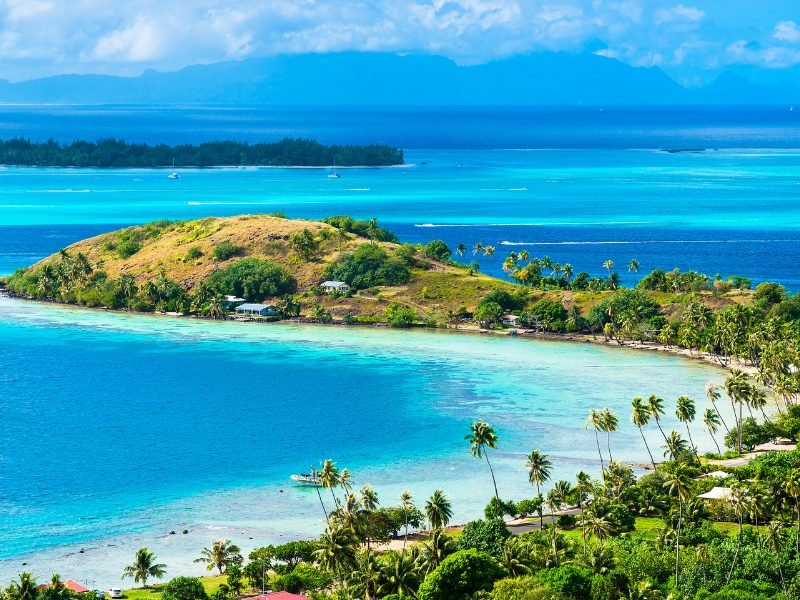 Note: This post contains affiliate links, which means I may receive a small commission if you purchase something through one of these links. Thank you for supporting the free content on this site! For more information on affiliate links and cookies, see my disclosure page for more details.
I'm particularly hankering after Bora Bora, Huahine, Rangiroa, and Fakarava… and maybe the Marquesas, if time allows!
This post aims to take an objective look at the differences between Tahiti and Hawaii, two of the most popular vacation spots in Oceania, to help you pick the best option for your next trip.
Pick Tahiti for…
Affordability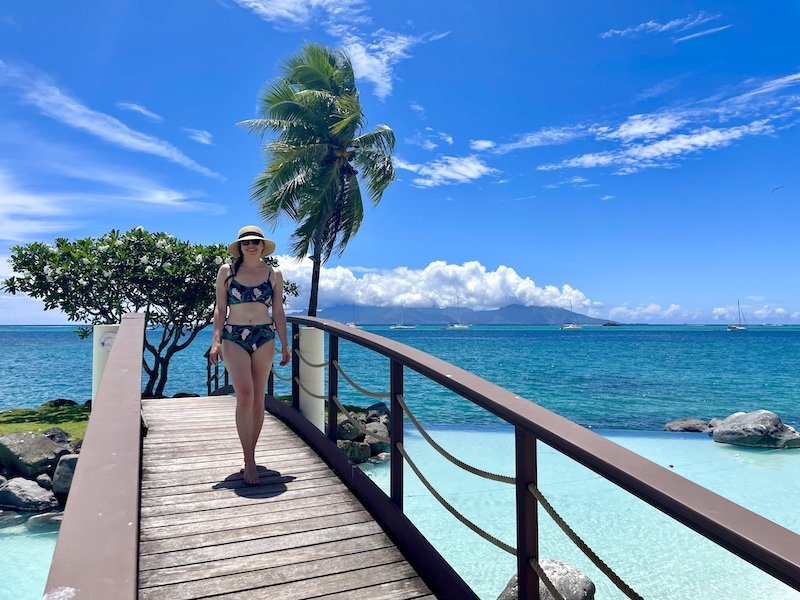 Surprisingly, I found Tahiti a relatively affordable destination — at least compared to Hawaii, especially more popular islands like Maui.
I wrote up my full Tahiti trip cost in a post here, so you can see for yourself how it's very possible to visit Tahiti on a budget.
While airfare to Tahiti is more expensive — I typically pay about $600 USD roundtrip for a flight to Tahiti and $300 USD roundtrip for a flight to a Hawaiian island — but you easily recoup that expense on day one or two of your vacation.
Note that these prices are based on flying out of San Francisco (prices are similar out of Los Angeles) — if you're coming from, say, New Zealand or Australia, prices will be rather different.
Accommodations in Tahiti and Moorea are about half the price of similar accommodations in Hawaii.
I recently had to cancel a trip to Maui because I couldn't find a single hotel or Airbnb under $500 a night!
Meanwhile, we stayed at a deluxe room in the Intercontinental with views of Moorea for $360 a night, and the guest houses we stayed at averaged out around $150 a night.
Food is also cheaper in Tahiti compared to Hawaii, about half the price on average.
Snorkeling and Scuba Diving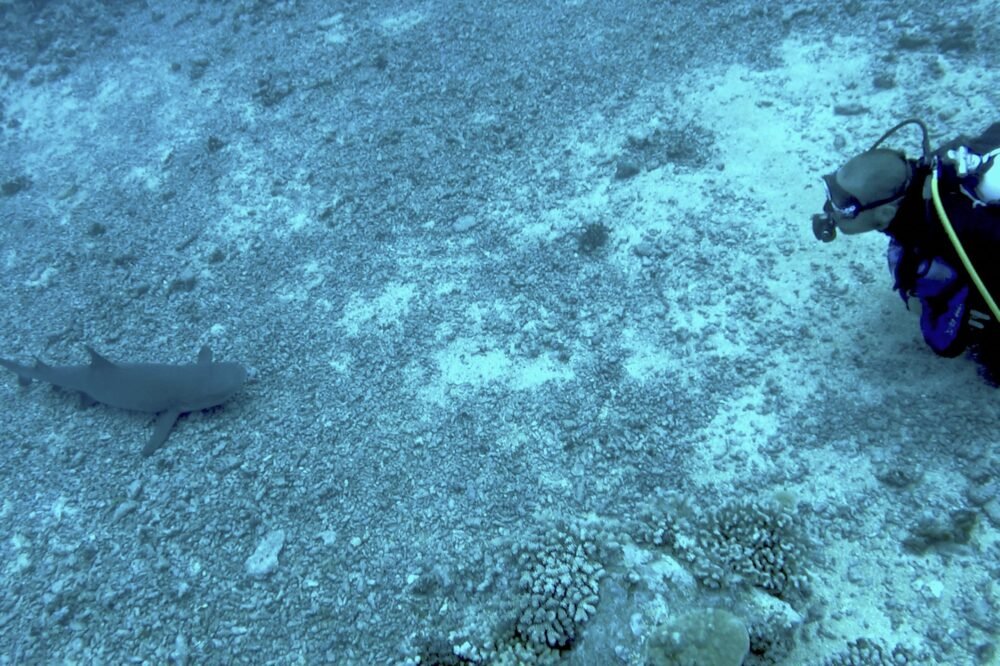 Tahiti and Moorea have some of the best shore snorkeling I've ever gotten to see, with extremely healthy coral reefs and an impossible to imagine number of fish swimming about.
The lagoon in Moorea with the blacktip sharks and pink whiprays are a particularly fond memory I have about snorkeling in Moorea!
And when you go scuba diving, it gets even better — the diving in Tahiti and Moorea is unlike I've seen anywhere else in my years of diving experience.
I did eight dives total, four in Tahiti and four in Moorea, and I was constantly surprised by how beautiful the scenery was and how alive the oceans were. I can't even count how many sea turtles I saw!
Meanwhile, while Hawaii has a handful of really memorable dives — manta ray night diving in Kona, the Molokini Back Wall, the Lanai Cathedrals — overall, it doesn't hold a candle to the variety of reef life you'll see on literally any dive in Tahiti.
We didn't even get to go to the best diving islands, Rangiroa and Fakarava, and I still feel confident that Tahiti comes out on top when you compare Tahiti vs. Hawaii for scuba diving.
Plus, going back to the point before, diving in Tahiti is a fraction of the cost of diving in Hawaii.
An average two-tank dive in Tahiti costs around $90-120 USD, depending on how many you book, as you can get great savings packages if you buy several dives at the same time.
Meanwhile, a two-tank dive in Hawaii can cost around $200-400 USD, depending on where you go and with who. Even a one-tank night dive costs around $200 USD!
Less Commercialism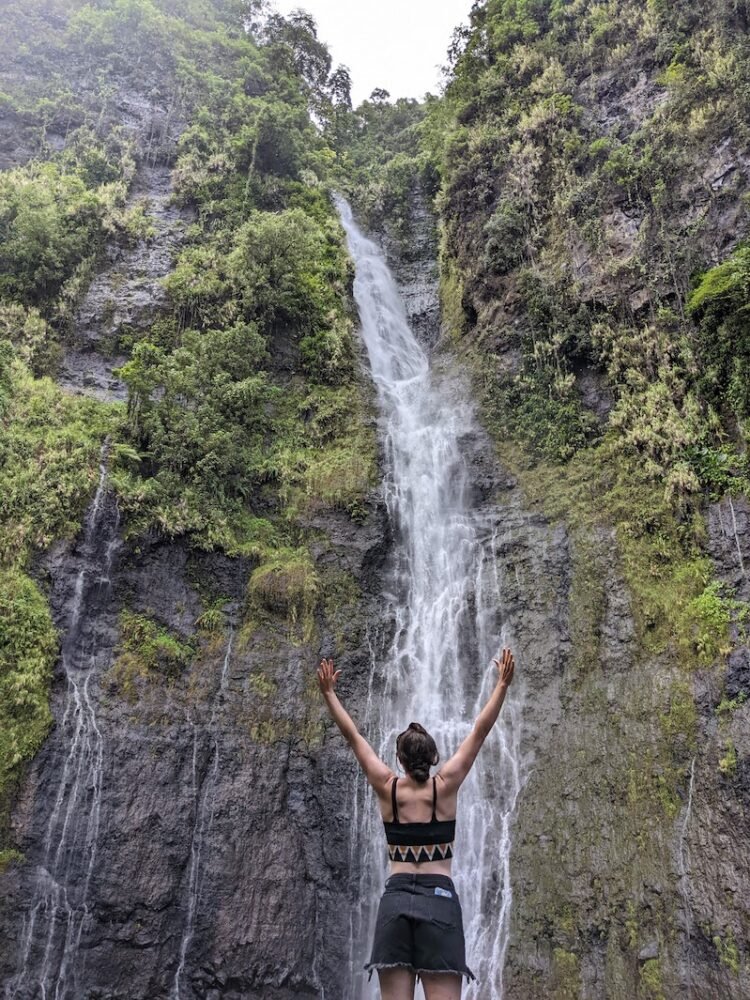 My biggest takeaway from visiting Tahiti was that it is far less commercialized than Hawaii.
Yes, there are plenty of resorts — particularly on Bora Bora — but in general, I didn't find it particularly built up or overly catering to tourists in a way that sometimes feels a bit "Disneyfied" in Hawaii.
Many parts of the Tahitian islands maintain that authentic, laid-back island feel.
Plus, it seemed like many people were deeply connected to their Polynesian culture through language, craftsmanship, dress, food, tattooing customs, and more.
Unfortunately for Hawaii, this is less the case — which is not to fault Hawaii or Native Hawaiians, but just to offer as a point of comparison.
My theory is that while both Tahiti and Hawaii are occupied/colonized lands, Tahiti is much further away from its colonial power (France) than Hawaii is, which is very actively occupied by the United States since its annexation.
As a result, Tahiti has been able to maintain more of its cultural authenticity, whereas outside influence in Hawaii has encouraged the commodification of many Hawaiian traditions, like hula dancing and luaus, creating an uneasy feeling of commercialization for me.
French Language and French-Polynesian Cuisine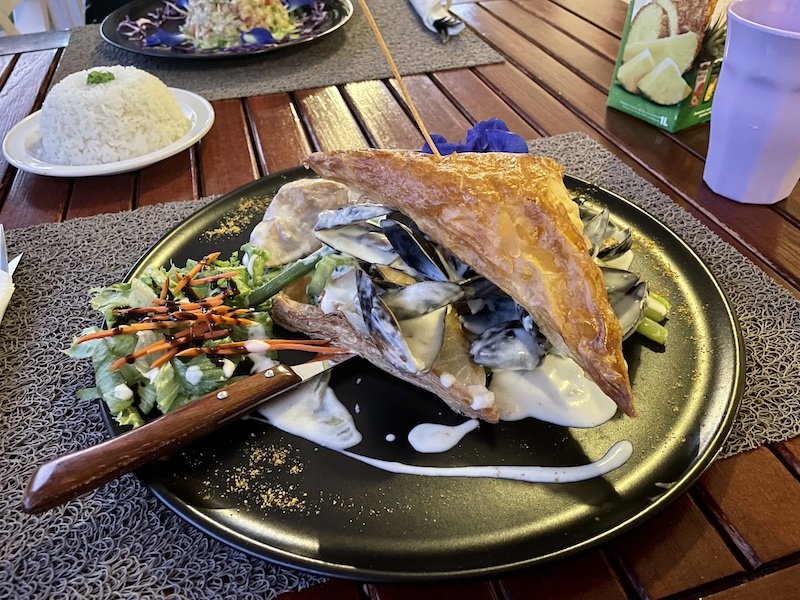 This can be a pro or a con depending on how you prefer to travel!
I personally loved hearing French alongside Tahitian and having the chance to dust off my rusty French skills was very fun.
I also enjoyed the delicious French pastries that the many French living overseas in Tahiti and Moorea have brought over.
However, if language barriers make you antsy, this may be a reason to pick Hawaii vs. Tahiti because there is no language barrier in Hawaii.
That said, the language barrier I experienced in Tahiti and Moorea was rather minimal, as most people I encountered spoke English.
There was just a handful of times where my French was useful, but I imagine that changes once you leave the trio of most popular islands (Tahiti, Moorea, and Bora Bora).
Overwater Bungalows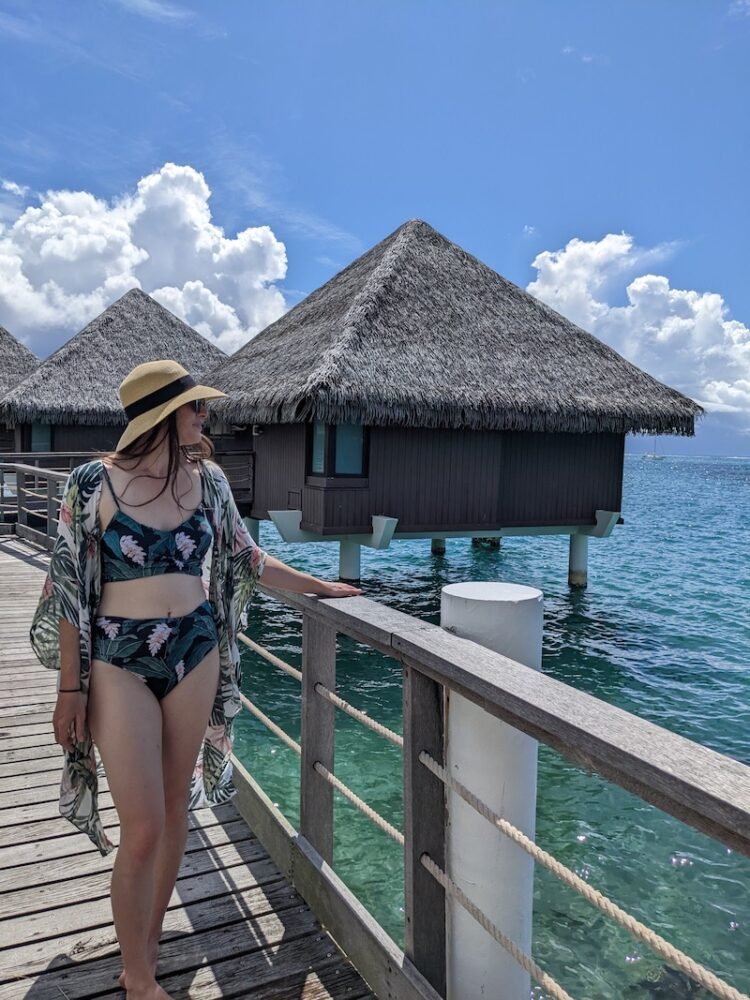 French Polynesia is one of the ultimate honeymoon destinations and its overwater bungalows are a bucket list must for many.
French Polynesia is where the overwater bungalow was first invented, and you'll find almost too many to pick from, with nearly 1,000 overwater bungalow suites in total spread across the Society Islands, the Island of Tahiti, and islands in the Tuamoto Atoll.
Bora Bora is the most popular spot for luxury resorts with overwater bungalows, and with good reason: white sand beaches everywhere you look, crystal lagoons, and views of the Mt. Otemanu virtually wherever you stay on the island.
Many of the overwater bungalow resorts in Bora Bora are set on their own private motus (islet chains) that surround the main island of Bora Bora, so they are extremely private since you can only access them by boat.
It can be overwhelming for sure, so I've narrowed it down to my favorite overwater bungalows in French Polynesia here in this post.
I also have a guide to the best places to stay in Moorea, including 3 overwater bungalow options there!
Hawaii, on the other hand, doesn't have any overwater bungalows. So if this is a wish list item for you, you simply have to pick a Tahitian getaway!
Humpback Whale Snorkeling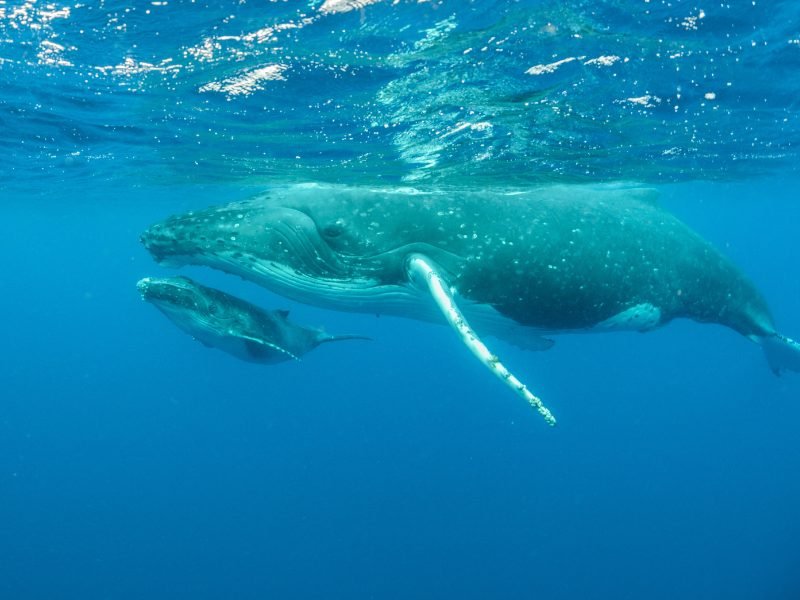 While humpback whales also visit Hawaii, only in Tahiti do you have the opportunity to swim with these gentle giants!
They visit between July and early November each year, and there are a plethora of tours that will bring you a safe distance for both you and the whale so you can observe them in the water without bothering them.
I enjoyed whale watching in Oahu — but I can only imagine how much cooler it would have been from under the water if I was in Tahiti (unfortunately, I came too late this season for whale snorkeling!).
If you can time your visit for whale season, it's the best thing to do in Moorea (though you can also do it in Tahiti!).
More Ethical Travel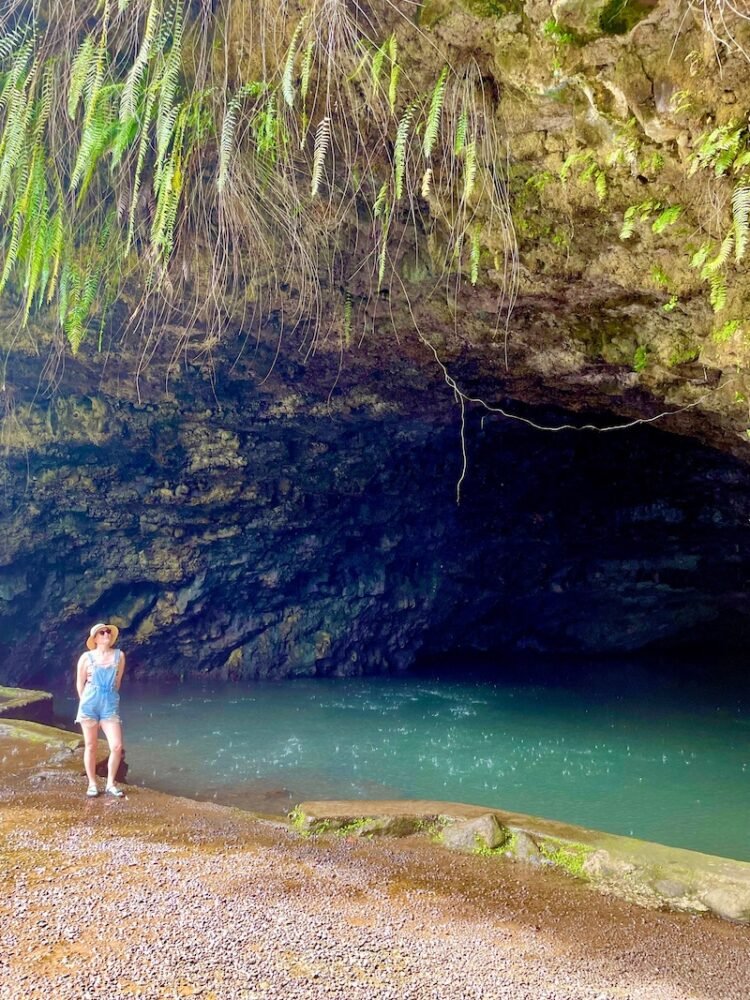 At the time of update (May 2023), it's worth noting that Hawaii (and in particular, Oahu) is undergoing a water crisis.
Native Hawaiians and Kama'aina (those born on the islands) have been asking travelers to refrain from visiting Hawaii until the water crisis is solved, as tourism is exacerbating the situation.
While tourism is certainly a large part of the Hawaiian economy, water is life: and while water is in scarce supply in Hawaii, perhaps it's time to consider a vacation elsewhere.
That said, I'm no expert on the matter, and I'm simply amplifying of some Hawaiians who have asked people not to come.
There are also people from Hawaii who have the opposite opinion and don't agree with asking people not to come to Hawaii. You can watch an opposing viewpoint here that makes some good points.
While there are certainly ramifications for visiting any location, particularly one so remote as a Pacific island, the reality is that the situation in French Polynesia is more sustainable at present and the infrastructure is more prepared for the level of tourism it receives.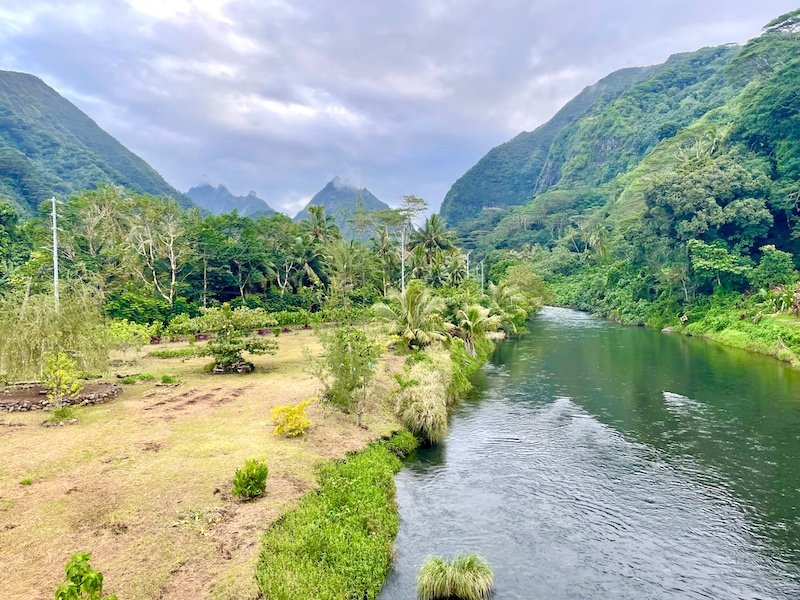 This is not to shame anyone for their vacation choices, because I don't have the right answers either — I visited Oahu and Kauai back in February 2022, before the water crisis got very loud but while locals were still expressing concerns about overtourism.
However, I do believe that at the time of writing, visiting French Polynesia is the more sustainable of the two options and has a less harmful impact on locals.
They currently receive about 300,000 tourists per year; compare this to Hawaii receiving around 9 million tourists per year!
That said, French Polynesia's land mass covers about 1/4 that of Hawaii (despite having a geographic range nearly as large as continental Europe), so in proportion to its size, that's the impact of about about 1.2 million tourists… still about 8 times fewer than Hawaii.
Even with its minimal tourism by comparison, French Polynesia is currently working on plans for sustainability caps on tourism.
Pick Hawaii for…
Nightlife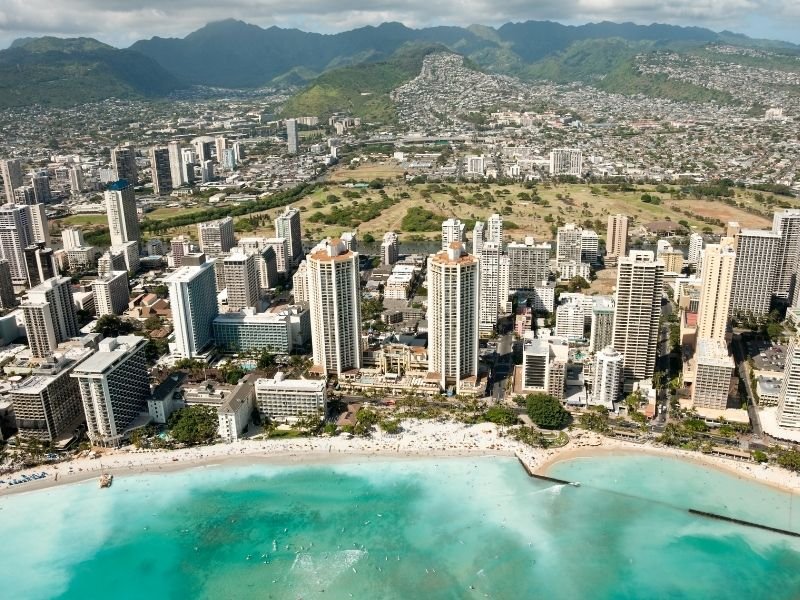 One thing Tahiti emphatically does not have is nightlife. It's way more buzzy during the day, and it gets really quiet at night, even in Papeete, where there are very few nightclubs and bars.
While are a few bars in Papeete, it's not comparable at all to Hawaii, especially in Honolulu, Oahu which has the most nightlife options in all of Hawaii, especially in Waikiki.
Some Hawaiian islands are sleepier than others, especially Kauai, so I'd opt for Oahu if you really want to experience some nightlife while you're on your vacation!
Natural Beauty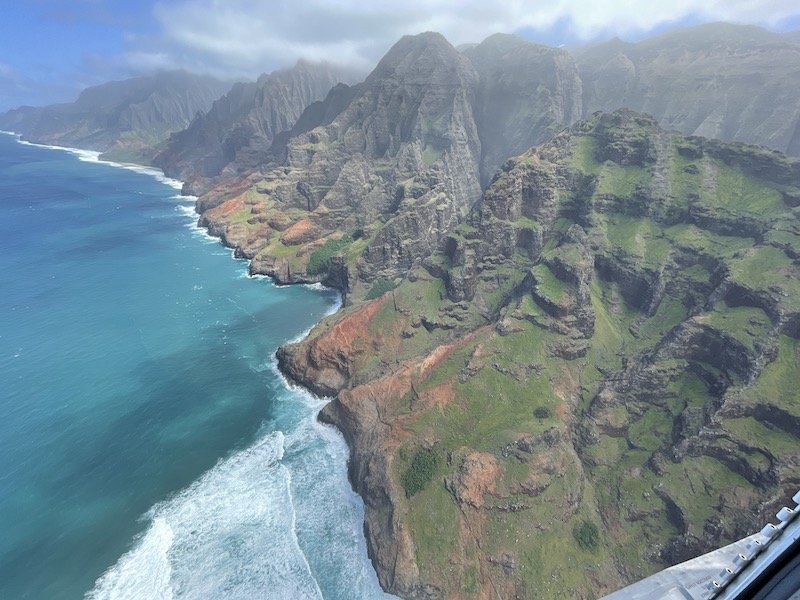 It's really tough to compare two island paradises, but if I had to, I think Hawaii has more variety in its geography and landscape.
Where else can you find the green turret-like spires of the Na Pali Coast next to the Southwest-looking Waimea Canyon and red dirt waterfalls on one island, and active volcanoes on the next?
Hawaii has two of the United States' National Parks, Hawaii Volcanoes National Park on the Big Island and Haleakalā National Park on Maui.
Both are absolutely spectacular, especially the former if you are so lucky as to witness volcanic activity during your stay!
While Tahiti has a lot of beauty, such as the Papeno'o Valley and Fa'aruma'i Waterfalls, these don't quite compete with what Hawaiian islands have to offer.
Beaches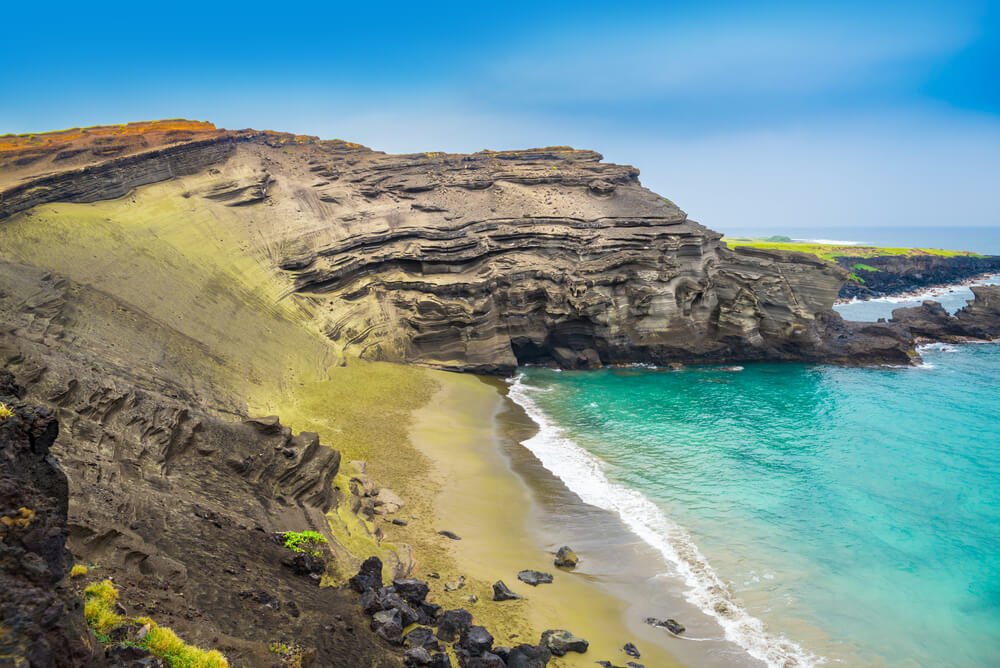 This is a tough pick, because I did enjoy the beaches on Tahiti and Moorea, but I don't think they compare to Hawaiian beaches overall.
Hawaii has some truly spectacular beaches like the black sand beaches and green sand beaches of the Big Island, as well as white sand beaches on Oahu like Lanikai Beach and Hanalei Bay.
Meanwhile, the two Polynesian islands I visited, Tahiti and Moorea, didn't have the best beaches.
They did lead out to crystal clear waters and beautiful reefs, but the sand was lack-luster and not the most enjoyable to relax and sunbathe on.
I didn't get a chance to visit other Polynesian islands that may have been beaches, like Bora Bora, Rangiroa, or Tikehau, though, so this is only my point of view based on the islands of Tahiti that I was able to visit.
No Need for Passport for Americans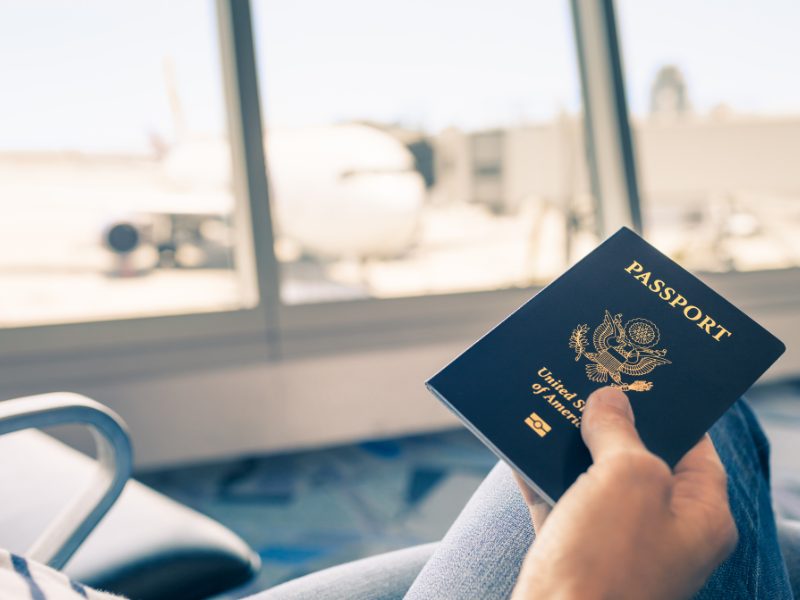 If you're American, one great thing that tips the favor to Hawaii vs. Tahiti is that you don't need a passport to get there!
If you've been dragging your feet on getting your passport or getting it renewed, Hawaii is an easy option to get your tropical island fix without a bureaucratic headache.
However, this is only relevant for Americans and those with green cards — if you're European, for example, French Polynesia may be the better alternative because passport control is extremely simple there since you technically are not leaving France!
Hiking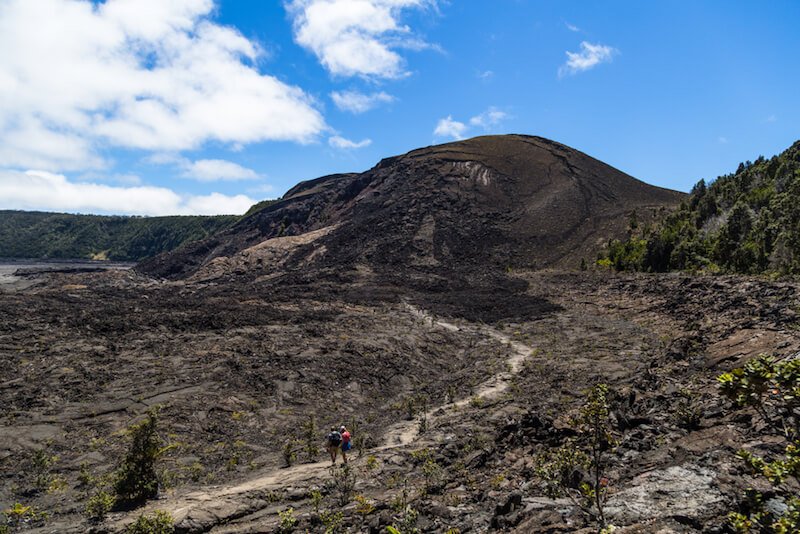 While you can go hiking in Tahiti, there are far fewer options and they aren't as impressive as the options for hiking in Hawaii.
There are a variety of bucket-list worthy hikes in the Hawaiian islands, from the pillbox hikes of Oahu to the Kalalau Trail on the Na Pali Coast (a trekking bucket list item if there ever was one!) to the volcano hikes in Hawaii Volcanoes National Park.
There are some hiking trails in Tahiti and Moorea and some of the other volcanic islands in the Society Islands, but there are fewer options and they aren't as well-maintained as Hawaiian trailheads.
What Is My Pick Between Tahiti or Hawaii?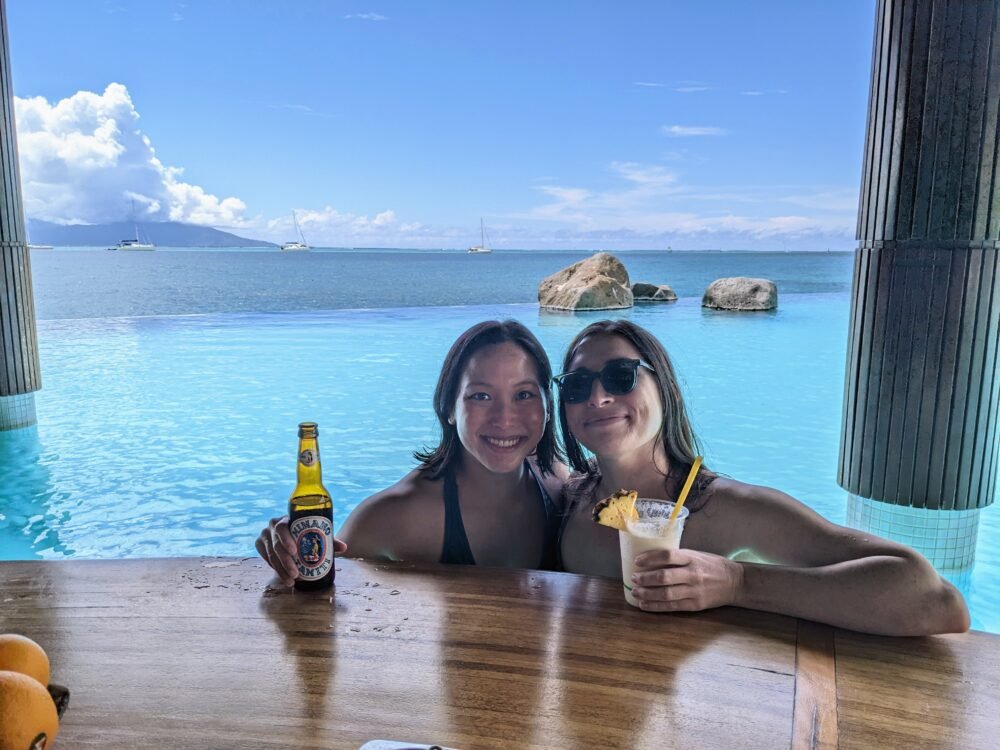 Despite the longer travel time (about 2 hours more) and need to grab my passport, Tahiti beats Hawaii over and over again for me.
There's a reason why I canceled a 10-day trip to Hawaii and swapped it out for a trip to Mexico instead, but I'm still planning to visit French Polynesia for a few weeks later this year.
Plus, French Polynesia has more of what I look for when I travel: cultural authenticity, underwater magic, and delicious food.
I also still feel like I have so much more of French Polynesia to discover, whereas I've been to every one of the four major islands of Hawaii at least once by now.
The few drawbacks that Tahiti does have don't actually bother me, so I'll pick Tahiti time and again over Hawaii.
That said, I can see who Hawaii might be better for — American families with young kids who prefer the ease and comfort of chains and familiar brands.
But as a solo traveler or someone who travels with my partner or friends, Tahiti is the way to go for me!
Allison Green is a former educator turned travel blogger. She holds a Masters in Teaching and a B.A. in English and Creative Writing. Her blog posts merge her educational background and her experience traveling to 70+ countries to encourage responsible, enriching travel. She has been a speaker at the World Travel Writers Conference and her writing, photography, and podcasting work has appeared in National Geographic, CNN Arabic, CBC Canada, and Forbes, amongst others. Now a full-time traveler, she has lived in Prague, Sofia, New York City, and the San Francisco Bay Area.