If the idea of visiting Northern countries like Sweden in the winter seems overwhelming and you have no idea what to pack for Sweden in winter… don't worry, it's actually a lot less daunting than you think. I found that I actually didn't need much that I didn't already have when I did my research and wrote down my Sweden packing list.
Even though my trip took me north of the Arctic Circle, I actually didn't need to overthink what to pack for Swedish Lapland since it was actually colder in New York City than Sweden during my trip!
While I got a bit lucky with the weather, I am also willing to bet that a trip to Sweden in the winter is not quite as cold as you think. let's look at the numbers, here: the coldest month of the year is January, and even in January, the average temperature is 10°F or -12°C — not that different than a cold winter day in NYC or Boston (and positively balmy compared to where my sister lives in Minneapolis). Canadians could even tan in that weather! Your typical low temperature in Lapland would be closer to 1°F / -17°C, which is also not that bad compared to a lot of the United States or Canada in the winter.
That said, you will need to pack plenty of warm clothes and layers, as the weather is quite unpredictable and you could end up experiencing temperatures as low as -20°C / -5° F or even -40° C/°F if you get really, really unlucky. Pack for the worst; hope for the best.
Sweden Packing Guide
What to Pack Everything In
Having seen my friend struggle with a giant suitcase throughout Arctic Sweden… I strongly recommend that you bring a well-designed travel backpack instead of a suitcase. Sure, it's possible to travel with a suitcase… but you will likely regret it when you end up trying to drag your bag through freshly laid snow, getting all your clothes wet in the process. Take it from an idiot who brought a rolling suitcase to Finland in November 🙂
Although I often travel long-term for weeks or even months at a time, I have learned to travel light with a backpack that's around 45L (more on this in a bit). I use packing cubes, because having an organized system – especially with all the layers you need for winter travel – is essential to make packing for Sweden a breeze. This winter packing list includes a few of the things that I swear by all year round, not just winter, for helping me organize my clothes and belongings when I travel.
Travel Backpack (carry on size or [easyazon_link identifier="B00PZKSYCQ" locale="US" nw="y" nf="y" tag="eternarriv-20″]check-in size[/easyazon_link]): While rolling suitcases can be great for short weekend trips, they are decidedly a bad idea for Sweden in winter. There will likely be snow and ice on the ground, and you will have to drag, not roll, your suitcase, which kind of defeats the purpose of having a rolling suitcase. Not fun. You're way better off with a backpack that you can easily carry. I am a light packer, so my Tortuga Setout Backpack is my true love — this is the updated version of the exact backpack I brought with me to Sweden's Arctic north, which I also spent two 5 month trips through Europe with it. The newer version is just as toughly constructed but even more organized – I'm a huge fan!

Why do I recommend Tortuga so much? Here's why: this bag is 45L and has got three main compartments: one for a laptop and other flat objects, one giant rectangular compartment perfect for packing cubes stuffed with clothing, and one smaller compartment with pockets for passports, pens, odds and ends, etc. that I stash all my extras in – plus one small outer zipper pocket for anything you want quick access to. It also has a water bottle holder on the outside as well as buckles so that you can strap something like a yoga mat to the outside. Plus, it's quite comfortable to wear, with a padded hip belt and comfort-molding shoulder straps complete with a chest strap so that you can distribute weight perfectly across your body in the event that you need to wear your backpack for longer than usual. Check out more specs and details here.
Does it pass budget airline requirements? I've never once had to check it in on a budget airline flight, and I've taken probably 50+ Ryanair, Norwegian, and Wizzair flights at this point. I just buy priority boarding so that I have a guaranteed spot on board for my bag (plus a second personal item bag), which adds about $5 onto my total flight cost instead of the $20-40 or so that a heavy checked suitcase or backpack would. This adds up massively over time – with a bigger bag, I would have paid $1,000+ extra in baggage fees over the past few years. That's massive savings.
Despite traveling for two years, I haven't personally used a bigger backpack, but I've heard excellent things about the [easyazon_link identifier="B00PZKUXU2" locale="US" nw="y" nf="y" tag="eternarriv-20″]Osprey[/easyazon_link] system. If I ever were to upgrade my backpack capacity, that's what I would choose. But I'm cheap and hate paying baggage fees, even at the expense of having less clothing options, so your mileage may vary.

[easyazon_link identifier="B014VBGUCA" locale="US" nw="y" nf="y" tag="eternarriv-20″]Packing Cubes[/easyazon_link]: If you haven't used packing cubes before, get ready for a travel revolution. These super helpful zippable bags are a miracle when it comes to organizing your clothing, keeping everything from bursting out every time you dare open your backpack. Any packing cube will do. I personally use [easyazon_link identifier="B014VBGUCA" locale="US" nw="y" nf="y" tag="eternarriv-20″]these packing cubes[/easyazon_link] and love them to the ends of the earth. As a substitute, some gallon size plastic Ziploc bags do the same job of keeping clothing separated and contained. But given how bulky winter travel clothing can be, you'll likely just rip them and have to throw out the bags, so I recommend actual packing cubes instead.
[easyazon_link identifier="B00ESJF02W" locale="US" nw="y" nf="y" tag="eternarriv-20″]Laundry bag[/easyazon_link]: If you are traveling Sweden in winter, you will get your clothing wet, dirty, and covered in snow constantly, and you'll have to change your clothes a decent amount. A laundry bag will come in handy at keeping dirty stuff separated from the clean. Like packing cubes, you don't need anything fancy at all. I do like having a cute one [easyazon_link identifier="B00ESJF02W" locale="US" nw="y" nf="y" tag="eternarriv-20″]like this one from Kikkerland[/easyazon_link] though, because I'm impractical and like cute stuff.
[easyazon_link identifier="B074V7RPJ6″ locale="US" nw="y" nf="y" tag="eternarriv-20″]Hanging Toiletry Bag[/easyazon_link]: Packing for Sweden in winter has special toiletry concerns (hint: bring ALL the moisturizer) and I recommend using something like this  [easyazon_link identifier="B074V7RPJ6″ locale="US" nw="y" nf="y" tag="eternarriv-20″]hanging toiletry bag[/easyazon_link] to organize your various shampoos, moisturizers, make-up, etc. This bag conveniently fits perfectly in the outer pocket of my Tortuga backpack. It has a good number of separators, organizers, and pockets without taking up any excess space.  It's the Mary Poppins bag you always needed but never knew existed – a miracle for girly girl travelers like myself who want to bring their entire vanity with them when they travel (but don't want to pay check-in fees).
[easyazon_link identifier="B017BPN0ZS" locale="US" nw="y" nf="y" tag="eternarriv-20″]Cute travel daypack[/easyazon_link] : I prefer using a daypack to a purse when I travel and I always bring the same backpack with me on literally every single trip. I am completely obsessed with the [easyazon_link identifier="B017BPN0ZS" locale="US" nw="y" nf="y" tag="eternarriv-20″]PacSafe Citysafe backpack[/easyazon_link] which is a security bag that is actually cute and not horrendous to look at. I use it every day, whether I'm bringing my laptop to a café or packing all my camera equipment for a busy day out. The best part is that it is slashproof and has locking zippers that make it virtually impossible for a pickpocket to get into your bag without you noticing! Sweden is super safe so this isn't really a major concern but I'm obsessed with this backpack (and paid for it out of pocket – nothing here on this list is sponsored, for the record) so I had to plug it anyway.
Most Essential Things to Pack for Sweden in Winter
Keep in mind: Sweden is freaking expensive (though it is one of the more affordable of the Scandinavian/Nordic countries). Therefore, it's extra important that you pack appropriately, because anything you need to buy in Sweden will be extra expensive.
If you plan to travel elsewhere in Europe this winter, check out this Europe in winter packing list to get you started!
A good, waterproof parka: While I said that Sweden in winter isn't that cold – it still is pretty freaking cold. Pack for it appropriately. I love winterwear from The North Face because they guarantee all their products for life and will fix or replace literally anything you send to them. Their down jackets aren't cheap, but they're a great investment if you're looking for a winter coat that will last a lifetime. This is the parka I own and I'll use it for life. If you're not looking to spend a lot of money on a new winter jacket, you can also buy a down jacket liner like this one and layer it between your winter coat and your other winter layers.
Thermal layers: While a good winter jacket will give you a lot of warmth, you're fighting a losing battle unless you have warm layers underneath. I can't wear wool or I get insanely, tear-off-all-my-skin itchy, but if you can tolerate wool then something like these merino wool leggings paired with a cashmere sweater layer will serve you very well. since I can't wear wool, I am obsessed with these 32 Degrees thermal layers and wear them all winter long (I have about 5 that I rotate out). On bottom, I wear these fleece-lined leggings. With that plus a parka, you can wear basically anything over it.
Waterproof boots and warm socks: You don't necessarily need proper snow boots if they are waterproof and have good traction. I first bought a pair of Blondo waterproof leather boots in 2008… which means I'm celebrating my 10-year anniversary with them this year. (Is this my longest relationship?) I've only had to get them resoled once, which set me back about $60, but for a pair of travel-friendly shoes that I'm completely obsessed with and wear all the time, it was 100% worth it. These are what I wore to Sweden and they held up great. However, if you plan on doing a lot of hiking in the snow, you may want a proper snow boot. The Elsa snow boot by KEEN is waterproof, insulated, and looks super cozy. Finally, no matter how insulated your shoe is, it won't do much good if you are wearing thin, crappy cotton socks. I invested in these Smartwool socks after much hemming and hawing about the price and I'm so glad I did. You don't need that many pairs because you can actually re-wear them a few times before they get smelly because wool is so odor-absorbent and magical. And even though I generally can't tolerate wool because of itchiness, I don't mind them on my feet.
Camera plus tripod: It's highly likely that one of the reasons why you are going to Sweden in the winter is to see the magical Northern lights. In that case, you'll want to ensure you have a camera that is capable of manual settings. Most importantly, you need to be able to set the aperture, ISO, and shutter speed. I use a [easyazon_link identifier="B00I8BICB2″ locale="US" tag="eternarriv-20″]Sony A6000[/easyazon_link] and it works great. To properly photograph the Northern lights, a travel tripod is absolutely essential: you need the camera to be still for at least 5 seconds to get a decent photograph, and there's no way you can eliminate camera shake for that long without a tripod. Personally, I use a simple, cheap 50″ [easyazon_link identifier="B00XI87KV8″ locale="US" tag="eternarriv-20″]Amazon tripod[/easyazon_link] and it works just fine and fits in my carry-on sized bag.
Reusable water bottle: The tap water in Sweden is drinkable everywhere so make sure you bring a reusable water bottle. If you don't already have one, try one from [easyazon_link identifier="B0093IRPSA" locale="US" tag="eternarriv-20″]Klean Kanteen[/easyazon_link].
Moisturizer with SPF: The cold will destroy your skin. Be sure to bring a heavy-duty moisturizer to prevent dry skin. I use [easyazon_link identifier="B004D282D8″ locale="US" tag="eternarriv-20″]Aveeno moisturizer[/easyazon_link] as I have sensitive skin. Make sure your moisturizer has SPF as the snow + sun combination can lead to surprise sunburns!
Finally, travel insurance. Yes, I know this isn't something that you pack But it is just stupid to leave home without it. I think it's extra important to have travel insurance in winter as the weather is unpredictable and you will be protected and reimbursed in case of trip cancellation in addition to illnesses or accidents. I recommend buying travel insurance as far in advance as you can, as it's always cheaper that way. I always use World Nomads when I travel. The contract is very clear as to what it covers, the prices are affordable, the excess/deductible is very low, and if you find yourself extending your trip it's very easy to modify your insurance on the go.
What to Wear in Sweden in Winter
Layer, layer, layer!
Start with your base layers. Many people swear by wool, but I use a combination of a synthetic thermal top plus fleece-lined leggings. On top of my thermals, my next layer is just a simple sweater and jeans. I finish it off with wool socks, waterproof boots, a scarf, hat, gloves, and of course – a nice toasty jacket. That's usually warm enough for me!
Here's a quick packing list + product recommendations for what to wear for winter in Sweden:
2-3 thermal tops: I swear by these 32 Degrees thermal layers and recommend getting 2 or 3 as they're so warm they  can get kind of sweaty.
3 warm sweaters to layer on top: Wool blends work great (and thermal layers make a nice barrier if you find wool itchy like I do). I love H&M for warm, acrylic winter sweaters.
2 pairs fleece lined leggings: These are my favorite fleece leggings – so so so warm!
2 pairs jeans: Wear these over your leggings.
1 heavy jacket: I recommended the North Face parka above, but any warm jacket will work. Look for something that is lined with down, has a hood, and is waterproof and windproof.
2 bras: Regular or sports bra – it doesn't matter under all the layers.
7+ pairs of underwear: However much you think you'll need for your trip, so you don't have to do laundry at your hotel, which would inevitably be super expensive in Sweden.
Bathing suit: Many hotels, guesthouses, and even hostels in Northern Sweden have their own saunas. Don't forget your bathing suit or you'll feel left out!
Sandals/flip flops: For the sauna or walking around in your hotel if you don't want to put on your proper boots
1 or 2 knit hats: I love [easyazon_link identifier="B01N1N01R3″ locale="US" tag="eternarriv-20″]fleece-lined knit hats[/easyazon_link] like this one for extra warmth.
2 pairs gloves: I recommend having two pairs, one lightweight pair of [easyazon_link identifier="B005G50S1U" locale="US" tag="eternarriv-20″]touchscreen-friendly gloves[/easyazon_link] and one more heavy pair of [easyazon_link identifier="B00GAZVFTO" locale="US" tag="eternarriv-20″]waterproof gloves[/easyazon_link] for things like dog-sledding and playing in the snow.
1 super-warm infinity scarf: I love the scarves that you can wrap super close to your face, [easyazon_link identifier="B075ZQMBQS" locale="US" tag="eternarriv-20″]like this one[/easyazon_link]. Never underestimate the power of a scarf for keeping you warm.
What to Pack if You Choose a Hostel/Dorm
There are a few special things you should bring if you are staying in a hostel or dorm in Sweden, which you can find below.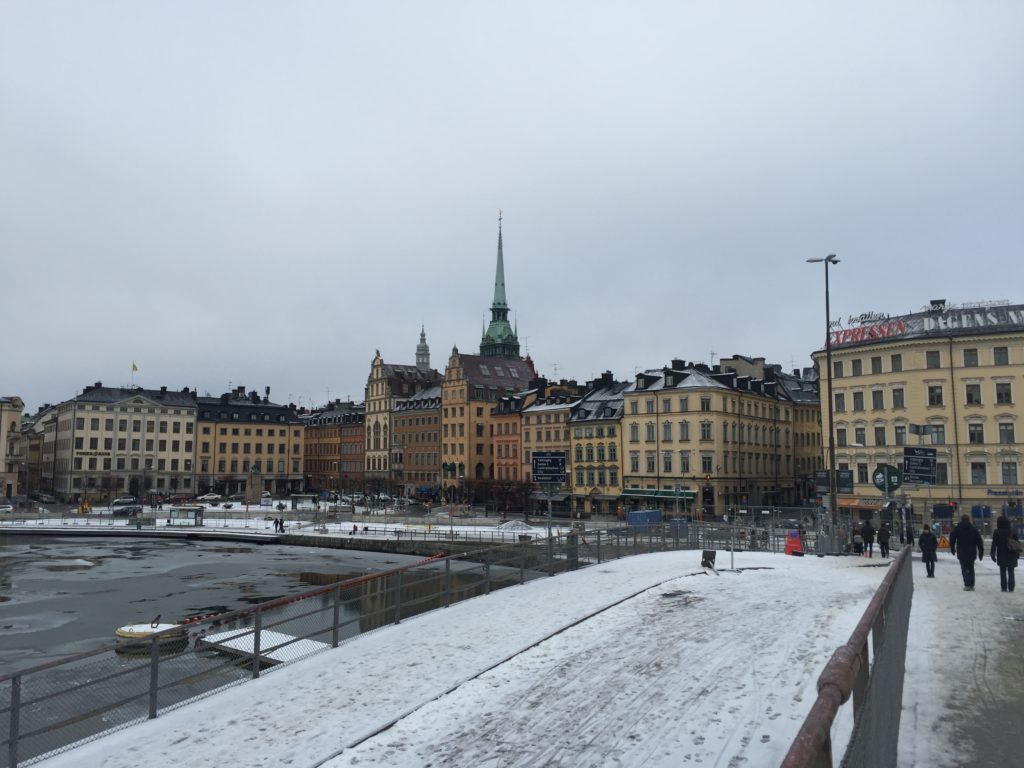 1 pair flip flops: I mentioned it above, but it goes double if you staying in a hostel!
1 [easyazon_link identifier="B01EA76A0C" locale="US" tag="eternarriv-20″]travel towel[/easyazon_link]: Most hostels in Sweden don't provide towels and will charge a surcharge to give you one to borrow. Not worth it. Bring your own to avoid rental fees. This one is ultra-small and doesn't take up much room in my bag.
1 set of bedding (optional): Many hostels in Sweden require you to bring your own bedding or pay for renting it, which is annoying. If you want to save money and you have room in your bag, bring a twin-size sheet, duvet cover, and pillowcase. Otherwise, just suck it up and pay the rental cost (which is what I did).
1 [easyazon_link identifier="B00FJQFJX8" locale="US" tag="eternarriv-20″]eye mask[/easyazon_link]: I swear by this contoured eye mask as it doesn't put uncomfortable pressure on your eyes but completely blacks out any light.
Some [easyazon_link identifier="B001EPQ86A" locale="US" tag="eternarriv-20″]earplugs[/easyazon_link] or good noise-canceling headphones: I love Hearos — they're the gold standard for ear plugs. I've also been eyeing these [easyazon_link identifier="B0756CYWWD" locale="US" tag="eternarriv-20″]noise-canceling headphones[/easyazon_link] but haven't made the plunge.
Travel-sized toiletries: Most hostels don't provide shampoo, body wash, etc. so make sure you have these.
[easyazon_link identifier="B000Y05NOE" locale="US" tag="eternarriv-20″]Combination locks[/easyazon_link]: In Sweden, you're probably at the greatest risk of theft from your fellow travelers. Prevent crimes of opportunity with simple measures like having a combination lock and keeping your valuables locked away. I always check hostels on Hostelworld to ensure they have lockers available because I travel with so many valuable electronic that it'd be idiotic to leave them unlocked.
What Toiletries to Pack for Sweden in Winter
Again, remember all your toiletries before heading to Sweden as you'll pay a lot more once you arrive! Here's what I recommend you bring.
ALL THE MOISTURIZER: Again, Swedish winter will chap the hell out of your skin. Make sure you use moisturizer to help with dry skin. I use [easyazon_link identifier="B0013OKSAY" locale="US" tag="eternarriv-20″]Aveeno[/easyazon_link] on my sensitive skin. Remember SPF for daytime!
[easyazon_link identifier="B00D8OZKL4″ locale="US" tag="eternarriv-20″]Kleenex packets[/easyazon_link]: I always seem to get a cold when I travel to cold climates so having Kleenex on hand is useful.
LUSH solid shampoo: Life-changing. Just trust me. Buy online or in store from LUSH and you'll save serious money over Amazon.
[easyazon_link identifier="B00MLBPDQ2″ locale="US" tag="eternarriv-20″]Face wipes[/easyazon_link]: Great for nights when you're too lazy to take your make-up off properly or for a quick refresh.
Menstrual cup or your favorite tampon/pad brand, if applicable: If you have a specific brand allegiance, you may not find it in Sweden. I switched to a [easyazon_link identifier="B000FAG6X0″ locale="US" tag="eternarriv-20″]Diva Cup[/easyazon_link] for travel and have never looked back. I highly recommend it.
Deodorant: I can't rant enough about how much European deodorant sucks. I love [easyazon_link identifier="B00HF3XSO0″ locale="US" tag="eternarriv-20″]Secret Clinical Strength[/easyazon_link] and stash up on it every time I'm home… but then again, I am sweatier than most people are.
Basic medicine: You will be able to find all this in Europe, but trust me — you want to have the basics on hand in case you need them on the road. I carry [easyazon_link identifier="B0082SZNBS" locale="US" tag="eternarriv-20″]Pepto-Bismol[/easyazon_link] for standard stomach troubles, [easyazon_link identifier="B002A2HZAY" locale="US" tag="eternarriv-20″]Imodium[/easyazon_link] as a nuclear option (i.e. riding the bus when I am sick), some sort of painkiller like [easyazon_link identifier="B074F297T8″ locale="US" tag="eternarriv-20″]ibuprofen[/easyazon_link] for headaches and minor pains, and some sort of [easyazon_link identifier="B0018DJ572″ locale="US" tag="eternarriv-20″]motion sickness tablets[/easyazon_link].
Cold medicine: If you're prone to getting sick, be sure to buy some cough or [easyazon_link identifier="B00EFRVDQ4″ locale="US" tag="eternarriv-20″]cold medicine[/easyazon_link] before traveling to Sweden. They are really stingy with some of the ingredients over the counter in Northern Europe. That usually covers the bases for me — anything else I need I grab on the road.

Electronics to Pack for Sweden in Winter
The most important thing to remember about traveling in winter is that batteries drain extra quickly. You will want to bring extra batteries for everything and a portable battery charger. Trust me on this!
You'll also want to bring a camera with the ability to change the shutter speed/aperture/ISO settings so you can properly capture the Northern lights. Cell phone cameras usually do a good job but they won't be sufficient for photographing the Northern lights. Don't forget a tripod!
Also, be sure to save some Swedish sayings and phrases to your phone before you go — a little Swedish will make a very positive first impression!
Laptop, if necessary: I bring my Macbook Air everywhere but other people may prefer a tablet or an inexpensive [easyazon_link identifier="B0781CSGDL" locale="US" tag="eternarriv-20″]netbook[/easyazon_link]. I work on the road so a user-friendly, lightweight laptop is a must.
[easyazon_link identifier="B00OQVZDJM" locale="US" tag="eternarriv-20″]Kindle Paperwhite[/easyazon_link]: Sweden is usually pretty good about having English-language books available but I still love having my Kindle as I can buy basically any book in the world as long as I have WiFi.
Travel camera: I use a [easyazon_link identifier="B00I8BICB2″ locale="US" tag="eternarriv-20″]Sony A6000[/easyazon_link] because it's lightweight for a professional caliber camera, inexpensive, and a HUGE step up from a smartphone. If you are doing adventure activities like ice climbing or dogsledding, I highly recommend also bringing a [easyazon_link identifier="B01M14ATO0″ locale="US" tag="eternarriv-20″]GoPro[/easyazon_link]. Whatever you bring, be sure to buy extra batteries, charge them up, and bring them alone.
[easyazon_link identifier="B0194WDVHI" locale="US" tag="eternarriv-20″]Portable charger[/easyazon_link]: Your electronics lose battery so much faster in the cold. Bring a portable charger with the ability to store enough power to complete 4 or 5 charges – it'll save yourself so many headaches! Anker is a reliable brand and what I personally use.
[easyazon_link identifier="B01DJ140LQ" locale="US" tag="eternarriv-20″]Adaptor[/easyazon_link], if necessary: Sweden uses the standard European adaptor, so bring one if you need it.
***
While this sounds like a lot, I was able to fit it everything on my Sweden packing list into my 44L backpack and my daypack by wearing my heaviest clothing on the plane and using my packing cubes to fit my clothes in neatly.
Is there anything I've forgotten to pack for Sweden in winter? Is there anything else you're wondering if you should bring? Let me know in the comments!