One activity that often figures quite highly on people's Arctic bucket lists is the chance to visit a reindeer farm in Norway!
Reindeer have been an important part of the culture of this part of the world for a long time.
The original inhabitants of Northern Norway, the Sámi people, have been herding reindeer for centuries. 
One of the best ways to learn about their culture is by taking a Tromso reindeer sledding tour, where you can visit a reindeer camp with Sámi guides and learn about their culture and history.
In addition to interacting with adorable reindeer, you'll also learn about the important history of Norway's Indigenous people.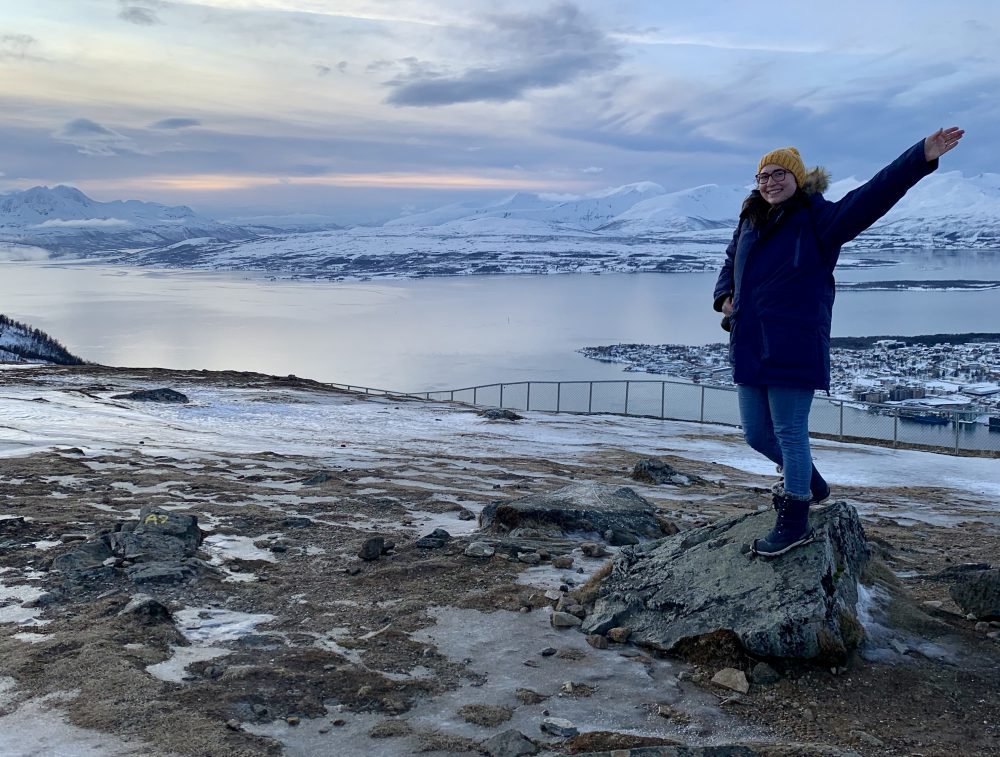 Note: This post contains affiliate links, which means I may receive a small commission if you purchase something through one of these links. Thank you for supporting the free content on this site! For more information on affiliate links and cookies, see my disclosure page for more details.
I visited Norway in February 2020 (shortly before the world fell apart) and have recently updated this guide to be useful for the 2023-2024 winter season.
I've ensured that all the Tromso reindeer sledding tours listed are still active and made adjustments to any that are no longer operating — as of September 2023, all tours are active.
I've listed the reindeer sledding tour I did in Tromso first, and it's my top recommendation as I loved my experience — but I've also included a few other options, including feeding-only and nighttime options for a chance of aurora watching!
The 5 Best Tromso Reindeer Sledding Tours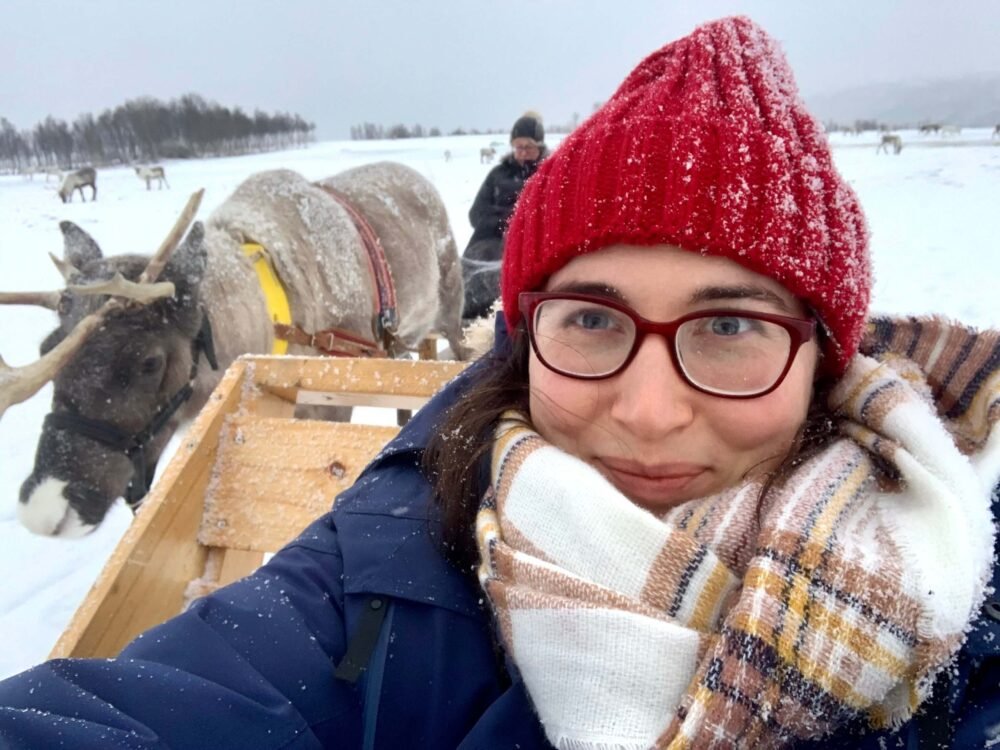 The following reindeer sledding tours are
Note that these tours are outdoor activities, and while the lavvu (Sámi tent) will be nice and warm, outdoors it will not be! 
Wear warm clothes and winter boots so you can focus on the experience. Remember, in Norway, they have a saying: there is no bad weather, only bad clothing!
These tours are all available to be booked online with free cancellation, so be sure to book these tours and other Tromso sightseeing and excursions a few weeks ahead of time if you can. 
They are very popular and there are only so many availabilities, so be prepared!
Tromso Arctic Reindeer – Sledding Tour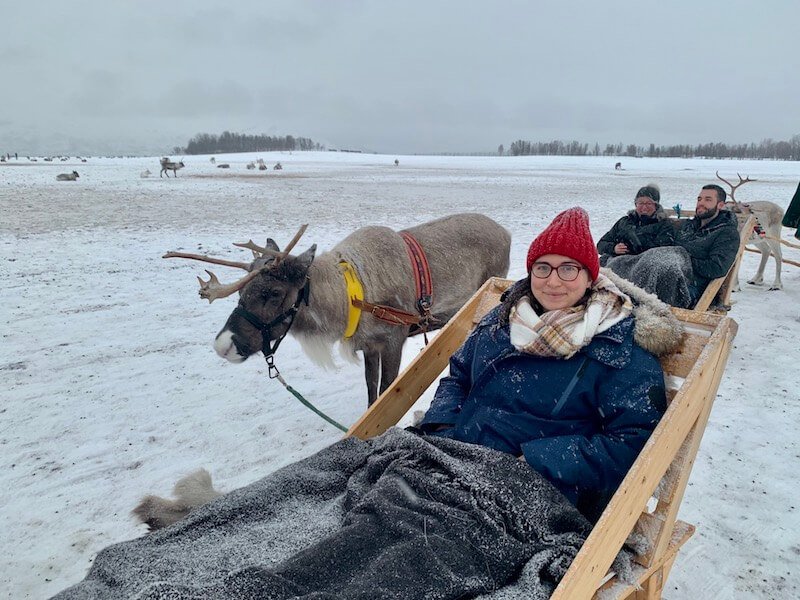 This is the exact Tromso reindeer sledding tour I did when I visited.
I opted for a 10-minute reindeer sled experience because I wanted to see it for myself in order to write about it from my perspective and determine whether I would recommend it to others.
While I had a blast dog sledding in Tromso, reindeer sledding is way different.
It's slower and less engaging than doing a self-drive dog sled tour. The reindeer plod along slowly, slower than a horse carriage ride would be, but at a smooth pace.
The views are beautiful though: fjords, snow, and mountains everywhere you look. 
It's an interesting experience, but I don't think sledding is particularly essential.
I do think kids would really love it though, but for adults, it's a bit boring.
To put it simply: I would go dog sledding over and over again — I would go reindeer sledding once.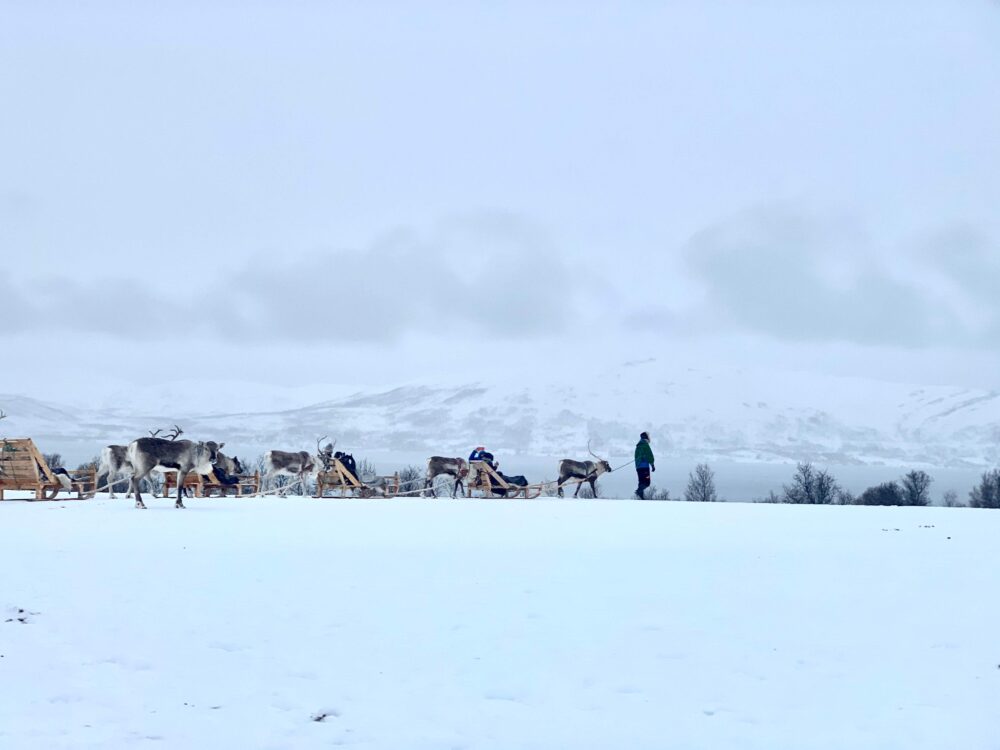 That said, while I found the reindeer sledding part of the experience a little lackluster, I loved the other aspects of the tour.
I really enjoyed getting to feed the reindeer from the buckets. Getting to see them up close and personal is delightful!
My favorite part of the tour, though, had nothing to do with the reindeer and everything to do with our Sámi guide.
He was very young, maybe in his early 20s, and his dedication to preserving Sámi culture, stories, traditions, and language was really moving. 
He shared a lot with us, more than he had to, including stories of the prejudice that he and other Sámi experience for wearing their traditional clothes or speaking their language. 
As someone deeply curious about Sámi history and culture, I was honored that he shared his story with us so honestly.
I was grateful that he didn't shy away from sharing some of the negative historical and present-day aspects of Norwegian-Sámi relations just to make tourists more comfortable.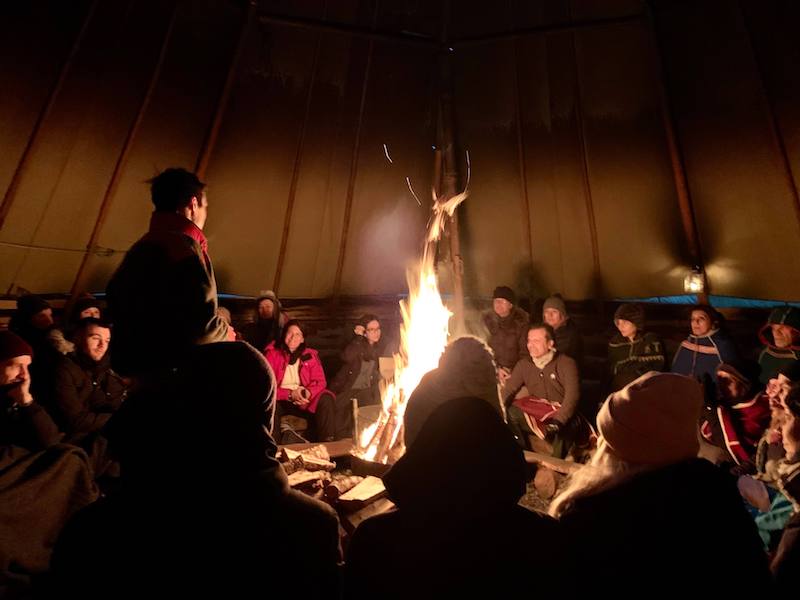 In addition to hearing his stories of struggle, we heard stories of immense pride and resilience, and some humor as well.
Our guide was also very funny, joking about modern Sámi reindeer herders and how they now use drones to help them herd! 
We also got to experience several cultural elements of Sámi life during our visit as well.
We got to experience sitting around the fire in a lavvu (a traditional Sámi tent) with our hot drinks and eating a traditional hot meal from Sámi culture (reindeer stew, called bidos in Sámi langauge).
Most interesting was getting to hear the beautiful joik, a type of Sámi song that seeks to "reflect or evoke a person, animal, or place."
I loved my Tromso reindeer sledding tour and while the reindeer sledding isn't essential to enjoying it, I'm glad I tried it regardless.
Tromso Arctic Reindeer – Feeding & Culture Tour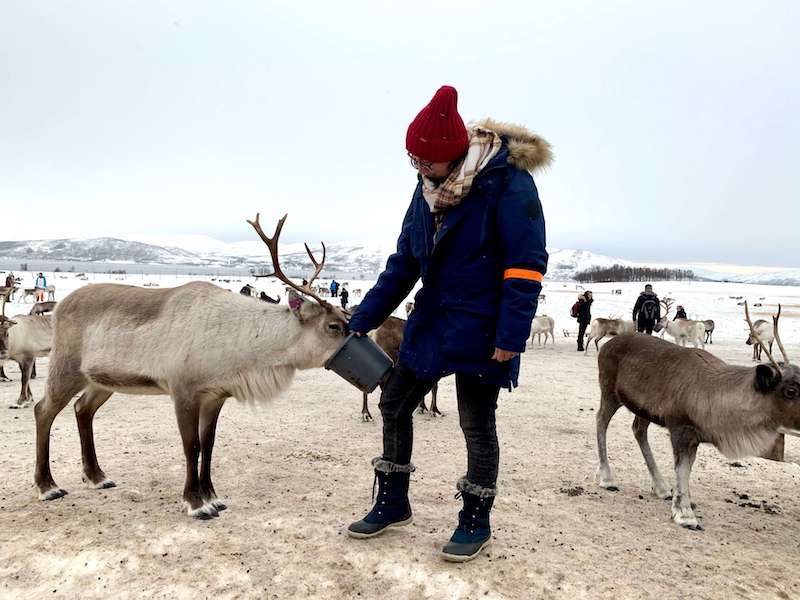 This reindeer tour is done by the same tour company, but without the reindeer sledding aspect. 
The structure and timing of the tour is the same: there's a free pick up at the Radisson Blu Hotel meeting point (address: Sjøgata 7), which shuttles you to the reindeer farm. 
The only difference is that you are not given a colored wristband (mine, in orange, can be seen above) that indicates that you will be doing reindeer sledding later on in the tour.
You get the whole experience besides the sled ride, though!
You get to visit the reindeer camp on a small group tour, where you can feed the reindeer and get photos, drink warm drinks in the lavvo, eat a traditional Sámi meal of reindeer stew, etc.
And if eating the reindeer you just saw and interacted with is a little too on the nose, don't worry — vegetarian options are available.
Tromso Arctic Reindeer – Reindeer Tour with a Chance of Northern Lights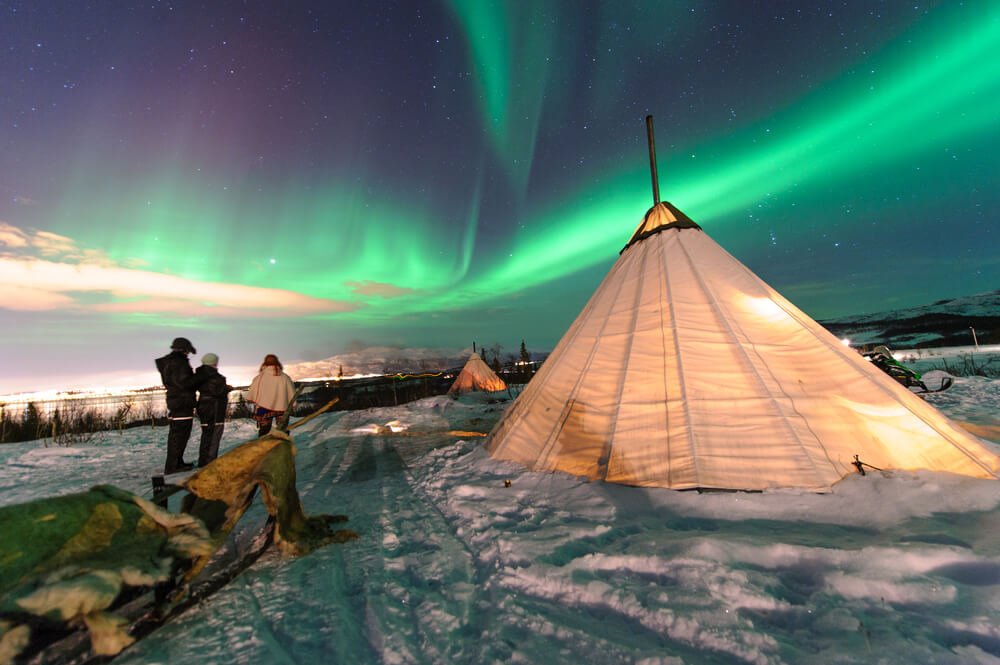 This is also the same tour company but done at night so that you have a chance of seeing the aurora while you visit the reindeer camp!
Frankly, Tromso has a lot of cloud cover which makes it hard to see the Northern lights from a stationary place.
That means you may not be able to see the aurora from the reindeer ranch, even if there is a lot of solar activity.
During my week in Tromso, I tried to spot the Northern lights many times, and I saw them three times in a week.
I saw them once on the water on a fjord cruise, once over the city from my Airbnb window, and once on an aurora chasing tour — but all the way over the Finnish border!
If your trip to Tromso is primarily to see the Northern lights, then I would suggest doing a minibus tour where you chase the lights at least once or twice during your stay.
If you have extra time and want more chances to see the lights, then a reindeer tour at night would be a good option.
However, I wouldn't do a Tromso reindeer sledding tour at night in place of a dedicated Northern lights tour, only in addition to it.
Staying in one place vs. traveling around specifically to see the best lights possible is a whole different experience!
But if your time in Norway is really short and you are trying to figure out what are some activities to enjoy during the day vs. at night, there's nothing specifically about the Tromso reindeer sledding tour that wouldn't be good at night! 
The tour is all about meeting the reindeer and enjoying learning about Sámi culture as opposed to seeing the scenery around you (as opposed to a dog sledding tour where you cover more ground), so it's a good option for doing at nighttime.
Camp Tamok – Reindeer Sledding Day Trip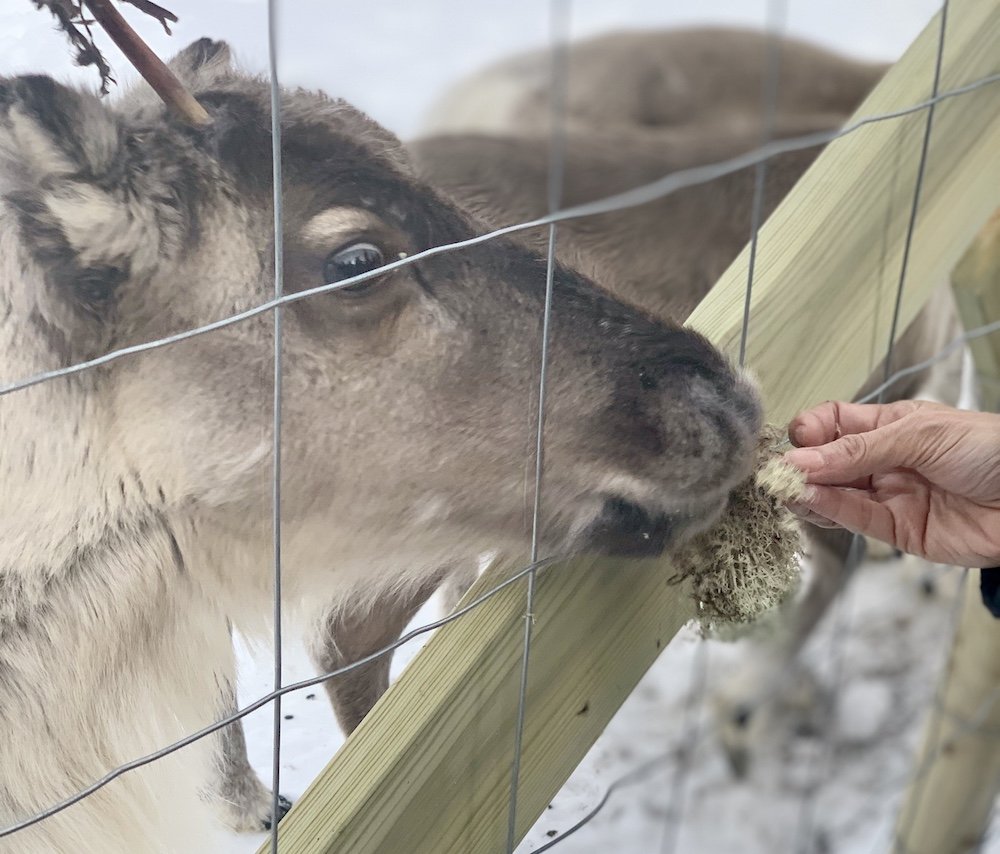 I didn't get the chance to try this particular Tromso reindeer sledding tour, but it seems rather similar to the first tour in terms of itinerary and activities. 
The price point is slightly higher, but that's because you head all the way out to the Tamok Valley (90 minutes each way) near the Tromso Ice Domes.
Personally, I'd suggest going with one of the Tromso Arctic Reindeer tours above as that's what I did and loved.
In addition to being more affordable, it was nice that I didn't have to travel as far (only about 20-30 minutes outside of Tromso vs. 90 minutes).
However, tours do get booked up in Tromso quite quickly, so it's good to have some alternatives!
Transfers, meals, and drinks are included in the tour. Pick up is at the Scandic Ishavshotel at Fredrik Langes gate 2 at 9 AM and gets back at 4 PM.
Camp Tamok – Reindeer Sledding and Northern Lights Trip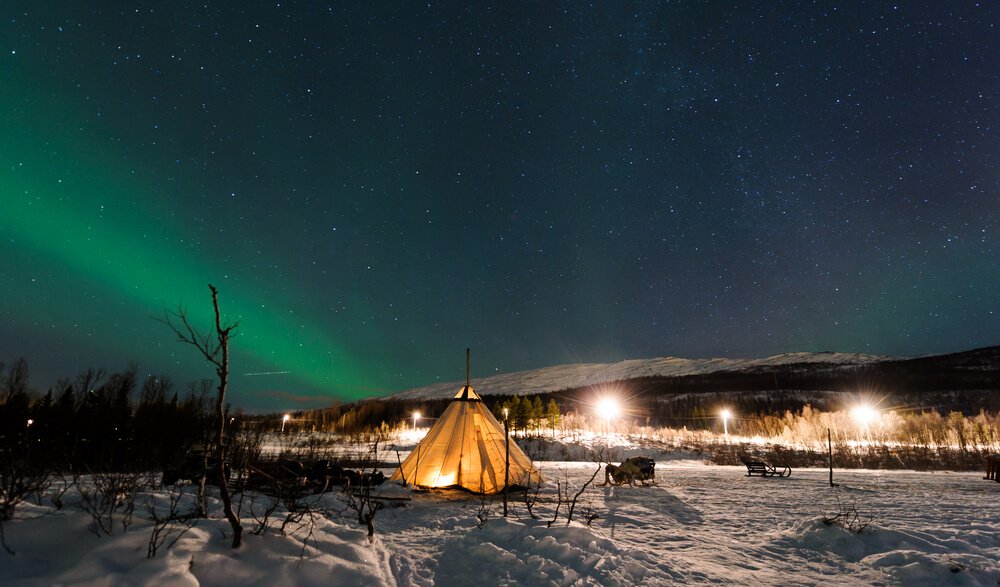 This is the same company as the one above, but they also run a Northern lights nighttime tour.
While in the previous tour, I noted its distance from as a drawback, but actually, I think that it's to its benefit.
Being located further out from Tromso (and also further from the coastline, where cloud cover is more dense) it may have a better chance of seeing the Northern lights!
If you're looking for a Tromso reindeer sledding tour where you can also try to see the Northern lights, this is the one I would pick.
Since it's further out from Tromso, your chances of seeing the lights are better!
Just note that the travel time is 90 minutes each way, so be prepared to spend 3 hours in transit if you choose this option.
Who Are the Sámi People?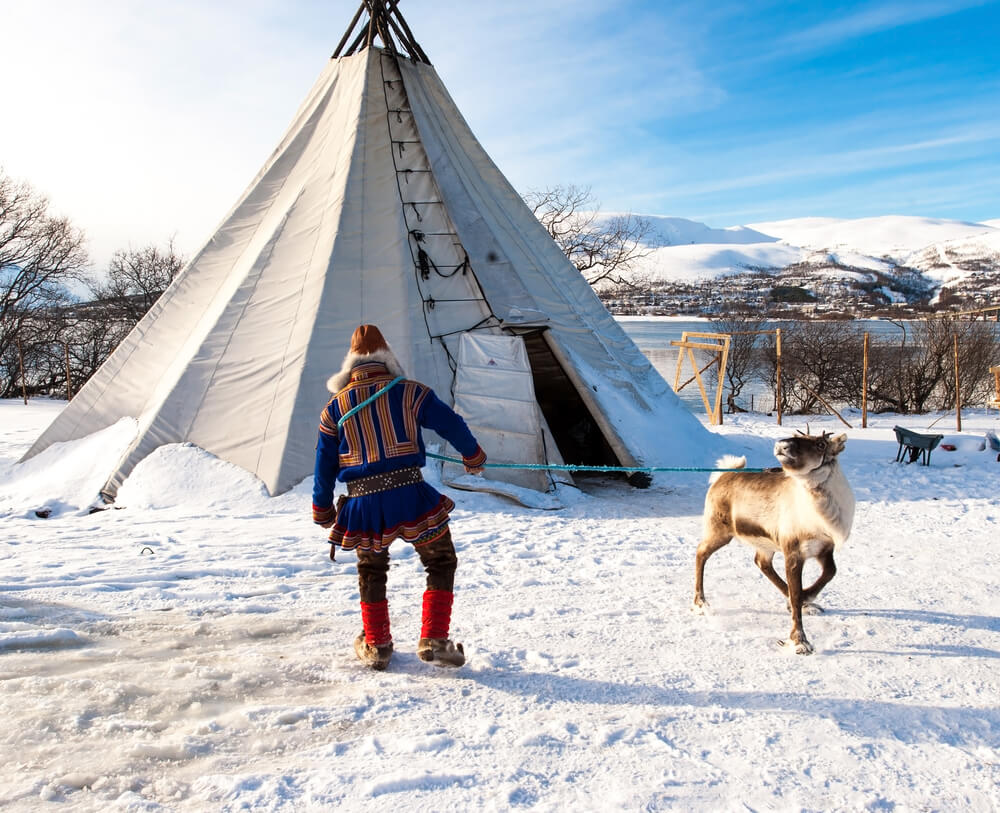 The Sámi people are the Indigenous people of the far reaches of Northern Europe.
They can trace their history back at least 3,500 years in the Fenno-Scandinavia region, which includes Norway, Sweden, Finland, and the Kola Peninsula of Russia.
The region which the Sámi people inhabit and have tended for thousands of years is called Sápmi in their native language. This mostly overlaps the region that, in English, is known as Lapland.
The history of how Scandinavian and Nordic settlers treated the Sami people is quite sad: Sámi people suffered a similar fate to the Indigenous peoples of the United States and Canada.
The Sámi were forcibly removed from their land, sent to boarding schools to strip them of their religion and language, and discriminated against both in law and in practice.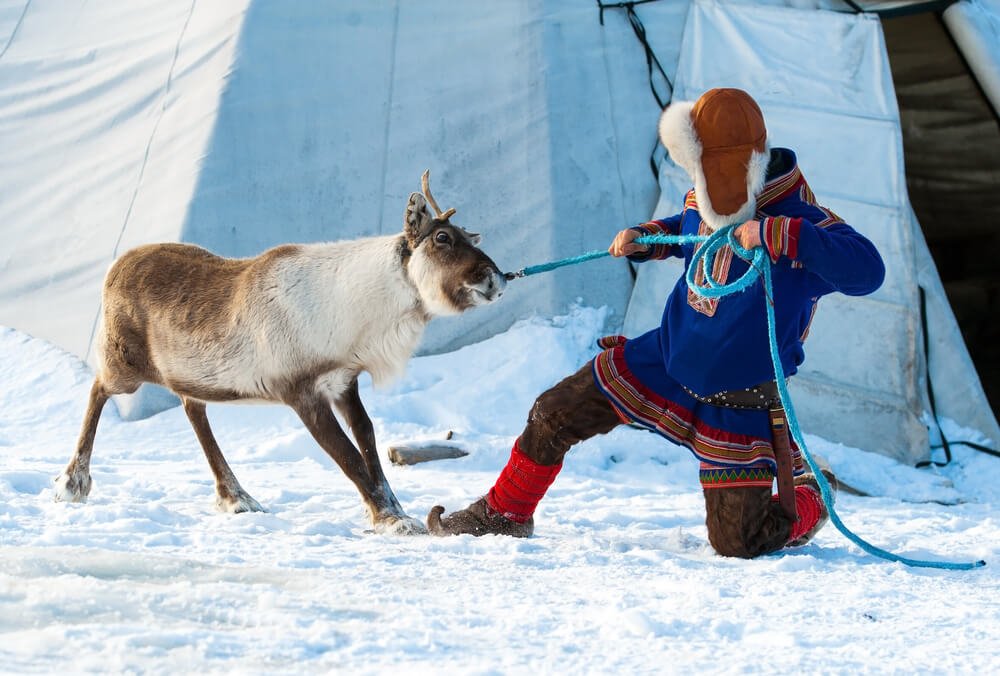 The fact that the Sámi people are still here today, practicing their culture, speaking their language, and wearing their traditional clothing is not something we should take for granted.
It's the result of their resilience and passion for preserving their identity and way of life.
Why am I talking about the Sámi so much in a post about reindeer sledding in Tromso?
Taking a Tromso reindeer tour is one way that we as tourists can preserve the Indigenous culture of the Sámi people and ensure that the story of the Sámi people is not forgotten.
The Importance of Reindeer in Sámi Culture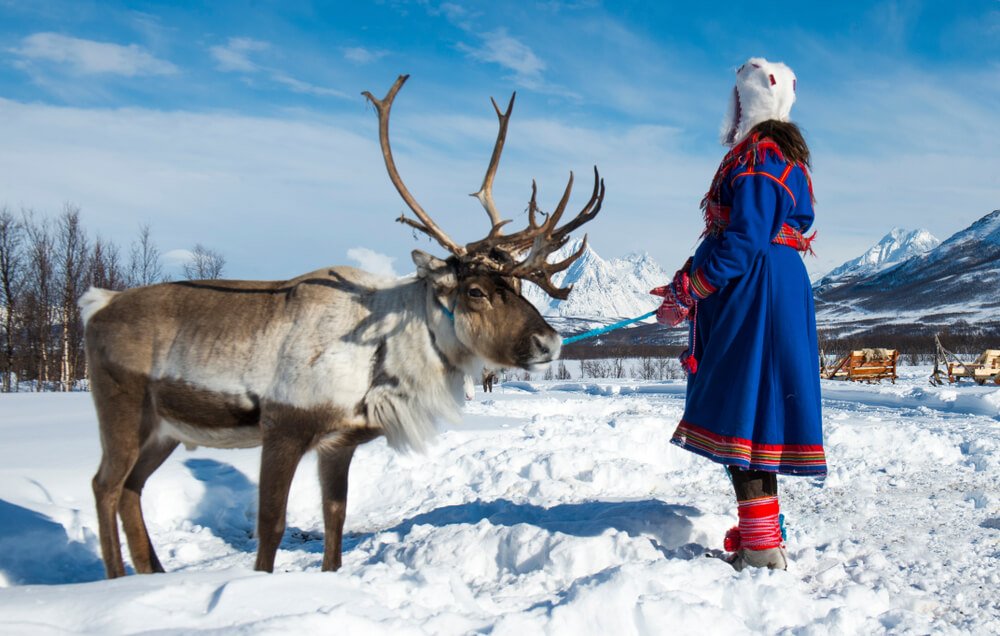 The relationship between the Sami people and the reindeer they herd is an integral part of their way of life to this day, and it has been for many hundreds of years — thousands, actually.
While the Sami still herd reindeer for subsistence as well as animal agriculture (reindeer is a popular meat in Norway), tourism has become another important part of the economic circle of reindeer farming.
As climate change has affected the Arctic at a rate more notable than other parts of the world, reindeer herding has become more difficult — and more expensive. 
The change in the climate has meant that many of the reindeer's traditional food sources have dried up, and the Sami reindeer herders have had to supplement their diet, which was previously all provided by the land.
As a result, tourism involving reindeer plays an important role in the winter, when the reindeer would have a difficult time finding food and their Sami herders would often have to supplement it with additional food.
At this time, many Sami herders bring their reindeer down from places further north — mostly around Karasjok, considered the Sami capital of Norway — down to Tromso so that tourists exploring "The Paris of the North" can do a day trip to visit reindeer.
In my view, reindeer tourism doesn't take away from the tradition of Sami reindeer herding but makes it more sustainable.
It gives reindeer herders access to other ways to making an income at a time when climate change and Norwegian policies are threatening the traditional practice of reindeer herding.
Is Reindeer Sledding in Norway Ethical?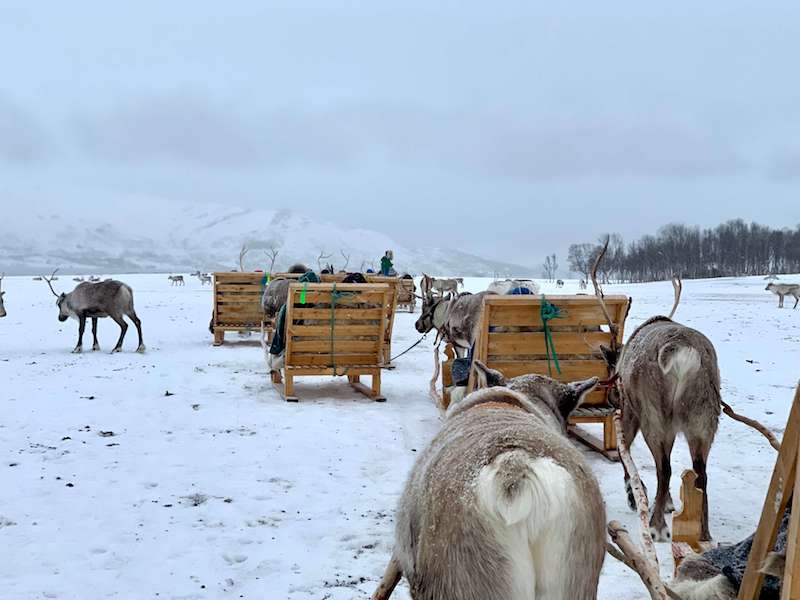 The question of ethics is always a difficult one and one that I try to answer for myself each time I partake in an animal activity.
For me, there are two questions I evaluate when determining if I think an animal activity is ethical.
The first question is: are these animals domesticated or is this going against their nature?
After that question is answered, the next question is: is the activity harmful for their wellbeing? 
I'll start by answering the first question. The Sámi people have herded reindeer for well over a thousand years.
The exact start of when Sámi began to herd reindeer is uncertain, but the earliest recorded history of the Sami interacting with reindeer was in the 800s.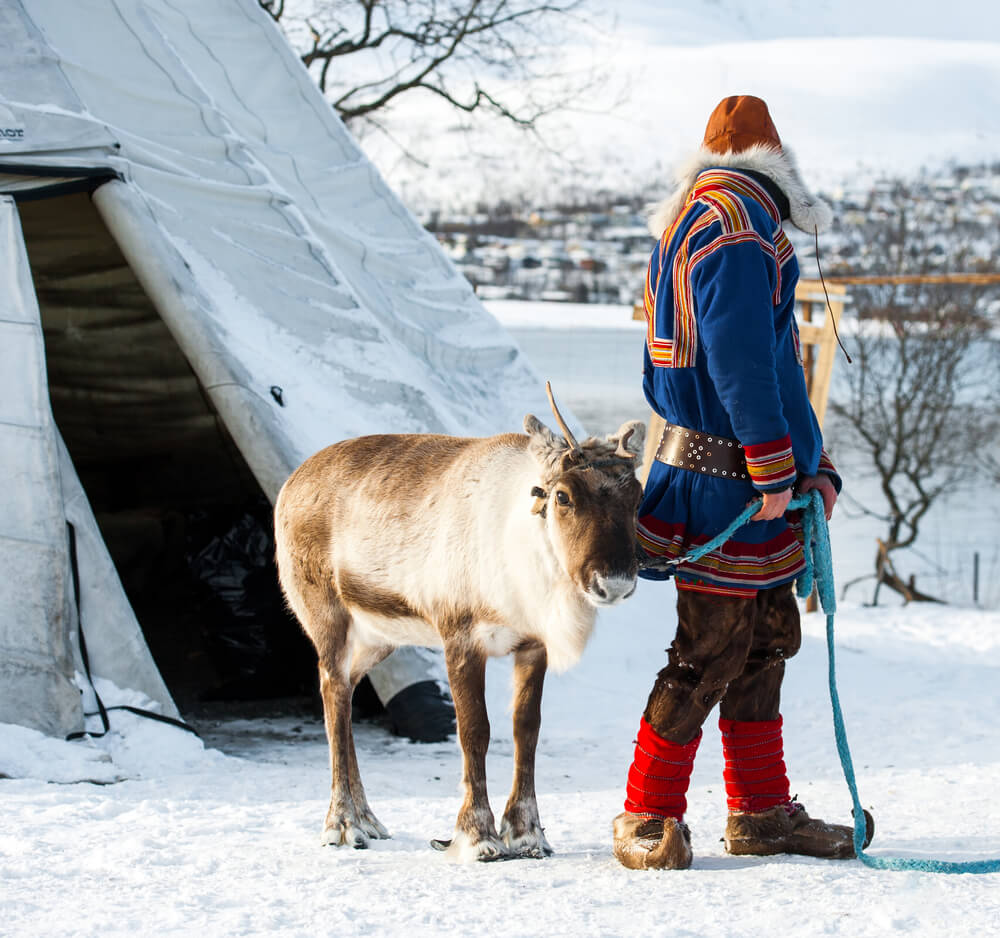 As per an article about reindeer herding: "In the 800s the Norwegian chief Ottar visited King Alfred and the English court and Ottar related to the king about the Sámi and that reindeer were domesticated and managed in herds.
This is the first written source of domesticated reindeer husbandry… However archaeological research is consistently pushing the date of domestication of reindeer and the development of reindeer herding further back in time." (Source)
So we've established that the Sami people have herded and domesticated reindeer for at least 1,200 years — perhaps even as many as 7,000 years.
That's long enough to say that these reindeer have been thoroughly domesticated, similar to horses.
The next question is, is reindeer sledding harmful?
Reindeer are strong animals that weigh up to 400 pounds.
Prior to tourists enjoying reindeer sledding as an activity, semi-nomadic Sámi herders would use reindeer sleds to transport materials across the Arctic landscapes. 
Reindeer sledding for tourist enjoyment is not really much different than what the Sámi were doing naturally before, transporting their housing materials, food, and other goods as they herded reindeer.  
In fact, the conditions for reindeer in tourism are almost certainly a good deal better than the conditions for reindeer not in tourism.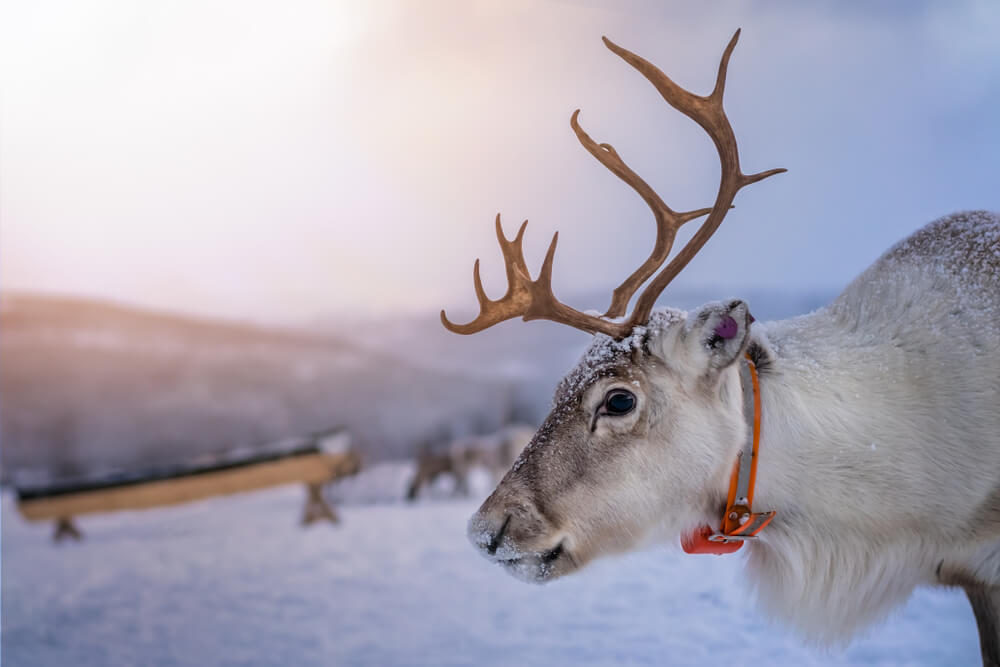 The reindeer on the reindeer farms do not have to go far or fast, and they pull the sleds for approx. 10-30 minutes maximum before resting.
After doing my research and participating in a reindeer sledding tour with a Sámi guide during my trip to Tromso, I concluded that reindeer sledding is within my personal ethical guidelines.
While reindeer don't seem to love pulling a sleigh the same way husky sled dogs do (does anyone?), I'd say it's similar to donkeys or mules pulling a cart (which is better for them than riding them).
If you're OK with that, I don't see why this is any different.
That said, if you're uncomfortable with reindeer sledding, you can still learn about Sámi culture, meet the reindeer, and support the Sámi guides who run these tours.
Allison Green is a former educator turned travel blogger. She holds a Masters in Teaching and a B.A. in English and Creative Writing. Her blog posts merge her educational background and her experience traveling to 60+ countries to encourage thoughtful travel experiences that both educate and entertain. She has been a speaker at the World Travel Writers Conference and her writing, photography, and podcasting work has appeared in National Geographic, CNN Arabic, CBC Canada, and Forbes, amongst others. Now based in the San Francisco Bay Area where she grew up, she has also lived in Prague, Sofia, and New York City.