I first visited Vienna in fall of 2009, when I was studying in nearby Prague.
I was enchanted with the city from my first sight of its rooftops, dazzled by the colorful mosaic roofs that bedecked the tops of Vienna's most beautiful churches.
Its museums also blew me away — something I was surprised by, after being spoiled for choice of museums, having a few years living in NYC under my belt.
And the pastries and cakes — oh, the cakes! That was when I knew I would revisit Vienna.
I returned to Vienna in December 2019, after a decade's absence, to visit my family who were visiting Vienna, and we enjoyed the stunning Vienna Christmas markets and festive atmosphere.
And if I initially thought Vienna in the fall was magical, Vienna in winter is truly the time to visit! Its festive markest and decorations, its delicious street food stalls serving käsespätzel and bratwurst and garlic soup in bread bowls — seeing Vienna in winter, even without snow, was even more magical than before.
There's something so romantic about visiting Vienna. It's the setting of one of my favorite travel movies of all time — Before Sunrise — an epic romance which spans three movies and several decades of the characters lives. And when you see Vienna for yourself, you'll know why!
This guide will walk you through all my favorite things to do in Vienna in winter to help you plan the perfect Vienna Christmas trip!
Vienna in Winter: 13 Best Activities & Things to Do
Shop (and eat everything) at the Christmas Markets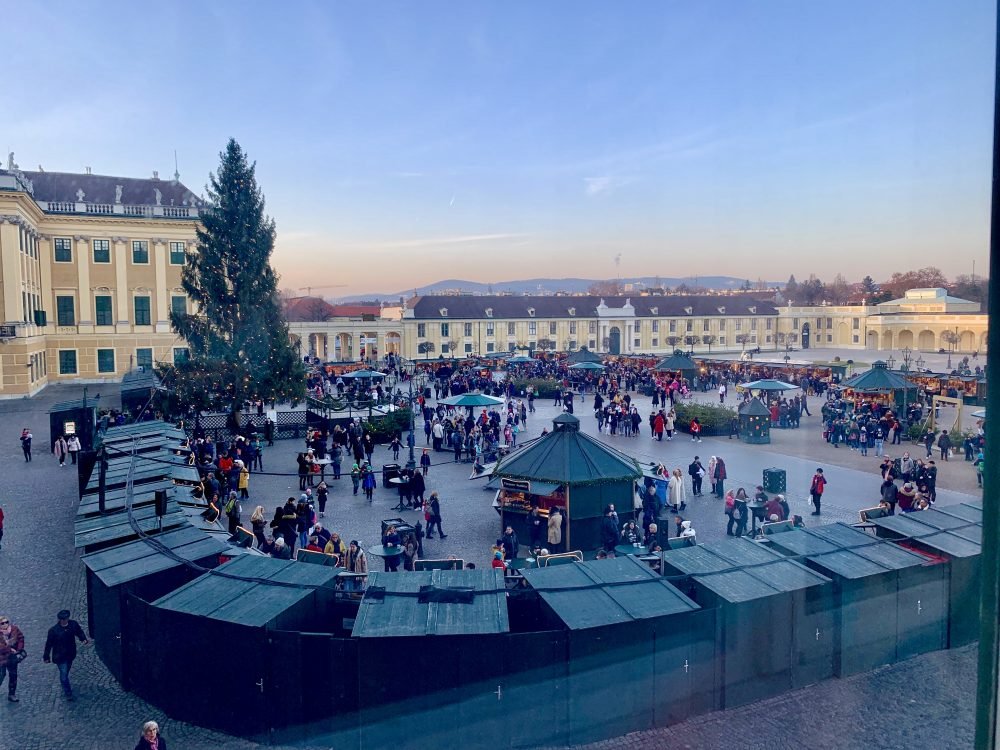 Note: This post contains affiliate links, which means I may receive a small commission if you purchase something through one of these links. Thank you for supporting the free content on this site! For more information on affiliate links and cookies, see my disclosure page for more details.
I've been to my share of Christmas markets in Europe at this point, and in general, they all run together for me.
However, Vienna Christmas Markets are easily the best I've experienced in all of Europe, better even than Germany's. Yup, I've said it and I'll stand by it!
The food at the Vienna Christmas Markets far exceeded my expectations.
I had a dreamy spätzel with butter, applesauce, and dusted hazelnuts at the Christmas market in front of Schönbrunn Palace, which was one of my favorite Christmas markets in the city.
There, I also had a phenomenal garlic soup – okay, the first of many delicious garlic soups.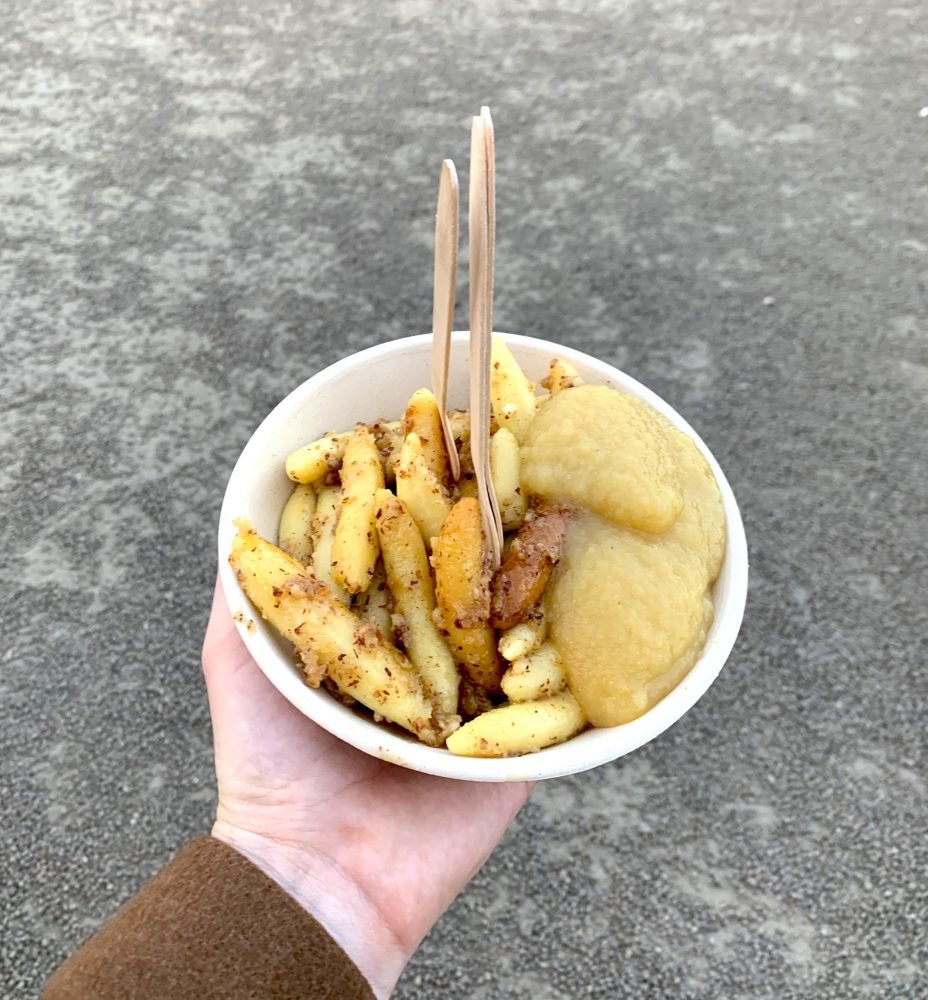 One of my other favorite Christmas Markets at the city was in Am Hof Square, which conveniently I happened to be staying right in front of!
The cheese bratwurst there was amazing (it sounds so wrong; it tastes so right), as was the käsespätzel from heaven.
The same stall that served the käsespätzel, Tiroler Hut, also served a fantastic pork and cabbage dish that blew me away. Other dishes worth trying are the raclette and the waffles.
The only Christmas Market I didn't love was the biggest one, the one in front of Rathausplatz.
It was crowded to the point where I basically grabbed my partner and fled the scene because I was on the verge of panicking.
If you don't mind crowds, you'll surely love it, but it made me really anxious!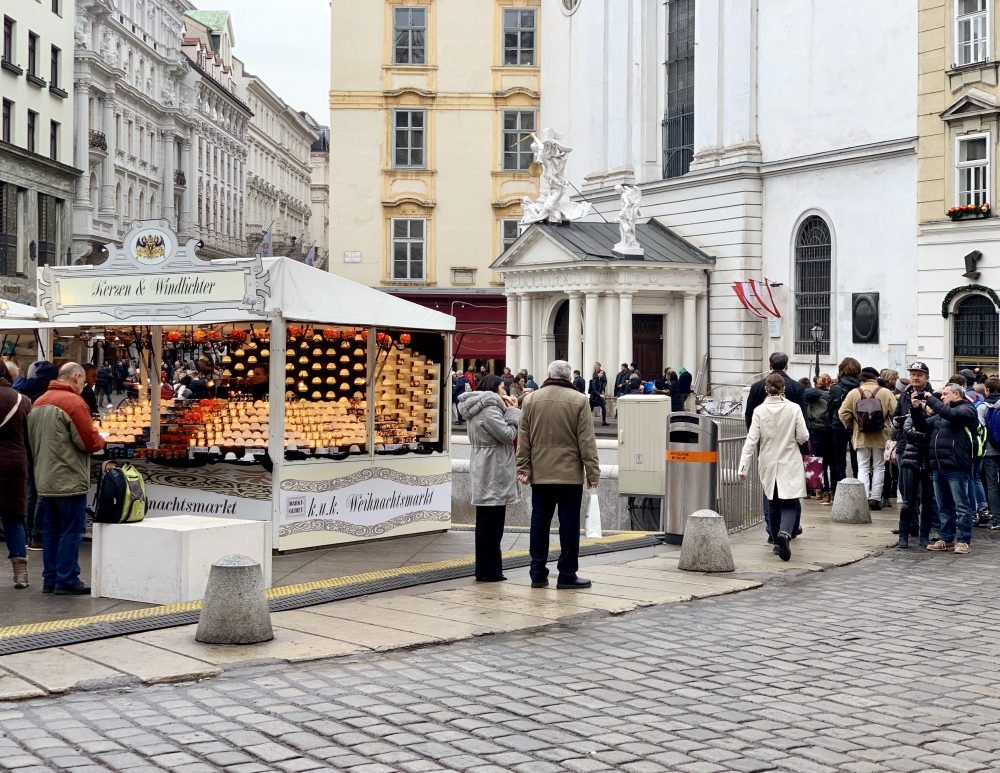 For central but less intense Christmas markets, there are also excellent smaller markets in front of the Spanish Riding School, Kunsthistorisches Museum, and St. Stephen's Cathedral.
For the souvenir-obsessed, the Christmas Markets also prove to be a fantastic place to shop.
We ended up taking home some beautiful ceramic mugs and an interesting figurine which is now staring at me on my shelf while I write this.
Walk the beautiful Ferstel passage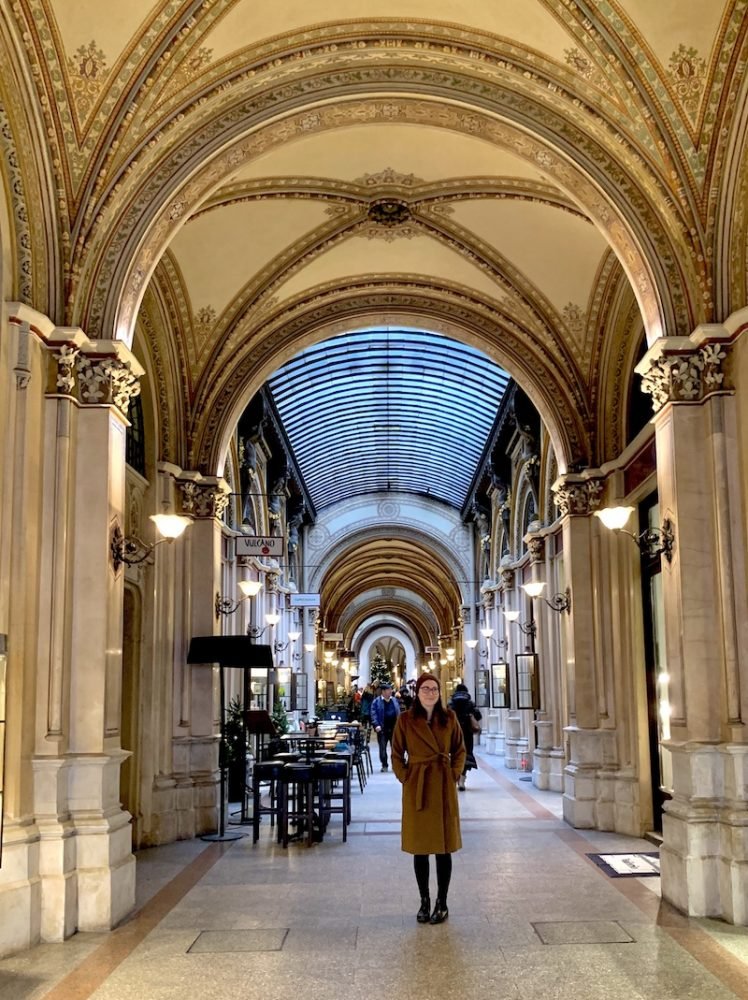 Similar to the covered passageways you'd find in Paris, Austria has its own gorgeous covered arcade, Ferstel Passage, that is one of my favorite places to escape the cold a bit and get lost.
It's located right near Am Hof Square, so it's quite a central location and definitely worth going slightly out of your way to visit.
The passage has pillars going all the way back, decorated with ornate marblework, with a stunning vaulted ceiling.
It leads you past several luxury shops, cafés (including one of the best coffee shops in Vienna), to a small interior courtyard with a fountain at its center.
On one end of the passage is the famous Café Central, the most famous coffee houses in Vienna.
And honestly, I can't recommend you go there, unless you have an insane stroke of luck and manage to visit when there's no line — every time I passed Café Central, it looked to be at least an hour's wait just for a table!
So my pro tip is to walk past the lines, stroll through the passage languorously, and then enjoy a line-free coffee at CaffèCouture, instead – it had one of the best flat whites I've ever had!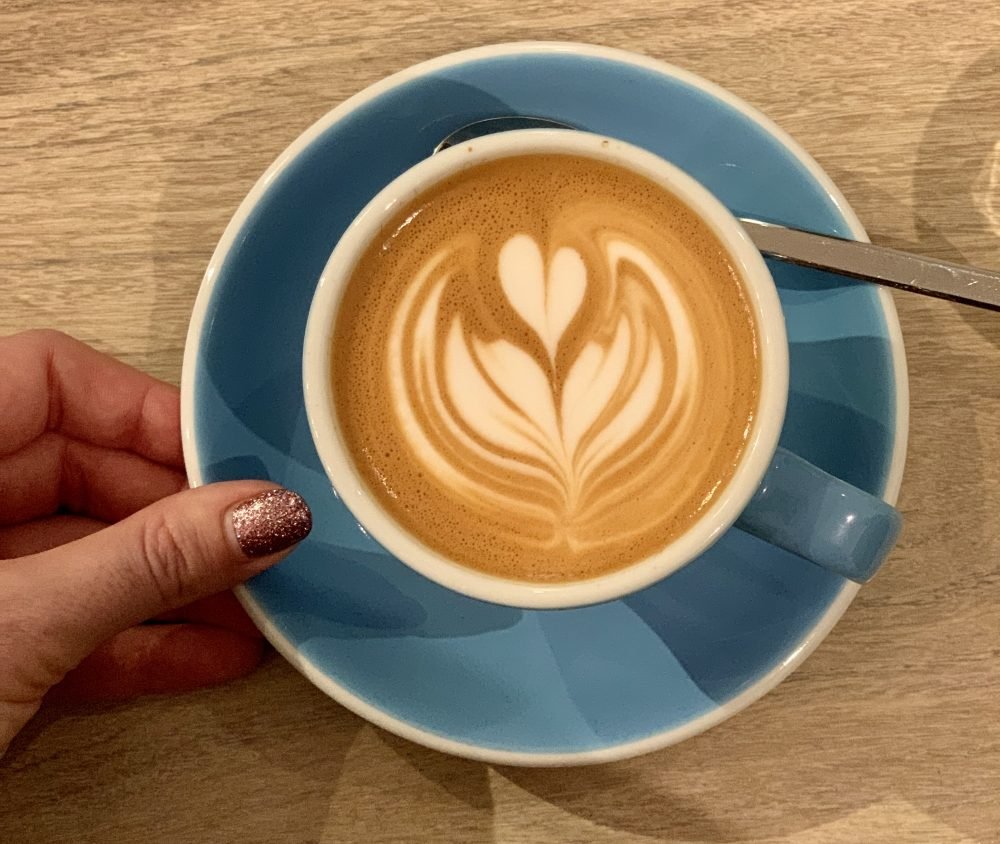 See a show at the Spanish Riding School
The first time I was in Vienna, I somehow never learned about the Spanish Riding School — which is a shame, because when I was younger, I was totally enraptured by horses.
Now a bit more weary of them after a few haywire horse rides, I was still utterly enchanted by the exquisite horsemanship skills of the riders at the Spanish Riding School, and seeing a show there was a highlight of my winter trip to Vienna.
The Spanish Riding School is quite a unique place: a gorgeous riding hall and stables smack dab in the middle of the city center, right next to the Hofburg Palace complex.
At the school, they use exclusively Lipizzaner horses as they have for centuries — a beautiful white stallion which originated from Slovenia but was bred for centuries by the Hapsburgs.
There are several options of how you can see the Lipizzaners, but my preferred way is at the show, when you can really see the horses in their element in the beautiful baroque Winter Riding School, which dates back to 1735.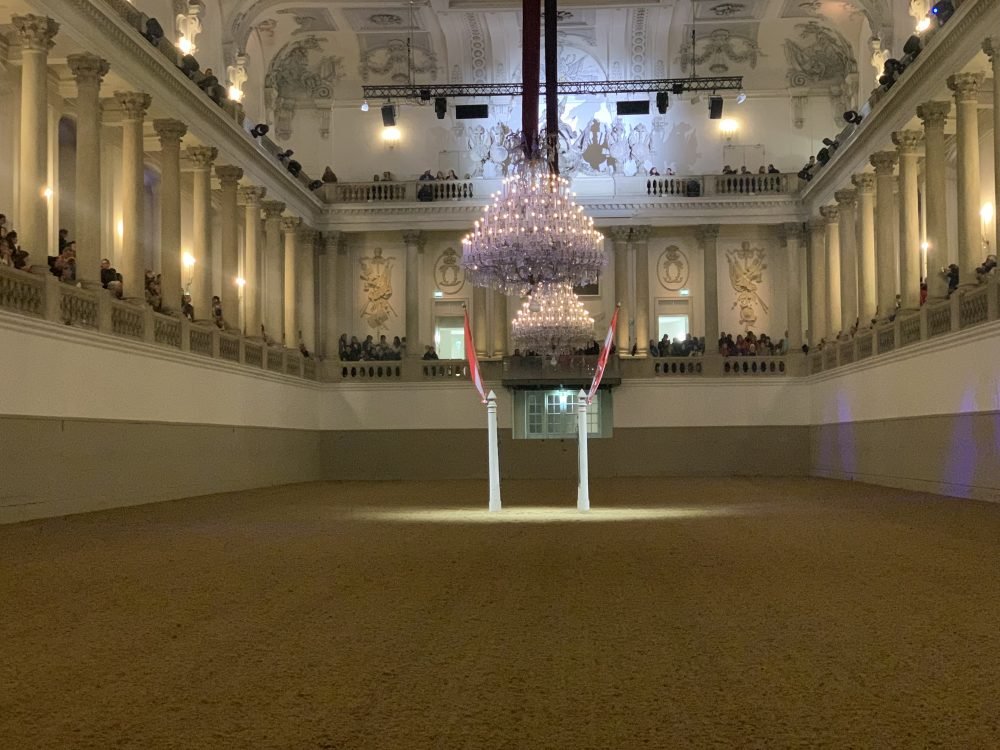 The performance lasts about an hour and a half and includes several different parts.
You'll get to see younger horses showing off basic gaits to the more seasoned stallions showing off dressage moves in a beautifully coordinated mirror image, called the 'pas-de-deux'.
Finally, the most interesting part is their school jumps, where the horses perform masterful jumps that really just have to be seen to be believed!
Book your tickets to the Spanish Riding School today, available on weekends only.
However, tickets to the show can be a bit expensive – if you want to save money, you can opt for standing room tickets, which are about half or a third of the price.
Alternately, you could also opt for the morning exercises which are less expensive though admittedly a bit less impressive as it's not as structured or rehearsed as the show, which shows both the riders and the horses at their finest. The morning exercises run every day except Monday.
A final option is a guided tour of the Spanish Riding School itself, which shows you both the winter and summer riding halls, the Stallburg arcade, and the stables of the Lipizzaners.
You'll even get to see the Lipizzaners up close, though there is a strictly no touching and no photos policy! These tours also run daily except Monday.
If you're not sure which sounds best and you want to read a guide about all the different options, I have a guide to visiting the Spanish Riding School and what you'll see at a performance here.
Get down on some glühwein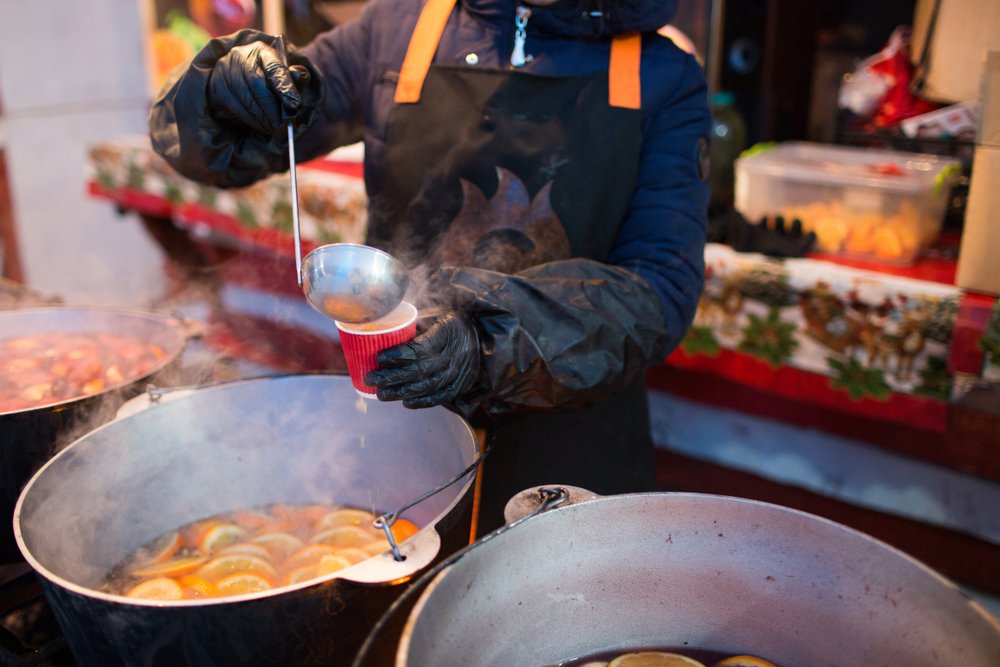 Every night in winter Vienna comes to life with people gathering at the Christmas Markets to enjoy glühwein, a hot mulled wine with spices, along with other hot beverages (including in some cases, perplexingly to my Brazilian partner, a hot caipirinha).
People will often gather at the Christmas markets in the evening (evening being a loose term, given that sunset in Vienna in December is around 4 PM…) and drink glühwein or other hot punches, alcoholic or otherwise, until around 10 at night.
Generally, the Christmas markets operate on a 'Pfand' (deposit) system. When you buy your first glühwein, you'll pay an extra 3 or 4 euros for a cute mug to drink your wine out of.
You can either keep it as a souvenir, you can refill your drink in it throughout the time you're at the market, or you can return your mug at the end of your market carousing to get your deposit back.
Marvel at the works at the Albertina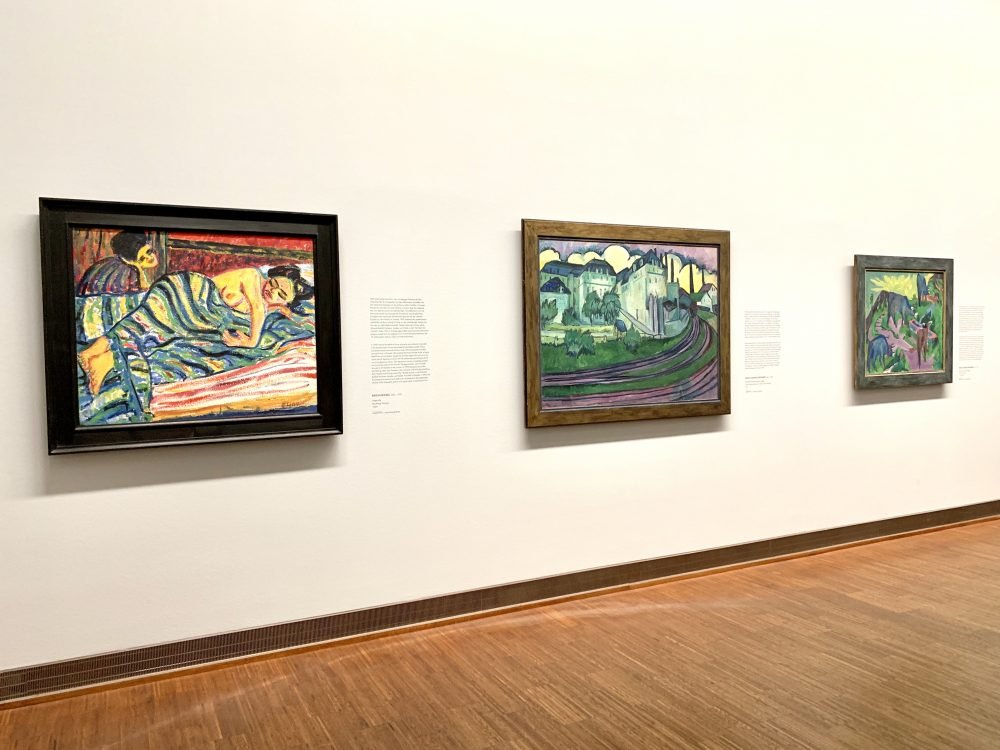 The Albertina is my favorite museum in Vienna – and in fact, one of my favorite museums in the world.
It contains an incredible collection of impressionist and expressionist art, which are two of my all-time favorite art movements.
Here, you'll find lots of Renoirs, Monets, Picassos, Munchs, Chagalls, and more — plus a nice contemporary collection as well.
You can pre-book your tickets here to avoid lines.
The temporary exhibits are often much more crowded than the permanent collection, so keep that in mind when planning your Albertina trip.
When I went, the Dürer collection was so full that it was pretty miserable to walk through, but everything else was pretty clear.
Entrance: €17 euro per adult | Free with Vienna Pass
Attend a classical concert
Vienna is known for its music… and how can it not be, being that it was the birthplace of Mozart?
A classy-(cal) way of getting out of the cold in Vienna is attending a concert! There are several classical music concerts, typically performed in different churches around the city.
One of the most beautiful venues is St. Anne's Church, a stunning baroque church with exquisite marble interior and gorgeous frescoes on the ceilings and walls.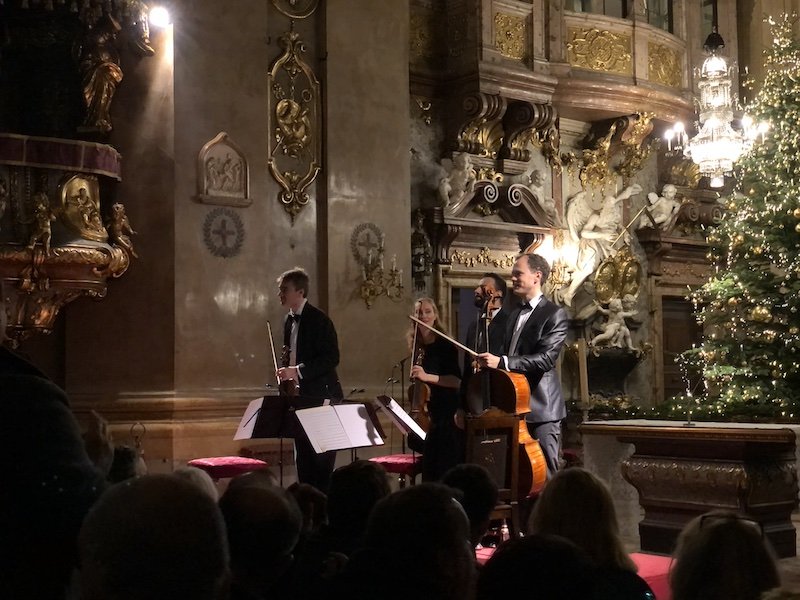 You can attend a 70-minute concert here, performed by the Viennese String Ensemble, which includes a selection of music from Mozart, Beethoven, Schubert, and others.
Shows begin at 8 PM and occur four times a week: Tuesday, Thursday, Saturday, and Sunday.
Another option is to see Vivaldi's Four Seasons performed by the Orchestra 1756 at the Karlskirche, another beautiful and historic church in central Vienna.
Shows generally are on Thursdays, Fridays, and some Tuesdays, but they often sell out up to a month in advance, so book your show early so you don't miss out!
There are several other options as well, such as Mozart's Requiem, the Vienna Residence Orchestra, and more, so classical music fans – or the classical music curious – will be spoiled for choice.
Have a traditional Viennese meal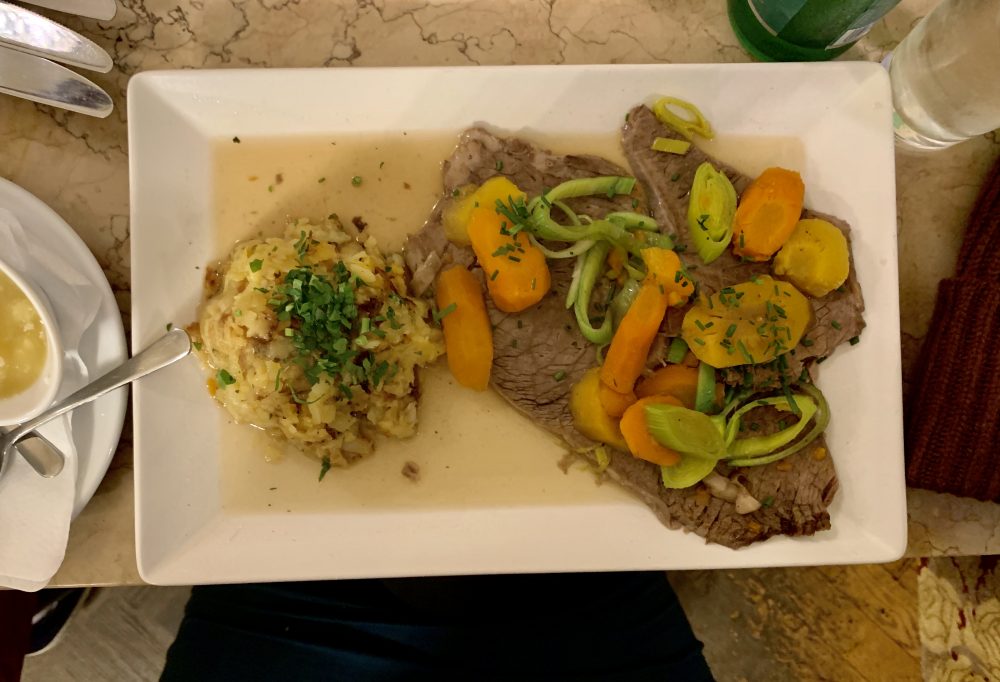 I'll be honest — Austrian cuisine is not my favorite.
There's nothing wrong with it, per se, but I just prefer my food a little more spicy and flavorful. That said, you should at least try Austrian food while in Vienna!
However, here are two stand-out Viennese dishes that I think are definitely worth seeking out while in Vienna (besides all the cake): boiled beef, which is much tastier than it sounds, and of course, Weiner schnitzel!
After all, the 'Weiner' in weiner schtnizel refers to Wien, aka Vienna.
I had a really nice boiled beef just opposite the Albertina, and you can have delicious weiner schnitzel just about anywhere in Vienna!
Get cultured at the Kunsthistorisches Museum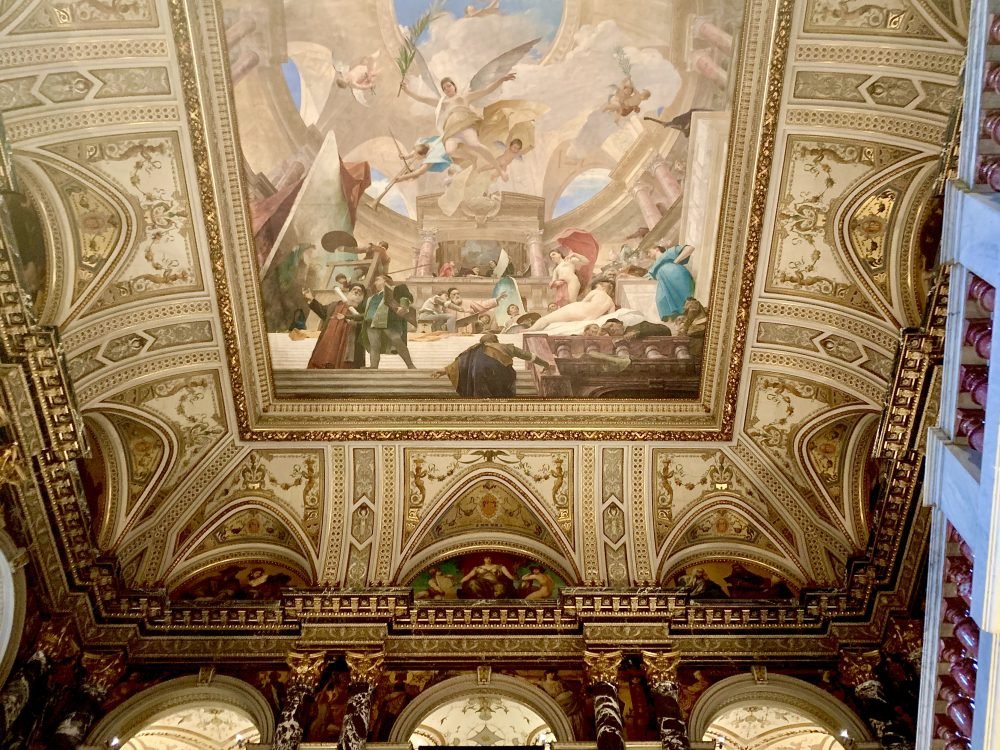 I'm not normally the type to recommend museum after museum, but Vienna truly has some of the best museums in the world, so it'd be a shame not to visit them.
Especially since if you're visiting Vienna in winter, you'll probably want to get out of the cold as much as you can!
The Kunsthistorisches Museum (Art History Museum) is full Vienna's older art collection, whereas the Albertina hosts newer pieces.
Here, you'll find the largest collection of Bruegels in the world, with 12 out of his 40-odd known pieces on display permanently.
But one of the coolest things is its gorgeous ceiling painting (shown above), as well as its wall panels supporting the roof featuring work from Gustav Klimt, one of Austria's most famous artists of all time.
Other classical artists like Rembrandt, Velazquez, and Dürer are also on display.
Cost: €16 for adults | Free with the Vienna Pass
Be stunned by the opulence of Schönbrunn Palace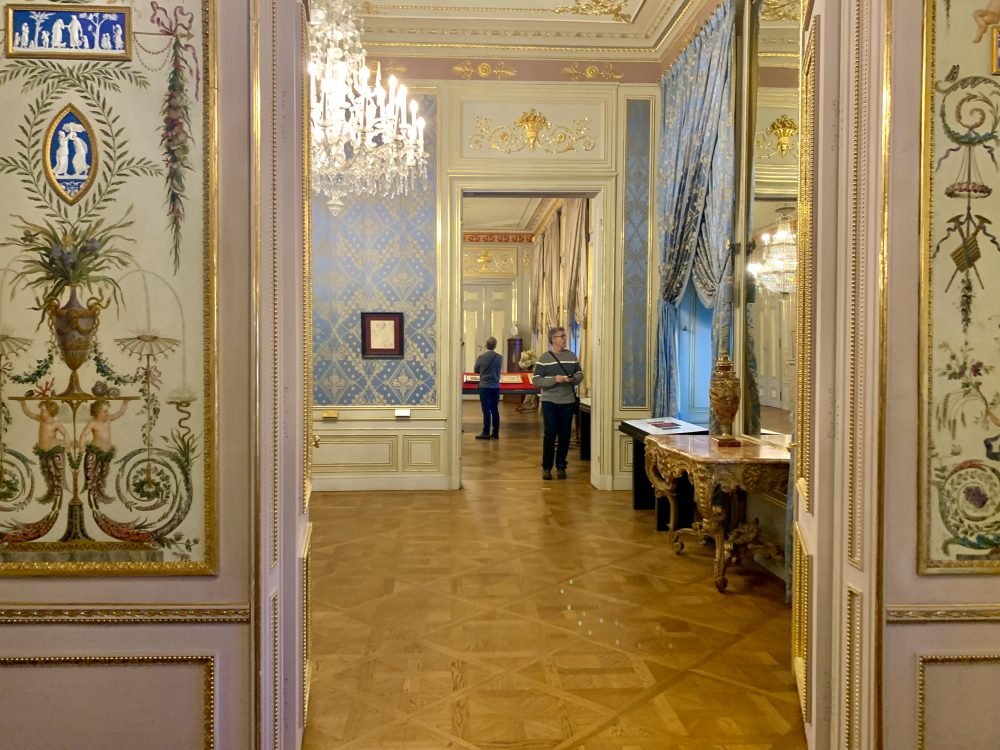 Located outside of the city center of Vienna, Schönbrunn Palace is entirely worth the detour. This exquisite palace was the summer residence of the Hapsburgs.
There are several options for how to visit Schönbrunn Palace, including two tiers of tickets. There are two main options: the Imperial Tour, which include 22 rooms, or the Grand Tour, with 40 rooms.
We opted for the Imperial Tour, thinking 22 rooms would be plenty and we'd avoid museum fatigue this way.
However, when we hit the end, we were a little bummed that we actually hadn't booked the full tour, as it was all so impressive!
You can book your ticket and go with an audio guide, as we did, but the problem is that lines can often be insane.
We got lucky and somehow managed to visit on a day where there wasn't much of a line (maybe because it wasn't a weekend), but the palace website says that lines can exceed three hours during peak times (and Vienna in December is definitely peak!).
Pro tip: For more historical context AND to skip the line, you can join a guided tour of Schönbrunn Palace. Book your tour here!
Another popular, albeit touristy, thing to do at Schonbrunn Palace is to check out the Strudel Show, which takes place at the court bakery where strudel was made for the royals for centuries!
The Strudel Show is a funny, quirky show where they show you how strudel is made before plopping down a hot piece of strudel in front of you with a piping hot beverage to enjoy!
If you're visiting Vienna in winter with kids, you'll definitely want to plan to visit this as well (it makes good bribery for getting them to visit the palace as well.)
(Window) shop 'til you drop on Der Graben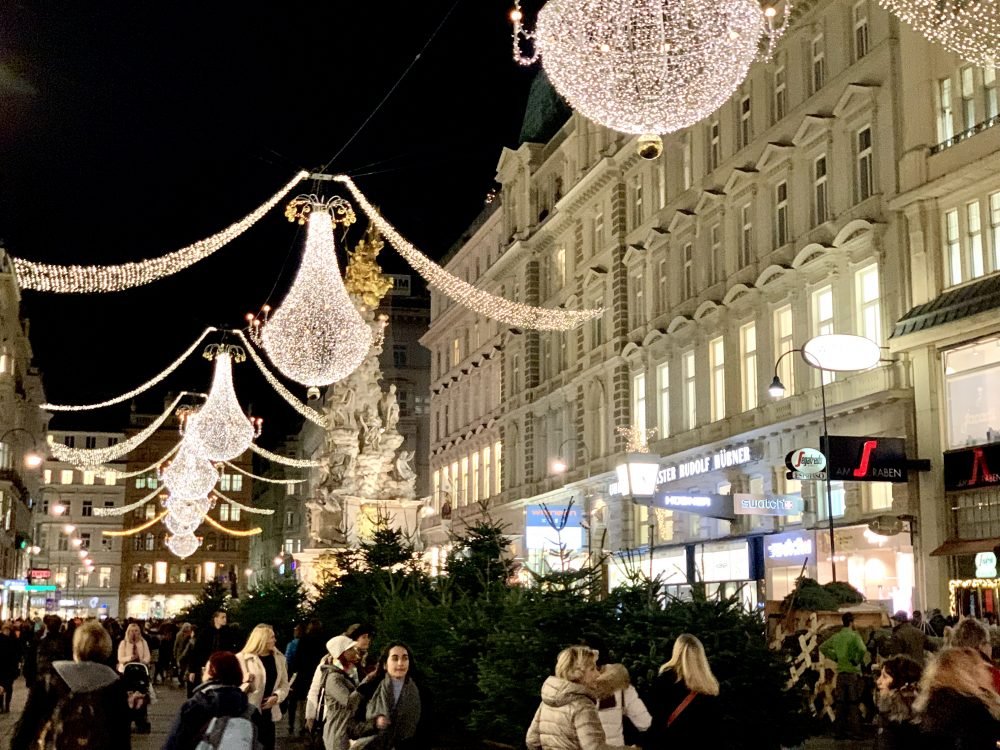 Vienna is fancy. And nowhere is that more evident than on Der Graben, one of the premier shopping streets of Vienna.
Der Graben is the heart of Vienna's shopping district, and several streets also worth shopping around radiate out from it.
You'll find everything from luxury brands like Prada and Chanel to high street fashion to smaller boutique designers as well.
You probably won't do much shopping here unless you have a very high limit on your credit card and a will to use it.
Still, it's really fun to window shop and wander through the street, marveling at all the crazy window displays.
Visit the St. Stephen's Cathedral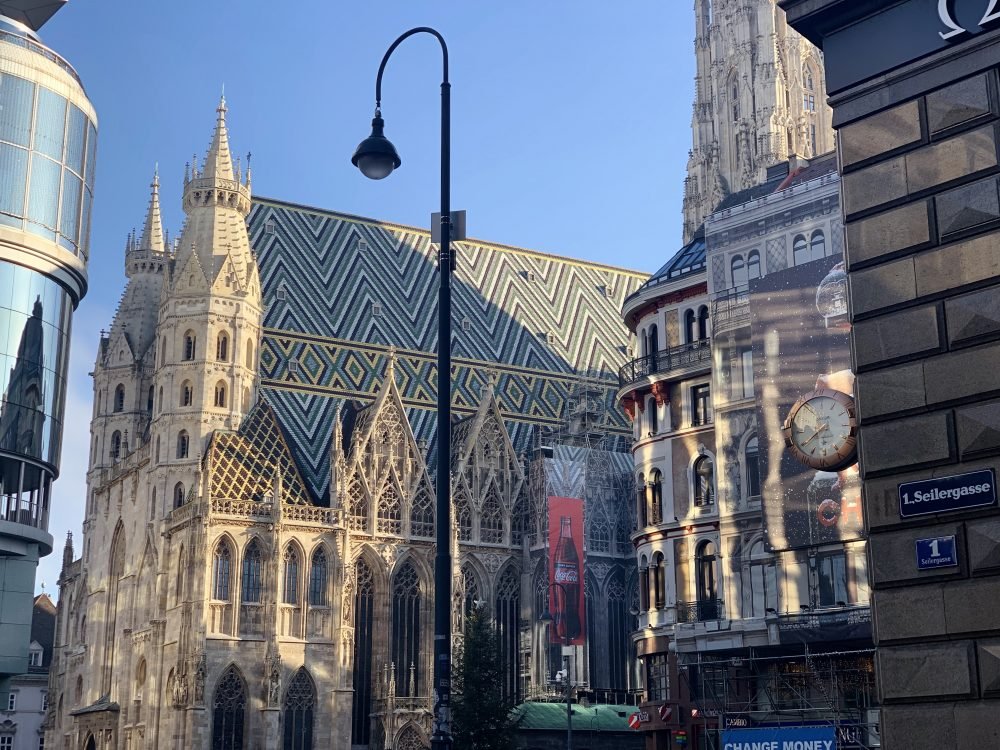 One of the most famous churches in all of Vienna, it's hard to miss St. Stephen's Cathedral – so don't!
This exquisite church was badly bombed during World War II, but it has been renovated beautifully. I mean, just look at that roof!
The interior is also exquisite, but for me personally, the roof is the main draw. Don't miss walking around its perimeter, as there's a really cute Christmas market there – the oldest in the city.
Take a fiaker around the center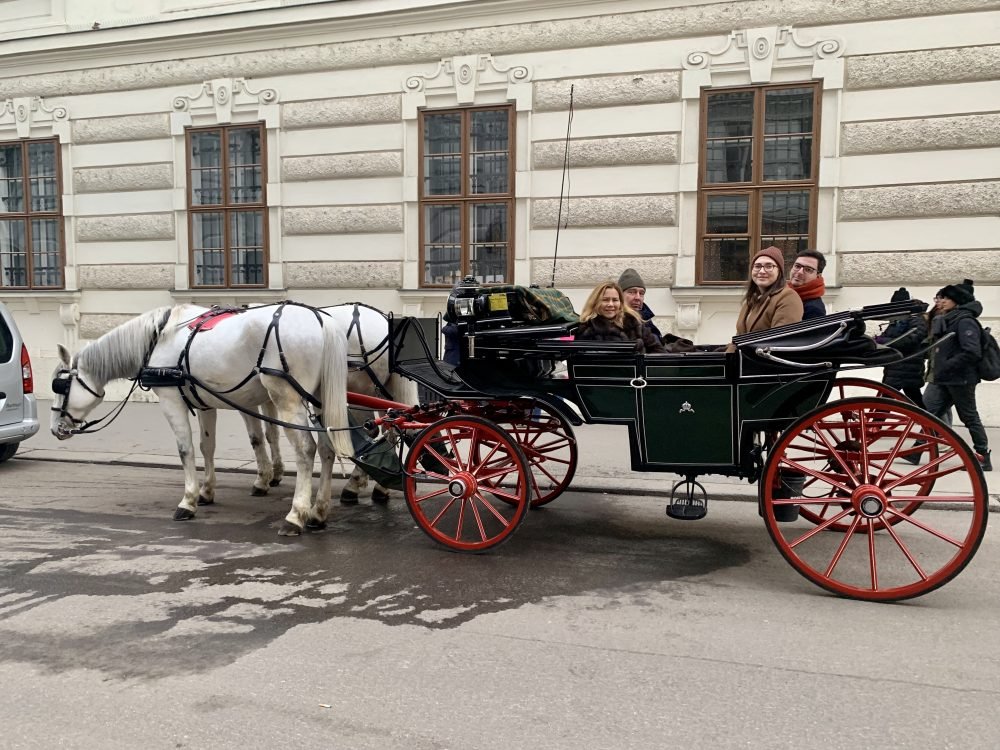 One of the major facets of central Vienna you'll see is the fiaker, a traditional horse-drawn carriage.
Once a necessity in pre-car Vienna, the fiaker is now a tourist attraction, and taking a carriage ride around the city center is a fantastic way to spend a winter Vienna afternoon.
We took a 15-minute carriage ride for 40 euro for 4 people — they also had 30-minute rides for 75 euro — which was a bit pricy, but it was well worth the fun experience! It's an especially great thing to do if visiting Vienna with kids.
The carriage we took was uncovered as it wasn't a very cold day, but if it's raining or snowing they'll put up the roof so you can enjoy it in any kind of weather.
The horses were well-loved and well-cared for, but as with any activity involving horses, check for signs that the horse is well-treated (healthy looking hair, skin, and hooves).
To get to see a little more insight on the carriage horses, check out this tour which lets you see the fiaker stables and learn about the history of these horse-drawn carriages before taking a carriage back into the city center.
Stop for some lebkuchen!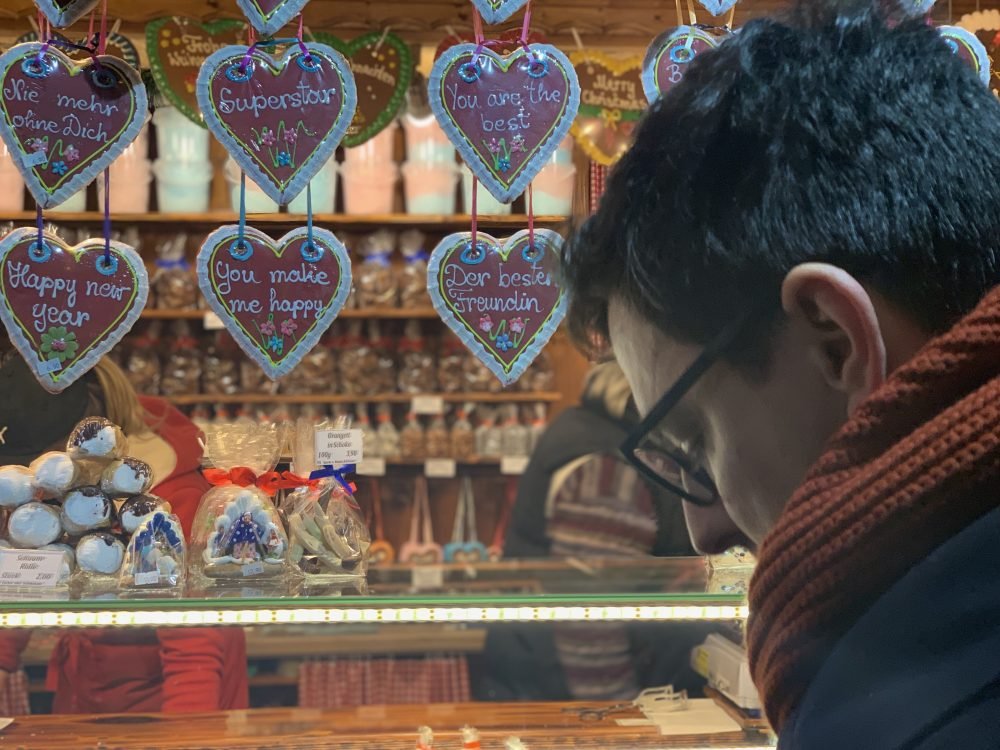 Lebkuchen, aka gingerbread, is a delicious souvenir of your time in Vienna and it can be found at any of the city's Christmas Markets.
There are several ways you can get your lebkuchen, including traditional which is generally un-iced.
However, the cutest way to get it is generally frosting covered with sweet wishes on the front in either German or English!
Where to Stay in Vienna in Winter
Vienna's city center is compact and easily transited by foot or metro, so there's no shortage of excellent accommodation options.
I'll let you know where we stayed first, then I'll share some other options for different budgets.
Where We Stayed
We stayed at the peerless Park Hyatt Vienna right across from Am Hof Square with its amazing Christmas Market.
Honestly, I think it's up there as one of the nicest hotels I've ever stayed at in my life!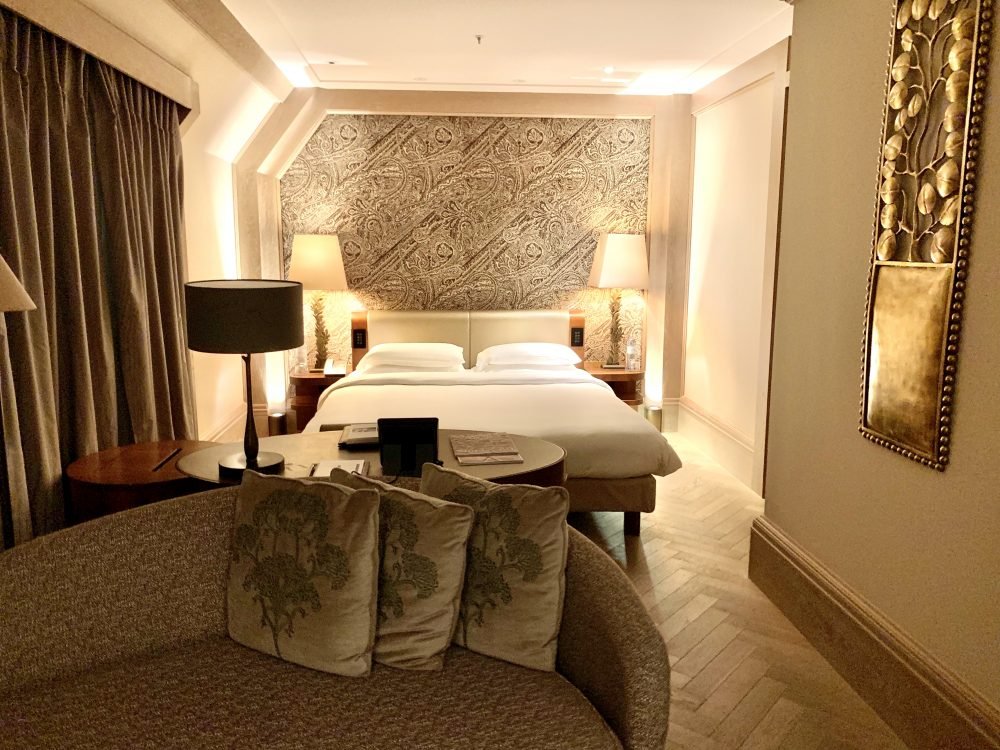 The breakfast buffet spreads and the breakfast in bed were both equally phenomenal, the rooms were basically like mini-palaces, the bathrooms were gorgeous with a marvelous tub, and everything was controlled electronically which basically made me feel like I was in the future.
I had dreamed of staying in a Park Hyatt since seeing Lost in Translation and it lived up to my every expectation of it and more.
Other shout outs go to the incredible spa center with an excellent steam room, sauna, and rain shower with a gorgeous indoor pool, the amazing on-site restaurants and their daily tea time, and excellent personalized service.
Where to Stay on a Budget
Of course, there are more budget-friendly options in Vienna — the Park Hyatt was where we stayed as it was a special occasion having my family meet my husband for the first time (since we eloped!).
The first time I stayed in Vienna, I was a backpacker and chose the Wombats Hostel and have nothing but positive memories of it (even though it's basically the polar opposite of the Hyatt).
It's a great hostel chain, social but not party-centric, with all the amenities you'd expect in dorms and also lovely double rooms at a budget-friendly price, perfect for friends or couples who don't want to share a dorm room.
Check prices, reviews, and availability of Wombats Hostel here
Where to Stay on a Mid-Range Budget
If you want something between a hostel and a five-star hotel, Vienna has tons of wonderful and unique options that won't break the bank.
Motel One is a trendy boutique hotel chain with a few options around Vienna – there's one by the Hauptbanhof (great if you're going to travel around Austria a bit) as well as one near Westbanhof.
Both offer sleek, design-focused, super-comfortable double rooms for around 100 euro a night, with lovely boutique touches and central locations near major transit hubs.
What to Wear in Vienna in Winter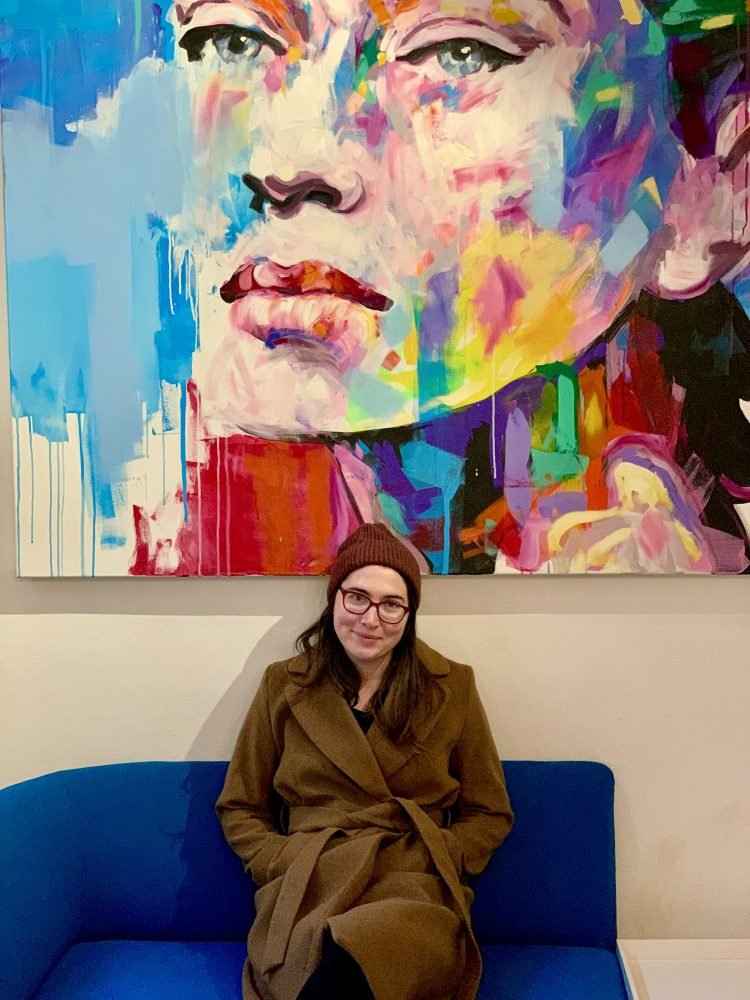 It was an unnaturally warm December in Vienna this year!
I wore a dress, leggings, boots, hat, and warm wool coat basically every day and was always warm. I didn't even need a scarf most days!
However, winter temperatures in Vienna are usually colder than that.
As I write this post now, Vienna in January will range from -5° C to 7° C this week (25° F to 45° F), but when I was in Vienna in December, it was more like 10° C all week — 50° F!
Here's what I recommend packing so you don't get too cold in Vienna in winter:
A jacket: It depends how warm you want to be! I love my North Face parka; I've had it for seven years and I'm absolutely obsessed. It's pricy to be sure, but it comes with a lifetime guarantee. However, Vienna was too warm for a down jacket during my recent visit so I was fine with a regular wool peacoat.
Warm boots: Despite the picture of a snow-covered Vienna you may have in your head, winter is not typically super snowy. For this reason, you can get away with a stylish pair of waterproof leather boots, which are warm and comfortable yet sleek and stylish. I'm obsessed with these Blondo waterproof leather boots and have owned them for literally decade. This is the exact style I own – a classic equestrian boot in a waterproof, insulated, well-tractioned shoe.
Fleece-lined knit hat: I live in several different colors of knit hats in the winter. Since your jacket is likely a dark or neutral color, it's fun to liven up your look (and photos) with a colorful hat or two. I like a snug knit hat lined in fleece.
Warm leggings: You have two options for ultra-warm leggings in winter – fleece-lined for people with sensitive skin like me, and merino wool for people who don't find wool itchy like I do. I own several pairs of these fleece-lined leggings in a variety of colors (I have black, gray, and maroon). If it's really cold I may wear these layered underneath some jeans. For people who like wool, merino wool leggings are the way to go – the absolute warmest you can get.
Thermal tops: Again, this'll depend on if you like wool or not. I don't, so I go for thin performance thermals like this Heat Plus layer from 32 Degrees. However, if you're a fan of wool, a merino wool base layer will keep you insanely warm.
An enormously wrappable scarf: The bigger and thicker the scarf, the better. I tend to opt for bright, bold colors to liven up my look.
Touchscreen friendly globes: Taking off your gloves to use your phone when navigating on Google Maps, looking up something you've bookmarked, etc. is so annoying. Most gloves these days tend to be touchscreen-friendly, but check before you buy. These gloves are adorable, smartphone-compatible, and affordable.
Don't Forget Travel Insurance!
When planning any trip, especially a winter trip, be sure not to forget about travel insurance!
I use SafetyWing and its Nomad Insurance to insure all of my trips for its affordable rates and comprehensive coverage for all my travel needs.
With the unpredictability of winter weather, and the prevalence of flu bugs and other viruses spreading in winter, I think it's a must, not a should!
It provides both travel insurance (coverage for trip delays, cancellations, interruptions — the likelihood of which increases in winter) and travel medical insurance (coverage for things like accidents, illnesses including Covid, etc. — also more likely in winter!).
Coverage is really affordable — for me, it costs roughly $11 USD for a week of coverage outside of the U.S., with a policy max of $250,000 after a deductible of $250. Not bad!
Allison Green is a former educator turned travel blogger. She holds a Masters in Teaching and a B.A. in English and Creative Writing. Her blog posts merge her educational background and her experience traveling to 70+ countries to encourage responsible, enriching travel. She has been a speaker at the World Travel Writers Conference and her writing, photography, and podcasting work has appeared in National Geographic, CNN Arabic, CBC Canada, and Forbes, amongst others. Now a full-time traveler, she has lived in Prague, Sofia, New York City, and the San Francisco Bay Area.