Prague will always hold a special place in my heart, since I lived in Prague for six months while studying abroad in my junior year of college.
I dove enthusiastically into life in Prague, learning (slash butchering) Czech, eating ridiculous amounts of česnečka, and confirming the propaganda that Prague is, indeed, a place where beer is cheaper than water.
I didn't know it at the time, but living in Prague that semester would change my life.
It was the catalyst that brought me to Europe, time and again, and sparked my love in particular for post-communist Central and Eastern European countries.
It got me deeply interested in Slavic languages, which would later be convenient when I moved to Bulgaria eight years later.
Still, it wasn't all roses. I fell in love with summer beer gardens and fall young wine harvests, but winter took me a while to come around on.
While I loved living in Prague, I was taken aback by how insanely cold Prague was in winter.
Even after having survived my first two winters in New York, if it weren't for svařák (hot mulled wine) sold on the street corners, I likely never would have left my Prague dorm in winter.
While I think Prague is a magical city any time of year, I eventually came to think of Prague in winter as Prague at its best… despite being a pansy Californian who reaches for a thick jacket any time the mercury dips below 50°F / 10°C.
Gone were the hordes of tourists who clustered around the Astronomical Clock like – well, clockwork – at the turning of every hour. The tour groups that clustered in the Old Town and around Charles Bridge magically got smaller day by day as the temperature dropped. And the snow that once captivated me and quickly became abhorred in New York (you'd understand if you ever saw the horror that is a NYC slush puddle on the first warm day after a blizzard) was actually magical again in Prague.
Note: While I know the Czech Republic has officially adopted the name Czechia, I've been told by Czechs that calling the country the Czech Republic is still very much acceptable.
In fact, many Czechs feel lukewarm or even don't like the name change to Czechia and still call their country Česká republika when speaking.
I've chosen to call it the Czech Republic, as that's how I think of the country having lived there during a time when that was its unequivocal name. In terms of how I think of it in the future, only time will tell whether the Czechia name catches on!
What to Wear in Prague in Winter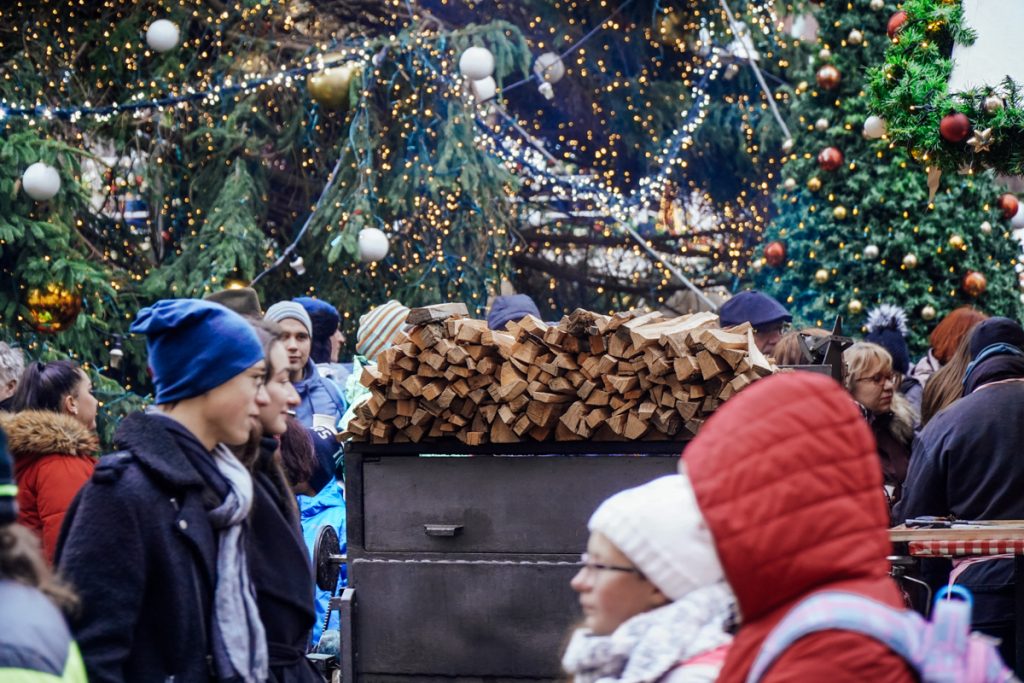 Note: This post contains affiliate links, which means I may receive a small commission if you purchase something through one of these links. Thank you for supporting the free content on this site! For more information on affiliate links and cookies, see my disclosure page for more details.
In the winter, Prague is cold, cold, cold!
The average high in December through February is around 36-40 °F (2-4 °C), and the average low is 29-32 °F (-2-0 °C).
So, you'll definitely want to bundle up – this is not the time to try to look cute in a peacoat, guys. (Trust me, I tried and it was miserable.)
If you're coming from a cold climate (Canada, the Midwest, the East Coast) you will likely be decently equipped to dress for Prague in winter. But if you live somewhere where winter temperatures are a lot more pleasant, you'll want to be sure to pack properly.
I have a full winter in Europe packing list here, but I'll list a few essential things to pack for Prague in winter here.
A down jacket
In my (perhaps slightly California-stunted) opinion, a parka is a must in the winter. I've owned my North Face parka for seven years and I'm absolutely obsessed.
It's pricy to be sure, but it comes with a lifetime guarantee (which I've tested by sending in my zipper to be fixed after four years of use and abuse cycling in it all winter long – my jacket came back looking like new!).
If you are on a budget, you can substitute a down jacket liner underneath the warmest jacket you own, but this won't be nearly as warm as a parka.
Warm boots
Despite the picture of a snow-covered Prague you may have in your head, winter is not typically super snowy.
For this reason you can get away with a stylish pair of waterproof leather boots, which are warm and comfortable yet sleek and stylish.
I'm obsessed with these Blondo waterproof leather boots and have owned them for literally decade.
This is the exact style I own – a classic equestrian boot in a waterproof, insulated, well-tractioned shoe.
Fleece-lined knit hat
I live in several different colors of knit hats in the winter.
Since your jacket is likely a dark or neutral color, it's fun to liven up your look (and photos) with a colorful hat or two.
I like a snug knit hat lined in fleece and with a pom pom that does nothing to add warmth but tons to add cuteness.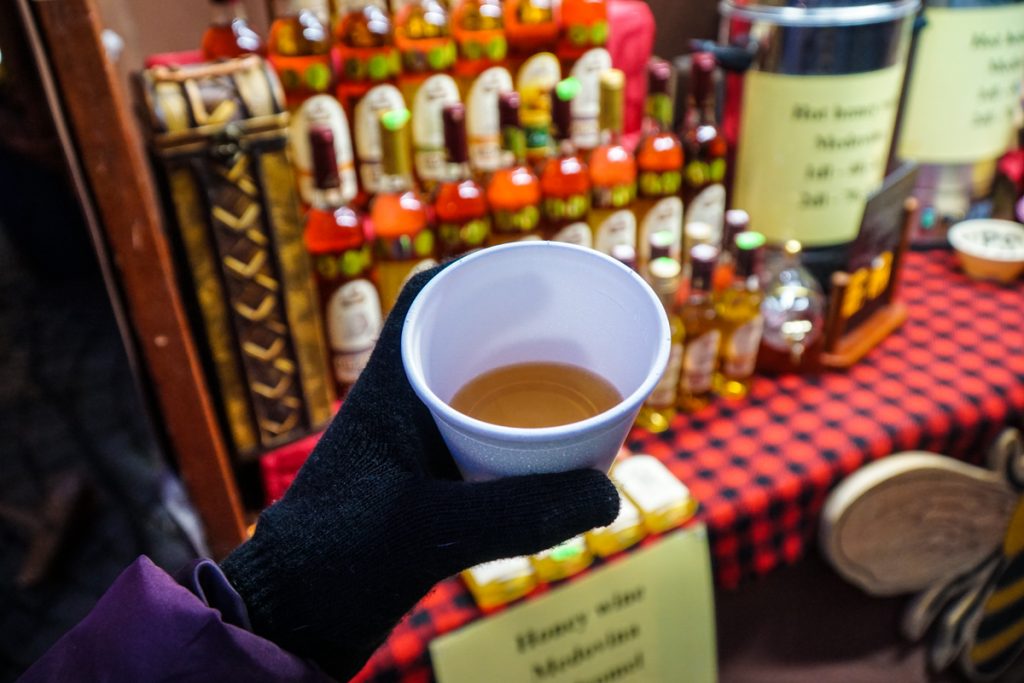 Touchscreen friendly gloves
Taking off your gloves to use your phone when navigating on Google Maps, looking up something you've bookmarked, etc. is so annoying.
Most gloves these days tend to be touchscreen friendly, but check before you buy.
These gloves are adorable, touchscreen-compatible, and affordable.
Warm leggings
You have two options for ultra-warm leggings in winter – fleece-lined for people with sensitive skin like me, and merino wool for people who don't find wool itchy like I do.
I own several pairs of these fleece-lined leggings in a variety of colors (I have black, gray, and maroon).
If it's really cold I may wear these layered underneath some jeans.
For people who like wool, merino wool leggings are the way to go – the absolute warmest you can get.
Thermal tops
Again, this'll depend on if you like wool or not. I don't, so I go for thin performance thermals like this Heat Plus layer from 32 Degrees.
However, if you're a fan of wool, a merino wool base layer will keep you insanely warm.
An enormously wrappable scarf
The bigger and thicker the scarf, the better.
I tend to opt for bright, bold colors to liven up my look.
Things to Do in Prague in Winter
Browse the Prague Christmas Markets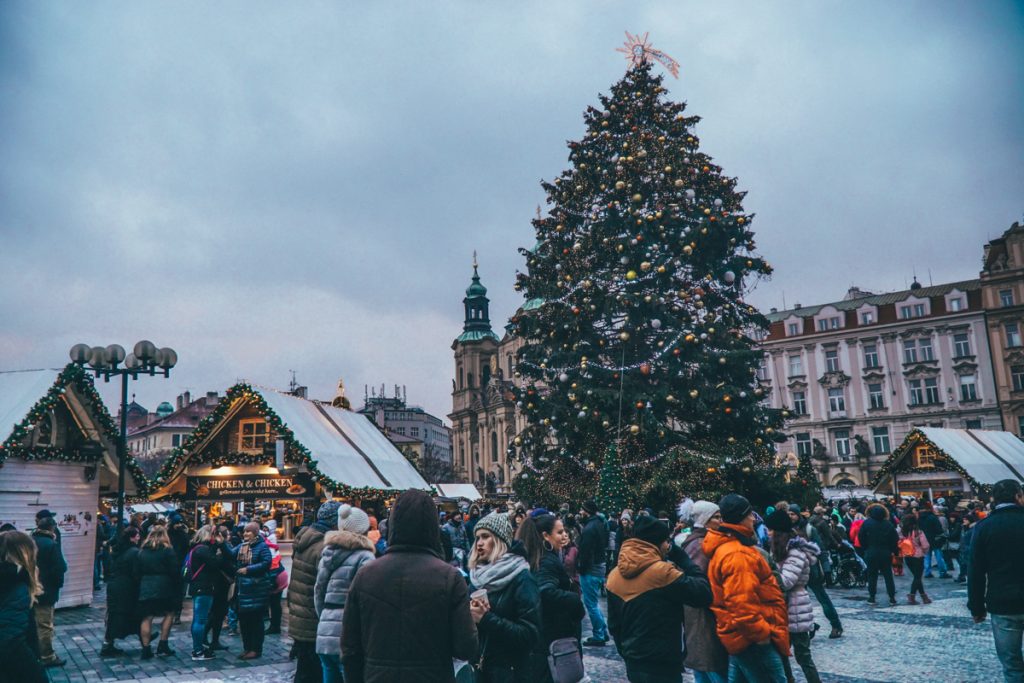 If your Prague winter trip happens to overlap with the Christmas markets, you're in luck – this is one of the best times of year to visit Prague!
However, keep in mind that you'll also be among several thousand of your closest tourist friends.
Prague in December and early January is peak winter season (Prague empties out again in mid January and Feburary).
Despite the crowds in winter, Prague's atmosphere – already charming and lovely – becomes even more festive.
You'll be delighted as Czech meals and drinks are doled out by market vendors and craftspeople sell their Christmas-themed ornaments and trinkets, all clustered around an enormous, insanely blinged-out Christmas tree.
That said, on weekends, visiting the Old Town of Prague is especially chaotic.
While I found the main Christmas market area tolerable during the weekdays, it had me running for safe haven in a craft beer bar on the only Saturday I spent there.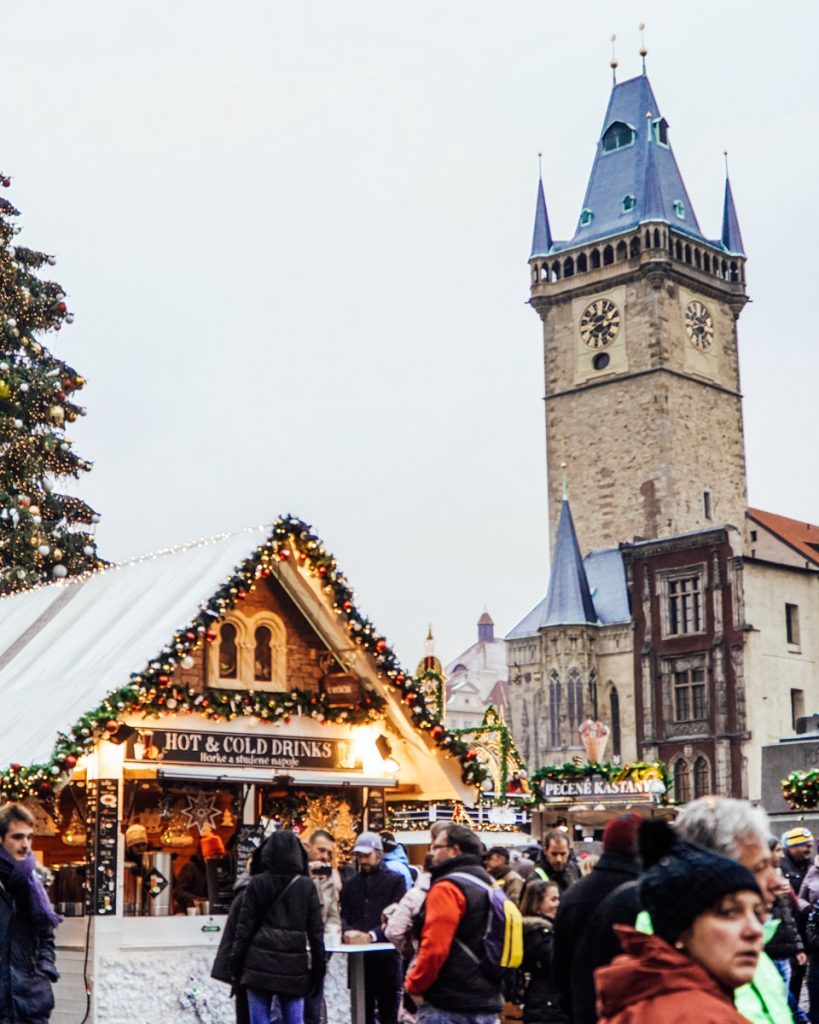 If you have a few days in Prague around Christmas and want to see the markets, I recommend spending your weekdays around the Old Town area.
On the weekends, visit off the beaten path parts of Prague or at least visit the less crowded Christmas markets.
To avoid crowds, I'd recommend the area around Jiřího z Poděbrad, Náměstí Míru, the markets just to the left when you cross the Charles Bridge in Malá Strana, and the area around Palladium Shopping Mall.
None are totally "offbeat," but they won't be nearly as crowded as the Old Town.
Insider Tip: If you're visiting Prague in January, one added bonus is that the Christmas markets in Prague have one of the longer runs of all the Christmas markets in Europe!
The markets stay open weeks after Christmas and well into the New Year in order to coincide with Eastern Orthodox Christmas, which falls on January 7th.
The crowds will be reduced as many people don't realize the markets run past Christmas!
One word of warning: Be very careful when visiting crowded Christmas Markets, especially on weekends when everyone from nearby cities comes in to enjoy the magic!
Unfortunately, it creates an atmosphere where pickpockets can work their magic easily, so keep aware of your belongings and make sure thieves can't get you — that's a sure way to ruin the Christmas spirit!
While travel in Europe is safe, pickpocketing is a major issue. Thwart would-be pickpocketers with a chic, sleek backpack with double-interlocking zippers, slash-proof construction, & RFID blockers! I've carried this PacSafe backpack to 30+ countries with me, and it's my #1 travel companion. Pick from one of seven colors — I have and love the classic black one!
The main Christmas market is in Old Town Square (Staroměstské náměstí). There are also smaller markets in Wenceslas Square (Václavské náměstí), Republic Square (Náměstí Republiky), and Peace Square (Náměstí Míru), as well as a few others around the city.
Fun fact – the escalator at Náměstí Míru is the longest escalator in Europe, and takes a whopping 3 minutes to go up, even though the elevator goes crazy-fast. Definitely worth a visit!
Note: The trdelník you see everywhere on Instagram is not traditional to Prague, but rather an import from Hungary, where they are called kürtőskalács– and ice cream is definitely not traditionally served with either!
If you'd like to taste a true Czech dessert, be sure to try fruit-filled dumplings, called ovocné knedlíky. It's one of my favorite Czech treats and it's ultra-traditional!
Explore the magical Prague Castle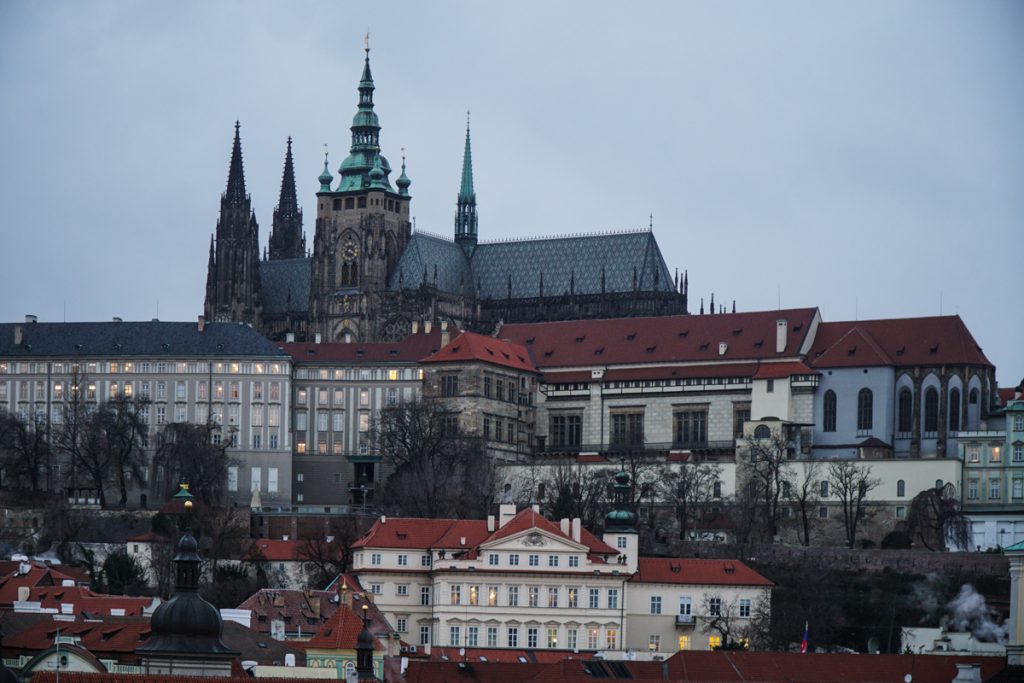 Ahh, Prague Castle. This place is a straight–up fairy tale every day of the year, even despite the insane crush of tourists.
But in the winter, Prague Castle is even more ridiculously gorgeous, especially if you're lucky enough to see the city with a dusting of snow.
One of the biggest and most-loved castles in the world, Prague Castle is home to an enormous amount of history, secrets, and treasures, making it a worthwhile stop despite the crowds and price.
While visiting Prague Castle, you can't miss the St. Vitus Cathedral, which is considered to be one of the most beautiful in the world, with gorgeous paintings and stained glass windows.
It's truly majestic to visit, with an air that inspires an air of awe and silence, even as people around you photograph away madly.
The Old Palace Hall and Vladislav Hall, with its cheery yellow facade, are both lovely to visit and great places to take photos of the castle complex.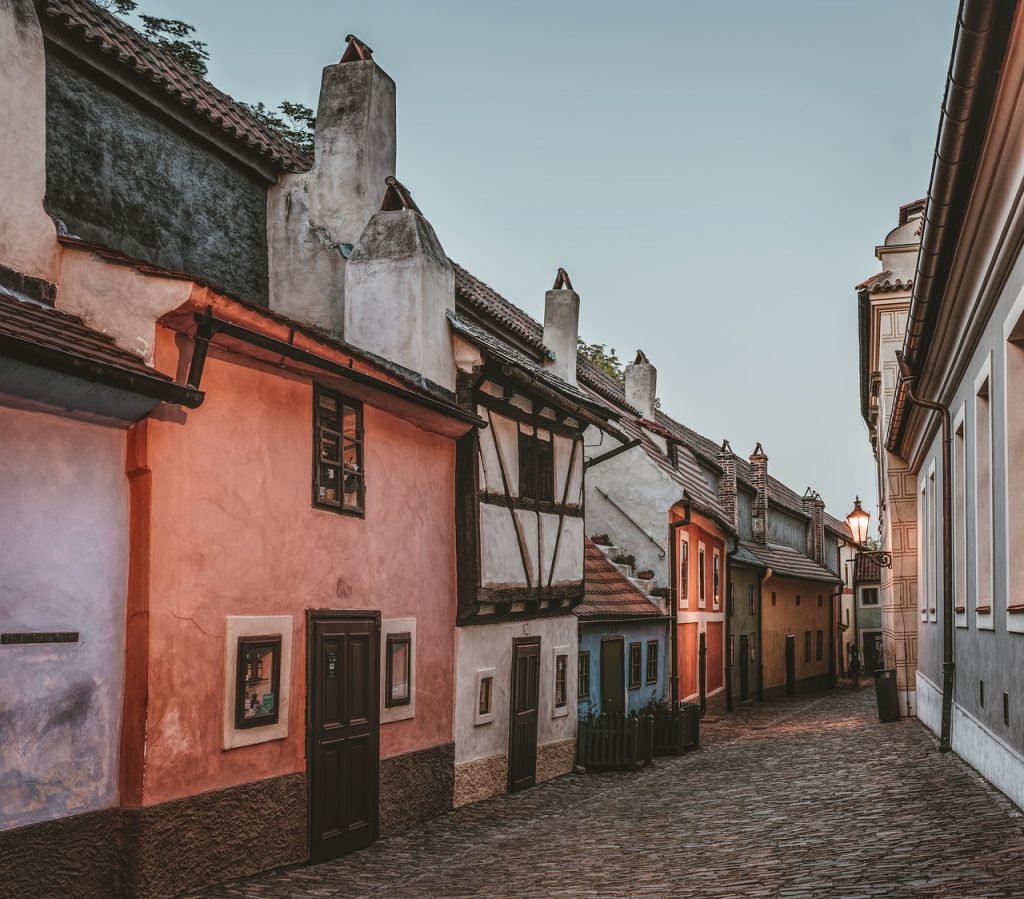 Finally, while you have your ticket for Prague Castle, don't miss Golden Lane, a 16th-century row of houses owned by goldsmiths back several centuries ago.
Around 70 years ago they were painted in colorful hues, making it a much-loved photo spot for Instagrammers from around the world now.
Fun fact: house number 22 used to be the home of Franz Kafka's sister, and he lived and wrote here for two years. So if you're a fan of his work, you should stop by here.
Pro tip: The Prague Castle has insane lines pretty much all day long, which grow to hellacious proportions if you visit Prague in December. Save hours by booking a skip-the-line ticket for just a few dollars more, which you can present on your mobile (no need to print!).


Additionally, if you buy a Prague City Card, admission is free, though it won't include a skip-the-line ticket.
See some of the city's best museums
While in summer it's hard for me to drag myself to museums, in the winter it's a whole different story!
I love visiting museums in the winter because my California ass can't handle the cold, and I don't like to go more than a few hours walking around if temperatures are below freezing
The National Museum (Národní muzeum) in upper Wenceslas Square partially re-opened after a 7-year-long closure literally just a few months ago, so it's well-worth checking out the museum now that it's back in action.
However, lines have been insane since reopening – according to my food tour guide, up to two hours at peak times.
So be prepared to abandon ship and check out one of the other museums instead. Instead, visit another one of Prague's excellent museums.
One of my favorite museums in Prague, and a must for any literature enthusiast, is the Franz Kafka Museum in Malá Strana.
Finally, if you're into weird and quirky museums, Prague seems to specialize in them.
There's a Museum of Alchemists and Magicians, a Museum of Historical Chamber Pots and Toilets, and an Apple Museum – for whatever reason.
If you're into finding the weirder side of a city, I recommend checking out the Atlas Obscura for Prague, which does not disappoint.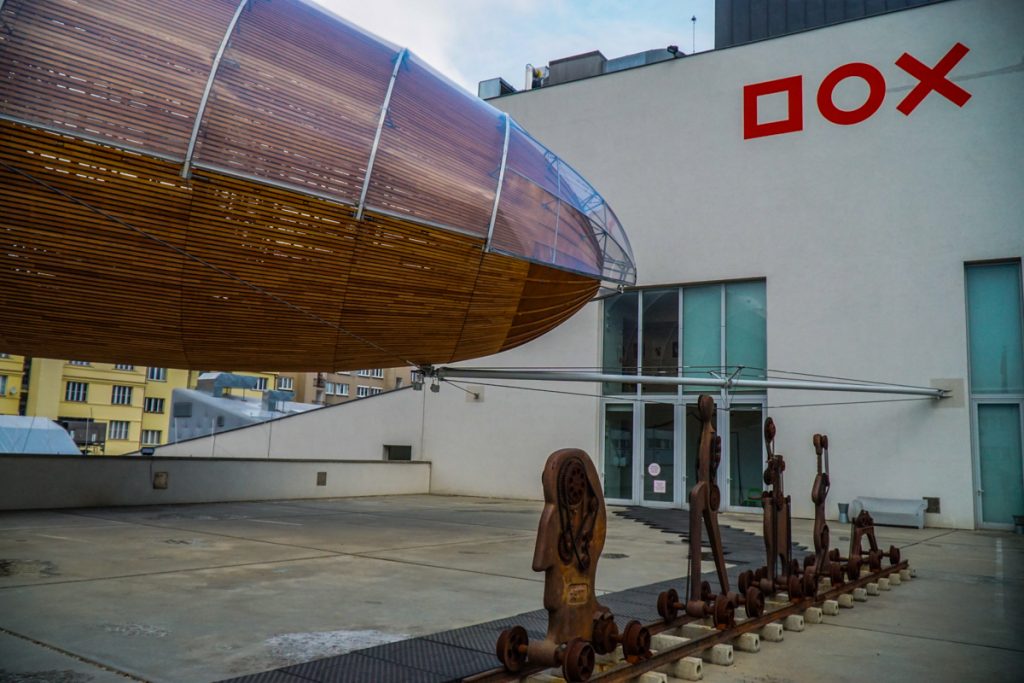 Prague also has some excellent contemporary art museums.
I visited the DOX Museum of Contemporary Art recently and absolutely loved it.
It was incredibly thought provoking – I especially loved their exhibition on data and privacy.
Skip the tourist trap museums: Museum of Senses, Museum of Sex Machines, Museum of Torture, etc.
They're kitschy (but not in a good way), not worth the money, and filled with other tourists.
Catch a surprisingly affordable show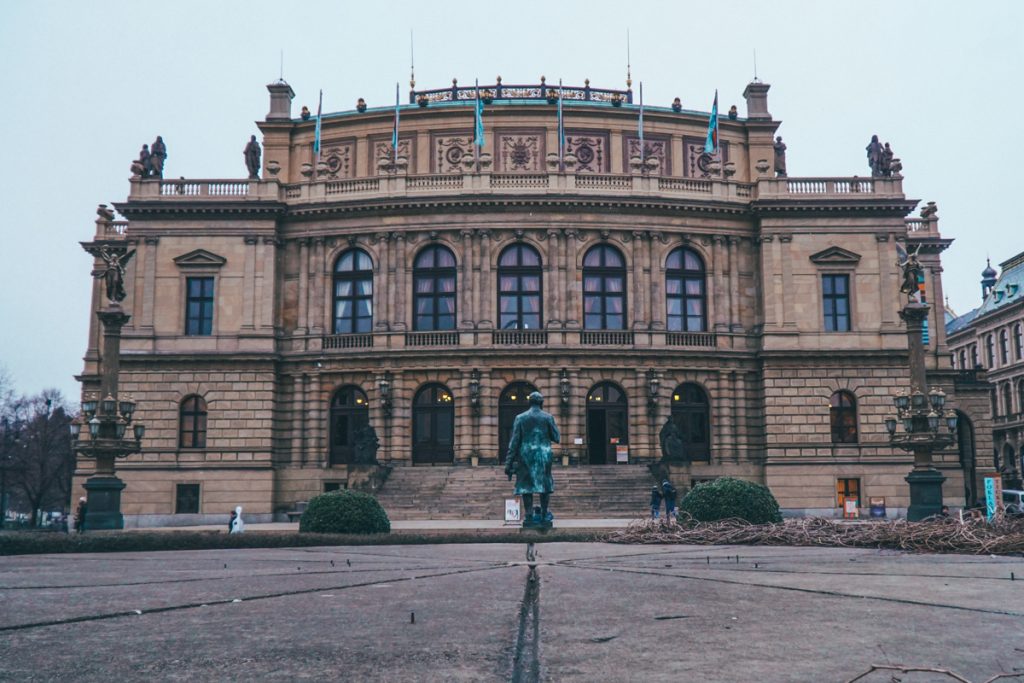 Note: The Prague State Opera is currently closed for renovations, but you can still see an opera at the Karlin in Prague! I haven't visited this theater personally, but it is the second largest in Prague and over 100 years old and is supposed to be beautifully done in the traditional Baroque style.
If you had told 17-year-old me that 19-year-old me would be going to the opera in Prague, I'd definitely have snort-laughed in your face.
The reality is that going to an opera in Prague feels like going to an insanely luxe event that you're definitely underdressed for, when in fact it is perfectly affordable, even on a student budget.
While I'd reckon a guess that the opera has gotten a bit pricier since I attended a performance of Carmen a decade ago, it's not by much (and I paid less than $10 USD for my floor-level ticket).
While I'm not necessarily an opera enthusiast, there's no denying that it's a magical atmosphere, both in terms of the wonder in the air that accompanies every live performance but also the adornments of the opera house that surround you.
While currently closed for renovations, the Prague Opera House is truly stunning, ornate with the kind of grandeur that made my American self go slack-jawed taking in all the traditionally grand European details and flourishes.
If you're worried about not understanding the opera, don't worry – even back in 2009, the Prague Opera was ridiculously modern and had subtitles in three different languages (I believe English, Czech, and German) so that you could follow along. The current theater where all the operas are now taking place, the Karlin Theater, also has subtitles for their performances.
Since Prague is so cold in the winter, it's great to have affordable (indoors) arts at your fingertips.
Finally, I should mention that an opera isn't the only performance worth visiting in Prague to escape the winter weather. Here are a few other recommendations!
The Lobkowicz Palace in Prague Castle has a 1-hour classical museum performance every day at noon. Pre-book tickets here as availability is limited. Be sure to book it on the day you are visiting the Prague Castle so you don't have to pay for admission twice (admission to the castle is not included in the concert ticket).
The Hybernia Theater near Namesti Republika has several performances of Swan Lake a week from November through March. Be sure to book in advance as some days have already started selling out this winter.
You can pair a 1-hour opera performance with a 3-course dinner at the Boccaccio Ballroom, part of the Grand Hotel Bohemia. Again, I recommend pre-booking your ticket as it is a popular option.
Warm up with a perfectly poured Czech beer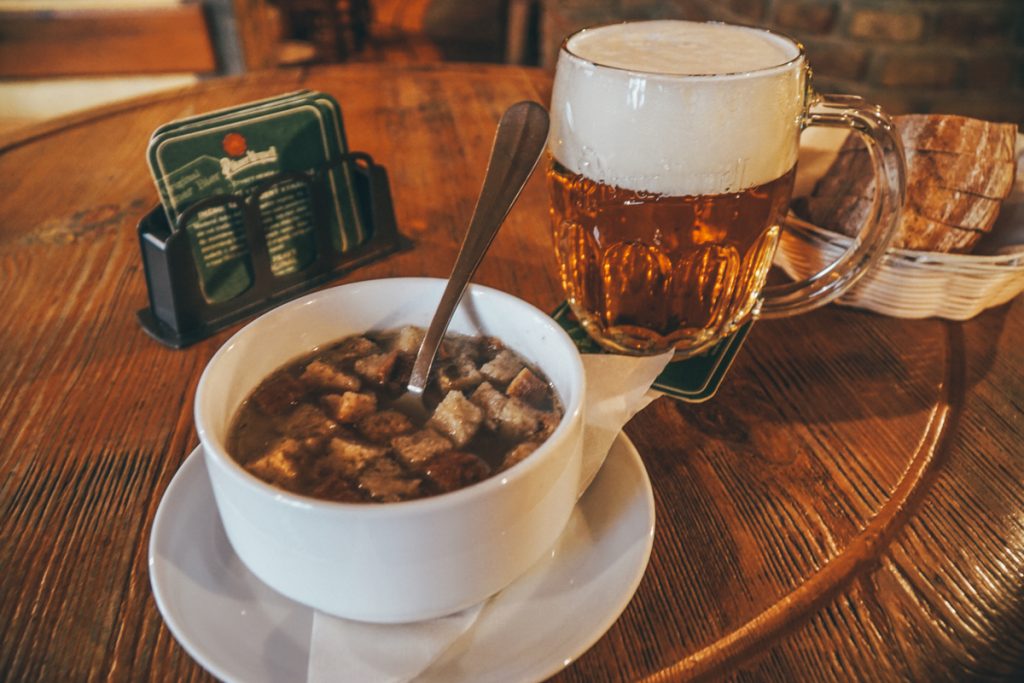 While in the summer, you'll find Prague locals practically glued to their seats in the outdoor beer gardens throughout the city, Prague in winter is definitely more indoor-oriented — though generally with just as much beer.
Yes, for better or worse, the Czech Republic is synonymous with beer.
While this brings an abundance of the infamous "lads on tour" who just want a cheap drinking holiday, beer is also an inextricable part of most Czechs daily lives, so indulge away – it's just part of getting cultured, right?
The Czech Republic is best known for creating pilsener, a pale lager which is now one of the most common types of beer you'll find around the world, just done not nearly as well.
There's nothing like drinking Pilsner Urquell (the original pilsener) straight from the tank less than 100 kilometers from where it was brewed!
Note that a properly poured Pilsner has a lot more foam than you're probably used to – about 3 fingers or 2 inches of foam.
This is the mark of a correctly poured beer so don't make a fool of yourself by complaining! Just try it – it's absolutely delicious.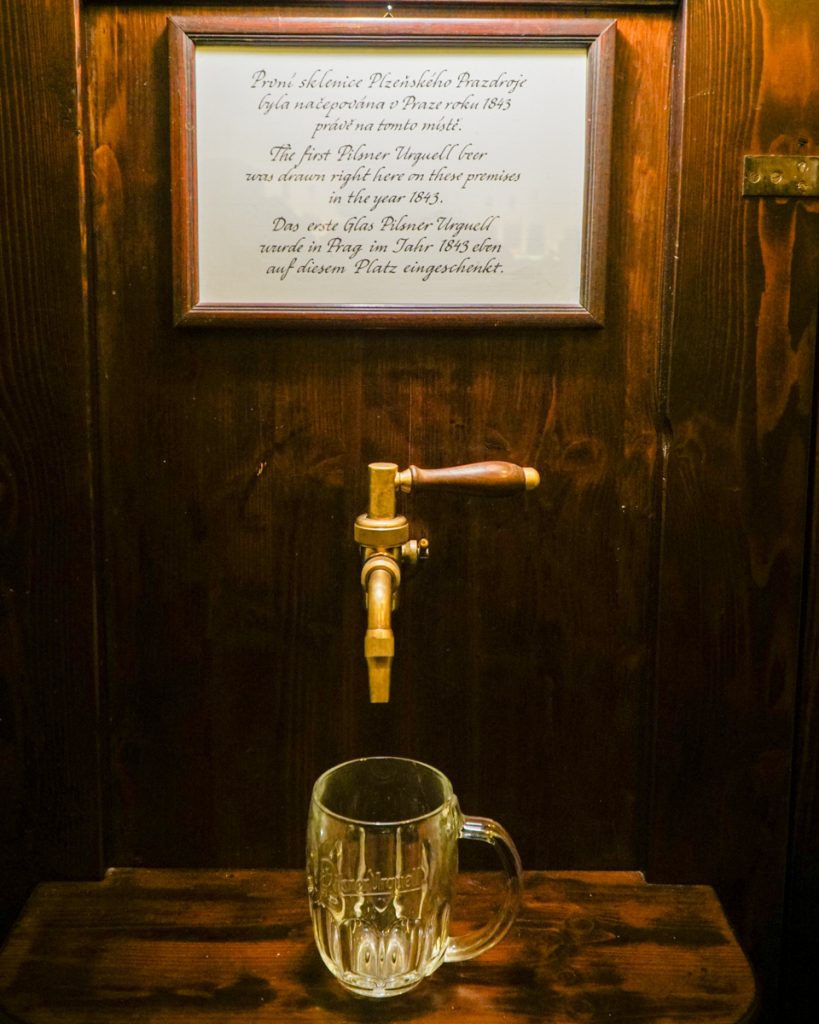 There are countless bars and taprooms you can go to experience about Czech beer firsthand – my favorite is U Pinkasu, where the first Pilsner Urquell was tapped.
If you want to understand the history of beer brewing in the Czech Republic, I recommend a visit to the Czech Beer Museum.
Honestly, it's not a huge or particularly amazing museum, but it is entertaining and informative, and you get four 0.2 liter samples of beer at the end included in the price of admission (for research, of course.)
And for the truly extra amongst us, you can actually leave the museum with your own personally customized beer bottle – which also makes a great souvenir for a beer fan back home.
This tour includes museum entry, a guided tour, 4 samples, and your own custom bottle to take home.
Book your online ticket here (no need to print – you can present it on mobile!)
Taste Czech wines at a local wine bar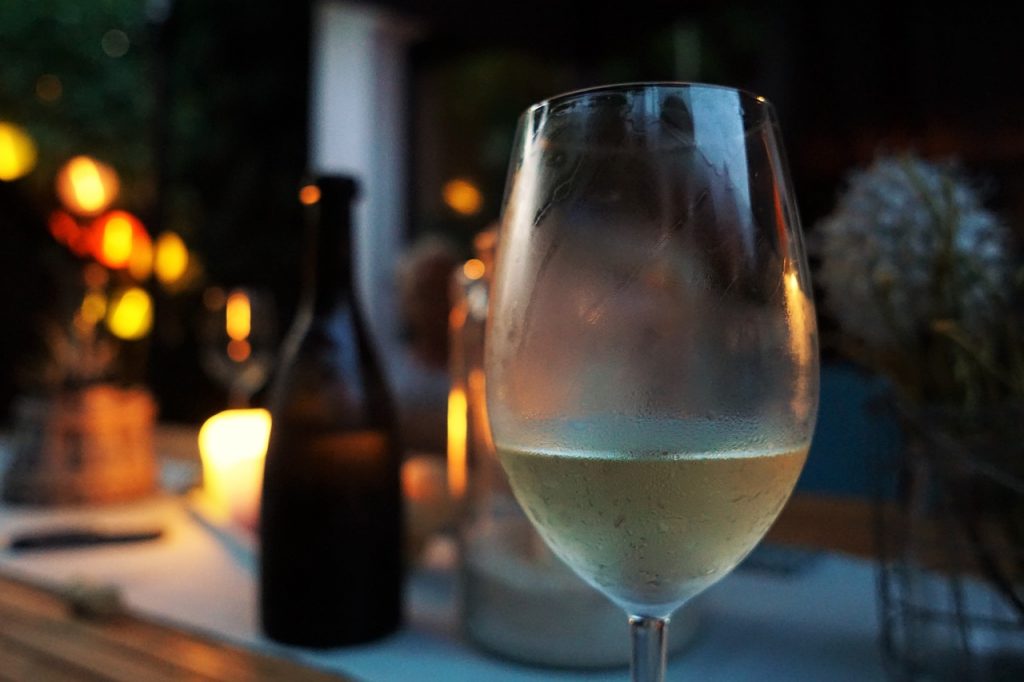 Yes, I'm aware that putting two alcohol-related things so close to each other on this guide may make me out to be a bit of an alcoholic, but I truly can't help myself in Prague – the beer and wine are just so good!
While many people know about the vibrant Czech beer scene, few people know just how delicious Czech wine is.
Even fewer people know that a huge swath of central Prague used to be vineyards – Vinohrady, the neighborhood I lived in when I lived in Prague.
I have a huge soft spot for burčák, the Czech young wine that tastes almost like apple cider and according to local lore, continues to ferment in your stomach (resulting in surprise hangovers).
Unfortunately you won't be able to find this in Prague in winter. It is, however, 100% worth planning a return trip in autumn for!
Still, Prague still has a ton of wine options that are better suited for the season. While the Czech Republic is best known for its excellent white wines, you can find some great red wines as well, if that is more your speed.
I tend to prefer Welschriesling (ryzlink vlašský) or regular riesling (ryzlink rýnský) for whites, and Blaufränkisch (frankovka) for red, but that's just me personally.
If you're familiar with German and Austrian wines, Czech wines use a lot of similar grapes but to me, a Czech wine still is very different than its neighbors.
There are several wine bars in Prague worth visiting, and luckily, wine by the glass – while not as cheap as beer – is quite affordable in Prague as it's not considered a luxury to have a good glass of wine.
Czech wines are rarely exported outside the county, so you might as well try it while you're in Prague this winter if you're a fan of wine!
My favorite neighborhoods to drink in are lovely Vinohrady and trendy Žižkov, which are a nice blend of catering to their local communities while still being centrally located.
Prices are more affordable here than in the area around Old Town, and it's a lot less touristic. My favorites are Vinotéka U Jiřího z Poděbrad on Přemyslovská 4 and U Posledního Soudu on Jagellonská 8.
Scale the Petřín Lookout Tower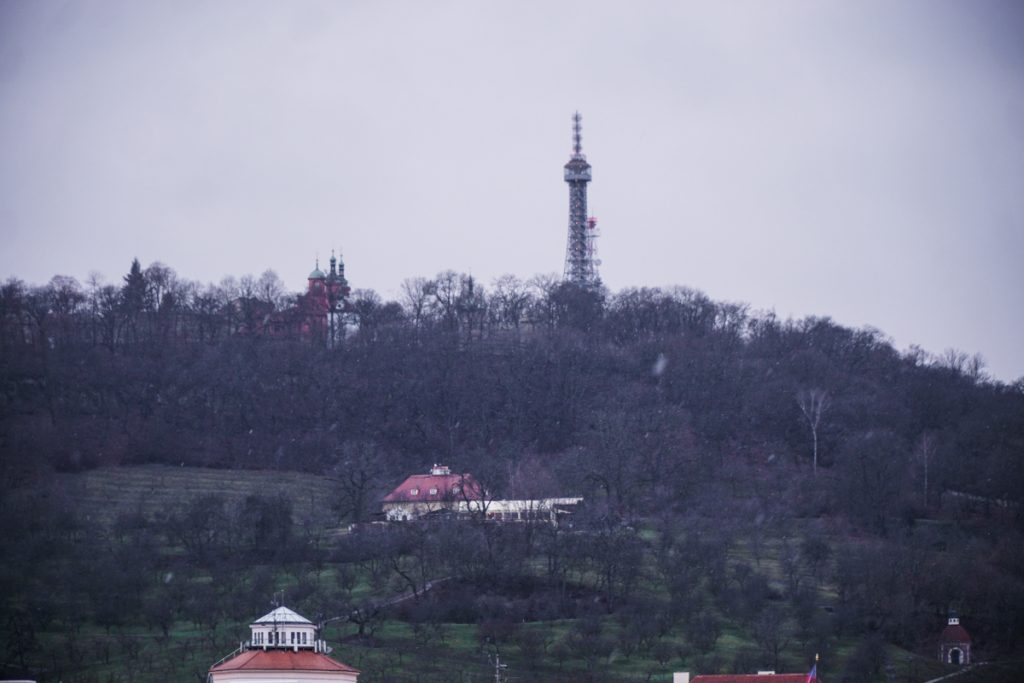 There are several places you can go in Prague to get fairytale-worthy views over the entire city but I have a soft spot for Petřín Hill and its lookout tower.
It's a little quieter than some of the other popular lookout spots, like the Old Town Bridge Tower which is swarmed with people wanting that Instagram-perfect shot over Prague.
More than a hundred years ago, the Petřín Lookout Tower was conceived to be a replica of the Eiffel Tower, only smaller, at 63.5 meters tall.
It's one step shy of 300 steps to the lookout point, but it's well worth it (though I definitely don't recommend going to Petrin right after a lot of beer, as those 299 steps will feel like quite a bit more… not that I speak from experience…)
You can walk to the Petřín Lookout Tower from the Castle, which takes about half an hour, but it's more popular to take the Petřín funicular.
At the top, you're immediately rewarded with some of the most impressive sweeping views of Prague over the Castle District, Malá Strana, and the Old Town.
Stay warm while you sightsee in a vintage car tour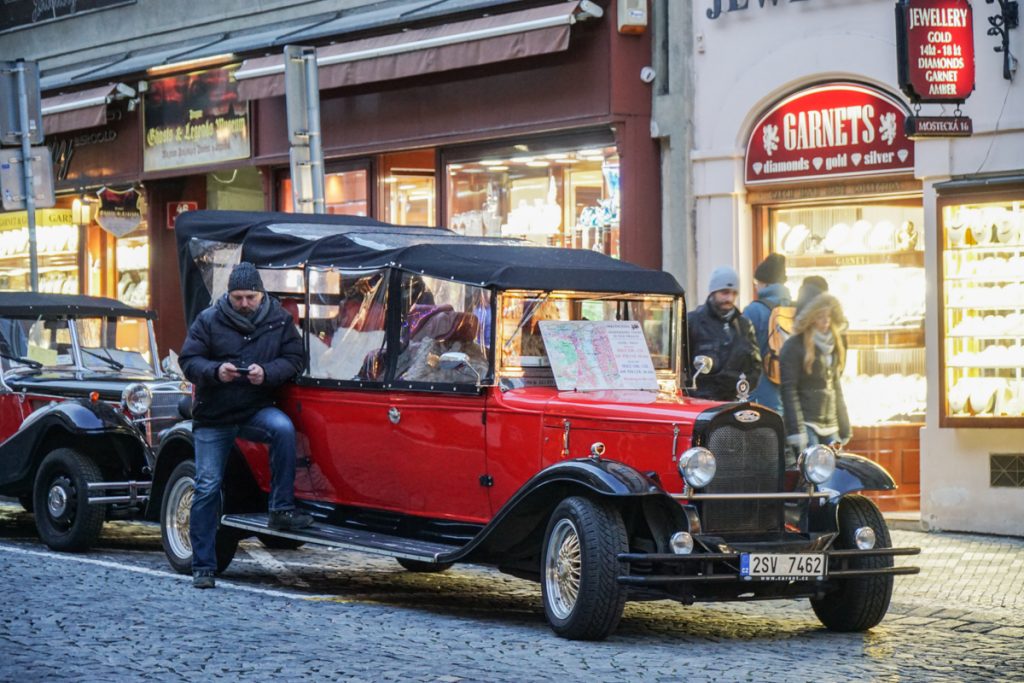 While there is no shortage of affordable or even free walking tours in Prague, in winter you probably want to be indoors as much as possible.
So, compromise on a city tour of Prague with a specialized tour by a vintage car (don't worry, the cars have heating, blankets, and even removable flap windows to keep out the cold in the winter!)
You can ride around the city in classic vintage cars, which fit up a group up to five people, in cozy comfort – all the while getting insight from a local on their city on a your 1.5 hour drive through the city.
If the car tour is for a special occasion, you can even add certain romantic touches like roses and champagne – fancy.
Stroll the Charles' Bridge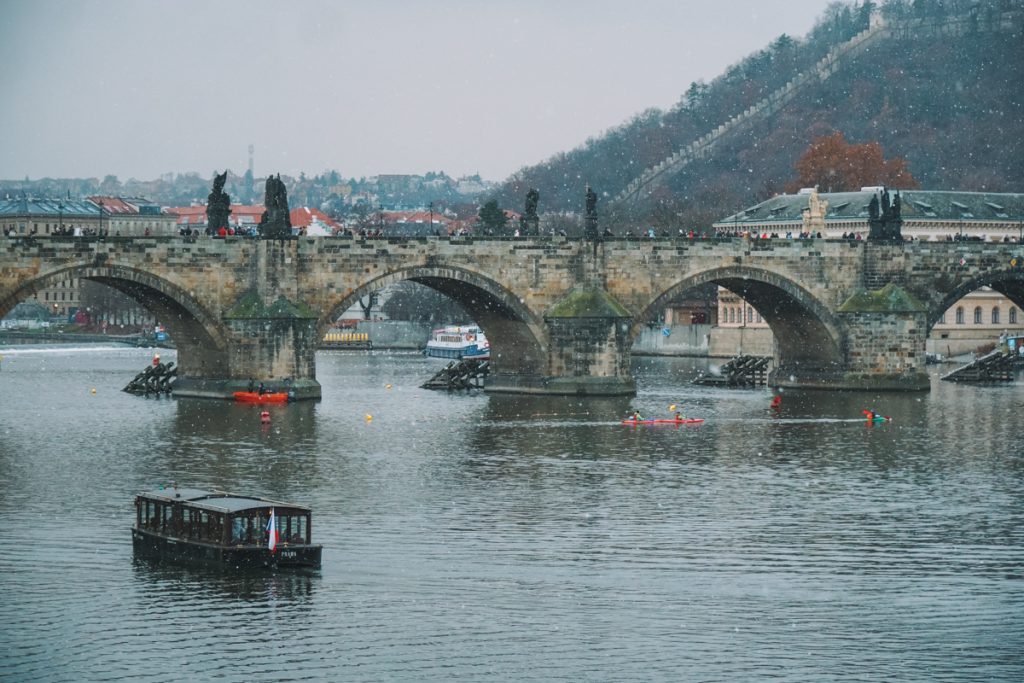 From the Old Town side of Charles' Bridge to Prague Castle is a quick 30-minute walk among some of the most charming buildings in the city, making the Charles Bridge an indispensable part of any Prague winter itinerary.
I have a soft spot for the Charles' Bridge as it made quite an impact on my life – literally, as my boat captain (who I assume must had a few too many Pilsners) rammed into this historic bridge not once but twice while on a tour.
Luckily, the bridge seems to have taken this hit in stride as it's still standing, still as beautiful as ever.
Also known by its local name (Karlov Most), this medieval bridge is one of Prague's most unique landmarks and has seen a lot throughout the centuries.
Its central position connecting Prague's Old Town with the castle district means that Charles' Bridge is nearly impossible to avoid during your stay and given how beautiful it is, why would you want to avoid it?
Yes, it's crowded, and yes, it's touristy, but it's also one of the most beautiful places in Prague, in winter or summer.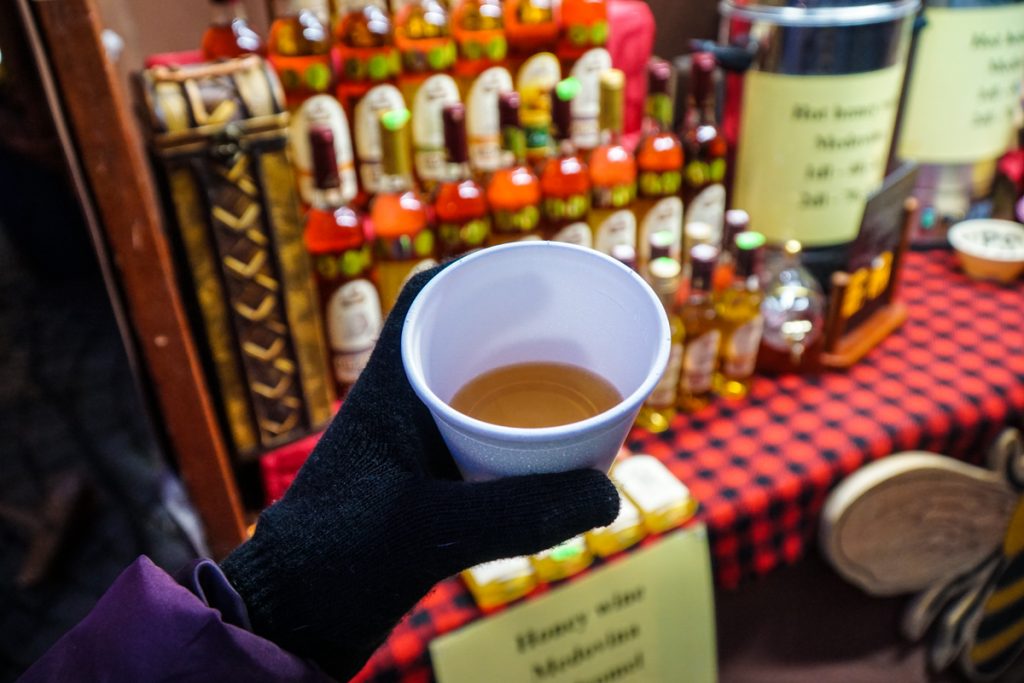 My top tip for seeing Charles' Bridge in winter is to walk across it with a steaming hot cup of mulled wine, called svařák, or if you want something sweeter, some medovina (honey wine).
There's nothing quite like holding a warm drink in your be-gloved hands as you gaze over the unparalleled Vltava River.
Merely crossing this bridge over the Vltava River among all the statues covered in snow was so magical I barely even noticed the cold… though that might have been all the medovina.
Eat traditional Czech food
Czech food is often written off as heavy and dull, and I'm here with an impassioned plea to reconsider!
I absolutely adore Czech food, although I will readily admit that it is not the healthiest nor the most vegetarian or vegan-friendly cuisine. It is, however, a fantastic way to warm up in the Prague winter!
A few of my favorite traditional Czech dishes include guláš s knedlíky (Czech-style goulash stew with handmade sliced bread dumplings), vepřo-knedlo–zelo (roast pork with cabbage and bread dumplings), and česnečka, a delicious garlicky broth laced with caraway seeds and topped with rye bread croutons.
If you want a stick-to-your-ribs winter meal, go for a medieval-themed dinner, drinks, and show. You can opt between 3 and 5 courses, and it comes with – of course, this being the check republic – unlimited beer (or wine should you choose), and hours of entertainment!
It also has plenty of medieval-themed entertainment – from swordsmen to jugglers and more – which makes it perfect for families or those looking to have a really immersive and unique dinner experience. It also has vegan, vegetarian, pescetarian, and gluten-free options (in addition to meat and poultry) so it has options to suit just about every dietary requirement.
The medieval dinner is one of the most popular things to do in Prague in winter, so I strongly suggest pre-booking if it's on your Prague bucket list! Check menu options and make a booking here.
Eat alllll the food on a Czech food tour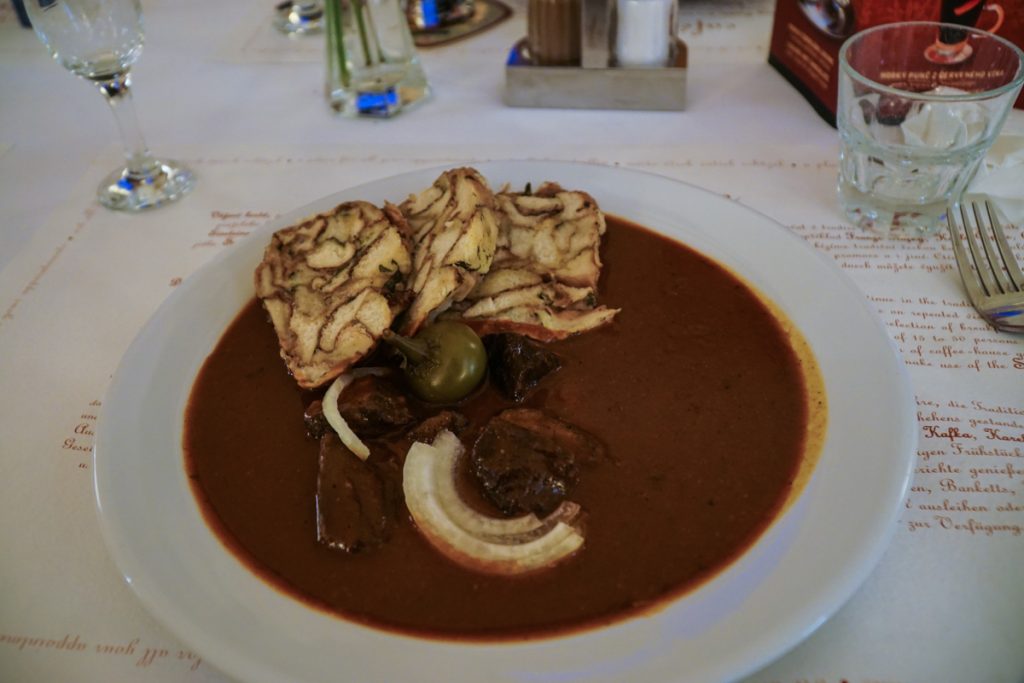 Another fantastic thing to do in Prague in the winter is go on a food tour!
I did a food tour when I visited Prague in December and I absolutely loved it.
Even though I was quite familiar with Czech food, having lived there a decade ago, it was delightful to see all the best of Czech food represented in a filling, well-paced 4-hour tour: a perfect introduction to Czech cuisine to those who have a limited time to discover it.
On the tour, we tried 3 traditional pastries, a selection of meats, a selection of mini open-faced sandwiches called chlebíčky, an appetizer, a soup, a main dish, and an apple strudel for dessert.
I don't want to spoil what all the delicious things we tried were, but trust me when I tell you that you should definitely skip lunch and you'll be hard-pressed to find room after dinner.
Spots are limited so check out and book your tour here.
Pro Tip: I always schedule my food tour for the first day I arrive in a city — that way, every dish is new to me, I know what my favorites are when I go to a restaurant afterwards, and the best part – I can badger the tour guide for more restaurant recommendations! This is the tour I took, which I highly recommend – my guide was fantastic!
Go ice skating in Ovocný Trh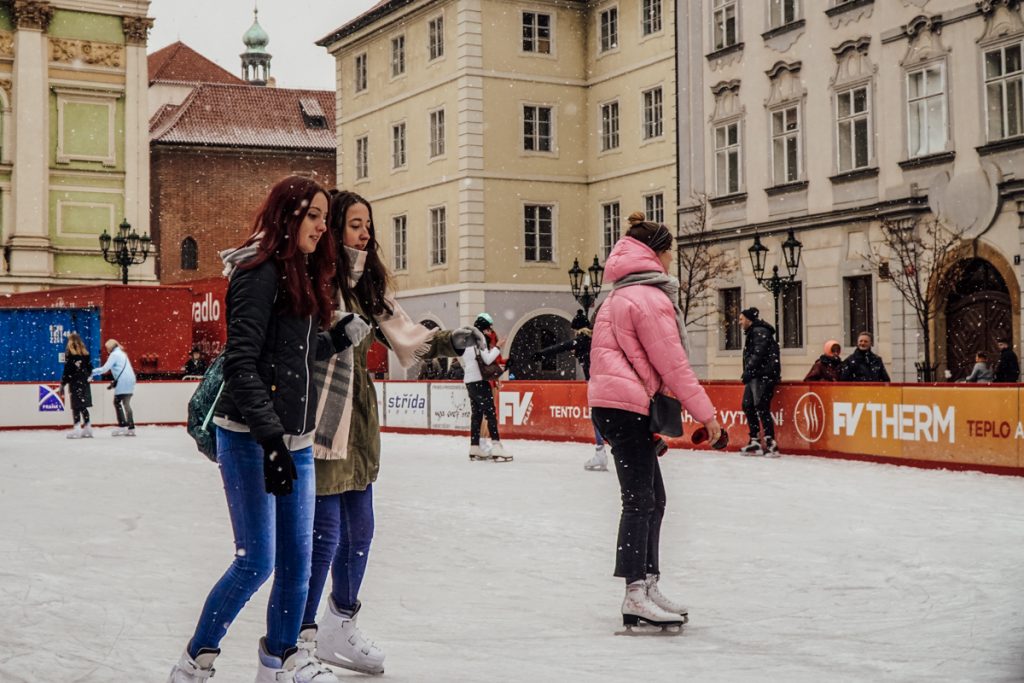 Is it even a European winter trip if you don't go ice skating?
Ice skating is one of the most-loved winter pastimes, and when you combine it with the historic spot of Ovocný Trh it becomes even better.
This ice rink is found behind the Czech Estates, and even though it's open for a relatively short time, it's free for everyone during that time…
… Though in practice, since you will likely have to rent skates unless you're the kind of person that has ice skates in their suitcase (weird flex, but okay).
However, even skate rental is rather affordable – about 100 CZK per hour, less than $5 USD.
Despite the prime location, it was never crowded when I walked past it, even on the weekend.
It's a great place to while away some time (and if you need to warm up, it being Prague in winter, there's a mulled wine booth just a few meters away from the rink).
Take a cruise on the Vltava River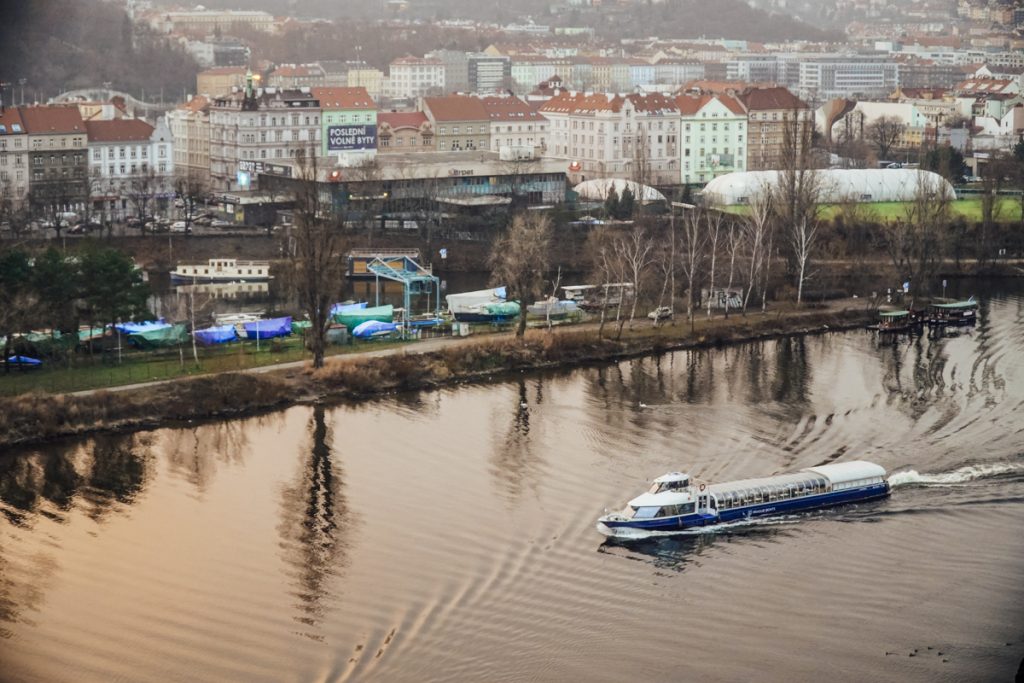 While generally I try to avoid most touristy things, I'm a huge fan of doing river cruises and make it a point to do one whenever possible, no matter the season.
There's something magical about cities built on water and seeing it from water level adds a new dimension to a place you've traversed several times on foot.
Just as my boat trip on the Danube was a highlight of my Budapest trip, a cruise on the Vltava river is a must on any Prague winter trip.
The boats are fitted with glass so you don't have to worry about being too cold as you zip up and down the Vltava river, passing views such as the Prague Castle and passing underneath (and hopefully not into) the Charles Bridge.
If you're cold, you can warm up while holding a drink and taking in the information presented by your guide, who will explain the current function of the historic buildings as well as their unique pasts.
The best option would be the 3-hour cruise, including a buffet dinner of tasty Czech food, all with a background of lovely live music, which you can book here. The boat cruise departs at 7 PM during the winter months and cruises for 3 hours, so you can see Prague beautifully lit up at night.
Money-Saving Tip: If you're trying to visit Prague on a budget, or you simply want a quicker cruise to save more time for sightseeing, you can opt for a 45-minute cruise as well.
Take a sauna on the river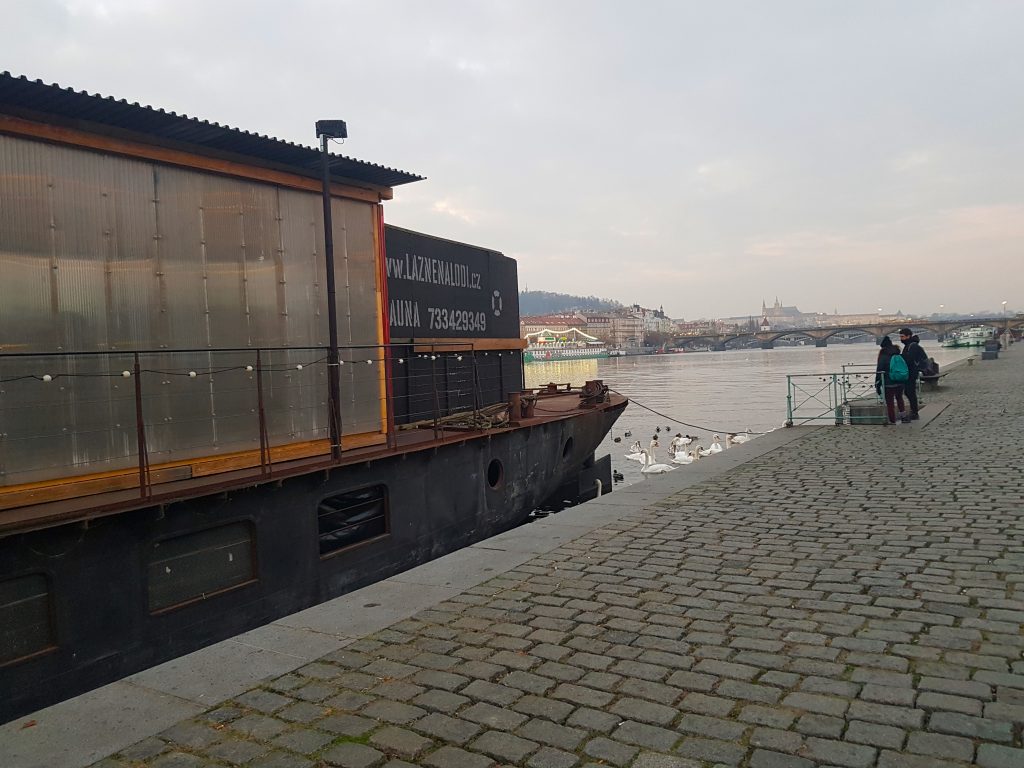 If you want to get a bit away from the Christmas market crowds and warm up in an unconditional manner, head to the Naplavka Riverbank under the shadow of the Vysehrad fortifications.
This river walkway is lively and often likened to a beach party in the summer, but it's extremely quiet and peaceful in the winter.
Since Prague's weather in winter is rather arctic, just walking along the water is a bit chilly.
Instead, take advantage of the genius sauna-on-a-boat concept at Lázně na Lodi.
Here, for about $6 per hour (140 CZK) you can enjoy a peaceful sauna and even go for a dip in the freezing cold Vltava if you're brave (or Finnish). I recommend reserving a place if you really want to visit as it can get crowded at times.
An important note: this is an all-gender nude sauna, though people wear sheets to cover themselves, so if you're shy this isn't the place for you!
Want an even quirkier spa experience? Check out the beer spa featuring a beer bath and all you can drink beer!

It's not cheap – prices are about 110 euro for a group of two – but it's one of the most unique things you can do in Prague. Check it out and book here!
Bonus: Escape on a day trip to Český Krumlov or Kutná Hora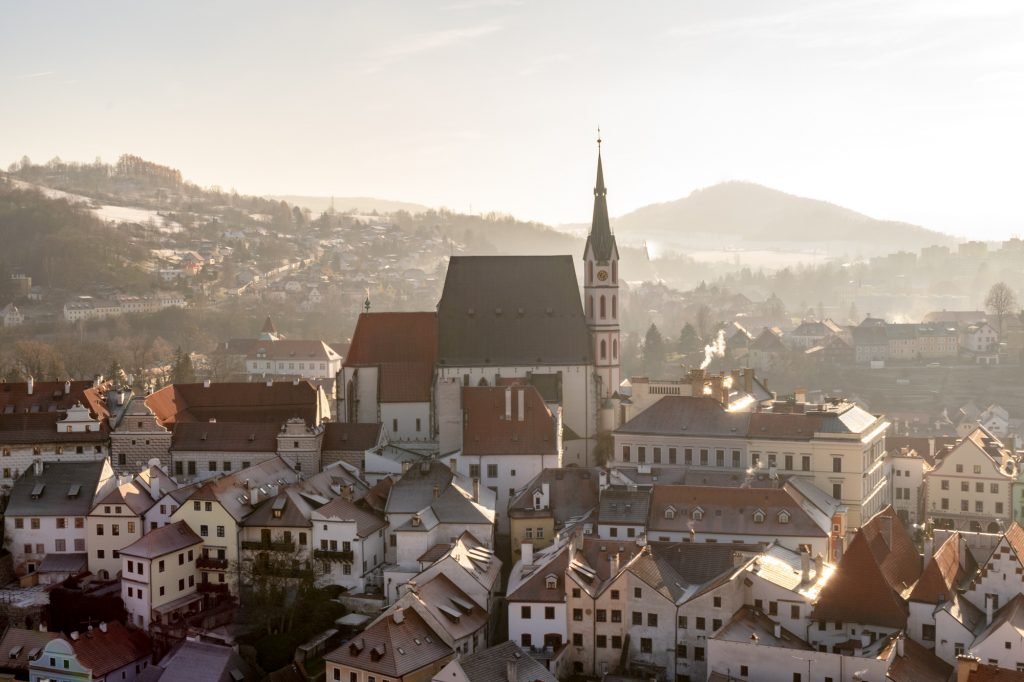 If Prague in winter just simply isn't enough fairy-tale magic for you, you diva you, then hightail it to one of the most beautiful cities in the Czech Republic: Český Krumlov!
I have only been here in the fall but I can certify that it is absolutely delightful any time of year – and likely doubly so under a layer of snow!
Český Krumlov in winter is a delight, and it's well worth saving one day of your Prague trip for it.
While you can certainly get there independently by train, you can also book a day tour from Prague which makes transportation a little easier – especially if you're nervous about navigating public transit in a foreign country.
This is the day tour I recommend, with over 300 positive reviews!
A cool but more macabre option is to visit Kutná Hora, a picturesque Czech town with a bit of a dark side at its famous "Bone Chapel," a.k.a. the Sedlec Ossuary, a UNESCO World Heritage site. Composed of the bones of over
The tour also includes Saint Barbara's Church, Sankturin House, a beautiful Cistercian Monastery, the Italian Court, the Stone House, and the Plague Column — so you'll really get quite an overview of this unique and historic town about 1 hour outside of Prague.
This is the tour I recommend for Kutná Hora and its bone chapel.
Is a Prague City Card worth it?
One thing many readers ask me is if the Prague City Card is worth it. It's available in 2, 3, and 4 day intervals, which allows for unlimited free public transit and included attractions.
If you plan to see the major sites in Prague – Prague Castle, the Jewish Museum and Old Jewish Cemetary, and the National Museum and Gallery – as well as do a river cruise, you will save money.
The Prague City Card offers the following options: a 2-day pass is about 60 euro, a 3-day pass is about 70 euro, and a 4-day pass is about 80 euro.
Considering that the Prague Castle entrance is about 14 euro, the Jewish Museum is about 14 euro, the Gallery is about 8 and the Museum is about 10, and a river cruise is minimum 15 euros, you've already saved money if you buy a Prague City Card (plus you get free transit, discounts on other attractions, and free access to at more than 50 other attractions.
I don't always think city passes are worth it – but in Prague's case, if you plan on doing the main sights, it 100% is.
To make it even easier, you can pre-book here and pick up the card and activate it whenever you arrive in Prague, picking up at one of three central points: Charles Bridge, Wenceslas Square, or the Florenc bus station.
Where to Stay in Prague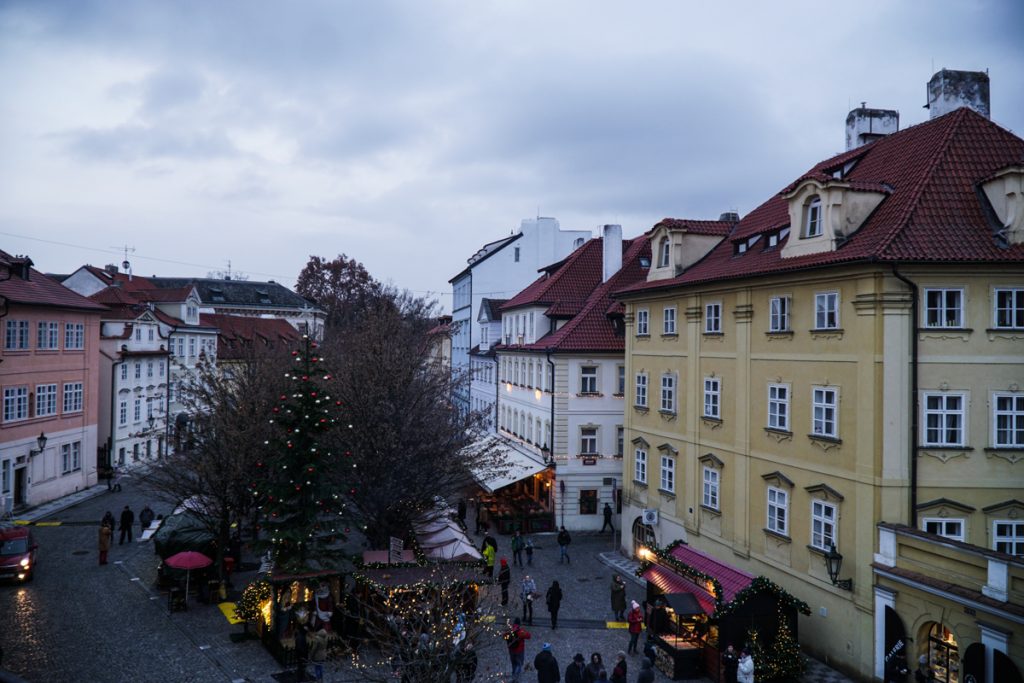 For tourists, Prague 1 and 2 are the most popular districts. I personally prefer the area around Vinohrady and the Old Town, though some people may prefer to be closer to the Castle District (Mala Strana)
I've noted my top picks for each type of traveler – budget, boutique, and luxury travelers – to make the hard choice a little easier!
Budget | Czech Inn
Combining beautifully European architecture and budget prices, this hostel provides affordable luxury to their guests with a fun vibe. Most of their spaces and facilities are specially designed for the younger guests – and the young at heart.
Most of the interiors are designed by Olga Novotná, a beloved Czech designer, and she used eclectic kinds of materials to create a cozy and warm feeling for guests in the common areas and rooms.
They have private rooms, apartments, shared rooms and premium dorm rooms (not your average dormitory room). All of their beds are made from brushed steel with a minimalist frame. The rooms have huge windows that allow natural lighting inside.
The best part of the hotel is the Czech Inn Bar, which is situated underneath the hotel. Happy hour runs from 6 PM to 8 PM. There are regular events like quiz nights, beer tasting (hooray!) and live music. Sometimes they even have stand-up comic events! It's a great place if you're looking for a budget-friendly stay with a social vibe.
→ Check prices, availability, reviews, and more photos here.
Boutique | Le Palais Art Hotel
Want to feel like you're staying in an art museum? That's Le Palais in a nutshell. Upon entering its main hall, you will see a grand chandelier, matched by exquisite décor and furniture A lot of paintings are also on display in its hallways and rooms, which almost act as if a gallery.
Luxurious Ligne St. Barth toiletries are provided in their ensuite bathrooms. Some rooms even have a tub where you can soak after a long day of sight-seeing! The bed linens, curtains and floor carpets use warm colors to make everyone feel cozy and comfortable.
It has Artista Restaurant, which serves modern European cuisine (for breakfast, lunch or dinner) and they also source their ingredients locally. You can also check their wine selections to pair with your meal! If you want to have a few drinks, then the Lobby Bar has a nice selection of alcoholic and non-alcoholic drinks, pastry and desserts.
There's also a wellness center and fitness center, and several other fantastic 4* amenities to make your stay in Prague both stylish and comfortable.
→ Check prices, availability, reviews, and more photos here.
Luxury | Aria Hotel Prague
This grand luxury hotel (which has a partner hotel in Budapest) offers 5-star amenities with a tasteful music theme. The rooms are all inspired by the different types of music like opera, jazz, and classical music. They also named each room after famous musicians and music personalities.
The rooms have a classic, simple, and elegant style taken up a notch with velvet upholstered sofas and seating. The suite-type rooms also have a living area and kitchenette that easily helps you feel right at home. Their luxurious bathrooms are equipped with Molton Brown toiletries and all the lovely amenities you'd expect – like plush bathrobes and slippers – from a hotel of this caliber.
Inside, Coda Restaurant has an art deco interior located on the rooftop terrace. If you eat meat, you must try their meat dishes; the meat comes from local farms to guarantee freshness and taste! You're given a welcome drink upon arrival, and they have daily snack and drinks complimentary for guests.
→ Check prices, availability, reviews, and more photos here.
Getting to Prague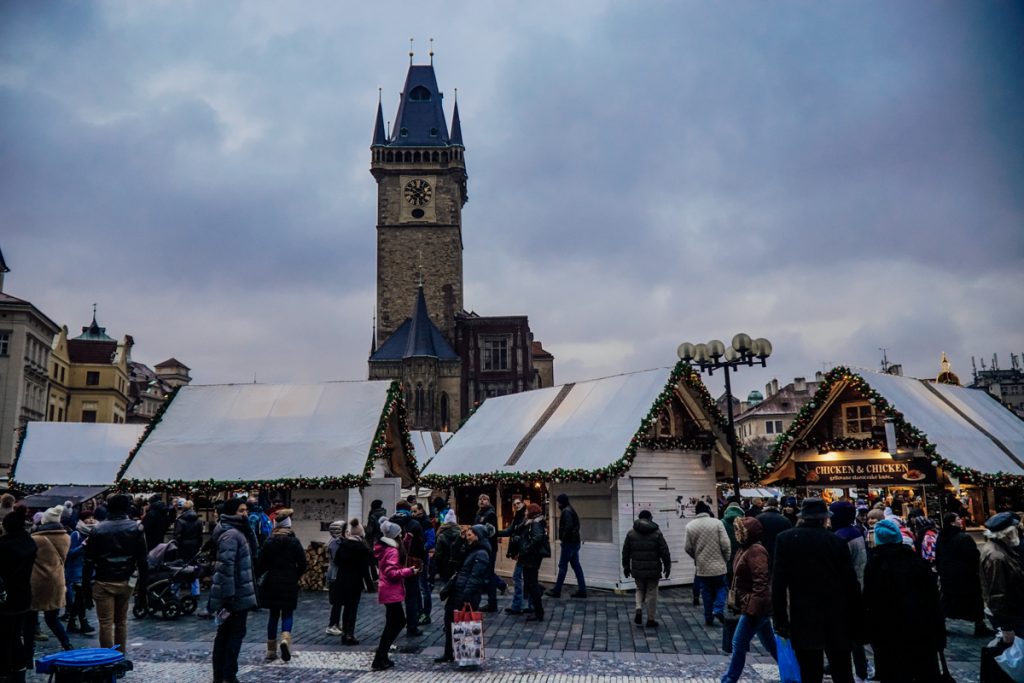 Getting to Prague is quite easy, whether you get in by train, bus, or plane!
Many people will arrive by train from another European city – usually Vienna, Bratislava, or Budapest. Luckily, the main train station (Hlavní Nádraží) is connected to the metro (line C) and is also easily within walking distance of many accommodations in Prague 2.
If arriving by bus, most people arrive at the Florenc bus stop or at Hlavní Nádraží (I took a DE bus from Nuremberg which dropped me off here). It's easily connected by metro as well by lines B and C.
If arriving by the airport, note that there is no direct metro connection. You will have to take bus 119 to Nadrazi Veleslavin, then transfer to the Green line (A), where you can continue on to the city center.
Many people prefer to take a shared shuttle transfer or a private transfer – I recommend this company for shared transfers (cheap at about 10 euro per person and less in small groups) and this one for private transfers (about 25 euros for a group of 4 or fewer).
I don't recommend taking a taxi from the airport in Prague. Prague is known for its scammy taxis, so go with a pre-booked transfer service or take the bus and metro.
Don't Forget Travel Insurance!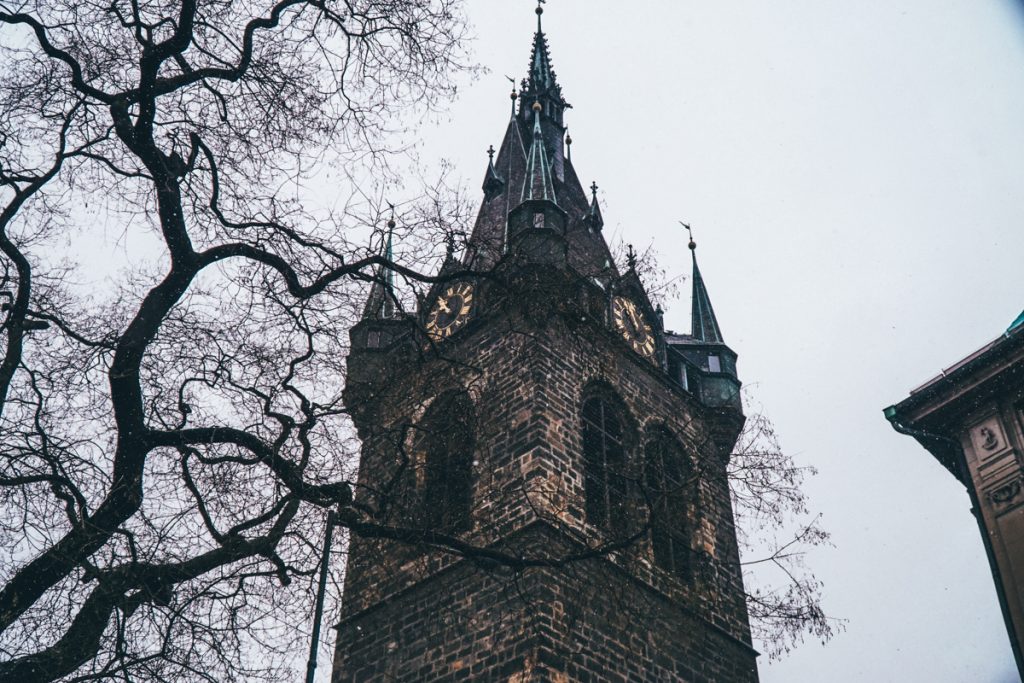 When planning any trip, especially a winter trip, be sure not to forget about travel insurance!
I use SafetyWing and its Nomad Insurance to insure all of my trips for its affordable rates and comprehensive coverage for all my travel needs.
Especially in winter, when weather and flu bugs can easily derail your plans, I always appreciate the peace of mind that travel insurance provides.
SafetyWing's Nomad Insurance provides both travel insurance (coverage for trip delays, cancellations, interruptions — the likelihood of which increases in winter) and travel medical insurance (coverage for things like accidents, illnesses including Covid, etc. — also more likely in winter!).
Coverage is really affordable — for me, it costs roughly $11 USD for a week of coverage outside of the U.S., with a policy max of $250,000 after a deductible of $250. Not bad!
Have you visited Prague in winter? Do you have any more recommendations for what to see in the colder months?
Allison Green is a former educator turned travel blogger. She holds a Masters in Teaching and a B.A. in English and Creative Writing. Her blog posts merge her educational background and her experience traveling to 60+ countries to encourage thoughtful travel experiences that both educate and entertain. She has been a speaker at the World Travel Writers Conference and her writing, photography, and podcasting work has appeared in National Geographic, CNN Arabic, CBC Canada, and Forbes, amongst others. Now based in the San Francisco Bay Area where she grew up, she has also lived in Prague, Sofia, and New York City.