Pristine turquoise waters, drastic coral reef landscapes teeming with wildlife, towering waterfalls and dramatic black sand beaches…
The beautiful islands of Tahiti and Moorea seem like a dream reserved for a honeymoon, but honestly, it can be a trip like any other.
The idea was sparked by seeing affordable plane tickets out of SFO when I was tooling around on Skyscanner (how many of my grandest ideas start…)
When I sat down to look at the other factors I'd have to budget for a Tahiti vacation, I was pleasantly surprised to find out that a trip to Tahiti cost way less than I expected.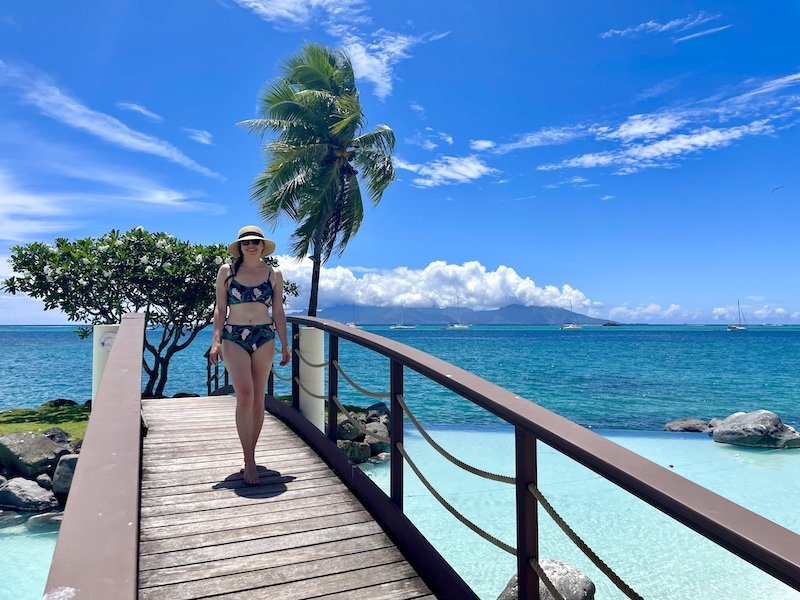 Note: This post contains affiliate links, which means I may receive a small commission if you purchase something through one of these links. Thank you for supporting the free content on this site! For more information on affiliate links and cookies, see my disclosure page for more details.
That's not to say it's cheap. It's certainly no budget holiday in the way that Southeast Asian destinations like Thailand or Bali is, for example.
But for a bucket list destination, I was shocked at how affordably I could make Tahiti happen.
I don't know why, but a trip to Tahiti always seemed inaccessible for many reasons.
Perhaps I though it'd be too impractical, too far away (just a few dots in the middle of the Pacific Ocean, after all), and most of all — too expensive.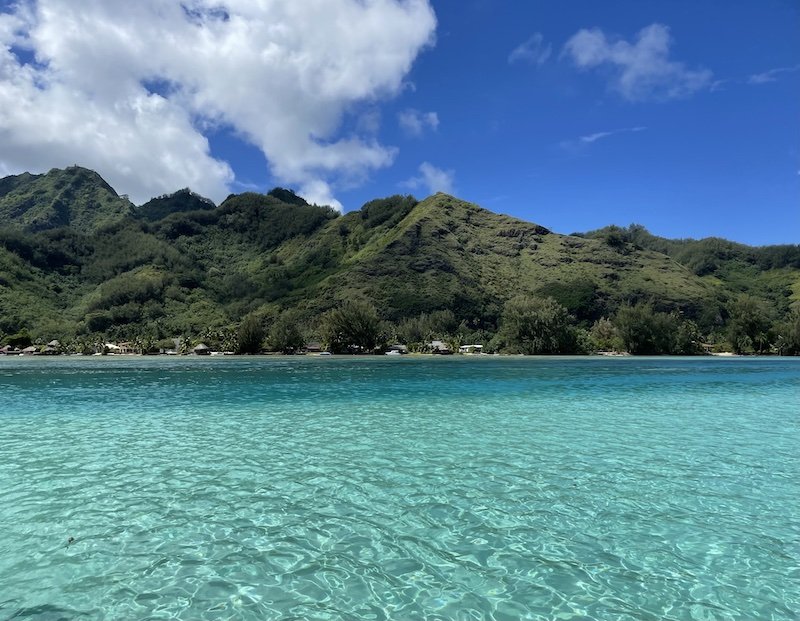 Well, I'm prepared to eat crow: I was wrong.
Despite my initial expectations, my Tahiti trip cost was reasonable — at least when you compare it to what I expected, and when I compare Tahiti vacation costs to Hawaii vacation costs.
A Few Factors to Consider About Your Tahiti Trip Cost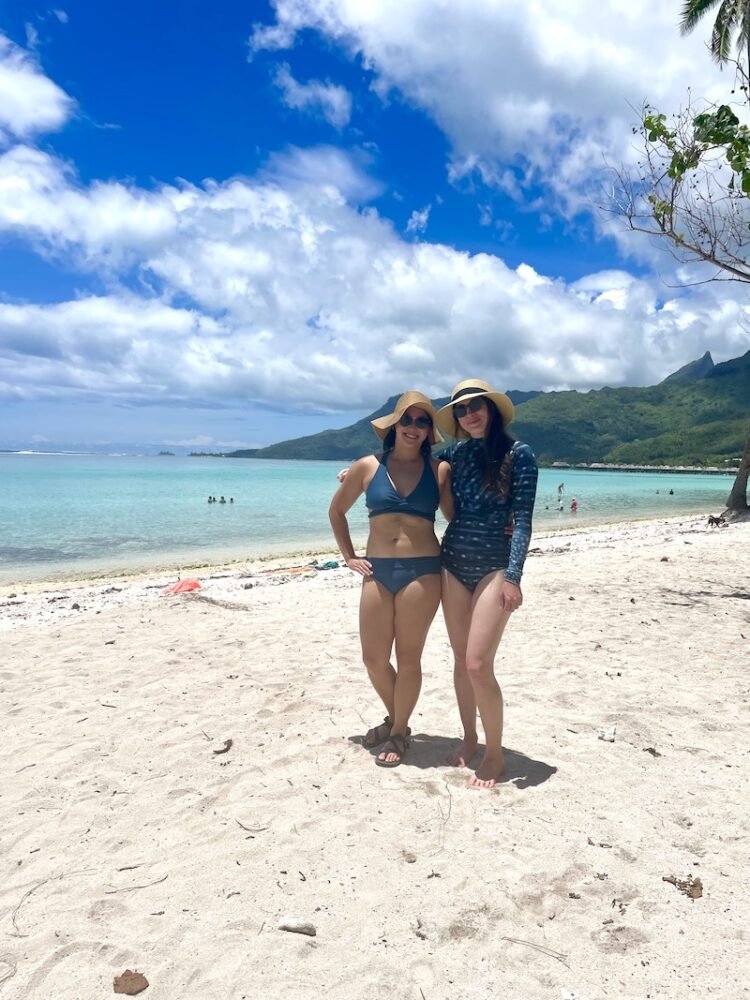 Before we dive in, let me make a few disclaimers that impacted my overall Tahiti trip cost.
First, I traveled to Tahiti with my girlfriend, which helped me save money since we split accommodation and transportation costs (besides the plane tickets).
Second, while the islands of French Polynesia number over 100, we stuck to the only two islands that did not require additional flights (and additional costs): Tahiti and Moorea.
All flights into French Polynesia land on the island of Tahiti, and Moorea and its lush verdant landscapes is just a quick (and cheap) 25-minute ferry away.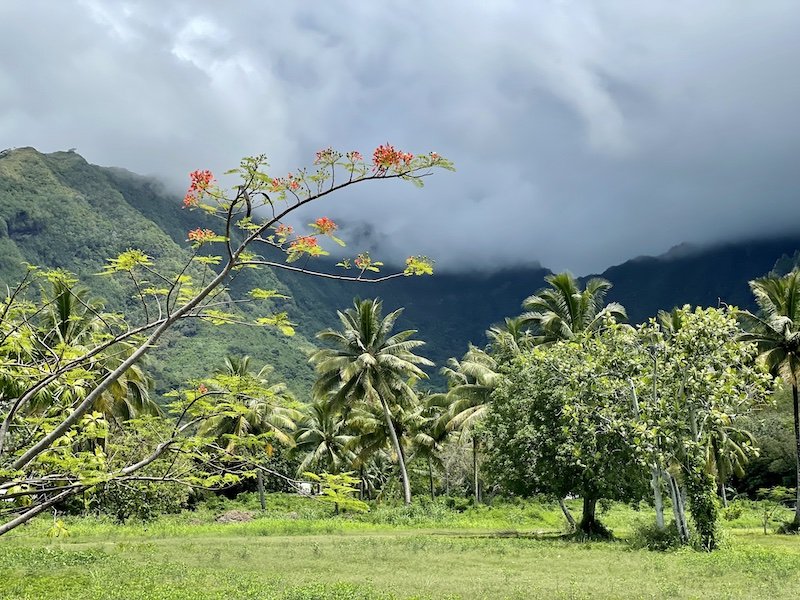 However, if you add on round trip flights to other islands, such as Bora Bora and its resorts, you'll quickly be spending a bunch more.
Third, we traveled in the shoulder season (November 2022), at the beginning of the rainy season and near the end of the humpback whale migration — which is a major reason why people visit Tahiti and Moorea.
This meant our Tahiti travel costs were lower and we got some of the best prices, but this may not be the most ideal time of year for some people.
If seeing humpbacks and having a lower chance of rain is more important to you than saving money or avoiding crowds, high season may be a better choice, despite the higher prices.
For us, our trip was diving-focused, which meant that low season was suitable for us since a little rain wouldn't disrupt things.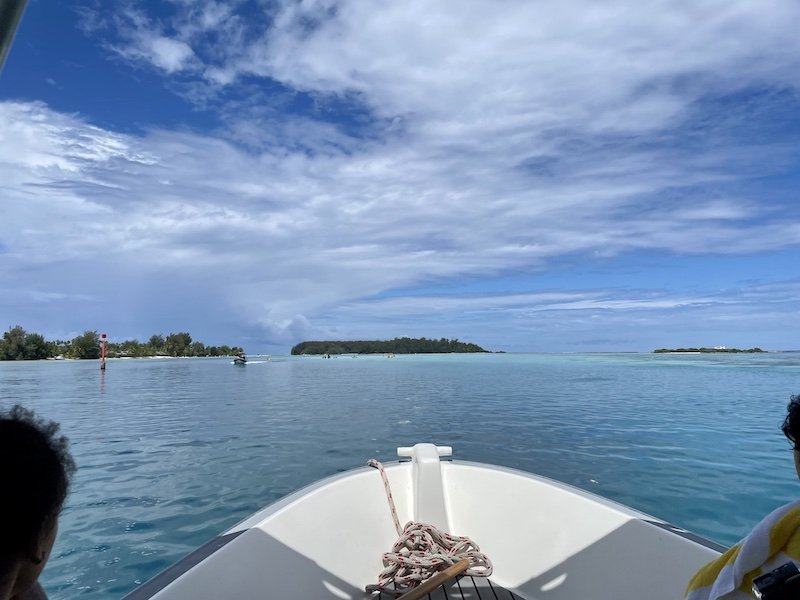 Personally, the benefits outweighed the cons for me, and I'd plan to visit Tahiti in November in the future with no questions!
Anecdotally — and this won't guarantee you'll have the same experience — we didn't really experience that much rain over our 10 days in Tahiti despite it being the beginning of the rainy season.
There were a few downpours, but they were usually brief enough that they didn't disrupt plans, and they almost never occurred in the morning when our dives were scheduled.
That said, we did have a really rainy 4×4 safari tour in Moorea (though it was still one of our favorite things we did in Moorea, besides dive!), and we did have our planned helicopter tour in Tahiti canceled due to bad weather, so we didn't have blissfully perfect weather either.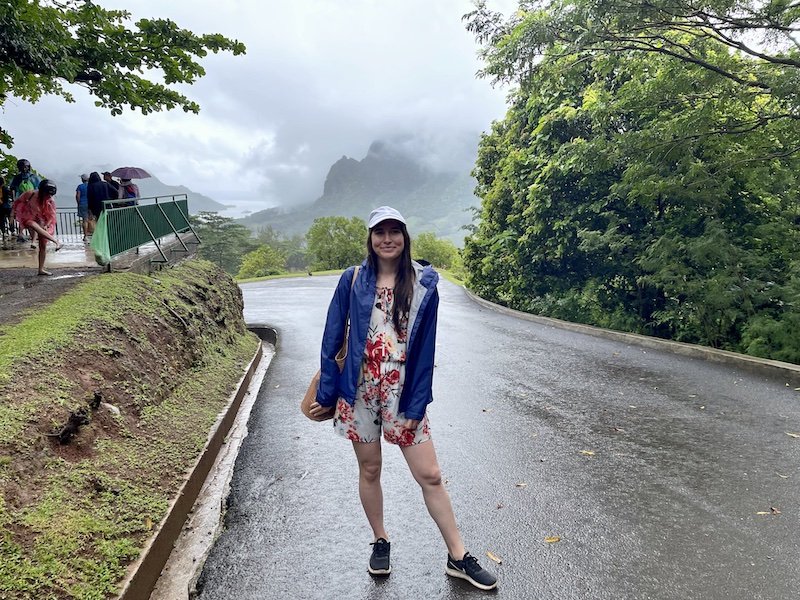 Another con is that mosquitos were definitely really active at the beginning of the rainy season, especially on Moorea, so keep that in mind if you plan a trip during this season.
Finally, and the most importantly, we are American and we traveled at an advantageous time for the US dollar compared to the Euro.
I also can't help but compare the cost of Tahiti travel to the cost of Hawaii travel — and besides airfare and rental cars, Tahiti travel costs are approximately half that of Hawaii.
When I compare the two budgets, our dives and activities, meals, and accommodations were all about half that of what I paid in Kauai and Oahu on a recent trip.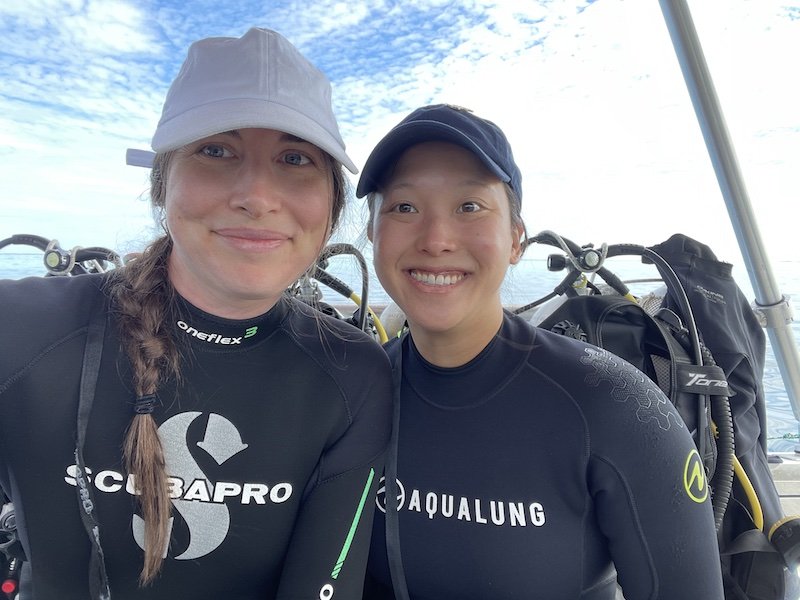 One thing to keep in mind about traveling to Tahiti is that the currency of Tahiti, the CFP franc, is pegged to the Euro at a rate of 1 euro to 119.05 Polynesian francs.
Because the Euro and the dollar were roughly on parity, we saved quite a bit of money due to the favorable exchange rate.
If you are reading this after 2022, check what the exchange rates are, since they may differ quite a bit!
You may need to adjust based on what the current difference between the Euro and the US dollar are.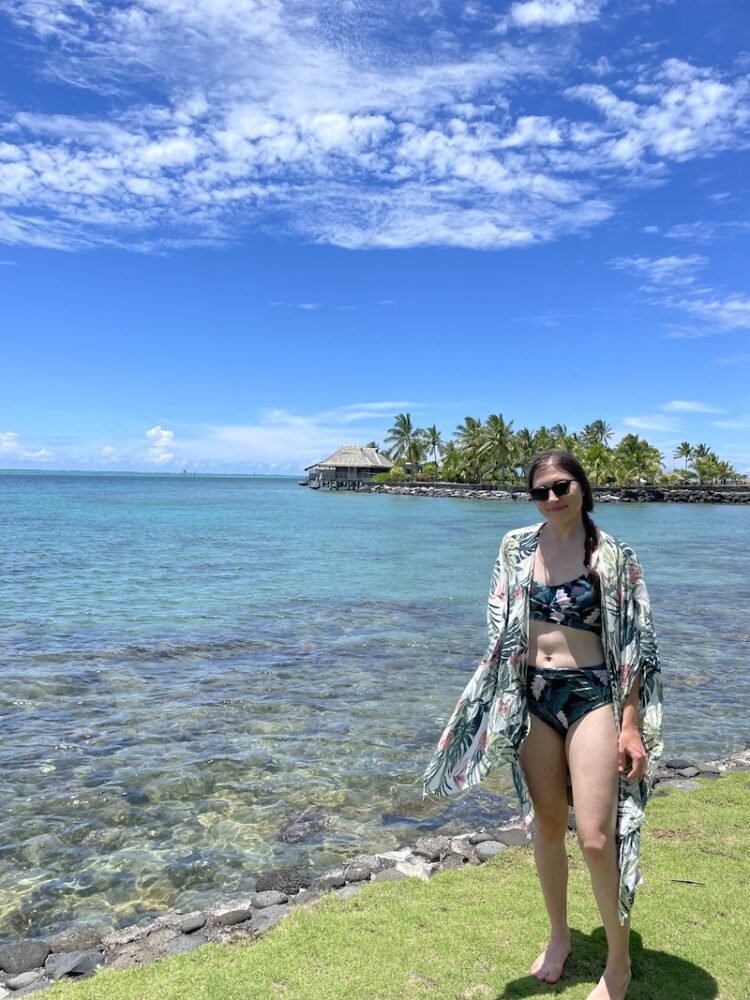 Historically, the Euro has been about 10-20% stronger than the USD, so you may need to add on an additional 10% or 20% to these estimated costs if you're American and the Euro has strengthened back to its normal value.
In this article, I'll include the cost in US dollars (as most of my audience is American) for the most part, since that's what my record-keeping has noted down.
I'll also include XPF (the symbol for the CFP franc) when I recall it, so you can calculate the most accurate cost for the current exchange rate.
Here are the main categories where you'll need to budget for, with a range of expected costs in Tahiti and Moorea.
I didn't include things like spa treatments/massages and souvenirs from Tahiti, etc. as these are personal and optional expenses and not inherently necessary to a trip to Tahiti.
Cost of Getting to Tahiti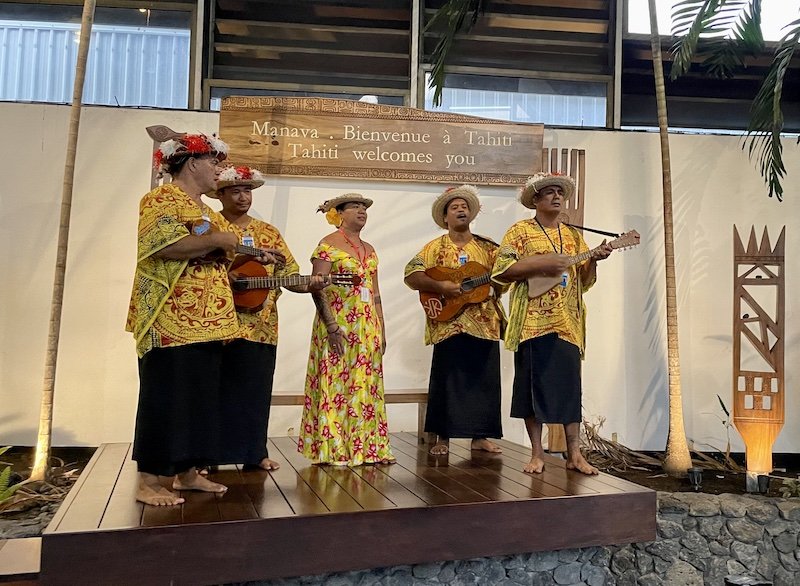 This will vary depending on where you are coming from, of course!
One of the main reasons why we chose to travel to Tahiti was the relatively affordable plane tickets out of San Francisco International Airport (SFO).
All international flights fly into Faa'a International Airport, which is near Papeete on the island of Tahiti.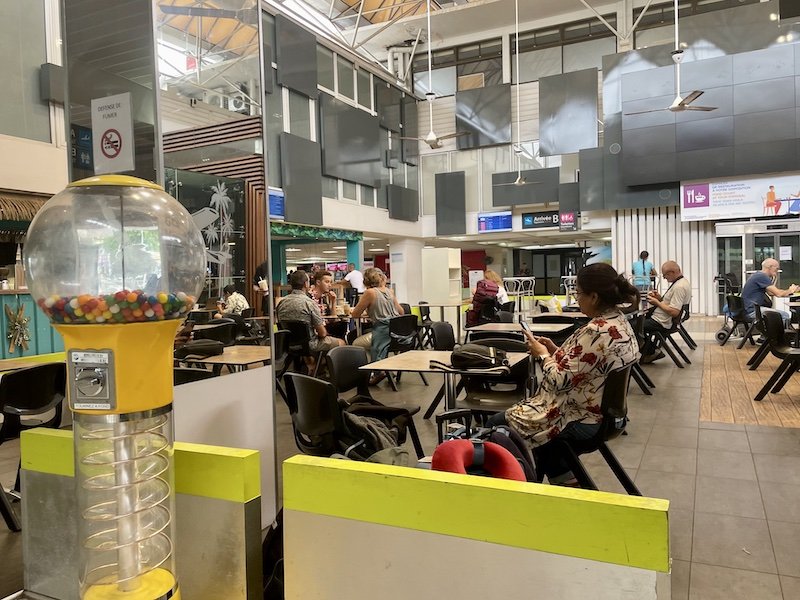 Two airlines serve the SFO-PPT route, United Airlines and French Bee. We opted for the latter and really enjoyed the flight experience.
Note to Americans who have not traveled much in Europe: French Bee is styled after European budget airlines.
Therefore, things like baggage, meals, beverages, seat selection, etc. are not included in the airfare price.
However, all those fees were reasonable (35 euro for a bag check, 15 euro for a meal, 5-10 euro for seat selection, 3 euro for a beverage, free water), but they did add up a bit.
All in all, for my roundtrip flight to Tahiti in November I paid approximately $590 USD (including seat selection, but no meals — we brought our own).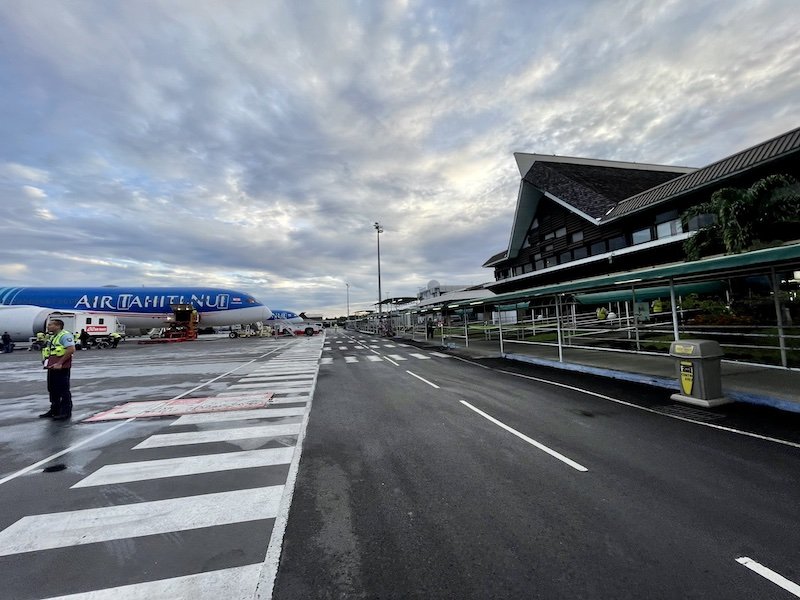 This isn't an atypical price or a shocking flight deal, either!
I typically see plentiful return flights from SFO-PPT in the $550-650 range in the off season…. sometimes even cheaper!
The two busiest months in high season tend to be July and August, and even then, I can see flights starting at $750 USD return when I look about 6 months in advance.
Not bad for an 8-hour direct flight to remote islands in the middle of the South Pacific!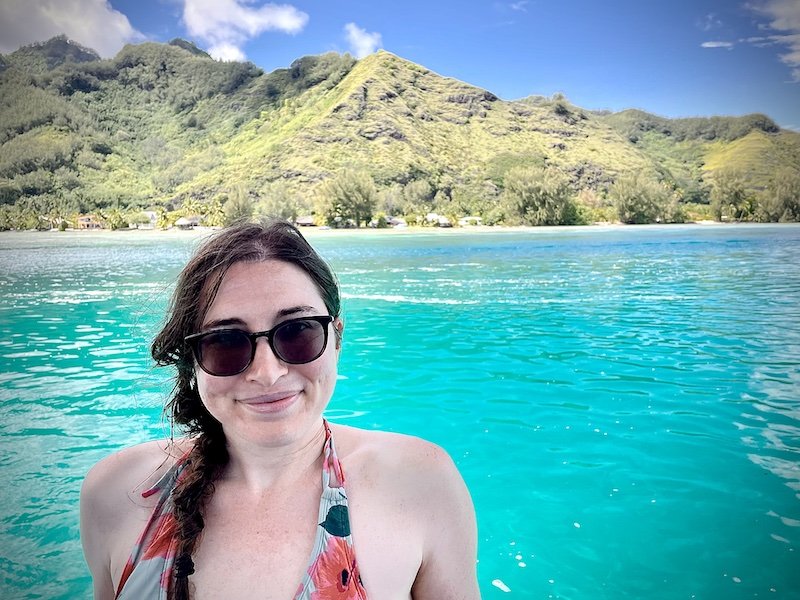 Other West Coast American cities also have direct flights to Tahiti.
Air France flies direct from Los Angeles for around $600 USD return in the off season and about $1,000 USD in the peak summer months (you could always save by flying to SFO first).
If you're flying from New Zealand, prices start around $941 NZD for return flights at present (in the lower season).
If you're flying from Australia, prices start around $1,353 AUD for return flights (with a stopover in New Zealand, also in the lower season).
If you're flying from Europe, it's best to first fly to Paris. Flights to Tahiti from Paris via French Bee start around 1,000 Euro return.
Total Cost: $590 USD for a return flight
Accommodation Costs in Tahiti & Moorea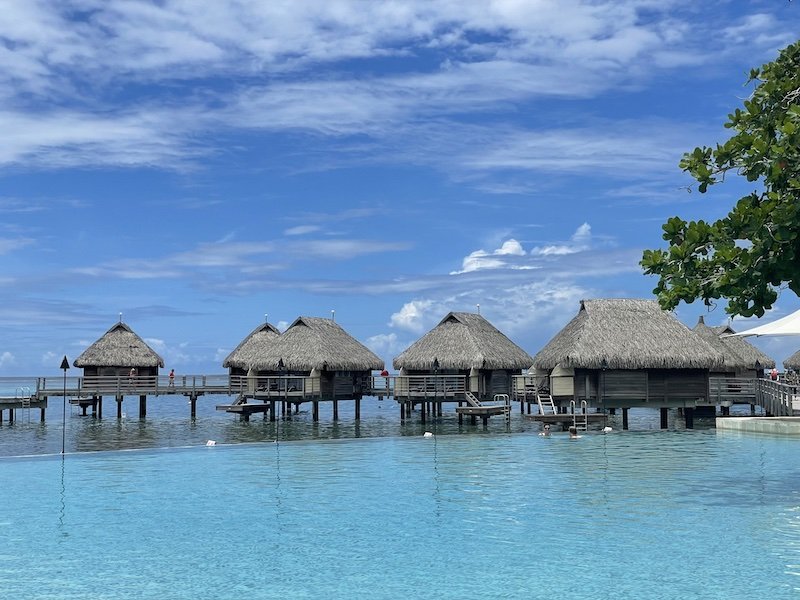 Accommodations in Tahiti are where you will find the widest range.
This is where you can really save money, or alternatively, ball out for a special occasion!
For our 10-day trip to Tahiti and Moorea, we opted to stay in local guesthouses for 8 nights, since we had a really active trip and weren't going to be in our accommodation that much.
At the end of our trip, we splurged on spending our final two nights in Tahiti at the Intercontinental (though not in an overwater bungalow — we're not that flush!).
Guesthouses in Tahiti and Moorea typically range from $80-150 USD per night.
We stayed at guesthouses on the higher end of the spectrum, prioritizing location and comfort above all.
Still, staying at guesthouses (fares in Tahitian language) is rather affordable. We spent an average of $125-150 per night for one of the nicer rooms in a guesthouse.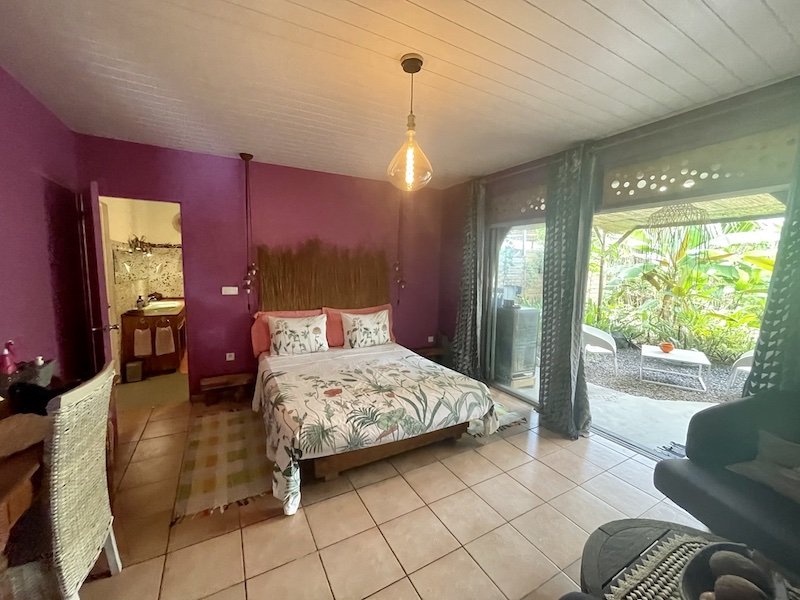 For budget travelers, note that there aren't a lot of hostels in French Polynesia, though Tahiti has two and Moorea has one.
There is one in Papeete (Mahana Lodge Hostel) and it costs about $65 USD a night for a dorm bed, and another in Tahiti Iti (Kia Ora Lodge) for around $50 USD a night for a dorm room.
For Moorea, there's one hostel I could find, PainaPaopao Backpacker in Pihaena, for similar prices (about $50 per night for a bunk).
Note: I have a full guide to where to stay in Moorea here!
Meanwhile, there are plentiful guesthouses where you can enjoy a private room (not a backpacker dorm) for around $70-100 USD a night in low season, such as Pension Te Miti in Punaauia or Hautea Bungalow in Faa'a.
In Moorea, you might want to look at Fare Blue Lagoon View in Afareaitu or Pension Motu Iti in Pihaena if you want an affordable guesthouse.
For me, even as a former backpacker, guesthouses offer a way better value. However, if you are looking for travel companions to explore the islands with, hostels may be a better choice.
That said, in our guesthouse in Tahiti, we found several solo travelers.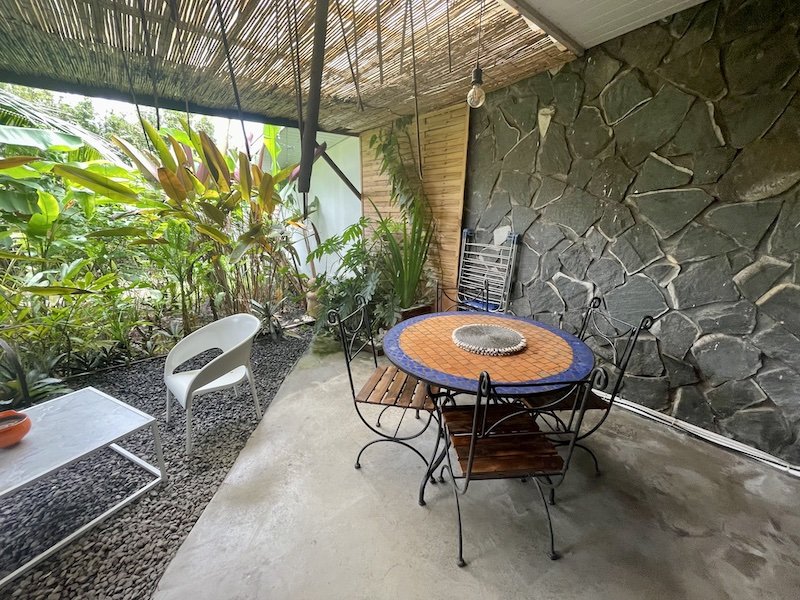 If you're willing to up your budget to the $125-200 USD a night range, there are some great mid-range guesthouses that are perfect for friends or couples.
I loved Fare Rearea in Papeete — the location was so central that we could walk to many places we wanted to eat at, parking at the guesthouse was easy when we needed it.
The lush garden and pool and kitchen area were great to relax in, and our private studio room was incredible, with our own private terrace with an outdoor kitchen and garden.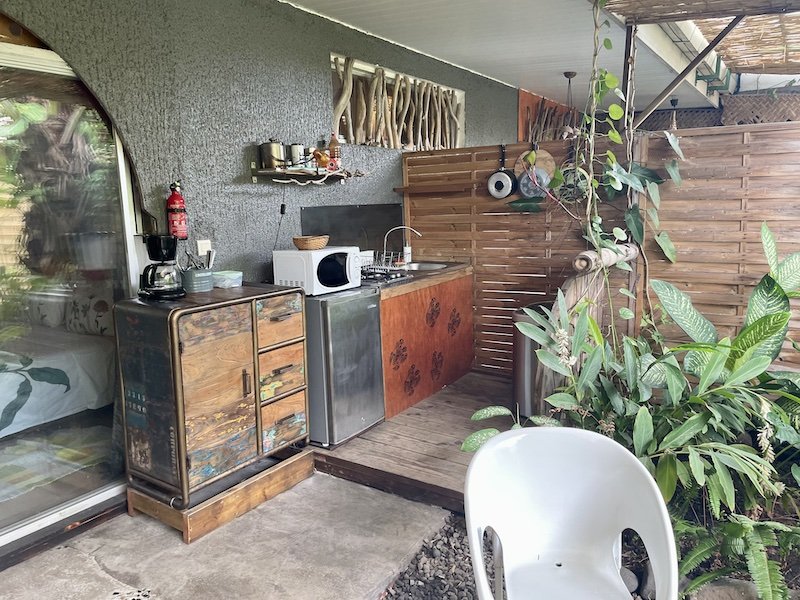 Plus, the included daily breakfast was fantastic, with tasty jams, yogurts, local honeys, and fresh pastries as well as heartier options like pain perdu (French toast) and omelettes.
Another great looking option is Bungalow Poerava in Punaauia if you prefer to stay somewhere outside of the capital city.
If you prefer a mid-range chain hotel experience, the Hilton Hotel in downtown Papeete offers a nice value without breaking the bank.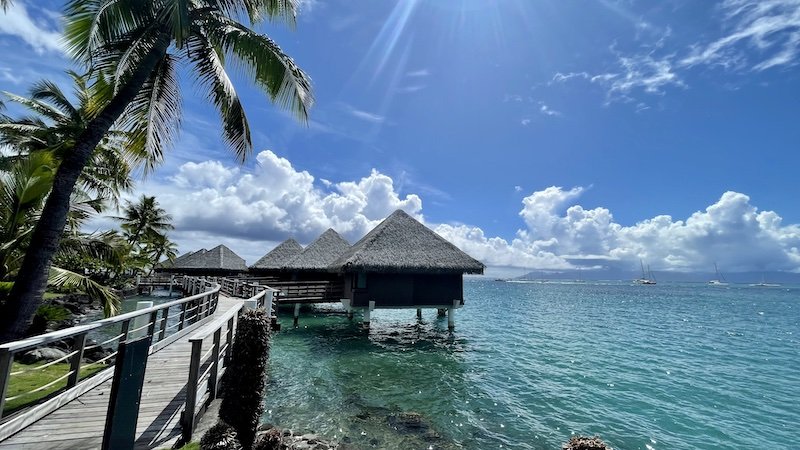 Of course, Tahiti has plenty of beach resorts and luxury hotels as well!
While we opted to stay in guesthouses for most of our stay, we did want a little taste of the resort experience and chose to stay in the Intercontinental Tahiti in Faa'a.
We opted for an ocean view hotel room with a view of Moorea and it was rather affordable (compared to similar destinations like Hawaii) at around $360 USD per night.
Rooms start at about $330 USD per night in the off season, but we chose to upgrade to a slightly nicer room with a better view of Moorea.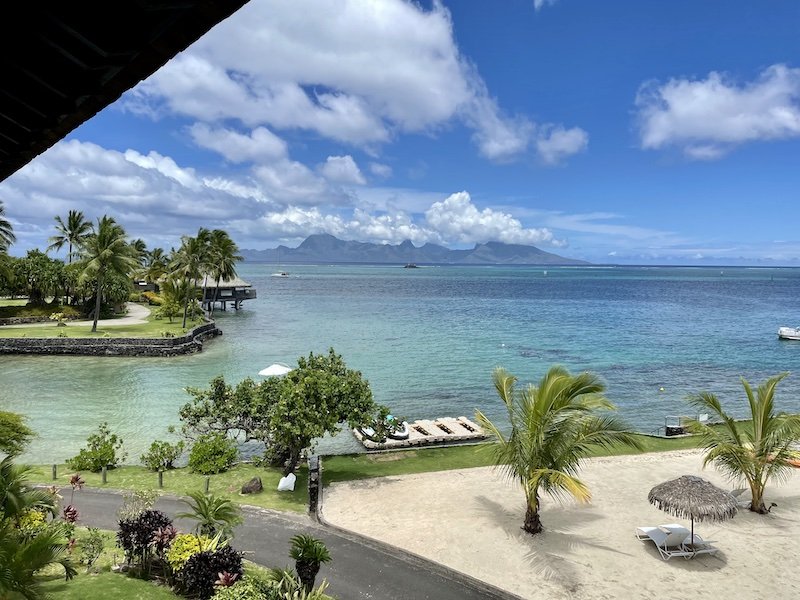 However, if you want to stay in an overwater bungalow in Tahiti or elsewhere in French Polynesia, like Bora Bora or Moorea, be prepared to put a real dent in your wallet!
The overwater bungalows at the Intercontinental start at $800 USD per night, and that's in low season!
In high season, you'll be looking more along the lines of $1,200 USD per night.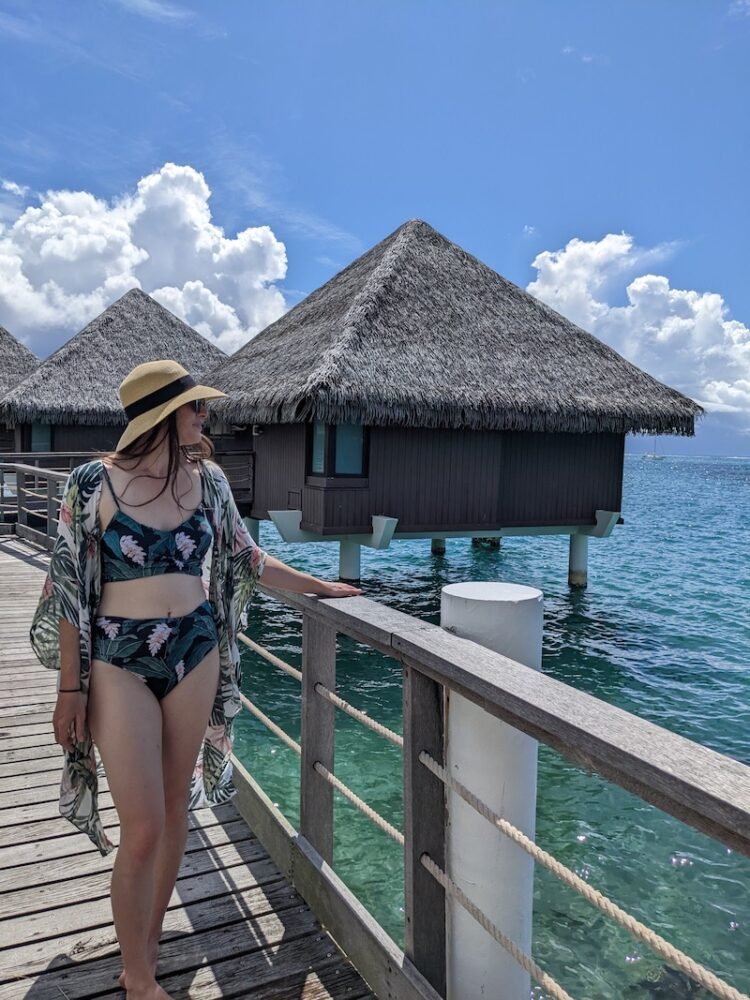 Tip: At the Intercontinental, there are two overwater bungalow options, the Ocean View bungalows and the Motu Suites. The Motu Suites are a little more expensive, but if you like snorkeling, they're the better choice as the reef is right in front of you!
We didn't stay in the bungalows, but we snorkeled in front of them and it was absolutely amazing….. we're talking day octopus, giant moray eels, sea anemones with clownfish, and an incalculable number of beautiful reef fish!
There are other beach resort options on the main island of Tahiti, but they do not have overwater bungalows.
Another popular beach resort option is Le Tahiti by Pearl Resorts. It may not have its own bungalows, but it does have its own black sand beach right below it!
Tahiti Accommodations:

Hostels: Kia Ora Lodge in Tahiti Iti or Mahana Lodge Hostel in Papeete

Budget Guesthouses: Pension Te Miti in Punaauia or Hautea Bungalow in Faa'a

Mid-Range Guesthouses: Bungalow Poerava in Punaauia or Fare Rearea* in Papeete (*where we stayed)

Beach Resorts: Intercontinental Tahiti* in Faa'a (*where we stayed) or Le Tahiti by Pearl Resorts in Arue (private beach, but no bungalows)
Personally, for Moorea, we opted for the mid-range guesthouse route again, staying at Poerani Moorea.
The grounds and location were perfect — a dreamy turquoise lagoon right in front of your accommodation can't get much better!
Plus, I loved the lush gardens that surrounded all the bungalows and made them all feel very private.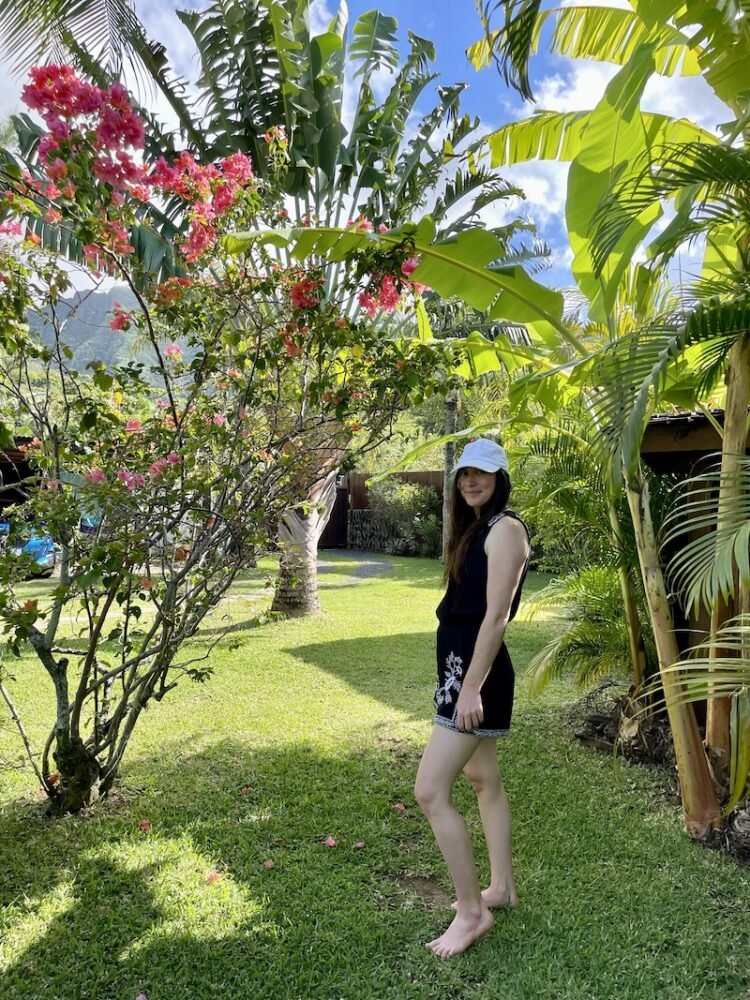 The staff was extremely friendly, although there was a bit of a language barrier if you don't speak French (I do — poorly).
Poerani was only a 10-minute walk from town, but it felt very private and secluded while still very accessible, especially since we didn't have a car on Moorea.
We loved the beautiful communal garden area and the free kayaks that we could use to explore the beautiful waters in front of us — we could even snorkel off of the kayaks!
We loved our accommodation — it was well-designed and spacious, with a beautiful bathroom, a well-stocked kitchenette, a private lounge area in the garden, and a lovely bedroom.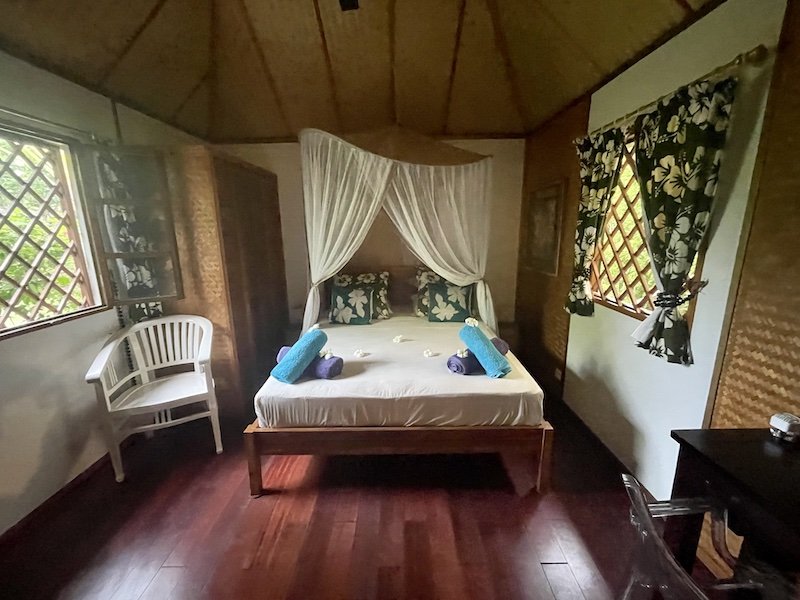 However, you should note that only the bedroom is sealed off and air-conditioned, which meant that mosquitos were able to get into our living room and bathroom area.
For me, that wasn't a huge deal because I am not very reactive to mosquito bites, but my girlfriend really struggled with bites, some of which we got inside the accommodation!
However, if you prefer beach resorts, Moorea is truly the place to go — and it has better offerings than Tahiti, at least according to me!
Moorea has three overwater bungalow luxury resort options: Manava Beach Resort & Spa, the Sofitel Kia Ora, and the Hilton Moorea Lagoon Resort.
(Note: The Intercontinental in Moorea is now permanently closed).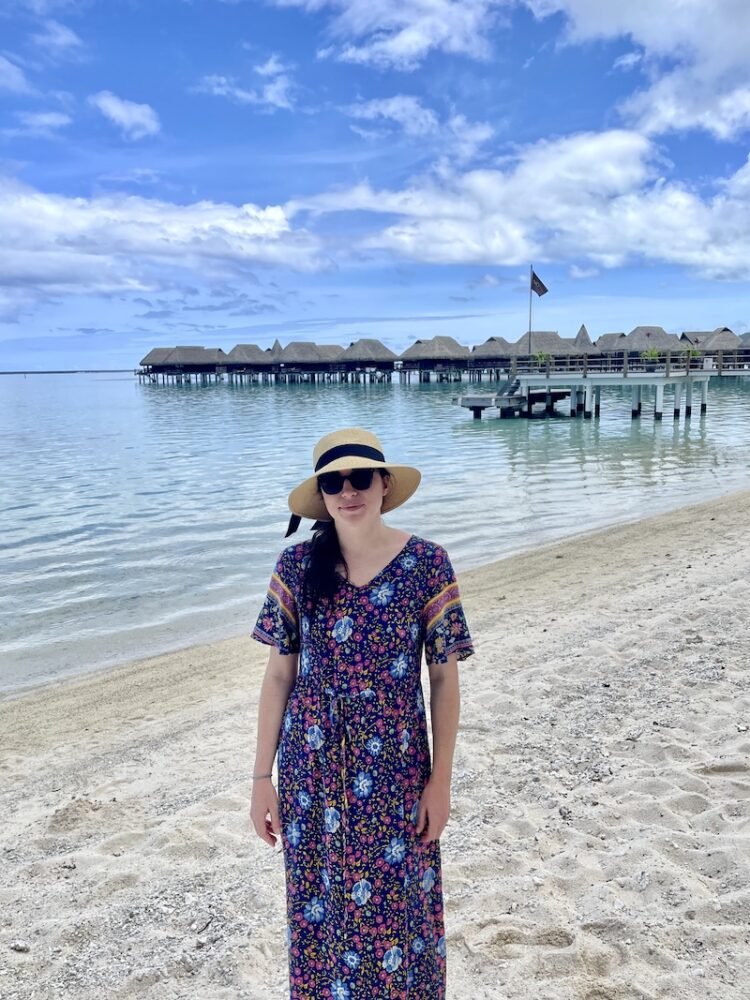 We visited two of the beach resorts (Manava and Sofitel, but not the Hilton) with overwater bungalows not as hotel guests but as visitors, and can speak highly about the grounds themselves!
The Sofitel in Maharepa is near both the airport and the ferry terminal, but even better, it is located right near the best shore-accessible snorkeling in all of Moorea, with its own sand beaches and near a public sandy beach as well.
The Sofitel beach bungalows start around $550 USD a night in the low season and its overwater bungalows go for around $800 USD a night in the low season.
In the high season, beach bungalows are around $700 USD a night and the overwater bungalows go for $1,100 and more!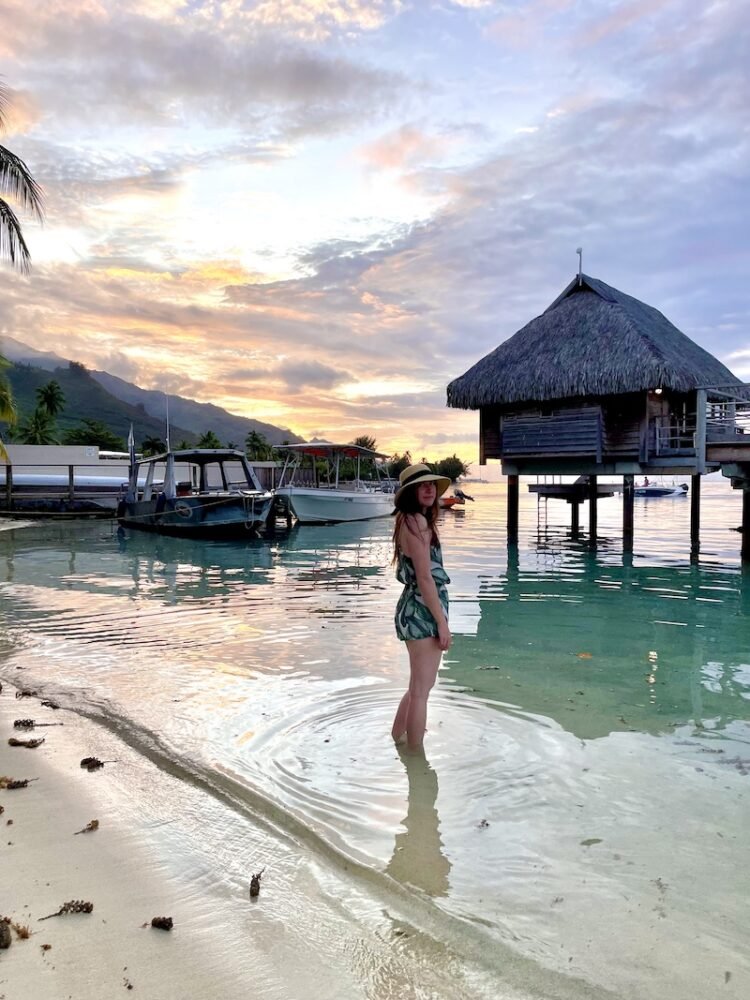 Another option for overwater bungalows on Moorea is the Manava Beach Resort, which is located in the center of Maharepa.
In the low season, the garden view hotel rooms start at $490 a night, beach bungalows with a private pool around $550 a night, and overwater bungalows go for around $900 a night and up.
In the high season, regular hotel rooms are around $650 a night, pool bungalows are around $750 a night, and overwater bungalows are approximately $1,100 a night and up.
Moorea Accommodations:  

Hostels: PainaPaopao Backpacker in Pihaena

Budget Guesthouses: Fare Blue Lagoon View in Afareaitu or Pension Motu Iti in Pihaena

Mid-Range Guesthouses: Poerani Moorea* in Maharepa (*where we stayed) or Moorea Sunset Beach in Haapiti

Beach Resorts: Sofitel Kia Ora in Maharepa (closest to ferry/airport and best beach for snorkeling), Manava Beach Resort & Spa in Maharepa (closest to downtown restaurants and amenities), or Hilton Moorea Lagoon Resort in Papetoai & Spa (closest to beautiful Opunohu Bay)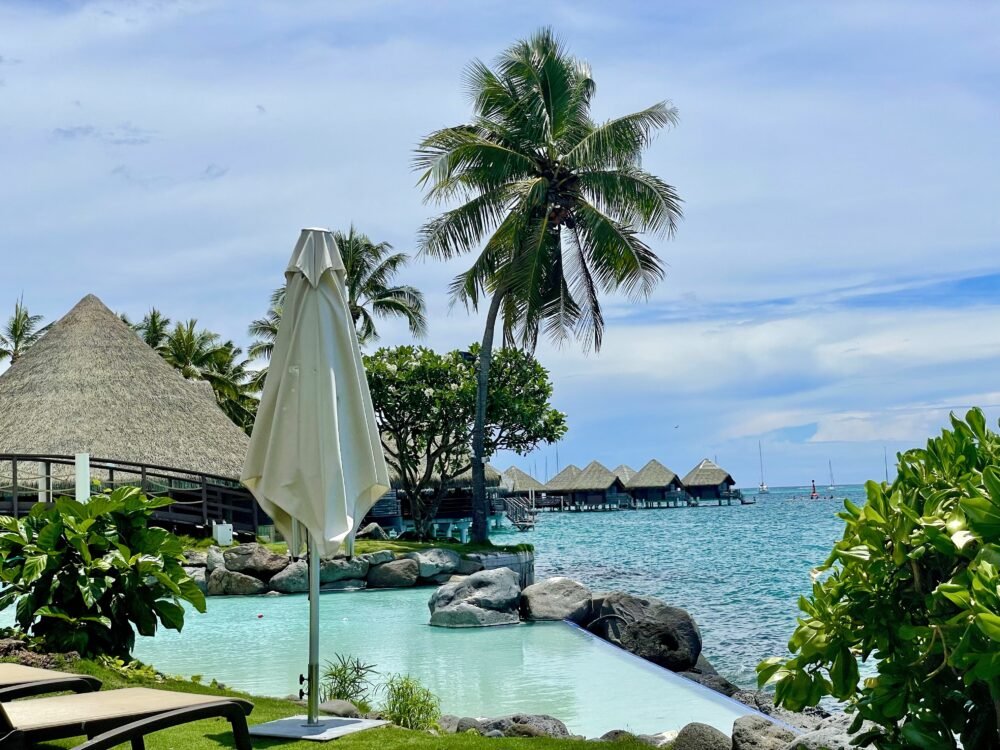 When it came to choosing between guesthouses and Airbnbs, guesthouses were the clear winner. Resorts were also quite affordable, comparatively speaking.
We looked into Airbnbs as well, but we found that with cleaning fees, there was no real benefit to staying in an Airbnb vs. a guesthouse.
In fact, Airbnbs were almost always more expensive after service and cleaning fees.
Total Cost: Approximately $80 per night in guesthouses and $180 per night in resorts, about $1,000 total over 10 nights ($100 per night average)

(Note that this is cost per person, not per room, and I'm calculating this as costs being split between two people sharing a room)
Air Travel Costs in French Polynesia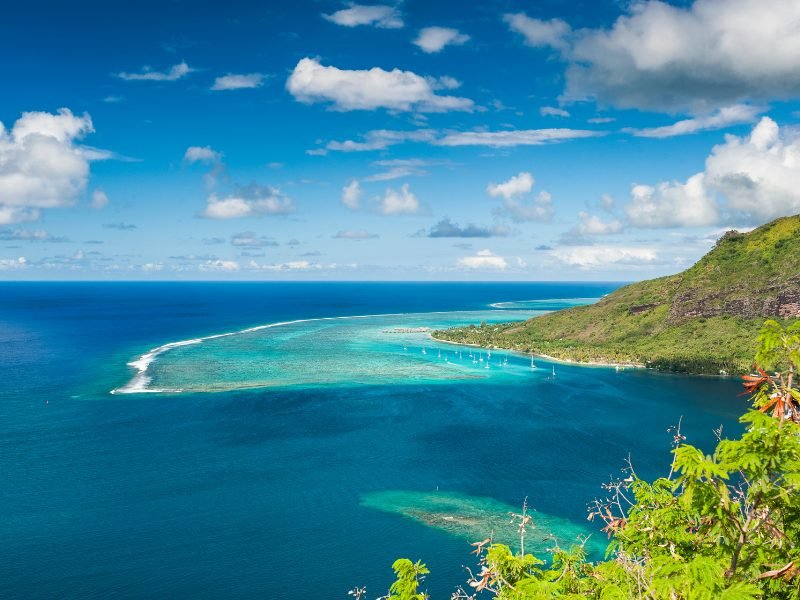 Island hopping is where costs can really start to balloon in French Polynesia, because inter-island flights tend to be rather pricy.
For example, a return flight between Tahiti and Bora Bora costs 42,306 XPF (or around $368 USD — and that's with a favorable exchange rate!)
It actually starts to become a better idea to just book a multi-island flight pass with Air Tahiti. These actually offer incredible value!
The cheapest option is the Discovery Pass, which does not include Bora Bora. It starts at 331.80 Euro in the low season and goes up to 357 Euro in the high season ($342-370 USD at present exchange rate).
This pass includes Moorea, Huahine, and Raiatea (from which you can access Taha'a by boat).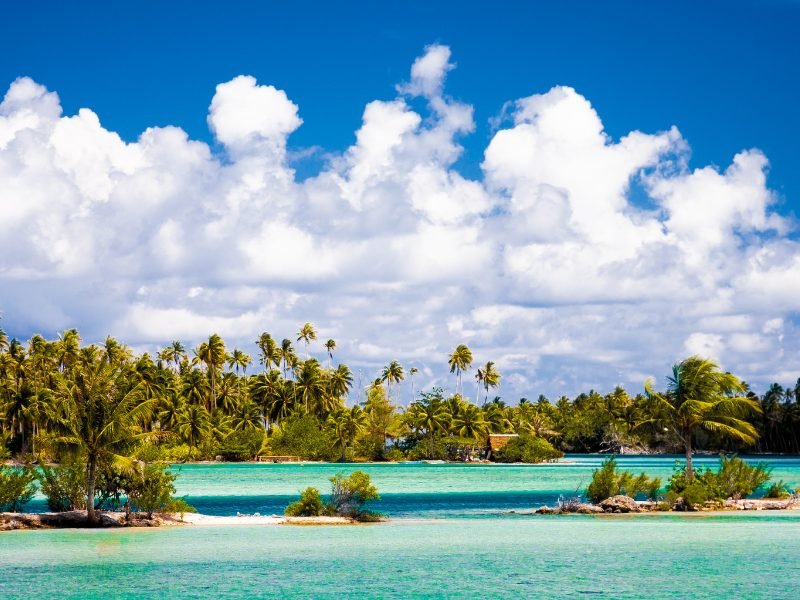 The pass that will be interesting for people who want to travel to Bora Bora is, well, the Bora Bora pass!
It starts at 434.90 Euro in the low season, and goes up to 469.30 Euro in the high season ($450-485 USD at present exchange rate).
This pass includes all the above, but also includes the islands of Bora Bora and Maupiti, all the major islands in the Society Islands archipelago.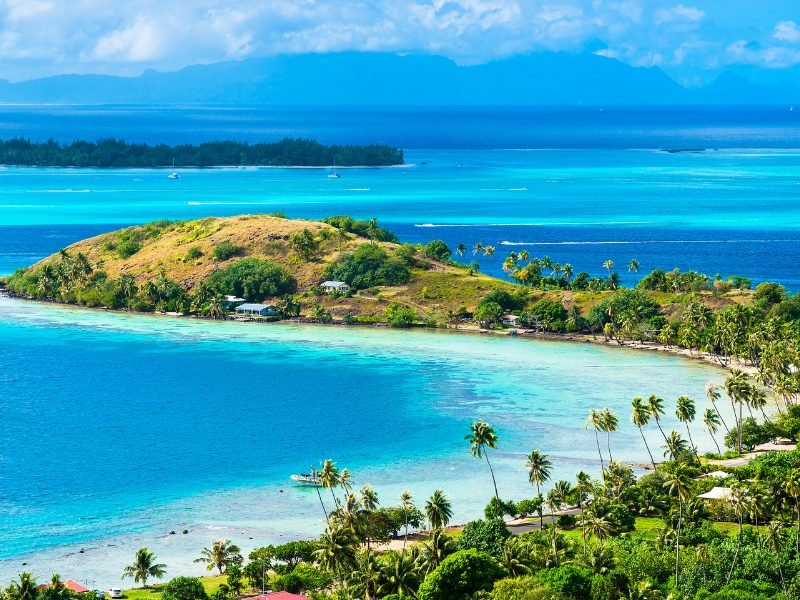 If you plan to dive some of the best places in French Polynesia, you'll want the Lagoons pass.
This will bring you to Rangiroa, Fakarava, and Tikehau, which are considered to have some of the best coral reefs for scuba diving in the world!
This pass costs 441.20 Euro in the low season and 476.40 Euro in the high season, or $455-492 USD.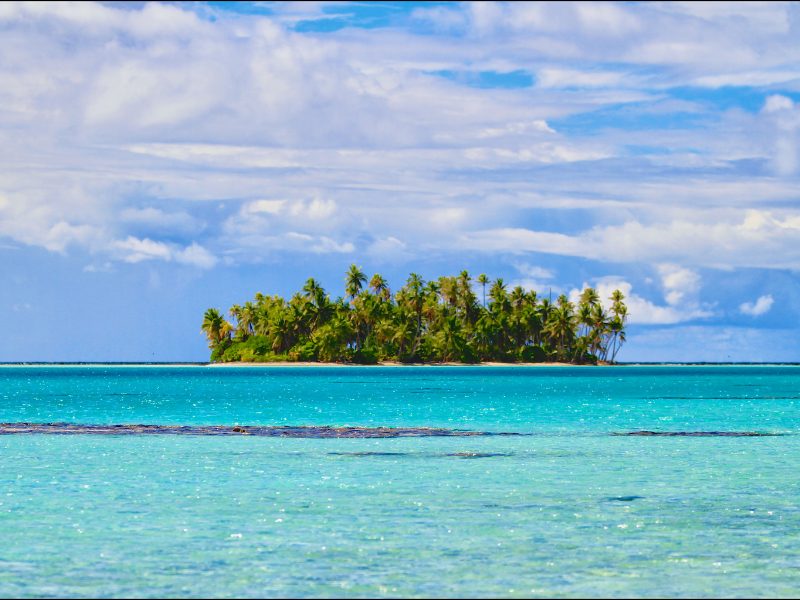 If you want to combine the Bora Bora pass and the Lagoons pass, it's a pretty good value compared to buying them individually.
For everything all together, the cost is 584.10 Euro in the low season or 631.90 Euro in the high season (around $605-655 USD).
The more islands you plan to visit, the better this deal becomes!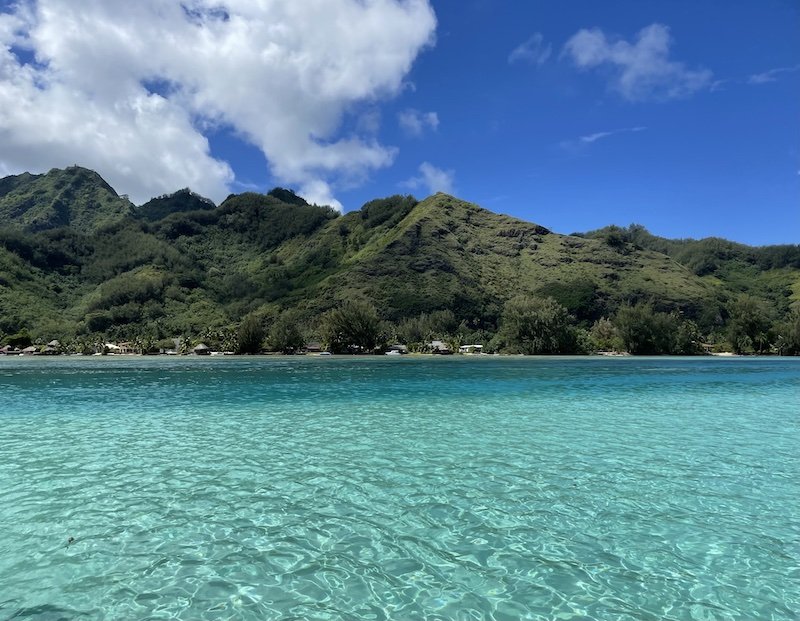 We were looking to save time and money on this trip, so we opted not to take any inter-island flights, but we plan to buy the Lagoons pass or perhaps the Bora-Tuamotu Pass which includes all of the above on our next trip.
If you want to visit even more remote islands, like the Marquesas, be prepared to add on nearly 800 Euros even in low season!
Total Cost: $0, since we took no flights once in Tahiti, just spending 5 days in Moorea [by ferry] and 5 days in Tahiti.
Food Costs in Tahiti & Moorea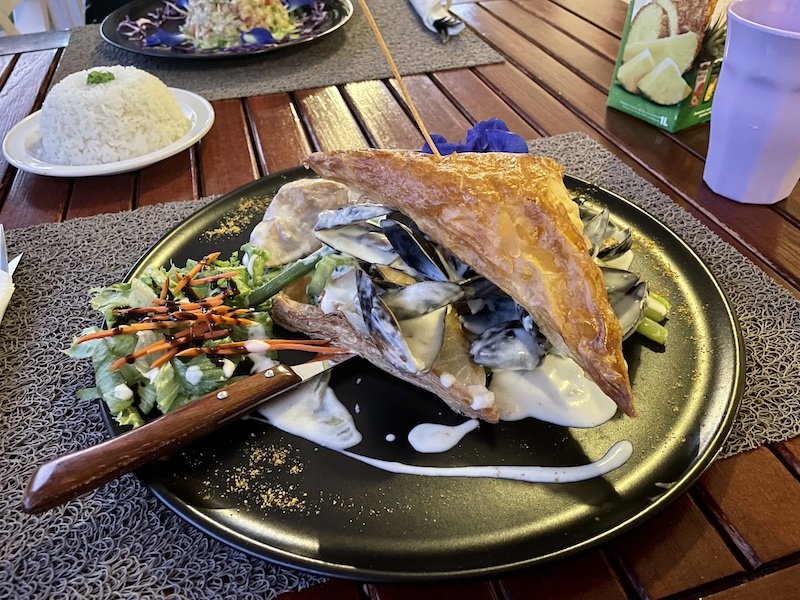 Food was a delightful surprise in Tahiti and Moorea! As someone coming from the United States, I found the food prices to be rather affordable.
Even dining at the nicest restaurants was comparable to going out to a mid-range meal in San Francisco or Oakland.
We ate at a few food trucks in both Tahiti and Moorea and were delighted by the quality of the food — and the prices! Average prices for a food truck meal were around $10-15 per main dish.
The priciest meal we had added up to $110 USD including tax and tip — this was for two people, with a starter, two main courses, sides, a glass of wine, and a dessert!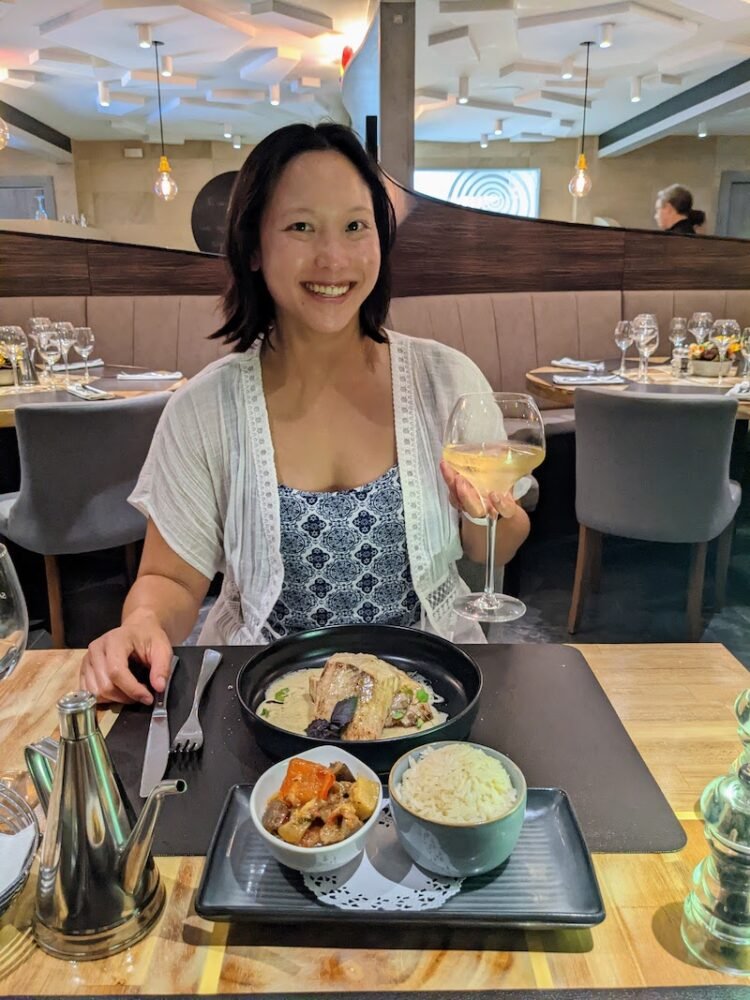 Most meals, however, were around $30-60 USD for two (typically ordering a main dish each and sharing a dessert or starter, without alcohol).
Wine lovers, rejoice — because Tahiti is a territory of French and popular amongst French tourists, wine is rather affordable on the islands of Tahiti!
We found that the average price of a glass of wine was typically around 600-1,200 XPF at a nice restaurant (around $5-10 USD).
Also, supermarkets in Tahiti and Moorea are rather good, as they have major French chains like my favorite supermarket in the world, Super U.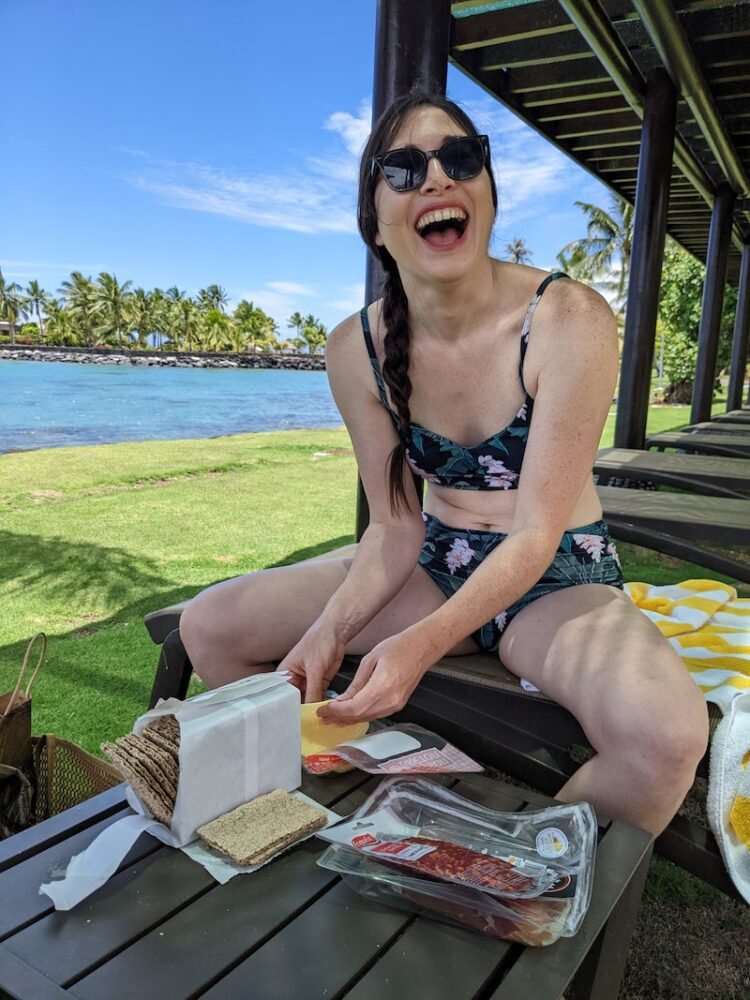 I found grocery prices to be on par with American grocery chains, and the products were far higher quality… think duck terrine for less than $10 USD, baguettes for less than a buck, and aged cheeses for around $8 USD for a huge slice.
Plus, all the fresh, fresh tuna you can imagine for shockingly cheap prices.
Although our guesthouses did have kitchenettes, we found that food in Tahiti and Moorea to be so affordable and delicious that we didn't end up cooking for ourselves.
However, we did grab a variety of cold cuts for picnics and sandwiches on travel days, as well as plenty of sweets to snack on, and we were really happy with the average cost of food in the supermarkets.
You can also shop with local farmers and vendors selling produce street-side in Tahiti and Moorea, or go to Papeete Market for all the fresh produce you can imagine for extremely affordable prices.
Total Cost: Average spend of $50 per person per day, or $500 total.
Activity Costs in Tahiti & Moorea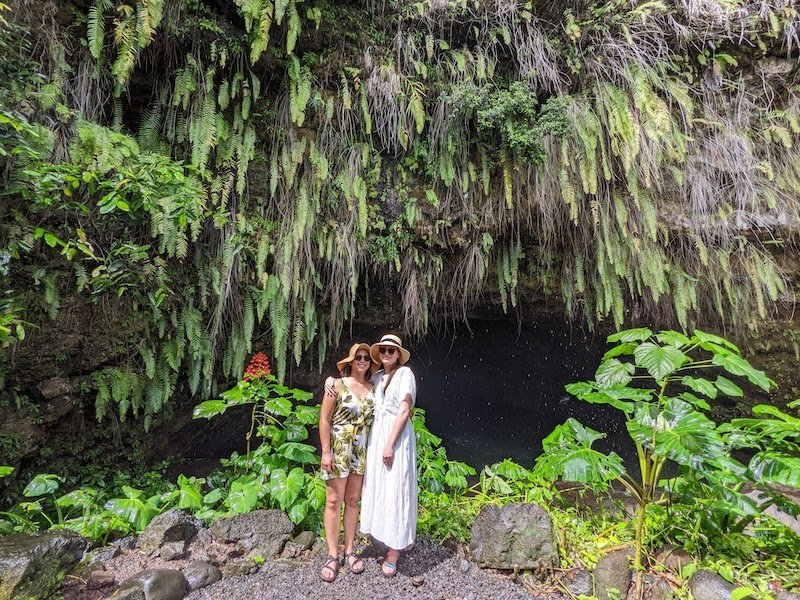 This is another place where you can really choose to splurge or save!
Since we chose to save on accommodations and not flying between islands, we spent more money on activities since there are so many great things to do in Tahiti and Moorea.
On Moorea, we opted for a sailing and snorkeling tour!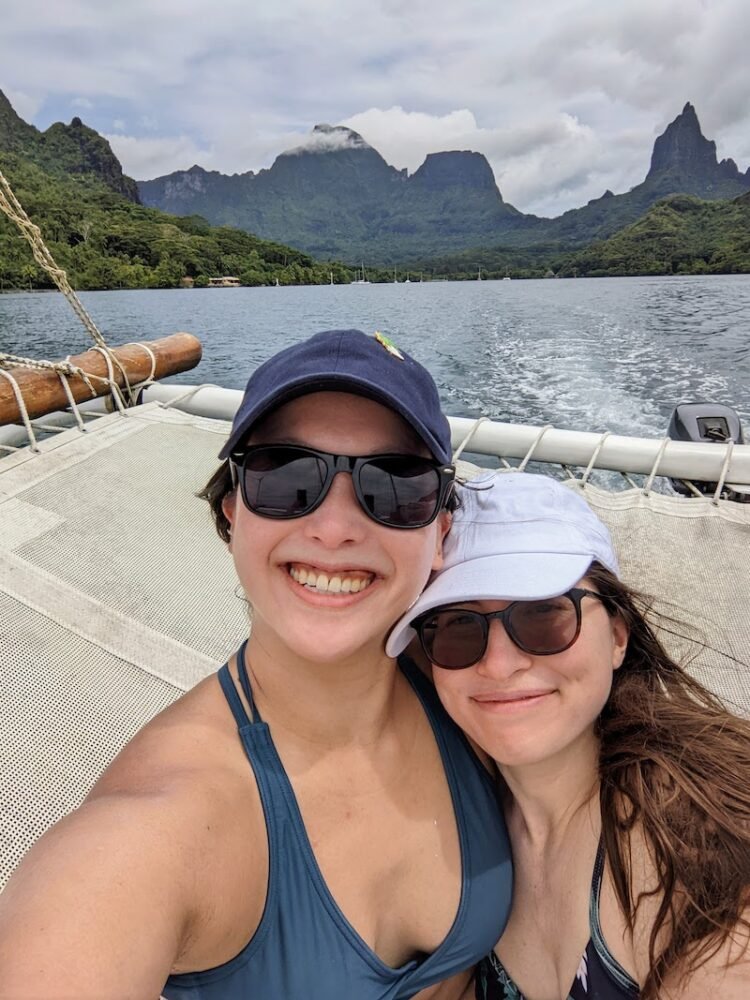 It was fantastic: we got to enjoy a private sailboat catamaran experience where we snorkeled with rays and black-tipped reef sharks at one site!
At our next site, we got to snorkel around beautiful coral reefs and colorful fish between two tiny islands (motus), with a fresh fruit tray and fruit juices served in between snorkel sites.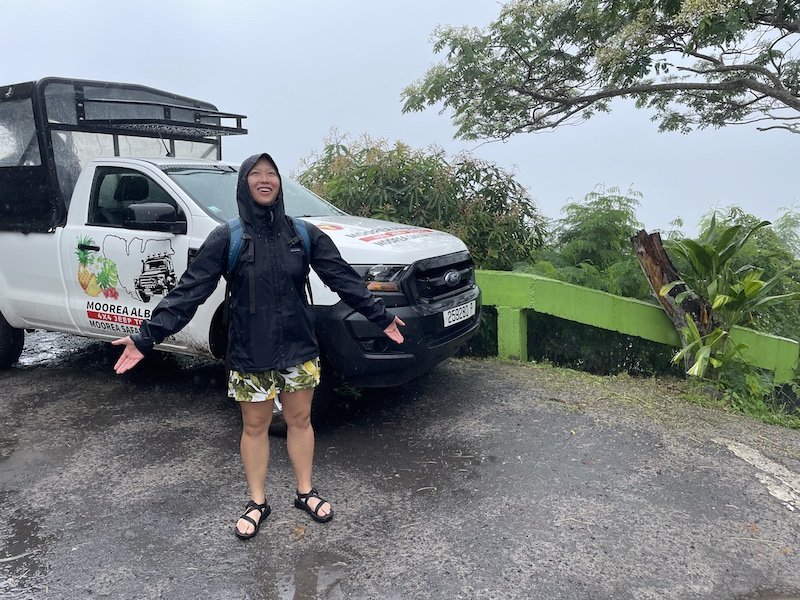 Another activity we chose was taking 4×4 safari tour of the island to bring us to landscapes like the Magic Mountain overlook, the Belvedere overlook, and the Rotui fruit juice fields (Moorea is famous for its pineapples!).
This was especially helpful since we didn't have a car, and even if we did have a rental car, we went to places that a rental car wouldn't have been able to handle (the Magic Mountain overlook and the fields around Rotui need a 4×4!)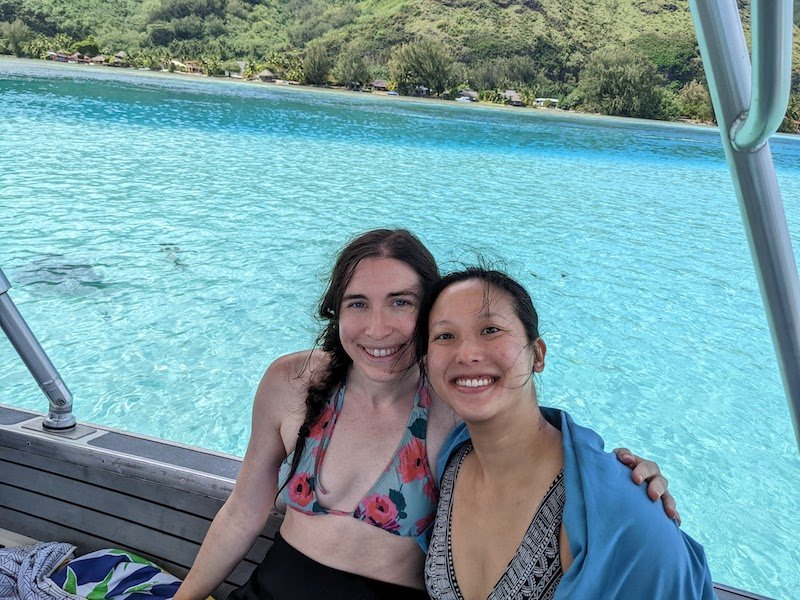 We also did a lot of diving!
If you plan to dive a lot in Moorea, a dive package can be a great deal. We went with Moorea Blue Diving, which allows you to buy packages.
(By the way, you should read my guide to diving in Moorea!)
If you just want to dive one day, you can book a two-tank dive for $130.
If you're an avid diver, you can buy a pack of 6 dives (3 days of morning two-tank dives) for $378 USD or 10 dives (5 days of two-tank dives) for $575!
You can also learn to dive with them and get certified, or you can do a discovery dive if you're not yet dive-certified, but you're dive-curious.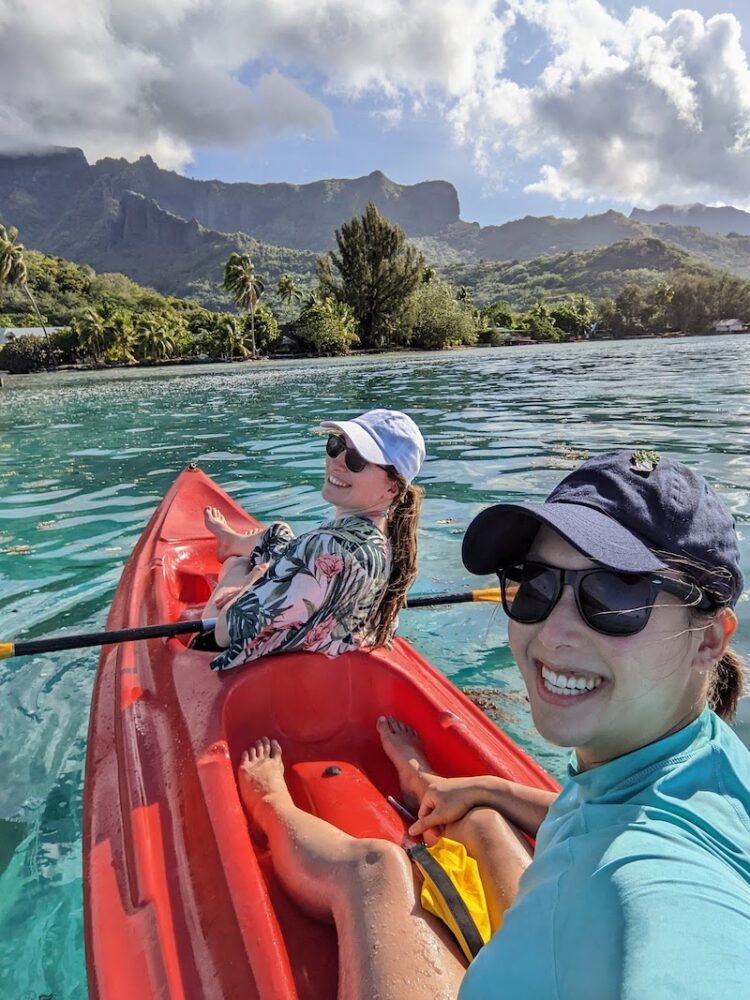 We did a handful of free activities as well, such as snorkeling at Temae Public Beach near the Sofitel Resort, and kayaking from our guesthouse and snorkeling off the side of the kayak.
We had planned to do a night snorkel of Temae Public Beach, but we got unlucky with the weather that night.
For our Tahiti itinerary, we had planned to splurge on a helicopter tour of the island, but this was during the two days of rain we had, and unfortunately, the weather canceled our tour.
Instead, we ended up driving around the island and exploring many of its free sites, such as its black sand beaches, grottoes, water gardens, and waterfalls.
In fact, I don't think we spent a single dollar on entry fees anywhere in Tahiti — our only cost was our car rental and gas.
In Tahiti, we also dove, but we booked our dives a-la-carte rather than with a package, for around $131 for a two-tank dive.
Total Cost: Around $65 per dive, $45 for a safari tour, and $80 for a half-day snorkeling and sailing tour. 

Estimated cost for our chosen activities per person: $645 total for 4 days of two-tank diving and two tours
Getting Around Tahiti & Moorea
Renting a Car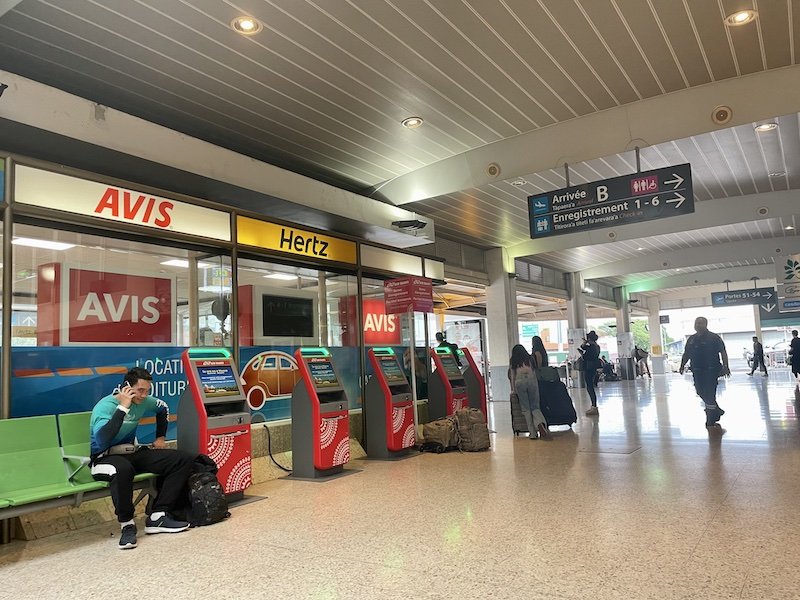 We rented a car on Tahiti and were very happy that we did. It was a little pricy, partly because we needed a more expensive automatic car, but it was only around $115 USD per day.
We made a mistake in not booking a rental car for at least a portion of our trip to Moorea. Many of the activities we booked did not include pick up or drop off, and so we'd have to spend money on taxis to get to our activities.
I have a guide to renting a car in Tahiti which may be helpful to read before you go!
Total Cost for 3-day rental: $115 USD per person
Taxis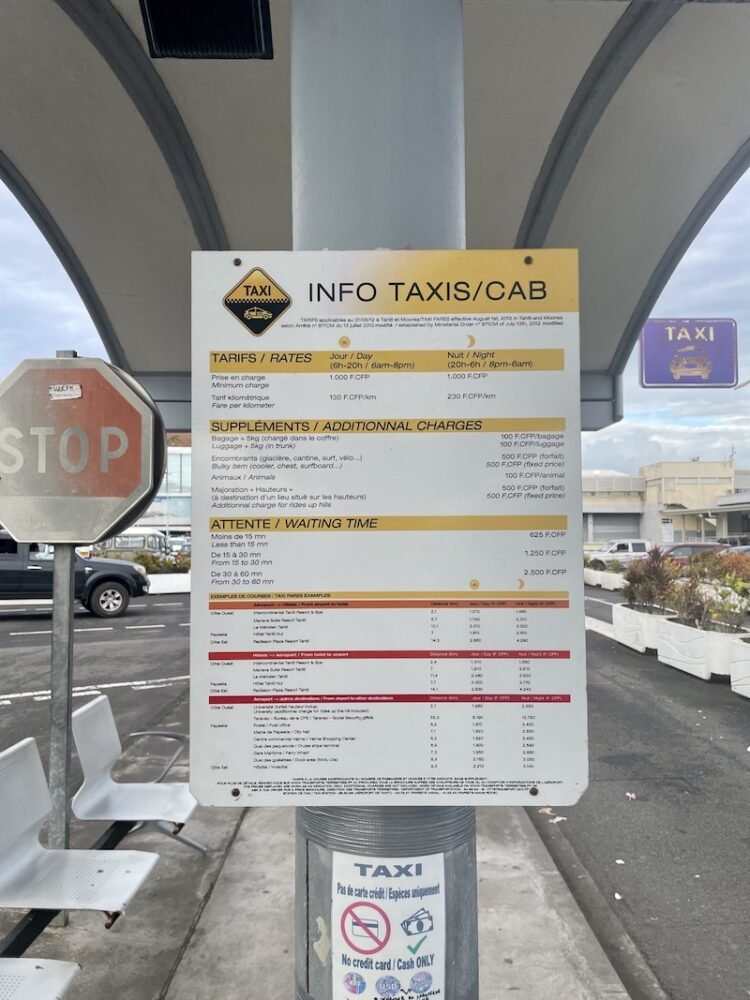 Taxis on Moorea (and Tahiti as well – the costs are the same) are not too expensive, but it did add up and made us feel a bit trapped at times, and we didn't get to see as much of the island as we wanted to.
Each 10 to 15-minute taxi ride was about 2,000-2,500 XPF ($17-22 USD), so we had to add on about $40 USD to every excursion we did, even free ones like snorkeling at Temae Beach.
Total Cost for Taxis: About 10 taxis at $20 average, $100 per person
Ferry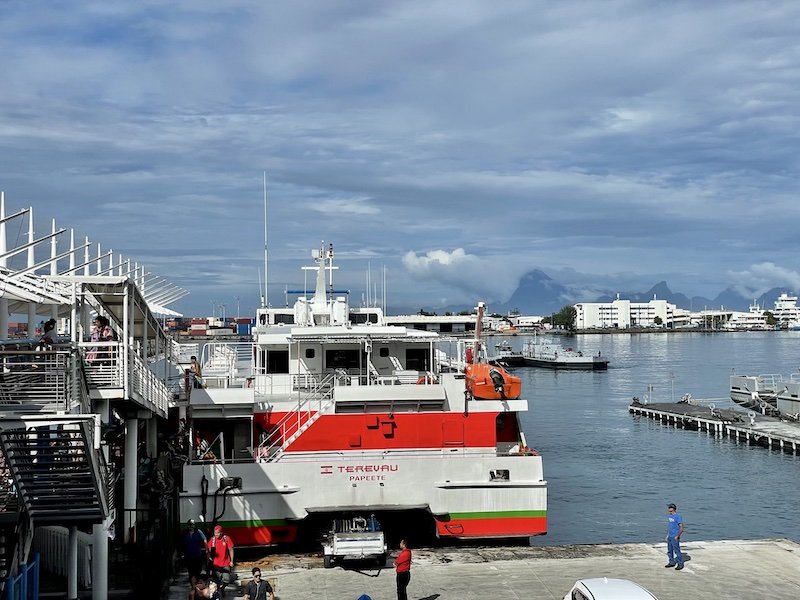 Getting between Tahiti and Moorea couldn't be easier! Head to the 'gare maritime' — ferry terminal — and take one of two ferry companies over to Moorea.
We took both companies — Terevau to Moorea, and then Aremiti on the way back. Both were equally good! Terevau is a smaller company than Aremiti, it seems. Aremiti is the major car ferry.
However, if you want to drive in Moorea, I recommend not using the car ferry, because the cost to transport a vehicle is rather expensive, about $95 USD each way for a medium sized car's transit.
We paid about $15 USD apiece for a passenger fare (no car) each way between Tahiti and Moorea.
I would suggest making separate rental reservations in both Moorea and Tahiti — it'll save you about $200 USD.
Total Cost: $30 USD for roundtrip tickets between Tahiti and Moorea
Travel Insurance for Tahiti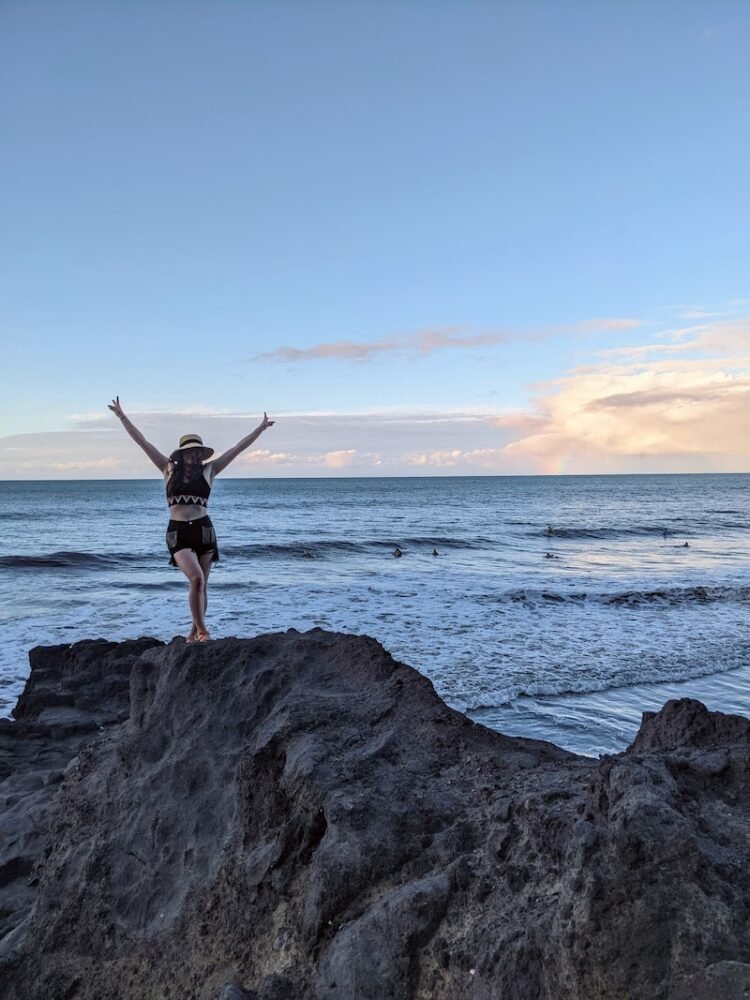 Don't forget to factor in travel insurance to your overall Tahiti trip budget!
I bought a 10-day policy with SafetyWing which covered me in case of any flight cancellation or interruptions, issues with my baggage, accidents, or illnesses.
I chose SafetyWing in particular for their great reputation among travel experts, but also because it's very affordable compared to its competitors, and it is clearer about what it covers.
Best of all, SafetyWing covers scuba diving related incidents as long as you are PADI or SSI certified, so I didn't need to buy a separate dive insurance policy.
For 10 days of coverage, I paid just $18 USD with their Nomad Insurance coverage — a great deal for the excellent coverage and the priceless peace of mind.
Total Tahiti + Moorea Trip Cost for 10 Days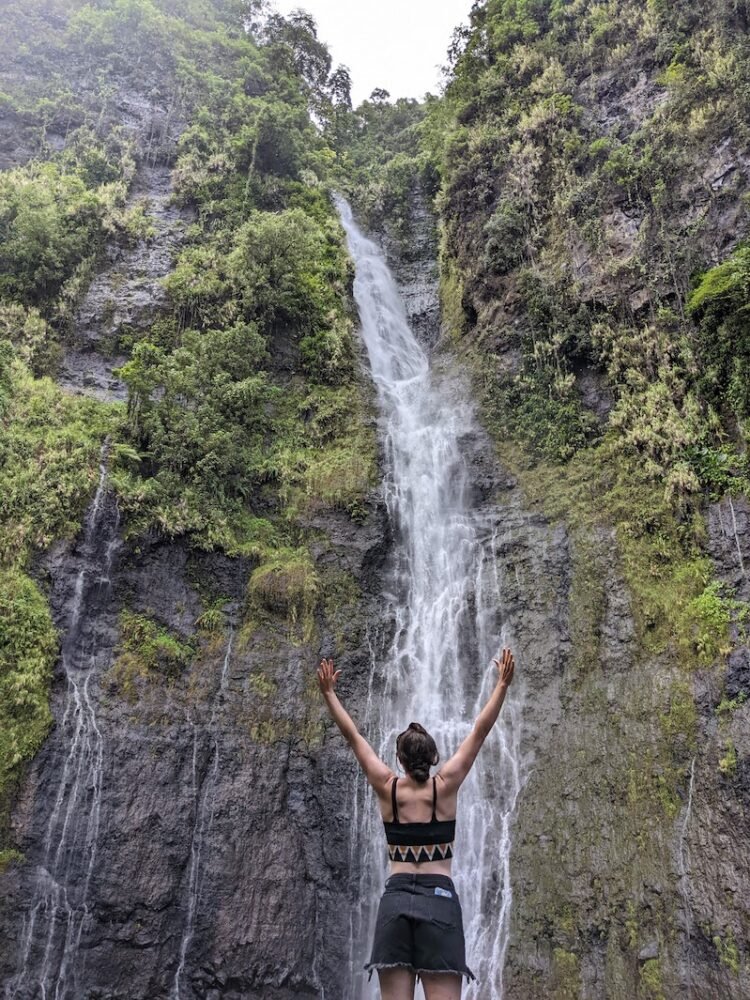 Totaling up the costs, here's what I get:
Flight to Tahiti: $590 USD
Accommodation: $1,000 USD
Inter-Island Flights: $0 USD
Food: $500 USD
Activities: $645 USD
Getting Around: $245 USD
Travel Insurance: $18 USD
Total Cost: $2,998 including flights, or $299.80/day
For me, I think this is a pretty excellent value when I compare it to a trip to Hawaii or somewhere similar.
You could save money by choosing not to stay to stay in a resort and picking a cheaper guesthouse than we did.
You could also instead opt to snorkel, kayak, and do other cheap/free activities instead of diving or doing other pricy activities.
Food-wise, you could save money by cooking for yourself or choosing more food trucks over sit-down restaurants.
Allison Green is a former educator turned travel blogger. She holds a Masters in Teaching and a B.A. in English and Creative Writing. Her blog posts merge her educational background and her experience traveling to 70+ countries to encourage responsible, enriching travel. She has been a speaker at the World Travel Writers Conference and her writing, photography, and podcasting work has appeared in National Geographic, CNN Arabic, CBC Canada, and Forbes, amongst others. Now a full-time traveler, she has lived in Prague, Sofia, New York City, and the San Francisco Bay Area.