Let's face it — when summer rolls around in Dubai, it gets so hot that there's little else you want to do but stay indoors… and you probably don't want to go on a Dubai desert safari, either.
And Dubai has tons of great things you can do indoors, of course, from its epic malls to its indoor skiing to its indoor theme parks.
But Dubai also has a plethora of water sport activities (and several waterparks) that will keep you feeling refreshed and cool, even when the sun is scorching.
Just be sure to lather on that sunscreen or cover up well before heading out on any of these activities!
These are our favorite water sports in Dubai to enjoy when the summer starts to get scorching hot — we hope you find one that will suit you!
How To Book These Dubai Water Sports Activities
Note: This post contains affiliate links, which means I may receive a small commission if you purchase something through one of these links. Thank you for supporting the free content on this site! For more information on affiliate links and cookies, see my disclosure page for more details.
We chose the best Dubai water sports based on a combination of reviews, convenience, and personal experience.
We've listed the tours you can take and recommend you book through Get Your Guide, a third-party tour operator that provides peace of mind through free cancellation up to 24 hours in advance — a huge relief in these strange times!
Personally, it's what I use whenever I travel because I love their customer service and customer protection policies.
When available, each Dubai water activity has a tour listed that is available for online booking where you simply have to present a mobile voucher in order to join the tour — pretty convenient!
We've also listed the individual companies so you can look them up directly for reviews since we know safety is imperative when it comes to water sports.
Finally, if you're doing more adventurous water sports, you should absolutely be booking travel insurance. And frankly, in these crazy times, you should be booking it no matter what!
I tend to book my travel insurance with World Nomads for several reasons, but the main reason is because they offer comprehensive policies in two tiers based on the level of risk you are taking, so that you don't pay for what you don't need to use.
For example, a trip insurance that includes scuba diving and parasailing coverage will cost slightly more than coverage that only includes more basic activities like snorkeling and kayaking!
Compare prices and get a free quote at World Nomads here.
The Best Water Sports in Dubai
Jet Skiing with Ocean Air Travels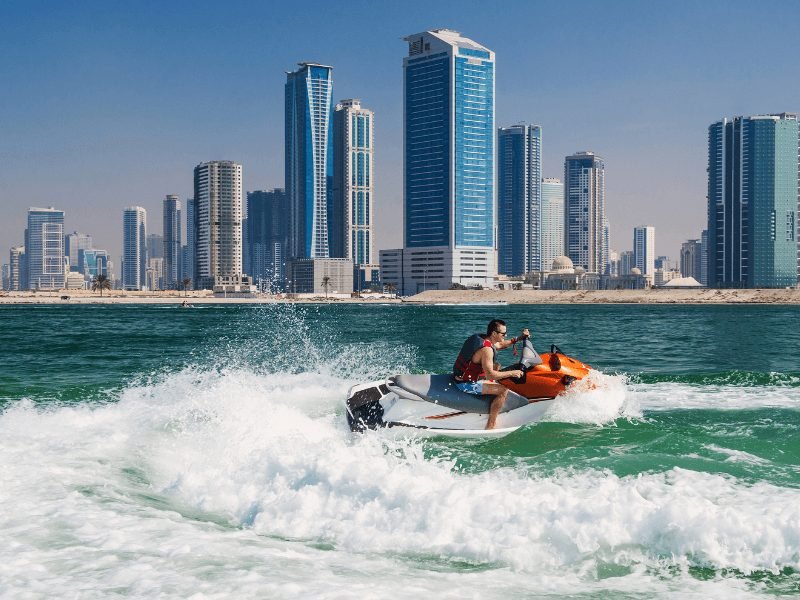 Since we're starting off the list with jet skiing, it should give you an idea that this list of water sports takes the word 'sports' literally — many of these water activities in Dubai are not for the faint-hearted!
Jet skiing in Dubai is a quite simply a thrilling water sports activity. You can obviously jet ski from anywhere around the world, but something about doing it in Dubai makes the experience a little more exciting — I mean, just look at the surroundings as you fly by!
We recommend taking a jet ski tour with Ocean Air, one of the better-reviewed water sports companies in Dubai. Their tours allows you to ride along one of the most stunning shorelines of the stunning UAE.
Visitors can cruise along the beautiful scenes while admiring Dubai's breathtaking skies on the Arabian Gulf.
While jet skiing with Ocean Air, you can see some of the most popular sights in Dubai such as the Burj Al Arab, the Burj Khalifa, Atlantis the Palm, and so much more!
The price for this ride starts at around $95 USD AED and if you want to see more of Dubai's scenery while jet skiing, you can choose from three different ride durations: 30 minutes, 60 minutes, and 120 minutes.
The company notes that in case of bad weather, the ride might need to be rescheduled. However, having lived in Dubai for sixteen years, I can safely say that there's barely ever any bad weather here, so you shouldn't worry!
If you are ever looking for a fun water sport in Dubai, jet skiing should definitely be on your itinerary!
Snorkeling with Nemo Diving Center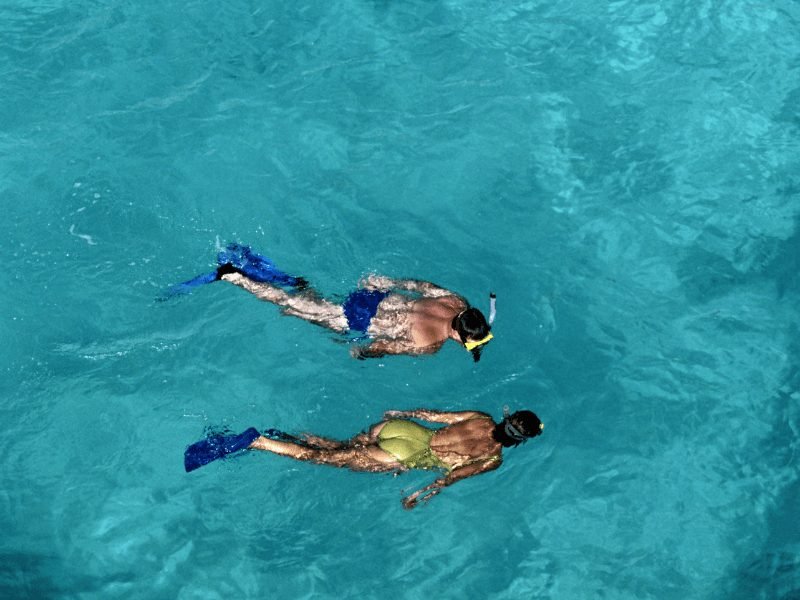 Some people are quite hesitant to try snorkeling because of the fear of what you may see underwater — especially those with a fear of sharks — but this is probably one of my favorite Dubai water sports for this exact reason!
If you are looking for a fun place that teaches you the do's and don'ts of snorkeling, Nemo Diving Center is the place to be!
Nemo Diving Center was founded in 2014 and I've seen it slowly become the go-to center for all underwater activities in Dubai.
Rather than snorkeling in Dubai proper, Nemo brings you to a prime snorkeling location in Fujairah, another one of the Emirates.
Set on the Gulf of Oman, you'll find even more spectacular underwater life here than if you were to snorkel in Dubai proper.
They will provide transit here from Dubai as well as a full-day tour including snorkeling equipment.
A full-day tour lasting around 8 hours including hotel pickup and drop off costs about $100 USD for a full-day outing.
Scuba Diving with Nemo Diving Center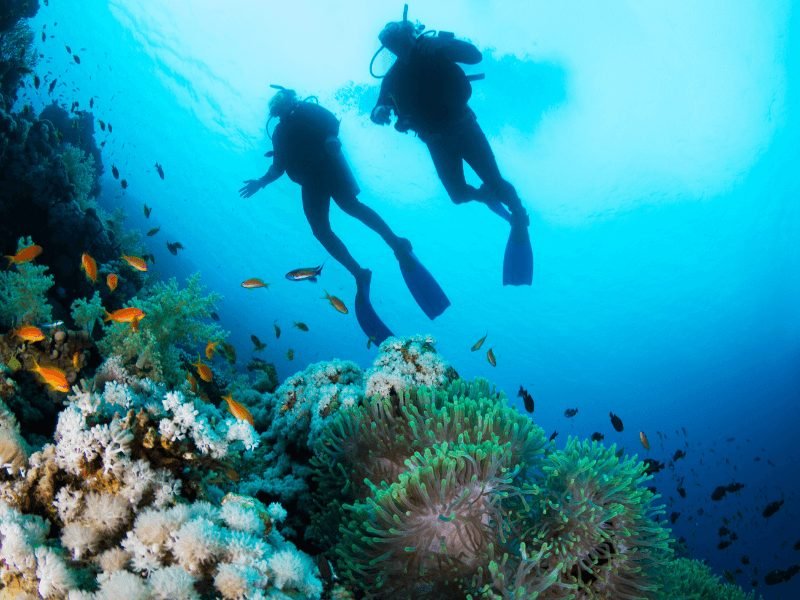 If snorkeling is a little basic for you and you want to take things up a notch, Nemo Diving Center also gives you the option of going scuba diving instead!
I really recommend scuba diving in Dubai even for people with no previous scuba experience or certification, as this is a great way to dip your toes into a new hobby!
If you're nervous about committing to this activity, just know that you won't be left to fend for yourselves!
There is always going to be a divemaster to guide you every step of the way, in order to make sure you are safe and making the most of your Dubai water adventure!
You can either do a day of discovery scuba diving to see if you like it, or take the full plunge (pun intended!) and complete your PADI Open Water Certification in 2 days.
This certification allows you to dive up to 18 meters, more than 60 feet, anywhere in the world!
Book your discovery scuba diving day trip or your PADI certification experience here!

If you're already certified, you can book a 2-tank dive in Fujairah as well!
Flyboarding with Hydro Water Sports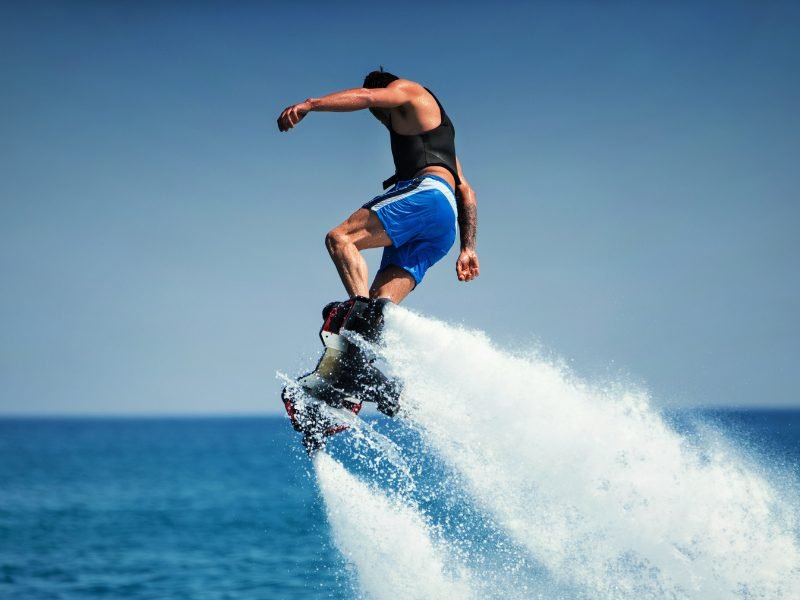 Flyboarding is just one of the many latest trendy water sports that made their debut in Dubai. It's perfect for thrill-seekers who want to try a new type of activity!
So, what exactly is flyboarding? You're basically strapped to a board and the water pressure makes you shoot into the air as if you're wearing a jet pack… you'll basically be airborne with this activity!
There are quite a few companies that are offering to let you flyboard but I would recommend Hydro Water Sports, as I find them to be really safe and knowledgeable in this sport.
What I really like is that Hydro Water Sports gives you a ton of locations to choose from to try flyboarding for the first time.
However, personally I would recommend doing it on the Palm Jumeirah, since it'll give you a pretty good view, and it's also the most popular spot for this activity.
Be aware, you won't be allowed to go flyboarding if you don't already know how to swim.
I saw quite a few people turned down at the location for this exact reason so I thought you should know beforehand!
Paddleboarding at Nessnass Beach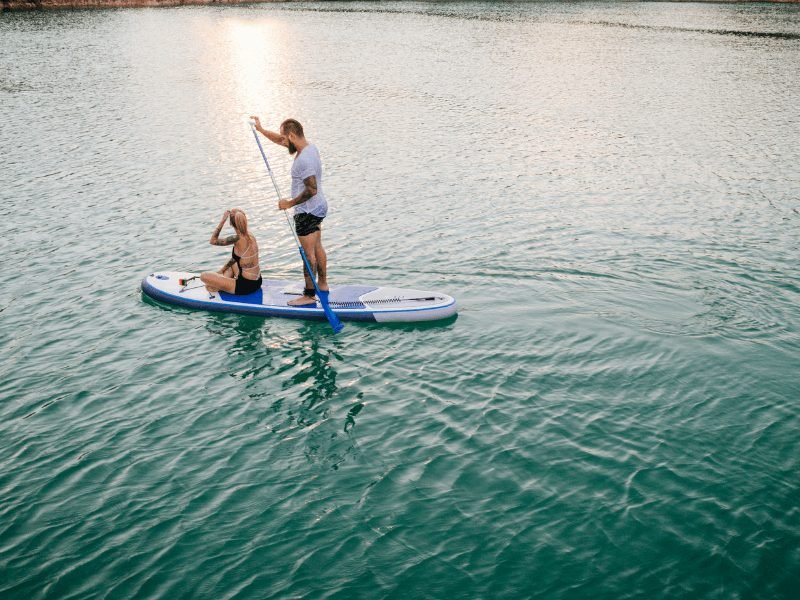 Stand-up paddleboarding is just one of those water sports that give you peace and relaxation!
Unlike other Dubai water sports which give you an adrenaline rush, this one requires you to paddle with the current while taking in the breathtaking view of Jumeirah by the Nessnass Beach.
If you're looking for a water sport that's a great workout, paddleboarding is definitely the sport for you — it's a great way to grow glutes and gain core strength!
This is safe even for younger kids, as long as they know how to swim. My little sister would always get really excited about a weekend plan to go paddleboarding!
It is the perfect activity to create great family memories and have a ton of fun.
The fleet of paddleboards at Nessnass Beach ranges in size and is suitable for all levels of riders from beginners to advanced paddleboarders.
Because of its protected location from the open sea, Nessnass Beach is known for having super flat water almost all day.
Kayaking with Hydro Water Sports or SeaYou Water Sports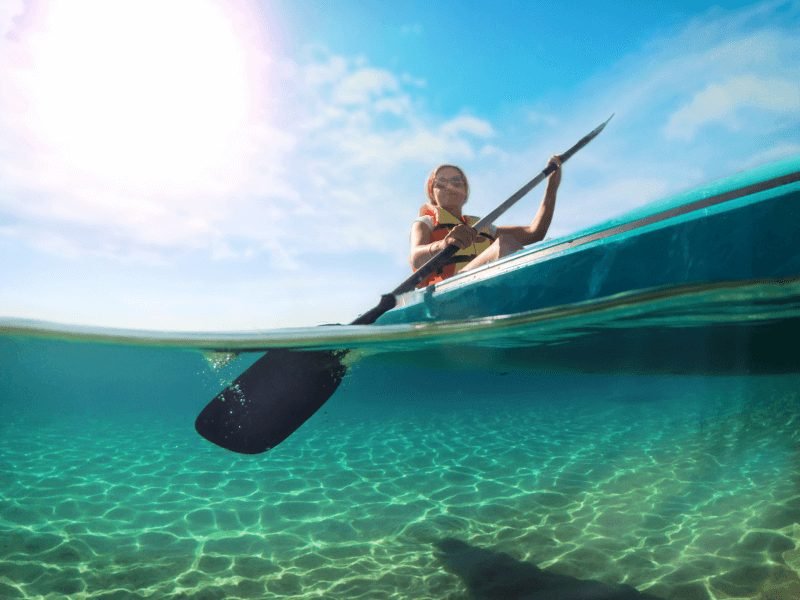 Just like paddleboarding, kayaking is another great water sport that is perfect for even the most hesitant of folks!
I believe this was probably one of the first water sports in Dubai I tried when I was a teen. I would go with my dad every summer and we'd book a two-person boat.
Kayaking requires no special abilities and you don't even need to know how to swim, since you'll be provided with a life jacket.
After a lesson from an experienced instructor, you can immediately embark on a short sea kayaking trip to enjoy the beautiful views of the Dubai skyline — or even compete in a speed race with your friends!
If you want to go kayaking around the islands of the Palm Jumeirah, I recommend going with this tour hosted by SeaYou Water Sports or this tour hosted by Hydro Water Sports.
There are also sunset tours where you can kayak Dubai creek like this one here, also a SeaYou Water Sports experience.
Since you can do a single person kayak or a two-person kayak, it's a great Dubai date activity!
Inflatable Ride with Sun & Fun Water Sports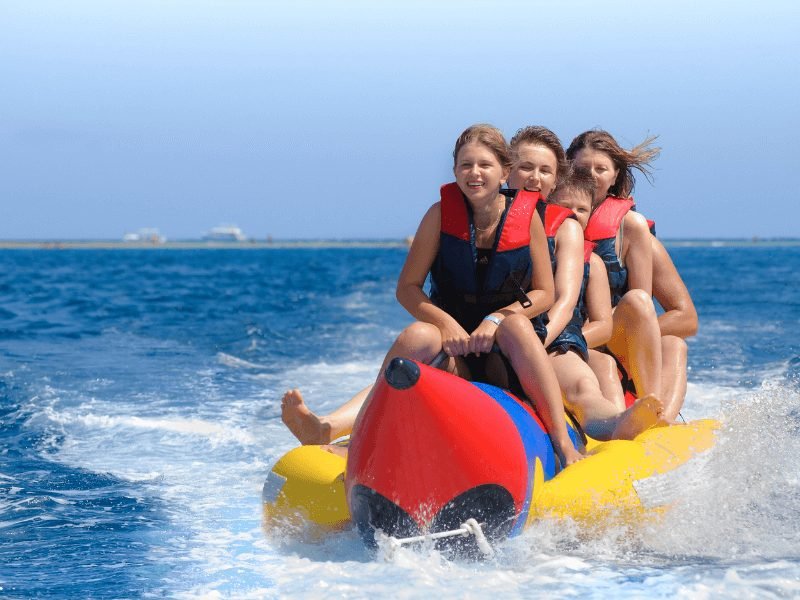 Want to do something fun and a bit silly while in Dubai?
Take your friends and family for a thrilling and highly entertaining activity that will give you all a fantastically fun memory of your time in Dubai.
On this water activity, a banana-shaped or donut-shaped inflatable is sped along the water, tied to the back of a boat for the highest speed.
Everything aside, I can tell you one thing for sure; by the end of this activity, you'll definitely have some really hilarious pictures to look back upon when remembering this day!
Sun & Fun Water Sports is located at Jumeirah near the Dubai Offshore Sailing Club, which is where you can book your donut ride experience!
Just so you know, you need to have at least two guests in order to book this ride, and everyone must be over the age of 3 — making it good for young kids, so long as you don't have babies or toddlers with you!
This tour offers daily departures all throughout the day, but I would recommend going early in the morning in order to avoid the crowd.
You can also do a similar donut ride with Seabreacher with Burj Al Arab views!
Parasailing at Jumeirah & Sunset Beach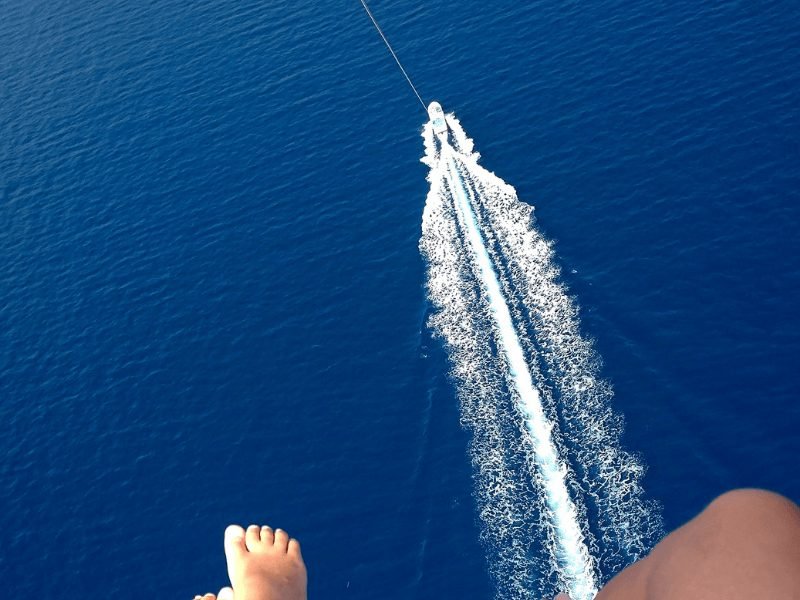 Parasailing is an activity in which you are towed behind a boat while being attached to a canopy wing that resembles a parachute.
The speedboat with be gliding across the water and dragging you along with it, until you're flying in the air!
My favorite part is when you're feeling yourself slowly becoming airborne… though landing always freaks me out since I'm not sure if I'm even doing it right. Luckily there's always a guide to help you whenever you're confused.
You'll get one of the best parasailing adventures at JBR (Jumeirah Beach Residence).
This is because once you're airborne, you'll be able to see the breathtaking view of the entire Jumeirah which is to die for, sightseeing from above!
The next best place for parasailing if Jumeirah is fully booked is definitely Sunset Beach!
As the name suggests, you'd definitely want to visit this beach just when the sun is about to set in order to get a stunning view of the orange sky.
Imagine this view with the Burj Al Arab in the background when parasailing!
The beach is open 24/7 with no entrance charges, though parasailing will incur an extra cost.
Wakeboarding at the Dubai Marina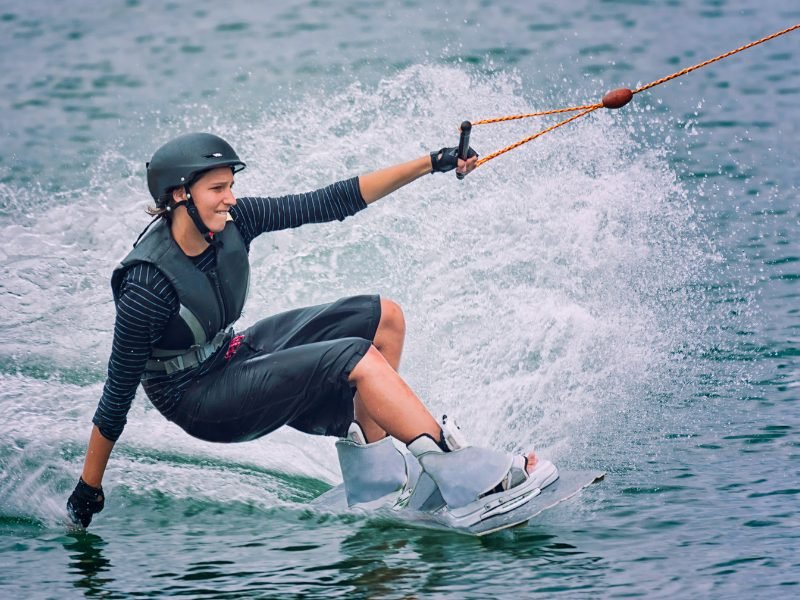 Wakeboarding is a water sport in which you will be standing on a wakeboard (similar to a surfboard) while also being towed by a motorboat.
The only real difference between wakeboarding and parasailing is that with wakeboarding, you don't become airborne… or if you do, it's just slightly and momentarily, and completely within your control!
This water sport is perfect for those of you who have a fear of heights and would prefer to have your feet in the water instead of in the air — while still getting quite the adrenaline rush!
I can say for sure that the best place to perform wakeboarding is the Dubai Marina, where there are a few tour operators you can choose from.
There are a couple of different prices depending on the package you choose and how long you plan to go wakeboarding!
Although wakeboarding is generally not considered a hard sport, it can surely be challenging for those who have no experience in any sports activities that require a board, like surfing, skateboarding, or snowboarding.
There's no real age limit for wakeboarding, but it typically is not suitable for children under the age of 8 years old.
If you've snowboarded before, know that wakeboarding is pretty similar, so it's a good option if you want to brush up on some snowboarding skills in a new environment!
Windsurfing at the Dubai Kite Beach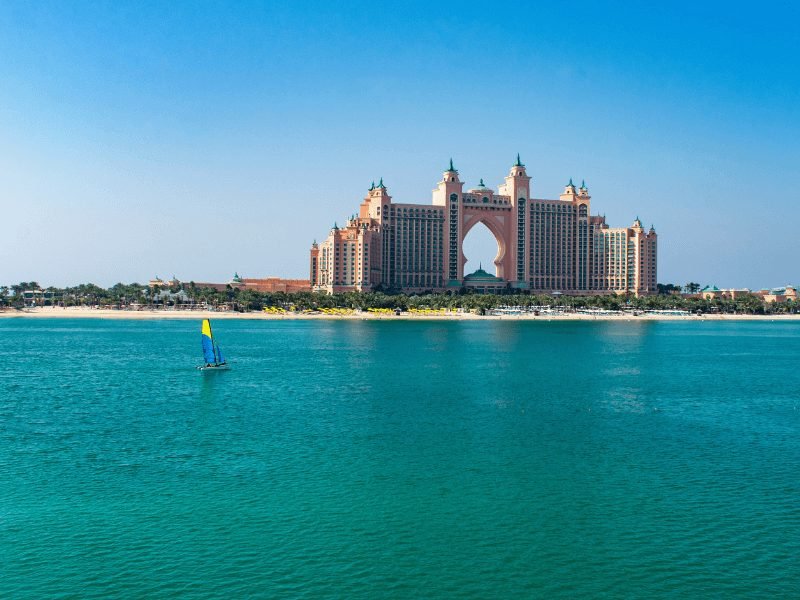 Windsurfing is like a combination of sailing and surfing! It can also be known as sailboarding or boardsailing. It emerged in the late 1960s from the surf culture of California.
I'm not too sure about the surfing culture in California but I can definitely say Dubai is probably just as great for these water sports — and definitely has warmer waters!
Windsurfing can generally be done on any beach, but I really recommend doing it on the Dubai Kite Beach for the perfect view of Burj Al Arab in the background.
Dubai Kite Beach is located just off the Jumeirah neighborhood and is just a few miles away from the famous Burj Al Arab.
It offers a safe place to windsurf with a great view and also, you can get the chance to see kitesurfers (yes, kitesurfing is different than windsurfing!) doing stunning tricks.
I really like how other windsurfers who go to this beach are super friendly and always willing to lend you a hand and teach you the ways around this popular watersport!
Dubai Kite Beach is open 24/7; however, I really recommend coming out early in the morning for windsurfing if you don't want to miss out on the view of the Burj Al Arab!
This beach also has restaurants, toilets, and showers if you're planning on staying longer with the family.
You should also know that even if you'd want to perform windsurfing late at night, it's not exactly allowed as they shut down surfing activities after sunset for safety purposes.
Fishing with Go Fishing and Fishing Tour Dubai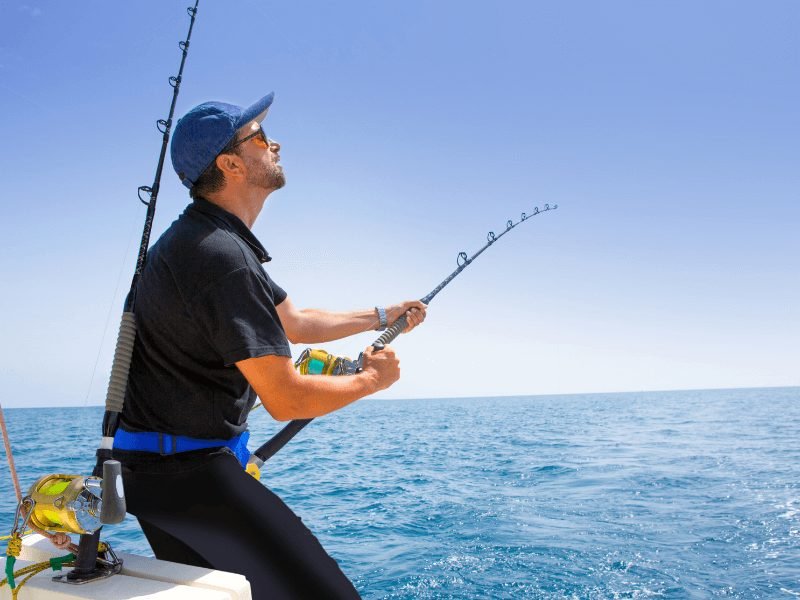 Since fresh fish is one of the most popular dishes among Emiratis, it is no surprise that fishing is also one of the most popular water sports in this region!
Emiratis feel a sense of pride knowing that they get to eat something that they've put the effort into catching on their own. I tried fishing once… let's just say it didn't go very well, but perhaps you'll have more luck!
Dubai has a ton of beaches that allow you to come and set up camp for fishing. However, most people don't really know where to go in order to get a better chance at catching a ton of fish.
This is why I recommend using Go Fishing Dubai for your fishing experience, as they will take you to the exact locations where you'll find quite a lot of fish to catch!
I also think if you're teaching your kid how to fish, taking them somewhere where you know they're most likely going to catch something can really boost their confidence.
If you like to fish with a group of people for the banter and also to get to know more tips and tricks with this activity, I really recommend checking out Fishing Tour Dubai.
They gather a large group of people and take them all out on a weekend getaway to go fishing!
At the end of the day, everyone gets to eat, exchange, and sell their fish which can prove to be really fun.
What to Know Before You Visit Dubai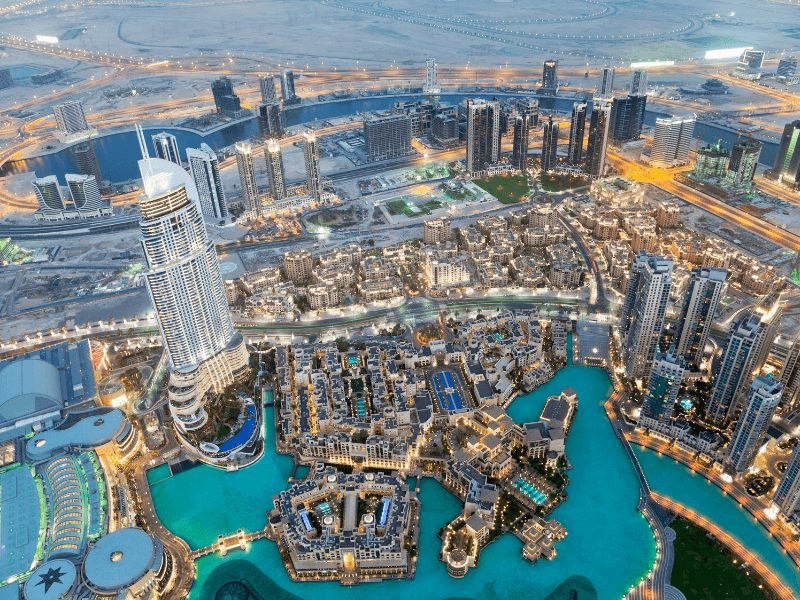 Dress Code
Dubai is a cosmopolitan and modern city, but it's also important to respect its culture, which values modesty, like many other countries in the Middle East.
When walking around the city, it's best for both men and women to have their shoulders and knees covered whenever possible. Expats will tend to dress less conservatively than locals, but they still tend to follow this rule of thumb.
While doing water sports in Dubai, it's fine to wear a regular swimsuit or bikini, but I'd err on the slightly more covered up swimsuit — think high-waisted swimsuits and one-pieces, not Instagram-style high-rise, low-cut swimsuits.
Best Time for Dubai Travel
The summer in Dubai is extremely hot — to the point where it may not be enjoyable to visit at all, when average high temperature is 106° F (41° C) with little relief at night, when the average temperature rarely drops below 86° F (30° C).
Luckily, virtually everywhere in Dubai has air conditioning, but summer is still not a good time to visit since you likely won't be able to enjoy many activities.
Things like wandering around the Miracle Garden, taking a walking city tour, or checking out the Old Dubai area are out, and even the beach clubs aren't very enjoyable when it's this hot out!
The best time to visit Dubai is in winter, between November and March, but you'll find the best combination of good weather and good prices around the shoulder seasons of late fall (October/November) and early spring (April/May).
Getting Around Dubai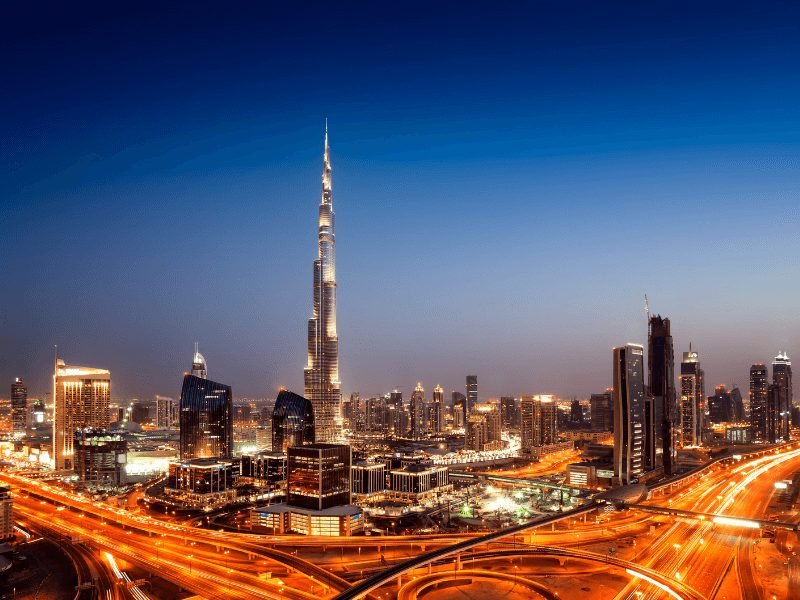 If you only have 2 days in Dubai, you'll want to maximize your time in the best way possible. This means forgoing public transportation in lieu of getting around more quickly and efficiently.
Luckily, taxis and car services are rather affordable options for moving around downtown Dubai and are one of the more popular ways for locals to get around.
You can take official Dubai taxis, but I suggest using an app such as Uber or the local favorite, Careem.
Arriving in Dubai
Odds are that you'll be arriving at Dubai International Airport. I don't recommend flying into Abu Dhabi and then heading to Dubai if you only have two days in Dubai — it's too hectic.
There are a few ways to get into downtown Dubai from the airport, but I recommend pre-booking a private transfer for the easiest start to your weekend in Dubai.
There are metro stations all around Dubai that connect to the airport, but frankly, transfers and taxis are easier, especially since the hotels you might want to stay at are located all around Dubai and there's not really one central hotel area.
Laws & Traveler Safety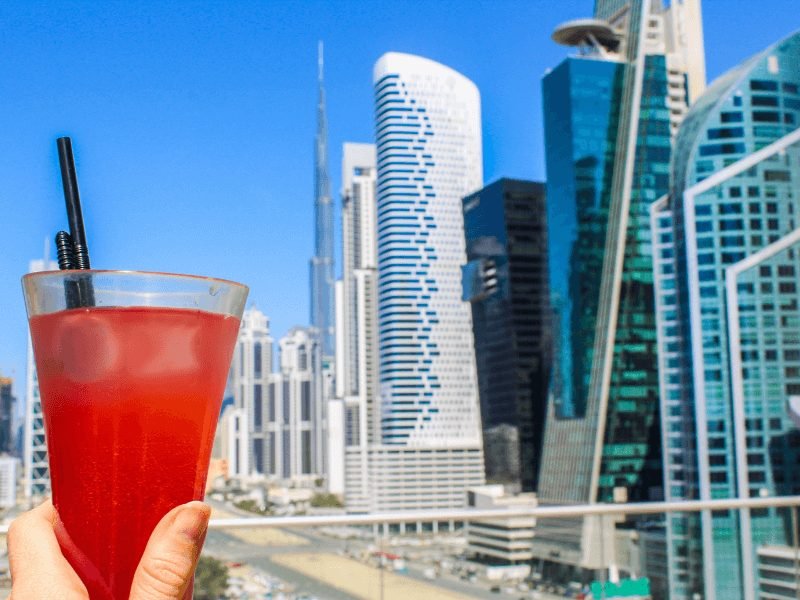 Drinking in Dubai is permitted for non-Muslims, meaning that tourists can imbibe alcohol if they want. Alcohol is generally available at hotels and tourist-oriented restaurants, but not anywhere public, such as beaches, etc. You can find some more information here.
That said, public drunkenness is widely frowned upon, and there can be harsh penalties for being drunk or lewd in public or drinking and driving.
While alcohol is technically legal, my suggestion is to take advantage of the wonderful non-alcoholic drink options and to spend some time seeing what a vacation can be like without consuming alcohol!
Editor's Note: Dubai has strict laws around public displays of affection for both heterosexual and queer couples. However, queer people should take extra caution, as same-sex intimacy is illegal and criminalized in the UAE, and so is dressing in a way that does not conform with the stated sex/gender marker on one's passport, which can impact trans travelers.

While many LGTBQ+ people visit Dubai and do so safely, and LGBTQ+ people certainly exist and live in the UAE, being visibly out in the UAE is potentially dangerous for queer people. If you identify as part of the LGBTQ+ community, I suggest seeking out additional LGBTQ-specific resources before visiting such as this guide and this guide, and adhere firmly to the rules while visiting for your own safety.
Where to Stay in Dubai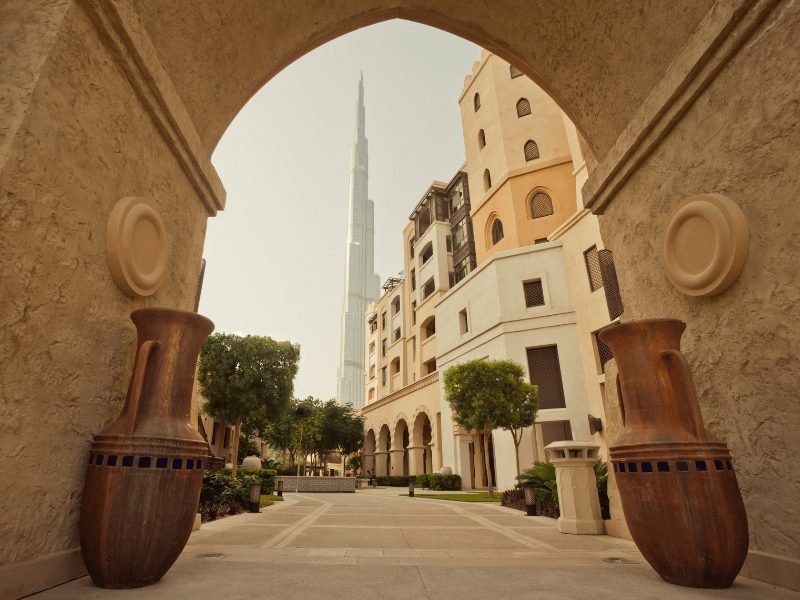 Budget ($150 & Under)
Rove Downtown Dubai
I bet you'd be shocked to hear you can enjoy a rooftop pool with a view of the Burj Khalifa behind you for under $150 per night, but you can at theRove Downtown Dubai!
It's located right by the Burj Khalifa and The Dubai Mall, making it one of the most centrally located budget-friendly hotels in Dubai. The rooms are modern and lively, and there is even an on-site movie theater at the hotel called Reel Boutique which has 46 seats!
Mid-Range ($150-350)
Jumeirah Emirates Tower
This stunning hotel near the Dubai Mall is almost a world of its own! Jumeirah Emirates Tower boasts over 400 rooms, nine restaurants and nightlife options, a spa, a pool, a fitness center, and a club!
The Jumeirah brand name is synonymous with luxury and here you'll see why, and while there are some ultra-luxury suites that go for well over a thousand dollars a night, your average double room here is rather affordable, typically around $250 per night.
Check rates and availability for Jumeirah Emirates Tower here!
Luxury ($350+)
St. Regis Dubai, the Palm
This epic luxury hotel is the epitome of Dubai at its most impressive and over-the-top. The St. Regis Dubai is located on one of the Palm Islands in Jumeirah, a series of islands in the shape of a palm tree!
The rooms are massive, each with a seating area that features floor-to-ceiling windows with epic views over Dubai and the coast. The luxury is endless here: we're talking 24-hour butler service, fine-dining restaurants and afternoon teas, not one but two outdoor infinity pools, stunning cocktail bars and luxe spas. It's everything you think of when you think of Dubai luxury.!
Check rates and availability for St. Regis at the Palm here!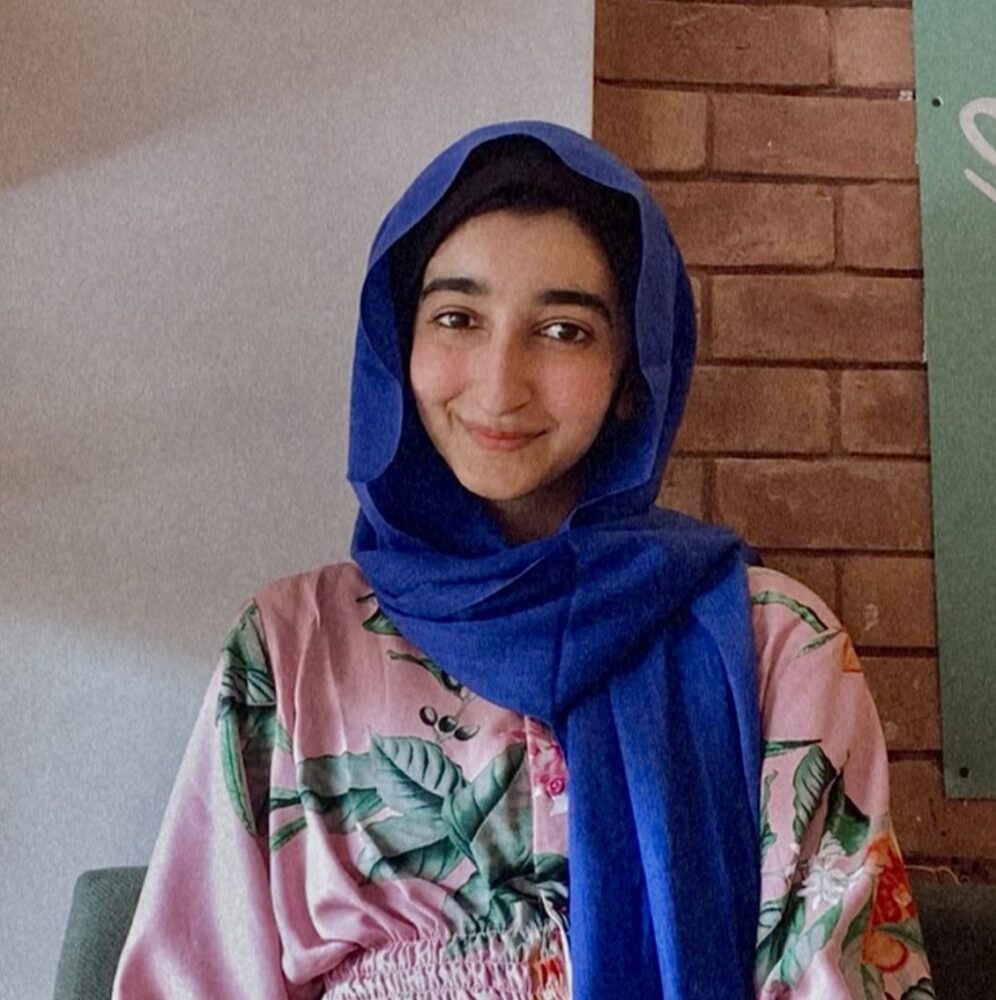 Alyaziah is a professional content writer and an accounting student. She grew up in the UAE and lived there for about 16 years before moving back to Pakistan to pursue her degree. She often travels back to the UAE and loves exploring new eateries and amusement parks in the area.