South Dakota is seriously one of the coolest states in America. It doesn't seem to have that reputation, but it is true!
The Black Hills and Custer State Park are gorgeous and full of wildlife. The Cathedral Spires are one of the most prominent rock climbing destinations in the United States.
As the state is full of exciting wildlife and rock features, you cannot miss a visit to Badlands National Park.
You will be awe-struck by the colorful rock features and spires. Imagine reds, yellows, oranges, and white striped mountains and spires!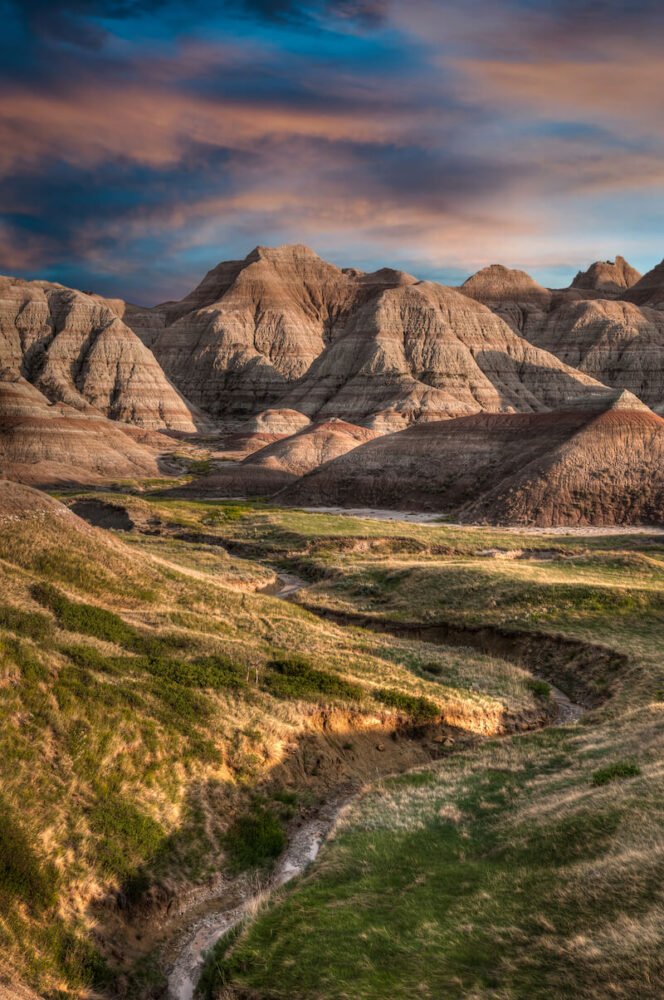 Note: This post contains affiliate links, which means I may receive a small commission if you purchase something through one of these links. Thank you for supporting the free content on this site! For more information on affiliate links and cookies, see my disclosure page for more details.
PLANNING BADLANDS AT-A-GLANCE:

When to Go: Mid-summer brings heavy storms -- and crowds. Best time to visit is late spring/early summer or in the early fall.

Where to Stay: The best place to stay is in Wall, SD, near the Northeast Entrance to the park. I suggest the Best Western Plains Motel (mid-range, best-rated) or the Peaceful Country Living Home (vacation rental by owner).

More options: Days Inn (mid-range), America's Best Value Inn (mid-range with pool)

How to Get Around: You'll want your own car to travel around Badlands National Park, as there is no shuttle or public transit through the park. If you're renting a car, compare prices for car rentals from Rapid City Airport here.

Don't want to drive or plan? This private one-day Badlands tour departs from Rapid City, SD and will cover all the highlights without you doing any legwork.

3 Things Not to Forget to Pack: A sturdy pair of hiking boots will serve you well -- I love my Ahnu boots. You'll want binoculars to spot all the beautiful wildlife -- I suggest these Nikon binoculars. If you're hiking deep in the backcountry (this is an Open Hike Park!), you'll want something enabled with GPS and satellite SOS, like the Garmin InReach Mini. 

Know Before You Go: If you plan to visit multiple national parks in a year, the America the Beautiful Pass will save you a bundle! It costs $80 for an annual pass (for an entire vehicle traveling together) to all US national parks and federally managed site.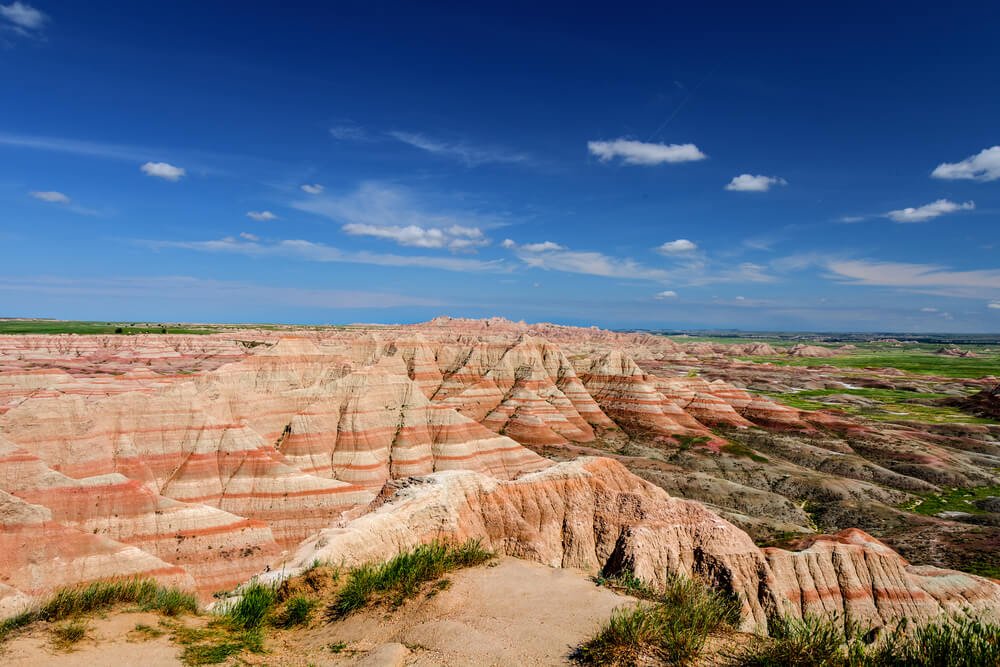 This national park is one of the most extraordinary examples of prehistory in America. It used to be underwater, and some of the remaining rock seems to be still moist.
You can see fossils and imagine how this land looked when it was still immersed under the ocean 45 million years ago.
Not only is the prehistory of this park enough to pique your interest, but it has a long history of Native American culture.
It is flourishing with plants and animals for anyone to have the opportunity to thrive off the land here. There are prairie dogs, Badlands bighorn sheep, pronghorns, and bison roaming throughout the park.
In addition, you will see edible and medicinal plants such as wild sunflowers, licorice, and juniper.
The Lakota, Sioux, and Cheyenne Native Americans once thrived in this wild land. They were among countless other tribes who learned the lay of the land and survived for hundreds of years before white settlers took the land from them.
As always when visiting stolen land, and particularly national parks, keep in mind the history of the land and pay respect to those who stewarded the land before you.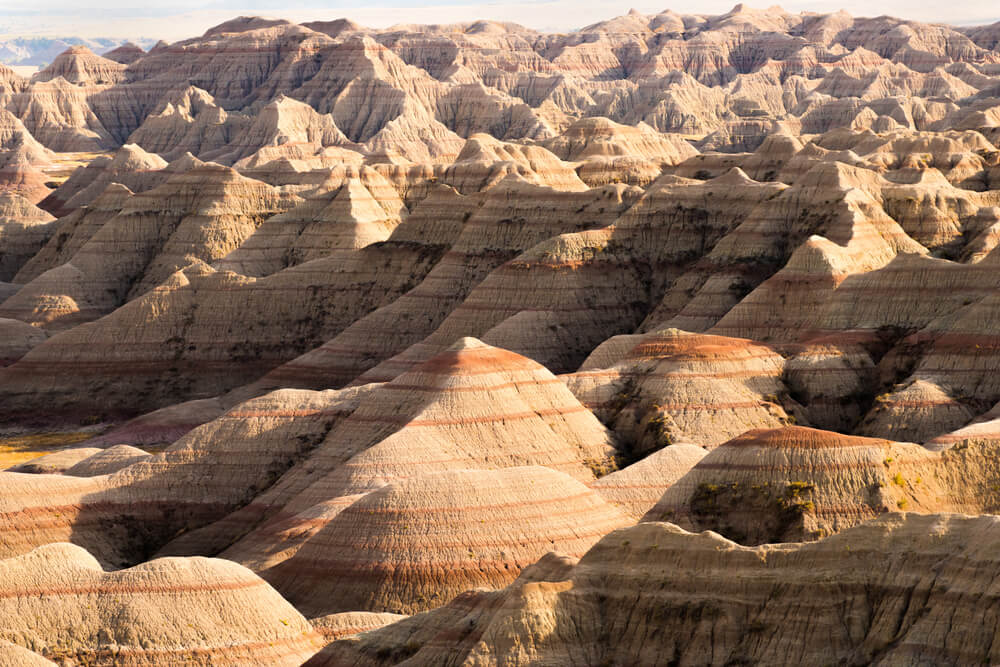 How to Get to Badlands National Park
From Rapid City
From Rapid City to Badlands National Park, it takes about an hour drive to get to the park. There is a small regional airport at Rapid City.
There are direct flights to the Rapid City airport from Minneapolis, Denver, Chicago, Salt Lake City, Atlanta, and Dallas.
From Rapid City, you'll want to rent a car to continue onto the rest of your Badlands NP itinerary.
Not sure where to get the best price on your rental? I always use Discover Cars when searching for the best rental deals, since they look at over 500 car rental agencies to find the best price. Check car rental prices in South Dakota here!
From Sioux Falls
It's a bit of a long drive between Sioux Falls and Badlands National Park, which is about a 4 hour drive via I-90, but it's an airport that has a little more options than Rapid City.
There are direct flights to the Sioux Falls airport from Las Vegas, Phoenix, Dallas, Atlanta, Orlando, Atlanta, Charlotte, Chicago, Denver, and Minneapolis.
On a South Dakota Road Trip
I've written a South Dakota road trip itinerary in full, which you can read here.
Your road trip itinerary should include Wind Cave National Park, Custer State Park, the Black Hills and the Crazy Horse Memorial, and Mount Rushmore, all of which are clustered close to the Rapid City Airport.
Other places that might be of interest are Deadwood, SD and Devils Tower National Monument in nearby Wyoming.
Below is a map that shows a rough South Dakota road trip itinerary.
On a Larger American Road Trip
South Dakota's two NPS sites (Wind Cave and Badlands) pair well with Mountain West or other Midwest national parks.
One example would be a road trip that includes Mt. Rushmore, 2 days in Yellowstone, 2 days in Grand Teton, and perhaps even Glacier National Park.
You can pretty easily see both Wyoming and South Dakota on a single road trip if you have a week, and if you have two weeks, you can add in another state or two.
You could also pair with Colorado national parks or Theodore Roosevelt National Park in North Dakota.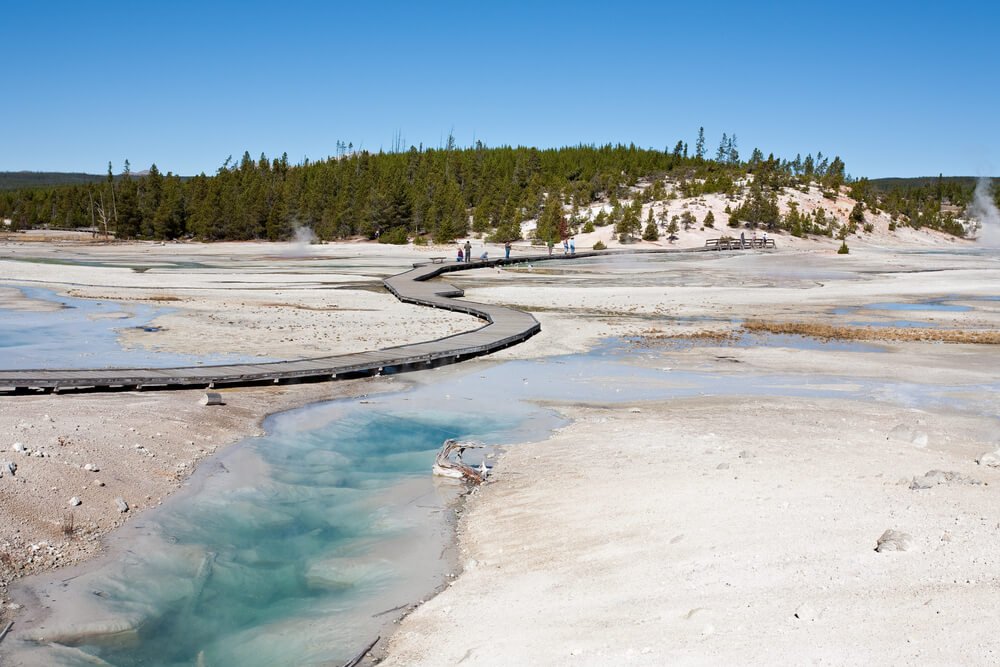 Entering Badlands National Park
There are three main entrances to Badlands National Park: the Northeast Entrance (close to the Ben Reifel Visitor Center), the Pinnacles Entrance, and the Interior Entrance (near the White River Visitor Center and Cedar Pass Lodge).
Either way will allow you to see a lot of the park, but the White River Visitor Center is more on the way if you are doing a South Dakota road trip as it's easier to go to Custer State Park, the Black Hills, etc. from there.
You can enter one way and exit another or return via the same park entrance you came.
Entering Badlands National Park costs $25 per vehicle, or if you have the America the Beautiful Pass, entrance is free!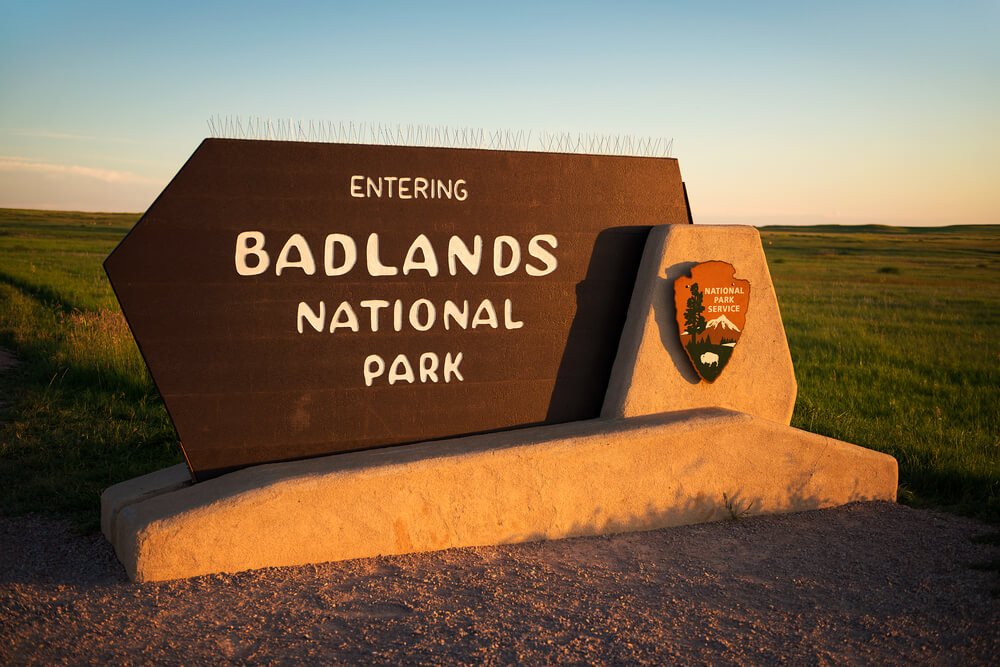 Travel Tips for Visiting Badlands National Park
Preparation for Visiting the Badlands
An important thing to note before we get into all of the options you have to explore the Badlands is that there are limited amenities. So make sure you fill your gas tank before you head into the park!
You should make sure that you bring plenty of food for 1, 2, or 3 days in the park. Packing a lunch that needs to stay cool? Skip the bulky cooler — we suggest this awesome insulated tote from Hydroflask for your picnic needs.
You can also get food at the restaurant at Cedar Pass Lodge near the south edge of the park (Interior Entrance).
They have bison burgers, tacos, and vegetarian options. They also make their own fry bread, which is delicious.
Take note: the lodge is only open seasonally. Therefore, if you are coming in the off-season, you will need to bring all the food you need for the duration of your stay.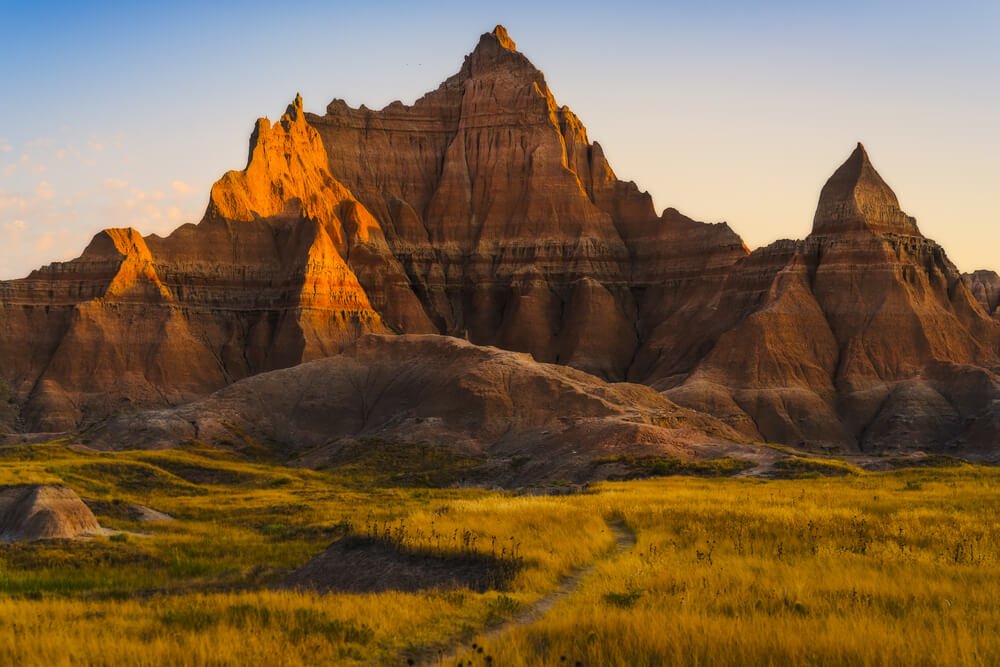 Weather and Timing Your Badlands Visit
An important thing to note about Badlands National Park is that the weather changes rapidly. One moment it can be warm and sunny; the next cool and stormy.
There are often high winds that will rip through the landscape. This is especially important to note if you plan on camping in the Badlands. A sturdy, legit tent is imperative. We'll let you know more about camping in the Badlands later.
Note that summer is an especially stormy time with high winds and frequent thunderstorms… and rainbows that follow!
The best time to visit the Badlands is in late spring/early summer (April-June, where you'll get to see wildflowers) or late summer/early fall (September-October). The peak summer months (July and August) tend to have quite volatile weather!
What is an "Open Hike" Park?
One of the most incredible things about the Badlands is that while they may have many small trails and overlooks, this park is actually what is called an Open Hike park!
That means you can hike and camp anywhere you want in the park, even if there are no trails.
Not sure what to pack for a camping trip? Read my car camping packing list, perfect if you're driving into the park and camping!
If you choose to camp off-trail, you must camp at least 0.5 miles from any trails or roads. So you should be out of sight from anyone on the trail.
Always carry a map and a daypack. See the end of the post for our gear suggestions!
If you hike or camp off-trail, you will have the fantastic opportunity to see ferrets, prairie dogs, Badlands bighorn sheep, and bison.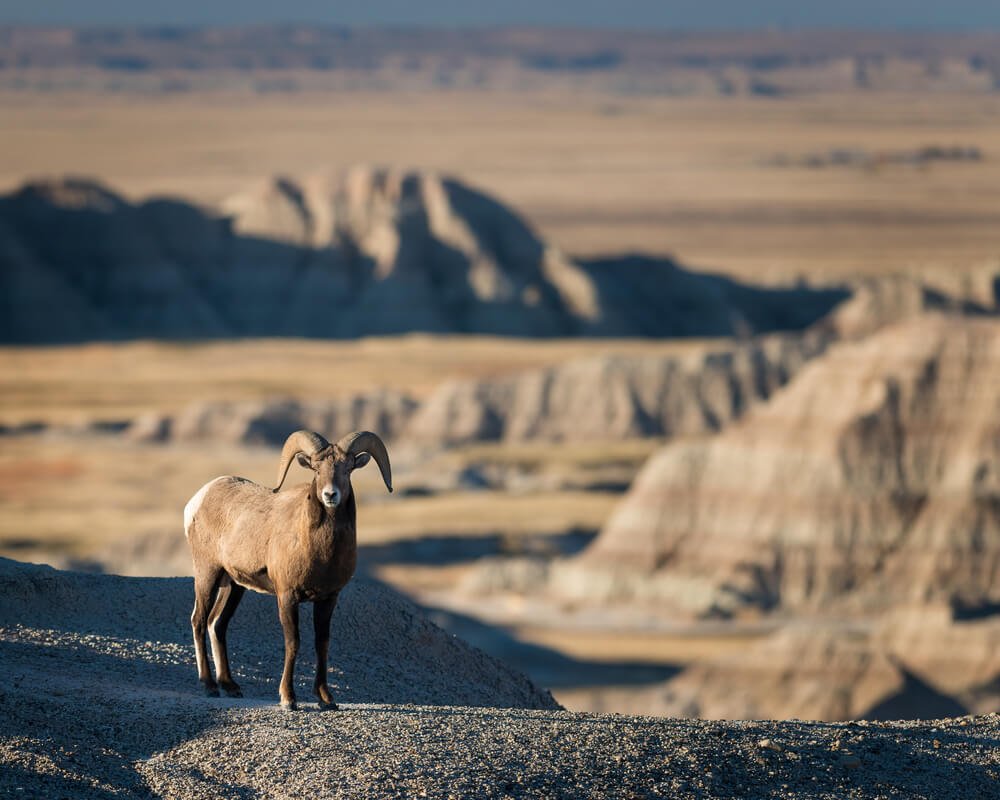 Be sure to give all wildlife at least 25 yards of berth and do not approach them for any reason, particularly bison, which can occasionally be aggressive.
Note: there is also a presence of rattlesnakes in the Badlands! You should look out for them — especially when adventuring off-trail. Always keep your eyes on the ground when walking. You can find them sunning themselves in open areas.
So while there are some great suggestions here, you are free to explore and hike anywhere the wind may take you while you explore the Badlands!
It makes it a great way to spend time in the Badlands as you travel and explore to your heart's content.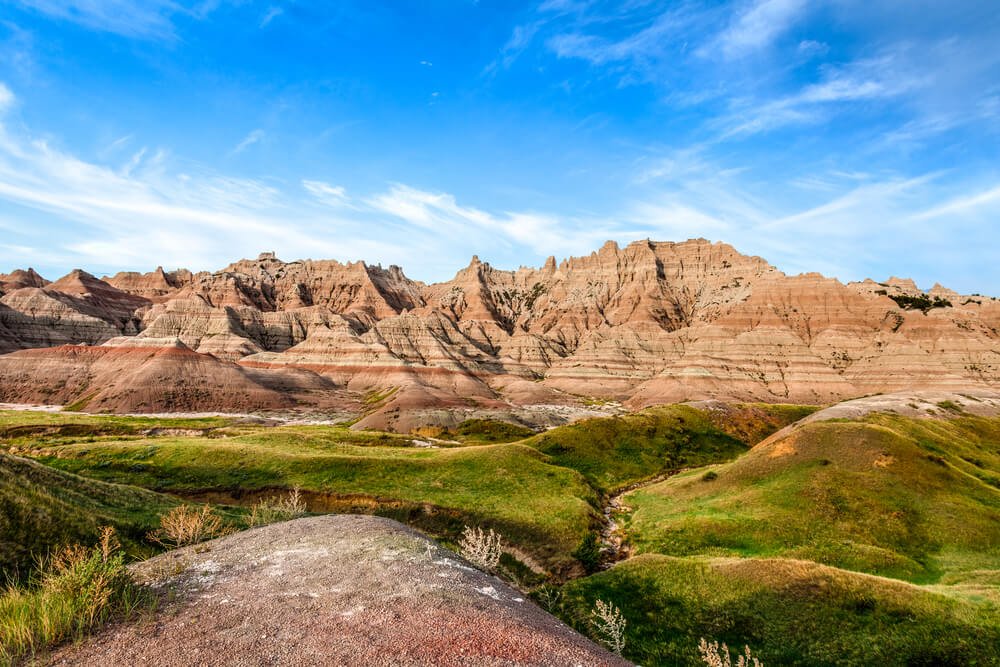 Camping in Badlands National Park
There are two different campgrounds in the park and dispersed camping in the Buffalo Gap National Grassland outside the park boundary. There is no fee for dispersed camping.
The campgrounds in the park are truly lovely. The first time I came to the park, I stayed at the Cedar Pass Campground.
I camped on soft grass with an incredible view of the Badlands Pinnacles, the beautiful rock formations the park is known for. I found myself easily making my way to hike right from the campground for a lovely early morning stroll!
There is also primitive camping at the Sage Creek Campground. You can access this campground from Sage Creek Rim Road. There are no amenities.
It, however, offers spacious campsites on prairie land. It is gorgeous and will give you a wilderness experience.
To reach dispersed camping, you want to head to the north and exit the park at the Pinnacles Entrance. When leaving the park, there is a dirt road just to the right after you cross the threshold of the park boundary.
You will travel along the road to find countless areas to set up your tent, RV, or sleep in your car. The road is bumpy, so 4-wheel drive is ideal. However, I saw multiple sedans parked along the road, too, so it is doable if you are careful.
Just go slow, watching for potholes, and you should be fine despite whichever vehicle you are driving. The dirt roads of the area can be especially treacherous in the rain.
Despite the roads, it is some of the most beautiful dispersed camping I have ever had the pleasure of experiencing. You will have sweeping views of both the plains and the rugged, colorful rock of the Badlands.
Because of the Open Hike Policy, you can also camp anywhere you want in the park. Just remember to stay out of sight and 0.5 miles from any trails and roads while using Leave No Trace principles.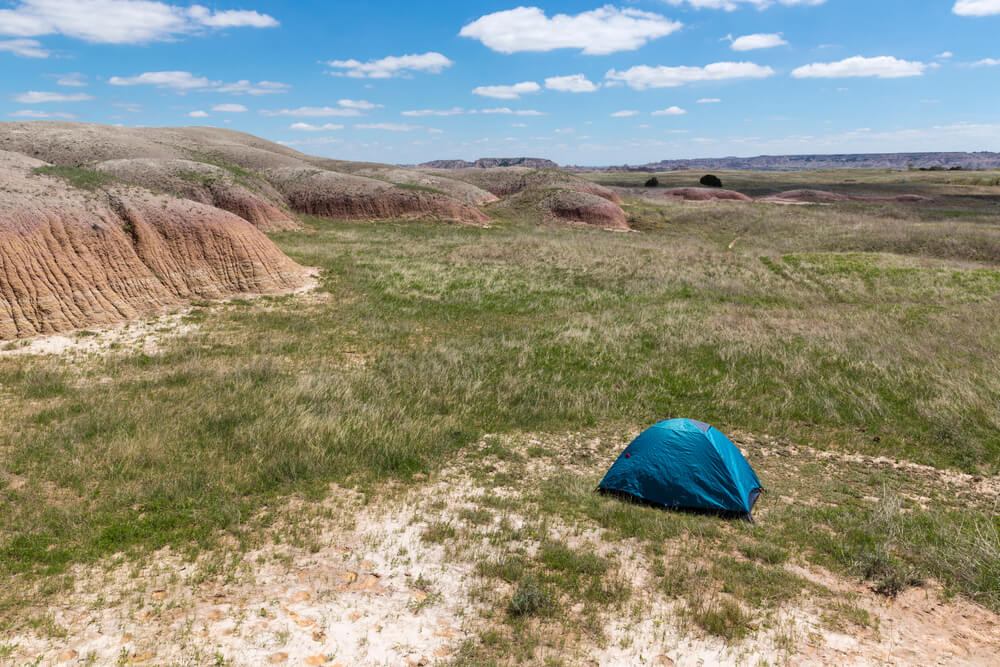 A Quick Rundown on Leave No Trace Principles
Camping in the park and enjoying Badlands' Open Hike policy works best when you use Leave No Trace (LNT) principles. 
Leave No Trace should be kind of self-explanatory. I like to think of it as "leave it better than you found it."
LNT means you should always camp at least 100 feet from any water source. You should also urinate 100 feet away from water sources and 200 feet if you have to dig a cathole.
Carry out any soiled toilet paper. If you have to bury it, bury it at least 8 inches below the surface. This is how deep your cathole should be, but 12 inches is ideal.
Never leave trash anywhere, ever.
Another nice thing to do is to "re-naturalize" your campsite. You can do this by adding debris to the area where you had set up your tent to make it appear as if you had never camped there.
Badlands FAQs
How much time do you need in Badlands National Park? One day in Badlands National Park is enough to get the basics, but two or three days will be even better. We give you options for 1, 2, and 3 day itineraries for this exact reason.
Can do you do Badlands National Park in one day? Absolutely! Start at the Northeast entrance and make your way through the park according to the itinerary suggested and you'll hit all the Badlands highlights in a single day, or opt for one of the below tours which depart from Rapid City, SD.
What should you not miss in Badlands National Park? Everything on our one-day itinerary are the highlights of the park!
Is there a shuttle in Badlands National Park? No, there is not. You will want to bring your own car or rent a car from one of the airports if you are flying in. You can also take a private guided tour departing from Rapid City, SD if you cannot drive, just don't want to, or if rental cars are not available.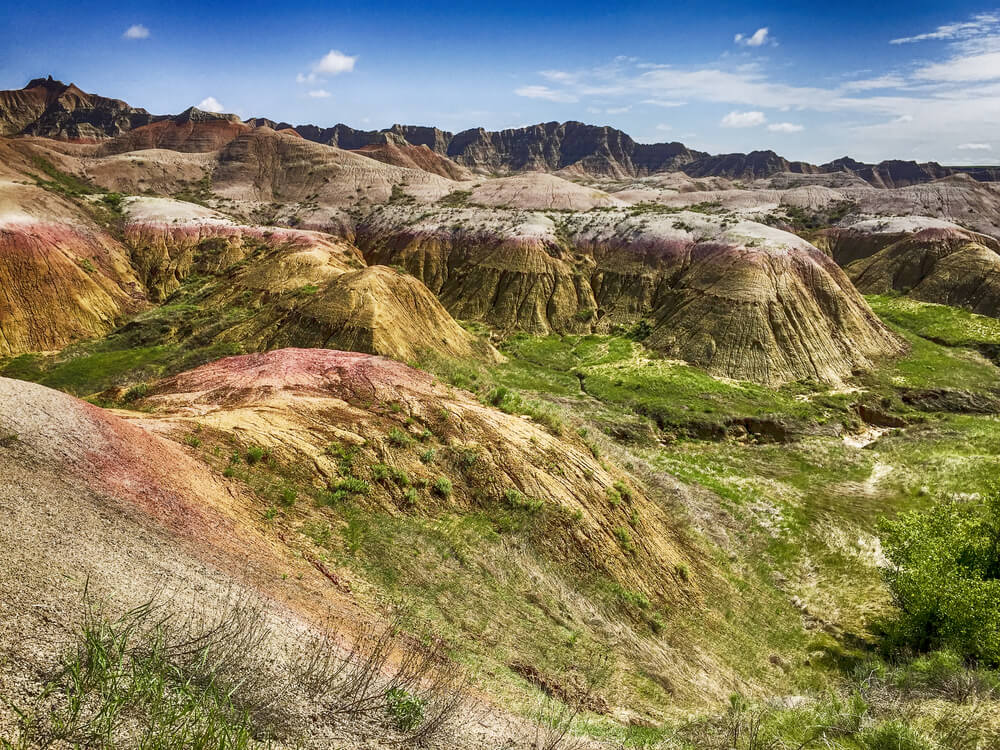 How This Badlands Itinerary Works
This Badlands National Park itinerary is additive, meaning that the first day of the itinerary covers everything you'd want to see if you have only one day in Badlands National Park.
It is structured in a logical way that reduces backtracking and prioritizes the most important things.
It also makes sure you get out and do some light hiking, so that you're not just doing a car-hopping, whistle-stop tour of overlooks without appreciating the nature.
The second day contains the second most important things, and the third day offers some bonus ideas for things to do if you have an additional day to dedicate to your Badlands itinerary.
If you only have one day in the Badlands, you don't need to read past day one: all the best things are in there!
If you have more than one day in Badlands National Park, continue reading to either the end of Day 2 or Day 3.
Badlands National Park Itinerary: Day One
Take a scenic drive on Badlands Loop Road.
Whichever end of the park you decide to enter from, you will end up on the Badlands Loop Road, a beautiful scenic byway through the park.
It is the absolute best way to see the park if you only have one day in the Badlands, and it is one of the most scenic drives in all of the state!
Honestly, this park is relatively small compared to other national parks in the USA, so one day will allow you to see the major attractions of the Badlands.
The Badlands Loop Road is just 30 miles. As you traverse along the road, you will be able to hop out to enjoy vistas and some tremendous easy hikes in Badlands National Park!
When discussing this route of trails and overlooks, we will be entering the park from the Northeast Entrance.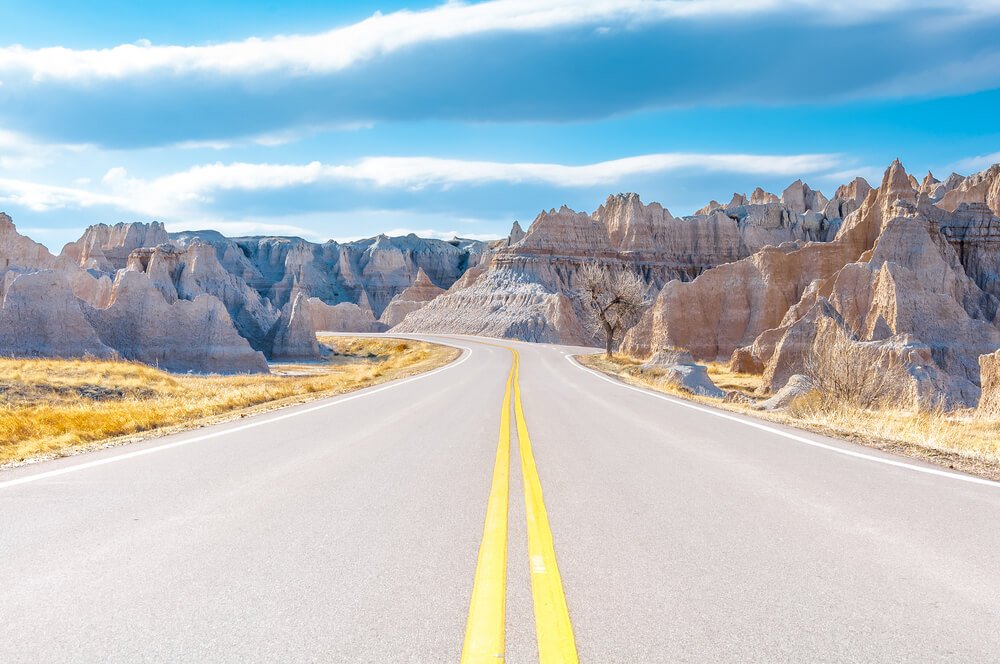 Make some stops for hikes and overlooks.
Your first stop will be the Big Badlands Overlook. It is a popular stop that offers hikers stunning views of the Badlands.
As you traverse south on Badlands Loop Road, you will find a great short hike at the Notch Trail.
This trail is 1.5 miles and not too strenuous. One nifty feature of the trail is the rope ladder which ascends to a stunning viewpoint. It is one of the most popular hikes in the park!
Other tempting short hikes are the Window Trail and the Door Trail. Both of these trails are located at the same trailhead as the Notch Trail, so you can simply add on to your first hike if you have some energy!
In addition, these trailheads are located at the same point for the trailhead to the Castle Trail (more on this trail below), just north of the Ben Reifel Visitor Center. See the photo below for trailhead information
The Window Trail is 0.3 miles, and the Door Trail is 0.8 miles. Both offer hiking trails along a boardwalk with wonderful views.
You can also freely hike off-trail anywhere you want along the way: this is allowed within the park, due to their "open hike" policy (unlike other national parks!).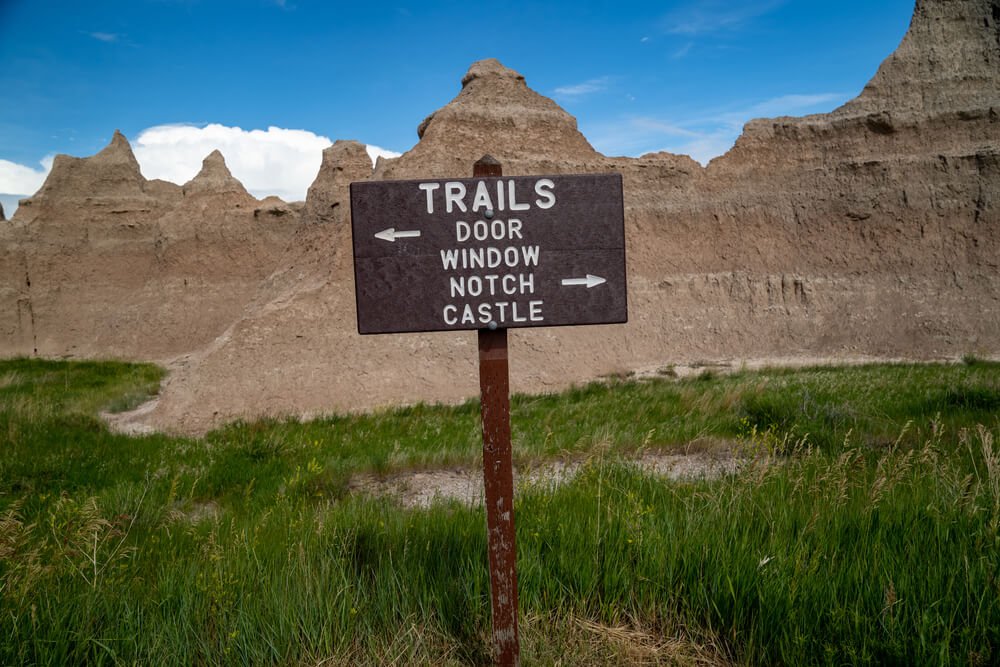 Take a short hike amongst fossils.
One of my favorite short hikes along Badlands Loop Road is the Fossil Exhibit Trail at the Fossil Exhibit Trailhead. It is a great way to get to know the prehistory of the park!
Plus, the fossil exhibits are hands-on so that you can touch the fossil moldings. You may even find an actual fossil along the trail!
It is only 0.25 miles to hike this guy, so it's easy for everyone, even if you're visiting the Badlands with kids!
The Ben Reifel Visitor Center is also an awesome place to check out fossils that have been found in Badlands NP!
Have a picnic lunch with a view, followed by more exploring.
From the Fossil Trail, stop at Bigfoot Pass Overlook for a picnic lunch… this is why I suggested bringing the food you'd like for the day into the park!
Another option would be the White River Valley Overlook, which also has amazing views suitable for a picnic lunch!
Then, hit up Panorama Point for more sweeping views of the Badlands. You will also find grand vistas at the Yellow Mounds Overlook.
This overlook has lots of little trails leading out from the parking lot. These yellow mounds also contain hues of pink, purple, and orange… not just yellow!
To the right of the parking area, you can ascend a mound to take in the views of the prairie and the classic rock features of the Badlands.
You can also hike down around the yellow mounds to the left of the lot.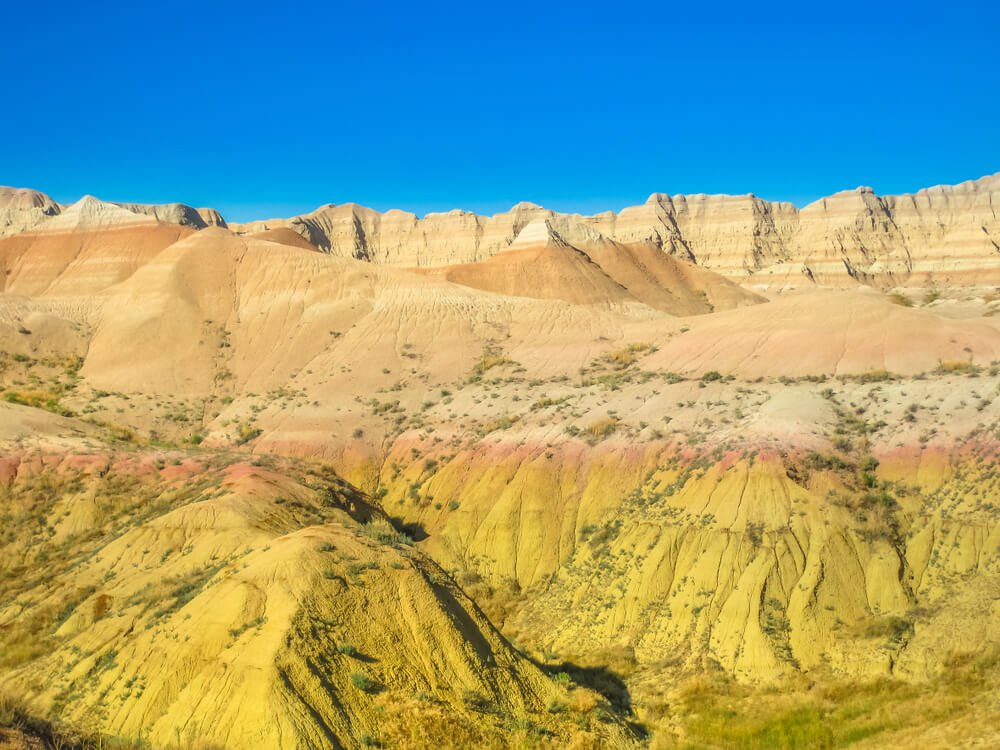 View the sunset for an incredible show of color and light.
Sunset is one of the most incredible times to view the beauty of the Badlands!
The colors of the rock will glow in a myriad of colors as the hues of sunset complement the features of the Badlands pinnacles.
One great spot for viewing the sunset is the Pinnacles Overlook, which you can find at the end of the Badlands Loop Road.
This overlook is a popular spot, as you will see. However, it offers some of the most beautiful sweeping views of the jagged rock of the Badlands.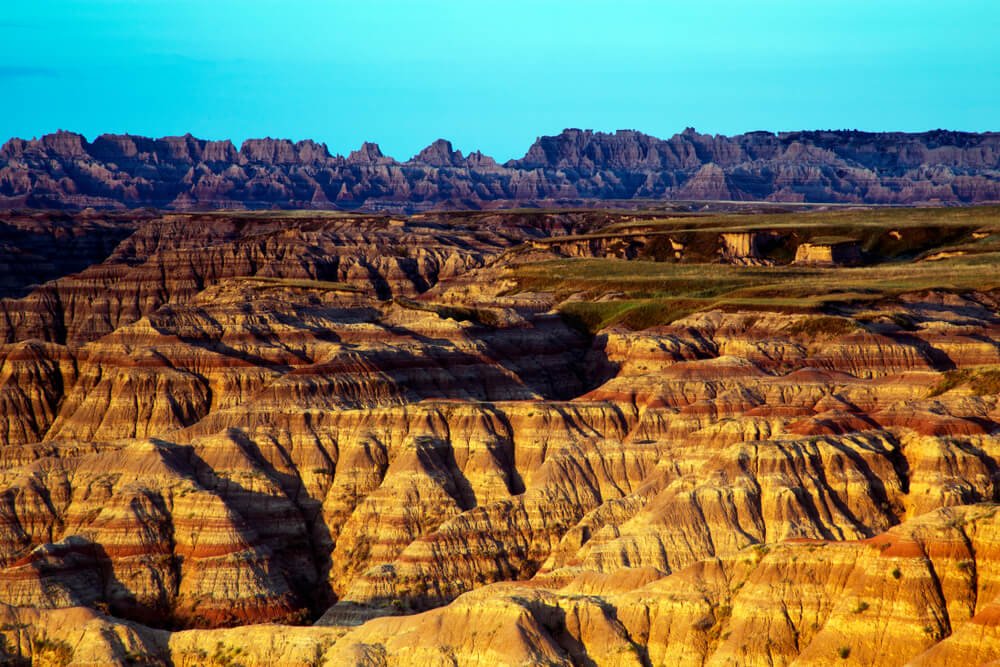 Set up camp or stay in the lodge, if overnighting in the park.
Depending on how you are structuring your trip to the Badlands, this may be the point where you turn around and go back to Rapid City or wherever you are staying the night.
Or you may want to set up camp or head to the lodge (if you have it pre-booked) if you are spending 2 or 3 days in Badlands National Park!
If you are staying overnight in the park, you will most likely be camping (more on that below).
However, there is a lodge that is open seasonally, Cedar Pass Lodge.
Cedar Pass Lodge offers lovely accommodations and a great restaurant. They have a campground as well as environmentally-conscious cedar cabins with all the amenities.
They also self-describe themselves to be an excellent place to view the moon… or do some stargazing on a moonless night!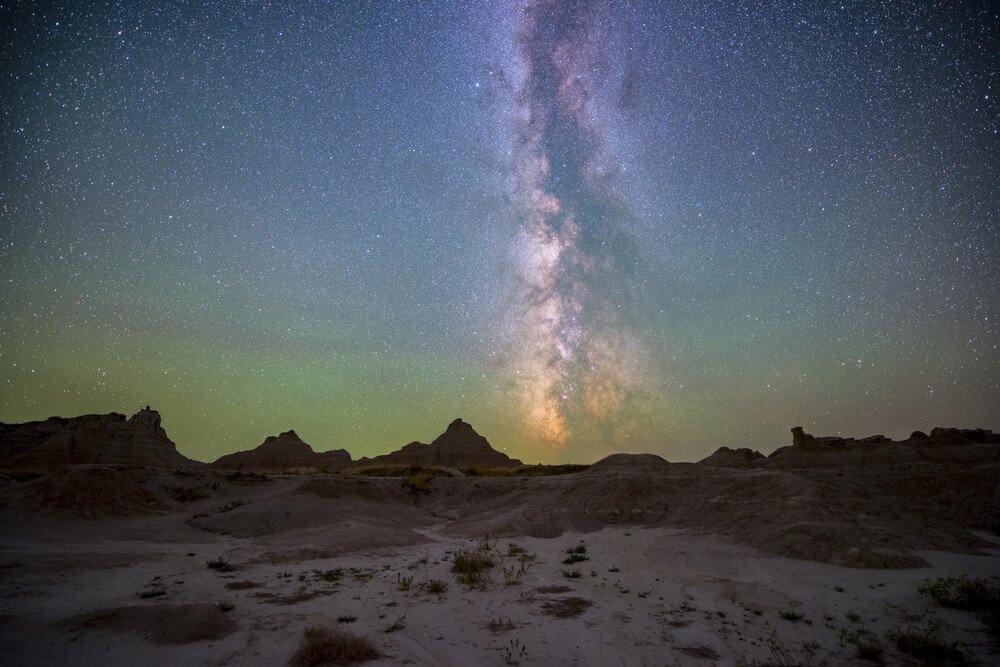 Badlands Itinerary: Day Two
Spend some time exploring the area around your campsite.
Once you've slept in and made yourself breakfast (or ate a filling, tasty breakfast from the lodge), you will want to explore more of whatever area you chose to stay in.
If you're staying only two days in Badlands National Park, you may want to break down your campsite now before continuing on with your day, or if you have three days in the Badlands, you can continue on without taking down your campsite.
The start of the day is up to you! Whether this is hiking on an established trail or taking advantage of the "Open Hike" policy of the Badlands, spend the morning your way.
If you stayed at the Lodge or the Badlands Campground near the Interior Entrance, now might be a good time to tackle the Saddle Pass Trail.
This is a moderately-rated trail that packs a lot of punch into its short 0.7-mile length. Prepare for some scrambling!
If you stayed elsewhere in the park, you can find off-trail adventures near you or look for the nearest trailheads on your park map if you prefer to hike on-trail.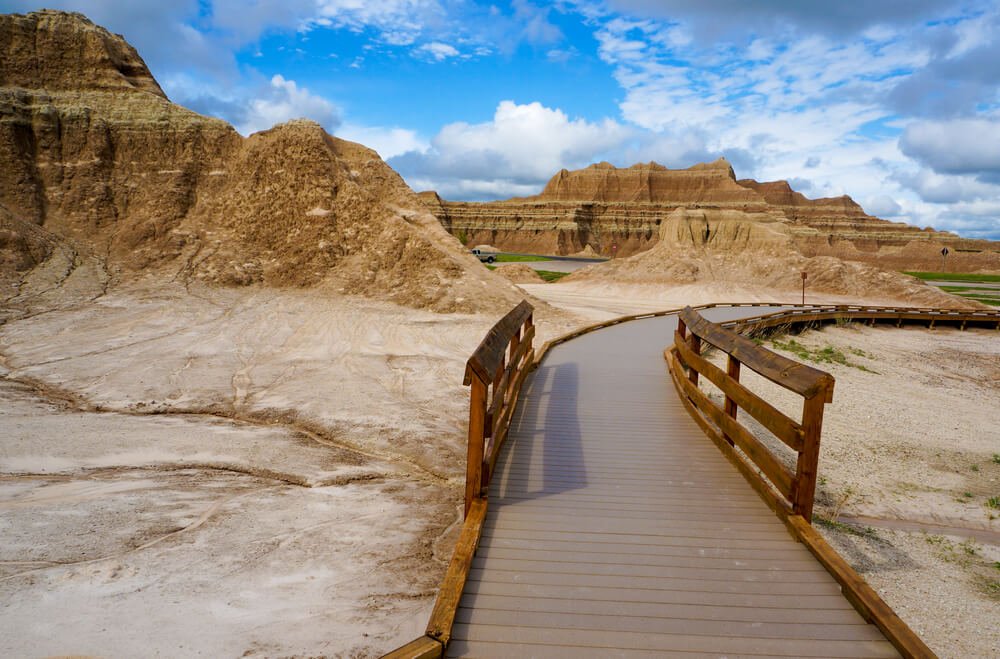 Hike the Castle Trail for Sunset.
If you are staying for two days in Badlands National Park, be sure to take the time to view the sunset along the Castle Trail!
Be sure to start this hike in the early afternoon. At 10.8 miles round trip, it is the longest trail in the Badlands. It will take up a nice chunk of an afternoon in the park, so be sure to start plenty early and bring a headlamp.
You will go on a stunning hike and explore the Castle Trail for incredible sunset views. Be sure to start the trail at the west trailhead heading east, across from the Fossil Exhibit Trailhead. This will allow for you to be heading back west for the best views of the sunset.
The Castle Trail is a great option if you really want to get your hike on. It would be a wonderful way to end your last day in the park while you fully immerse yourself in the beauty of the landscape.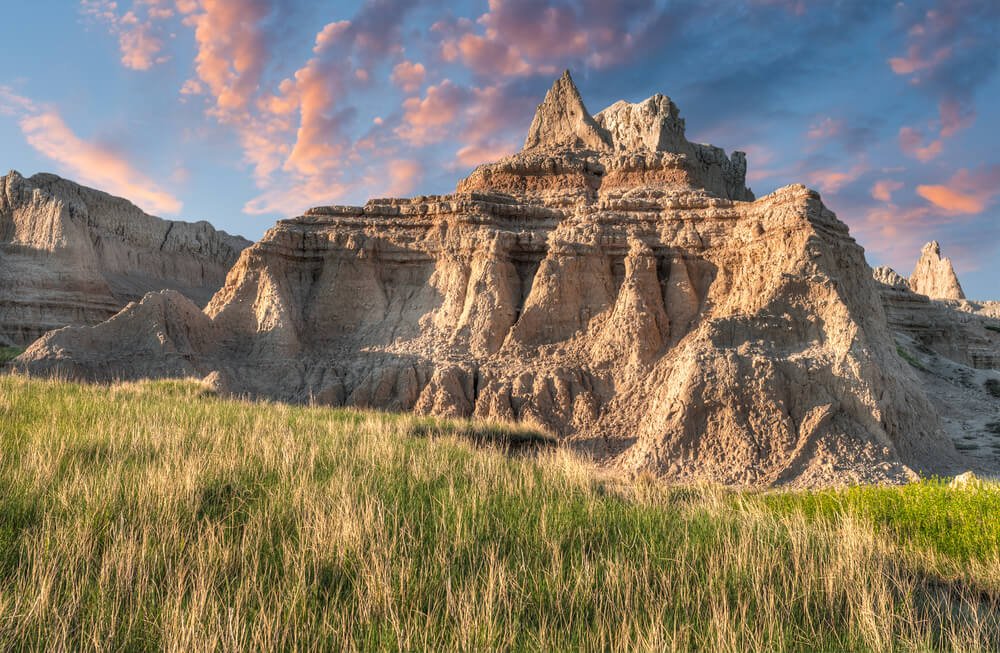 Alternative: You can camp along this trail if you want to do it the first day, instead. Remember that you have to be half a mile from the path and out of sight. It would be a great way to enjoy the park if you desire to backcountry camp out on this trail.
Other Alternative: If you're not feeling a long hike, you can also view the sunset at the Conata Basin Overlook or Big Badlands Overlook.
Badlands Itinerary: Day Three
If you have three days to spend in the park, you can add endless backcountry adventures to your Badlands National Park itinerary!
Perhaps you could spend the first day exploring the Badlands Loop Road, and then head on out to the depths of the park for your two nights in the park.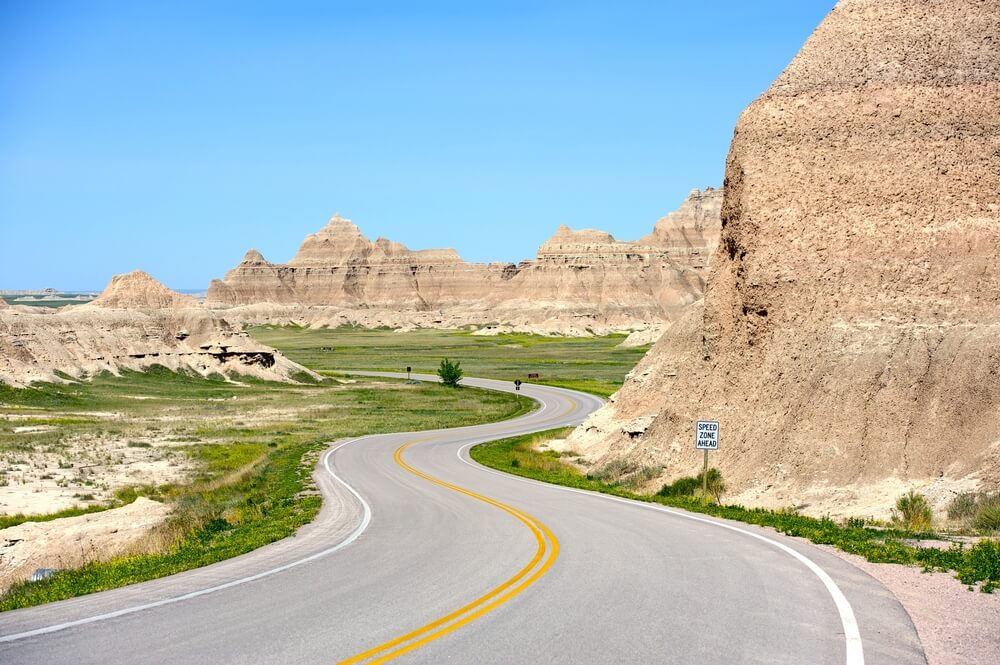 Adventure in the park's backcountry.
For your first night in the backcountry, Deer Haven is a great option. It would make the most sense for you to head there after you tour the park on the loop road.
It is only 2.5 miles from the Conata Picnic Area to reach the wilderness section to set up camp. While the trail is unmarked, there is a path you can follow. It will lead you to a grove of junipers, or you can camp on the buttes.
Another option for your first night would be to venture along the Badlands Loop Road and make your way out to Sage Creek Rim Road.
The Sage Creek Wilderness Area of the park is another excellent spot for more backcountry adventures on your first night.
Close to the Sage Creek Bason Overlook, you'll find the Roberts Prairie Dog Town, which has one of the highest concentrations of prairie dogs in the park!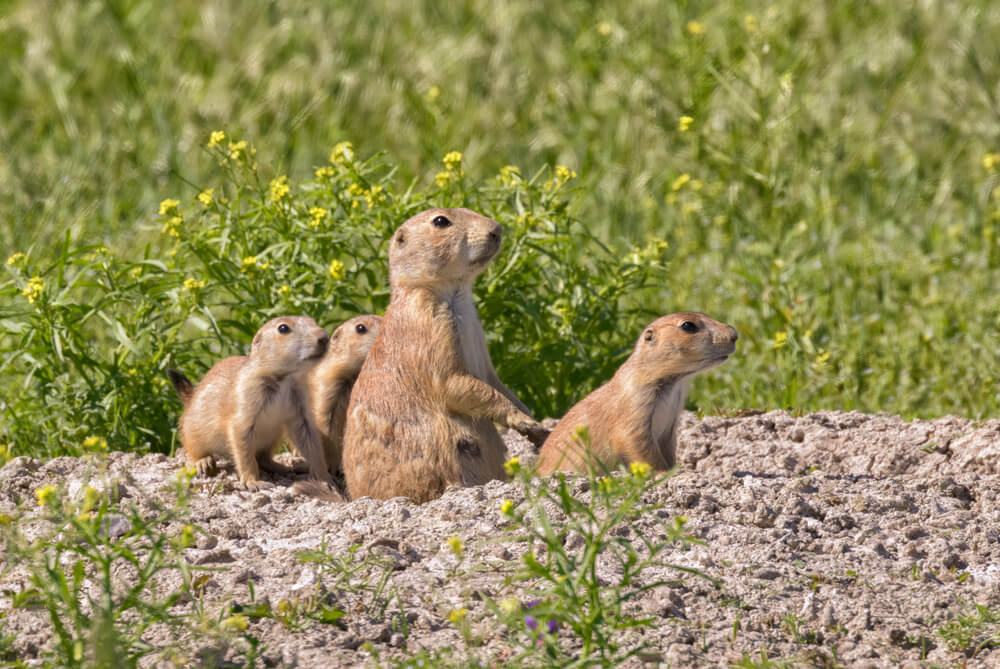 You can find many bison game trails in this area, explicitly leading from the Sage Creek Campground. Explore the buttes or the plains from the Sage Creek Wilderness area for an all-encompassing Badlands experience.
Refer back to the info on the Castle Trail, as this is a beautiful undertaking for your second night out in the park's backcountry.
It is a 10.8-mile round trip, the longest maintained trail in the park. It is a nice option if you want to hike a lot while still having some time to check out more overlooks and short hikes in the early part of the day.
As it is an Open Hike park, you can venture out off-trail and explore as you please. Remember to camp at least 0.5 miles from the trail.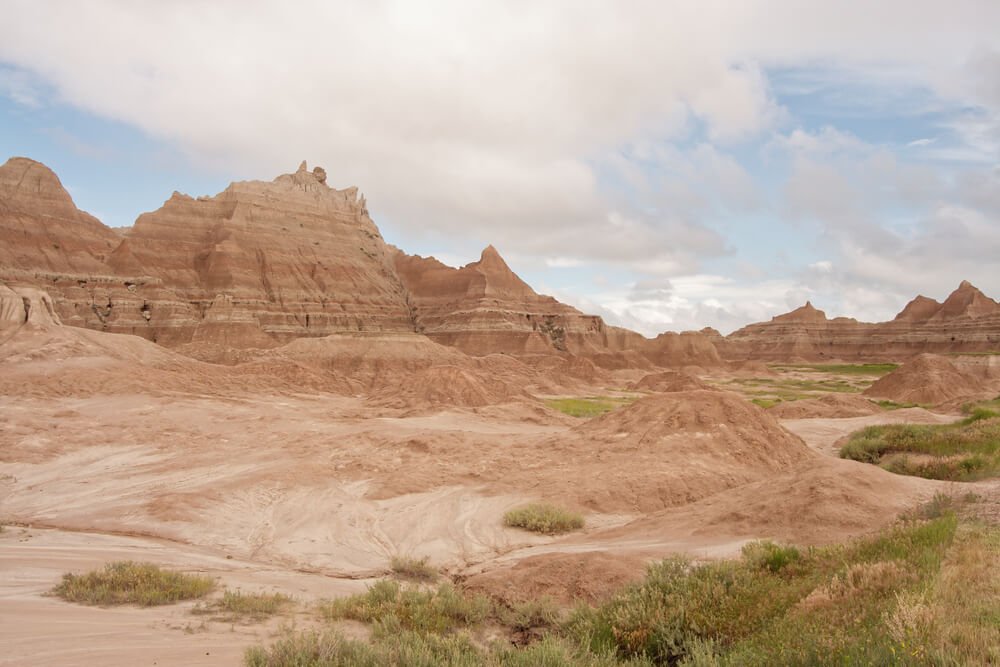 Notes on Backcountry Camping
If you want to camp in the backcountry here, you should always be sure to be at least half a mile from any roads or trails. Make sure you are out of sight.
Water is limited in the Badlands, so depending on where you decide to backcountry camp, you should make sure you bring plenty of water.
Always check with a ranger before you venture out to learn about water availability out in the backcountry. Even with filtration systems, there may not be water available.
Additionally, you should always register at a ranger station before you venture out into the wild. Let them know where you plan to go and for how long.
You do not want to get stuck out there and find no one is coming to look for you because you didn't let anyone know where you were going!
Rule #1 of backcountry hiking: Always have a plan and make sure someone knows what that plan is.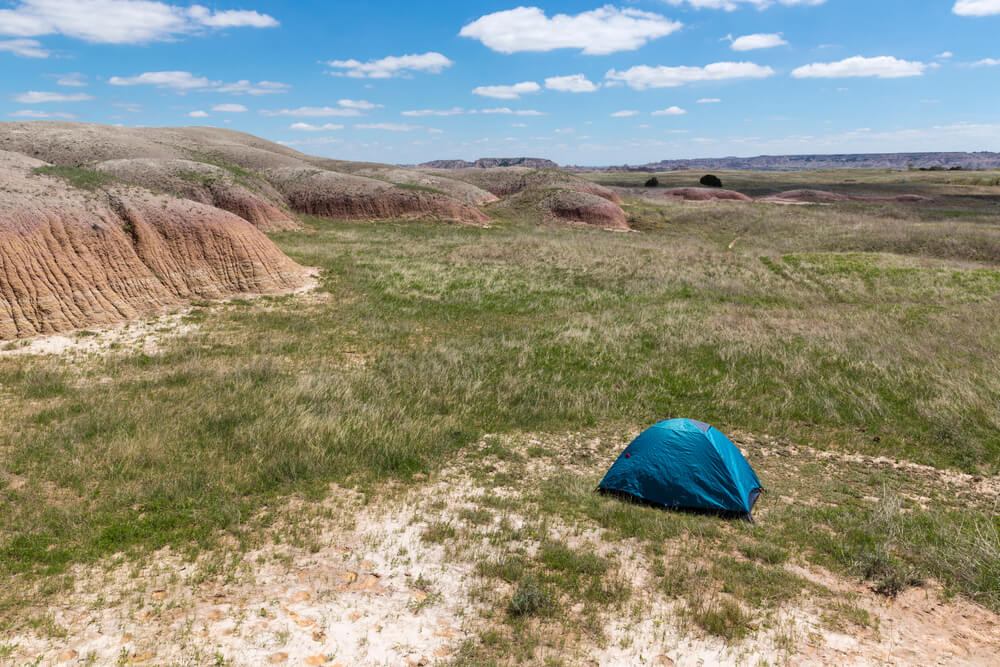 Alternative Day 2 & 3 Badlands Itinerary
Explore other trails and overlooks.
If you don't want to do backcountry camping, there are still plenty of ways you can enjoy a multi-day Badlands National Park itinerary.
On your second day in the park, head out to watch the sunrise. You will be awe-struck by the colors and sheer majesty of the park during the early morning hours.
Again, there are some great options for this. This includes the Castle Trail, as mentioned above.
If you plan to make the Castle Trail for sunrise, you can add the Medicine Root Loop Trail to your hike, which would add 4 miles, making the entire undertaking 14.8 miles.
This will allow you to spend a whole day hiking in one of the best sections of the park for views and buttes.
Other tempting options for sunrise are at Big Badlands Overlook or on the Door Trail. You will definitely see the sun come up and the beautiful light as it ascends over the rock of the Badlands and the prairie land of the Buffalo Gap National Grassland.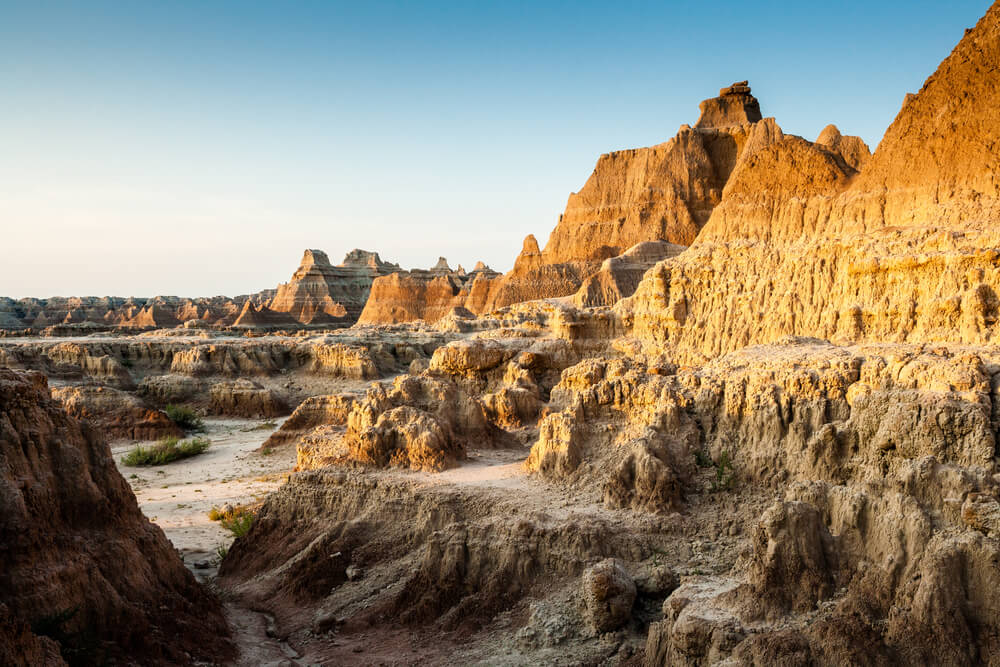 If you choose to view sunrise at the Big Badlands Overlook or the Door Trail, you can easily make your way to the Cliff Shelf Nature Trail.
This trail is 0.5 miles and is sometimes host to bighorn sheep and bison.
Note: The park asks that you stay on this trail and sway from the Open Hike policy to help maintain this area.
When you have three days in the Badlands, you can truly explore the depths of the park. It is an excellent opportunity to drive along the Sage Creek Rim Road or Conata Road and explore at your heart's whims.
You may also desire to head down into the Stronghold Unit. The Sheep Mountain Table Road is an off-road vehicle-only road.
If you have a vehicle with high clearance, then this is a stellar option for scenic driving. However, you can also hike this section; it is 2.5 miles to hike it.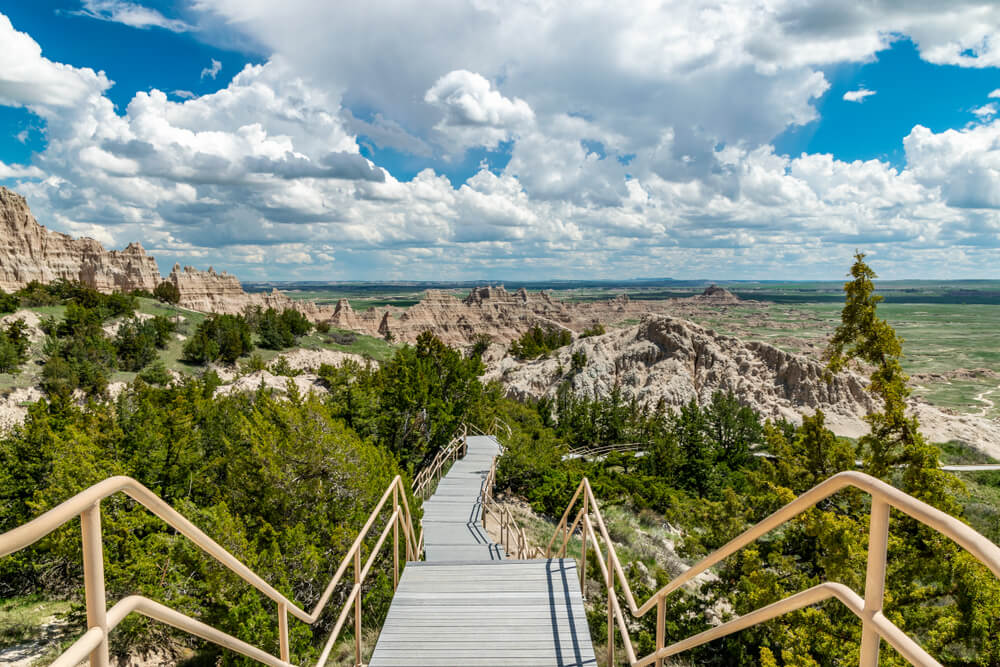 Get out of the park and into town.
Additionally, when you have more time on your itinerary, you can leave the park for a few hours to explore the outlying area of the park.
For example, you may want to head out to the tourist town of Wall, SD, where there are a handful of restaurants and shops to enjoy.
Wall Drug is one of the big attractions. It is here where you can get handmade donuts and get some free ice water. The ice water was one of the ways that the original owners drew travelers to this town in the "middle of nowhere."
You can also find the Minuteman Missile National Historic Site here, which is an interesting place to visit to learn a bit about Cold War history.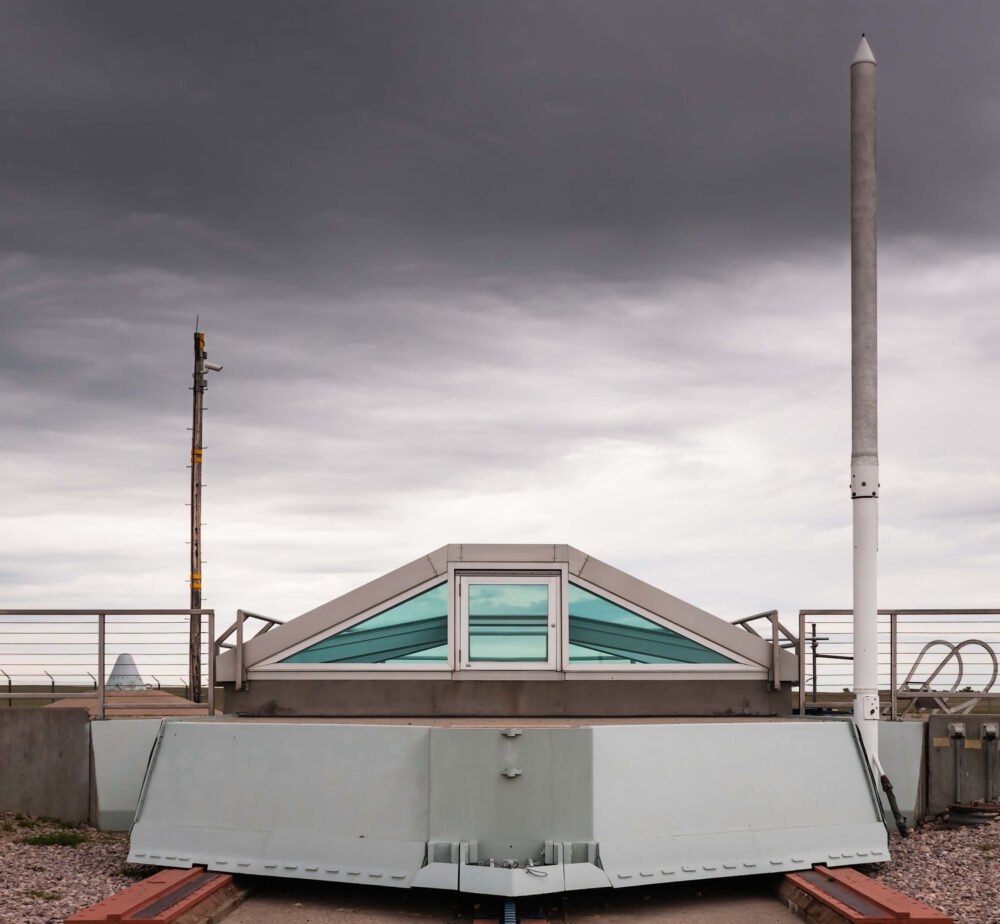 You can access Wall by heading out at the Pinnacles Entrance of the park.
Additionally, 1880 Town is a fun option. You can get there by leaving the park from the Northeast Entrance and heading back towards I-90.
Movies were filmed in the more than 30 buildings built during the pioneer days—the structures date from 1880 to 1920.
Plus, they have a museum, the '50s Train Diner, gemstone panning, and live entertainment. It closes at 6 PM so you will want to make this a daytime activity.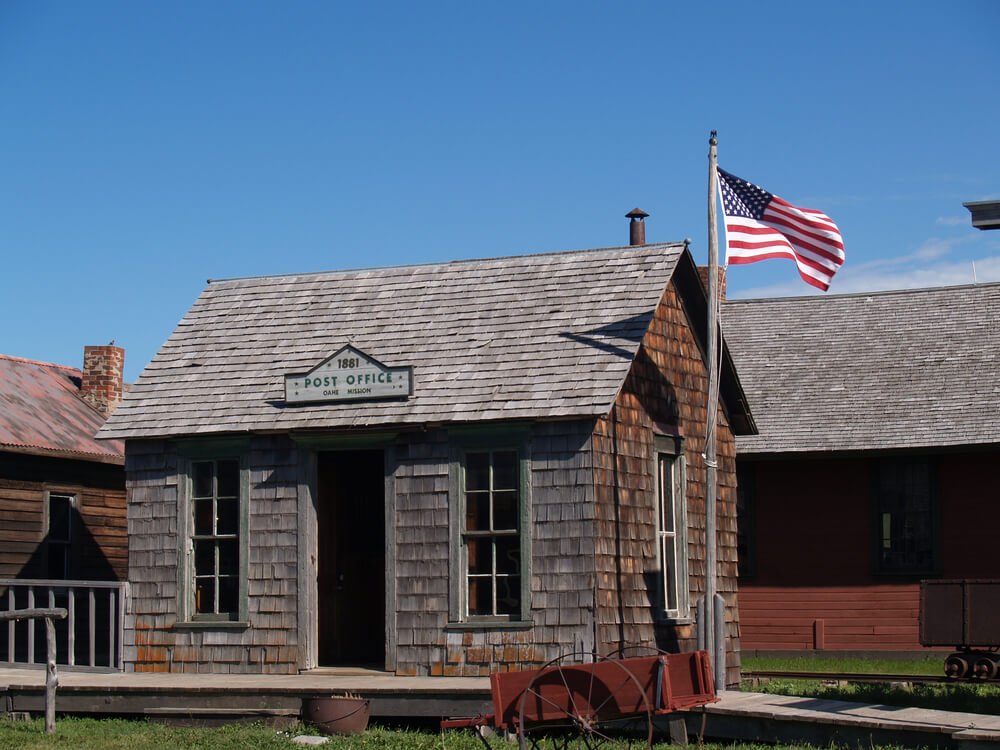 Revel in the satisfaction of an incredible visit to Mako Sica.
Mako Sica is what the Lakota called the Badlands. It translates literally to bad lands.
The variable weather and sometimes harsh environment are what created this namesake. However, this land is also sacred. It provided sustenance and a beautiful home for countless tribes.
Remember this and treat this land with the proper respect it deserves. Remember that all National Parks are on stolen land — the same as virtually all of the United States.
When you come here, you will be blown away by the energy and the beauty. The colors are stunning, and the adventures are endless.
There is a reason it is nicknamed the "Land of Stone and Light." As the weather changes rapidly, so does the light.
Embrace the wild and unpredictable movement of the Badlands. Arrive prepared for all kinds of weather. And remember, always leave the land better than you found it, especially in this most precious of landscapes.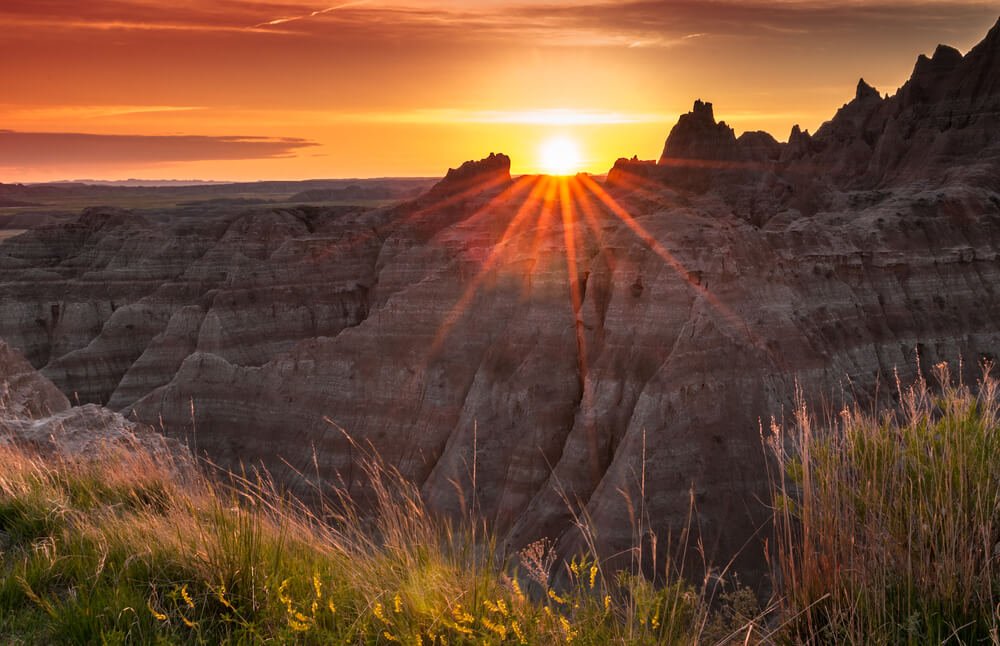 Badlands Day Pack Gear List
One gallon of water per person
Food (trail mix, sandwiches, granola bars, etc.)
Sunscreen (I use chemical-free to impact the environment less)
Bug spray (I suggest a natural formulation for less envirommental impact)
Sturdy boots (I use and love Ahnu boots)
Badlands Backpacking Gear List
Allison is a writer, herbalist, musician, and lover of nature. She is an avid traveler and backpacker, having traveled throughout most of the United States and through parts of Asia and Europe. She has lived in Hawaii, Philadelphia, New Jersey, Boston, and of course, California. Allison has lived in California for 5 years, working on farms and in Yosemite National Park. She has been all over the state, enjoying many cities and of course, the many amazing outdoor wonders California offers. She currently resides in Aptos, Santa Cruz County, CA.