If you're planning a trip to the Azores, a big question you likely have is where to stay in the Azores.
After all, this beautiful archipelago of islands belonging to Portugal but adrift in the Atlantic offers a distinct variety of experiences, from whale watching to hot spring hopping to waterfall chasing.
There truly is no best island to stay in the Azores, as each is so different and has a lot to offer.
If you only have time to visit one island, I'd suggest São Miguel as it's the largest, has the most and cheapest direct flights, and is large enough to spend at least three days exploring and better yet up to a week or more.
If São Miguel is on your list, I have a road trip itinerary for São Miguel that will help you plan your trip!
But beyond São Miguel, there are plenty of other worthwhile places to visit in the Azores, such as Terceira, Faial, Pico, and São Jorge.
There are nine main islands in the Azores; this post will cover where to stay in the main five most visited islands, with a focus on where to stay in Sao Miguel, which is the largest and most commonly visited island.
São Miguel Island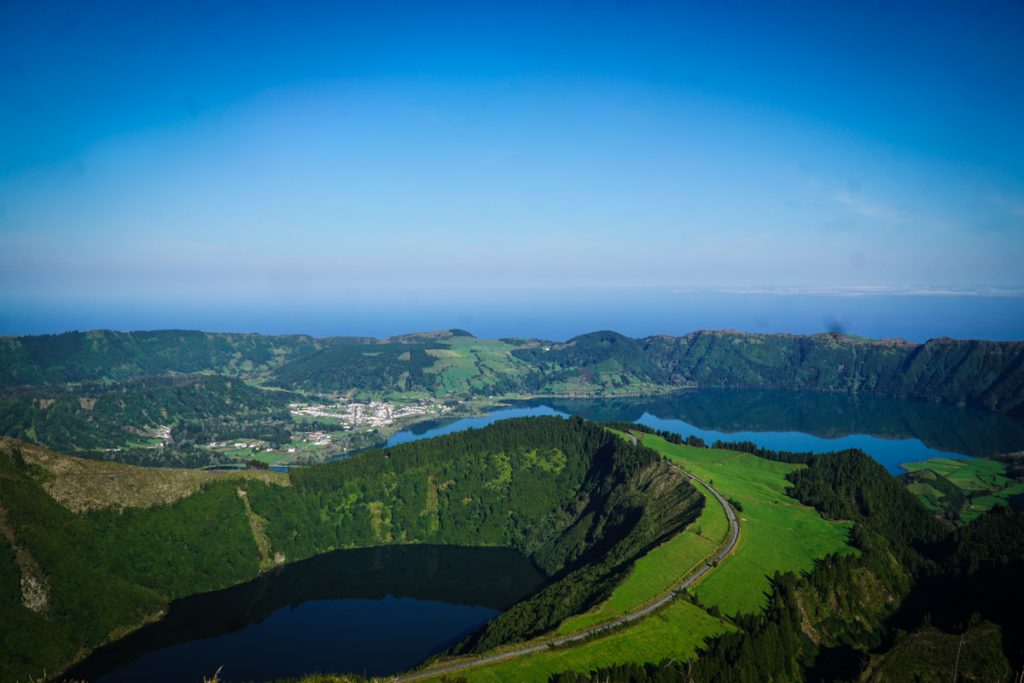 Note: This post contains affiliate links, which means I may receive a small commission if you purchase something through one of these links. Thank you for supporting the free content on this site! For more information on affiliate links and cookies, see my disclosure page for more details.
Best Budget Places to Stay in São Miguel
Quinta das Rosas Villas
Quinta das Rosas Villas is composed of villas creating a gorgeous Azores resort where you can be close to nature as you can be, as Azorean native plants are all over the place.
You can enjoy the garden while sitting on the wooden chairs on the front deck. The trees, some fruit-bearing, can provide you with ample shade and a fresh breeze in the morning while drinking your cup of coffee – a mini paradise indeed! The exterior of the villas are beautifully covered with cedar wood panels, creating a gorgeous effect.
You can choose from their three kinds of villas which are named after the different colors of the rose: Vila Rosa Branca (White Rose Villa), Vila Rosa Amarela (Yellow Rose Villa) and Vila Rosa Vermelha (Red Rose Villa).
They are all detached units rather than adjacent hotel rooms and have a private bathroom (with toiletries provided), one bedroom with a comfy double bed, a living area with seating and a kitchen with basic cooking tools you need – just like at home! Guests also loved that you can use their communal washing machine for free. The interior decorations are simple and have a little bit of that modern Portuguese vibe.
During days when you feel like sitting and just relaxing, you can stay on the sun deck and get a lovely view of the pool. Just in case you feel that there are a ton of mosquitoes bothering you, you can ask them for a mosquito net or you can try to be a local and say "mosquiteiro" (just don't be surprised if Azoreans look confused as their dialect of Portuguese is extremely different than Brazil or Portugal).
»» Check out guest reviews, prices, and availability at Quinta Das Rosas Villas here ««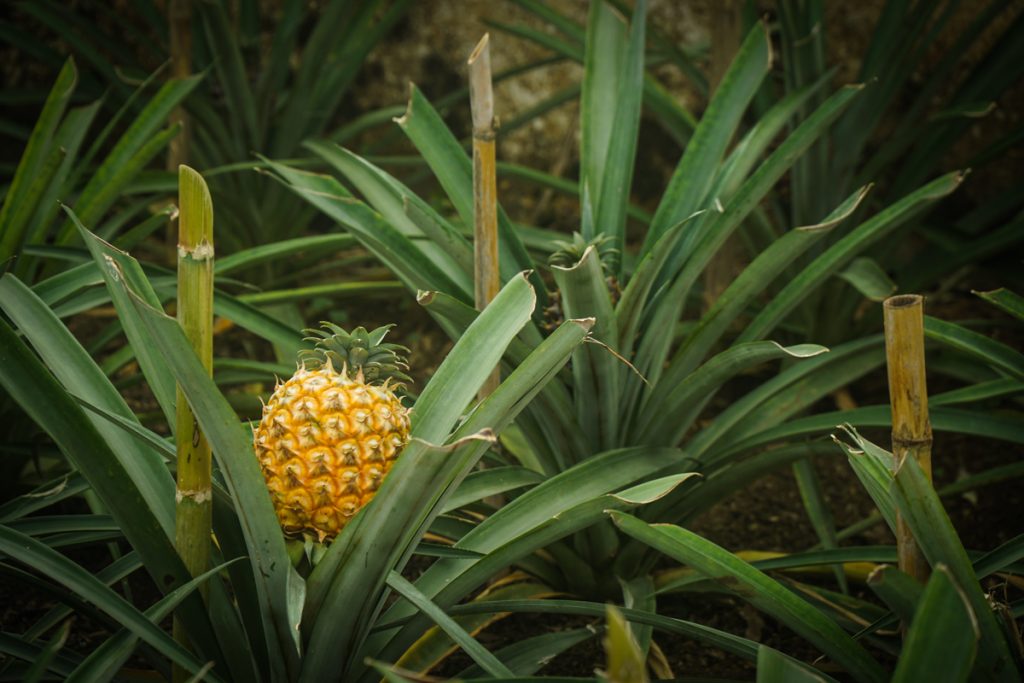 Not sure where to get the best deal on your rental? I've rented cars dozens of times through various search engines and have settled on Discover Cars as the best car rental search engine – it searches over 500 trusted rental companies to find the cheapest price for your rental! Compare prices for car rental in the Azores here.
Praia de Santos – Exclusive Guest House Açores
Someone who speaks Portuguese can tell you that the word Praia next to the name of a hotel or property is a really really good thing: it's destined to be really close to the beach (praia). That's just what Praia de Santos is, and as expected, it will give you the best views of the sea.
Very modern and neat interiors can be found in the common areas, while the rooms make use of minimalist designs and neutral colors to complement the glossy hardwood floors. It has a total of nine soundproof and allergen-free rooms, all with their own private bathroom.
The hotel is most popular for its bike rentals, being a part of the "bike-friendly hotel" network, which is a first in this lovely group of islands. Bike tours can also be arranged by them, for someone who wants to go around and see the spectacular views of the island at a slower pace than road trippers zipping around by car. Someone who is a biker will love this place!
You will love being served locally produced Azorean cheese, bread and other food for breakfast. Just in case you want some snacks or some beverages, there are vending machines available.
»» Check out guest reviews, prices, and availability at Praia De Santos here««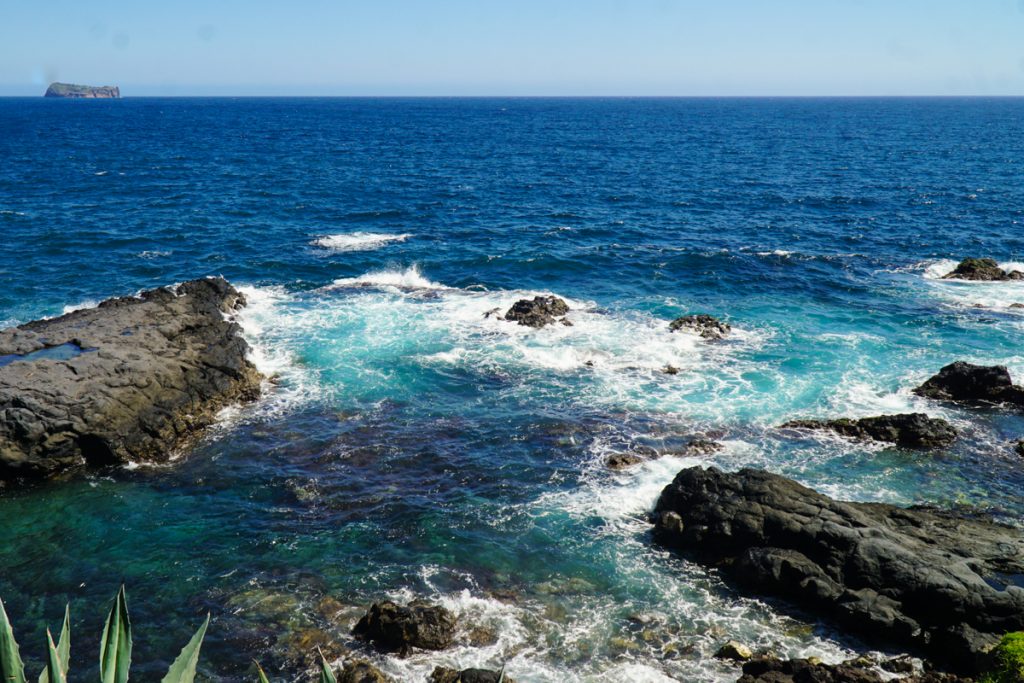 Casa Ateneu
Casa Ateneu is where I personally stayed when in the Azores. I was traveling on a low to mid-range budget and was so happy to find Casa Ateneu at a reasonable price (check here for current rates and availability).
We paid 35 euros per night for a double room with ensuite bathroom and thought it was an amazing value! However, keep in mind we traveled a bit off-season near the end of March, so I would imagine the rooms would cost about twice as much in the summer.
The room was not huge but it felt really spacious with insanely high ceilings (seriously… like two stories tall high!), and lovely, comfortable bedding and plenty of outlets and places to store things. The whole interior of the house had a really lovely, homey vibe to it, and there was a kitchen that was free to use if you wanted to cook for yourself as well. We didn't use it but it looked quite well-stocked!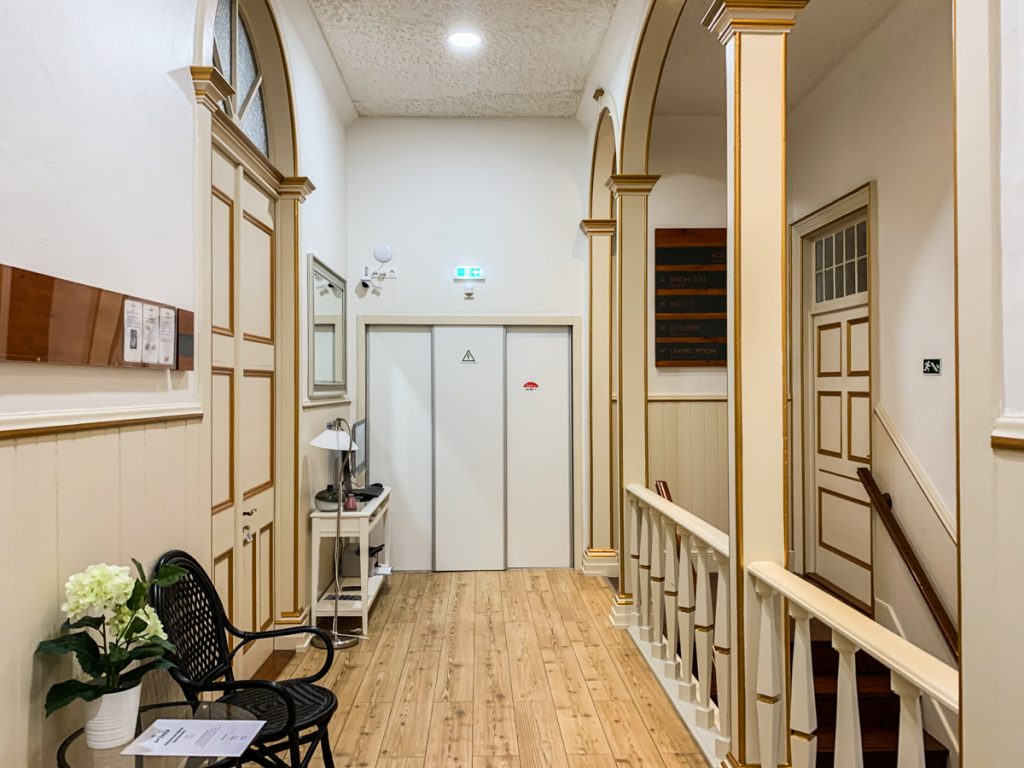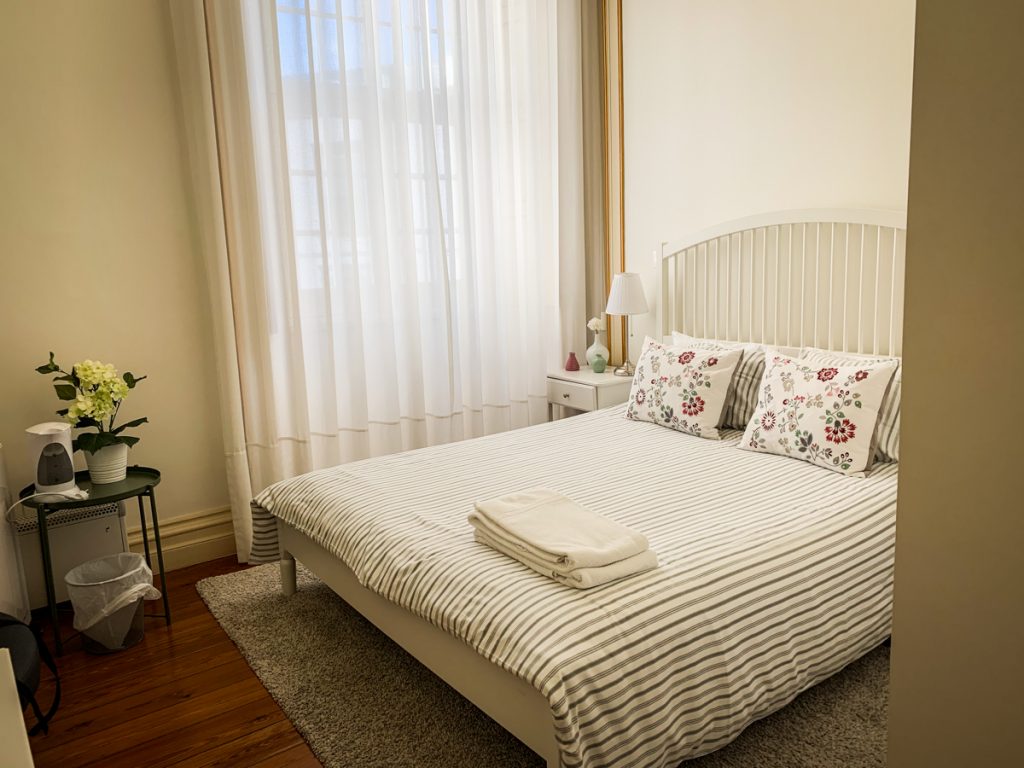 One thing to note: the reception is not actually located at Casa Ateneu but just down the street from it.
That said, check-in was super easy since we could just walk one block away to meet them to get our keys and get a tour of the property. The staff was always available to help us, even walking over with our printed boarding passes one evening, when the computer at Casa Ateneu was having trouble printing.
But my favorite part of staying at Casa Ateneu was the picnic baskets full of delicious breakfast goodies they gave us every day in lieu of a standard breakfast buffet.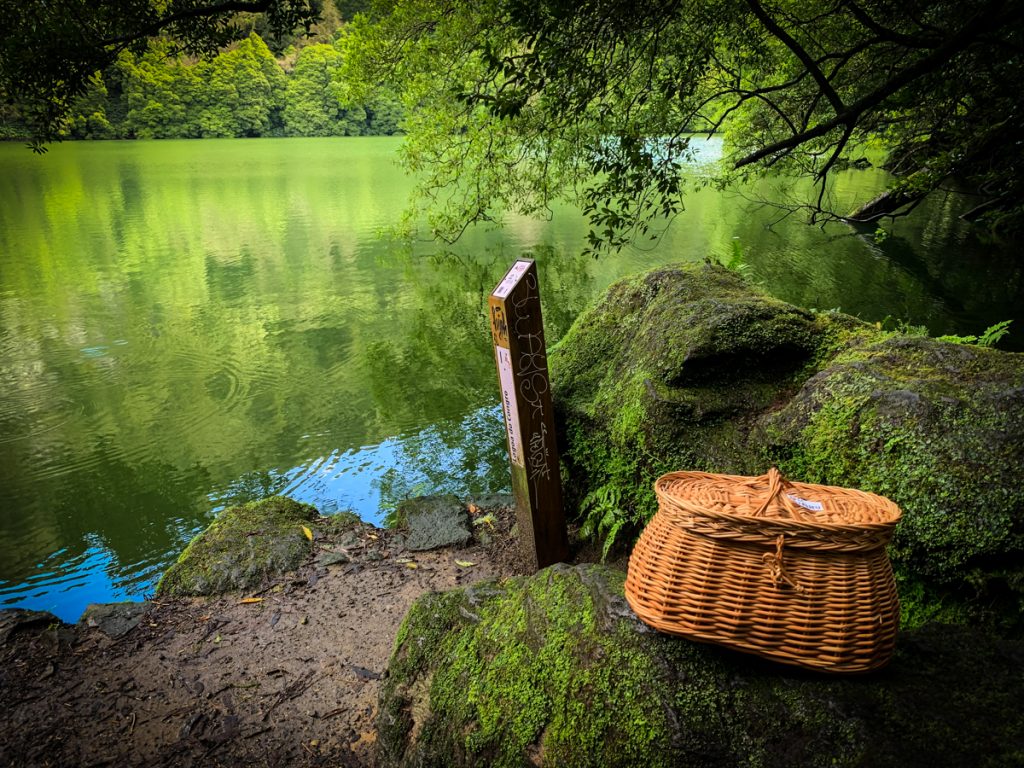 This was perfect as we'd simply make a cup of coffee or Gorreana tea (free in the kitchen) first thing in the morning, head to our first miradouro or viewpoint, and have a picnic breakfast in gorgeous surroundings. They even included coffee and tea in the breakfast baskets, though you'd need a Thermos to hold some super hot water if you were going to make the coffee or tea.
Eating breakfast each morning out of a picnic basket overlooking a lake, surrounded by trees and the hum of birds, was one of the highlights of my Azores trip and I wonder why more hotels don't do this!
Mid-Range Hotels in São Miguel
Pedras do Mar Resort
The incredible Pedras do Mar Resort won the World Luxury Hotels award in 2017, due to its excellent customer service and features — so you can tell this is clearly one of the best places to stay in the Azores, even for the mid-range price tag.
You get the chance to choose the view from your room – whether a breathtaking view of the mountain or the hypnotic view of the sea. They are all spacious and you will love the natural lighting coming in from your big window, but if you are someone who sleeps in late, you can just keep it covered with the thick curtains enough to block sunlight. All rooms are carefully decorated with wood and sophisticated furniture that enhances its minimalist appeal.
You can also do your daily workout routines at their inclusive fitness center or to relax and replenish your wellbeing, you can indulge in treatments at their spa. Children can also swim at their kids' pool, or you can leave them supervised by a staff in their play area. This Azores resort has a heated indoor pool in case you're visiting in the cooler months, and the outdoor infinity pool is a hit with Instagrammers who love taking vivid photos showing the beautiful layers of blue, from the pool itself, the sea, and the sky.
The restaurant serves gourmet a la carte menus that are beautifully plated. If you require a special diet, you can request their special menu to meet your dietary requirements.
»» Check out guest reviews, prices, and availability at Pedros Do Mar here ««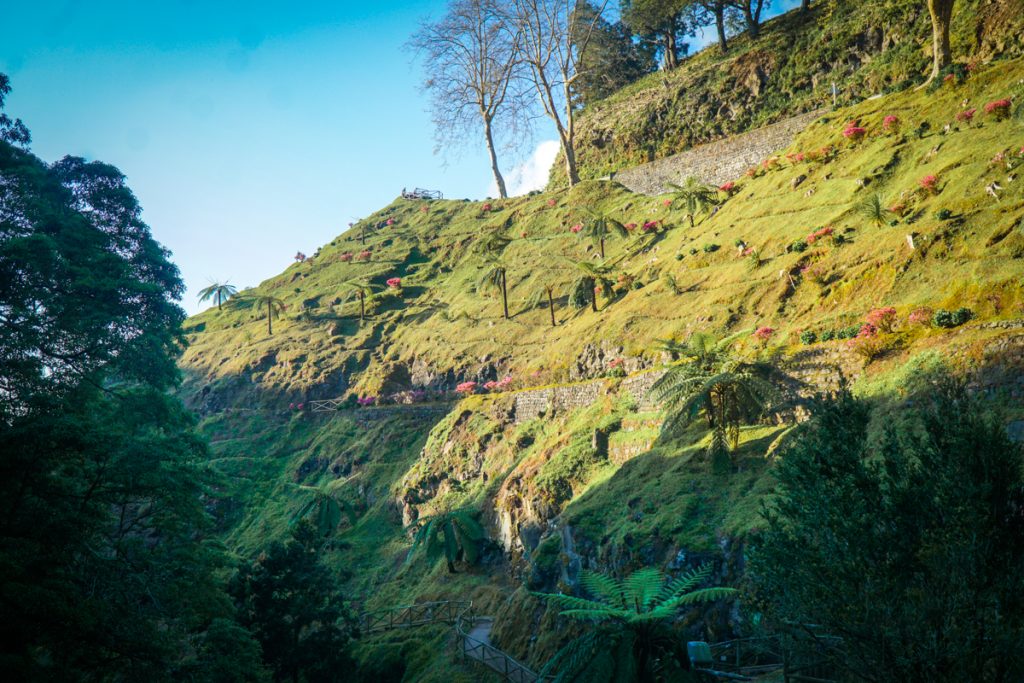 Azoris Royal Garden
The hotel makes use of brave, vibrant, and playful colors and patterns in their interiors. They also have potted indoor plants that will give you a feeling of freshness, bringing the outdoors in.
It also brags several awards like the Miosótis Azores for its environmentally-friendly practices and also has an ISO certification! So if you're looking for an eco-friendly Azores resort, this is the place to stay in São Miguel!
They have a Japanese Zen Garden outside with some koi fish inside the pond. Just beside it is the Koi Restaurant (taking inspiration from the fishes in the garden!) which also offers international and local Portuguese dishes. Previous guests raved that the breakfast is delicious! The Royal Bar also serves a good choice of cocktails and snacks you can munch on between meals if you get a bit hungry.
»» Check out guest reviews, prices, and availability at Azoris Royal Garden here ««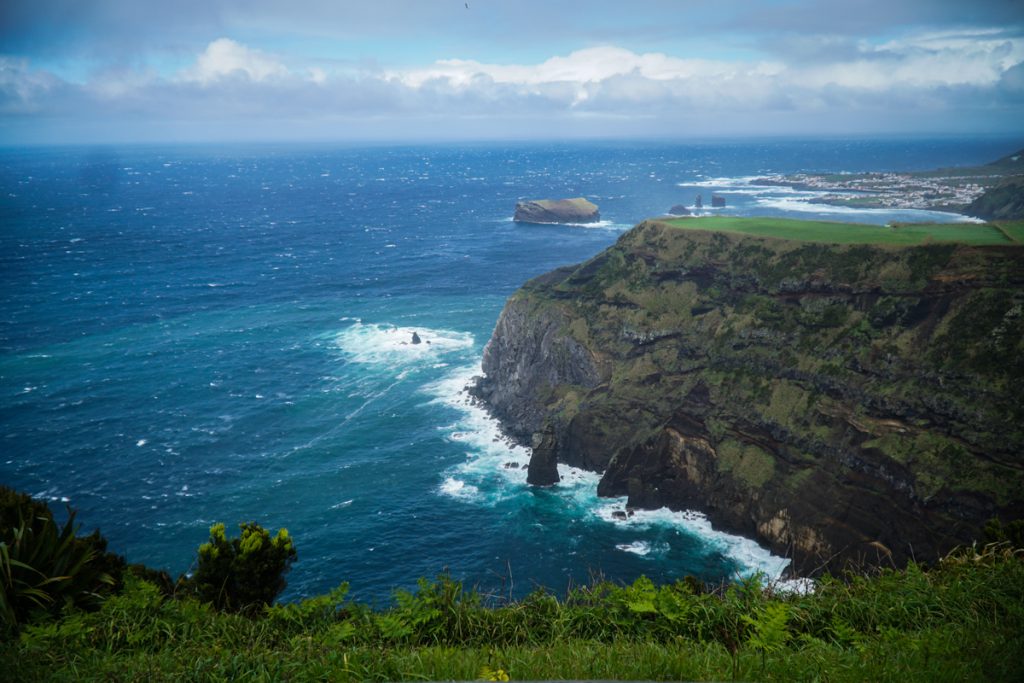 Casa das Palmeiras Charming House
True to its name, this charming guesthouse was built in 1901 by the Countess of Cuba. It is a truly lovely house filled with history that was restored and turned into a dainty hotel with 10 spacious rooms.
The decors are elegant and the total look will remind of you those French Art Nouveau inspired houses. Housekeeping is done on a daily basis. Heating and A/C is also available so you can be kept comfortable regardless of the season (and really, any season is great to visit the Azores!). Baby cribs are also available for younger guests. Note that if you want a balcony, the only room variation that has a balcony is the deluxe double room.
Guests who are planning to visit during autumn can experience their chocolate afternoons – don't you just love that? You can dance to some music while munching on chocolates and sipping on some wine — not a terrible compromise for coming in the shoulder season when the island is not very touristic compared to summer. Coffee, fruit-infused water, and cookies are available to refresh yourself throughout the day.
Someone who wants their stay to be more memorable, such as for an anniversary or honeymoon, should go to the top floor of the house – just wait till you see it!
»» Check out guest reviews, prices, and availability at Casa das Palmeiras Charming House here ««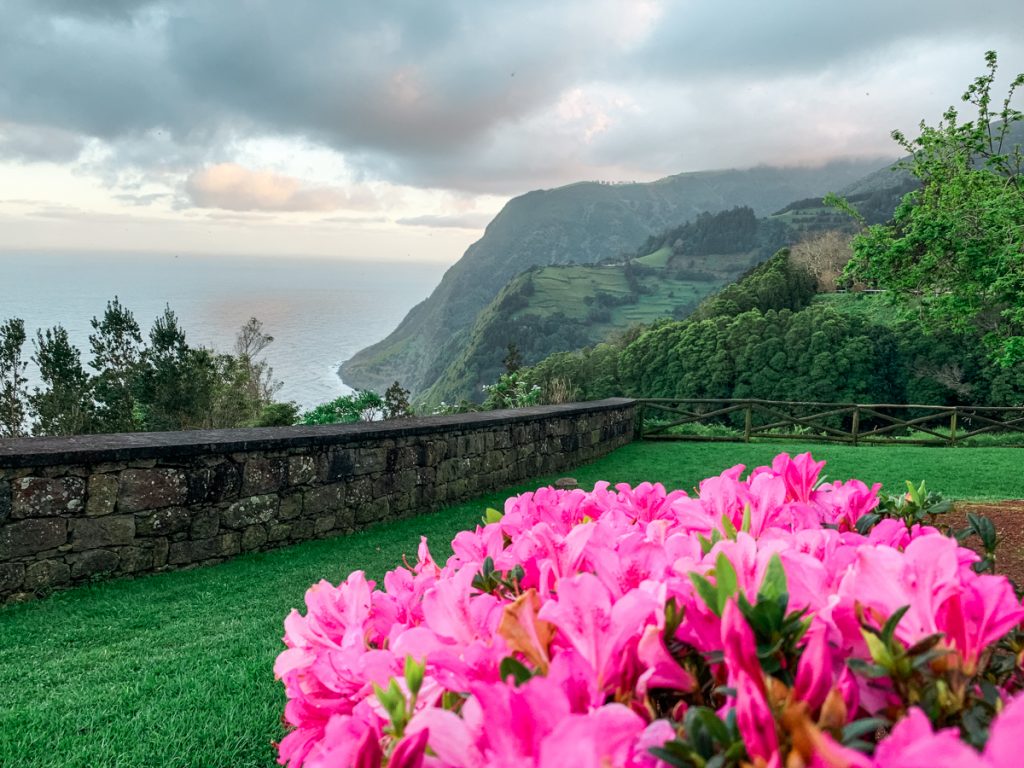 Luxury Resorts in São Miguel
Santa Barbara Eco-Beach Resort
This is a 4-star Azores resort that you shouldn't miss! This gorgeous Azores resort has just 14 villas, each with a nice view of the city, mountain, or the sea.
The style of the resort is a little rustic, combined with wooden walls, floors, and ceilings. You will love that they did not disturb the natural topography of the hills upon building the resort, truly blending into its beautiful rugged Atlantic surroundings.
Some of the furniture and décor are also made from driftwood, and most are very simple yet elegant. The villas are divided by concrete walls and each has a huge sliding window that also serves as its main door. They have private tubs where you can soak and relax after a hike, and the private bathrooms are enclosed in glass walls.
One unique feature of their villas is a room that has a private tub which is divided by the concrete bed headboard! There are also 2-bedroom villas with an outdoor Jacuzzi.
The outdoor infinity pool is simple yet elegant, and you will love the deck where you can watch seabirds flying or just simply allowing the sea breeze to waft aross your face. Guests have mentioned that one of the most outstanding things you will experience at the resort is the service of their staff – which is remarkably great. The nostalgic feeling of living in the countryside, while still providing world-class service, is their major selling point to guests.
»» Check out guest reviews, prices, and availability at Santa Barbara Eco-Beach Resort here ««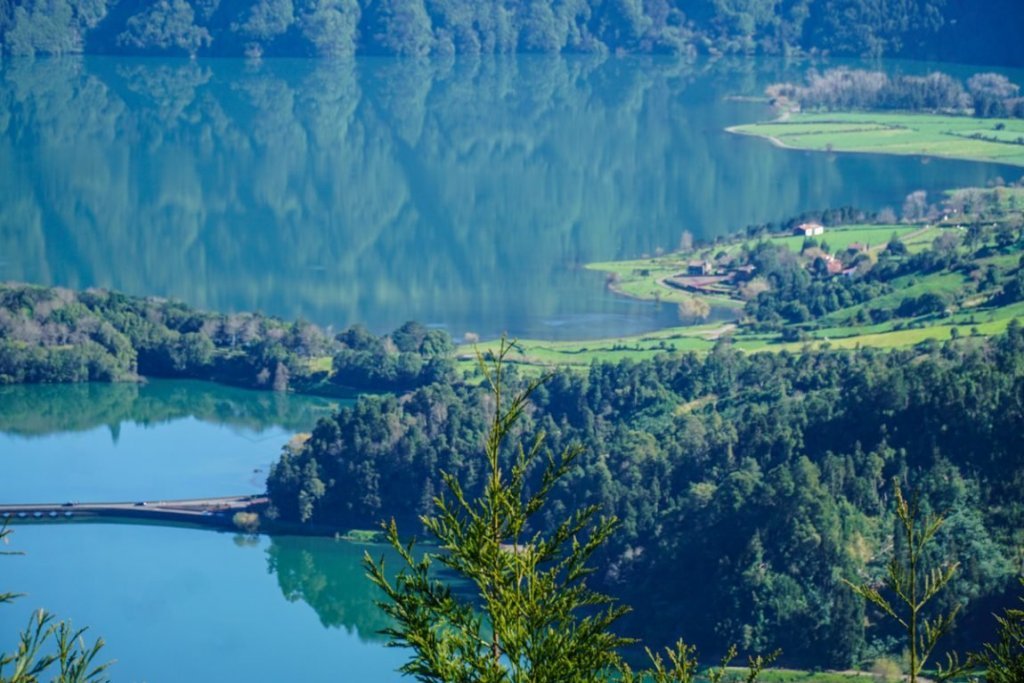 Sul Villas & Spa
The hotel makes use of flat white walls, floors, and ceilings to create a peacefully blank canvas that will put emphasis on their simple and elegant furniture and décor. The suite-type rooms will also remind of you of art galleries, with funky art individualized for each room.
You can choose from a junior or a deluxe suite, which both have a balcony with an epic Azorean view. The deluxe suite has its own private spa bath where you can soak and unwind, as well as a deck where you can be one with nature. All suites have their own kitchenette and minibar, heating, A/C, and a closet. They also have a fireplace — just in case it gets too cold during the winter season.
The wellness facilities are also superb: from the multiple services and treatments available at their spa to the fitness center and sauna, there's a lot of ways to unwind here. Someone who aims not just to enhance their physical, but also mental health, can try their yoga classes.
The outdoor pool also has salt water (so relaxing!) as well as an area dedicated for kids. A few guests have reported that some rooms have windows facing the street, which can sometimes become a bit noisy. Try to inform the property that you want a room that is not facing the street side or better yet, tell them you want room 1!
»» Check out guest reviews, prices, and availability at Sul Villas & Spa here ««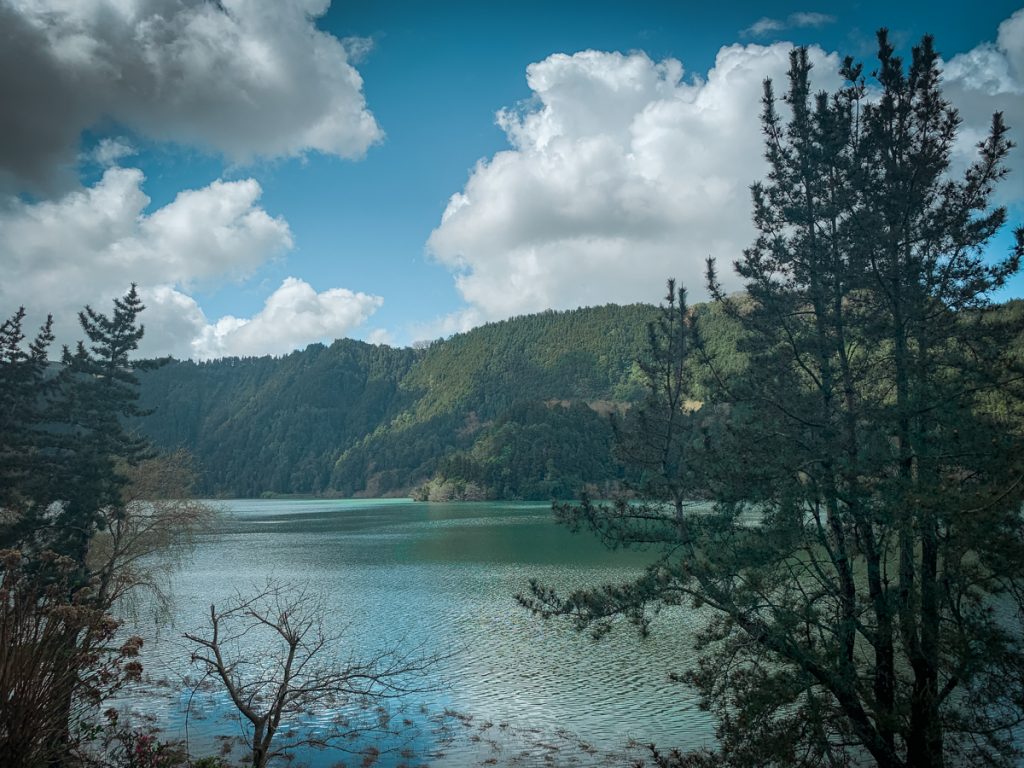 Furnas Boutique Hotel
This chic hotel was designed by Nini Andrade Silva, a famous Portuguese architect, which has 54 rooms and suites. A touch of sophistication and class is evident in their rooms and suites, each with an ensuite bathroom. It makes ample use of leather, wood, and marble floors to complete a multi-layered yet classic look. All are equipped with an A/C, heating, a safety deposit box, tea and coffee making facilities ,and a minibar.
Thermal waters are abundant in this location of the island, and this 4-star hotel makes that their advantage! It is also what makes their wellness amenities excellent. The spa has 10 rooms catering to different kinds of treatments, which all use the natural thermal spring waters. Most of their treatments make use of natural ingredients, and they also have an exclusive treatment made for men. You can also purchase products like make-up removers, creams, oils, serums, and masks made from local ingredients.
The best thing about their amenities such as their pools, the fitness center, and the continental breakfast is that they are all available 24-hours a day – waking up on time is not a problem here! There are 2 indoor and 2 outdoor pools: one makes use of fresh water and the other makes use of thermal water. Don't forget to check the outdoor thermal pool because it looks stunningly beautiful!
There's also a restaurant, named À Terra, where you can check their a la carte menu and buffet options for lunch and dinner. There are also adventure activities that the 24-hour service desk can help you with – whether it's going whale watching, canyoning, diving, kayaking, surfing or swimming with dolphins, there are countless things to do in the Azores.
»» Check out guest reviews, prices, and availability at Sul Villas & Spa here ««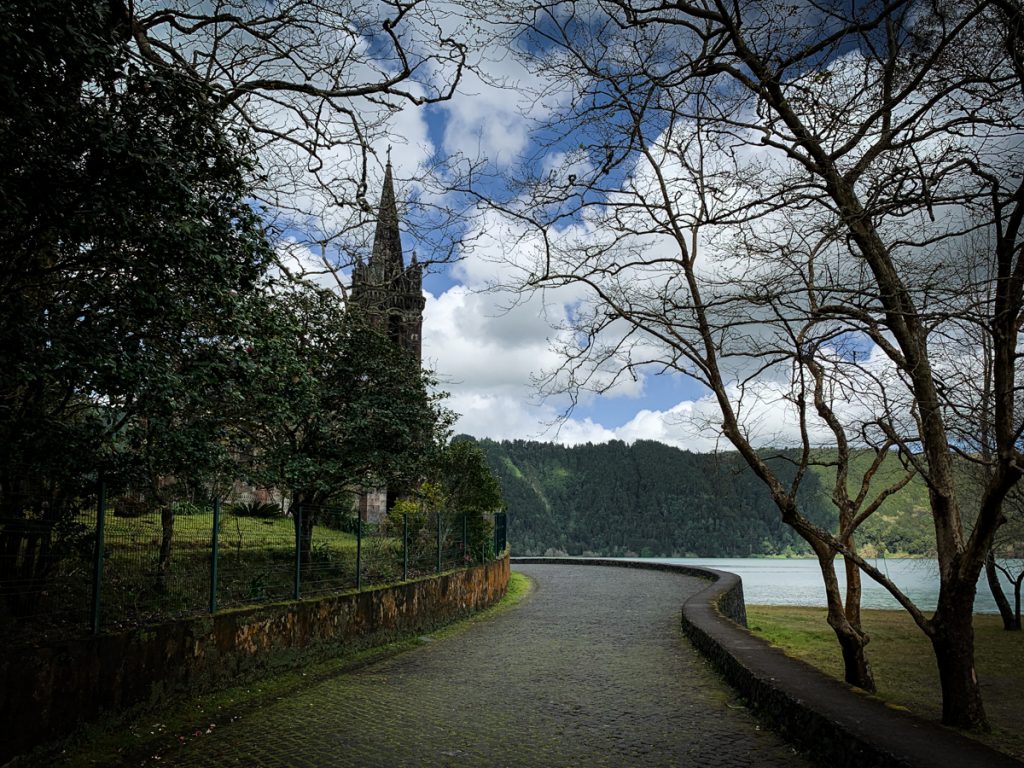 Terra Nostra Garden Hotel
Whether or not you stay in the. hotel or just visit its gardens and thermal springs for the 8 euro entry fee, a visit to Terra Nostra is a must if you are visiting the Azores.
While visiting is wonderful, staying at Terra Nosta is a whole different level. It has been nominated and won several international awards from Conde Nast and World Luxury Travel Awards. The theme of the hotel is earth touches and tones, which makes sense given that the hotel is famous for its iron-rich gold thermal waters said to have healing properties.
This gorgeous Azores resort strives to incorporate a lot of natural elements in their facilities and amenities. All rooms are also hypoallergenic and non-smoking. It is also stylishly decorated with printed carpets on the floors. The ensuite bathroom is also large and relaxing, making it a wonderful bathing experience for guests after soaking in the thermal waters on site.
The restaurant serves exotic Azorean dishes with a twist! They cook some of their stews underneath the ground at Lagoa de Furnas, which is a geothermal lake nearby. The ground heats the dishes and actually cooks the food for them – no stove or fire required! This dish is called a cozido and is an Azores must-do. For something different, you can also dine at The Gardener, which is an al fresco bar that serves exotic cocktails and fresh off the grill burgers.
You will love their natural hot springs and thermal pools where you can wash off all the stress away. Guests with disabilities won't have any hassle because their facilities are equipped and carefully designed to give them ease and comfort, accessible for all.
»» Check out guest reviews, prices, and availability at Terra Nostra Garden Hotel here ««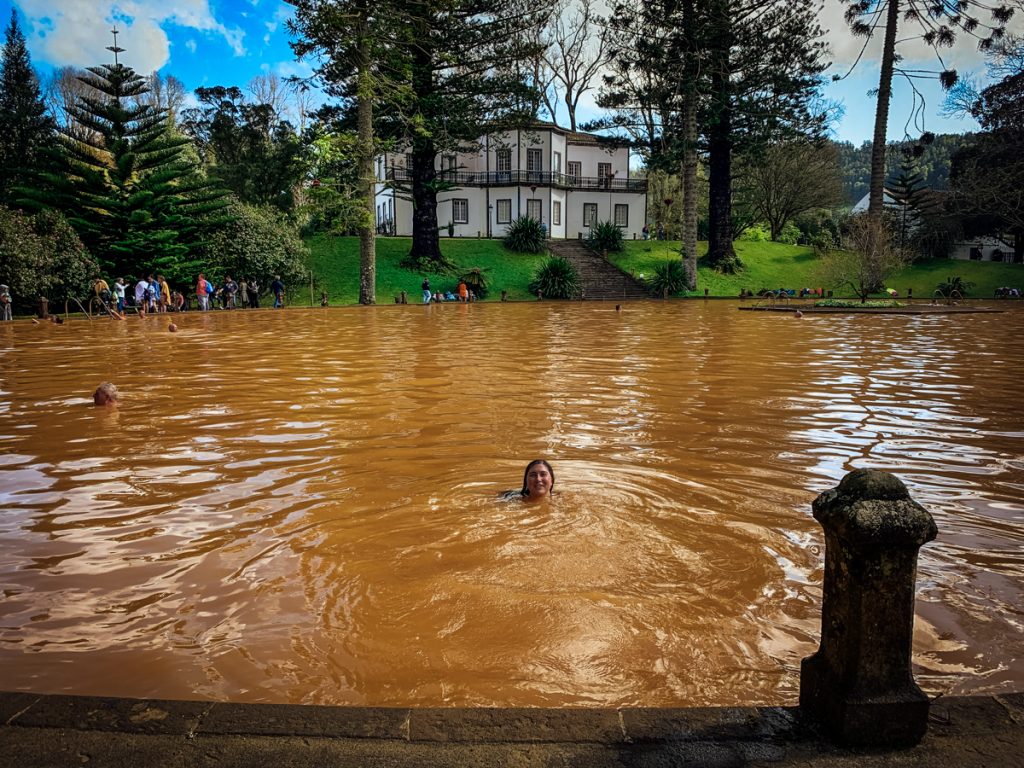 Terceira Island
Budget Hotels in Terceira
Hotel Cruzeiro
This is a 4-star hotel that just recently opened in Angra do Heroismo. The hotel is been inspired by the nature and history that envelops the beautiful Terceira Island. You will notice a lot of wallpapers with scenes of the mountains and forests. Even some of their lights are green!
You can choose from a single, double, twin and deluxe room. All rooms have their own coffee and tea making facilities, flat-screen TV, iron for clothing, safety deposit boxes, and a wardrobe and closet.
The restaurant on-site, Albergaria, serves delectable local dishes that some say are even better than the other restaurants on the island! You can also grab a drink at the bar or some delicious snacks and cheese between meals. Those who have rented cars to explore Terceira can park for free at one of their 40 spots on-site. Guests have noted that there can be some noise from the street in some rooms, but once you close the windows – it's all good!
»» Check out guest reviews, prices, and availability at Hotel Cruzeiro here ««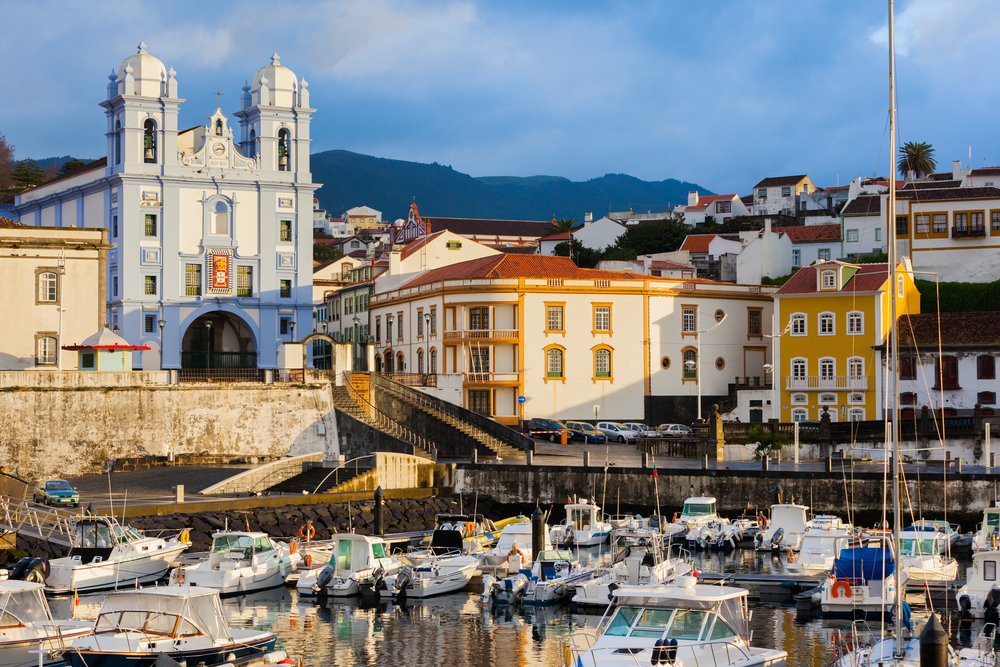 Terceira Mar Hotel
If you are planning to stay somewhere near Silveira Beach, then this is a good option. It has a lsuh garden with a gorgeous saltwater infinity pool. They have a total of 139 rooms and suites that have a chilled out 70s vibe, many with a balcony with a view of the crystal blue sea.
Past guests loved how comfortable and big the beds are, and it is also soundproof so that you can sleep well! Terceira Mar Hotel also has an indoor pool and an outdoor saltwater infinity pool open seasonally. The fitness center has a lot of equipment, some for cardio and some for lifting weights — all the better to fight off weight gain from that delicious yet hearty Portuguese food and wine!
The Monte Brasil restaurant offers Azorean cuisine like octopus stew and veal steak. Fanal Bar is where you can get some light snacks and some drinks while watching the bartenders stage a show for you. Make sure to book 2-3 months ahead of time so you can get low prices, like $60 USD per night for a classic room with a view of the sea!
»» Check out guest reviews, prices, and availability at Terceira Mar Hotel here ««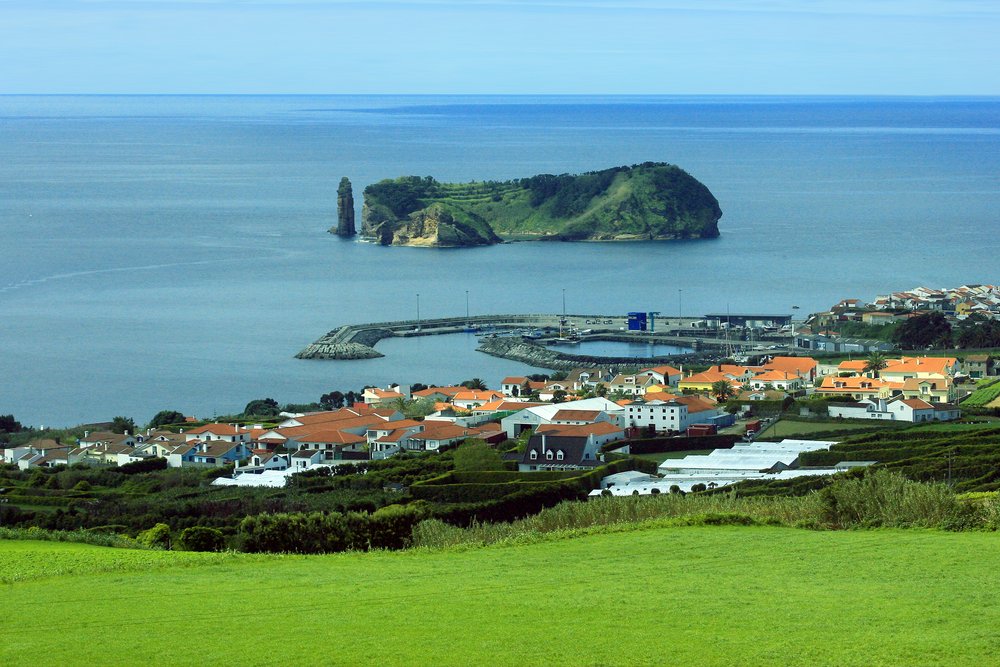 Mid-Range Hotels & Luxury Resorts in Terceira
Caparica Azores Ecolodge
Someone who wants a unique nature experience should consider staying in one of their cute wooden chalets that look like treehouses. Caparica places each chalet in a location that is very close to trees and boulders, giving you lovely views from the window. The private en-suite bathroom in each chalet is truly unique because the sinks are all made out of wood (even the soap dispensers!) plus the toilets are all black.
The breakfast is fresh and they only make use of local ingredients – keep an eye on their still-warm-from-the-oven Lervedo cake! Their outdoor pool is quite unique: you don't often see one with a red tiled floor.
The staff is mostly able to speak in different languages and you won't have a hassle whether you speak Spanish, French, and most of all, English. Sometimes they organize activities that you can try, like their aerobics class, cooking classes, and cultural walking tours. Art lovers will enjoy this place because it is also a haven where the local Azorean artists showcase their masterpieces!
My personal favorite feature is the netted hammock inside the three-bedroom chalet! Talk about Instagrammability.
»» Check out guest reviews, prices, and availability at Caparica Azores Ecolodge here ««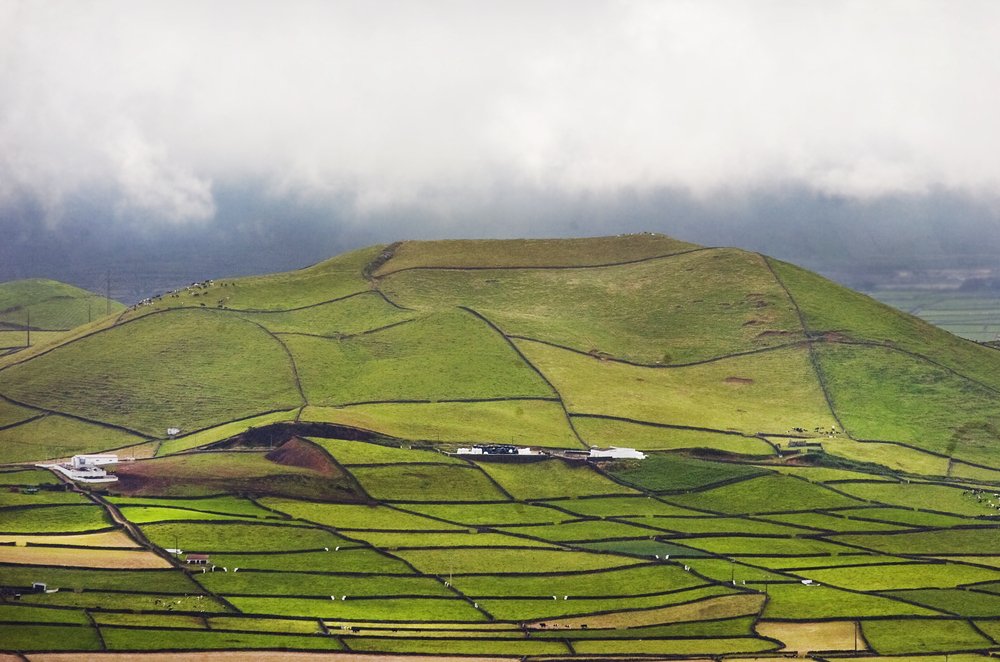 Casa Maria Luisa
This lovely guesthouse has the look of a Spanish colonial mansion, located near the countryside. The hotel is actually a house that's filled with a lot of history. The house can trace its roots back to 1856, and it was only turned into a hotel in 1996.
It is not too far from the city center but it is in a peaceful and quiet location. You will notice that most of the furniture and the décor are inspired by vintage pieces – they still have working CRT TVs (don't expect flat screens here!).
It is a small and personalized property, with a total of 6 rooms, all with a private bathroom and a view of their garden. Make sure to bring your favorite toiletries with you, since they do not provide this. Here are some tips for other things you can include when packing for your Azores trip.
It is open 24 hours, so checking in late won't be an issue if needed. Guests have loved the lobby, garden, and pool because the personal feel makes you feel like you live there and aren't just vacationing!
»» Check out guest reviews, prices, and availability at Casa Maria Luisa here ««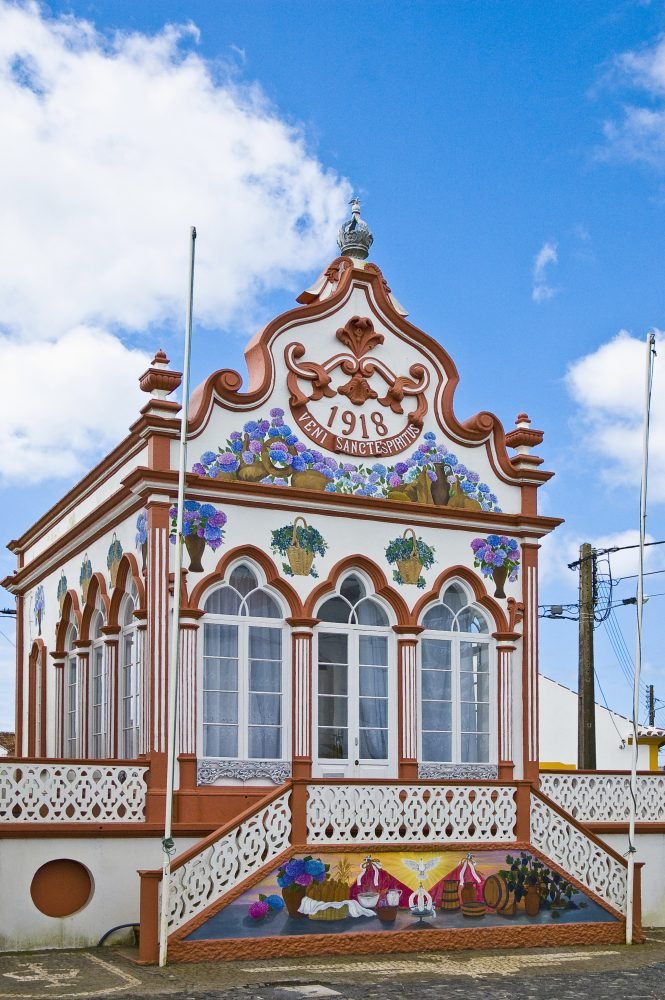 Pico
Budget Hotels in Pico
Miradouro da Papalva Guest House
The hotel was named after a local bird that, sadly, is now almost extinct. The house is perfectly located on the slope of the hill overlooking the lush green forest and the sea. They have huge suites that look like a small villa itself.
Each suite has all the features you'd need in a room. One unique thing you will notice is their bathrooms, which have a slanted ceiling, and the wet and dry area are divided (a feature I love). Their deluxe double room also has a balcony and it usually is around $80 USD a night, though prices can vary depending on season and demand.
There is a picnic area and BBQ facilities are available. You can try buying some fresh seafood and grill them – a must-try with freshly caught Atlantic seafood! If you are up for some adventure, you should talk to the hosts (husband and wife) as they know a lot about the local village and what exciting activities you can do.
Both of them are chefs, so you are to expect really delicious food served to you – especially the breakfast! Just in case you are watching your food intake or have dietary requirements, you can request a special menu or just inform them of your needs. If you're tired of all that adventuring, soak in your suite's warm tub and order some wine or champagne – a perfect way to pass a nice lazy afternoon!
»» Check out guest reviews, prices, and availability at Miradouro da Papalva Guest House here ««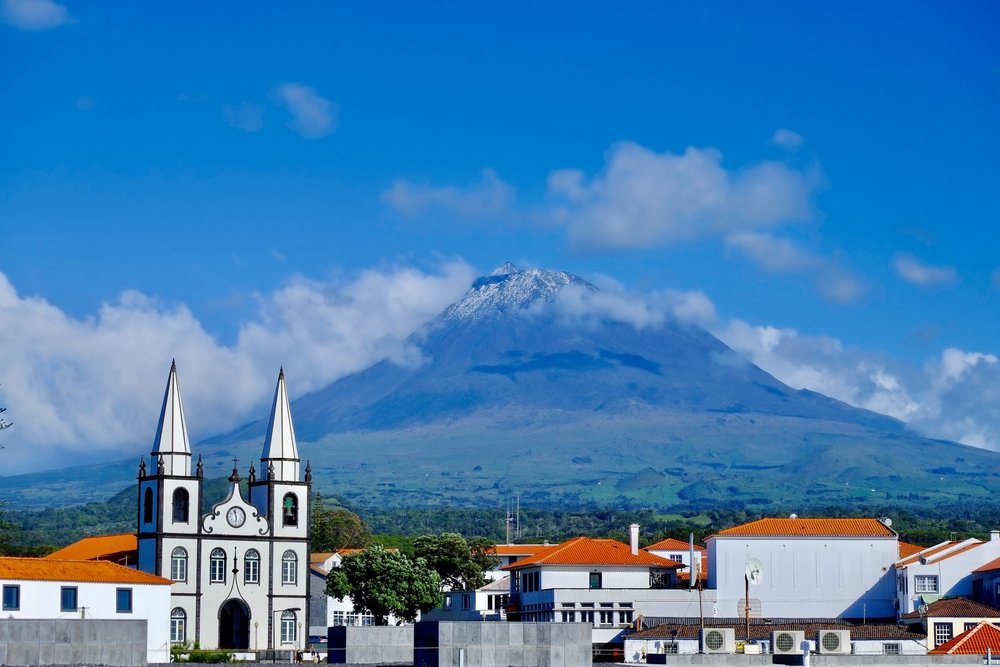 Pico Dreams – Sportfish
Pico Dreams – Sportfish has a very beautiful entrance filled with purple and blue hydrangeas, one of the main flowers you'll see on the Azores, to welcome you.
It has three buildings with a total of six rooms and villas that do not have a signature style, so you can choose according to your personality. All are spacious and have unique décor, which all harmonize well. You can choose from a double room or a villa that has up to 3 bedrooms, perfect for couples, families, or group trips.
A shared kitchen is also available if you want to make some dishes using some local ingredients that you would love to try (look out for the ultra-sweet, teeny-tiny Azorean pineapple!).
The outdoor pool is not so big, but it is refreshing for a short dip. There is a lot of seating area available, plus some sun loungers to rest in. Tours and activities can also be arranged for you at their service desk like water sports, car and bike rentals, whale and dolphin watching or mountain climbing.
Bringing your favorite pooch won't be a hassle as well because the hotel is pet-friendly – and it's at no extra cost. You really get the best service here for a decent price.
»» Check out guest reviews, prices, and availability at Pico Dreams – Sportfish here ««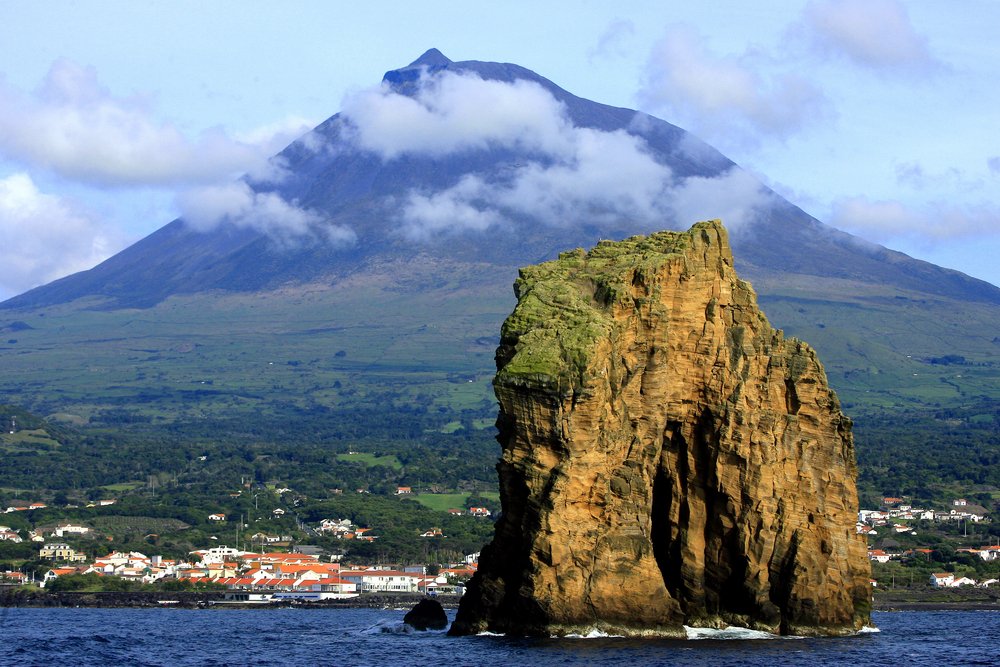 Mid-Range & Luxury Hotels in Pico
Aldeia das Agas
The place is like a mini-village of 10 houses, all made from volcanic rocks — like the Azores themselves!
Each house has its own outdoor deck with a nice outdoor table with umbrella. All units also have a fireplace and comfortable seating area for the family. You can also store your clothes in their closet so you don't have to always open your luggage – I love getting to "unpack" on my vacation!
A lot of wood was used to furnish the interiors of the bedrooms, creating a very natural aesthetic. Still, there's no lack of convenience — there is A/C and other modern amenities. The ensuite bathrooms are also fully equipped with all the things you need such as a washbasin cabinet, toilet, bidet, and an illuminated mirror.
Kids will enjoy playing in the small front yard and back yard (aside from the dedicated playground). Parents don't have to worry since it is also secured by a private rock gate that surrounds the house.
However, breakfast is not included in your stay, so it is best to buy it so you can enjoy a relaxed morning, or you can opt to dine in the nearby restaurants and café. This is one of the best places to stay in the Azores if you are looking for the same comfortable feeling of being home. It can also be a perfect last stop for your Azores island hopping adventure as they have a free shuttle to the airport.
»» Check out guest reviews, prices, and availability at Aldeia das Agas here ««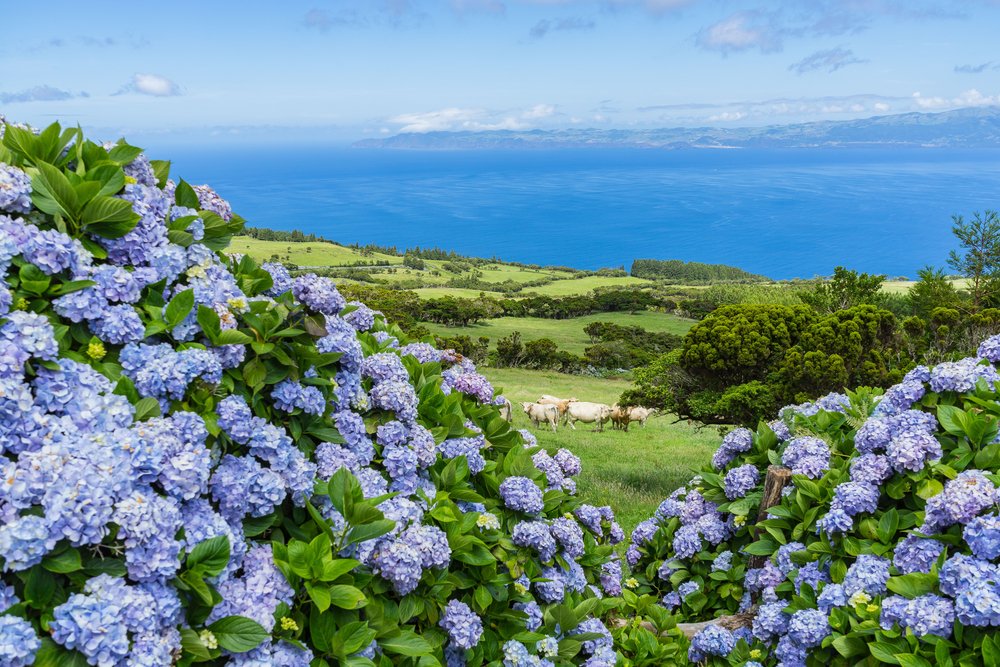 Casas de Incensos
This is a lovely country house made out of rocks and wood. They say it was originally a house that was left abandoned when they started building the roads on the island. It was later reconstructed by a local architect, who now happens to own it as well, to serve as a guesthouse!
The exteriors are filled with dark gray rocks and bright red windows that makes it stand out against the green background of the hills. The balconies of each room also allow you to feel uplifted with the majestic view, in the morning or evening, and it is in its own way destressing.
Just a few steps from the house, you will notice a pathway of rocks that will lead you to a hot tub right on the slope of the hill. It also has two nice sun loungers where you can bathe in the sun, plus it gives you a gorgeous view downhill and across the sea.
The outdoor swimming pool is seasonal, so make sure you check before you book, if this is something you're looking forward to. If you want to request for some snack or drinks, the host can have them ready for you, aside from the simple free breakfast they serve.
»» Check out guest reviews, prices, and availability at Casa de Incensos here ««
PocinhoBay
The Portuguese like to add the suffix "-inho" (male) or "-inha" (feminine) as a diminutive and also as a way of endearment or emphasis. PocinhoBay wants to endear their guests with its wonderful service and perfectly located property in a vineyard!
Historic and local Azorean furniture (and a few modern pieces) were used for the decorations of the hotel. They have three kinds of accommodation you can choose from: a 3-bedroom townhouse, a twin room and a 2-bedroom villa (this one has the view of the sea!). The perfect description for this property would be boho luxe, due to their use of ethnic printed rugs, ropes, natural fibers in the furniture, and framed paintings. It is also well complemented by the beautiful lighting and candles they use for décor.
There's never a dull moment here and it's perfect for families, because adults and kids each have their own entertainment facilities. Kids can play with their toys and there's also books and TV networks for them, while adults can swim at their pool or avail themselves of one of their relaxing massages.
»» Check out guest reviews, prices, and availability at PochinhoBay here ««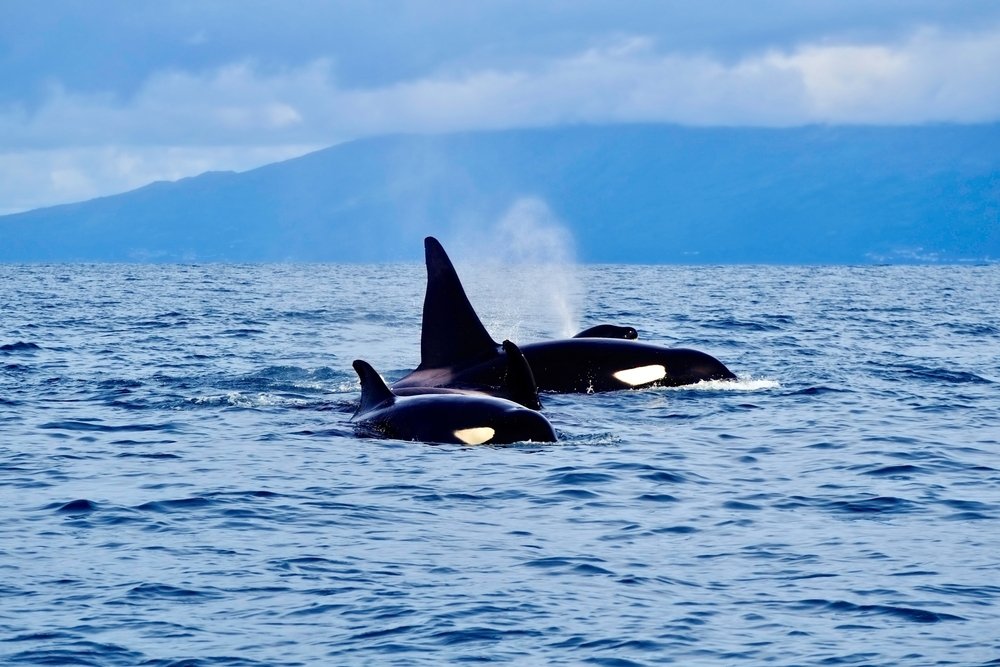 Faial Island
Budget Hotels on Faial
Casa de Baia – Guest House
Casa de Baia was once one of the old houses near the bay, but it was restored and transformed into a beautiful modern guest house. The rooms are all named after sea animals, and they also placed some adorable decals of them on the walls — kids will love it! (OK, I do too).
All rooms are simple, neat, and very modern — so that you can have more open space instead of unnecessary furniture. The guest house also features a kitchen, where guests can store food in the refrigerator, plus lockers where they can also store food items.
There are common spaces, like a living room with books about the Azores and a terrace where you can also have some good local food! Bikes can also be rented directly at the guest house. However, there is no A/C in the property (which is fine for most of the year, but may be problematic in peak summer). However…it is compensated by the stunning view from the roof deck!
»» Check out guest reviews, prices, and availability at Casa de Baia – Guest House here ««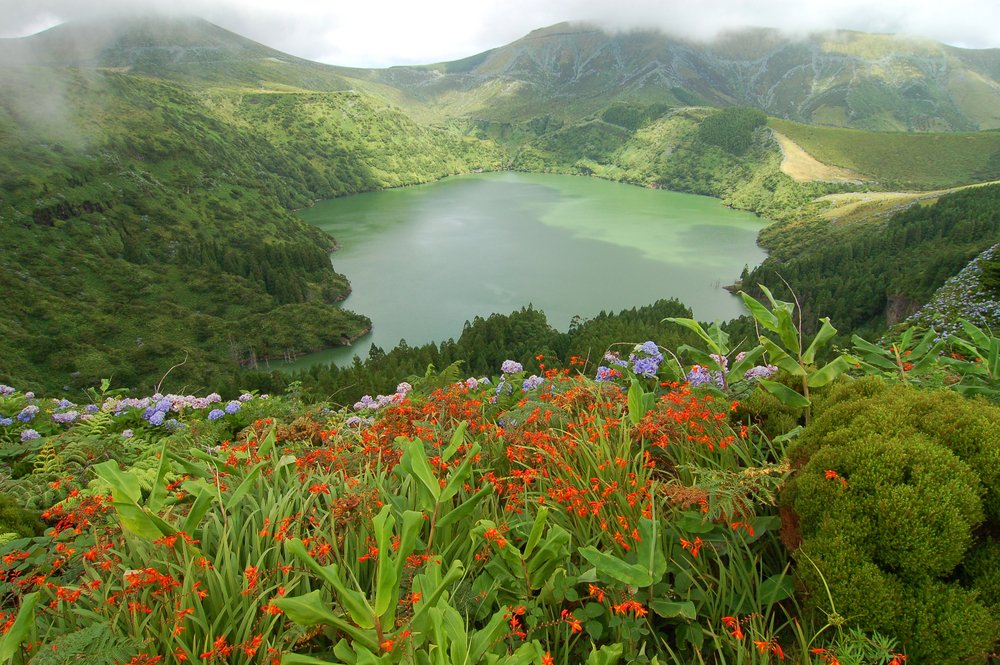 Quinta da Meia Eira
This is a charming rural place to stay in the Azores and has a lovely, cozy farm ambiance (seeing as it has an agritourism license).
It has 8 comfortable rooms, complete with huge beds and luxury mattresses. The style is more on the vintage shabby chic side, where the furniture and the décor aren't themed, but they do look good – it surely brings you back to a certain era!
You will also notice some works of art hung on the wall. Aside from the view of the sea and the mountains, you can also check their gazebo, meet their farm animals, and check out their vegetable garden outdoors. With this being said, your breakfast buffet is guaranteed to be fresh!
Since it is a farm (a lot of walking is expected), it would be advisable to rent a car or ask their service desk for their free bikes. The guests loved how approachable the owners were, because they themselves will attend to your every need and make you feel at home.
»» Check out guest reviews, prices, and availability at Quinta da Meia Eira here ««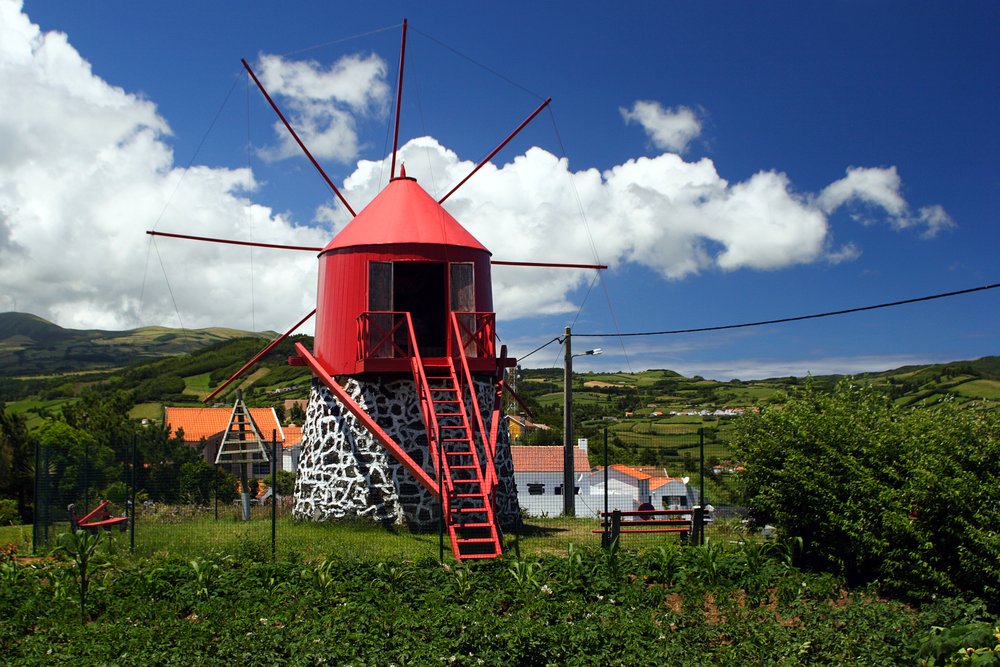 Mid-Range & Luxury Hotels in Faial
Hotel do Canal
Hotel do Canal is a very modern hotel equipped with the latest facilities to make all of their guests feel VIP!
This hotel makes use of natural lighting very well – there are a lot of glass windows inside letting in tons of sun. Wherever you are, you can see the beautiful views outside.
The rooms are classy and vivid, and they use boldly patterned carpets for the floor. You will also notice a lot of aubergine colors in their pillowcases and seating. The room sizes are also perfect: neither too big nor too small, each with an ensuite bathroom equipped with free toiletries and a hairdryer.
Their spa lounge offers a variety of massages, treatments and beauty services. There isn't much equipment on their fitness center (as it's mostly for cardio exercises) but admit it – you didn't go on vacation to get fit! However, it is enough to help you sweat and burn off some of the yummy dishes and snacks you ate from their restaurant!
»» Check out guest reviews, prices, and availability at Hotel do Canal here ««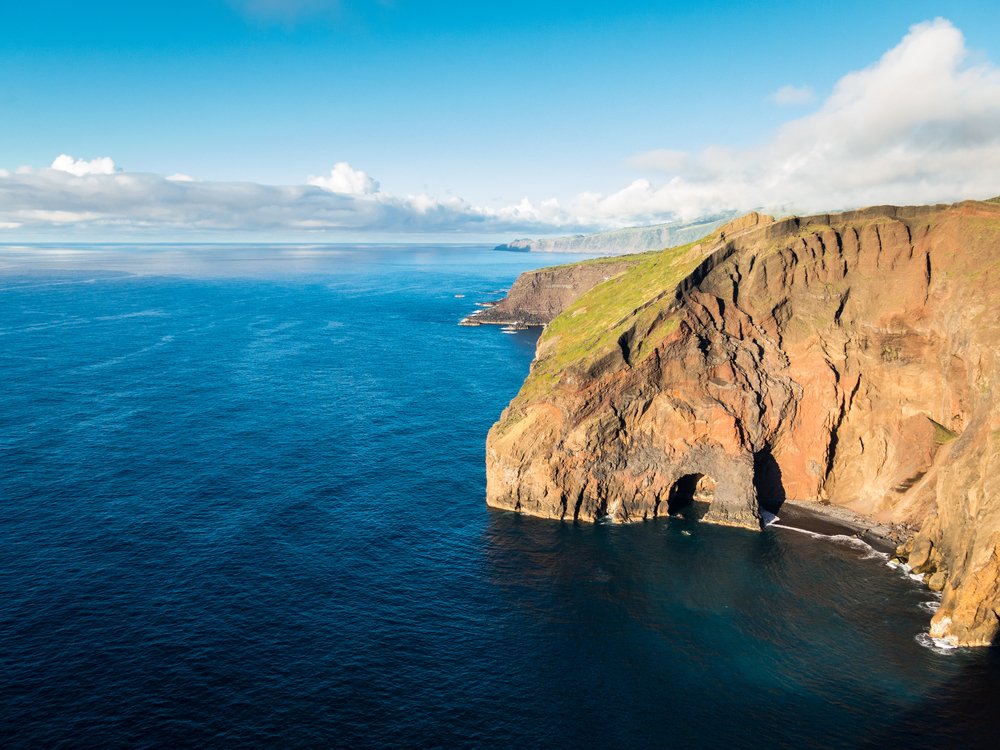 Azul Singular
Azul Singular is one of the first glamping (glam+camping) propertiesin the Azores. It offers luxury private wooden tents or yurts, both with really nice wooden decks for taking in the. views!
The yurts (round tents traditionally used by nomads) are lovely and you can open the smoke holes above for some natural lighting. A huge bed with see-through canopy can also act as a mosquito net at night, both chic and rustic.
The floors are all made from hardwood and the windows feature a lot of greenery from the palms and plants outside. The private toilets and mini kitchen are also outdoors (separate from the yurt). The shower area and the toilet area are divided, and each have a roll-up door you can close when you use them. Ecological water heating systems were used in keeping the water on your tap and shower warm, making your stay in the Azores extra eco-friendly.
Guests who would love to spend their vacation enjoying a barbeque can use their facilities or better yet, have a nice picnic on their grounds! Just a reminder, the location gets booked pretty fast as it is one of the nicer hotels on Faial, and you need to make sure that you plan ahead if you don't want to miss it.
»» Check out guest reviews, prices, and availability at Azul Singular here ««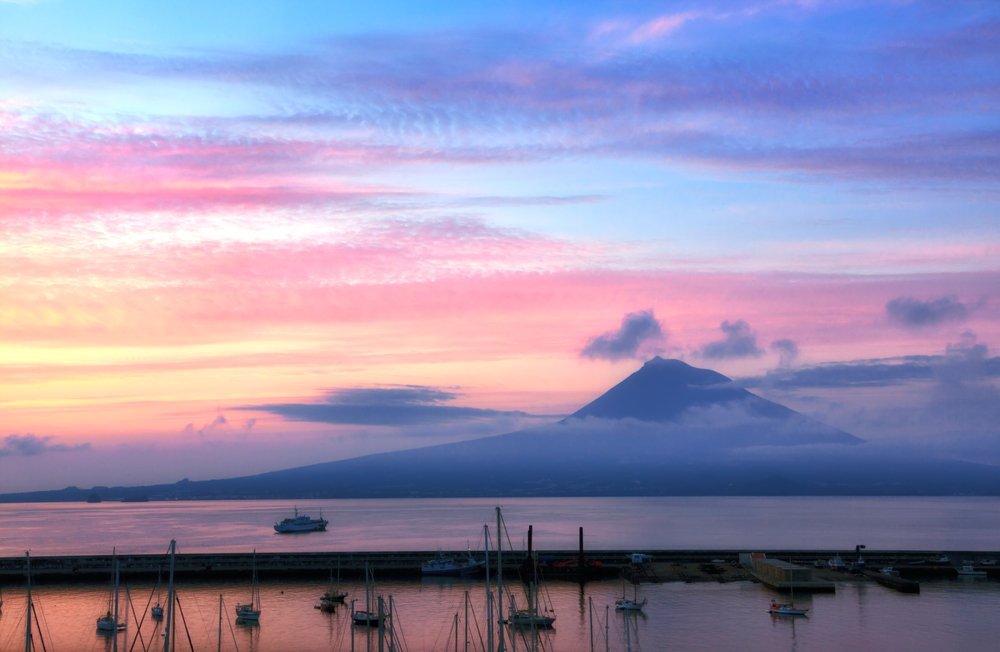 Internacional Azores Boutique
The exterior of this colonial-style hotel and hostel is painted with the color turquoise (my favorite as it's my birthstone!). The interior walls also tell a story – they were inspired by the aviation history of the early 20th century. Don't you just love hotels with a theme?
The hotel also started its operations just this year (2019!) so most of the facilities are brand spanking new, despite being a historic building. The private rooms are mid-range budget, whereas the bunks in the dormitory are perfect for those on a lower budget.
There are two kinds of rooms that you can get, whether a private one or a dormitory-type room. The private rooms are simple with plain white sheets and wooden floors and furniture. You can also get the pristine views of the sea and the mountains from the balcony. The dormitory-type rooms have bunk beds and a terrace, with options for an all-female, all-male, or mixed-sex room available.
In the morning, a free continental breakfast with a nice choice of cereals, breads, deli meat, jams, and fruit will help you start your day. If that doesn't satisfy you enough, you can check their Internacional Café which is on the ground floor of the building which they say has been the meeting place of Faial elites. History geeks will surely love this boutique hotel!
»» Check out guest reviews, prices, and availability at Internacional Azores Boutique here ««
São Jorge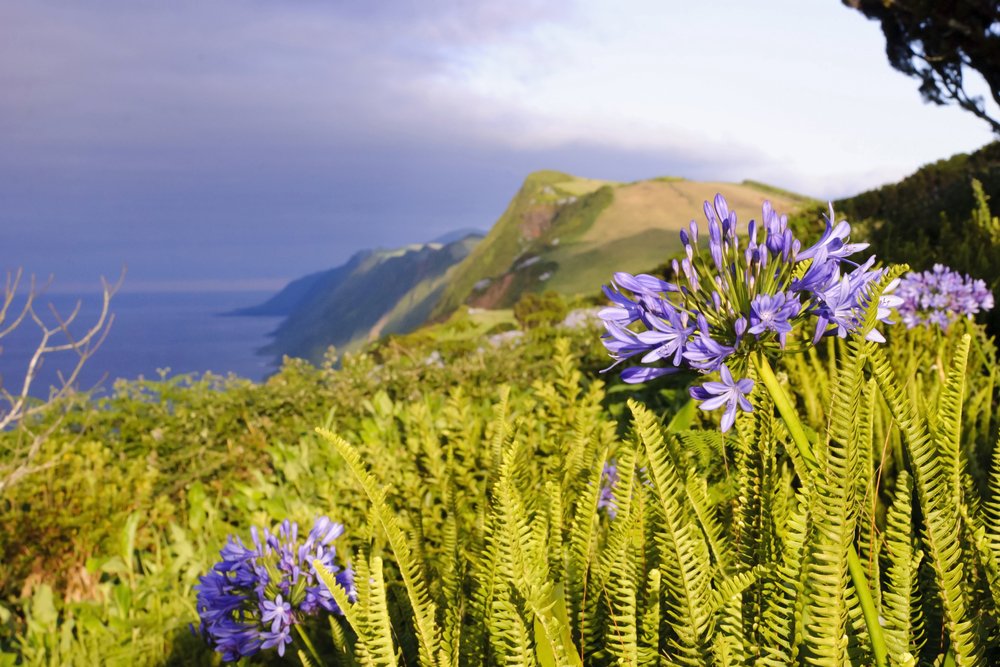 Budget Hotels in São Jorge
Intact Farm Resort
Someone who loves nature will truly enjoy the experience of staying in one of Intact Farm Resort's bungalows! They are all made from indigenous materials and are located inside the vineyard where they source the grapes for the Casteletes wine.
The interiors are very minimal and each bungalow has its own living area that can also act as a sun room due to its glass walls (there are curtains if it gets too bright).
They try to operate in a very sustainable manner to result in a lower ecological footprint. The reason why they named the farm resort "Intact" is because they want to contain, protect, and preserve the local traditions and natural resources of the Azores.
To get close to nature, I highly recommend utilizing the decks for watching the stars at night and for watching birds or doing yoga in the morning.
However, guests have found the turkeys and chickens a bit noisy. But I mean – it's a farm! Guests still love staying in the place – oftentimes it's already halfway booked for the year! It only makes sense because you can book a private room for only around $50 USD per night.
»» Check out guest reviews, prices, and availability at Intact Farm Resort here ««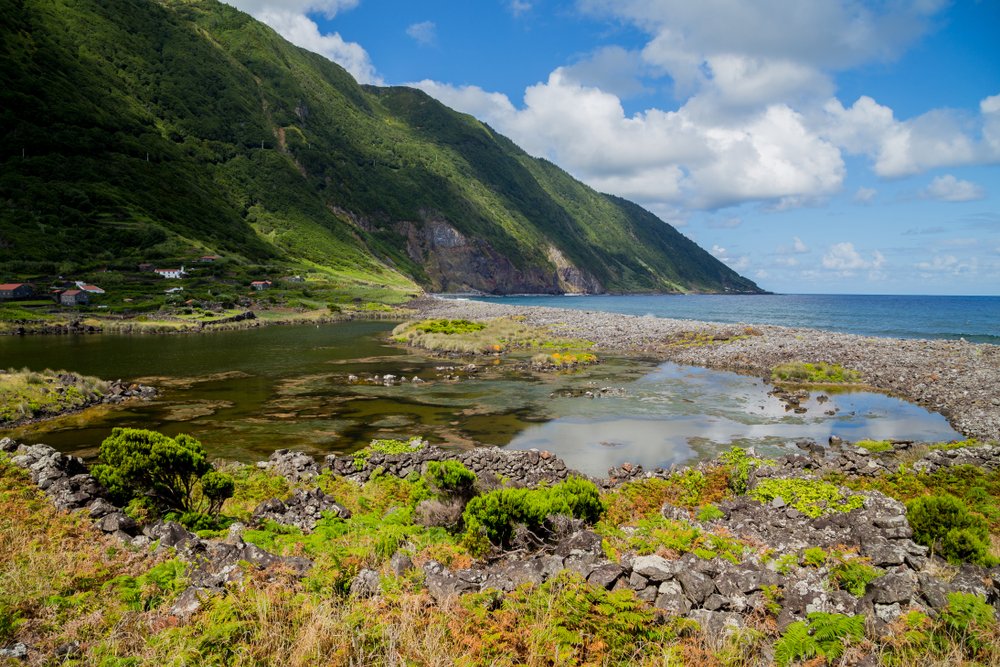 Casa d'Avo Guesthouse
This property has a total of 7 guest rooms, and each makes use of only three colors – white, blue, and orange, creating a gorgeous thematic.
They have multiple room types (all are soundproof) to choose from and all of them has its own terrace and balcony. Cute little prints and décor of sea animals or corals are also on their pillows or walls.
There is also a room dedicated for guests with disabilities, which does not have a balcony but it has its own patio. Electric sockets also have covers to keep children safe – not all farm stays have this feature! Most of the furniture in the common areas is originally owned by the family who used to stay there.
Renting bikes is also possible on-site to help you go around the island. If visiting in the colder months, you can sit and relax at their outdoor fireplace. The location can be a bit remote, so you really need to check on possible transport options or rent your own car.
»» Check out guest reviews, prices, and availability at Casa d'Avo Guesthouse here ««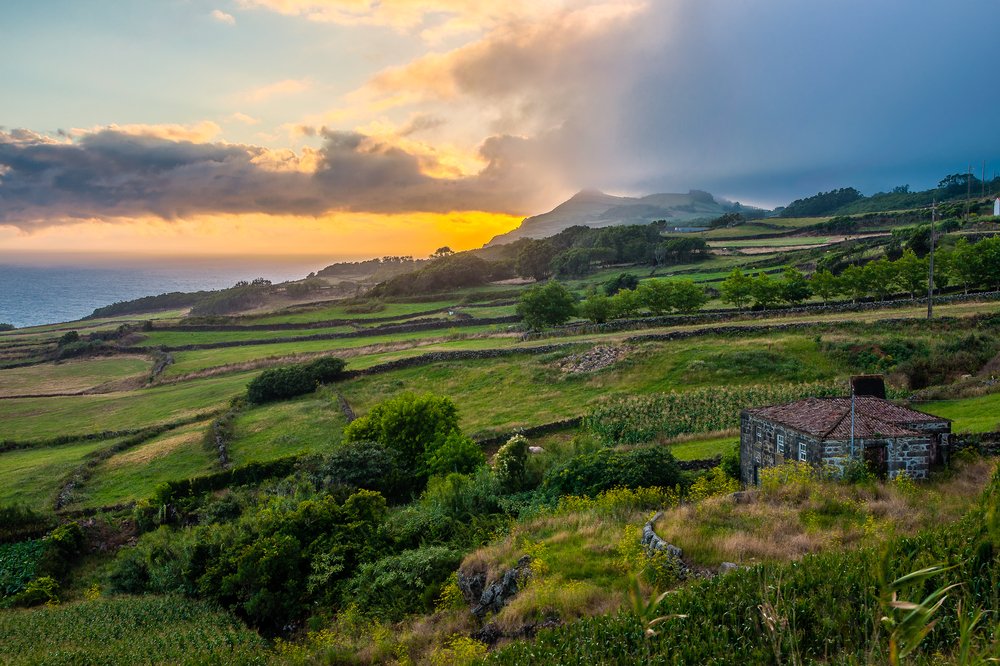 Mid-Range & Luxury Hotels in São Jorge
Hotel os Moinhos
Moinhos is the Portuguese word for mills, so this hotel could have been an old mill before it was restructured to a hotel. Regardless, the rock houses look like something from a fairytale!
The rooms are spacious, and each has a private bathroom with free toiletries. Note that towels come with an extra fee, so it's best to bring one with you if you want to avoid this. Housekeeping will clean your rooms daily to maintain cleanliness.
When it gets a little warm in the summer, you can cool yourself in the pool or just fashionably lay back and relax on their sun loungers. Outdoors, you will see a garden with some ornamental plants and some vegetables.
There is also an on-site restaurant, which is a separate mini rock-constructed house, that serves Portuguese cuisine. Guests loved the calm and serene location of the property as well as the very hospitable owner!
»» Check out guest reviews, prices, and availability at Hotel os Moinhos here ««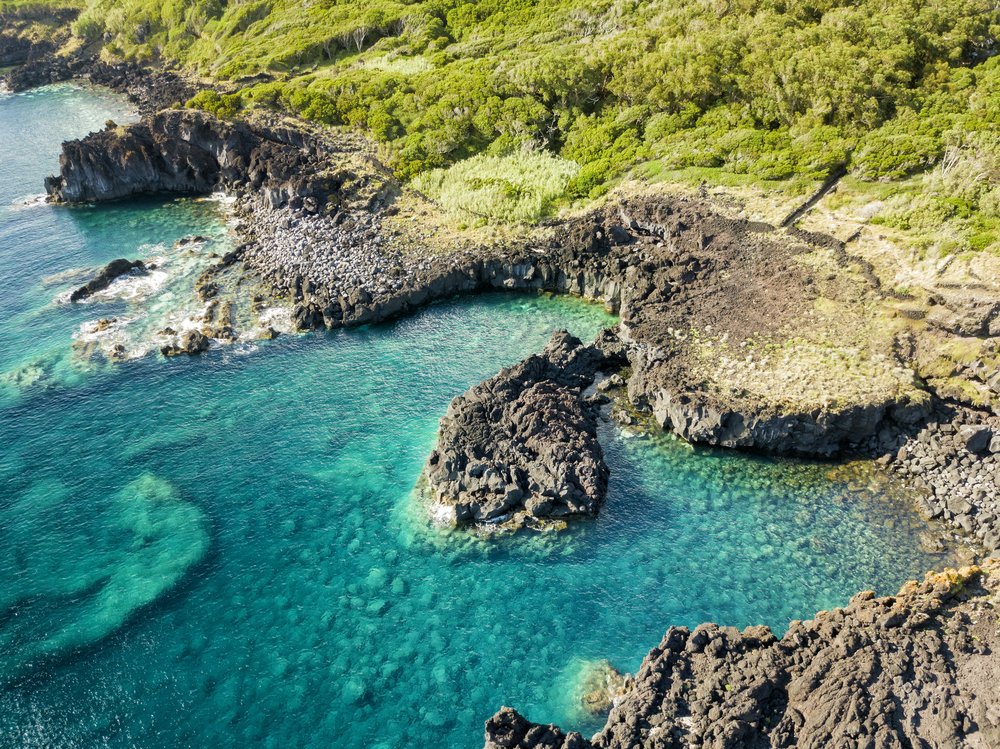 Villas Casteletes
The villas are owned by a couple who believes in the beauty of Sao Jorge island.
These are very modern and simple mini-villas, designed to make you feel at home. Each has its own patio where you can see a view of their garden and the pool which is at the center of the property.
Each room has its own kitchenette and a living area with seating. Styling the houses was not their main focus (no prints and bold colors), but it is well furnished and comfortable regardless. Function over fashion here! You can choose from a 1-bedroom or 2-bedroom bungalow, and their deluxe options will allow you to pick a view of the garden or the sea.
They also have shared facilities like the open kitchen equipped with an oven, coffee making facilities, a kettle, and a stovetop. There is also a dining table and bar area where you can eat and have your free continental breakfast. Since the property is perfectly located on the island, you'll love the view of Pico Mountain at sunset.
»» Check out guest reviews, prices, and availability at Villas Casteletes here ««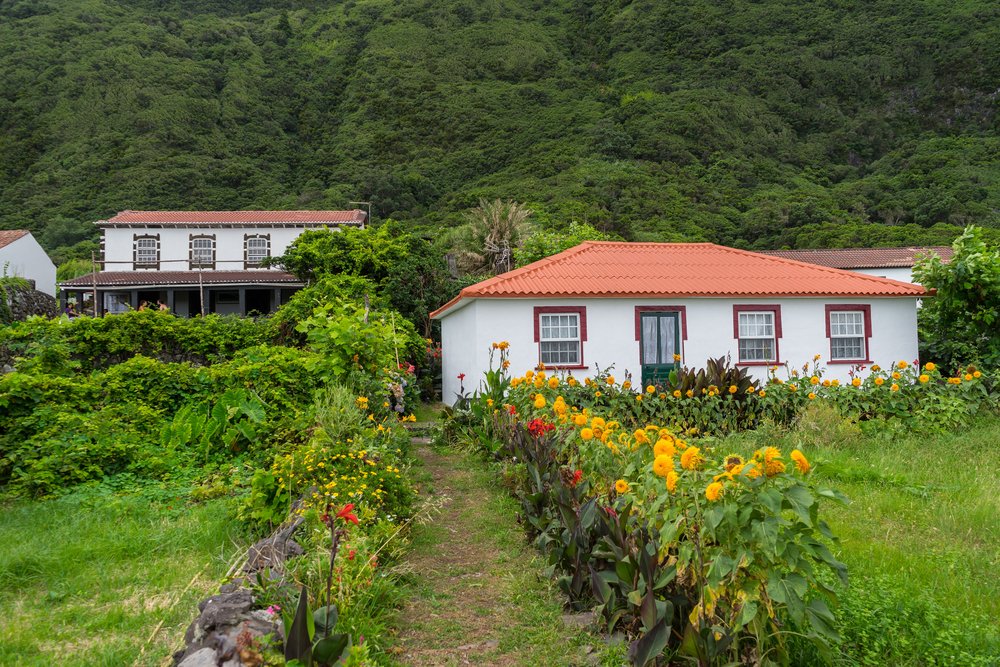 Casa do Ze Il Al
Casa do Ze Il Al offers a nice private place for your stay in the Azores. Once you arrive, the owner will tour you around this brand-new house. It is a cute house made out of rocks in the Azores way, and there is a tiny balcony with a nice door that also acts as its window. However, tall people might have a bit of a struggle with the size of the beds!
Folding wooden tables and chairs are available on the patio, because it is one of the best places on the property to get an incredible view. The entire property has WiFi access, a living room with a seating area, a mini kitchen and a washing machine. There is not much to be expected with the interior decorations as it is rather minimalist, but the house is clean and well-maintained.
Guests appreciated the map inside the house because it helps you familiarize yourself with the nearby areas. You might just find something interesting and add it to your itinerary for the day!
»» Check out guest reviews, prices, and availability at Casa do Ze Il Al here ««
Allison Green is a former educator turned travel blogger. She holds a Masters in Teaching and a B.A. in English and Creative Writing. Her blog posts merge her educational background and her experience traveling to 60+ countries to encourage thoughtful travel experiences that both educate and entertain. She has been a speaker at the World Travel Writers Conference and her writing, photography, and podcasting work has appeared in National Geographic, CNN Arabic, CBC Canada, and Forbes, amongst others. Now based in the San Francisco Bay Area where she grew up, she has also lived in Prague, Sofia, and New York City.