Located in the middle of the Atlantic Ocean, the Azores Islands are an unbelievable cluster of nine spectacular islands that seemingly arise out of nowhere, more than 1,000 miles away from Portugal.
These geographic isolation of these islands mean that they are heavenly for several different species of whales, who often pass by the Azores on their migrations.
This guide to whale watching in the Azores will run through the most frequently asked questions about Azores whale watching, including when is the best time of the year and what you can expect to see on a whale watching excursion.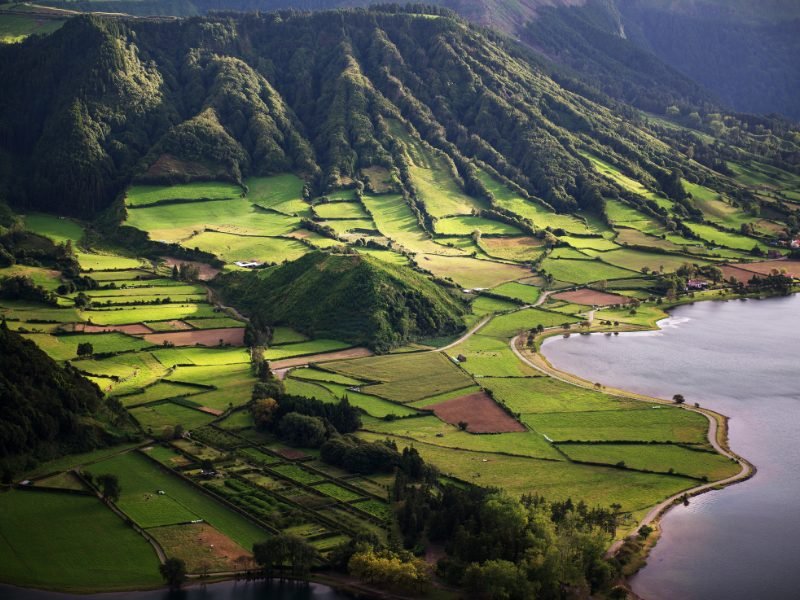 Note: This post contains affiliate links, which means I may receive a small commission if you purchase something through one of these links. Thank you for supporting the free content on this site! For more information on affiliate links and cookies, see my disclosure page for more details.
After that, I'll run through all the best Azorean islands to base your whale watching trip from and highlight some highly-reviewed tours that would make excellent choices.
If you're still trying to decide about your Azores trip, you can read my guide on where to stay in the Azores, as well as my guide on things to do in the Azores and my 3 Day São Miguel Island itinerary, plus my Azores packing list.
Azores Whale Watching FAQs
When can you see whales in Azores?
The best whale watching season in the Azores is at its prime between April and October, when you'll get to see the most variety of whales doing their annual migration, and you practically have a guarantee of a whale sighting.
This is lucky, because this is when the weather in the Azores is at its best, unlike in other popular whale watching destinations like Tromso and Northern California, when whale watching season coincides with the colder parts of the year!
It's also nice that whale watching season coincides with summer holidays, whereas, for example, if you wanted to go whale watching in Oahu, that is only available over the winter months.
What types of whales can you see in the Azores?
It depends on the time of year what whale species you have a good chance of seeing!
Sperm whales are around the waters of the Azores all year-round as a resident population, so you have a decent chance of seeing sperm whales no matter when you visit the Azores.
Meanwhile, blue whale season tends to be earlier in the year (peaking around April and May) whereas humpback whale season tends to be later in the year (peaking around September and October).
There are also other cetaceans (members of the whale family) who will pass by the Azores, such as the sei whale, the pilot whale, the fin whale, the mink whale (minke whale), and even the occasional orca whale (aka killer whale) will pass by throughout the year, though this latter whale is rather rare to see.
Your whale watching tour guide will let you know what types of whales are currently being seen in the waters when you depart on your tour!
In general, spring months are when you'll get to see baleen whales such as the blue whale, the fin whale, and the sei whale, whereas late summer months are better for pilot whales and humpback whales.
What other marine life can you see in the Azores?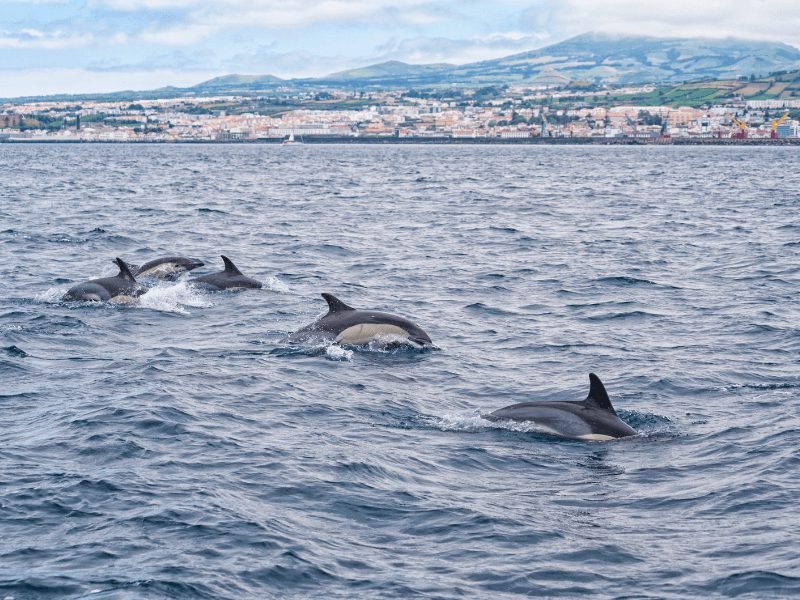 Of course, whales aren't the only marine wildlife who call the waters around the Azores home!
Several types of dolphin species frequent the waters around the Azores Islands, including the common dolphin, the Atlantic spotted dolphin, the striped dolphin, the bottlenose dolphin, and Risso's dolphin.
Some of these are just passing through — others are resident species of dolphins who live in the waters around the Azores year-round.
During the off-season for whale watching, many tours will operate dolphin watching trips as well.
You can also expect to see sea birds and even potentially sea turtles on your tour!
Which Azores island is best for whale watching?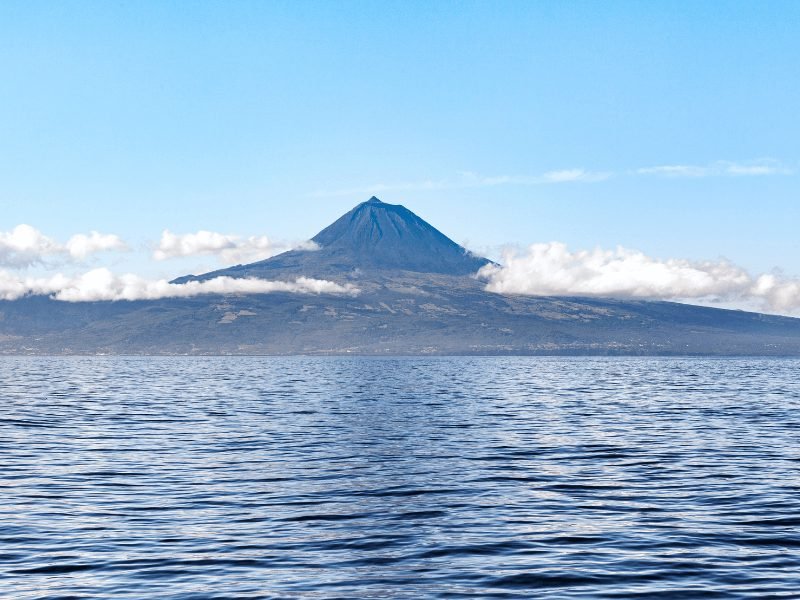 Most Azores islands will have ample opportunity to go whale watching as long as there is decent tourist infrastructure on the island.
The most typical islands to go on whale watching tours are Sao Miguel, Pico, and Terceira.
Sao Miguel has the largest concentration of tours and activities, whereas Pico (seen above) is perhaps the most scenic island due to its beautiful volcano.
Faial Island and Sao Jorge are the next-most popular options but have less in the way of other activities to accompany whale watching.
What is the best time of day to go whale watching in Azores?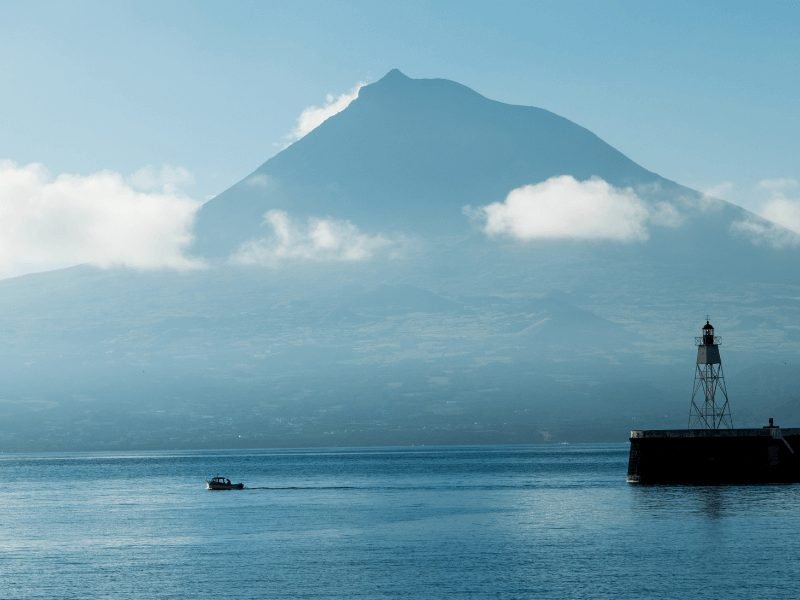 If possible, mornings tend to be the best time to go whale watching!
The light is less harsh than it is in the afternoon, making for better photos.
The water also tends to be calmer in the mornings, which means better chance of seeing whales — and less seasickness on the way out!
How much time do you need to plan for whale watching in Azores?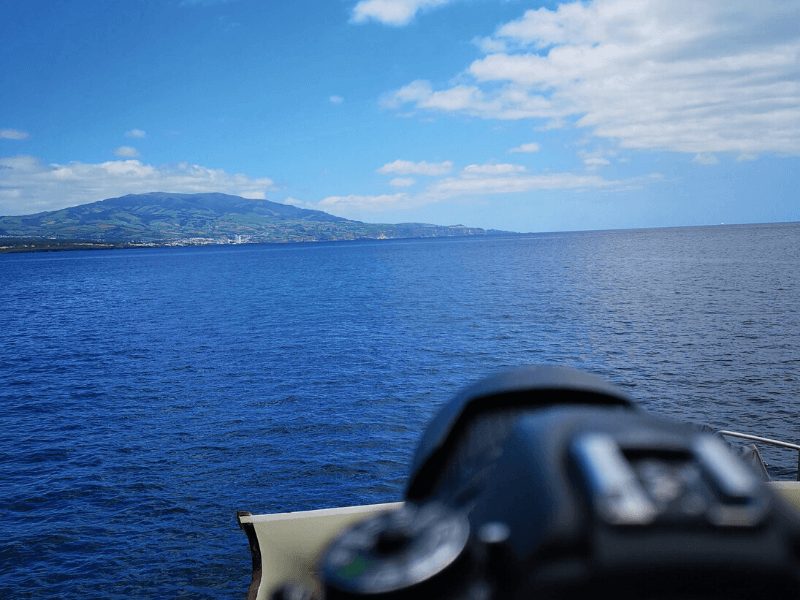 This totally depends on how important whale watching is to your Azores itinerary!
If the main reason why you are going to the Azores is to whale watch, you'll want to reserve some time on at least two or even three different days to have the best chance to see the whales you came for.
However, if whale watching is just one of many things to do in the Azores on your trip, one tour will likely be enough to whet your appetite.
Typically, whale watching tours last between 2-3 hours, depending on the operator.
Sao Miguel Island Dolphin & Whale Watching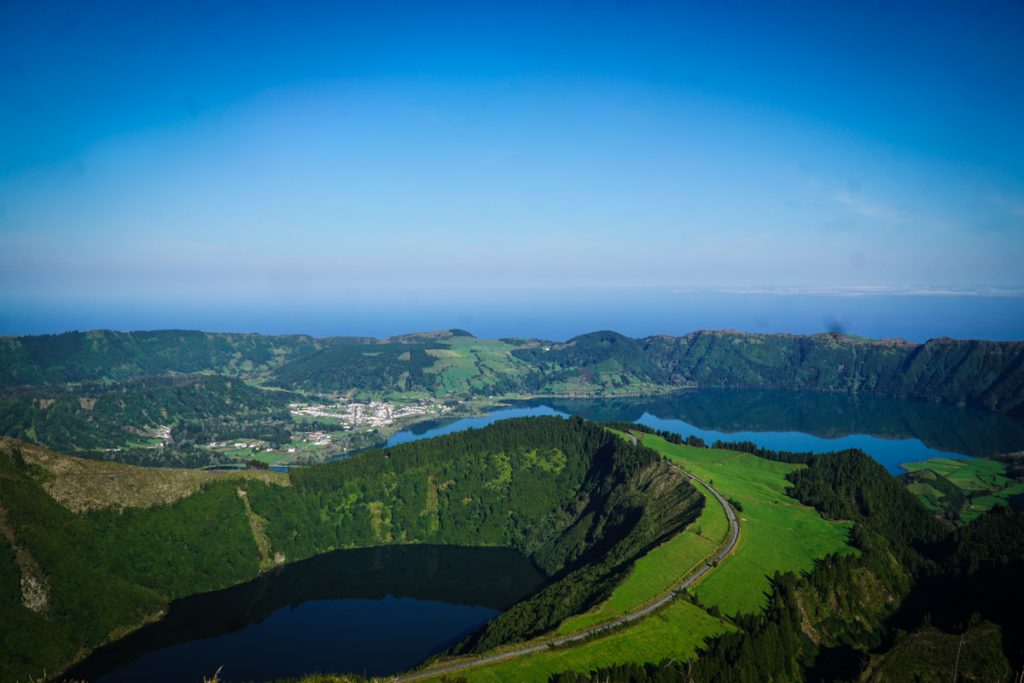 Sao Miguel is the largest of the Azorean islands and has some of the most things to offer. If you're only picking one of the Azores islands to base yourself on during your trip, I highly recommend picking Sao Miguel.
Between checking out the many stunning miradouros (scenic lookouts), beaches, lakes, hot springs, and fumaroles, there's no shortage of incredible things to do on Sao Miguel.
Most, but not all, tours here will depart from the capital city, Ponta Delgada, which is also the largest city in the Azores Islands and is a great base with lots of great accommodation options.
Whale Watching Expedition & Islet Boat Tour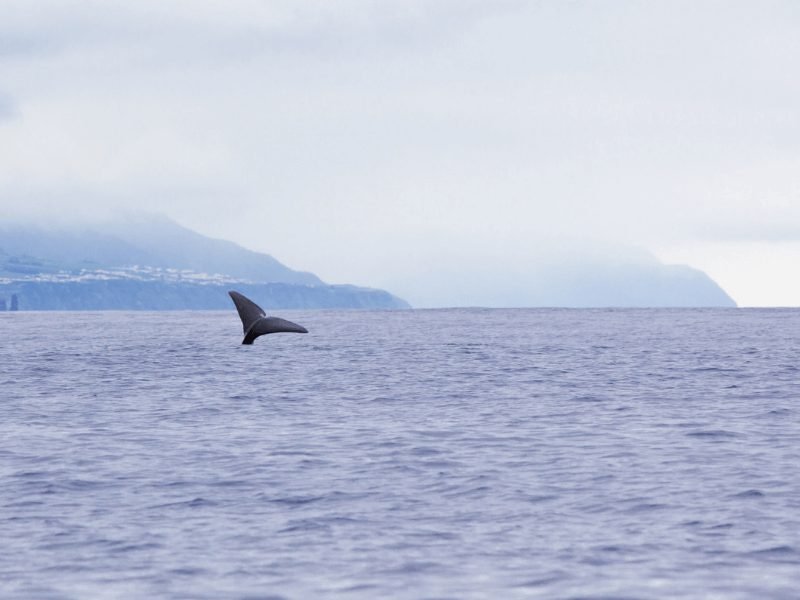 This highly-rated and affordable boat tour is one of the most popular excursions for whale watching in Sao Miguel.
It's my top choices for the best Azores whale watching tour for both its budget-friendly price point and small group size.
This wildlife tour is led by marine biologists and naturalists, who will give you information on the amazing whales and dolphins you're seeing in their natural habitat, as well as information on their behavior, migration habits, and life cycles.
Because the tour operator partners with marine biologists and naturalists, they are extra cautious to follow respectful guidelines around approaching the migrating whales and wild dolphins, so you can be assured this tour follows ethical whale watching guidelines.
This is also a small group tour which allows for the best views on your part-day whale watching excursion.
They use Zodiac boats which have a max capacity of 12 or 28 people, depending on the boat, so everyone will have a good view without needing to elbow your way to the boat's edge (an experience I often dislike on larger whale watching tours!)
Spotters will help you find the whales as you explore the Atlantic waters off the coast, pointing out whales as you go.
You'll also get to see the beautiful islet off the coast of Sao Miguel, Vila Franca do Campo, which was left behind by a volcanic eruption and is now home to wildlife such as sea birds!
This tour lasts 2.5 hours with three tours departing daily: one at 8:30 AM, one at 12:30 PM, and one at 3:40 PM.
Tours are available in several languages, including English, Portuguese, Spanish, Dutch, Italian, French, and German.
Note: Tours depart not from Ponta Delgada, but from the TERRA AZUL base, which is in the Marina of Vila Franca do Campo. Transit can be arranged, but I do recommend renting a car in Sao Miguel!
Ponta Delgada Whale Watching Trip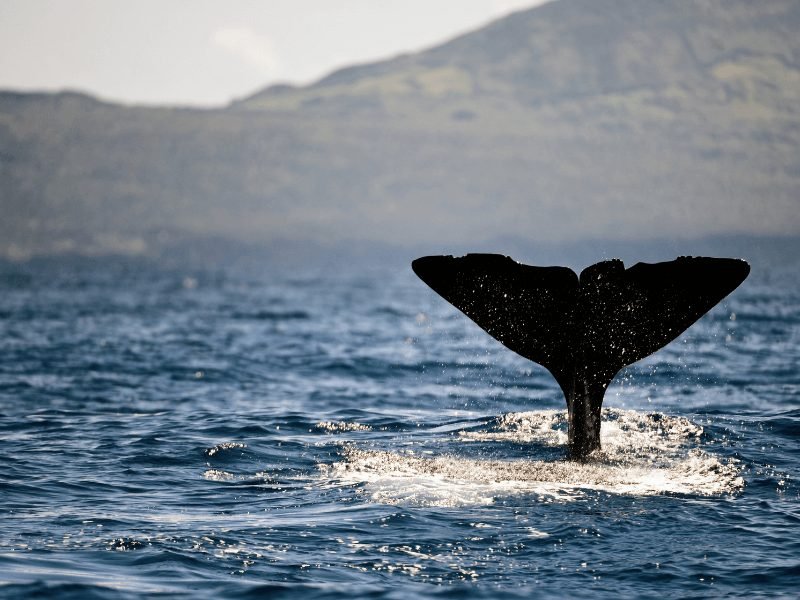 This 3-hour boat trip departs from Ponta Delgada harbor, making it a convenient option if you're basing yourself in the capital and don't have a rental car during your stay.
This half-day excursion is guided by a marine biologist who will let you know all about the different species of whales and dolphins who pass by the Azores Islands.
Sperm whales and three different types of whales are found year-round, whereas others only migrate through the archipelago seasonally.
They offer two types of whale watching boats, so you can take this tour on either a catamaran or a Zodiac RIB boat.
Personally, I would suggest the RIB boat if available as you'll get better views and it's a more up-close-and-personal whale watching experience!
However, RIB boats can be more bouncy and fast than catamarans, so if you get super seasick, it may not be the best option.
The tour company suggests that if you are prone to back/neck pain, or if you are traveling with elderly people or children, to opt for the catamaran instead as it will be more comfortable.
No matter which option you choose, tours are offered in English and Portuguese.
Tours depart several times a day, typically at 8:30 AM, 9:00 AM, 1:00 PM and 1:30 PM on the catamaran cruise, and twice a day on the RIB boat, 8:30 AM and 1:00 PM.
Full Day Whale Watching and Volcanoes Day Trip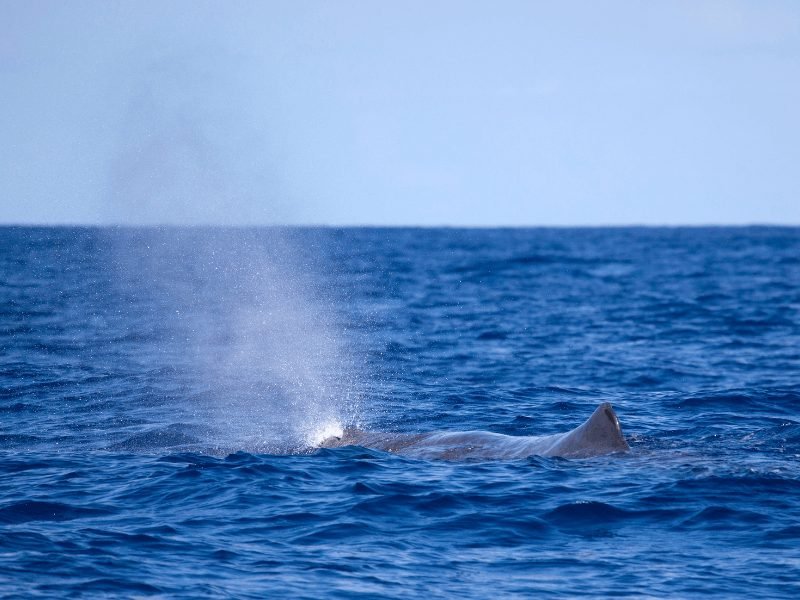 If you're looking for a fun, full day outing, opt for this whale watching and volcano day trip.
You'll start off the day with a half-day whale watching tour where you look for whales and dolphins, with a chance of seeing other marine life such as flying fish, sea turtles, and different kinds of sea birds as well.
After your whale watching tour is over, you'll be treated to a tasty buffet lunch, and then the afternoon portion of your tour continues.
You'll get the see the stunning Lagoa de Fogo as well as the hot spring paradise of Caldeira Velha (additional entrance fee required).
You'll learn from a licensed guide all about how this volcanic island was formed and how the volcanic features such as geothermal springs, cooking with geothermal heat (such as the traditional dish cozido which is cooked in the earth in Furnas), etc. are still very much a part of daily life on Sao Miguel!
Book your full day whale watching and volcanoes day trip here!
Full Day Whale Watching and Snorkeling Day Trip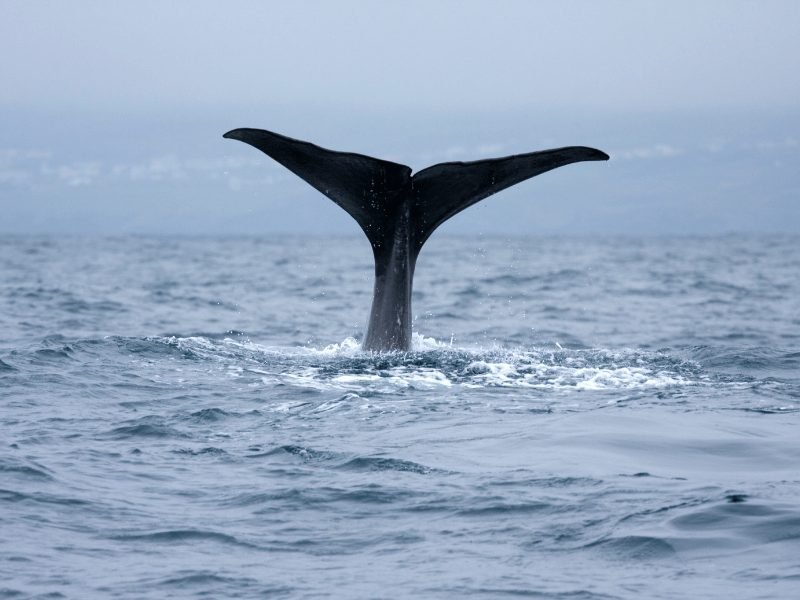 Another full day option starts off the same way, with a morning whale watching excursion that lasts 3 hours, similar to these other tours mentioned above, also led by a marine biologist guide.
After the whale watching tour, you'll enjoy a tasty lunch (with meat, local seafood, or vegetarian options) in the charming village of Vila Franca do Campo, one of the most scenic parts of the Azores.
After lunch, you'll be taken by boat (which is a fun experience since it is a converted traditional Azorean fishing boat!) to the islet of Vila Franca do Campo, which you likely saw during your lunch.
This natural volcanic crater is just off the coast of Sao Miguel and features a natural, enclosed lagoon. You'll be able to borrow snorkeling gear and see the fish up close and personal!
This is a great tour if you're a family with kids, because kids may find the whale watching portion of the tour a little bit boring, but they will love the snorkeling portion of the day.
Swimming with Dolphins Tour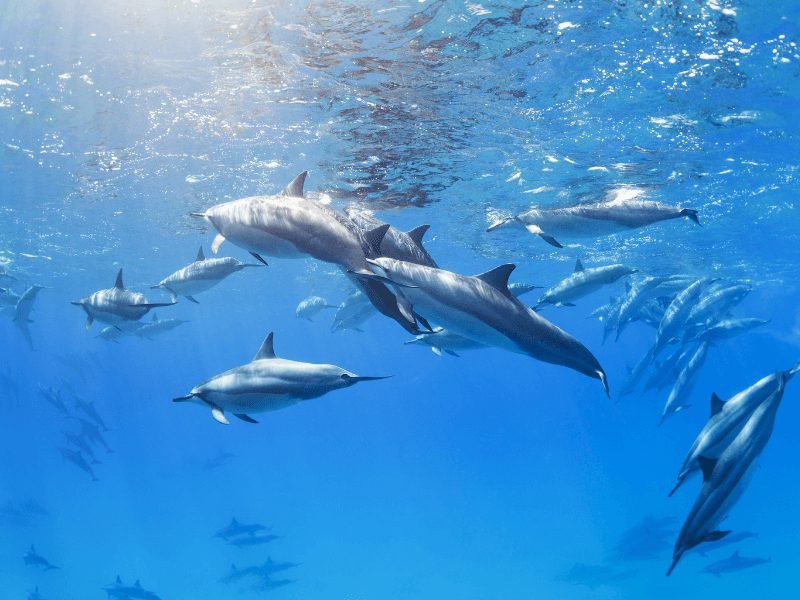 This tour is the perfect option if you are traveling to the Azores outside of the main whale watching season, since there is a large resident dolphin population year-round!
It's also a good complement to whale watching in case you want to tick another bucket-list worthy activity off your list: swimming with wild dolphins!
This tour lasts two hours and is led by marine biologists or qualified naturalists who can explain how to swim safely with wild dolphins, respecting them and keeping them safe.
They provide life jackets, masks and snorkels as well as wet suits — the waters in the middle of the Atlantic are quite cold!
If you're traveling during whale season, you may also see some whales as you head out to where the dolphins are, though this is not the primary focus of the tour.
Pico Island Whale Watching
Pico Island is another place where you can experience whale watching in the Azores.
Pico is smaller than Sao Miguel and has fewer amenities and accommodations.
However, Pico is considered by many to be one of the most scenic of the islands because it has a stunning conical stratovolcano that is the highest point in the Azores — and actually all of Portugal — at 7,713 feet above sea level.
For this reason, whale watching in Pico is particularly scenic because you'll have the peak of Mt. Pico visible in the distance as you whale watch!
Whale Watching Tour with Marine Biologist Guide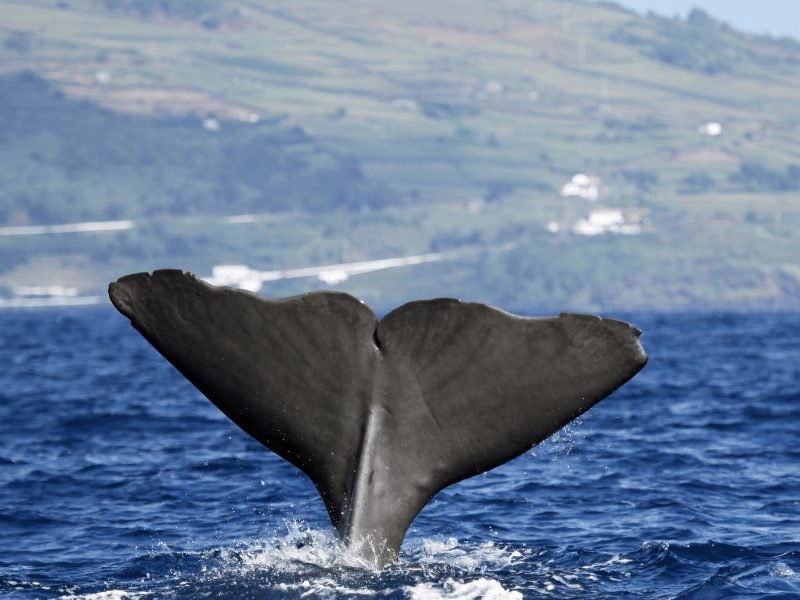 This tour is led by certified nature guides and marine biologists who are passionate about sharing their love for the wildlife of the Azores and making sure you see as much of the marine life as possible.
This tour lasts 3 hours and includes a guide, waterproof jacket and pants if needed, and life jackets as you go on their small Zodiac boats in hopes of snapping majestic photos of the visiting whales.
The tour is offered in English, Portuguese, and French. All tours departs daily at 8:30 AM, just one departure daily as Pico is far less visited than Sao Miguel.
Terceira Island Whale Watching
There are fewer options on Terceira Island than other islands in the Azores, but you can still go on a whale watching tour if you are visiting Terceira.
Here is our top choice for whale watching in Terceira.
3 Hour Terceira Whale Watching Tour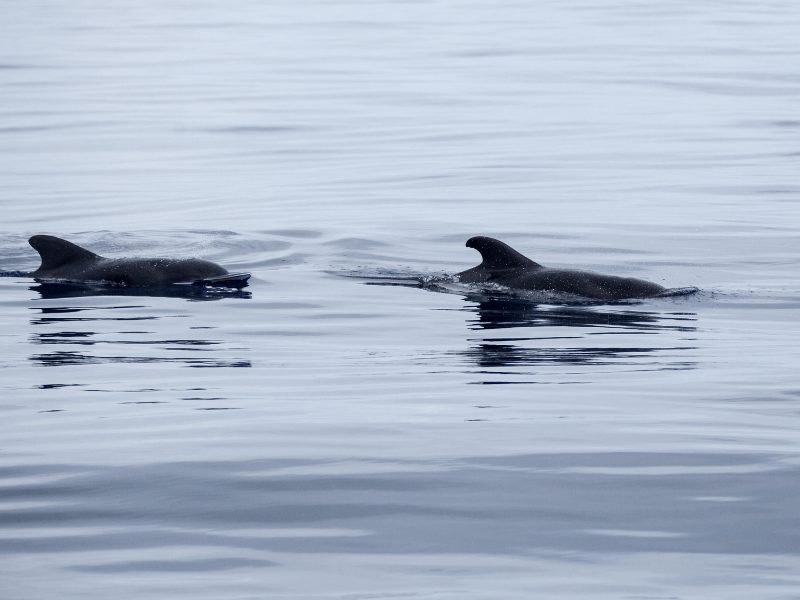 Departing from Angra do Heroismo, the largest city on Terceira, this whale watching tour is a great option.
Like other Azorean islands, Terceira is a great place for whale watching because the ocean becomes deep very quickly, not far from the coast — meaning that you can see whales easily without having to go out far to sea (like you have to do in Tromso).
This tour is led by licensed guides and includes a pre-tour briefing on what you'll see and experience whale spotters who will point out signs of whales and try to ensure a whale sighting experience.
Allison Green is a former educator turned travel blogger. She holds a Masters in Teaching and a B.A. in English and Creative Writing. Her blog posts merge her educational background and her experience traveling to 60+ countries to encourage thoughtful travel experiences that both educate and entertain. She has been a speaker at the World Travel Writers Conference and her writing, photography, and podcasting work has appeared in National Geographic, CNN Arabic, CBC Canada, and Forbes, amongst others. Now based in the San Francisco Bay Area where she grew up, she has also lived in Prague, Sofia, and New York City.