Sedona holds a special place in my heart. The first time I ever stepped foot in Sedona, Arizona two years ago I knew it held some type of magic.
I love the red rock formations that tower over the city. Artsy, handmade shops line every street and some of the best cuisines can be found tucked away on unassuming street corners.
I loved it so much that I've returned multiple times since.
I have perfected the two days in Sedona itinerary and I'm excited to share a piece of the magic with you!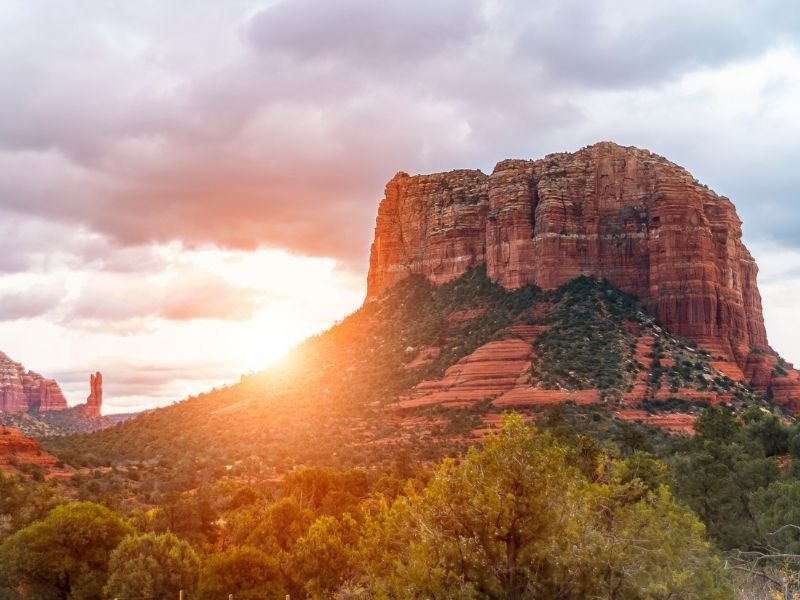 Note: This post contains affiliate links, which means I may receive a small commission if you purchase something through one of these links. Thank you for supporting the free content on this site! For more information on affiliate links and cookies, see my disclosure page for more details.
PLANNING FOR SEDONA  AT A GLANCE: 

When to Go: Sedona is beautiful all-year-round but spring and fall bring the best out of it since the weather is perfect to enjoy all the outdoor activities it offers. Summer in Sedona can get quite hot (think average highs of 100F -- not exactly hiking whether). Since it gets a bit chilly in winter, the best time to visit Sedona is during spring or fall. 

Where to Stay: Sedona has endless options when it comes to accommodation. From the budget-friendly bed and breakfast, the sumptuous resorts that will make you feel like a million bucks to the secluded log cabins in the woods!   

If you want to splurge and take in all the luxuries of Sedona, I recommend staying at Amara Resort and Spa in Uptown Sedona. It might be a bit pricey but the soaring views will make up for that. If you're all about privacy with a homey feel, Casa Sedona Inn checks all those boxes — serenity is what you can expect here. 

And if you want to stay on a budget, I recommend staying at Sedona Uptown Suites (not much of a low budget per se but cheap on Sedona standards.) 

However, if your plan includes staying somewhere a little more homey and unique, you'll love this rustic cottage. 

How to Get Around: You can take a shuttle to get from Phoenix to Sedona but that can be very limiting or you'd have to rely on tours which can be a bit costly, so I recommend renting a car. If you're renting a car, compare car rentals and prices from here. Alternately, you can rent an RV or campervan via RVShare and save on accommodation.

Don't want to drive or plan? You can book a nighttime stargazing tour, a Jeep Broken Arrow Tour or even a Scenic Rim Tour.

3 Things Not to Forget to Pack: Binoculars are key for spotting wildlife like Mule deer, javelina, and coyotes -- I suggest these Nikon binoculars. For hikes, you'll want a sturdy pair of hiking boots -- I love my Ahnu boots -- and some bug spray to keep away bugs. 

Know Before You Go: If you plan to visit multiple national parks in a year, the America the Beautiful Pass will save you a bundle! It costs $80 for an annual pass (for an entire vehicle traveling together) to all US national parks and federally managed sites.  
How to Get to Sedona, Arizona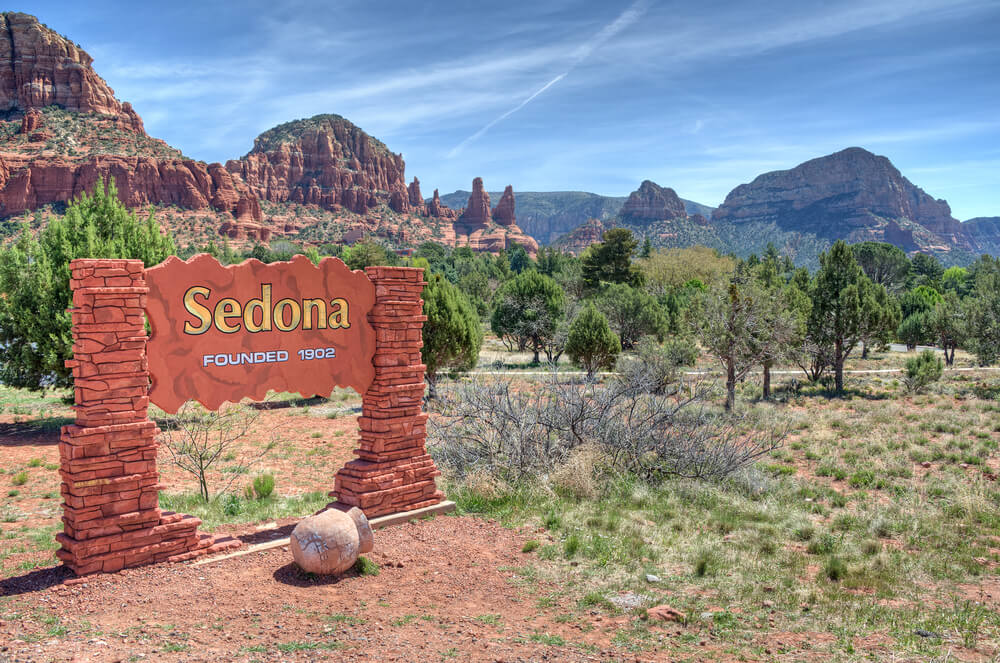 Sedona is located a 2-hour drive from Phoenix International Airport, which is the biggest flight hub in Arizona and where most Sedona weekend getaways will begin!
While there is a shuttle to get from Phoenix to Sedona, being without your own car in Sedona will definitely limit you in terms of what you are able to do and see, and it will make you more reliant on tours (which can up the cost of your trip).
I recommend renting a car at Phoenix Airport and driving to Sedona — it'll save you money and headache!
Not sure where to get the best deal on your rental? I've rented cars dozens of times through various search engines and have settled on Discover Cars as the best car rental search aggregator.

It sifts through dozens of trusted rental companies to find the cheapest price for your rental! Compare prices for car rental from Phoenix Airport here!
Visiting Sedona as Part of a Larger Arizona Itinerary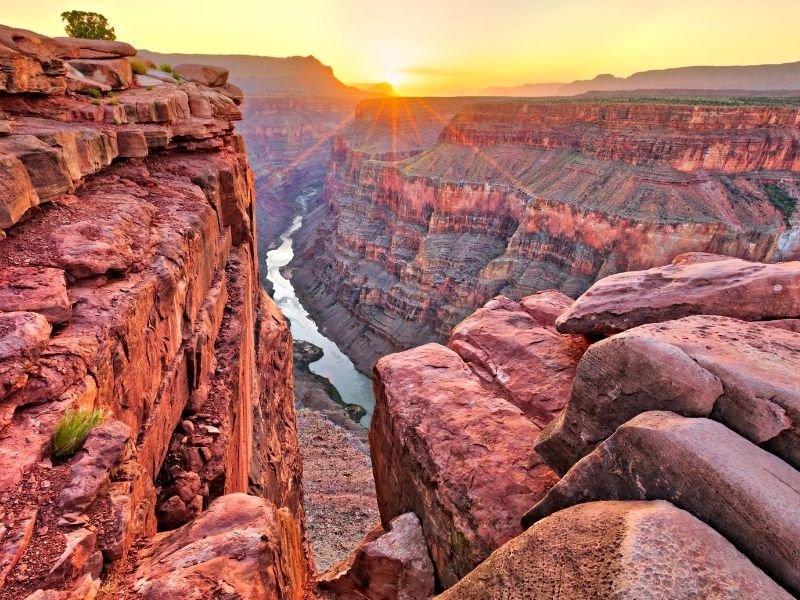 Some people may opt to spend a weekend in Sedona as a single getaway; others may be looking to combine more Arizona sightseeing into their trip!
If you want to see more of Arizona, I have this 7-day road trip itinerary which will walk you through spending a week in Arizona, including Flagstaff, Scottsdale, the Grand Canyon, Saguaro National Park, Page (and Horseshoe Bend / Antelope Canyon), and Tuscon.
There are other ways to structure a trip to Arizona. If you have less than a week, I'd suggest flying into Phoenix, basing yourself in Sedona, and doing day trips from Sedona to Flagstaff and the Grand Canyon from there.
Alternately, perhaps you could do a vacation rental or glamping site near the Grand Canyon for a few days to reduce your driving time while still getting to see a lot of this section of Arizona.
Wait, What About the Sedona Vortexes?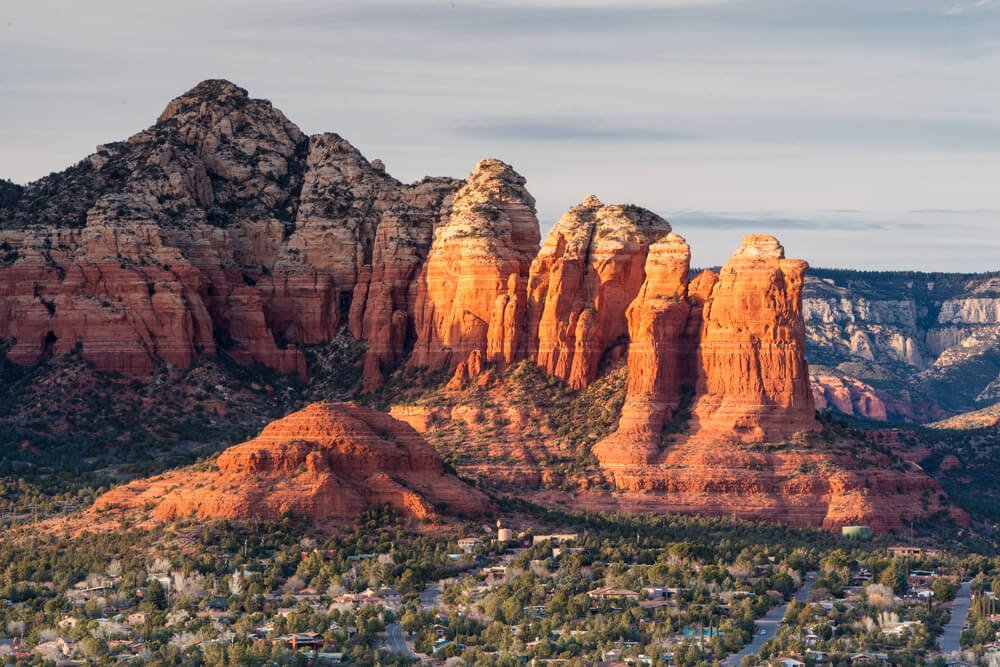 Any post about planning a Sedona itinerary should mention the vortexes that the city is known for. Whether it's a marketing strategy or magic is up to you to decide!
According to the Visit Sedona website, vortexes are:
"Swirling centers of energy that are conducive to healing, meditation and self-exploration. These are places where the earth seems especially alive with energy. Many people feel inspired, recharged or uplifted after visiting a vortex."
Sedona's four best-known vortexes are identified as Airport Mesa, Cathedral Rock, Bell Rock, and Boynton Canyon.
This post doesn't have you visiting all the vortexes, as you're limited by time since this is just a 2 day Sedona itinerary.
However, if you're curious what this whole Sedona vortex thing is all about and want to do a vortex tour, there are vortex tours by Jeep and guided meditation tours at some of Sedona's vortexes.
Real? Hoax? Somewhere in between? I'm not quite sure where I fall, but I can tell you that the beauty of Sedona is magical and enticing, vortexes or no.
Where to Stay in Sedona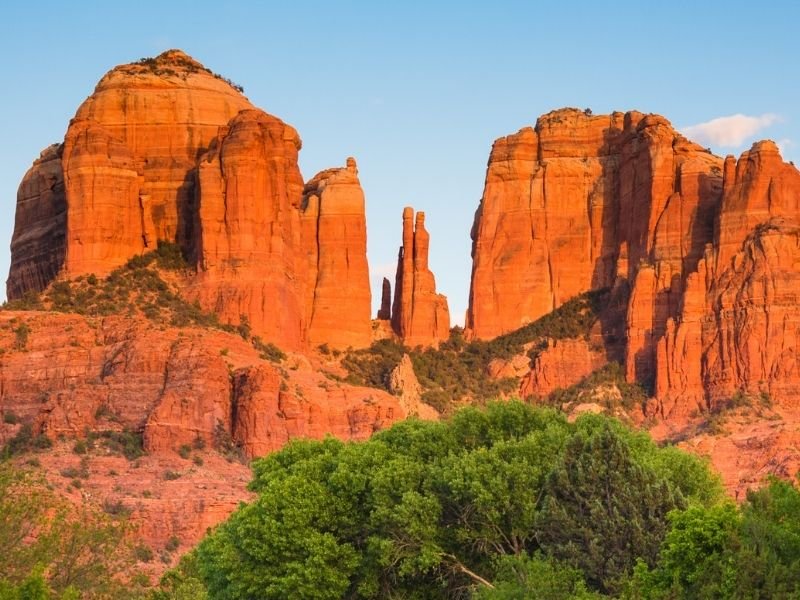 Sedona has endless options when it comes to places to stay. From resorts that pamper to quaint bed and breakfasts to Sedona boutique hotels, there's plenty of options that will cover your every desire.
If I'm visiting Sedona and want to splurge a little bit, I always book a few nights at Amara Resort and Spa in Uptown Sedona.
My absolute selling point of staying at Amara is it is smack dab in the middle of Sedona so everything is within a short walking distance. The actual resort itself is absolutely stunning. Amara is tucked away off the street in an oasis of trees along the banks of Oak Creek.
You're greeted at the door by a complimentary valet so the stress of parking is immediately taken off your hands!
Huge wooden French doors remain open to the airy artistry of the lobby that's always bustling with relaxed social guests. Each room has weirdly relaxing neutral colors that are splashed with vibrant modern art and accents.
The grounds are kept immaculate and each balcony looks out towards the common grounds where you can relax in oversized Adirondack chairs, take a dip in the infinity pool or catch a sunset dip below the red rock canyons.
All my bougie needs are filled at Amara and the staff is exceptional!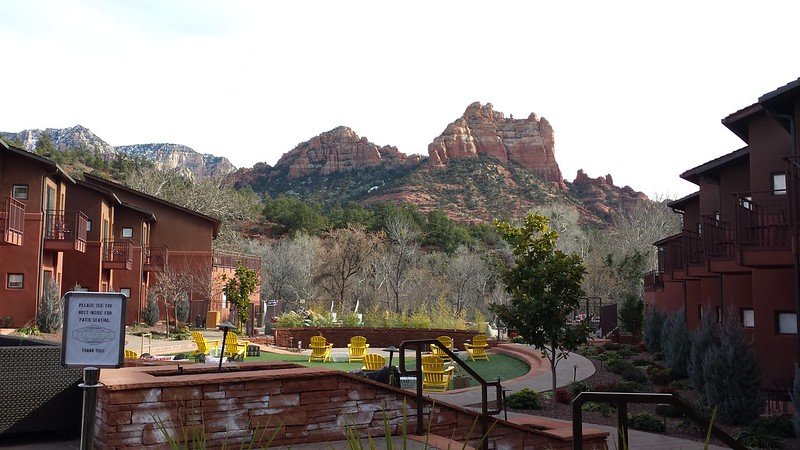 If you're in Sedona and are looking for something a little more private, homey, and reasonably priced, I've found that the Casa Sedona Inn is just the place.
Casa Sedona is just outside the main downtown area of Sedona in the West Sedona area. A car or bike will definitely be needed if you want to stay here and explore downtown.
But don't let that deter you from staying here! If I'm being honest, I'd rather stay outside of town at Casa Sedona Inn because of its private beauty and location to the nature of the Verde Valley.
It's an adobe-style mansion tucked away in the juniper forest with exceptional views of Sedonas desert. The Inn resembles the layout of an actual house. With rooms tucked away in art-filled hallways and every door has its own ornate design.
Each uniquely decorated room has its own fireplace, private terrace, and a huge master bathroom. Casa Sedona is the ultimate escape for romance, privacy, or just relaxation off the beaten path.
What to Pack for Sedona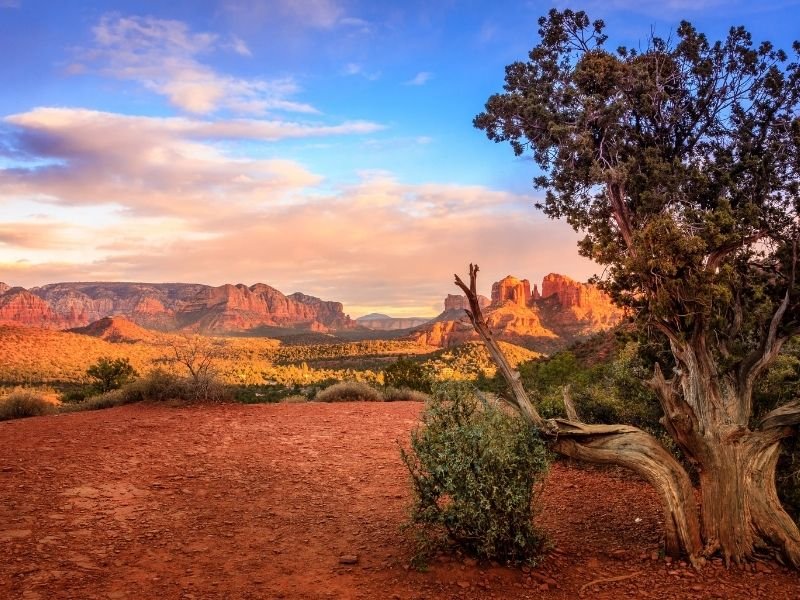 For a complete packing list if you're doing a longer trip, you can check out what to pack for a road trip here but below is a quick overview of what to pack for Sedona.
Travel Guides: This Sedona itinerary is packed with so much useful information but sometimes guide books provide way more since they dedicate so much time and resources to research. So together with my personal experience and this Sedona: Treasure of the Southwest guide, you can be assured of having an amazing time.
Comfortable Footwear: Enjoying the great outdoors of Sedona means hiking and a sturdy pair of hiking boots is worth the investment. I love my Ahnu Sugarpine boots for women, and for men, I suggest the KEEN Durand boot.
However, if you choose to go with sneakers, make sure they have good traction and are comfortable enough to walk in for a couple of miles.
Sunscreen: At an elevation of 4,500 feet, it's easy to get burned even on cloudy days! Trust me — I've learned this the hard way. Pack and wear sunscreen while in Sedona and reapply every couple of hours.
I suggest taking this chemical-free organic sunscreen especially if you plan on swimming in one of the water holes — you don't want to pollute the water with a sunscreen full of chemicals.
Sunhat: I suggest taking a lightweight and packable hat like this one. It has a strap to avoid being blown away by wind and if you get tired of wearing it on the head, you can easily wear it on your back.
Day pack: A day pack is essential when visiting Sedona so you can keep all your day's essentials in a place that can easily be reached! But don't just take any day pack — I like this inexpensive and lightweight Osprey day pack. The best part is that it has mesh panels on the back to allow for proper airflow.
Snacks: Most trails Sedona are not that hard, but you'll still need to recharge when you get hungry — especially if you don't want to waste time sitting down for a long lunch.
I recommend packing or picking a picnic or have lots of snacks before you make your way into Sedona. I always take various protein bars (I love CLIF bars), nuts, and other energy-giving snacks.
Camera: I love my Sony A6000! I never go anywhere without it. It's lightweight and takes even better photos compared to other heavier D-SLR cameras. But since this is just the body, I suggest taking a zoom lens for wildlife and a wide-angle lens for landscapes, as the kit lens is OK, but nothing to brag about.
First aid kit: Things like blisters are likely to happen while in the outdoors but don't let them ruin your Sedona trip. I recommend always keeping a first aid kit like this HART Weekend First Aid kit in your daypack. It's lightweight and has everything you might need should that time come.
Headlamp (and extra batteries): If you plan to go stargazing (which I highly recommend), I suggest bringing a headlamp like this Petzl headlamp.
Sedona Travel Tips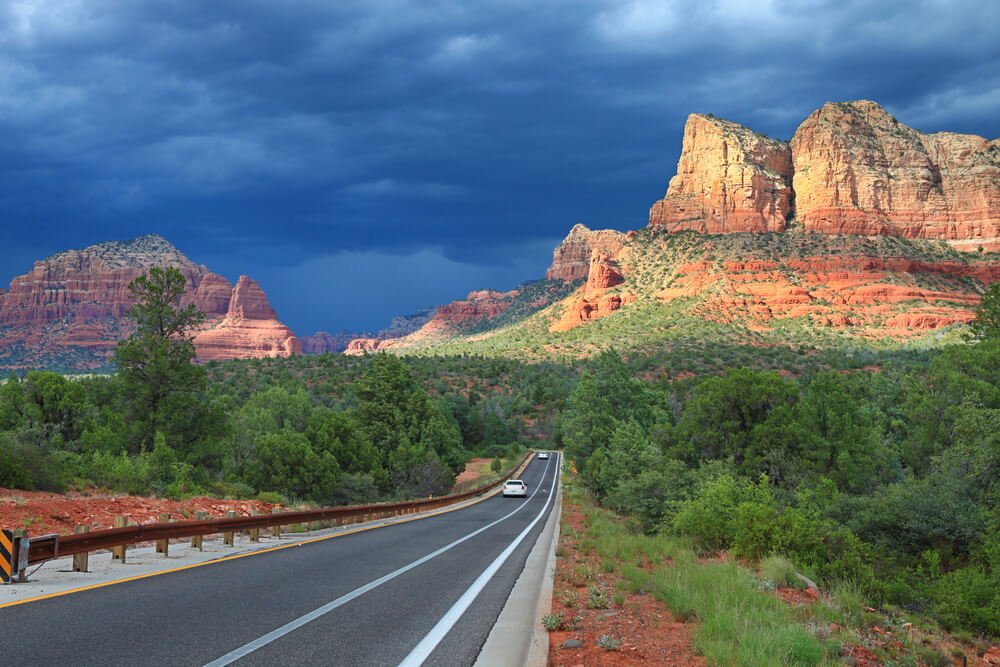 Book in advance. Sedona is one of the most popular getaway destinations in Arizona. Many of the best hotels book up early, as this is somewhat of a bucket list destination.
Booking in advance will save you a headache down the road picking second- and third-best options.
Pack appropriately. You'll want to be sure to bring your hiking boots, that's for sure! If you're visiting in summer, you'll want to pack lightweight, breathable materials like linen and silk, as well as breathable hiking clothes.
Know that it gets cold! That said, be sure to bring some layers for night: Sedona's elevation is 4,350 feet above sea level and it's located in the high desert. That means cold temperatures overnight!
Especially if you're doing the stargazing tour (a must in my book!) you'll absolutely want some warm layers. Jeans and a fleece should be fine in summer, and you'll want something a bit heavier for winter.
Book your activities early. There are several activities in Sedona that book up quickly — namely, the Pink Jeep tours and the stargazing tours.
If you're visiting in the peak season (April through October), you'll want to book this in advance!
Day 1 of Your Sedona Itinerary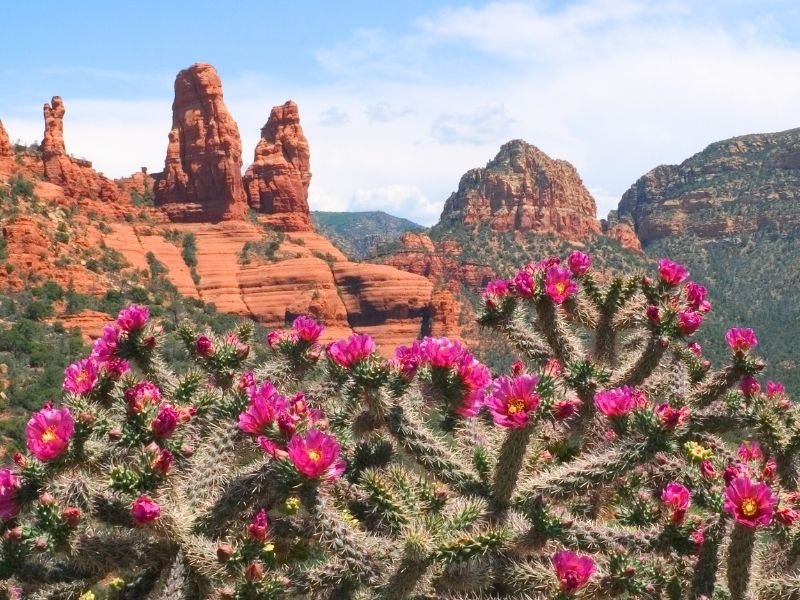 As soon as you step into Sedona you find out how trendy, artsy and incredibly healthy the city is.
I know you've heard about the weird mythical positive vibes that Sedona radiates but it's so true!
Blame it on the Vortexes, the red rocks, or the stars but the air is truly different here and you're sure to feel it!
Have coffee and relax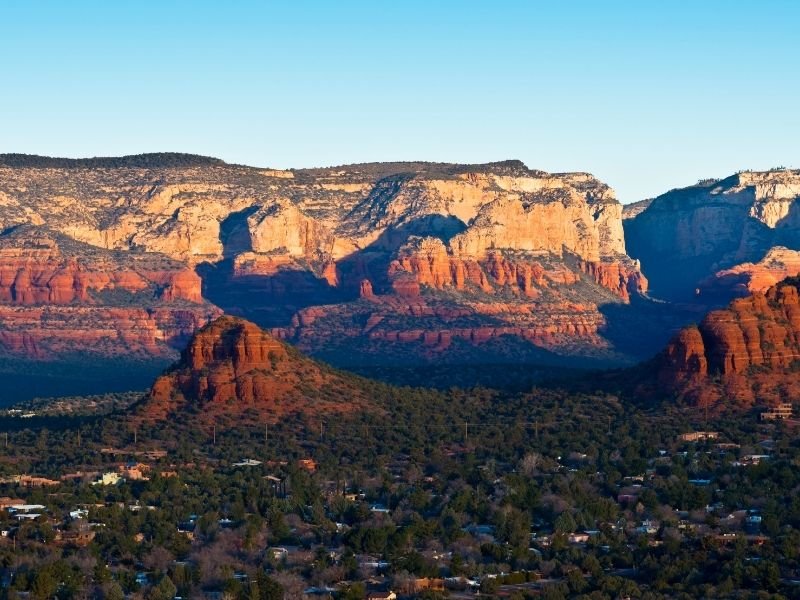 Your first morning should be spent in your room watching the sun rise from your own balcony while sipping a pot of fresh coffee.
I know you're thinking "Wait what? I want to get out!" But hold on! Sedona is all about recharging, relaxing, and taking time to appreciate the sights before mingling among the masses.
So sit back, relax and enjoy the quiet time in your own humble abode.
Have breakfast at Chocolatree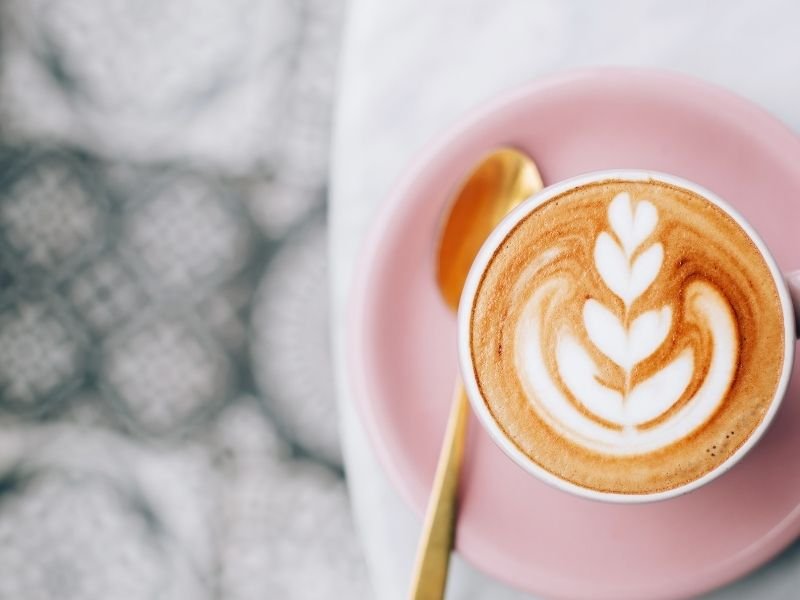 Get yourself together and put on your cutest comfortable day dress!
Head over to Chocolatree for a mid-morning breakfast to fuel your day and take in more of nature's sights.
Chocolatree is the perfect spot for its light breakfast options, cold pressed juices, and restorative coffee shots.
All of their menu options are 100% organic, farm to table. My favorite item on the menu is the avocado toast topped with chipotle paneer.
Chocolatree also has a small on-site garden that they pull their ingredients from making it a one of a kind restaurant that really makes me appreciate the food.
To top it off, they have an outdoor cafe with exceptional views!
Before you head out, stop by their in-house chocolate shop and grab a to-go box.
Each chocolate is sweetened with honey or maple syrup giving it a sweet twist on traditionally made chocolate with sugar.
Sip and shop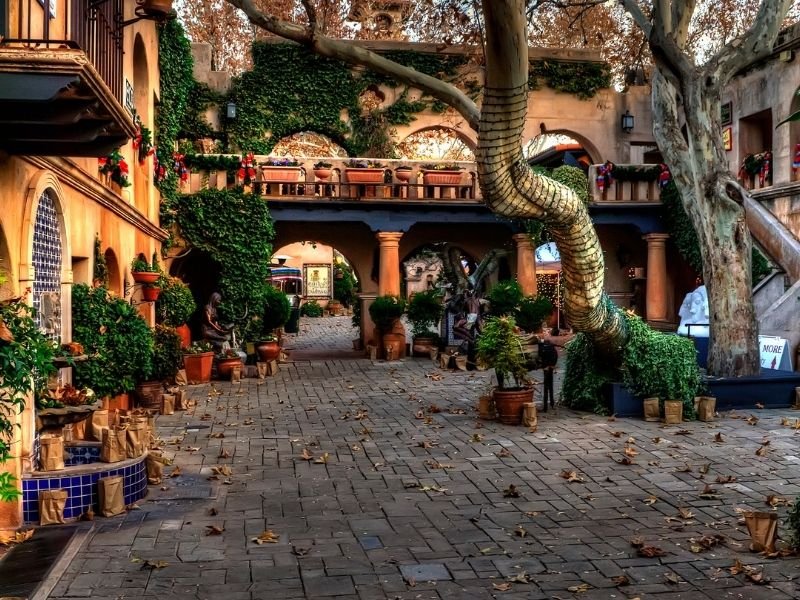 Work some of your breakfast off at the outdoor market called Tlaquepaque Arts & Shopping Village.
Tlaquepaque is such a fun place to shop! It's a Spanish-inspired outdoor market (they call it a crafts village, which just about sums it up!)
It's filled with handmade shops, art galleries, and music. The beauty of Tlaquepaque is worth seeing!
As soon as you walk under the adobe-inspired gateway you're transported into a beautiful garden area with ivy vines growing on every wall, water features flowing from the courtyard and decorations strung high above the walkway.
It's easy to spend hours here soaking up the atmosphere and enjoying the treasures you'll find in the small shops.
My favorite shop is Natural Wonders. I've always been a rock geek, collecting weird-shaped rocks as a kid, Natural Wonders is like an adult rock shop.
It's full of beautiful crystallized rocks, precious gems. and ancient fossils. It's part gallery, part store and it always leaves me in awe at how beautiful the world is.
Note: If you want to buy Native American jewelry, be sure to buy it from a Native artist who will benefit from the purchase. Unfortunately many white artists in Sedona and elsewhere steal Native designs and sell their intellectual property for profit.
In Tlaquepaque, the best place to buy Native American art pieces is at Ninibah. The shop itself is not Native-owned as far as I can tell, but all the artwork is certified to be crafted by Native jewelry designers, and the Native artists earn a fair price for their work.
Trolley over to The Chapel of the Holy Cross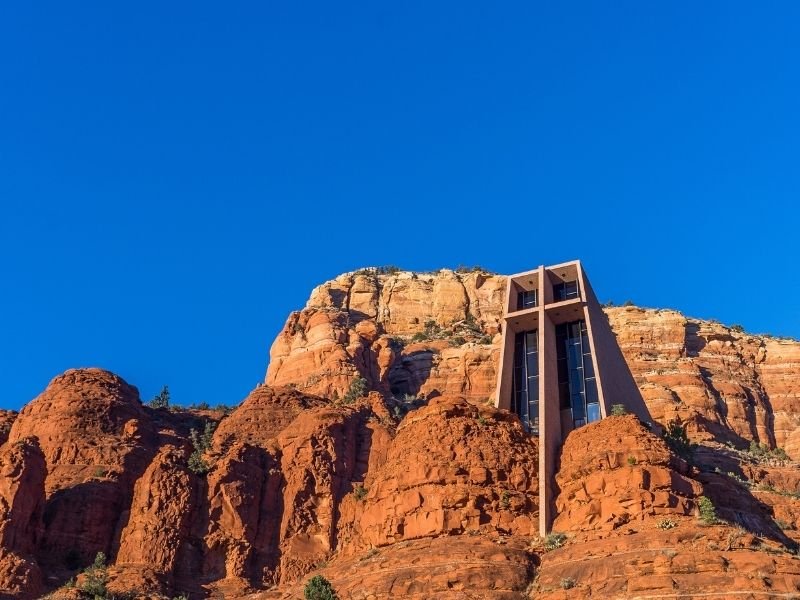 After you've done a bit of shopping, wander over to The Chapel of the Holy Cross for some magnificent sightseeing.
The Chapel of the Holy Cross is a staple on Sedona's skyline and worth the trip to see. Hop on the Sedona Trolley and take in the various sights across the city as you make your way towards The Chapel of the Holy across.
It's every bit of a work of art as it is a church. A uniquely designed church with a 90-foot iron cross sits beautifully among the Sedona landscape.
On the inside, massive windows fill the southern side of the church allowing tremendous views of the desert landscape. It's truly a work of art and will leave you speechless.
Relax at Amara Spa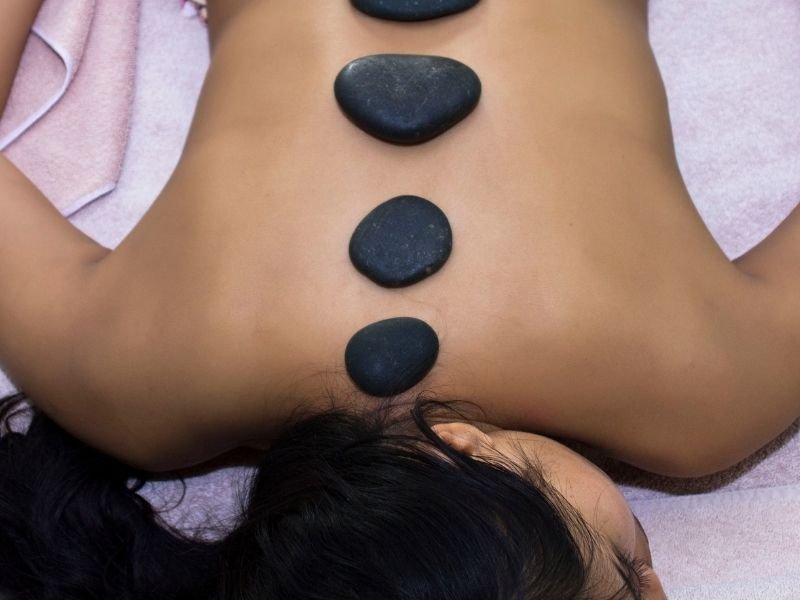 A trip to Sedona isn't complete without some type of spa and massage experience.
Amara Spa continues to be my go-to place for a mid-day massage. Their masseuses are world-class and the atmosphere exudes relaxation.
Amara has everything from therapeutic massages to guided meditation. The comfortable atmosphere puts me at ease and leaves me feeling recharged.
Have some pre-dinner drinks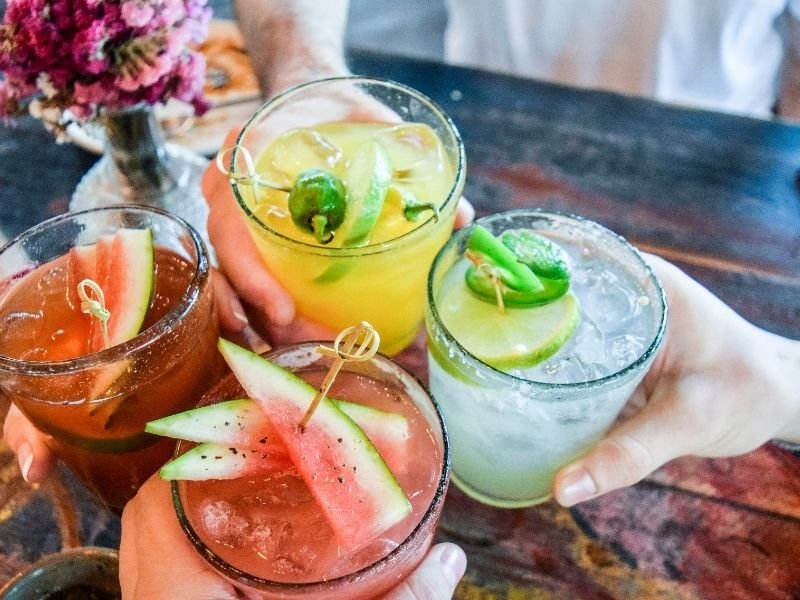 As a Texan, I'm all about a pre-dinner margarita! Javelina Cantina is the perfect spot for a sweet and sour libation on your walk back to town.
They have an awesome happy hour that runs every day from 3-6 PM, and they can mix up a mean margarita. Grab a basket of chips and head to the patio.
Javelina Cantina is full of Mexican-inspired flare and surrounded with patio views that are classic Sedona.
It's fun to soak up some late afternoon sun while sipping a cold margarita just before heading back to the hotel to clean up for the night.
Have dinner with a view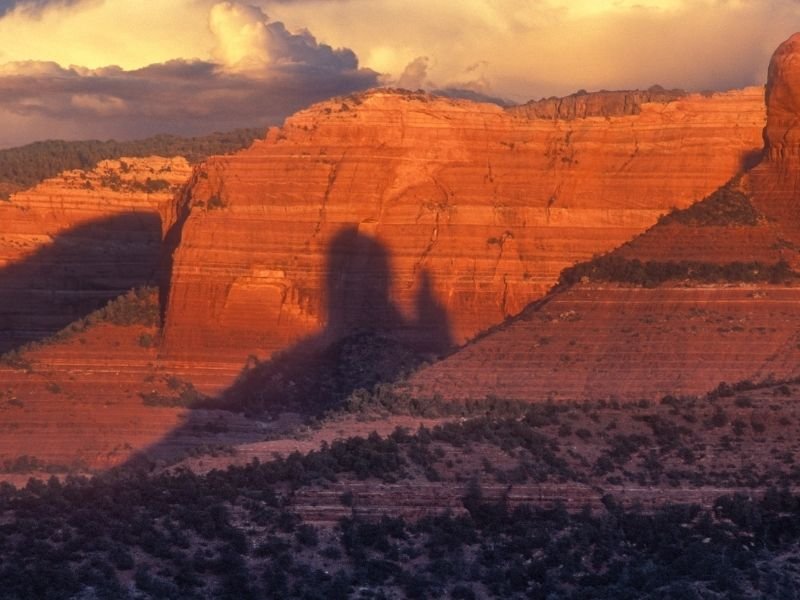 Every successful day on vacation ends with a good dinner and a sunset. My favorite restaurant in Sedona, hands down, is Elote.
Elote is beyond famous for their cuisine and is well sought after by almost every visitor in Sedona. I'll be honest, it's incredibly hard to snag a seat as they don't accept reservations and the establishment is small and intimate.
But their Southwestern-inspired cuisine is to die for. Elote takes pride in their wild game offerings and handcrafted appetizers.
I love saving some room for their Mexican chocolate pie after dinner. It's an incredibly dense chocolate pie topped with Mexican chocolates and whipped cream. It's close to the best thing I've ever tasted!
Since Elote is so difficult to find seating at, I always have a backup plan. Cucina Rustica always saves the night and its cuisine never disappoints.
Cucina Rustica features Italian-inspired dishes and has a long list of wonderful Sedona wines. They take pride in the farm-to-table approach and it shows in the freshness of their plates.
They have indoor and outdoor seating options as well as live music that sets the tone in a warm, romantic atmosphere. The Filetto di Manzo is to die for!
Although a little on the pricey side, Cucina Rustica is worth every bit of the splurge.
Do some stargazing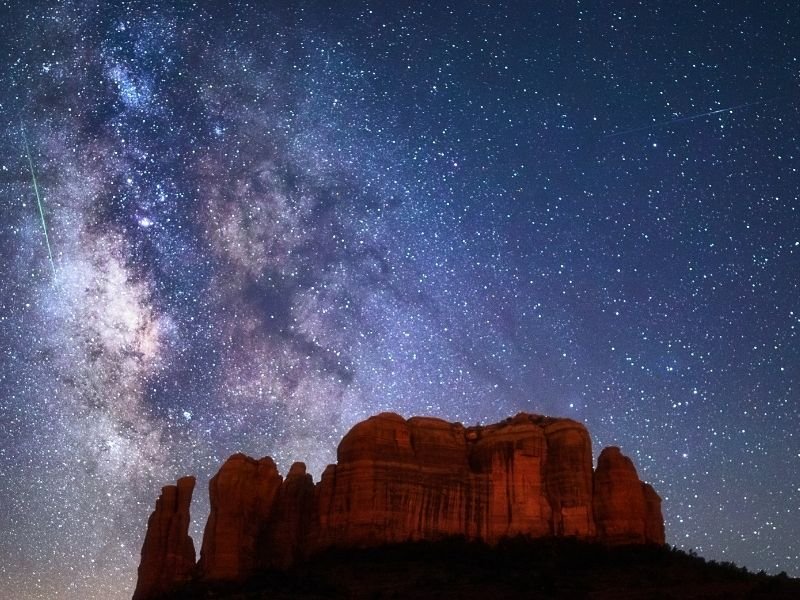 Ending your first night in Sedona should always include viewing the galactic magic that hangs in the sky.
Sedona is one of 20 communities in America that is a Certified Dark Sky Community. There's plenty of dark sky viewing areas around Sedona including Two Trees Observing Deck and Crescent Moon Picnic Site.
But if you're looking for a professional service to help guide your stargazing adventure — with a little UFO spotting on the side — then check out this nighttime stargazing tour! They take small groups out to stargaze and look for UFOs in the night sky.
Aided by UFO spotting and stargazing professionals and armed with binoculars and night-vision goggles, you'll be able to navigate the night sky and catch some of the most amazing stars and night sky gazing you've ever seen.
I can't recommend this experience enough! It's one of the most fun and amazing experiences I've had in Sedona. It is a little pricy, but I can attest that it's worth every penny.
Day 2 of Your Sedona Itinerary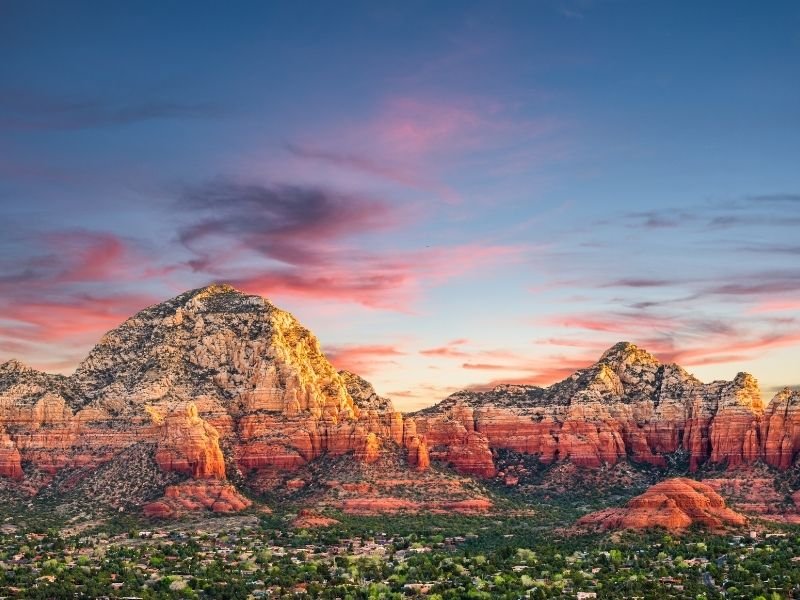 I always feel more comfortable and ready to go on my second day in Sedona. I'm filled with the city's energy, I've learned the flow and I'm ready to go!
Day two of this Sedona itinerary is totally dedicated to the outdoors: hiking trails, Jeep tours through red rock formations, and cooling off in the river.
Throw on your best athleisure outfit because today is the day to experience Sedona's adventurous landscape!
See the sunrise from Devil's Bridge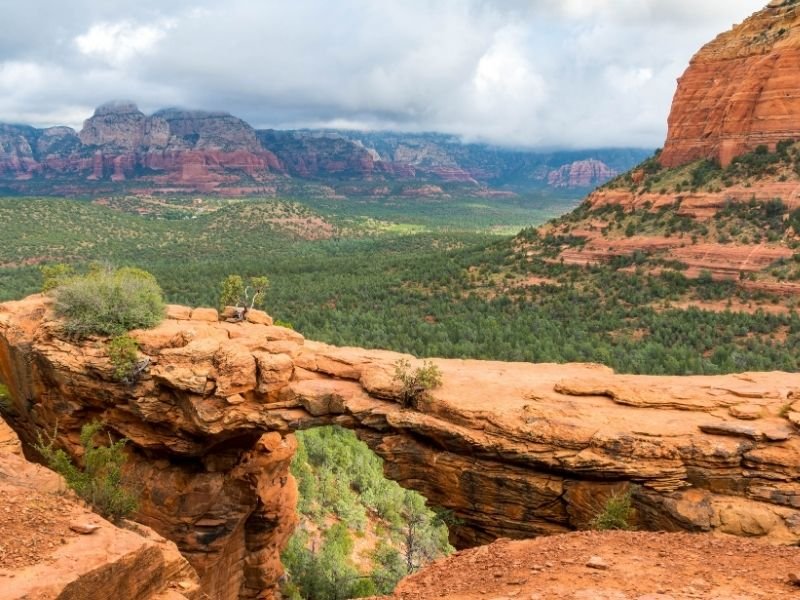 Okay listen, it's imperative to set an alarm and prepare for an early morning hike!
Devil's Bridge is on the agenda and given it's the busiest trail in Sedona and generally quite full of fellow hikers, you'll want to be one of the first ones out there.
Check out the sunrise times on Google and prepare to start your hike about 30 minutes prior. When I was there, 6 AM seemed to be the perfect balance between enjoying sleep and catching the sunrise.
Head out to the Dry Creek Road Trailhead and snag a parking spot. Devil's Bridge is a 4-mile out-and-back hiking trail and the Dry Creek Road Trailhead offers the shortest length.
Devil's Bridge Trail is absolutely delightful and energizing. It's surrounded by red rocks, vortexes, amazing cliffs, and an overall stunning desert landscape.
Interested in learning more about the Sedona vortexes? Try this vortex and guided meditation experience!
It's an enjoyable hike but a bit on the moderate side as there is a slight climb as you ascend to the actual bridge.
To see Devil's Bridge in real life is absolutely tremendous! I feel like it's the 8th wonder of the world and pictures just don't do it justice.
As the sun begins to peek into the sky, the desert below lights up and almost sparkles. Take a second to bask in the quiet morning. It's a surreal experience that'll kick your day off right.
When finished, head back the same way you came on the hiking trail — it's an out-and-back trail.
Have breakfast in the Secret Garden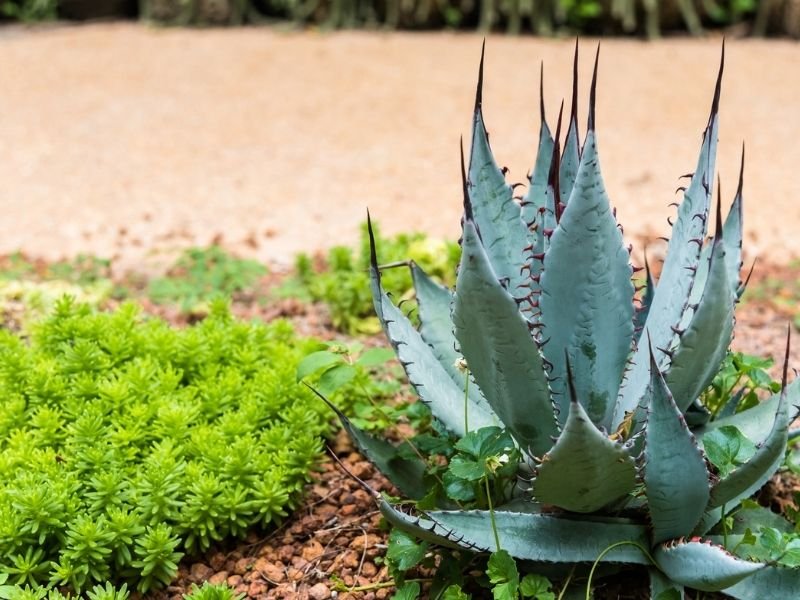 After you've worked up an appetite on your early morning hike, head over to Secret Garden Cafe for breakfast.
This is my all-time favorite breakfast spot and it's perfect for continuing the outdoor theme of the day!
I still remember the first time I walked into Secret Garden two years ago. I was blown away by the beauty of the patio.
It's literally like dining in a beautiful, lush garden. There are flowers in full bloom, deep green grass cut to perfection, and colors popping all around.
To top it off their food and specialty drink menu is out of this world. As with most Sedona restaurants, Secret Garden features farm-to-table ingredients and locally grown produce.
The "world famous" deep dish quiche is truly world-famous!
Top that off with their locally distilled prickly pear vodka drink called Trouble On the Rocks and you've got the perfect breakfast combination!
Take a Pink Jeep tour
Everyone knows about the Pink Jeep Tours of Sedona. If you haven't heard of them, surely you've seen them all around town by now!
Well, join the Pink Jeep Movement because this tour company knows how to put on a good time! Pink Jeep Tours is just what it sounds like. Hop inside a bright pink Jeep, top-down, and have a heck of a time as a tour guide drives you through the Sedona backcountry.
Book a tour with Pink Jeep Tours and be prepared for an adrenaline rush surrounded by views on views!
Pink Jeep Tours offers several different tours but my favorite of them all is the Broken Arrow Tour.
It is the "most extreme" option and it's exclusive to Pink Jeep so you're guaranteed to be the only ones exploring the desert roads.
There are also other tours like the Scenic Rim Tour which are a little less extreme if you're on the nervous side.
Don't let the words 'most extreme' scare you though. It's not that extreme but it's fun to take tight turns and smash over boulders while gazing out into the infamous red canyons.
You'll definitely want to throw on comfortable shoes for the ride as you'll be stopping and hiking very short distances to get better photographs and get closer to more scenic outlooks.
[Editor's Note: I took a Pink Jeep tour in Valley of Fire, Las Vegas and can second Sabra's recommendation of the company — they're excellent!]
Here are a few different versions of the Pink Jeep tour you can take:
Get your tarot read.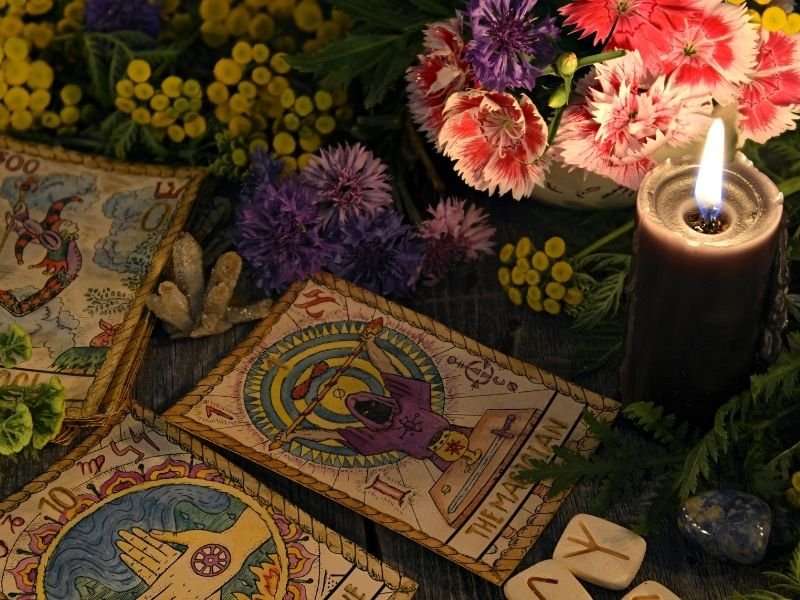 By now, you know that Sedona has some weird spiritual vibe that's contagious. It's not a myth, this feeling is real!
Last time I was in Sedona I took a chance at getting my Tarot cards read. When in Rome, right?
I've always been a little hesitant about this 'woo woo' magic but what better of a place to try it out than Sedona?
As you head back to town stop by Mythical Bazaar and get your Tarot read. The ladies at Mystical Bazaar are incredibly friendly and helpful.
I was there more for the experience than the actual future reading but it was a fun thing to do and I actually highly recommend it!
If you're a little hesitant to look into the future, the storefront shop itself is worth stopping in.
They have wonderful healing crystals, handmade jewelry, and gemstones that make great gifts or memorable trinkets to take back home.
Cool off before dinner
Oak Creek River runs the length of Sedona: a beautifully clear, ever flowing river that deserves a dip.
Head out to Oak Creek Canyon near Grasshopper Point to soak in the cool waters and recharge your body. It's beautifully serene and quiet!
The river is shaded by an oasis of trees and birds are singing on every branch. It's basically magic.
Huge smooth red cliffs surround the river with rock perches that are perfect for sprawling out and catching a late afternoon nap!
Find some enchantment at the Enchantment Resort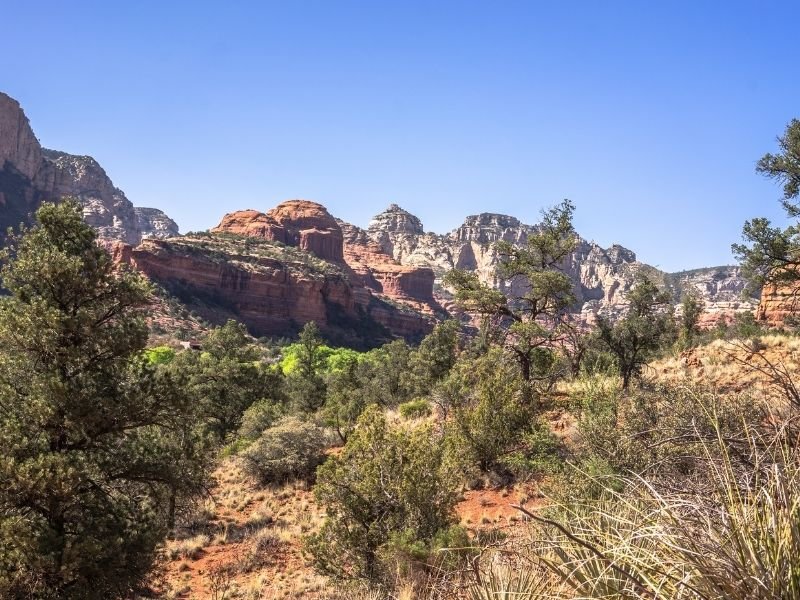 The Enchantment Resort truly lives up to its name!
It's a beautifully crafted resort surrounded by stunning views, and it offers three different restaurants on the property, Che Ah Chi, Tii Gavo, and View 180.
I've only had time to visit the Tii Gavo restaurant but from what I experienced, it may be the best and the most moderately priced.
Tii Gavo offers a seasonal menu presented by their world-famous chefs all in a fairy tale setting of massive outdoor fire pits with perfect views for a Sedona sunset.
My favorite and most unique experience from Tii Gavo is the tequila flights. If you've never had a tequila flight, you're missing out!
No, it's not the 'hold your nose, take a shot' type of tequila!
These tequilas are top-shelf sipping tequilas presented in a fashion that really shows off the nuance of flavor.
Everything from hints of vanilla, cinnamon, and orange can be found in these incredible tequilas. It's a great way to warm up the night next to the fire!
Indulge in a sweet end to the night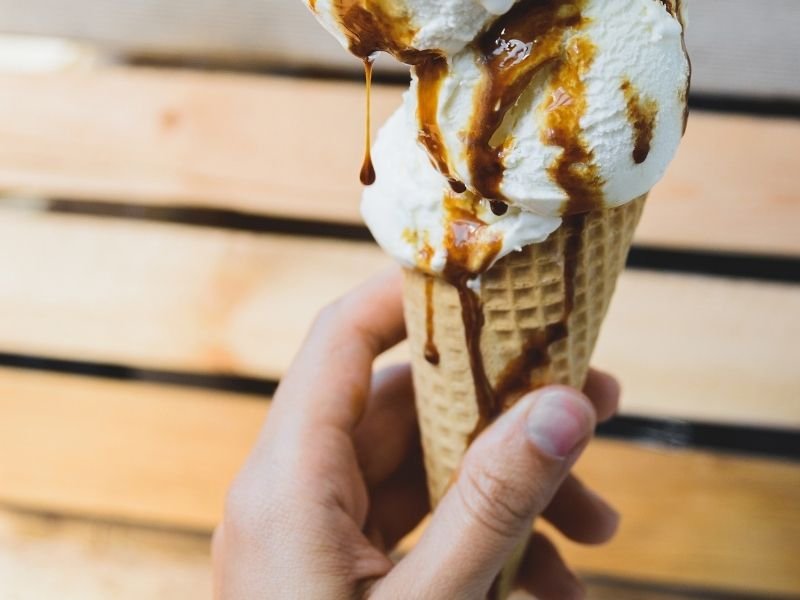 As the night is coming to an end, stop in Rocky Rd Ice Cream Co for one last dabble in Sedona cuisine.
Rocky Rd is a family-owned ice cream shop that specializes in small-batch ice cream with Sedona flair. They have in-house custom flavors such as Mexican coffee and sea salt caramel cheesecake.
They also have seasonal flavors listed on their ice cream board but my favorite flavor continues to be the bourbon pecan. It's exceptionally delectable!
The ice cream shop is super cute to boot!
You can tell it's family-owned with touches of handcrafted decor hanging from the walls and faux ice cream cones decorating the walkway as you enter.
It's a great way to top off your walk home under the dark Sedona sky.
***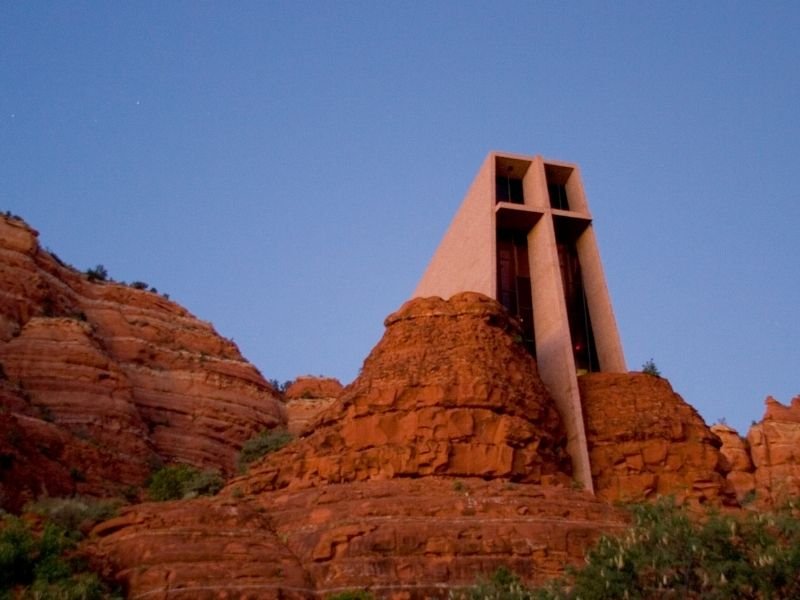 Sedona remains one of my favorite cities in the great American Southwest. It's the perfect combination of relaxation and activity that leaves my spirit feeling recharged and energized.
Its cute, casual, and funky vibe will always draw me in and leave me wanting more, and after two days in Sedona, I expect you'll feel the same!
More Than 2 Days in Sedona?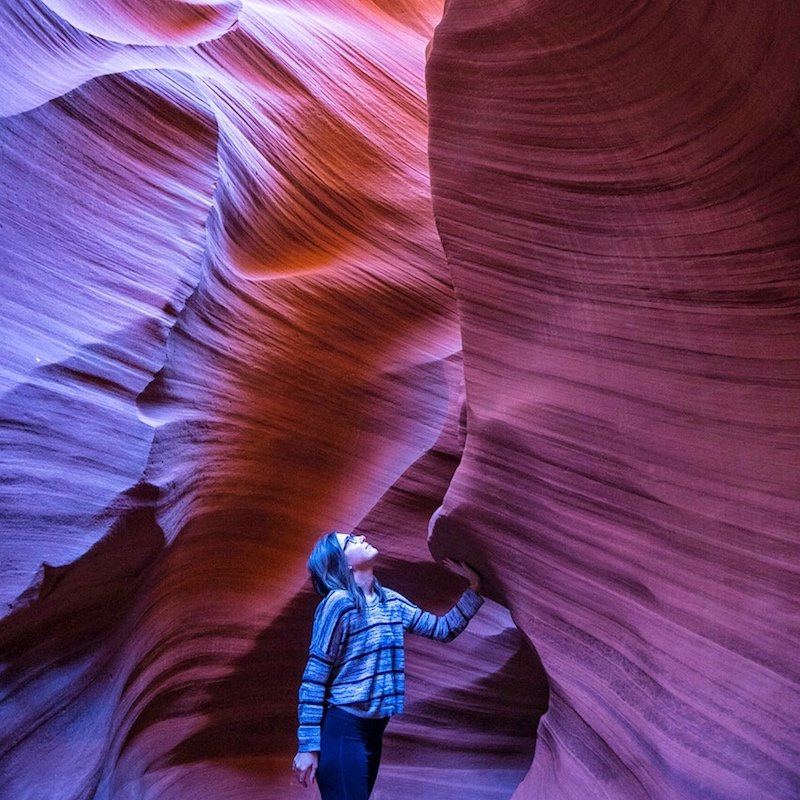 If you have more time in Sedona and want to add something to your Sedona itinerary, I suggest a day trip!
The most popular add-on to a Sedona trip is a day trip up to Northern Arizona to see Horseshoe Bend and Antelope Canyon on a small group tour to Page.
This tour is unique in that rather than bringing you to the (extremely crowded) slot canyons of Upper or Lower Antelope Canyon, you visit the equally beautiful but far less populated Antelope Canyon X.
The Antelope Canyon portion of the tour is led by Navajo Native guides who will share the historical significance of their ancestral lands with you.
It's a great opportunity to learn from Indigenous guides about their relationship with the land and their traditions, which have survived despite centuries of colonization and forced assimilation.
Book your day tour of Horseshoe Bend and Antelope Canyon here!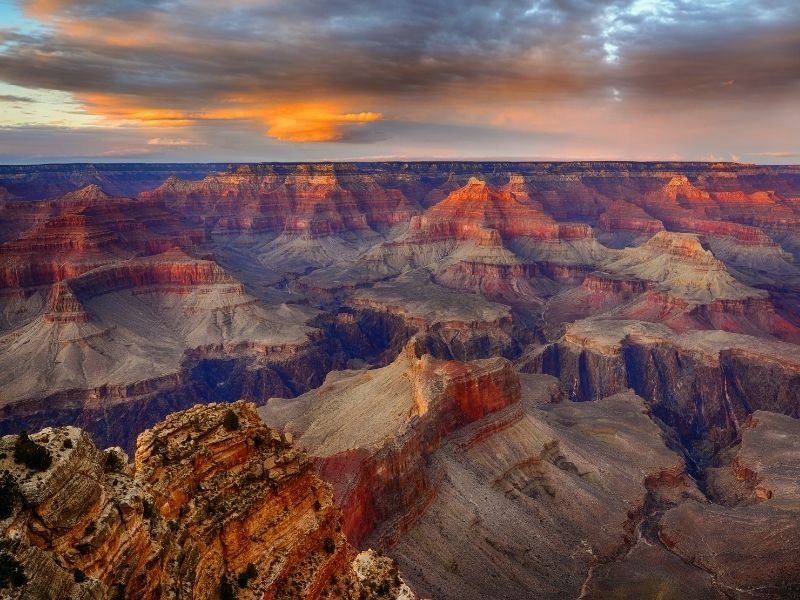 Many people visit the Grand Canyon as a separate, dedicated portion of their trip.
However, if you are just staying in Sedona and only have time for a day trip to the Grand Canyon, this is another great day trip to add onto a weekend in Sedona.
This small group Grand Canyon sunset tour leaves later in the day, allowing you to sleep in a bit or even go for a morning hike.
It then brings you to the Grand Canyon South Rim and allows you to see sights such as the Little Colorado River Gorge, the Painted Desert, the Desert View Overlook, and the Watchtower Observatory along the trip.
You'll also get to see the North Rim from across the other side of the South Rim — 14 miles away, but across a canyon so vast it would take three hours to reach the other side!
(Curious about the difference between the North Rim and the South Rim? Read this post!)
The tour also includes an epic sunset view and a complimentary dinner, so you don't have to worry about finding a place to eat when you get back to Sedona (exhausted) at the end of a long day trip.

Don't forget travel insurance!
Travel insurance coverage helps you recoup your losses in case of emergency, accident, illness, or theft. I rely on SafetyWing for both my travel insurance and travel medical insurance, and it offers great rates and clear, easy-to-read coverage.
Sabra is an adventure-hungry outdoor enthusiast originally from Dallas, Texas. She has been to 33 states, 3 countries, and has traveled America while living out of the back of her truck. Besides writing, Sabra can be found powerlifting, running her online personal training business, and enjoying time with friends and family.