Verona is ironically known for all the wrong things, and forgotten for many of its best merits.
That whole Shakespeare, Romeo and Juliet thing?
Well, the setting is technically right, but that's about where the similarities end — any of the supposed 'houses' that are related to it are actually not connected at all.
Note: This post contains affiliate links, which means I may receive a small commission if you purchase something through one of these links. Thank you for supporting the free content on this site! For more information on affiliate links and cookies, see my disclosure page for more details.
For example, the famed "Juliet's House" may date back to the 13th century, but the balcony it's so known for wasn't added until the 20th century!
But there's a lot more to Verona than its dubious connection to Shakespeare.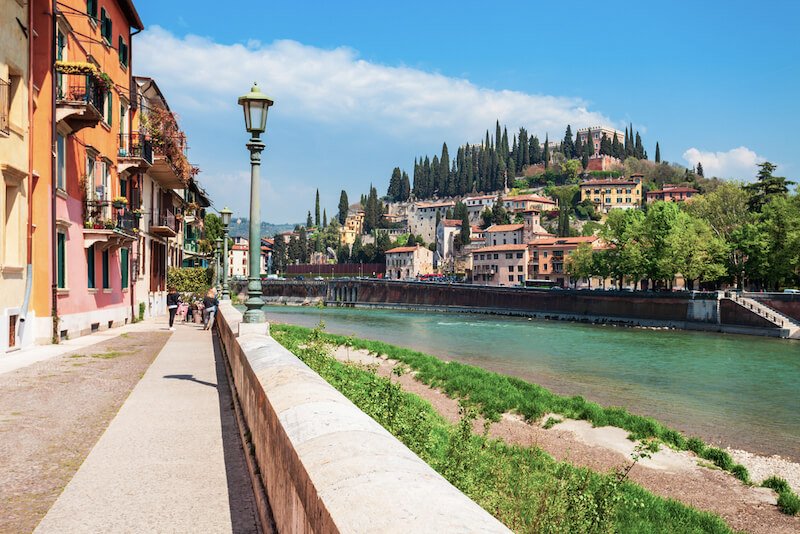 Think well-preserved, still-utilized Roman arenas that house impressive operas al fresco all summer long.
Think stunning bridges connecting the two sides of Verona, which are split by a river, and a path leading to a hill with the most epic view over the city.
Think towers, think tombs, think cathedrals: now you're starting to have an idea of what Verona is actually about.
Things to Know Before Visiting Verona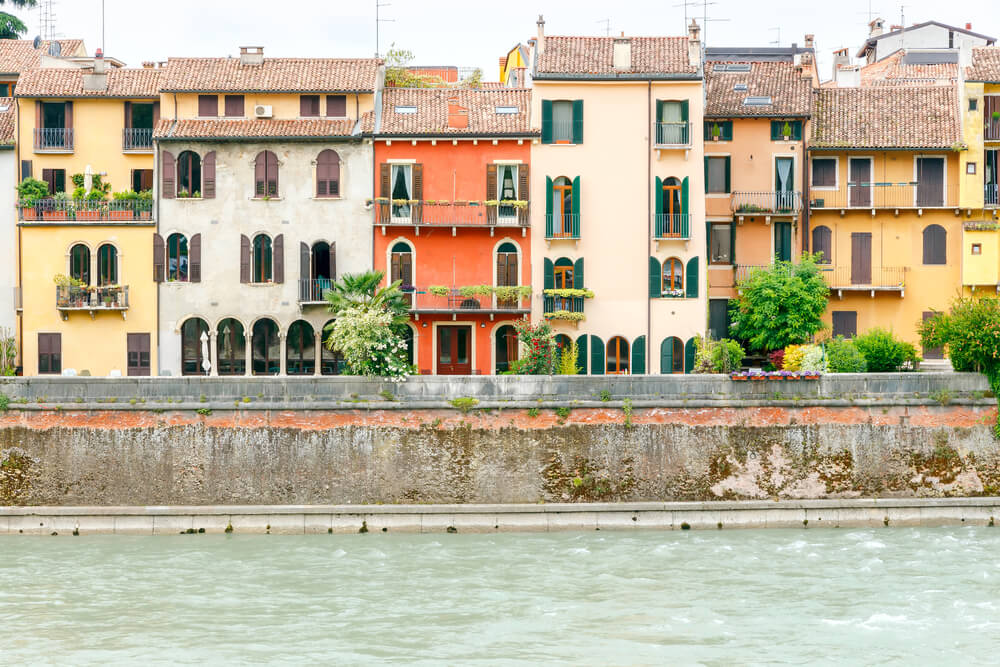 Verona is located in Northeastern Italy, close to Lake Garda. It's an easy city to reach, just two hours from Milan or an hour from Venice by car.
You won't need a car in Verona, so if you'd rather travel light, you can also catch a train from Milan or Venice and enjoy exploring the city on foot.
As for the best time to visit Verona, it really depends on the activities you plan on doing!
Summer is great for seeing opera shows in the Arena, but the city can get crowded. Ideally, aim for June or September to avoid the peak months of July and August. Alternatively, visit Verona in spring or fall.
Day 1 of Your Verona Itinerary
Start your day with an Italian breakfast.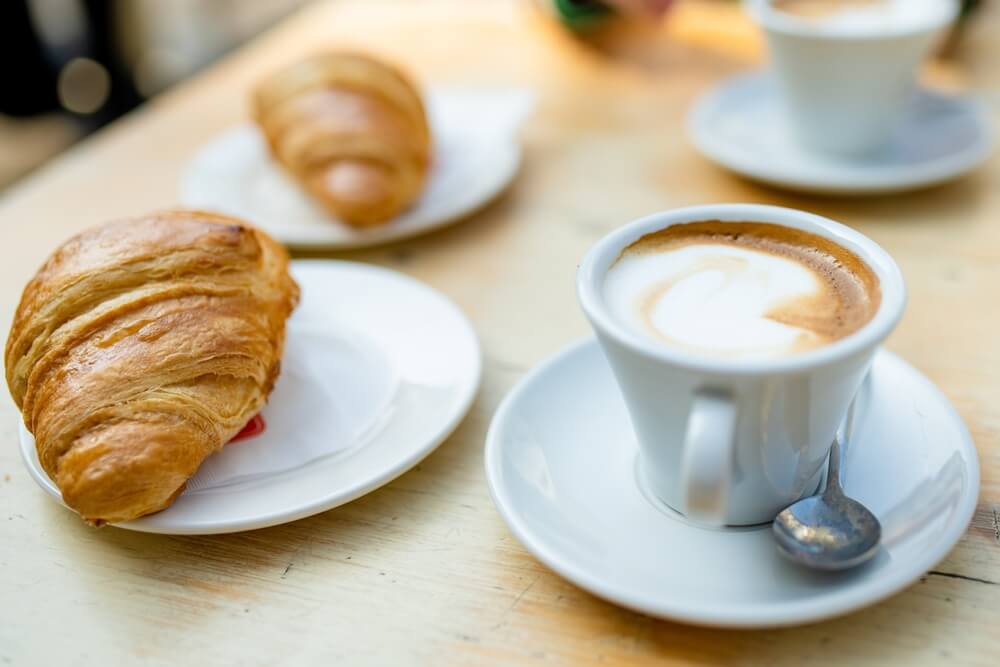 The best way to begin your day exploring Verona is with a typical Italian breakfast at Caffè Borsari.
This famous café right in the historical center of Verona is known for its great coffee and delicious croissants.
Not only is this place as Italian as it gets, but it's also centrally located, making it the perfect first stop for your exploration of the city.
Visit Juliet's House.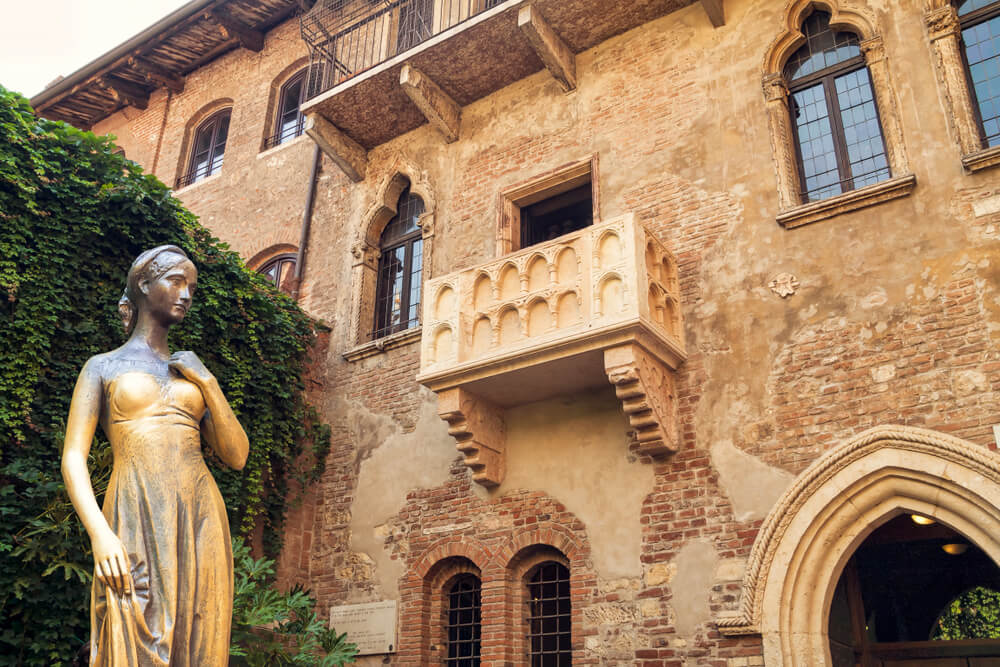 Most people who come to Verona want to visit Juliet's House, a place made famous by several Hollywood movies, especially Letters to Juliet.
Because of its popularity, it's a good idea to visit this place early in the day before it gets flooded by eager tourists looking for Verona's most romantic spot.
Visitors come to Juliet's House mainly to admire the iconic little balcony, leave a love note on the dedicated wall, check out Juliet's statue, and rub her right breast in hopes of some luck in love (hopefully, better luck than Juliet herself).
What many visitors don't know is that the famed balcony couldn't possibly have inspired Shakespeare to write his Romeo and Juliet, since it is a 20th-century addition to the original 13th-century house.
Nevertheless, this is a must-see place in Verona. Book your tickets online to get priority access to the little museum.
If you happen to visit on the first Sunday of the month between October and May, you can access the museum for just €1. The regular price is €6 plus a 10% fee for online reservations.
Explore Verona's historical center.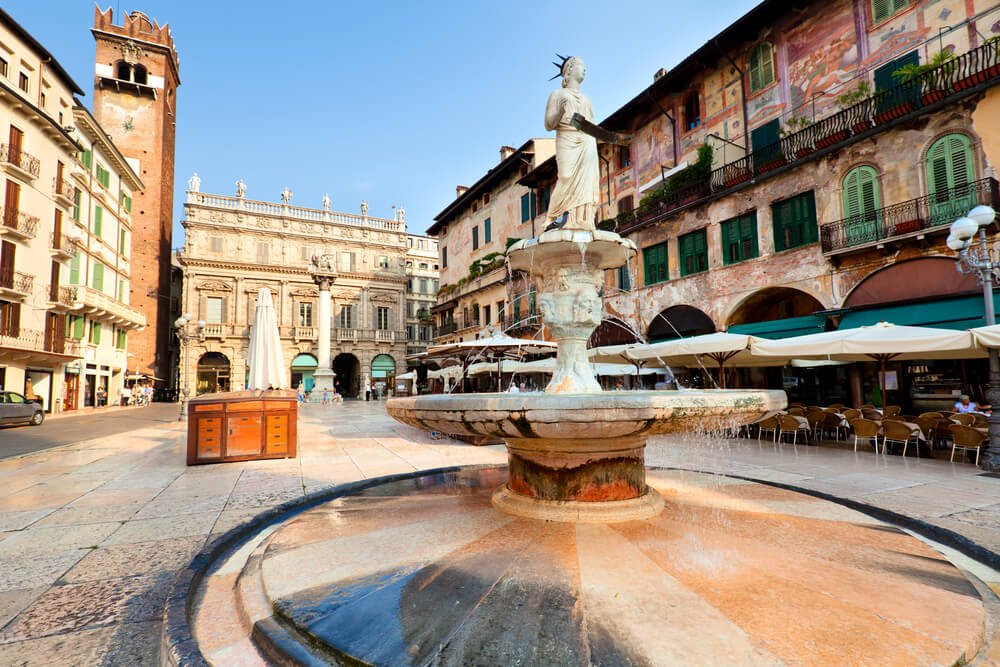 After visiting Juliet's House, it's time to check out Verona's charming historical center.
Made a UNESCO site in 2000, the city showcases two millennia of history, with architecture ranging from Ancient Roman to Gothic and Renaissance, all beautifully preserved.
Start your tour by exploring the impressive Piazza delle Erbe, Verona's oldest and most significant square. During ancient times, this was the center of political and economic affairs.
The square is surrounded by iconic buildings like Torre dei Lamberti and Palazzo Maffei. At its center, take a moment to admire the beautiful Fontana Madonna.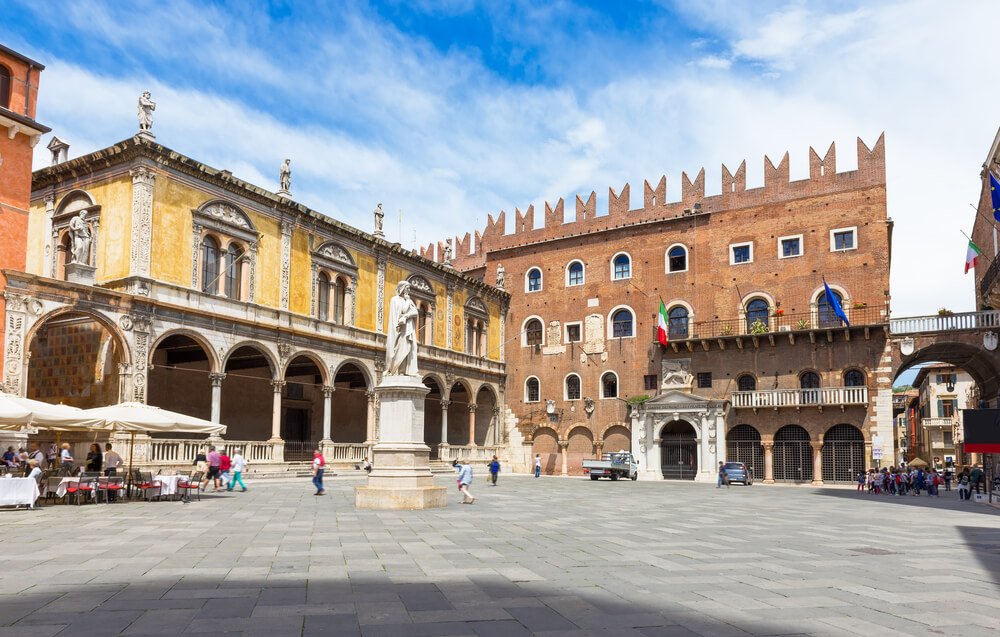 Not far from Piazza delle Erbe, you can find the smaller but equally beautiful Piazza dei Signori, dominated by the statue of Dante Alighieri and surrounded by historic buildings like the Loggia del Consiglio and Palazzo del Podestà.
Nearby, you'll also find the Scaliger Tombs, but we'll cover those on the second day.
Other spots worth checking out in Verona's historical center include: the main shopping street Via Giuseppe Mazzini; the 1st-century city gate Porta Borsari; the ancient marble arch Arco dei Gavi; and the 14th-century bridge Ponte Scaligero, also known as Ponte di Castelvecchio.
After spending the morning exploring Verona, it's time to head over to Piazza Bra, the wide square housing Verona's most iconic landmark, the Arena.
Take a tour of the Verona Arena.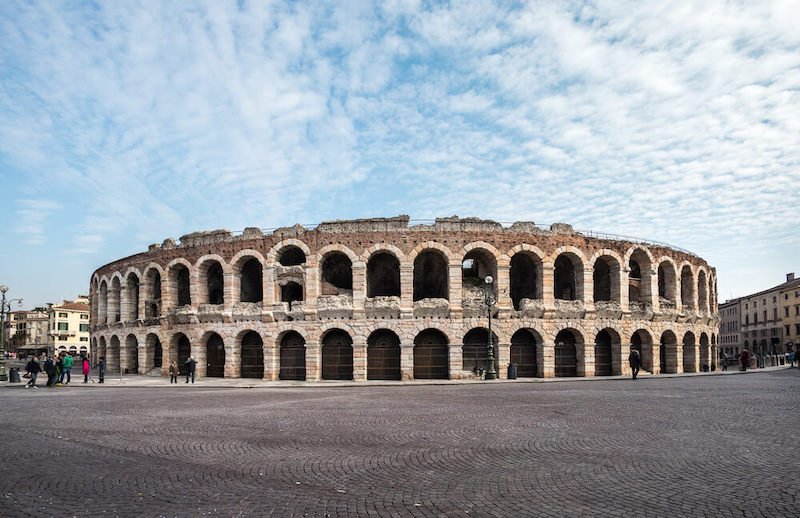 As one of the most important landmarks in the city, Verona Arena is a can't-miss on this Verona itinerary.
It's both one of the largest and best-preserved amphitheaters in the world, originally built by Romans in the 1st century CE.
The reason why it's so good in shape is simple: some maintenance! It's been maintained and renovated regularly since the 1500s, allowing its continual use (it often doubles as an opera venue now, luckily for gladiators and their victims alike).
You can visit the Arena on your own, but the best way to explore this imposing landmark is through a guided tour.
This short Verona Arena guided tour allows you to enter the amphitheater by skipping the line, and to visit the monument with an expert guide who will tell you all about the gladiator shows and the famous plays performed here over the centuries.
Just book your tour online a few days in advance and show up at the meeting point right by the Arena to start your guided tour at 12:30.
Heads up when you're planning your day: remember not to bring suitcases or large bags as they aren't allowed in the arena.
If you don't want to take a tour, you can still ensure skip-the-line access by buying a 24-hour or 48-hour Verona Pass, which also includes sights like Juliet's House.
It also includes all public transportation so this can be quite a good deal!
Grab a quick lunch.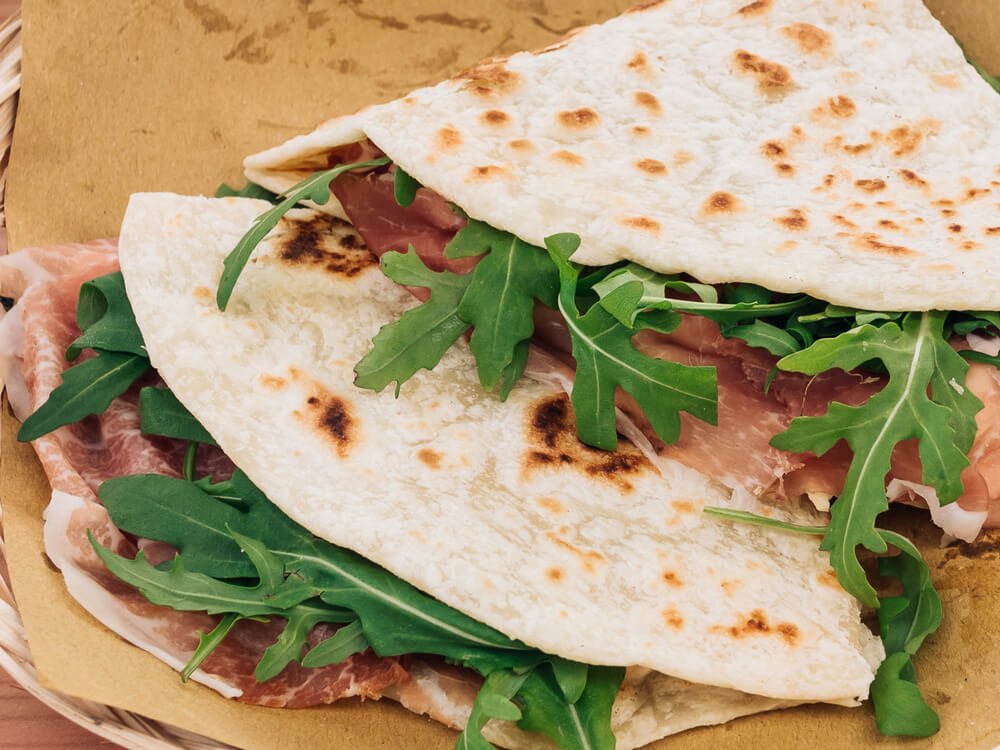 Verona has many delightful dining options on offer, including everything from elegant restaurants to tasty street food.
For a quick bite, try the delicious pizza at Pizzeria da Vincenzo or a piadina at Buoono, both just a couple blocks from the Arena.
If you prefer sitting down for a proper restaurant meal, have some tasty pasta at the cozy restaurant La Vecia Mescola, also close to the Verona Arena.
Visit Verona Cathedral.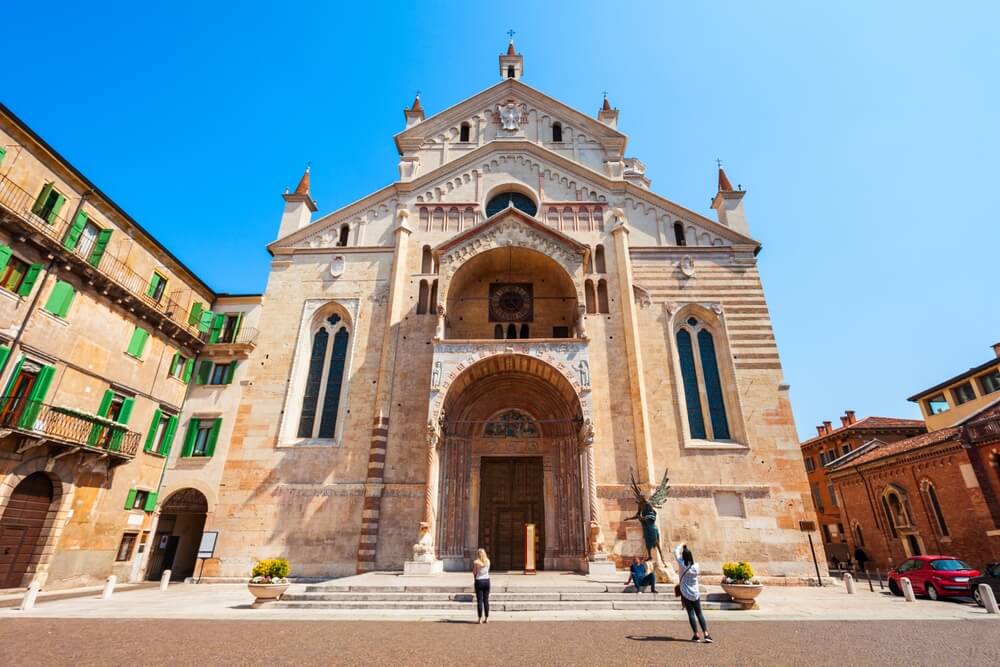 After lunch, head over to Verona Cathedral, better known as Cattedrale di Santa Maria Matricolare.
The cathedral is just one of the buildings of the larger Cathedral complex: there's also the Baptistry of San Giovanni in Fonte, the Canon's cloister, the church of Saint Elena, the Capitular library, and the Bishop's residence.
It's worth taking your time here, so plan on spending one or two hours visiting the various buildings and learning about their rich history.
In the Church of Saint Elena, you can see several remains of the ancient paleo-Christian church built on the same spot in the 4th century CE, while the cathedral houses gorgeous works of art, including a painting by Titian.
You can visit the entire complex for just €4, but you can also buy an €8 ticket to access the cathedral complex as well as three other historic churches in Verona.
If you plan on visiting at least two churches, the latter option is the best.
Check out the view from Torre dei Lamberti.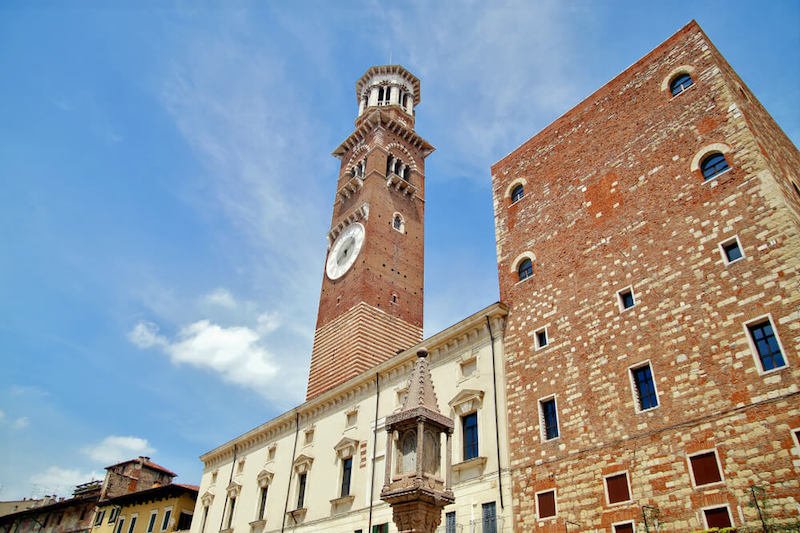 To admire a stunning panoramic view of Verona from above, head over to Torre dei Lamberti.
The 84-meter tower was built in 1172 by the Lamberti family. There's even a bit of a historical mystery around the tower, since there's no other traces of the Lamberti family left in Verona's historical record.
The tower was initially much smaller but was renovated several times, the most significant being the 15th-century renovation following a lightning strike, and the 1779 renovation that added a clock to the tower.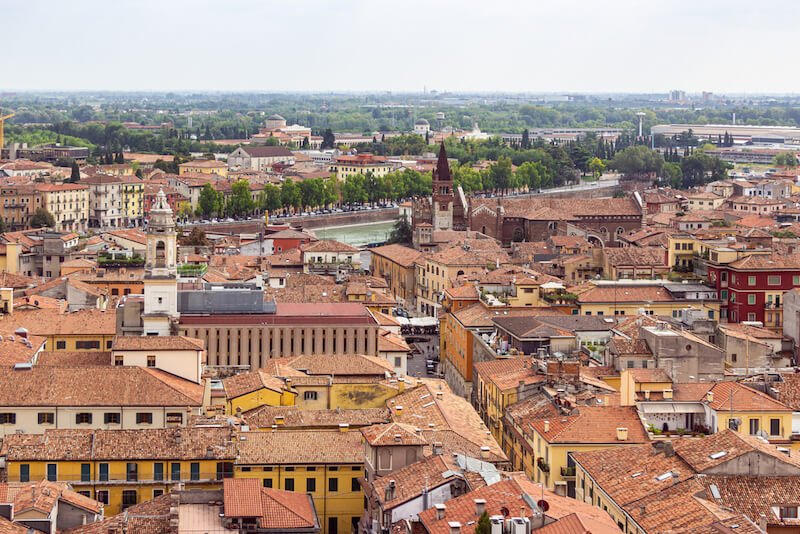 You can climb the 368 steps to get to the top of the tower or pay a small extra fee to catch the elevator.
Once you reach the top (and catch your breath), you'll be rewarded with a 360-degree view of Verona.
If you can time your visit with the sunset — do it! The tower remains open longer on weekends and holidays.
Have a delicious dinner.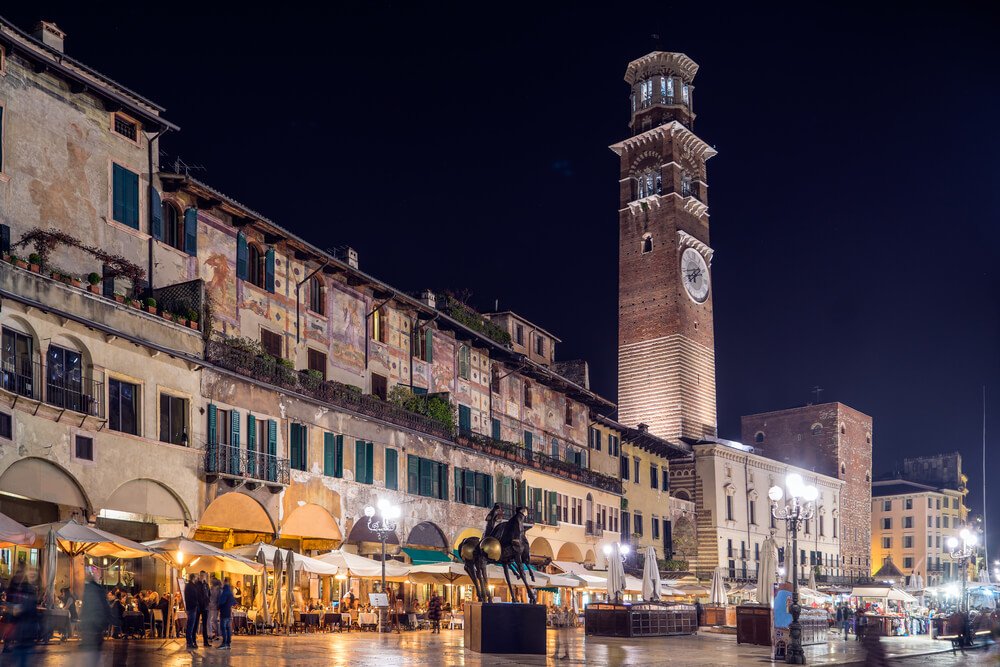 After checking out the view from Torre dei Lamberti, you can either explore a bit more of Verona's historical center or rest up back at your hotel before dinner.
As you already saw at lunch, Verona offers a wide array of restaurants where you can enjoy tasty Italian dishes.
For a traditional Veronese meal, go to Osteria Il Ciottolo, an old-fashioned, cozy restaurant serving delicious pasta and meat-based dishes.
La Griglia near the Verona Arena is a delightful alternative, especially for meat lovers.
Attend an opera show in the Verona Arena.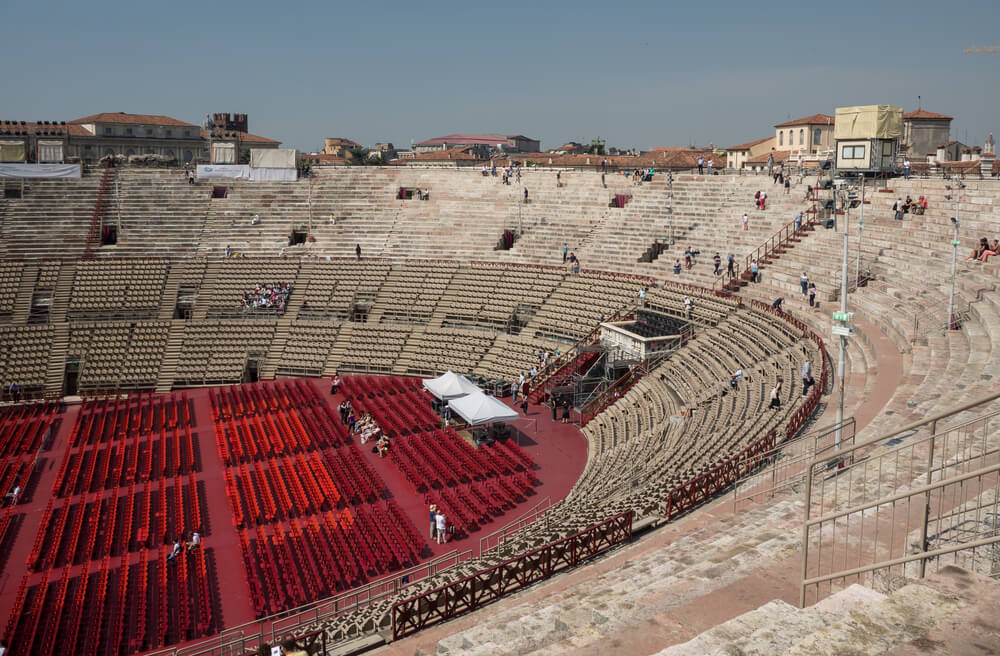 The perfect way to admire the Verona Arena in the evening is by attending an opera show.
You can do exactly that on summer weekends, from mid-June to mid-September, when the Arena serves as the stage for famous shows like the Aida, the Traviata, and the Barber of Sevilla!
This Arena di Verona Ticket is a great option for summer shows. Check the calendar of shows available and book online well ahead of time, as it sells out quickly!
You can choose between a ticket exclusively for the opera show and one that includes a one-hour walking tour of Verona city center.
Day 2 of Your Verona Itinerary
Have your morning coffee.
Garage Coffee Bros is the place to go if you want to switch things up and have a specialty coffee while in Verona.
The shop serves all kinds of coffee, from the classic cappuccino to the flat white and cold brew, both of which are rare finds in Italy.
If you're in the mood for a more typically Italian breakfast, grab a cappuccino and a croissant at Bottega del Caffè Dersut, near Castelvecchio Museum.
Check out Verona's historical churches.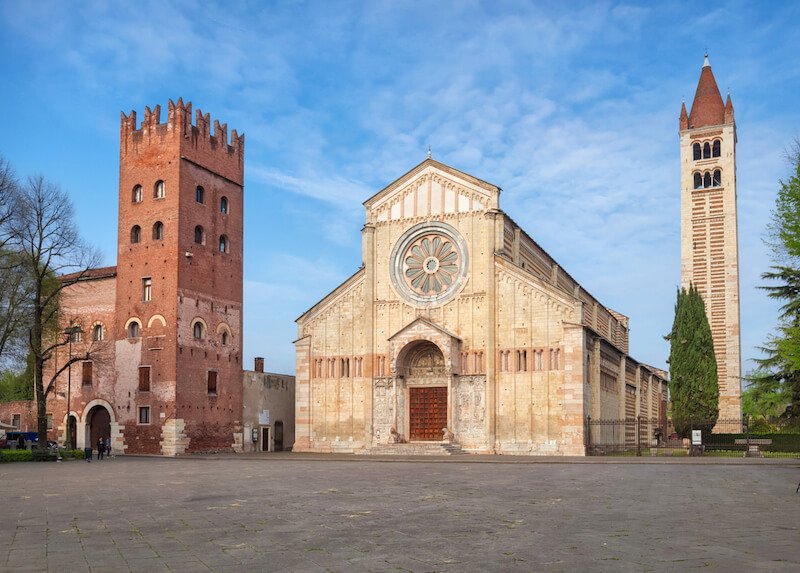 After fueling up, start your second day by visiting all or some of the other three gorgeous churches included in the combined ticket with the cathedral: Basilica di San Zeno, Chiesa di San Fermo, and Basilica di S. Anastasia.
The Romanesque Basilica di San Zeno is the furthest from the city center, in the San Zeno neighborhood.
The church was built over the course of four centuries, from 967 to 1398, and is one of Verona's key medieval landmarks.
The church features a typical Romanesque façade that became the inspiration for most other Romanesque edifices in Verona, along with a beautiful rose window, and a portal decorated with bas-reliefs.
Aside from the church interior, you can also visit the crypt and the beautiful cloisters.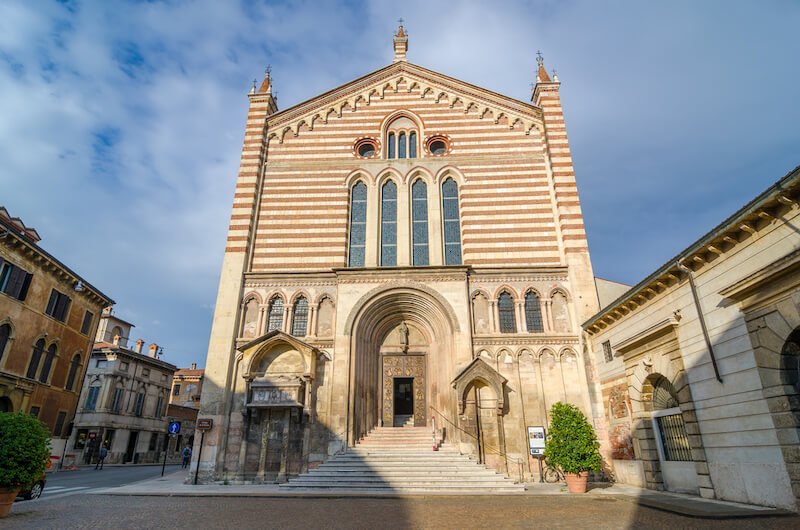 A bit closer to the city center, right by Ponte Navi, you'll find the Church of San Fermo Maggiore… but what you might not realize at first glance is that two churches are built one on top of the other here.
The lower part represents the early Paleo-Christian church built sometime in the 5th century CE.In the 11th century, the Benedictines remodeled the church by adding an upper part and keeping the original foundations.
A system of stairways connected the two churches.
Finally, in the 13th century, the Franciscans restructured the upper church in the Gothic style, with the result being the church you see today.
The last of Verona's historic churches is also the largest in the city.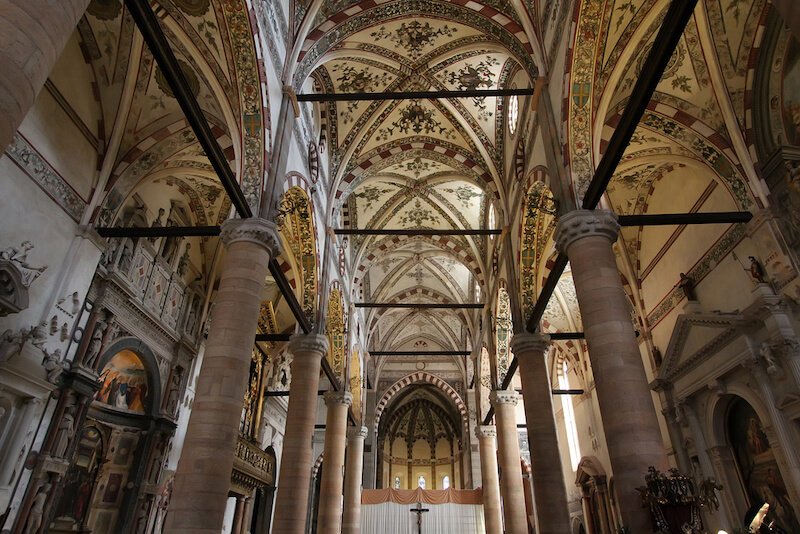 The Basilica of Saint Anastasia is a gorgeously decorated Gothic church, built atop the bones of a 4th-century church that started to be renovated by the order of the Dominicans in the 13th century.
Among the most impressive features of the church, be sure to notice the "Hunchbacks" holy water fountains at the entrance, the decorated ceilings, Pisanello's fresco of St. George and the Princess, and the impressive Giusti chapel.
It's truly an architectural marvel!
Visit the Scaliger Tombs.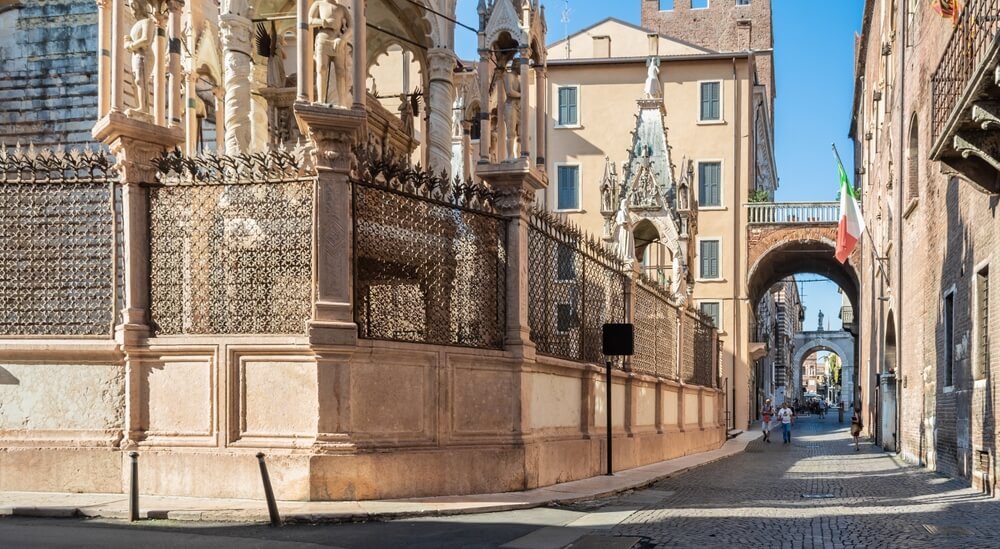 After visiting the churches, you can check out the unique Scaliger Tombs we mentioned earlier, located next to Piazza dei Signori.
The Scaliger Tombs, or Arche Scaligere in Italian, represent a unique monument consisting of Gothic funerary structures meant to house the tombs of important members of the Scaligeri family.
These intriguing monuments date back to the 14th century, when this powerful family still ruled over Verona.
Before planning your visit, make sure you check the opening times online as they do vary quite a bit over the course of the year.
In summer, it's typically open from Tuesday to Sunday for just a few hours in the morning and a few in the afternoon, with a break mid-day.
Discover Colle San Pietro.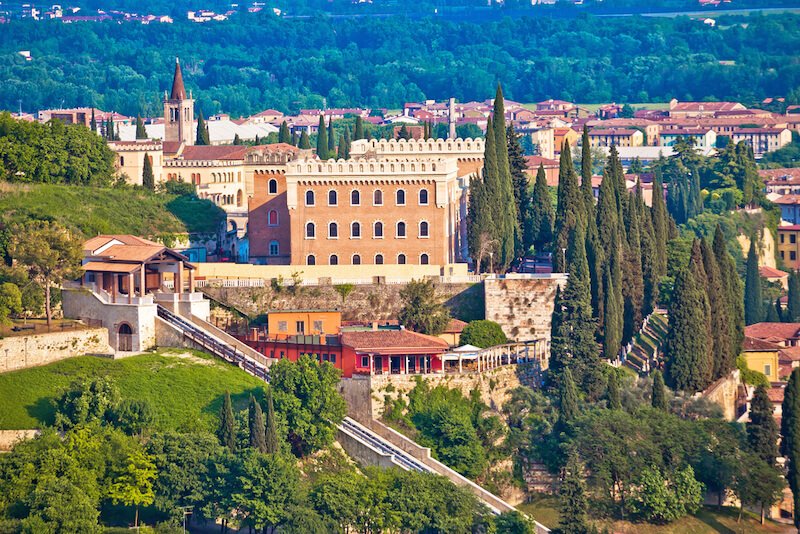 For your last stop of the morning, head over to Saint Peter's Hill (Colle San Pietro).
The hill rises above the city on the northeastern bank of the Adige River and can be reached on foot or via a mountain cable car.
The cable car costs only €3 for a return ticket or €2 for a single ride and offers gorgeous city views, so if you ask me, it's well worth the fare.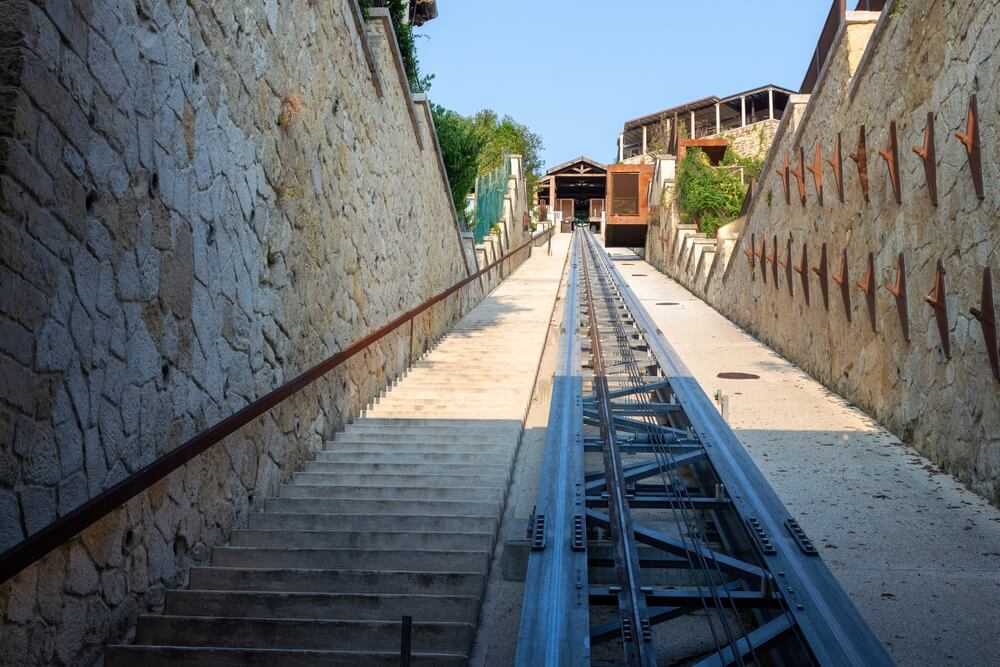 Once you reach the top of Saint Peter's Hill, you'll be treated to sweeping views of Verona from above. Walk around to find various panoramic points around Piazzale Castel S. Pietro.
Unfortunately, you can't visit the interior of the fortress, but the outside is fair game!
Not far from Castel San Pietro, you can visit an archaeological museum dedicated to an Ancient Roman theater, Museo Archeologico al Teatro Romano.
The ancient theater, along with a museum with Roman, Greek, and Etruscan archaeological findings from Verona and its surroundings are all accessible for a small entry fee.
Have a lunch break.
Ready for a lunch break? Check out the tasty regional dishes at Trattoria al Pompiere, or the bagels with an Italian twist at Bagel Road if you're craving a taste of home.
If you're looking for vegetarian dishes in a delightful location, cross the river to the northwestern bank and head to Ziga Bistrò.
Go on a wine tour or explore more of Verona.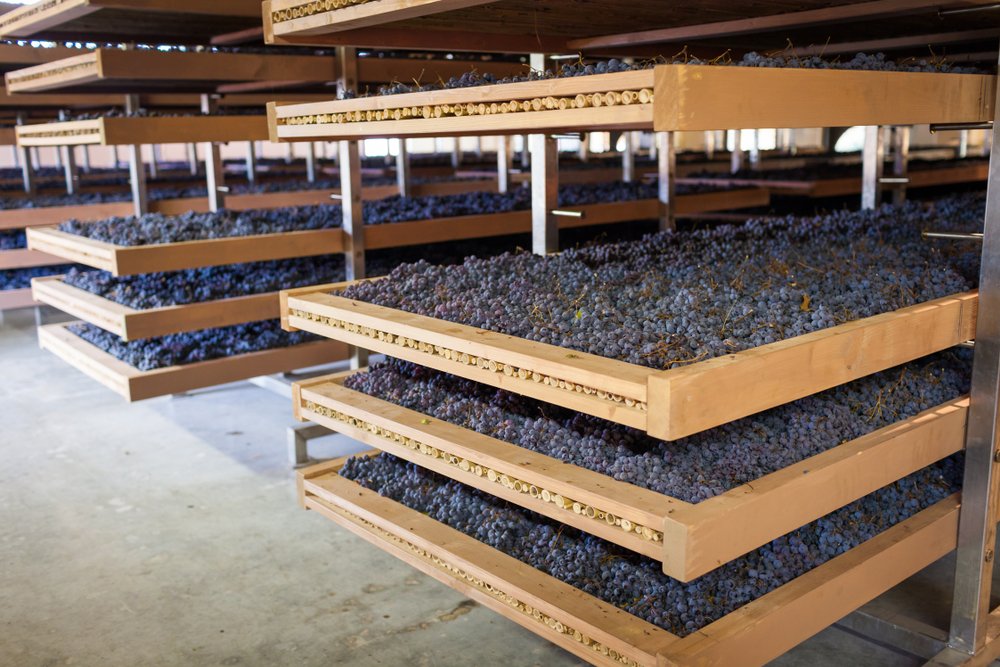 If you're an aficionado of Italian wines and want to explore the wine region near Verona, this 4-hour Amarone wine trail tour is the perfect way to spend an afternoon.
The tour will take you to the Valpolicella wine region, where an expert sommelier will guide you through wine cellars and tell you all about local wine production.
Aside from visiting the vineyards and cellars, you'll also get a chance to admire the beautiful countryside near Verona.
The tour includes two wine tastings at two different wineries (and you have other Amarone wine tour options here!)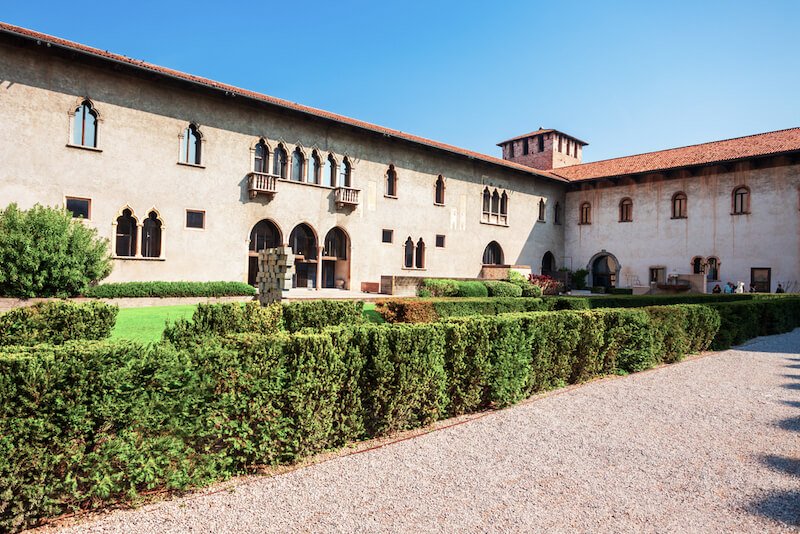 If the wine tour isn't really your speed, you can spend the afternoon exploring more of Verona and visiting one of the many gorgeous museums.
Verona is home to several museums worth visiting, and two of the best are Castelvecchio Museum and Galleria d'Arte Moderna Achille Forti, briefly GAM.
Castelvecchio is dedicated to medieval, Renaissance, and modern art until the 18th century, including paintings, marble sculptures, and ancient objects.
You can visit Castelvecchio Museum from Tuesday to Sunday for a €6 entrance fee. If you buy the tickets online, there's a small presale fee, but you skip the line.
GAM, on the other hand, is home to a vast collection of modern art that belonged to Achille Forti, a local botanist and art collector.
Among the artworks, you can admire paintings by local 19th and 20th-century artists and beautiful sculptures.
Unlike other museums, GAM is only open from 2 PM on Tuesday and Wednesday and all day from Thursday to Sunday. On Monday, the museum is closed, so plan accordingly.
Have one final dinner in Verona.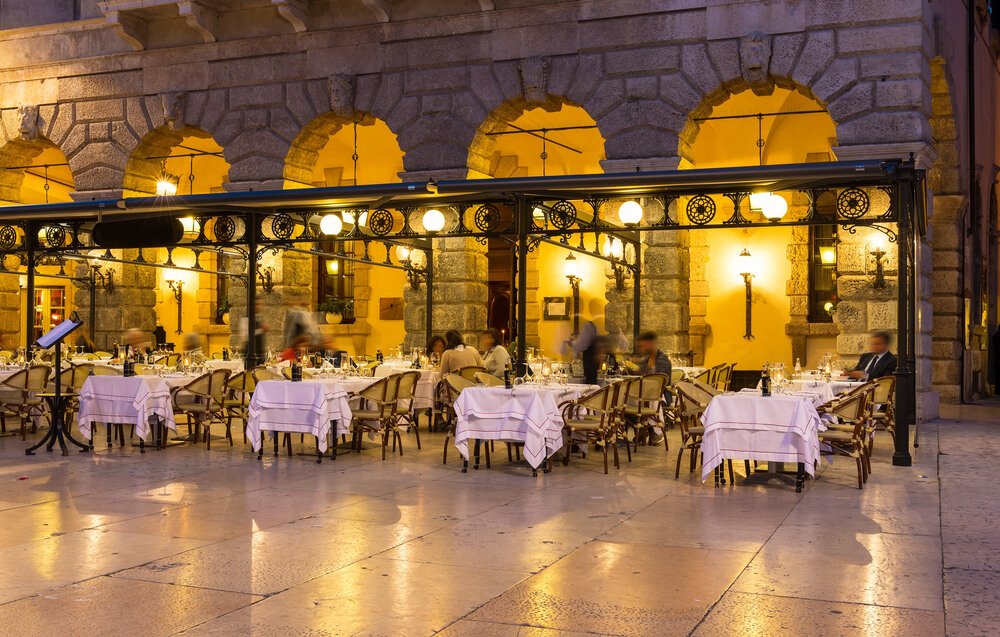 Hungry for more delicious Italian cuisine? Great news, there are plenty more restaurant choices for your last dinner in Verona.
Hosteria17 is a great option not far from Ponte di Castelvecchio, serving tasty pasta dishes and meat in a cozy setting.
For more refined dishes in an upscale location, head over to Ristorante Nastro Azzurro right next to the Verona Arena, or to the stylish Darì Ristorante & Enoteca.
Where to Stay in Verona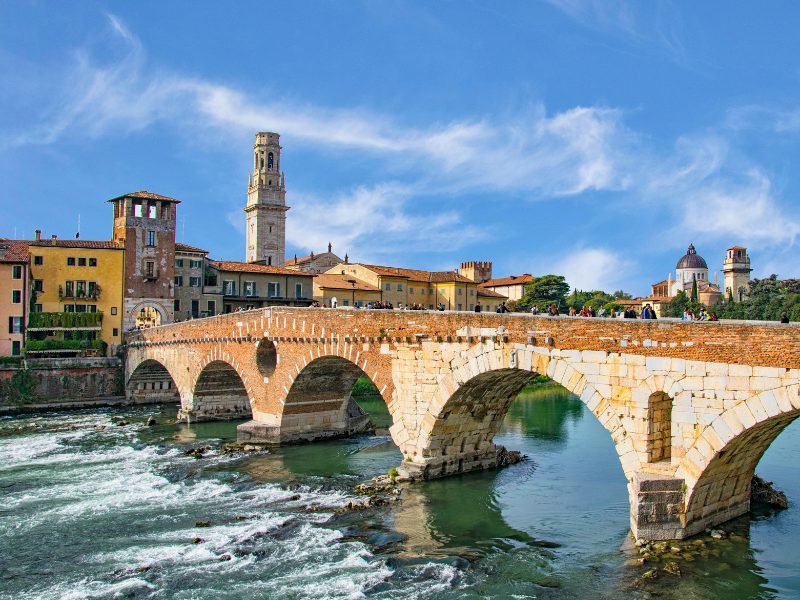 This surprisingly elegant affordable option is right in the heart of Verona's Città Antica: as good of a location as it gets.
The detailing in the décor at Relais Empire is a little old-fashioned, but I'd argue that's also part of its charm.
Chandeliers, tufted headboards, sumptuous fabrics: it may not be subtle or modern, but it is refined!
➤ Check availability, rates, and reviews here!
There's not too much to say about Hotel Accademia except that it does old-world excellence and it does it well.
This historic hotel is in the heart of the old city, and it's maintained its historical detailing while adding lovely modern touches.
The rooms are simple yet elegant — think velvet chairs, jewel-toned color palettes, and warm lighting — without being fussy, keeping the focus on the excellent location.
➤ Check availability, rates, and reviews here!
It really doesn't get more out-of-this-world elegant than Vista Palazzo!
The rooms are exquisitely designed, with artistic eye for detail in every corner — whether that's the green marble bathrooms, the maximalist-yet-refined decor and wallpaper in the rooms, or the sumptuous lobby.
There's also a terrace with gorgeous views perfect for enjoying a drink and a snack, or a spa where you can relax with a little private plunge pool after your treatment.
➤ Check availability, rates, and reviews here!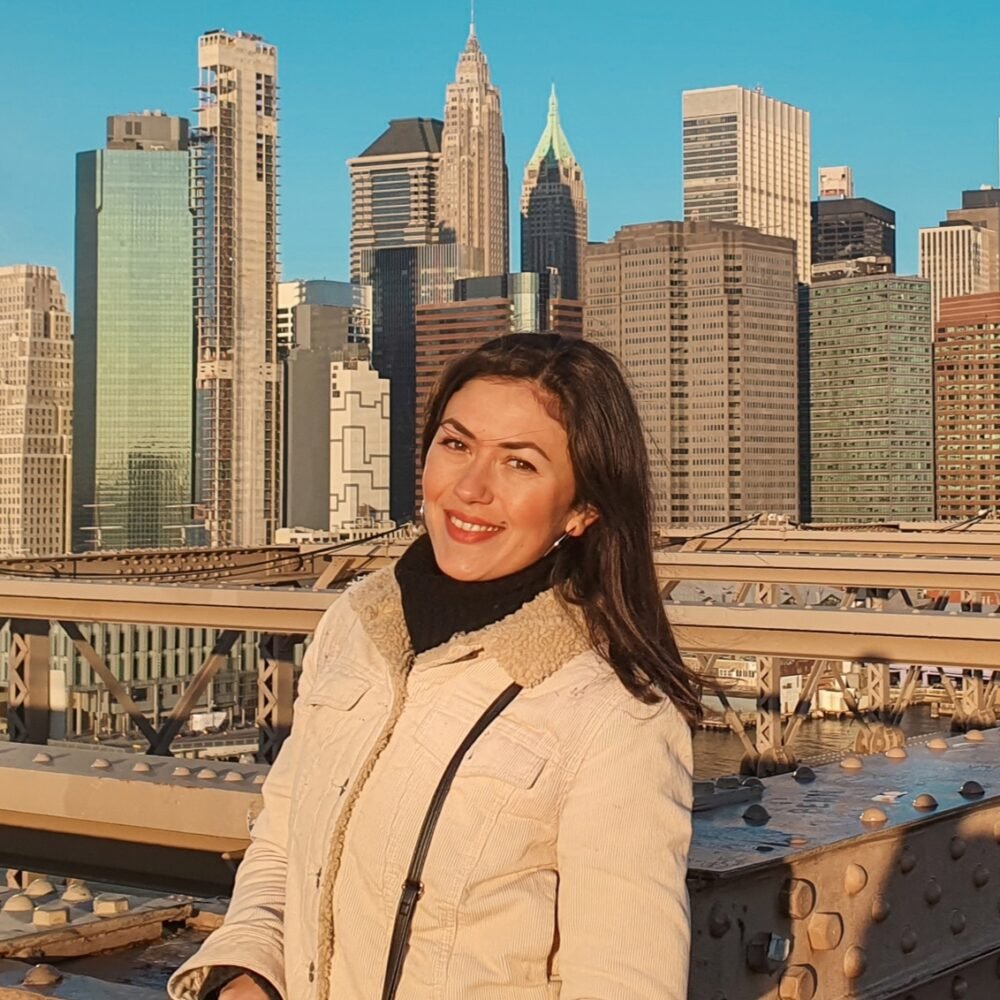 Roxana is a Romanian-born freelance travel writer who has lived in Italy for over 15 years. She has a Master's in Journalism and a Bachelor's in Film Studies, and she studied at Università degli Studi di Roma Tre. Besides her native Romania, Roxana has lived in Rome, Lisbon, and Berlin, and she has traveled through much of Europe in search of hidden gems, history, and culture.