One of the best things about a trip to Verona is just how amazingly close to the Valpolicella wine region it is!
This is where you'll find some of Italy's most classic wines, including the delicious, prized Amarone — a collector's favorite for its ability to age the distance.
Alongside Prosecco wine (which grows in Valdobbiane, near Venice), Amarone and Valpolicella wines are some of the most famous wines of Northern Italy.
While they don't have quite the name recognition of Barolos and Tuscan wines, they're definitely in the same tier. Wine geeks in the know (read: me) will tell you that!).
Amarone can be quite expensive to buy in the States because the bottling process takes quite a bit of time, and it uses more grapes than other wines do due to the unique vilifying process.
As a result, it's rare that you have the opportunity to taste multiple kinds of Amarone in one go — but on these Amarone wine tours from Verona, that's exactly what you can do!
While these wine tours from Verona do not only include Amarone, most of them do, particularly those in the Valpolicella Valley, which is famous for it!
The 3 Best Amarone Wine Tours Verona Has to Offer
4-Hour Amarone Wine Trail Tour from Verona – Book Here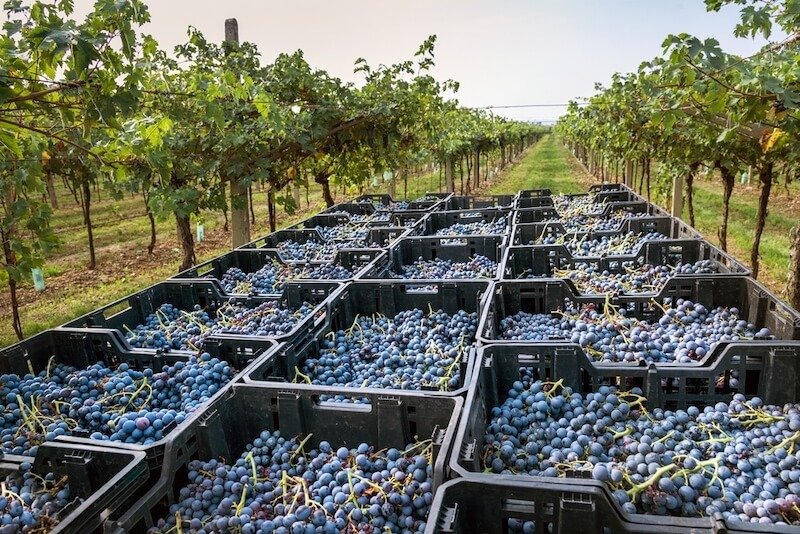 Note: This post contains affiliate links, which means I may receive a small commission if you purchase something through one of these links. Thank you for supporting the free content on this site! For more information on affiliate links and cookies, see my disclosure page for more details.
This half-day Amarone wine tour from Verona is the perfect introduction to the Valpolicella valley and al the incredible wine it produces!
While also being beautiful, this region also brims with centuries of wine-making traditions unique to this part of Italy.
Luckily, you'll be led along the way by an expert sommelier who will explain just how significant the wines you are trying really are.
This tour is also convenient for including a transfer service, so you don't have to worry about drinking and needing someone to drive — an air-conditioned minivan will handle all the logistics for you. Just show up, listen, and drink!
On this tour, you'll try a variety of Valpolicella wines and do a showdown between two of the region's most celebrated wines: Ripasso and Amarone.
Ripasso is known for its robust flavor and heavy structure, which is achieved by re-fermenting the wine with Amarone grape skins.
On the other hand, Amarone is rich and full-bodied, made from dried grapes which gives it an almost Port-like or Madeira-like flavor — not quite a dessert wine, but with similar candied notes from the dried grapes.
The tour offers a two distinct tasting experiences, taking you to two wildly different wineries: one with a massive production scale of 1.5 million bottles and a small boutique estate which produces merely 50,000 artisanal bottles.
At these two wineries, you'll be led by a sommelier through the wine cellars — and the tastings, including of course the legendary Amarone!
The first, larger winery is especially beautiful, so this is a great place to explore the sprawling gardens and vineyards, taking those perfect Instagram photos for later!
After the first winery, don't worry if you haven't quite had your fill — a second awaits to offer even more tastes of the delicious Amarone and other local wines, this time by a smaller boutique producer.
Overview:
Wines Tasted: At least 10 wines, including Amarone and Ripasso, at two wineries.
Note: Transfers are included from Verona. Lunch is not included, but snacks are.
Full Day Verona Amarone Wine Tour with Lunch – Book Here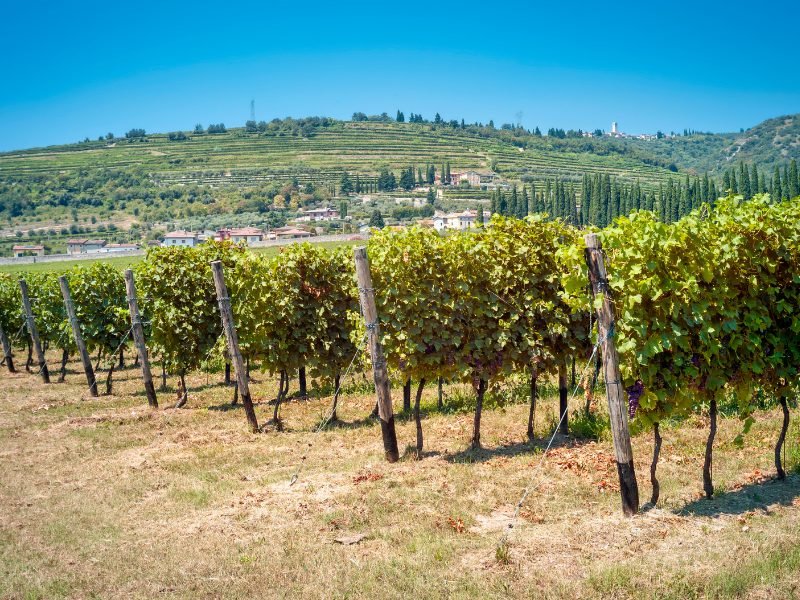 For true wine geeks who want to dedicate an entire day of their Verona trip to tasting Amarone, this is the full-day Amarone tour for you!
Indulgence is the name of the game on this 7-hour Amarone wine tour — in a whirlwind day trip, you'll depart the historical city of Verona and delve right into the heart of the Amarone region, tasting a whopping dozen wines along the way.
You'll start your day with not one but two winery visits before lunch — this tour takes wine seriously, like life or death seriously, okay!
You'll sample not only Amarone but all the other delicious Valpolicella DOC wines that the region is so loved for, giving you a good idea of the smattering of wines that are produced in this region (but predominantly red wines — sorry, white wine drinkers!)
After the tastings, you'll get to savor a sit-down lunch featuring farm-to-table Italian cooking, masterfully paired with the rich flavors of Valpolicella wine.
And when you're juuuust about fit to burst, you'll head to the third (and final) winery of the day, where you'll sample (at least) four more wines, guaranteed.
What sets this tour apart is the length of it but also the breadth: you'll visit three distinct wineries and sample at least four wines at each.
That's a bare minimum of 12 wine tastes… not to mention the wine you'll get topped up with at lunch!
You'll definitely be grateful all transfers are included with this Amarone wine tour. I doubt you'd make it home otherwise after all those tastings!
Overview:
Wines Tasted: At least 12 wines, plus bonus wines at lunch, at three different wineries and a local restaurant.
Note: Transfers are included from Verona and lunch is also included in the price of the tour
2-Hour Amarone Wine Tasting Tour from Verona – Book Here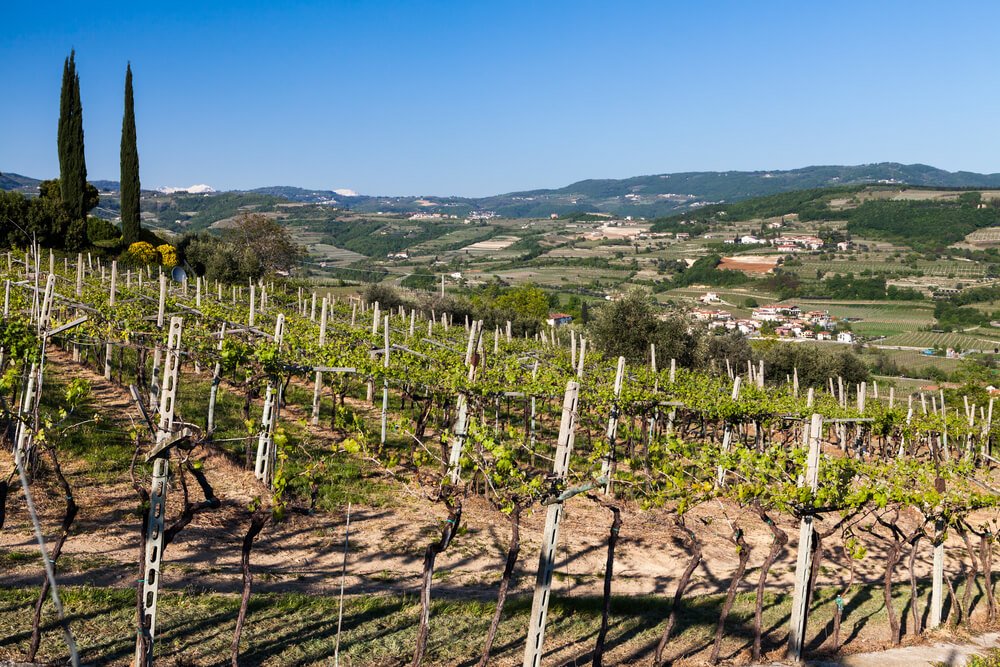 This two-hour wine tour brings you to the heart of one of the most prestigious Amarone wineries near Verona.
Celebrated for producing some of Italy's most renowned and award-winning Amarone wines, this tour goes beyond your average tasting.
They'll also teach you all about the Valpolicella region's wine-making heritage (and the specific wine-making process of Amarone, which is quite unique).
But best of all, the entire 2-hour wine tasting will be guided by an expert sommelier — a high distinction to earn, and an honor to learn from!
On the tour, the sommelier will explain the innovative techniques that go into creating the full-bodied Amarone and what makes it so distinct in the wide world of Italian wine.
That's because Amarone wine goes through a unique set of techniques to create the rich wine you enjoy — namely, the traditional "appassimento" process.
To make Amarone, the premium-picked grapes are dried for several months: this concentrates their flavors before moving into the fermentation and bottling process, which is what gives Amarone its characteristic rich, intense, almost raisin-like taste.
Of course, it's a tasting, right, and you want to know how much you'll be getting? 
The tasting session is quite extensive — you'll get to sample 9 different wines, carefully selected to represent the best of what the Valpolicella region have to offer (including Amarone, obviously!)
Another cool factor of this Amarone wine tour is visiting the sandstone cellar, admiring the traditional ambiance and seeing the grand barrels of Amarone aging… just imagine where they'll end up one day!
Overview:
Wines Tasted: 9, including premium Amarone and other Valpolicella varietals
Note: Transfer to the winery is not included, but it's only a 15-minute drive or taxi ride away (please book a taxi if your entire party is drinking — drinking and driving laws in Italy are quite strict!)
Allison Green is a former educator turned travel blogger. She holds a Masters in Teaching and a B.A. in English and Creative Writing. Her blog posts merge her educational background and her experience traveling to 70+ countries to encourage responsible, enriching travel. She has been a speaker at the World Travel Writers Conference and her writing, photography, and podcasting work has appeared in National Geographic, CNN Arabic, CBC Canada, and Forbes, amongst others. Now a full-time traveler, she has lived in Prague, Sofia, New York City, and the San Francisco Bay Area.