Rugged emerald spire-like mountains cascading into the turquoise sea, deep multicolored canyons rivaling Southwestern landscapes, waterfalls only visible by helicopter… sound like a dream?
It is. And yet, it's also a real place: the beautiful Hawaiian island of Kauai (written Kauaʻi in the Hawaiian language).
Located nearly 3,000 miles from the American mainland, Kauai is at once remote and remarkably accessible.
Affordable flights from the West Coast land frequently at the teeny little airport at Lihue, and the well-paved roads that encircle the island and delve into its core make it a road tripping dream.
As a West Coast kid, trips to Kauai were one of our staple family vacations. It was so fun to return in February 2022 to do research for this Kauai itinerary and rediscover this magical island as an adult!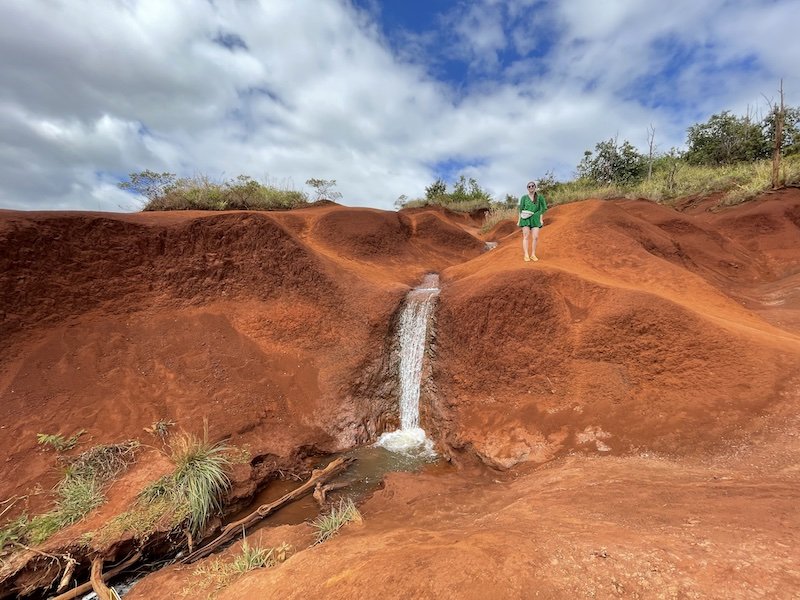 Note: This post contains affiliate links, which means I may receive a small commission if you purchase something through one of these links. Thank you for supporting the free content on this site! For more information on affiliate links and cookies, see my disclosure page for more details.
Kauai is the kind of island where you could spend the entire time never leaving your peaceful resort, and hey, there's nothing wrong with that.
But at the same time, Kauai has so much to offer that it'd be a massive missed opportunity if you didn't get to explore so much of what makes the island special: the Waimea Canyon, the Na Pali Coast, and the North Shore beaches.
This Kauai itinerary packs as much as possible into four days in Kauai. I think that's the bare minimum to appreciate all that Kauai has to offer.
But of course, if you have more days in Kauai, all the better: you can divide some of these days into half-days, with ample beach relaxation time added in.
This post was first written in March 2022 after I did a 10-day trip in February 2022 to Kauai and Oahu. It was last updated January 5, 2023 to ensure accuracy for the upcoming travel season.
How to Pick the Right Hawaiian Island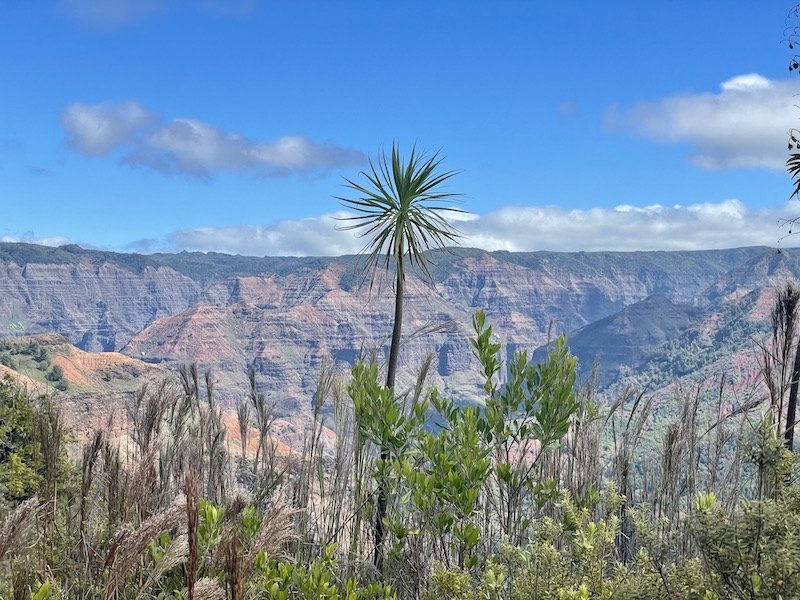 If you aren't yet certain that Kauai is the right Hawaiian island to visit on your first trip to Hawaii, here are a few tips.
Kauai is the perfect island for you if:
you want a mix of landscapes, from lush rainforest to arid desert-like canyons to wild and rugged coastlines straight out of Jurassic Park (… literally — it was filmed here!). Natural beauty is the name of the game in Kauai.
you like quiet small towns and don't mind a slow pace of life where many things shut down early in the afternoon.
you favor adventure, hiking trails, road trips, and beautiful scenery over lazy beach days!
If you're looking for an island purely for beautiful beaches and endless relaxation, I would suggest Maui or Oahu, both of which offer up more sandy beaches than Kauai.
For surfing, you can't miss the North Shore beaches of Oahu!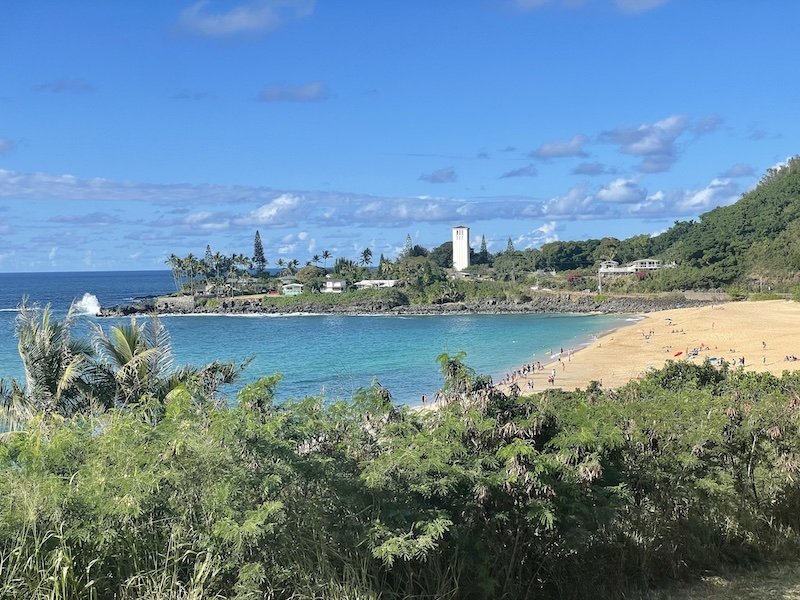 Kauai is a little more rugged in nature with fewer sandy beaches (though there definitely are enough to satisfy, especially with just four days in Kauai!)
The Big Island of Hawaii also has a nice mix of beaches and some of the other features of Kauai in terms of diverse and rugged landscapes (Hawaii Volcanoes National Park is here!).
The Big Island also has as vibrant towns like Kona and Hilo that are a little more vibrant than the towns in Kauai, which tend to shut down early.
And of course, Oahu has Honolulu, the largest population center in the Pacific Ocean, which is as close to a "city that never sleeps" as you'll find in Hawaii.
Finally, remember: you don't have to pick one island! Kauai pairs well with others for a Hawaiian island hopping adventure!
Kauai is rather small and easy to combine with another island if you have a week or so to travel and prefer to have new activities each day rather than spending a lot of time relaxing on beaches and at resort areas.
I did Kauai and Oahu on this last trip, but Kauai and Maui and Kaui and the Big Island would also be fantastic pairings!
How This Kauai Itinerary is Structured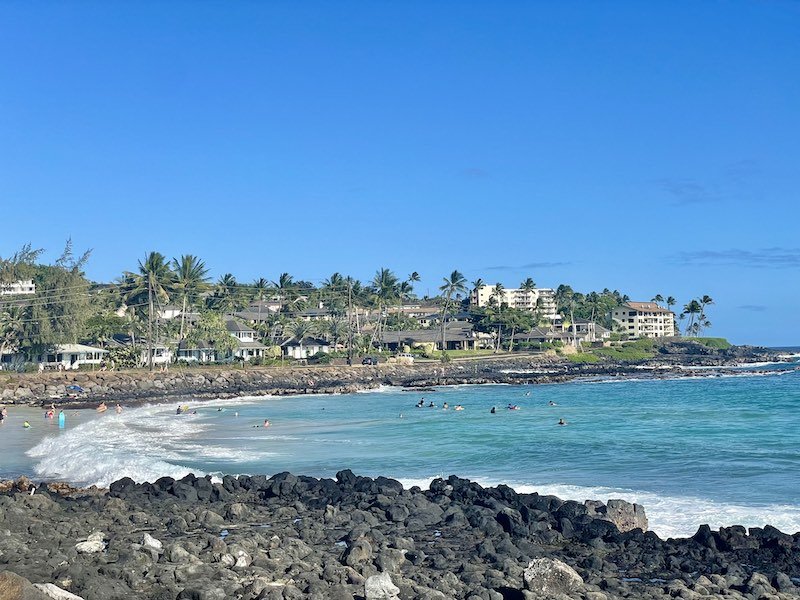 This Kauai itinerary assumes that you'll be renting a car for the 4 day trip in order to maximize your time in Kauai.
When we did our trip, we had no car for two days, and relied on Ubers and tours during those days, and then rented a convertible for the other two full days.
Frankly, we made a mistake: getting around Kauai using Uber/Lyft can be a pain, with long wait times and high prices, and we didn't maximize our time the best way we could.
Honestly, we wished we had rented a car just a little longer during our stay to maximize our time a little better.
We also utilized a few tours during our time in Kauai where it made sense and added value to our time, but overall, we mostly opted for road tripping Kauai as much as possible.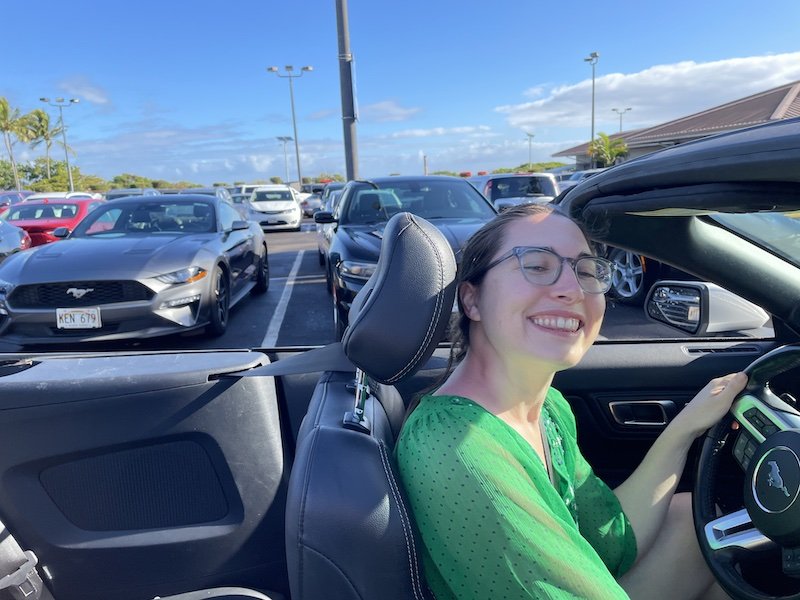 Frankly, four days in Kauai is just barely enough to see all the sights you want to see without missing anything huge, so this itinerary for Kauai is a little busy.
You can feel free to cut anything that doesn't sound interesting to you if you want more time to relax on the beach or just enjoy!
I erred towards offering more information and suggestions rather than less, since it is easier to cut things out of an itinerary rather than add things in at the last minute!
Finally, this 4 day Kauai itinerary was created to maximize what you see with minimal backtracking or time-wasting, with as much independent travel as possible.
I made a point of only adding in guided tours when it is something you cannot do on your own — like kayak the Wailua River, go to a luau, or fly over the Na Pali Coast in a helicopter.
This way, you can make the most of your time and explore Kauai at your own pace, not someone else's!
Your 4 Day Kauai Itinerary
Day One of Your Kauai Itinerary: South Shore Adventures
The first day of your Kauai itinerary is all about ticking off a few of your bucket list musts for any Hawaii trip: snorkeling with sea turtles, taking a helicopter ride over the Na Pali Coast, and ending the night with a lovely luau experience!
Note: The luau experience only takes place on Tuesday, Thursday, and Friday, so feel free to rearrange this Kauai itinerary in a way that fits if your first day is not one of the days mentioned.
Go snorkeling on Poipu Beach.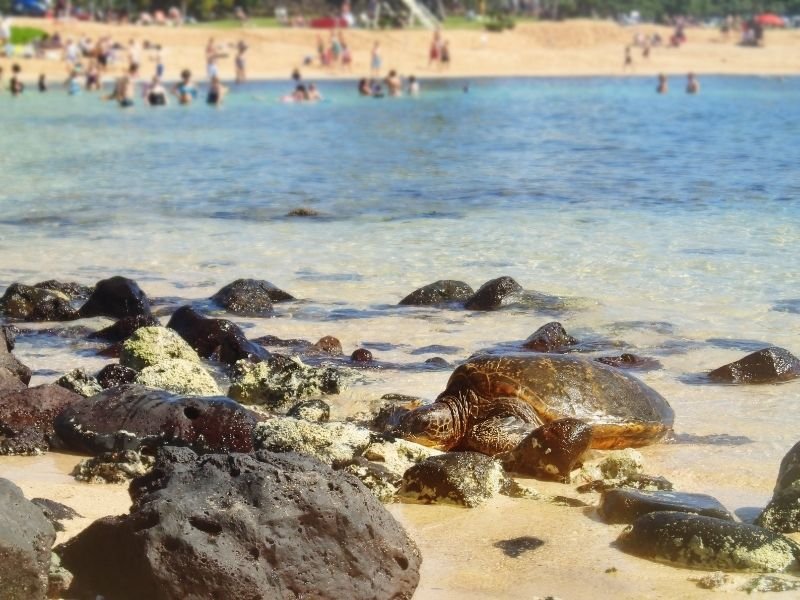 The beautiful and calm waters of Poipu Beach (written Poʻipū in Hawaiian) in Koloa make it a perfect place for snorkelers to enjoy the calm waters on the south side of the island!
I recommend bringing your own snorkel set for ease of use throughout this Kauai itinerary, but in case you just want to rent, you can grab a snorkel set of mask, snorkel and fins from Nukumoi Surf Shop.
You can snorkel right off the beach in the sheltered cove created by the little spit (tombolo) called Nukumoi Point that breaks Poipu Beach into two sections.
This area is really popular with green sea turtles (honu) and in fact, they'll often rest right on the beach! Be sure to give them a respectful distance if you see them on the sand.
You might also be lucky enough to see the endangered Hawaiian monk seal here! There are only 1,200 left out in the wild, so this is a really rare occurrence if you do, but they have been known to frequent Poipu Beach.
If you prefer a guided snorkel experience, you could alternately start your day with this guided snorkel tour led by a divemaster. It departs from Koloa and brings you snorkeling to a secret South Shore destination!
This is great for nervous first-time snorkelers because you'll have a divemaster with you on every step of the way, there's no boat because it's a shore snorkel excursion, and the group size is limited to six people so you're guaranteed personalized attention.
Walk to Shipwreck Beach.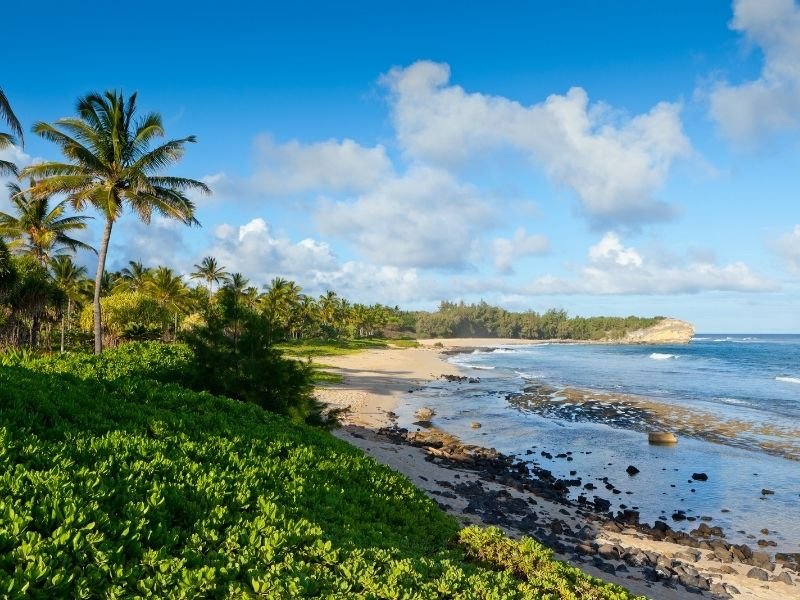 A short walk away from Poipu Beach is the beautiful Shipwreck Beach, a popular spot for surfing and the entry point to the Maha'ulepu Heritage Trail.
This is also a favored sunset spot in Kauai if you want to save it in mind for later in your trip!
Along the way, you'll pass Brennecke's Beach, a popular place for boogie boarders to enjoy some wild waves!
(You may also want to drive your car from Poipu Beach to Shipwreck Beach to avoid more walking and backtracking later — it's up to you)
Once you reach Shipwreck Beach, stop for a bit to watch the surfers before you take a short hike up to Waiopili Heiau.
Take a stroll on the Maha'ulepu Heritage Trail up to Waiopili Heiau.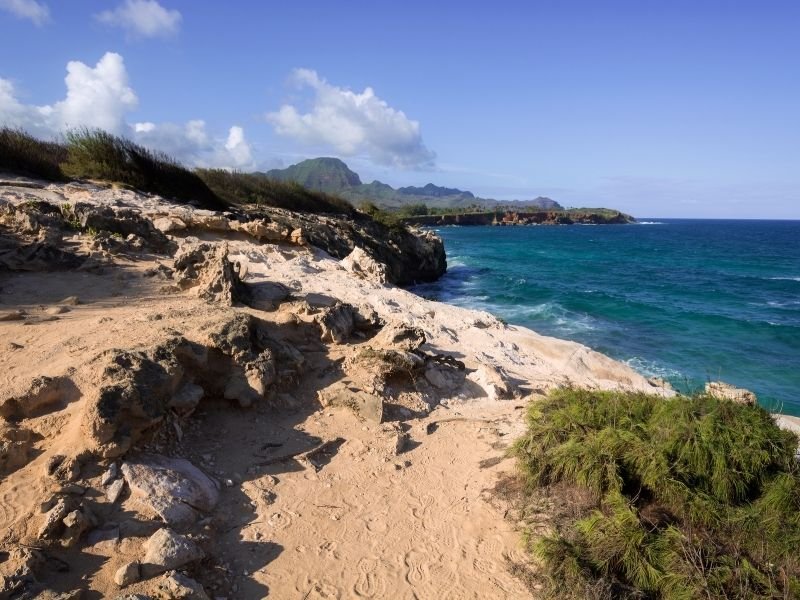 This beautiful hike goes alongside a golf course on one side and the Pacific Ocean on the other!
The trail will lead you to Waiopili Heiau, which is thought to be a religious structure (heiau) created by the Native Hawaiians who have lived on this land for centuries before Hawaii was ever occupied.
Please do not touch or walk upon the marked area (there is a very obvious sign about it) as it is insensitive to the Native Hawaiian culture and religion and attempts to preserve its history.
Have a delicious poke lunch from the Fish Express.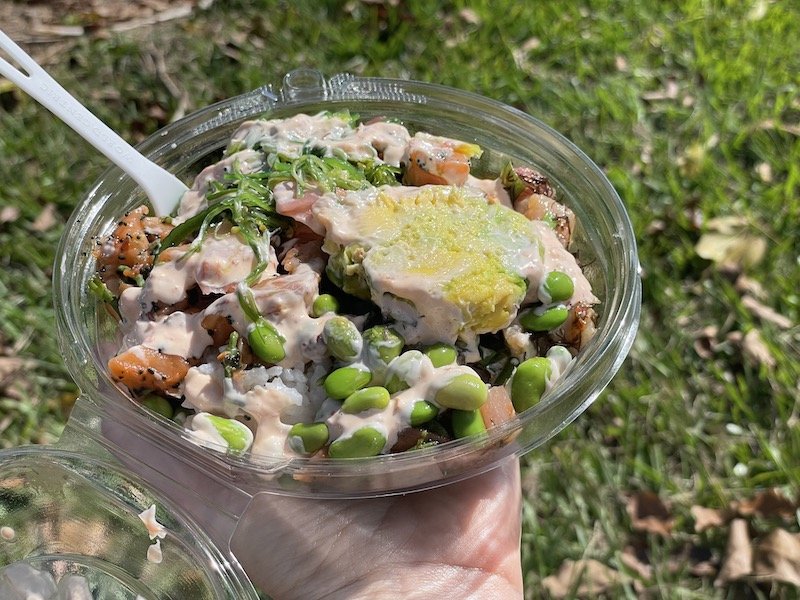 Once you make your way back to your car, it's time to make your way back to Lihue and grab a quick take-out lunch before your helicopter tour.
The best poke I had on the island of Kauai was from this charming little hole-in-the-wall poke restaurant and fish market called The Fish Express, located right on Kuhio Highway in Lihue.
Grab a poke bowl — I had mine with spicy salmon with sea asparagus, ahi spicy poke with crab, and hamachi, and topped it with edamame, spicy mayo, seaweed salad, and pickled ginger. Yum!
There's no seating here, so take yours to you and find a nice place to eat before your upcoming helicopter tour!
Take a helicopter tour over the Na Pali Coast (Nāpali Coast).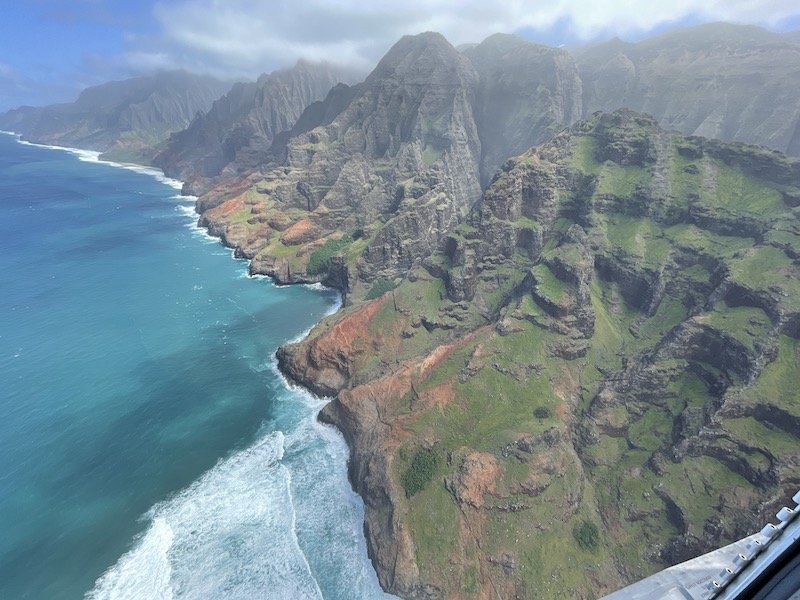 This is simply the biggest bucket list activity on this whole Kauai itinerary — you really just can't miss a helicopter tour over Kauai!
You can opt for a doors-off helicopter as we did on our tour (we booked an Air Kauai tour via Viator — you can find the exact link to our tour here!) if you want to amp up the adrenaline factor and enjoy even better views!
If you want to read a full post on what to expect before your doors off helicopter tour — including 3 key mistakes to avoid! — read my guide here!
If you're a little afraid of heights, prone to motion sickness, or simply don't want the more adrenaline-rush type of experience, I recommend doing a doors-on helicopter tour.
I did the doors-off helicopter and it was an utterly magical experience… with a few caveats, which I'll get into below.
Nothing will ever beat the feeling of flying over waterfalls that no one else can see because they are so deeply nestled in the heartland of the island, or cruising over the Waimea Canyon.
One of the waterfalls you'll see is Manawaiopuna Falls (also known as Jurassic Park Falls), a massive 400-foot-tall waterfall you can only see from a helicopter tour.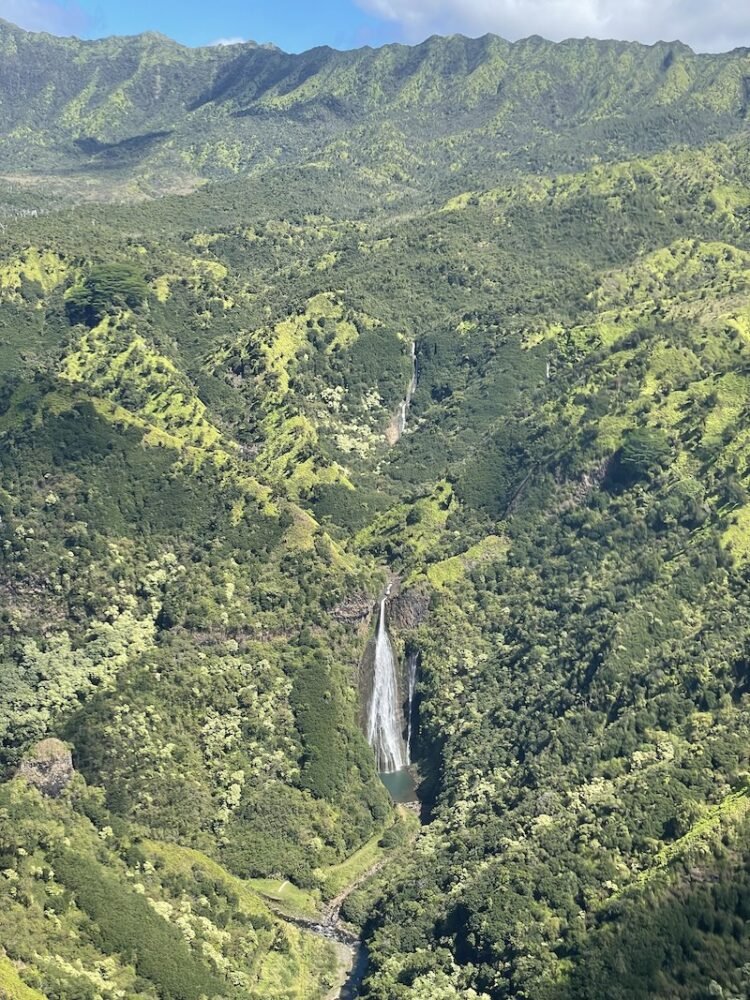 But these sights, as gorgeous as they all are, all pale in comparison to what you see once you reach the water.
Nothing compares to seeing the deep turquoise waters off the coast of Kauai's North Shore and the wild ocean views beside it.
There's nothing more spectacular admiring the stunning rugged coastline of the otherwise inaccessible Na Pali Coast as you zoom in and out of its curves.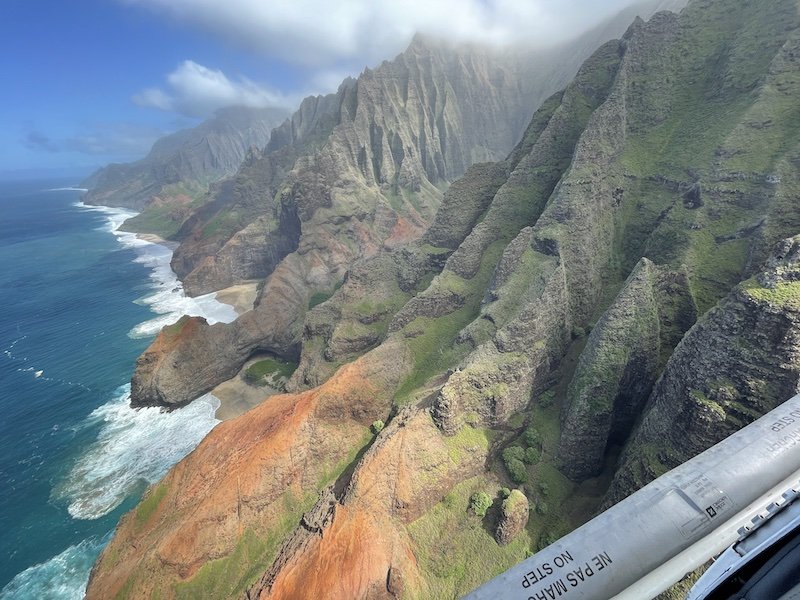 Finally, you'll turn inland to see Mount Waialeale, the second-tallest mountain on Kauai at 5,000 feet and one of the wettest places on earth!
Seeing the Weeping Wall up close is simply breathtaking, and it was one of my other favorite parts of the helicopter tour since this is another thing you simply can't see from any other vantage point.
A few things to note about the helicopter tour: you'll want to wear pants (it gets cold up there!) and closed-toe shoes, and I definitely recommend wearing contacts if you're normally a glasses wearer. Also, definitely take Dramamine if you are prone to motion sickness!
If any of the above puts you off, don't skip doing the helicopter tour!! Just opt for a doors on helicopter tour like this highly-rated one from Safari Tours — I recommend booking through the link above for free cancellation within 24 hours!
If even that feels like too much, a scenic flight in a small plane will also be a phenomenal experience (it's also a cheaper option by a good $150 or so, making it a good budget option).
No matter which way you see Kauai from the sky, it's a bucket list must, as it's really the only way to properly see the Na Pali Coast for which the island is so famous (unless a 22-mile hike with 6,000 feet of elevation gain sounds like your kind of adventure, in which case, props to you!).
Enjoy a dinner and a show at a traditional luau.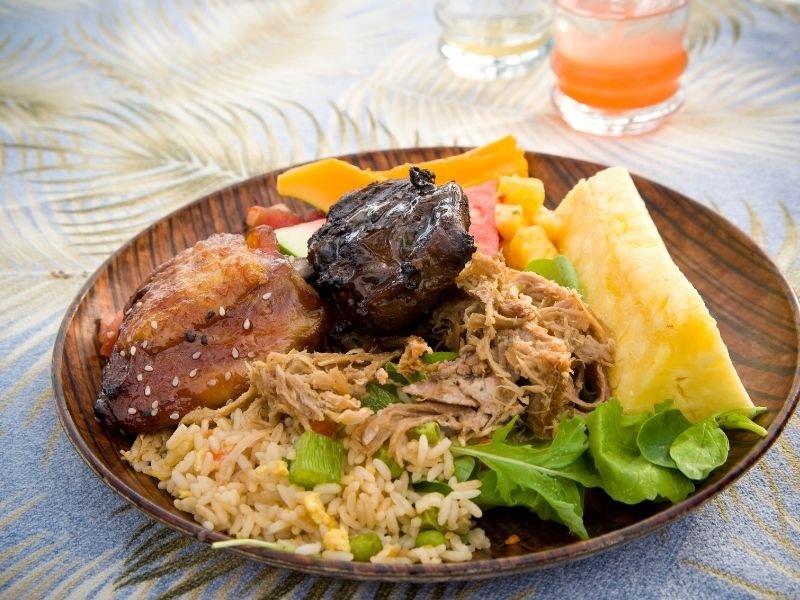 One of the most popular Kauai activities is getting to enjoy a traditional Hawaiian luau, which is a celebration including all types of unique performances and of course, delicious food.
Taking place every Tuesdays, Thursdays, and Fridays, Luau Kalamakū is a wonderful cultural event that will bring you closer to understanding the culture and history of Native Hawaiians.
The main part of the luau centers around a 45-minute show that tells the Hawaiian story of Kalamakū, which means "child of the new land".
This show tells the story of the seafarers who journeyed from Tahiti and other Polynesian islands to the Hawaiian islands. It ends with fire poi and fire knife dancing, two incredible performing arts unique to Hawaii!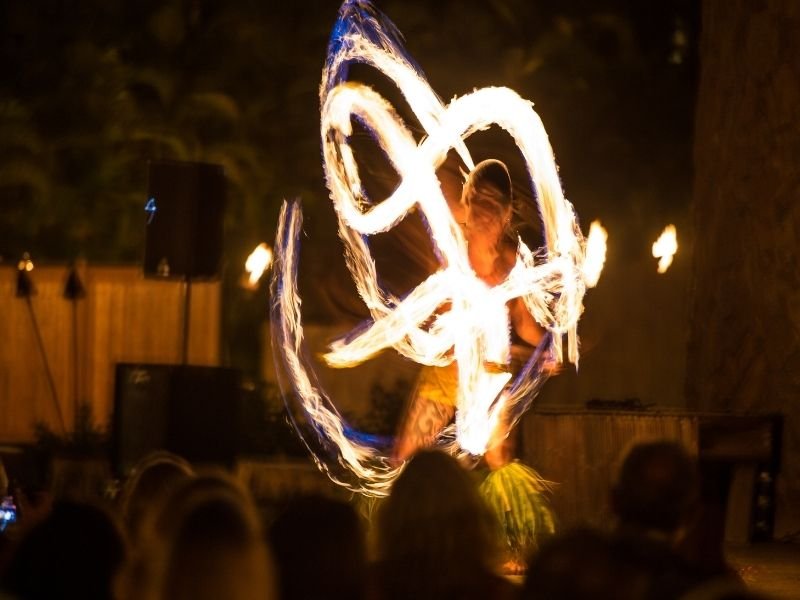 Prior to the main meal event, there is also an imu ceremony, in which the Kalua pork (which is cooked in an underground oven) is presented.
During the meal, which includes poi, lomi lomi salmon, kalua pork, and fresh fish, you'll also get to watch hula dancers and enjoy live music.
Book your luau experience here (available Tuesday, Thursday and Friday!)
Day Two of Your Kauai Itinerary: Kayaking, Waterfalls & Rainbow Trees
Go kayaking down the Wailua River and spot a secluded waterfall.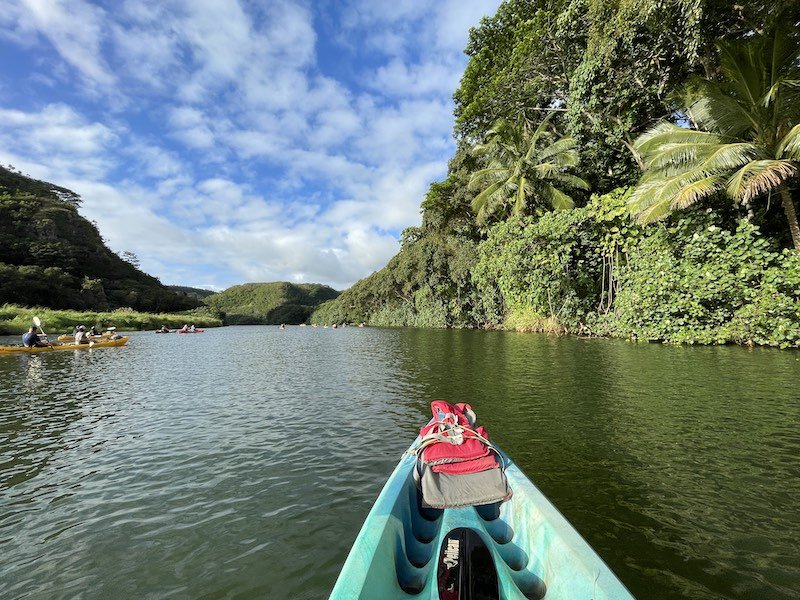 I hope you're prepared for an early morning wake up — it'll be worth it! Today's the day for kayaking down the Wailua River, one of the most beautiful parts of the interior of Kauai.
What makes Kauai unique compared to other Hawaiian islands is just how diverse the landscape is.
From the "Grand Canyon of the Pacific" to the Jurassic Park filming location of the Na Pali Coast, Kauai has a bit of everything and has earned its nickname of The Garden Island (or the Garden Isle).
You'll see its lush side more clearly as you kayak through the stunning Wailua River, taking a stop along the way to go for a hike to a little-known waterfall you can only get to by hiking and taking this tour!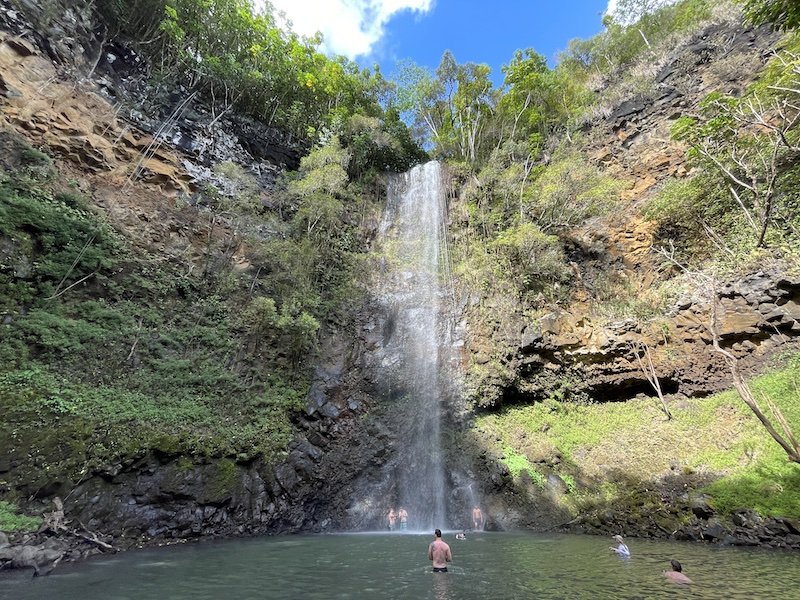 These secret falls are really beautiful especially when you get to enjoy them with precious few other company!
The best way to do this is by organized tour that includes kayak rental, kayaking guides, and a guide to the hiking trail to the waterfall.
Book this Waimea River Kayaking and Secret Falls half-day trip here!
Admire the marvelous views of Wailua Falls.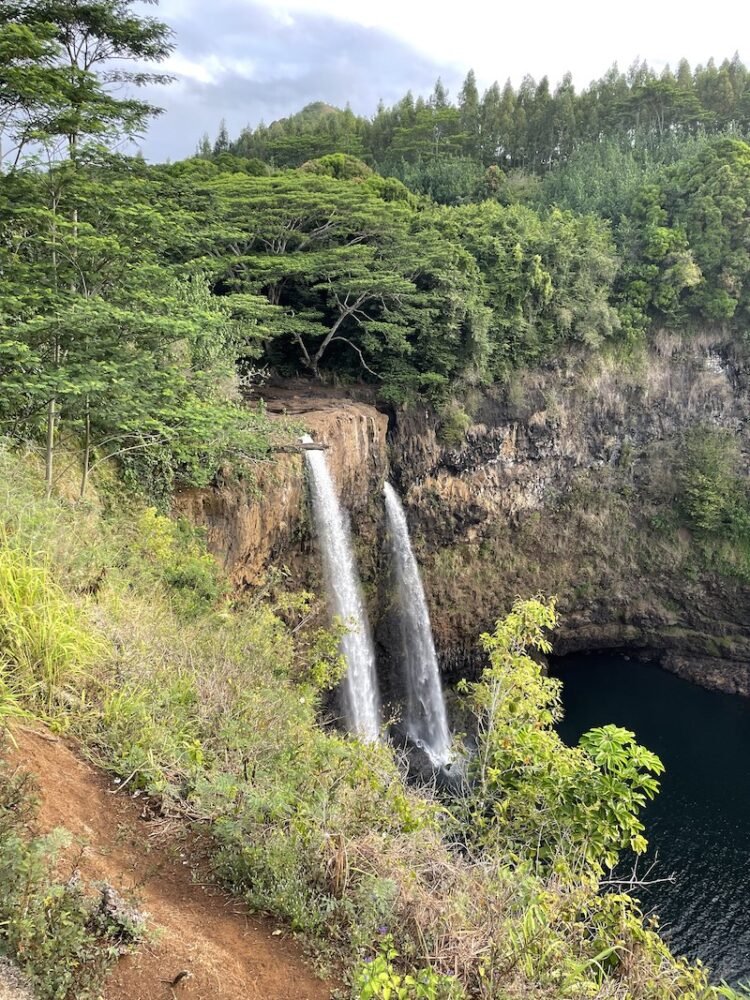 Seeing beautiful waterfalls is the theme of the day, and next up is the beautiful Wailua Falls, a stunning double waterfall which is a few miles down a scenic road, just off the town of Wailua.
It's a worthwhile detour to reach this beautiful vantage point where you can enjoy one of the most impressive waterfalls in Kauai, without any need for a hike!
Check out the stunning view at 'Opaeka'a Falls.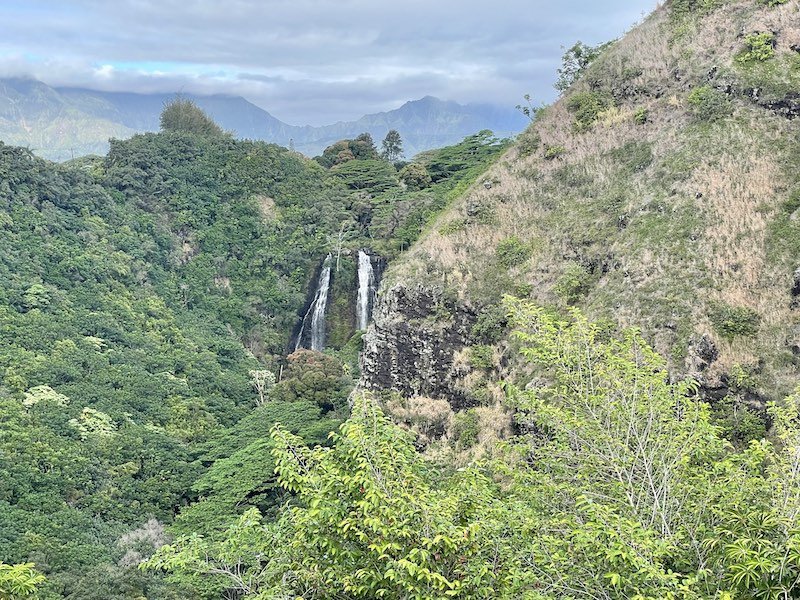 Make your way back to the main highway circling Kauai and make your way to 'Opaeka'a Falls, the third and last waterfall of the day!
The views of this waterfall will depend greatly on how much rainfall there has been recently, so it can range from wildly impressive to more of a trickle.
When we visited, it had been a rather dry winter, but the waterfall still had two beautiful distinct forks that cascaded 150 feet off the cliff edge.
Admire the rainbow eucalyptus trees at Keahua Arboretum.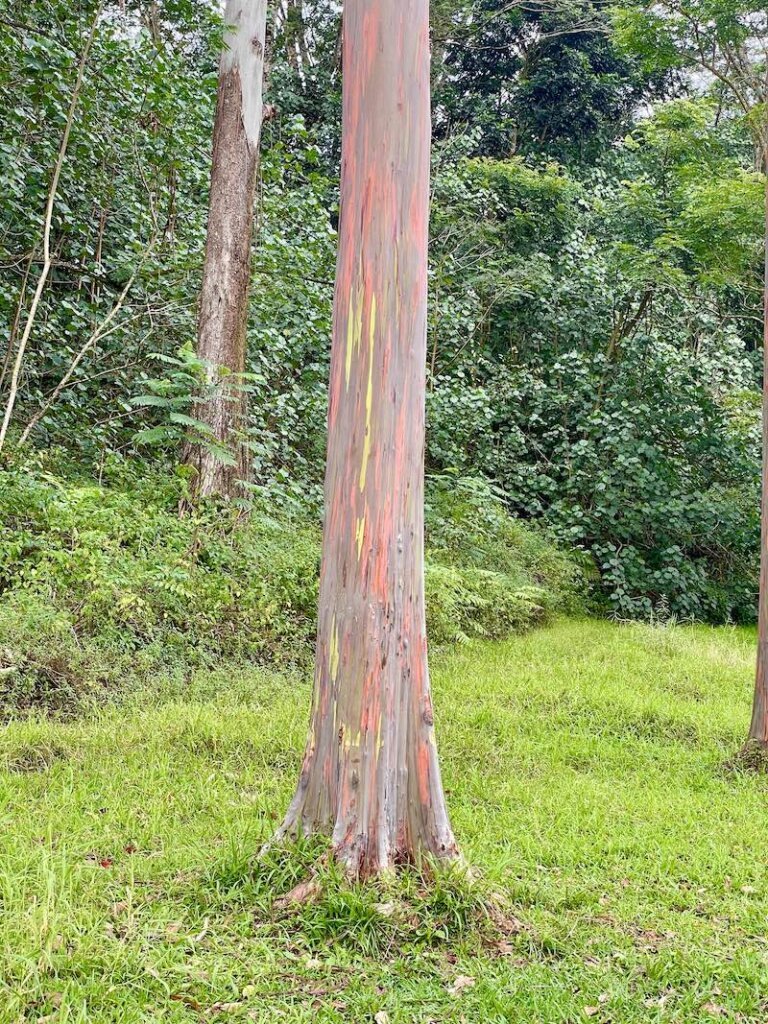 One of the most unique things you'll find on Kauai are the rainbow eucalyptus trees.
There is one tree on the road to the Keahua Arboretum, which is marked on Google Maps, but I suggest going further all the way to the Arboretum where you'll be able to admire several of them on a small walk through the forest.
Unfortunately, several people have defaced these beautiful trees, and it does detract from their beauty some. Please do not carve anything into the face of these beautiful and unique trees!
Take a walk (or bike) along the Ke Ala Hele Makalae Path.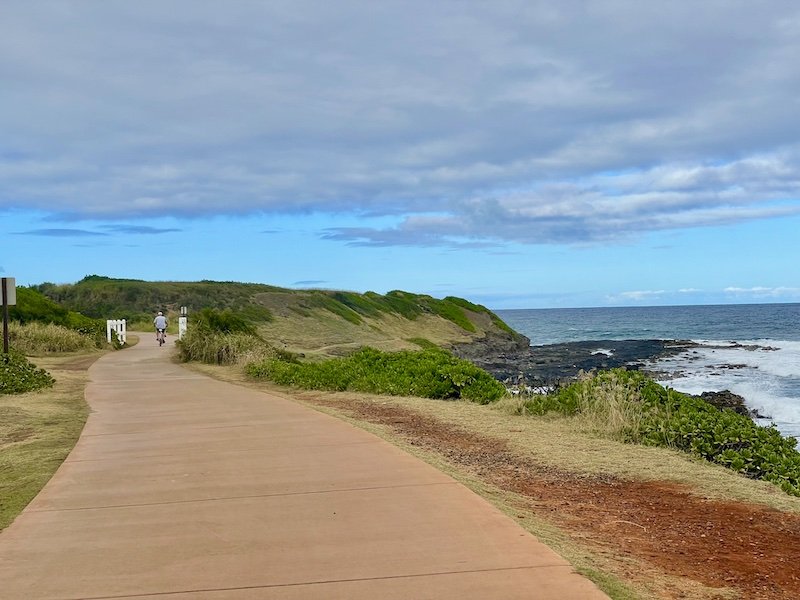 Starting at Kapa'a Beach Park, you can take a beautiful stroll up the Ke Ala Hele Makalae Path, which hugs the edge of the Kauai shoreline and offers some stunning views.
If you're just looking for a short walk, a good turnaround point is Kaiakea Point, where you can look for whales off in the distance in the winter months when the humpback whales are migrating through Hawaiian waters.
You can also continue up to Keālia Beach, which is a beautiful half-mile white sand beach that's a fun place to watch surfers work their magic!
Enjoy dinner at the food trucks in Kapa'a.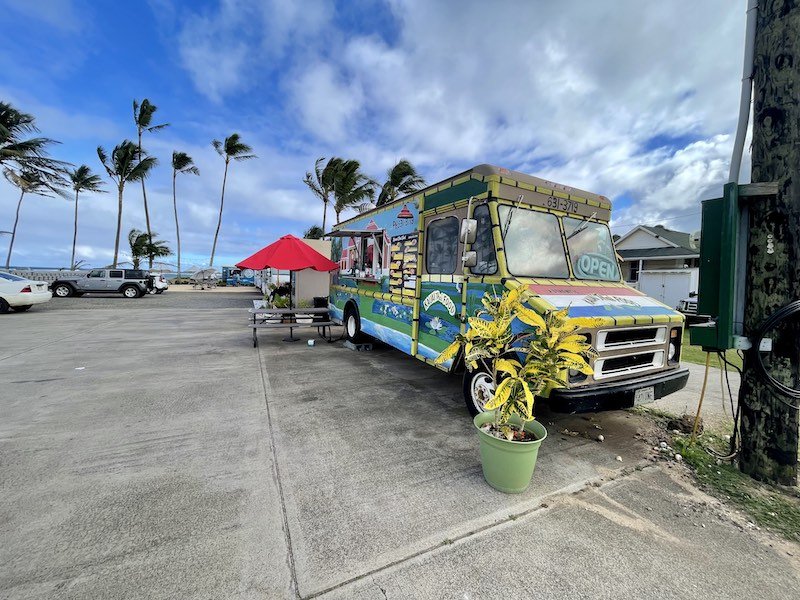 Kapa'a has a ton of great food trucks that offer a great place to eat on a budget — and all sorts of types of cuisines for all types of eaters!
Located along Kuhio Highway, there are a ton of different food trucks between Sam's Ocean View Restaurant and Jimmy's Grill — which are also two other popular eateries if you're more in the mood for a sit-down meal.
Day Three of Your Kauai Itinerary: The Waimea Canyon & Beyond
Note: This day definitely requires a rental car for the road trip, but if you don't want to drive, you can also do a guided tour of the Waimea Canyon and Koke'e Valley.
Do a road trip up Route 550 to the Kalalau Lookout.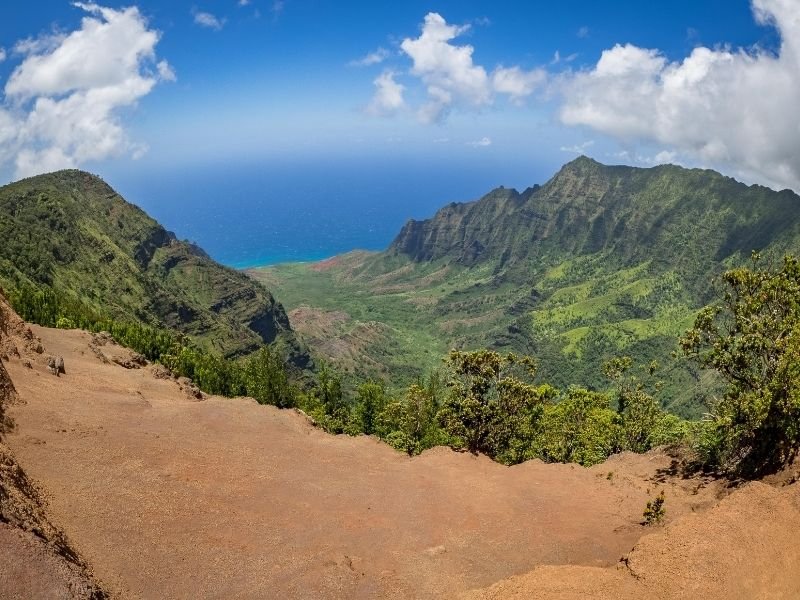 Depending on where you start from, the drive to Kalalau Lookout might take quite a while — but trust me, it's worth it (as long as the weather cooperates… but more on that in a second!).
From where we started our road trip in Lihue, it took about 1 hour 20 minutes to reach the lookout point at Kalalau, near mile marker 18 along Route 550.
Note that you have to pay for parking at the Kalalau Lookout because it is part of Koke'e State Park, but that will cover you in other parts of this Kauai itinerary as well, such as the next stop.
On a clear day, the viewing platform from the Kalalau Lookoutoffers exquisite views over the Na Pali Coast, including Kalalau Beach.
As you admire the view and how unbelievably rugged the landscape is, imagine the hikers trekking their way down below, along the Kalalau Trail!
This strenuous 22-mile trail is an out-and-back hike through Na Pali State Park that goes from Ke'e Beach to Kalalau Beach — which you can see down below.
The beach you see below is actually the turnaround point for that tough-as-nails hike!
Note that this lookout point can often be quite cloudy, so I've recommended starting your day here so you have the best chance of seeing it unobscured!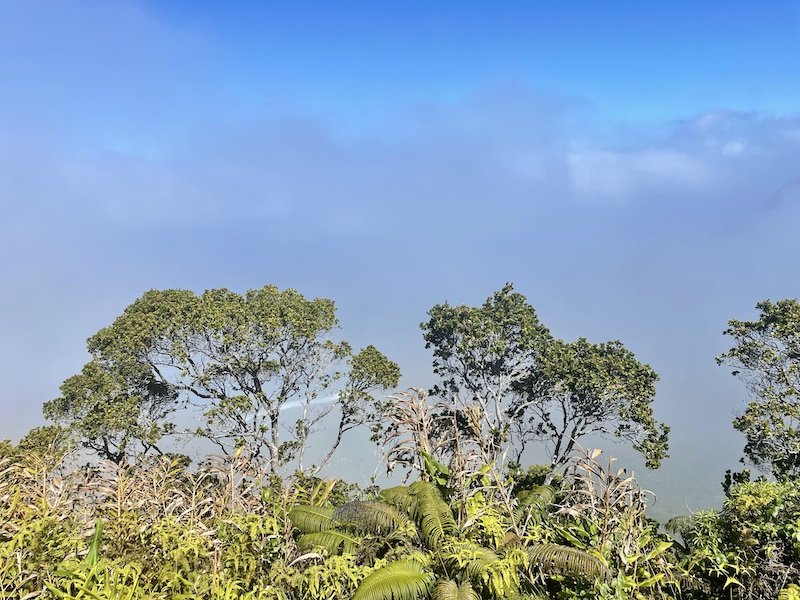 Unfortunately, we tried two times during our time in Kauai and were not able to get a clear view of it either time (so the photo above is a stock photo so you can get an idea of what you can see!).
If the weather is clear and beautiful make your way up the road to the final lookout point, the Pu'u o Kila Lookout, where you can see a similar view from a slightly different vantage point.
Explore more of Koke'e State Park (Kōkeʻe State Park)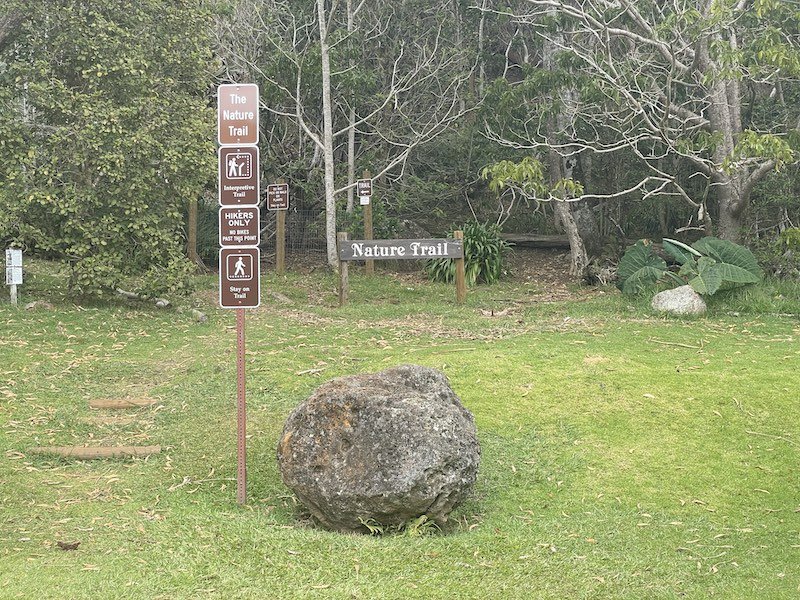 Once you've seen the beauty of the lookout points over the Na Pali Coast, it's time to go for a little hike!
There are several trails in Koke'e State Park, so you can be sure to find one appropriate for your own level.
Very Easy: The Nature Trail at the Koke'e Visitor Center is a 0.2 mile hike with virtually no elevation gain that will show you a bit of the nature of the higher-altitude parts of Kauai with some informational placards. It's an easy stop if you're visiting Koke'e Museum or Koke'e Lodge.
Easy: The Kawaikoi Stream Trail is a relatively easy hike, a little over 2 miles long with just about 400 feet of elevation gain. It has you hiking along a beautiful stream in a rainforest environment and is a pretty peaceful and spectacular place in Koke'e State Park if you're not looking for anything too challenging!
Moderate: The Canyon Trail to Waipoo Falls hike is a popular choice for those looking for a short but tough hike in Koke'e State Park. It's 3 miles out-and-back but has a challenging 1,066 feet of elevation gain, so expect to be climbing (or descending) nearly the whole trail!
Moderate/Difficult: The Awa'awapuhi Trail is a 6-mile out-and-back trail that is rated as moderate due to its 1,945 ft of elevation gain. It takes most people 3.5-4 hours to complete, so unless you got a very early start or are a very fast hiker, it may be a bit much to try to tackle on this fast-paced Kauai itinerary.
Marvel at Waimea Canyon, the "Grand Canyon of the Pacific."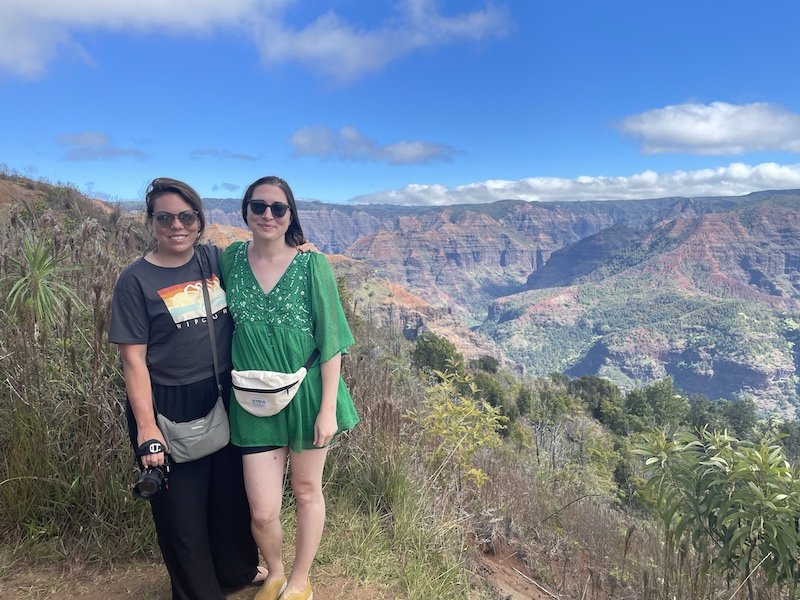 On your way down descending Route 550, be sure not to miss a chance to explore the beautiful Waimea Canyon State Park!
Make sure you stop at the Waimea Canyon Lookout as well as the Waipo'o Falls Lookout, where you can spot a stunning waterfall across the canyon!
Another way to get a great view of Waimea Canyon is via the short Iliau Nature Loop.
This short interpretive trail loop shows you some of the native flora of Kauai while also giving you sweeping and unobstructed views of the Waimea Canyon!
More of a walk than a true hike, at just 0.4 miles long with about 50 feet of elevation change, this is a hike perfect for families or people just looking for a short walk to stretch their legs!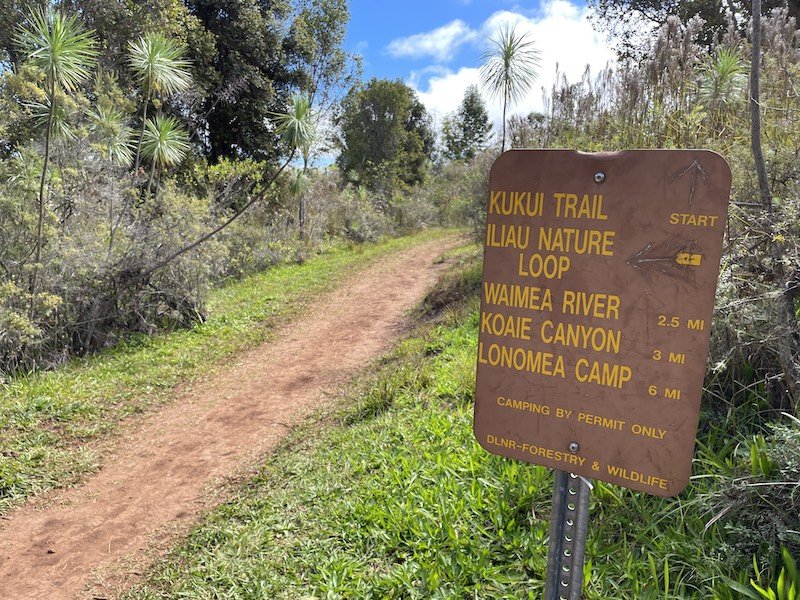 The Iliau Nature Loop connects to the much-harder Kukui Trail, which brings you down into the canyon and back up again in a 5-mile hike with a whopping 2,162 feet of elevation gain!
You won't have time for that on our itinerary unless you're a world-class hiker, though, so it's time to just continue making our way down to the town of Waimea, where you can get a delicious lunch — you're probably starving!
There's just one final stop on the way, just off the roadside… and I promise it's worth it!
Stop at the Red Dirt Waterfall.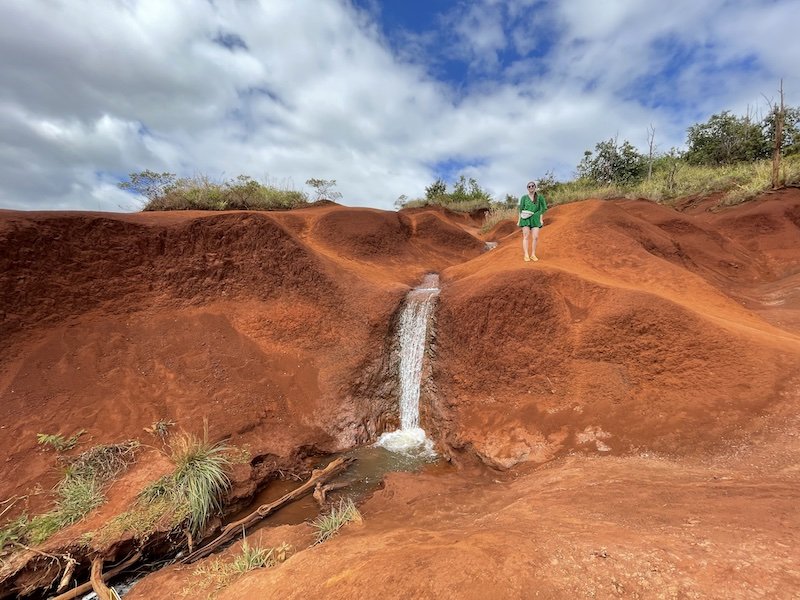 This small little roadside waterfall in Kauai is easy to miss, but I highly recommend you don't skip it — it's quite unique!
This stunning little waterfall tumbles across a Martian-esque landscape, with dirt that looks like it comes from another planet.
The waterfall itself is rather small, but its surroundings are what make it so impressive.
Grab lunch in the charming town of Waimea.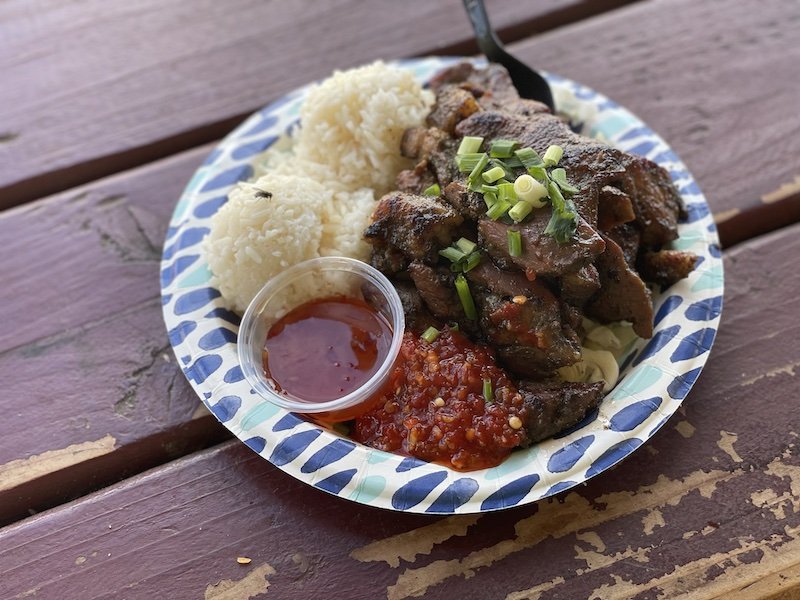 Waimea is a great little spot on the West Side of Kauai. The climate here is quite different to other places in Kauai.
The West Side of Kauai is far more arid and desert-like, which is perhaps not surprising given its proximity to Waimea Canyon, which looks like it belongs in the Southwest and not in an island in the middle of the Pacific Ocean!
If you're hungry, I highly recommend stopping for lunch at an adorable little restaurant called Coconut Corner. They sell smoothies and fresh coconuts, but their marinated grilled pork plate is simply divine! It was one of my favorite meals I ate in all of Kauai.
A few other popular places to eat in Waimea include Ginas Anykine Grinds Cafe(this is a brunch spot, so it's only open until 1 or 2 PM) and Porky's, a sandwich and hot dog shop that serves up "aloha in a bun".
Feeling like you want desert? Don't miss JoJo's Shave Ice, one of the favored places on the island for Hawaii's favorite treat!
Wander around the charming historic town of Hanapepe (Hanapēpē).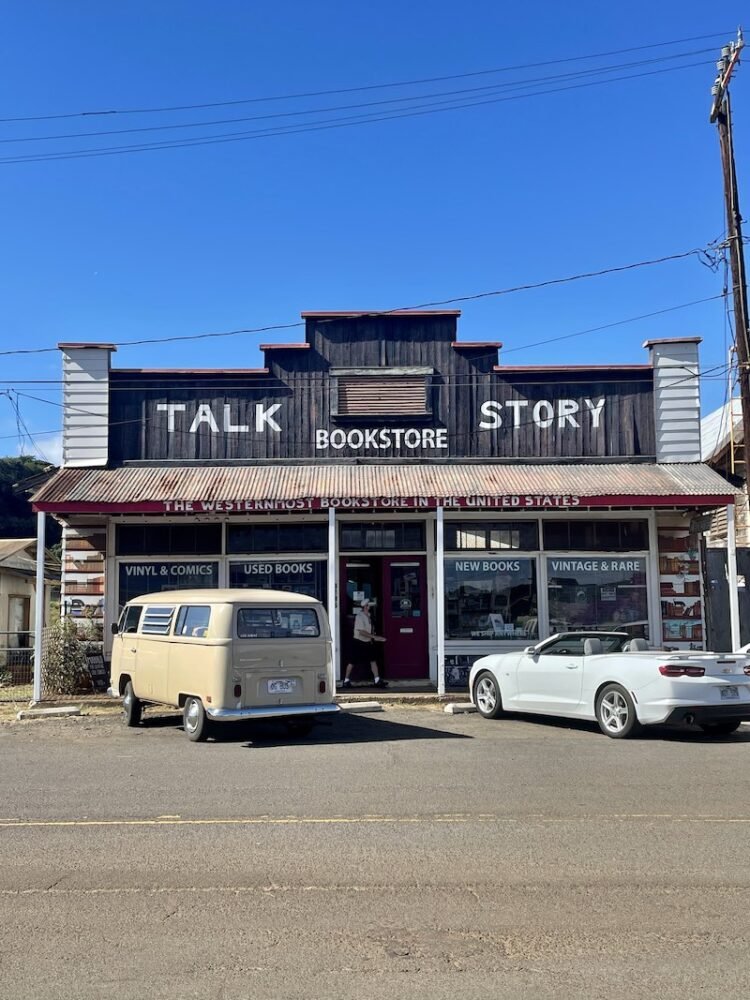 The adorable town of Hanapepe wasn't on my radar until I arrived in Kauai, but it ended up being one of my favorite stops on my Kauai itinerary!
It has a historic downtown area that has been used as a filming location in several movies (as well as being a model for the town in Lilo and Stitch!).
Once home to a large military population, Hanapepe is now one of the artistic centers of Kauai, and the streets of the town are chock-full of galleries and quaint little shops.
One of the coolest places in Hanapepe is the Talk Story Bookstore — the westernmost bookstore in the United States! It has an Old West vibe and inside it is full of books about Hawaii, including a large selection of books from Hawaiian writers.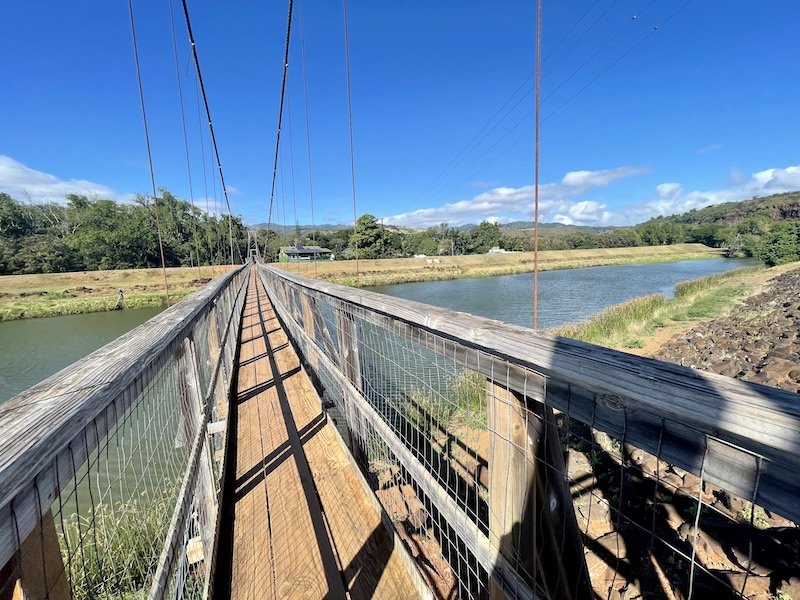 Before you leave Hanapepe, don't miss taking a stroll across the Hanapepe Swinging Bridge!
It's a bit hair-raising, as the bridge really does swing as you walk across it, but it's a fun adventure!
Take in the sunset at Salt Pond Beach Park.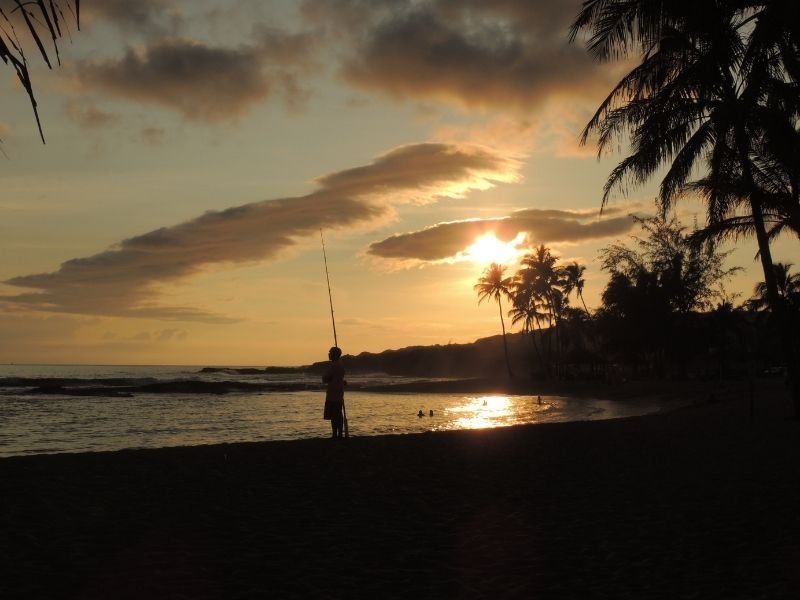 For a beautiful sunset, don't miss Salt Pond Beach Park, located a short distance away from Hanapepe on the west side of Kauai — perfect for sunsets!
If you arrive early, there are some nearby reefs where you can go for a snorkel or just enjoy some well-deserved beach time — this was quite the busy day!
Note that the salt ponds after which the beach park is named are strictly for use of the Native Hawaiians on the island, so please do not touch them!
Have a delicious saimin dinner in Lihue.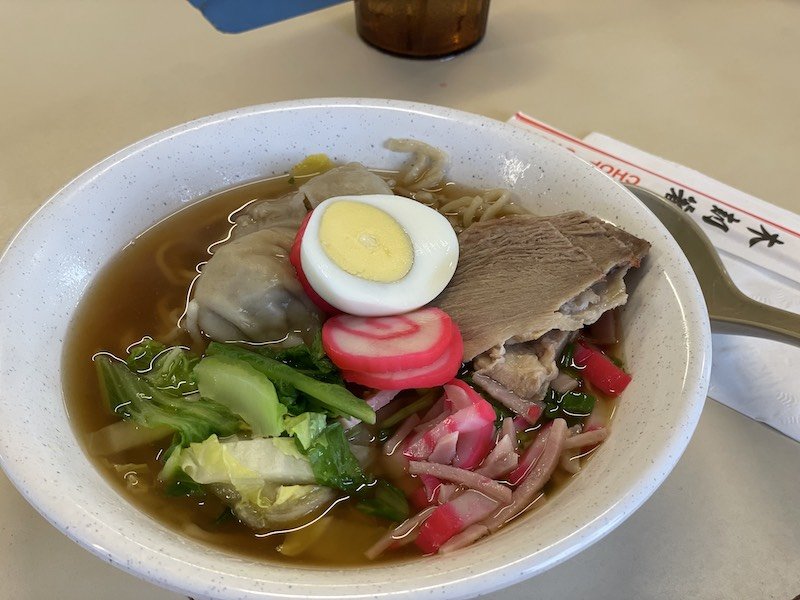 One of my favorite ways to explore the culture while traveling is to eat like the locals do — and in the case of Hawaii, that's tasting saimin, a Hawaiian version of ramen!
You can find saimin at a few different spots around Kauai but the classic is in Lihue at Hamura Saimin. It's a no-frills counter-service joint where you'll find tourists mingling with locals as they slurp up delicious noodles!
As a bonus, it's open until 9:30 PM nightly — which is tough to find on an early-to-rise, early-to-bed island like Kauai, where many businesses close before 3 PM!
I recommend their special saimin which includes ham, wontons, fish cake, scallions, and egg — it's delicious.
If you somehow have room after your giant bowl of saimin, they are also well known for their lilikoi chiffon pie!
Day Four of Your Kauai Itinerary: North Shore Beaches & East Side Exploration
This final day of your Kauai itinerary is all about exploring the lesser-visited North Shore of Kauai, which is home to exquisite beaches.
This part of the island is more remote and you'll find yourself feeling like you've stumbled across your own secret part of the island with few other travelers on the road once you pass Hanalei.
Drive towards Hanalei, stopping at the Hanalei Bay Lookout.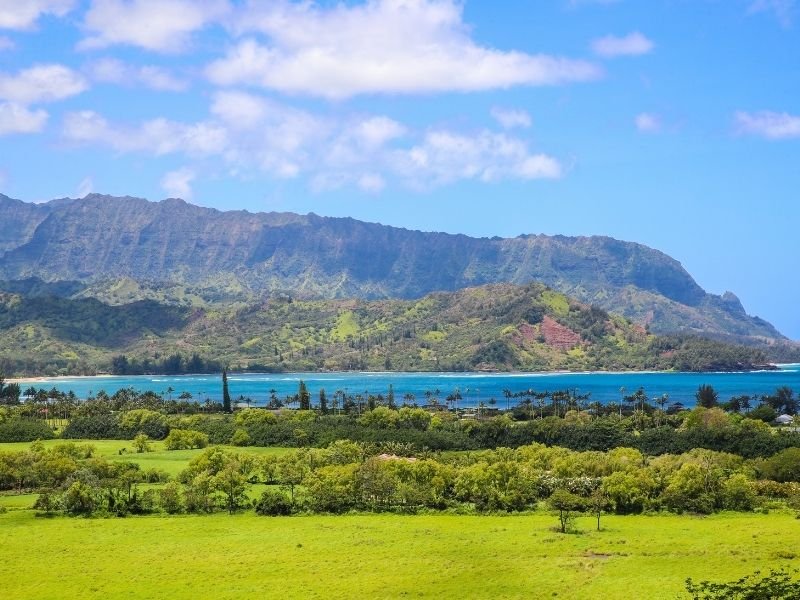 On the way to Hanalei, you'll want to have the Hanalei Bay Lookout plugged into your GPS. The lookout point comes and goes quite quickly, and you won't want to miss it!
It's only possible to visit on the way north to Hanalei (on your way back, you won't have the opportunity to stop) so do try to make it a priority to stop at this lookout. It's stunning!
Grab coffee in the charming Hanalei town.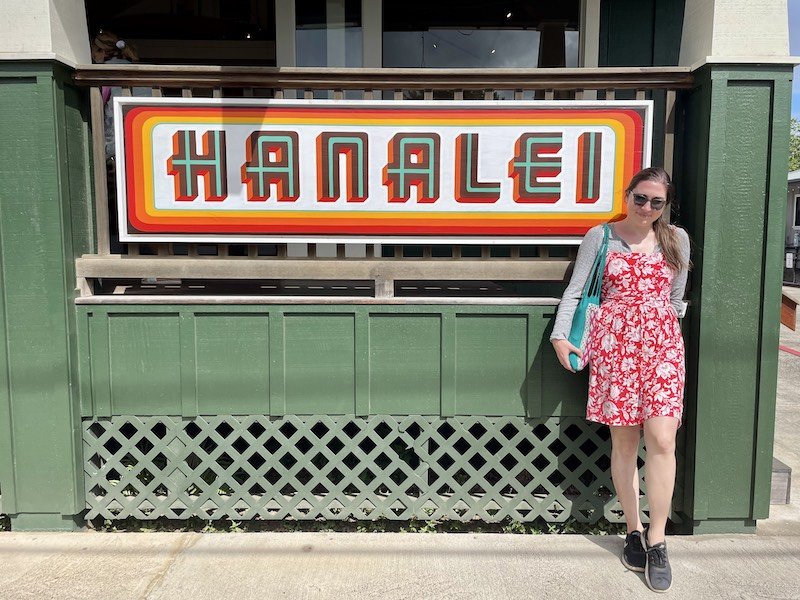 Once you reach Hanalei, it's time refuel on some delicious coffee! Lucky for you, there are two great options in town.
The traditional choice is Hanalei Bread Company, which is a beloved bakery and coffee shop that always has lines out the door.
The new kid on the block is Outpost Coffee, which serves up delicious Kauai coffee made from beans grown in the nearby Kahiliholo Orchard, right on the island!
Either way you go, you'll be caffeinated and ready to explore some gorgeous beaches!
Visit the stunning Hāʻena State Park (reservations required).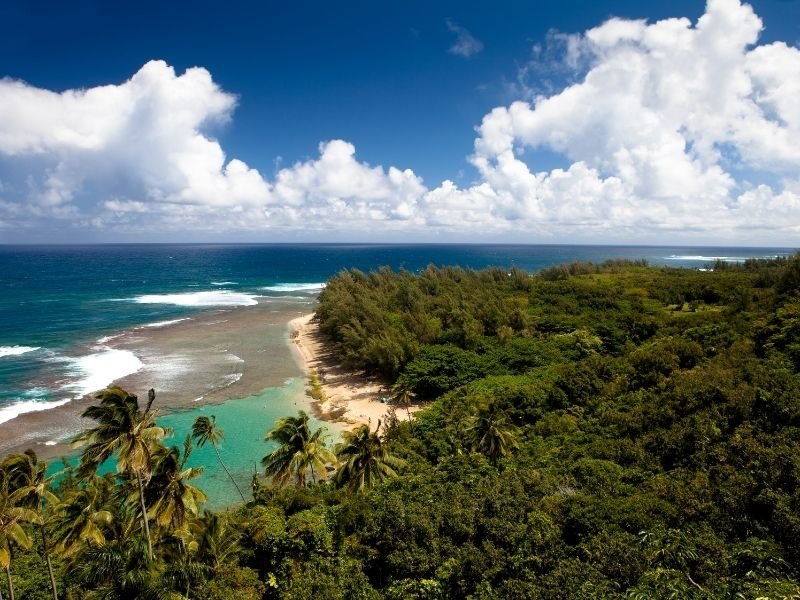 Note: Reservations are required to access Haena State Park. Unfortunately, we didn't realize that before we went, but if you want to go, you'll want to book 30 days in advance on this website.
If you manage to snag a coveted reservation at Haena State Park, you're in luck! I'll give you a brief overview of what you can do here. If you aren't able to, go ahead and skip to the next section.
Hike a portion of the Kalalau Trail. You won't have time to tackle the whole 22-mile return Kalalau Trail, but you can do a short hike on it and turn around whenever you get tired, turning it into an out-and-back hike of whatever length you choose. NOTE: The furthest you can go without a specific permit for the Kalalau Trail is Hanakāpī'ai Beach and Waterfall.
Explore Ke'e Beach. Only accessible by the State Park, visitors to this beach are limited by the park's reservation cap, keeping it pristine and beautiful for all who come to visit. There is great snorkeling off the reef and pristine white sand to feast your eyes on.
Wander through the Limahuli Gardens.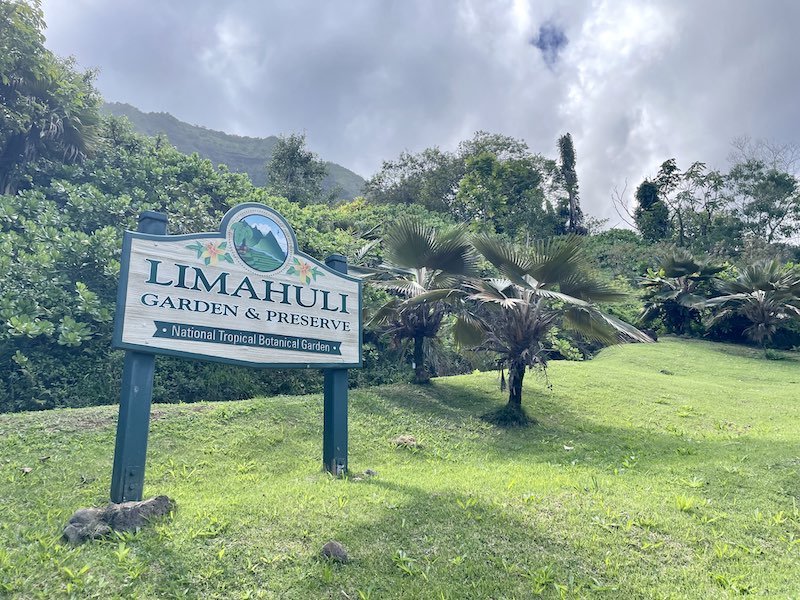 Open Tuesday through Saturday from 8:30 AM to 3 PM, these gorgeous botanical gardens on Kauai's North Shore are sure to impress.
Tickets to Limahuli Gardens are a little spendy at $20 per person but it's absolutely worth it to enjoy this spectacular atmosphere.
Have lunch back in Hanalei.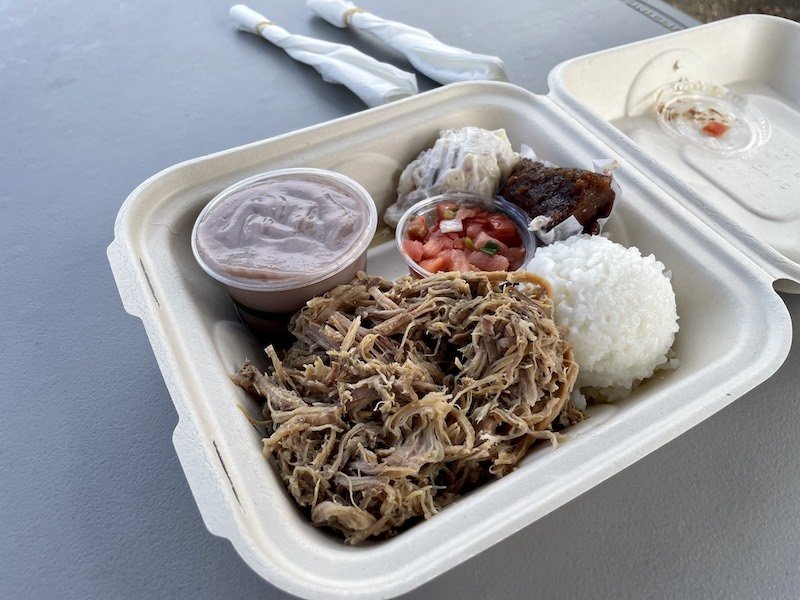 As you make your way back, you'll pass through Hanalei again: hopefully, by now you've worked up an appetite for lunch!
I recommend grabbing some local food at the Hanalei Taro & Juice Co. food truck — the roast Kalua pork with poi, macaroni salad, and rice was delicious!
There are also dozens of other restaurants to choose from in Hanalei if Hawaiian food doesn't quite hit the spot.
Walk the beach along the pristine Hanalei Bay.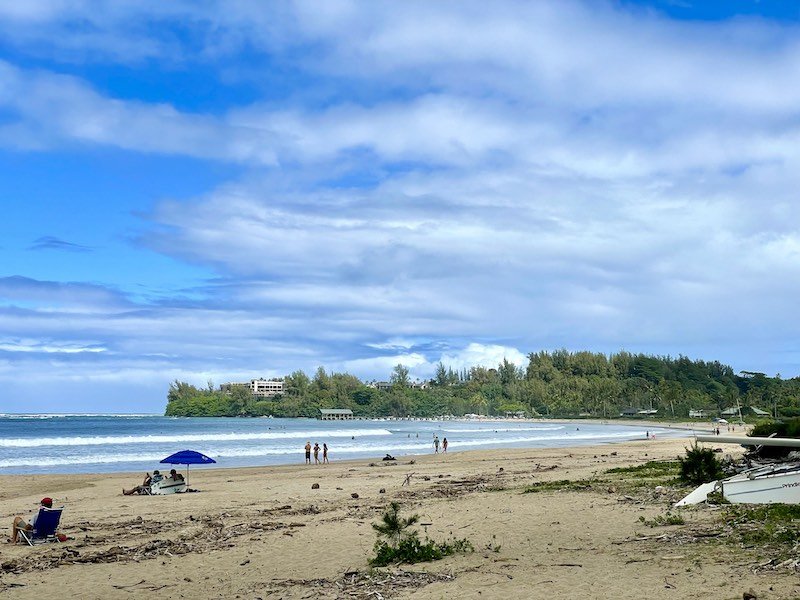 Before leaving Hanalei, make sure you visit its namesake Hanalei Bay, a beautiful bay with a whopping two miles of beach in a beautiful crescent shape.
Depending on the weather, it can be a good place to wade or there may be large waves — check with a lifeguard first or see if there are flags out which indicate that it's not safe to wade.
If it's not a great day to swim, Hanalei Bay still makes a great place for a peaceful walk along the beach, and you can walk all the way up to the Hanalei Pier for beautiful views of the bay framed with mountains in the backdrop.
Admire the Queen's Bath in Princeville.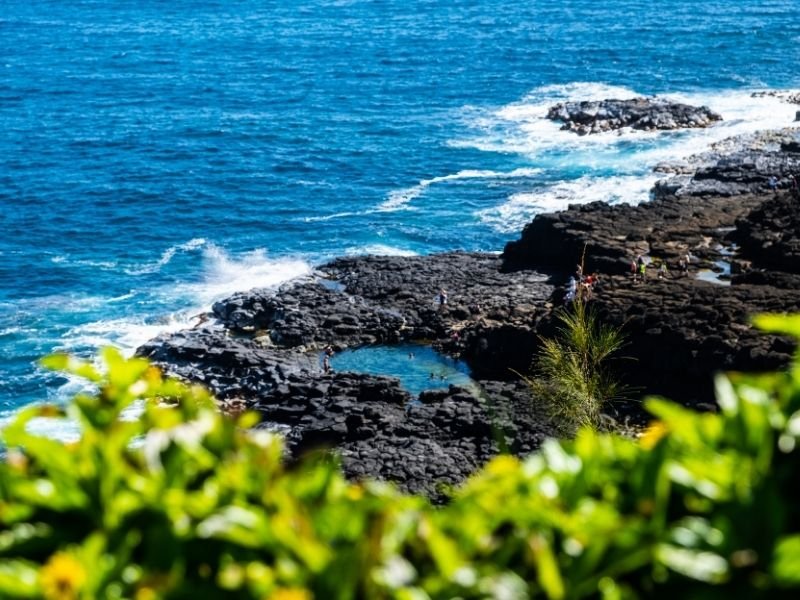 The Queen's Bath in Princeville is another place you can stop on your way back for a beautiful view of the ocean after a brief but scrambly hike… and if the conditions are right, you can go for a dip in the "bath!"
The "bath" is actually an open-air sea cave formed by a lava tube that formed millions of years ago. The ceiling of the cave collapsed, and now it's a 65-foot-deep pool that you can float and relax in when the tides allow.
The hike to The Queen's Bath less than a mile roundtrip, but it's rather rocky and a bit technical, so be sure to wear proper footwear and take your time.
Read the AllTrails trip reports for additional information on the hike; winter wave conditions didn't allow for me to do it, so I don't have firsthand experience here.
However, others have gotten the chance to visit and have loved it, so I wanted to include it as an option on this Kauai itinerary, just in case.
Note that the gate may be closed at times. If it is, do not try to pass; it's done for safety reasons! It is closed more often in the winter than in the summer months because the seas are generally calmer in the summer.
Check out Kilauea Lighthouse and the birds at Kilauea Point.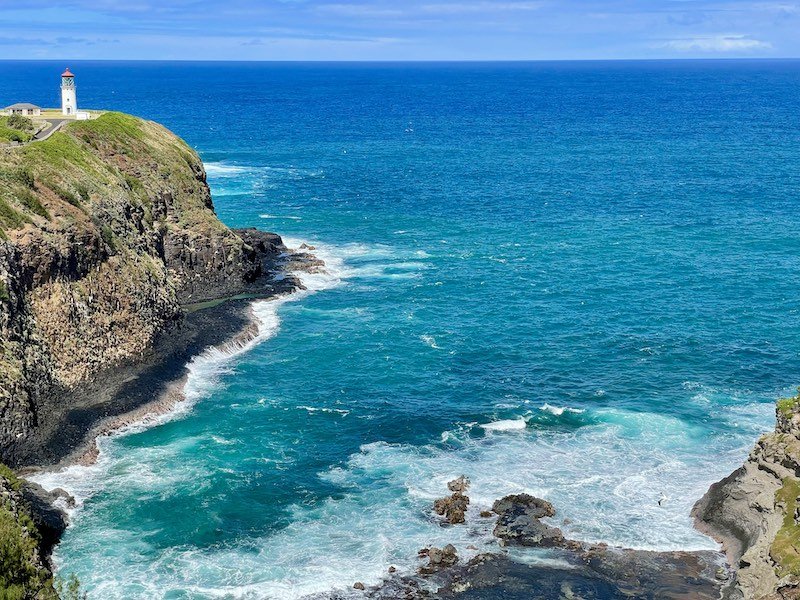 Continuing back, make sure you don't miss detouring to the Kilauea Lighthouse, which in my opinion offers one of the best views in Kauai!
There is ample parking in the area and people come and go frequently, so it's easy to get here and take some epic photos.
Bonus: If you're a birder, bring a pair of binoculars because Kilauea Point is a massive hub for birdwatchers!
Grab a juice or kombucha from the Kauai Juice Co.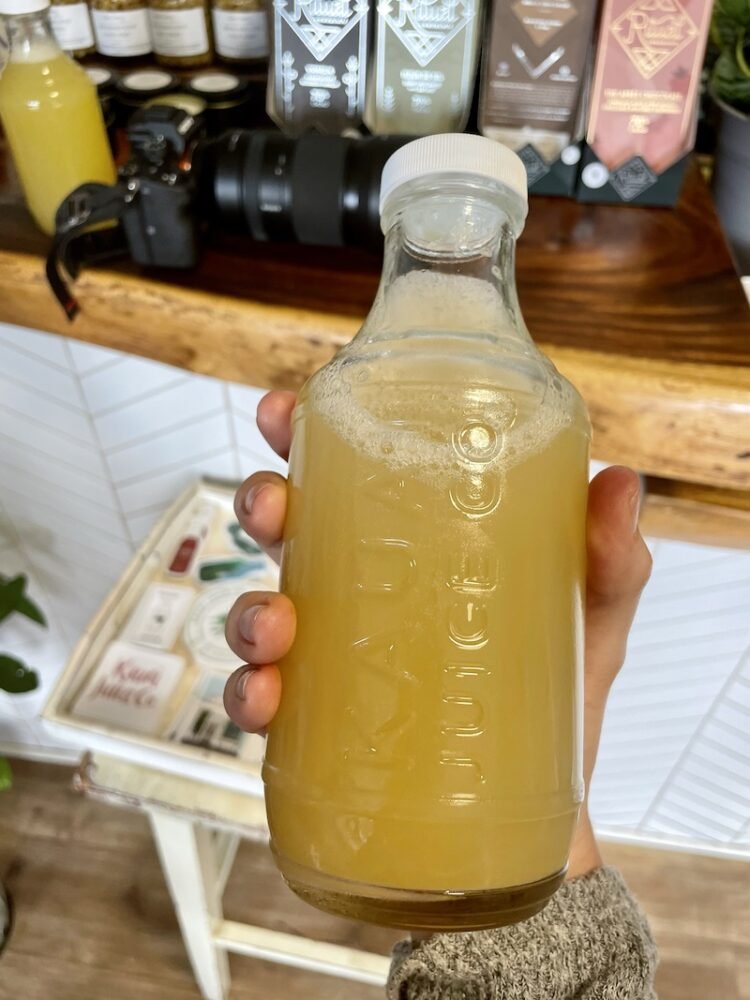 In Kapa'a, you can't miss grabbing a home-brewed kombucha or freshly-squeezed juice at the Kauai Juice Co. on your way back towards your accommodation on the South Shore.
They have all sorts of delicious flavors of kombucha on tap like tangerine vanilla and pineapple ginger — don't miss it!
Admire the Ninini Point Lighthouse.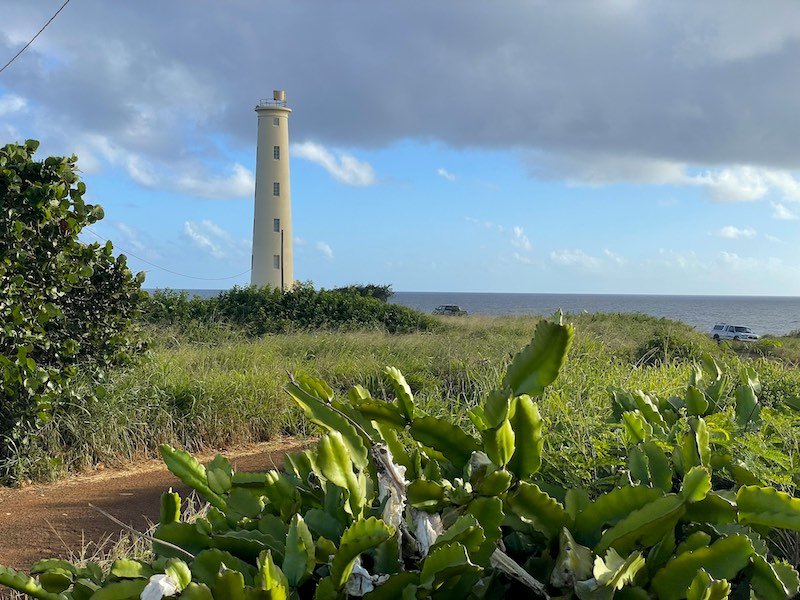 As you make your way back to Lihue, be sure to stop at the Ninini Point Lighthouse, which is accessible via the Royal Sonesta hotel in Lihue.
You don't need to be a guest at the hotel to access this beautiful lighthouse, so don't be intimidated to drive in!
There's a parking lot where you can park and walk to the lighthouse, or you can drive. We walked, but we saw a handful of normal sedan-type cars driving out to the lighthouse, so it's definitely accessible by car.
Take in one final Kauai sunset — by land or by sea.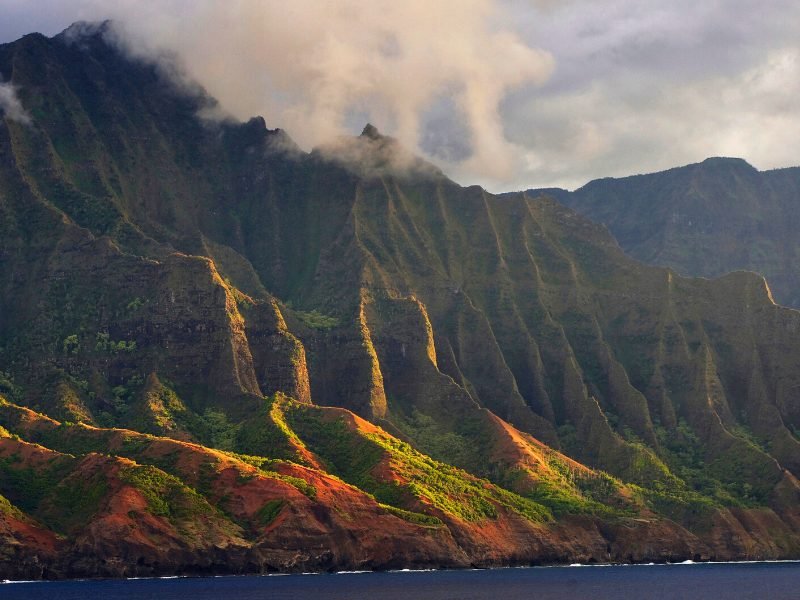 With your final night of this Kauai itinerary, make it memorable by taking in a beautiful sunset somewhere.
If you want to truly cap off your Kauai trip in the most memorable way, it's time to return to the Na Pali coast, but this time by boat and at sunset.
The cascading green spires of the Na Pali coastline as the sun sets are even more beautiful to behold, illuminating the red dirt and the green foliage that makes its home in the mineral-rich soils.
This 4-hour Na Pali cruise brings you past beautiful vistas on a luxury catamaran, so you can see the stunning Na Pali coast that you saw from above from an eye-level perspective.
If you're lucky, dolphins and even whales may join you on the trip!
The boat is designed to fit over 90 passengers but they limit it to under 50 so that no one is crowded and everyone can enjoy the cruise without feeling crammed in.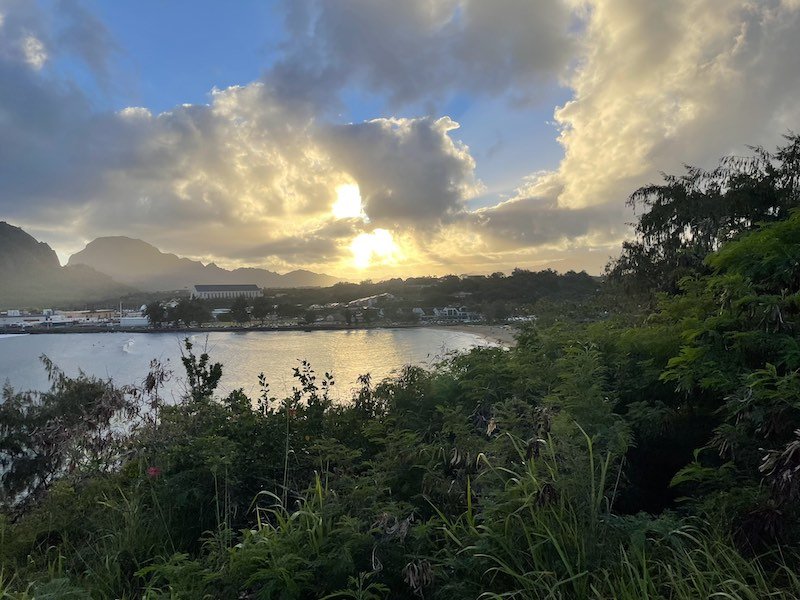 Alternately, you can continue a hike in the Lihue area for a beautiful and easy view of a sunset over the bay in Lihue.
Head to the Kuki'i Point Lighthouse, adjacent to the golf course. There's a parking lot where you can park your car a short walk from the viewpoint.
This "lighthouse" isn't nearly as photogenic as the above one — it's more of a tiny beacon on a rock.
However, it's a great place to watch the sun set over Lihue and Kalapaki Beach, with a view of the telltale Kauai mountains in the distance.
Renting a Car in Kauai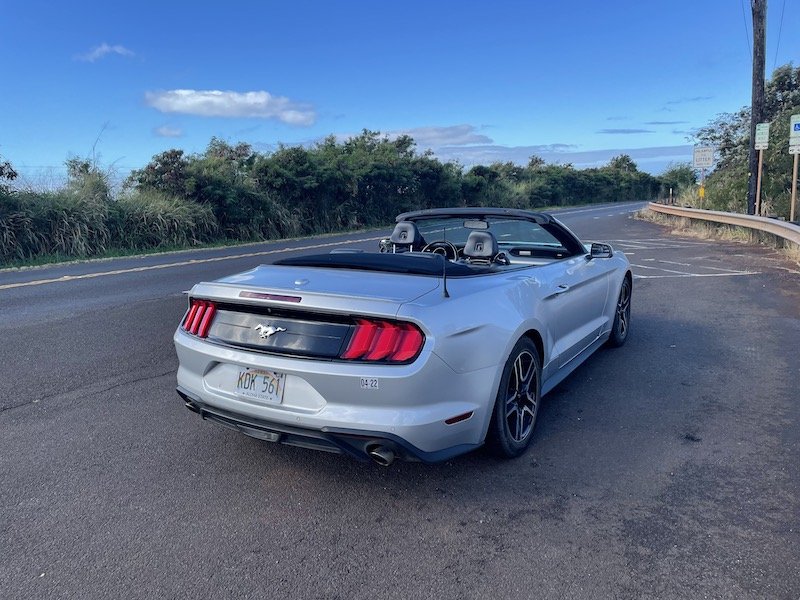 No question, you will want to rent a car in Kauai.
As I wrote above, we deeply regretted our decision to only rent a car for 2 days of our 4 days in Kauai, and we would have had a much more relaxed and efficient trip if we had just bit the bullet and rented our car the whole trip!
It's best to pick up your rental car at Lihue Airport so you can have it handy as soon as you arrive in Kauai!
Driving in Kauai is relatively easy and straightforward, and the roads are quite good quality. I only noticed one rough patch of road during my entire time driving in Kauai, past Waimea Canyon up towards the Kalalau Lookout point.
Other than that, it was smooth sailing, aside from some occasional traffic (the Kapaa Crawl is legendary!)
Whenever I rent a car in Hawaii, I book through Discover Cars, which searches through over 500 rental agencies to compare prices and get you the best deal. Find the best price for your rental here.
Quick Tips for When You Visit Kauai
Get an early start each day.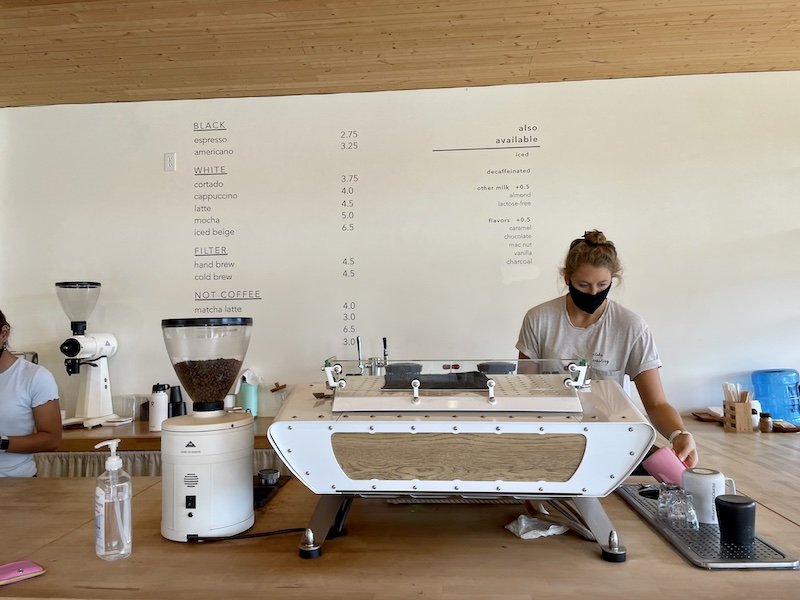 I am not a morning person… but Kauai (and my travel companion, Megan) made me be! Things open early in Kauai and shut down early to match.
The earlier you get going, the more your schedule will match with Kauai businesses.
Trust me, you don't want to find yourself hankering for lunch at 3 PM with very few open options, or try to find dinner after 8 PM in most places!
Book things in advance.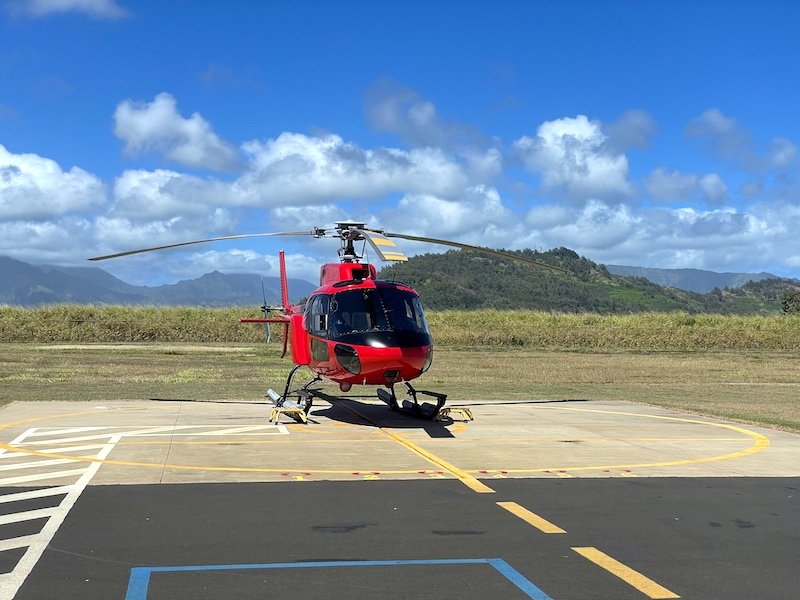 Kauai is a small — and popular! — island.
As a result, many of the most popular accommodations and activities, such as helicopter tours and luau dinners, sell out in advance.
Rental cars too can be a hot commodity on the island, and waiting too long can lead to unpleasant sticker shock when it comes time to rent.
In fact, prior to this trip I took in 2022, I had to cancel a trip to Kauai I had planned for 2021 because I waited too long to rent a car and they were $400 per day!
In short, book things early, especially if they have a caveat of free cancellation.
I always book my tours through tour aggregator companies like Get Your Guide and Viator because they have flexible and clear cancellation policies that protect me in case my plans change!
When to Visit Kauai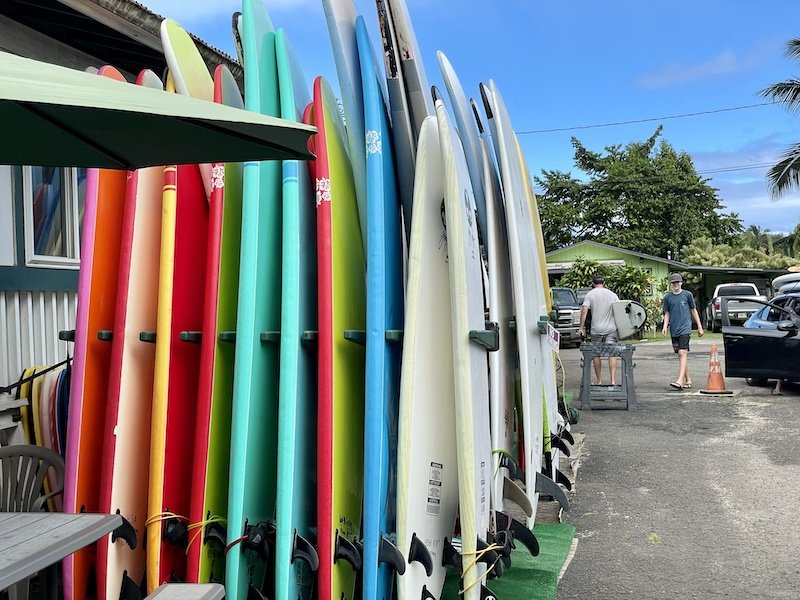 Kauai is a year-round destination! There really isn't a bad time to visit Kauai, but some times are slightly better than others for certain things.
The rainy season generally runs from November to March… which also happens to be one of the most popular times to go to Kauai, as mainland Americans seek out warmer weather and sunny weather!
I just finished an 8 day trip to Kauai and Oahu. Despite it technically being the rainy season, I had no days that were totally rained out. I only experienced two scattered showers which didn't interrupt my trip whatsoever.
I always did winter trips to Hawaiian islands as a kid and never remember tons of rain, so in general, it's pretty safe to book a winter trip to Kauai or other Hawaiian islands. Kauai is one of the rainier islands.
Temperature-wise, the weather varies very little throughout the year on Kauai. Winter lows are around 68 F and winter highs are still around 79 degrees, so it's definitely not cold!
Meanwhile, in the summer months, expect lows more like 74-75 F and highs in the 83-85 F range. As you can see, it's not drastically different!
There is a slight chance of hurricanes in summer in the Hawaiian islands, but they are very rare, especially compared to other places in the world, such as the Caribbean, where summer hurricanes are all but a guarantee!
There are other factors too, such as wildlife viewing.
I wanted a chance to see the humpback whales migrating, so I planned for a winter trip (peak humpback calving season is in January and February) — and the whales didn't let me down when I went whale watching in Oahu!
In other words… there really is no bad time to visit Kauai, but note that prices will always be higher during school holiday times.
If you have a chance to visit outside the typical school calendar, you will benefit from cheaper flights, car rentals, and accommodations.
How to Pack for Kauai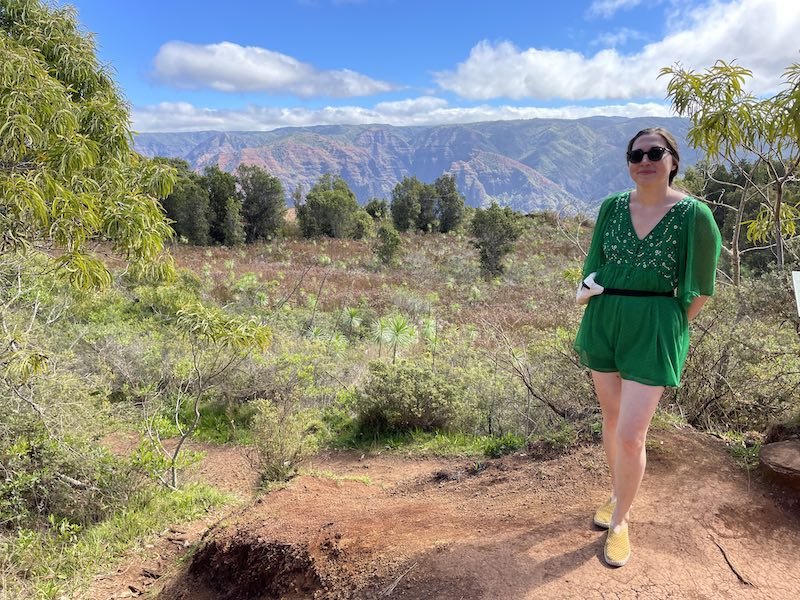 I have a full packing list on the way, but here is the short version!
Reef-safe sunscreen: Not only is reef-safe sunscreen the right thing to do for the environment, it's also the law in Hawaii! I use Sea to Stream sunscreen which is properly reef-safe as well as biodegradable — even their sunscreen tubes are made not from plastic but from sugarcane resin!
Bathing suits: You'll want at least two bathing suits for your time in Kauai, so that you never have to put a grody, still-wet one on (is there any worse feeling?). Personally, I love high-waisted bikinis that will hold in all the Kalua pork and ube ice cream I'm eating. I love this adorable orange set and this vintage-styled tropical set if you're looking for inspiration.
Snorkel set (mask, snorkel and fins): It's a lot more fun to have your own snorkel set than to have to seek out a rental service every time — plus, if you happen upon a secluded beach with great snorkeling, you won't be left out! This set is good if you're low on space and just want a mask and snorkel — otherwise, grab this full set with fins.
Travel beach towel / sand-repelling mat: I hate traveling with a traditional beach towel. They get sopping wet and collect sand like a mofo and basically just drive me insane. They're only a small fraction better than not having one at all. Enter your travel beach mat! Microfiber beach towels double as a sand mat and travel towel, and they're sand-repelling and dry in a flash, even in the Kauai humidity. Plus they come in adorable prints!
Sunglasses: You'll absolutely want sunglasses for your time in Kauai. I brought my prescription lenses from Warby Parker since I'm a blind nerd who is too lazy to put in contacts. If you're cooler than me, I'm obsessed with these Persol sunglasses and wear them the few times I can ever be bothered to put in my contact lenses (read: almost never, but I still irrationally love these sunglasses).
Clothing with layers for cool nights and occasional rain: This is a very personal decision and one I won't pretend I can make for you. For my four days in Kauai, I brought a bunch of crop tops and shorts, a few sundresses, a romper, a lightweight cardigan, and my trusty Marmot rain jacket which I never ended up needing but was glad I brought.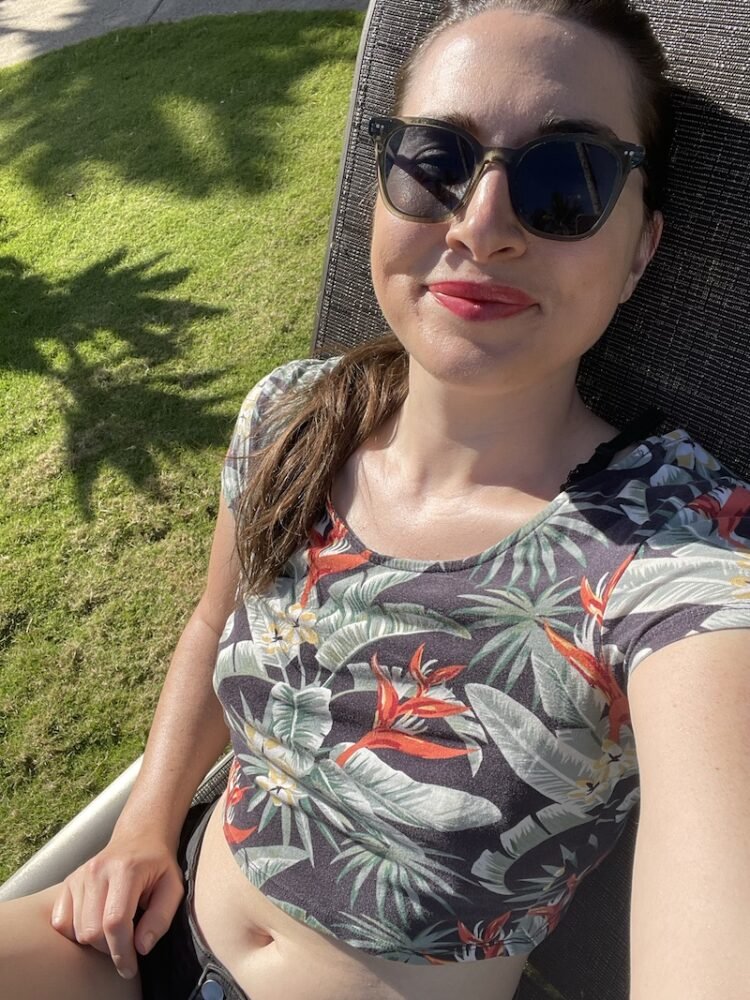 Hiking boots or sturdy sneakers and hiking socks: I didn't have any heavy-duty hikes planned on my Kauai itinerary, so I went with my trusty Nike Flyknit sneakers. If I had more intense hikes planned, I'd go with my typical Teva hiking boots with their comfy Vibram soles. Looking for something a little more stylish? My friend had a pair of cute Danner boots that I now have my eye on! And of course, don't forget comfortable merino wool hiking socks if you're planning anything more than a short walk. Thin cotton socks will give you blisters and ruin your trip!
Walking shoes: For me, my Birkenstocks and Nikes worked well enough as walking-around shoes, but you may want to bring another pair for walking around or perhaps a nicer pair for dinners out.
Sunhat and scalp sunscreen: RIP my scalp on this trip, because I forgot both. Learn from my mistakes… literally, that's why bloggers exist, to mess up our trips and admit it and you can learn from all the ways we f***ed up. A foldable sunhat like this one is still cute, but less high-maintenance than other sunhats that can't be packed or folded. Also bring some scalp sunscreen like this one which is also reef-safe.
Camera or smartphone: Obviously you'll want to bring an awesome camera for photographing Kauai as best you can! I use a combination of my smartphone (an iPhone 12) and my Sony A 7II when I travel. Bring a versatile zoom lens if you're bringing a proper camera as that's the one you'll end up using most!
Protective case for your smartphone: Take it from me, an idiot who nearly fried my phone while sea kayaking in Maine — salt water will destroy even a "waterproof" phone. You'll want a basic waterproof case like this one at the very least, if not something more sturdy like a LifeProof Free case which allows you to submerge it up to 6 feet of water, including salt water.
Where to Stay in Kauai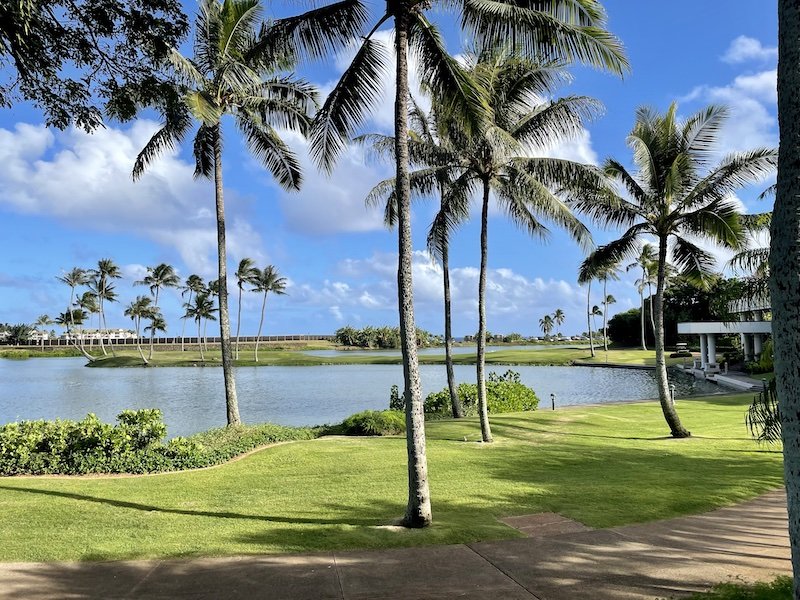 Poipu
Mid-Range/Luxury
The Sheraton Kauai Resort: Serenity, relaxation, and luxury abound at this resort located on Kauai's Poipu Beach. Its expansive waterfront offers stunning views of the ocean and lush landscape — and a great spot to watch the sunset.
You can choose between stunning oceanfront or peaceful garden views from their newly-renovated guest rooms and suites.
Check availability and rates at the Sheraton Kauai Resort here!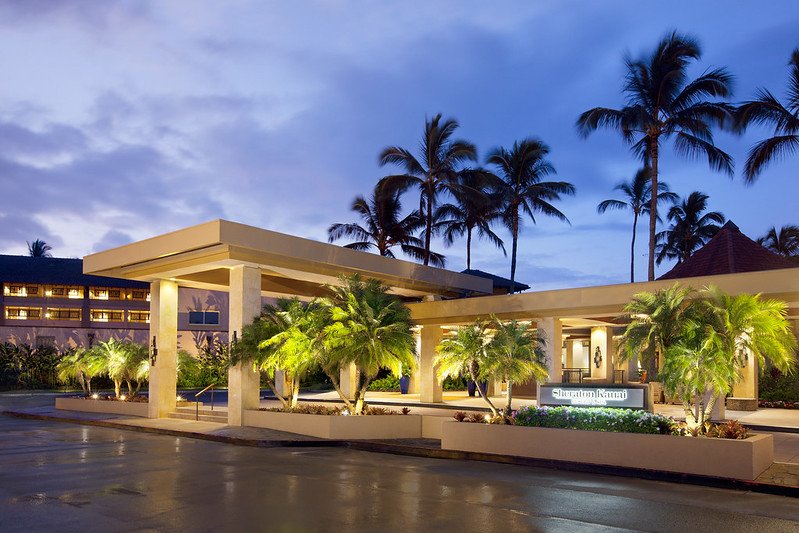 Luxury
The Grand Hyatt Kauai Resort & Spa: With its tropical gardens and river pools, this stunning Poipu resort offers a golf course, seven restaurants, and a world-class spa!
The guest rooms of the hotel are spacious with a private balcony that offers spectacular views of the surrounding landscape.
Depending on the room of your choice, you'll enjoy stunning ocean views, pool views, or even mountain views of the gorgeous, rugged Kauai landscape.
Check availability and rates at the Grand Hyatt Kauai Resort & Spa here!
Lihue
Budget
The Kauai Inn: This is where I stayed in Kauai, and it was a perfect base for road tripping around the island. If you are just looking for a place to crash at night (and a tasty breakfast the next day), and don't plan to spend a ton of time using resort amenities, I highly recommend the Kauai Inn.
The owners are kind and fantastic, and it's the oldest hotel on the island! The one downside is its location: it's a bit out of central Lihue, and it's next to the port, so it's not exactly the most scenic location. But if you have a car, it couldn't be a more convenient and affordable base for your time in Kauai.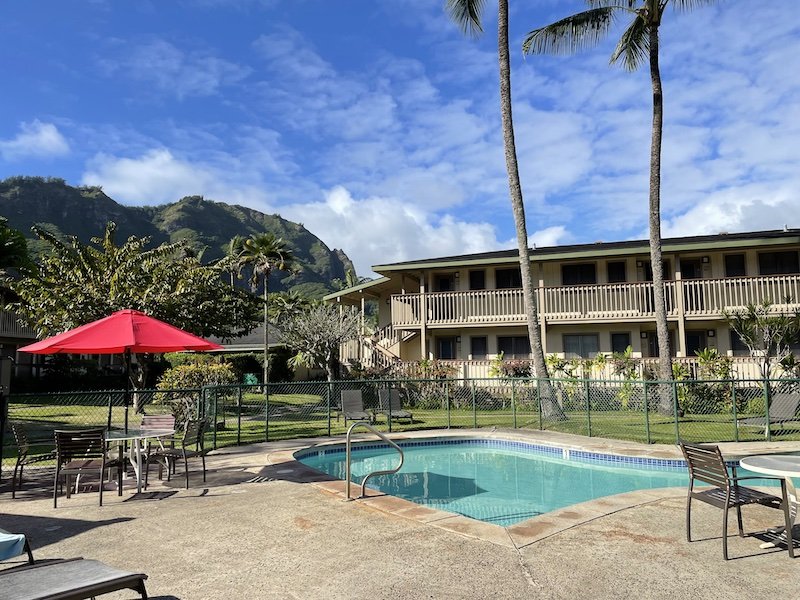 Mid-Range/Luxury
The Royal Sonesta Kaua'i Resort Lihue: This luxurious resort offers a central location with picturesque views, two outdoor swimming pools, spa services, as well as a fitness center.
The resort also features an on-site restaurant and bar, where guests can enjoy drinks, delicious food, and live music while taking in the breathtaking scenery.
The rooms are equipped with modern amenities and offer an elegant, comfortable stay with all the conveniences of home. Ocean views and hotel gardens can be seen from some rooms. Select rooms come with balconies.
Allison Green is a former educator turned travel blogger. She holds a Masters in Teaching and a B.A. in English and Creative Writing. Her blog posts merge her educational background and her experience traveling to 70+ countries to encourage responsible, enriching travel. She has been a speaker at the World Travel Writers Conference and her writing, photography, and podcasting work has appeared in National Geographic, CNN Arabic, CBC Canada, and Forbes, amongst others. Now a full-time traveler, she has lived in Prague, Sofia, New York City, and the San Francisco Bay Area.